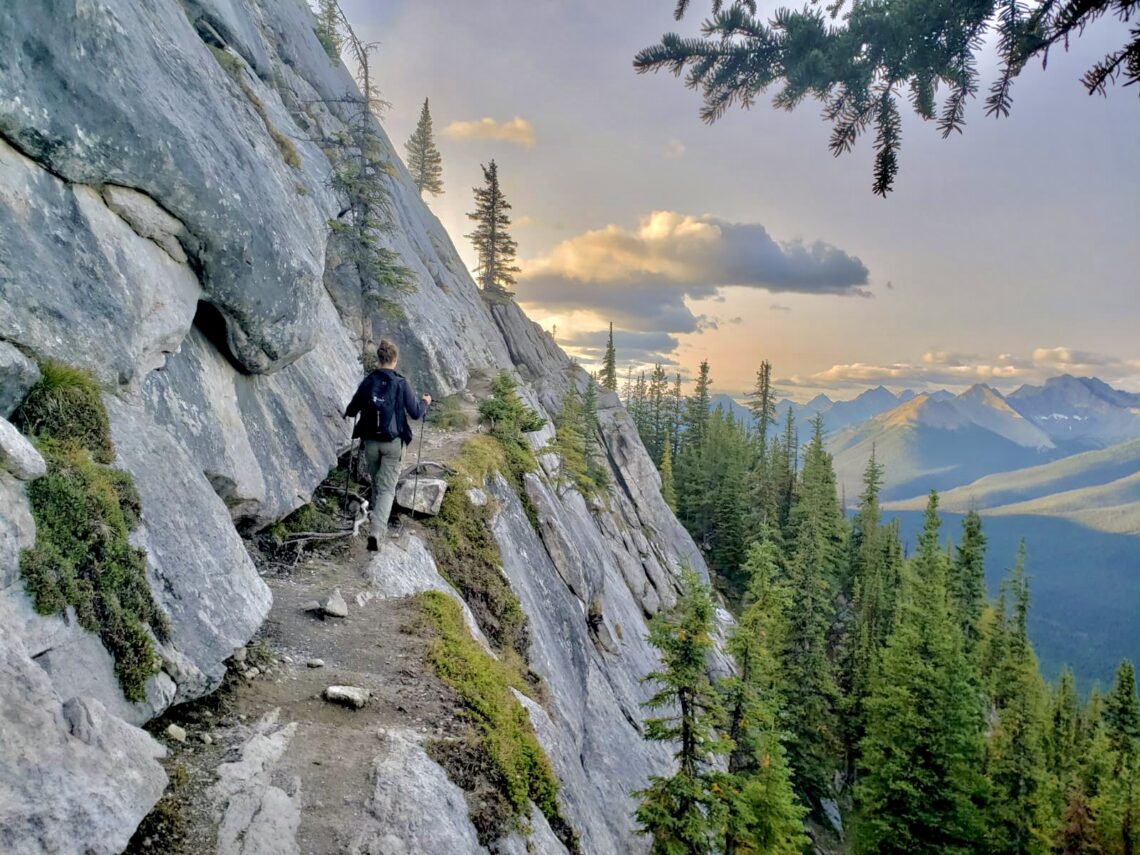 8 Things You Can Expect In Banff National Park
Banff National Park is honestly the "funnest" place to live. You're surrounded by striking mountain views, limitless adventures, and tons of like-minded people. Before you pack your bags and create your Banff bucket list though, here are a few things you can expect in Banff.
The mountain lifestyle is much different than city or suburban life, but in every way that's good. Before you even put down your suitcase I can tell you now you'll have already fallen in love with this little mountain town. I moved to Banff in 2020 and ended up staying for 15 months. I had business back in Ontario calling my name, but if it weren't for that I don't know if ever would have left!
Without further ado, here are 8 things you can expect in Banff.
Skip Ahead:
This post contains affiliate links; see my full disclosure. If you click these links and make a purchase you're supporting The Holistic Backpacker. Thanks for your support & happy adventuring! – Taylor ♡
---
---
Related Posts:
---
1. Mountain Vibe In Banff
The first thing you can expect to notice in Banff National Park is the chill mountain town vibe. Everyone is there to have a good time and no one is quote on quote "caught up in the rat race."
Being surrounded by such rocky giants brings about a sense of humbleness and makes you realize how small you are. I think it's for this reason that everyone in town just goes about life in their own way and isn't trying to compare themselves with one another or to the typical "standards" that society pushes on us.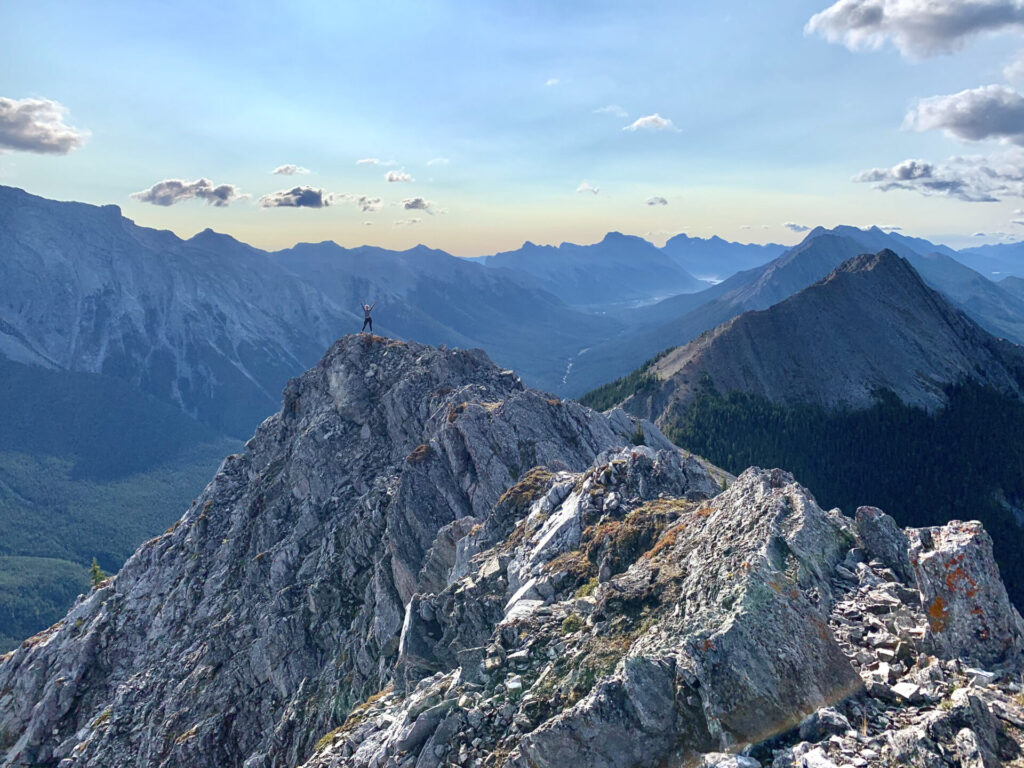 The only time you'll see a bit of "snob behaviour" is when people compare their hiking clothes, camping equipment, or ski gear. That's when things can get a little heated with the locals!
By the way, if you plan on outdoor adventuring in Banff, here are my guides for how to dress for hiking in the Rockies and my essential gear lists for hiking and backcountry camping!
2. Lifestyle In Banff
My favourite thing about Banff is the variety of day-to-day life and the constant possibility for adventure. I especially miss that now, as I write this post from my childhood bedroom in Ontario.
One thing you can surely expect in Banff is to find something happening every day/night. Every single day you're in Banff you'll have the opportunity to climb a mountain, meet someone new, and watch the beautiful sunset alpenglow dance over mountain peaks. You wake up every morning knowing there are endless possibilities to try new things.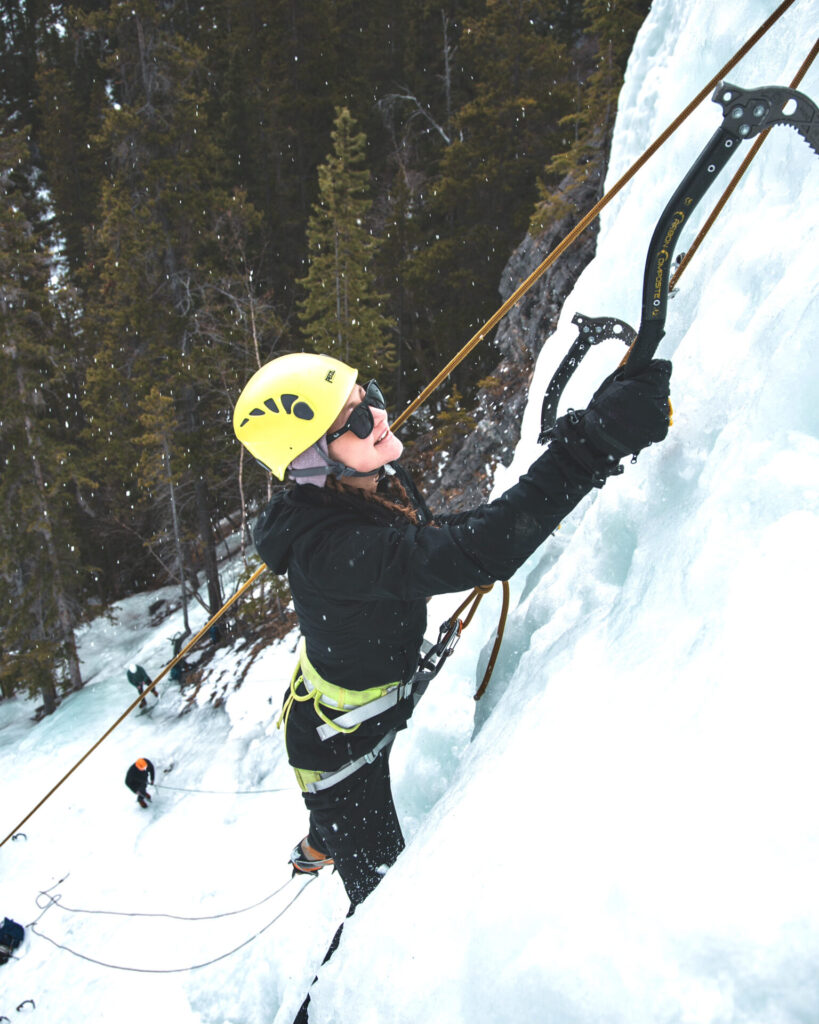 There'd be days where I'd summit a mountain and catch the most beautiful sunrise before even going to work. Other days I'd finish work, then go hang out with friends at the Rec Grounds where we'd watch the sun set behind giant mountains and toast to our crazy lives over a bonfire.
Living in Banff provides you with the opportunity to be constantly involved with nature. You've got hiking trails right out your back door, wildlife around every corner, great friends, fresh air, and endless mountains to climb. Normally you live for the weekend so you can escape work. In Banff however, you live for the weekend because you know you'll be embarking on an adventure some people only dream of.
The lifestyle in Banff is next level; it's truly the best quality of life I've had thus far. Something you can expect in Banff is to wake up every morning absolutely loving your life.
3. Social Life In Banff
Another thing you can expect in Banff is a great social life. Everyone in Banff is there for the same reason; the experience. Making friends in Banff is as easy as walking up to someone and asking them to go on a hike. That's it, literally.
I moved to Banff solo and didn't know anyone when I got there. If you're doing the same thing and are worried about making friends I'd definitely recommend getting a job. This is such an easy way to meet people and it's how I was able to make so many amazing friends while I lived there.
More: How To Find A Job In Banff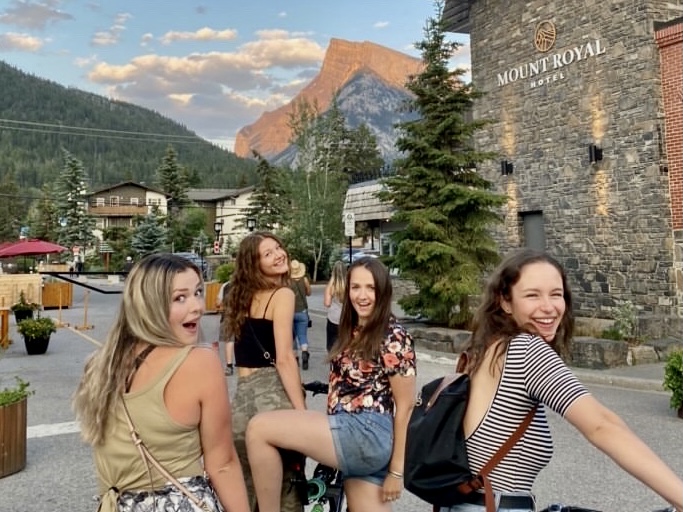 Another thing you can expect in Banff is a big party life and to be around drugs. While I was in Banff I literally forgot that drugs were illegal because they're so commonplace – and I'm not just talking weed, bro. I'm not one for drugs so I didn't get involved with this, but prepare to be around it if it's not something you're used to.
In terms of the party life, it's possible to go out every night you're in Banff. There's always some sort of hangout happening, someone at the pub, or an event going on. This is something I definitely got caught up in. When I initially arrived in Banff (and for the duration of my first summer there) I went out pretty much every night. I got so caught up in it that I resorted to eating oatmeal 3 times a day because it was the fastest thing I could cook, and I actually never slept because I "didn't have time."
Go out there and have a great time, but remember balance is key! I speak from experience and with some regret in saying that (even though it's tempting) going out every night is not good for your mental health or your physical health.
4. International Friends
One of the coolest things you can expect in Banff is to meet people from all over the world. When I first got to Banff I felt weird not having an accent because everyone there seemed to be from the UK or Australia!
Banff is a popular international destination as well as a prime spot to do working holidays. This is why you get so many people in Banff and Western Canada from different countries.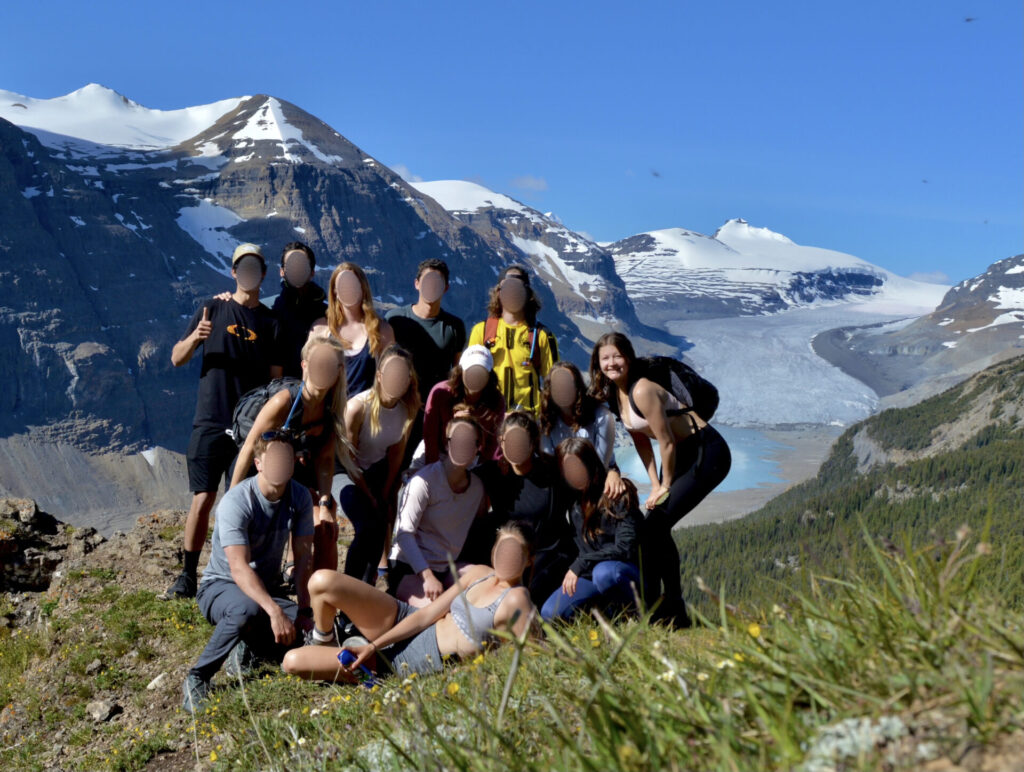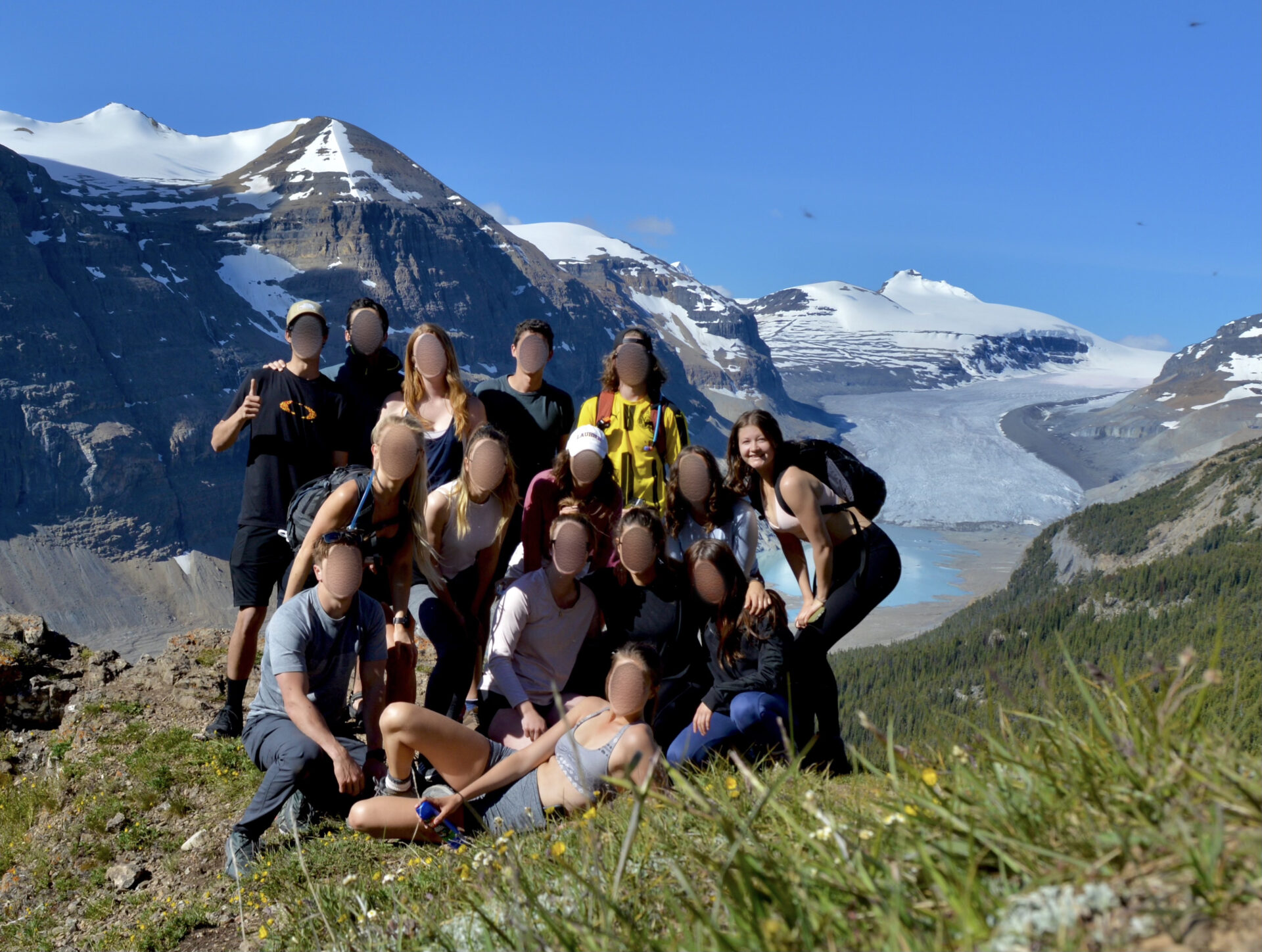 5. Wildlife In Banff
Add wildlife to the list of things you can expect in Banff National Park. The most popular type of wildlife you'll come across are deer and elk – they are seriously everywhere. You'll also most likely see Big Horn Sheep in and around the area.
Connect via socials:
Sign up for emails to receive a 50% discount on my travel maps + occasional updates on new hiking guides & travel resources.
Taylor ♡
Before even arriving in Banff I saw multiple elk chillin' on the side of the highway. During my first walk in Banff two deer walked up to me so close I could have pet them. One night I came home really late and when I went to open my door I found a massive elk standing directly in front of it! I had to step back and wait for it to move before entering my own apartment.
The best time of year to see wildlife in Banff is during the shoulder seasons; spring and fall. The best time to see elk is during rutting season; early September to October. During this time you can find elk roaming in massive herds, bugling. Bugling is their mating call and it's so eery – here's what it sounds like.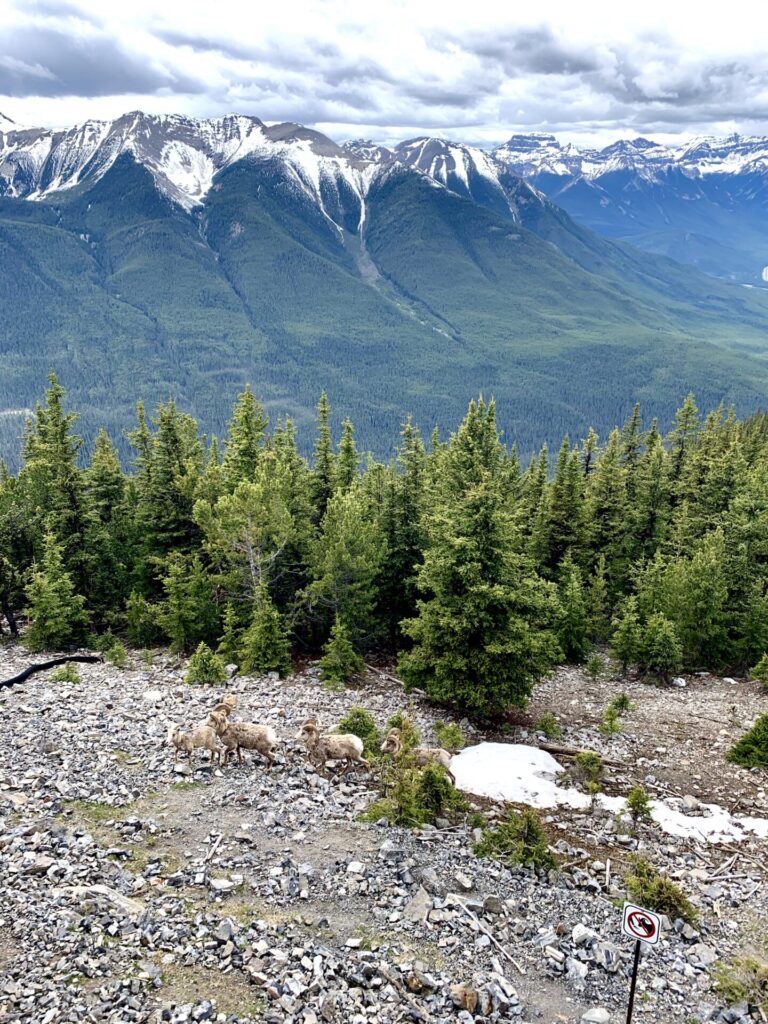 More Tips About Banff Wildlife
Another thing you can expect in Banff is the general "bear aware" attitude. Growing up in Ontario meant myself and everyone else never cared about bears, but in Banff everyone takes precautions against them. Maybe it's because the Rocky Mountains are home to grizzles, not just black bears? Regardless, Banff has strict rules about not feeding wildlife (you can get a massive fine if caught), you're not allowed to have any sort of garden or outdoor garbage disposal (there are community bear bins), and it's encouraged that you always bring bear spray with you when you're hiking.
If you're unfamiliar with bear safety or need a refresher, brush up on your knowledge here.
Finally, the best places to see wildlife in Banff are of course on-trail (see my Banff trail guides), on the Fairmont golf course loop, Norquay road, and the road connecting Lake Minnewanka and Johnson Lake.
6. Seasons & Temperatures In Banff
Banff's weather is much different/colder than the weather elsewhere in Canada because the general elevation of the town – not to mention the increased elevation in the mountains if you're hiking – is so high; 1, 383m. Due to the high altitude it's also important to be aware of altitude sickness, which I'll speak about next.
Basically, Banff is cold. I had a bit of a weird experience my second summer in Banff because all of Canada endured a massive heat wave. However this apparently only happens every 10ish years, so (based on my non-scientific guess) you should most likely have Banff's normal, chilly temperatures until about 2031 give or take.
Banff By Season
You can expect "summer" to start around June, but "Banff summer," so expect to still see snowcapped mountain peaks and have freezing nightly temperatures. June typically marks the beginning of hiking season.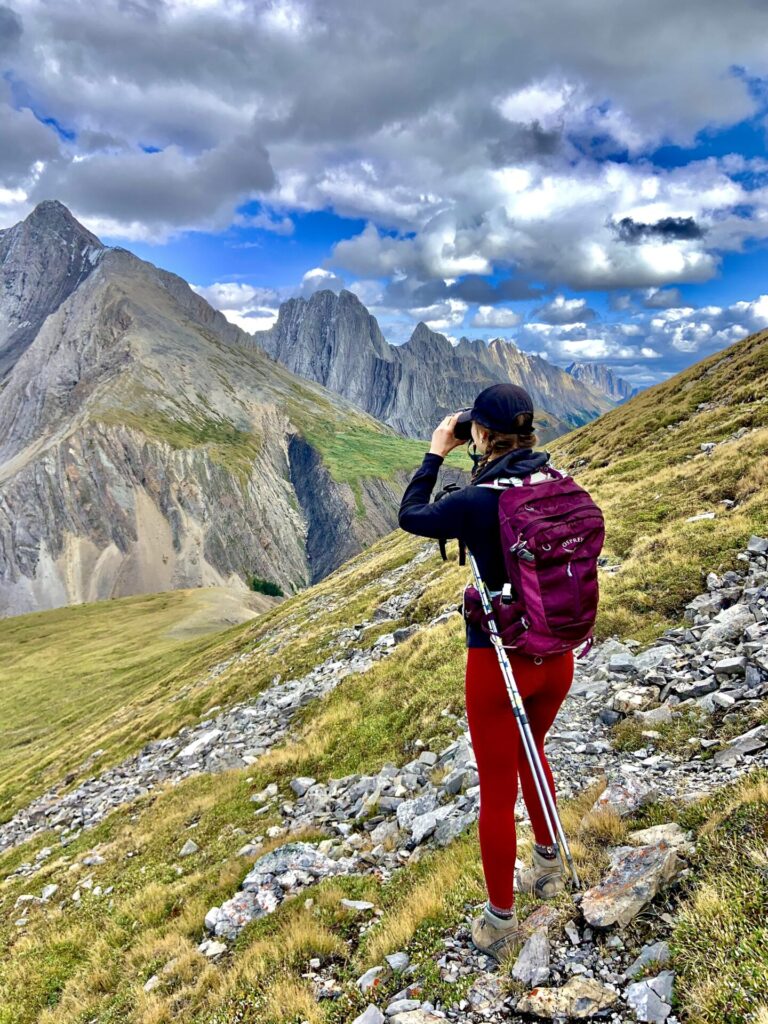 July and August are the hottest months in Banff which makes these two months perfect for hiking and backcountry camping. September is typically still great for hiking; this is larch season. Larch season is when all the Larch trees turn yellow and it starts snowing at higher elevations in the mountains which makes for picture perfect scenery.
More: Hiking In Banff
More: Backpacking In Banff
October is by far the shittest month in the Rockies. It's typically cold, foggy, and gloomy. There isn't much to do during October except wait for ski season to start in early November. You can read all about what it's like to ski at Banff's Sunshine Village here. I've also done a complete breakdown of Banff's SkiBig3 resorts. If you're wondering which resort is best, you can find out here.
Before I tell you about Banff's ski season, here's a sneak peak at some rad Banff adventures:
---
Looking for More Banff Adventures?
Banff is an adventurer's & view seeker's paradise. If you're planning a trip to this gorgeous Canadian Park, you can start with this step-by-step guide designed to help you plan the perfect Banff itinerary.
Alternatively, check out this page with all my Banff resources.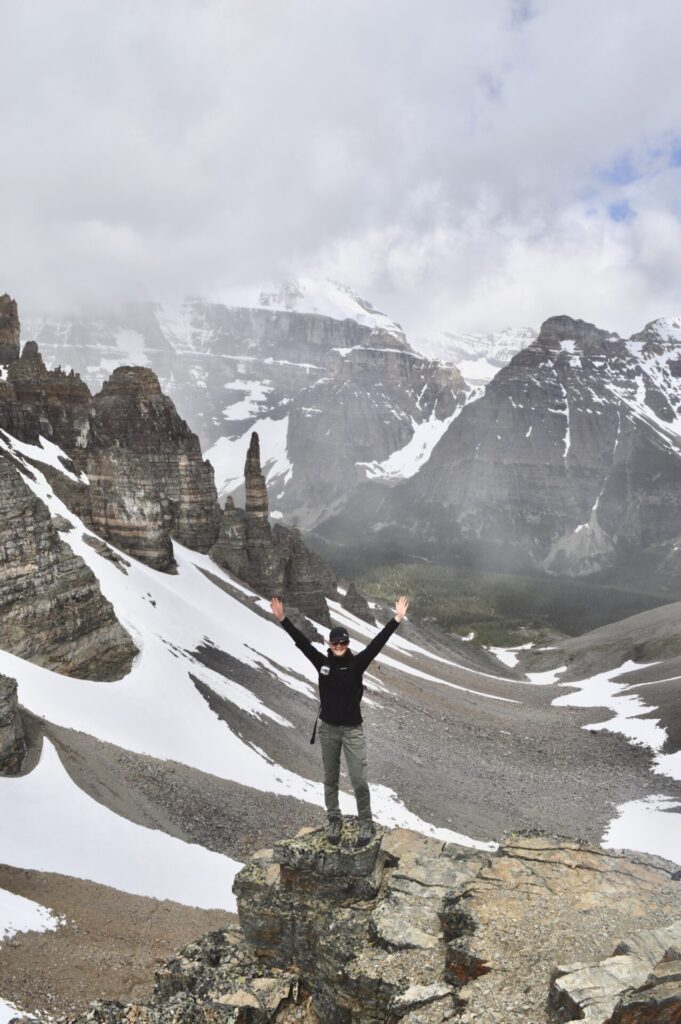 Want to continue your Canadian Rockies expedition outside of Banff? Check out my trail guides & travel resources for British Columbia and Kananaskis Country as well as Jasper, Waterton, Yoho, and Kootenay National Parks 🙂
---
Banff Ski Season
Ski season extends all the way to the end of May – yes that's right, 7 months of skiing in Banff! Sunshine Village has the longest ski season in Canada. You can expect decent snow conditions in November and December. January and February mark the coldest months for skiing, but also have the best snow and the most pow. March to May marks spring skiing which has all sorts of different conditions, but you can expect icy mornings and slushy afternoons the closer you get to the end of ski season.
More: Local's Guide for Skiing Sunshine Village
Of course there are a lot of factors determining what the weather in Banff is like year to year, but typically this is what you can expect each month in Banff.
A word on dressing for Banff – mountain weather is unpredictable. When packing for Banff make sure to pack layers and have a jacket no matter when you're visiting. If you plan on hiking in Banff, explore my guide for how to dress for hiking in the Rockies here.
7. Altitude Sickness
Not everyone experiences altitude sickness, but I had a bitch of a time with it when I first arrived in Banff. Altitude sickness occurs from not getting enough oxygen at higher levels. The altitude of my home town is 190m, which is more then 1000m less than Banff. Additionally I was working at the top of the Banff Gondola, which added over 700m more to Banff's elevation. PLUS I was wearing a mask due to Covid. Was I even breathing?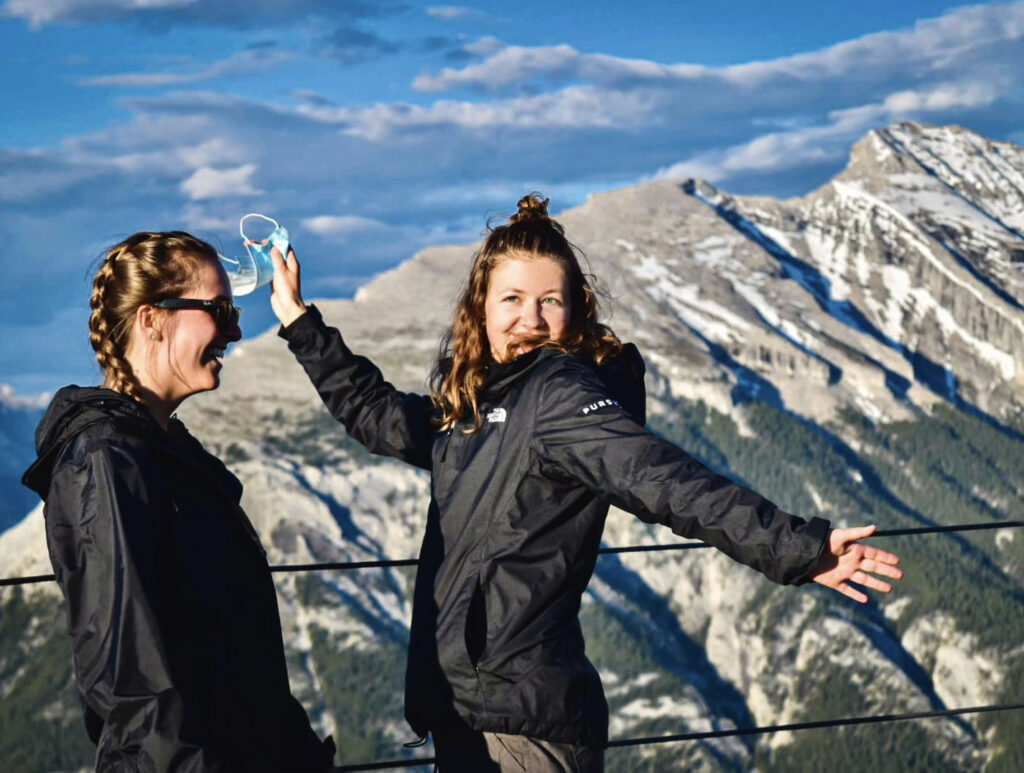 Some of the symptoms you can expect with altitude sickness are headache, lack of appetite, and poor sleep among other things. I had all of this and then some.
The best thing to do is take it easy and stay hydrated – do NOT drink alcohol! This only makes it worse. I didn't consider altitude sickness when I first arrived in Banff, so I went to the pub my second night there with some friends I'd just met. I had 2 beers and literally don't even remember getting home. Besides going to a lower altitude, there's no way to get rid of altitude sickness except wait.
It typically only takes a few days for your body to adjust, but I struggled with it for about 2 weeks before it went away. So, altitude sickness is potentially something you could expect in Banff.
For more information about altitude sickness, click here.
A Quick Altitude Sickness Story
Even though the altitude sickness was literally kicking my butt, I was so keen to climb mountains I tried to push through and ignore my symptoms. This is how I ended up almost dying on my first big mountain hike. You can read more about my failed attempt at summiting the East End of Rundle (EEOR) here.
A word of wisdom (from yours truly): don't be that person that climbs a mountain while enduring altitude sickness. You'll only slow the group down and make a fool of yourself!
8. Beauty In Banff
The best (and my favourite) thing you can expect in Banff is to constantly be surrounded by towering mountains, alpine lakes, and dense forest.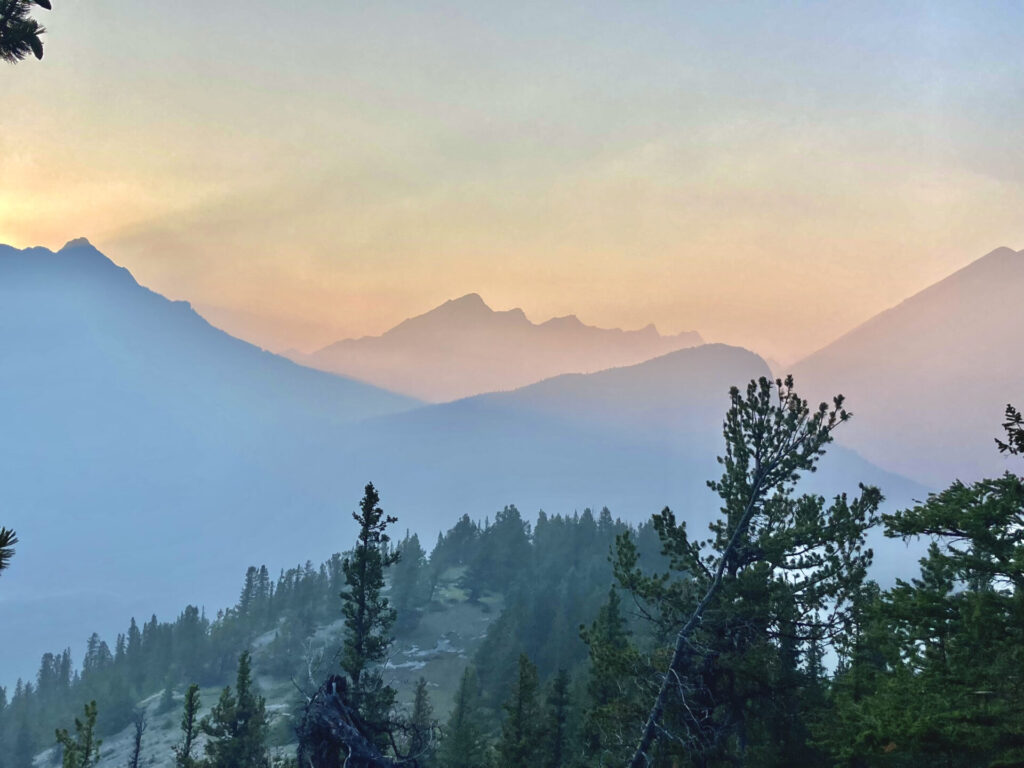 No matter where you are in Banff you'll be surrounded by post-card worthy views. When I worked at the Banff Gondola I vividly remember waiting for the bus staring at Mount Rundle thinking I was at the most beautiful bus stop in the world (I totally was). Walking down Banff Avenue to get groceries or to go out for dinner opens your line of sight to a direct view of the infamous Cascade Mountain. You can also expect to find the crystal-clear, icy water of the Bow River running all throughout town.
More: 12 Easy Hikes Right in the Town of Banff
In Banff you'll constantly be discovering gorgeous little places. You'll be left with a feeling of awe and wonder wherever you go and with whatever you do.
Explore More
Want to live in Banff National Park? Here are a few of my resources for living in Banff, but you can find more here.
---
Where to Stay in Banff
Travellers can also opt to stay in locations near Banff:
Happy adventuring!
Taylor ♡
---
Like This Post?
Share with friends or save it for later!
---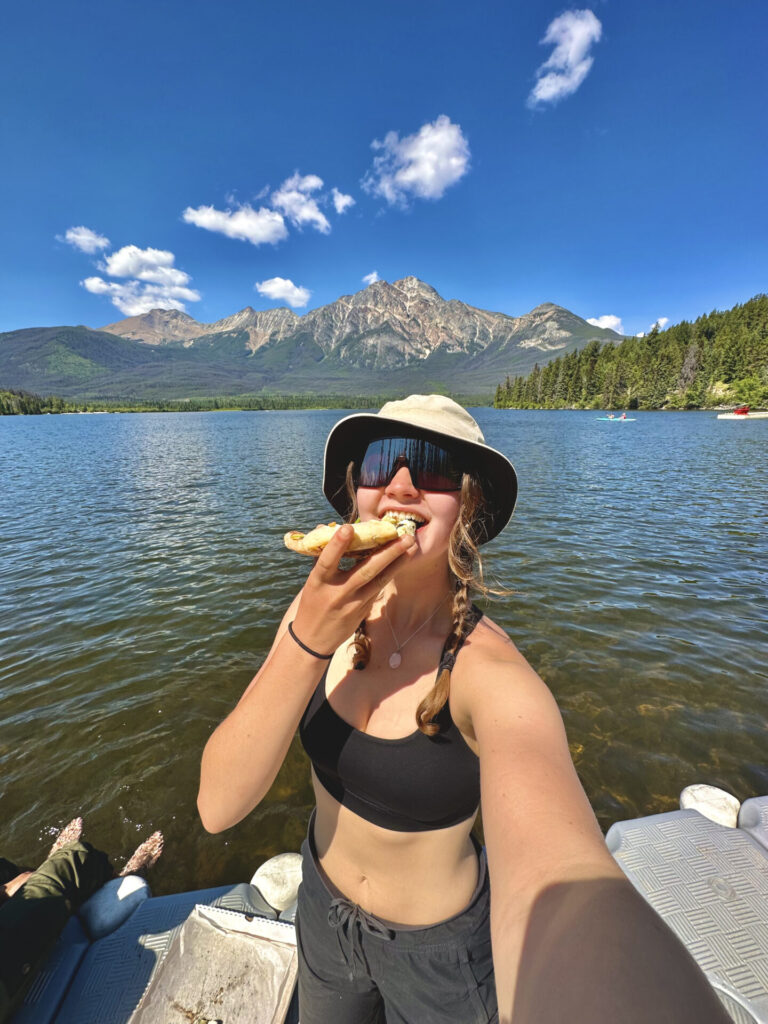 About The Author
HI, I'm Taylor – the voice behind The Holistic Backpacker.
After moving to Banff National Park in 2020 I became an outdoor adventure enthusiast and vowed to never stop exploring.
I now spend my days travelling the world, climbing mountains, and spending nights under the stars in the Canadian Rockies backcountry.
I created The Holistic Backpacker so I could share my adventures and help connect people like you with the same amazing experiences.