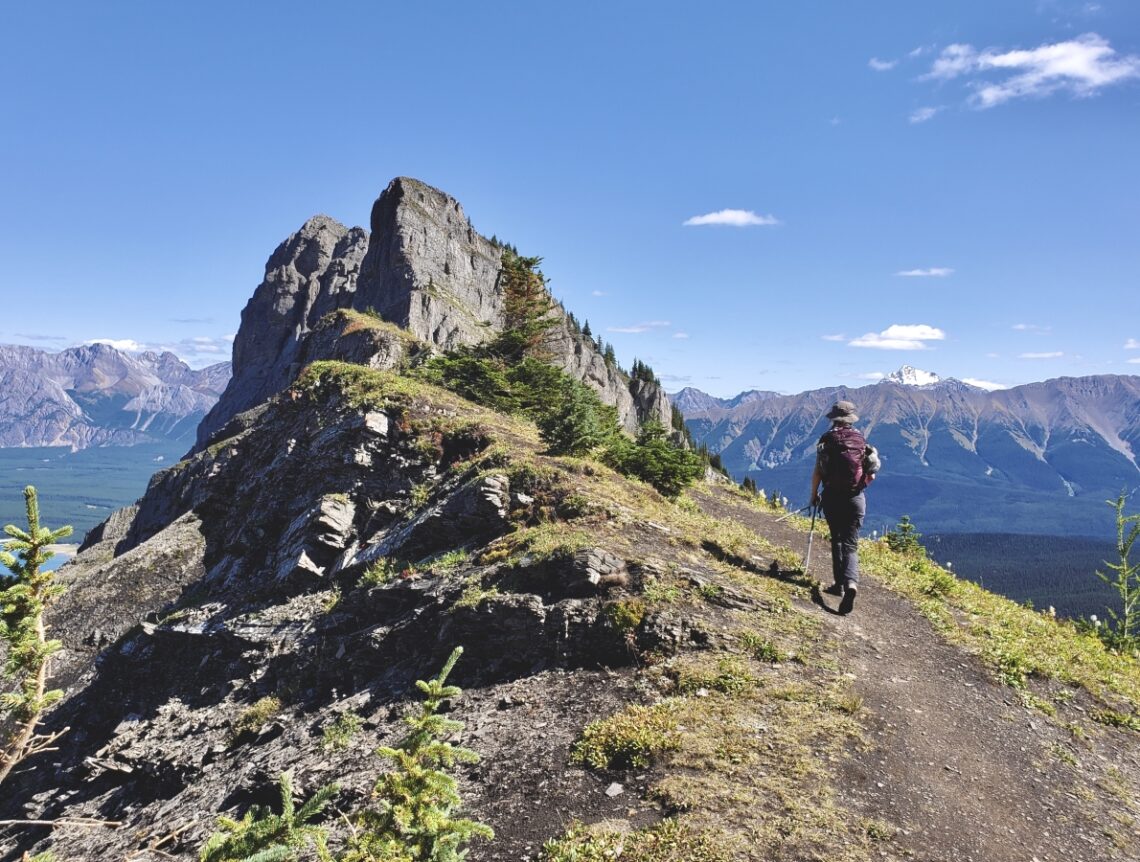 Gear Guide: Hiking in the Canadian Rockies
Day-hiking anywhere in the Rockies is always an adventure. The alpine lakes, the lush forests, and the awe inspiring peaks make the long and gruelling trudge up the mountain totally worth it… Most of the time. But before we start dreaming of the great adventures on our bucket lists, lets first talk about essential hiking gear for the Canadian Rockies.
I've hiked all over Canada and in all types of terrain. Some of my favourite places have been in Banff, Waterton, and Jasper. I've tested out various types and brands of gear and I've learned via trial and error what will pieces are the most efficient, effective, durable, and supportive.
In this post I'll go over all my favourite hiking gear for the Rockies, where to purchase it, and tips for buying.
Now, let's go hiking!
Skip Ahead:
This post contains affiliate links; see my full disclosure. If you click these links and make a purchase you're supporting The Holistic Backpacker. Thanks for your support & happy adventuring! – Taylor ♡
---
---
How to Save Money on Hiking Gear
Before I get into the good stuff, I want to first point out that hiking gear is so expensive. Like stupid expensive. There are a few tips and tricks to saving a bit of $ when purchasing gear, but unfortunately sometimes you just have to spend the wad.
Here are a couple of my guides for saving money on hiking gear though to help you out:
I've lucked out with purchasing a few things second hand or on sale, but a lot of the other stuff I had to buy brand-spankin' new. I don't even want to know how much money I've spent on gear over the past couple years.
Howeverrrrr, I look at buying gear like this as an investment; especially if you buy gear of quality. A lot of times you purchase gear that lasts for years, if not for an entire lifetime. So yeah, that backpack may cost $350, but you'll never have to buy a new one ever again.
---
Is Hiking Gear Necessary?
Okay, I bet the big question you're asking right now is "do I really need hiking gear?" I'm going to go with yes and no:
Yes – having appropriate gear makes your hiking experience sooo much more comfortable and enjoyable. Next I'll go into detail about the benefits of each piece of gear in this post, however I can tell you for certain that after using appropriate gear while hiking, I'd never go back to hiking without it. In fact, I actually wish I'd purchased my gear sooner.
No – you can totally make things work. If you're not an avid hiker, I wouldn't recommend splurging on hundreds of dollars of hiking gear, especially if you won't be using it frequently. I actually had a friend when I lived in Banff who had been climbing mountains for years in slip ons. SLIP ONS. I don't know how in the hell he did that, but recently he's invested in proper hiking pants and boots – he, like me, said he wished he'd purchased his gear sooner.
With that being said, I'm a firm believer in always having these 5 pieces of hiking gear for Rocky Mountain hiking:
I have these items with my on EVERY hike – no matter how big or small. I'll go into more detail about why these items are so important and a few places you can find them.
I urge you to pick and choose what gear you feel is necessary and to slowly add to your gear collection before going out and buying everything I recommend.
Which type of hiking gear is best comes down to personal preference. So, buy what you think is most important and from there attempt to borrow equipment to see what you like.
---
5 Pieces Of Essential Hiking Gear
The 5 pieces of essential hiking gear I previously mentioned are by far the most important things to take with whilst hiking in the Rockies. These 5 items will provide you with comfort, they will ensure your body is supported throughout your hike, and they'll make you feel super steezy because, let's be real, every hiker likes to look good.
1. Day-Pack
Investing in a good quality day-pack will change your hiking life. When I first started hiking, I used a standard Under Armour backpack. At the end of every hike my shoulders were achey and my lower back was screaming.
A good quality day-pack is equipped with a hip belt, a sternum strap, a sleeve for your hydration reservoir, and most-likely some sort of suspension system that reduces back sweat by permitting airflow.
I use Osprey's Sirrus 24L (men's version) and I absolutely love it. It's loaded with features, stylish, extremely durable, and comfortable.
My backpack brand of choice is Osprey for their ergonomic designs, extended features, and incredible quality. Gregory, Deuter, North Face, and Arc'teryx are also excellent and reliable backpack brands.
You can find those brands on their home websites or from MEC, REI, and Atmosphere.
It's important to note that backpacks come in different sizes and have male/female versions. If you have the option, try on your pack before purchasing it to ensure it's the right fit for you. I'd also recommend following the male/female guidelines, as these packs are tailored to fit different body types.
Day-Pack Features: What to Look For
Hip Belt – a hip belt is meant to transfer your pack's weight to your hips. If adjusted properly, it will transfer 60%-80% of the weight away from your shoulders which makes for a more comfortable hike and it significantly reduces sore, achey shoulders. The remaining weight will be shared between your sternum strap and your shoulders.
Reservoir Pocket – This is like a laptop sleeve and it's where your hydration reservoir sits. It normally comes with a clip that keeps your reservoir sitting up straight. There's also normally a hole out the back of your bag to feed your reservoir's tube through.
Suspension System – various companies have various models and types of suspension systems for their packs. Essentially this puts space between your back and the pack, allowing airflow. Trust me when I say this is amazing and is the ultimate feeling of luxury when you're busting your butt on the trail. The pack I use (Osprey Sirrus 24L) has a great suspension system and I get minimal back sweat with it.
Hip belt pockets – my favourite feature. Allows you to store smaller items like your phone and chapstick that you reach for frequently.
Trekking pole loops – allows you to attach your trekking poles to your bag when you're not using them.
Side straps – easily attach flip flops, Crocs (aka the ultimate adventure shoe), a flashlight, etc to the side of your pack.
Included rain cover – if your pack doesn't come with one you can buy a cheap one like this from Amazon.
Other Resources
Check out these resources for more information on how to properly fit and choose a day-pack:
---
2. Hiking Boots
Now, let's talk hiking boots. Your feet are getting you to the incredible places you're hiking to. Needless to say, it's so important you put them in a boot that will keep them comfortable and supported.
Having a sturdy, good quality pair of boots is important for any hike, however it's especially important if you're climbing mountains or backpacking. Having a bit of extra grip and ankle support has literally saved me on a few steep hikes, scrambles, and long treks.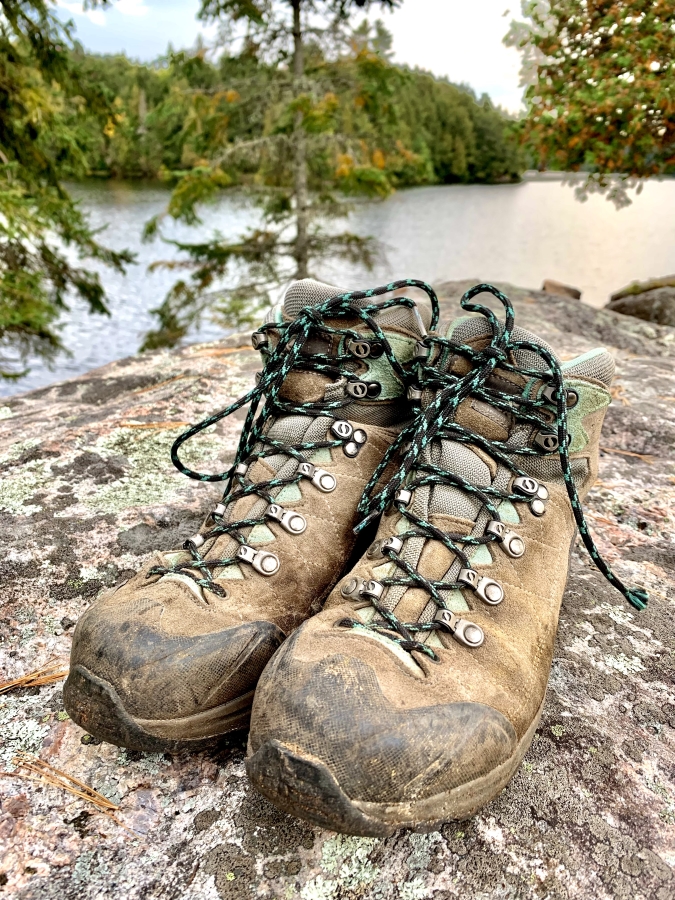 A few things I look for in a good pair of boots are:
Durable – hiking boots are expensive, you'll want a pair that lasts and can withstand the elements.
Ankle Support – I'm an ankle roller and need extra support, especially in uneven terrain. I aim for at least a mid-rise boot.
Gore-tex – waterproof boots are a must, unless you like cold, wet, rasin-y feet.
Grip – huge help when you're walking in uneven/slippery terrain.
Comfort/fit – your boots must be comfortable and fit your feet properly (note that they will take time to break in).
I use the Scarpa Kailash Trek Gore-Tex (men's version) hiking boots and they've been incredible.
I use them for day-hikes, backpacking trips, and winter hiking. Plus I've taken them through variable and extreme terrain like scrambles, mud, and extremely steep grades.
What Boot Should You Buy?
If you're an avid hiker and/or like to hike in all types of terrain/seasons, I'd recommend no other than the Scarpa Kailash model. I've beaten the shit out of these boots and they've more than passed the test. 600km+ and they've still got tons of life in them.
If you're more of a casual hiker or are just "trying it out," you won't necessarily need a boot like this. You can aim for a less expensive boot, however keep in mind the things to look for: durability, ankle support, Gore-tex, grip, and comfort//fit. You can also opt for trail runners; I've got a pair similar to these ones and they're perfect for "chill hikes."
Scarpa is now and forever my hiking boot brand of choice, but other reliable brands of hiking boots are: Solomon, Keen, North Face, and Merrel which can be found at MEC, REI, and Atmosphere.
Check out these resources to help you find, and care for, the right boot:
---
3. Hydration Reservoir
My Hydrapak is my "why didn't I buy this sooner" item on my list of hiking gear for the Rockies. Pre-Hydrapak I used a metal water bottle which was super heavy and extremely inconvenient. It meant I had to take off my pack every time I was thirsty which actually translated to me becoming dehydrated on every hike. Like super dehydrated.
Hydrapak
I now use the 2L Hydrapak which keeps me hydrated and healthy on the trail.
This bad boy has a shapeshifter function and never leaks. It fits perfectly in the back sleeve of my day-pack and has a long, detachable tube which makes it super easy to fill and place back in my pack.
Hydrapak makes 2L and 3L versions of this reservoir. In hindsight I think the 3 L bag would have been a better buy, only because I embark on quite lengthy day-hikes and backpacking trails where more water is required.
The 2L bag has worked great though and if I know it's going to be a long day, I bring cheese cloth and aqua tabs to filter water on-the-go.
There are plenty of brands that make hydration reservoirs, but I only recommend Hydrapak for its price point, great quality, and ease of use. I've heard of other brand's tubes growing mold or their reservoirs leaking – I've had zero problems with my Hydrapak.
---
4. Trekking Poles
Trekking poles are a highly debated piece of hiking gear, but they easily make my list of essential hiking gear for the Canadian Rockies. Some people love 'em, some people hate 'em. I personally would die for them, and probably would die without them (literally) because they've saved me so many times.
If you're questioning whether or not trekking poles are for you, let me convince you that trekking poles are for everyone: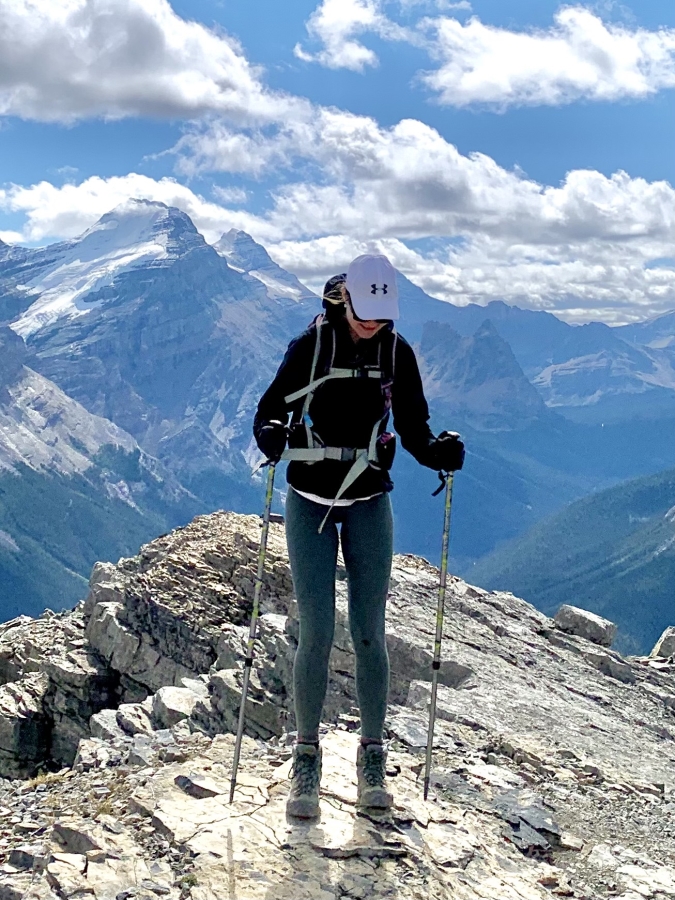 Why Trekking Poles?
Trekking poles take up to 20% of your body weight off your knees. For this reason, poles are essential if you've got bad knees, are carrying a heavy pack, or are hiking lengthy distances/steep terrain.
Balance – If you're exhausted and trekking through uneven or steep terrain, poles will help you catch your balance when you slip up.
Boredom – we all know what a bored mind feels like, but do you know what it feels like to have bored arms? Try hiking pole-less
There have been sooo many times where my legs have given out on me, I've slipped, or misstepped and my poles caught me. They also give me a great arm workout and I therefor consider them the real MVPs of the trail and an essential piece of hiking gear.
Now, go get yourself a pair of poles and thank me later!
Best Type of Trekking Poles
There are many types of fancy poles out there that claim to be ultra-light and carbon fibre; these can get expensive. Personally, I don't think there's any need for an expensive pair.
I've got a cheap pair that have done me well. Of course cheap poles have little quirks like difficulty folding them, but you'll most likely be more than fine with a low-end pair. The only thing I'm realizing now (and why I'm regretting not getting high-end poles) is that they're not entirely sustainable; you'll most likely need to replace cheap poles within a few seasons.
Something to note is that you'll have to decide which type of handle you want. Most commonly, poles have handles made of plastic, cork, or foam. The foam handles are a definite nay, cork handles are a yay, and plastic handles are somewhere in-between.
You can find trekking poles at: MEC, REI, and Atmosphere.
---
5. Hiking Socks
SOCKS. Socks, along with good hikers, are so important for keeping your feet comfortable and protected. I recommend using wool socks – they're durable and they wick away moisture.
My sock brand of choice is Smartwool. I find that I buy one pair of socks per hiking season and they last right to the end.
I'd recommend buying a pair with as much cushion as possible (especially for long trails and backpacking trips), at least crew length, and dark in colour to hide signs of wear.
Aside from Smartwool, look for a cushioned sock that's high in rise and offers compression.
---
What To Wear
As you're packing up for your next Rocky Mountain hike, you'll quickly discover that choosing what to wear is always the most difficult part.
What I've come to discover is that dressing in layers is always most optimal. This is especially true if your hikes take you to different altitudes. It may be warm at the bottom of the mountain, but once you climb 1000m+, it gets much colder. Soon the T-shirt and pair of shorts you put on in the morning is no longer making the cut!
I've created a detailed guide that explains exactly what to wear hiking in the Canadian Rockies, however the following are the highlight pieces:
Essential Hiking Clothes
Use what you have for the majority of your clothes, but make sure you have the following items with you:
A waterproof jacket is the most important layer to bring on a hike. It's lightweight, compact and protects against wind, rain, and the cold. I use this one (men's version). It's great quality, affordable, and folds into it's own pocket. If you know it's going to rain, don't forget to also pack waterproof pants (men's version).
Puffer jackets are the perfect warm layer. They're thin, compact, lightweight, and warm. I have this one (men's version). It doesn't have a hood and throws a ton of heat. Alternatively you can use fleece as a warm layer. This fleece zip (men's version) is affordable and versatile – great for ultralight and minimalist travelling as well as hiking.
If you'll be doing a lot of hiking, I'd recommend investing in a pair of hiking pants. They're comfortable, great quality, durable, and are great in any sort of weather conditions. I use these (men's version) and I lovelovelove them! If you're hiking in cold weather, wear soft shell pants (men's version).
Basic Hiking Clothes
Aside from these items, make sure you have the basics – shorts, T shirts, etc – along with hiking socks, athletic underwear (a game-changer), thin gloves (I use these for chilly temps and these for cold temps), sunglasses, and a hat (toque or adventure hat depending on the weather).
If you're hiking in Canada's Rocky Mountains there's no such thing as being over-prepared. Mountain weather changes on a dime and you want to be ready for whatever nature throws at you. That's why even if it's a warm day you'll want to bring a jacket with you, especially for higher elevation hikes.
More: What To Wear Hiking In Canada's Rocky Mountains
---
Hiking Safety
If you're new to hiking, chances are you're a bit nervous and you have a million questions. To ease your mind and make you feel safer setting out on your next adventure, I'd recommend always bringing the following gear with you:
Bear spray – growing up in Ontario I'd never heard of bear spray, but in the mountains everyone uses it (learn how to use it properly). Alternatively you can use bear bangers which are much smaller and lighter. DON'T use bear bells or whistle; the constant noise actually attracts bears and makes it sound like you're low on the food chain.
Map – to be quite I honest, I have no idea how to use a map. Instead, I always download my map beforehand on Alltrails and track my location via satellite. You can also pack a portable charger in case your phone dies. I use this one.

Pro-tip – download your map by adding the trail you want to a list. From here, click "view full map," click the three dots in the top right hand corner, and then hit "navigate using this route."

Satellite communication device – I don't personally use one of these, but they're honestly a great safety feature to bring with you. Options include a SPOT device, or the Garmin InReach device.
Extra Food & Water – okay I've had 4 hour trails take me 9 hours to complete. These days all I want is a little extra food and water.
Extra Layers – it's never a bad idea to bring warm clothing with you, especially if you're new to hiking, are getting a late start, or are unsure of the temperature/how long the trail will take you. I always bring a fleece layer or a puffer jacket with me just in case.
Follow The Holistic Backpacker's Adventures on Socials:
Keep Up With My Adventures!
Sign up for my newsletter and stay up-to-date with my latest adventures, gear guides, and eco-resources!
Taylor ♡
Other Tips
Tell people where you're going, send them your trail, and give them an estimated time of return.
Never attempt something out of your ability range unless you're with someone experienced.
Remember that normally whatever situation you're in can be easily solved and you have nothing to worry about – stay calm and don't be afraid to ask other people on the trail for help.
If you do get caught in a scary situation, update your phone's voicemail with your location, physical description (coat colour, backpack colour, etc), and time. Your voicemail requires no cell service to update.
---
Food
The best hikes are always complete with the best food. You'll discover that food actually tastes better on a mountain summit or next to a beautiful lake. It's just science.
I'm famous for never bringing enough food with me when I'm hiking. Learn from my mistakes and pack yourself enough food for your hiking adventure.
Snacks
If you're going for a shorter day-hike, all you'll need are snacks:
Fruit – berries, bananas (energy needed for 1 hour of working out), and APPLES. Apples contain the same amount of energy as a coffee and they'll give you the extra kick to finish your hike.
Protein bars – look for healthy bars like RXBAR, or grab some great vegan bars: Vega, GoMacro bars, or Health Warrior Chia Bars. Alternatively bring a cheaper, calorie dense bar like Clif – my favourite flavour is white macadamia as an occasional treat.
Trail mix
Muffins – make them yourself, naturally sweeten them, and add energy boosting foods like hemp, chia, coconut flakes (unsweetened), and flax meal for bonus nutrients. Pro-tip – use oat flour for a denser, more calorie rich muffin.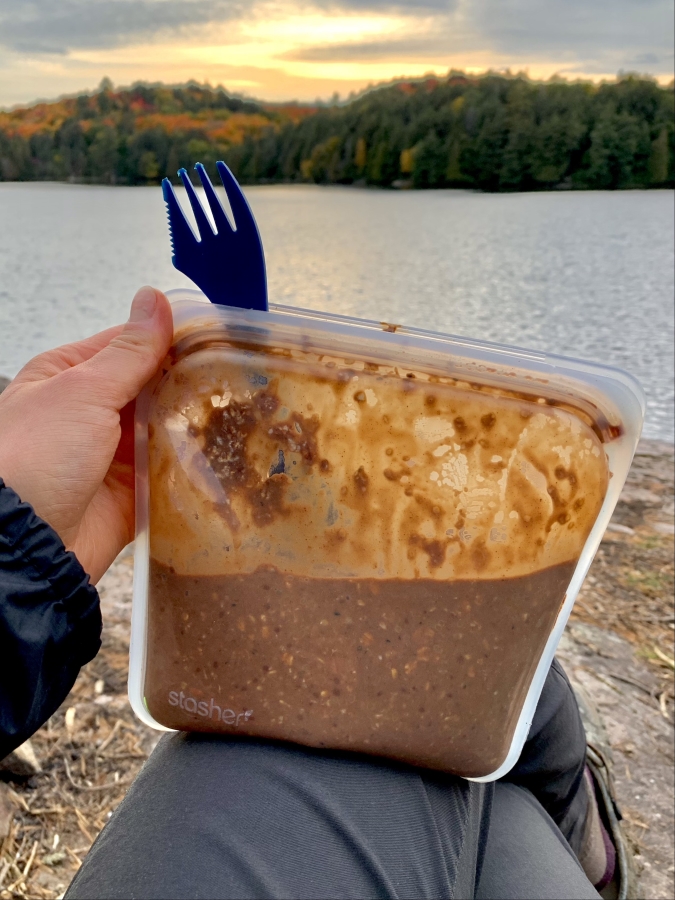 Food
Embarking on longer day-hikes requires meals. I like to package my pre-cooked meals in Stasher Bags, which are silicone re-useable bags (totally durable and eco-friendly). A few ideas are:
Remember to pack yourself a spoon! Best options out there are camping sporks. You've got plastic, titanium, and bamboo to choose from.
When choosing what food to pack for your day of hiking, consider that you'll be expending significantly more energy than you would on a normal day. Choose food with the following:
High protein and calories
High nutrients
Sugar to replace electrolytes (natural sugars are best)
---
The Extras
Now that we've covered all the essential hiking gear for the Canadian Rockies, let's talk about the other items that make your hiking experience a little more luxurious.
Sunglasses – I always bring a light pair and a dark pair to switch between depending on light conditions. I've got contacts and sensitive eyes so I always wear something to protect them.
Bug suit – I really don't like using bug spray (it's so harmful for us and for our plant). Instead I bring a bug suit with me if I know the trail will be buggy.
Sunscreen – if it's gonna be sunny, layer up with sunscreen, wear a hat, or bring long layers.
Extra shoes – if you're hiking to a destination (like a lake) where you plan to spend extended time, consider bringing an additional pair of shoes. I always bring my trusty trail crocs – these beasts are the ultimate adventure shoe. Rumour has it they even survived a porcupine attack on the Banff Skoki Loop.
---
Keep Up With My Adventures
Now that we've gone over essential hiking gear for the Rockies, make sure to check out my guides for what to wear hiking and for backcountry camping. OH and here are my latest outdoor adventures to fuel your wanderlust:
---
Happy adventuring!
Taylor ♡
---
Like This Post?
Share with friends or save it for later!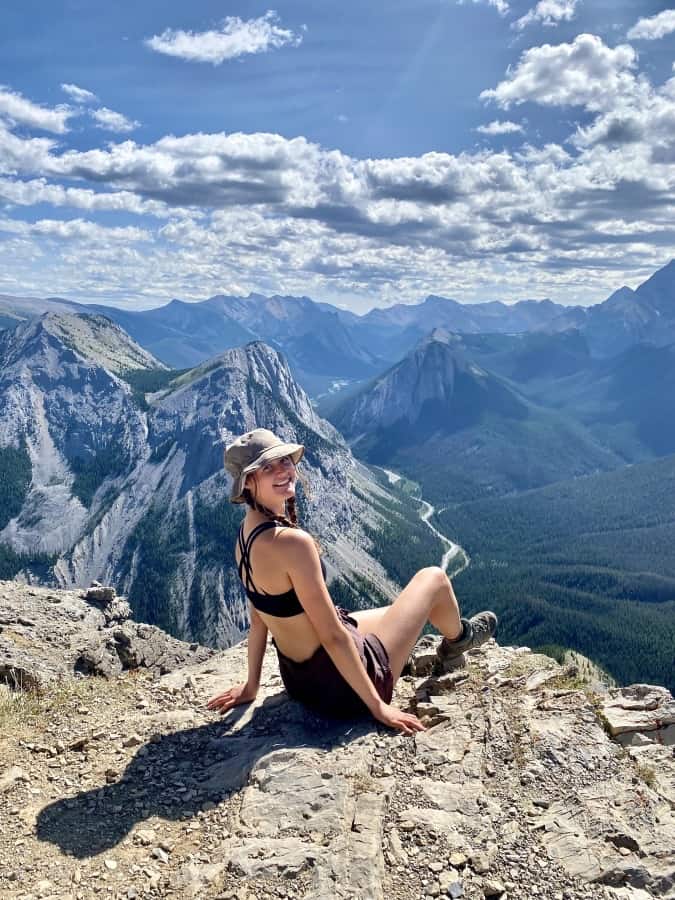 About The Author
---
Hey! I'm Taylor – the voice behind The Holistic Backpacker.
After moving to Banff National Park in 2020 I became an outdoor adventure enthusiast and vowed to never stop exploring.
I'm now focused on travelling the world and seeing everything our beautiful home has to offer.
I created The Holistic Backpacker so I could share my adventures and help connect people like you with the same amazing experiences.
I am also an advocate for the environment and do as much as I can to take care of our planet.
Get to know me and my story more here 🙂
I can't wait to share my adventures with you!