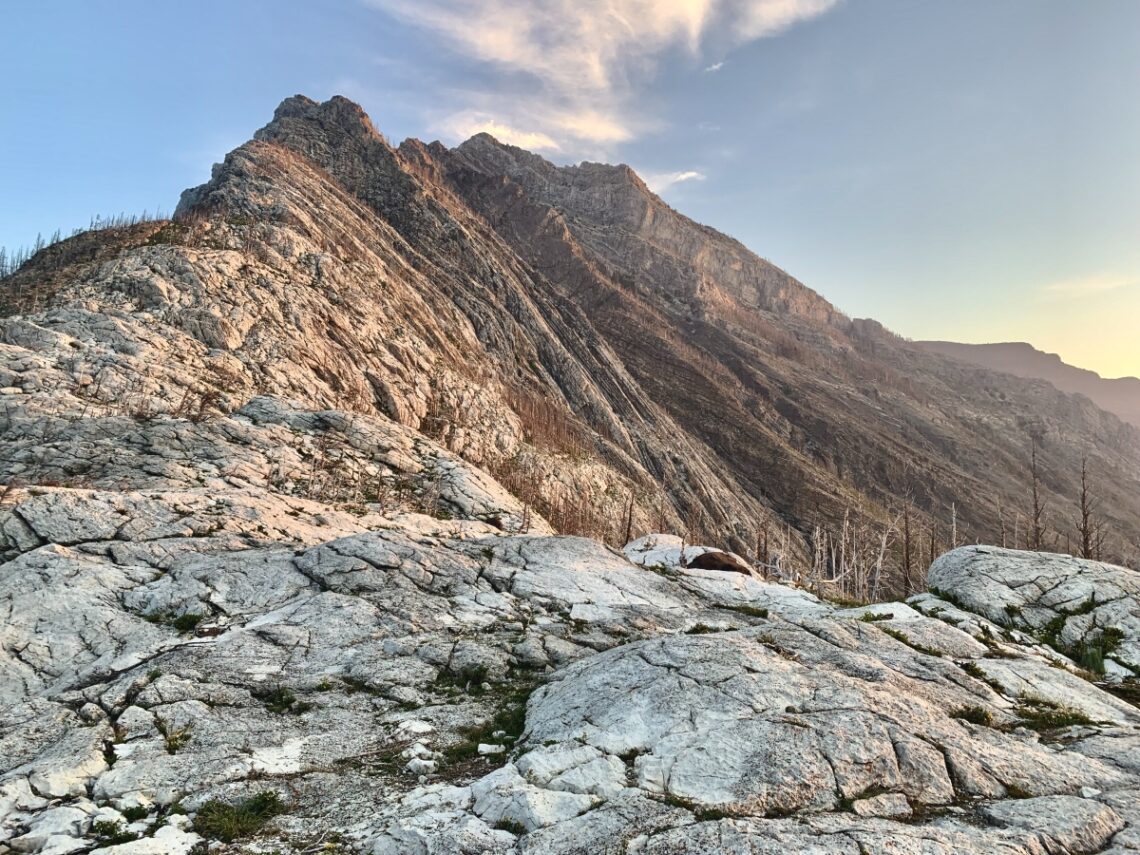 Bear's Hump Hike – Waterton Lakes National Park
Bear's Hump hike is a classic in Waterton. It's quick, easy, and the views are incredible for the amount of effort it takes to hike the trail. Bear's Hump hike a MUST if you're visiting Waterton!
I'd recommend completing Bear's Hump hike for sunrise or sunset (more on sunrise/sunset in Waterton here) as you'll have the chance to watch the sun rise above the horizon and project it's beautiful alpenglow over the mountains and Upper Waterton Lake.
Don't forget to check out my ultimate guide for planning a trip to Waterton.
Now, let's go hiking!
Skip Ahead:
This post may contain affiliate links (full disclosure). If you make a purchase through one of these links I may receive a small commission at no additional cost to you. Thanks for your support & happy adventuring! – Taylor ♡
---
Related Content:
---
Getting To The Bear's Hump Hike
The Bear's Hump hike trailhead is directly across the street from The Prince of Whales hotel, which is about a 15 minute walk from town.
If you're looking for hiking trails near Lethbridge, Bear's Hump hike is only 1.5hours away. The Bear's Hump trailhead is about 2 hours from Fernie, 3 hours from Calgary, and 4 hours from Banff. You could easily drive from any of these locations to make this a day-trip, but I would recommend staying at least 1 night in Waterton because there is lots to do!
If you're driving from Calgary or Banff, make sure you take highway 22. This highway takes you through the foothills and is absolutely gorgeous. You'll have the chance to pass through the greenest rolling fields which are backed by distant mountains that appear blue in colour. You'll be passing by lots of farmland, so prepare to see lots of horses and cows!
About The Bear's Hump Hike
Distance – 2.4m
Elevation gain – 213m
Rated – moderate
Type of trail – out & back
Estimated time – 1 hour roundtrip, not including stopping at the top
The trail for Bear's Hump hike is easy to follow, well-trafficked, and is hike-able year round. You'll be following switchbacks up the mountains, which means you'll be ascending in a zig-zag fashion.
The path is mostly clear of rocks and roots – the rocks you do come in contact with are built like stairs so you don't need to worry much about watching your step.
Bear's Hump Hike
Bear's Hump hike goes uphill right away and doesn't stop until you get to the top. The grade isn't too strenuous, however there are no flat sections.
If you get tired along, take advantage of the benches and lookout points that are scattered along the path on the way up.
This trail is all switchbacks, so you'll be zig-zagging up the mountain. Please respect the surrounding vegetation and stay on-trail for the duration of the hike rather than cutting through the switchbacks.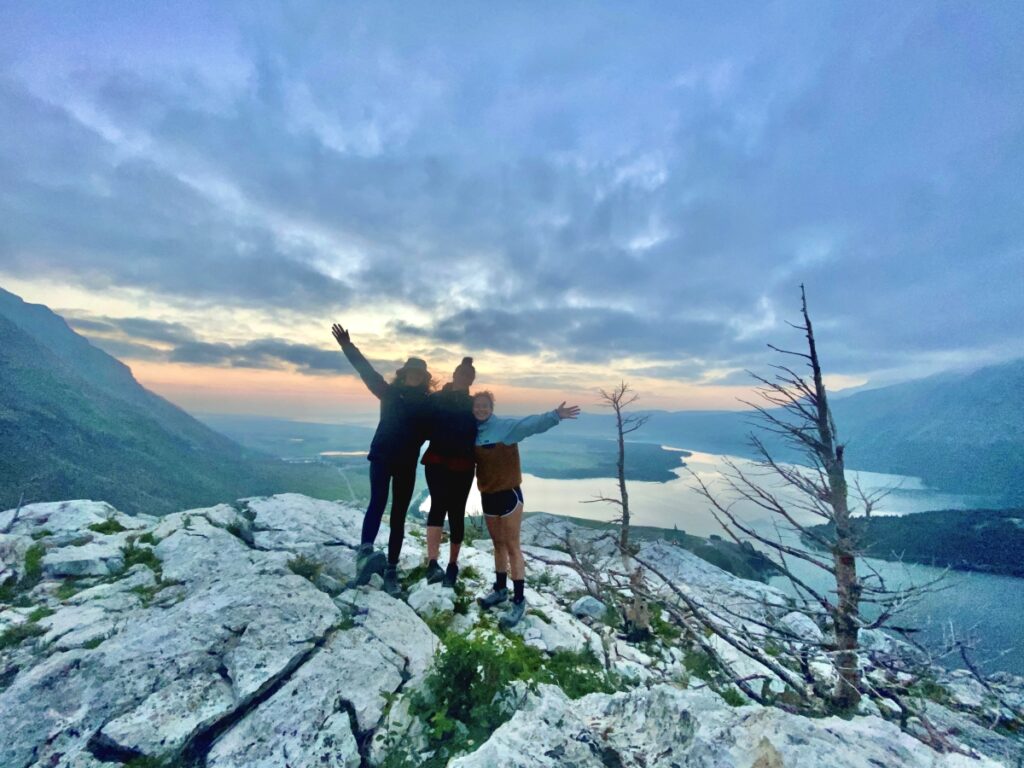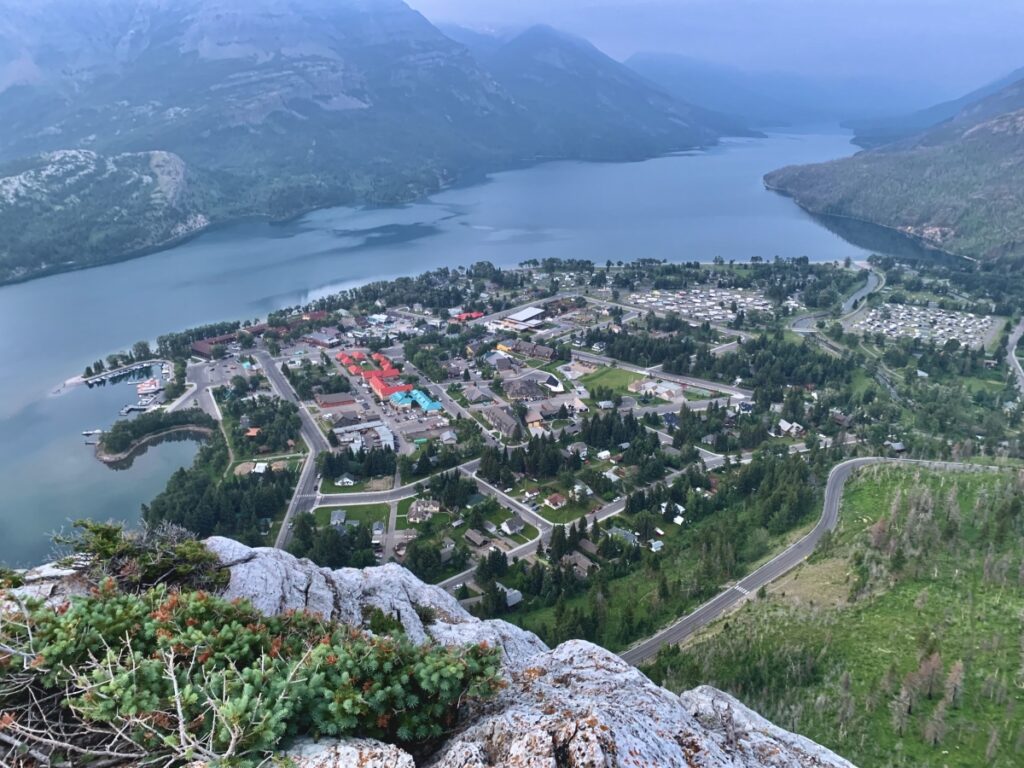 Once you reach the top of Bear's Hump hike, you'll have 360 degree views. To your left it will be like looking into the prairies; flat ground, not much happening. This however makes sunrise on Bear's Hump perfect though because you can watch the sun rise above the horizon.
Directly infront you'll see Middle Waterton Lake and to your right will be the town of Waterton and an insane view of Upper Waterton Lake. Looking at the town from here makes your realize how small it really is!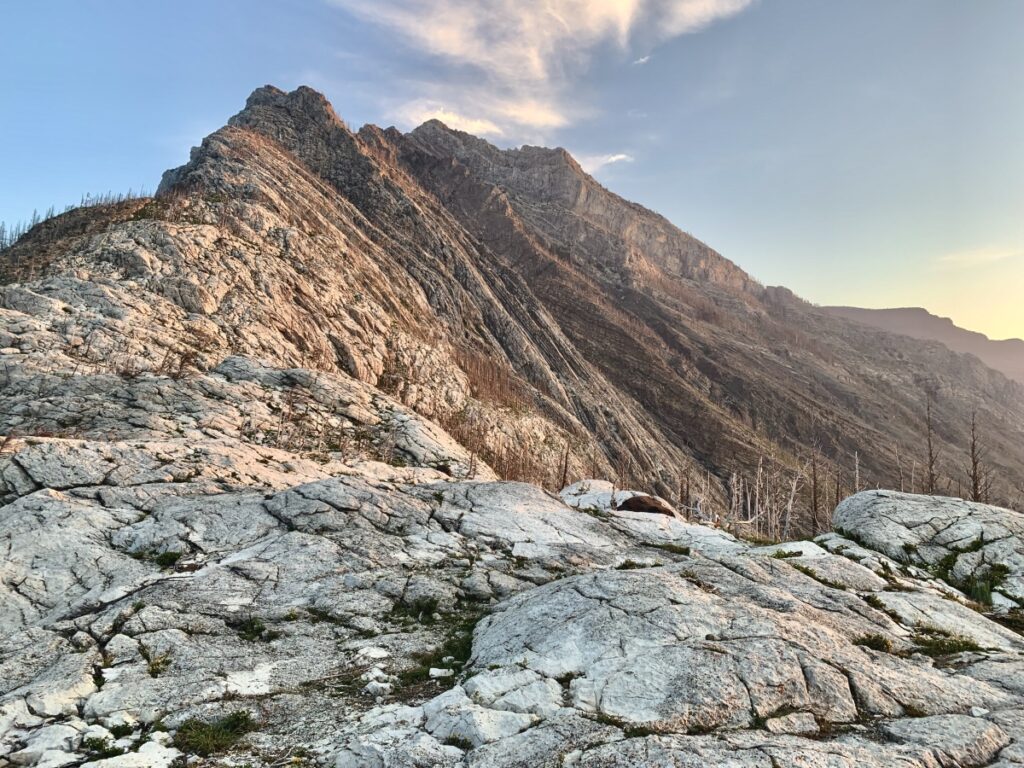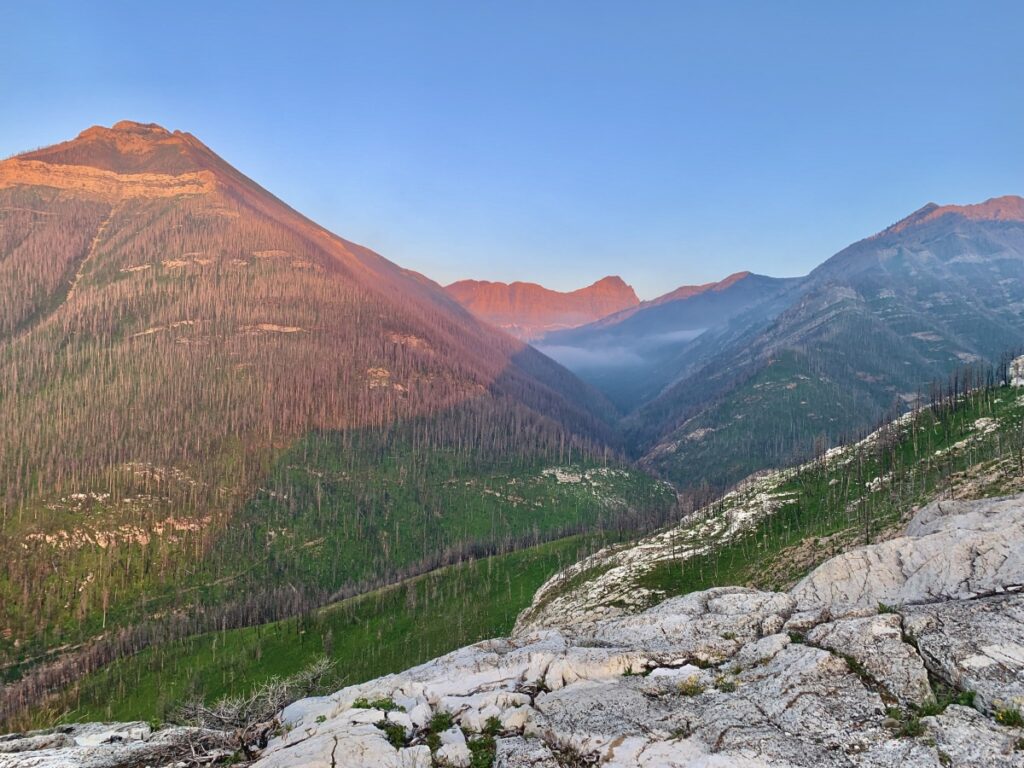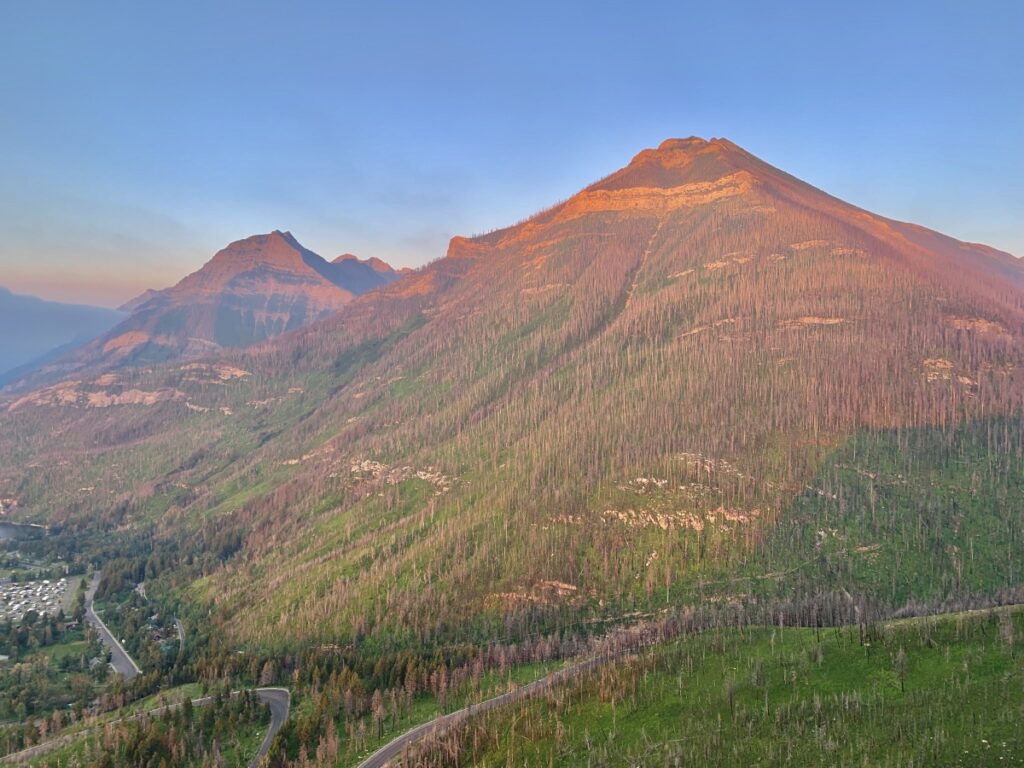 Overlooking the lakes and town was cool, but my favourite view was actually what will be behind you.
The big mountain full of detail that attaches to Bear's Hump is Mount Crandell. It's a stunning mountain and very rugged looking. From Bear's Hump it looks like you can summit, however I would only attempt this if you have lots of experience hiking, route finding, and scrambling. Additionally, you can summit from a trailhead right down the street or from the West Route. You can access the West Route from Crandell Lake's backcountry campsite as well.
Bear's Hump hike
Connect via socials:
Sign up for emails to receive a 50% discount on my travel maps + occasional updates on new hiking guides & travel resources.
Taylor ♡
You've also got a kick-ass view of the valley behind you. Luckily the morning of our hike the sky put on a show. We saw the pinkest alpenglow and lots of low-lying clouds in the valley.
The mountains to the left of the valley are Bertha Peak (explore my trail guide for Bertha Lake) and Mount Alderson.
Bear's Hump hike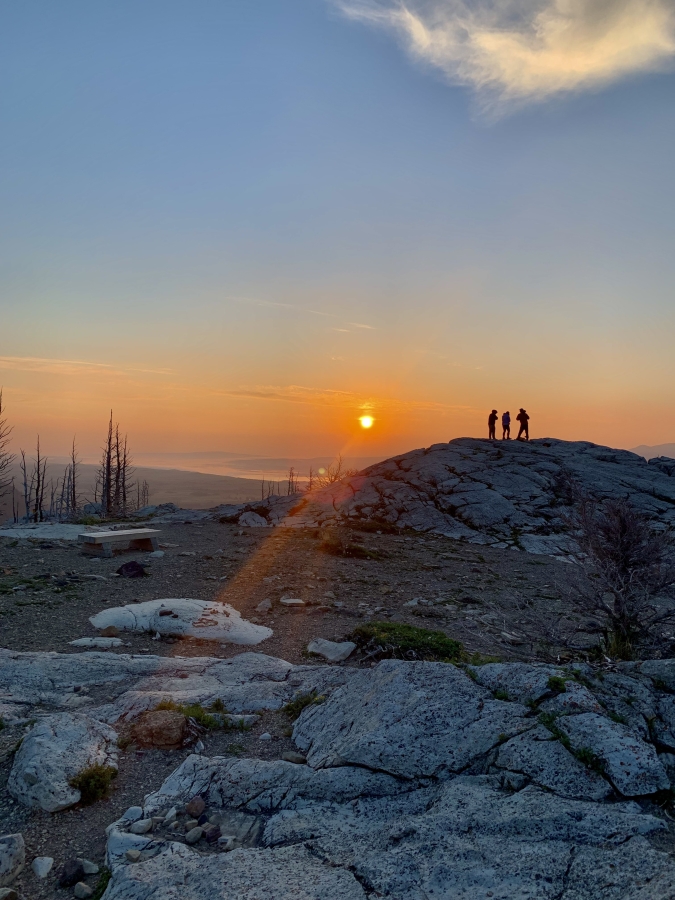 We did Bear's Hump hike on a bit of a smoky morning, hence the haze in the photos.
We all loved this hike and spent well over an hour at the top taking in the views.
We goofed and weren't prepared at all, but I would recommend bringing breakfast, a hot beverage, and some blankets or chairs to the top to really enjoy the moment.
Since it's such a short hike you won't have to worry about the weight if you want to carry these things up.
Basically, Bear's Hump is a must. So put on your hiking boots because it's time to hit the trail!
Next I'll quickly go over my favourite gear for hiking in the Rockies as well as a few tips to ensure you have a successful hike up Bear's Hump.
---
Discover More Adventures in Waterton
Waterton is a mecca for adventurers and travellers who are after scenic mountain views, great hiking trails, and blissful lakeside vibes.
You can find all my Waterton content here, however you won't want to miss the following Waterton-based posts: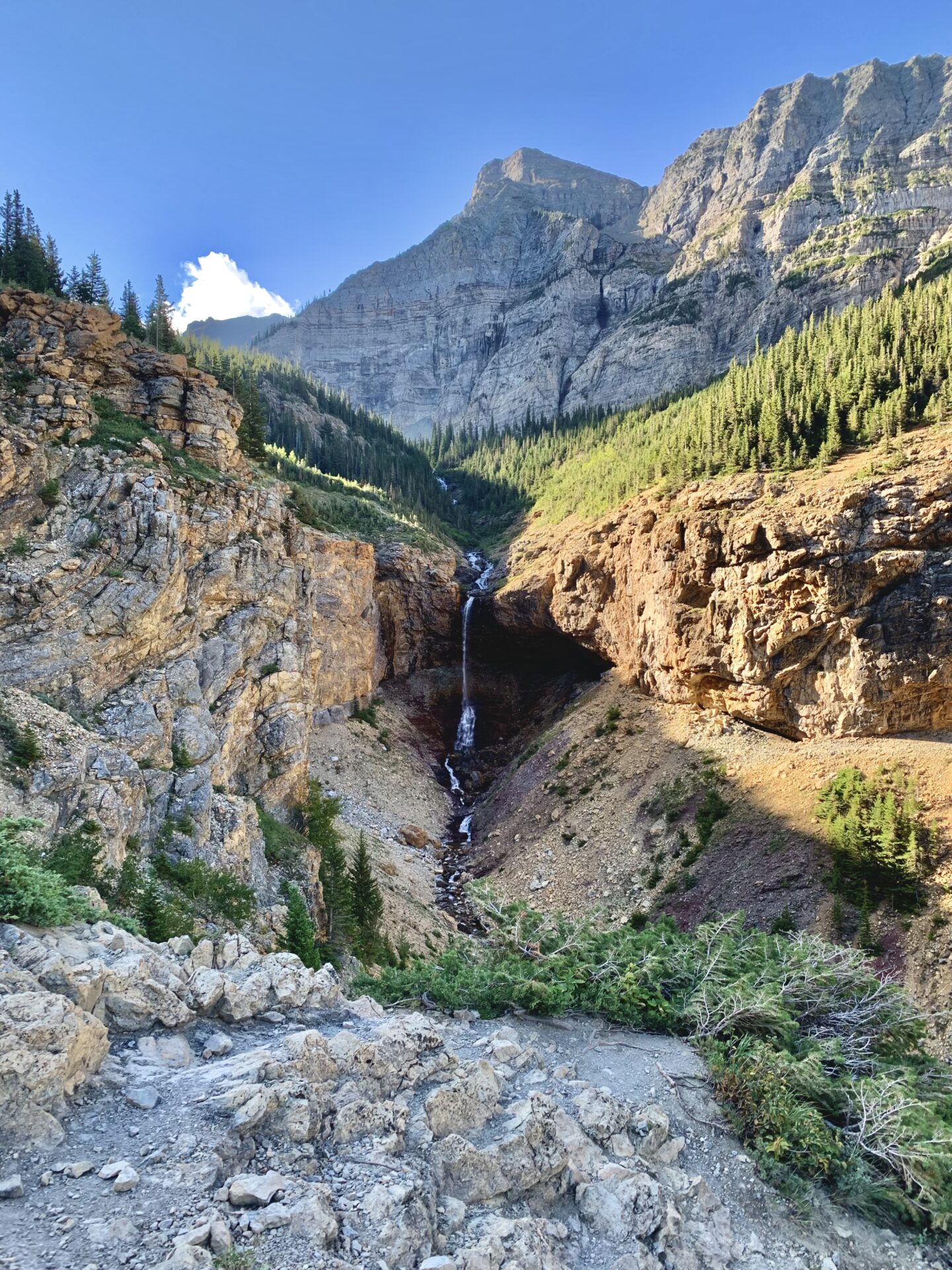 Featured Waterton Content
More Alberta Content
---
If you want to explore more of Alberta's beautiful parks and Wildland areas, keep reading.
Alberta is home to some of Canada's most beautiful (and famous) parks and mountain ranges; cue Banff, Jasper, and Kananaskis!
You can read about these stunning national parks as well as find my travel and hiking resources for them here.
---
---
Recommended Hiking Gear
The following items are some of my favourites – I never hit the trail without them!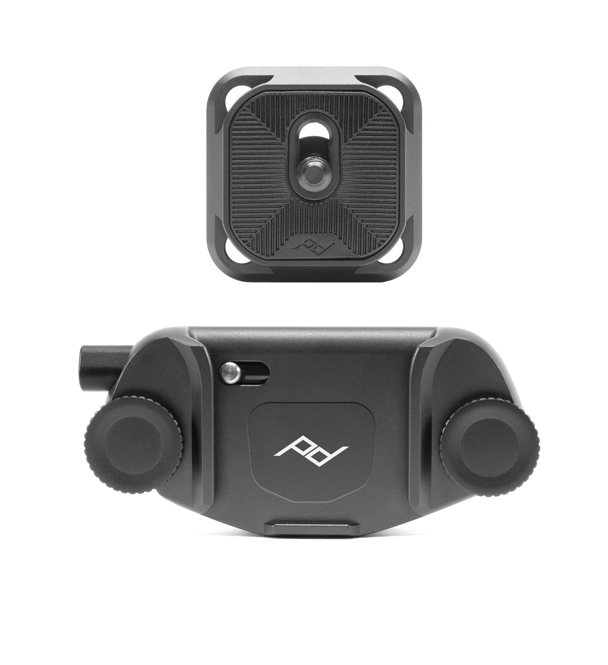 The Capture Clip by Peak Design is a sturdy, safe, and super convenient way to carry your camera while hiking or backpacking.
Find it on Amazon (CAD).
Find it on Peak Design (US).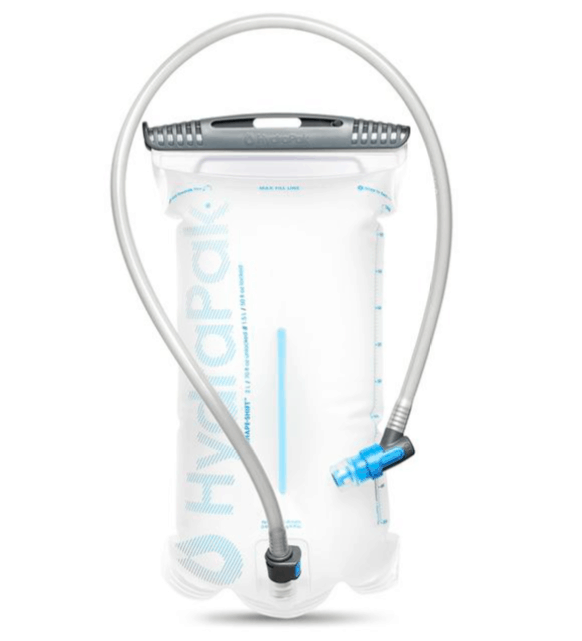 A hydration reservoir is SO important. It holds 2L+ of water and keeps you hydrated on-trail. I use the 2L Hydrapak; it never leaks and has a detachable tube.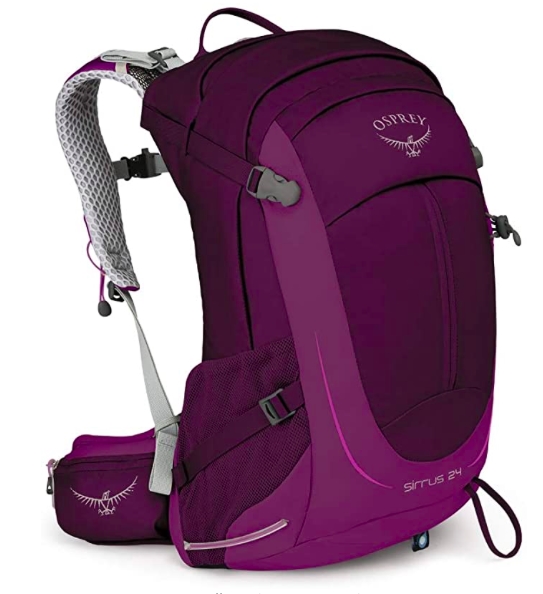 Things to look for in a good quality day-pack: sternum strap, hip belt (with pockets), and a breathable mesh system for your back. I use the Osprey Sirrus 24L pack (men's version) and I LOVE it!
---
What To Wear Hiking in the Rockies
For a detailed guide on what to wear hiking in the Canadian Rockies, check out this post.
Choosing what to wear hiking can be confusing, but the secret to properly dressing for a hike is layering. You can mix and match the tops and bottoms you already own to make up your base layers, however in addition to those clothes you'll need a few extra things:
A waterproof jacket is the most important layer for hiking – it keeps you warm and protects you from wind and rain. I use the Marmot Eco Precip Jacket (men's version) which is totally a bang-for-your-buck. If rain is in the forecast, don't forget to pack waterproof pants (men's version) too.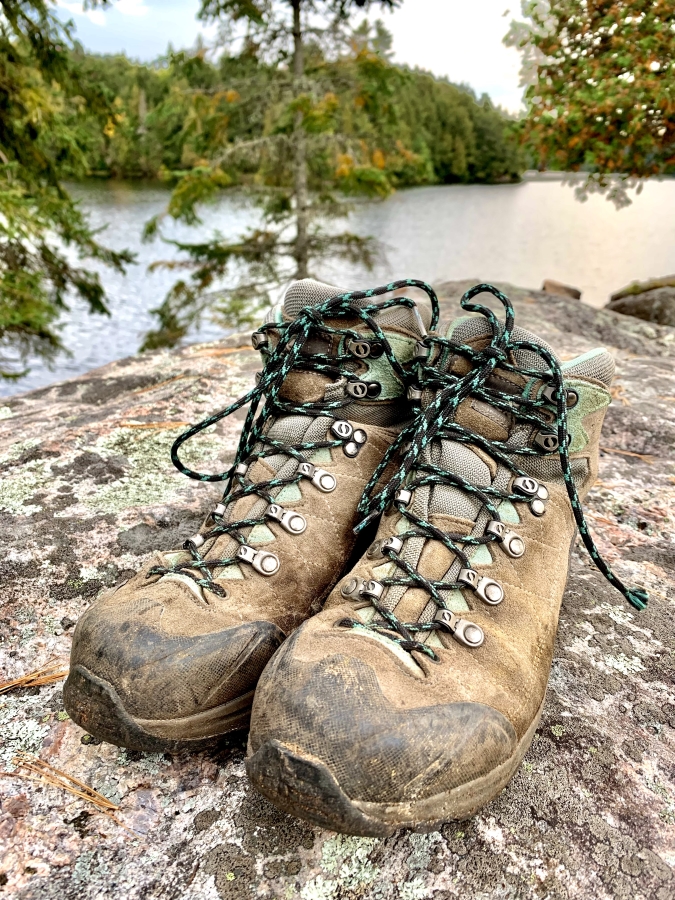 A good pair of hiking boots are Gore-tex, provide ankle support, and are durable. I use the Scarpa Kailash boot (men's version) and they've never let me down. You'll also want a good quality pair of socks. I use Smartwool – they're great quality and last an entire season.
A puffer jacket acts as your warm layer. I use the hoodless Columbia Women's Heavenly Jacket (men's version). Alternatively you can use a fleece zip – I have this one (men's version) from Columbia. Both of these options are perfect layers to keep you warm on windy, cold, or high elevation hikes.
Rocky Mountain hiking exposes you to different natural elements and conditions – it's imperative that you're prepared for whatever nature throws at you. Trust me, I've learned the hard way!
More: Day-hiking Gear Guide
More: What to Wear Hiking in the Canadian Rockies
Tips For A Successful Hike
Hike this for sunrise/sunset – less people & amazing views
Walk from town (15 minutes) to the trailhead if there's no parking
Bring breakfast, blankets, and a hot beverage
Dress warm or bring layers if it's a chilly day (especially you go for sunrise/sunset)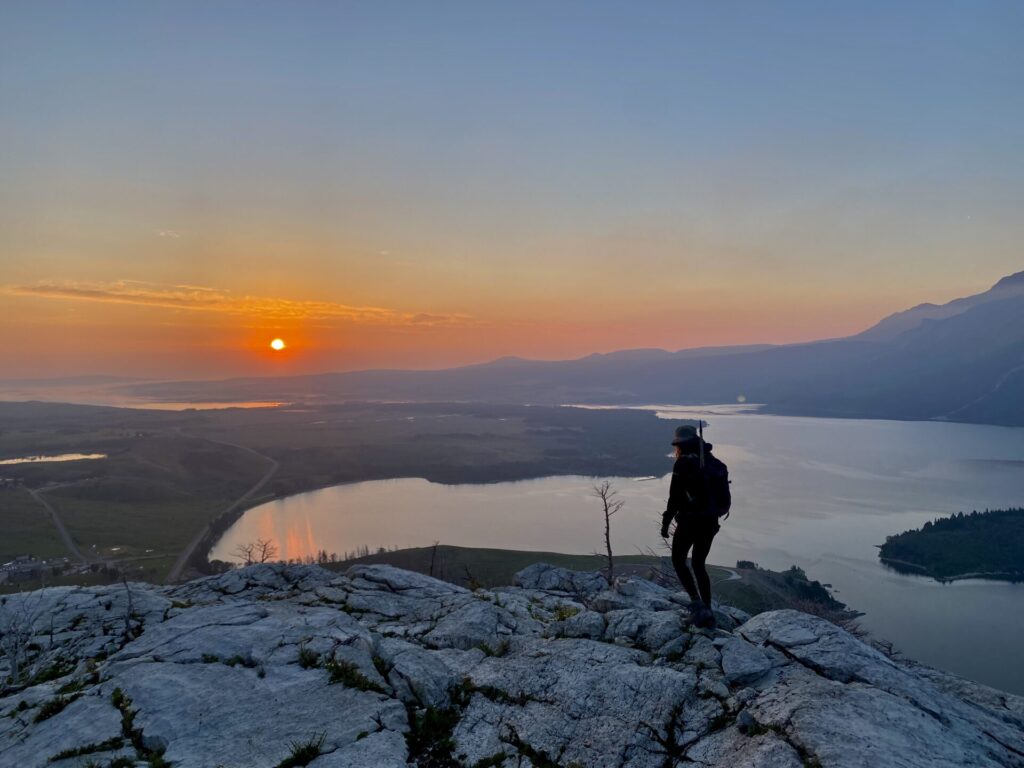 Best Place to Stay in Waterton
The best place to stay in Waterton depends on your price range, So, here are some recommendations for every budget:
Plan a trip with my ultimate guide to Waterton:
Happy adventuring!
Taylor ♡
---
Like This Post?
Share with friends or save it for later!
---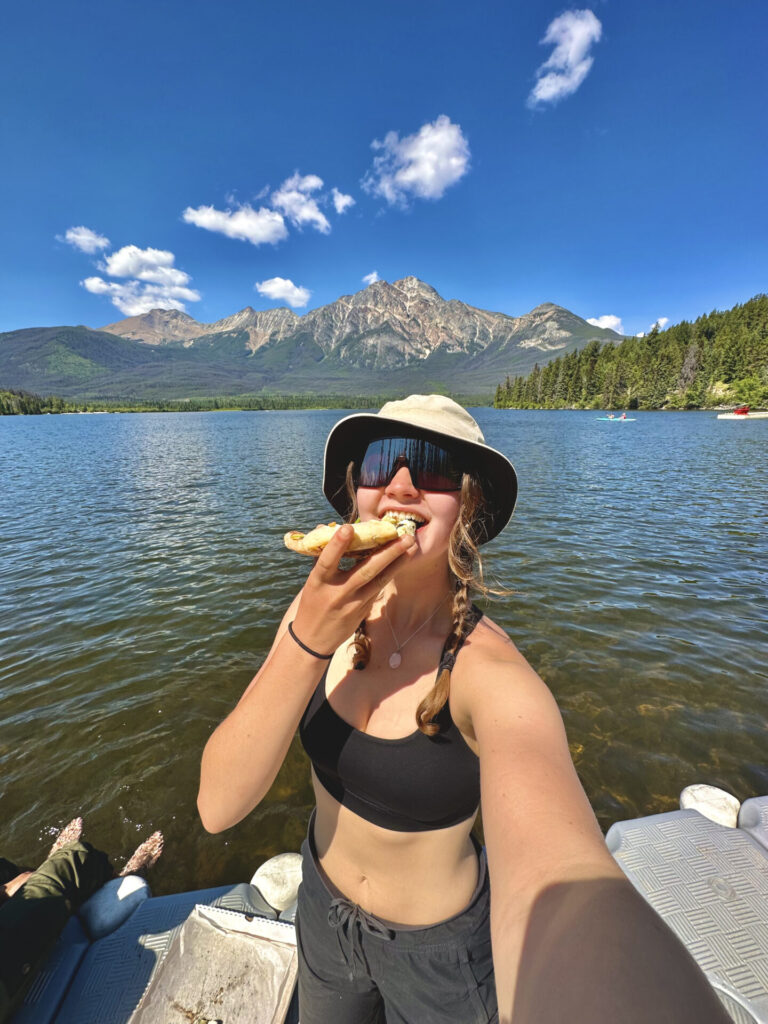 About The Author
HI, I'm Taylor – the voice behind The Holistic Backpacker.
After moving to Banff National Park in 2020 I became an outdoor adventure enthusiast and vowed to never stop exploring.
I now spend my days travelling the world, climbing mountains, and spending nights under the stars in the Canadian Rockies backcountry.
I created The Holistic Backpacker so I could share my adventures and help connect people like you with the same amazing experiences.