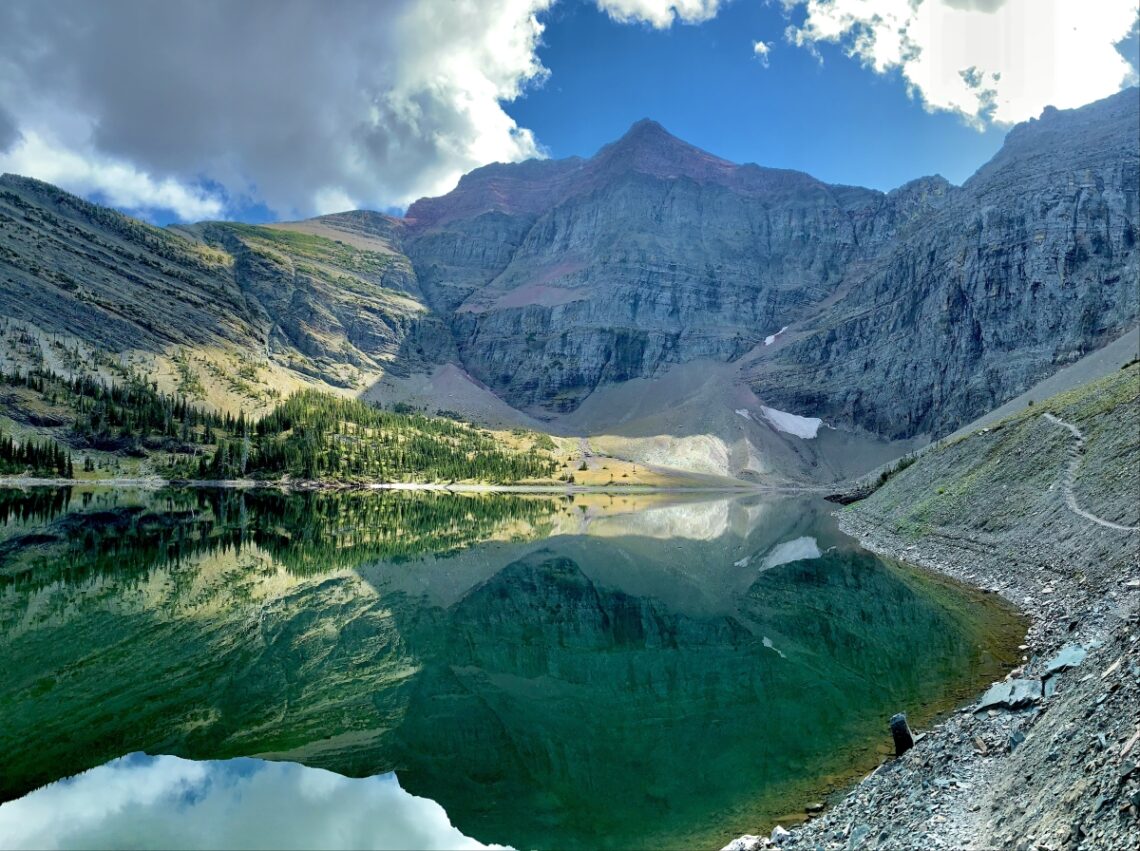 Crypt Lake Hike – Waterton Lakes National Park
The infamous Crypt Lake hike is a bucket-list item and one of Waterton's most popular attractions. National Geographic actually rated this hike as one of the "World's 20 Most Thrilling Trails" back in 2014.
This trail features everything from waterfalls to alpine lakes to caves and incredible valleys. Looking for variety in your next hiking adventure? You've just found it.
Don't forget to check out my ultimate guide for planning a trip to Waterton.
Now, let's go hiking!
Skip Ahead:
This post may contain affiliate links (full disclosure). If you make a purchase through one of these links I may receive a small commission at no additional cost to you. Thanks for your support & happy adventuring! – Taylor ♡
---
Related Content:
---
Getting To The Crypt Lake Trailhead
You've got 2 options for getting to the Crypt Lake trailhead: (1) 15 minute boat shuttle with Waterton Shoreline Cruises or the Wishbone Trail.
Wishbone Trail – The wish bone trail will add an extra 13.2kms (one way) to an already 20km day. Why would you do this? Probably torture. However if you want a solid 45km+ hiking day, this is how you do it.
Waterton Shoreline Shuttle – The Waterton shuttle offers a 15 minute boat ride to the Crypt Lake trailhead for $30 roundtrip. Check their website for updated times and prices. The only catch with this is that you have to wait for specific pickup times. If you finish early, you're waiting. If you finish too late… Good luck. There are no bathrooms or any type of shelter, so ensure you're prepared for the elements that day. The cruise operates on a first come first serve basis, so I'd recommend getting there before they open to buy tickets during high season.
The cruise only operates mid June to early October – plan your trip accordingly!
If you're looking for hiking trails near Lethbridge, the Crypt Lake hike is only 1.5hours away. The Crypt Lake trailhead is about 2 hours from Fernie, 3 hours from Calgary, and 4 hours from Banff. You could drive from any of these locations to make this a day-trip, but I would recommend staying at least 1 night in Waterton because there's lots to do!
If you're driving from Calgary or Banff, make sure you take highway 22. This highway takes you through the foothills and is absolutely gorgeous. You'll have the chance to pass through the greenest rolling fields which are backed by distant mountains that appear blue in colour. You'll be passing by lots of farmland, so prepare to see lots of horses and cows!
About The Crypt Lake Hike
Distance – 20.4km
Elevation gain – 936m
Rating – hard
Trail Type – loop
Estimated time – 7-9 hours (according to shuttle pickup/drop off times)
This Crypt Lake hike may seem intimidating due to its length and elevation gain, but I assure you it's doable as long as you're somewhat fit and up for the challenge.
The trail varies greatly, so be prepared to hike on different terrain and at different levels of incline. There are lots of people, so if you're hiking solo you have nothing to worry about.
The final destination of the Crypt Lake hike is of course Crypt lake, but along the way there's lots of amazing things to see. You'll climb through a cave, traverse across a cliff using a cable, pass by 4 waterfalls, and have the chance to cross the US border. If this doesn't get you excited, I don't know what will!
Connect via socials:
Sign up for emails to receive a 50% discount on my travel maps + occasional updates on new hiking guides & travel resources.
Taylor ♡
Tips for Fast Hikers
If you're a fast hiker, I have 2 super important recommendations for the Crypt Lake hike. (1) start the hike right away, (2) stop to admire the waterfalls on the way back. Sit at the back of the boat, unload first, and hit the ground running. If not you'll be stuck behind crowds of people and you won't have many opportunities for passing.
I managed to get ahead of everyone and made it to Crypt Lake first. This was unreal because I wasn't stuck behind anyone and I had a solid amount of time by myself at Crypt Lake before anyone else got there. Additionally, on the way back I had the viewing points for the waterfalls all to myself.
Hiking The Crypt Lake Trail
Pre-hiking tip – I recommend stopping to view the waterfalls on the Crypt Lake hike on the return hike. This way you won't get stuck hiking behind people and you'll have an idea of how long it's going to take you to get back to the trailhead (this way you don't miss the shuttle). I've added pictures in the order I recommend doing this hike.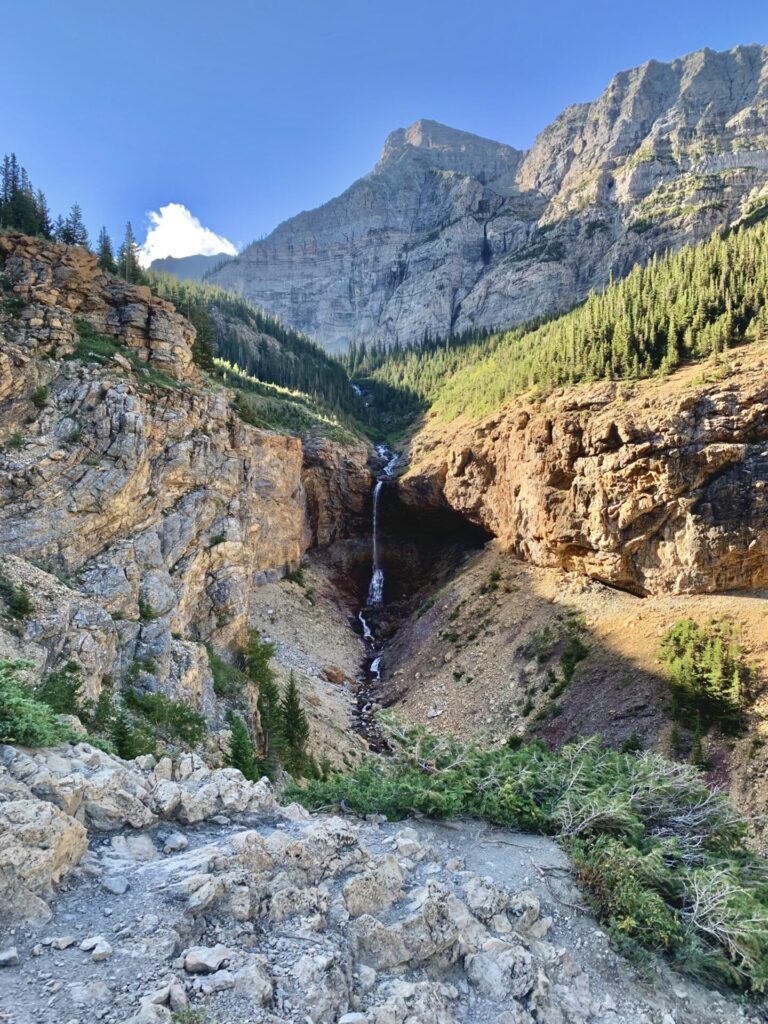 Trailhead to the Waterfalls
The Crypt Lake hike starts gaining elevation right from the beginning. During the first 200m, you'll utilize switchbacks that'll take you 200m up a pass.
There'll then be a fork in the trail, stay left to get to the lake and hit hell roaring falls on the way back. Going to the falls first will add a lot of unnecessary elevation gain to your hike.
You'll then pass by Twin Falls around the 1.5 hour / 3.5km mark – save this pit stop for the way back.
The first section of this hike is full of tropical-like vegetation and it smells amazing. Almost sweet. Someone pointed out to me that this side of Upper Waterton Lake was not affected by the Kenow Wildfire, so it looks like Waterton pre-burn. Pretty cool and very different from the main area of Waterton.
Past this the trail starts to get a little rocky and crosses over a few streams.
Forested Area to Crypt Falls
After this the Crypt Lake hike ventures through a forested area and the trail becomes wide and flat for a while. After the forested area, it's all uphill. You'll be hiking up steep rocks which will give you a good workout. At the top though – 5.6km mark – you'll have a great view of the valley you just hiked through as well as a view of Burnt Rock Falls. This is the best view you'll get of Burnt Rock falls, so make sure you take your photos here!
You'll continue gaining elevation past this point and enter a section with more switchbacks. The trees open up here and you'll be greeted with incredible views of the massive rock face ahead as well as the incredible 600ft Crypt Falls (which you can't even see in the photo below because the rock face is so massive). Early in the season you will be surrounded by endless wildflowers here as well.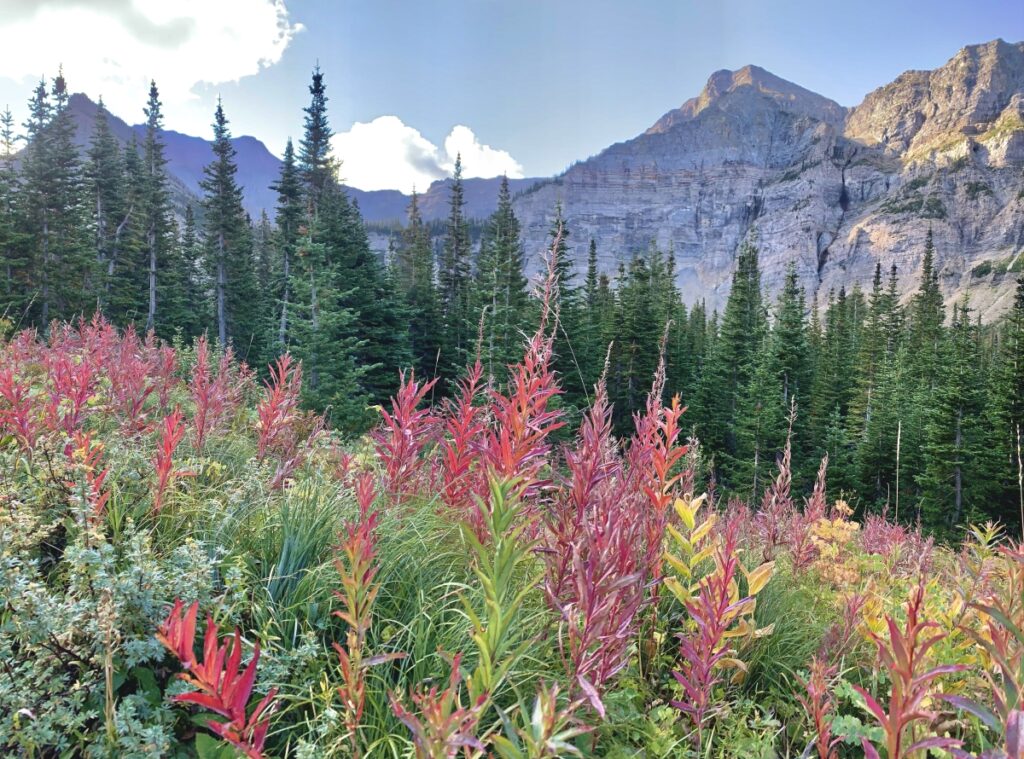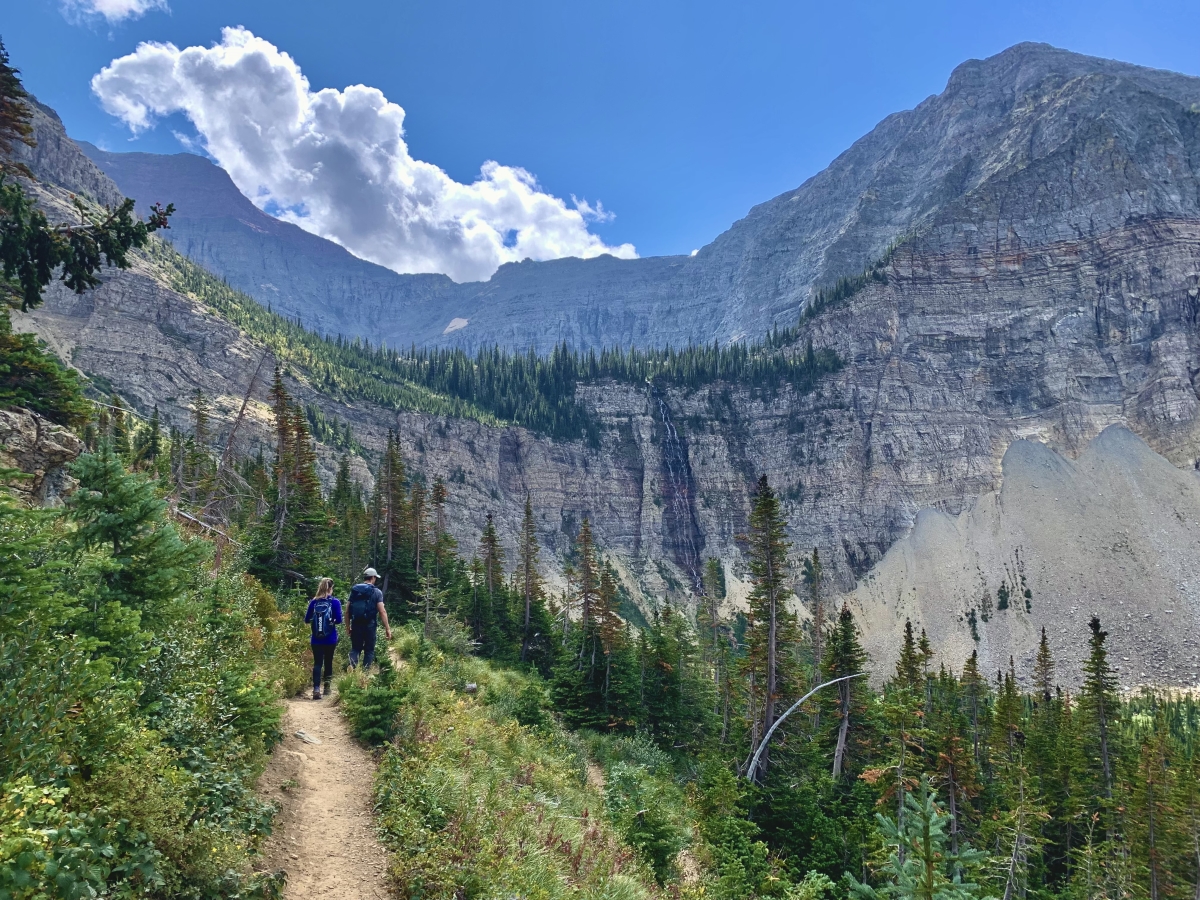 Crypt Lake Caves
After re-entering the forest for a quick bit you'll come to a backcountry campsite which is unfortunately no longer in operation. There is an outhouse here though. It's the only bathroom on the trail, so if you're not comfortable with a bush pee, this is your time (BYOTP – bring your own toilet paper).
The next section of the Crypt Lake hike is where thrill seekers thrive. To get to Crypt Lake, you'll need to climb up a steel ladder and maneuver though a 60 foot cave. It gets quite narrow inside – I had to use my hands and readjust the position of my backpack a few times to get through. Coming out and climbing down out of the cave is the most technical part of the hike as you have to use your hands and position your feet appropriately.
It took me approximately 1 hour and 40 minutes to reach the cave from the Crypt Lake trailhead.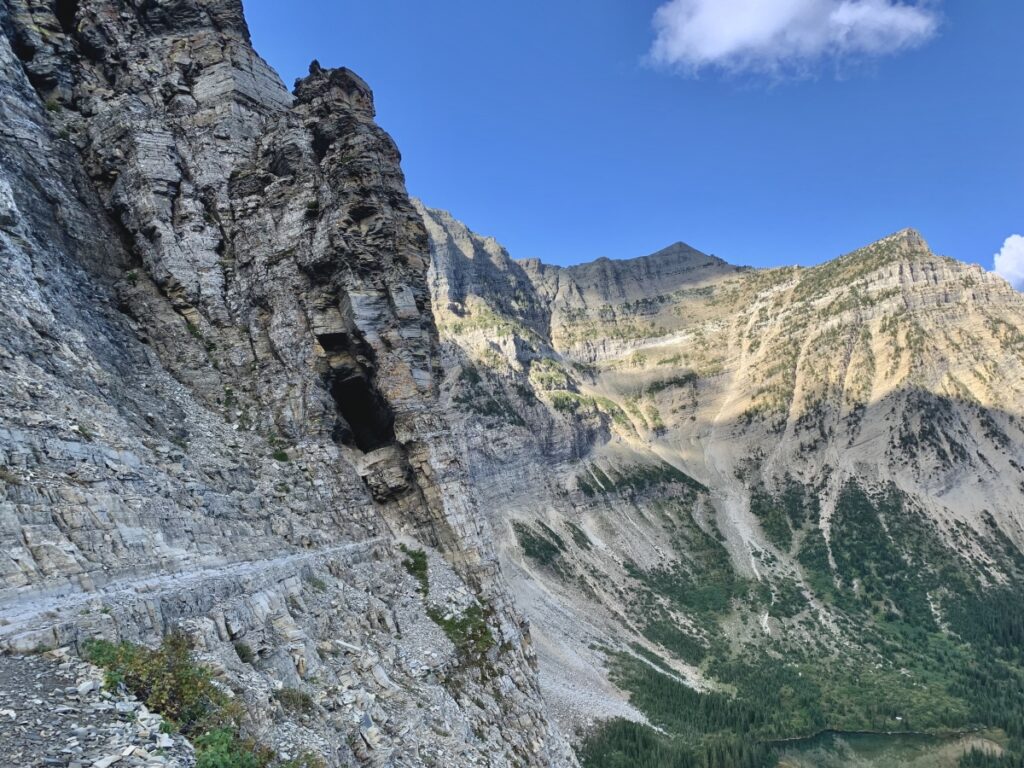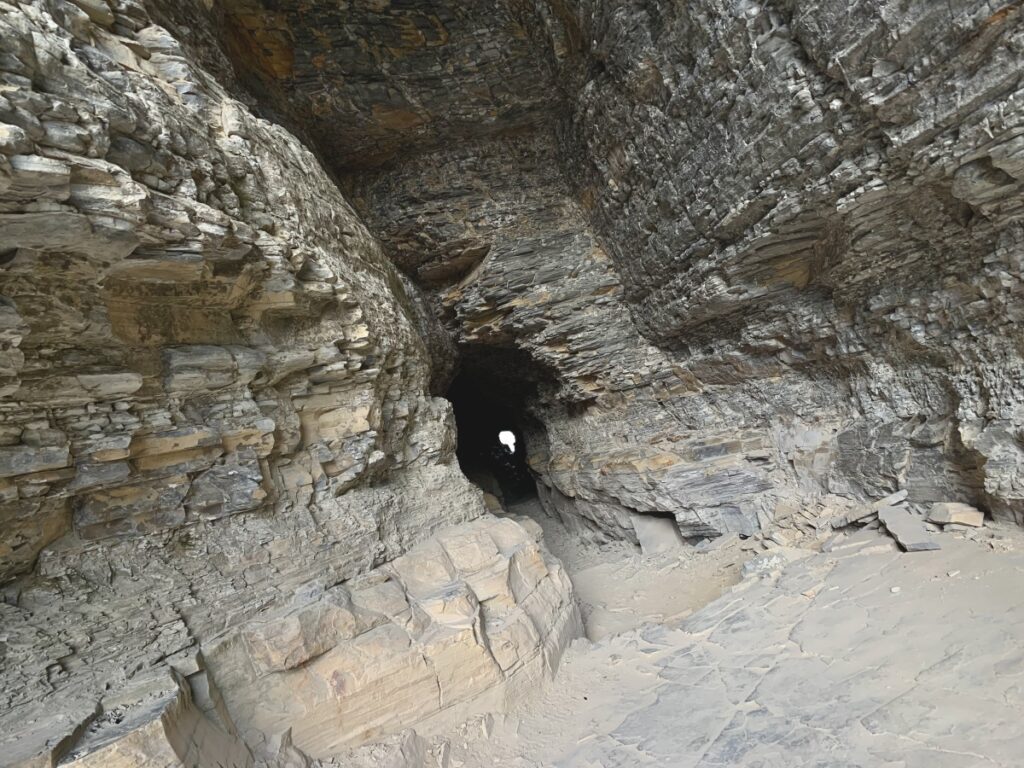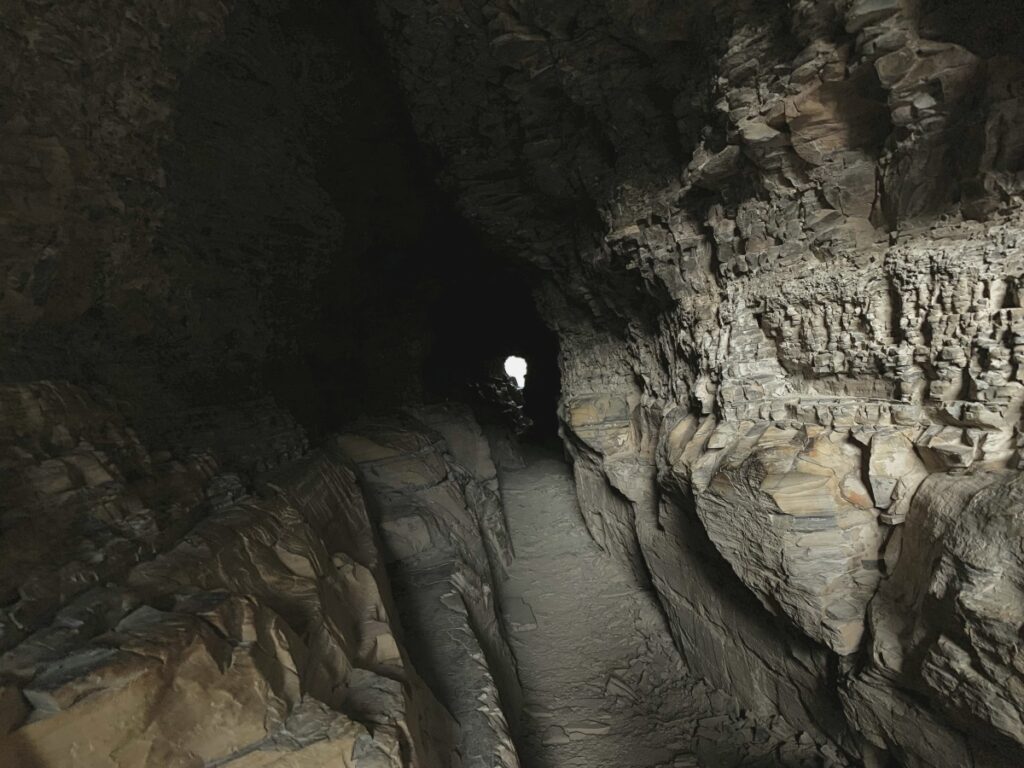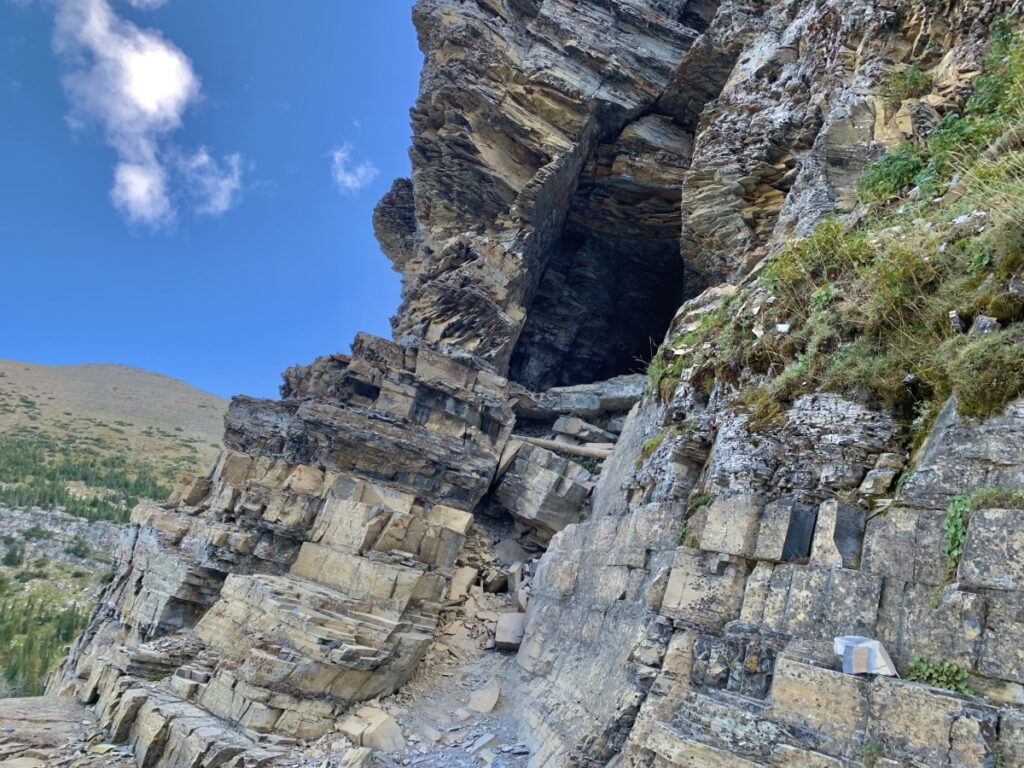 Traversing the Cables
After exiting the cave, the Crypt Lake hike will lead you to a cliff.
There are cables here to support you if heights freak you out, but using them definitely isn't necessary.
This section is quite short and before you know it, you've made it to Crypt Lake!
It took me about 2 hours to get to the lake from the Crypt Lake trailhead, however I was hiking at a very quick pace. So, plan for the Crypt Lake hike to take around 2.5-3 hours on the way there.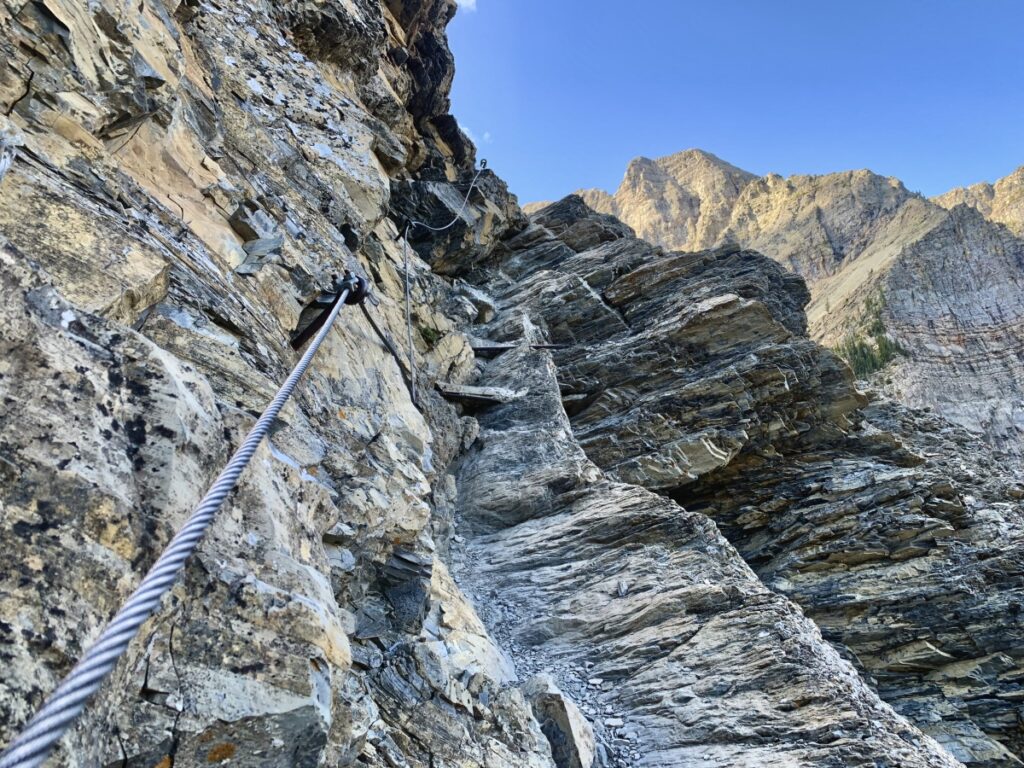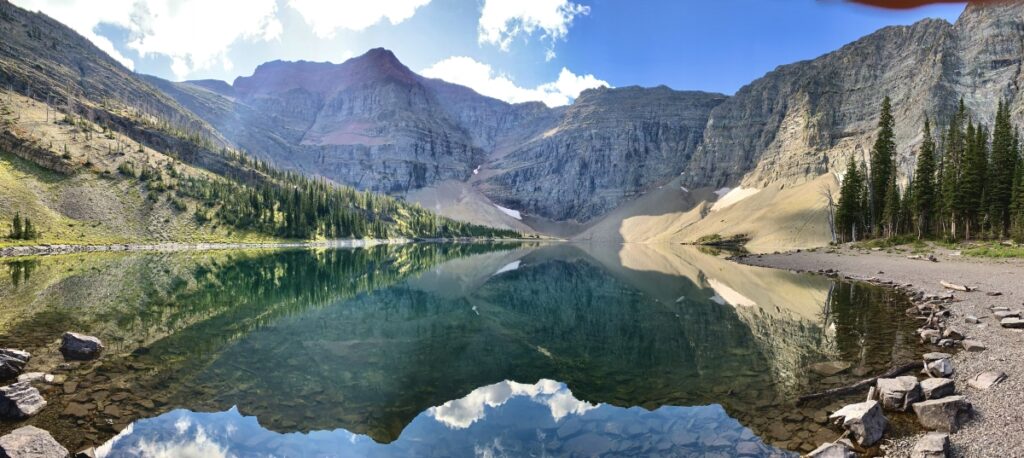 Crypt Lake
I arrived at Crypt Lake first which meant I had quite a bit of time to myself there. This was such an incredible experience. The second person to arrive at the lake referred to my hiking as "beast mode." We all know how good it feels when someone compliments your hiking abilities, so this just made the moment even better.
Quick fact – the name Crypt Lake comes from the formation of the lake. The lake is hidden in an alpine bowl and is surrounded on three sides by imposing cliff walls, creating a sequestered sanctuary.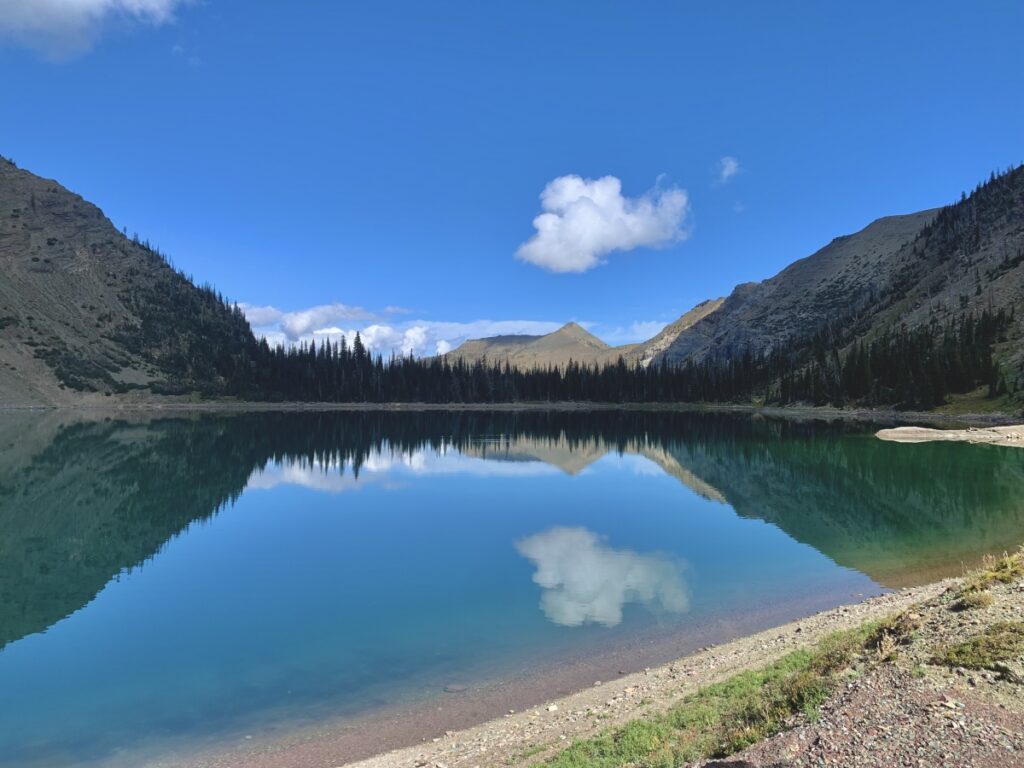 When you arrive at the lake, head left and aim to sit in the semi-grassy area (you'll know what I'm talking about when you see it).
If you hike around the lake you'll actually cross the US border at the very back and end up in Glacier National Park, Montana.
If you're an angler, you can fish in this lake. Read more about fishing in the parks here.
Don't forget a bathing suit! The water is cold, but on a hot day there ain't nothin' better than taking a quick dip in an alpine lake.
I sat at Crypt Lake for quite a while and enjoyed lunch while taking in the views and listening to rocks fall down the surrounding scree slopes. Keep your eyes peeled here for mountain goats!
Return Hike
On the way back from Crypt Lake, make sure to check out the top of Crypt Falls. Upon arriving to the lake you would have seen a fork in the trail – go right this time to see the falls from above.
My favourite part? My favourite part of the Crypt Lake hike was truly looking down the valley on the way back. It's absolutely massive and lush. You really get a sense of how small you are and also how far you hiked. Make sure you take the time to appreciate this view, it's really something else.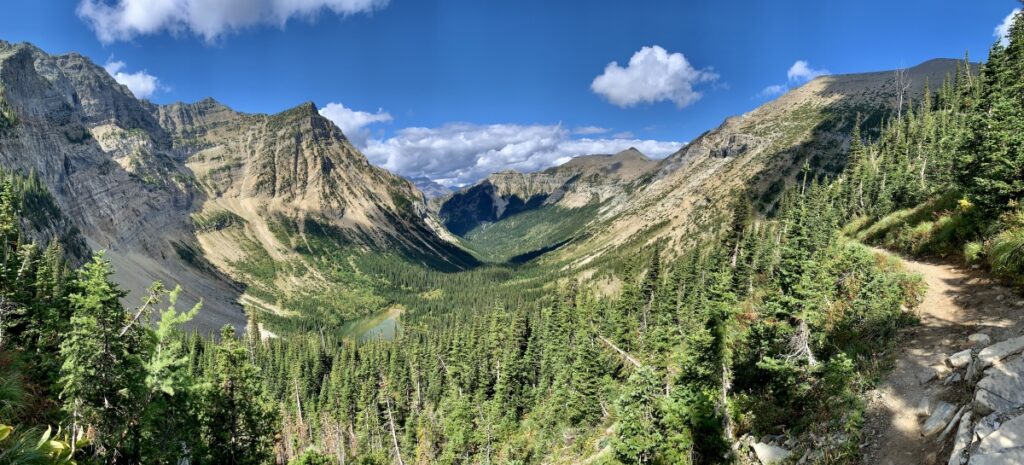 If you leave yourself enough time on the Crypt Lake hike, you'll have the opportunity to explore the waterfalls more on the way back. Twin Falls (the small waterfall you passed on the way to the lake) has a concrete viewing platform. Past this is a very short, but steep and narrow path that leads to the falls. Get down there and check it out. The water is the prettiest blue and crystal clear.
Hell Roaring Falls
After this you'll see a fork in the path. Continue right for an easier walk back to the shuttle or go left to check out Hell Roaring Falls.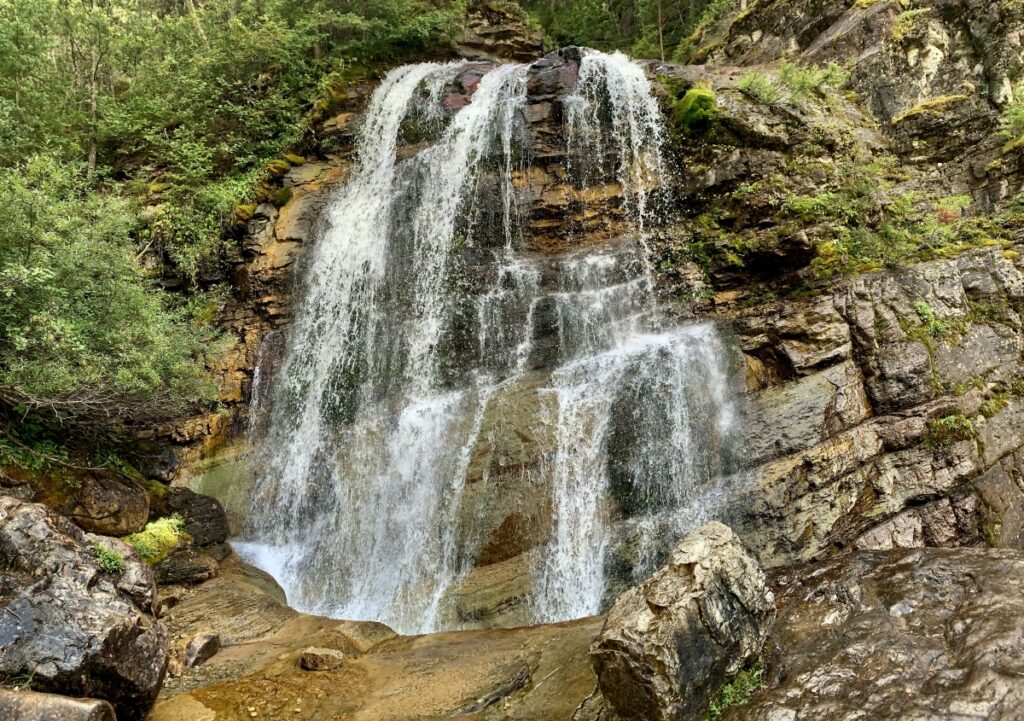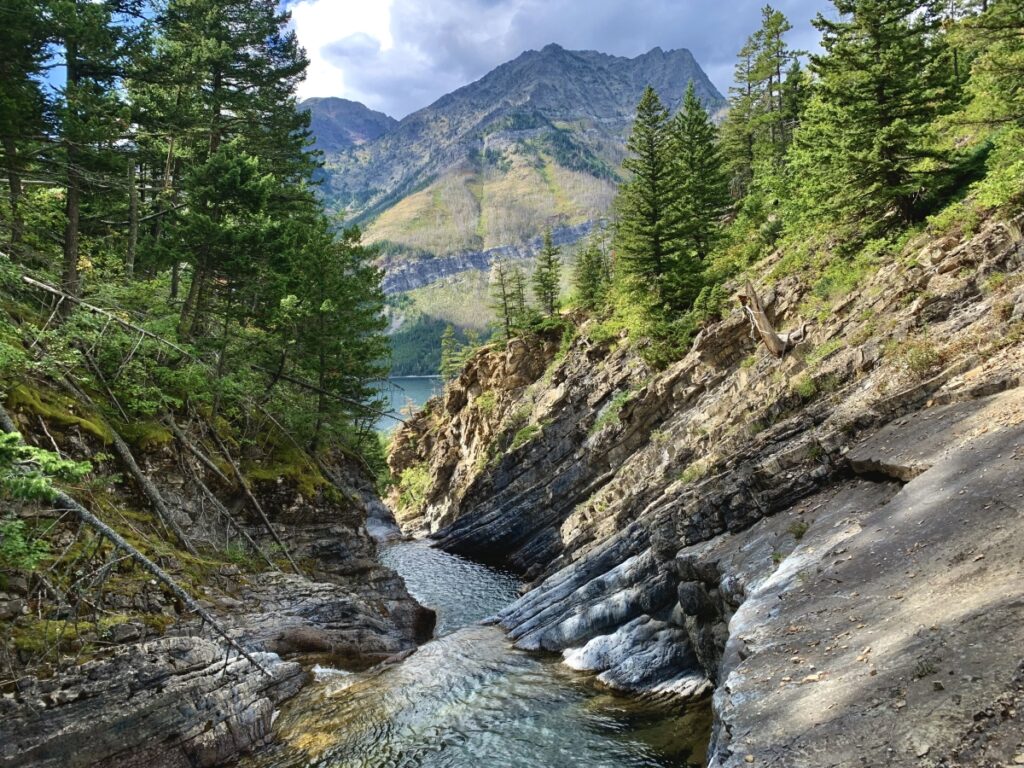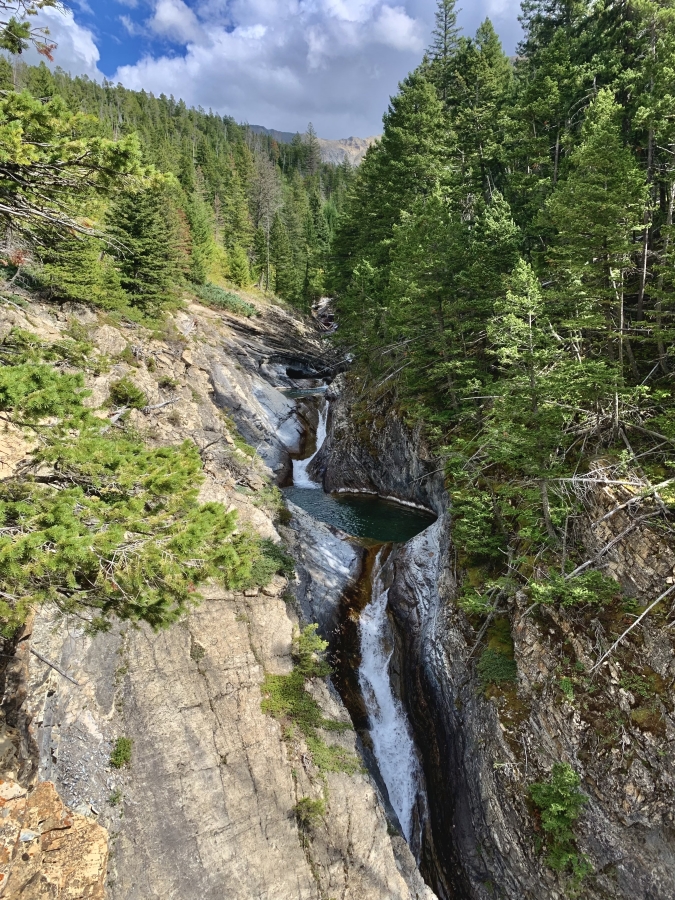 The path to Hell Roaring Falls is much more narrow, rocky, and overgrown compared to the main path. Totally doable though and I would definitely recommend.
Earlier in the season the falls are "rippin'" according to the shuttle guide (who by the way was awesome and so informative).
And that's about it! After you reach the Hell Roaring Falls viewpoint (you'll know it when you see it), it's only a quick (1km-ish) jaunt back to the Crypt Lake trailhead.
Next I'll go over some gear you'll need for the Crypt Lake hike, more pointers to ensure you have a successful hike, and I'll recommend the best places to stay in Waterton for every budget.
---
Discover More Adventures in Waterton
Waterton is a mecca for adventurers and travellers who are after scenic mountain views, great hiking trails, and blissful lakeside vibes.
You can find all my Waterton content here, however you won't want to miss the following Waterton-based posts: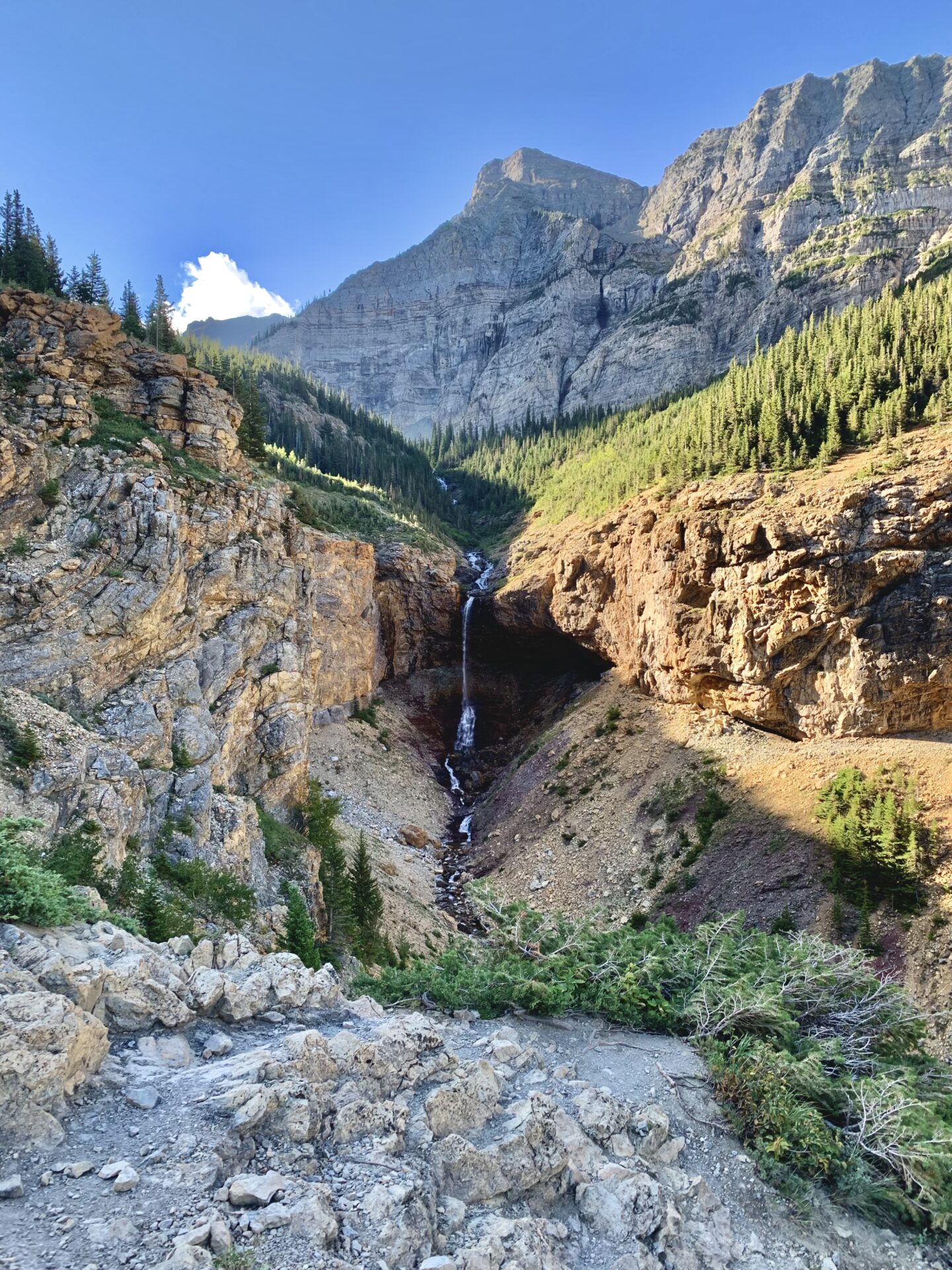 Featured Waterton Content
More Alberta Content
---
If you want to explore more of Alberta's beautiful parks and Wildland areas, keep reading.
Alberta is home to some of Canada's most beautiful (and famous) parks and mountain ranges; cue Banff, Jasper, and Kananaskis!
You can read about these stunning national parks as well as find my travel and hiking resources for them here.
---
---
Recommended Hiking Gear
The following items are some of my favourites – I never hit the trail without them!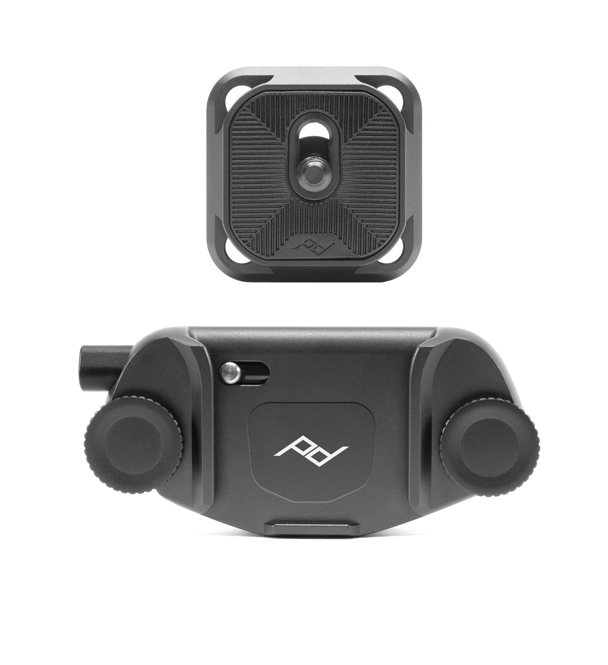 The Capture Clip by Peak Design is a sturdy, safe, and super convenient way to carry your camera while hiking or backpacking.
Find it on Amazon (CAD).
Find it on Peak Design (US).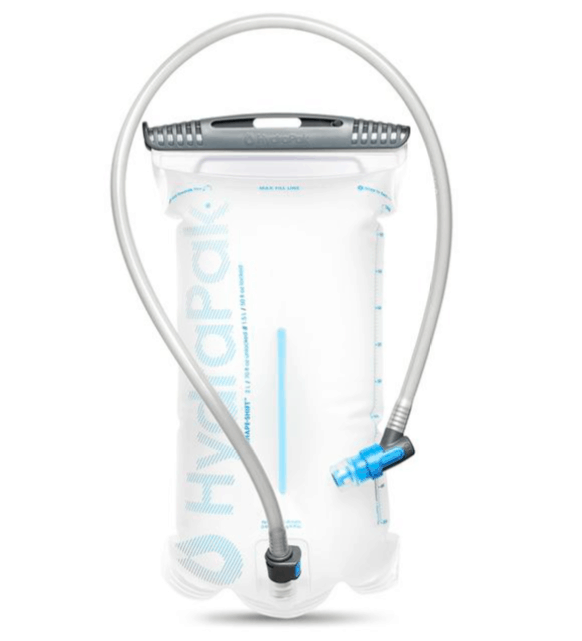 A hydration reservoir is SO important. It holds 2L+ of water and keeps you hydrated on-trail. I use the 2L Hydrapak; it never leaks and has a detachable tube.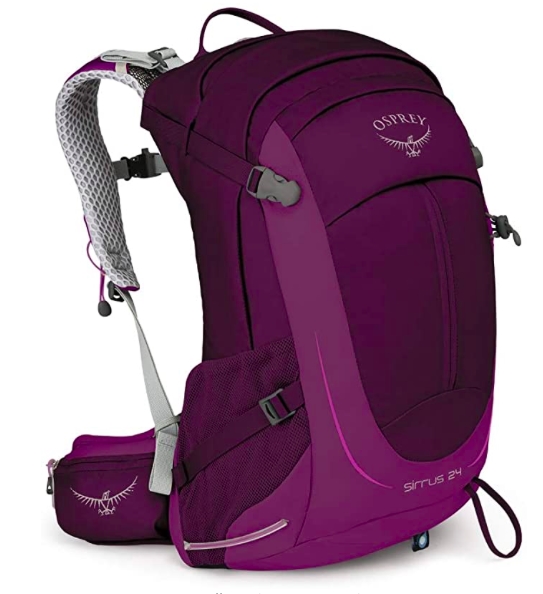 Things to look for in a good quality day-pack: sternum strap, hip belt (with pockets), and a breathable mesh system for your back. I use the Osprey Sirrus 24L pack (men's version) and I LOVE it!
---
What To Wear Hiking in the Rockies
For a detailed guide on what to wear hiking in the Canadian Rockies, check out this post.
Choosing what to wear hiking can be confusing, but the secret to properly dressing for a hike is layering. You can mix and match the tops and bottoms you already own to make up your base layers, however in addition to those clothes you'll need a few extra things:
A waterproof jacket is the most important layer for hiking – it keeps you warm and protects you from wind and rain. I use the Marmot Eco Precip Jacket (men's version) which is totally a bang-for-your-buck. If rain is in the forecast, don't forget to pack waterproof pants (men's version) too.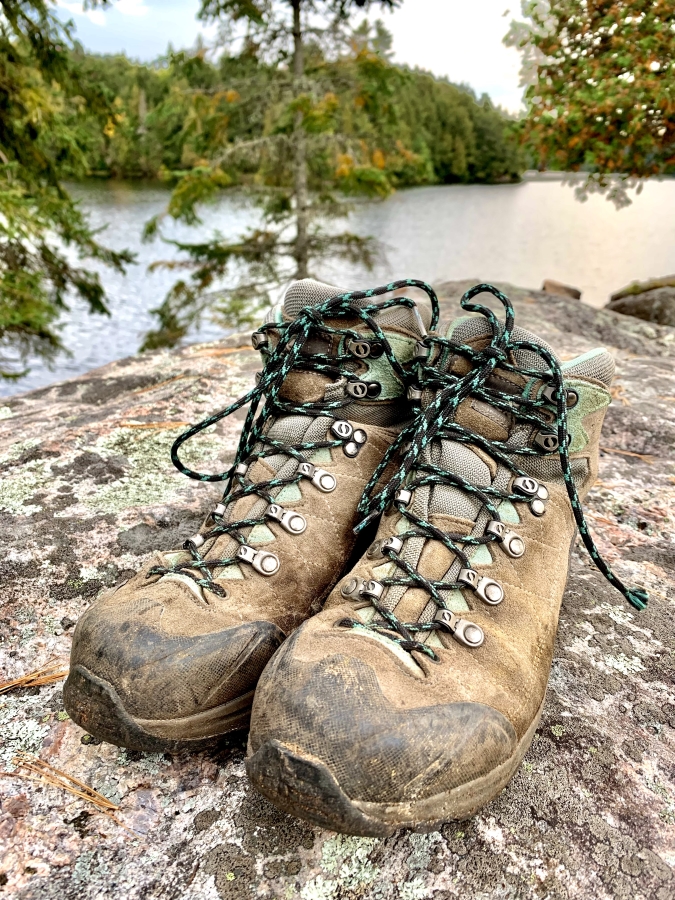 A good pair of hiking boots are Gore-tex, provide ankle support, and are durable. I use the Scarpa Kailash boot (men's version) and they've never let me down. You'll also want a good quality pair of socks. I use Smartwool – they're great quality and last an entire season.
A puffer jacket acts as your warm layer. I use the hoodless Columbia Women's Heavenly Jacket (men's version). Alternatively you can use a fleece zip – I have this one (men's version) from Columbia. Both of these options are perfect layers to keep you warm on windy, cold, or high elevation hikes.
Rocky Mountain hiking exposes you to different natural elements and conditions – it's imperative that you're prepared for whatever nature throws at you. Trust me, I've learned the hard way!
More: Day-hiking Gear Guide
More: What to Wear Hiking in the Canadian Rockies
In addition to these items, I would also bring the following along with you for Crypt Lake:
Tips For A Successful Hike
Hit the trail first to avoid getting stuck behind crowds of people
If possible, plan to hike this trail on a day with good weather conditions
Pack extra food & layers of clothing (warm layers for while you're waiting for the shuttle, a waterproof jacket, and waterproof pants)
Bring lots of water or a filtration system – there's no drinkable water on trail. I fill my 2L Hydrapak and use cheese cloth & aqua tabs to filter water
In high season, arrive at the shoreline cruise company before they open to ensure you can get one of their first-come first-serve shuttle tickets
Bring bug repellent and sunscreen
Best Place to Stay in Waterton
The best place to stay in Waterton depends on your price range, So, here are some recommendations for every budget:
Plan a trip with my ultimate guide to Waterton:
Happy adventuring!
Taylor ♡
---
Like This Post?
Share with friends or save it for later!
---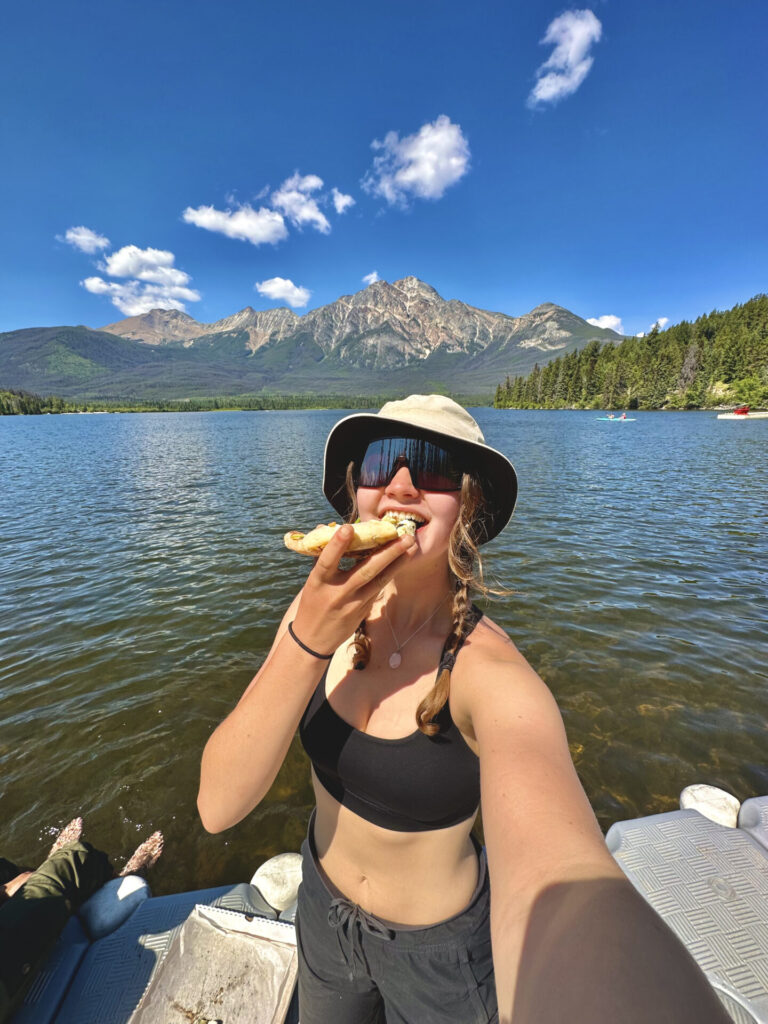 About The Author
HI, I'm Taylor – the voice behind The Holistic Backpacker.
After moving to Banff National Park in 2020 I became an outdoor adventure enthusiast and vowed to never stop exploring.
I now spend my days travelling the world, climbing mountains, and spending nights under the stars in the Canadian Rockies backcountry.
I created The Holistic Backpacker so I could share my adventures and help connect people like you with the same amazing experiences.