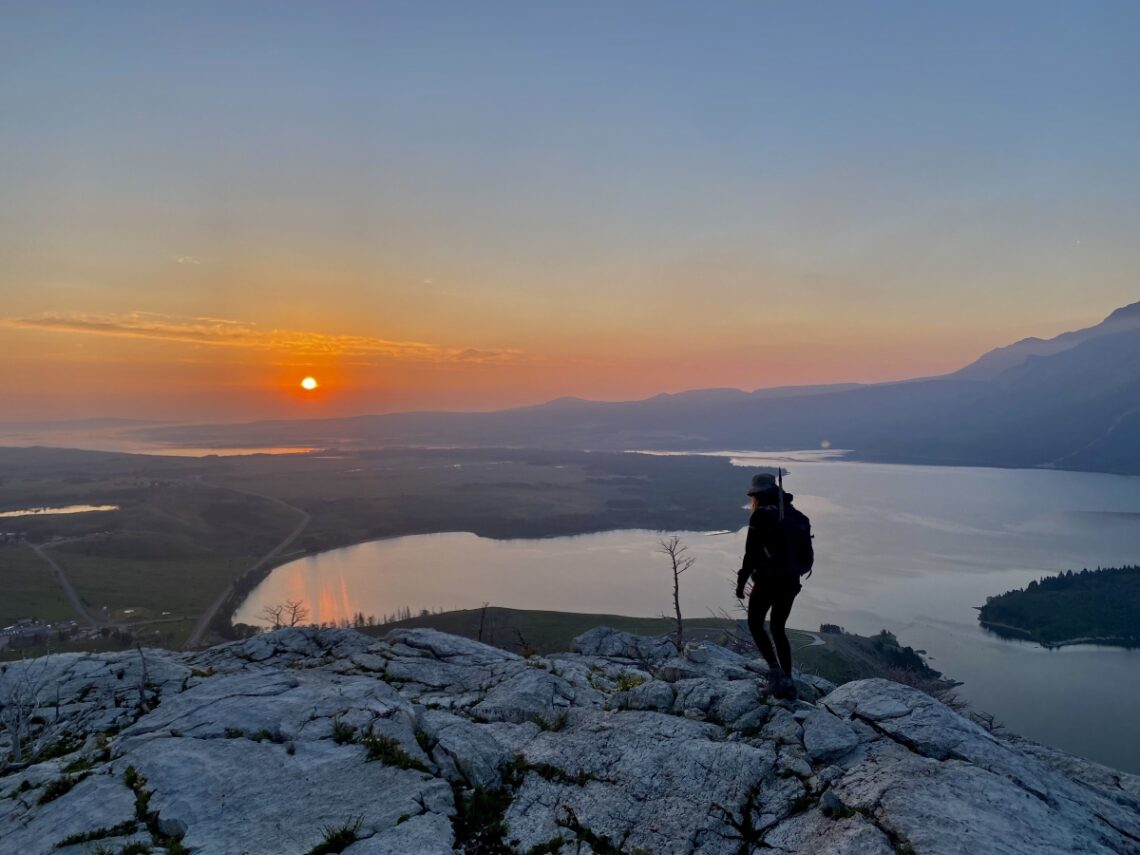 Best Place To Watch Sunrise & Sunset In Waterton Lakes National Park
If you're like me, you l o v e watching sunrise and sunset. My personal favourite is sunrise – there's something so intimate and special knowing you are one of such view people seeing the incredible view before you. Luckily for us, there happens to be a few locations for the best place to watch sunrise in Waterton.
Of course hiking to a summit is the ideal place to watch either of these events, but sometimes it's nice to have a more accessible viewing destination.
There's no shortage of places to watch sunrise in Waterton or sunset in Waterton and due to the layout of the mountains, pretty much any of the following spots mentioned are ideal for sunrise or sunset.
Now, let's watch the sun set in Waterton!
Ship Ahead:
This post contains affiliate links; see my full disclosure. If you click these links and make a purchase you're supporting The Holistic Backpacker. Thanks for your support & happy adventuring! – Taylor ♡
---
---
Related Content:
---
Bear's Hump Hike
The best place to watch sunrise in Waterton is the Bear's Hump hike. Bear's Hump is well-trafficked (a little less-so in the mornings), easy to follow, and the path is clear of rocks and roots for the most part.
Upon arriving at the top, you will be overlooking all of Waterton, the Waterton Lakes, as well as a valley and Crandell Mountain behind you. Great reward for the minimal effort it takes to hike this trail.
It took us about 20 minutes to get to the top, but we were booking it. You can read more about hiking Bear's Hump here.
Enjoy the 360 degree serene views and the striking alpenglow.
Ideal for: watching sunrise in Waterton.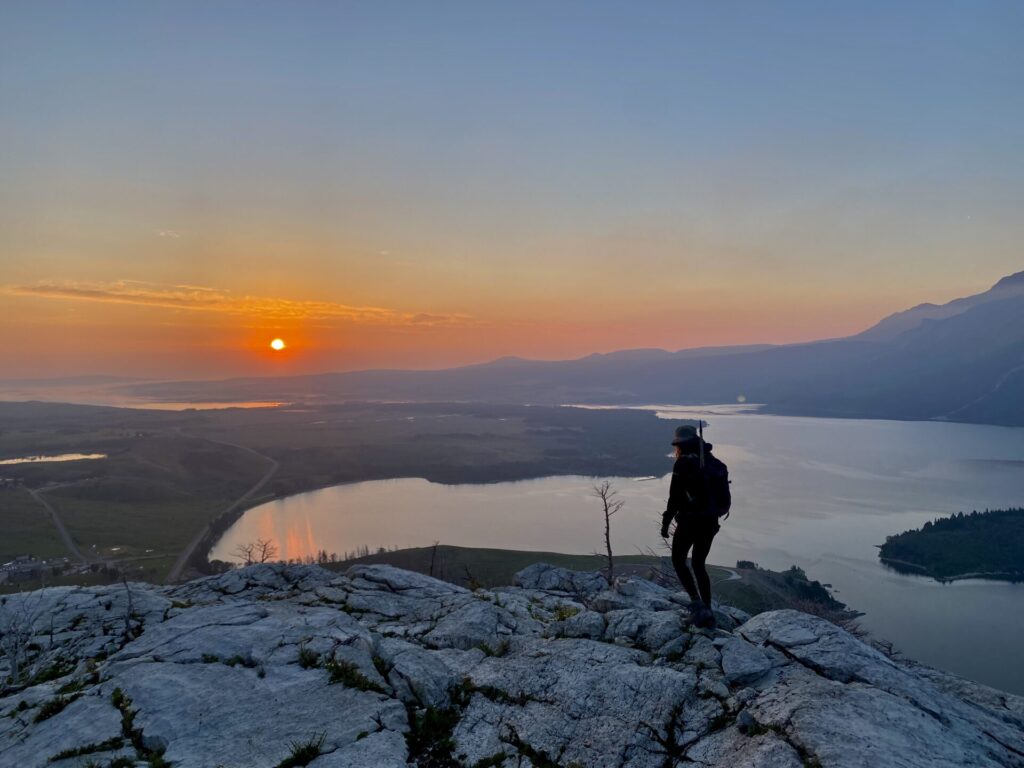 Prince of Wales Hill
If you're not one for hiking, fear not. The Prince of Wales hill is located right by town. The hotel's parking is reserved for guests only, however if you only show up for a short amount of time to watch sunset, you should be fine. If not, there is parking very close by at Bear's Hump – or you can walk from town (I know we're avoiding the hiking thing with this one, but it's not far at all).
Prince of Wales hill is a great place to watch sunset in Waterton due to the direction the lake is facing.
This is the classic view of Waterton and my guess is it's also one of the most photographed places in the park.
Fun fact – Prince of Wales is a hotel and a National Historic Site!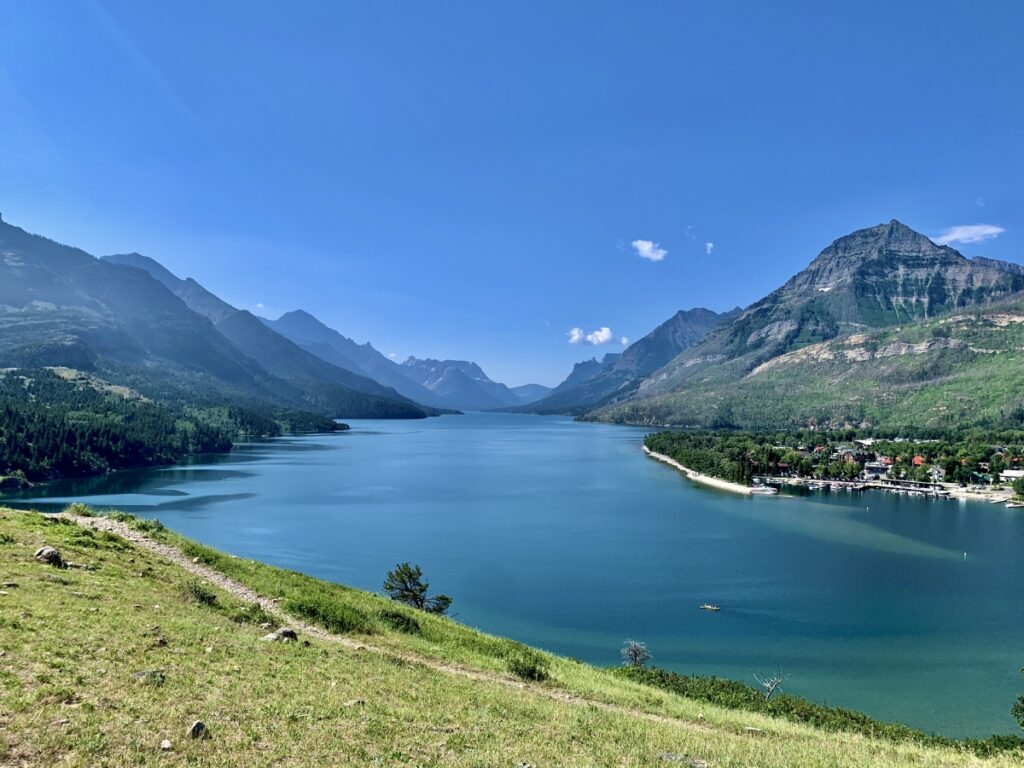 Follow The Holistic Backpacker's Adventures on Socials:
Keep Up With My Adventures!
Sign up for my newsletter and stay up-to-date with my latest adventures, gear guides, and eco-resources!
Taylor ♡
Bertha Point
Bertha Point is a great little place I discovered while hiking to Bertha Lake – read my trail guide for more information on how to get here.
This is a quick 20 minute walk from the Bertha Lake trailhead and is one of the best places to watch sunset in Waterton.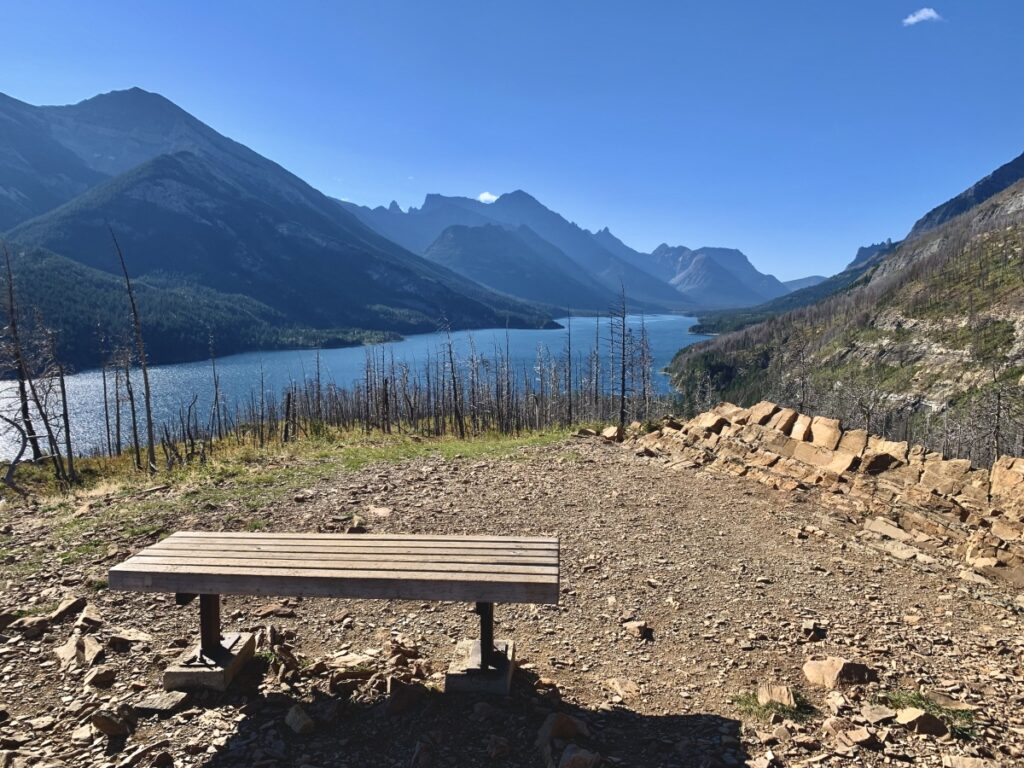 Upper Waterton Lake Shore
Anywhere along the shore of Upper Waterton Lake is also a great place to watch sunset in Waterton – you can walk the rocky shore from the marina all the way to the Townsite campground. Find the red chairs at the Townsite campground and enjoy the view with a comfortable seat!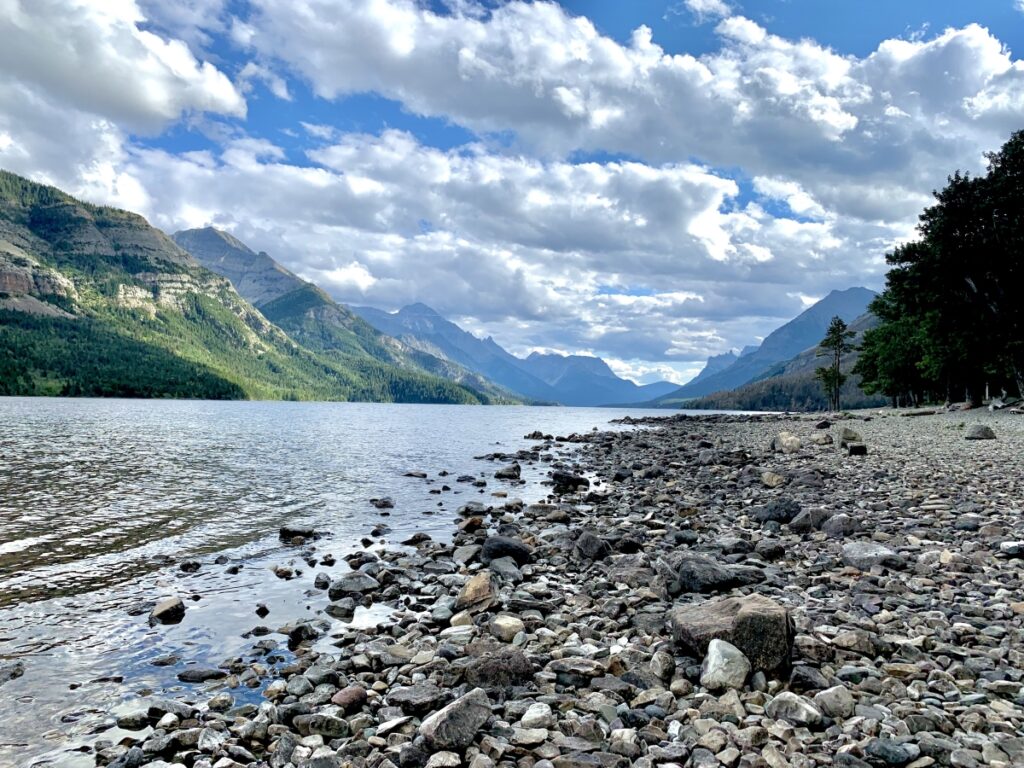 Best Place to Stay in Waterton
The best place to stay in Waterton depends on your price range, So, here are some recommendations for every budget:
Cheapest accommodations – camp right in the town of Waterton at the Townsite Campground (booking info). The location is perfect, it's about a 10 minute walk from town and just steps from the Upper Waterton Lake shoreline. There are excellent washroom facilities, however the campground lacks privacy.
Mid-range accommodations – Waterton offers no hostels, however you will find multiple hotels available in this tiny town. You can compare hotel prices and amenities on Booking.com. Some of the benefits of using Booking are their price match guarantee, free cancelation on almost all bookings, and clear pricing with no hidden fees.
Luxury accommodations – "THE Waterton experience" would be to stay at the historical Prince of Wales hotel. The Prince of Wales is that hotel that has the big, beautiful windows overlooking Upper Waterton Lake. The hotel itself honestly isn't fancy – it's actually old (hence the historical significance), however this hotel is definitely a bucketlister! I stayed here for 1 night and enjoyed high tea the following day.
Plan your trip with my ultimate guide to Waterton:
Happy adventuring!
Taylor ♡
---
Like This Post?
Share with friends or save it for later!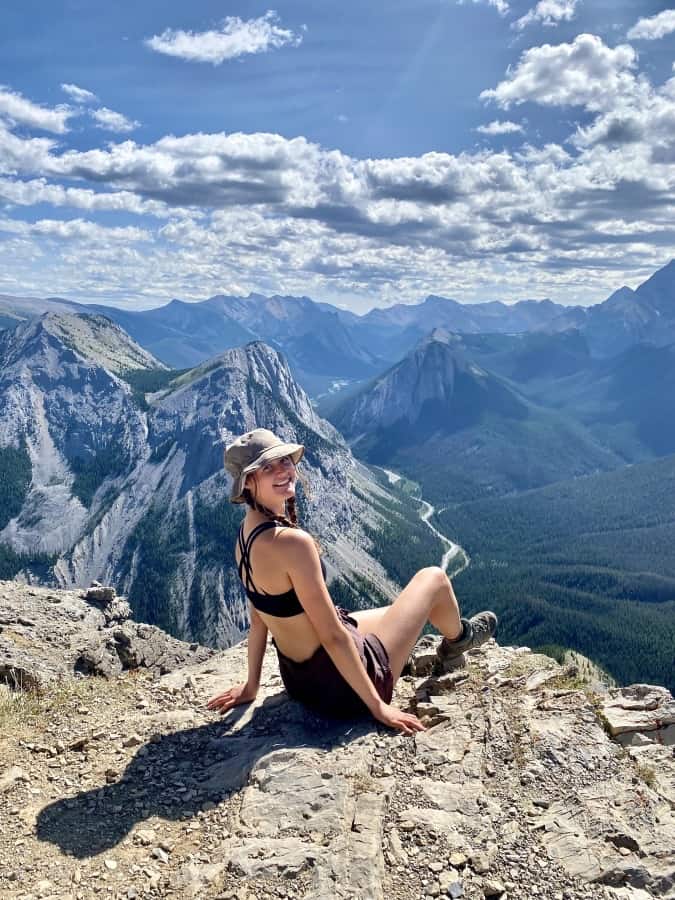 About The Author
---
Hey! I'm Taylor – the voice behind The Holistic Backpacker.
After moving to Banff National Park in 2020 I became an outdoor adventure enthusiast and vowed to never stop exploring.
I'm now focused on travelling the world and seeing everything our beautiful home has to offer.
I created The Holistic Backpacker so I could share my adventures and help connect people like you with the same amazing experiences.
I am also an advocate for the environment and do as much as I can to take care of our planet.
Get to know me and my story more here 🙂
I can't wait to share my adventures with you!