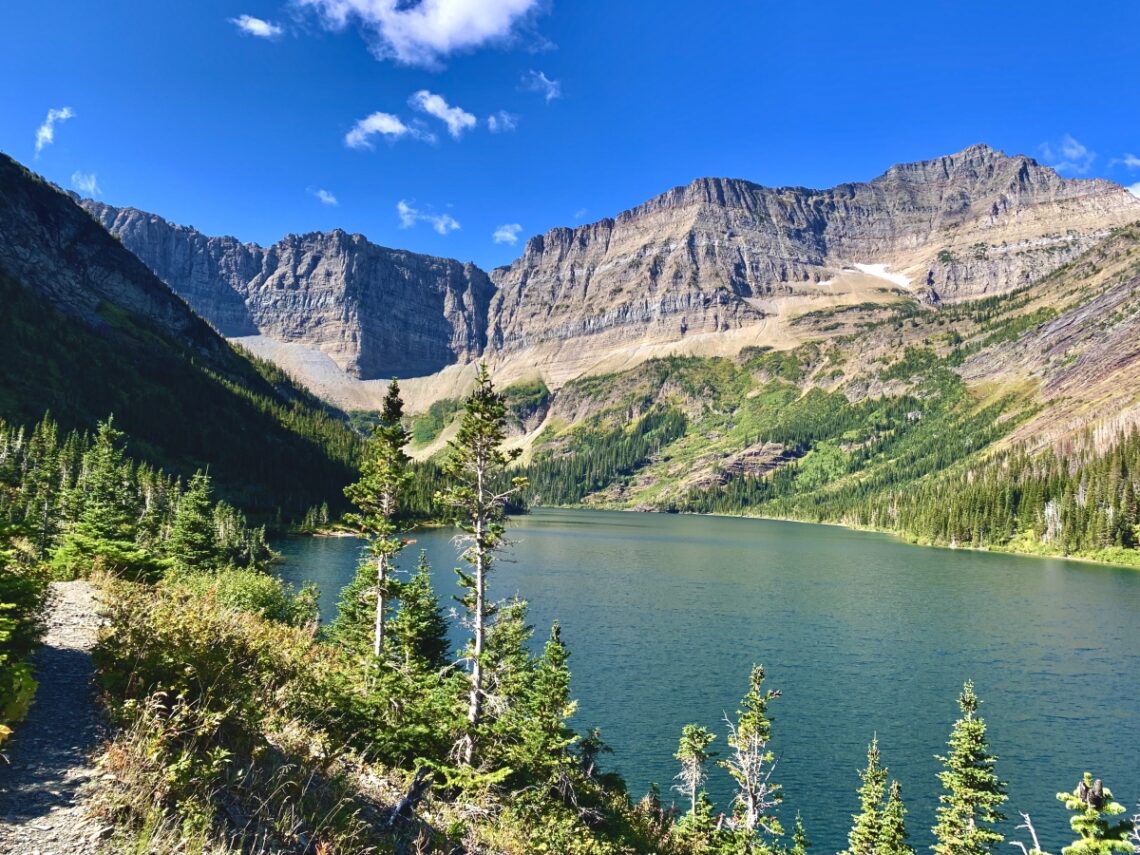 Fun Things to do in Waterton: 14 Activities You'll Love
If you're looking for a complete guide of fun things to do in Waterton, look no further!
I took two trips to Waterton in the summer of 2021 – two because it was so good the first time I had to come back and explore more. I made it my mission to do everything in Waterton, and I think I did a pretty good job!
Here I'll tell you about Waterton's hiking, sightseeing, camping, and other fun activities as well as how much they cost, where to do them, and other things that will make your trip great.
Don't forget to check out my ultimate guide for planning a trip to Waterton
Let's go on an adventure!
Skip Ahead:
This post contains affiliate links; see my full disclosure. If you click these links and make a purchase you're supporting The Holistic Backpacker. Thanks for your support & happy adventuring! – Taylor ♡
---
---
---
Related Content:
---
Getting To Waterton
Find directions for everything I talk about here:
Waterton is located is southwest Alberta. You can easily make Waterton a day-trip from various nearby locations, but I would recommend spending at least 1 night there because there's so much to do.
Waterton is 1.5hours away from Lethbridge, 2 hours from Fernie, 3 hours from Calgary, and 4 hours from Banff.
If you're driving from Calgary or Banff, make sure you take highway 22. This highway takes you through the foothills and is absolutely gorgeous. You'll have the chance to pass through the greenest rolling fields which are backed by distant mountains that appear blue in colour. You'll be passing by lots of farmland, so prepare to see lots of horses and cows too!
Remember – Waterton is a National park, so you'll need to purchase a Park's pass in town for each day you're there.
14 Fun Activities in Waterton
1. Hiking
Our first fun thing to do in Waterton is hiking.
Like anywhere in the Canadian Rockies, hiking in Waterton is bucket-list worthy. This is what initially drew me to Waterton and what made me come back a second time.
Take a 15 minute boat cruise and hike to the infamous Crypt Lake or explore my favourite hike in Waterton, Bertha Lake. Whatever adventure you choose will lead you to incredible views of alpine lakes, towering mountains, and most likely some of Waterton's famous red rock.
If you're hiking in Waterton I recommend checking out my day-hiking gear guide. It'll tell you everything you need to know about what gear to pack and what clothes to wear for hiking in the Rockies.
A few things I always recommend to take with you when hiking in the Rockies are: good quality hiking boots (I use these), a supportive day-pack (I use this one), a hydration reservoir, trekking poles and hiking socks.
More: Explore Hiking Trails In Waterton
2. Discover Waterton's Red Rock
Waterton is home to the most striking red rock. It is very different from the rocks throughout the rest of the Canadian Rockies and is not something to be missed.
Red Rock Canyon is by far the best place to find the red rock and happens to be the most popular fun thing to do in Waterton.
Hike through the steep red walls of the canyon and wade through the crystal clear blue glacial water. Bring lunch, explore, but keep mind the water is cold.
You can also find the red rock at Bertha Lake (read my trail guide)
3. Chase Waterfalls
Waterton is home to so many incredible natural features and waterfalls happen to be one of them. Some of the falls are accessible right from town, others you'll need to hike to see.
Pro tip – if you're a waterfall enthusiast, visit Waterton in early summer shortly after the winter melt has kicked off, this is when the falls will be gushin'.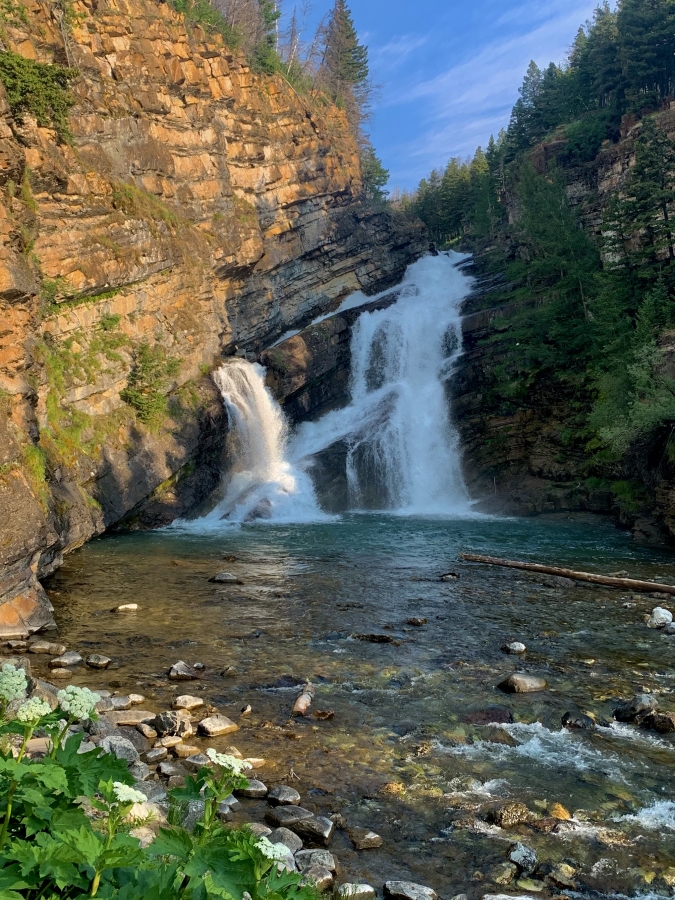 Cameron Falls – is a 10 minute walk from town and in rare occasions will actually turn red due to increased levels of agrolite in the water.
Crypt Lake – there are 4 waterfalls accessible only via the world-famous Crypt Lake hike. Explore Twin Falls, Hell roaring falls, Burnt Rock Falls, and the 600ft Crypt Falls.
Bertha Lake – Similarly, there are 2 waterfalls accessible via the Bertha Lake hike. Lower Bertha Falls (pictured below) and Upper Bertha Falls which is a massive, cascading waterfall flowing down the side of the mountain.
Blakiston Falls – Blakiston Falls is accessed from the same parking lot as the Red Rock Canyon. It's a quick, easy walk and features state of the art viewing pods so you can safely overlook the falls.
Check out my trail guides for: Crypt Lake & Bertha Lake
4. Catch Sunrise & Sunset
One of my favourite fun things to do in Waterton is watch sunset and especially sunrise. The two most notable places for sunrise and sunset in Waterton are:
Sunrise – hike to Bear's Hump
Sunset – hike to Bertha Point
More: Best Places To Catch Sunrise and Sunset in Waterton
5. Rent A Surrey bike
Surrey bikes are unique to Waterton and can be rented at Pat's.
Pick one up for an hour and cruise the town. Why should you rent a Surrey bike? Here's a few reasons:
Sick set of wheels
You'll look cool af
No one will mess with you
You'll be the baddest b***h in town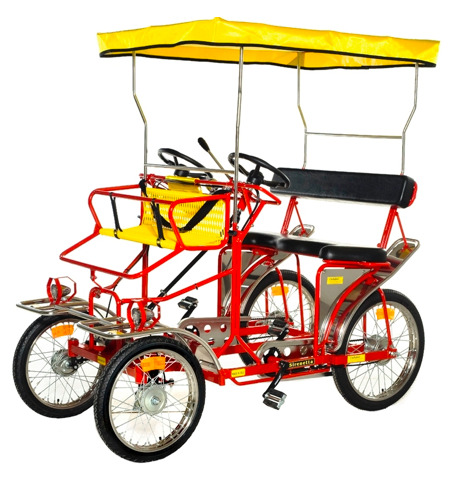 6. Kayak, Canoe, Or SUP
Again, Pat's is the go-to place in town for any sort of equipment rentals. Rent a boat and explore Waterton from the lake! Keep in mind Waterton is the windiest place in Alberta which means the water can get quite choppy. If you're looking to paddle on calm water, head out early morning or in the evening.
Another option is to rent boats at Cameron Lake (more on this).
fun things to do in Waterton
Follow The Holistic Backpacker's Adventures on Socials:
Keep Up With My Adventures!
Sign up for my newsletter and stay up-to-date with my latest adventures, gear guides, and eco-resources!
Taylor ♡
7. Bison Paddock Loop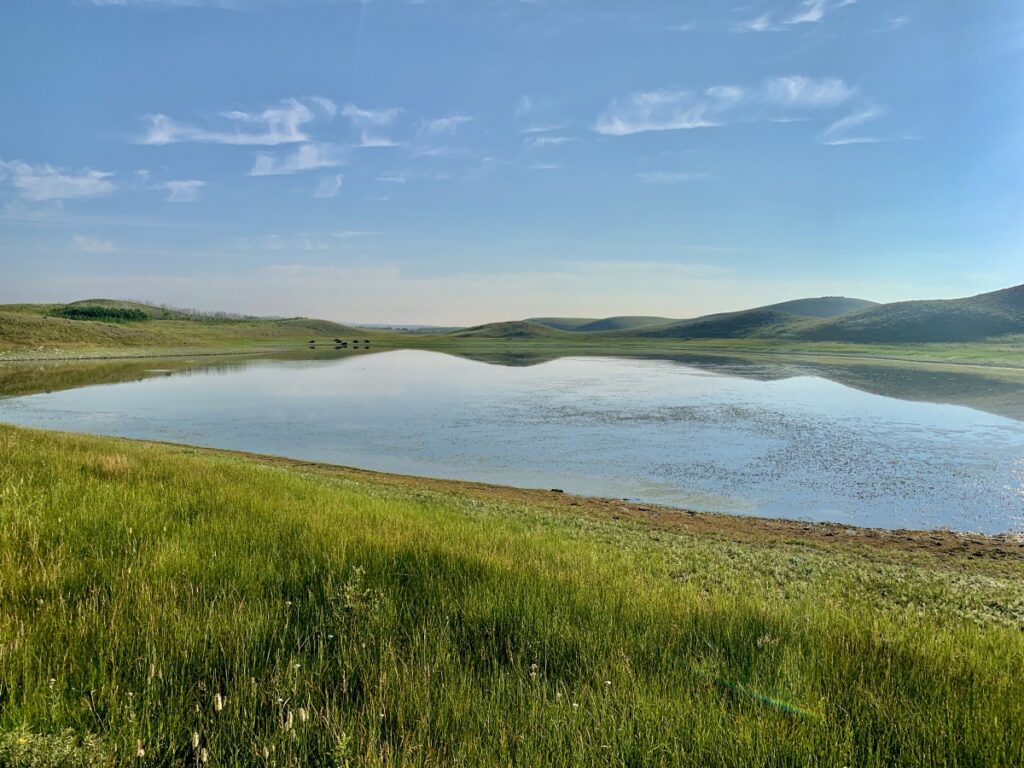 Another fun thing to do in Waterton is to take a drive through the bison paddock loop where you will certainly find bison.
This is located just outside of town and is the most breath-taking drive (seriously, it's beautiful). You'll pass through rolling green fields, ponds, and have the chance to see wildlife.
The entire area is surrounded by a fence and is blocked by a Texas Gate which ensures the bison stay in the area.
Pictured here are a few distant bison – yes, the tiny black dots.
fun things to do in Waterton
8. Go On A Boat Cruise
Waterton Shoreline Cruise Company offer various different cruises around the Waterton Lakes on a first come first serve basis. You can view the different options and prices on their website and when you're ready, you'll board the cruise at the docks downtown.
Waterton Shoreline Cruise Company also offers a 15 minute roundtrip shuttle to hikers for the Crypt Lake hike. Crypt Lake is a world-renown hike and was rated by National Geographic as one of the world's top 20 thrilling hikes. Read my trail guide here.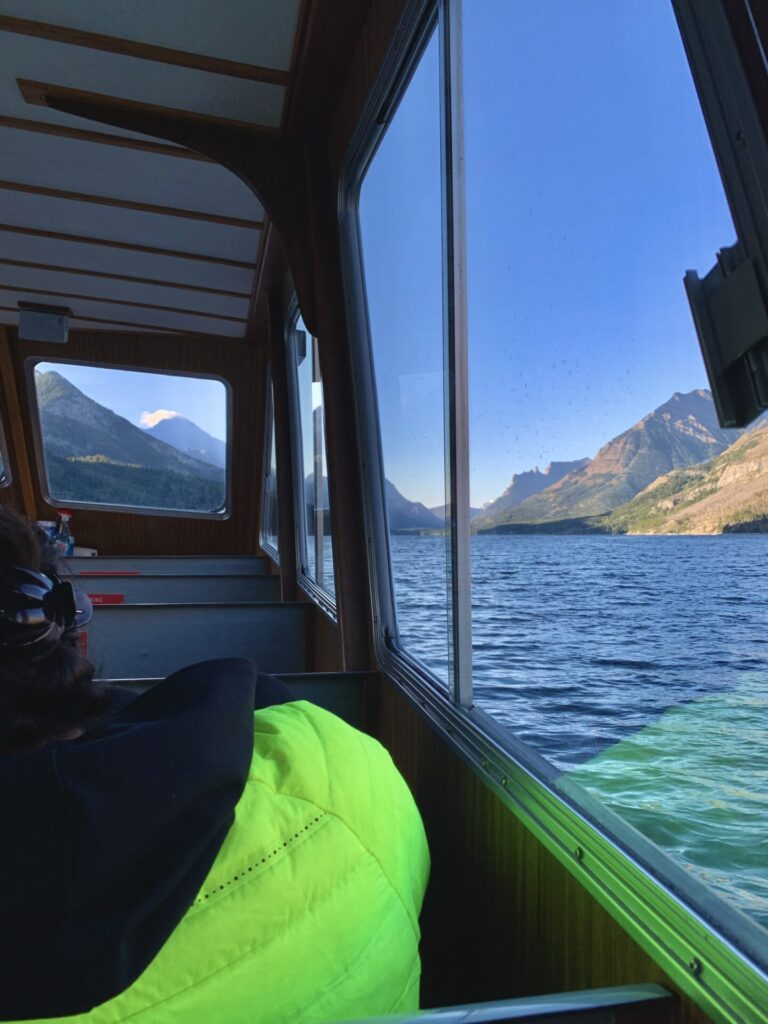 More: Hiking Crypt Lake – Waterton Lakes National Park
9. Explore Waterton's World Class Lakes
If you're after a lake vacation, you will not come up short in Waterton! Some lakes you must hike to and others are easily accessed by car.
Here are a few of the best lakes in Waterton: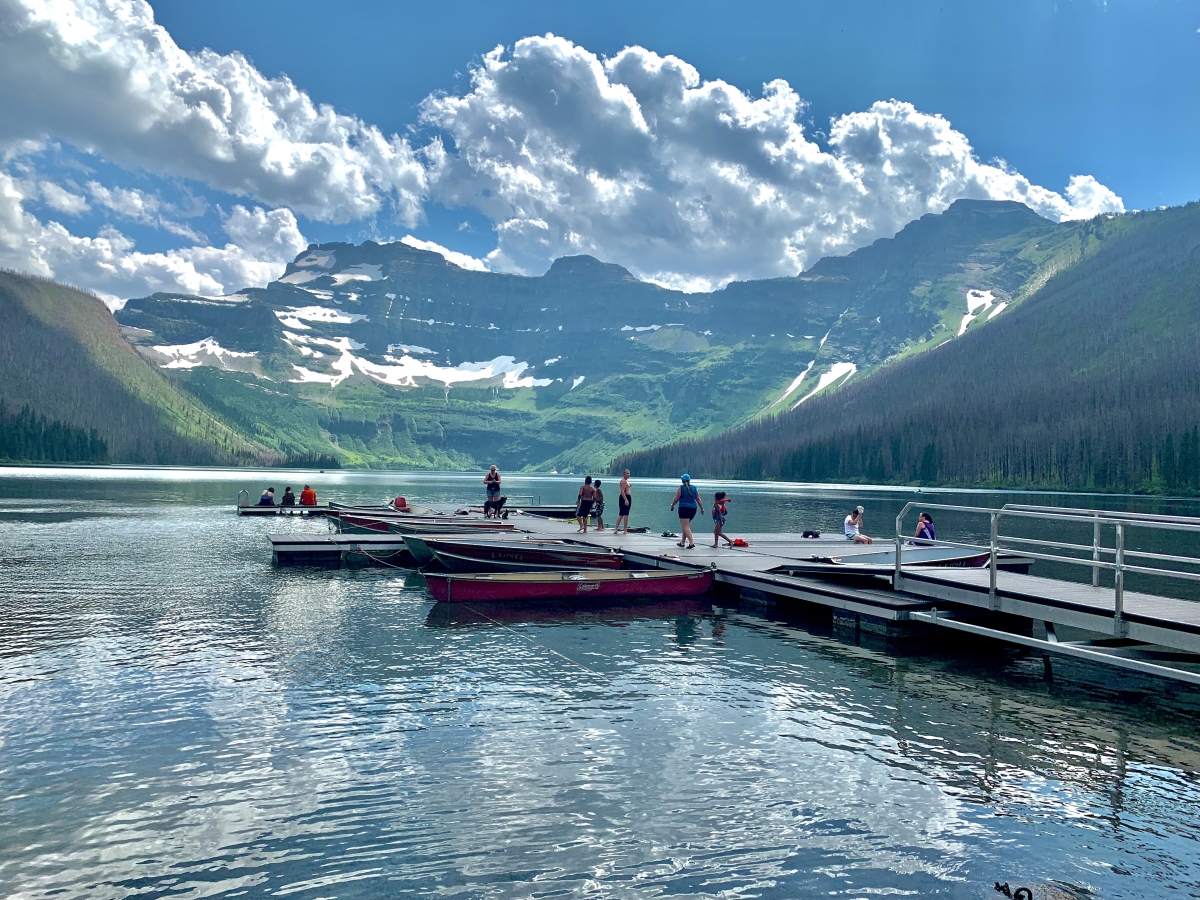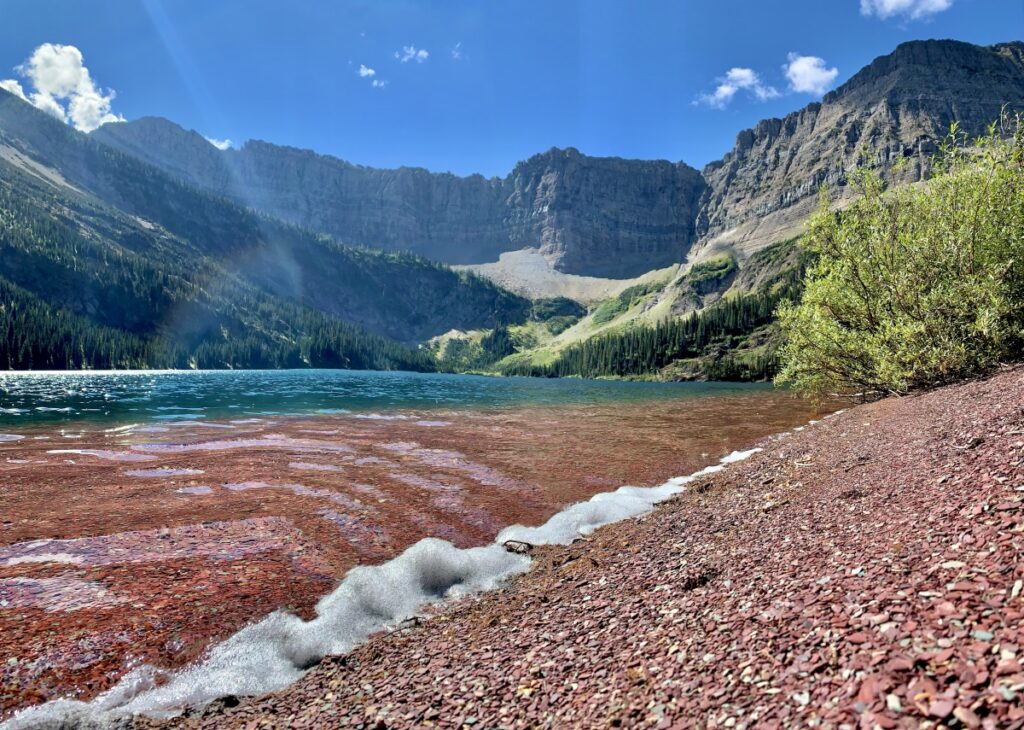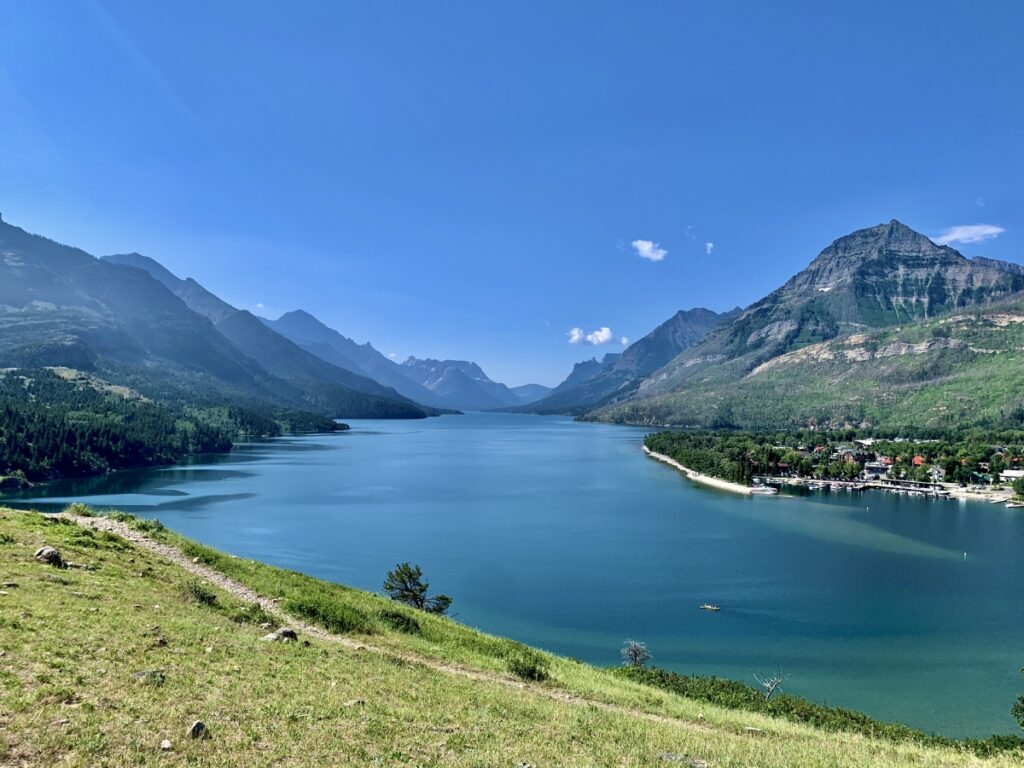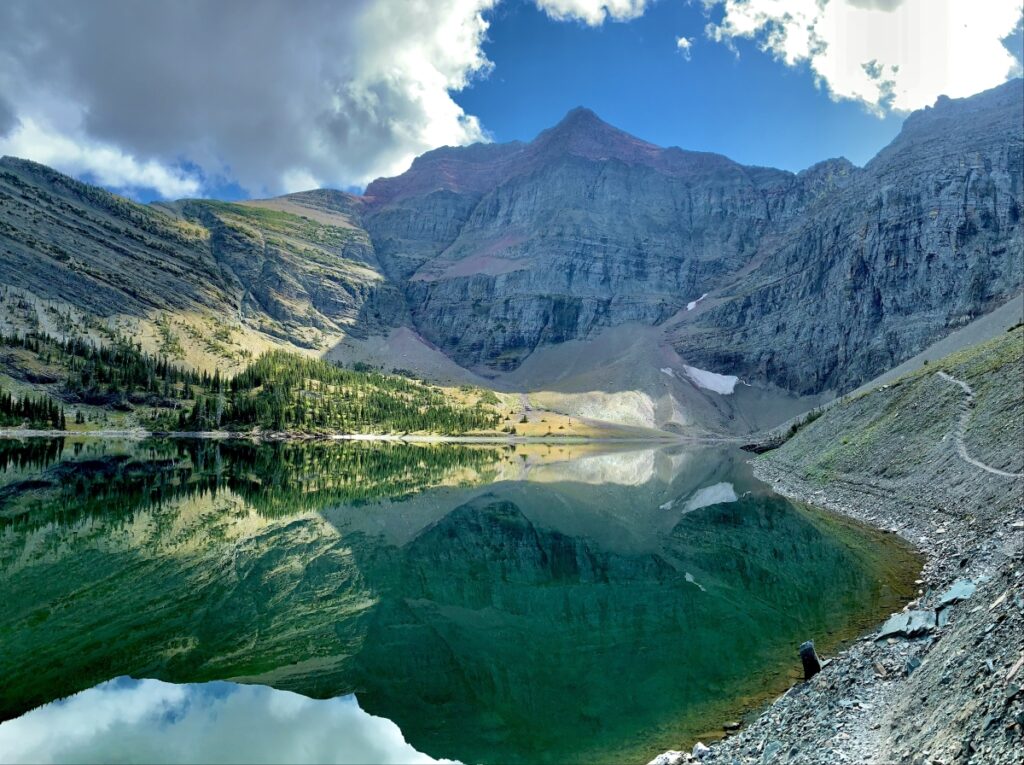 Cameron Lake – Cameron Lake is located a quick drive from town. There aren't many places to sit and chill around the lake, but if you're looking to rent boats you can find them here. If you're into backpacking, you can also take the 20.3km (one way) Carthew Alderson Trail.
More: Explore my backpacking trails
Bertha Lake – Bertha Lake is a popular hike in Waterton and is accessed only via foot. This is a gorgeous lake that features Waterton's red rock and is a great place to hang for the day.
More: Hiking Upper Bertha Falls and Bertha Lake: Waterton Lakes National Park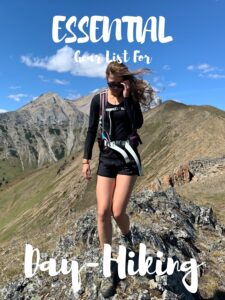 fun things to do in Waterton
Upper Waterton Lake – Upper Waterton Lake is the prettiest lake of the three and is surrounded by mountains on either side. The best places to view the lake are from the Prince of Wales hill, the shoreline in town, next to the Townsite Campground, and Bertha Point (read more about getting to Bertha Point here)
Crypt Lake – the journey to Crypt Lake is an adventure. You must first take a 15 minute boat shuttle, then hike 10km (one way) to get to the lake. It is a fantastic day-hike and was rated by National Geographic as one of the world's top 20 thrilling hikes. The lake ain't bad to look at either.
More: Hiking Crypt Lake: Waterton Lakes National Park
fun things to do in waterton
10. Big Scoop Ice Cream
I've been on the hunt for the best ice cream in the Rocky Mountains and I think I found it here. Big Scoop has great flavour choices, thick and delicious ice cream, and they serve it in short, wide cones. Seriously, they're not lying when they say "big scoop."
Pro tip – grab your ice cream and eat while walking along the Upper Waterton Lake shoreline.
Other notable contenders are Cows in Banff and Scoops and Loops in Jasper. If you have any Rocky Mountain ice cream recommendations please comment below.
This is important.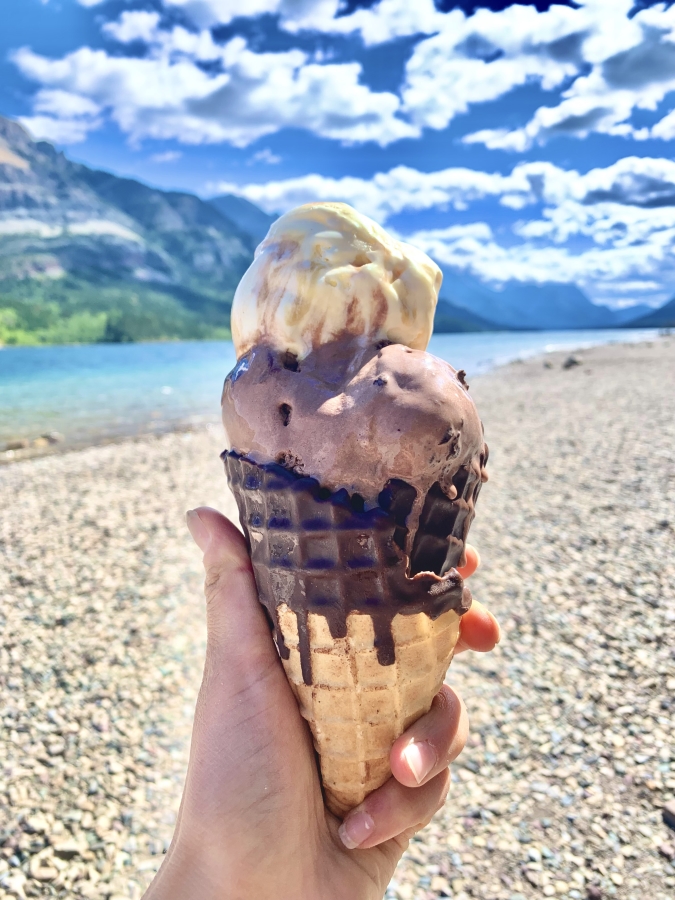 fun things to do in Waterton
11. High Tea At Prince of Wales
For my fancy pals out there, enjoy all the yummy tea and treats at Prince of Wale's first come first serve afternoon tea. It is actually scientifically proven that high tea with a view like this is better than any other type of high tea.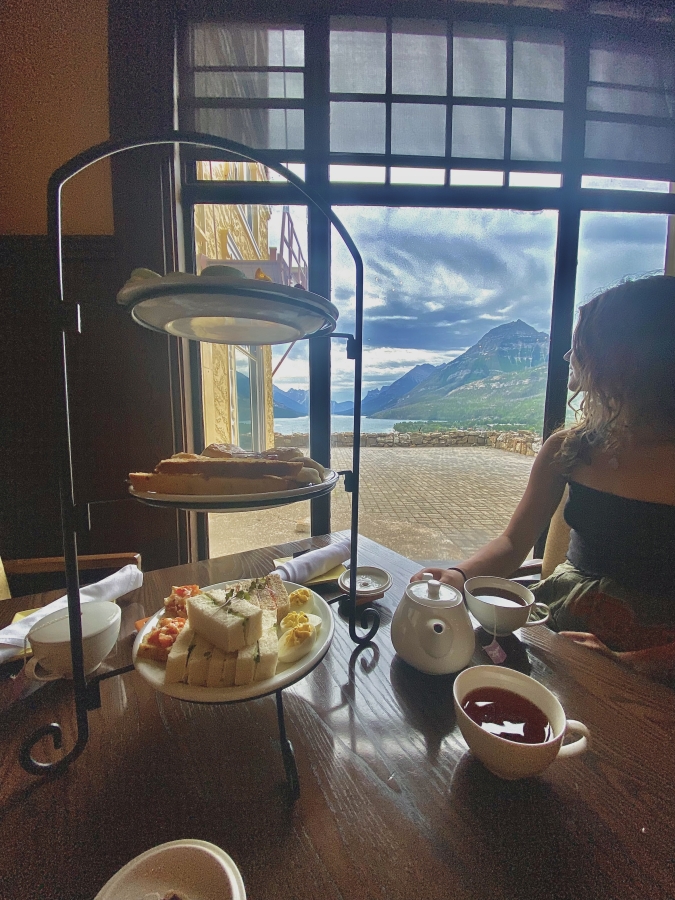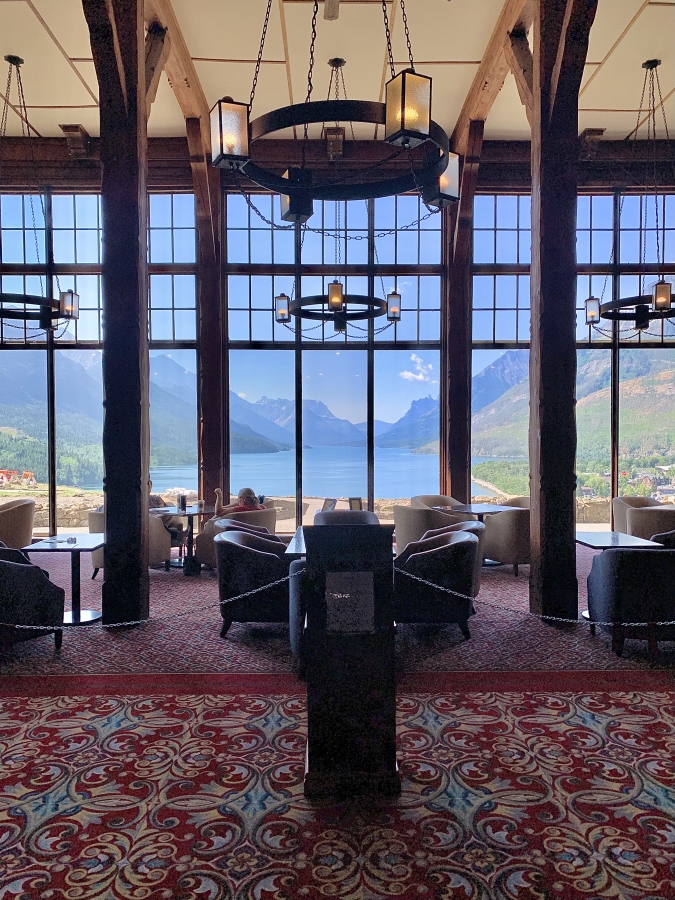 We paid $30 each and had the nicest time. I would definitely recommend doing this, especially if it's a rainy day. Best of all – you don't have to be staying at the Prince of Wales to attend! Even though you might want to because it's quite nice and a bucket-list hotel.
If high tea ain't your thing, there's also a restaurant with charcuterie boards and beer right across the hall.
fun things to do in Waterton
12. Use Waterton's Public Washroom
Now I KNOW you weren't expecting to read this, but this is one of the most fun things to do in Waterton. For real.
Honestly though, Waterton's public bathroom is the greatest public bathroom I have ever used. I will literally look at no other public bathroom the same again. Its gender neutral, has totally private stalls complete with individual sensor lights, huge sinks with vanities, and the fanciest finishings. Every person that's been to Waterton knows about this bathroom.
You can find this stellar bathroom in the parking lot by the docks downtown.
13. Hit The Town
Waterton's downtown area has lots of fun restaurants and bars. if you're looking to go out for drinks, check out Thirsty Bears (or "T-Bears" as the locals call it). This is the most poppin' bar in town. They've got a great drink menu, pool tables, and a dance floor.
fun things to do in Waterton
14. Find Waterton's Colourful Rocks
Our final fun thing to do in Waterton is find the famous multi-coloured rocks of Waterton Lake.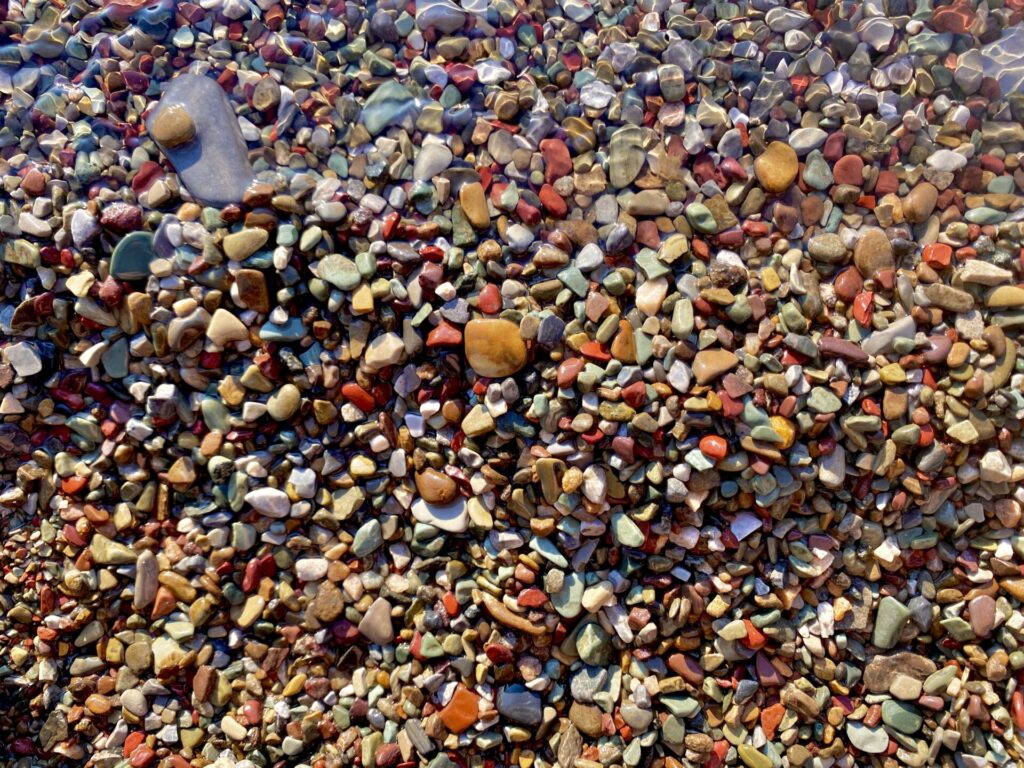 Along with red rock, Waterton also has different colours of rock and they're really something else. You can find them all along the shore of Upper Waterton Lake which is accessed directly from town.
Best Place to Stay in Waterton
The best place to stay in Waterton depends on your price range, So, here are some recommendations for every budget:
Cheapest accommodations – camp right in the town of Waterton at the Townsite Campground (booking info). The location is perfect, it's about a 10 minute walk from town and just steps from the Upper Waterton Lake shoreline. There are excellent washroom facilities, however the campground lacks privacy.
Mid-range accommodations – Waterton offers no hostels, however you will find multiple hotels available in this tiny town. You can compare hotel prices and amenities on Booking.com. Some of the benefits of using Booking are their price match guarantee, free cancelation on almost all bookings, and clear pricing with no hidden fees.
Luxury accommodations – "THE Waterton experience" would be to stay at the historical Prince of Wales hotel. The Prince of Wales is that hotel that has the big, beautiful windows overlooking Upper Waterton Lake. The hotel itself honestly isn't fancy – it's actually old (hence the historical significance), however this hotel is definitely a bucketlister! I stayed here for 1 night and enjoyed high tea the following day.
Plan your trip with my ultimate guide to Waterton:
Happy adventuring!
Taylor ♡
---
Like This Post?
Share with friends or save it for later!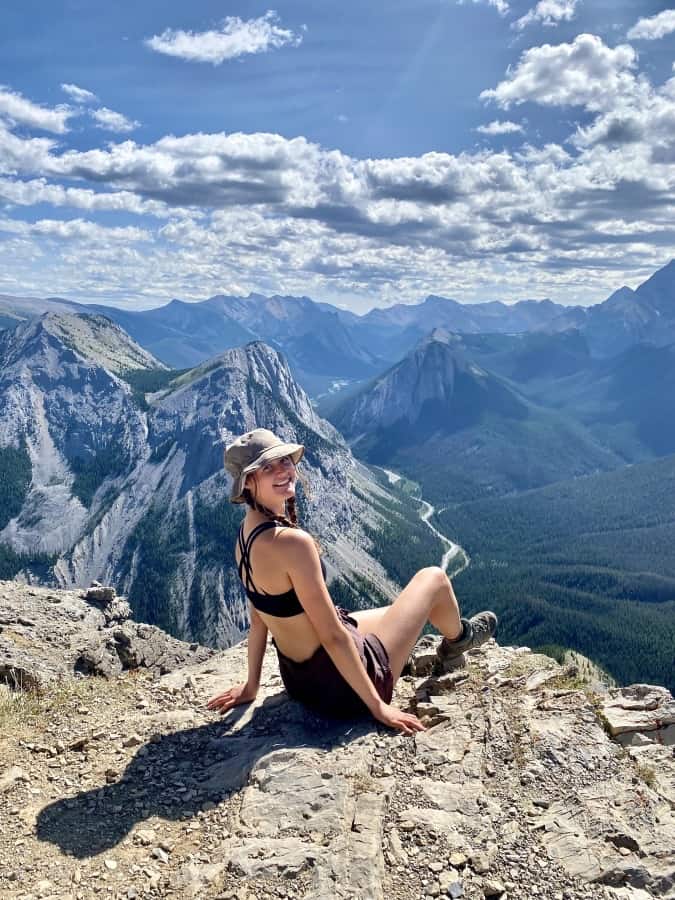 About The Author
---
Hey! I'm Taylor – the voice behind The Holistic Backpacker.
After moving to Banff National Park in 2020 I became an outdoor adventure enthusiast and vowed to never stop exploring.
I'm now focused on travelling the world and seeing everything our beautiful home has to offer.
I created The Holistic Backpacker so I could share my adventures and help connect people like you with the same amazing experiences.
I am also an advocate for the environment and do as much as I can to take care of our planet.
Get to know me and my story more here 🙂
I can't wait to share my adventures with you!