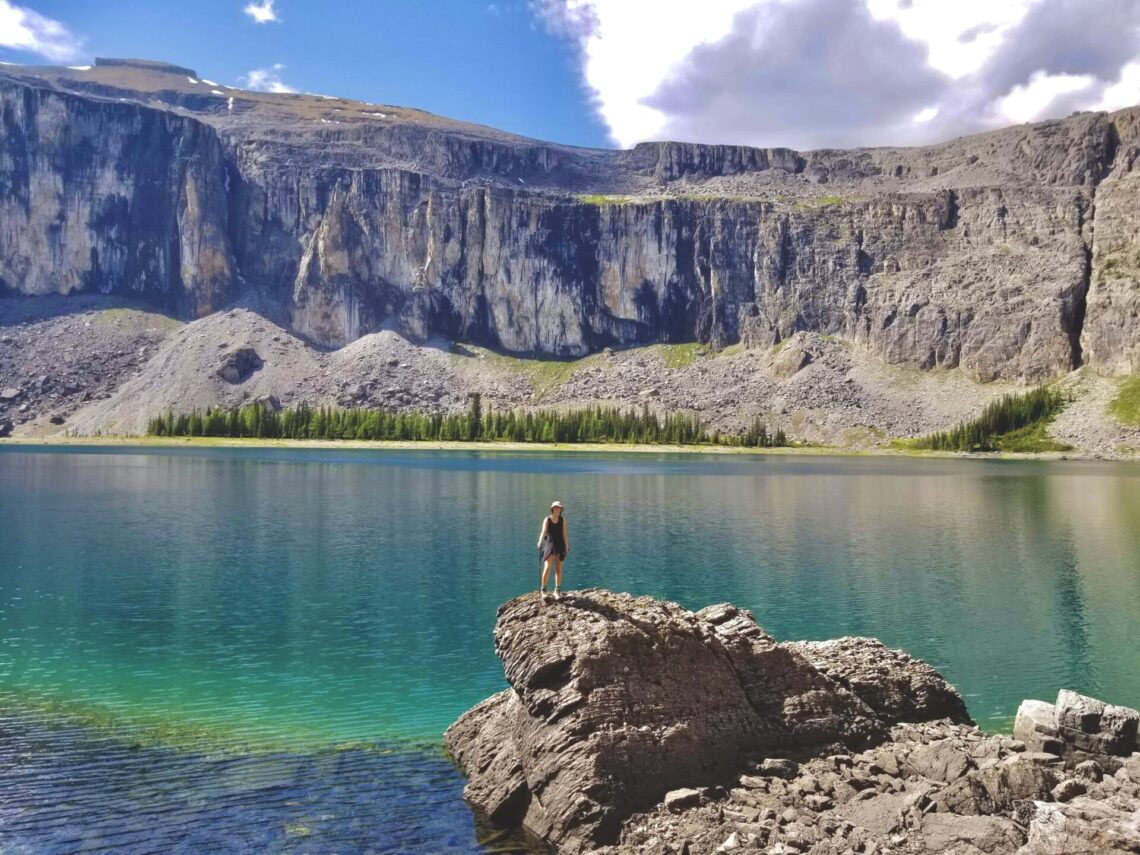 Hiking to Rockbound Lake Behind Castle Mountain – Banff
Did you know you can actually hike to a sparkling blue alpine lake nestled behind the famous Castle Mountain (formally known as Eisenhower Peak)? The Rockbound Lake trail is a long, but rewarding day-hike in Banff National Park that's great for sightseeing and fishing; yup this trail is for anglers too!
The Rockbound Lake trailhead is located just down the road from Johnston Canyon. It features two lakes, a waterfall, and the opportunity to complete a massive summit.
Now, let's go hiking!
Skip Ahead:
This post contains affiliate links; see my full disclosure. If you click these links and make a purchase you're supporting The Holistic Backpacker. Thanks for your support & happy adventuring! – Taylor ♡
---
---
Related Content
---
How To Get To Rockbound Lake Trailhead
The Rockbound Lake trailhead is located about a 25 minute drive from the town of Banff on highway 1A. In previous years the 1A has been closed, in this case utilize the parking lot across from the Castle Mountain gas station. I've marked the Rockbound Lake trailhead and the alternate parking lot across from the gas station on this map.
Other options for getting to the trailhead include biking from town or taking the Roam bus to Johnston Canyon/biking from the drop off point.
Remember: Banff is a National Park which means you'll need a Park's pass for each day in the Park. You can buy these online, at the visitor centre, or at the Park gates when you enter Banff.
About Rockbound Lake Trail
Distance: 17.9km
Elevation gain: 1 021m
Rated: moderate
Type of trail: out & back
Estimated time: 7hrs
Alternate Route – you can also summit Castle Mountain/Eisenhower Peak! This hike is not for the faint of heart, but it is a beauty. Here's the Castle Mountain summit route on Alltrails and one hiker's experience on the trail.
---
The Rockbound Lake hike is long and moderately trafficked trail that gains steady elevation.
This trail starts off in a wooded area where you'll be following switchbacks up the mountain. Eventually the path emerges into a beautiful basin with incredible views of the backside of Castle Mountain. You'll cross by Tower Lake, then arrive at the stunning Rockbound Lake.
Other Things To Know
Be warned, this trail is mad buggy! Thankfully it was windy the day I hiked detouring some of the pesky mosquitos, but some of my pals weren't so lucky when they attempted this hike on a different day. I'd recommend taking a bug suit with you on this hike – it'll literally save you!
Hiking in winter – it's not recommended to snowshoe to Rockbound Lake in winter due to frequent avalanches. If you plan to hike the Rockbound Lake trail in winter, proceed only to Tower Lake unless you're an experienced hiker, have avalanche training, avalanche gear, and have checked the avalanche bulletin.
More: Level 1 and level 2 avalanche training courses.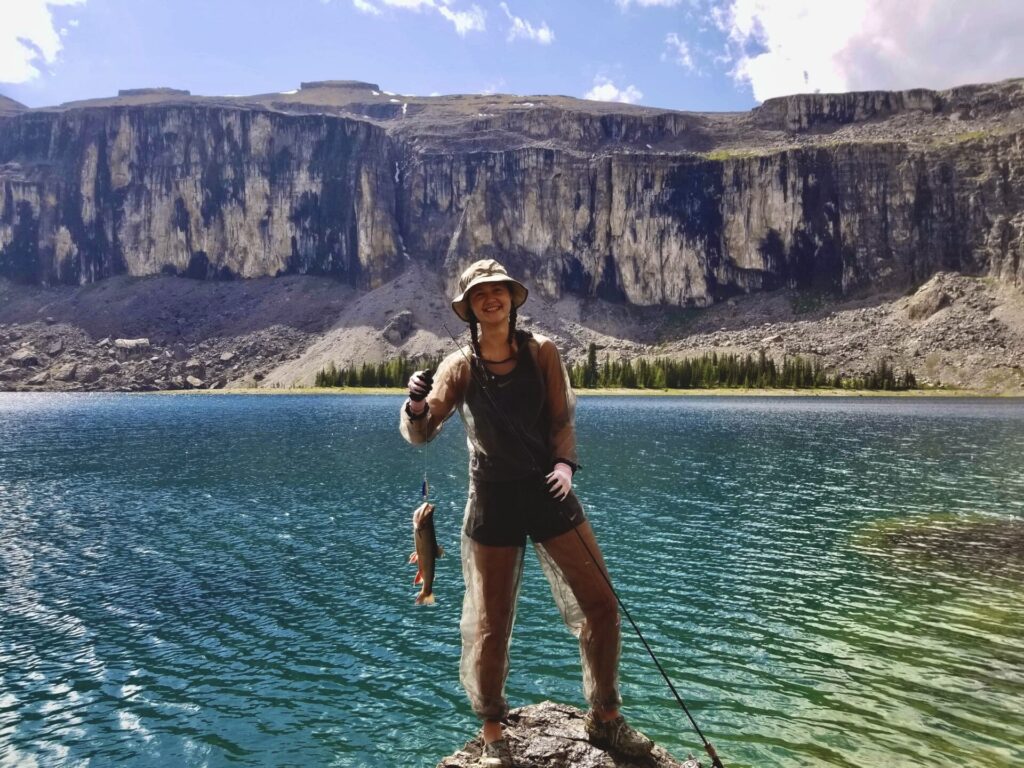 Hiking to Rockbound Lake
The Rockbound Lake trailhead leads directly into the forest where you'll follow switchbacks up the mountain. This section of the hike is not scenic as you're completely surrounded by trees, however it is quite peaceful and there are normally lots of grouse (AKA mountain chickens) running around!
Approximately 0.3km into the Rockbound Lake hike the trail will split; you can hike left for Rockbound Lake and right for Silverton Falls which is a 1km detour. Silverton Falls is a popular winter hike in Banff; you can explore my guide for winter in Banff here.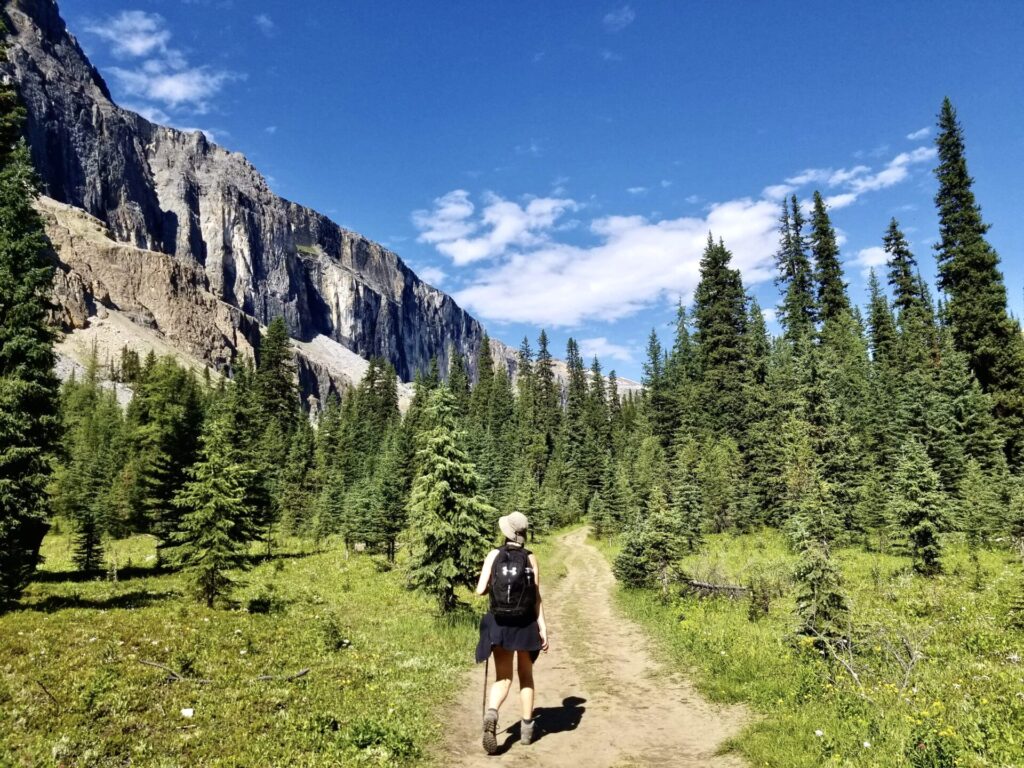 After making it up the switchbacks you'll arrive at the basin in which the elevation will level out and you'll have the chance to walk on flat ground surrounded by gorgeous mountains; the most striking being Castle Mountain (hiker's left).
This is also a great hike if you're on the hunt to find Rocky Mountain wildflowers. The best time of year to see wildflowers in Banff is in July, however it really depends on weather, the elevation of your hike, as well as a few other factors. Park's Canada has a bit more information on this.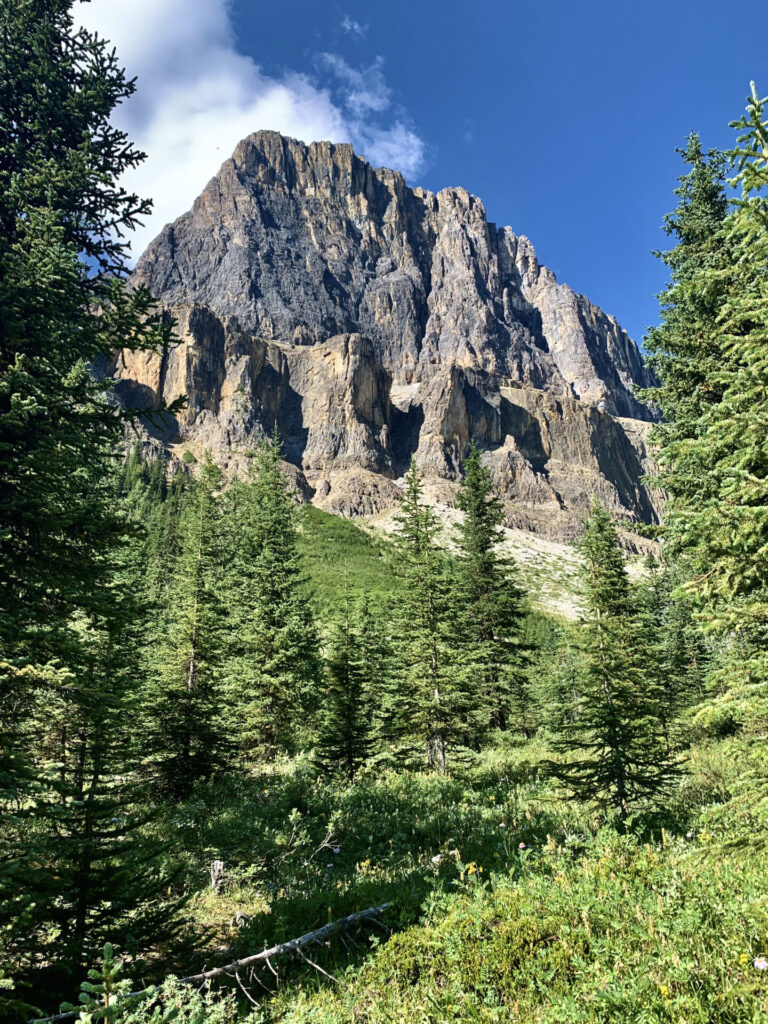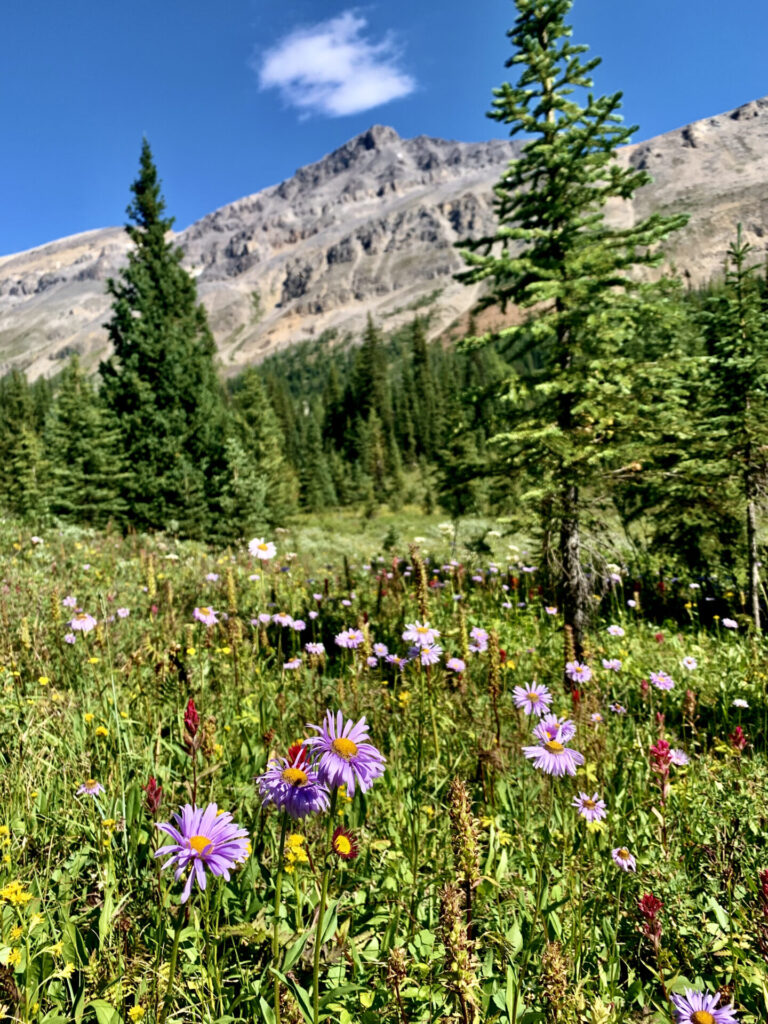 Tower Lake
You'll cross a few streams and small bridges as you venture through the basin, then you'll arrive at Tower Lake; the first lake on the Rockbound Lake hike.
This is a great place to take a quick breather, have some water, and grab a snack because the next section has a short-lived, but steep climb.
Next, hike around the right side of Tower Lake and follow the Rockbound Lake trail up and back into the trees. Along the way you'll find Tower Lake Lookout which makes Tower Lake look even more WOW.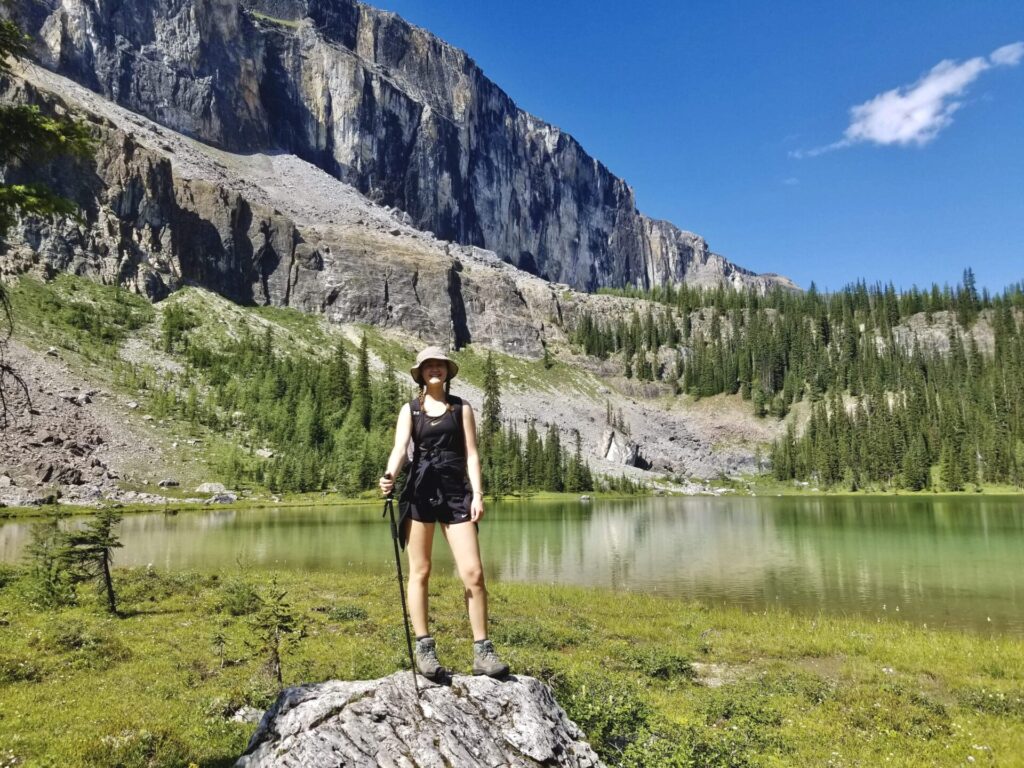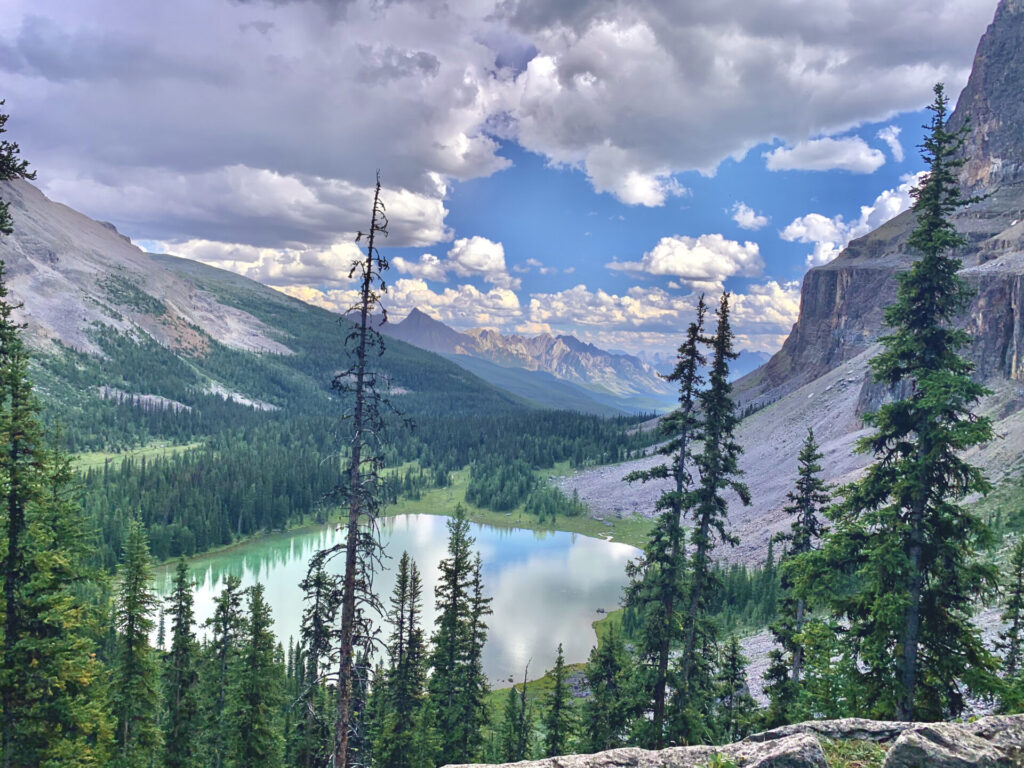 At this point you've pretty much made it to Rockbound Lake! Before you find the sparkly blue water of the lake though, you'll have to navigate through some trees. You'll notice paths leading in every direction here and it'll seem confusing, but don't stress. Every path will at some point bring you to the lake, so just keep hiking!
Rockbound Lake
Once you make it to the lake you can hike around the lake or complete the Castle Mountain summit. Myself and my friend Greg (the creator of Banff Buzz) hiked around the right side of the lake and went fishing – which I'll talk more about next.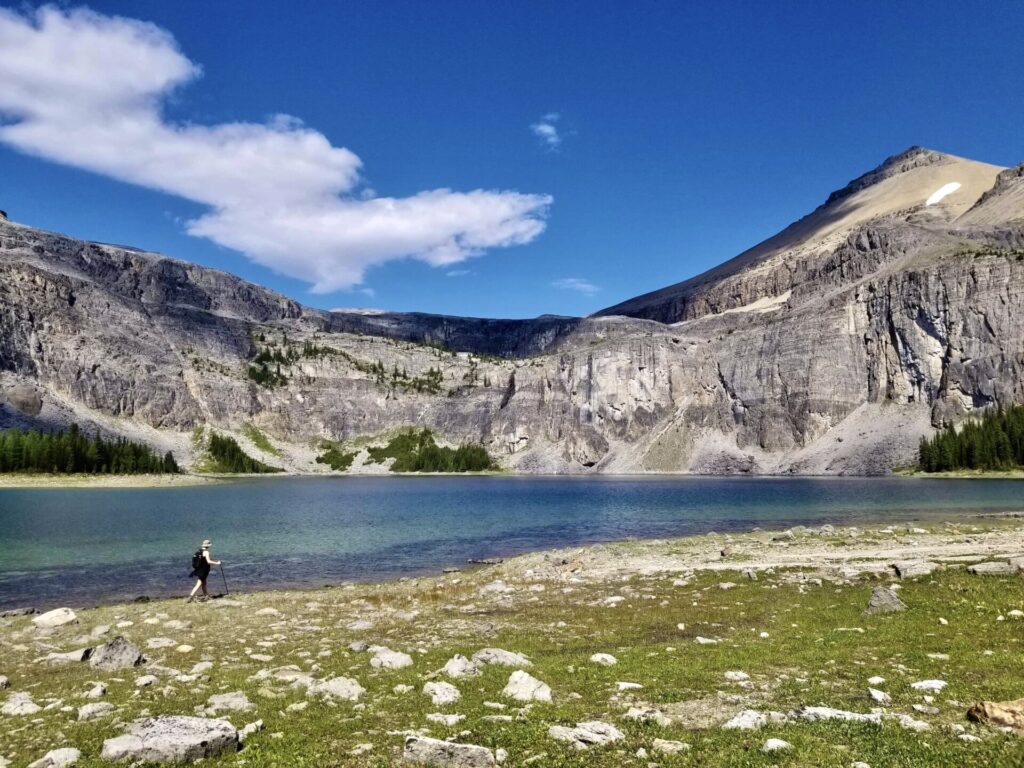 Next I'll talk about fishing at Rockbound Lake, what to wear hiking in the Rockies, essential hiking gear, and cheap ways to visit Banff.
---
Looking for More Banff Adventures?
Banff is an adventurer's & view seeker's paradise. If you're planning a trip to this gorgeous Canadian Park, you can start with this step-by-step guide designed to help you plan the perfect Banff itinerary.
Alternatively, check out this page with all my Banff resources.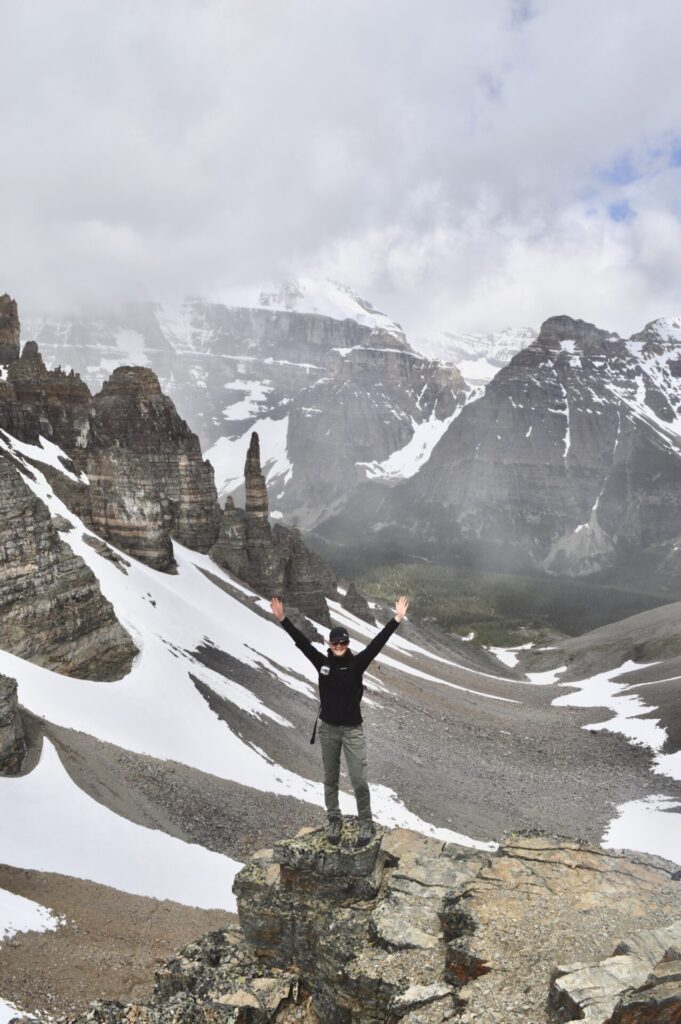 Want to continue your Canadian Rockies expedition outside of Banff? Check out my trail guides & travel resources for British Columbia and Kananaskis Country as well as Jasper, Waterton, Yoho, and Kootenay National Parks 🙂
---
Fishing at Rockbound Lake
Find the rules & regulations for fishing in Banff National Park HERE.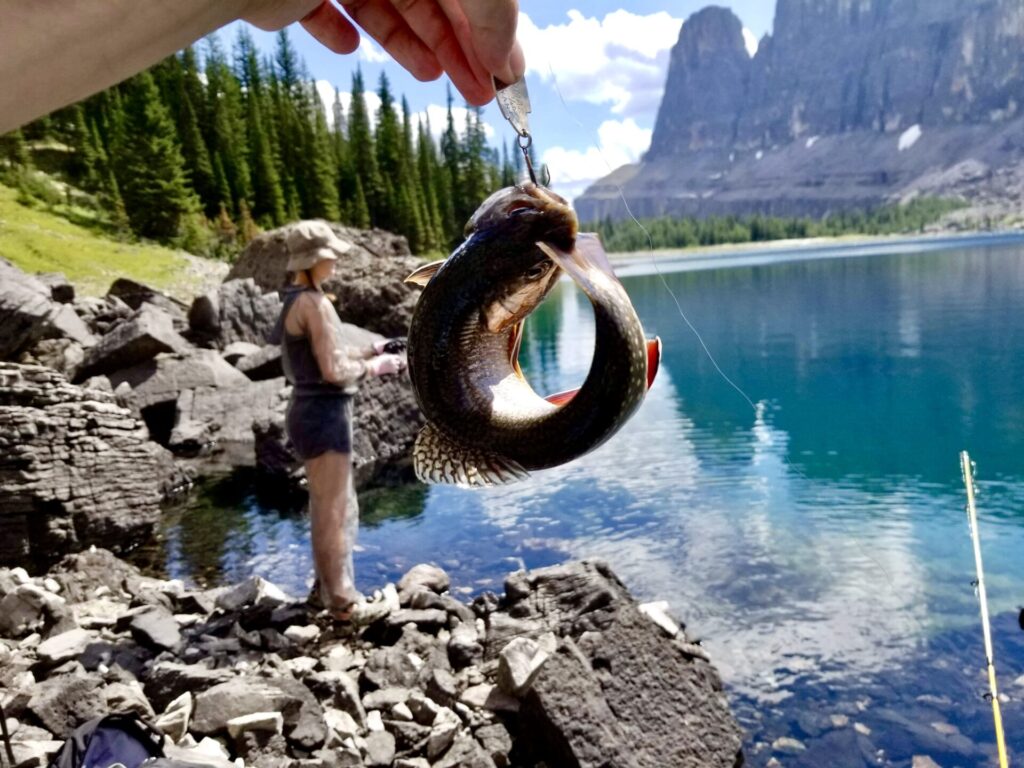 My friend Greg and I have a little tradition of going on one Rocky Mountain fishing trip each summer. This summer's lucky pick was to go fishing at Rockbound Lake!
We packed lots of snacks and lots of fishing gear and quite frankly set up shop on the shore of Rockbound Lake. I've gone fishing a few times in Banff, but nothing quite compares to the fishing that Rockbound Lake offers!
We were seriously reeling in a rainbow trout for every cast – no exaggeration!
We fished for probably 2+ hours before the rain started and we had to leave. In that time I want to say we reeled in about 60 fish. Not big fish, but let's be honest, you don't catch anything big when you're fishing in these high elevation alpine lakes.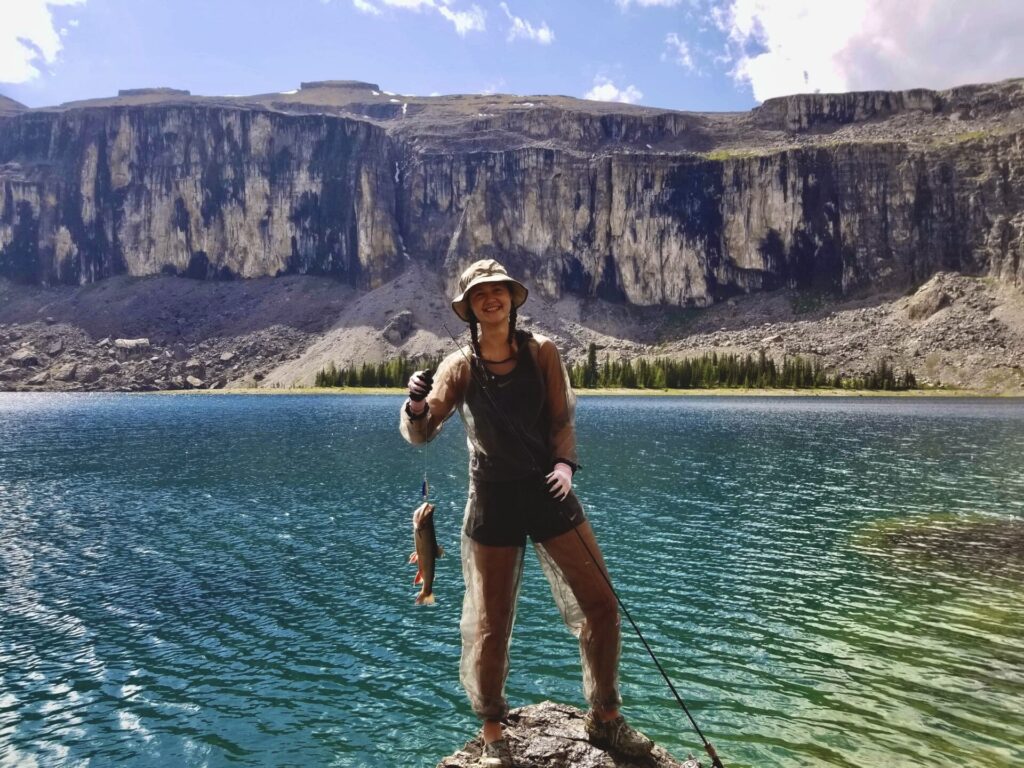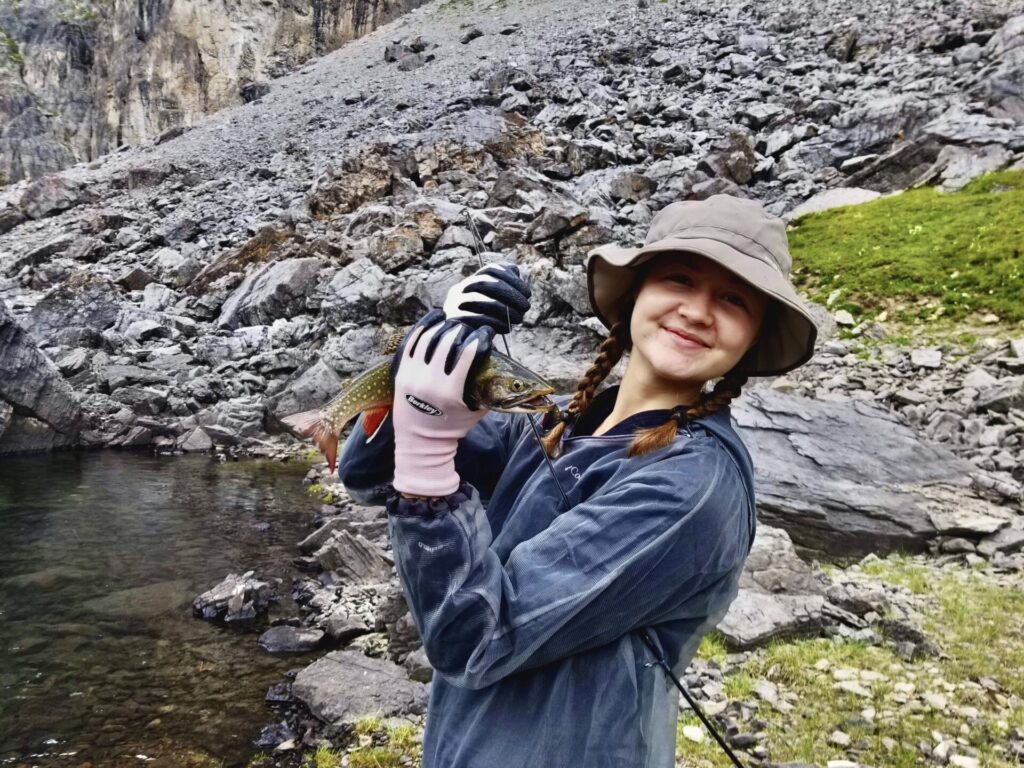 Something I'm so happy I brought with me when I went fishing at Rockbound Lake was my bug suit – if not I would've been eaten alive for sure.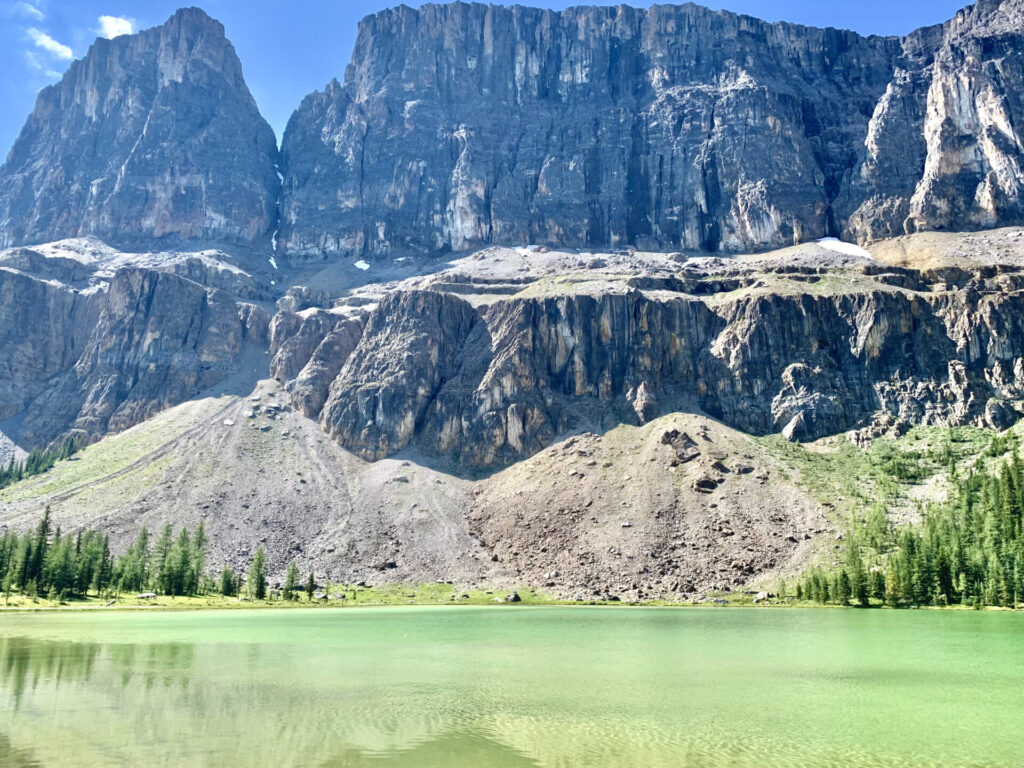 Rockbound Lake Takeaways
The Rockbound Lake trail is a great hike for anyone (as long as you have moderate fitness) that features beautiful lakes, stunning mountains, and good vibes.
One of my favourite things about this hike was watching the colour of Rockbound Lake change. As the sun appeared and disappeared, when the rain started, vs different times of day the water changed from bright blue, to turquoise, to light green.
Rockbound Lake is a MUST if you're planning to hike in Banff!
---
Recommended Hiking Gear
The following items are some of my favourites – I never hit the trail without them!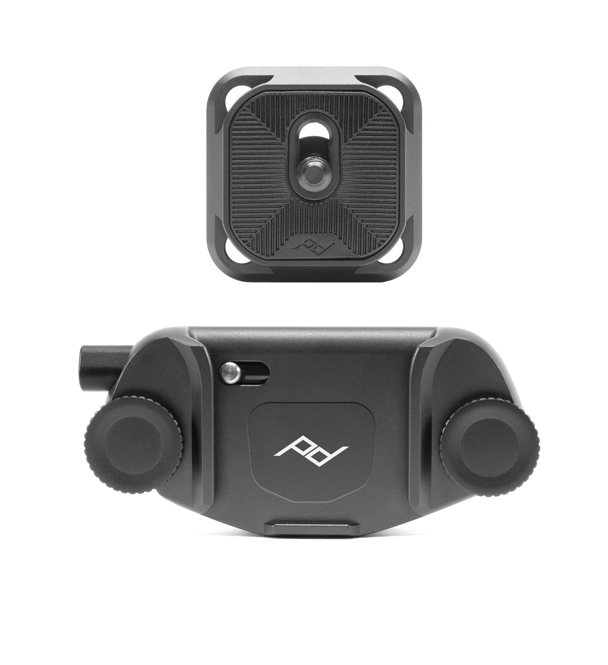 The Capture Clip by Peak Design is a sturdy, safe, and super convenient way to carry your camera while hiking or backpacking.
Find it on Amazon (CAD).
Find it on Peak Design (US).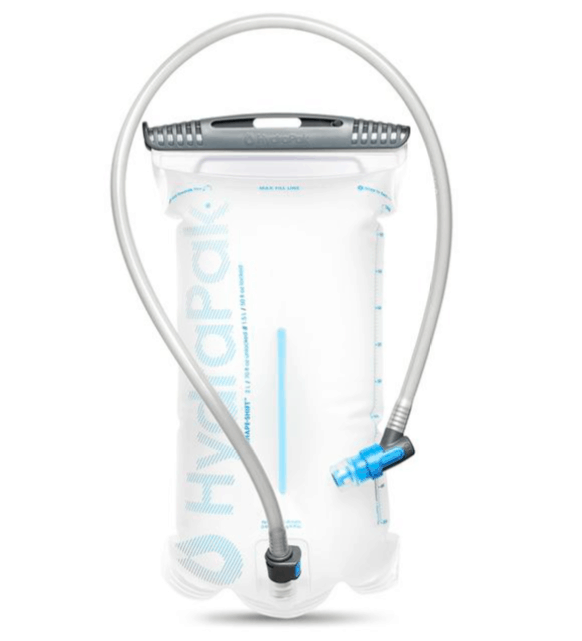 A hydration reservoir is SO important. It holds 2L+ of water and keeps you hydrated on-trail. I use the 2L Hydrapak; it never leaks and has a detachable tube.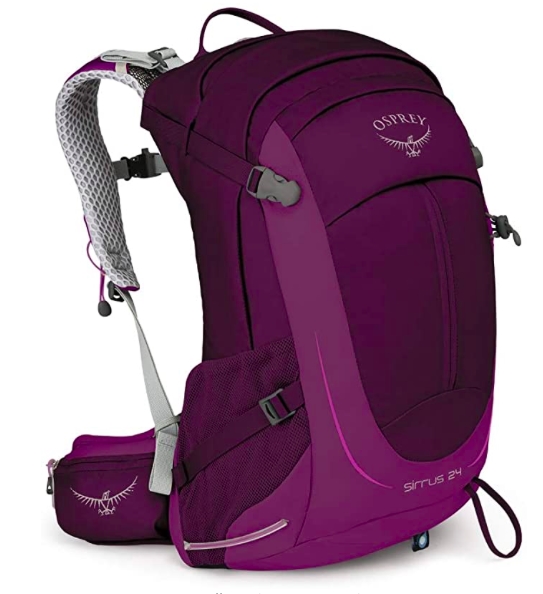 Things to look for in a good quality day-pack: sternum strap, hip belt (with pockets), and a breathable mesh system for your back. I use the Osprey Sirrus 24L pack (men's version) and I LOVE it!
---
What To Wear Hiking in the Rockies
For a detailed guide on what to wear hiking in the Canadian Rockies, check out this post.
Choosing what to wear hiking can be confusing, but the secret to properly dressing for a hike is layering. You can mix and match the tops and bottoms you already own to make up your base layers, however in addition to those clothes you'll need a few extra things:
A waterproof jacket is the most important layer for hiking – it keeps you warm and protects you from wind and rain. I use the Marmot Eco Precip Jacket (men's version) which is totally a bang-for-your-buck. If rain is in the forecast, don't forget to pack waterproof pants (men's version) too.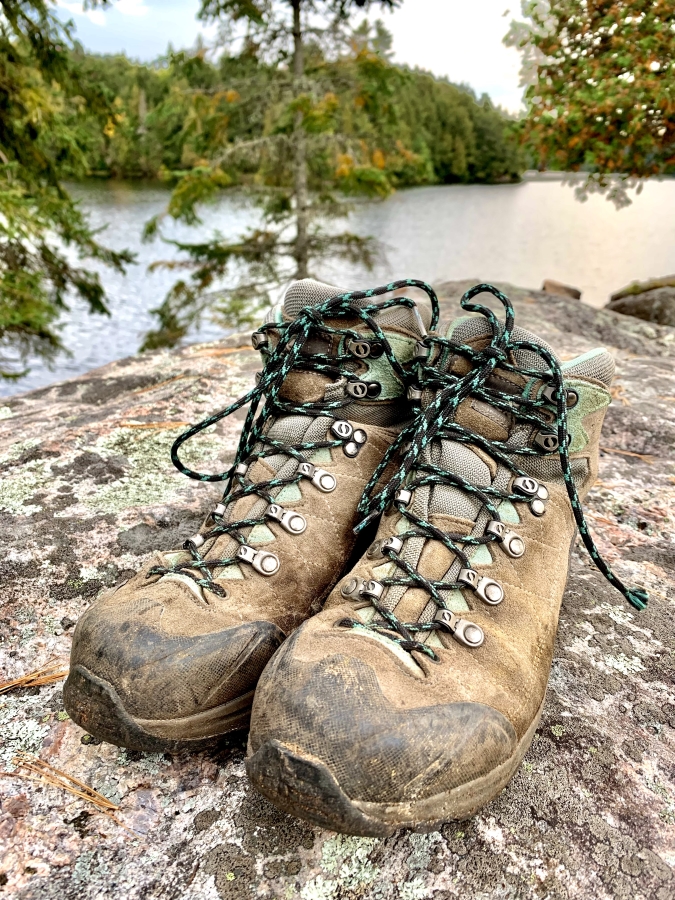 A good pair of hiking boots are Gore-tex, provide ankle support, and are durable. I use the Scarpa Kailash boot (men's version) and they've never let me down. You'll also want a good quality pair of socks. I use Smartwool – they're great quality and last an entire season.
A puffer jacket acts as your warm layer. I use the hoodless Columbia Women's Heavenly Jacket (men's version). Alternatively you can use a fleece zip – I have this one (men's version) from Columbia. Both of these options are perfect layers to keep you warm on windy, cold, or high elevation hikes.
Rocky Mountain hiking exposes you to different natural elements and conditions – it's imperative that you're prepared for whatever nature throws at you. Trust me, I've learned the hard way!
More: Day-hiking Gear Guide
More: What to Wear Hiking in the Canadian Rockies
---
Where to Stay in Banff
Travellers can also opt to stay in locations near Banff:
Happy adventuring!
Taylor ♡
---
Like This Post?
Share with friends or save it for later!
---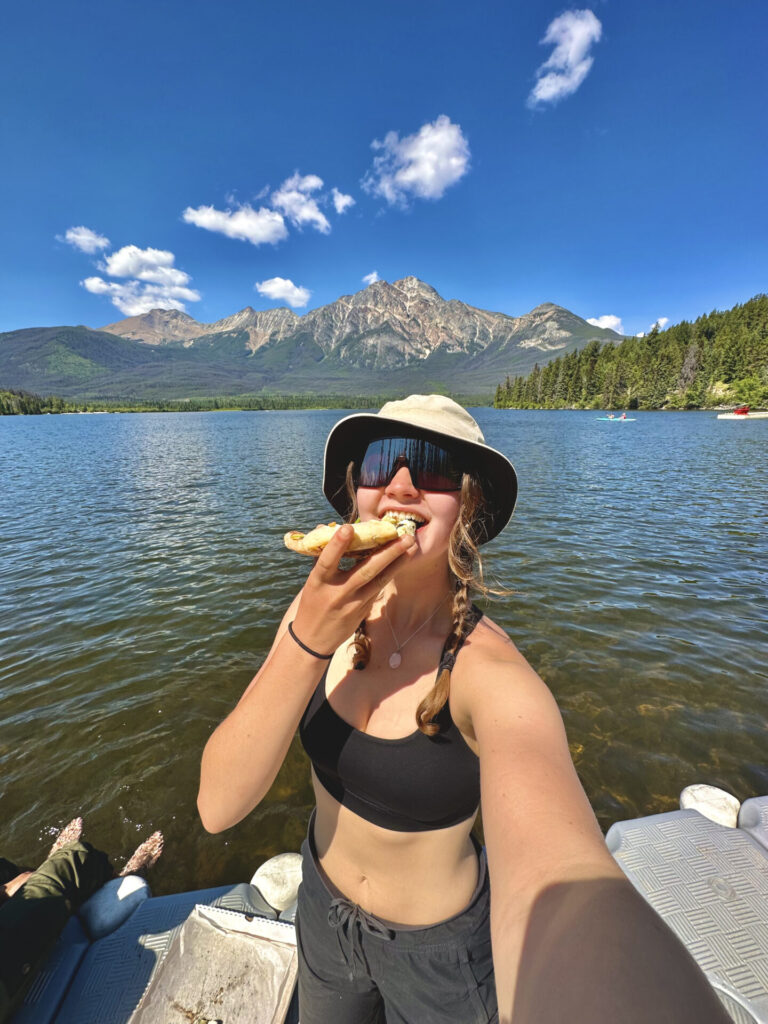 About The Author
HI, I'm Taylor – the voice behind The Holistic Backpacker.
After moving to Banff National Park in 2020 I became an outdoor adventure enthusiast and vowed to never stop exploring.
I now spend my days travelling the world, climbing mountains, and spending nights under the stars in the Canadian Rockies backcountry.
I created The Holistic Backpacker so I could share my adventures and help connect people like you with the same amazing experiences.