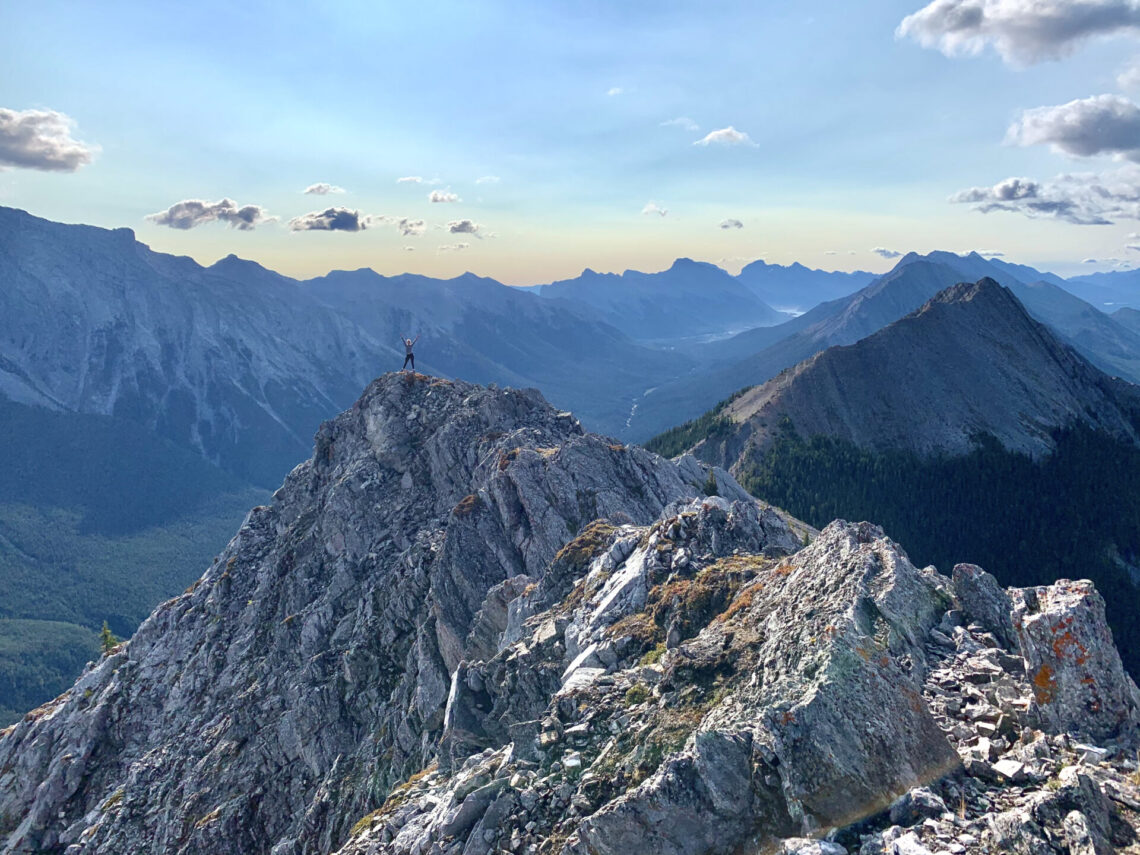 Sulphur Mountain Traverse Route: An Off-the-Beaten Path Hike in Banff
Many of you know the famous Sulphur Mountain in Banff, but have you ever heard of the Sulphur Mountain Traverse Route? This off the beaten path hike in Banff National Park is sure to impress even the most experienced of hikers.
This is a more advanced and lengthy hike in Banff that features incredible views of the Spray River between Banff and Canmore. You'll be hiking along the multiple Sulphur peaks with insane views of both Rundle Mountain (hiker's left) and the Sundance Range (hiker's right).
There's a bit of scrambling involved so this hike can also be considered one of the many Banff Scrambles! For more of my scrambling trail guides, pop over to this page.
A quick reminder – Banff is a National Park which means you'll need a Park's Pass for each day you'll be in the Park. Buy these at the Park gates, online, or at the town's visitor centre.
Without further ado, let's go hiking!
Skip Ahead:
This post contains affiliate links; see my full disclosure. If you click these links and make a purchase you're supporting The Holistic Backpacker. Thanks for your support & happy adventuring! – Taylor ♡
---
---
---
Related Content
---
How To Get To The Sulphur Mountain Traverse Route
Below I've marked the Sulphur Mountain trailhead, the Sulphur Mountain Traverse Route trailhead as well as the true Sulphur summit.
Something exceptionally great about this off the beaten path hike in Banff is that you don't need a car to get to the trailhead! Sulphur Mountain is located right in the town of Banff and can be accessed via the $2 Roam bus (route 1).
Actually I recommend taking the bus because parking at the gondola can be a bit wild.
The Sulphur Mountain trailhead is located in the upper parking lot near the Banff Upper Hot Springs. From here you can either hike up the Sulphur Mountain trail OR take the Banff Gondola. You can read more about my experience working at the Banff Gondola here.
Honestly, hiking both the Sulphur Mountain trail and the Sulphur Mountain Traverse Route would be a massive day. I'd recommend taking the gondola (that's what I did) before setting off to the true Sulphur Mountain summit.
More: Sulphur Mountain trail guide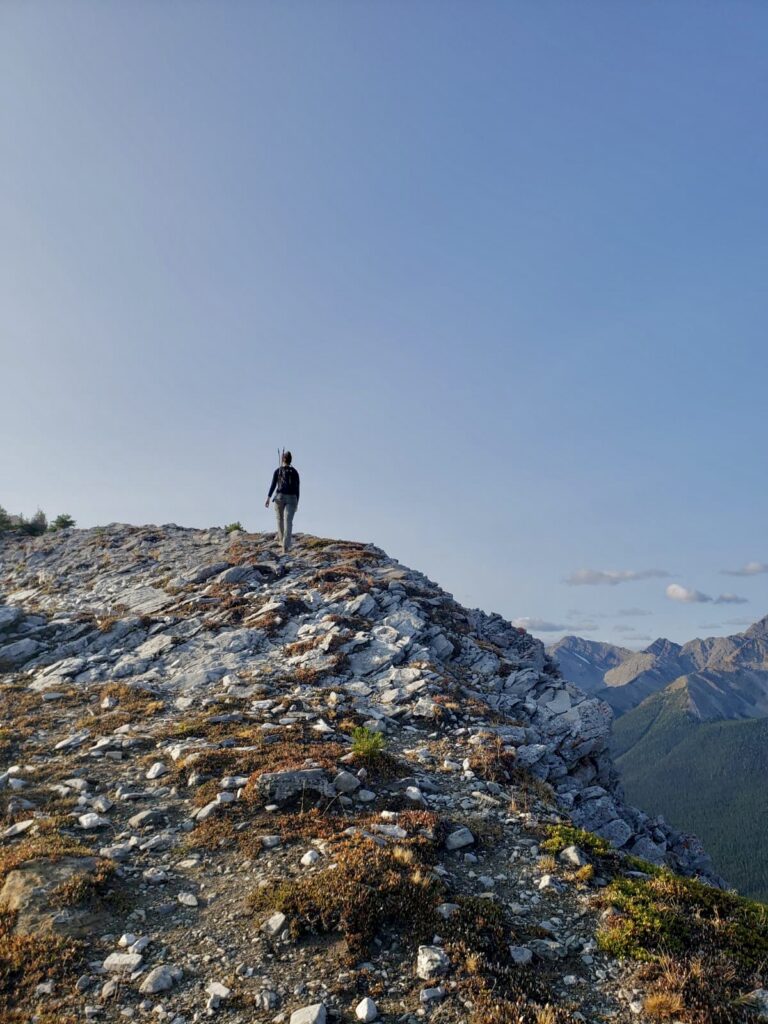 About The Sulphur Mountain Traverse Route
I didn't track this hike, so I don't have specifics. However generally this is what you can expect in terms of length, elevation, etc (not including the Sulphur Mountain trail).
Distance: 10km
Elevation gain: unknown, but probably around the 900-1000m mark
Rated: hard
Route Type: out & back
Estimated time: 3-5hrs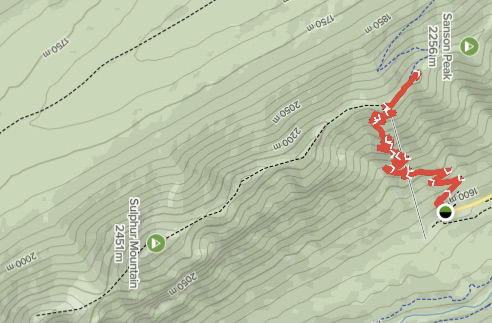 The Sulphur Mountain Traverse Route is a low traffic (expect to be the only one on the trail), diverse, and technical hike that features scrambling and requires route finding. You'll be traversing the Sulphur Mountain ridge over a series of peaks to reach the true Sulphur summit (4th peak). You can expect scrambling and a few small scree/loose rock sections along the way.
There's limited (if any) cell service on the ridge, so taking a satellite communication device, like the Garmin inReach Mini, might be a good idea for safety reasons.
My hiking partner and I messed up BIG (as per usual) and made some serious detours in the wrong direction. As you're hiking the Sulphur Mountain Traverse Route, ensure you stay as close to the top of the ridge as possible. There are "trails" (animal trails) that lead you off path – DO NOT follow these!
I would only recommend completing this off the beaten path hike in Banff if you're an experienced hiker OR if you're hiking with someone experienced. This is a beautiful hike though, so if you have the necessary skills add the Sulphur Mountain Traverse Route to your Banff bucket list.
---
Looking for More Banff Adventures?
Banff is an adventurer's & view seeker's paradise. If you're planning a trip to this gorgeous Canadian Park, you can start with this step-by-step guide designed to help you plan the perfect Banff itinerary.
Alternatively, check out this page with all my Banff resources.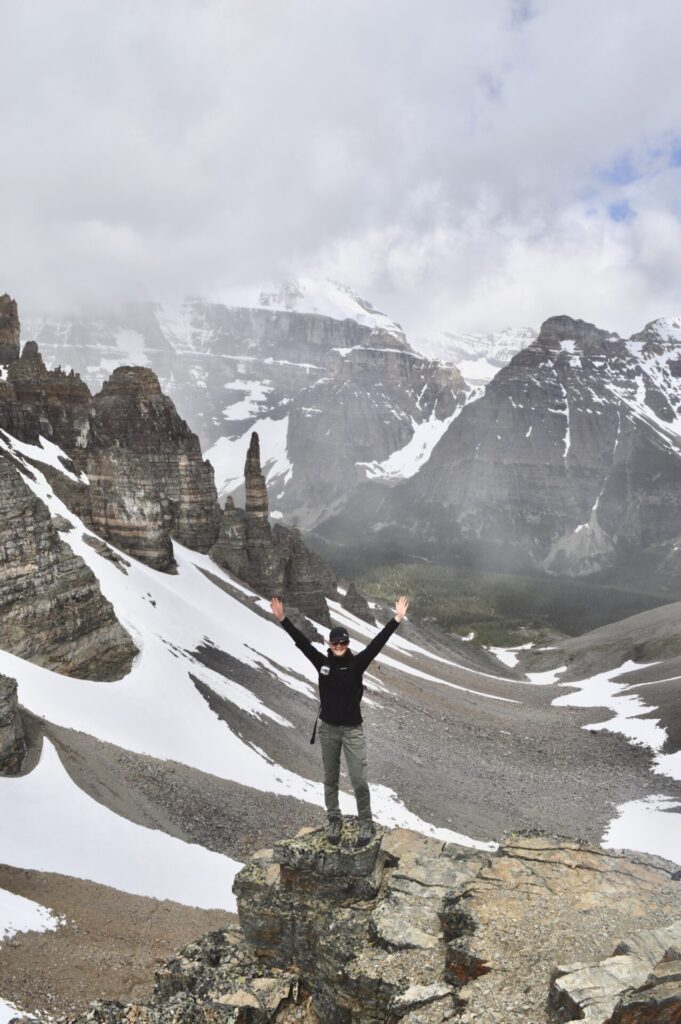 Want to continue your Canadian Rockies expedition outside of Banff? Check out my trail guides & travel resources for British Columbia and Kananaskis Country as well as Jasper, Waterton, Yoho, and Kootenay National Parks 🙂
---
Hiking The Sulphur Mountain Traverse Route
This off the beaten path hike in Banff starts at the top of Sulphur Mountain. Again, you can either hike the Sulphur Mountain trail OR take the Banff Gondola instead of hiking both trails. Once you arrive at the top, you'll want to go to the wooden helicopter pad to find the next trailhead. If you take the gondola up, go left once you reach the deck and follow the building around.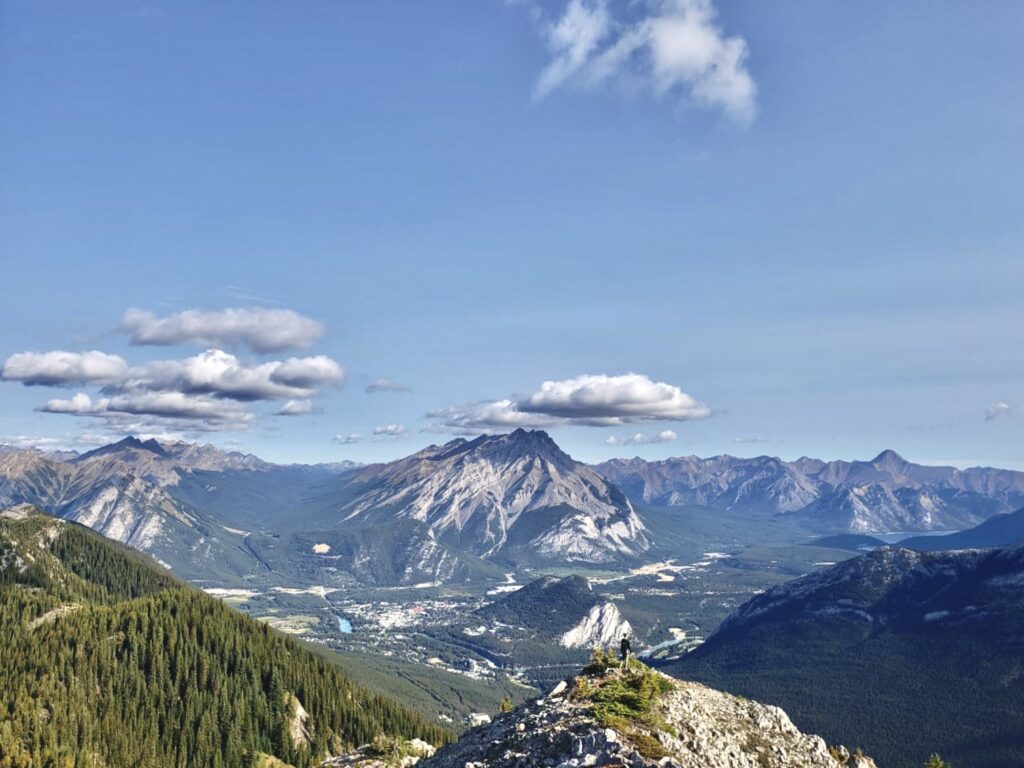 The trailhead will be the small opening in the trees just passed the helicopter pad. The trail initially goes through the trees with minimal views, then opens up quickly to dramatic views complete with rugged peaks, rivers, and steep valleys.
We Done Fckd Up…
Warning – stay as close to the top of the ridge as possible!
Very early on my hiking partner and I took a wrong turn and ended up further down on the right hand side of Sulphur Mountain. We had to traverse dangerous cliff edges and scramble up extremely steep terrain to get back on track!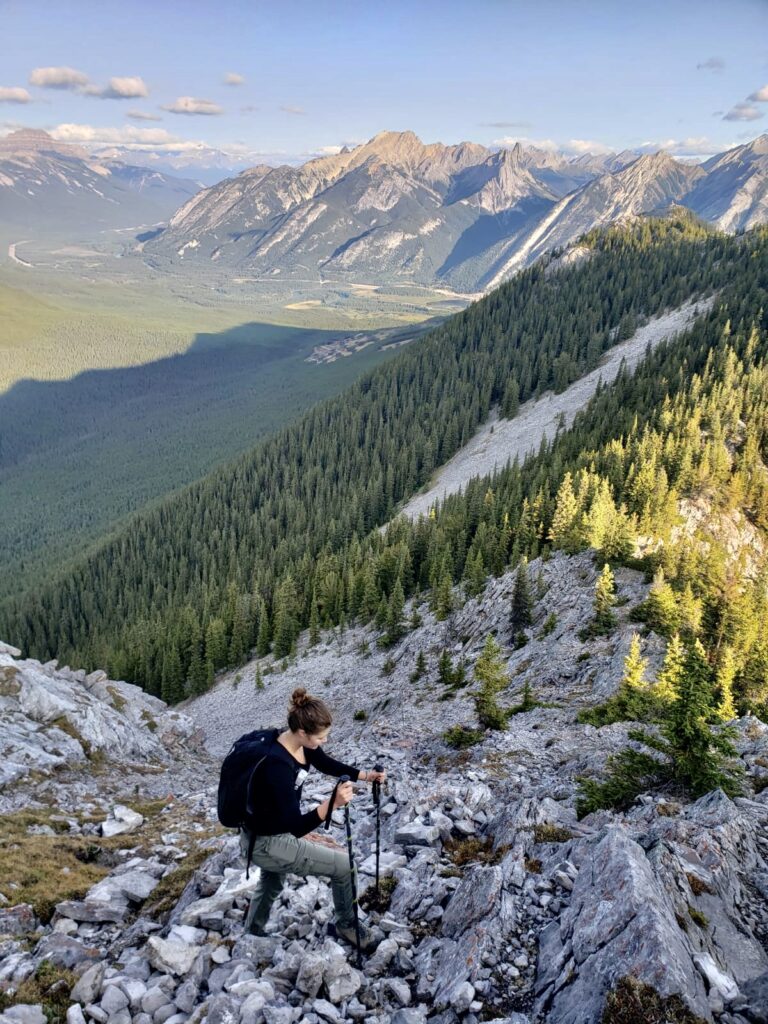 We also had to endure an unnecessary and unstable scree section on our mission back to the top of the ridge. Stay high and don't make the same mistake we did!! Besides, the views are all at the top so that's where you'll want to be anyways!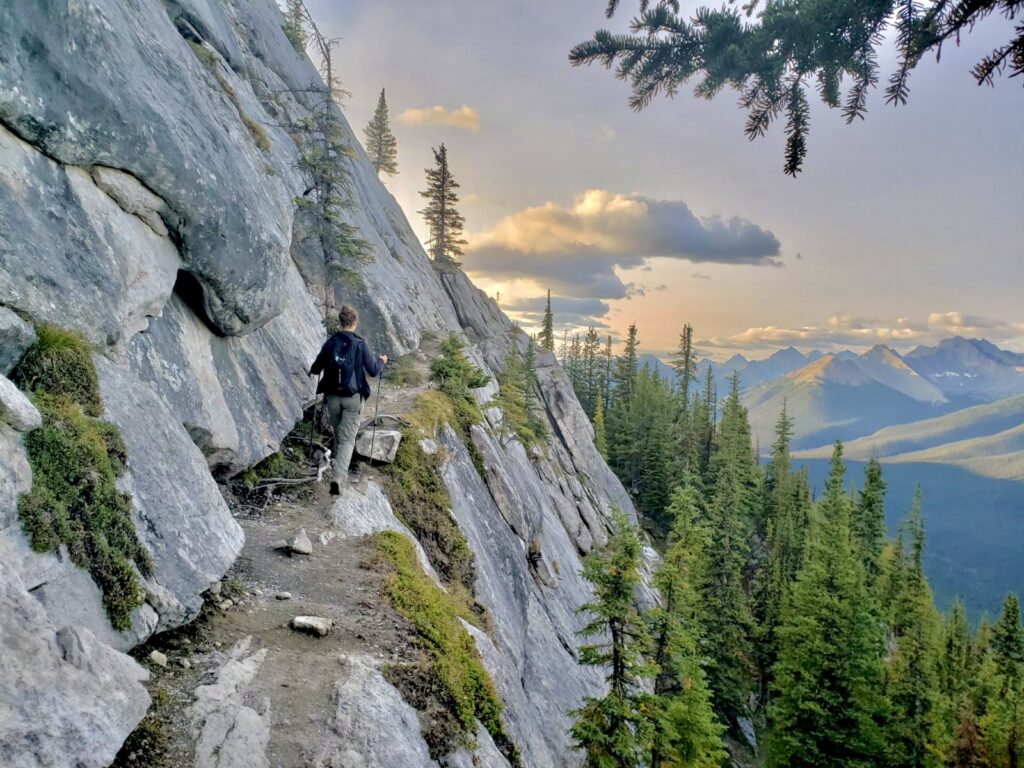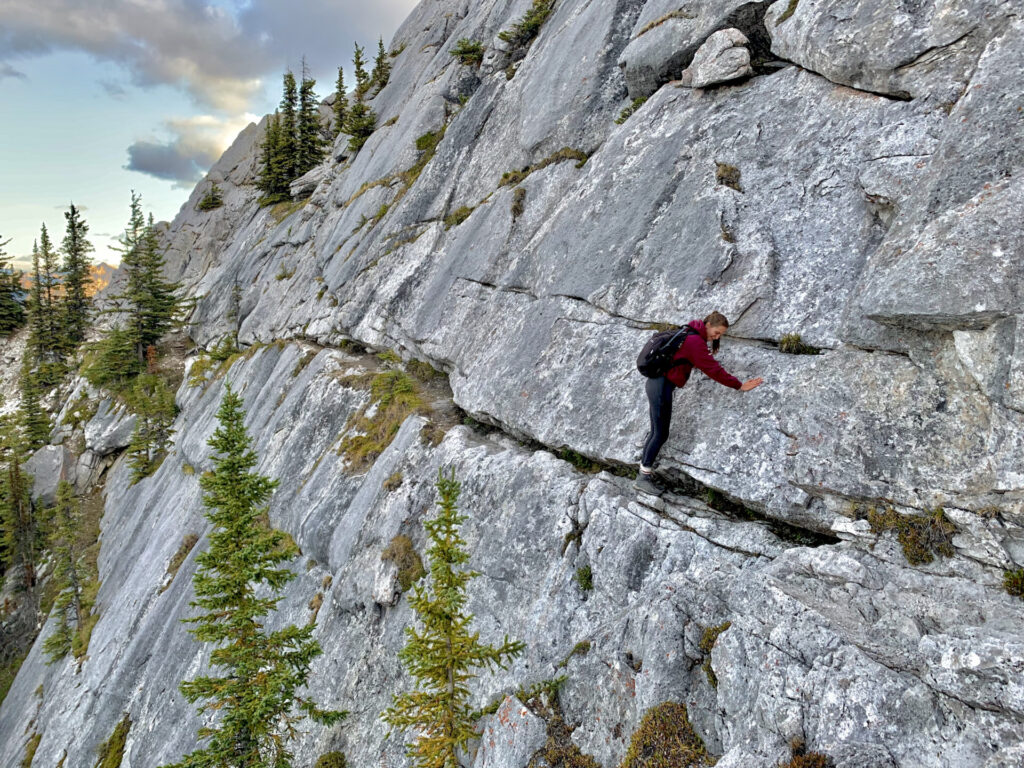 Back On Track
After my hiking partner and I made it back to the ridge, things were much smoother and easy to navigate. The Sulphur Mountain Traverse Route takes you over 3 peaks before you reach the 4th and final peak (the true Sulphur Mountain summit). You can expect to be hiking over a lot of ups and downs which can be tiring but also keeps things interesting. My trekking poles helped me huge as I navigated the peaks!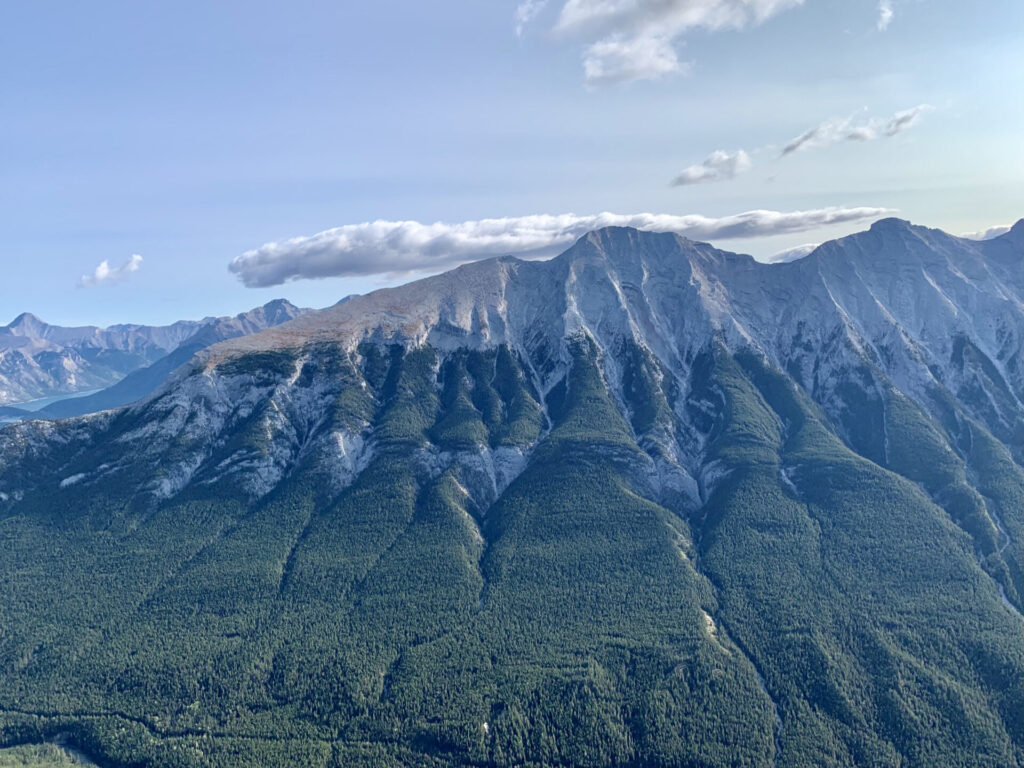 From the trailhead you'll quickly and easily make it to the first peak, but after that each peak becomes a little steeper, a little bigger, and a little more technical to climb. No worries though – the views continue to get better as you go which will give you the needed motivation to keep on trekkin'.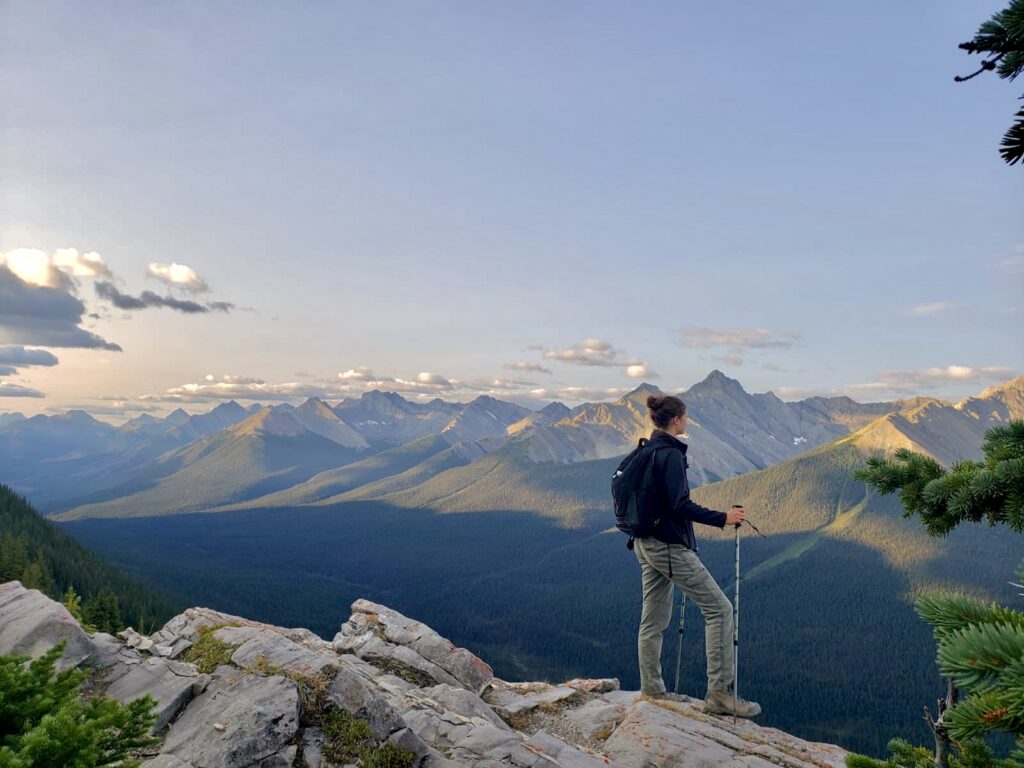 2nd Peak & Beyond
There's a very steep climb to get to the third peak. My partner and I decided to bypass this and stayed low on hiker's right. This was great because we missed some elevation, however the terrain did turn into a loose rock field which could have been quite dangerous as it was a straight drop to the valley floor below us.
There seemed to be a common theme of "omg is this over yet?" Every time we thought we'd made it to the true summit there ended up being another peak! We had no idea how many peaks there were and we didn't plan anything; we were very unprepared for this.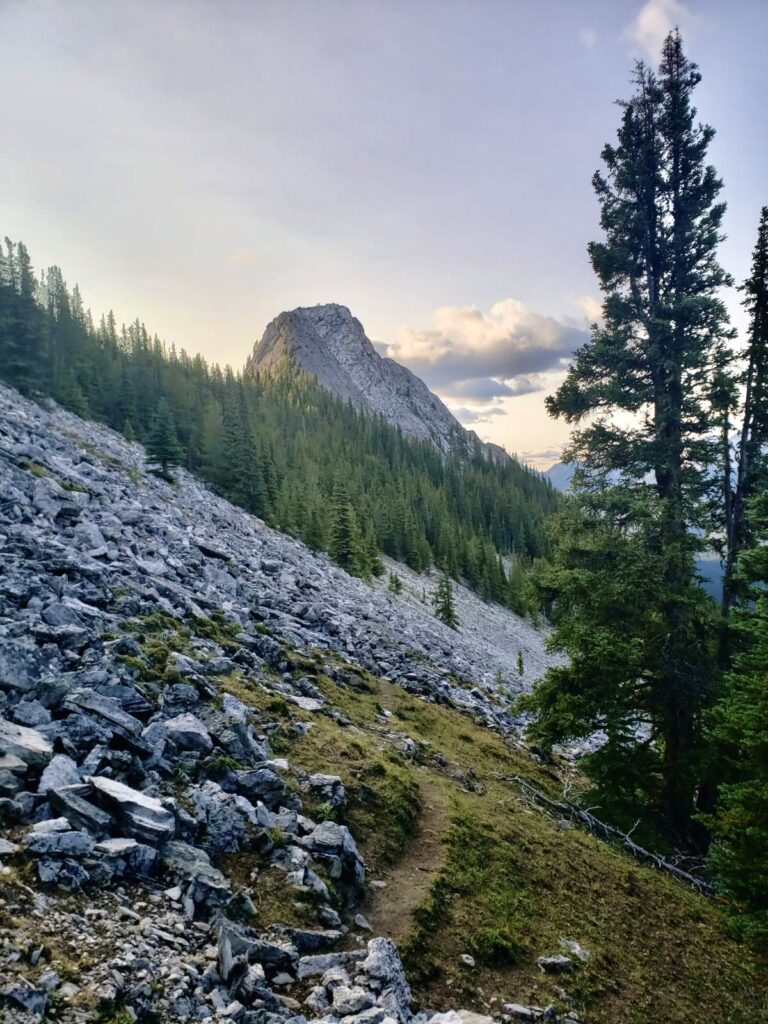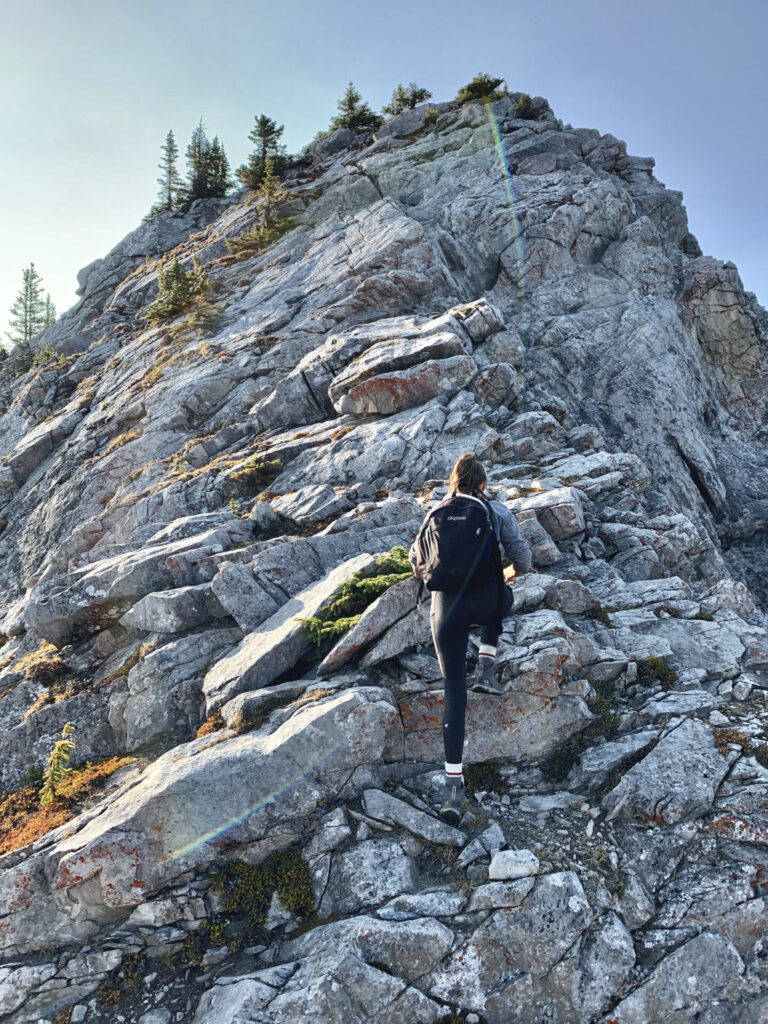 4th Peak
The fourth peak was easily the biggest climb and most exhausting slog of the 4. Part of it is hiking, the other part is scrambling and route finding. We found climbing around the right side, then slowly making our way back around to the left was the safest way to ascend.
This part of the hike was the most technical and therefor the most fun!
Sulphur Mountain True Summit (4th Peak)
The true summit is the 4th and final peak. No one seems to know whether the 3rd or 4th peak is taller, so the 4th is considered the true Sulphur Mountain summit.
From the Sulphur Mountain summit you'll have (seriously) endless mountain views in every direction. You'll be able to see the entirety of Mount Rundle which extends all the way to Canmore. The Spray Valley and the unnamed peaks of the Sundance Range. You'll even be able to see the mountains that extend into Kananaskis Country!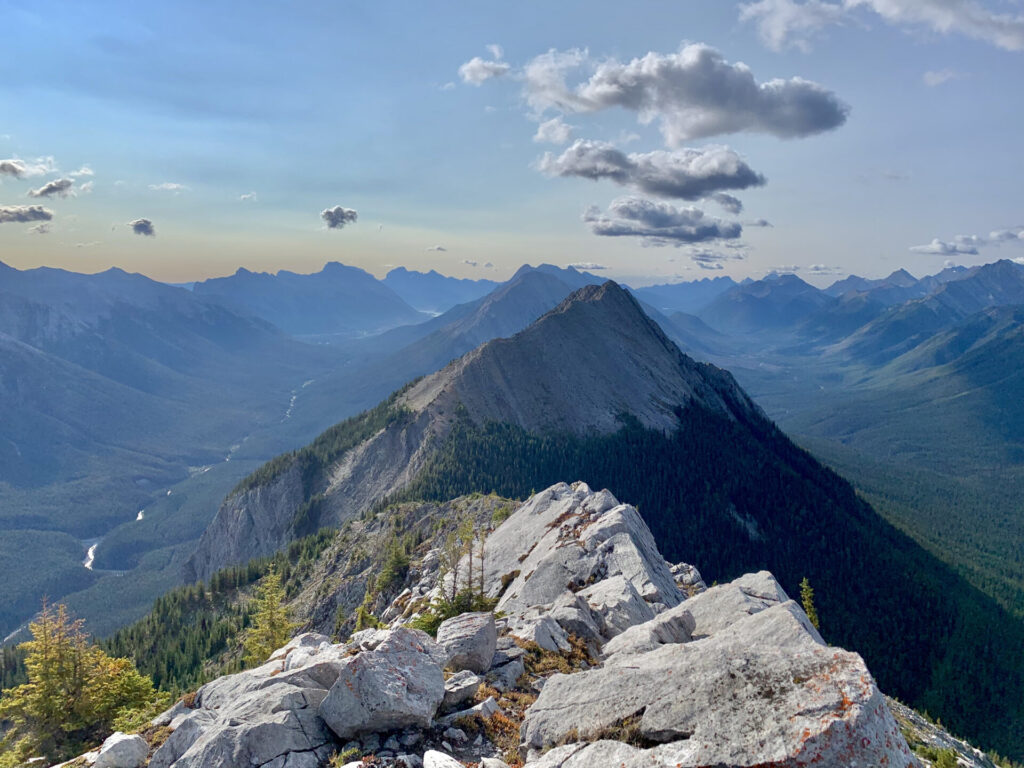 I'd recommend hiking the Sulphur Mountain Traverse Route on a sunny, warm day with minimal wind. There is absolutely no shelter as you hike, so being exposed to the elements would make for a really long day. One piece of clothing I'd definitely recommend for this hike is a good quality rain coat.
A good quality rain coat will block out the wind, keep you warm, and keep you dry. I use the Eco Precip from Marmot (men's version) and I absolutely love it. It's affordable, lightweight, and has tons of fun little features.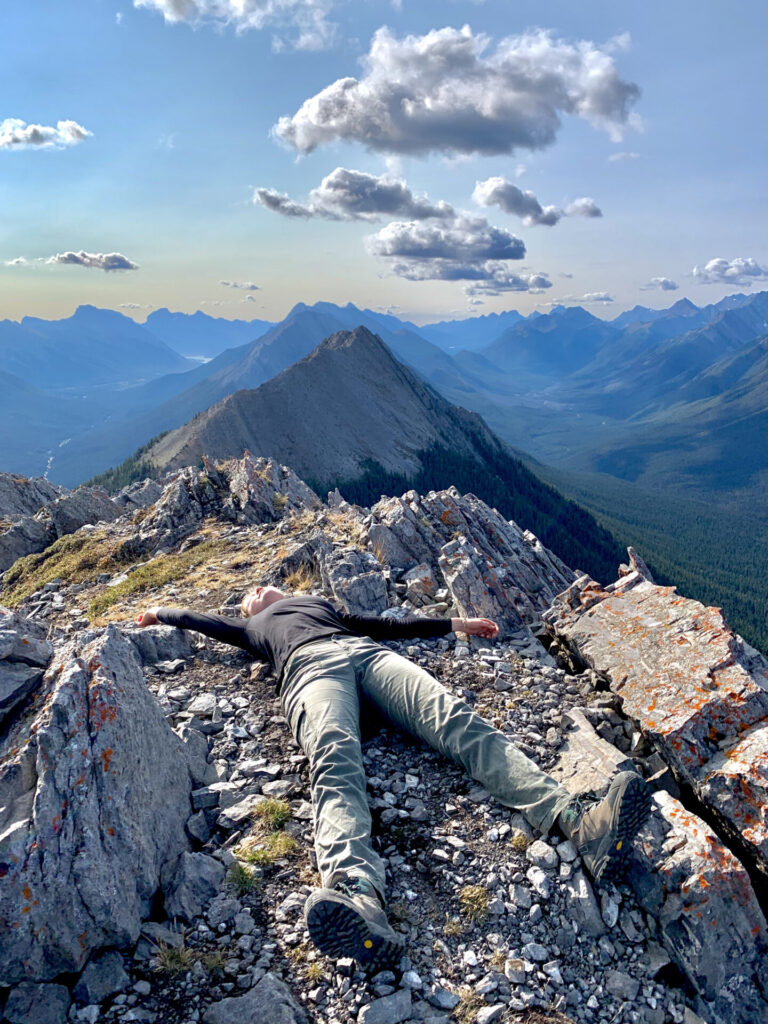 Return Hike
You have it easy on most hikes after you've reached the summit, however you still have to re-climb the Sulphur peaks to get back to the gondola!
I found climbing down the rocky slabs to be more challenging on the return, however route finding was much easier because I knew where to go! My hiking partner and I took our experience and quickly learned from our mistakes.
The return was also half the amount of time because we didn't spend our return hike getting lost and constantly rerouting! I had friends that completed this hike a few days before. It took them 3hrs and it took my partner and I almost 5 because we kept messing up!!!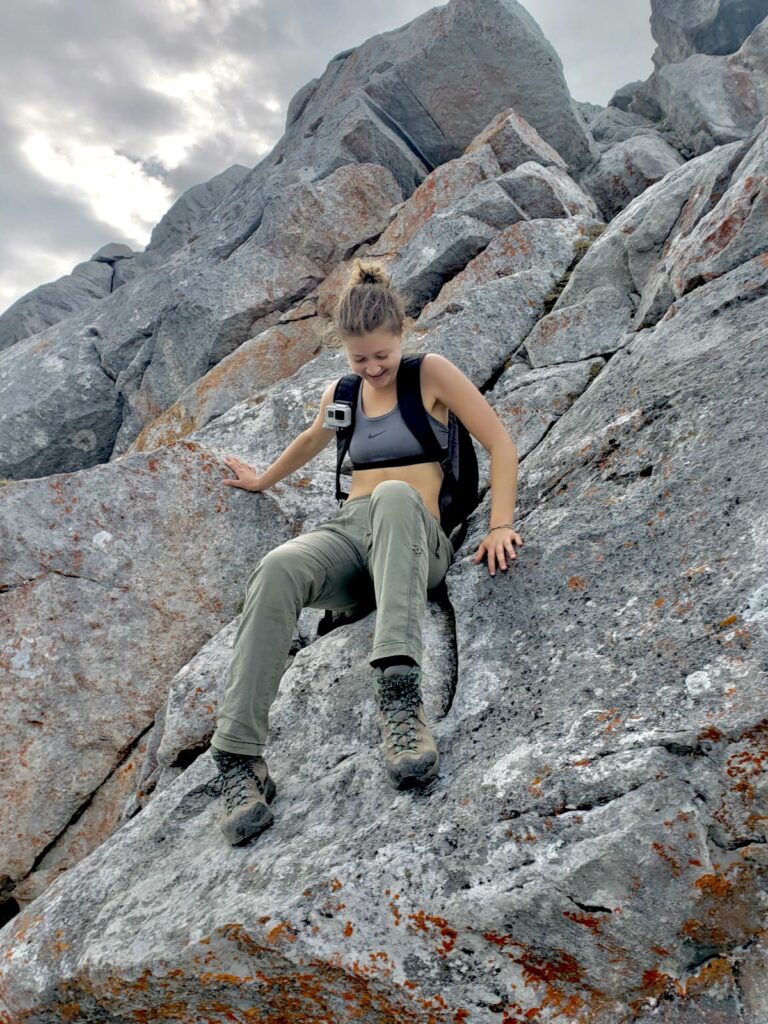 I'm sure after you've competed this off the beaten path hike in Banff you'll head home, have a good meal, and spend the rest of your day relaxing. I on the other hand had to go straight to work at the Banff Gondola!
More: Sulphur Mountain trail guide
Final Thoughts?
This was one of my biggest adventures and one of the most visually striking hikes I've done in the Canadian Rockies (although Opal Ridge is right up there with it).
My favourite thing about this hike is that so few people have done it. Most people flock to popular hikes like those at Lake Louise (read my Lake Louise Circuit trail guide here), but most people don't hike the Sulphur Mountain Traverse Route because there isn't even a map for it! I can guarantee you you'll be the only one on this trail.
Connect via socials:
Sign up for emails to receive a 50% discount on my travel maps + occasional updates on new hiking guides & travel resources.
Taylor ♡
Normally I find all my hikes on Alltrails, however this one doesn't exist. I only found out about it because I spent a summer working up at the Banff Gondola (read about my experience here).
If you have the necessary route finding and scrambling skills, this off the beaten path hike in Banff National Park is a must!
Next I'll talk about a few tips for a successful hiking experience on the Traverse Route, essential gear/clothes for hiking in Banff, and the best places to stay in Banff for every budget.
---
Recommended Hiking Gear
The following items are some of my favourites – I never hit the trail without them!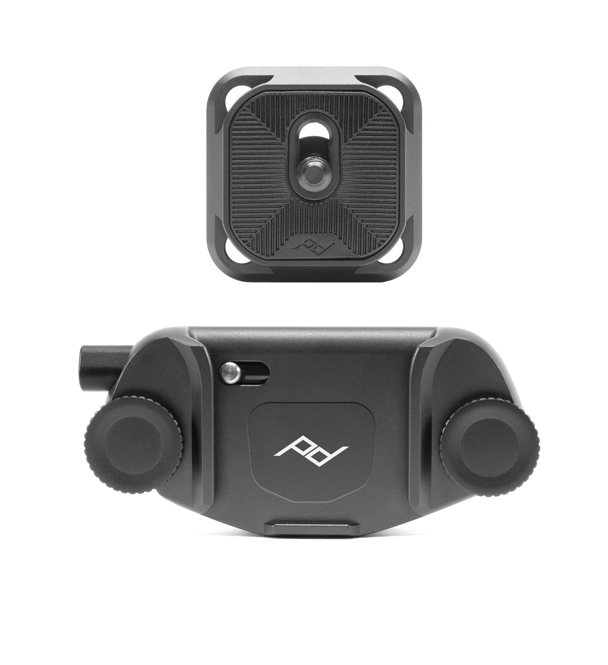 The Capture Clip by Peak Design is a sturdy, safe, and super convenient way to carry your camera while hiking or backpacking.
Find it on Amazon (CAD).
Find it on Peak Design (US).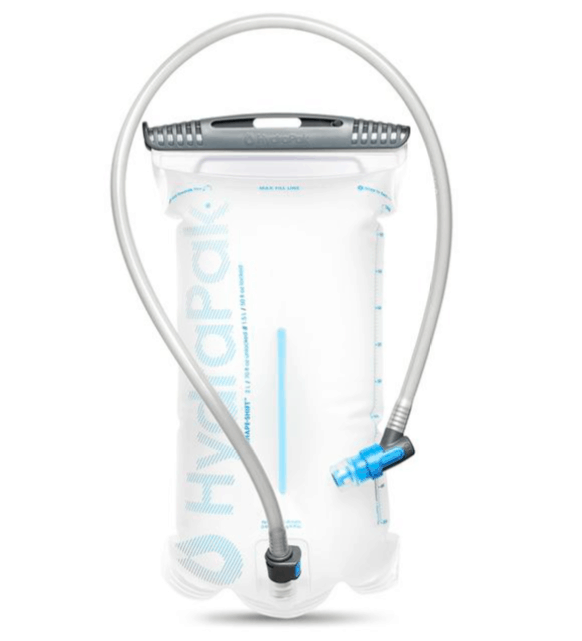 A hydration reservoir is SO important. It holds 2L+ of water and keeps you hydrated on-trail. I use the 2L Hydrapak; it never leaks and has a detachable tube.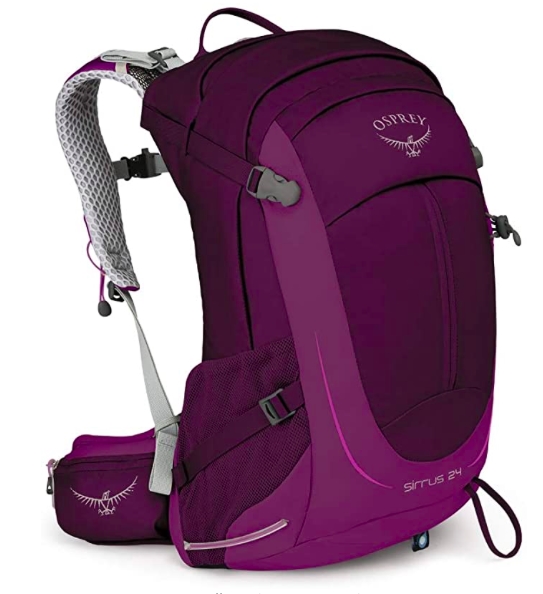 Things to look for in a good quality day-pack: sternum strap, hip belt (with pockets), and a breathable mesh system for your back. I use the Osprey Sirrus 24L pack (men's version) and I LOVE it!
---
What To Wear Hiking in the Rockies
For a detailed guide on what to wear hiking in the Canadian Rockies, check out this post.
Choosing what to wear hiking can be confusing, but the secret to properly dressing for a hike is layering. You can mix and match the tops and bottoms you already own to make up your base layers, however in addition to those clothes you'll need a few extra things:
A waterproof jacket is the most important layer for hiking – it keeps you warm and protects you from wind and rain. I use the Marmot Eco Precip Jacket (men's version) which is totally a bang-for-your-buck. If rain is in the forecast, don't forget to pack waterproof pants (men's version) too.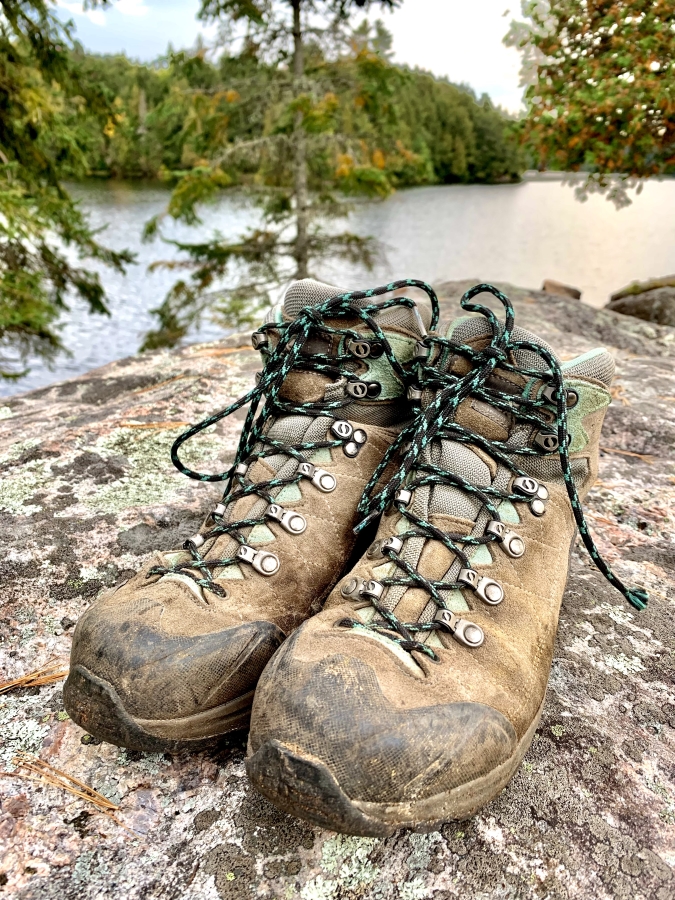 A good pair of hiking boots are Gore-tex, provide ankle support, and are durable. I use the Scarpa Kailash boot (men's version) and they've never let me down. You'll also want a good quality pair of socks. I use Smartwool – they're great quality and last an entire season.
A puffer jacket acts as your warm layer. I use the hoodless Columbia Women's Heavenly Jacket (men's version). Alternatively you can use a fleece zip – I have this one (men's version) from Columbia. Both of these options are perfect layers to keep you warm on windy, cold, or high elevation hikes.
Rocky Mountain hiking exposes you to different natural elements and conditions – it's imperative that you're prepared for whatever nature throws at you. Trust me, I've learned the hard way!
More: Day-hiking Gear Guide
More: What to Wear Hiking in the Canadian Rockies
Tips For A Successful Hike
Bring a satellite communication device for safety
Take the Banff Gondola up rather than hiking the Sulphur Mountain trail
Start the trail early – the morning sunlight makes this hike even more picturesque
If you're hiking in the afternoon, hop on the Roam bus rather than drive to the trailhead
Know what to wear hiking in Banff – you'll be exposed on the ridge and you'll therefor need proper hiking clothes and hiking gear!
Budget extra time; it's easy to get lost on this off the beaten path hike in Banff. You'll also want time to check out the Sulphur Mountain boardwalk and Sanson's Peak!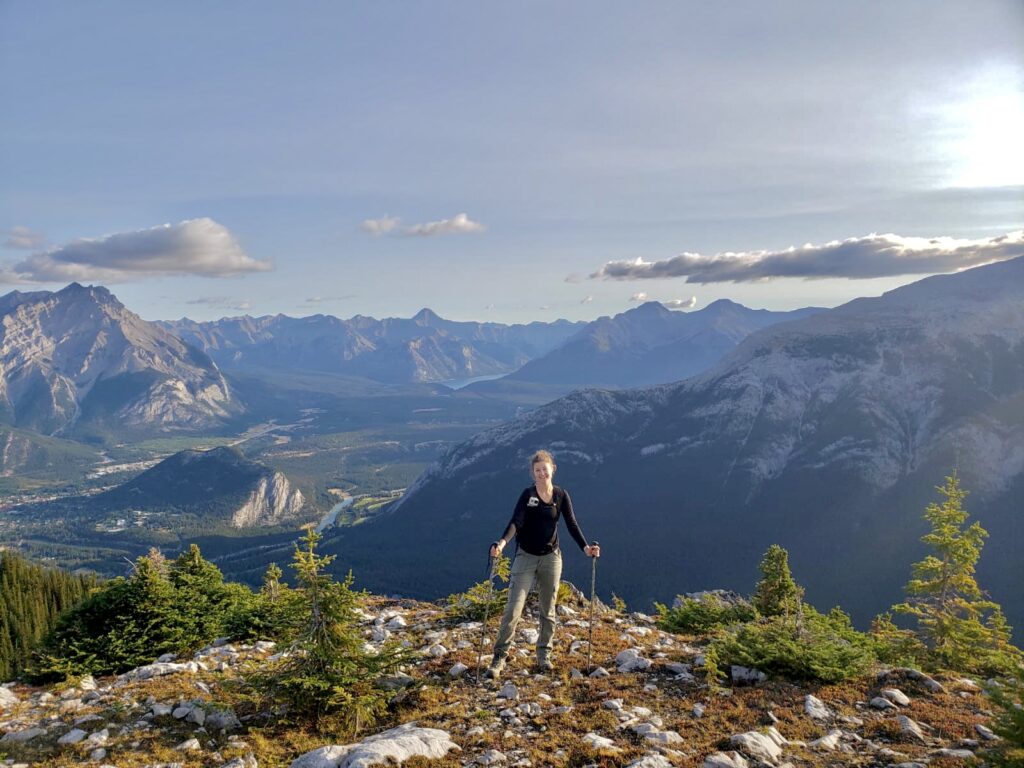 ---
Where to Stay in Banff
Travellers can also opt to stay in locations near Banff:
Happy adventuring!
Taylor ♡
---
Like This Post?
Share with friends or save it for later!
---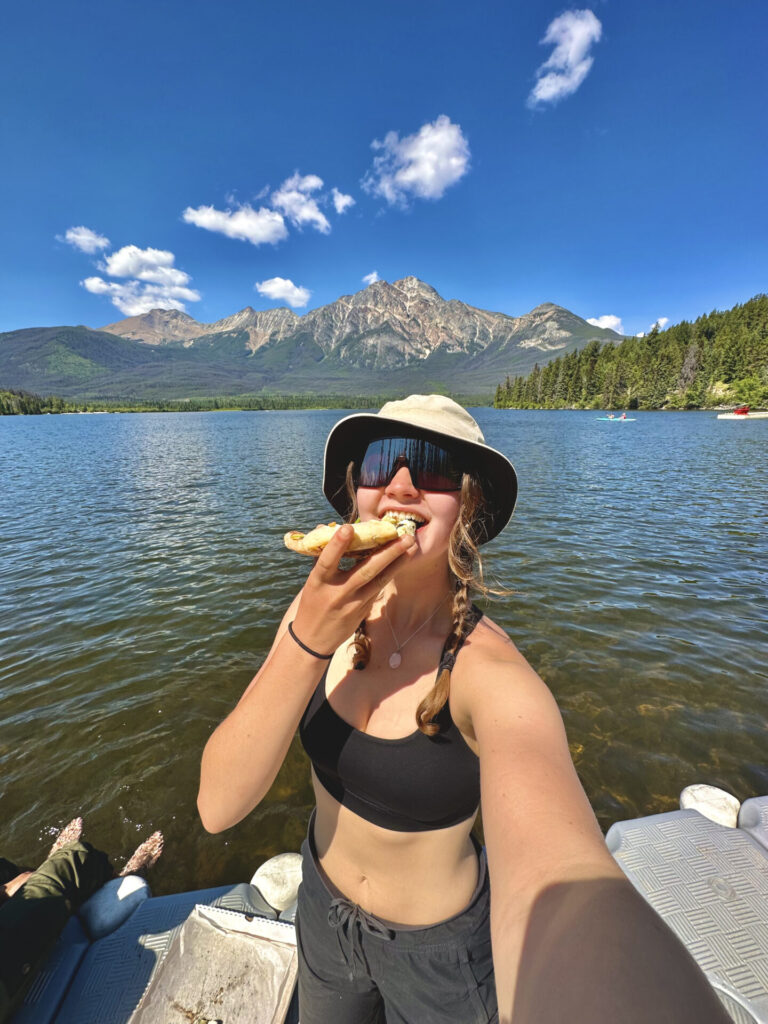 About The Author
HI, I'm Taylor – the voice behind The Holistic Backpacker.
After moving to Banff National Park in 2020 I became an outdoor adventure enthusiast and vowed to never stop exploring.
I now spend my days travelling the world, climbing mountains, and spending nights under the stars in the Canadian Rockies backcountry.
I created The Holistic Backpacker so I could share my adventures and help connect people like you with the same amazing experiences.