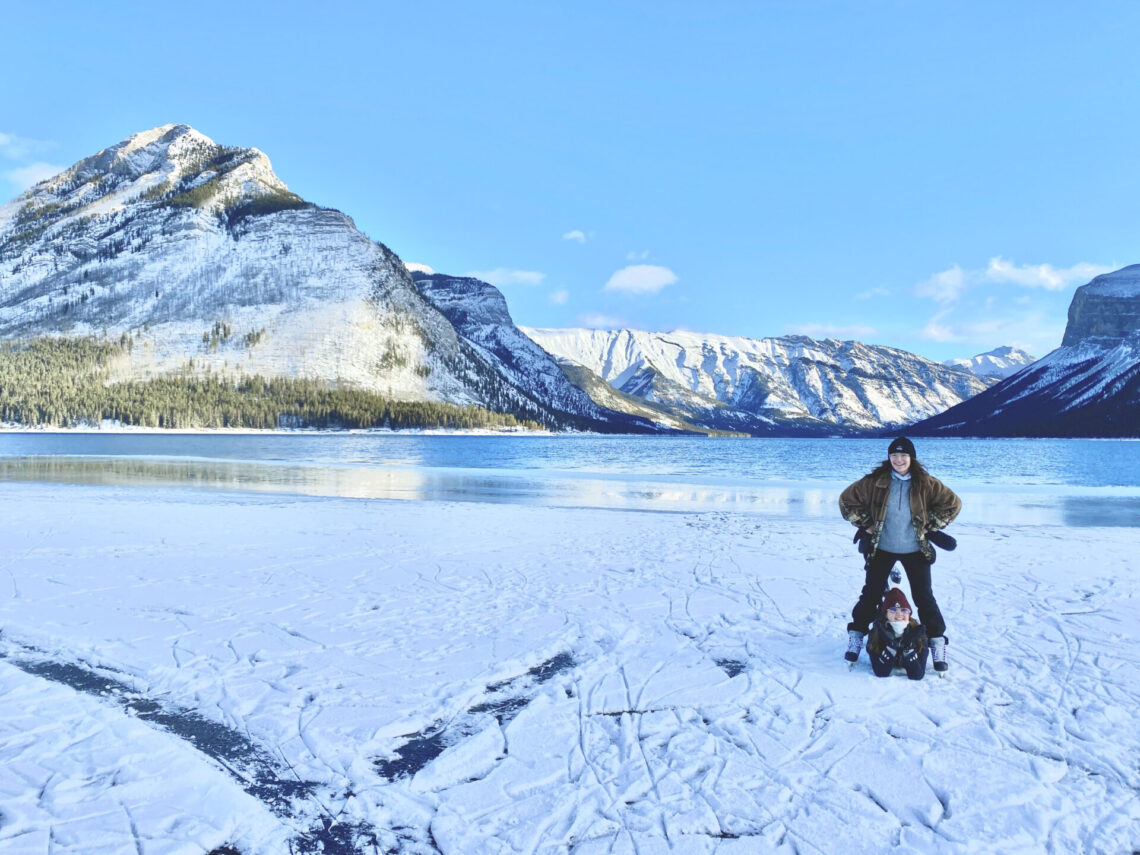 30+ Epic Things to do in Banff: Winter Edition
In summer visitors flock to Banff for the pristine alpine lakes, incredible mountaintop hikes, and warm(ish) mountain air. When the snow starts falling and the temperatures start dropping though, summer activities quickly turn to winter activities and Banff becomes a winter wonderland. If you're planning a trip from November to May, here are 30+ things to do in Banff in winter.
Banff is the ultimate winter playground and offers something for everyone. Whether you're after a winter vacation full of extreme sports/thrilling adventures or if you're looking for a cozy winter getaway you'll find what you're looking for in this little mountain town.
Here's a look at all the fun winter activities Banff offers from a local's perspective – I lived in Banff, so when it comes to winter activities in the area I know what's up!
Travelling to Banff in summer? Check out this post for 50+ fun summer activities in Banff!
Skip Ahead:
This post contains affiliate links; see my full disclosure. If you click these links and make a purchase you're supporting The Holistic Backpacker. Thanks for your support & happy adventuring! – Taylor ♡
---
---
---
Related Content:
---
Best Time to Visit Banff in Winter
No matter the time of year you visit Banff, you'll surely be wowed. However in the colder months Banff turns into a winter wonderland full of frozen lakes, snowcapped mountain peaks, and huge frozen waterfalls.
If you're planning a winter trip to Banff the following months are great for different reasons:
November – snow starts falling at lower elevations and ski season starts. November is the perfect time to see the blue alpine lakes surrounded by snow before they freeze over.
December – this is wild ice season and it's the ideal time for skating on lakes before the snow covers their frozen surfaces.
January-February – the coldest winter months, the best pow for skiing, and the safest months for ice if you plan on doing frozen canyon walks.
March-May – temperatures and conditions are variable, but weather starts warming up and spring skiing starts. Snowless hiking at low-mid elevation begins in June. Explore my Banff trail guides here.
Things To Know Before Visiting Banff In Winter
If you plan to visit Banff in winter, you should know the following:
Winter driving conditions in Banff are variable. I've linked some resources for road conditions and driving tips here, but you'll certainly need winter tires if you plan on driving anywhere in the mountains during winter
The weather is coooooold, but dry cold! I find the winter chill to actually be worse in Ontario even though the actual temperatures in Banff are so much lower
There's usually a cold snap (-30) that happens in Banff during January to early February. When I lived in Banff they actually had to close Sunshine ski resort for a few days because the weather was so cold!
There are SO many incredible things to do in Banff in winter! Most people think of Banff as a summer destination, but winter in Banff offers lots of opportunities for adventure.
Before you start planning your Banff winter bucket list, I'll quickly go over the best places to stay in banff for every price range.
---
Where to Stay in Banff
Travellers can also opt to stay in locations near Banff:
30+ Epic Things To Do In Banff In Winter
1. Skiing & Snowboarding
First up on our list of things to do in Banff in winter is of course… Skiing!
Banff is home to 3 ski resorts which make up SkiBig3; Sunshine Village, Lake Louise, and Norquay. Sunshine Village was my home Mountain when I lived in Banff and it's the best Banff ski resort (in my opinion). Buuuut here's my complete review of SkiBig3 to give you some context as to why I think this. Lake Louise is known to be a "skiers resort," and Norquay has some steep terrain that's great for pow days.
Skiing and snowboarding is the perfect way to experience Banff in winter and it's a great way to take in the gorgeous scenery.
You can find my local's guide to skiing Sunshine Village here and read about what it's like working at Sunshine/how to find a job in Banff here.
Ski Trips
If you're looking to embark on a ski trip with a bunch of like-minded people, 10 Adventures has some sick ski tours lasting 6+ days that encompass various ski resorts in the Rockies. This is a great way to met new people and easily visit more than 1 resort.
Avalanche Safety
Banff, Jasper, Kananaskis and everywhere in-between poses avalanche risk for both hiking and backcountry skiing. If you plan on climbing or skiing mountains this winter, consider taking an avalanche skills training course. 10 Adventures offers both level 1 and level 2 courses that will prep you for any winter excursion.
2. Winter Hiking in Banff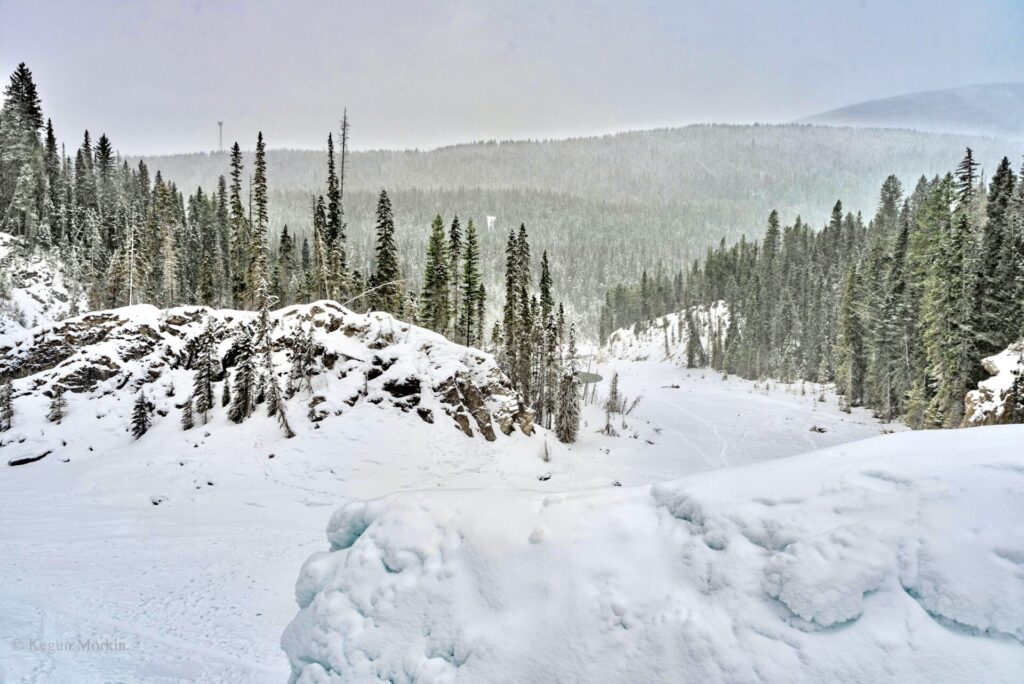 Hiking is by far my favourite summer activity in Banff National Park. I spend the majority of my winters hitting the slopes, but I occasionally hit the trails in winter too!
Winter hiking can be intimidating, but I assure you it's totally doable. If you have the proper equipment and experience you can hike just about anything in Banff, however the majority of us will want to hike simple terrain.
I'll talk about these more next, but I recommend hiking the following: Johnston Canyon, Grotto Canyon, Marble Canyon, Tunnel Mountain, Troll Falls, Grassi Lakes, and/or these easy hikes in Banff.
If you're looking for a more moderate winter hike, try Sulphur Mountain.
You can rent winter hiking gear at Bactrax in town, but you'll definitely need micro-spikes for winter hiking in Banff and you may need snowshoes depending on snow conditions. You'll also want to make sure you have Gore-tex hiking boots – I use these (men's version) – and gaiters to keep your feet dry.
Explore all my trail guides for Banff here.
Avalanche Safety
Banff, Jasper, Kananaskis and everywhere in-between poses avalanche risk for both hiking and backcountry skiing. If you plan on climbing or skiing mountains this winter, consider taking an avalanche skills training course. 10 Adventures offers both level 1 and level 2 courses that will prep you for any winter excursion.
For those who are super keen to climb winter terrain, you might want to look into a mountaineering course.
3. Hike Tunnel Mountain For Sunrise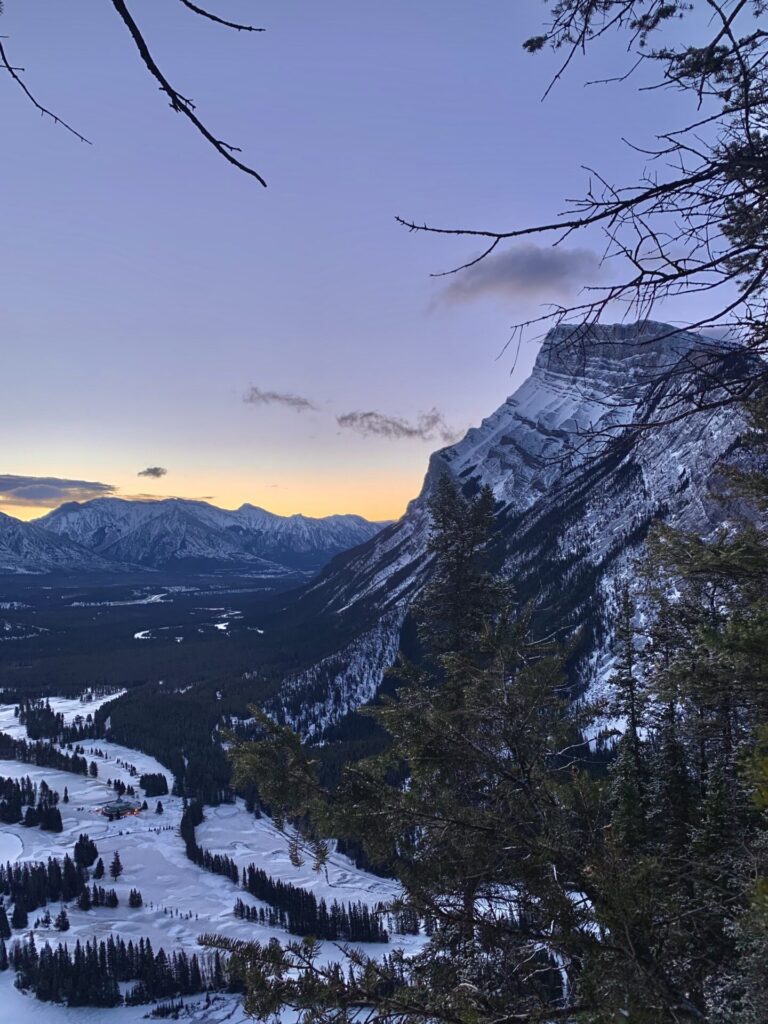 Early risers listen up! Tunnel Mountain is an easy hike in Banff that's perfect for sunrise. It's actually the smallest summit in Banff and features phenomenal views of Banff's famous Mount Rundle.
Tunnel Mountain can be hiked at any time of the day, however you'll most likely have the summit to yourself during the early hours of the morning and get to watch the beautiful morning light cross over the valley.
The added winter snow makes the views of Mount Rundle even more dramatic. Remember to pack your micro-spikes!
More: Tunnel Mountain Trail Guide
4. Go Snowshoeing
In addition to great hiking, Banff offers magical snowshoeing destinations. 10 Adventures has great recommendations for the best snowshoeing trails in Banff.
Snowshoes – you can either pick up a pair of your own snow shoes (I'd recommend checking out Atmosphere – they often have sales online) or you can rent a pair at Bactrax in town.
5. Skate Banff's Frozen Lakes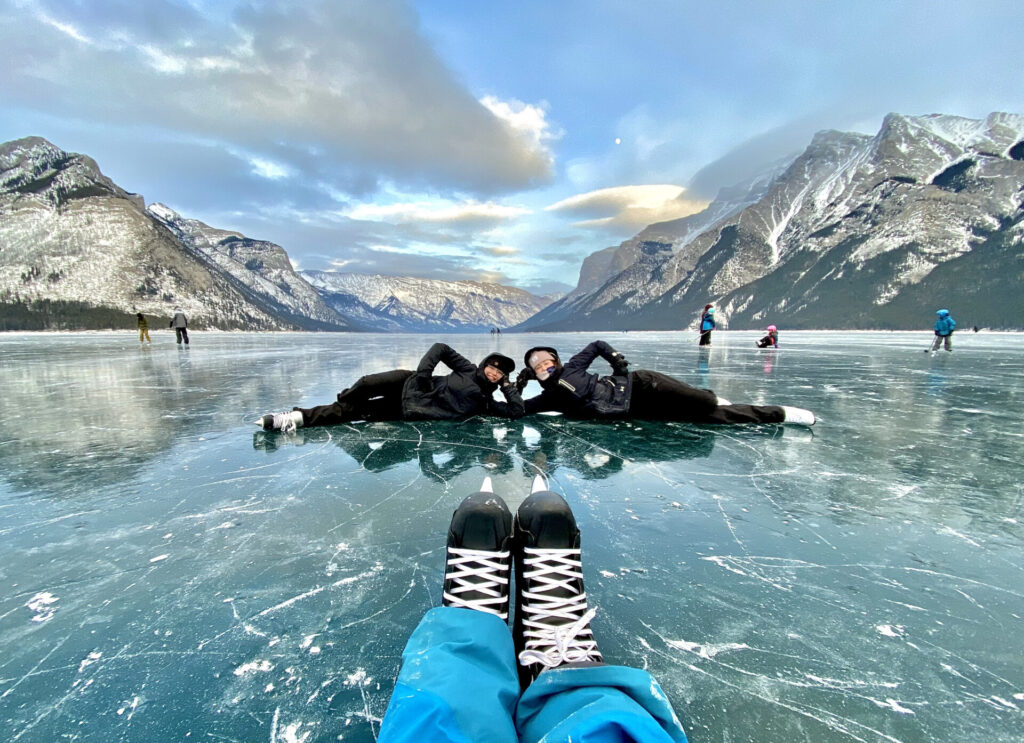 Have you ever skated on a frozen lake? Banff as well as nearby destinations offer some of the most beautiful skating… Probably ever.
There are maintained ice rinks in Banff you can use all season, however if you want to skate on Banff's frozen lakes, the best time is during early December. This is when the lakes freeze over before the snow covers them.
More information:
Elite Jetsetter has put together the best skating locations in Banff and has resources for skate rentals and wild ice safety. Find it here.
The Banff Blog has an extensive list of great skating in Banff as well as Canmore, Jasper, etc. Find their Banff skating guide here.
Skating Banff's wild ice is by far my favourite thing to do in Banff in winter (besides skiing of course). In my opinion the top destinations for skating near Banff are Lake Minnewanka and Abraham Lake.
6. Banff Gondola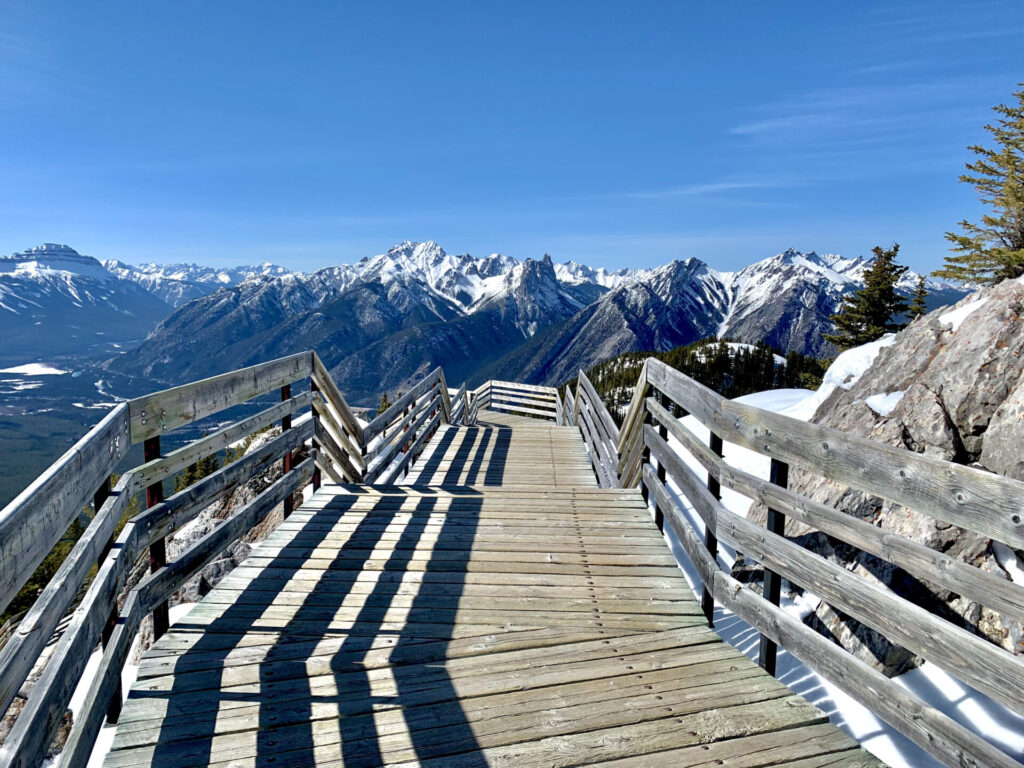 You can either hike up Sulphur Mountain orrrr take the Banff Gondola. I worked at the Banff Gondola when I lived in Banff and can attest to how beautiful the views are from this summit.
You can also have a fancy dinner atop the Banff Gondola at Sky Bistro.
The Banff Gondola is quite expensive though, so if you're just after mountaintop views you could also consider taking the gondolas at the ski lifts in town. Norquay and Sunshine have cheaper sightseeing tickets and they both have restaurants at the top.
More: Sulphur Mountain trail guide
7. Go Tubing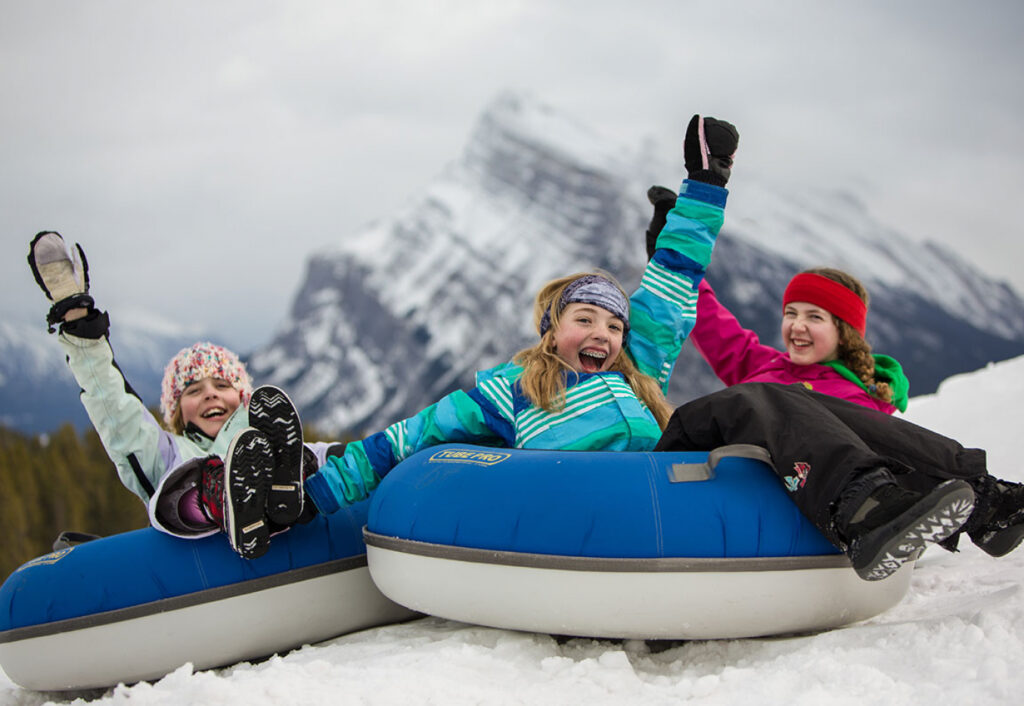 Tubing is a classic winter activity and is offered at both Norquay and Lake Louise. You can book your Banff winter tubing session through the individual ski resorts or via Banff Adventures.
8. Go Sledding
Alternatively, you can go sledding! The Big Adventure has put together the perfect guide for secret sledding spots in both Banff and Canmore.
A sledding spot in Banff they don't mention though is Tunnel Mountain. This is a bit riskier as the terrain is much steeper and filled with trees. I don't recommend sledding from the summit, but if you hike up the side of Tunnel Mountain a bit you'll surely find some great sledding terrain.
You can purchase sleds at the Canadian Tire in Canmore or do it old fashioned via cardboard sheets and pans!
Connect via socials:
Sign up for emails to receive a 50% discount on my travel maps + occasional updates on new hiking guides & travel resources.
Taylor ♡
9. Dog Sledding
Dog sledding through the mountains is a bucket list item and is certainly not something you want to miss if you're visiting Banff in winter.
Here are the dogsledding tours offered in both Banff and Canmore.
10. Go On A Self-Guided Photography Tour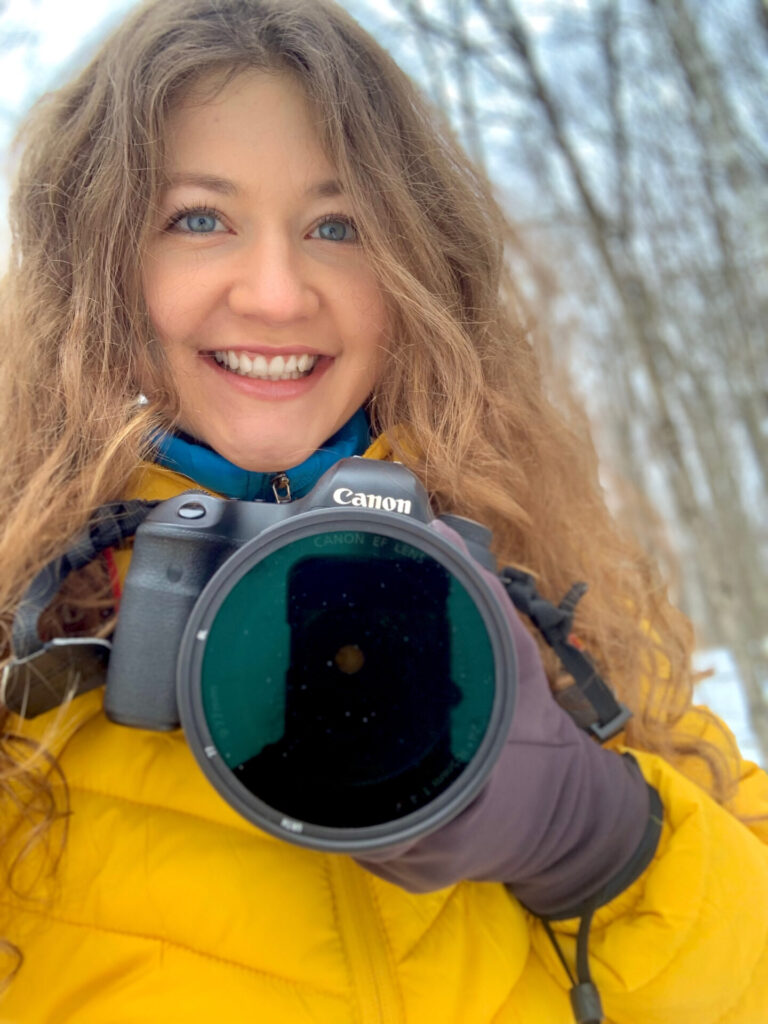 Something I've become quite passionate about recently is photography. Nothing feels quite as peaceful as venturing out in nature with my camera… Especially when I'm surrounded by incredible mountain peaks and alpine lakes.
If you're into photography, here are some hot spots for photography in Banff.
---
Explore My Latest Banff Adventures
Here are 3 of my latest Banff adventures. To find more trail guides, resources for living in Banff, and travel tips, click
---
11. Hike Johnston Canyon
Johnston Canyon is one of Banff's most popular hikes. In summer the canyon features gushing waterfalls and bright blue glacial water. However in the winter, the waterfalls freeze and the canyon becomes a massive winter playground.
If you want to hike Johnson Canyon ensure you start early to avoid the crowds and wear micro-spikes. This trail gets extremely slippery!
More: Johnson Canyon Trail Guide
More: Mistakes to avoid hiking Johnston Canyon in winter
12. Visit Grotto Canyon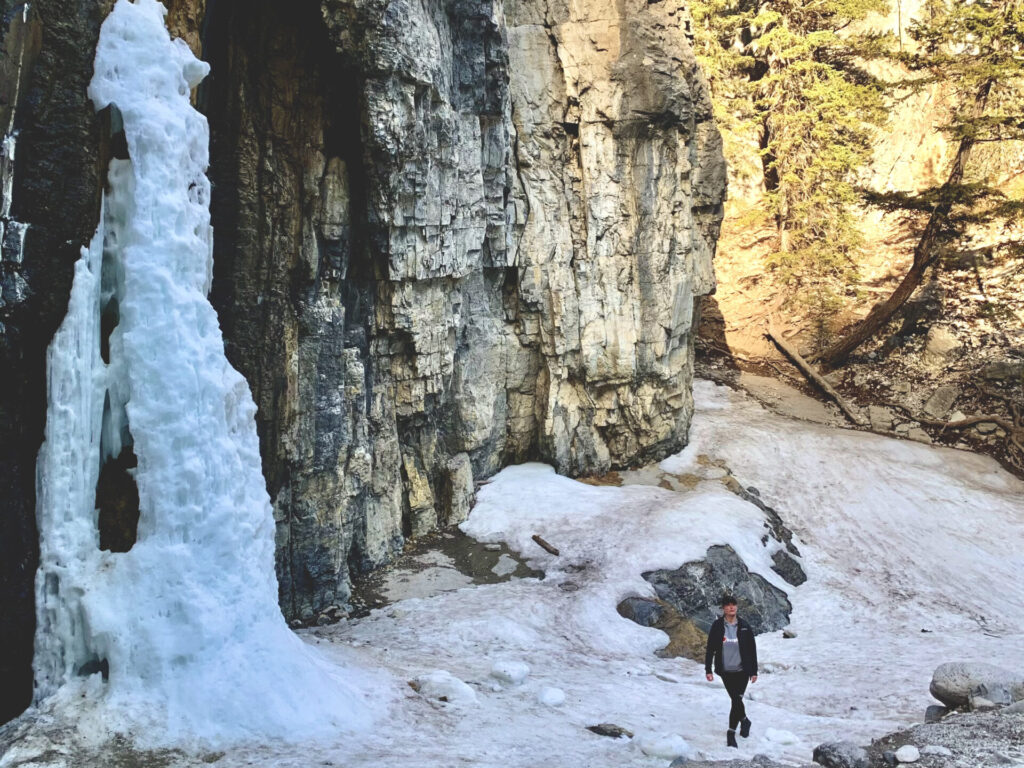 Grotto Canyon is located in Canmore, about 30 minutes from Banff.
This is an easy hike that takes you through a frozen canyon and features huge frozen waterfalls, pictographs, an Inukshuk garden, and a cave. The hike itself only takes around 1.5 hours and is suitable for all ability levels. Just make sure you bring micro-spikes; especially if you're hiking closer to spring.
More: Grotto Canyon trail guide
13. Hike Marble Canyon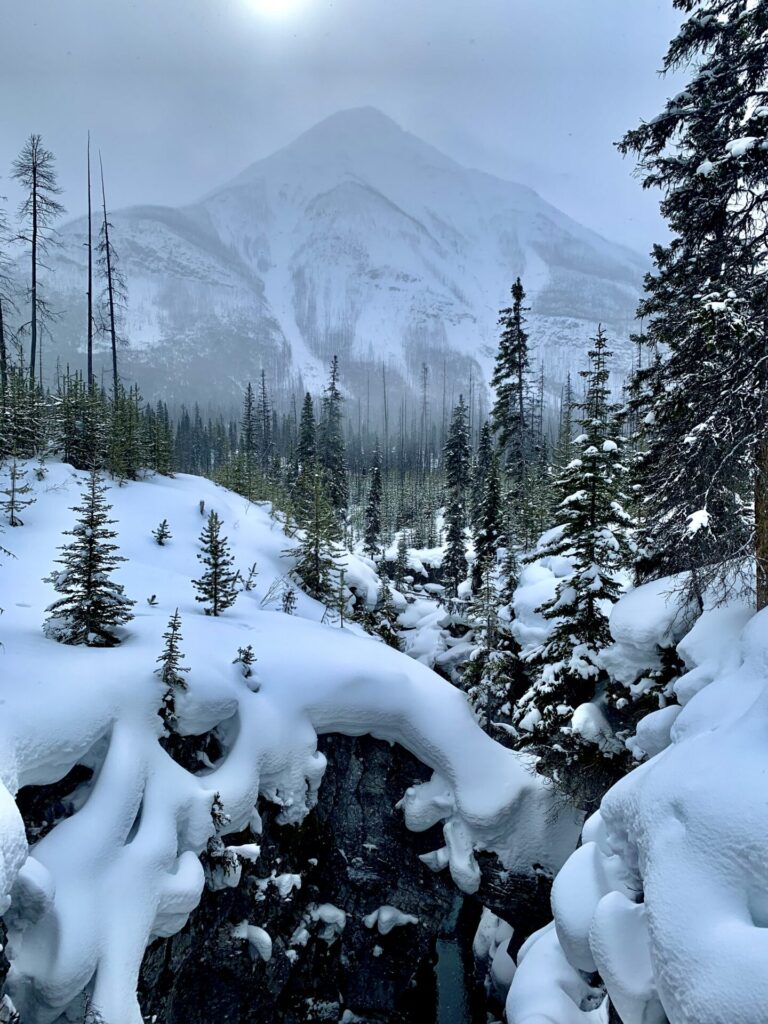 Marble Canyon is located about 30 minutes from Banff in Kootney National Park. This gentle 1.4km hike features a beautiful frozen canyon with distant views of Mount Haffner.
This is also a great place for experienced ice climbers.
14. Try Ice Climbing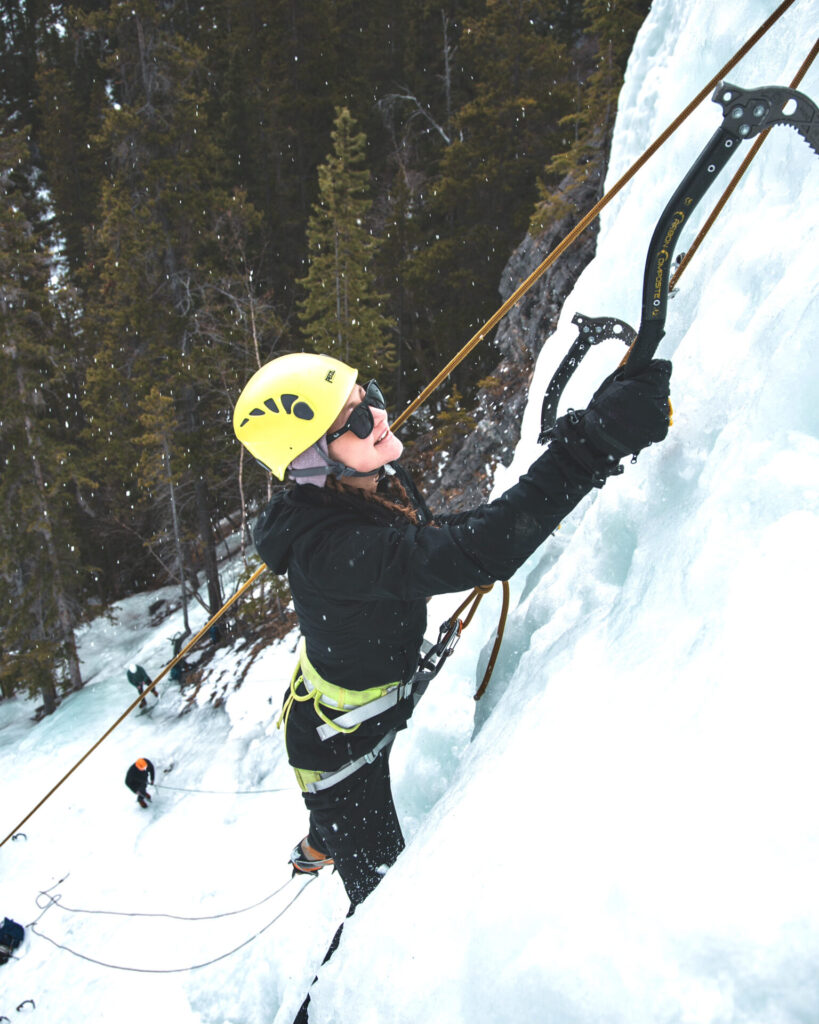 Okay ice climbing is never something I thought I'd try until I moved to Banff. This exhilarating winter activity in Banff is a little off-the-beaten-path, but it's such a cool experience.
If ice climbing is a winter activity in Banff you want to try, 10 Adventures offers reasonably priced ice climbing excursions with certified guides in the Banff/Canmore/Kananaskis area. Yamnuska Mountain Adventures offers ice climbing training courses if you're serious about the sport.
If you have a Banff address you can get a $30 guided ice climbing excursion through BanffLIFE! Sign up in advance though, these excursions have limited spaces and fill up quickly.
15. Spot Wildlife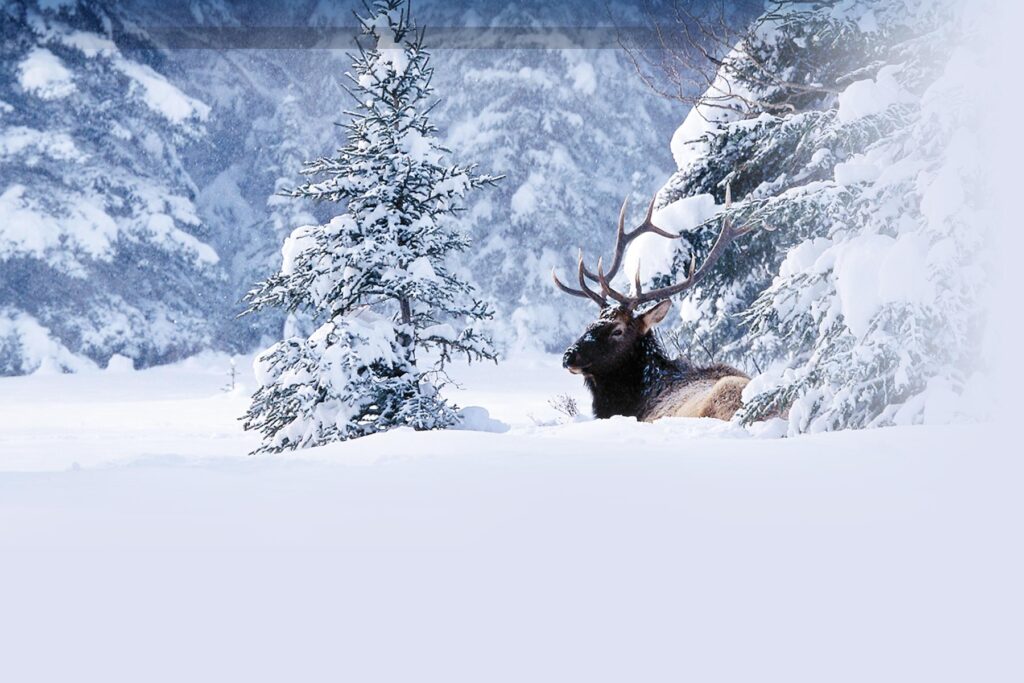 There's something so magical about spotting wildlife, especially when said wildlife is smack in the middle of Banff's winter wonderland.
Here are some tips for spotting wildlife in Banff in winter.
16. Fat Biking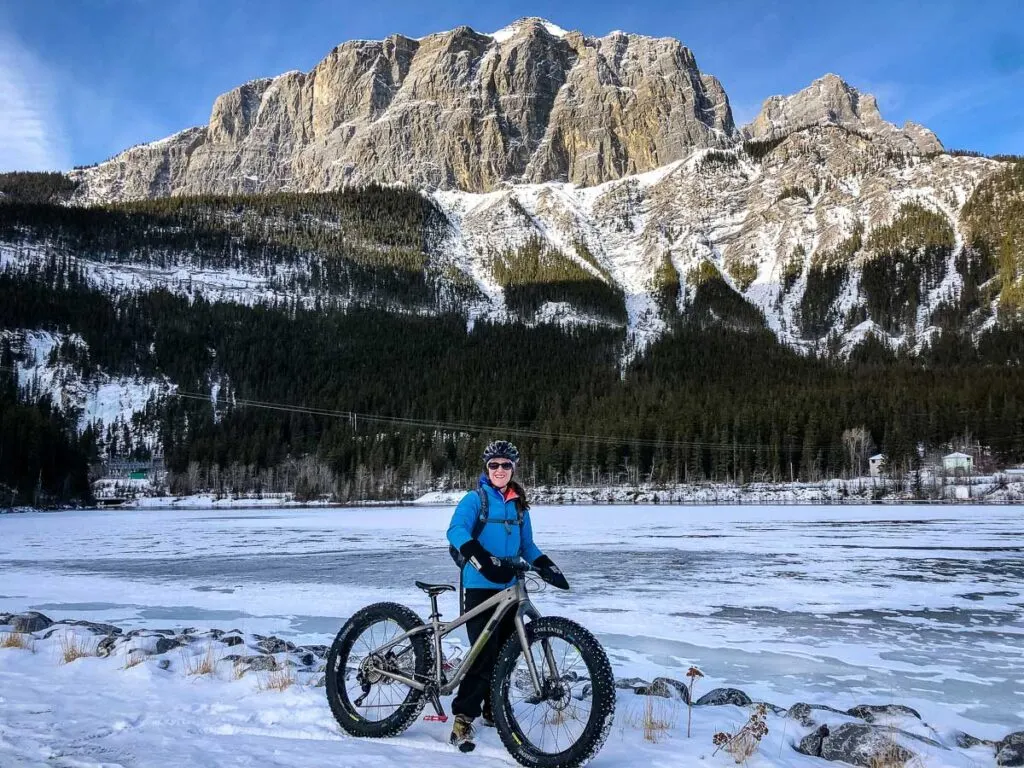 Fat biking is sure to be an adventure and is probably one of those things you'll only do once, maybe twice in your life. So why not try it in the mountains!
You can rent fat bikes from Bactrax. You'll want to fat bike on a cold day, if not your tires will sink into the snow and it will be more of a hardcore workout than it will be enjoyable.
Here are great fat biking trails near Banff.
17. Cross Country Skiing
Banff offers endless things to do in winter, the majority being outdoors of course! SO you can go right ahead and add cross country skiing to your Banff winter bucket list.
10 Adventures has put together a guide for the best cross country skiing trails in Banff – find it here. If you need cross country ski rentals, you can grab them from Bactrax in town.
18. Visit Jasper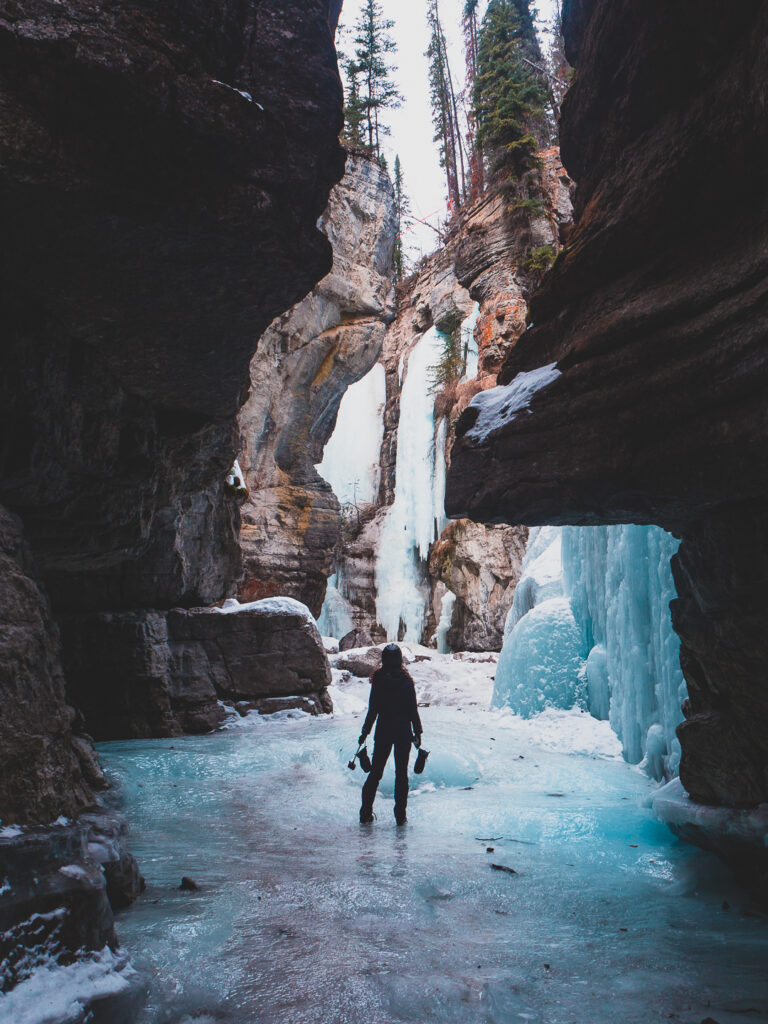 Jasper National Park is located about a 4hrs drive from Banff and is not a destination in the Rockies you want want to miss. The road to get to Jasper (the Icefields Parkway) is actually one of the most beautiful drives in the world!
Jasper is home to some of my favourite summer adventures as well as some of my favourite winter adventures. If you decide to visit Jasper, make sure you hike the frozen Maligne Canyon and ski at Marmot Basin!
More: Maligne Canyon winter trail guide
More: Things to do in Jasper National Park
19. Visit Yoho National Park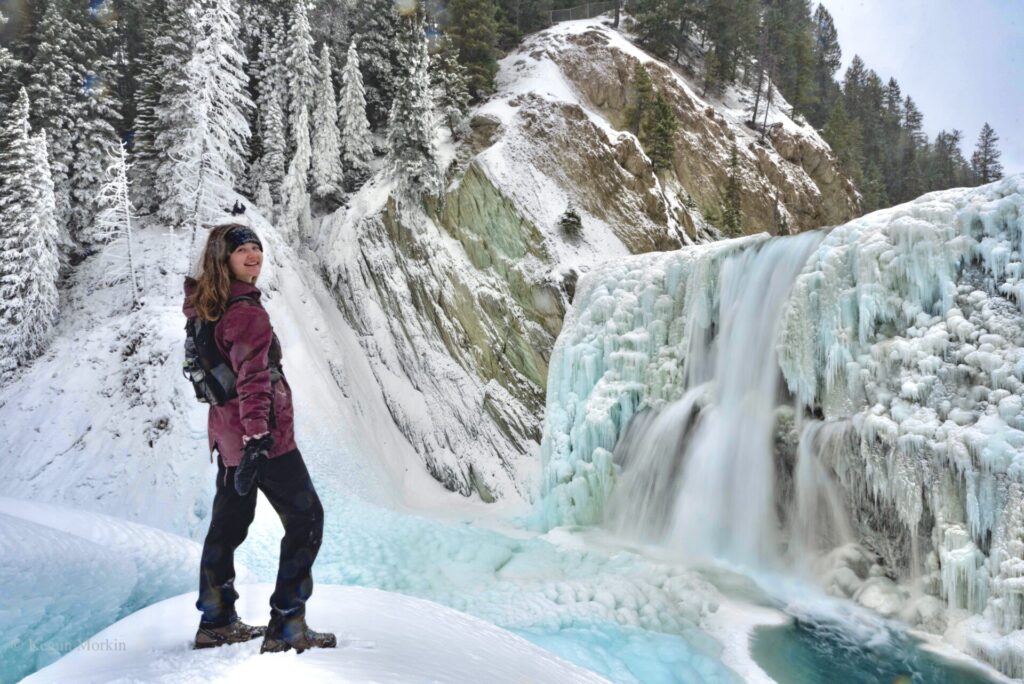 Okay so Yoho obviously isn't in Banff, but if you have the time Yoho should definitely make your Banff winter bucket list.
Yoho is home to some pretty great little spots like Wapta Falls (a frozen waterfall), the Natural Bridge (a frozen canyon carved by water), and Emerald Lake.
If you're looking for some frozen waterfall/canyon action, head over to Yoho National Park!
More: Wapta Falls Trail Guide
20. F
ind Natural Hot Springs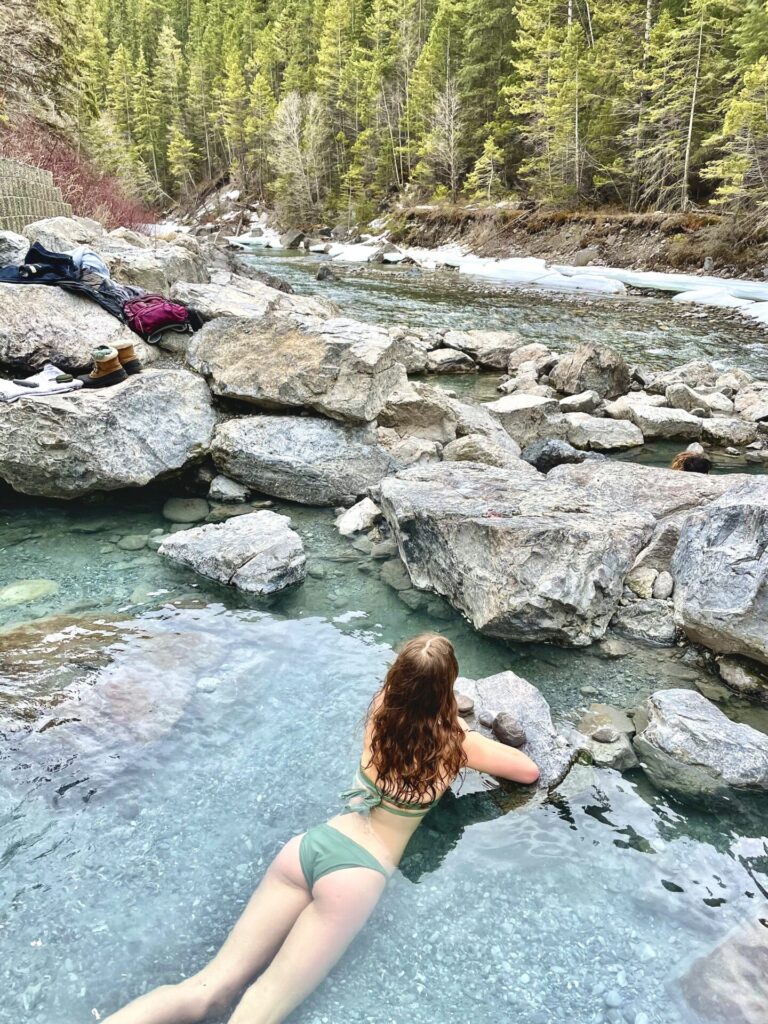 Banff is home to the Banff Upper Hot Springs which is accessible year-round. However if you're willing to drive a bit you can actually find natural hot springs semi-close to Banff! A couple of my favourites are the Fairmont Hot Springs waterfall and Lussier Hot Springs.
Lussier Hot Springs is perfect for winter because the springs are actually hot – although the drive there can be a bit sketchy.
21. Take A Sleigh Ride
If you want that romantic "I'm in a Hallmark movie" feeling, embarking on a sleigh ride through Canada's Rocky Mountains may be something you need to add to your Banff winter bucket list.
Banff Tours offers all sorts of sleigh rides and combo packages that include other Banff winter activities. You can also book a Banff sleigh ride at Lake Louise here.
22. Spot the Northern Lights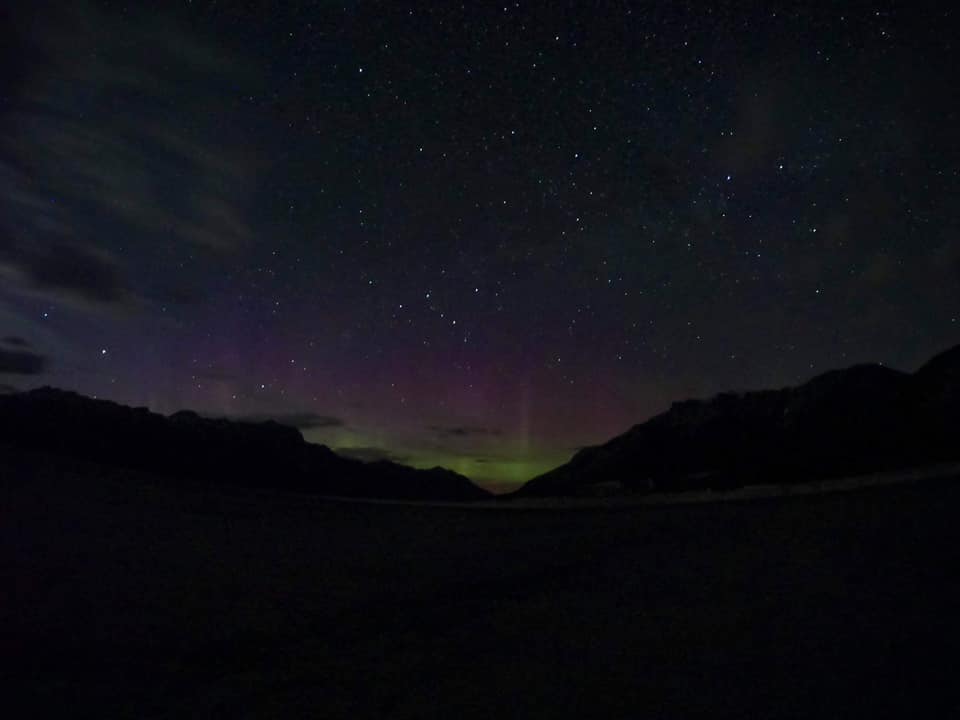 Okay seriously if you're in Banff during high auroral activity you MUST try to see the lights! The best time of year to see the northern lights in Banff is from February to April (on clear nights of course).
In town you can usually spot the northern lights from Lake Minnewanka. Other great spots to see the lights are from Abraham Lake and Peyto Lake along the Icefields Parkway.
You can also download the Aurora app to keep an eye on auroral activity. Look for a high KP rating (5+) and ensure you're in the green zone, which can be found in the app's map.
23. Take Part In Lake Louise's Winter Events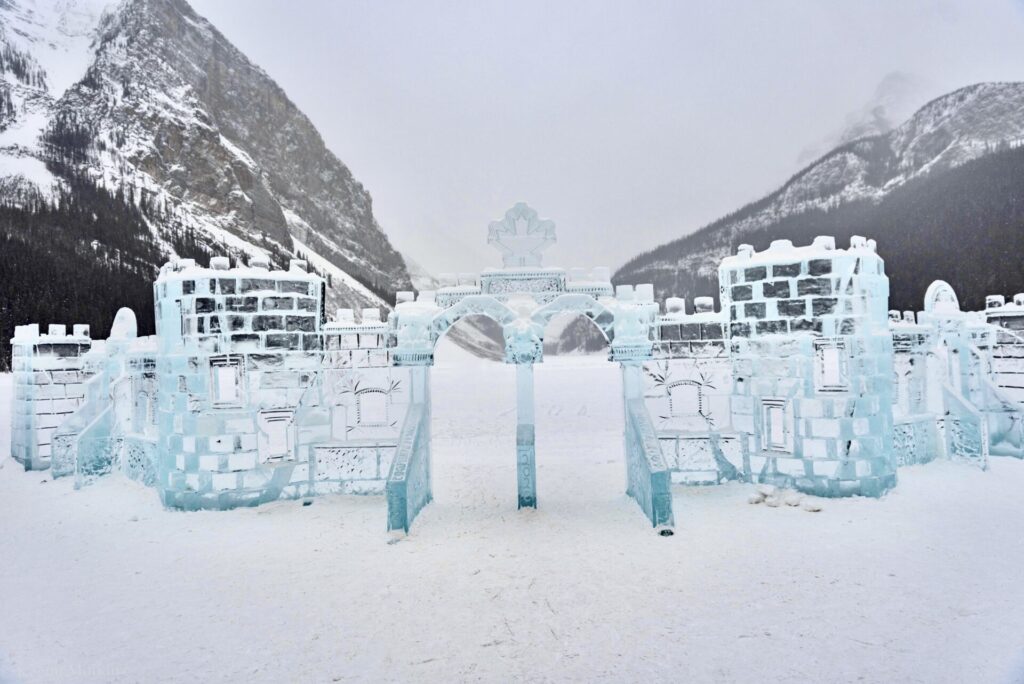 Lake Louise hosts all kinds of winter events:
Ski World Cup – the Ski World Cup at Lake Louise is where ski racers compete for the title of "fastest skier"
Ice Magic – ice magic is an ice carving festival at Lake Louise which typically runs from mid-end of January. Here you can find intricate ice sculptures of all forms.
Skijoring – skijoring is a twist on rodeo and features horseback riding and tricks on the snow
24. Banff Ice Sculptures
The town of Banff has artists create enormous snow sculptures around town. You can find these sculptures along Bear Street and the Bow River.
25. Spend Christmas in Banff
Banff is the perfect winter destination to spend Christmas. Here you can find all sorts of Christmas activities like:
The Banff Christmas Market usually runs for 2 weekends in November and is located on Sundance road. The market has all sorts of local vendors, live music, and a special visitor from the North Pole.
The Spirit of Christmas – is Banff's year-round Christmas store. The store features all types of beautiful ornaments and Christmas decorations. Plus, Santa usually makes an appearance most weekends in December.
Walk the Banff Christmas Light Trail, which I'll talk about next.
26. Tribute Craft Spirit Festival
The Tribute Craft Festival is 12 days of special cocktail menus from various Alberta & BC breweries. Bear street hosts a 2 day outdoor tasting event tyically toward the end of January.
27. Go for a Drive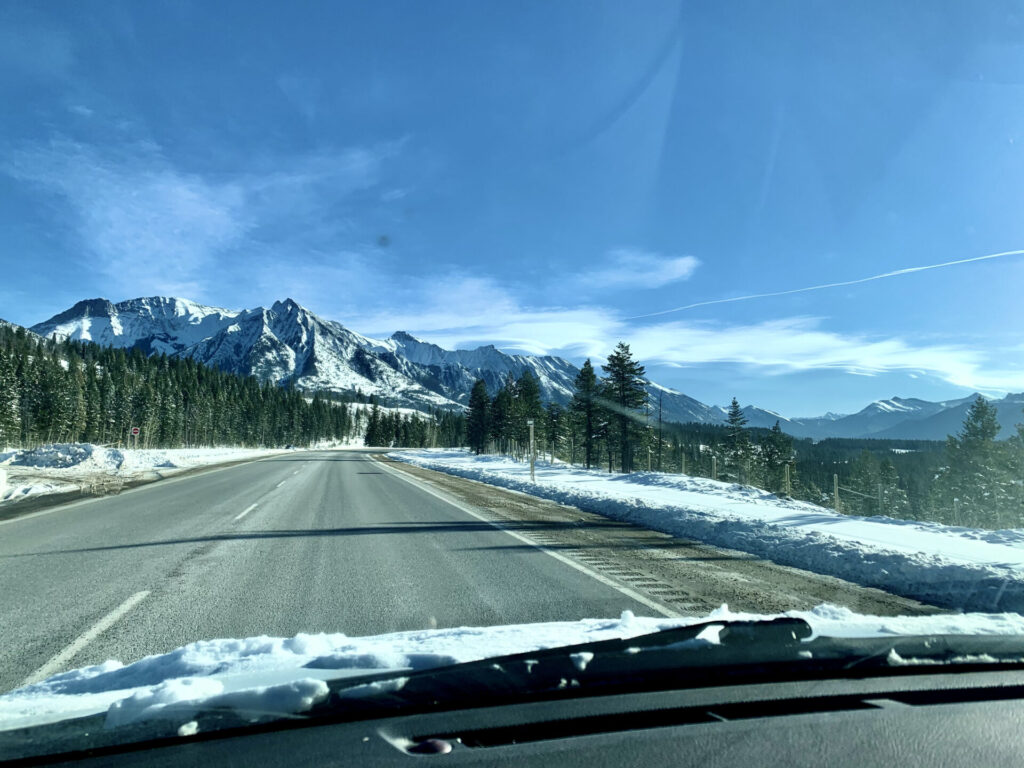 It's no secret that Banff is home to incredible scenery. Of course hiking is the best way to experience the mountains, but Banff hiking in winter can be a bit intimidating. What's the next best way to see the mountains? Go for a drive!
Literally any drive you take in Banff will be picture-perfect, but one of my favourites in the area is Kananaskis Way (AKA Highway 40). You can find this road by turning off the Trans Canada at the Stoney Nakoda Resort & Casino.
Going for a drive in your warm car is the perfect thing to do in Banff in winter after a day of skiing, snow shoeing, or just embracing the cold.
Here are some tips for driving in Banff in winter:
Driving Tours
If you're looking to do more of a winter road-trip in the Rockies, this tour with 10 Adventures spans 9 days and includes skiing in Banff, the Icefields Parkway, Yoho National Park, Jasper National Park, and Kananaskis Country. A great way to see more than just Banff from the road!
28. Explore The Icefields Parkway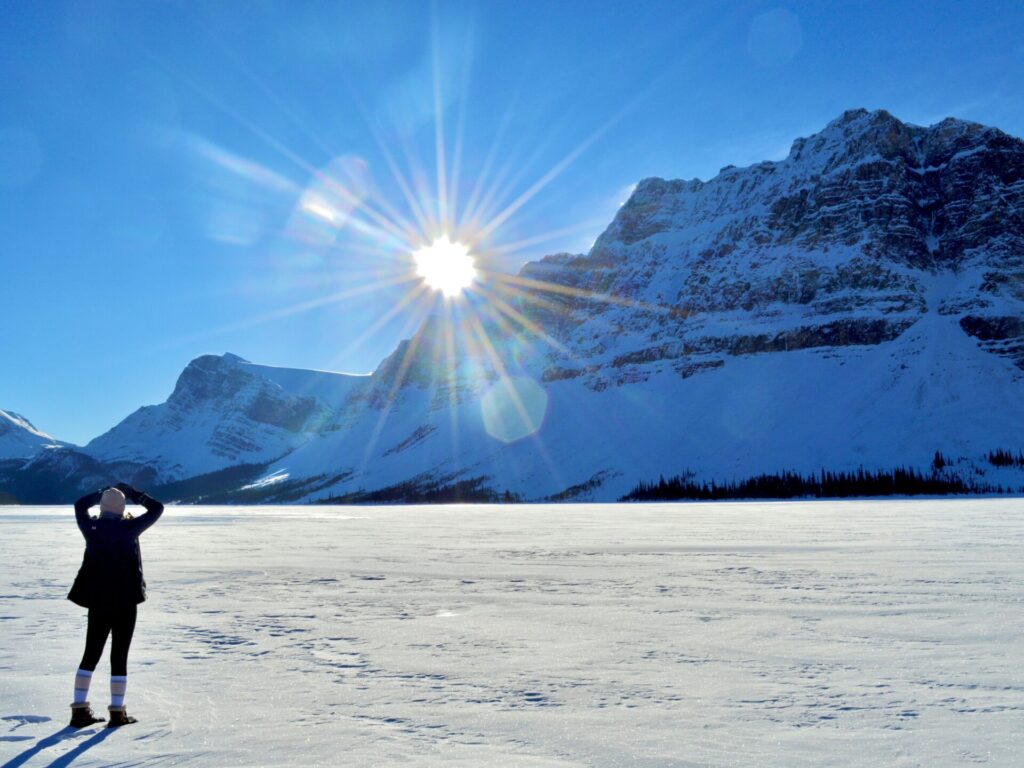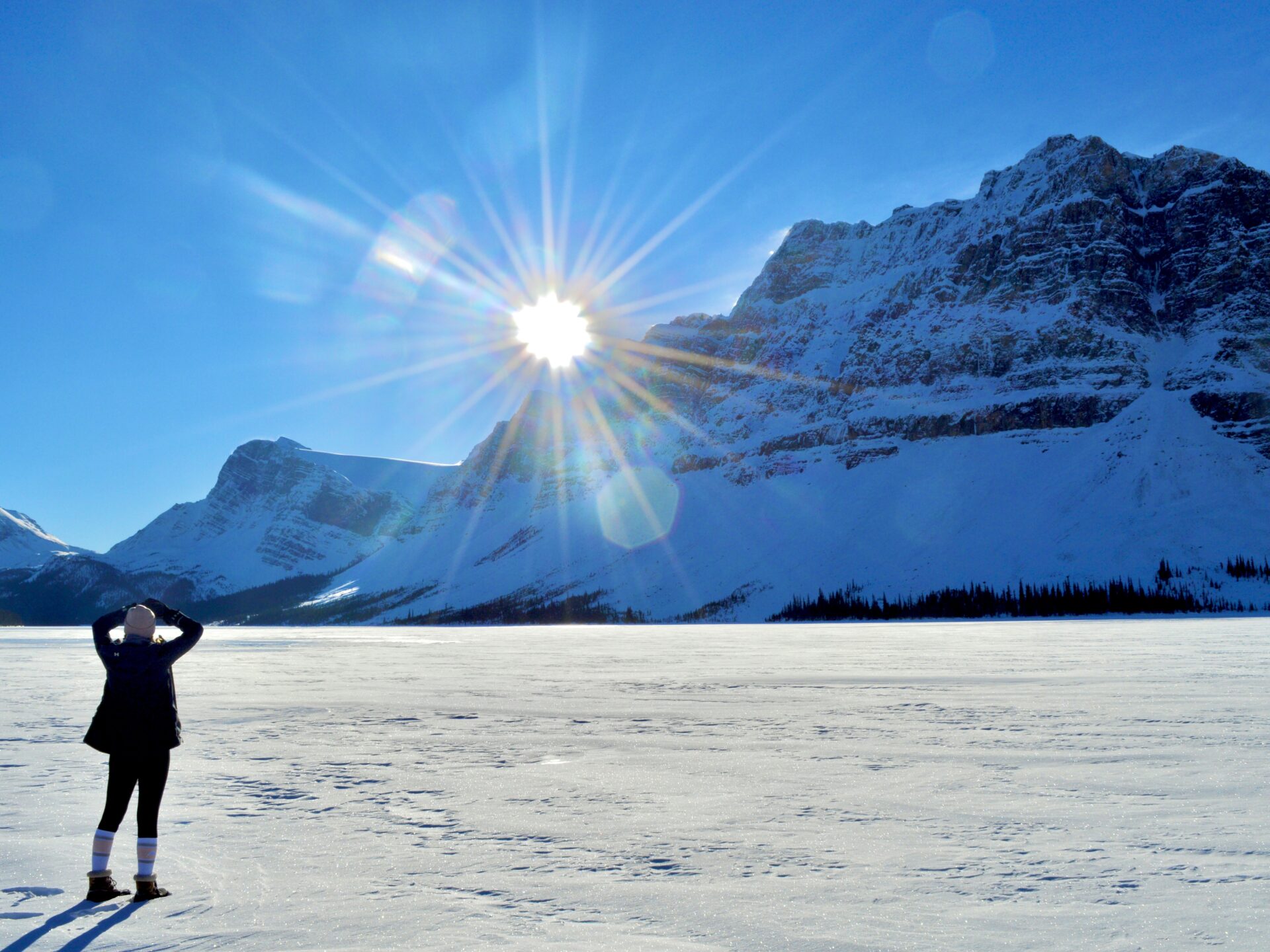 Adding on to my "go for a drive" suggestion, one road you MUST explore is the Icefields Parkway. The Icefields Parkway is the highway that connects Banff and Jasper – it's rated as one of the most beautiful drives in the world.
I've driven this road multiple times and I can confidently say winter is by far the most beautiful time of year to travel it. Along the way you can stop at Banff's famous lakes, complete a few hikes (only with experience/proper equipment in winter), and admire the world-class mountains, glaciers, and frozen waterfalls.
Here's my complete guide to the Icefields Parkway.
29. Banff Christmas Light Trail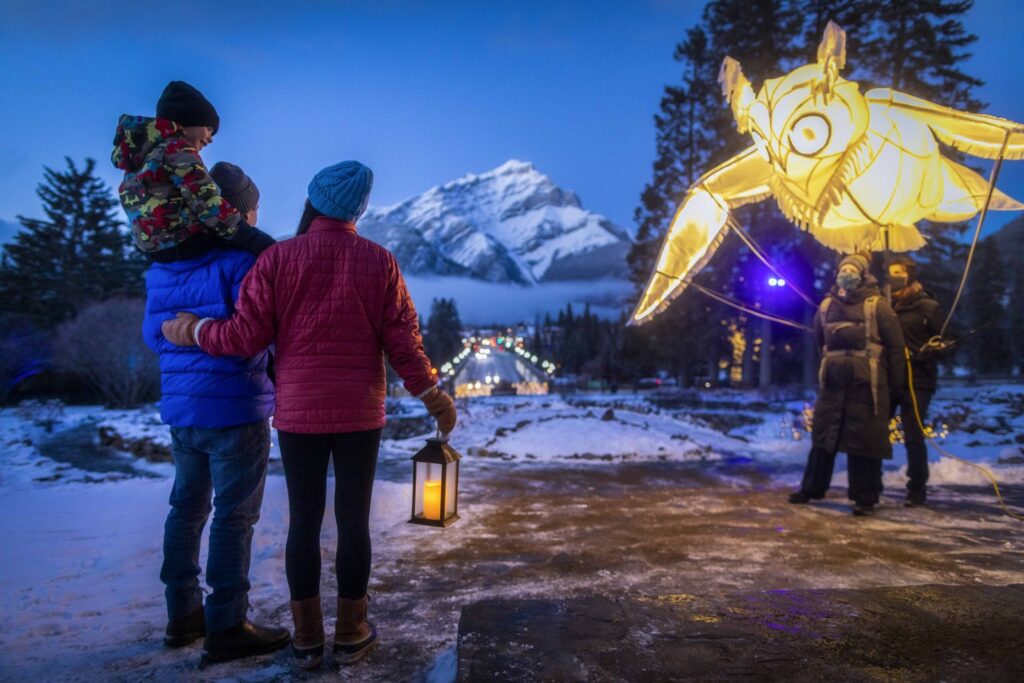 The Banff Christmas Light Trail is a free outdoor light event located at Cascade of Times Garden (at the end of town).
This light display in particular features an interactive story and takes about 45 minutes to complete.
For more information and to reserve your spot, visit this page.
30. Banff Hot Chocolate Trail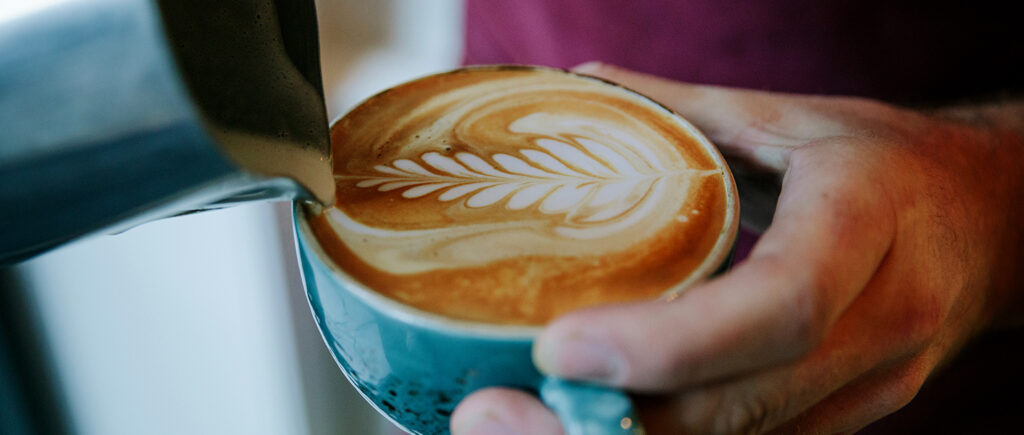 Banff and Lake Louise has put together the Banff hot chocolate trail which is a guide for all the best hot chocolate spots in town.
31. Go To The Spa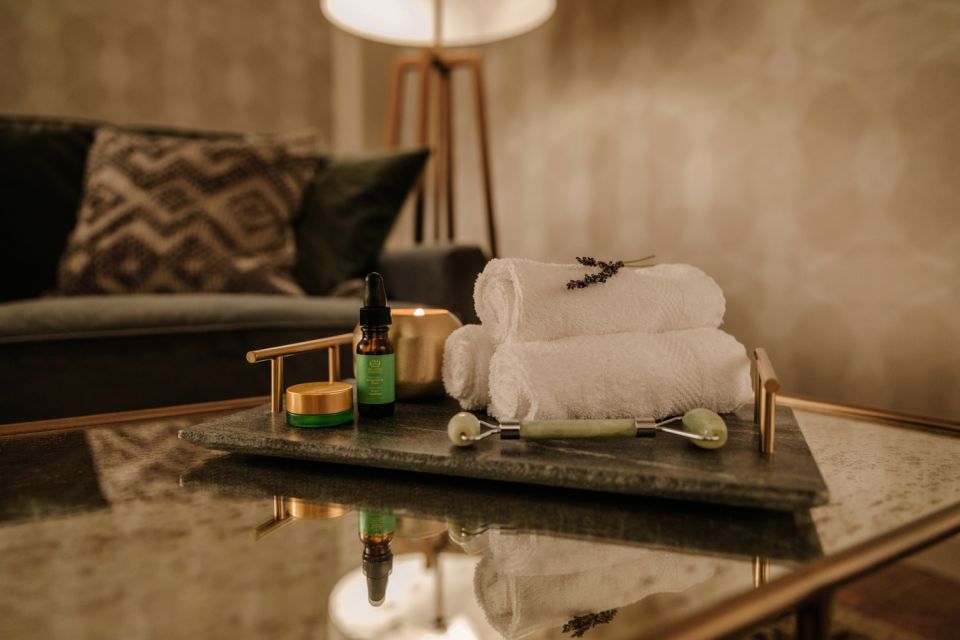 If you're in the mood to "treat yo self" visit one of Banff's many spas. This guide outlines all the best spas in Banff.
Another option is to visit the Kananaskis Nordic spa. The Kananaskis spa is located in, of course, Kananaskis Country (my favourite hiking destination in the Rockies). I've been eyeing the Kananaskis Nordic Spa forever now, but haven't had the chance to visit yet!
Now that we've covered all the best things to do in Banff in winter, it's time to start planning your Banff winter getaway!
Happy adventuring!
Taylor ♡
---
Like This Post?
Share with friends or save it for later!
---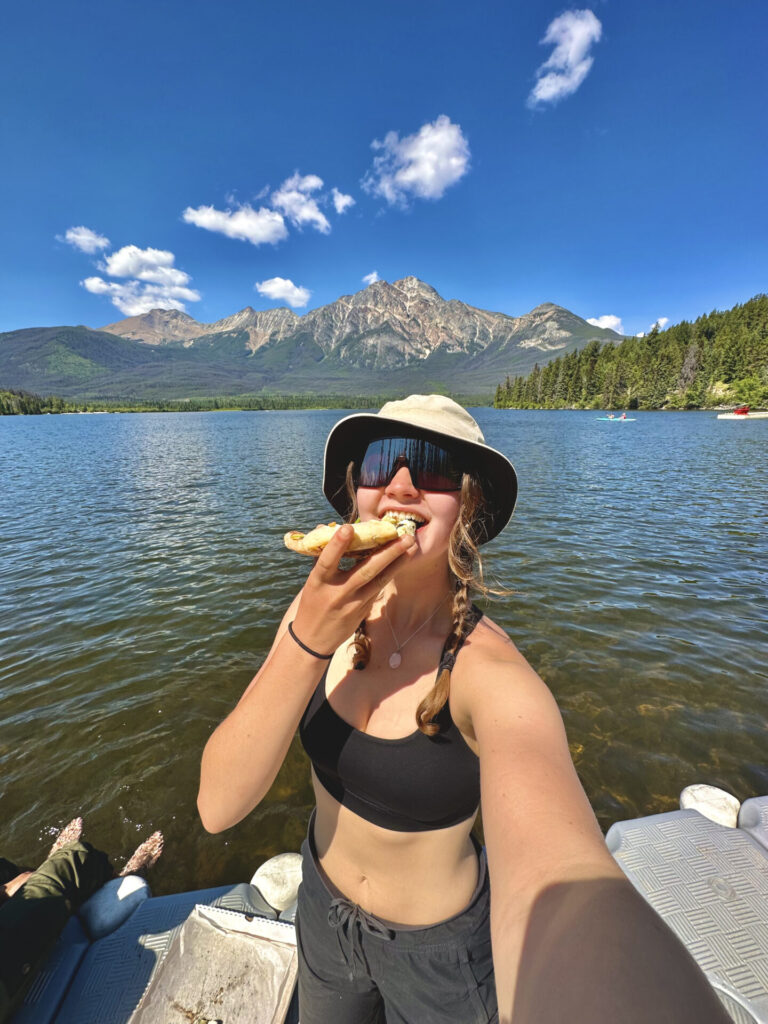 About The Author
HI, I'm Taylor – the voice behind The Holistic Backpacker.
After moving to Banff National Park in 2020 I became an outdoor adventure enthusiast and vowed to never stop exploring.
I now spend my days travelling the world, climbing mountains, and spending nights under the stars in the Canadian Rockies backcountry.
I created The Holistic Backpacker so I could share my adventures and help connect people like you with the same amazing experiences.