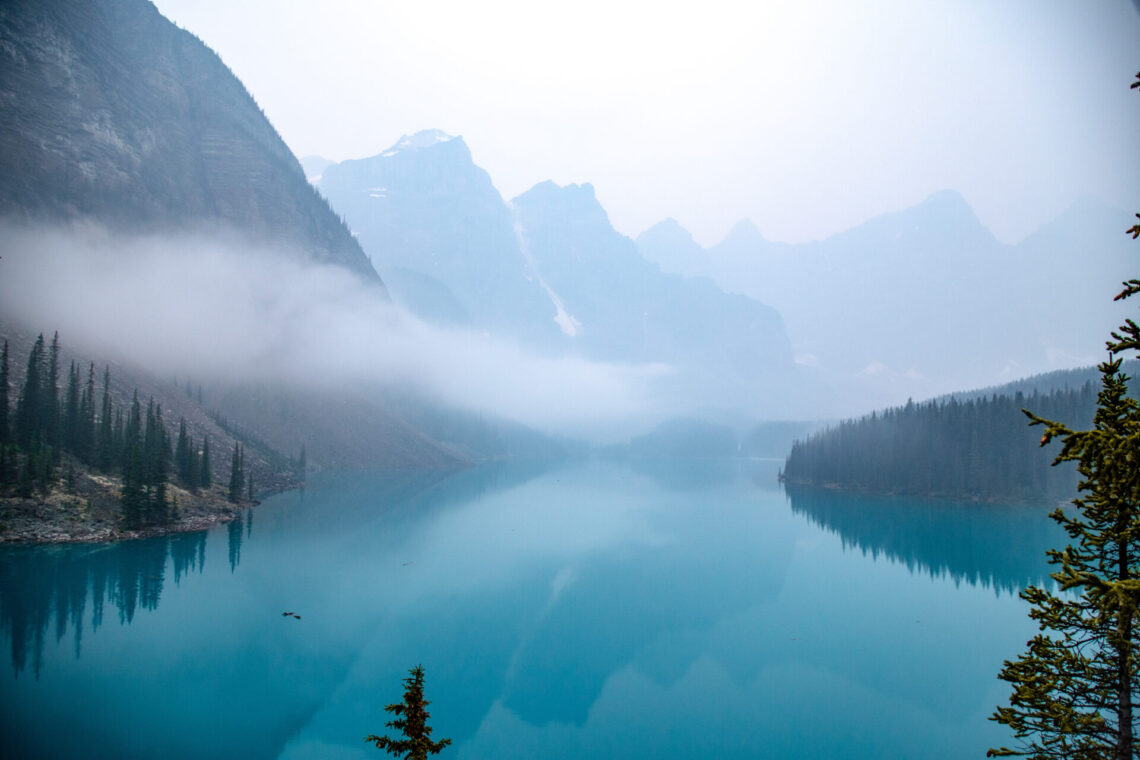 How to Get to Moraine Lake & Lake Louise in 2023 – Hike, Bike, Drive, & Shuttles
2023 is the first year in history Moraine Lake road is closed to personal vehicles. So, how the heck do you get to Moraine Lake in 2023 with these new restrictions?
The answer is – it's complicated. Especially if you don't have a car. Rest assured, there ARE ways you can get to Moraine Lake despite the closure and in this post I'll outline all the options for you plus give you some insight as to why these new Moraine Lake road restrictions are in place.
Skip Ahead:
This post contains affiliate links; see my full disclosure. If you click these links and make a purchase you're supporting The Holistic Backpacker. Thanks for your support & happy adventuring! – Taylor ♡
---
---
Where is Moraine Lake
Moraine Lake is located in Lake Louise which is a 45 minute drive from the town of Banff. Moraine Lake boasts beautiful views of the Canadian Rocky Mountains and has some of the blue-est glacially fed water in the world.
Moraine Lake is 2.5hrs from Calgary, 1.5hrs from Golden and it's reachable by bus if you're coming from the town of Banff or Lake Louise Village.
Skip ahead: How to get to Moraine Lake
---
Why is the Moraine Lake Road Closed?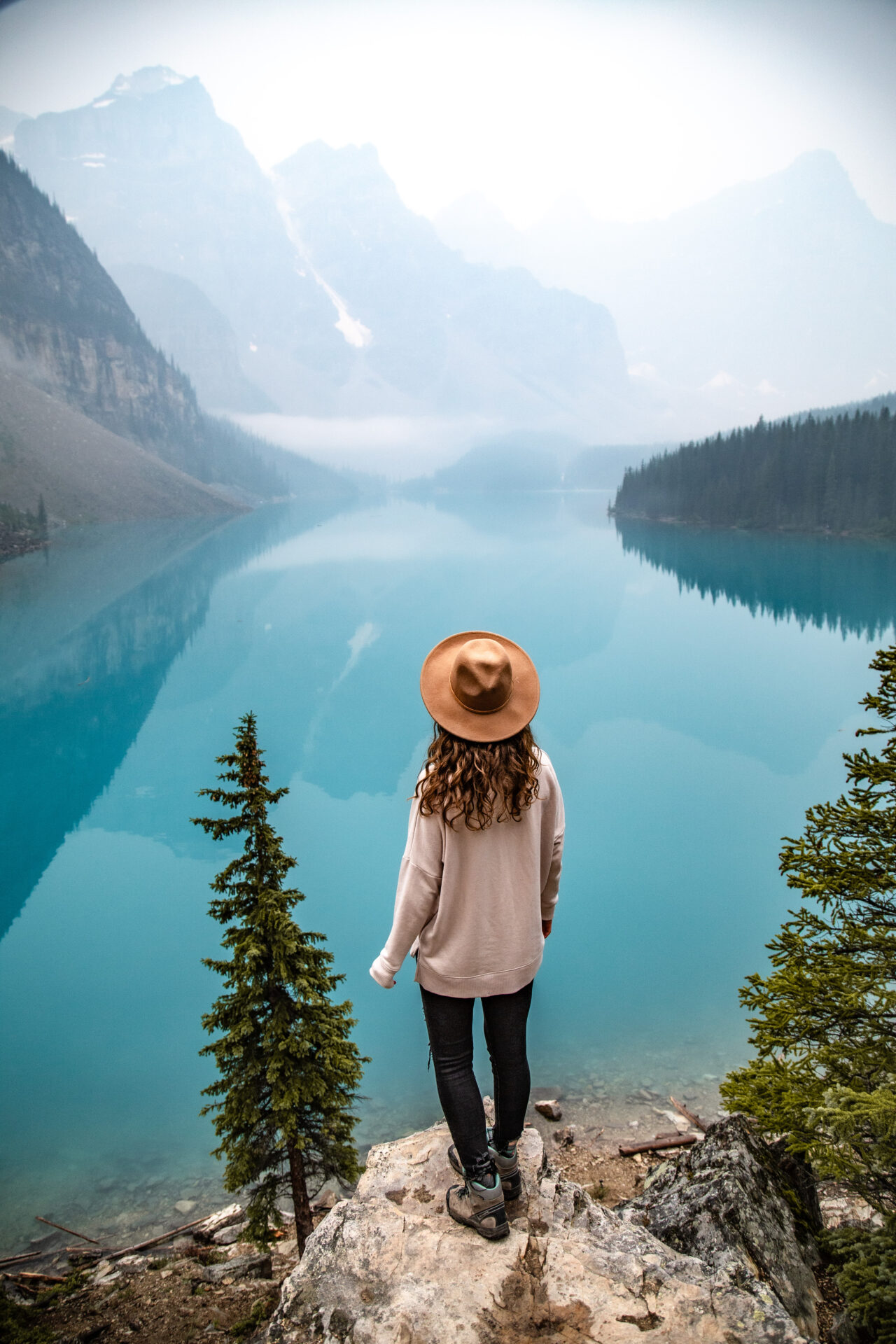 Moraine Lake is the "poster-child" of Canadian nature and beautiful mountain scenery. If you've seen a photo or video online, in a guidebook, or in any online advertisement of Canada, it's either of Moraine Lake or Lake Louise.
Moraine Lake is the bluest body of water I've ever seen + the way it's positioned makes for the most unreal sunrise. The alpenglow from the rising sun completely lights up the Valley of the Ten Peaks which are the beautiful mountains backing the lake. These factors plus the beautiful hiking trails and Larch trees in the fall make Moraine Lake #1 on anyone's Canada bucket list.
With this being said, Moraine Lake was becoming a bit chaotic. If you wanted a parking spot you'd have to arrive no later than 4:00am and even that was becoming "too late." The vast number of people visiting the lake was putting the fragile ecosystem there at risk & the environment around the lake was becoming much too touristy in terms of noise pollution, garbage, etc.
The Moraine Lake road closure was put in place to protect the vegetation, landscape, and wildlife in the area. Even though it's much more difficult to get to Moraine Lake come 2023, I'm so grateful the road has been closed for preservation purposes.
Skip ahead – how to get to Moraine Lake.
---
Things to do at Moraine Lake
Moraine Lake is an outdoor adventurer's paradise. The hiking trails, mountain tops, and bodies of water in the area make for an ethereal landscape. Here are a few things you can do at Moraine Lake: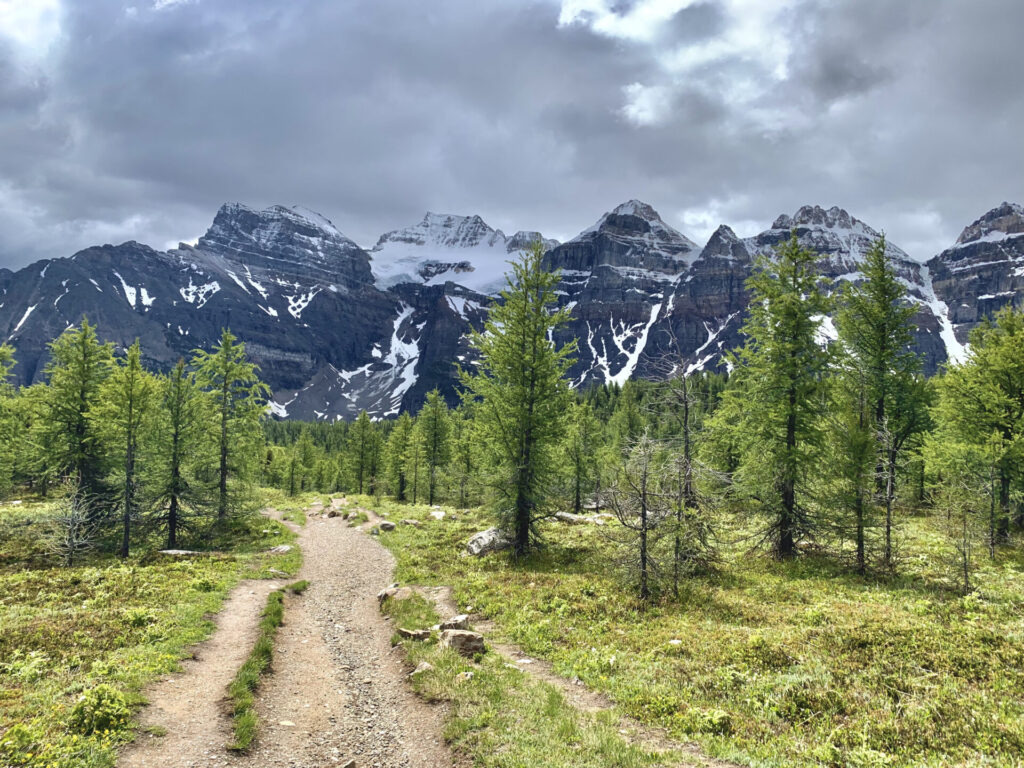 Go hiking – my favourite trails in the area are Tower of Babel, Larch Valley + Sentinel Pass, and Consolation Lakes.
Watch sunrise – this is the most beautiful sunrise location in Canada! As of 2023 the only way to see Moraine at sunrise is to take a private shuttle, which you can book here.
Canoe – canoes can be rented from the dock at the lake. Last I checked rentals were upwards of $150/hour but the experience is worth the price tag!
Stay at the Moraine Lake Lodge – this is a pricey endeavour, but the lodge gives you unlimited access to the lake, hiking trails, and canoe rentals. Your food and parking are included (you can drive a personal vehicle if you stay at the lodge), but make sure you book far in advance as rooms here fill up instantaneously when bookings go live.
---
Where to Stay at Moraine Lake and Lake Louise
There are plenty of places to stay in the lake Louise area. You can find a list of all Lake Louise accommodations here, but the following are my favourite: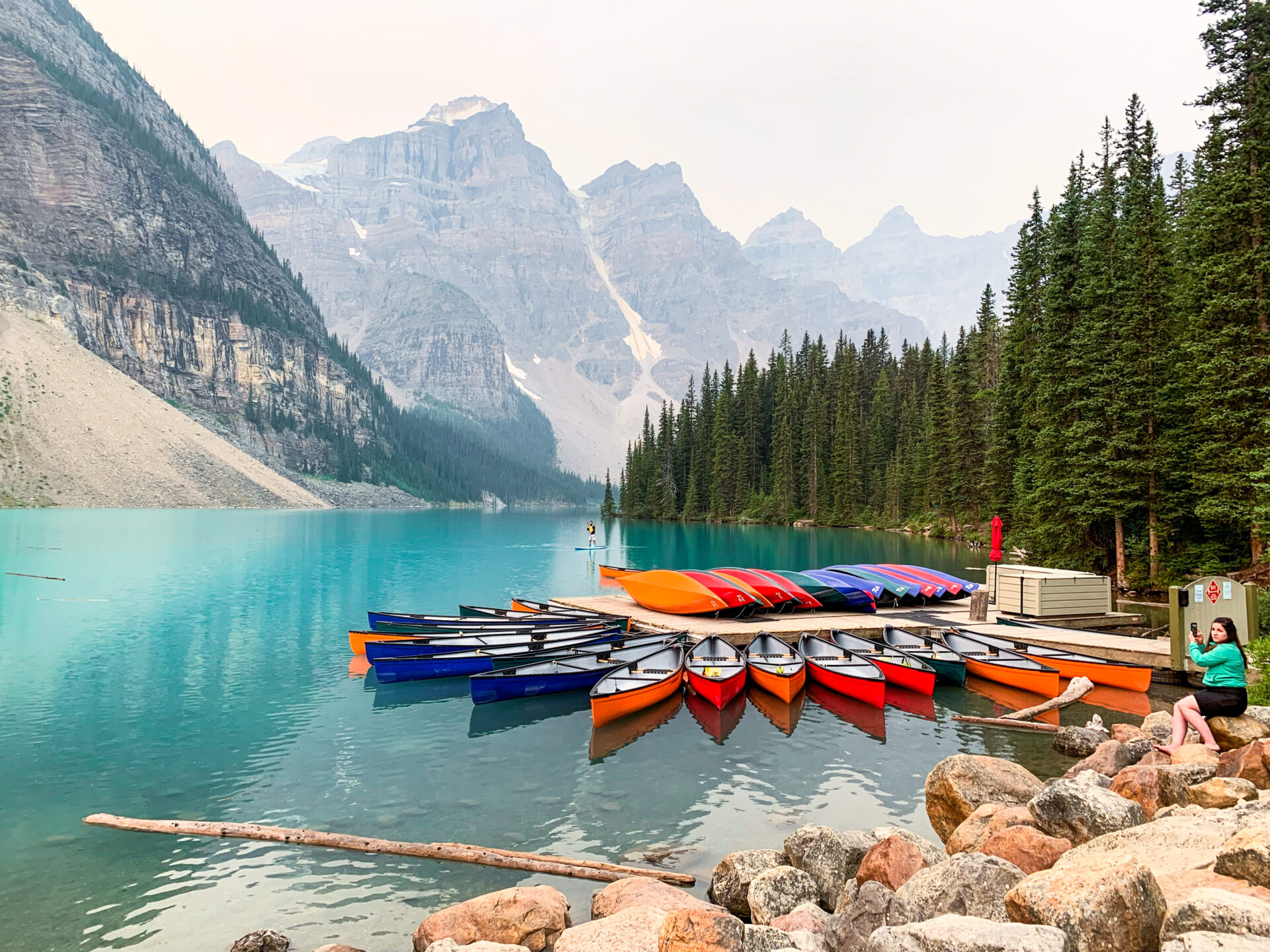 Moraine Lake
The only place to stay at Moraine Lake is the Moraine Lake Lodge. If you want to stay on the lake, be sure to make a reservation far in advance as bookings fill up instantly! Staying at the lodge grants you unlimited access to the lake, canoe rentals, a parking spot (lodgers can drive their personal vehicles to Moraine Lake), and food.
Lake Louise
---
How to get to Lake Louise
Out of the two, Lake Louise is much easier to access than Moraine Lake. Here are the options for getting to Lake Louise:

Personal vehicle – unlike Moraine Lake, you CAN drive to Lake Louise. The Lake Louise parking fee is $21/day (flat-rate). You must arrive early to get a parking spot – around 5am. Earlier on weekends, holidays, or high season. Just to be sure!
Route 8X – this bus line departs the high school transit hub (across IGA) in the town of Banff and goes directly to the lake. It's best to get a day pass (round-trip fare) which is $20 for adults, $10 for youth + senior, and free for children 12 and under.
Route 8S – this route also departs from the transit hub in Banff, but takes the scenic highway 1A to Lake Louise rather than the Trans Canada. The cost is the same as the 8X and there are various stops along the 1A. This is a great option for car-less hikers who are looking to explore different trails along the 1A.
SUPERPASS
This pass is the holy grail of bus passes in Banff. It's a one-day pass which grants you unlimited access to the 8X and 8S as well as the Moraine Lake connector, Canmore/Banff regional, Johnston Canyon Route and more.
It costs $25/adults, $12.50 for youth + seniors, and free for children 12 and under. Reserve your Superpass here.
---
6 Ways to get to Moraine Lake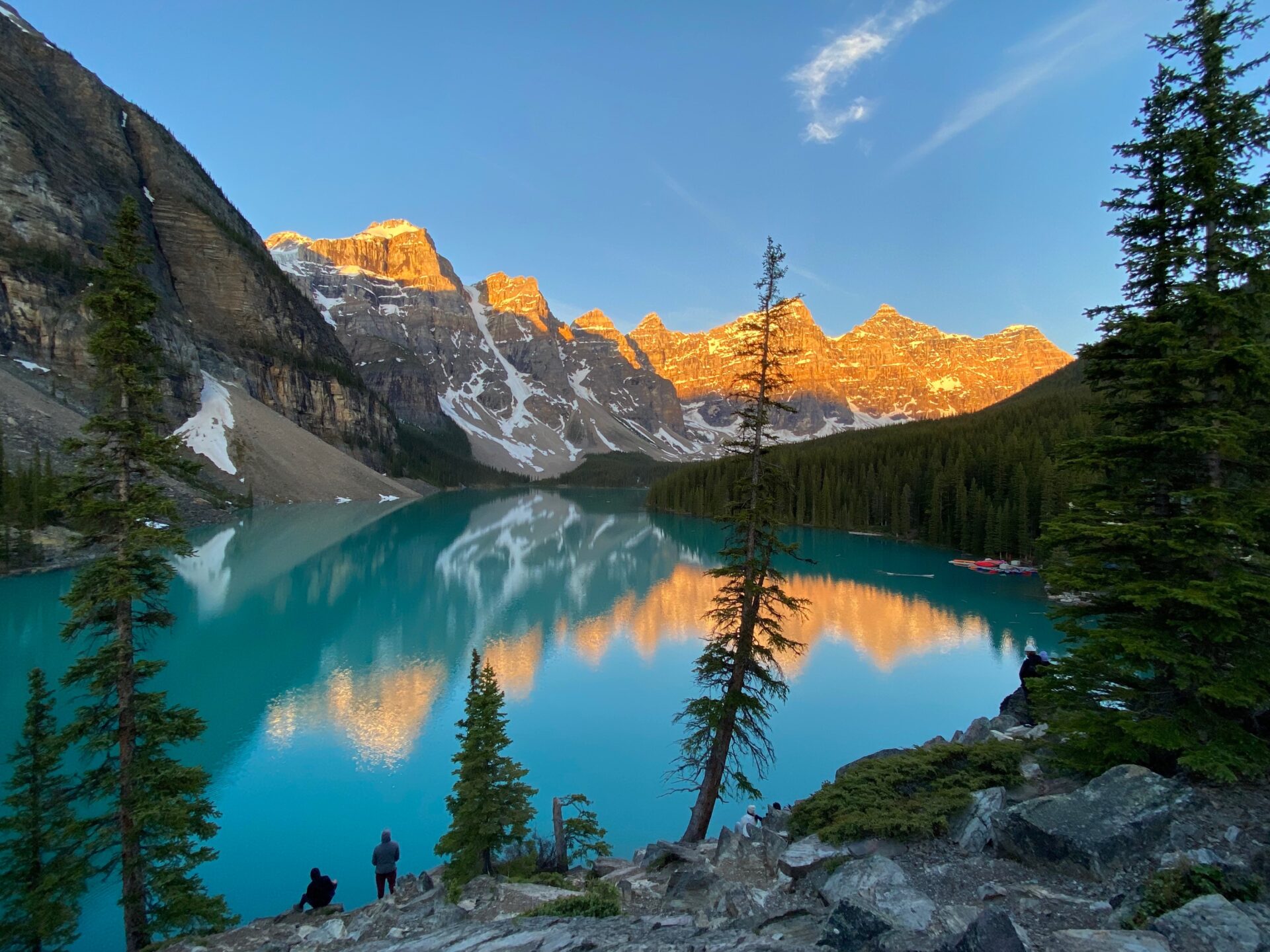 1. Public Transit to Moraine Lake
Using public transit to get to Moraine Lake is complicated – especially if you don't have a car. I'll try to break things down as simply as possible here:
If you have a car

Drive to the Lake Louise ski resort for the Park and Ride program
Use the Parks Canada Reservation Service to book your round-trip connector bus to Moraine Lake.

Instructions: filter the menu to "day use" -> choose the Moraine Lake & Lake Louise option -> "Banff – Lake Louise" as the location -> filter your dates -> click the "shuttle" icon on the map & choose a time.
The shuttle will bring you back to the ski resort upon return.

If you don't have a car – book a Superpass. This will provide you with transportation from the town of Banff to Lake Louise AND Moraine Lake as the Parks Canada Moraine Lake connector pass is included in the fare.

*You'll have to go back to the Park and Ride lot (Lake Louise Ski Resort) prior to boarding the Moraine Lake connector
*You'll also have all-day access to all Roam transit services; Canmore, Johnston Canyon, Sulphur Mountain, Lake Minnewanka, etc
**Reservations online or by phone (1-877-737-3782 OR 1-519-826-5391 for outside North America) must be made FAR in advance. Otherwise, you can try a last-minute reservation. This is an excerpt from the Parks Canada website about last minute reservations:
"Limited spaces will be held for last-minute reservations, and will be released daily at 8:00 a.m. MDT, two days before the scheduled departures. – Tickets are for a one-hour window; you may show up anytime during that hour. Once at the lakes you may stay as long as you choose and connect between Lake Louise and Moraine Lake on a first come first serve basis, via the Lake Connector shuttle. Your ticket includes return shuttle service from either lake back to the Park and Ride."
More information from Parks Canada
---
2. Private Shuttle to Moraine Lake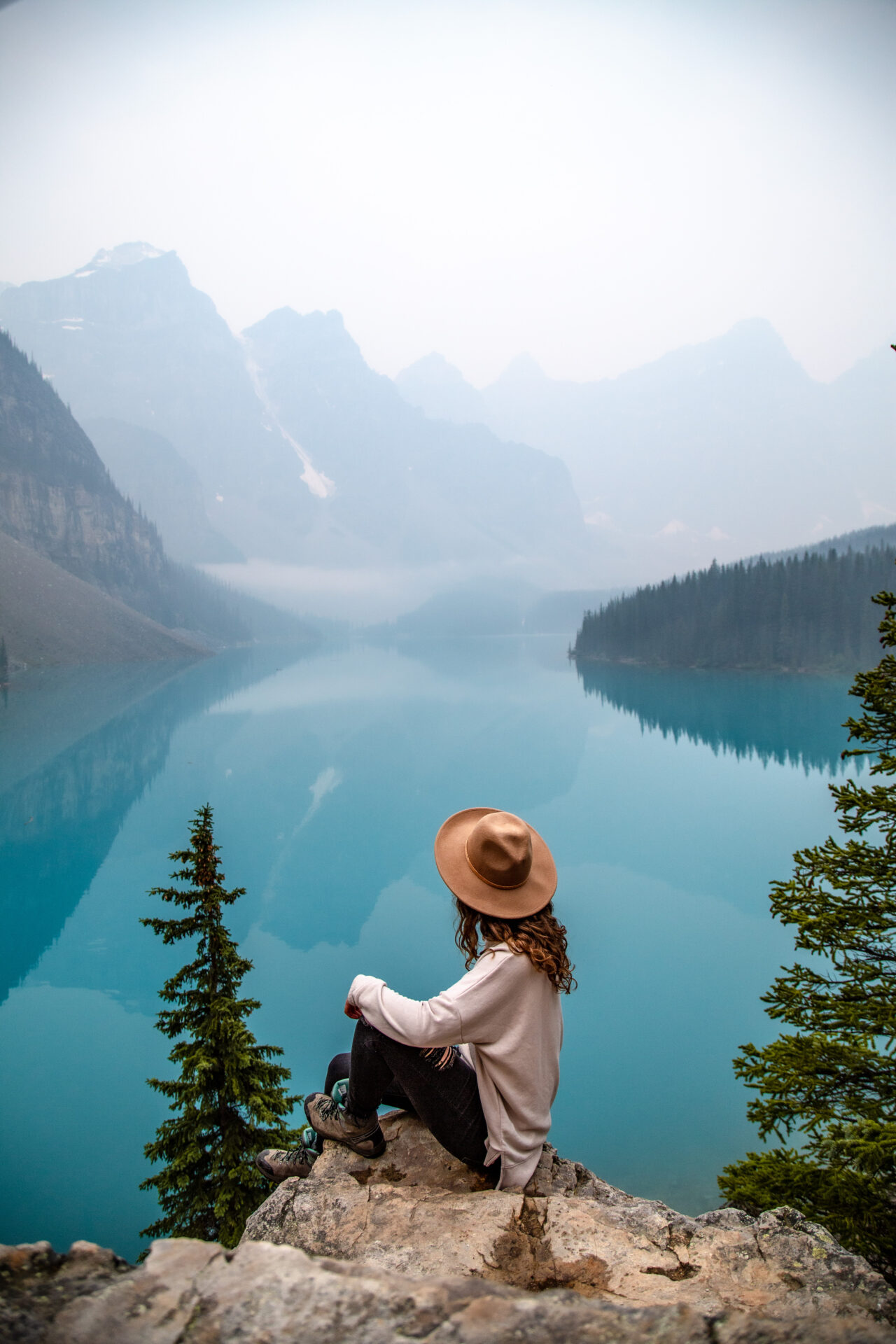 This is the easiest option to get to Moraine Lake and the ONLY way to see sunrise!
This private shuttle is run by two Banff locals who are the only people/company in Banff that pay their employees a fair Alberta living wage! The shuttle is very well organized, comfortable, and customizable if you want to play around with arrival/departure times for hiking.
You can book your private shuttle here.
---
3. "Hike" to Moraine Lake
You can hike – more like "excruciatingly walk" – to Moraine Lake from town but it is a 30kms+ roundtrip venture. I would not recommend this option at all, but I must mention it because it is one of the few options available!
---
4. Bike to Moraine Lake
You can also bike up to the lake from the Lake Louise Village. The distance is 30kms+ with 400m+ of elevation gain (around 1.5hrs+ one-way). You'll pass through grizzly territory on the way to the lake, so this option is not great if you're planning to bike in the early hours of the day or evening hours for safety reasons.
A better option is to rent E-bikes from one of the adventure hubs in the town of Banff. This will save you lots of time and energy!
---
5. Stay at Moraine Lake Lodge
Moraine Lake Lodge is situated on the edge Moraine Lake, giving you unlimited access to the lake, local hiking trails, food, and canoe rentals. This is a pricey option, but it's the best way to authentically experience Moraine Lake!
Make sure to book your stay in advance as spots fill up quickly!
---
6. Book a Guided Tour to Moraine Lake
Guided tours are not my favourite – or even preferred – way of travelling because of the amount of people on-board + the rush, BUT if you're desperately searching for how to get to Moraine Lake, this could be a great option. Guided tours save the hassle of DIY booking and they've always got space available!
Both Get Your Guide and Viator have great Moraine Lake transportation options. These hyperlinks will bring you directly to the Moraine Lake tours: Get Your Guide + Viator.
---
FAQ Getting to Moraine Lake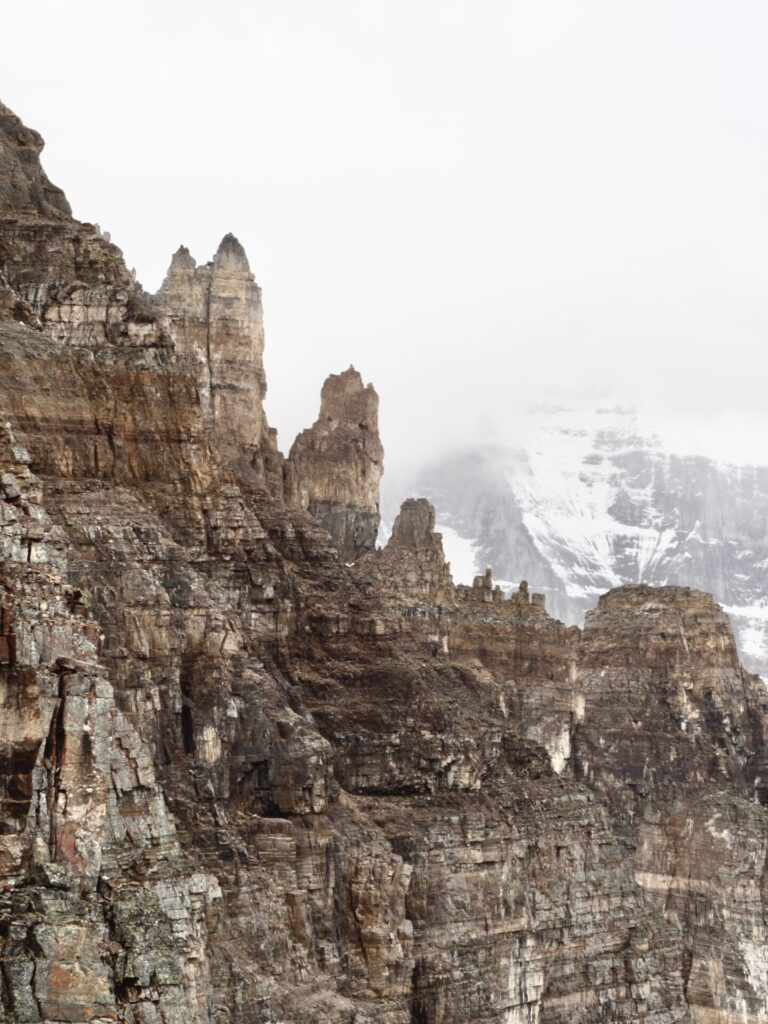 Can I bring dogs on the Moraine Lake bus?
Dogs and other animals are not permitted on the Roam bus OR Parks Canada shuttles unless they're small enough to fit in a lap carrier (Roam) OR crate (Parks Canada).
Private limos and some tour operators offer pet-friendly transportation. You can find more about those options here.
Can kids ride the bus to Moraine Lake for free?
Children 12 and under can ride the Roam bus and Parks Canada shuttles for free.
Are there are any discounts available for the Moraine Lake bus?
No "discounts" are necessarily available, however youth (13-17) and seniors (65+) can ride the Roam bus & Parks Canada shuttles for half the cost of an adult.
How far in advance do I need to book the Moraine Lake shuttle?
As far in advance as possible! Most visitors make their reservations months in advance. Spots are very limited as this is one of Canada's most popular tourist attractions.
---
---
Happy adventuring!
Taylor ♡
---
Like This Post?
Share with friends or save it for later!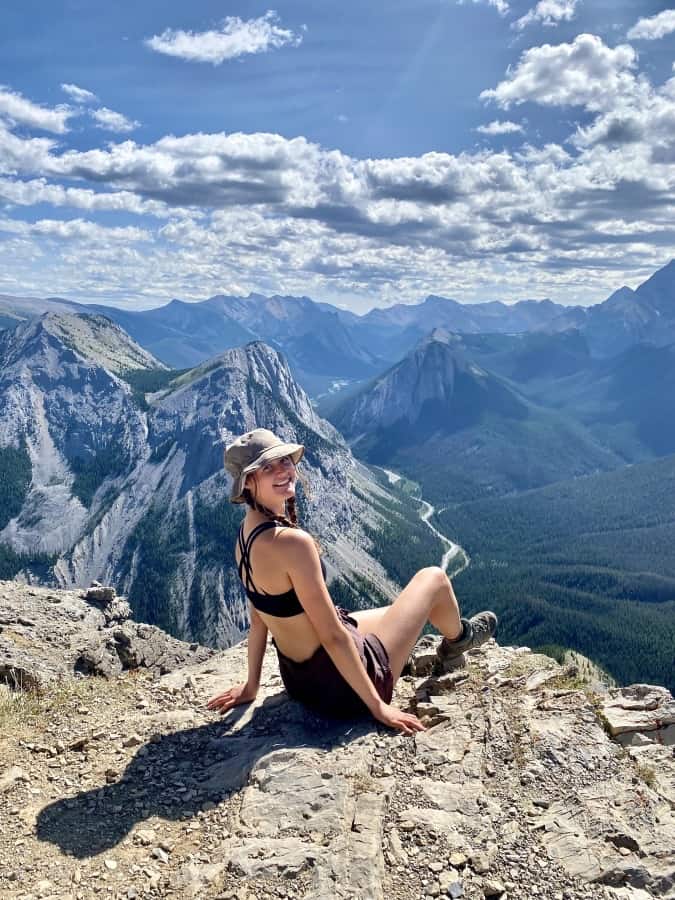 About The Author
---
Hey! I'm Taylor – the voice behind The Holistic Backpacker.
After moving to Banff National Park in 2020 I became an outdoor adventure enthusiast and vowed to never stop exploring.
I'm now focused on travelling the world and seeing everything our beautiful home has to offer.
I created The Holistic Backpacker so I could share my adventures and help connect people like you with the same amazing experiences.
I am also an advocate for the environment and do as much as I can to take care of our planet.
Get to know me and my story more here 🙂
I can't wait to share my adventures with you!