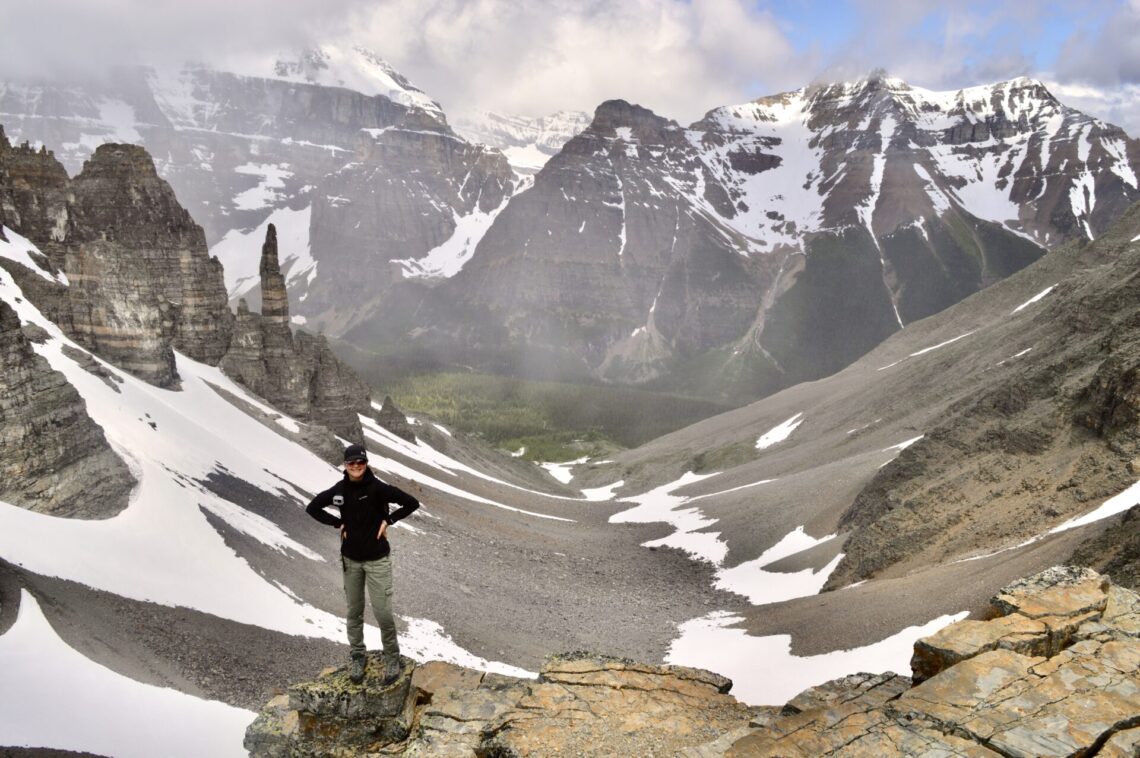 Larch Valley & Sentinel Pass Hike at Moraine Lake
The Larch Valley to Sentinel Pass hike is a beautiful trek near Moraine Lake that features 2 alpine lakes, a stunning valley, some hoodoos, and of course… Banff's enormous Rocky Mountains.
The Larch Valley hike is ideal in fall as the valley is full of golden Larch trees, but the summer months feature lush vegetation and much warmer temperatures. The extension to Sentinel Pass adds a bit of a challenge, but it takes you to a mountain pass which has some hoodoos – very unique for Banff!
If you're visiting Moraine Lake I'd recommend at least completing the Larch Valley hike and continuing on to Sentinel Pass if you're up for the challenge.
Now, let's go hiking!
Skip Ahead:
This post contains affiliate links; see my full disclosure. If you click these links and make a purchase you're supporting The Holistic Backpacker. Thanks for your support & happy adventuring! – Taylor ♡
---
---
Related Content
---
How To Get To Sentinel Pass Trailhead
I've marked parking at Moraine Lake and the Sentinel Pass trailhead along with parking at the Paradise Valley trailhead (I'll talk more about this next).
Larch Valley and Sentinel Pass are located at Banff's famous Moraine Lake. The Sentinel Pass trailhead is located about 40 minutes to an hour from the town of Banff, just over 2 hours from Calgary and about an hour and 20 minutes from Golden, BC.
Luckily there's a bus (Roam transit, Route 10) that takes you to the Sentinel Pass trailhead, so if you're coming from Banff you needn't worry about driving. In fact, I actually recommend taking the bus because there's extremely limited parking at Moraine Lake.
If you're coming from the opposite direction of Banff, I'd recommend utilizing the Parks Canada shuttle which picks you up from the town of Lake Louise or at the Park & Ride connector – more on this here.
If you're dead-set on driving and are visiting in the summer months, prepare to arrive at or before 4am in order to get a parking spot. Parking fills up quickly and Parks Canada employees block the road entrance.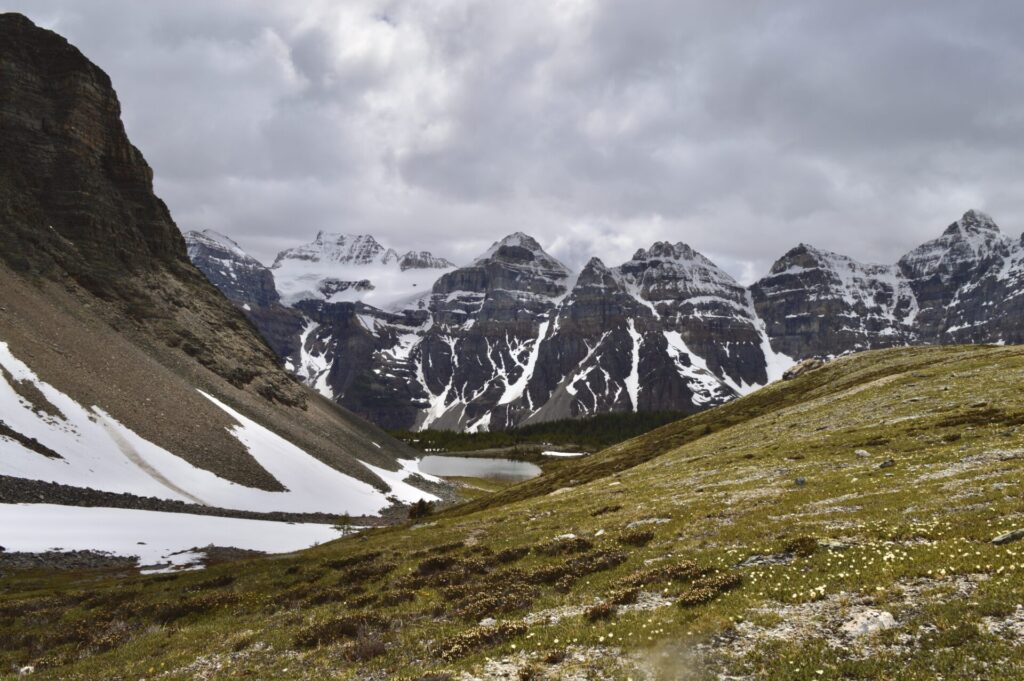 About Sentinel Pass Trail
Distance: 11.1km
Elevation gain: 799m
Rated: hard
Type of trail: out & back
Estimated time: 4.5hrs
Alternate Route – you can reach Sentinel Pass via the Paradise Valley trailhead. This route will take 27km+ roundtrip to complete if you hike back to the Paradise Valley trailhead or 20km if you hike directly to Moraine Lake. This route however gives you the chance to see the Giant Steps.
---
The Larch Valley and Sentinel Pass hike at Moraine Lake is well trafficked and easy to follow. Hikers can expect to find snow at Sentinel Pass until late in the season which is why it's recommended to bring micro-spikes.
The trail starts out in a wooded area that follows switchbacks up the mountain; here you'll gain steady elevation. Next, hikers will emerge into Larch Valley which is flat and features beautiful views of Valley of the 10 Peaks and Minnestima Lakes. The final section of this hike is a slog up Sentinel Pass. This section is steep and will definitely test your limits!
This is a great hike for those looking to "up" their hiking game in the Rocky Mountains as there are lots of people, there's no scrambling, and the hike itself isn't too challenging. This is by far my favourite hike at Moraine Lake!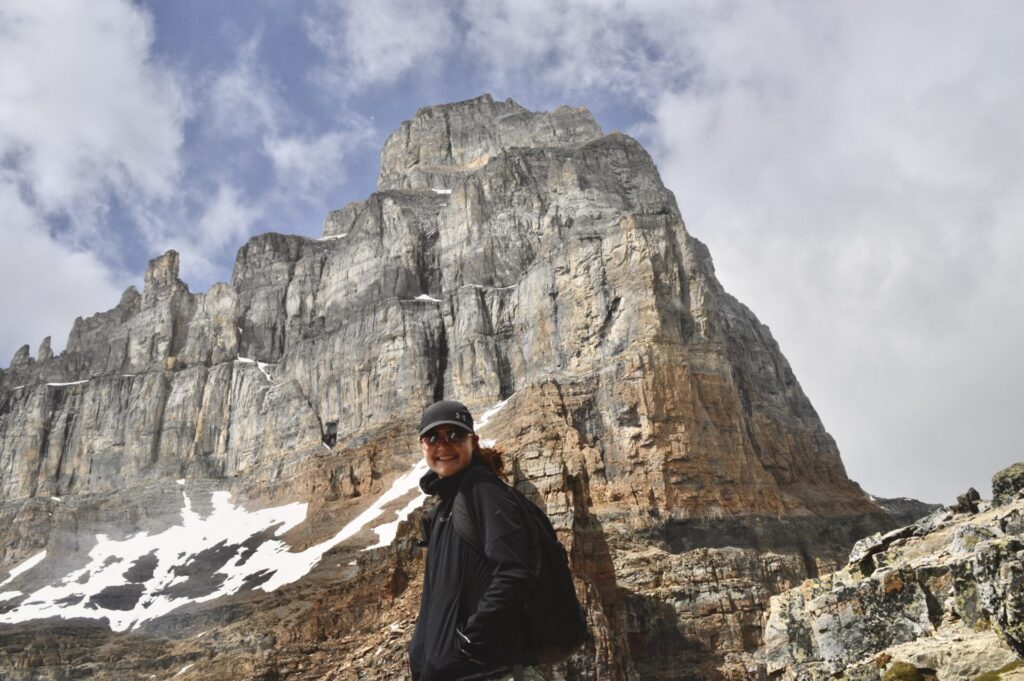 Follow The Holistic Backpacker's Adventures on Socials:
Keep Up With My Adventures!
Sign up for my newsletter and stay up-to-date with my latest adventures, gear guides, and eco-resources!
Taylor ♡
Hiking To Sentinel Pass
Sentinel Pass Trailhead to Larch Valley
The Sentinel Pass hike starts out at Banff's beautiful Moraine Lake. From the parking lot you'll want to walk straight past the Moraine Lake Lodge and follow the trail signs for Larch Valley.
You'll initially be following switchbacks up the mountains in a forested area, however there'll be a few instances where you'll see Moraine Lake peeking through the trees. You'll notice that Moraine Lake gets significantly bluer the higher you hike up!
The switchbacks last for 2.4km. Once you reach the end you'll find a fork in the trail; you can hike left for Eiffel Lake or right for Sentinel Pass. 0.8km past this the trail will split one more time where hikers can go left for Eiffel Peak or right for Sentinel Pass.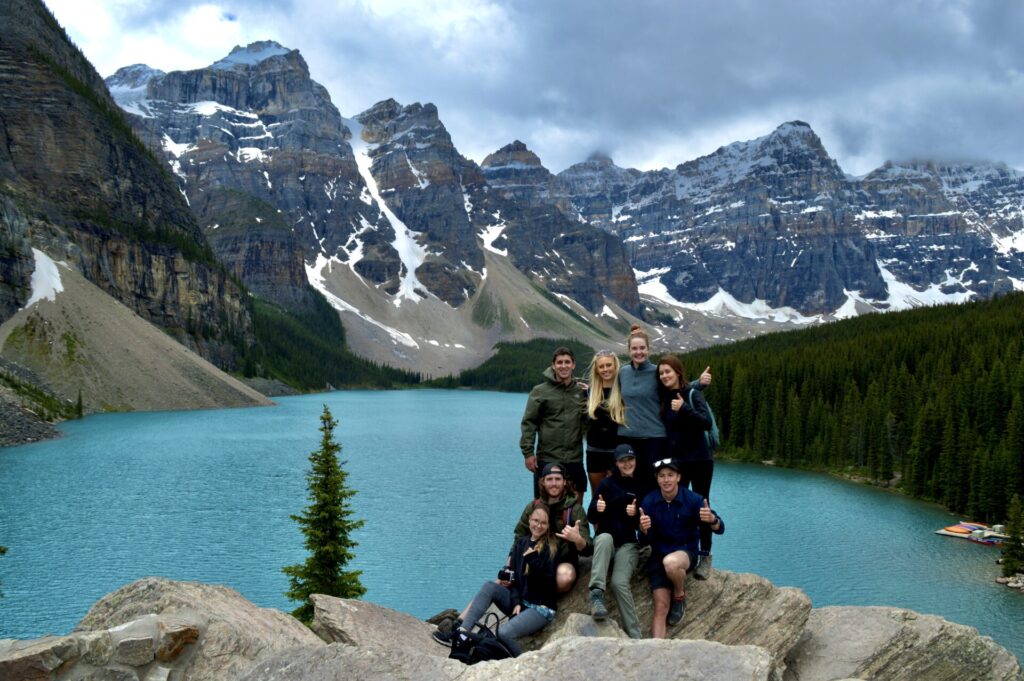 Larch Valley
Shortly after the forks in the trail, you'll emerge into the gorgeous Larch Valley. For those new to hiking, you have the option of skipping Sentinel Pass entirely and only completing the Larch Valley hike. I can assure that you won't be disappointed if you only hike to the valley!
During summer you'll find lush green Larch trees backed by the picturesque Valley of the 10 Peaks, but in Fall these Larch trees turn yellow and the whole Valley has a beautiful golden hue.
Larch Valley is flat for the most part, so this is an excellent place to stop, have a snack, and rest up before continuing on to Sentinel Pass.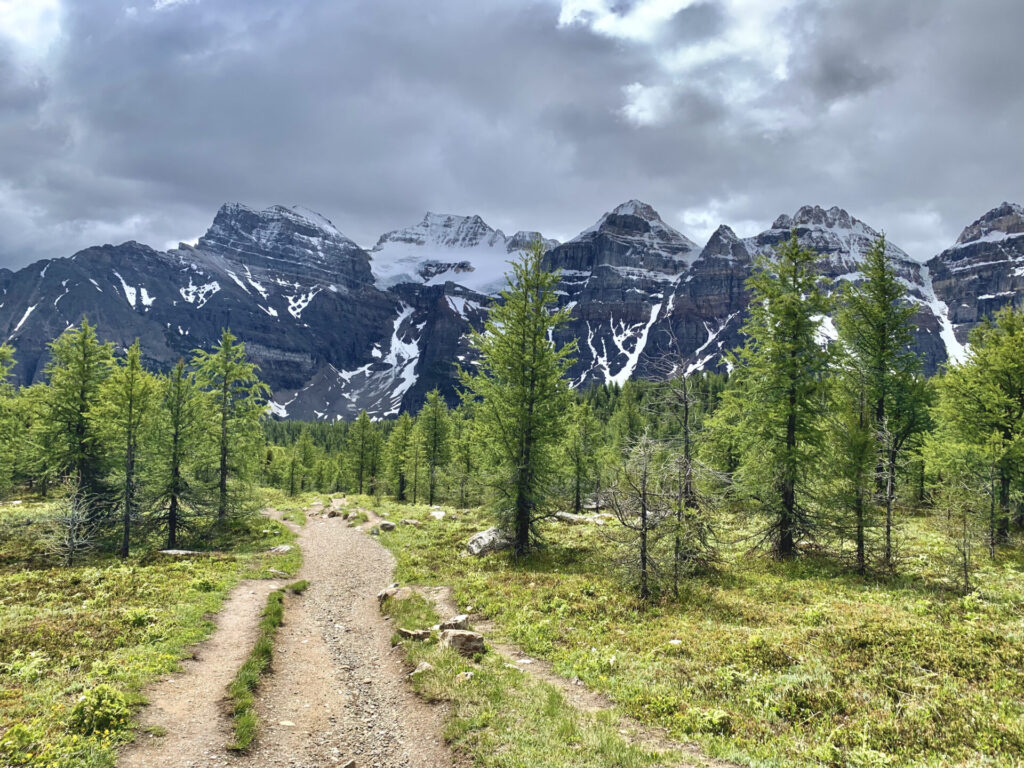 Minnestima Lakes
Before the final ascent, you'll notice the Minnestima Lakes. There are typically a few of these lakes scattered around the area, however when I hiked to Sentinel Pass there was still lots of snow which meant most of the lakes were still covered.
I did grab some water from the biggest Minnestima Lake though – man oh man was that the freshest water I've ever tasted!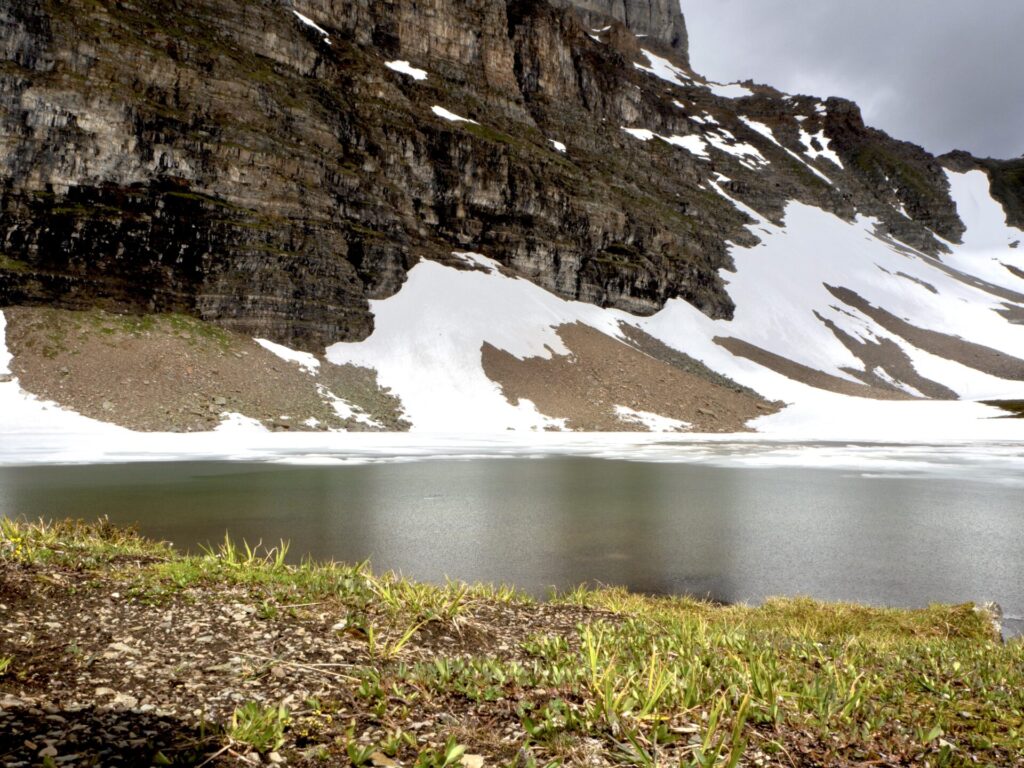 Final Ascent: Sentinel Pass
The final trudge up Sentinel Pass is steep and it was covered in snow when I hiked it. For reference, my friends and I completed the Sentinel Pass hike in July. Micro-spikes are definitely recommended if you plan on hiking this before then.
You'll follow a few switchbacks up the final section which is nice because it breaks up the elevation.
Something I'd definitely recommend is waiting until you reach the pass to look back at the view down Larch Valley… It only gets better the higher you hike up!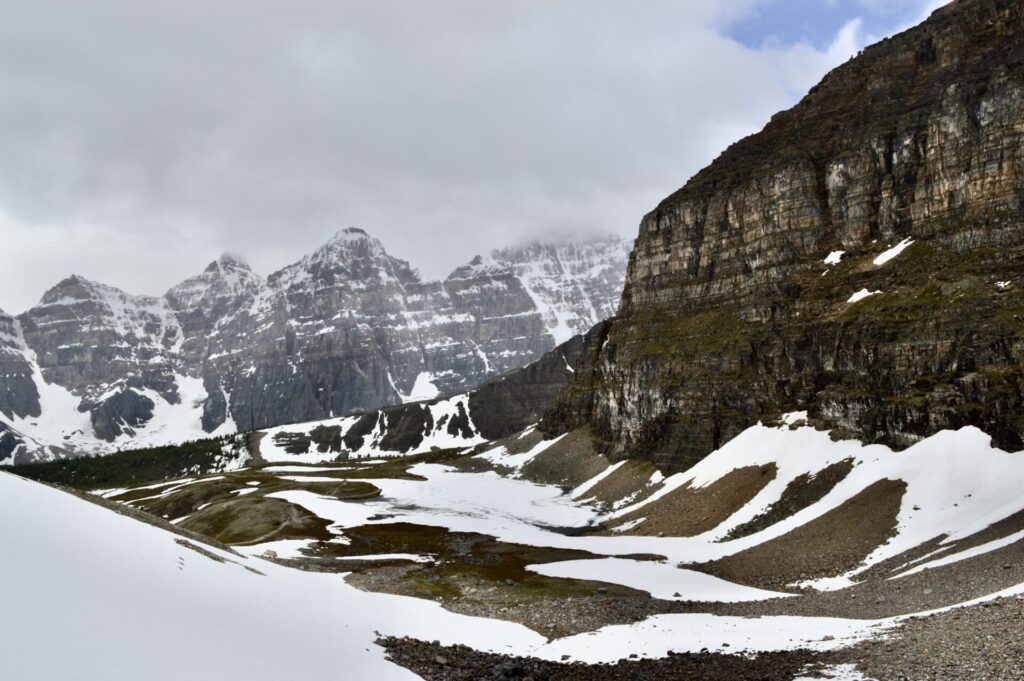 What To Expect at Sentinel Pass
No matter the time of year you complete the Sentinel Pass hike you'll want to bring warm layers; it's DAMN cold up there! This was one of my first "higher elevation" hikes when I moved to Banff, and I definitely didn't dress appropriately. My hoody and spring jacket were not the best combo for snowy mountain hiking.
I've since learned from my experience and have discovered that a puffer jacket or fleece accompanied by a waterproof jacket are the best layers for hiking the Rockies. I have the jackets I use linked here, but I also go over everything I wear hiking in detail here.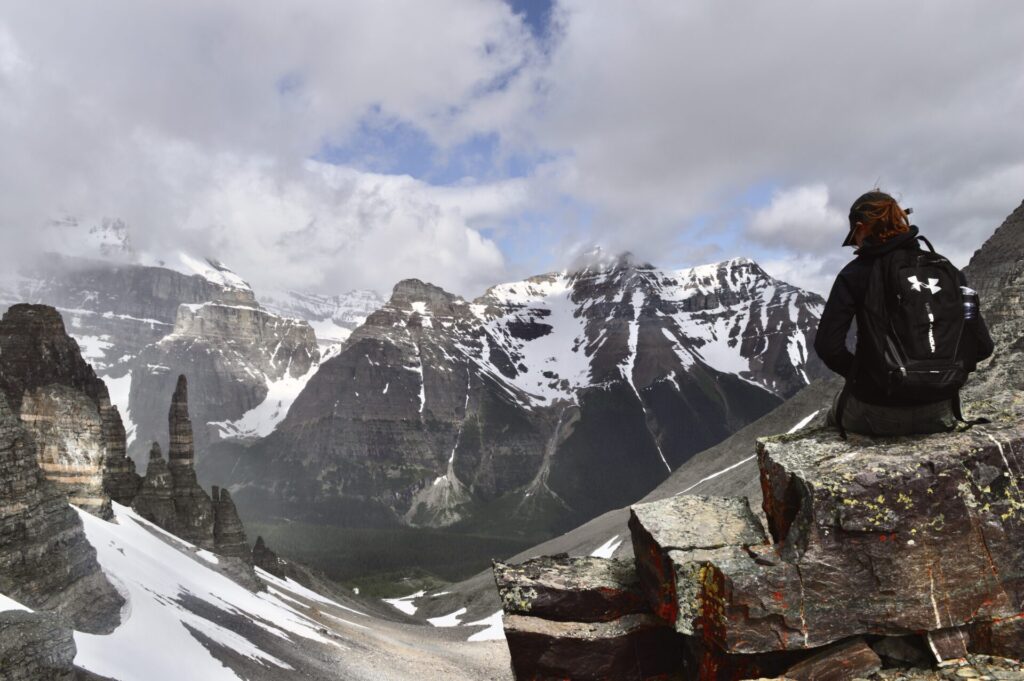 Something really interesting you'll see from Sentinel Pass are a few hoodoo style rocks. These are not common in Banff, however you can find lots at Writing on Stone Provincial Park.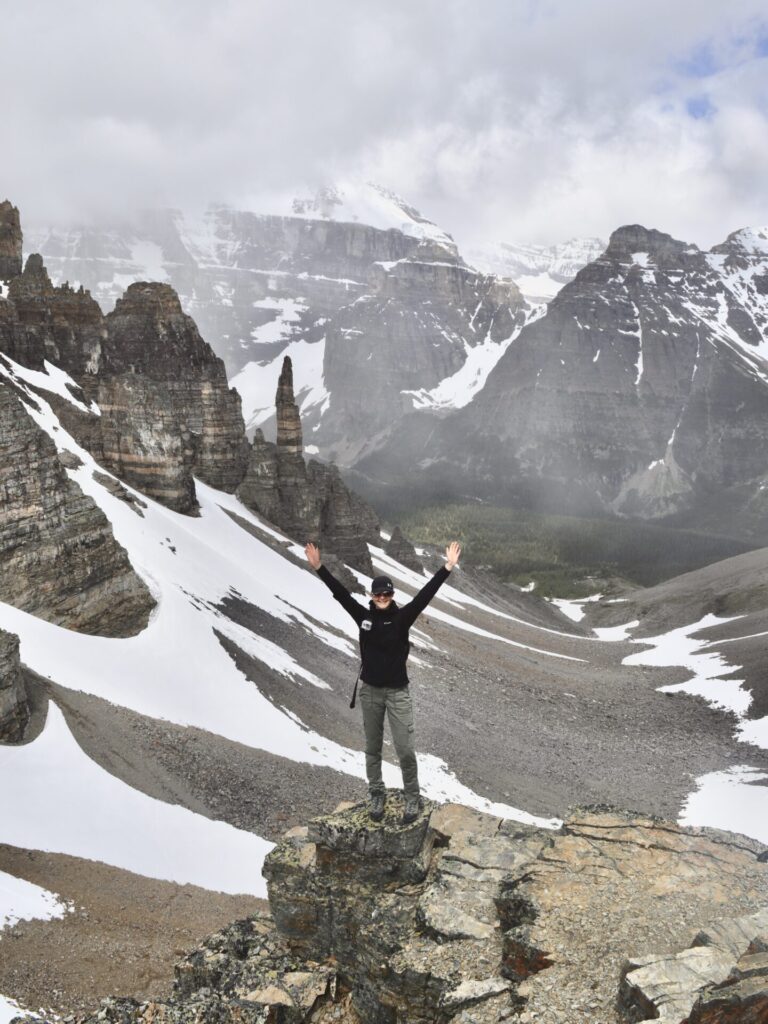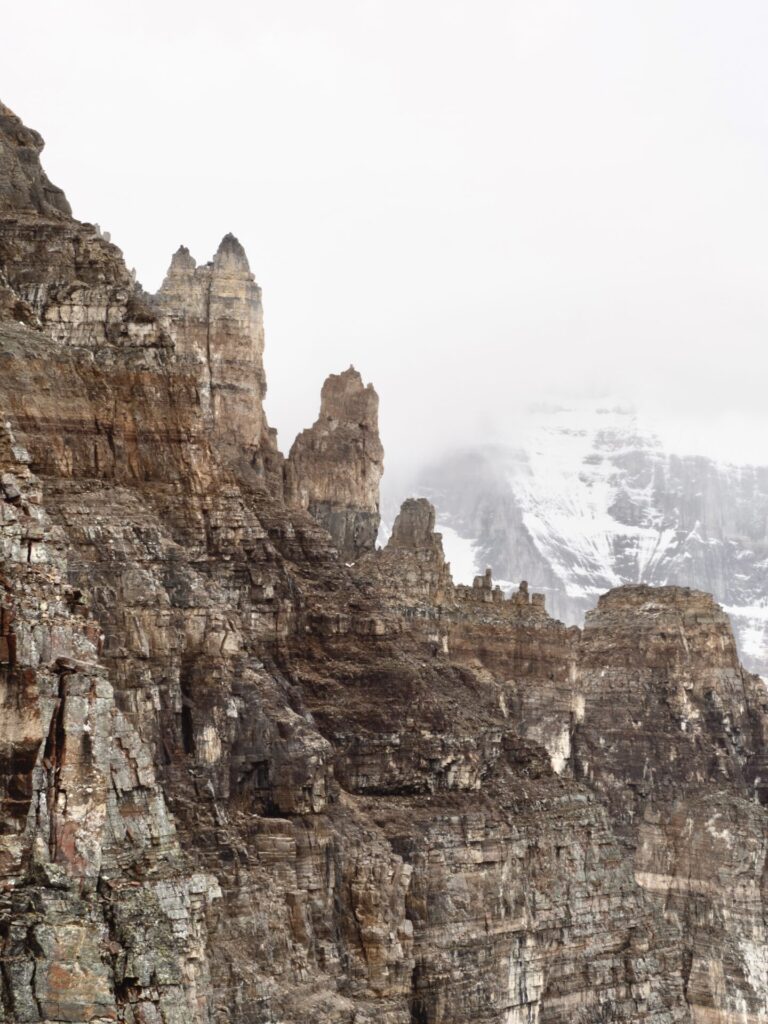 You can also expect to find lots of little chipmunks who love to steal your snacks at Sentinel Pass.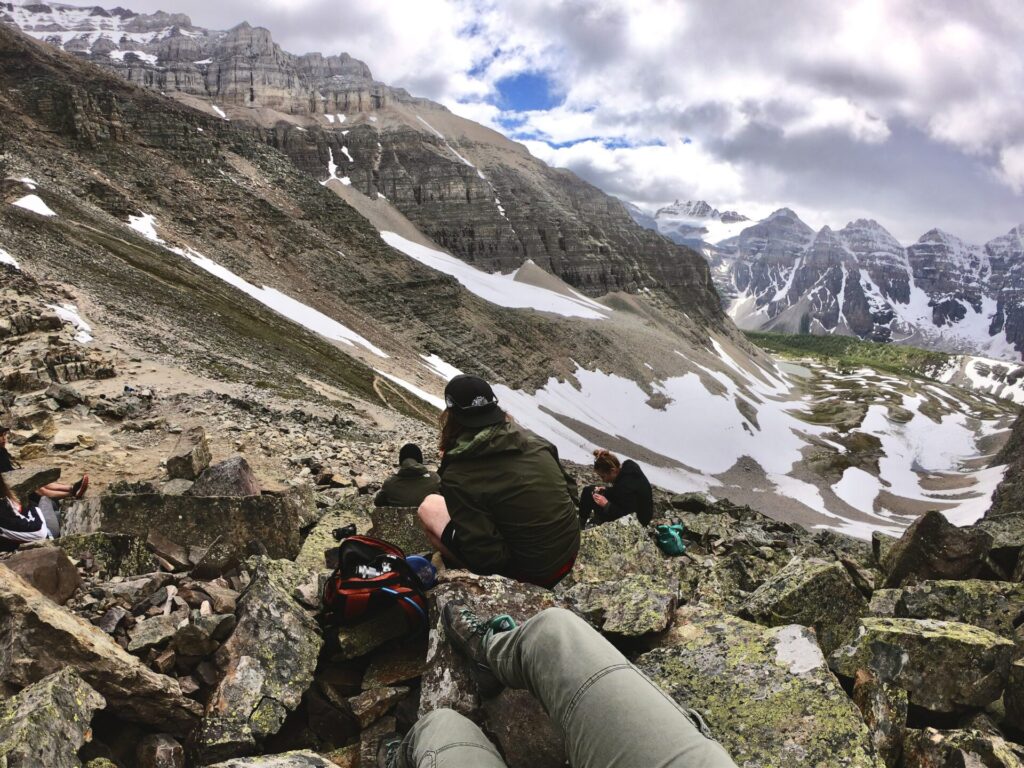 From Sentinel Pass you have one final option to extend your hike; Mount Temple. This is the biggest, baddest mountain in Banff and is only recommended for experienced adventurers with scrambling/rock climbing experience.
Here's one hiker's experience summiting Mount Temple.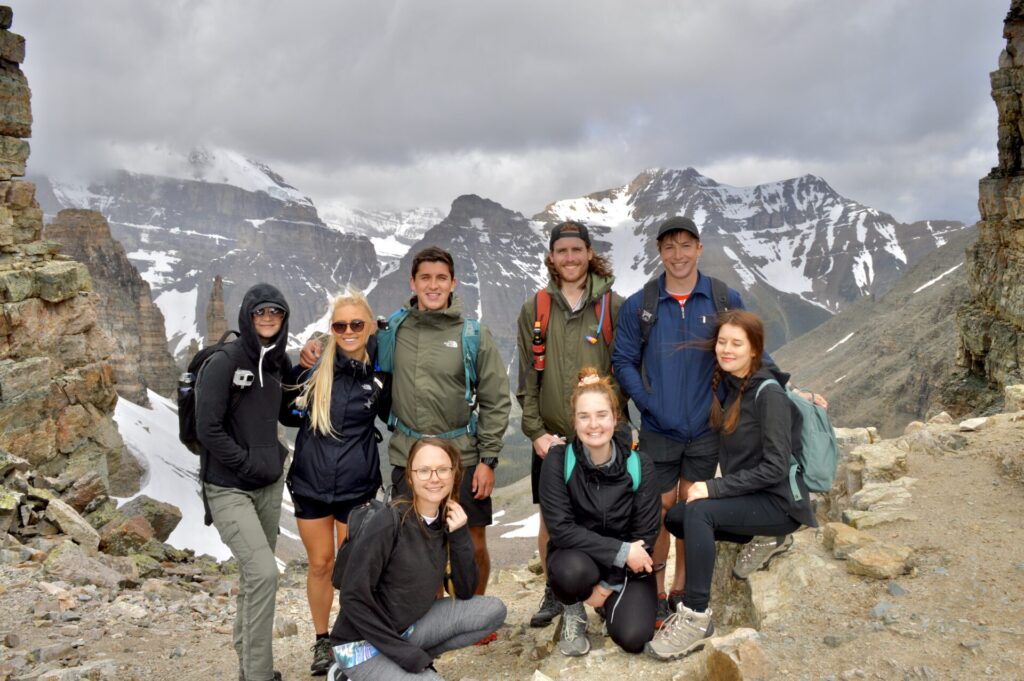 Return Hike
On the way down from Sentinel Pass a few of my friends actually slid right down the snow rather than walking down! This was quite funny to watch, but I was nervous that I'd pickup too much speed and get hurt. I totally chickened out and made the long walk back instead.
On the return hike make sure you visit the little stream that flows down from the mountaintops and the Minnestima Lakes. You can find it by hiking more to your right on the way back from Sentinel Pass.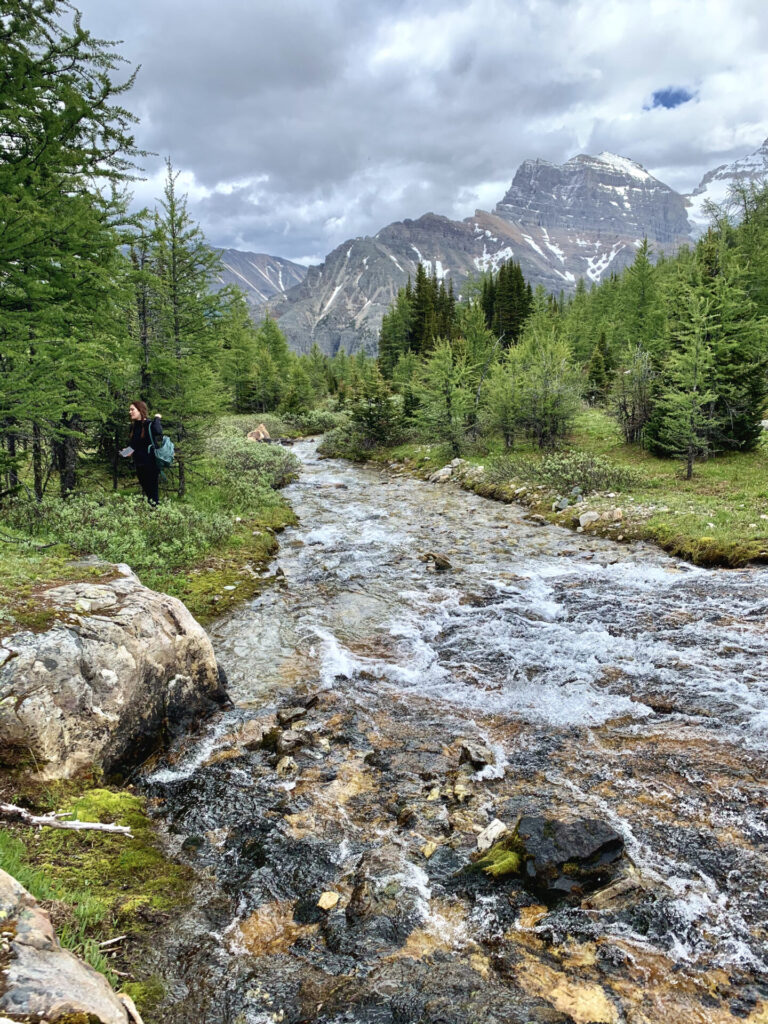 Next I'll go over what to wear hiking in the Rockies, hiking gear for the Rockies, as well as tips for a successful hike and the best places to stay in Banff.
---
Looking for More Banff Adventures?
Banff is an adventurer's & view seeker's paradise. If you're planning a trip to this gorgeous Canadian Park, you can start with this step-by-step guide designed to help you plan the perfect Banff itinerary.
Alternatively, check out this page with all my Banff resources.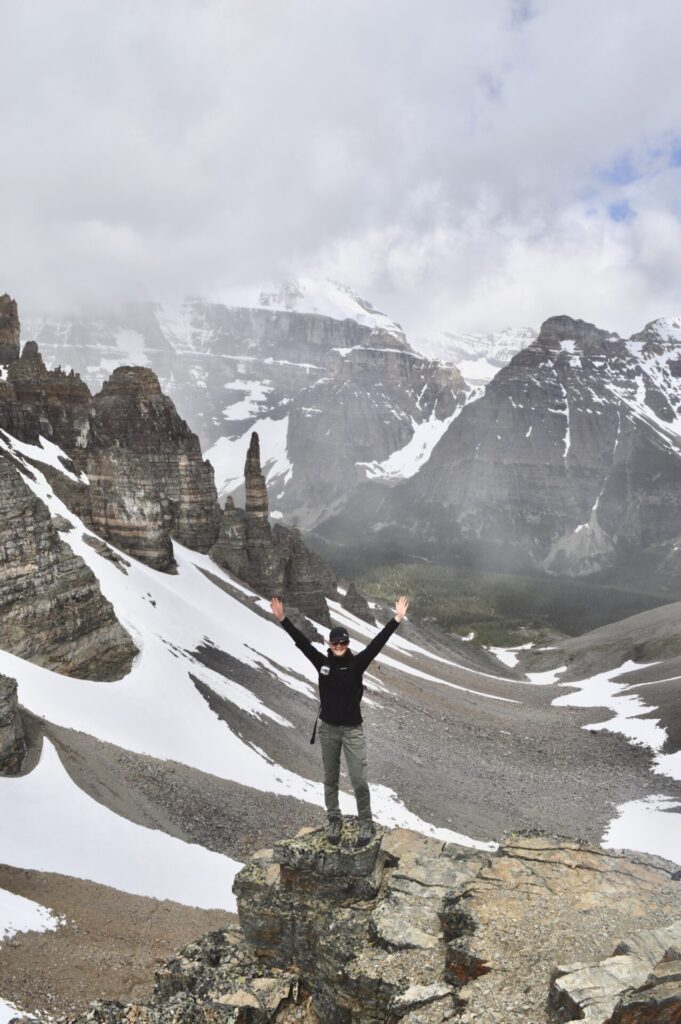 Want to continue your Canadian Rockies expedition outside of Banff? Check out my trail guides & travel resources for British Columbia and Kananaskis Country as well as Jasper, Waterton, Yoho, and Kootenay National Parks 🙂
---
Recommended Hiking Gear
The following items are some of my favourites – I never hit the trail without them!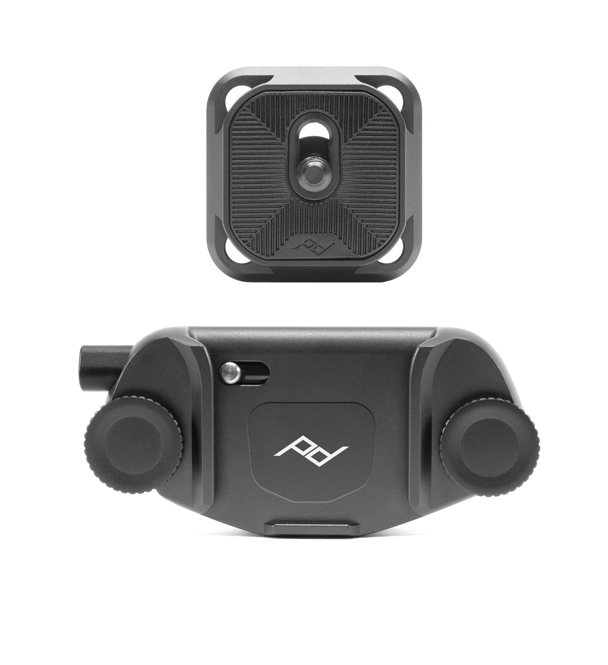 The Capture Clip by Peak Design is a sturdy, safe, and super convenient way to carry your camera while hiking or backpacking.
Find it on Amazon (CAD).
Find it on Peak Design (US).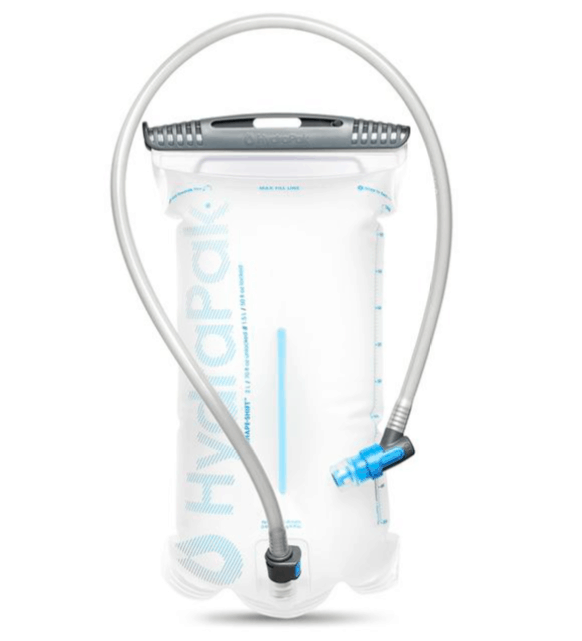 A hydration reservoir is SO important. It holds 2L+ of water and keeps you hydrated on-trail. I use the 2L Hydrapak; it never leaks and has a detachable tube.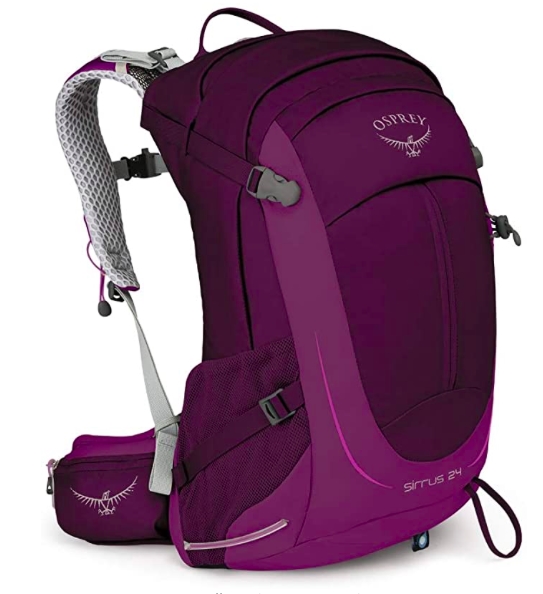 Things to look for in a good quality day-pack: sternum strap, hip belt (with pockets), and a breathable mesh system for your back. I use the Osprey Sirrus 24L pack (men's version) and I LOVE it!
---
What To Wear Hiking in the Rockies
For a detailed guide on what to wear hiking in the Canadian Rockies, check out this post.
Choosing what to wear hiking can be confusing, but the secret to properly dressing for a hike is layering. You can mix and match the tops and bottoms you already own to make up your base layers, however in addition to those clothes you'll need a few extra things:
A waterproof jacket is the most important layer for hiking – it keeps you warm and protects you from wind and rain. I use the Marmot Eco Precip Jacket (men's version) which is totally a bang-for-your-buck. If rain is in the forecast, don't forget to pack waterproof pants (men's version) too.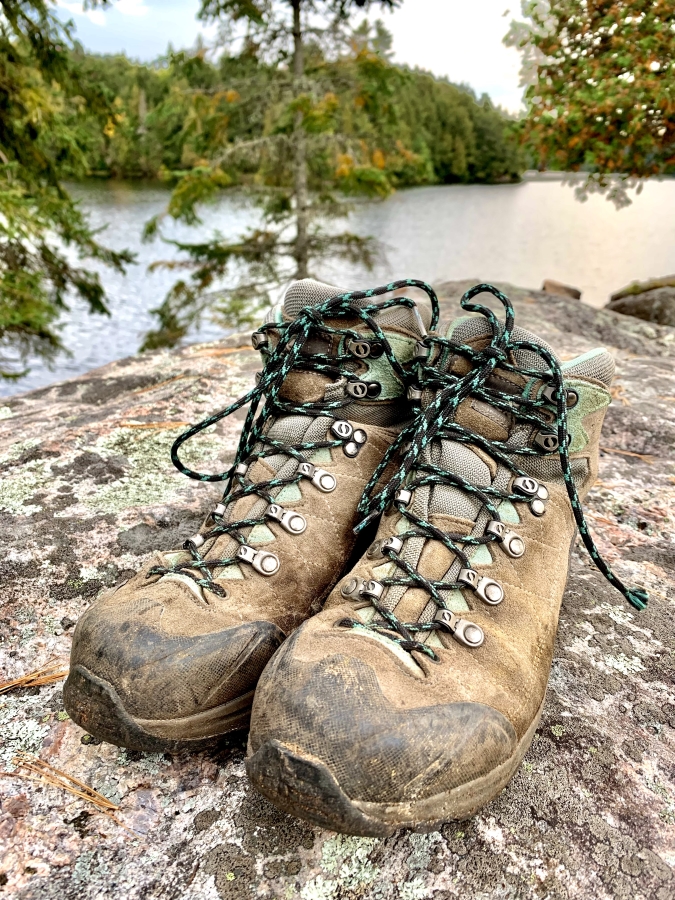 A good pair of hiking boots are Gore-tex, provide ankle support, and are durable. I use the Scarpa Kailash boot (men's version) and they've never let me down. You'll also want a good quality pair of socks. I use Smartwool – they're great quality and last an entire season.
A puffer jacket acts as your warm layer. I use the hoodless Columbia Women's Heavenly Jacket (men's version). Alternatively you can use a fleece zip – I have this one (men's version) from Columbia. Both of these options are perfect layers to keep you warm on windy, cold, or high elevation hikes.
Rocky Mountain hiking exposes you to different natural elements and conditions – it's imperative that you're prepared for whatever nature throws at you. Trust me, I've learned the hard way!
More: Day-hiking Gear Guide
More: What to Wear Hiking in the Canadian Rockies
Tips For A Successful Hike
Utilize Banff's public transit options to get to the Sentinel Pass trailhead rather than drive
Dress warm! I hiked to Sentinel Pass in July and there was still lots of snow. I recommend these layers for hiking in the Rockies
The Larch Valley hike is perfect for fall because the Larch trees turn yellow
This is a very popular hike, so if you want to avoid crowds of people start early
Bring micro-spikes for extra grip in the snowy section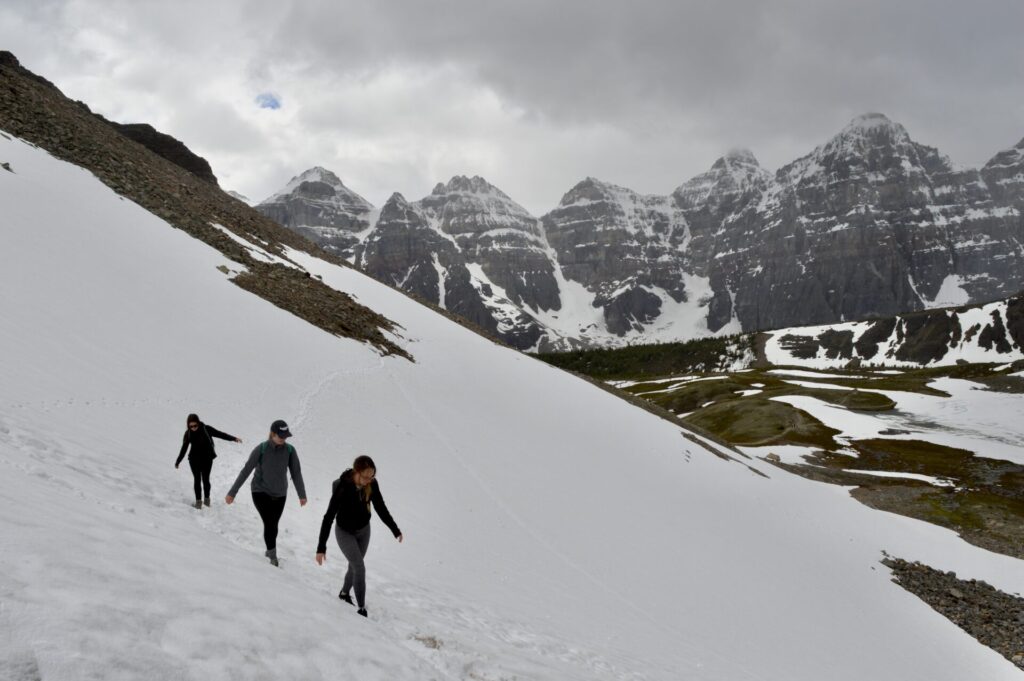 Where to Stay in Banff
More: Plan Your Trip to Banff: A Step by Step Guide
The "best" place to stay in Banff depends on your price range and what you're looking for. There are a few ways to go about finding accommodations in Banff according to each price range:
Find all accommodations in Banff here.
Iconic Banff hotels: Fairmont Banff Springs, Fairmont Chateau Lake Louise, The Rimrock Resort hotel, and Sunshine Mountain Lodge (ski in/ski out at Sunshine Village).
Popular hotels in Banff: Mount Royal, Elk & Avenue, Juniper Hotel & Bistro, Banff Park Lodge, and The Banff Caribou.
Budget accommodations in Banff: there are numerous hostels in Banff, The Dorothy Motel, Blue Mountain Lodge Bed & Breakfast, Banff Rocky Mountain Resort.
Iconic hotels near Banff: Emerald Lake Lodge (Yoho), Prince of Wales (Waterton), Mount Engadine Lodge(Kananaskis Country), Fairmont Jasper Park Lodge (Jasper).
Tips for Saving Money on Accommodations
I won't lie, Banff can be a pretty expensive place to travel (but worth every penny). So, to help you offset some of the costs of your trip, here are tips for saving on accommodations in Banff:
More: Plan Your Trip to Banff: A Step by Step Guide
Happy adventuring!
Taylor ♡
---
Like This Post?
Share with friends or save it for later!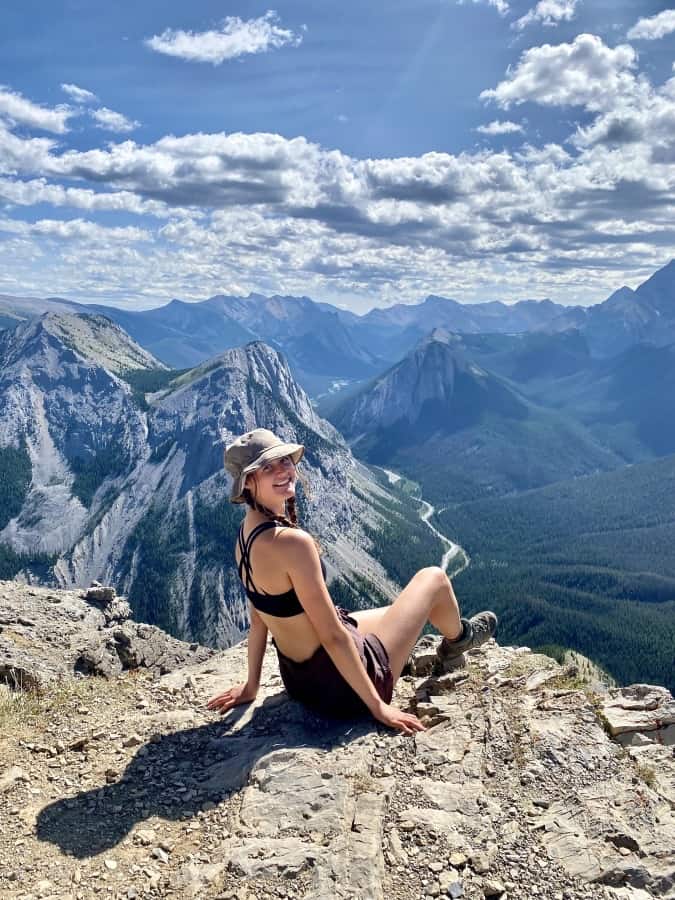 About The Author
---
Hey! I'm Taylor – the voice behind The Holistic Backpacker.
After moving to Banff National Park in 2020 I became an outdoor adventure enthusiast and vowed to never stop exploring.
I'm now focused on travelling the world and seeing everything our beautiful home has to offer.
I created The Holistic Backpacker so I could share my adventures and help connect people like you with the same amazing experiences.
I am also an advocate for the environment and do as much as I can to take care of our planet.
Get to know me and my story more here 🙂
I can't wait to share my adventures with you!