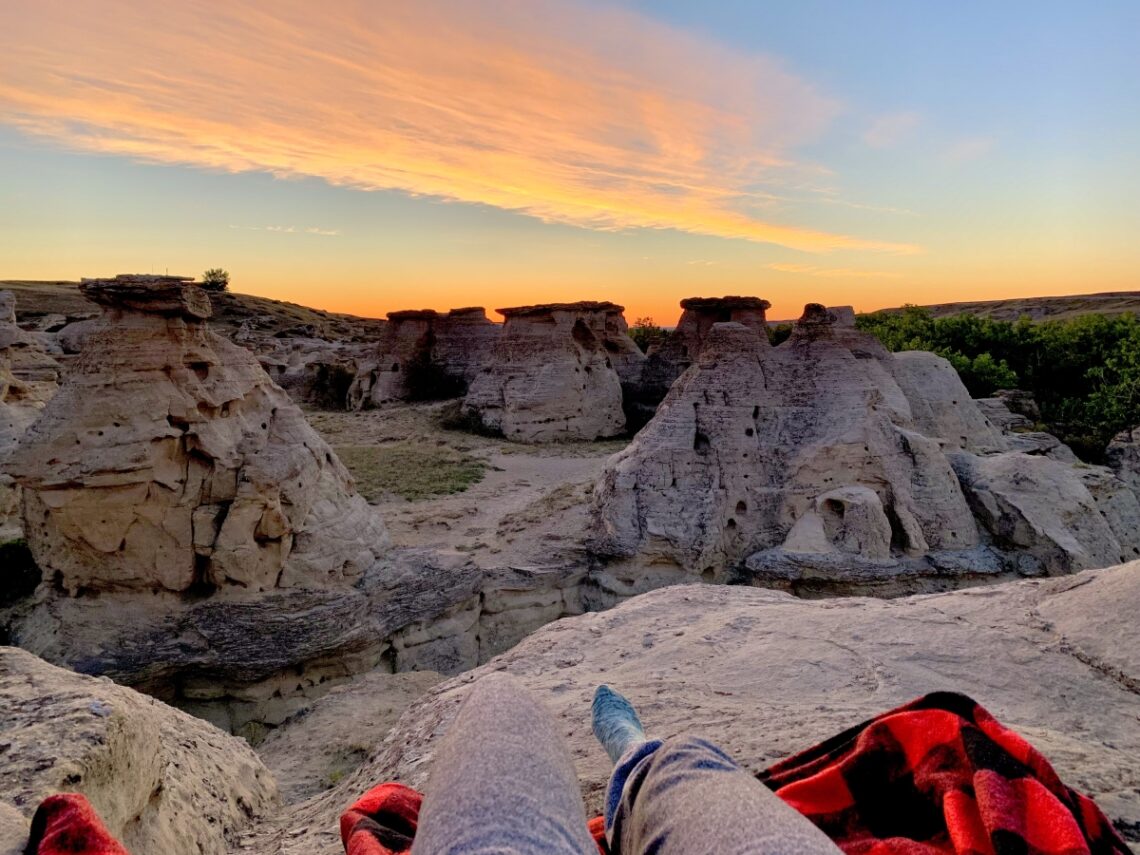 Writing On Stone Provincial Park: Camping, Hiking, Hoodoos
When I first moved out to Banff National Park, I'd never heard of Writing on Stone Provincial Park or the Writing on Stone hoodoos. It was recommended to me though, so I thought I'd check it out while I was visiting Waterton Lakes National Park.
Turns out, Writing on Stone is one of Alberta's hidden gems! The park is so unique and much different than what you'd typically picture when you think of Alberta. Writing on Stone is located in the badlands, so you'll find coulees and hoodoos in what seems like the most barren, desolated land.
You can easily see/do everything in a day, so if you're planning on hiking and camping in Writing on Stone, budget maximum 2 days. If you're looking to extend your trip, consider adding Waterton Lakes to your itinerary.
Here I'll share the coolest things to do in the Park, where to stay, and my favourite experience I had.
Let's go on an adventure!
Skip Ahead:
This post contains affiliate links; see my full disclosure. If you click these links and make a purchase you're supporting The Holistic Backpacker. Thanks for your support & happy adventuring! – Taylor ♡
---
---
Getting to Writing on Stone Provincial Park
Writing on Stone is located in the badlands of southern Alberta. To get to Writing on Stone, aim to head west on highway 501 from Milk River and then turn off at highway 500.
The campsite and Hoodoo trail are located within the park and are all accessed from the same road/parking lot. Drive straight for the park and you will find everything you need there.
Writing on Stone is located 2 hours and 20 minutes from Waterton, half an hour from Milk River and an hour and 20 minutes from Lethbridge.
---
Where to Stay in Writing nn Stone
The best (and only) place to stay is actually at the Writing on Stone campsite. The Writing on Stone campsite offers unserviced and power sites, a nice beach on the Milk River, and direct access to the Park's famous Hoodoo Trail. Make sure to book your site online in advance because spaces are limited and they do fill up quick.
I was a moron and decided to test my luck by showing up around 7pm without a booked site. I (obviously) didn't get one which meant I had to drive back half an hour the way I just came to stay in Milk River for the night. If you can't get a spot at the Writing on Stone campsite, Milk River is your next best bet.
This actually worked out in my favour though because I drove back extremely early (thank you, insomnia) the next morning and caught sunrise atop the Hoodoos which, in my opinion, is actually the best thing to do in Writing on Stone Provincial Park (find out more)!
---
Hiking the Hoodoo Trail in Writing on Stone
If you're looking for hiking trails, you're gonna want to check out the Writing on Stone Hoodoo Trail – Writing on Stone's most impressive (and only) trail.
Distance – 5.6km
Elevation Gain – 122m
Trail Type – out & back
Estimated Time – 1.5-2 hours
Rated – moderate (very easy, in my opinion)
WARNING – you may very potentially come across rattlesnakes in the Park. Stay safe and learn what to do if you encounter one
---
The trailhead starts from the first parking lot you'll come across when entering the Park. Park here and make sure to grab information pamphlets at the trail head – they'll give you all the important geographical and historical information about the area as you go along.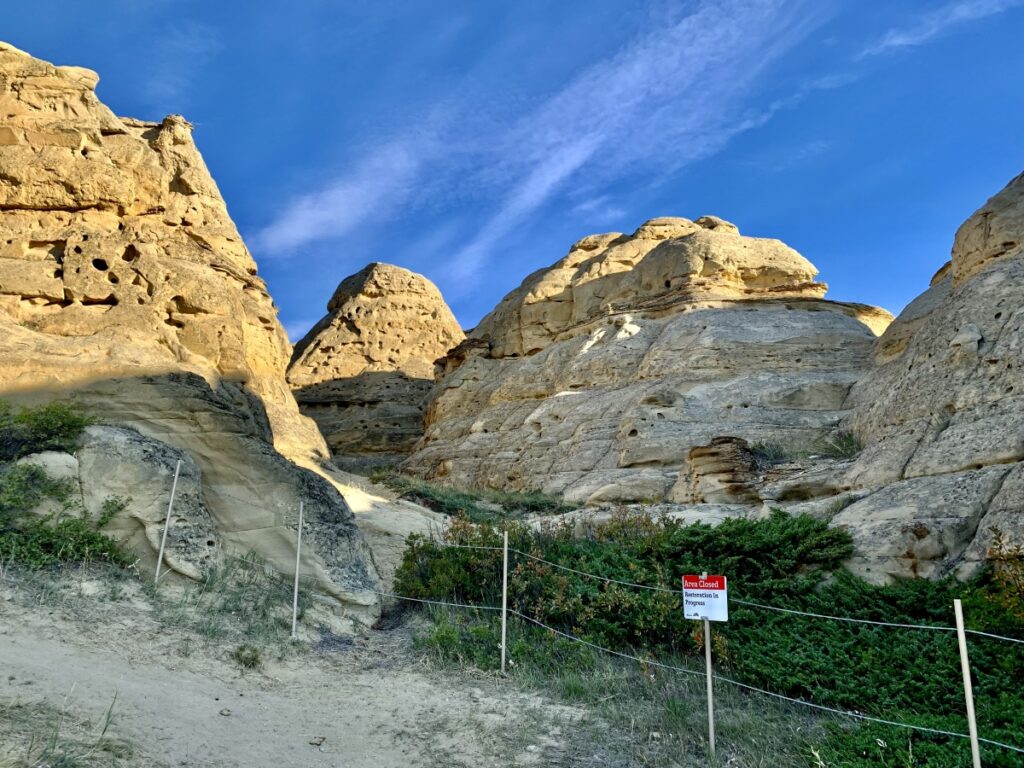 The trail is well marked and has very clear boundaries of where not to go – please respect these as they're put in place to protect the hoodoos.
As you hike through the Writing on Stone Hoodoos, you'll be up close and personal with these sandstone beauties. It feels almost as if you're walking on the moon. The landscape here is so different than the rest of Canada.
Hoodoo Trail Gallery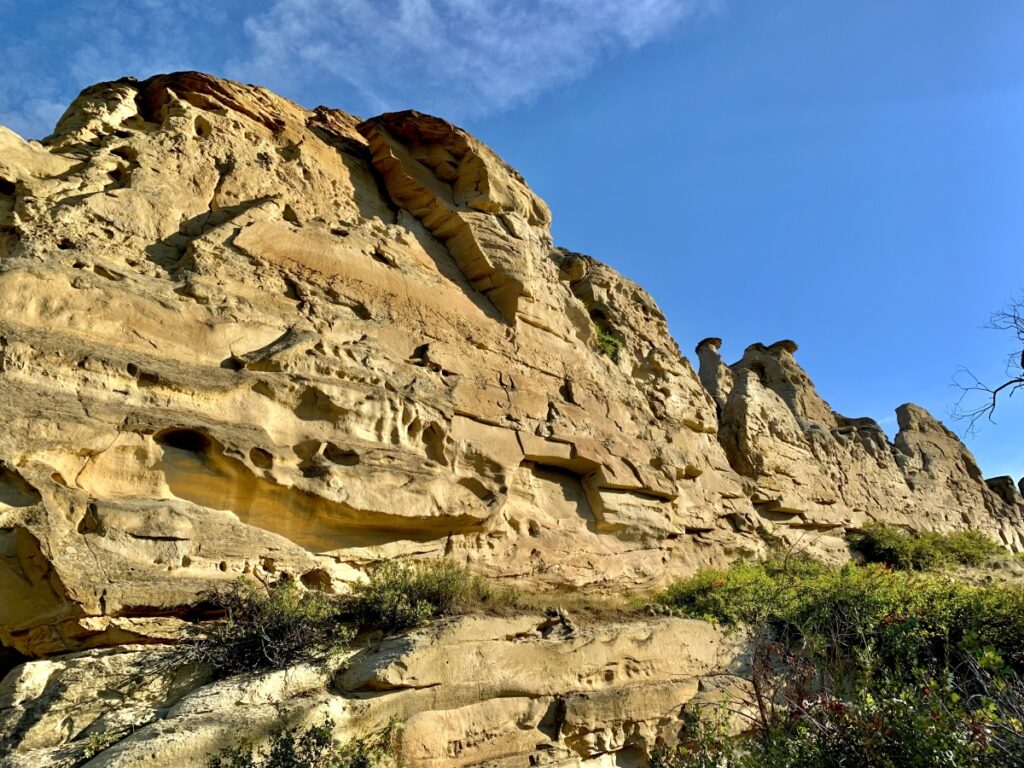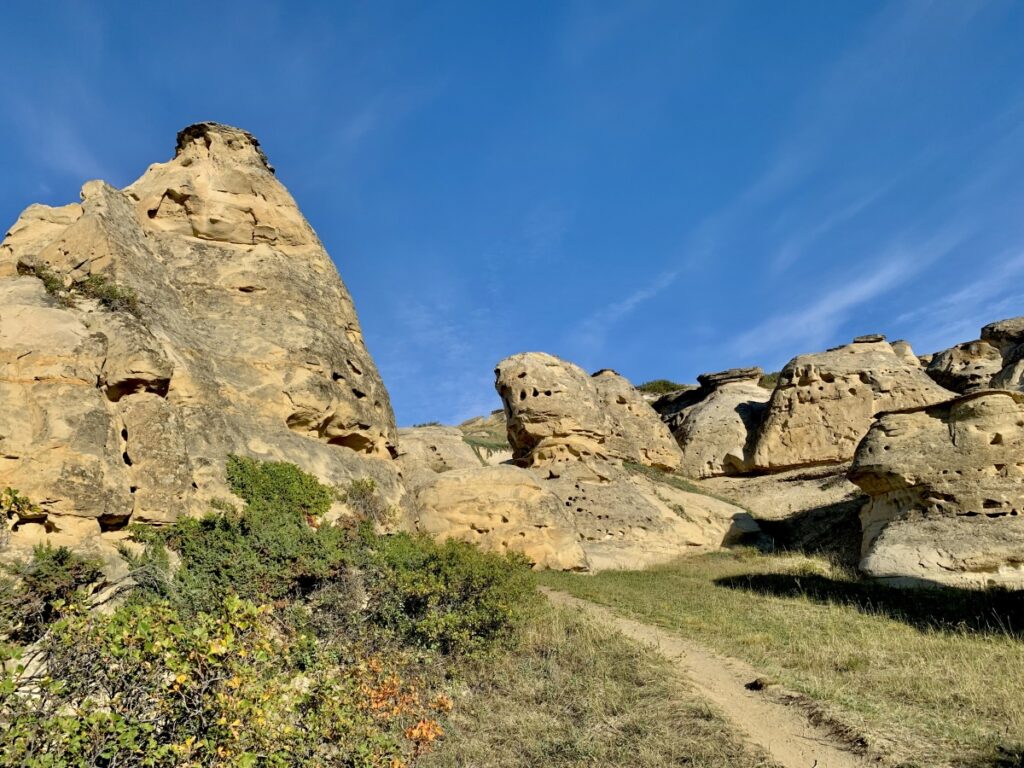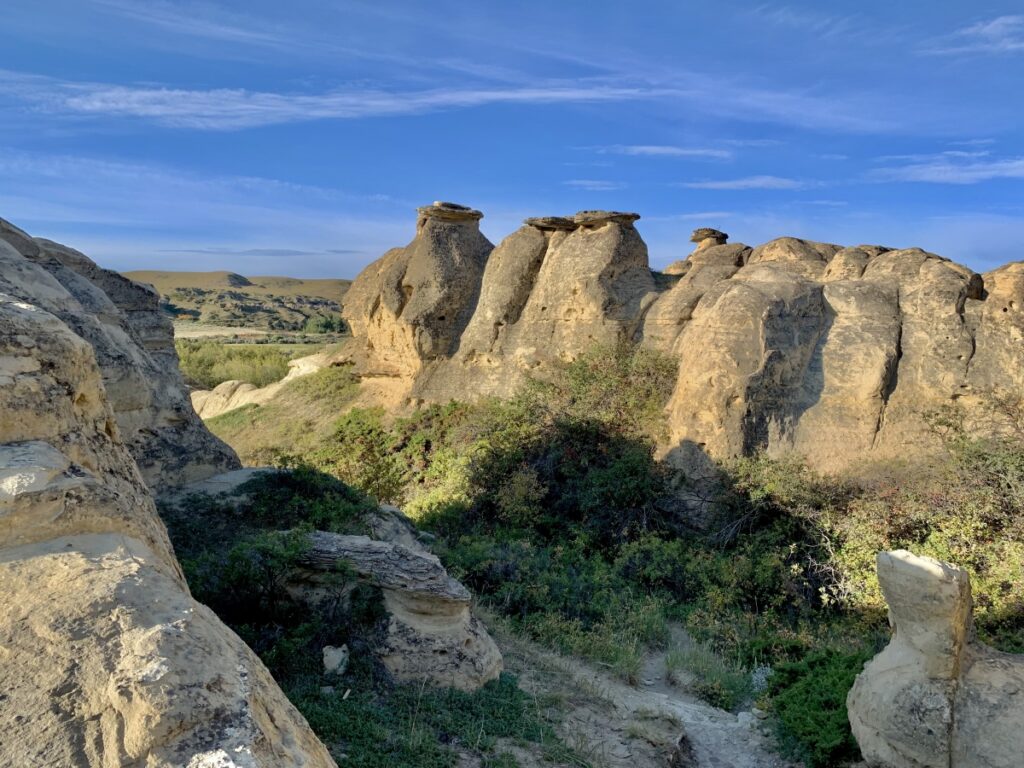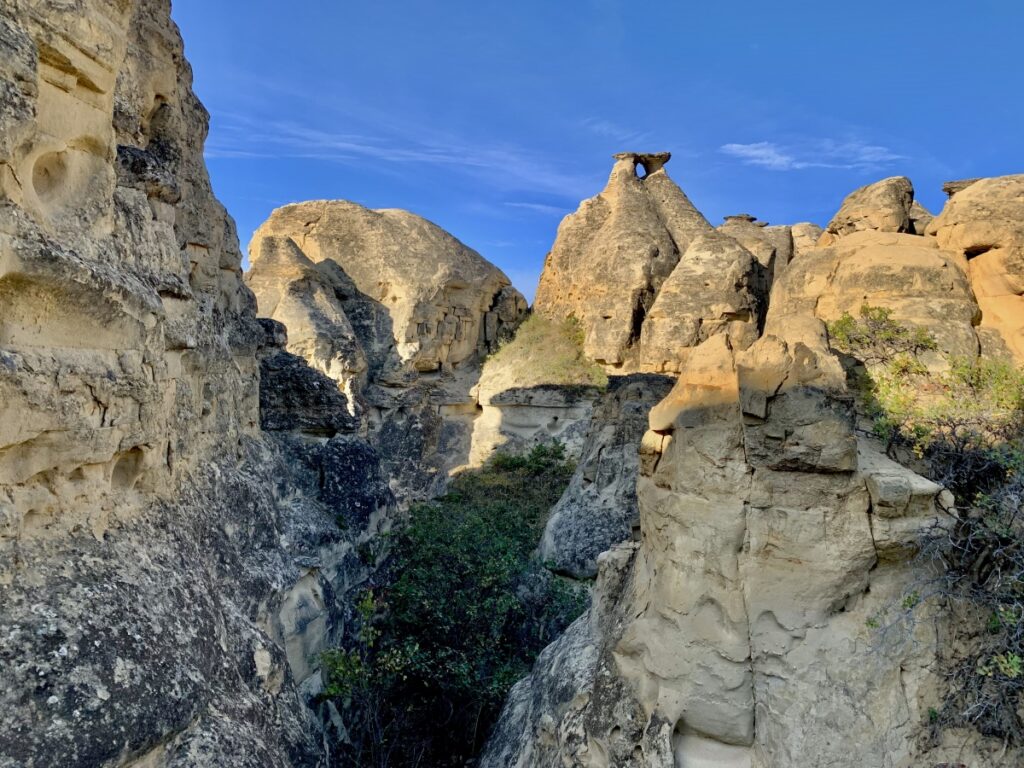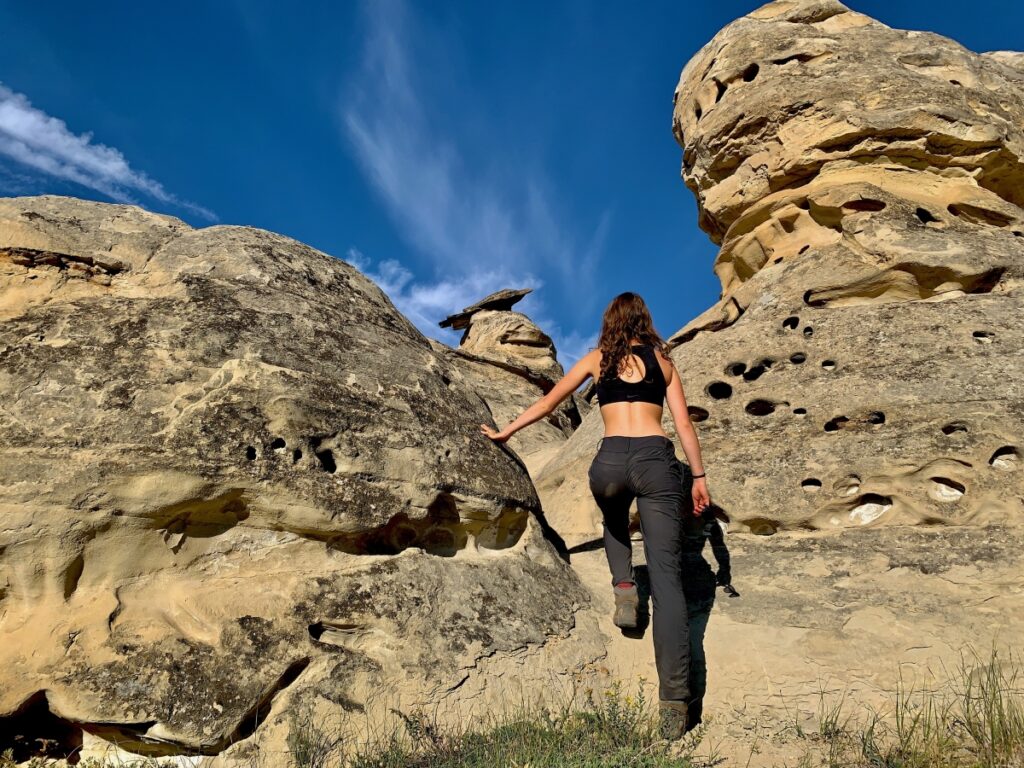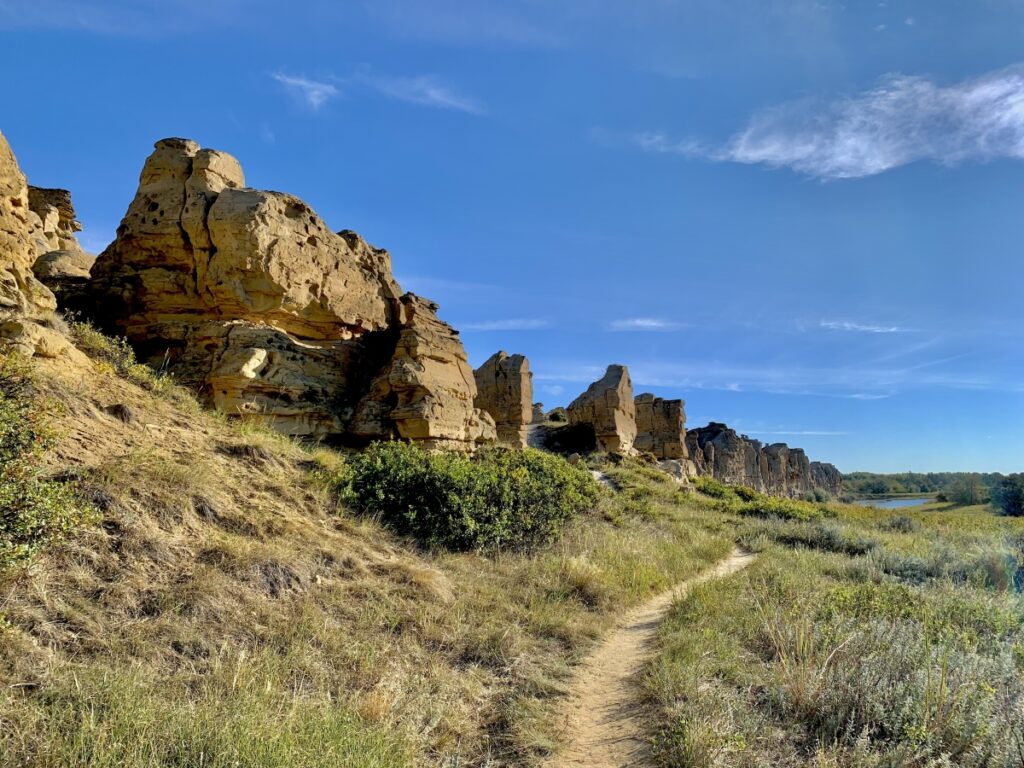 The trail winds through hoodoos of all shapes and sizes, runs along the milk river, and has lots of benches and great places to sit and enjoy the views.
Pro tip – bring a picnic and spend a day amongst the hoodoos
Points of interest
Police Coulee Lookout – This is at the furthest point of the trail and at the highest point of elevation. You'll be overlooking all the hoodoos you just walked through as well as the distant coulees.
Sweetgrass Hills – distant low mountains (across the US border) and sacred site of the Blackfoot people. See the East Butte (left), Gold Butte (middle), West Butte (right).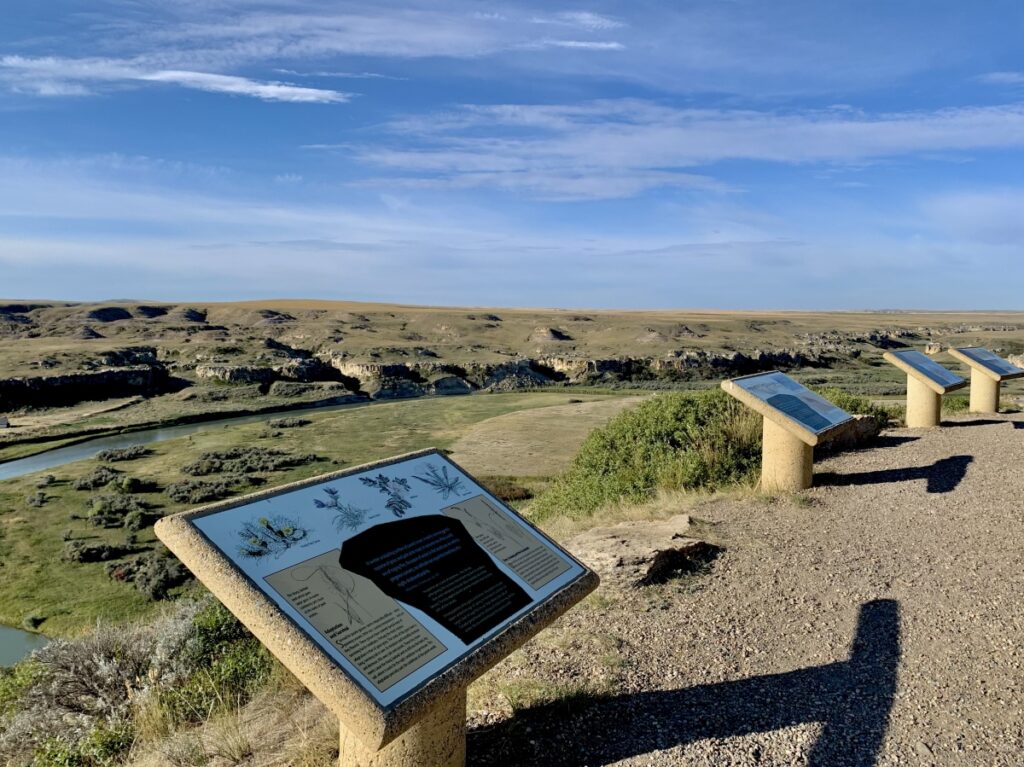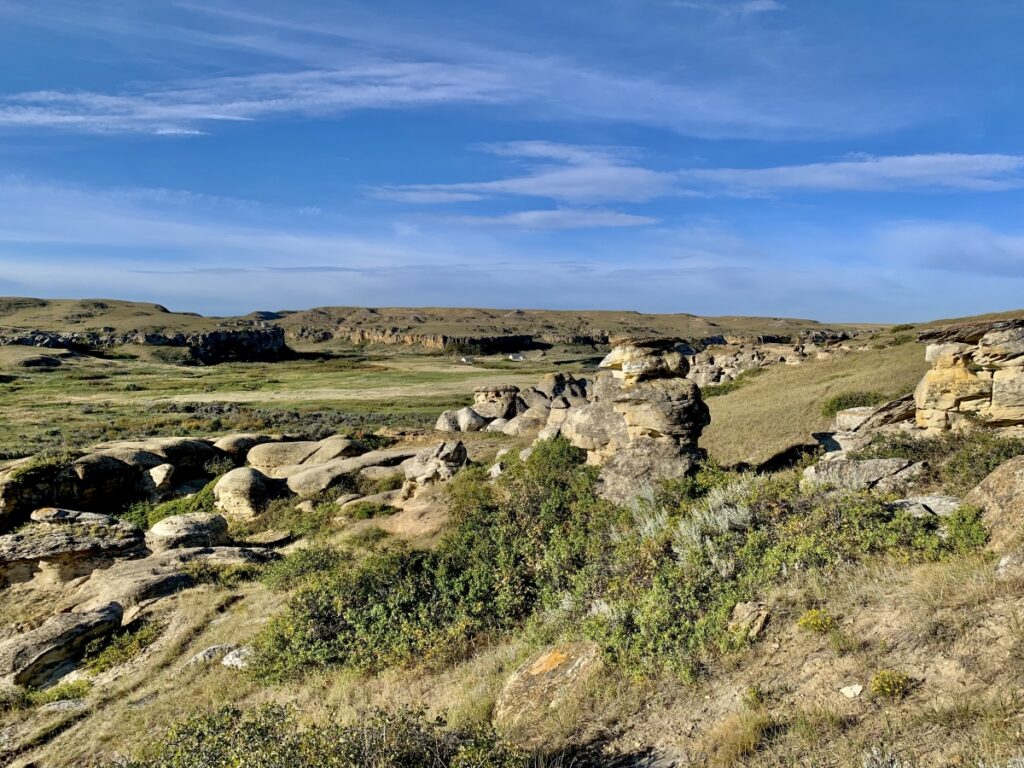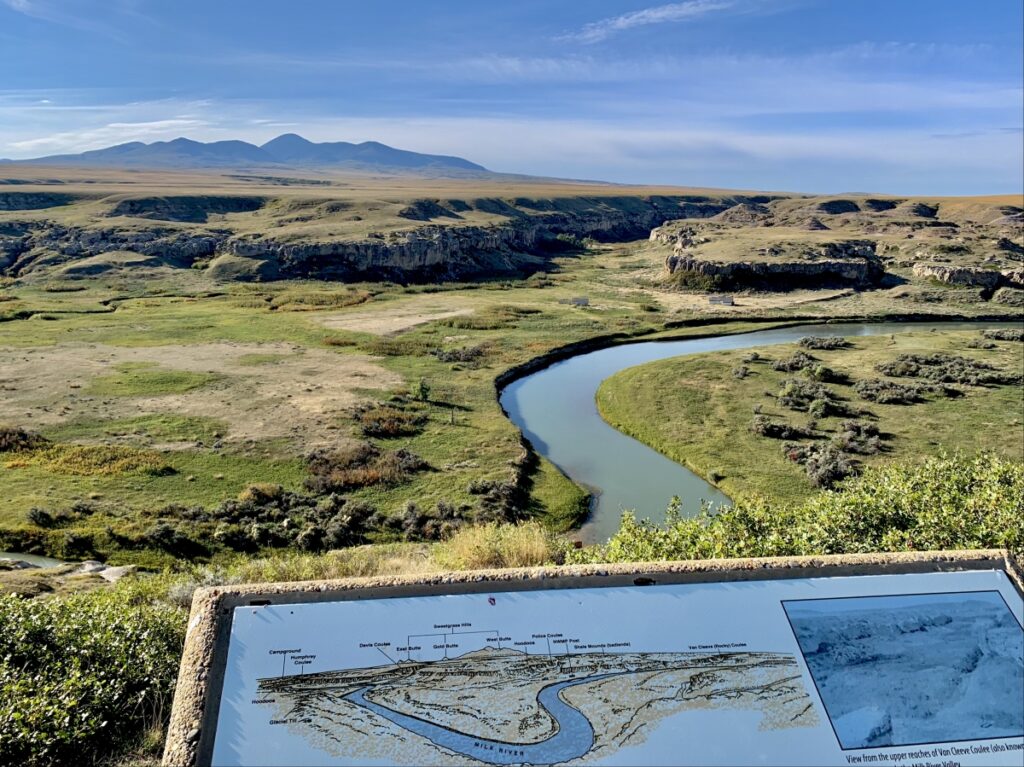 Battle Scene Petroglyph – there is a massive petroglyph off the main hoodoo trail that depicts 150 warriors.
Milk River – the Milk River is the river running parallel to the hoodoo trail. Read more facts about the Milk River.
What To Pack
Normally when I'm packing for a day-hike I pull out all the stops. I've written a detailed post here about all the gear I bring with me hiking in the Rockies, but the following is suitable for hiking in Writing on Stone:
What to Wear on the Hoodoo Trail
The hoodoo trail can get very hot and the temperature changes quickly from day to night. I started out the trail early morning wearing a toque, jacket, and gloves. By the end I had only a sports bra on! If you're hiking mid-day, dress for hot weather and if you're hiking early or late, bring some warmer layers. You'll need:
Waterproof jacket (I take a waterproof jacket with me on every hike, just in case)
Sweater or fleece layer for warmth
Follow The Holistic Backpacker's Adventures on Socials:
Keep Up With My Adventures!
Sign up for my newsletter and stay up-to-date with my latest adventures, gear guides, and eco-resources!
Taylor ♡
Best Time of Day to Hike the Trail
Photography – early morning or evening for sunrise/sunset is incredible, especially if you climb to the top of the Writing on Stone hoodoos behind the visitor centre. Photography is also good mid-day when the sun is at its highest point because you won't get massive shadows on the hoodoos
Temperature – early morning/later evening is cooler, mid-day is hot
People – Get a super early start or go later at night if you want to have the trail to yourself
---
The BEST Thing To Do In Writing On Stone
When people think of things to do here, they automatically think of the Writing on Stone hoodoo trail. I'm here to tell you there's something better…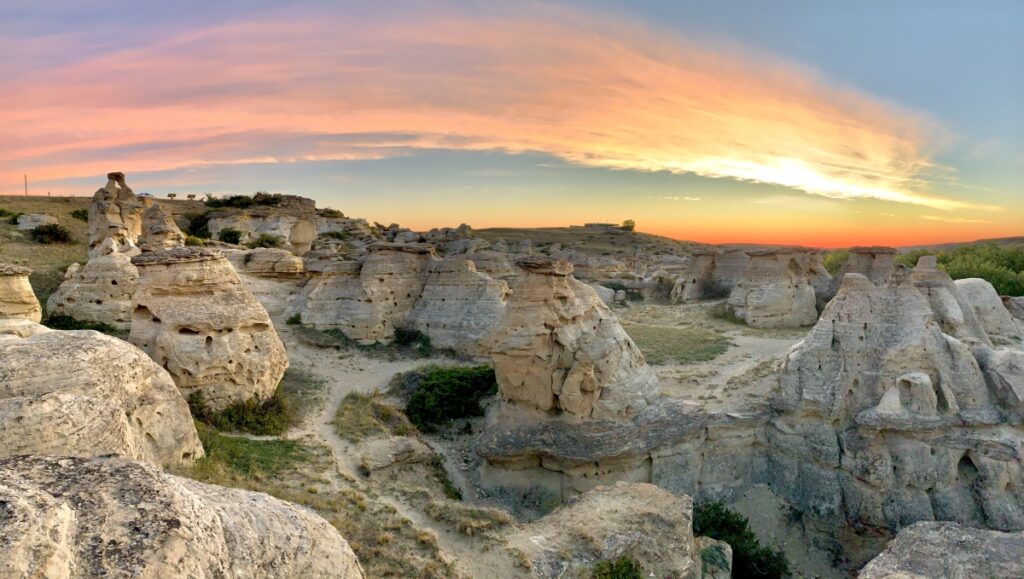 The best (and my favourite) activity in the park is actually something I stumbled upon by accident. When I got turned around and had to find elsewhere to camp, I came back bright and early the next morning so I could be the first (and only) person on the hoodoo trail.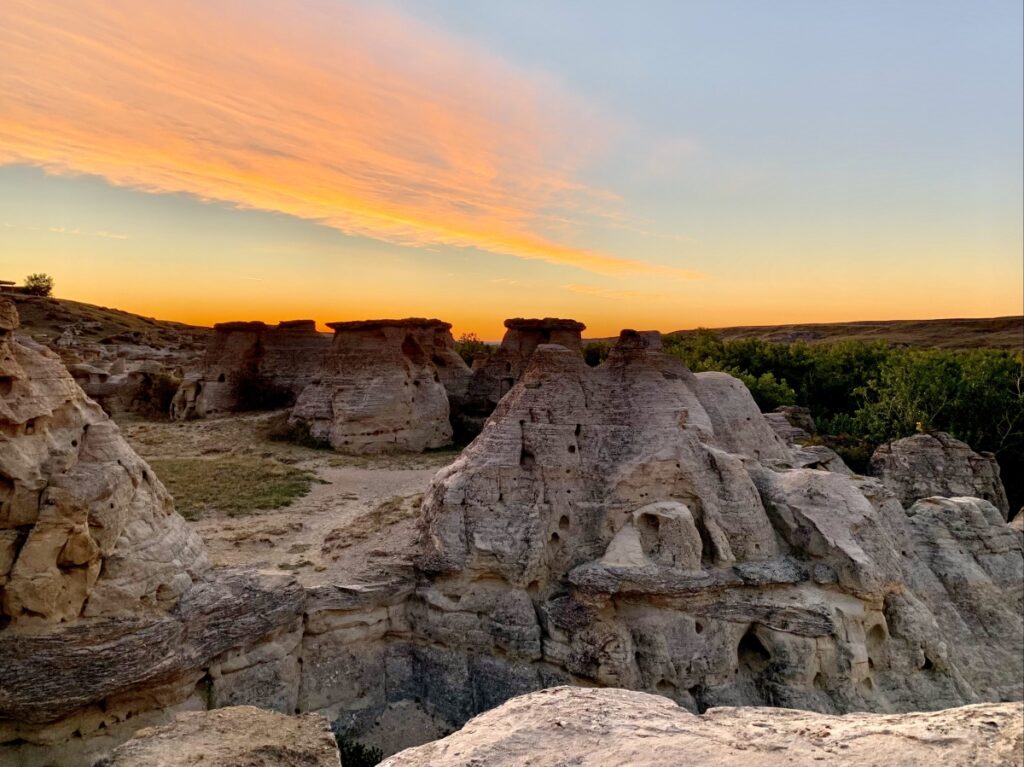 I got there so early that I was actually able to catch sunrise from the top of Writing on Stone's hoodoos! It was one of the most breathtaking and tranquil sunrises I have ever experienced. I was able to watch the sun rise above the horizon and cast its alpenglow amongst the never-ending hoodoos.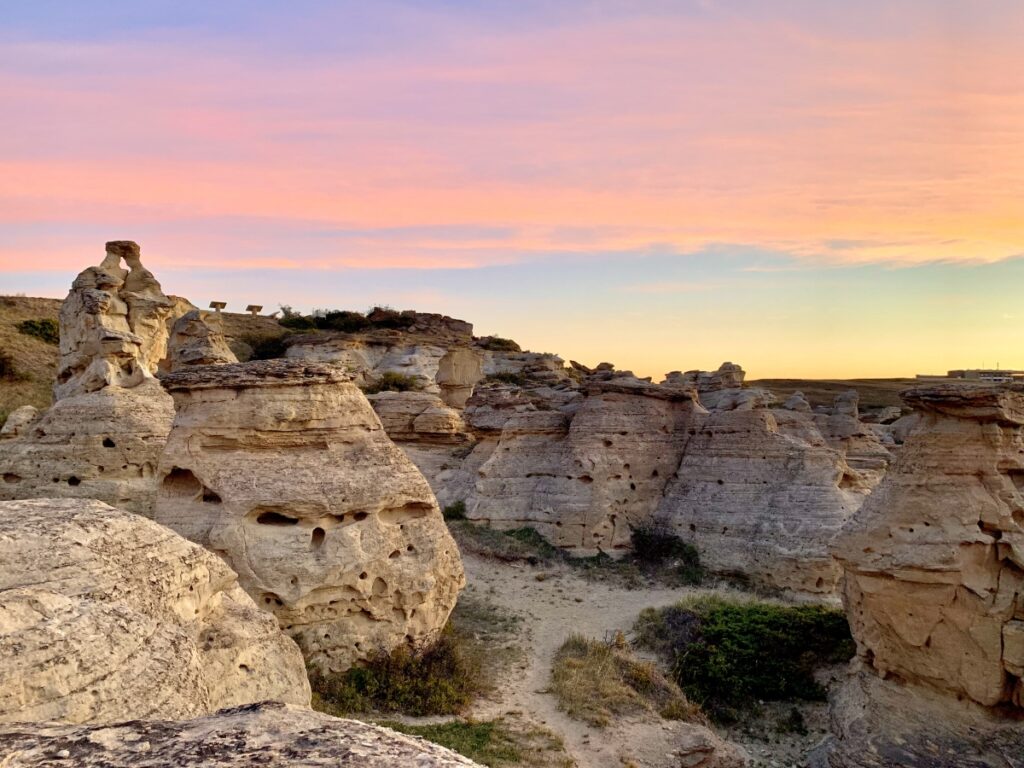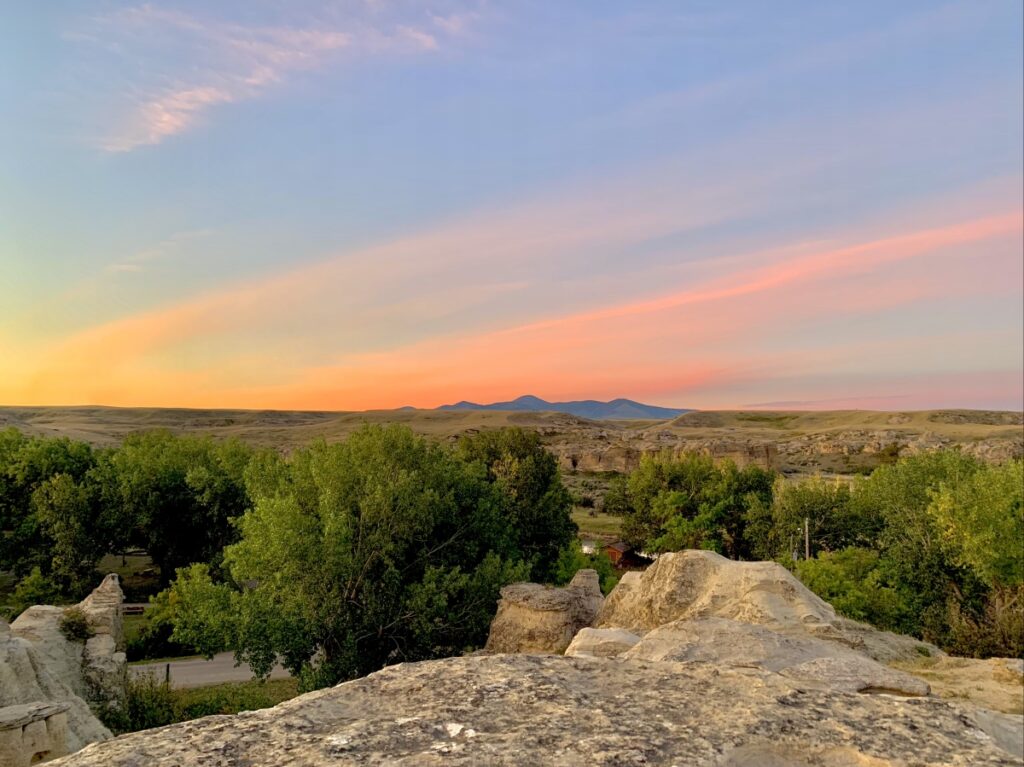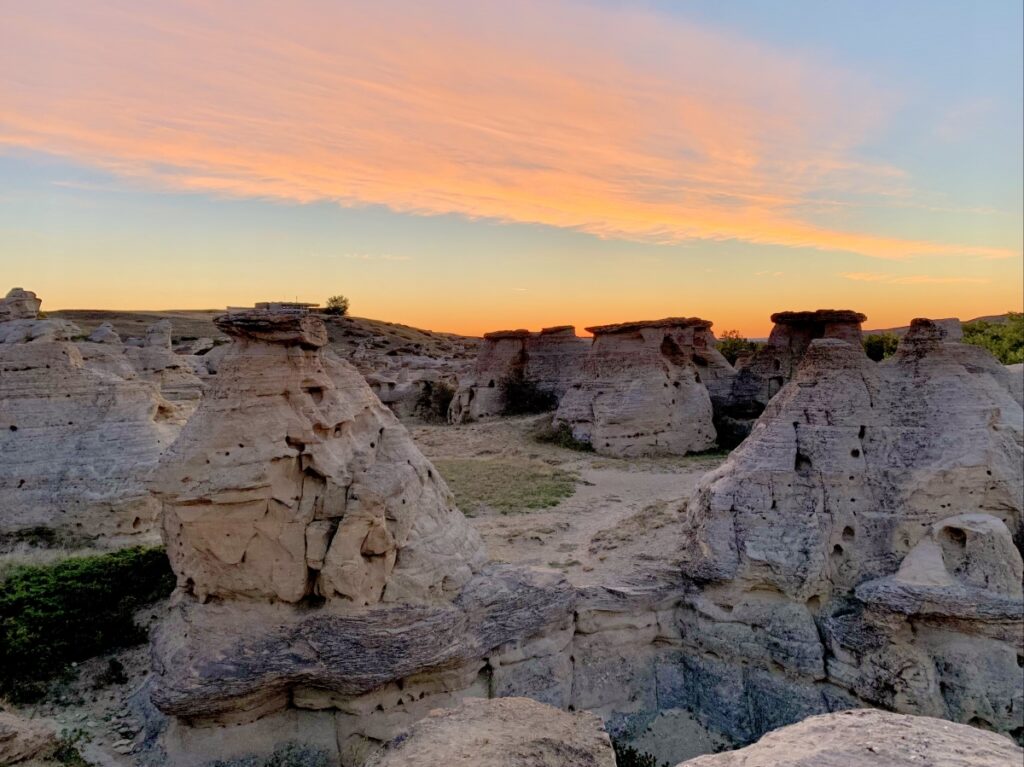 As of summer 2021 (when I visited) there were strict rules about no climbing around the hoodoos trail for preservation purposes; this meant no climbing the hoodoos. The hoodoos I climbed up for sunrise were located behind the visitor centre and had no signage saying otherwise. So, I took this as a "go ahead."
If you're camping, you can walk here from your site. If you drive in, park your car next to to info boards on the side of the road and find your perfect spot.
Pro tip – bring a blanket and a backpacking stove. Make yourself some breakfast or tea and enjoy the sunrise in comfort!
---
Geography & History Of Writing On Stone
Writing on Stone Provincial Park is located in Alberta's badlands. The park has one of the most interesting landscapes I have ever seen – it felt like I was on a different planet while I hiked through Writing on Stone's hoodoos.
There is SO much history and interesting natural formations in the park. I'll give you a quick rundown of some of the cool stuff, but provide resources that go more in depth.
You can also expect to find detailed signs and storyboards scattered around the hoodoo trail and the campground that tell you all about the area as well as the history of the Blackfoot peoples. I urge you the read these as they're quite interesting.
Natural Formations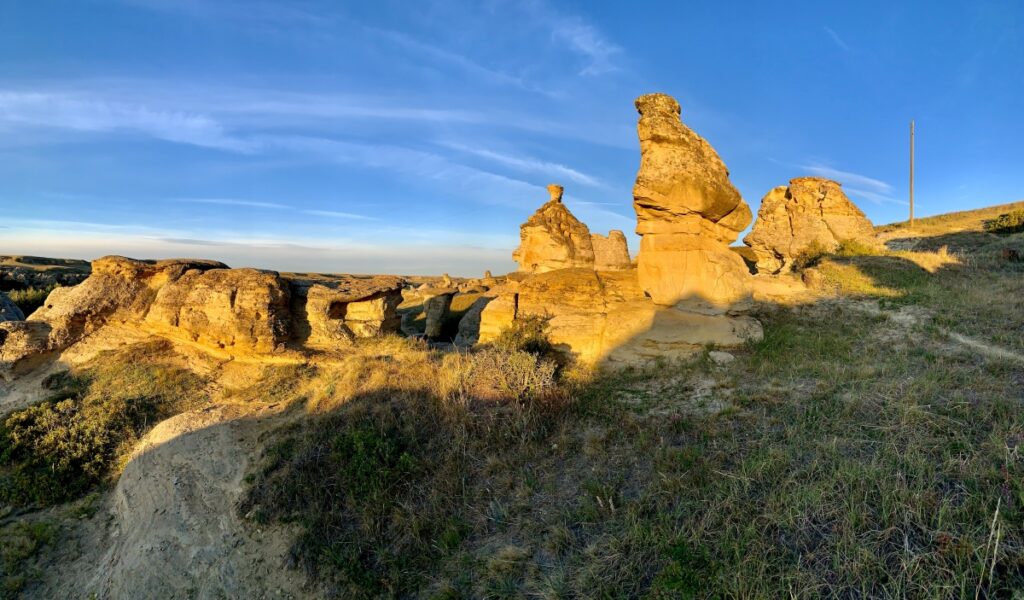 Hoodoos are tall, thin spires of rock normally made of a soft sandstone. They're topped with a large stone and typically stand 5-7m tall

AKA tent rock, fairy chimney, or Earth pyramid
The hoodoos in Writing on Stone have spiritual significance to the Blackfoot peoples
Coulees are steep canyons or valleys formed via water erosion. Read more
Other Cool Stuff
Áísínai'pi is the Blackfoot name for the park and translates to "where the writings are"
Petroglyphs are (prehistoric) rock carvings. Writing on Stone contains the greatest concentration of rock art on the North American Great Plains with over 50 petroglyph sites and thousands of individual pieces of work

You can see an impressively large carving on the hoodoo trial which depicts 150 warriors!
---
Tips For A Successful Trip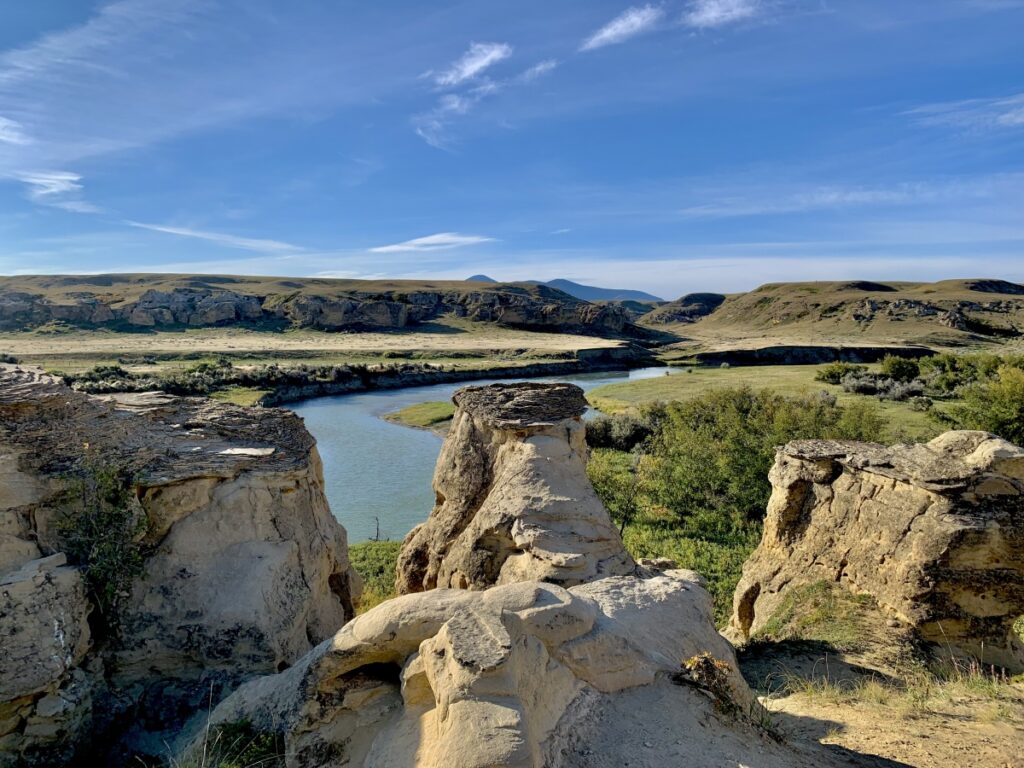 ---
Explore Places Nearby
Writing On Stone Provincial Park is a great place to visit, however activity options are limited because the park is so small and isolated. You can easily see everything at Writing on Stone in a day, so consider adding one of the following locations to your travel itinerary: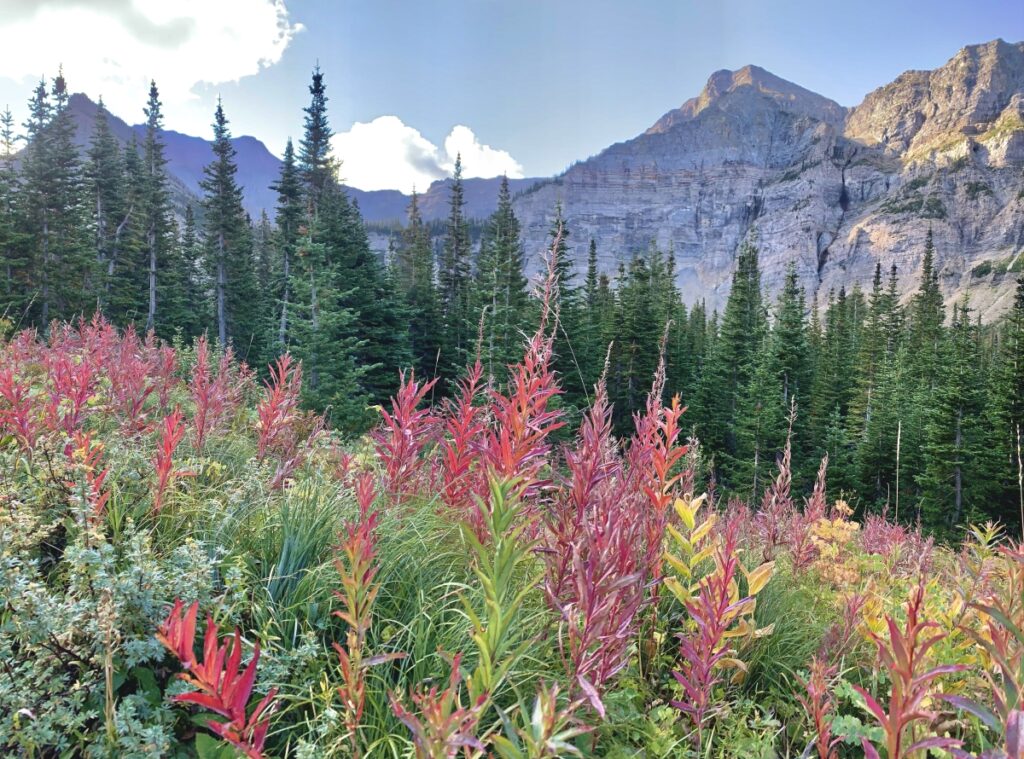 Waterton is located a quick 2 hours and 20 minutes from Writing on Stone, making it the closest nearby attraction.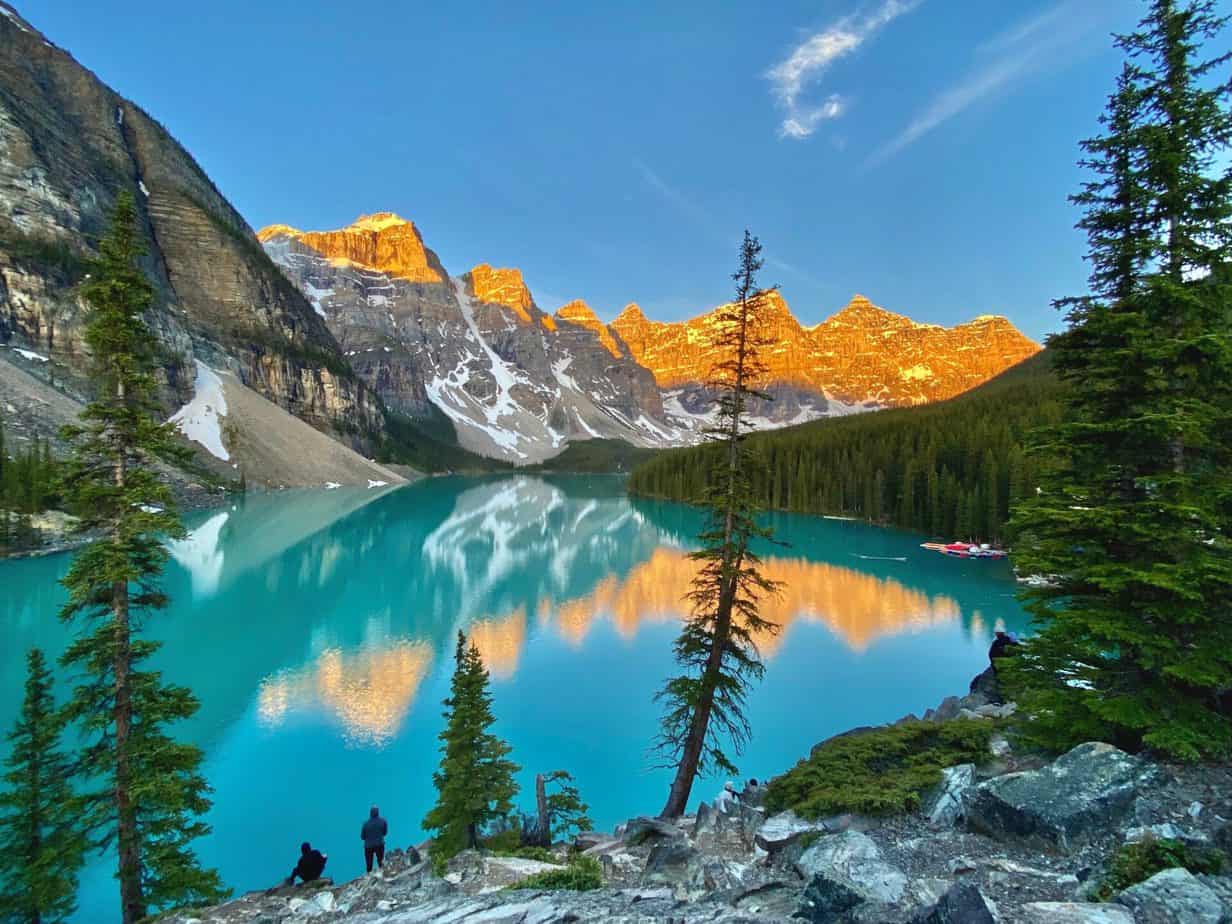 We all know and love the world renown Banff National Park which is located just under 5 hours from Writing on Stone.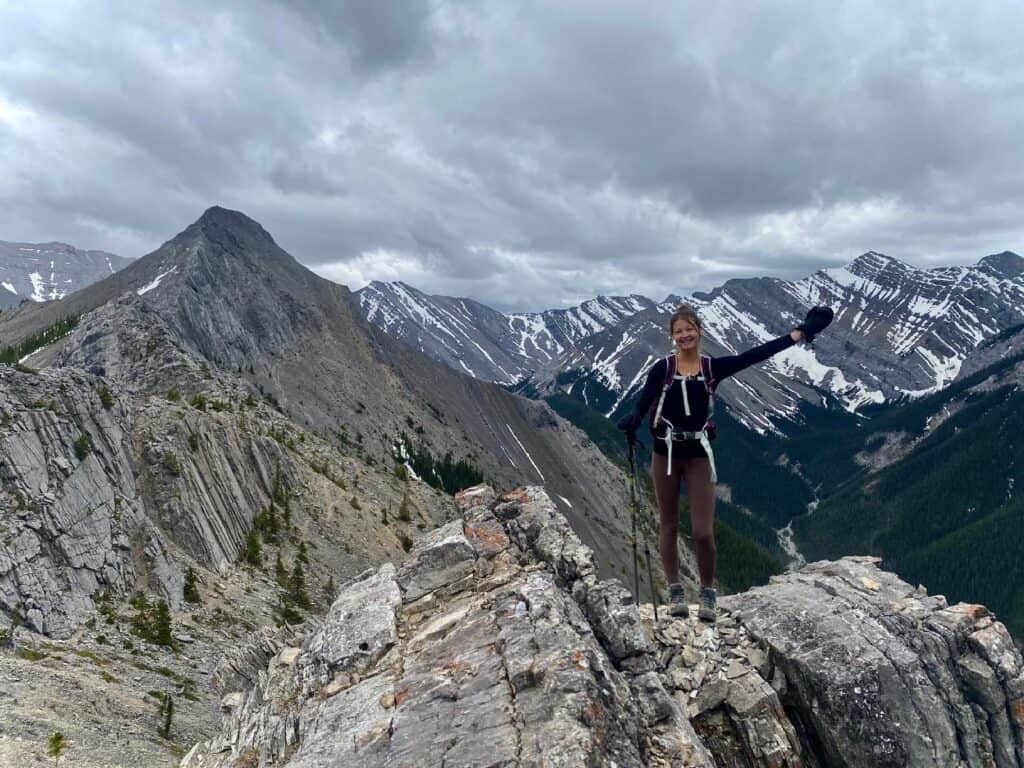 Kananaskis is about 4 hours and 20 minutes from Writing on Stone and offers (in my opinion) some of the most beautiful hiking in the Rockies.
Happy adventuring!
Taylor ♡
---
Like This Post?
Share with friends or save it for later!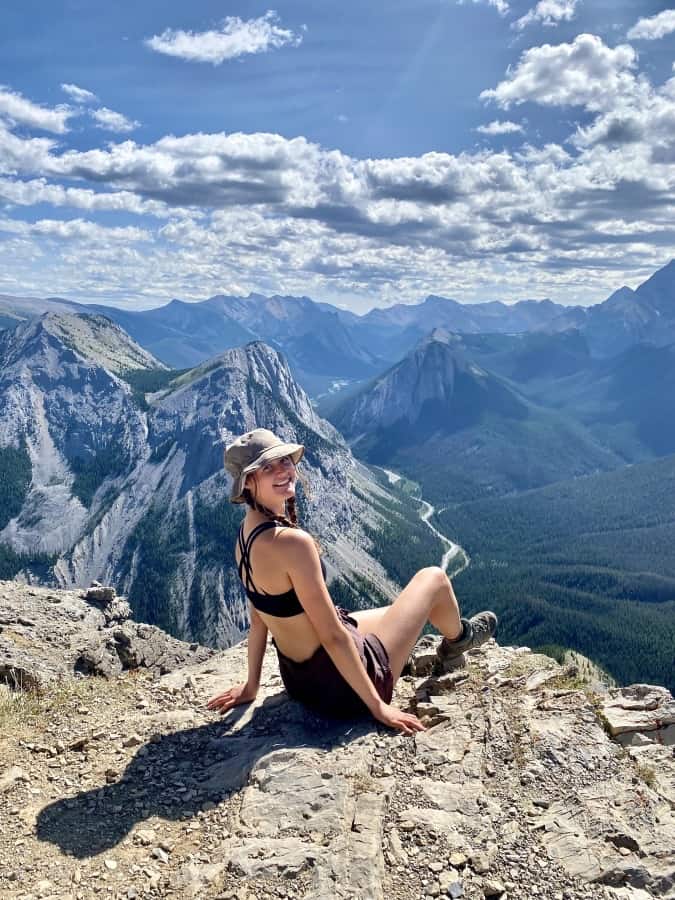 About The Author
---
Hey! I'm Taylor – the voice behind The Holistic Backpacker.
After moving to Banff National Park in 2020 I became an outdoor adventure enthusiast and vowed to never stop exploring.
I'm now focused on travelling the world and seeing everything our beautiful home has to offer.
I created The Holistic Backpacker so I could share my adventures and help connect people like you with the same amazing experiences.
I am also an advocate for the environment and do as much as I can to take care of our planet.
Get to know me and my story more here 🙂
I can't wait to share my adventures with you!