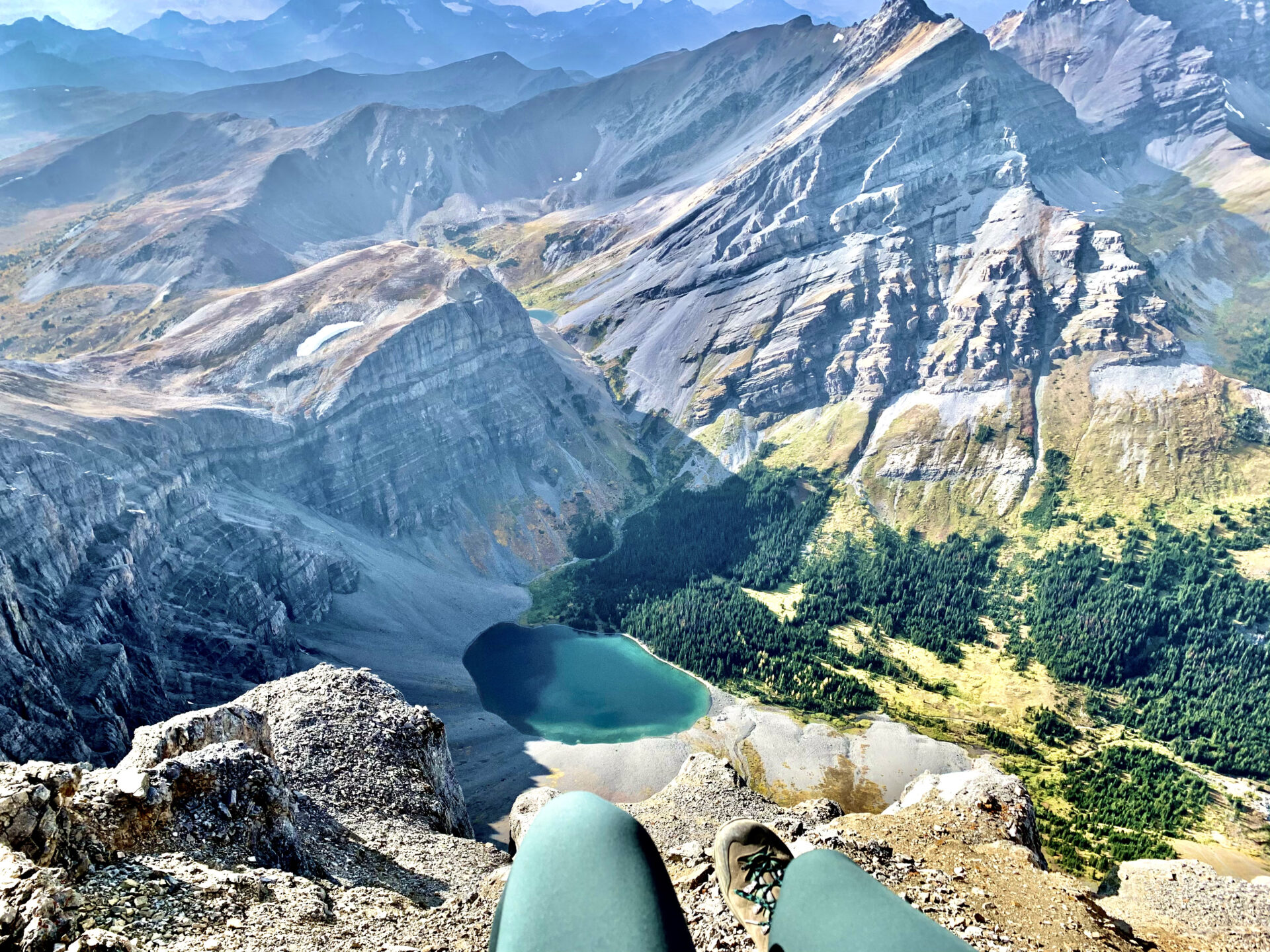 A Smoky Hike to the Mount Bourgeau Summit in Banff
The Mount Bourgeau summit is one of the biggest, baddest hikes in Banff. This mountain peak stands at a height of 2,931m (9,620ft) and takes around 9 hours to complete. Fear not though, the Mount Bourgeau hike also features beautiful golden Larch trees and multiple lakes at a lower elevation for hikers looking to avoid the big summit.
The day I completed the Mount Bourgeau hike, I wasn't even planning on hiking. The entire Banff area was coated in a pretty gnarly layer of wildlife smoke which was, undoubtedly, not great for the lungs. My plan to preserve my lungs and avoid hiking that day was quickly squashed though by a good friend who somehow convinced me that hiking a 26km trail over 1,700m of gain in a whole-lotta smoke was a good idea.
One of my downfalls is that I can never turn down an opportunity for adventure. So, obviously, I packed up my hiking bag and we set off to conquer the Mount Bourgeau summit hike.
Without further ado, let's go hiking!
Skip Ahead:
This post contains affiliate links; see my full disclosure. If you click these links and make a purchase you're supporting The Holistic Backpacker. Thanks for your support & happy adventuring! – Taylor ♡
---
---
Related Content
Mount Bourgeau summit hike
---
How to get to the Mount Bourgeau Trailhead
The Mount Bourgeau trailhead is located on the Trans Canada Highway about 15 minutes from the town of Banff. The trailhead is actually located on the left side of the Highway though, so if you're driving from the direction of Banff keep an eye out for the turnoff.
The parking lot has a decent amount of spots; you'll be able to find parking if you arrive before noon, however its recommended you arrive early because there are multiple trailheads leading from this lot.
There are no shuttles or buses that will take you to the trailhead, so if you plan on hiking you'll need to drive or rent a car to access the Mount Bourgeau trailhead.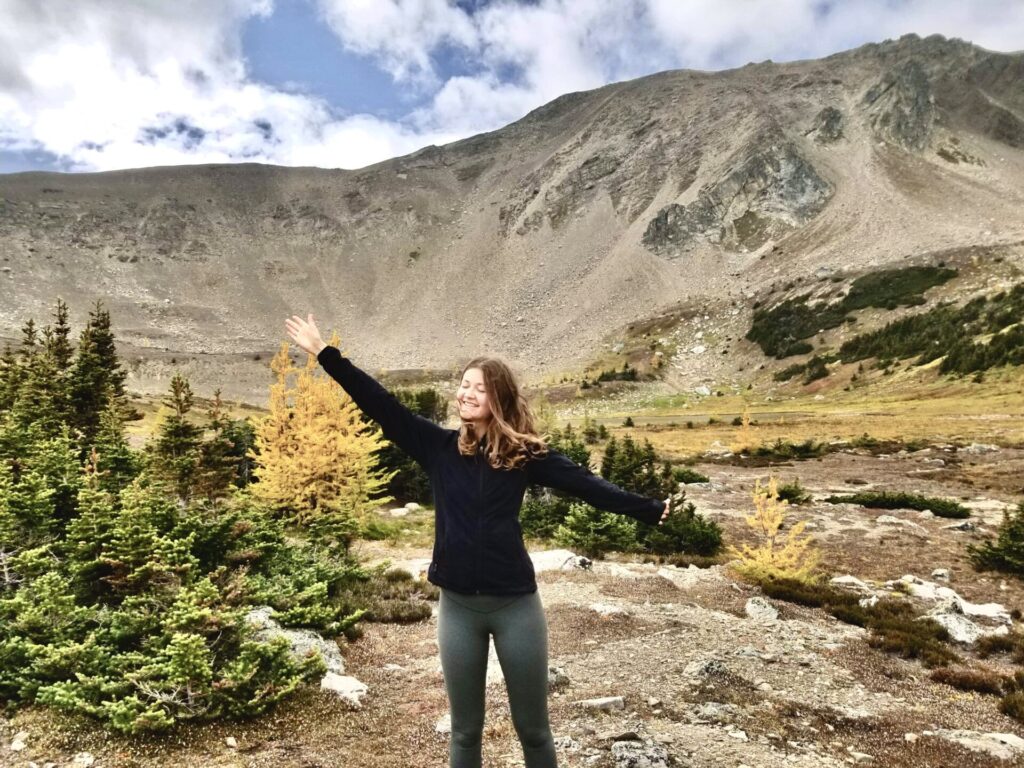 ---
Where to Stay in Banff
Travellers can also opt to stay in locations near Banff:
---
Mount Bourgeau summit hike
About the Mount Bourgeau Trail
Distance: 22.4km (potentially 26km)
Elevation gain: 1,751m
Rated: hard
Type of trail: out & back
Estimated time: 9.5 hours
The Mount Bourgeau hike is very diverse and offers something for everyone. The trail starts out in a wooded area which then turns into a forested basin containing the famous Bourgeau Lake. After this point hikers can continue on to Harvey Pass where they'll find a few more unnamed lakes and a magnificent view overlooking Healy Pass and Sunshine Meadows. After this, the trail becomes a bit rocky and there's a decently steep ascent to the peak.
Since the Mount Bourgeau summit is so high, hikers will find incredible and unimpeded 360 degree views from the peak. However, the entire hike offers beautiful views and you definitely don't need to summit Mount Bourgeau to find them. In fact, it's recommended that beginner and/or intermediate hikers only complete the Bourgeau Lake/Harvey Pass sections.
*Alltrails reports the Mount Bourgeau hike is 22km in length, however I've heard many reports of the trail actually being 26km from people who have tracked it themselves.
Tips for the Mount Bourgeau Hike
If you're chasing Banff's golden Larch trees, hike to Bourgeau Lake mid September.
If you plan to summit, hike late August. The snow will have melted and trail conditions will be best. Of course use judgement and pay attention to recent weather patterns before you start this hike.
At the summit you'll experience high winds and cold weather. I always recommend wearing a waterproof jacket (men's version) and a puffer jacket (men's version) for both warmth and wind protection on big Rocky Mountain summits. You may also want to pack a toque and gloves.
Wear sturdy hiking boots. My favourite are the Scarpa Kailash (men's version).
Bring lots of food! This is a massive day-hike – you'll need at least one full meal and snacks.
Bring lots of water or bring a filtration system. I always bring 2L of water in my Hydrapak as well as water tablets and cheese cloth to filter more water on long hikes.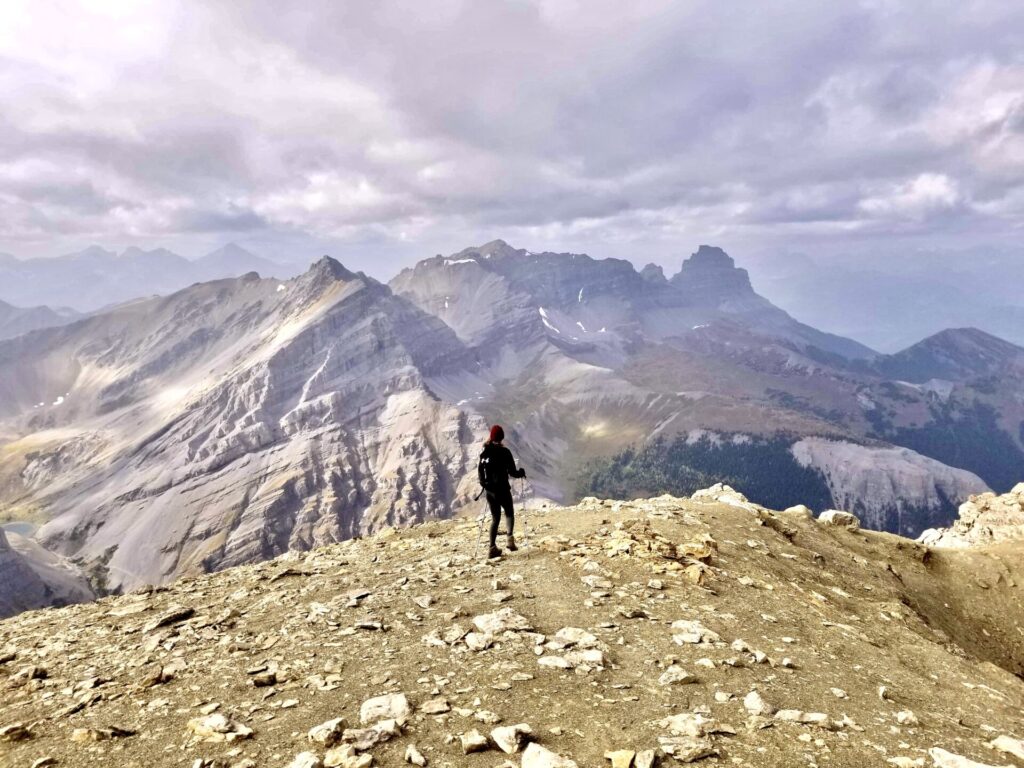 Connect via socials:
Sign up for emails to receive a 50% discount on my travel maps + occasional updates on new hiking guides & travel resources.
Taylor ♡
---
Mount Bourgeau summit hike
Summiting Mount Bourgeau
The Mount Bourgeau hike starts just beyond the metal gate at the parking lot – make sure you close the gate behind you, this is to ensure wildlife stays off the highway.
Trailhead to Bourgeau Lake
From the Mount Bourgeau trailhead to Bourgeau Lake, you can expect a 7.4km/750m (one-way) trek. The beginning of the trail is through a wooded, switchback section complete with a floor full of pine needles.
Along the way you can also expect to find multiple creeks and waterfalls, the most impressive being the one pictured below. There is a well built bridge over the Wolverine Creek, however the other creeks are a little more technical to cross. I always recommend wearing waterproof hiking boots in the Rockies to ensure your feet stay dry during hikes like these – I never hit the trail without my Scarpa Kailash boots (men's version).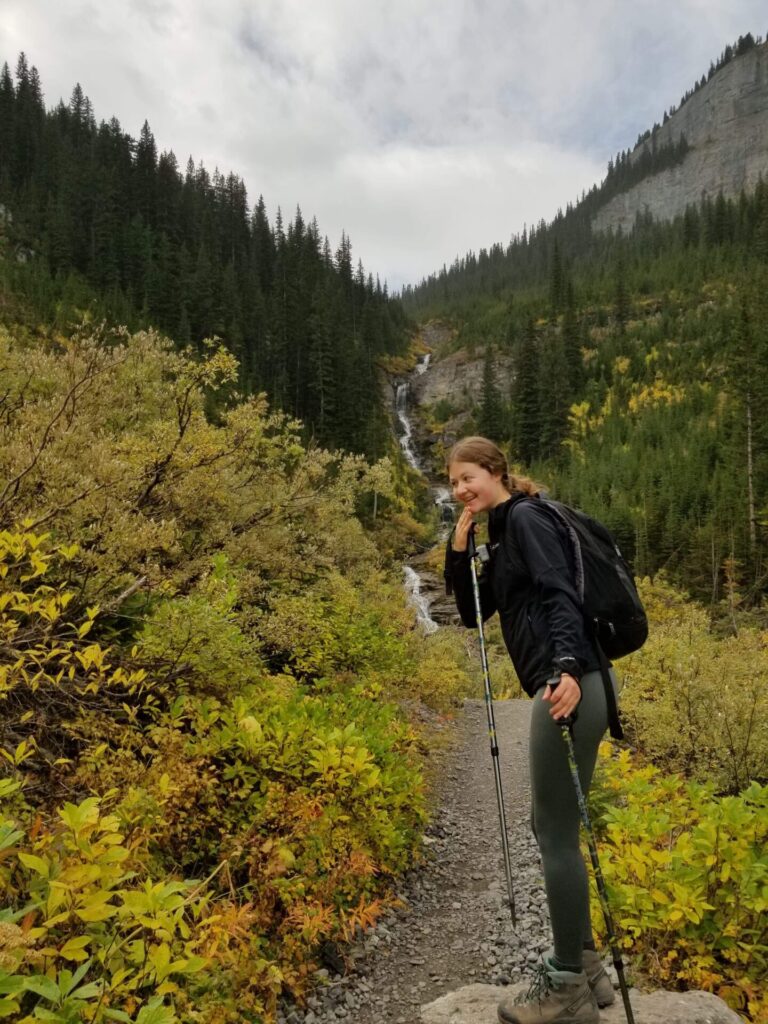 Right before you arrive at Bourgeau Lake you'll notice the terrain levels out and you'll enter an area full of golden Larch trees (in the fall). Shortly after you hit this flat area, you'll find Bourgeau Lake.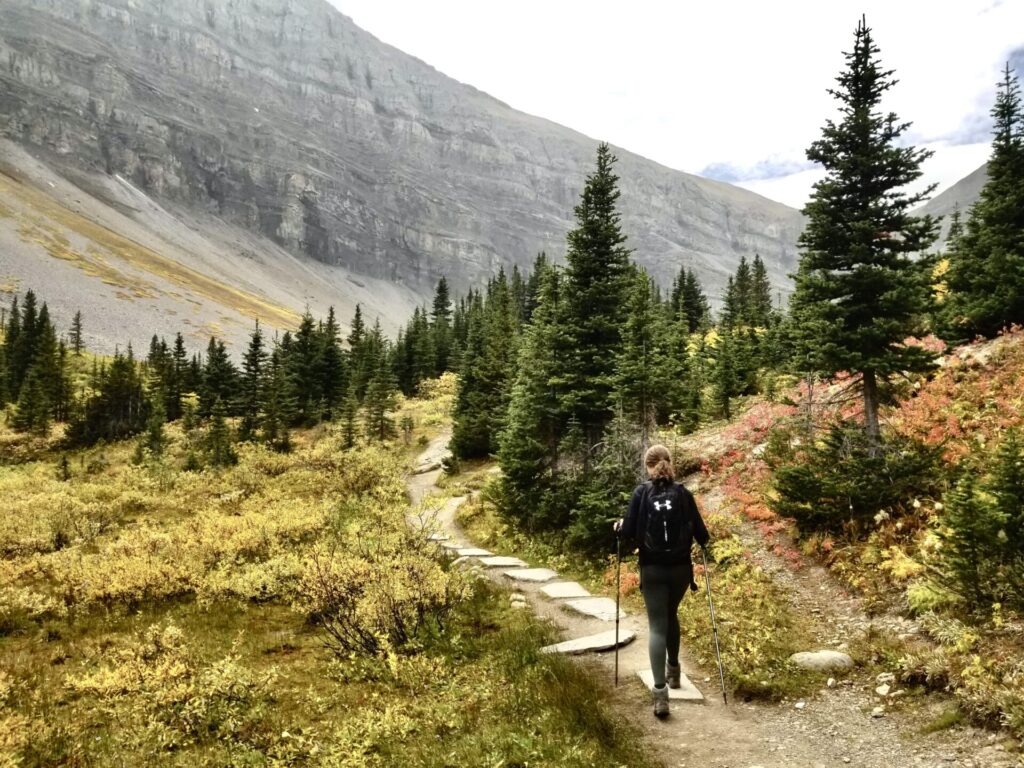 Bourgeau Lake is the perfect place to end your hike if you're a new hiker or if you're not looking to have a massive day. If you do decided to continue, take a rest here and have lunch before continuing on.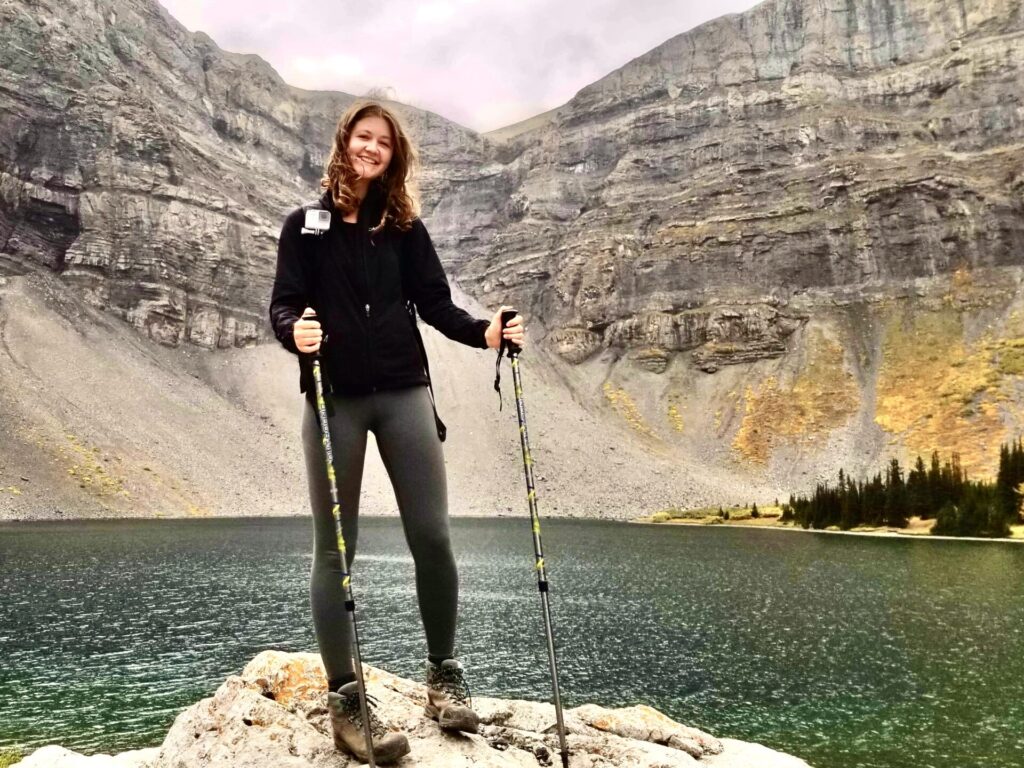 Bourgeau Lake to Harvey Pass
After Bourgeau Lake, you can expect more switchbacks up a beautiful mountain pass. Along the way you'll cross a few unnamed lakes/ponds; aka alpine tarn.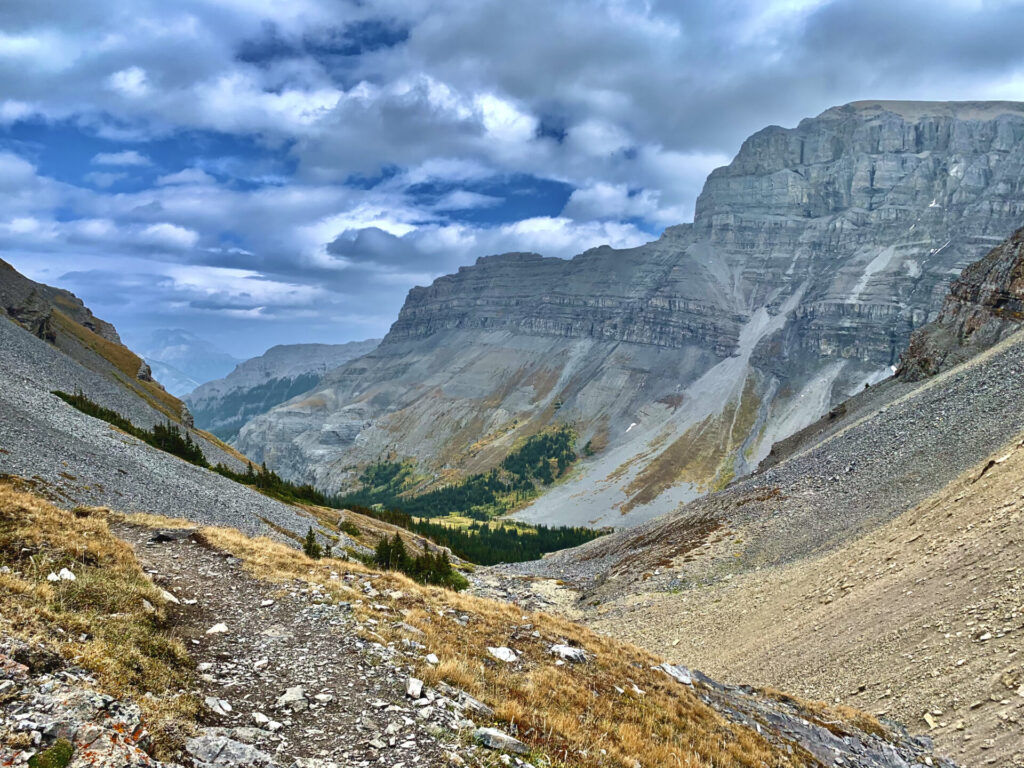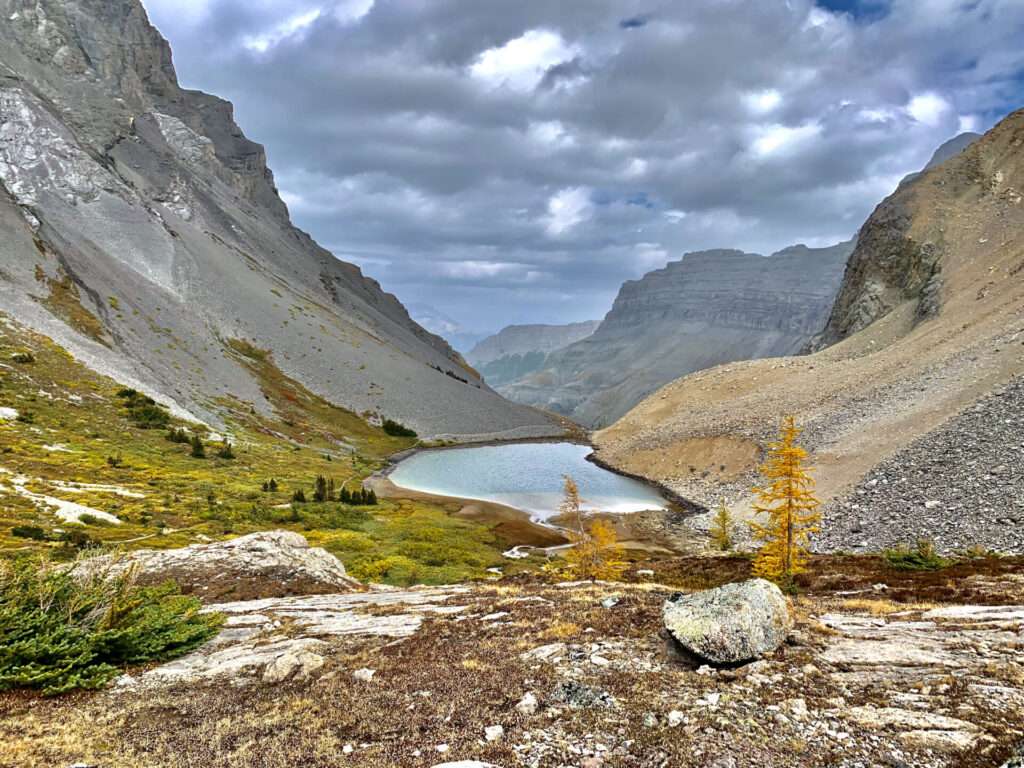 After the final tarn, you'll quickly arrive to Harvey Pass which overlooks Sunshine Village/Sunshine Meadows as well as Healy Pass; another great hike in Banff.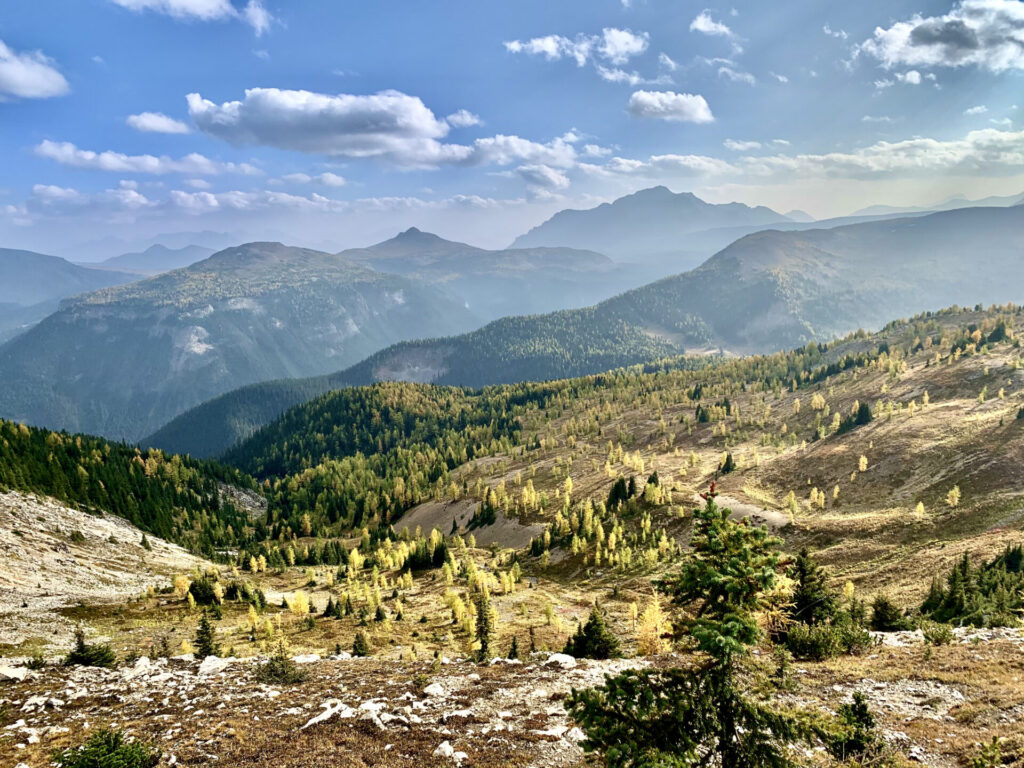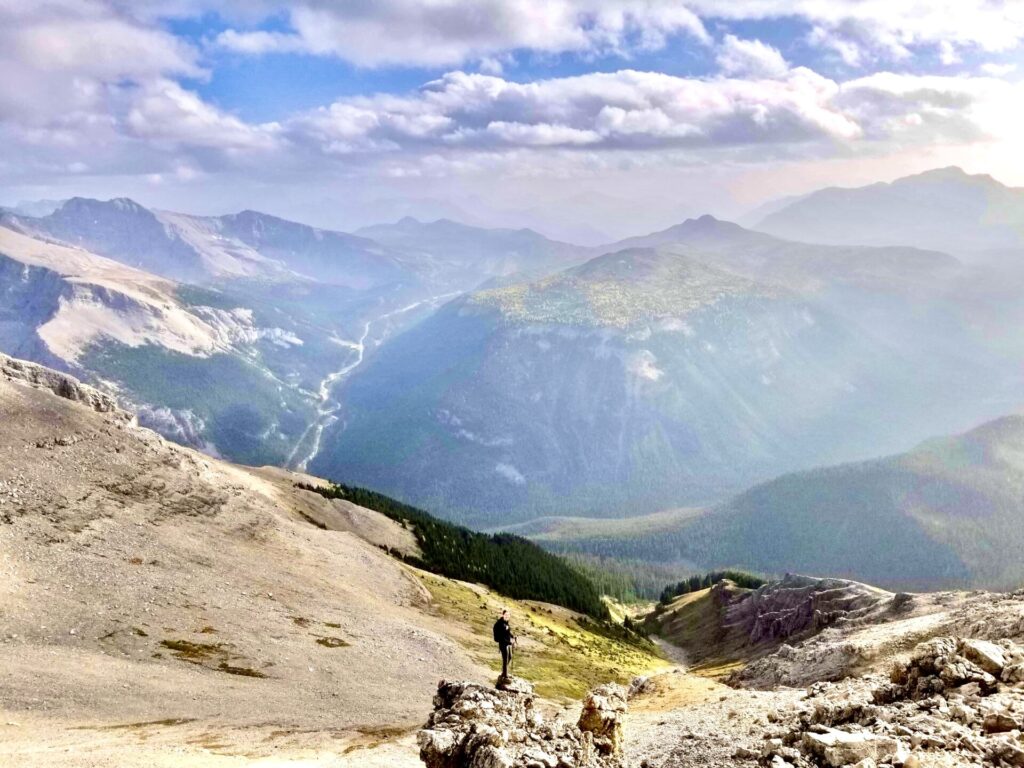 Harvey Pass to Mount Bourgeau Summit
The final "decision" hikers must make is if they want to complete the actual Bourgeau summit or not. By Harvey Pass I can assure you that your legs will be feeling it. This is a long day hike with lots of elevation.
The final ascent is about 2.7km in length, 400m in gain, and about 1 hour in time. Luckily, this summit route is actually much easier than other summit hikes in Banff. There's no real "scramble" section or loose scree. The trail is relatively easy to follow and it isn't one of those "holy shit I'm gonna die" steep hikes.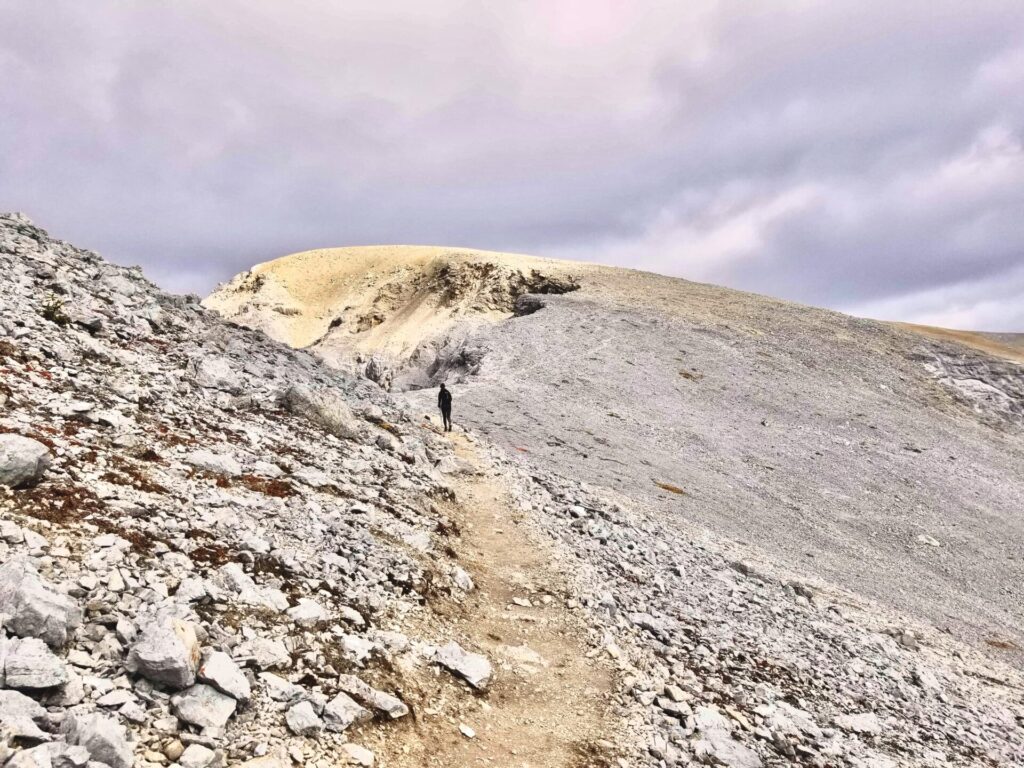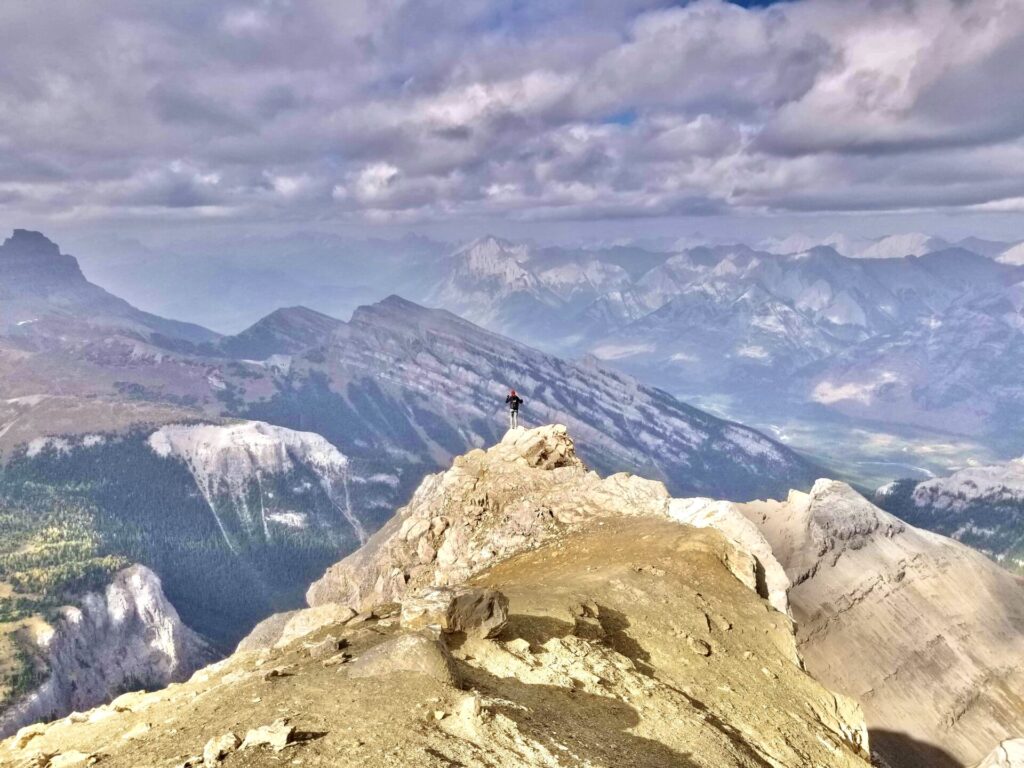 At the top you'll find a massive summit, which you can hike around and explore. My friend Greg (Greg from Banff Buzz) and I actually spent ample time and many more kilometres exploring the different views and ledges from the top.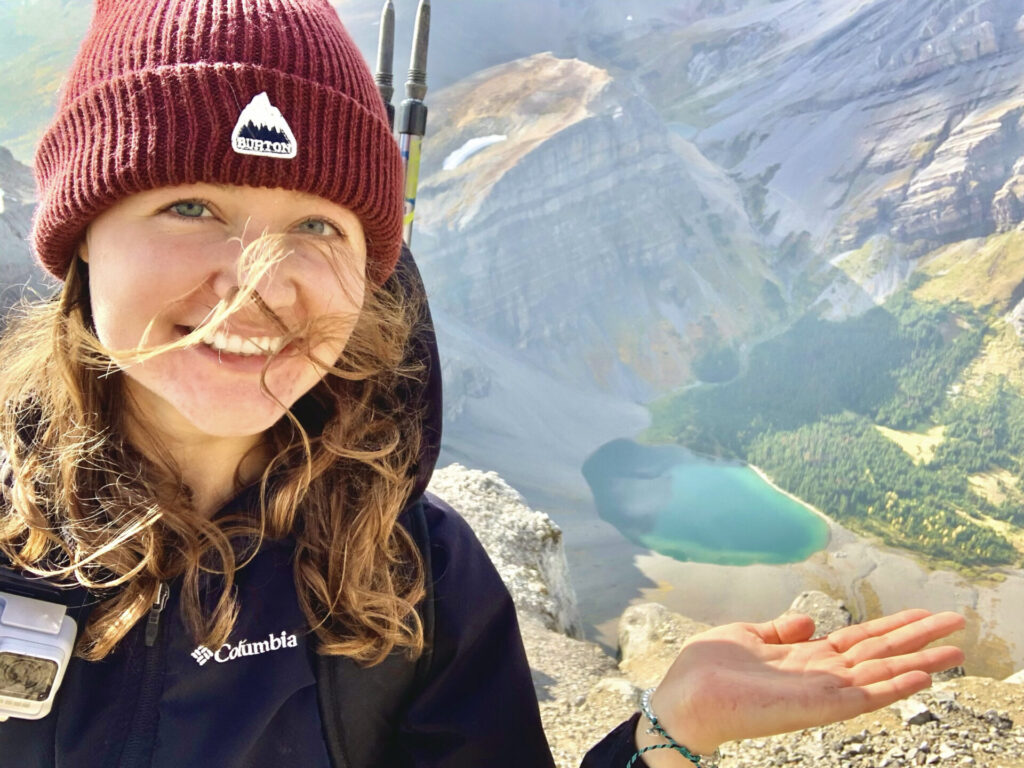 Highlights From the Mount Bourgeau Summit
Like I previously mentioned (and as you can clearly see from my photos) the day I summited Mount Bourgeau was smokyyyy. This was super unfortunate because it took away a lot of the wicked summit views, however Mount Bourgeau's views still didn't disappoint.
Here are the top 3 things to look for from the Mount Bourgeau summit:
The overhead view of Bourgeau Lake
The distant view of Mt. Assiniboine (The Canadian version of the Matterhorn)
Mount Temple – the ULTIMATE hike in Banff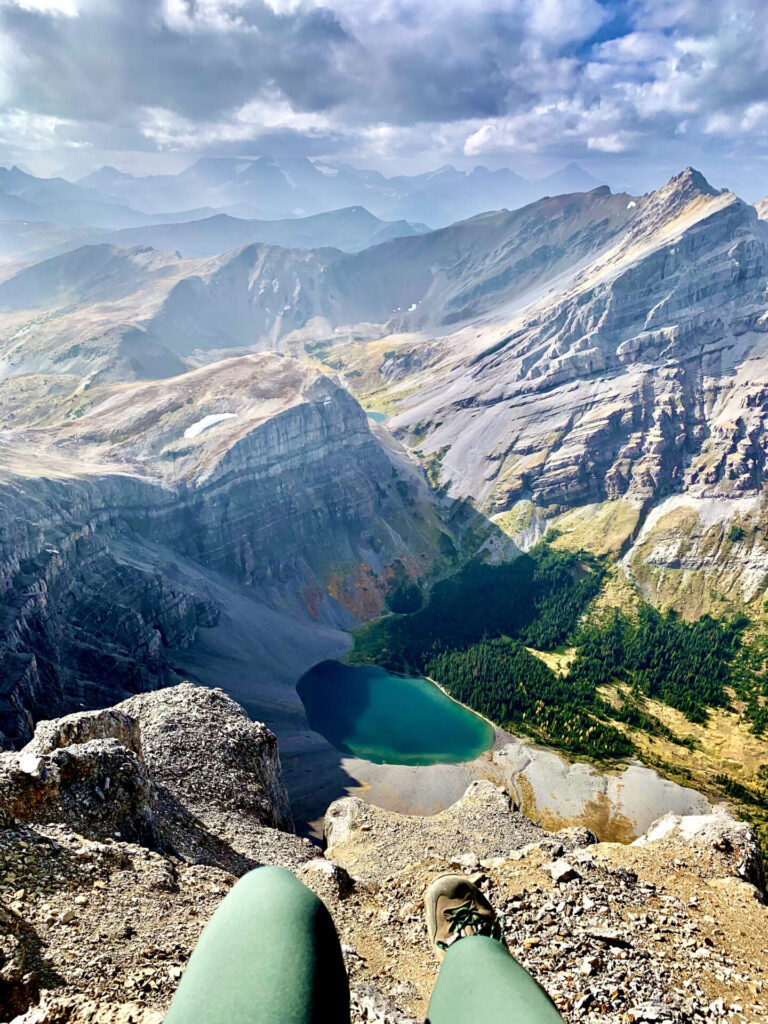 Return Hike
I won't lie, the return hike is absolutely gruelling. After trekking 12km+ over 1700m of gain to the summit, the last thing you'll want to do is hike another 12km+ back to the trailhead. But, this is what you sign up for when you decide to summit Mount Bourgeau.
So, buckle up because the return hike will murder your feet. Not even being dramatic, by the end of the day I could barely walk my feet hurt so bad. I was essentially running back to the trailhead hahaha.
All things considered this is an incredible hike, and if you have a good level of fitness I would 100% recommend (although maybe don't hike this trail in the midst of thick wildfire smoke).
Happy hiking!
---
Looking for More Banff Adventures?
Banff is an adventurer's & view seeker's paradise. If you're planning a trip to this gorgeous Canadian Park, you can start with this step-by-step guide designed to help you plan the perfect Banff itinerary.
Alternatively, check out this page with all my Banff resources.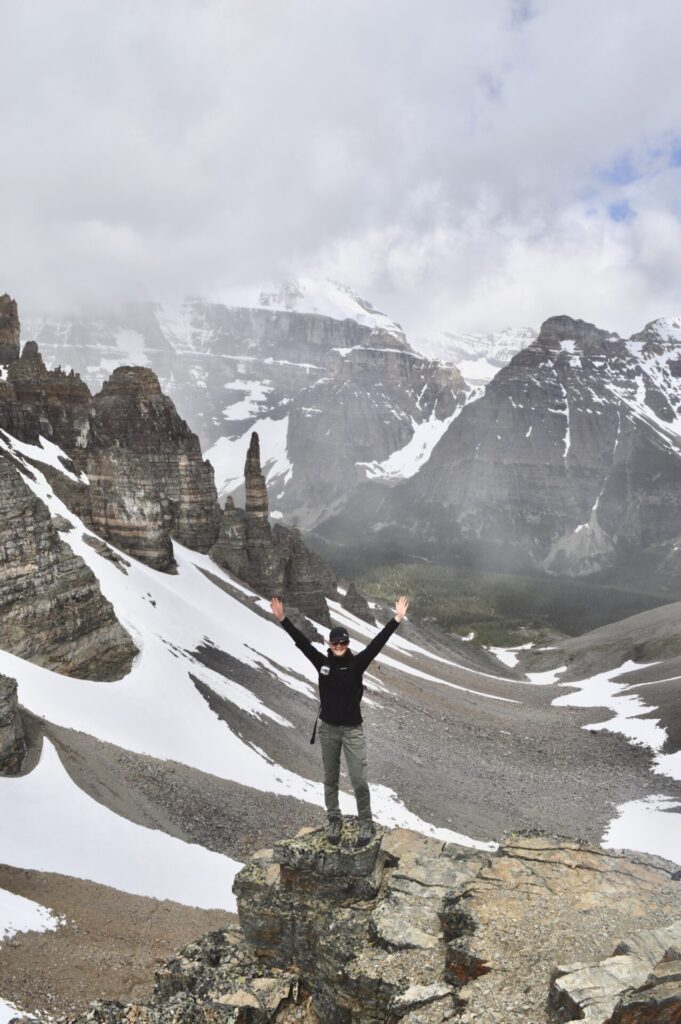 Want to continue your Canadian Rockies expedition outside of Banff? Check out my trail guides & travel resources for British Columbia and Kananaskis Country as well as Jasper, Waterton, Yoho, and Kootenay National Parks 🙂
---
Mount Bourgeau hike Banff
Mount Bourgeau summit hi
---
Recommended Hiking Gear
The following items are some of my favourites – I never hit the trail without them!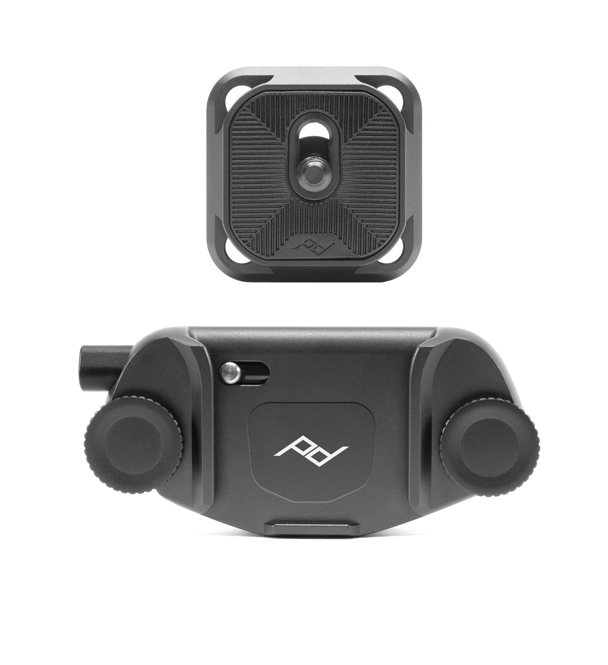 The Capture Clip by Peak Design is a sturdy, safe, and super convenient way to carry your camera while hiking or backpacking.
Find it on Amazon (CAD).
Find it on Peak Design (US).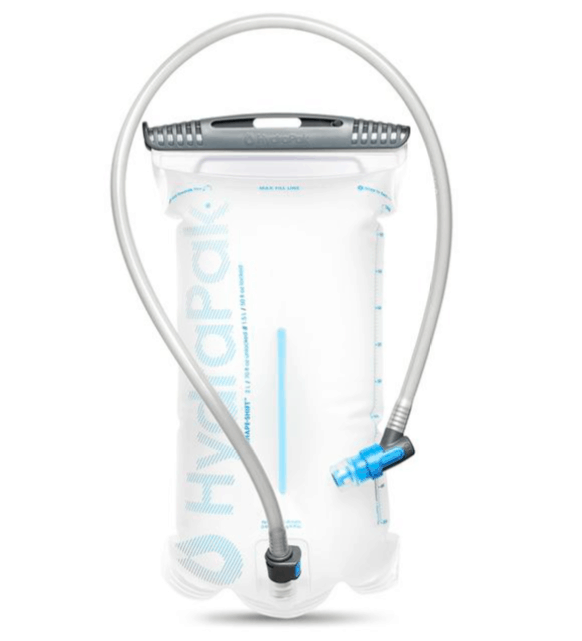 A hydration reservoir is SO important. It holds 2L+ of water and keeps you hydrated on-trail. I use the 2L Hydrapak; it never leaks and has a detachable tube.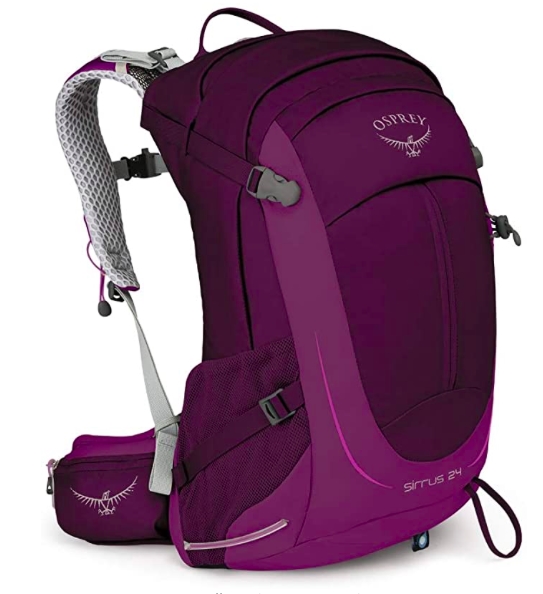 Things to look for in a good quality day-pack: sternum strap, hip belt (with pockets), and a breathable mesh system for your back. I use the Osprey Sirrus 24L pack (men's version) and I LOVE it!
---
What To Wear Hiking in the Rockies
For a detailed guide on what to wear hiking in the Canadian Rockies, check out this post.
Choosing what to wear hiking can be confusing, but the secret to properly dressing for a hike is layering. You can mix and match the tops and bottoms you already own to make up your base layers, however in addition to those clothes you'll need a few extra things:
A waterproof jacket is the most important layer for hiking – it keeps you warm and protects you from wind and rain. I use the Marmot Eco Precip Jacket (men's version) which is totally a bang-for-your-buck. If rain is in the forecast, don't forget to pack waterproof pants (men's version) too.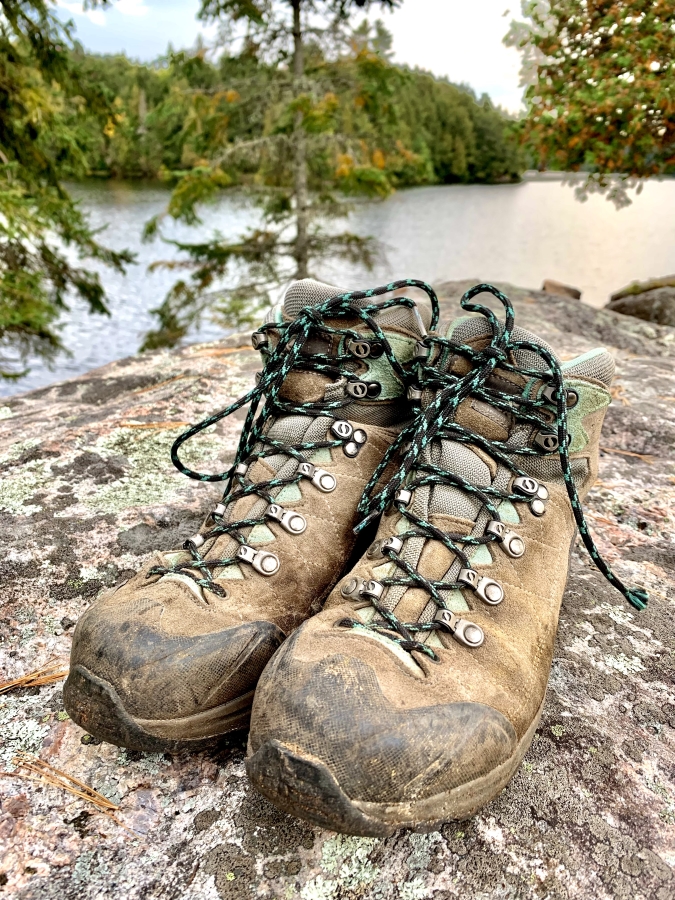 A good pair of hiking boots are Gore-tex, provide ankle support, and are durable. I use the Scarpa Kailash boot (men's version) and they've never let me down. You'll also want a good quality pair of socks. I use Smartwool – they're great quality and last an entire season.
A puffer jacket acts as your warm layer. I use the hoodless Columbia Women's Heavenly Jacket (men's version). Alternatively you can use a fleece zip – I have this one (men's version) from Columbia. Both of these options are perfect layers to keep you warm on windy, cold, or high elevation hikes.
Rocky Mountain hiking exposes you to different natural elements and conditions – it's imperative that you're prepared for whatever nature throws at you. Trust me, I've learned the hard way!
More: Day-hiking Gear Guide
More: What to Wear Hiking in the Canadian Rockies
MOUNT BOURGEAU HIKE SUMMIT
---
Mount Bourgeau summit hike
Happy adventuring!
Taylor ♡
---
Like This Post?
Share with friends or save it for later!
---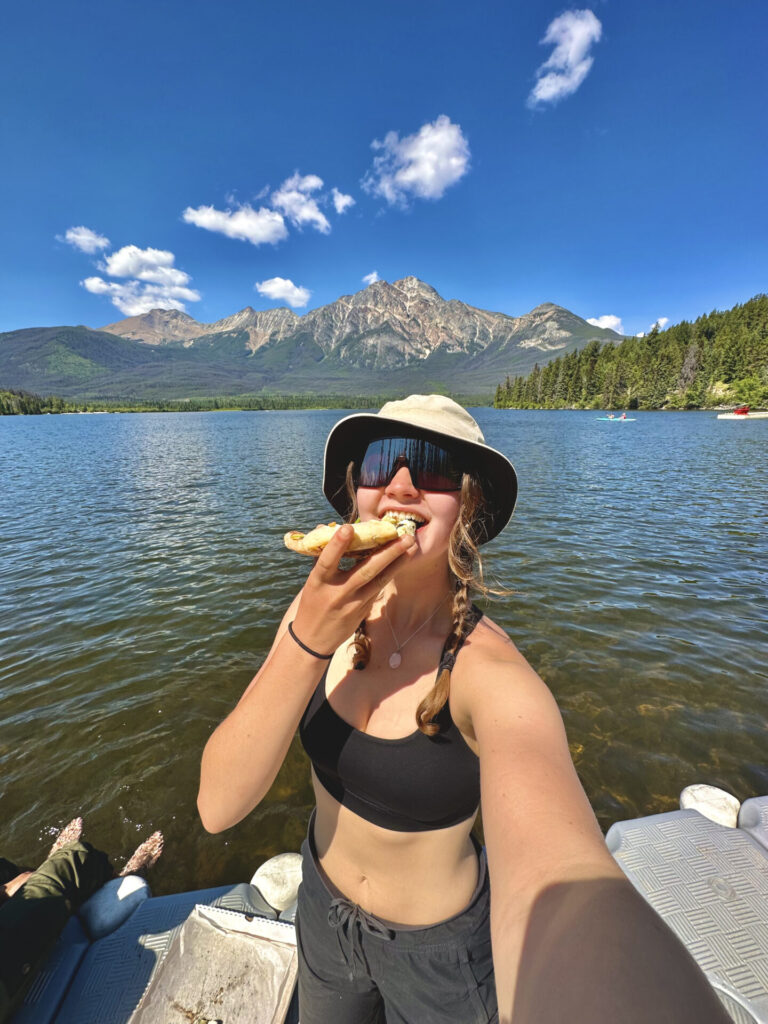 About The Author
HI, I'm Taylor – the voice behind The Holistic Backpacker.
After moving to Banff National Park in 2020 I became an outdoor adventure enthusiast and vowed to never stop exploring.
I now spend my days travelling the world, climbing mountains, and spending nights under the stars in the Canadian Rockies backcountry.
I created The Holistic Backpacker so I could share my adventures and help connect people like you with the same amazing experiences.