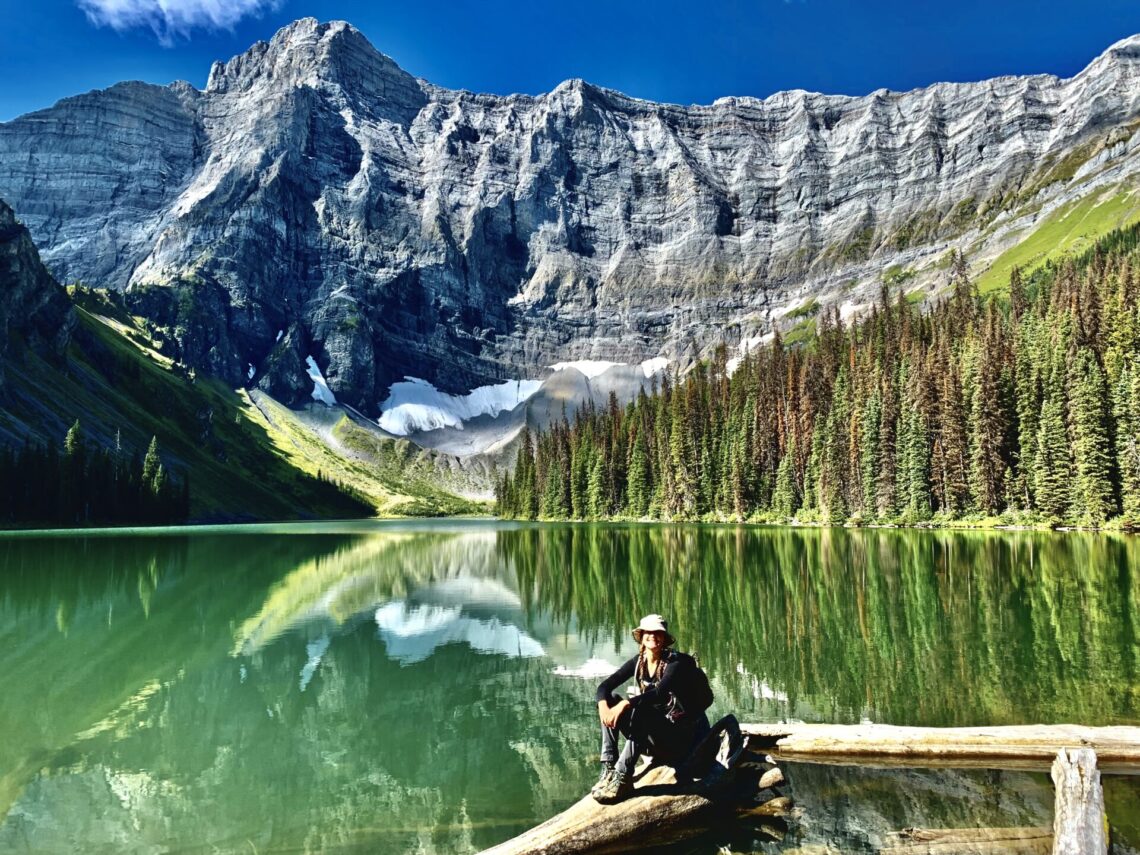 Part 1: Sarrail Ridge via Rawson Lake in Kananaskis
This is part 1 of my 2 part series: Sarrail Ridge via Rawson Lake in Kananaskis Country. This guide specifically talks about the Rawson Lake hike whereas part 2 features information about the steep ascent to Sarrail Ridge (a MUST-hike in Kananaskis, if you're asking me).
This is the ultimate hike in Kananaskis if you're looking to find those awe-inspiring, breathtaking, postcard-worthy Rocky Mountain lakes. Along this trail you'll find the bright blue Upper Kananaskis Lake as well as the emerald green Rawson Lake (yes, even more emerald in colour than the famed Emerald Lake).
The first part of this hike (to Rawson Lake) is rated as moderate, and in my opinion is suitable for anyone with moderate fitness.
Now, let's go hiking!
Skip Ahead:
This post contains affiliate links; see my full disclosure. If you click these links and make a purchase you're supporting The Holistic Backpacker. Thanks for your support & happy adventuring! – Taylor ♡
---
---
How to get to the Rawson Lake Trailhead
The Rawson Lake trailhead is located in Peter Lougheed Provincial Park which is in Kananaskis Country. There are no buses or shuttles that run through Kananaskis, so if you don't have a car already you'll need to rent one to access the trailhead.
The Rawson Lake trailhead has a considerably large parking lot, so you shouldn't have to worry about arriving early to get a spot. A the parking lot you'll find washrooms, picnic tables, and a nice (rocky) beach along the shore of Upper Kananaskis Lake.
Note that as of summer 2021, you'll need a Kananaskis Conservation Pass while visiting Kananaskis Country.
---
About the Rawson Lake Hike
Distance: 8.7km
Elevation gain: 630m
Rated: moderate
Type of trail: out & back
Estimated time: 3.5hrs
The trail to Rawson Lake is heavily trafficked which makes it great for new or solo hikers. You can expect to find breathtakingly beautiful lakes, lush vegetation, and lots of wildlife along the way – this hike is one for the books!
The trail initially hugs the shoreline of Upper Kananaskis Lake, then enters a densely forested area for 2kms in which you can expect a gradual, but steady (300m) increase in elevation. After this point you'll reach the incredible Rawson Lake. Hikers then have the option of hiking around the lake, summiting Sarrail Ridge, or turning back.
Helpful Tips for Hiking to Rawson Lake
Add Sarrail Ridge to your itinerary. If you summit Sarrail Ridge, bring hiking poles. These will be invaluable during both the ascent and the descent.
The trail to Rawson Lake (not including Sarrail) can be accessed year round, however the best time of year to hike is from May to October. If you're hiking in winter, make sure you bring snowshoes!
Hike on a warm, sunny day in order to fully take advantage of the lake(s).
Start the Rawson Lake hike early to avoid crowds and see the lakes when they're calm.
If you hike early season/after rainfall, wear gaiters. The trail is very wet and muddy – gaiters will keep your feet/socks dry.
This is prime grizzly territory, bring bear spray.
The trail can be quite buggy, I always bring a bug suit!
Connect via socials:
Sign up for emails to receive a 50% discount on my travel maps + occasional updates on new hiking guides & travel resources.
Taylor ♡
---
Hiking to Rawson Lake
The Rawson Lake trailhead starts out at the beautiful Upper Kananaskis Lake. If you're a lake enthusiast (like myself) make sure you start this hike early to ensure you see the lakes – both Rawson and Upper Kananaskis – when they're calm.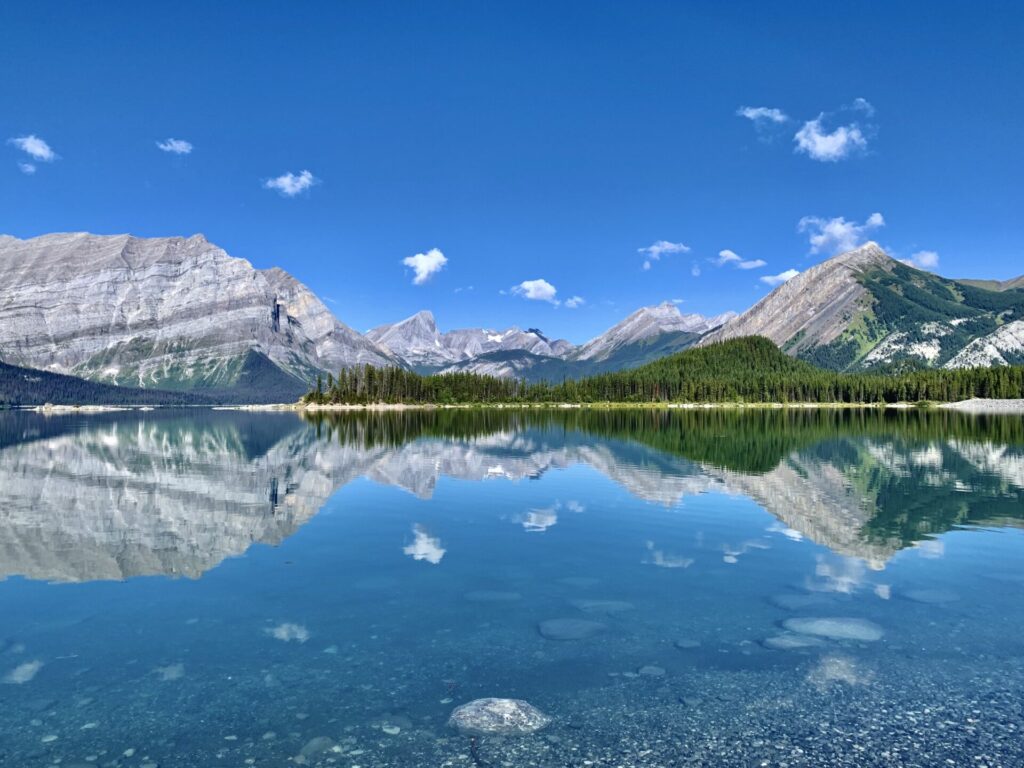 From the parking lot you'll want to locate the trailhead leading West along the shore of the lake. You'll follow this trail – which is mostly flat – along the lake for about 1km until you come to a fork in the trail. Take a left at the fork.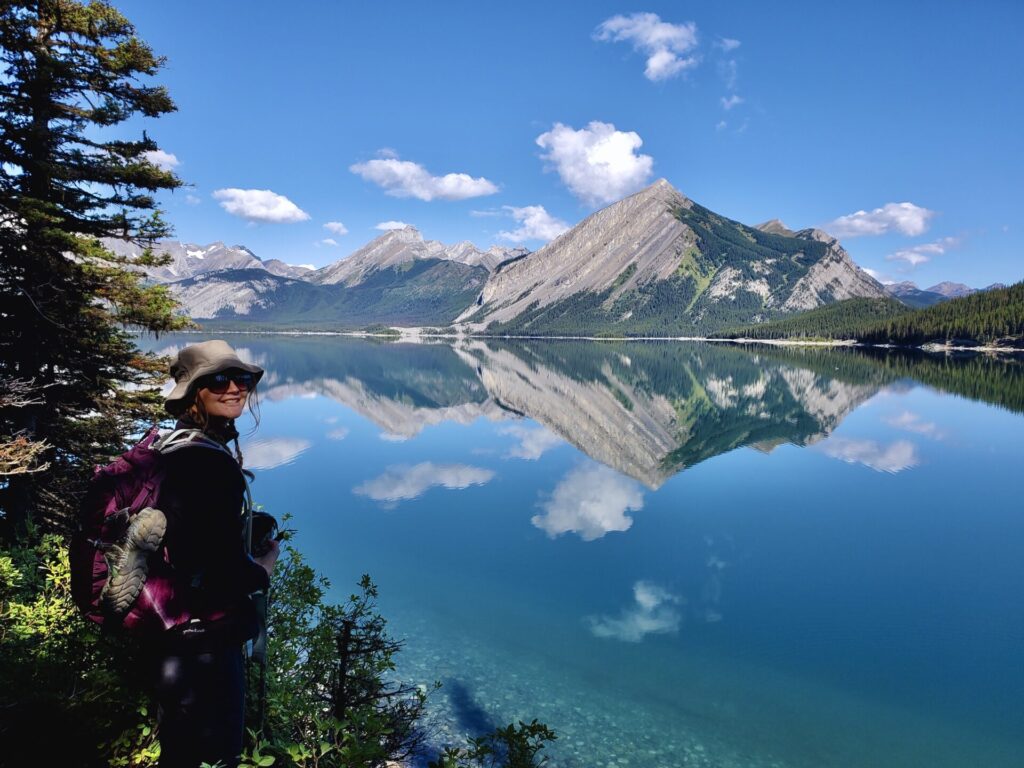 Want to know what gear I take on my Rocky Mountain hikes? Click here.
Ooooh, by the way – you'll find this stellar little waterfall right before the fork!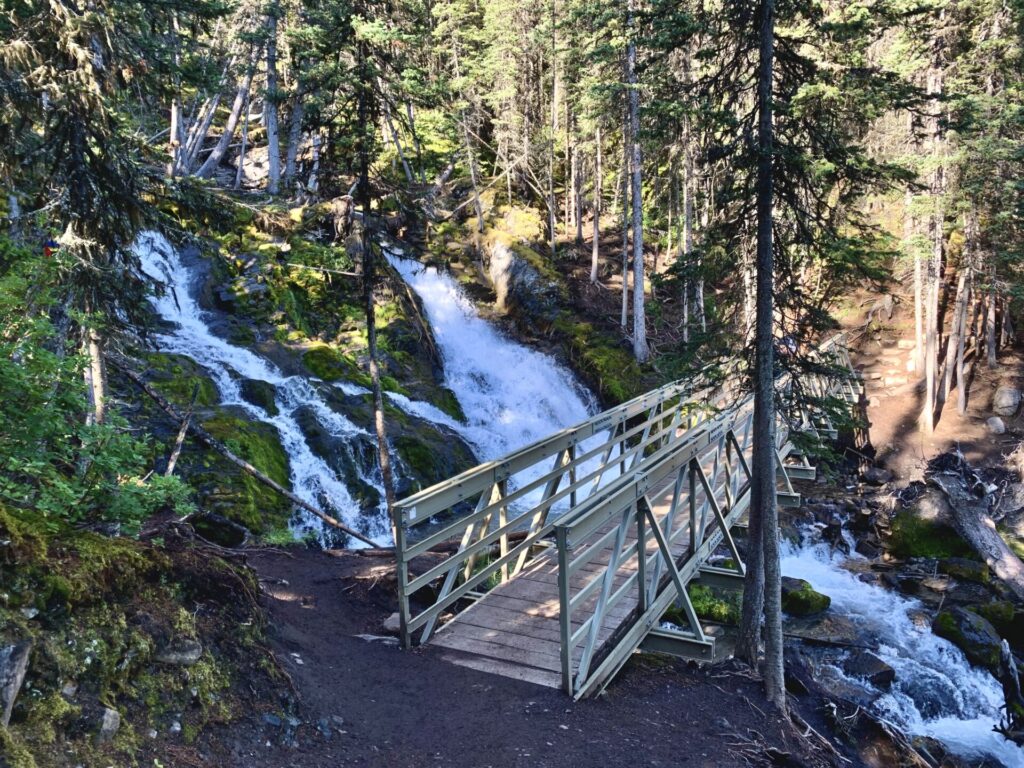 Upper Kananaskis Lake to Rawson Lake
After taking a left at the fork, you'll instantly begin to gain steady elevation throughout a densely wooded area. From this point it takes around 2km to reach the lake and within this 2km you'll gain around 300m of elevation. Nothing overly strenuous (I saw lots of kids completing this hike), but you'll definitely notice the gain!
The trail can be quite crowded, as this is a very popular hike in Kananaskis, so make sure you practice trail etiquette and pass politely.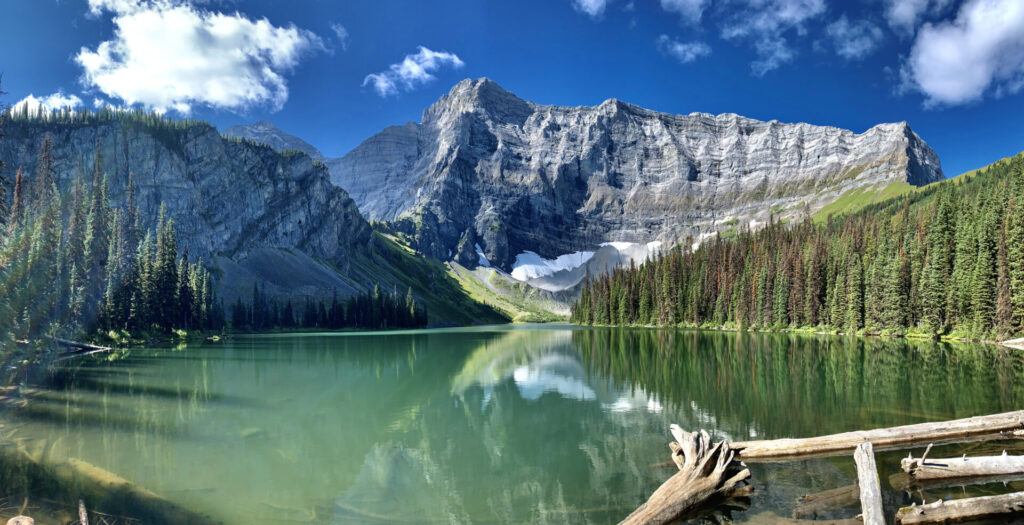 You can expect to find lots of mud and water on the trail closer to Rawson Lake. There are plenty of little bridges and boardwalks to help you cross these sections, however I'd recommend wearing gaiters if you know conditions will be extra wet or muddy (early season/after a rainfall).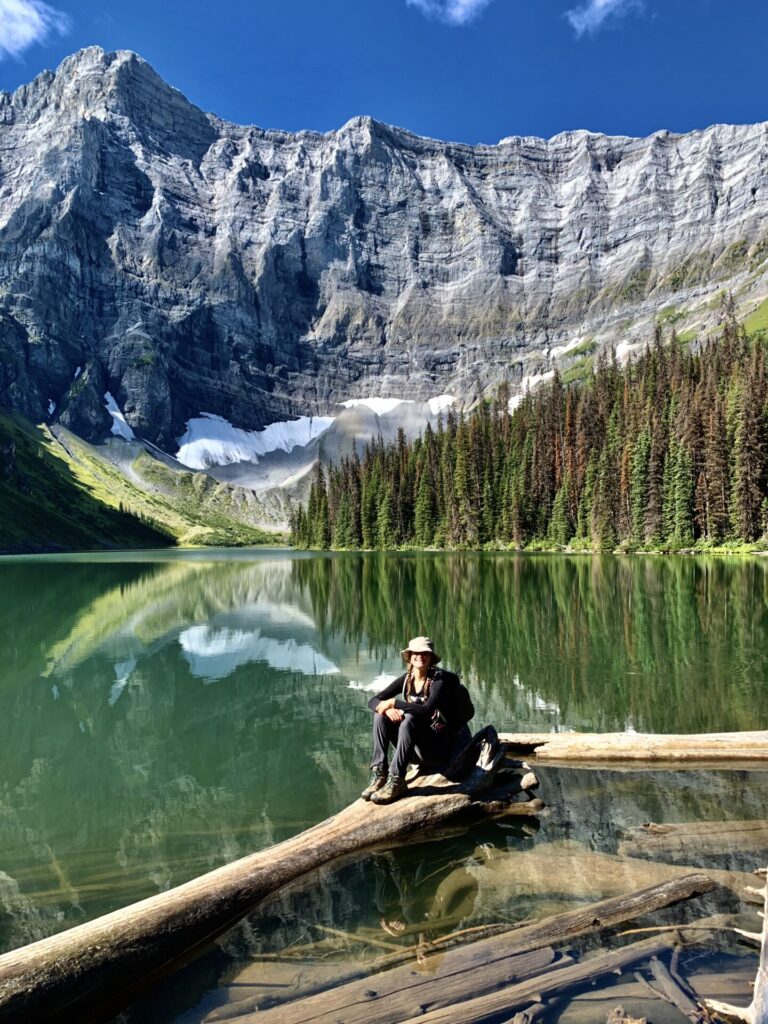 I can't even find words that accurately depict the beauty of Rawson Lake. The colour of the water, the grandeur of Mount Sarrail, the gorgeous vegetation… And the wildlife! I saw a mama and a baby moose walk through the shallow shore of Rawson Lake right in front of me!!
This is truly an enchanting place.
What's There to do at Rawson Lake?
Once you arrive at Rawson Lake you'll quickly discover you can hike around the lake. Closer to the backside of the lake the trees thin out/disappear which makes it perfect for a "beach day," picnic, or a place to spend the afternoon chillin' at the lake.
I saw huge families hike up with a whole spread of food, hammocks, fishing equipment, and lots of "beach-style" toys. Those people knew what was up. If you're hiking to Rawson Lake in the summer, I'd 100% recommend bringing a big set up and spending the day hanging by the lakeside.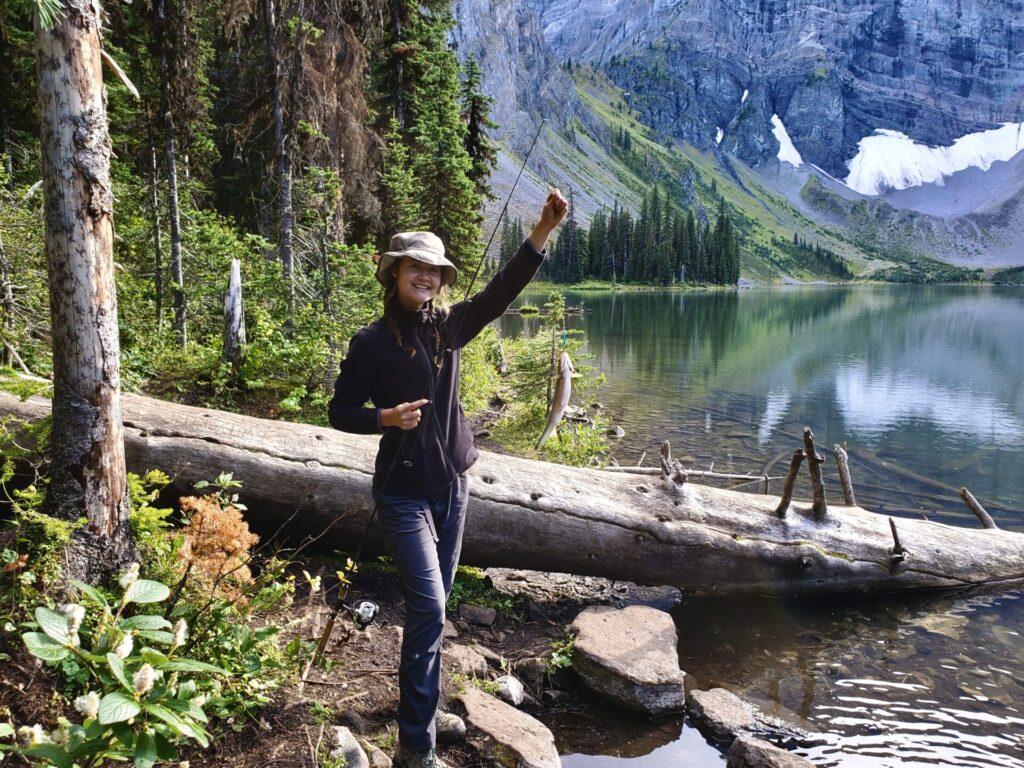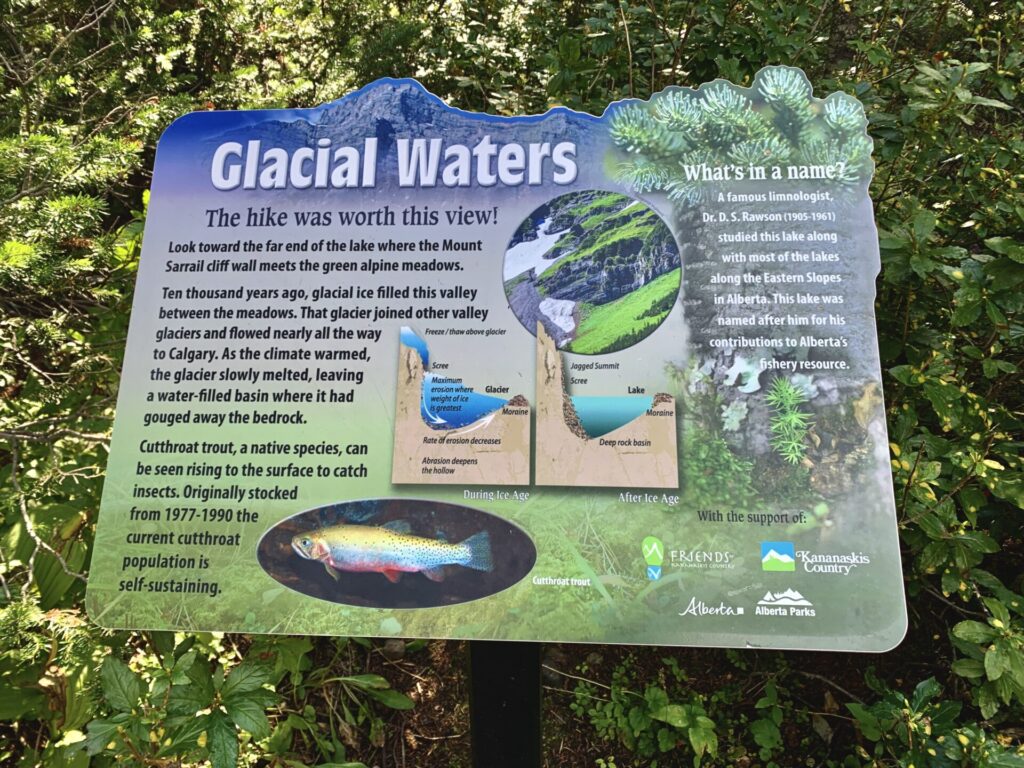 Rawson Lake is also a great place to fish! The day I tried fishing there I caught nothing. You may be wondering "how'd you get that fish?" Welllll, I may have (definitely) stolen my friend's fish just for the photo-op haha. By the way, that friend I speak of is Greg – the creator of Banff Buzz!
Not sure about fishing regulations in Kananaskis? Click here.
---
Part 2: Rawson Lake to Sarrail Ridge
Part 2 of this trail guide is the Sarrail Ridge summit. The Sarrail Ridge summit is absolutely KILLER – in terms of both views and calf burn.
The ascent is steep, but the views are more than rewarding. Once you reach the summit, you'll find overhead views of both Rawson Lake and Upper Kananaskis Lake (that really pretty lake from the trailhead).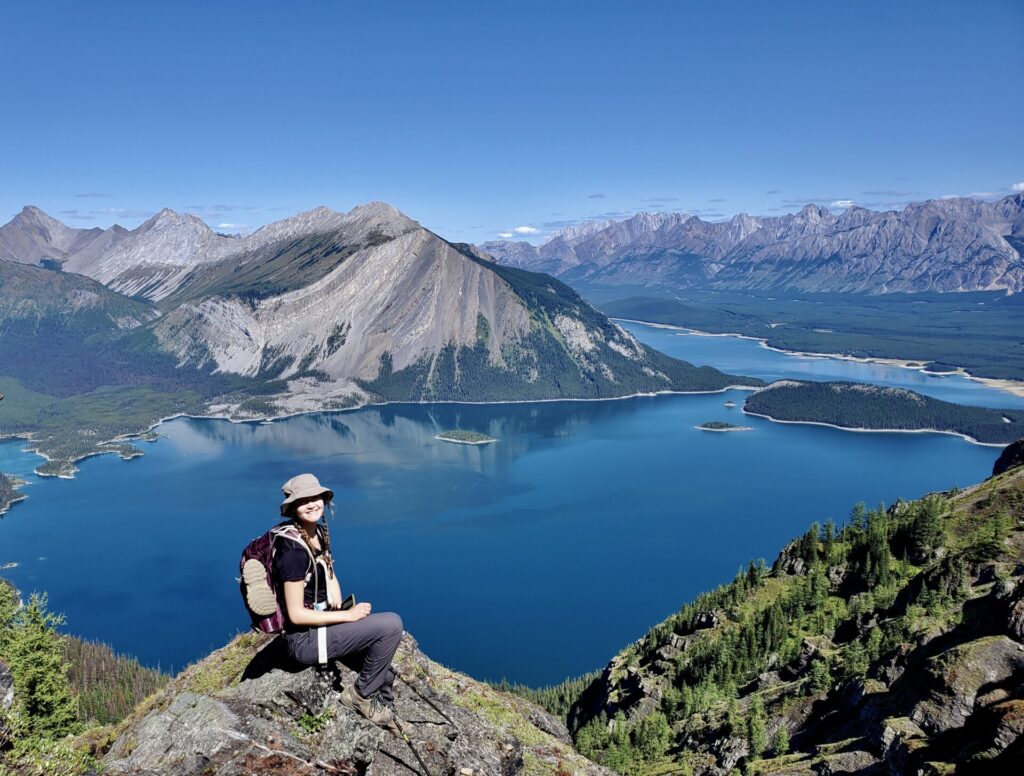 From the summit you'll also get up-close-and-personal with the impressive Mount Sarrail – that INSANE mountain backing Rawson Lake.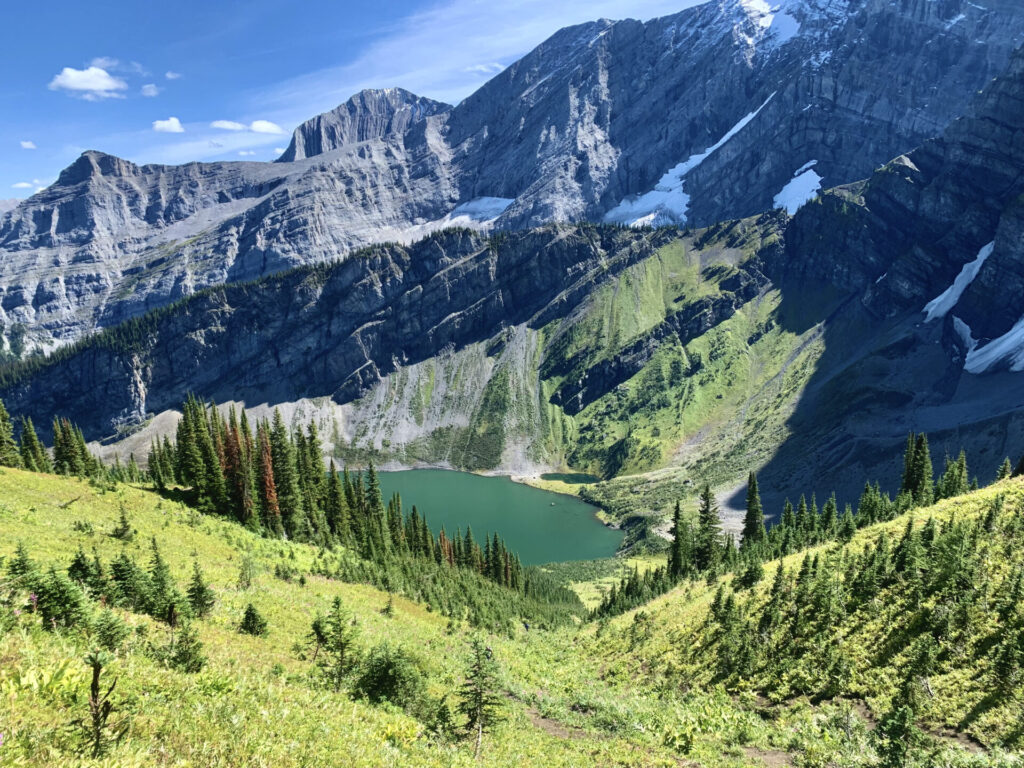 When I summited Sarrail Ridge, I spent well over 2 hours lounging in the sun, hanging out in the alpine meadow, and taking about 1384762371 photos. This summit really had that special "I'm in the mountains" feeling to it.
If you're up for an extra 2.6km and 436m of elevation gain coupled with an intense calf workout, I'd definitely recommend completing the Sarrail Ridge summit.
More: Sarrail Ridge Trail Guide
---
Explore More Hikes In Kananaskis
Kananaskis is an area just outside of Banff that's made up of multiple Wildland Areas and Provincial Parks. Kananaskis is my favourite hiking destination in the Canadian Rockies, so I urge you to explore more hikes in the area!
Click here to explore more of Kananaskis.
---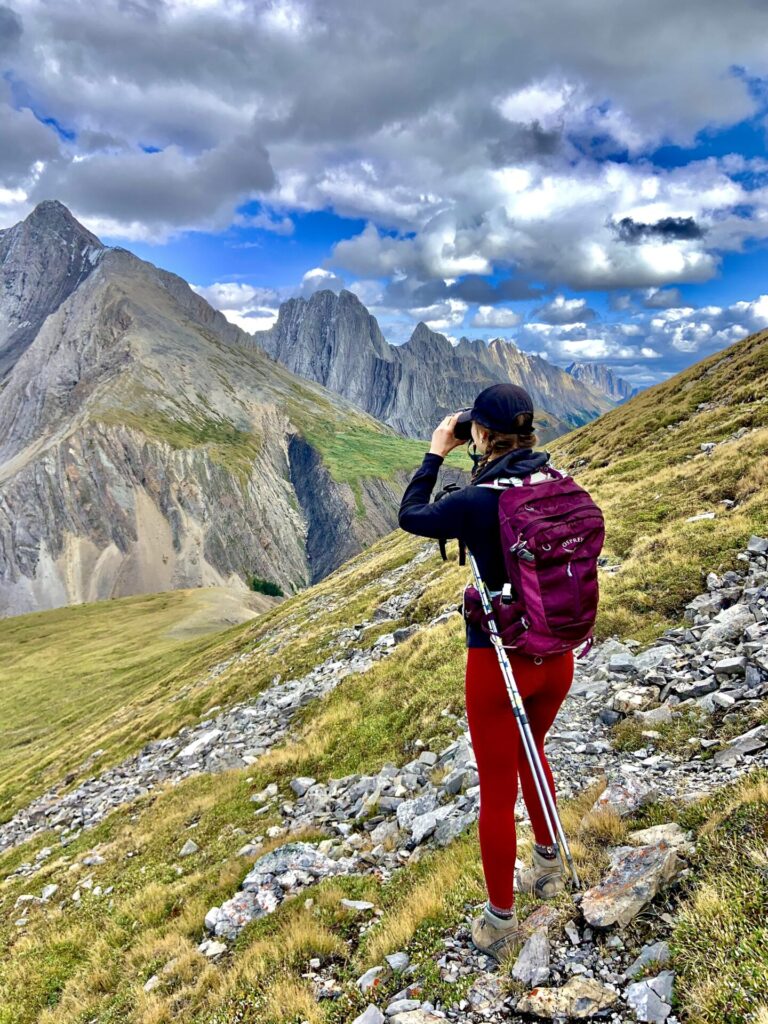 Featured Kananaskis Hikes:
Explore Kananaskis Country by Area:
Visit National Parks Nearby:
Looking for more hikes? Click here to explore all of my trail guides.
---
---
---
Recommended Hiking Gear
The following items are some of my favourites – I never hit the trail without them!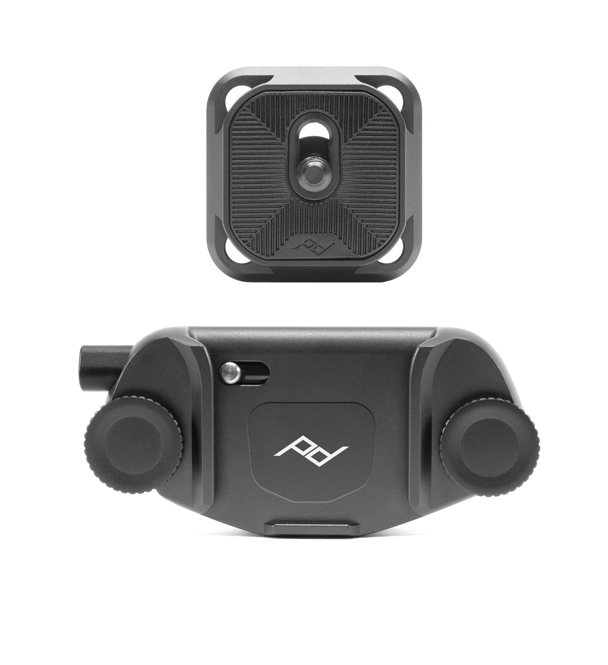 The Capture Clip by Peak Design is a sturdy, safe, and super convenient way to carry your camera while hiking or backpacking.
Find it on Amazon (CAD).
Find it on Peak Design (US).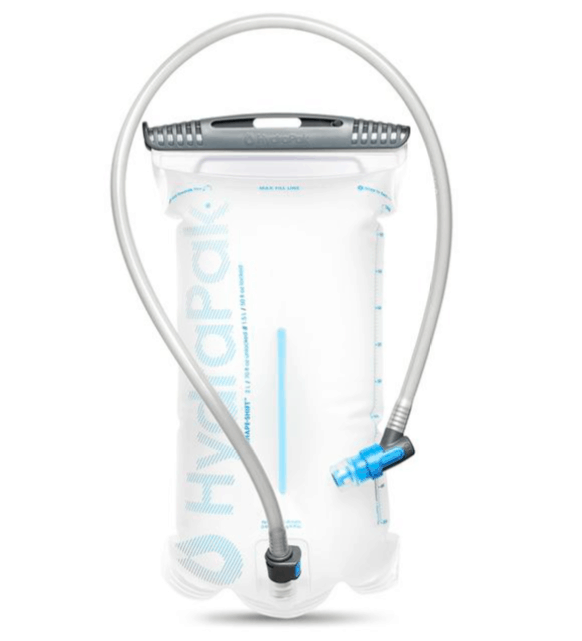 A hydration reservoir is SO important. It holds 2L+ of water and keeps you hydrated on-trail. I use the 2L Hydrapak; it never leaks and has a detachable tube.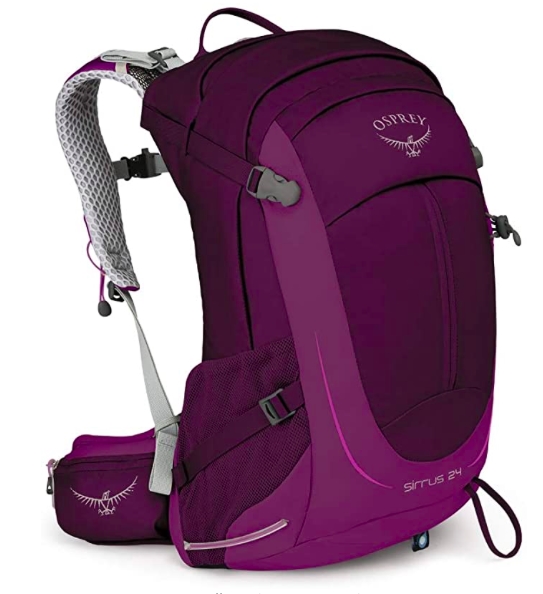 Things to look for in a good quality day-pack: sternum strap, hip belt (with pockets), and a breathable mesh system for your back. I use the Osprey Sirrus 24L pack (men's version) and I LOVE it!
---
What To Wear Hiking in the Rockies
For a detailed guide on what to wear hiking in the Canadian Rockies, check out this post.
Choosing what to wear hiking can be confusing, but the secret to properly dressing for a hike is layering. You can mix and match the tops and bottoms you already own to make up your base layers, however in addition to those clothes you'll need a few extra things:
A waterproof jacket is the most important layer for hiking – it keeps you warm and protects you from wind and rain. I use the Marmot Eco Precip Jacket (men's version) which is totally a bang-for-your-buck. If rain is in the forecast, don't forget to pack waterproof pants (men's version) too.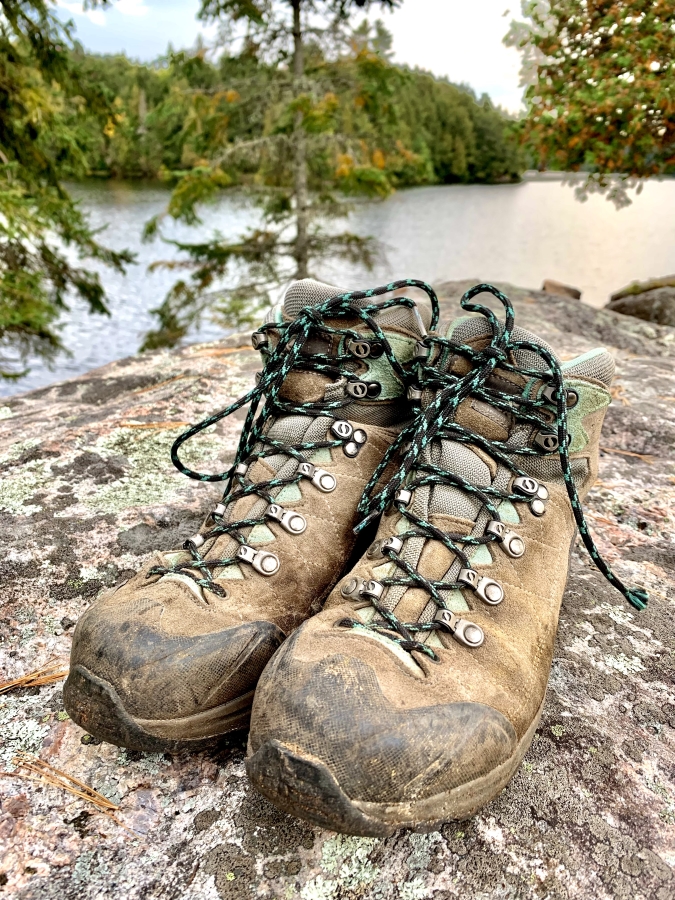 A good pair of hiking boots are Gore-tex, provide ankle support, and are durable. I use the Scarpa Kailash boot (men's version) and they've never let me down. You'll also want a good quality pair of socks. I use Smartwool – they're great quality and last an entire season.
A puffer jacket acts as your warm layer. I use the hoodless Columbia Women's Heavenly Jacket (men's version). Alternatively you can use a fleece zip – I have this one (men's version) from Columbia. Both of these options are perfect layers to keep you warm on windy, cold, or high elevation hikes.
Rocky Mountain hiking exposes you to different natural elements and conditions – it's imperative that you're prepared for whatever nature throws at you. Trust me, I've learned the hard way!
More: Day-hiking Gear Guide
More: What to Wear Hiking in the Canadian Rockies
---
Where to Stay in Kananaskis Country
Unless you plan on camping, lodging options are a bit limited in Kananaskis. Here are a few options for every budget:
---
Happy adventuring!
Taylor ♡
---
Like This Post?
Share with friends or save it for later!
---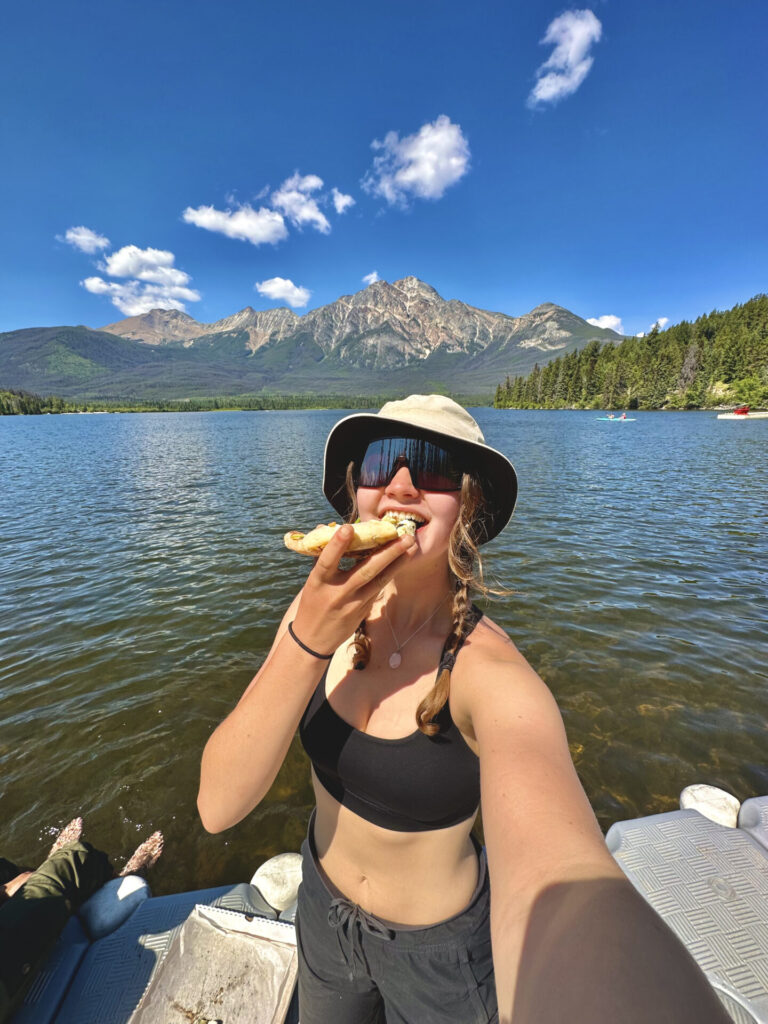 About The Author
HI, I'm Taylor – the voice behind The Holistic Backpacker.
After moving to Banff National Park in 2020 I became an outdoor adventure enthusiast and vowed to never stop exploring.
I now spend my days travelling the world, climbing mountains, and spending nights under the stars in the Canadian Rockies backcountry.
I created The Holistic Backpacker so I could share my adventures and help connect people like you with the same amazing experiences.