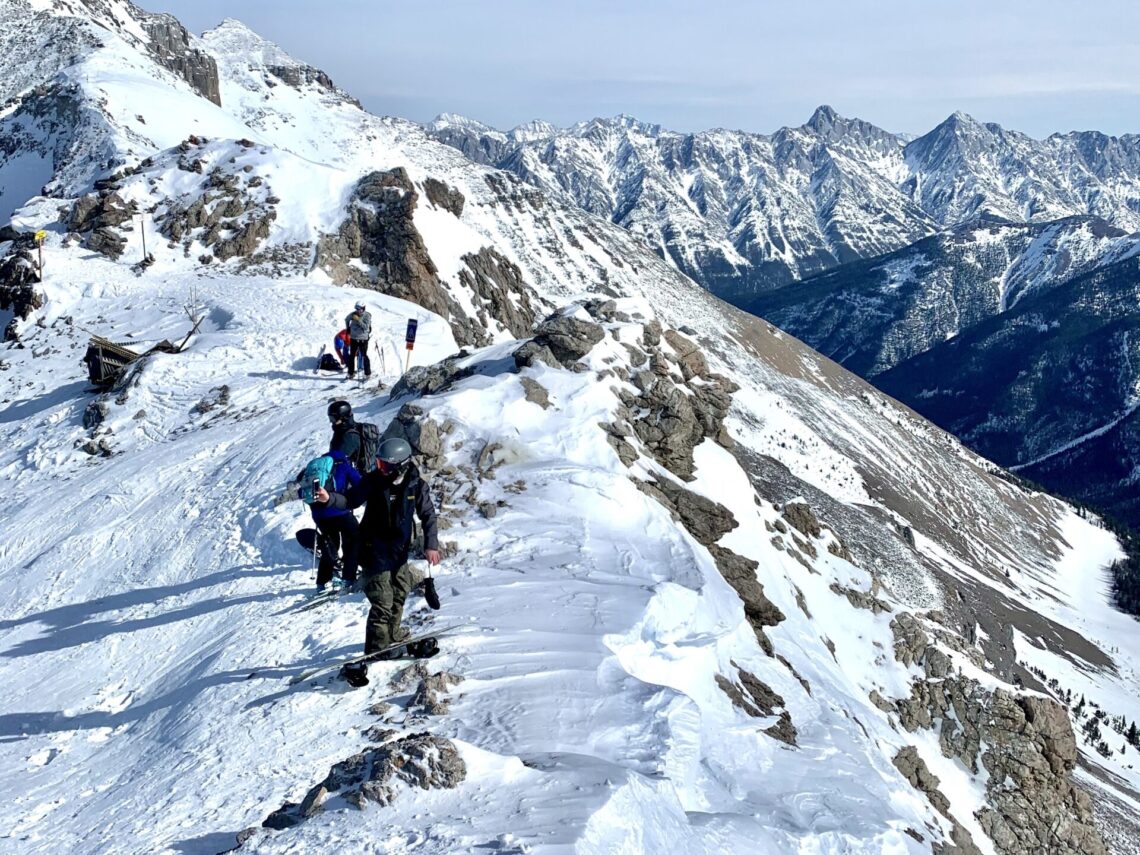 Which Banff Ski Resort & Ski Pass is Best? A Full Review of SkiBig3
Banff is home to SkiBig3 which is made up of 3 mountains; Sunshine Village, Lake Louise, and Norquay. You may be asking which Banff ski resort is best and which Banff ski pass is best. In this post I'll answer all your questions and talk about the pros and cons to each Banff ski resort and their season pass.
When I lived in Banff my home mountain was Sunshine Village. I skied Sunshine the most, but I also visited Norquay and Lake Louise along with over 10 other resorts scattered around the Canadian Rockies.
Before we get into it, you may also want to take a look at my other Banff ski guides:
More: My Local's Guide to Skiing Sunshine Village
More: What It's Like Working at Sunshine Village
Now, let's go skiing!
Skip Ahead:
This post contains affiliate links; see my full disclosure. If you click these links and make a purchase you're supporting The Holistic Backpacker. Thanks for your support & happy adventuring! – Taylor ♡
---
---
---
Related Content:
---
What Is SkiBig3?
SkiBig3 is one company that's made up of the 3 Banff ski resorts. There's a lot of confusion about what SkiBig3 is, but essentially you can completely ignore it and focus on the 3 individual resorts.
The only time you'll want to consider SkiBig3 is when you're purchasing a season pass (I'll talk about the best Banff ski pass next). A season pass is NOT a lift ticket – don't ever buy a SkiBig3 lift ticket. This ticket costs more because it grants you access to all 3 resorts in the same day, however no one visits more than one ski resort in the same day so it's totally pointless.
You're therefore better off to buy a lift ticket from the individual Banff ski resorts if you're only skiing for a couple days. I've broken down exactly which Sunshine lift ticket is best here.
Best Time of Year to Ski in Banff
Sunshine has the longest ski season in Canada. You can ski in Banff from early November to the end of May – almost 7 full months!
Each month of skiing in Banff offers something slightly different, so depending on what you're after plan your trip according to the following:
Banff Ski Season by Month
Peak season – February to April is the best and most popular time of year to ski in The Rockies. During these months you'll find a great amount of snow, decent temperatures (especially the longer you wait), and have less icy conditions.
Spring skiing – March to May will have significantly warmer temperatures as well as many more bluebird days. The only downfall to skiing in the spring is that you never know what snow conditions you're going to get. You'll discover that conditions are frequently icy and/or slushy.
Coldest months/best snow – January and February will be the coldest months of the ski season. You'll find the best snow during these months, but you'll also have to deal with a lot of low-visibility days and ridiculous temperatures that can reach -40 before windchill. In January 2021 Sunshine had to completely shut down for multiple days because it was too cold to run the lifts and gondola.
Holidays – if you can, avoid skiing during the holidays. The reason being the hills are busy and the lift lines are long. To maximize your ski time, try to come mid-week and stay away from any major event; Christmas, March break, University reading weeks, New Years, etc.
Snow Conditions
Current Conditions – check out this page to see up-to-date information on current temperatures, snowfall, wind force, webcams, etc at each Banff ski resort.
You can also sign up for each Banff ski resort's emails, newsletter, powder alerts, and daily conditions report to stay up-to-date with the latest.
Follow The Holistic Backpacker's Adventures on Socials:
Keep Up With My Adventures!
Sign up for my newsletter and stay up-to-date with my latest adventures, gear guides, and eco-resources!
Taylor ♡
Lake Louise Ski Resort: Pros & Cons
Okay so I won't lie, I spent one day at Lake Louise and it looked like this. My pal and I had full intentions of rippin' up the terrain that day, buuuut the sun came out, the drinks started flowing, and we found the perfect patio to sneak up to. Our day of shreddin' turned into a day of loungin' in the sun.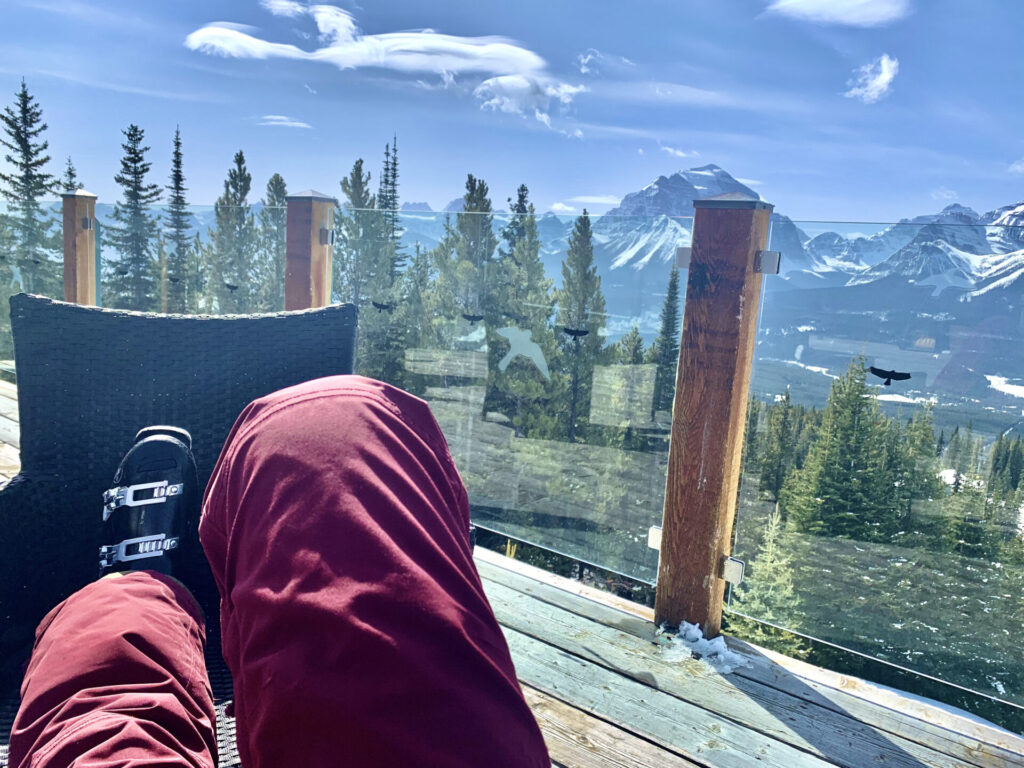 Lake Louise ski resort definitely has the "wow factor" when it comes to views, but honestly I found it to be just another ski resort. I don't necessarily have anything negative to say about it, but I don't have anything overly positive either – I'm neutral about the matter.
In saying this, the resort is still incredible. You're skiing in the Canadian Rockies after all! I'm just a little spoiled after skiing at 14+ resorts scattered around the Rockies.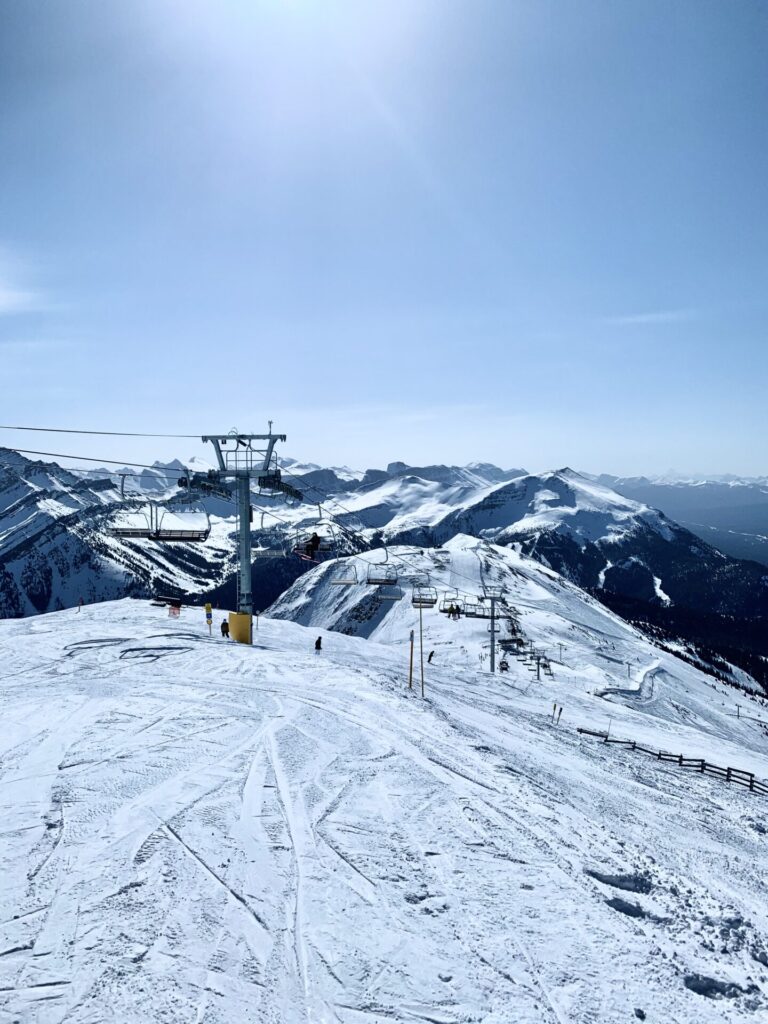 I wasn't a huge fan of the layout and lift set up at Lake Louise, but the resort does have insane views and some steep back bowls that are super fun to ski. A downfall to Lake Louise though is the lack of activities in the town of Lake Louise if you're actually staying there. The distance from the town of Banff isn't great either. The bus ride is free, but it is 40+ minutes which adds well over an hour of commuting.
For a more in depth breakdown of Lake Louise's pros and cons, visit Powder Hounds.
---
Explore My Skiing Adventures
Here are a few of my latest skiing guides and adventures, but you can find more
---
Norquay Ski Resort: Pros & Cons
This little Banff ski resort totally flies under the radar and is the least visited ski resort of SkiBig3.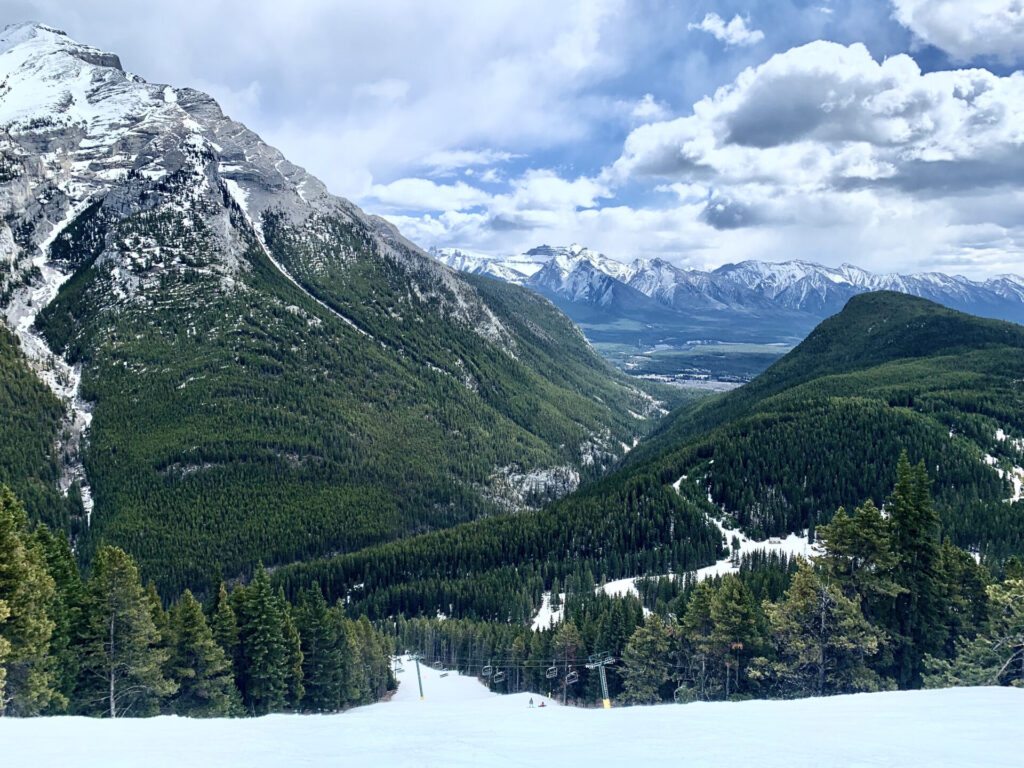 Norquay ski resort has small and uncrowded terrain that's perfect for beginners. This is the best Banff ski resort for poor weather days because the altitude of the resort is much lower, however they do have a lot of fake snow and a shorter ski season because of said low elevation.
A couple pros to Norquay ski resort though is that you can fit in lots of vertical runs between the lack of people/fast quad chairs and the resort is just minutes from the town of Banff. A major downfall is that you have to drive; there's no free shuttle.
Even though Norquay is small, it's got some steep terrain that's great for pow days. An added bonus here is that fresh tracks will actually last and you won't have to wait in a 2 hour gondola line to hit the slopes like you would at Sunshine.
For a more in depth breakdown of Norquay's pros and cons, visit Powder Hounds.
Sunshine Village Ski Resort: Pros & Cons
Okay here we go – Sunshine Village is the best Banff ski resort, in my opinion. Maybe I'm biased because this was my home mountain, but here's a breakdown of why I think Sunshine is the best.
Terrain at Sunshine Village Ski Resort
Sunshine Village ski resort offers a huge skiable terrain with fast lifts and a gondola that takes you up the mountain before you can even hit a chair lift. This high altitude skiing is how Banff takes the title for best pow and longest ski season in Canada. You can find tree runs, park, steep slopes, you name it. You can also easily access expert terrain as well as find runs off-resort.
Something cool about Sunshine is the chance to ski maintained free ride zones. Banff offers 2; Delirium Dive & Wild West. Here you can try backcountry style skiing knowing if you need rescue that it's right around the corner.
Sunshine also has terrain for beginners – although the resort is more suited for intermediate and advanced skiers.
ALSO the views at Sunshine… I'm all about the views and my oh my. You won't be disappointed.
Explore my local's guide for skiing Sunshine Village Ski Resort.
Atmosphere at Sunshine Village Ski Resort
The Sunshine vibes are it. Everyones there to shred and have a good time. It's easy to make friends up the hill and you've got the chance for aprés at Trappers, the mountaintop bar. Sunshines also close to the town of Banff which makes for great night life.
If you're living in Banff, Sunshine is the season pass you'll want. The free bus ride is short and almost everyone in town will have a Sunshine season pass rather than Lake Louise or Norquay.
Downfalls to Sunshine Village Ski Resort
Even though Sunshine is the best Banff ski resort, there are still some downfalls. Lines can be long and parking can be crazy on weekends, there are various flat spots which aren't great for snowboarders, and fresh tracks don't last. I'd say the good definitely outweighs the bad though!
For a more in depth breakdown of Sunshine's pros & cons, visit Powder Hounds.
Banff Ski Pass Pros & Cons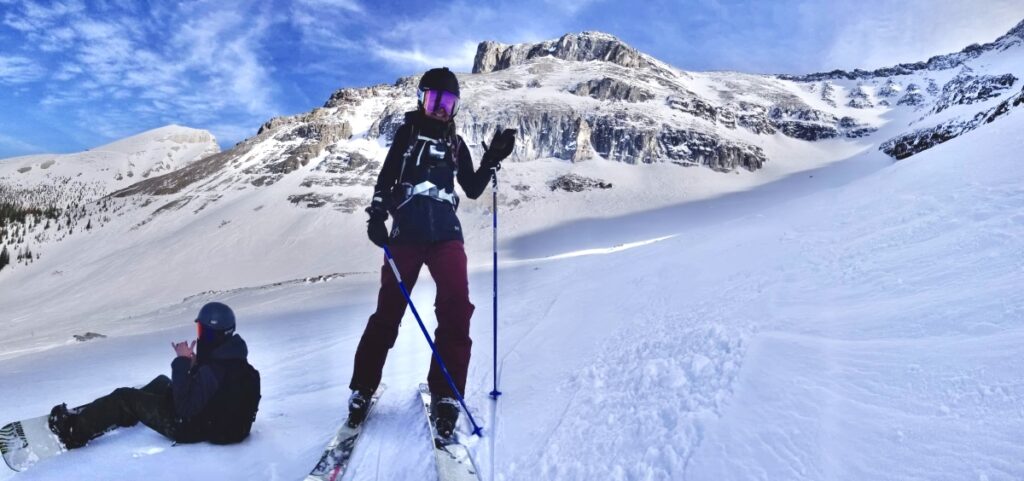 For a full breakdown of which Sunshine lift ticket is best, check out my local's guide to skiing Sunshine Village. This post also includes options like the super card, Mountain Collective, IKON, etc.
---
If you'll be living in Banff, you'll most certainly need a ski pass for winter. As for someone who's lived in Banff, I'd say the best Banff ski pass belongs to Sunshine. I prefer the Sunshine terrain AND this is where the majority of locals ski, so you can expect to see all your friends up the hill.
However to give you more context as to why I think Sunshine's season pass is superior, here's a quick list of pros and cons for each Banff ski resort:
Pros for Banff Season Passes
SkiBig3 – can ski at all Banff ski resorts, discounts in town/on lodging/at other resorts
Sunshine Village – close to town (night life/shorter bus ride), huge terrain area, lots of park sections, where the majority of locals ski, great views
Lake Louise – gorgeous views, steep back bowls
Norquay – steep (great for pow days), cheaper, less busy/shorter lines. Norquay is great for beginners
Cons for Banff Season Passes
SkiBig3 – expensive, how much are you really going to be skiing at different resorts for the increase in price?
Sunshine Village – long lines on weekends/only 1 gondola to get up the mountain, parking isn't ideal, fresh tracks don't last, some flat spots not ideal for snowboards
Lake Louise – 40+ minute bus ride from Banff, lots of moguls from skiers, lower terrain gets quite icy/slushy, lift system layout is initially confusing
Norquay – less terrain, more beginners & kids, lower elevation which equates to slush earlier in spring/shorter ski season, no shuttle
Links to Banff Season Passes
Here are links to each of the Banff ski passes so you can compare prices and decide which is best for you:
Best Banff Ski Pass
Like I previously outlined, there are pros and cons to each of the Banff ski resorts and their season passes. To be honest there isn't a single "best" Banff ski pass, but one season pass may work better for you than another. Here's my takeaway.
Sunshine Village season pass – best for powder hounds, Banff locals, short commutes from town, and those looking for aprés vibes
Lake Louise season pass – again, I'm totally neutral here. It is a nice resort, but I think Sunshine is a better option. The Lake Louise season pass would be good if you've done multiple seasons at Sunshine and want to switch things up though
Norquay season pass – great for families and beginners who don't need as much terrain. The cheaper price on season passes and lift tickets is great if you're new to the sport and aren't picky
SkiBig3 season pass – great for those looking for diverse terrain and the chance to ski multiple resorts
Other Things to Consider
Spring passes – warmer skiing, cheaper, good for those only wanting a few months of skiing
Other resorts – for those planning to ski many resorts, check out IKON and Mountain Collective. Do note that many season passes offer cheaper tickets at other resorts (check with your local resort's policy)
Midweek and afternoon passes – if you work certain hours or only plan to ski certain days there are other passes available at a cheaper rate
Where to Stay in Banff
More: Plan Your Trip to Banff: A Step by Step Guide
The "best" place to stay in Banff depends on your price range and what you're looking for. There are a few ways to go about finding accommodations in Banff according to each price range:
Find all accommodations in Banff here.
Iconic Banff hotels: Fairmont Banff Springs, Fairmont Chateau Lake Louise, The Rimrock Resort hotel, and Sunshine Mountain Lodge (ski in/ski out at Sunshine Village).
Popular hotels in Banff: Mount Royal, Elk & Avenue, Juniper Hotel & Bistro, Banff Park Lodge, and The Banff Caribou.
Budget accommodations in Banff: there are numerous hostels in Banff, The Dorothy Motel, Blue Mountain Lodge Bed & Breakfast, Banff Rocky Mountain Resort.
Iconic hotels near Banff: Emerald Lake Lodge (Yoho), Prince of Wales (Waterton), Mount Engadine Lodge(Kananaskis Country), Fairmont Jasper Park Lodge (Jasper).
Tips for Saving Money on Accommodations
I won't lie, Banff can be a pretty expensive place to travel (but worth every penny). So, to help you offset some of the costs of your trip, here are tips for saving on accommodations in Banff:
More: Plan Your Trip to Banff: A Step by Step Guide
Happy adventuring!
Taylor ♡
---
Like This Post?
Share with friends or save it for later!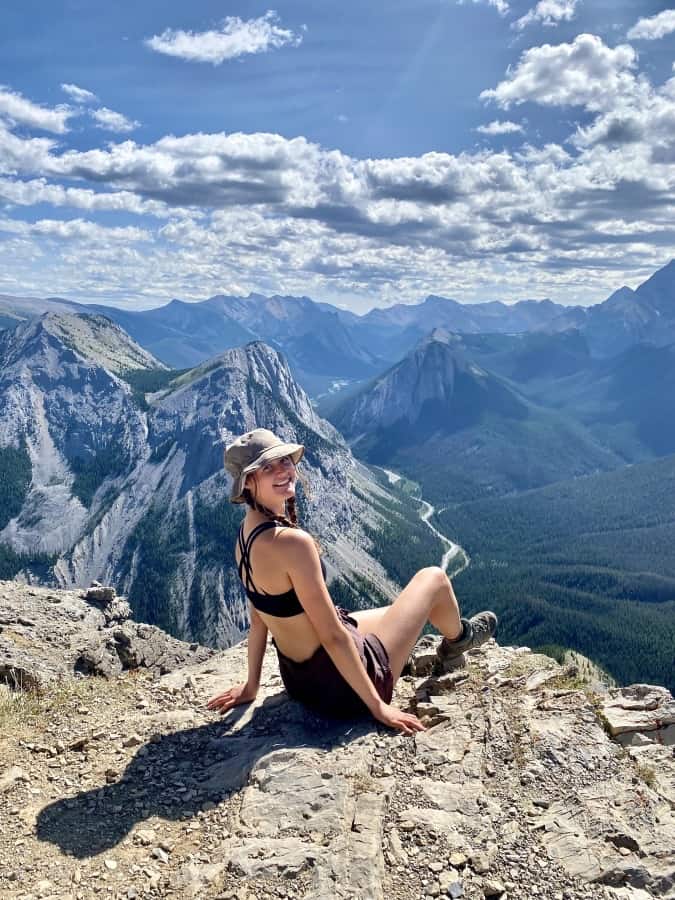 About The Author
---
Hey! I'm Taylor – the voice behind The Holistic Backpacker.
After moving to Banff National Park in 2020 I became an outdoor adventure enthusiast and vowed to never stop exploring.
I'm now focused on travelling the world and seeing everything our beautiful home has to offer.
I created The Holistic Backpacker so I could share my adventures and help connect people like you with the same amazing experiences.
I am also an advocate for the environment and do as much as I can to take care of our planet.
Get to know me and my story more here 🙂
I can't wait to share my adventures with you!