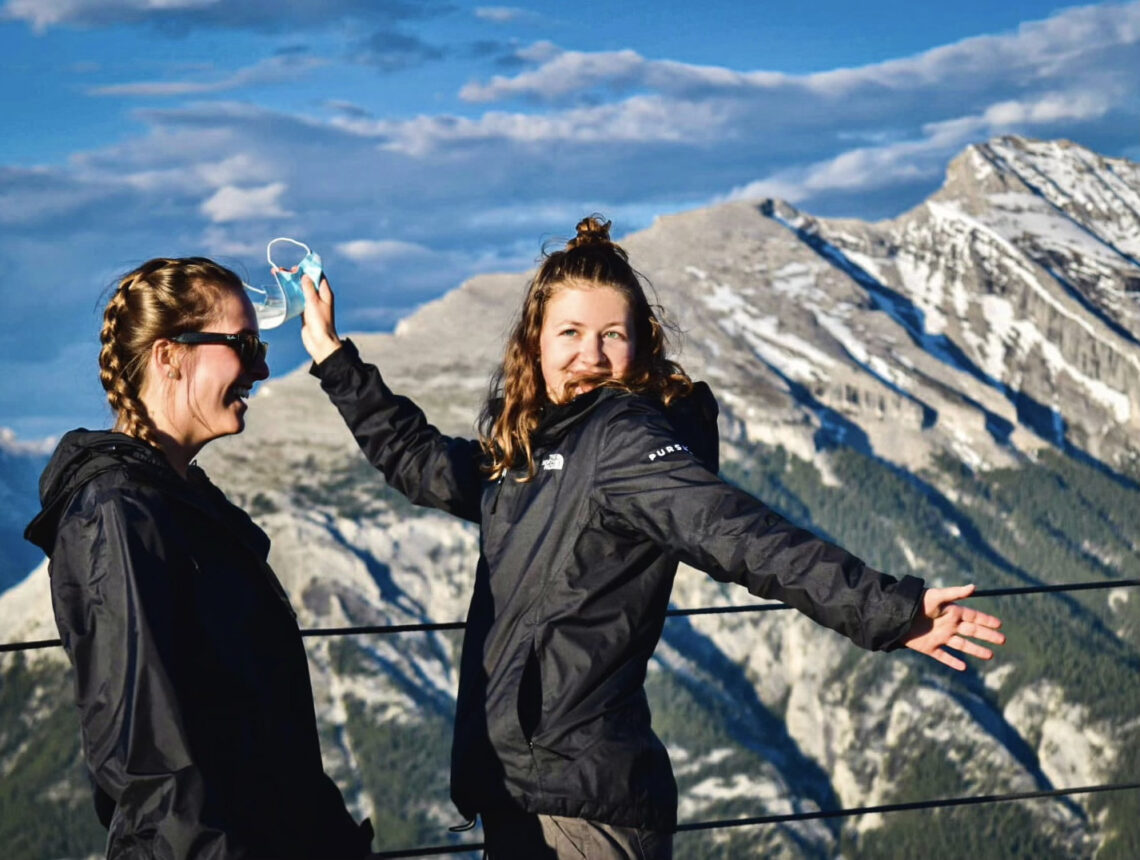 What It's Like to Work at Sunshine Village and the Banff Gondola & How to Find a Job in Banff
Of course when you first arrive in Banff you'll be consumed by the gorgeous views and the need to get out and start exploring. You'll probably roll your eyes and moan and groan when it's time to start your first shift, but if you live in Banff having a job is necessary for a few reasons:
To live in the Park you need to work in the Park
Banff is an expensive place to live, so you'll need a source of income to support yourself
Having a job is a super easy way to make friends and form social connections
It's totally possible to land in Banff with no job, no place to live, and nothing planned. There's always the option to stay at the hostel in town or camp for a few nights while you figure everything out. Banff is a transient town and people do it all the time, but having a job and accommodations figured out before you get there is reassuring and less stressful.
So, here's my experience finding a job and working at various places in Banff.
Skip Ahead:
This post contains affiliate links; see my full disclosure. If you click these links and make a purchase you're supporting The Holistic Backpacker. Thanks for your support & happy adventuring! – Taylor ♡
---
---
Banff Resources
Before I get into what it's like working in Banff and how to find a job in Banff, here are a few other resources you might find helpful:
You can find all my guides for living in Banff here.
What It's Like Working At The Banff Gondola
The Banff Gondola was the first place I worked at when I moved to Banff National Park. There are some serious perks to working for Pursuit (the company that owns the gondola), but there are also some not-so-great things about working there, as there are with any job.
I'll tell you my experience as well as what to expect, where to apply, and what positions are offered within the company.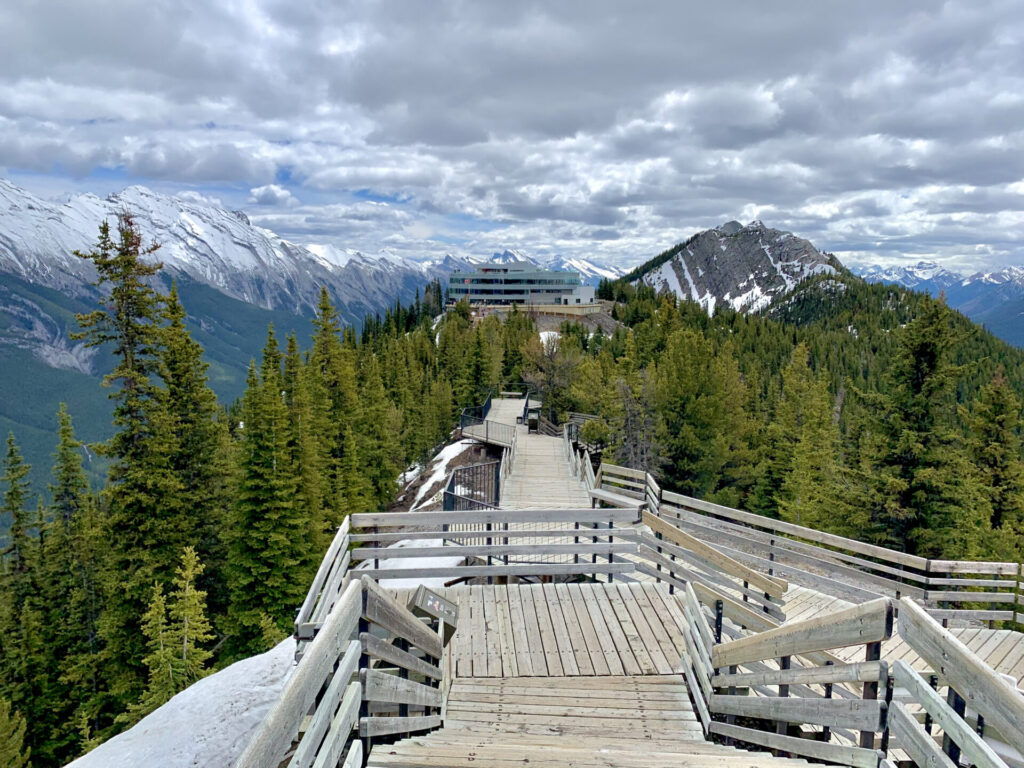 Perks Of Working At The Banff Gondola
As I mentioned, Pursuit is the company that owns the Banff Gondola. They also own hotels, attractions, and transportation services all over the Rockies; Banff, Jasper, Waterton, Glacier. As a staff we get:
Free Stuff
Free attractions – this is true for everything Pursuit owns; Columbia Icefields, Glacier Skywalk, Golden Skybridge, lake cruises, etc
Free shuttles – Pursuit owns Brewster buses and the company has various sightseeing tours, you'll get them all free
Friends & family – you can get your friends & family 50% off attractions (although sometimes they give it to them free if you go with them) and discounts on hotels (not as cheap as you'd get them as staff, unless you stay with them)
Bus pass – we also get a free bus pass for Roam's #1; we must take the bus to work every day
Uniform – you'll be dressed head to toe in North Face and you get to keep your pants after the job is over. I still use mine for hiking!
Other Pursuit Perks
Discounted Pursuit owned hotels – there's no set discount rate, but you will get more of a discount if you book during the shoulder seasons (see Pursuits hotels here)
Social life – another perk of working for the gondola is the great social life it gives you. I met so many great friends here and got to talk to people all day long while I was at work
Staff accommodation – staff accommodation is offered to employees for around $15-$17/day, which is about the cheapest you'll find accommodations in Banff. They have multiple buildings and in a couple of their buildings you'll be sharing a room with 2-3 people
Discounted dining – you'll get a 25% discount at all Pursuit owned restaurants
Other discounts – you'll also get a discount at the gondola's retail shop if you want to pick up any souvenirs
A Typical Day Working At The Banff Gondola
When I worked at The Banff Gondola I was a guest service agent; a "memory maker" my first summer and just a plain 'ole guest service agent the second.
A day in the life, summer 2020 – I'd start off my work day catching the Roam bus from my staff accommodation. I'd take the gondola to the summit (or hike up Sulphur Mountain), clock in, and check out the office for where I'd be located that day. My job was literally talking to people and guarding doors/directing traffic – this is when Covid was really thriving and ruining everyone's lives so we had to follow the floor arrows.
Throughout my shift I'd interact with people from all over Canada, mess around with my coworkers, and eat lunch outside with the most incredible views whilst simultaneously fighting off hungry chipmunks.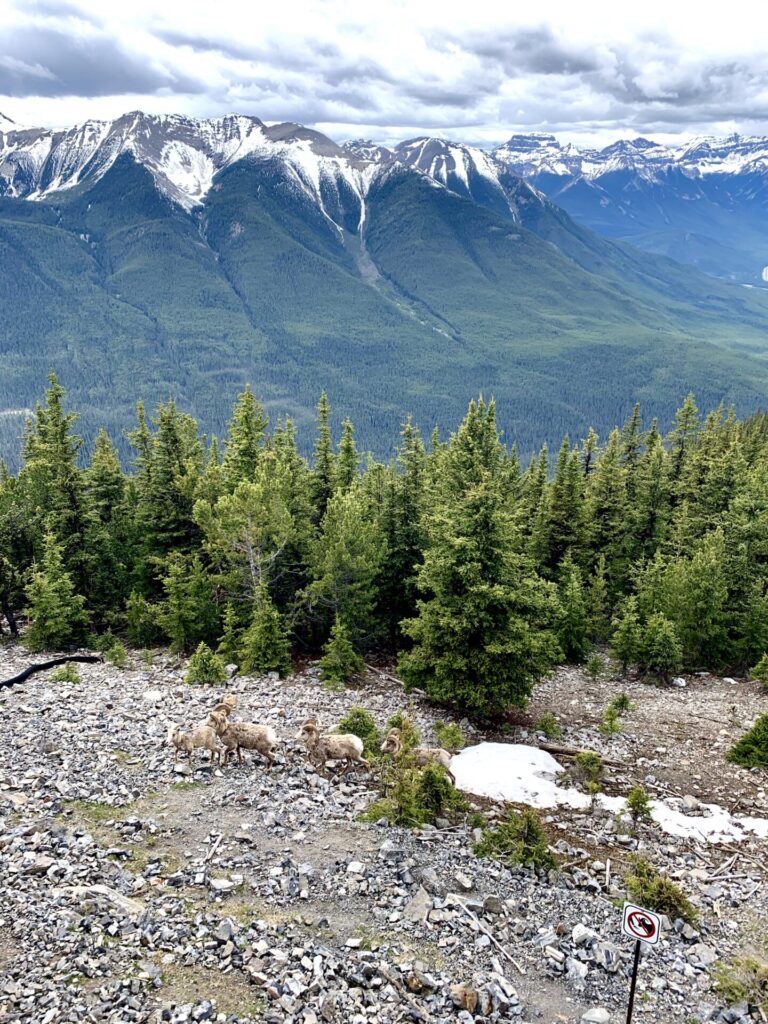 Oftentimes we'd be greeted at the summit by Big Horn Sheep and if we were lucky they'd bring their babies over to say hello.
The coolest thing about working at The Banff Gondola is literally working at the top of a mountain. Before coming to Banff I'd never even seen a mountain in real life and there I found myself taking a gondola up the mountain to work at the summit 5 days a week.
Working at the top of the gondola also gives you the chance to watch sunset and see different types of weather move in and out. There'd be many days where we were literally working in a cloud!
A lot of my coworkers made fun of me because they'd just catch me staring out at the distant mountains… It's hard to focus when you've got views like these!
My next season working at the Banff Gondola had a bit of a change-up for people working guest experience. I then rotated between working at the top and at bottom. I also sold tickets, scanned tickets, and greeted/directed people when they arrived at the gondola.
More: Sulphur Mountain trail guide
More: Sulphur Mountain Traverse Route trail guide
Other Positions At The Banff Gondola
The gondola is a fairly large company so there are lots of positions available and most of them – with the exception of parking and food and beverage – get to work at both the top and bottom of the gondola. Some positions you can work at the Banff gondola are:
Guest service agent – my position and one of the most social roles at the gondola. You have a variety of duties and get to change positions normally once a shift.
Lifty/operations – lifties always seem to have the chillest vibe out of any group at the gondola and are responsible for loading/unloading people from cabins. The job is quite repetitive and boring, but the interactions you have with guests are quick and you don't have to deal with any nonsense for the most part; minus the yelling and constant loud noise in the terminal
Food and beverage – food and beverage workers are always at the top of the gondola and work in either Coffee Mountain Coffee Shop, Northern Lights, Sky Bistro, and sometimes the Peak Patio. If you're a server, cook, or are looking to make mad money in tips, food and beverage is for you. I would assume to find a job in one of these venues you'd need previous experience because it is considered more "fine dining." The downfall to working in food and beverage is that the hours are really long and there isn't air conditioning in the kitchen
Building and grounds – this is the janitorial team and actually where I started working for 2 days before switching to guest experience. Janitorial work isn't the most glamorous, but it does allow you to walk around all day and interact with everyone at the gondola in every department. You're also kind of "your own boss" and don't have anyone watching you/keeping up with your work
Parking attendant – to be honest I'd say this is the dream job at the gondola. You literally walk around outside all day directing traffic and you get the most gorgeous view of Mount Rundle. There's no going up and down the gondola and your shift normally always ends earlier in the day because you start early
Retail – a retail job is a retail job, not much different here than anywhere else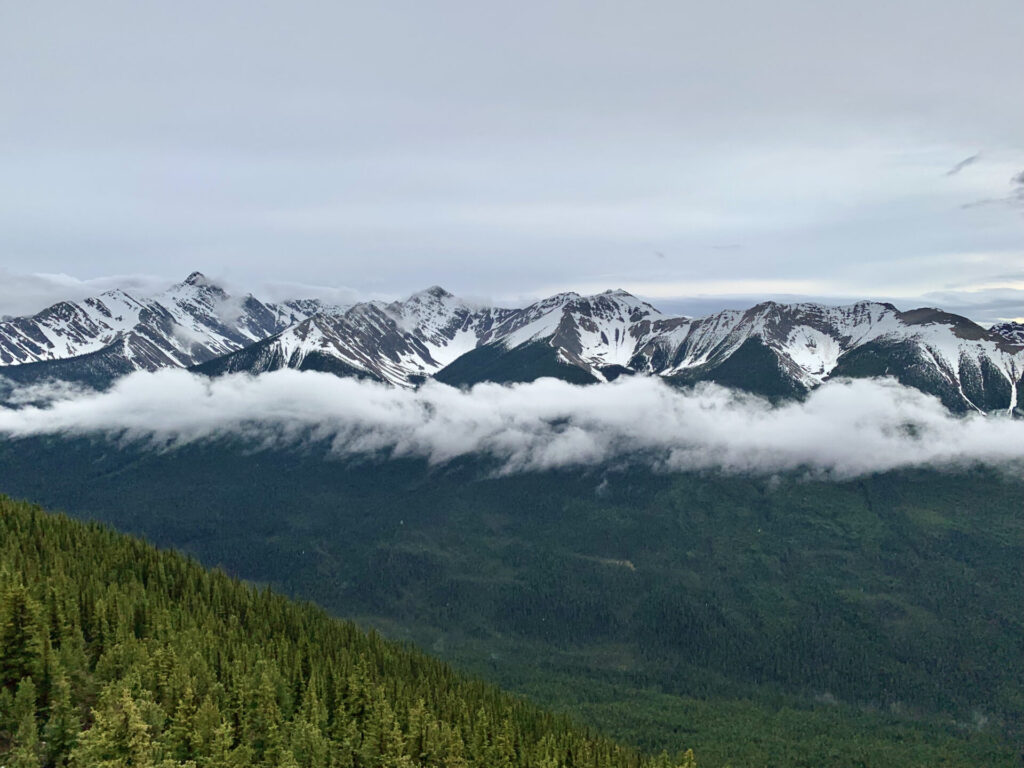 Things To Consider When Applying To Work At The Banff Gondola
As much as the job does sound dreamy, there are some not-so-great things to consider when applying to work at the Baskynff Gondola:
Staff accommodation – staff accommodation is the perfect option if you're moving to Banff temporarily, however if you end up disliking your job, you can't quit because then you'd be homeless
Not a flexible schedule – the gondola is a busy place and your boss won't necessarily be great with scheduling/days off. For this reason I actually quit working at the gondola my second summer in Banff
Hours aren't great – a lot of the time your shift will be right in the middle of the day which leaves you no time to do anything before or after your shift
"Overtime" – the gondola can get quite busy in the summer which means you have to put aside extra time to get to and from work; sometimes an hour plus. Additionally, if you work at the top of the gondola you're not able to clock in before you head up or after you head down. On busy days this alone can add 30+ unpaid minutes to your shift
Rules – the gondola has a lot of rules. Some are necessary for safety reasons, others are pointless. For example, guest service agents weren't allowed to wear shorts, but other departments could. Not a huge deal, but kind of annoying I won't lie
Social aspect – the gondola is an extremely social place. You'll literally be talking all day every day and interacting with hundreds, sometimes thousands of people. For myself, I loved this. Other people I know found it very overwhelming and didn't enjoy it
If working at the Banff Gondola seems like a good fit for you, you can check out current openings on their career page.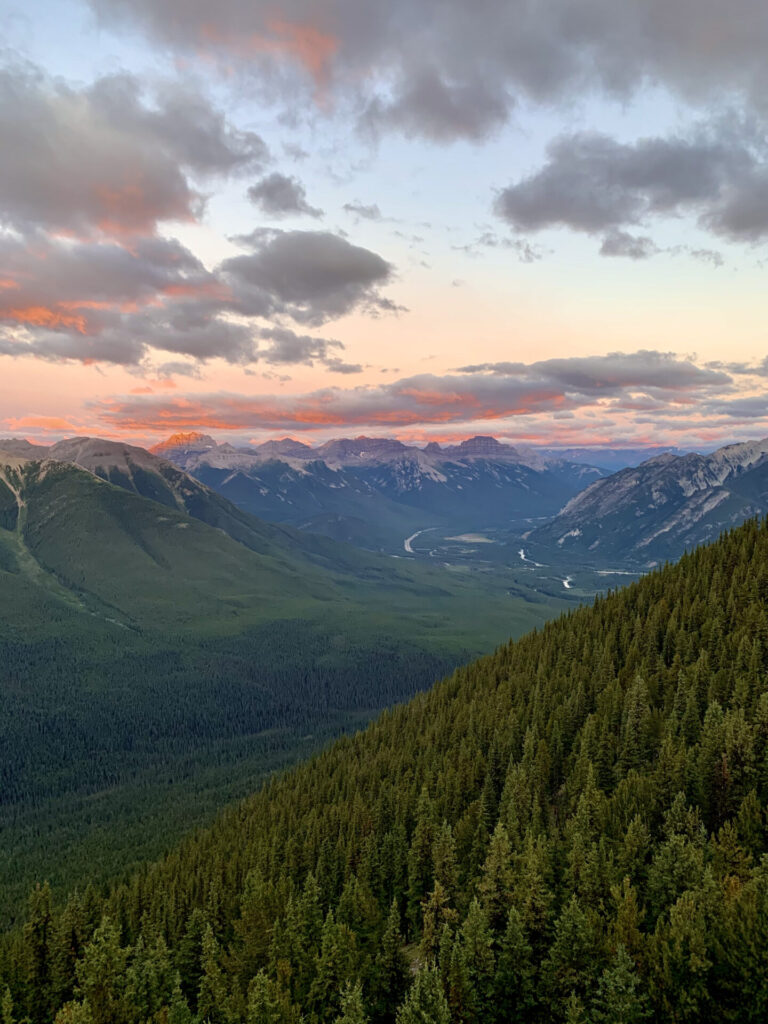 What It's Like Working At Sunshine Village
My experience working at Sunshine Village was pretty epic, I won't lie. Not everyone has as great of an experience as I did but I hit the jackpot. I'll tell you all about the perks of working for Sunshine, my experience working for the company, and all about the entry level positions.
More: Local's Guide to Skiing Sunshine Village
More: Which Banff ski resort/ski pass is best? A Full Review
Perks Of Working At Sunshine Village
There are plenty of perks working for Sunshine Village. The following are the most notable:
Free season pass – every employee that works at Sunshine gets a free season pass, this is the biggest draw to working at a ski hill
Reciprocal deals at other resorts – this is constantly changing, but typically Sunshine employees staff passes work at Lake Louise and Norquay. Additionally we should get free days and 50% off days at other resorts in the Rockies
Pro deals – a lot of ski and snowboard brands (like Salomon, Burton, etc) offer pro deals to Sunshine employees. This means you can get super cheap, brand new gear
Staff accommodation – Sunshine has on-hill staff accommodation. When this is full they will typically put their other employees up in the Fairmont's staff accommodation. The living conditions aren't great on-hill, so if possible I'd recommend finding your own place or taking the Fairmont option
Ski every day – you work either short days or get scattered 2 hour ride breaks
My Experience Working For Sunshine Village
As I said, I had a fantastic experience working at Sunshine Village. The company does have a bit of a bad rep because they actually kicked all their employees out of staff accommodation without notice when Covid hit and the company is known to be money hungry. I didn't find any negatives when I worked there though and I would definitely recommend working for Sunshine if you're looking to be a ski bum in Banff.
On a typical day I'd take the 7am staff bus – a very comfortable Brewster bus the season I worker there – to work in the pitch black, dead of winter.
Upon arriving I'd do my usual till counting, then open up my window and start selling tickets.
There's honestly a TON to learn about selling tickets at a ski hill because there are so many ticket options, passes, discounts, etc. You get used to it though.
At the latest my shift would end at 2:15 which meant I was able to go skiing literally every day – this is how I reached around 90 days of skiing while working and doing online school simultaneously.
Everyday was chill and my coworkers were pretty rad which helped create a great work environment.
Along with the short work days, the best thing about working in tickets is the warmth. Working an outdoor position at Sunshine means you're outside in freezing temperatures all day every day. This is brutal and honestly I don't think my body could handle it.
My job was exceptionally great because I had a fantastic management team. They were super understanding and so great with scheduling. Being in school simultaneously meant I couldn't work as much as a full-time staff member would. Management was able to accommodate my needs plus acknowledge my time-off requests.
Positions At Sunshine Village
Since Sunshine is such a big company there are plenty of job opportunities. I'll name and briefly describe a few of the most common entry level positions:
Guest Services – my position. We deal with tickets, season passes, lost and found, emails, etc
Lifty – lift attendants and gondola operators are responsible for loading/unloading lifts and gondolas. To be honest this job sounds like my own person hell – standing out in the cold all day. However it is a no-brainer and there are a million spots available for this, so you're most likely going to get a lifty position if you apply to work at Sunshine Village
Powder Crew – powder crew is responsible for clearing snow and cleaning the bathrooms at the top of the mountain. I had a few friends who did this and they said it was all jokes
Custodial – custodial crews are normally stationed at the top or bottom of the mountain and are responsible (obviously) for maintaining the cleanliness of the resort
Security – security guards rotate around the mountain and are responsible for dealing with any issues that arise from guests
Follow The Holistic Backpacker's Adventures on Socials:
Keep Up With My Adventures!
Sign up for my newsletter and stay up-to-date with my latest adventures, gear guides, and eco-resources!
Taylor ♡
Parking – the parking crew is responsible for directing traffic and helping with all problems at the base of the mountain. They're the real unsung weekend heroes when the parking lot is crazy
Sunshine Lodge – there are various positions available at the lodge ranging from front desk, to house cleaning, to food and beverage
Food & beverage – there are locations all over the resort for this. You can expect to make significantly more money working in food and beverage from tips
Rentals – located at the top and bottom of the gondola. This job has been described as a "no brainer." This is another warm, indoor job

Shop – at the shop you'll be repairing and waxing skis/boards as well as mounting and adjusting bindings
Retail – retail shops are located at the top and bottom of the gondola. This is another warm, indoor job
Daycare – located at the top of the mountain, day-care at Sunshine is just like any other day-care position
Ski patrol – more of an advanced position. You must be a skilled rider and your job will be to maintain the mountain, provide first aid, rescues, etc
Ski instructor – you must be a certified instructor for this
If working at Sunshine Village is of interest to you, check their website for available openings. You should start applying a month or two before ski season starts – opening day is usually around the beginning of the second week of November.
More: A Local's Guide To Skiing Sunshine Village In Banff National Park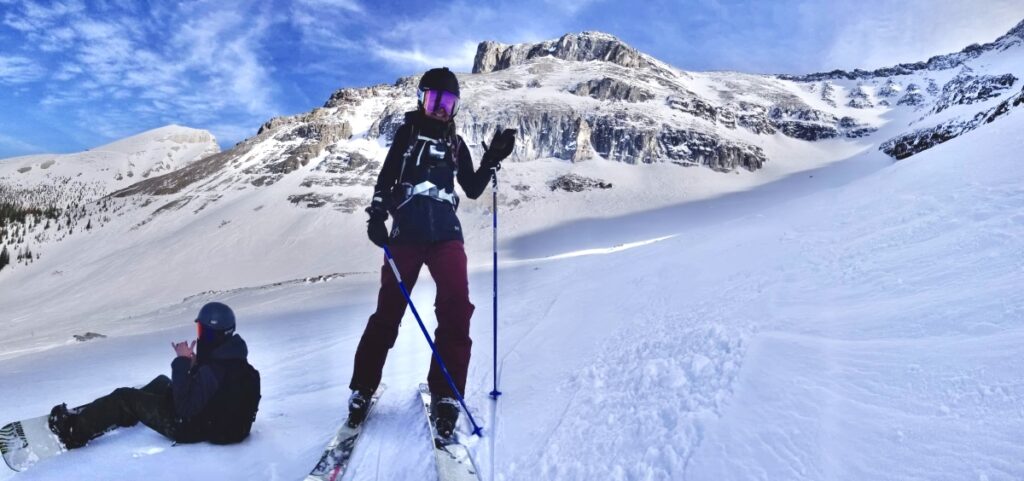 How To Find A Job In Banff
At first finding a job in Banff may seem very overwhelming, but I assure you it's not. There are two main ways to go about applying for jobs in the area:
Indeed – Indeed is an online job search tool that almost all employers use in Banff. You can find all sorts of jobs on here and it's the easiest way to find a job in Banff
Apply to individual businesses – another option is to search for jobs you actually want to work and apply to individual businesses. The best way to go about this is to find a company you want to apply for and look to see if they have a careers or employment page; if you don't see one you can always use the search bar to search their website. You can either apply to these pages, or send an email to their general information email introducing yourself with a resume and asking the receiving person to forward you to the right department.
Tips for finding jobs in Banff:
Apply to everything – you never know what job is gonna hit
Apply with the seasons – Banff employers normally hire with the seasons; summer is May/June – early September, winter is November to April/May. Start applying a few months before these main seasons start
Don't be picky – you won't find your dream job in Banff, but chances are you aren't going there for work anyways!
Type of job – you're almost bound to pick up some sort of customer service, hospitality, or cleaning/custodial related job in Banff. Go into your job search with this mindset
If you follow these tips, you'll find a job in Banff in no time!
Best Places To Work In Banff
Different places of employment in Banff offer different things. If you're looking to stay in Banff long-term vs short-term you're going to want something different. If you're a super social person there are jobs that are better than others. From my time in Banff this is what I noticed about the "best" places to work in Banff:
Money – hands down if you're after cash you're going to want to get into the serving industry. Basically any other job is minimum wage and there's no way around it. Getting a bartending job at one of the pubs in town is your best bet
Social Life – you'll meet like-minded people wherever you end up in Banff, but if you're looking to meet the max number of people you're going to want to work at the gondola, the Fairmont, or Sunshine Village
"Grown-up" jobs – if you're looking for something more serious there are plenty of management jobs out there. Your best bet in this situation is to look in your field of study and do some research; I have a psychology and ECE degree and was offered a job at the day-care in town
Want to Live in Banff?
Here are a few of my resources for living and working in Banff, but you can find more here.
Happy adventuring!
Taylor ♡
---
Like This Post?
Share with friends or save it for later!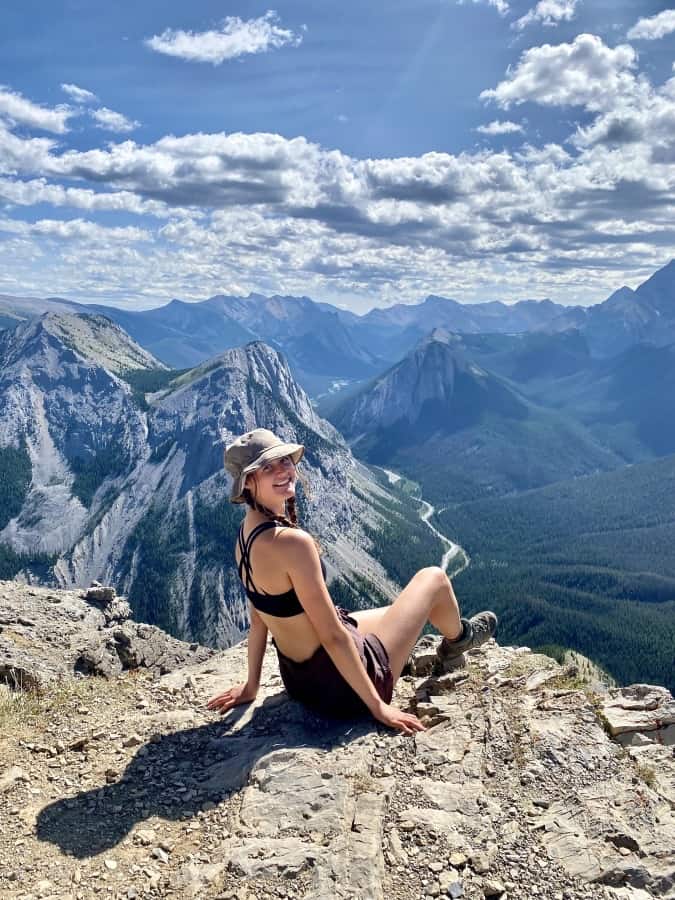 About The Author
---
Hey! I'm Taylor – the voice behind The Holistic Backpacker.
After moving to Banff National Park in 2020 I became an outdoor adventure enthusiast and vowed to never stop exploring.
I'm now focused on travelling the world and seeing everything our beautiful home has to offer.
I created The Holistic Backpacker so I could share my adventures and help connect people like you with the same amazing experiences.
I am also an advocate for the environment and do as much as I can to take care of our planet.
Get to know me and my story more here 🙂
I can't wait to share my adventures with you!