A Local's Guide To Skiing Sunshine Village In Banff National Park
I moved to Banff National Park in 2020 and did an entire winter season at Sunshine Village. This was my first winter season being a ski bum and certainly won't be my last.
There's big debate as to which resort in Banff is best: Sunshine or Lake Louise. Maybe I'm biased because Sunshine is my home mountain, but I'd say Sunshine is the best resort in Banff. This is for a few reasons; Sunshine has slightly better snow, the views are incredible, there is a huge amount of skiable terrain, Sunshine has the longest ski season in Canada (almost 7 months), and Sunshine is closer to town which will give you both night life and a shorter drive.
Something unique about Sunshine compared to its neighbours (Lake Louise and Norquay) is that to get to Sunshine Village you need to take a gondola. There is almost nothing at the base of the mountain – all the fun starts at 7, 200ft. From here you can access the day lodge, the mountain lodge and the lifts.
Keep in mind that Sunshine is in a National Park which means you'll need a Parks Pass for each day you're in Banff. You can purchase these at the visitor centre in town, at the gates when you initially enter the Park, or online.
Now that you've had a quick intro to Sunshine Village… Let's shred!
Skip Ahead:
This post contains affiliate links; see my full disclosure. If you click these links and make a purchase you're supporting The Holistic Backpacker. Thanks for your support & happy adventuring! – Taylor ♡
---
---
---
Banff Travel Tips
How to get to Banff: fly into Calgary International Airport. Rent a car, RV, or take one of the following shuttles to Banff:
When to visit: Hiking (July to mid September), backcountry camping, wildflowers, & water activities (July-Aug), fall colours (mid September to early October), skating (December), skiing; best snow, coldest temps & frozen waterfalls (January & February), northern lights (December to February), best spring skiing (march – April), quietest months to visit (May, October, and November).
What to pack no matter the season: layers, sturdy footwear, waterproof jacket and pants, a hat, and a comfortable sweater.
Wildlife Safety: 11 ways to stay safe from wildlife, bear safety, & bear basics.
Travel Insurance: ALWAYS purchase reliable travel insurance before your trip. This insurance is trusted by backpackers and adventure sport enthusiasts around the world.
Reservations: If you're visiting during peak summer (mid June to early September), make your reservations FAR in advance. Camping reservations must be made on the Parks Canada reservation system. It typically opens in February – it's recommended you make reservations then.
Related Content
General Canada Travel Tips
Currency: Canadian dollars ($)
Phone: popular companies are Rogers, Telus, and Koodoo
Language: English & French (in Quebec)
Public transit is not common in North America. If you want to venture out of big cities, plan to rent a car.
---
How To Get To Sunshine Village In Banff
Sunshine Village is located about a 20 minute drive from the town of Banff and just over an hour and a half from Calgary. If you're flying into Calgary and plan to do a lot while you're in Banff, the easiest way to get there and explore is to rent a car. Alternatively you can catch a shuttle to Banff and then take Sunshine's free bus from town.
Driving to Sunshine – if you have a car, you can easily drive to Sunshine Village. The pro to this being that you can come and leave whenever you want. The downfall being that parking (especially on the weekends) is insane. There is a parking shuttle, but I would recommend just taking the free shuttle from town. However if you're an avid driver purchasing a reserved parking pass may be beneficial. Just make sure you buy these online in advance because they sell out quickly and are sold in a limited capacity.
Sunshine's free shuttle – the shuttle has multiple pickup/drop-off points in town. Do note that the shuttle departs ONLY from Banff, not Canmore. You can see the shuttle schedule here.
Best Time Of Year To Ski In Banff
Sunshine has the longest ski season in Canada. You can ski from early November to the end of May – almost 7 full months!
Each month offers something slightly different, so depending on what you're after plan your trip according to the following:
Peak season – February to April is the best and most popular time of year to ski in The Rockies. During these months you'll find a great amount of snow, decent temperatures (especially the longer you wait), and have less icy conditions
Spring skiing – March to May will have significantly warmer temperatures as well as many more bluebird days. The only downfall to skiing in the spring is that you never know what snow conditions you're going to get. You'll discover that conditions are frequently icy and/or slushy
Coldest months/best snow – January and February will be the coldest months of the ski season. You'll find the best snow during these months, but you'll also have to deal with a lot of low-visibility days and ridiculous temperatures that can reach -40 before windchill. In January 2021 the resort had to completely shut down for multiple days because it was too cold to run the lifts and gondola
Holidays – if you can, avoid skiing during the holidays. The reason being the hills are busy and the lift lines are long. To maximize your ski time, try to come mid-week and stay away from any major event; Christmas, March break, University reading weeks, New Years, etc
Current Conditions – check out this page to see up-to-date information on current temperatures, snowfall, wind force, webcams, etc
You can also sign up for Sunshine's emails; newsletter, power alerts, and daily conditions report.
Sunshine's Terrain: Beginner, intermediate, and Advanced Skiers
Pro tip – before I tell you about about Sunshine's terrain, it's important to note that you need to take the gondola up to the village to access the lifts. For this reason you'll want to bring anything you need (food, water, extra layers, etc) with you and leave it on the ski racks outside the day lodge.
Alternatively you can carry a backpack – I always bring my Hydrapak and use a small hydration pack like this one for days when I won't need much. I use this one when I need to pack more than water and snacks (these are also great bags for day-hikes)
More: Day-Hiking Trail Guides, Banff National Park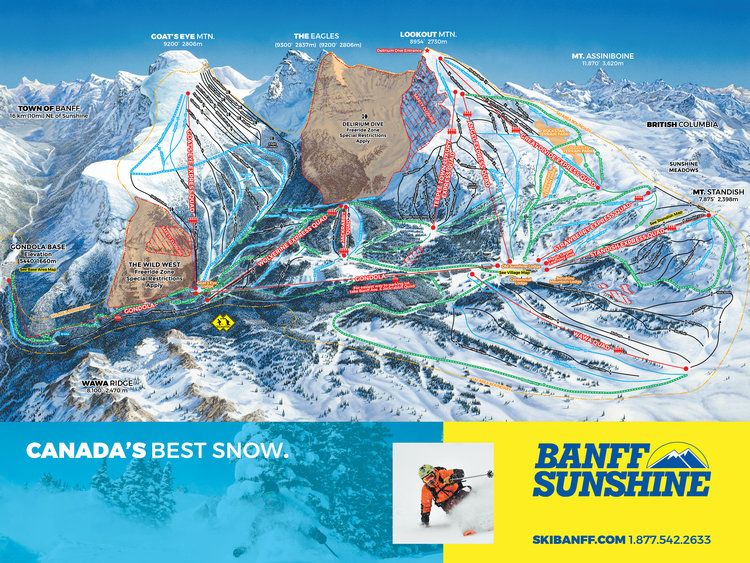 Sunshine gets up to 10m of snow and has a vast skiable terrain stretching 3, 358 acres with a huge vertical drop of 1, 070m; you can ski from the top of the mountain all the way down to the base. The resort encompasses 1 high-speed gondola, 115 named runs, advanced terrain options, and 12 lifts; 6 high speed chairs and the only heated lift in Canada!
Sunshine is a massive resort so it would be impossible to tell you about every run and ski area, but I'll give you the main points of interest. I spent 7 months skiing here so I know the area quite well!
To start, Sunshine has 3 mountains you can ski on; Goat's eye (my favourite), Lookout Mountain, and Mount Standish.
Goat's Eye – Goat's Eye is accessed from the first stop the gondola will take; the mid-way station
Lookout Mountain – Angel is the first lift you will see stepping out of the gondola at the village and gives you access to Lookout Mountain
Mount Standish – Mount Standish is located past Angel to the right of the Strawberry lift and the beginners area. You'll need to walk to this lift, however there are other ways to access the lift via other lifts once you get to know the mountain more
The Village – here's a map of the village too. This is where bathrooms, food, and on-mountain accommodations are located
**A NOTE TO SNOWBOARDERS – Sunshine has quite a few flat areas coming down on any run from Angel and a large flat section coming down from Goat's Eye
Terrain For Beginners
I had skied a few times in Ontario and Michigan growing up, but when I got to Sunshine I realized I had no idea what I was doing. Believe it or not there's real snow here and your run will actually take longer than 7 seconds to get to the bottom!
Sunshine has quite a few areas that are good for beginners or for those coming from Ontario, like me, who "think" they can ski. Alternatively you could ski at Norquay or Kananaskis' Nakiska if you're brand new. These resorts are smaller and easier to ski, plus their lift tickets are cheaper.
20% of Sunshine's terrain is for beginners. A few great places to start are:
Mighty Mite Learning Area
Strawberry Lift – both Strawberry and Mighty Mite are located in the village
Angel Lift – Angel lift poses more of a challenge for those looking to step their game up a bit; follow the signs to the green area, but be aware of the flat zone. Keep your speed!
Banff Ave – accessed via the Jackrabbit quad and Wolverine lift; this is a great run with a few side shoots if you're looking for more of a challenge. There are quite a few flat spots in this area though
Next Steps – if you're getting bored of these runs and are looking for something more, head up the Standish lift and try the green/blue runs there
If skiing on the mountain makes you nervous or you're interested in learning the technical side of skiing/snowboarding, Sunshine offers lessons for both kids, teens and adults
Terrain For Intermediate Skiers
Luckily for intermediate skiers, 55% of Sunshine's terrain is for you! You can enjoy all the beginner areas as well as the following:
Goat's Eye – starting out with Goats Eye because this is my favourite area to ski at Sunshine. The runs are open and steep and there's plenty of sections to dip into the trees. You can normally also find some moguls, a few small chutes later in the season, and Eagle Creek here. This is a great place to work on speed and practice some of your technical skills
Lookout Mountain – almost everywhere on lookout mountain is for you. Take the Angel lift and ski anything blue. There are a few sections where you can dip into the trees, lots of small hits, and a few drops
The Great Divide – the Great Divide is a great place for intermediate skiers to work on their carves and speed. The run is quite steep, but it's wide open so you have lots of space to practise large turns and slow down
Standish lift – Standish is also great for intermediate skiers. Here you can find some trees, a few small jumps, and some steeper sections and drops
Teepee Town LX – Teepee town lift has a variety of runs (and the lift is heated)! This lift takes you up to Angel so you will have access to all the same runs
Moguls – if you're looking to learn new skills, considering trying out moguls. You can usually find moguls skiing down the right side the Great Divide and on a few side runs down Goat's Eye. You can also find them at Wawa lift after the snow has been rode over for a while.
Terrain For Advanced Skiers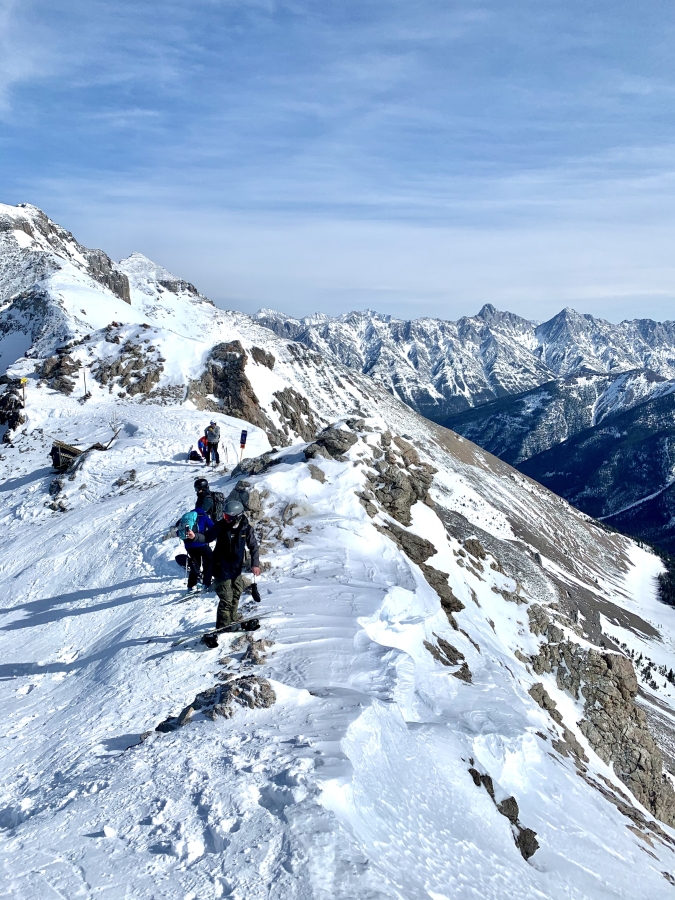 Sunshine's terrain is 25% advanced/expert. I would only recommend doing any sort of black diamond if you're experienced and know what you're doing.
These are big mountains and the skills needed to ski them are just as big. With that said, these runs are totally doable if you are experienced.
I spent only one season skiing in Banff – my learning season – and by the end of it I skied the infamous Delirium Dive. I almost shit my pants, but I did it.
The ski lessons I mentioned earlier also apply for advanced terrain. You'll have to contact Sunshine's ski school to book these lessons as they're not listed on their website, but you'll get a 1-on-1 session with an advanced instructor who will take you down the dive or any other advanced terrain on resort.
Check out their website for more information on ski lessons
Now, I'll give you a breakdown of Sunshine's advanced/expert terrain:
Goat's Eye – Goat's Eye is the more advanced of the three mountains. There are plenty of sections for intermediate skiers, but the advanced areas are off-piste. You can find tight tree runs and extremely steep sections here. Later in the season, the other half of the mountain opens which gives you access to small chutes
South-Side Chutes – The South Side Chutes are accessed via Goat's Eye; hike right from the lift and traverse South for steep powder runs which then turn into forest glades. This area is a lot of fun to ski and is a great introduction to advanced terrain if you're wanting to take on the Dive or any other form of backcountry skiing. I would not recommend doing the chutes if conditions are icy though. See the black/double black runs on this map for an idea of where the chutes are located. Here's a video to give you a sense of what skiing Sunshine's South Side Chutes is like.
Connect via socials:
Sign up for emails to receive a 50% discount on my travel maps + occasional updates on new hiking guides & travel resources.
Taylor ♡
Delirium Dive – The Delirium Dive is one of North America's biggest, baddest free-ride zones. You'll access the Dive by taking The Great Divide lift and hiking up toward the gate. The gate will give you a green light if your transceiver is successfully turned on (more on avalanche gear next). From there you continue to hike up and have multiple choices for dropping in. I preferred the Dive Proper drop-in point which is down the stairs to your right (honestly getting down the stairs in ski boots was harder than the actual Dive)! Here's a video to give you a sense of what skiing Sunshine's Delirium Dive is like
Wild West – another one of Sunshine's free-ride zones, Wild West features some of North America's most extreme in-bound terrain and is known globally for its steepness. You can find three major rock-walled couloirs, steep crevices, and a series of cliffs here. You can access Wild West from Goat's Eye. Here's a video to give you a sense of what skiing Sunshine's Wild West is like
Out of Bounds – Sunshine clearly marks their out of bound areas, but people still ski out of bounds for a more "backcountry" experience. The only catch here is that if you get injured or lost, ski patrol is not responsible for you and you have to find your own way out. Popular out of bound areas, like side door and back door, can be accessed via Wawa
Important Things To Note About Sunshine's Expert Terrain:
South Side Chutes, Wild West, and Delirium Dive are only open weather dependent and if avalanche control has been completed successfully – they have a Twitter page which is the fastest way to get updates on whether these areas are open or not
Delirium Dive and Wild West require users to ski with a partner/group and have an avalanche kit consisting of a digital avalanche transceiver, a metal shovel, and a collapsable probe (these can be rented at Bactrax in town)
Taking an avalanche safety course beforehand is not a bad idea – this will give you an idea of what to do if you or someone else gets caught up in an avalanche as well as practice using your gear and practical experience
Terrain Parks
Sunshine has terrain parks scattered around the resort and throughout the season the park crew constantly changes features to make them bigger and more advanced. If you're a park rat, Sunshine will most definitely have something for you.
Beginner – Strawberry has a park section. The first few features are small and will give you a great feeling for what riding a box feels like. Once you've mastered that, head on over to the Wolverine lift where you can find slightly larger features, different box styles, and smaller jumps
Intermediate – Grizzly park (accessed via Angel and Divide) has a combination of M to XL jumps, whereas Springhill park (accessed via Angel Express) has a few medium sized jumps. I started hitting bigger jumps here and felt very comfortable and confident – I'm no park rat but this was a great place to try something a bit more advanced than what I was used to. It's also got some different rail, tube, and box features you can try out.
Advanced – If you're looking for more advanced boxes, rails, and tubes Strawberry park and Springhill park have you covered. If you're looking for big air, head on over to the Great Divide park (accessed via Angel and Great Divide).
Lift Tickets
When I worked at Sunshine, I was in tickets. I know pretty much all the steals and deals and I'm about to pass on that information on to you.
SkiBig3 – there's a lot of confusion about what SkiBig3 is. SkiBig3 is a company composed of the three ski resorts in Banff: Sunshine Village, Lake Louise, and Norquay. SkiBig3 is not a resort and therefor you don't want to buy their lift tickets. They do give you access to every resort within SkiBig3, but they are much more expensive and realistically you won't be skiing all three resorts in the same day.
Super Card – as of 2021 with the super card you get your 1st, 4th, and 7th day free. The card itself does cost a bit more than the price of a lift ticket though so you are actually just getting your 4th and 7th day free. The days in-between free days are discounted by $15 on the weekend and $25 mid-week. If you buy your super card in advance, the card is actually significantly cheaper (early-bird price). You can also buy a mobile or direct-to-lift super card which lets you bypass needing to visit the ticket window each time you come. The only catch is this card can only be used once a day. Get yours here
Lift Tickets – lift tickets at Sunshine are wildly expensive. A cheaper option than buying at the window is to buy mobile tickets online (you'll get a QR code on your phone) or to buy mid-week tickets online (valid Monday to Thursday). You can purchase lift tickets online here
Sightseeing passes – if you're not planning on skiing, you can grab a sightseeing pass and take the gondola up to the village. This pass allows you to access the restaurants and a couple lifts. This is ideal for those just looking to experience the mountain or to accompany their children up the hill.
Season Passes – if you're a ski bum and plan to spend every day up the hill, Sunshine's season pass is for you; you can buy them here for $1, 499. Sign up for Sunshine's emails and pay attention around holidays – you might get lucky with a season pass sale/early bird pricing. Besides the regular season pass there's also the following options:
Spring Passes – spring passes normally go on sale around April and go until end of May. This is a great option if you only like skiing in warmer weather or if you want to get unlimited skiing in for only a couple months
Other Discounts
Guest discounts – after December 31 season pass holders can get $15 off lift tickets during the weekend and $25 off lift tickets during the week for their guests
Military/first responders – as of the 2020/2021 season any sort of first responder was able to get a discounted ticket provided they could show proof
Holidays – sometimes Sunshine will give discounted lift tickets to those who dress up in costume for holidays (check with the resort beforehand as this is always changing). Other forms of discounts apply to things like moms on Mother's Day
Student – discounts are available to students only for season passes (including spring passes)
Personal connections – if you know someone who works on-resort tell them to contact their manager and ask for you to be put on the manager's list for a discounted lift ticket. This must be setup in advance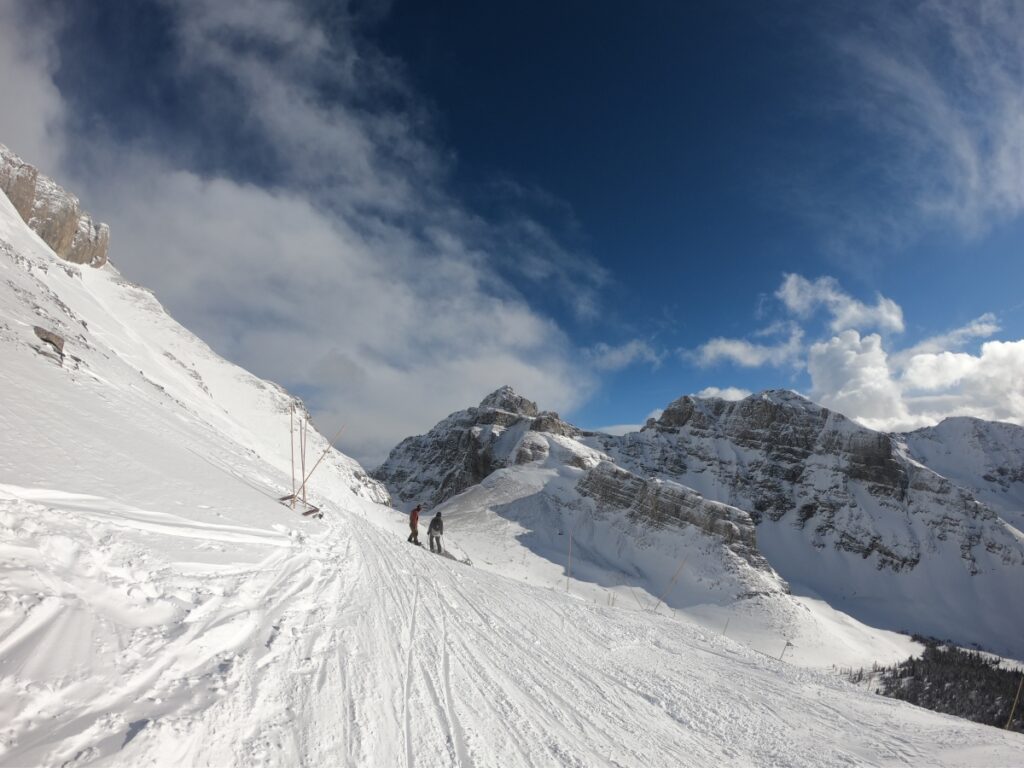 Other Options
If you're looking at visiting other resorts or are coming from a different resort with a season pass consider the following:
The Mountain Collective Pass – resorts in the Canadian Rockies that are part of the Mountain Collective are: Sunshine Village, Revelstoke, Panorama, Lake Louise, and Sun Peaks (along with other resorts scattered around the globe). The Mountain Collective Pass is just under $600 US, has no blackout dates, and gives you 2 free days of skiing at each resort. You also get discounted (50%) days after your free days and discounts on lodging. This is a great option if you're looking to experience different resorts throughout the season. They do only sell a limited number of these passes though, so if you're interested buy early!

If you're a season pass holder at a Mountain Collective resort, you should get a 50% discount at each of the other Mountain Collective resorts as well. This is tricky though and not every resort honours it, look into this and call before you try to get this discount

IKON Pass – the IKON pass is commonly used by American skiers and boarders, as most of the IKON resorts are located in the US. In Canada, the IKON pass grants you access to SkiBig3 resorts, Revelstoke, Red Mountain and Cypress Mountain along with a couple resorts in out East: Blue Mountain and Tremblant. With the IKON pass you have 3 options, as of 2021 they are as follows:

IKON Session Pass – maybe I'm missing something here, but this pass seems to cost more than purchasing 4 individual lift tickets would
IKON Base Pass – retails at $1, 099 CAD and grants you unlimited access to 13 resorts (US and Eastern Canada) as well as 5 free days at each Revelstoke, Cypress, SkiBig 3, and Red Mountain
IKON Pass – retails at $1, 429 CAD and grants you unlimited access to 15 resorts (US and Eastern Canada) as well as 7 days at each Revelstoke, SkiBig3, Cypress, and Red Mountain
Working At Sunshine Village
Working at Sunshine Village was a great experience and I would recommend it to anyone looking to do a ski season in the future. The benefits of working for Sunshine are the following:
Free season pass
Ski every day – I worked in tickets and finished at 2:15 at the latest which meant I got to ski every day after my shift
Ride breaks – if you don't have short work days like I did you will get 2 hour ride breaks
Shred-pals – working at Sunshine allows you to meet tons of like-minded people and gives you plenty of opportunities to find ride buddies
If you're interested in working for Sunshine Village you can check out their careers page.
More: Working At Sunshine Village & How To Find A Job In Banff
More: Everything You Need To Know About Living In Banff
Things To Do At Sunshine Village
The most obvious thing to do at Sunshine Village is ski and snowboard, however that's not the only thing available to do. Many people buy a sightseeing pass and take the gondola for the views or to grab a meal up on the mountain. The following places and activities are the best things to do at Sunshine Village, besides ski and snowboard:
Best places to eat at Sunshine Village – Sunshine has some "nicer" dining options for those staying at the lodge, but the best food options for day-users are Trappers, the food truck which is stationed outside the day-lodge, The Alpine Grill, and The Sunshine Burger Company
Best place to drink at Sunshine Village – the best place to drink at Sunshine Village is Trappers – this is the most "apres" action you'll get at Sunshine. They also normally set up a patio outside
Sightsee – as per the name of the sightseeing pass, this lift ticket gives you access to take the Angel Express and Standish lifts to check out the views
Snowshoeing and cross-country skiing – there are limited areas available for this. Check in with the ticket office before heading up the mountain
Essential Ski & Snowboard Equipment
Having the right gear can make or break your ski experience. When I worked in the ticket booth at Sunshine myself and my coworkers would always crack up when people came to our windows dressed in jeans or sweaters. Don't be that person who skis in jeans.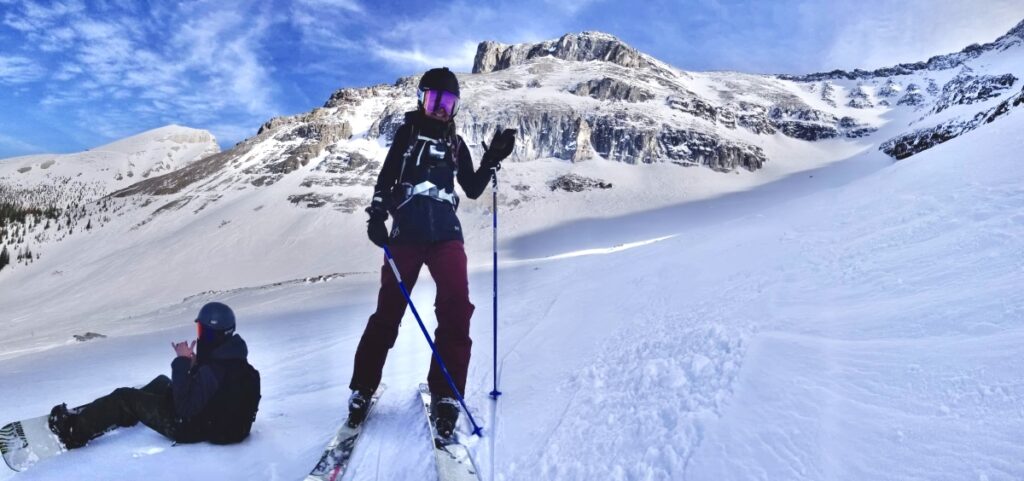 So, lets get you suited up with these essential ski and snowboarding items:
Goggles – goggles are a crucial piece of equipment when it comes to skiing. they protect your eyes and add contrast to the snow in flat light. I've tried multiple brands and Oakley is by far the best. There are cheaper brands out there but Oakley is well worth the extra money for the quality you'll get.

Night skiing/low visibility – if your current goggles have the option to switch out the lens, your best bet is investing in a clear lens. If your goggles don't have that option, Detour has magnetic goggles. I have these and I absolutely love them for night skiing/low visibility. They're frameless, they look super steezy, and they come in at a great price point – especially if you want for sales. Use my code "THEHOLISTICBACKPACKER15" for a 15% discount when you check out.

Ski socks – investing in ski socks is well worth your while. They're a thicker material, have extra padding in the heel, ankle, & toe, and are compression – all of which contribute to keeping your feet warm and protected. I have these Burton socks and I absolutely love them
Gloves – you need a good pair of gloves for skiing in Banff. Winter is COLD and your hands will not be okay in a cheap pair of gloves. I've tried out a few pairs and have come to discover these ones from Burton. Can't beat them for their warmth and price. Plus they come with glove liners!
Buff or balaclava – in the dead of winter when it's brutally cold, I go right for the balaclava. This one from Columbia has omni-heat technology which keeps me super warm. In warmer weather I wear a buff. BUFF and Burton are two great companies to purchase these from
Backpack & hydration – for long days up the hill you'll want to bring at minimum food and water with you. I always bring my Hydrapak and put it in a small hydration pack like this one, or I bring my larger day-pack if I know I need to pack more gear with me
Base layers – you'll want good quality base layers. Merino wool is a great choice – the material wicks moisture away and keeps you super warm. Alternatively wear a dry-fit long sleeve like this and layer layer layer to keep warm.
Winter jacket – winter jackets is totally a preference. Some people enjoy a zip style where others like a pullover. There are thicker vs lighter options and synthetic vs down options. I think the best approach is to learn via trial and error. All I'd recommend here is to invest in a good quality jacket – don't cheap out on this!
Snow pants or bib – these are a must. Like I said, you don't want to be the person skiing in jeans. A bib is much more useful as it's warmer, blocks out the snow, and looks way cooler for spring riding. Skiing is actually a fashion sport.
Fleece – putting a fleece layer over your base layers will ensure you stay warm on those cold, windy days up on the mountain. I currently use a Columbia zip, but Patagonia is sure to keep you warm. Better yet, check out Worn Wear by Patagonia for lightly used Patagonia items at a discounted price
If you're in need of new ski equipment, the following brands are all excellent choices: K2, Salmon, Rossignol, Volkl, and Atomic
If you're in need of snowboard equipment, the following brands are also great: Burton, Lobster, Salomon, Nitro, and Niche.
Where To Stay In Banff
Cheap accommodations – Banff has a million hotels, B&Bs and other forms of accommodations. For those visiting during the summer I always recommend camping to save money. In winter camping isn't an option though, so I would recommend checking out Hotels.com. This website filters through all the hotels in the area and will show you current deals.
On-Mountain Experience – Sunshine Mountain Lodge is located in the village at the top of the gondola. Ski from your front door and get those crisp fresh tracks.
Luxury Accommodations – For those wanting an up-scale travel experience, look no further than the Banff Springs Fairmont Hotel. Use this link and filter the "participating Fairmont Hotels" section to Canada. Sometimes you can find discounts here!
Where To Rent Skis & Snowboards In Banff
Banff is a ski town, and as such, has multiple options for renting skis. Of course the easiest option would be to rent skis at Sunshine Village. This is quick and easy because you won't have to carry them back and forth from town. Rentals can be purchased at the base of the gondola; left of the gondola up the stairs over the ticket booth. The second option is to rent at the village once you go up the gondola. These rentals are for more advanced skiers and snowboarders, so if you're looking for something more specialized like fat skis you'll want to get them here.
The most popular place in town for any sort of winter sport rentals is Bactrax. Bactrax has anything you could possibly need for both winter and summer as well as hiking, biking, and climbing.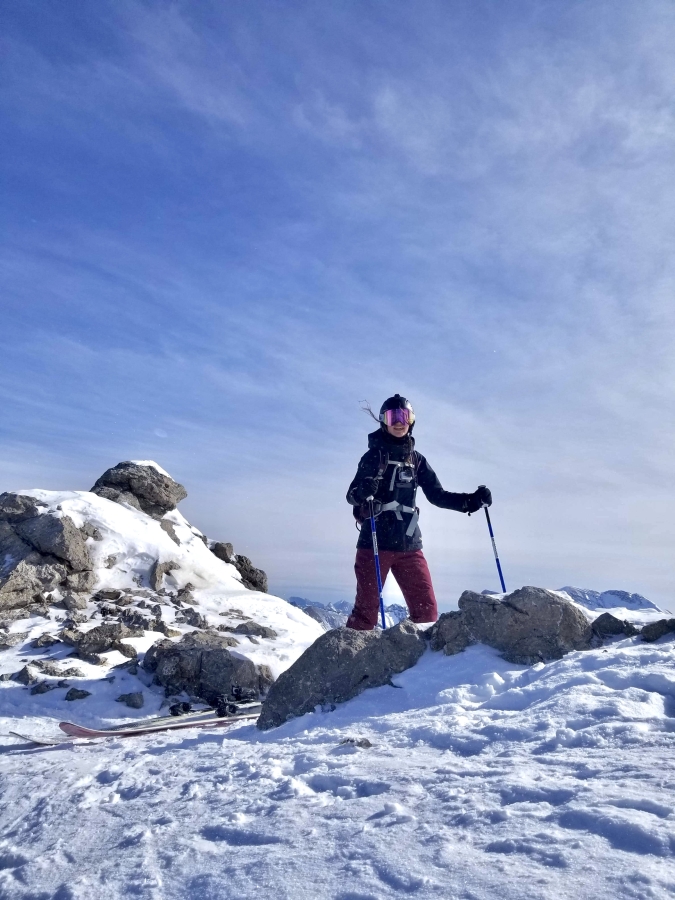 Other options for rentals and activities once you go up the gondola are:
Skinning up to the village – check the current policy at the ticket booth. You will most likely still need to purchase some sort of lift pass
Snowblades – these are short skis you can rent at Bactrax
Snowshoe/cross-country ski – there are limited areas for this, check in with the ticket booth to see current policies
Wine, dine, and sightsee – if you're wanting to go up the gondola for the experience rather than winter sports, you can purchase a sightseeing pass. See more about what lift pass to buy and things to do at Sunshine Village
Ski Hills Nearby
There are so many bucket-list worthy ski resorts in the Canadian Rockies, each offering something a little different. If you're looking to explore ski hills near Banff, check out the following resorts:
Tips For Skiing At Sunshine Village
Learn what SkiBig3 resort is best for you; I've broken down the best places to ski in Banff here
Check the conditions before you ski
Avoid holidays and try to ski mid-week to avoid long lift lines and busy slopes
Bring everything you need up the gondola with you and leave it on the ski racks outside the day lodge (food, water, extra clothes) – you'll have to ski down the mountain and take the gondola back up if you leave things in the car
Take the shuttle rather than drive
Buy what lift pass best suits your needs
Happy adventuring!
Taylor ♡
---
Like This Post?
Share with friends or save it for later!
---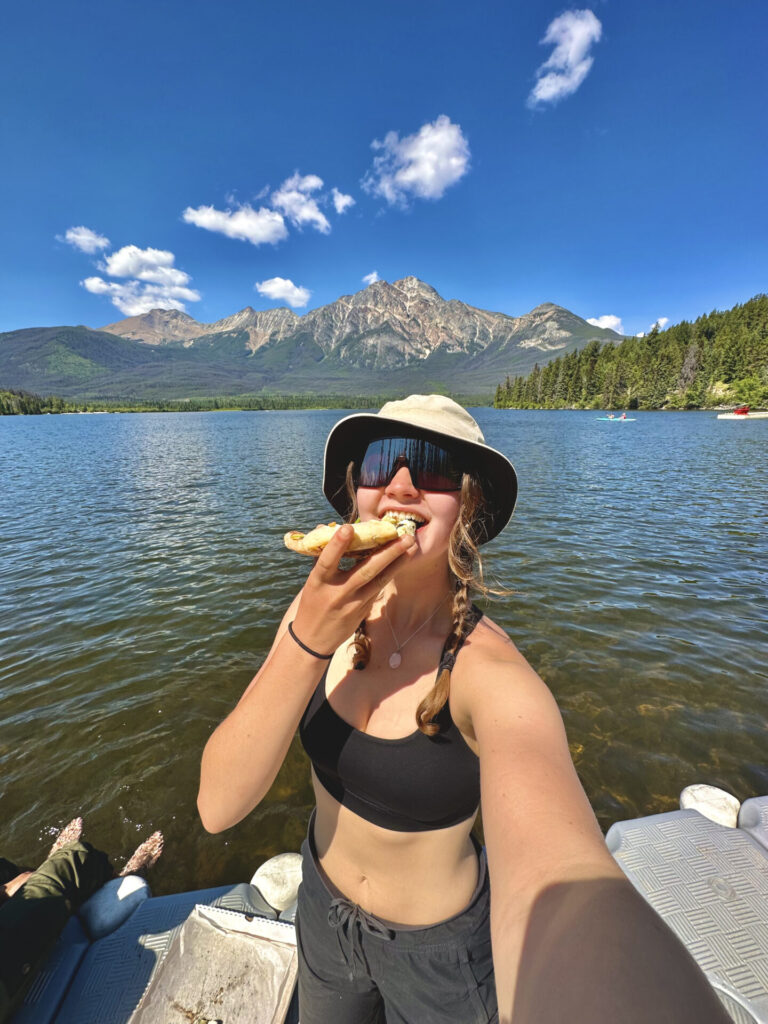 About The Author
HI, I'm Taylor – the voice behind The Holistic Backpacker.
After moving to Banff National Park in 2020 I became an outdoor adventure enthusiast and vowed to never stop exploring.
I now spend my days travelling the world, climbing mountains, and spending nights under the stars in the Canadian Rockies backcountry.
I created The Holistic Backpacker so I could share my adventures and help connect people like you with the same amazing experiences.