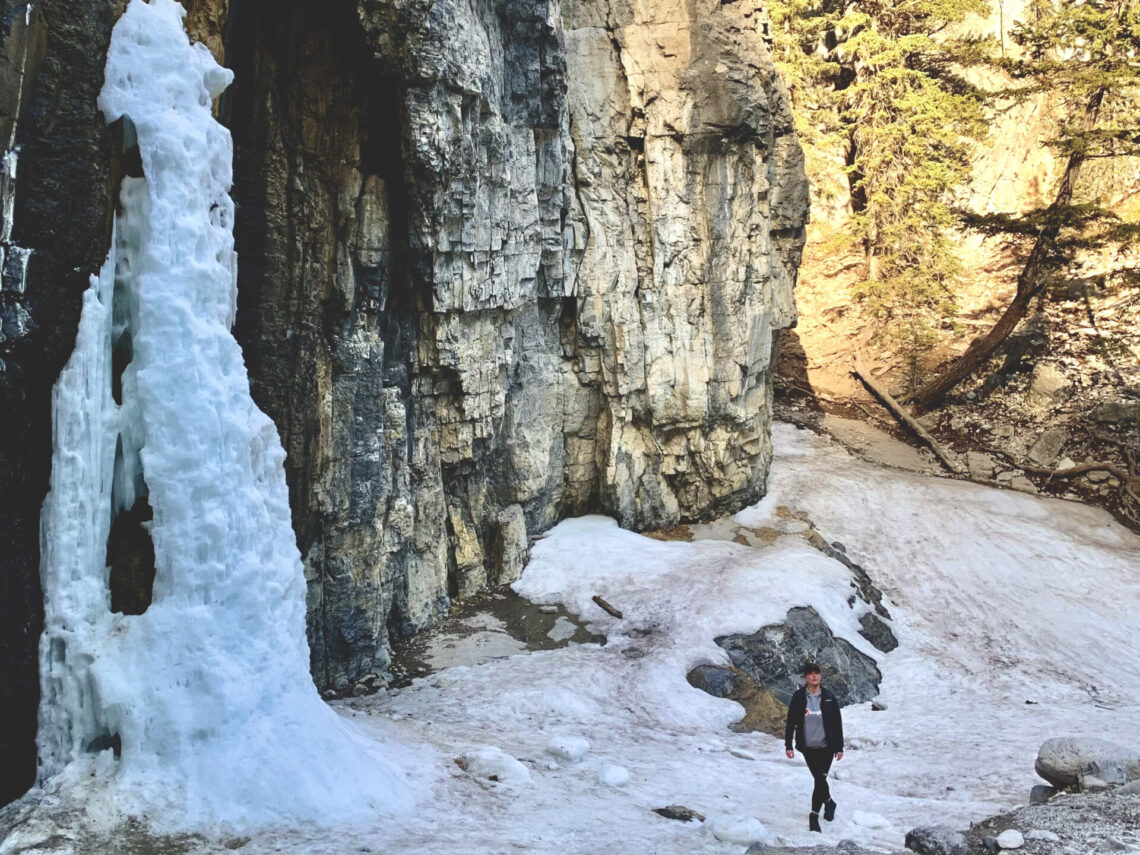 Grotto Canyon Winter Hike – Bow Valley Provincial Park
The Grotto Canyon winter hike is the perfect place to explore on a chilly Rocky Mountain day. This is an easy hike just outside of Banff that features massive frozen waterfalls, pictographs, a cave, and an Inukshuk garden.
Here I'll tell you everything you need to know about hiking Grotto Canyon in winter, where you can find the coolest spots on this hike, and essential winter hiking gear to make this hike safer.
Now, let's go hiking!
Skip Ahead:
This post contains affiliate links; see my full disclosure. If you click these links and make a purchase you're supporting The Holistic Backpacker. Thanks for your support & happy adventuring! – Taylor ♡
---
---
How To Get To Grotto Canyon Winter Hike
The Grotto Canyon trailhead is located just outside of Canmore, about half an hour from Banff, and 10 minutes from Exshaw.
There are no buses or shuttles for this route, so if you don't have a car you'll need to rent one to get to the Grotto Canyon trailhead.
The Grotto Canyon parking lot is quite large, but this hike is very popular. So, if you plan to hike on weekends or during busy times like holidays make sure you arrive early to get a spot.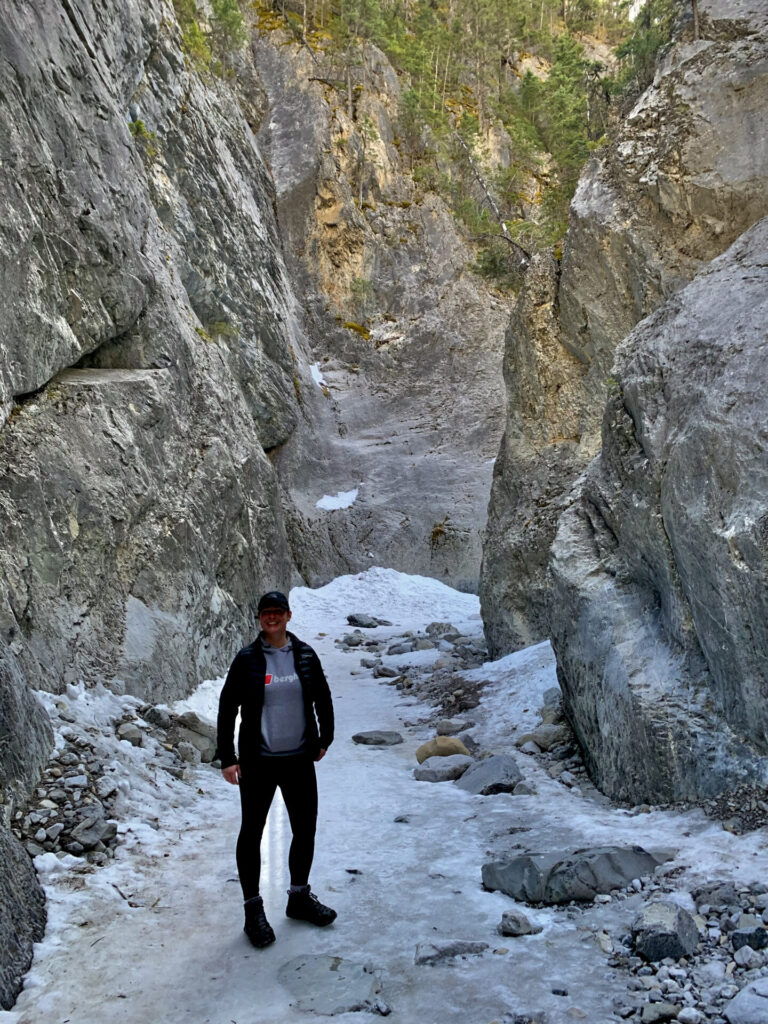 About Grotto Canyon Winter Hike
Distance: 7.1km
Elevation gain: 395m
Rated: easy
Type of trail: out & back
Estimated Time: 2.5hrs
The Grotto Canyon trail is well marked, easy to follow, and well-trafficked. You'll have no trouble finding where to go, except for maybe when you arrive to the actual canyon. You'll come to a beautiful viewpoint with a bench. From here turn right and start hiking in the actual canyon.
Something to note about hiking Grotto Canyon in winter is the need for appropriate footwear. You'll want waterproof hiking boots and micro-spikes. I use these hiking boots (men's version) for both winter and summer hiking. They're waterproof, sturdy, and provide great ankle support. Micro-spikes are – you guessed it – small spikes that attach to the bottom of your hiking boots.
These prevent you from slipping on the canyon floor and as you walk up to the frozen waterfalls. Micro-spikes are a MUST closer to the spring. Without them you'll be slipping and sliding all over the place.
Additionally you'll want to dress warm. You'll be walking over ice and snow the entire hike. Skip ahead to what I recommend to wear hiking. The two jackets I talk about are the dream combination for hiking in the Rockies and they're all I wear for layering in the cold!
Connect via socials:
Sign up for emails to receive a 50% discount on my travel maps + occasional updates on new hiking guides & travel resources.
Taylor ♡
Hiking Grotto Canyon In Winter
I won't lie, the Grotto Canyon winter trail starts out quite boring. For 1km you'll be walking through the trees next to hydro poles which are very loud.
However after that first kilometre you'll come to a bench with a beautiful viewpoint overlooking the surrounding mountains. Take a right here and you'll enter Grotto Canyon; this is where the real fun begins.
As you walk through Grotto Canyon you'll be trekking over a frozen creek (make sure you bring your micro-spikes) as massive canyon walls full of picturesque frozen features tower above you. Less than 1km after you enter the canyon you'll arrive at the most dramatic section of the hike. This is where the large frozen waterfalls are at.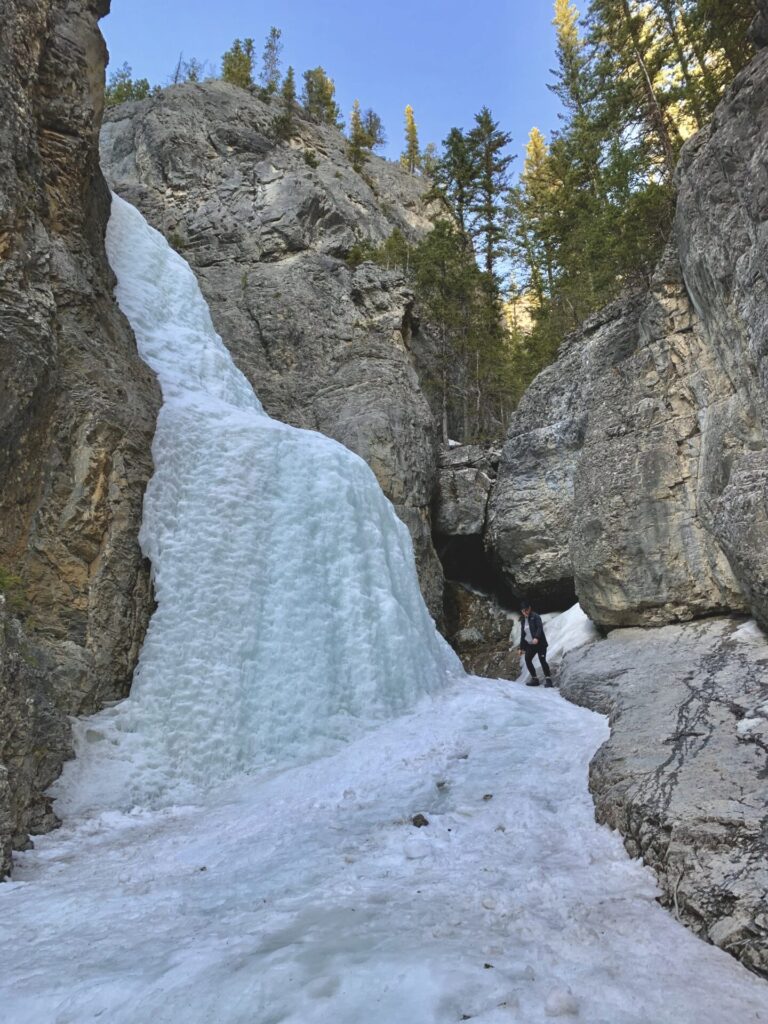 Pictures don't do these frozen beauties justice, lemme tell ya.
Keep an eye out for pictographs here too! I didn't see any but supposedly they're there. Road Trip Ryan has a few photos of them here.
Inukshuk Garden
Next up on the Grotto Canyon winter hike is the Inukshuk garden. This is the cutest little place and has sooo many Inukshuks! Make sure you take a break here and contribute your own Inukshuk before moving on to the cave.
Grotto Canyon Cave
Continue walking from the Inukshuk garden and you'll find Grotto Canyon's cave up on the left. The cave is small and the scramble up to it is very steep, but it's such a cool little spot. You'll have to check it out if you're doing the Grotto Canyon winter hike.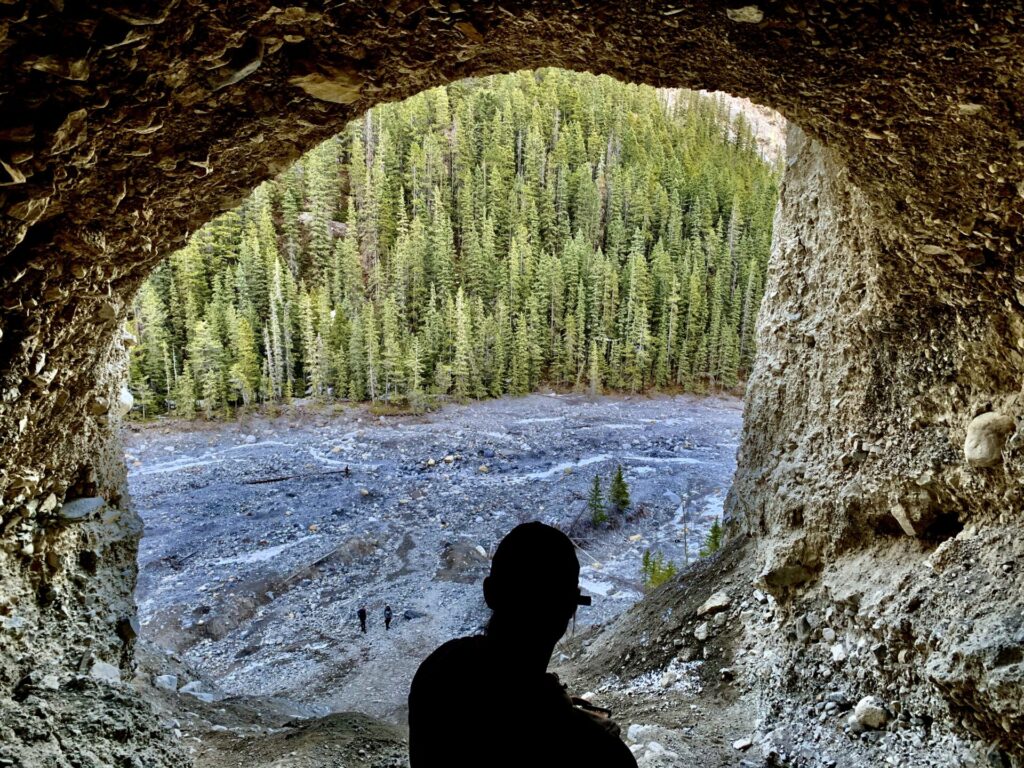 For photos of Grotto Canyon in the summer, check out Outdoor Escapade.
---
Explore More Hikes In Kananaskis
Kananaskis is an area just outside of Banff that's made up of multiple Wildland Areas and Provincial Parks. Kananaskis is my favourite hiking destination in the Canadian Rockies, so I urge you to explore more hikes in the area!
Click here to explore more of Kananaskis.
---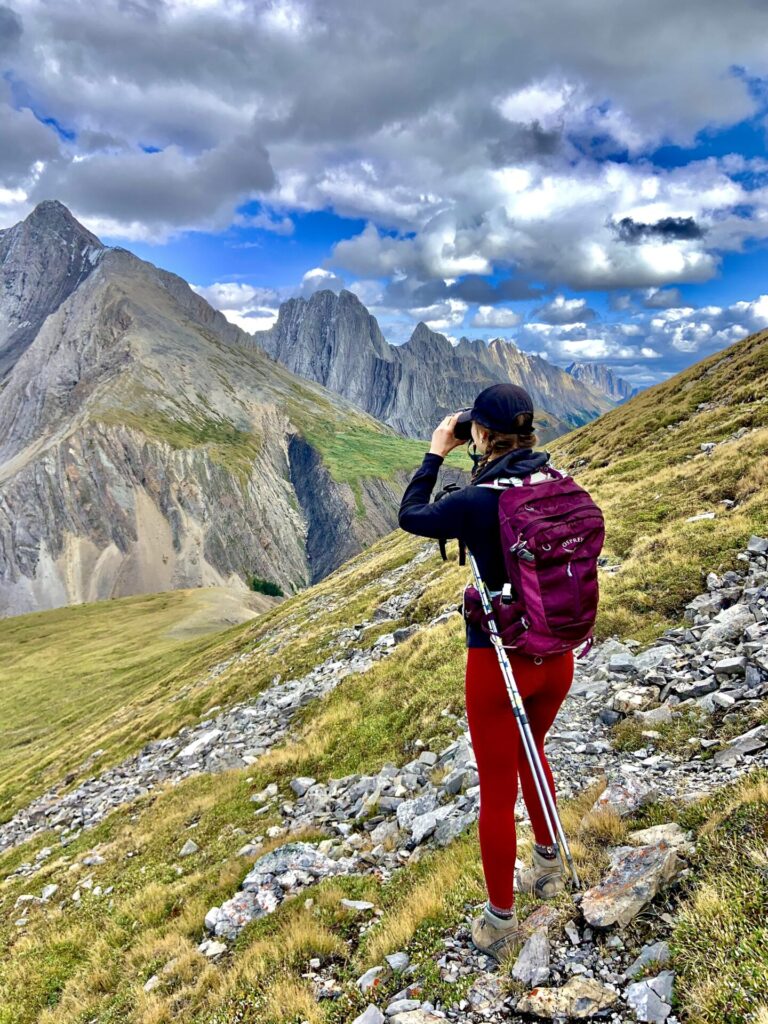 Featured Kananaskis Hikes:
Explore Kananaskis Country by Area:
Visit National Parks Nearby:
Looking for more hikes? Click here to explore all of my trail guides.
---
Essential Gear For Winter Hiking
Who says hiking is just for the summer months!? Winter hiking can be absolutely exhilarating and it offers the chance to see some pretty spectacular frozen wonders.
Before you set off for your next winter hike though, it's important to note that you'll need extra gear and you'll definitely need extra layers to stay warm! I've outlined exactly what you'll need for a typical day-hike during the warmer months here, however I'll quickly break down some winter hiking essentials.
Let's start with footwear. In addition to Gore-tex hiking boots – I wear these (men's version) – you'll want the following: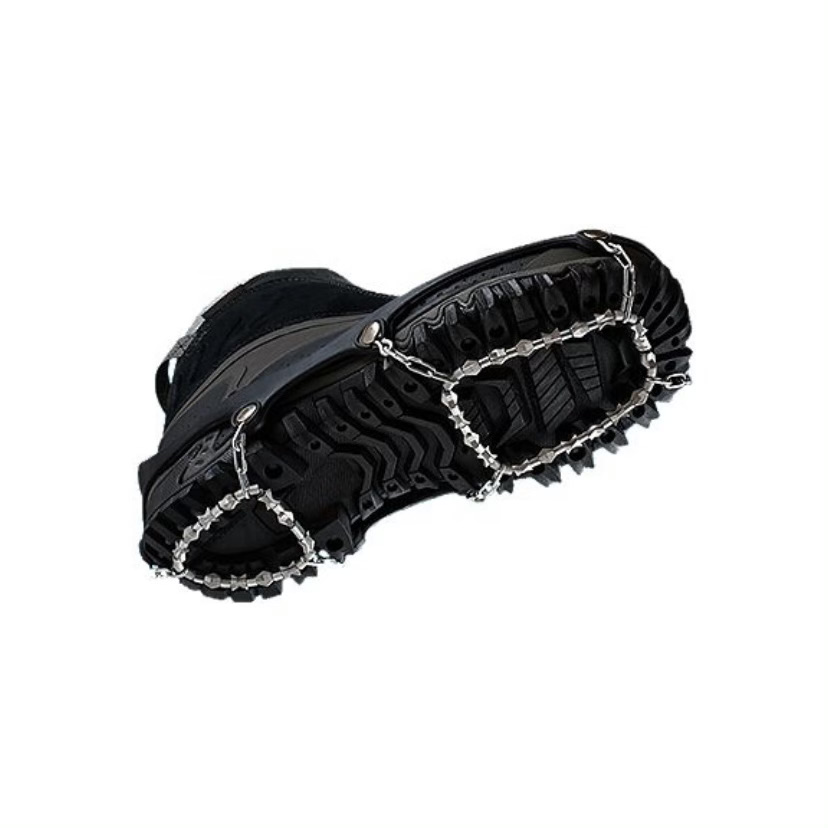 Micro-spikes are chains with grips that attach to your boots. These help you navigate slippery and icy terrain. Micro-spikes can get quite expensive, but these ones seem to be of good quality and are priced affordably.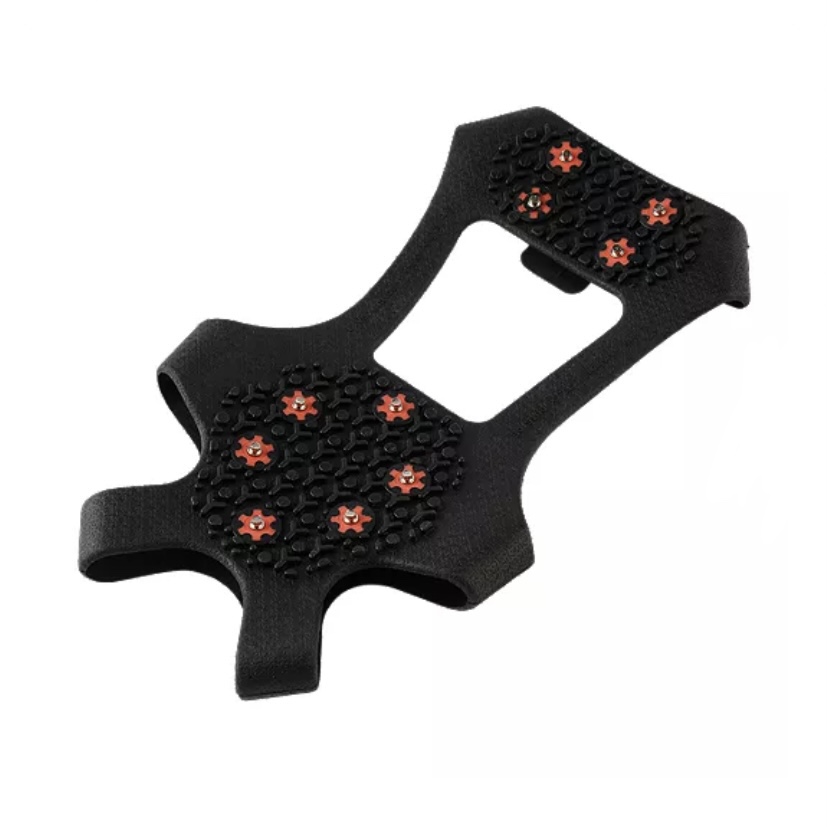 Ice cleats are a version of micro-spikes, but they have less grip. These are ideal for hikes that aren't overly icy and when you only need a small amount of grip to avoid slipping.
What To Wear Winter Hiking
Now that we have proper footwear covered, let's quickly go over a few clothing essentials for winter hiking. The most important thing is layering. I've found the best combination for lower body to be leggings or merino base layers under a pair of soft shell pants. For upper body I'd recommend wearing a long sleeve dry-fit/merino top layered with a puffer jacket and waterproof jacket. The following are the clothes I always wear for winter hiking:
Softshell pants are durable and warm. They're like a thin and more mobile version of snow pants. I have these ones (men's version) and I've been using them for years for winter hiking, skating, and doing errands in the cold months.
A water proof jacket in my opinion is the most important layer when it comes to hiking. A waterproof jacket traps your body heat and it protects you from wind and rain/snow. I use this one (men's version) which is lightweight, compact, and its easy to pack as an extra layer because it folds into it's own pocket!
A puffer jacket acts as your warm layer. I have this one (men's version) and I absolutely love it. It's affordable, packs down small, and its hoodless! If temperatures will be really cold you can also pack a fleece zip. This fleece (men's version) is great for winter hiking.
Additionally you'll also want to pack a toque and warm mittens. I have these mitts (men's version) which have become my favourite mitts for skiing, backcountry camping, and winter hiking. They've got tons of fun features and they come with glove liners which keep your hands extra warm.
Explore my extensive gear guide for day-hiking
Read my guide for exactly what to wear hiking
Find all my hiking trail guides
Best Place to Stay in Canmore
The "best" place to stay in Canmore depends on your price range. So, here are some suggestions for every budget:
Happy adventuring!
Taylor ♡
---
Like This Post?
Share with friends or save it for later!
---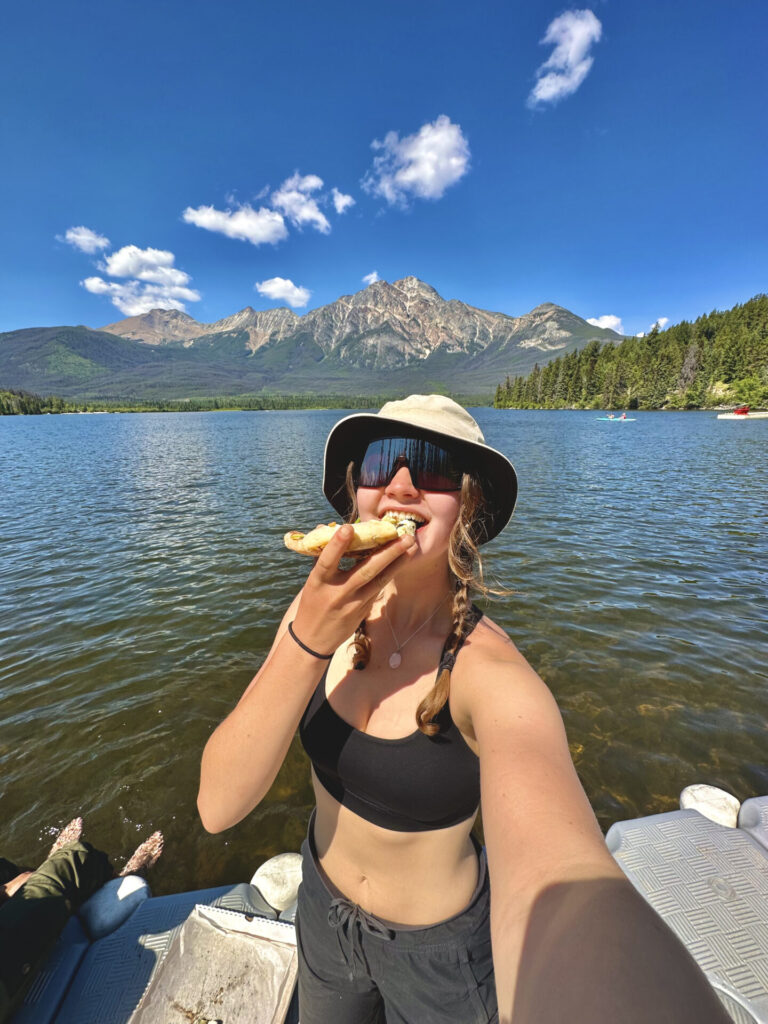 About The Author
HI, I'm Taylor – the voice behind The Holistic Backpacker.
After moving to Banff National Park in 2020 I became an outdoor adventure enthusiast and vowed to never stop exploring.
I now spend my days travelling the world, climbing mountains, and spending nights under the stars in the Canadian Rockies backcountry.
I created The Holistic Backpacker so I could share my adventures and help connect people like you with the same amazing experiences.