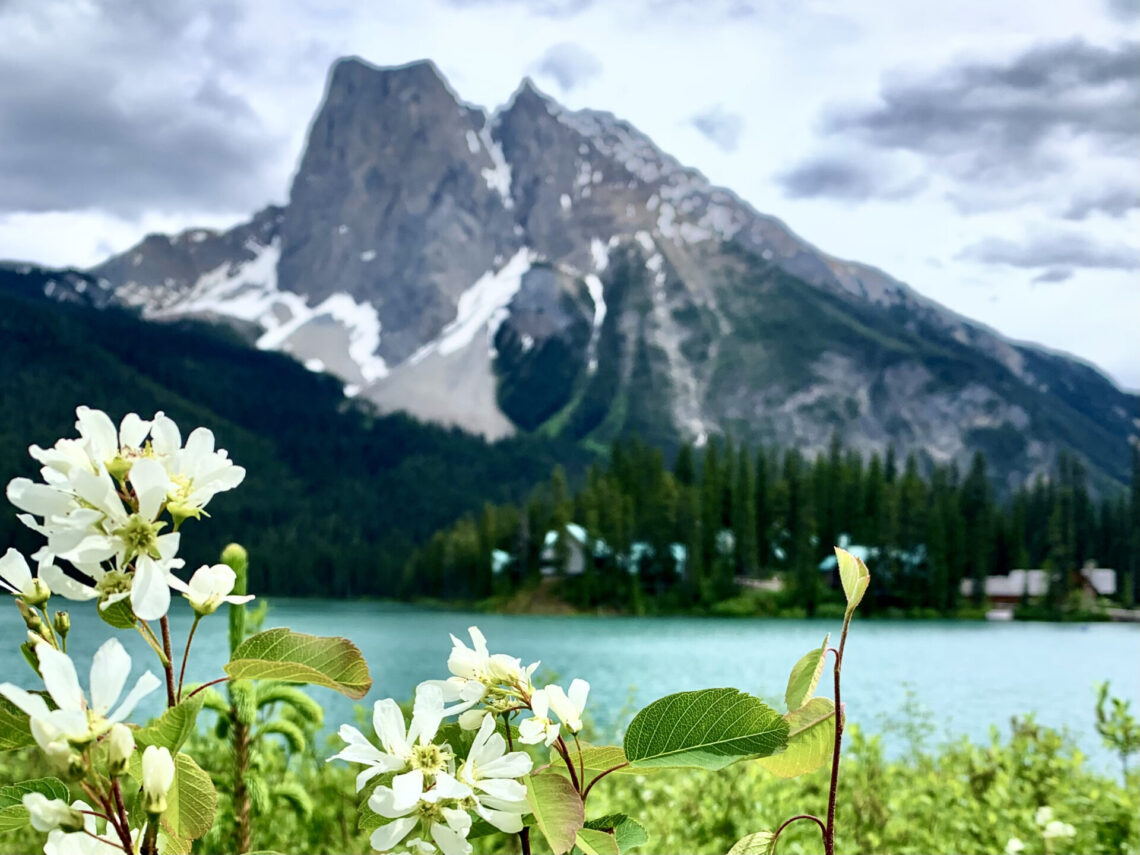 How to Spend 1 Day in Yoho National Park
In this guide I'll tell you everything you need to know about planning a day trip to Yoho National Park, British Columbia. From camping to hiking to sightseeing, I'll give you a rundown of the best things to do in Yoho in both winter and summer.
The only word I can think of to describe Yoho's massive mountains, towering waterfalls, and picturesque lakes is "magic." There's truly something so special about this little National Park in the Canadian Rockies.
Speaking of the Rockies, don't forget to check out these other nearby destinations as you plan your day trip to Yoho:
Plan a day trip to Yoho National Park
This post contains affiliate links; see my full disclosure. If you click these links and make a purchase you're supporting The Holistic Backpacker. Thanks for your support & happy adventuring! – Taylor ♡
---
---
Day trip to Yoho National Park
How to Get to Yoho
Yoho is located a quick hop, skip, and a jump away from the famed Banff National Park (approximately 40 minutes, to be exact). Most people travelling to the Rockies have never heard of the mystical Yoho National Park. How? I have no idea. The general lack of awareness when it comes to Yoho though definitely makes it a "hidden gem" in the Canadian Rockies.
If you've never been to Yoho, consider this your sign to book a flight and start planning your itinerary.
This map outlines all the stops I recommend for your day trip to Yoho National Park.
---
Plan a day trip to Yoho National Park
The best way to get to Yoho is from Calgary International Airport (YYC); Calgary is the gateway city for all-things-Canadian-Rockies. You'll need to rent a car and drive a total of 2 hours and 15 minutes along the Trans Canada highway before arriving in Yoho.
Alternatively, you could take the shuttle from Calgary to Banff, then rent a car from Banff to finish the journey to Yoho. Regardless, you'll definitely want a car once you reach your destination. Everything in Yoho is spread apart and the only way to see it all is by driving.
---
Day trip to Yoho National Park
When to Visit Yoho
The most popular time of year to visit Yoho is undoubtedly summer, however each season in Yoho offers something a little different. I lived in Banff for a while so I was able to see what each season in the Rockies offers (by the way, each season is oh-so-wow). You can generally expect the following during each season in Yoho:
Plan a day trip to Yoho National Park
Summer Months in Yoho
June – snowcapped peaks, warming up at base elevations, ice starts melting on lakes, hiking season begins (best for lower elevation hikes).
July/August – most of the snow up in the mountains melts late July/early August. This is the best time of year for hiking, backpacking, and any type of water-based activity. You can also find wildflowers in Yoho during the summer months, although you'll have to wait longer if you want to find wildflowers at higher elevations.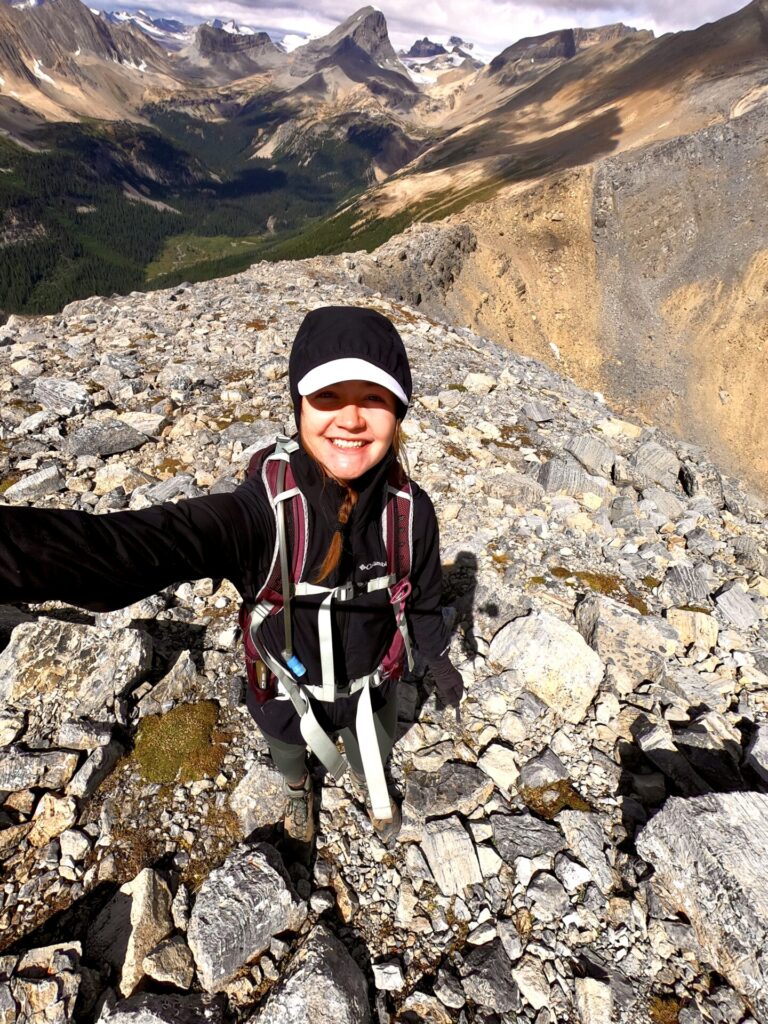 Fall in Yoho
September – September is typically still great for hiking (maybe not for big summits), and backpacking; although you'll want to plan your trips earlier in September before temperatures drop at night. September is also Larch season (fall colours).
October – October is a bit of a mixed bag. If the Rockies experience a warm(er) season, you can expect lots of outdoor activities to still be "do-able." However if the Rockies experience a cold(er) season, October sucks huge. It's cold, grey, and semi-snowy. All you can do is wait for ski season to start.
Plan a day trip to Yoho National Park
Winter in Yoho
Winter is definitely not a popular time to visit Yoho, I'd actually recommend visiting Banff or Jasper instead. The best thing to do in winter near Yoho is ski at Kicking Horse (More: Best Ski Resorts in Alberta). Regardless, here's what you can generally expect for ski season in the Rockies:
November/December – the start of a 7 month ski season (yes 7 months)! Snow conditions are variable during the beginning of ski season, but resorts in the Rockies are typically suitable for riding at this time. December is also the best month to skate on frozen lakes before they're covered in snow.
January/February – These are the 2 coldest months in the Rockies, but they feature the most pow (ideal for skiers) and the most whiteout days (not ideal for skiers). There's also normally a 1-2 week cold snap in January where temperatures consistently drop to -30 and lower.
March/April/May – spring skiing! You can expect variable temperatures/conditions, however closer to May you'll have consistent icy mornings and slushy afternoons up on the slopes. May marks the beginning of early hiking season. If you want to experience the Rockies in winter but aren't a skier or snowboarder, visit in March. Temperatures will be a bit warmer, but you'll still see the sparkly snowcapped peaks.
---
Day trip to Yoho National Park
The Perfect Day Trip to Yoho National Park
Visitors, and especially outdoor adventures, could easily spend more than a day (actually probably more than a week) exploring Yoho National Park. Yoho has a great system of well marked trails, many natural wonders, and world class lakes.
Most travellers can only fit 1 day at Yoho into their Rocky Mountain itinerary though, so here are the 6 things I recommend hiking, seeing, and doing in Yoho.
Of course, start your day trip to Yoho early – there's LOTS to fit in! For directional purposes, I'm going to write out this itinerary assuming you're coming from Banff.
Plan a day trip to Yoho National Park
1. Sherbrooke Lake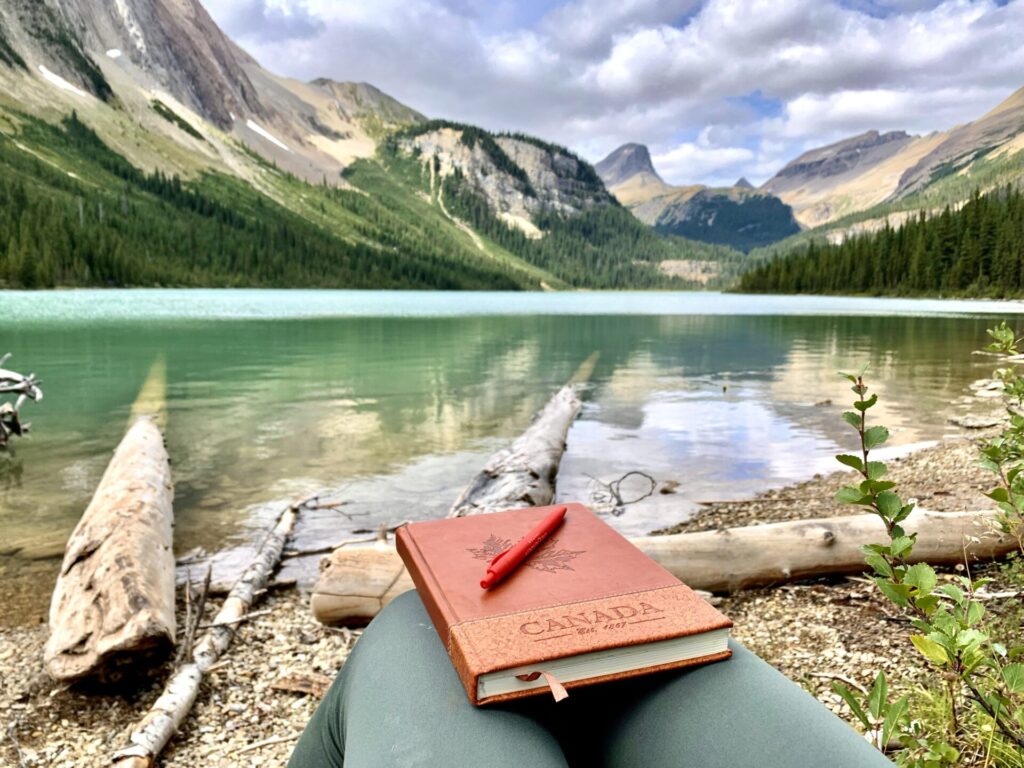 Sherbrooke Lake is by far one of the most scenic lakes in Yoho National Park. If you have the time I'd 100% recommend hiking the 6km (roundtrip) trail to see Sherbrooke Lake. You will however need to decide between hiking to Sherbrooke Lake or to Wapta Falls (I'll talk about this next).
Sherbrooke Lake is part of the interconnecting trail that leads to Paget Peak. Paget Peak is a great scramble for advanced hikers that gives you an elevated view of all the massive mountains surrounding Lake O'Hara that you drive past on the Trans Canada.
Sherbrooke Lake is a beautiful, and not over lengthy hike, that will certainly not disappoint even the most experienced of hikers. If you plan to summit Paget Peak, add an extra day to your itinerary; this alone is a half day excursion.
Here's my trail guide for Sherbooke Lake and Paget Peak.
Day trip to Yoho National Park
2. Spiral Tunnel Viewpoint
The Spiral Tunnel can be viewed from a pull-off on the Trans Canada highway (heading to Yoho from Banff). I've marked the approximate location on this map, however it's just an approximation – keep an eye out as you drive to Yoho!
The Spiral Tunnel is exactly what it sounds like; a spiral tunnel. The twist here is that the Rocky Mountain trains actually drive through this tunnel on their routes. I haven't actually see this in person, however I've seen photos of trains driving through the tunnel and it's straight up something you'd see on a post card.
If you're dedicated, pack lots of snacks, a comfy chair, and park your butt on the side of the Trans Canada to wait for the trains to pass by. If you're lucky you'll get to see this extraordinary event in action.
Day trip to Yoho National Park
3. Takakkaw Falls
Takakkaw Falls is the absolute prize of Yoho. Of all the things I recommend seeing on a day trip to Yoho, THIS is #1.
Takakkaw Falls is an absolutely massive waterfall measuring a grand total of 373m (1,224ft). The waterfall translates to "magnificent" in Cree and is fed by the meltwater of the Daly Glacier (part of the Wapituk Icefield).
The trek to Takakkaw Falls is only a quick walk from the parking lot. Once you reach the base of the waterfall, you can actually hike up the rocks to get a closer look. Make sure you pack rain gear though!
My favourite rain gear is the Marmot Eco Precip Jacket (men's version), these waterproof pants (men's version), and these Gore-tex hikers (men's version).
Did you know you can also camp at Takakkaw Falls? I'll talk more about this next.
Plan a day trip to Yoho National Park
Driving to Takakkaw Falls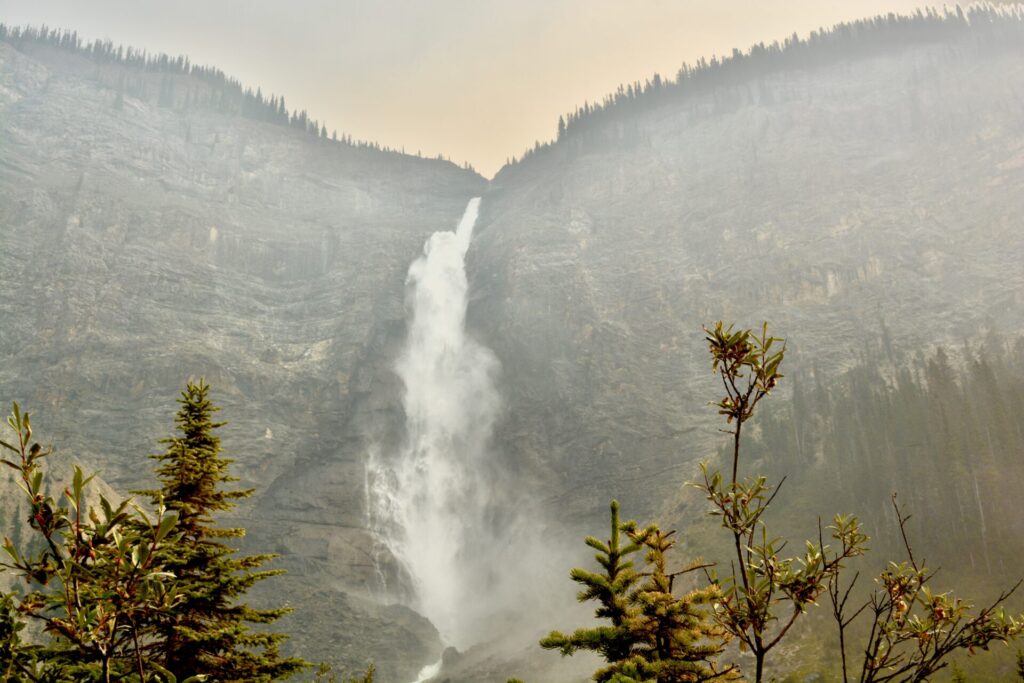 The best time of year to see Takakkaw Falls is early spring when the glacial melt is at its highest, however it's important to keep in mind that there's a seasonal road closure from mid October to mid June; you can ONLY access the waterfall in the summer.
You'll also only be able to access the falls with a smaller vehicle. I've seen reports saying no vehicles over 21ft will be able tome it up the road, however I'd even be weary about driving something that big.
Takakkaw Falls road follows tight and steep switchbacks up the side of a mountain. If you've never driven up a mountain road like this, I recommend taking it slow – especially the turns – gearing down, or holding your breaks the entire descent.
4. Natural Bridge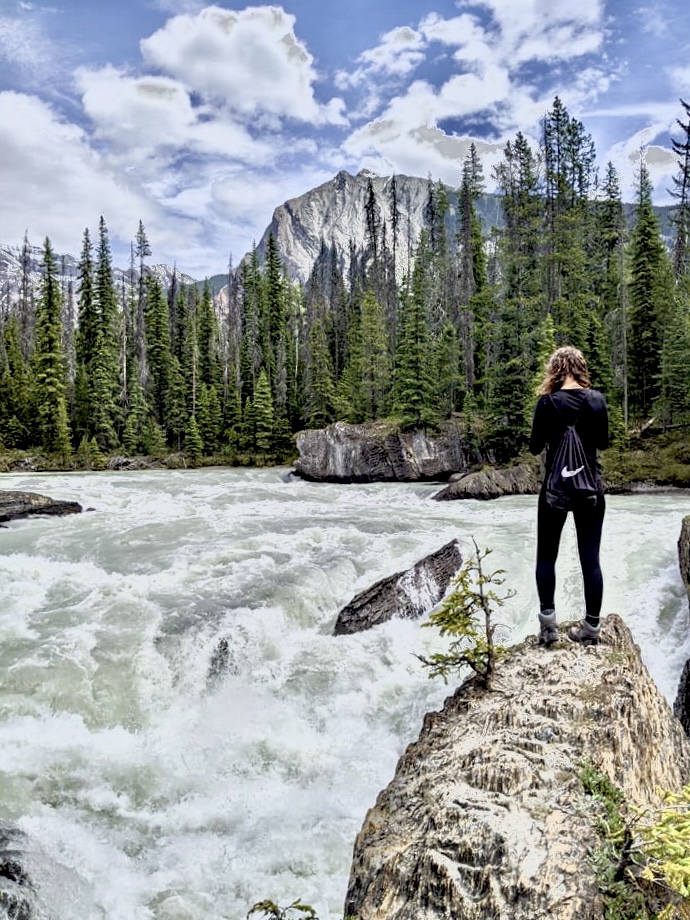 The Natural Bridge is on the same road as Emerald Lake. This is a cool spot in summer, however winter is the more "adventure-y" time of year to explore it (more on this next).
The Natural Bridge is primarily gushing rapids that have cut out massive rocks, forming them into swirling canyon walls. You can climb on top of the rocky walls or view them the bridge.
The water flowing through the Natural Bridge is some of the palest blue water I've seen in the Rockies. Watching the forceful rapids swirl through the Rocky canyon walls is borderline mesmerizing.
5. Emerald Lake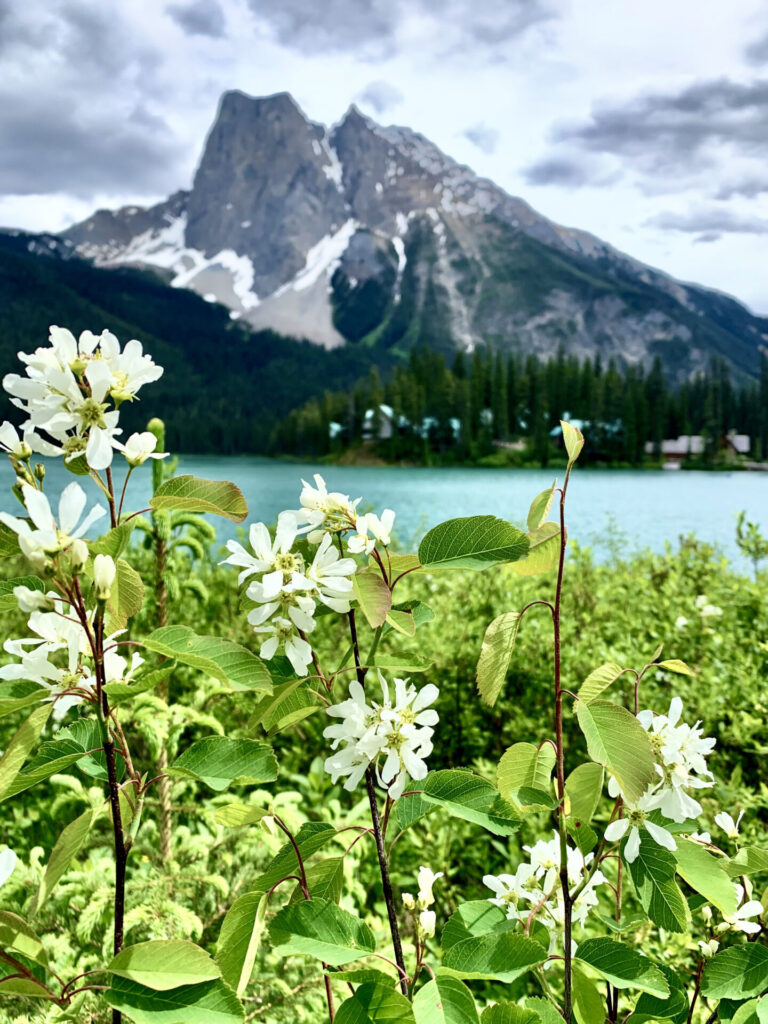 Emerald Lake is – you guessed it – an alpine lake literally emerald green in colour. Here you can find the iconic Emerald Lake Lodge (more about this next) backed by the infamous Mount Burgess.
You can rent canoes, hike the Emerald Lake Loop, or have lunch at Mount Burgess Dining Room (would definitely recommend).
Be prepared to walk quite a distance from your parking spot during high season though. Parking is limited and it fills up fast!
6. Wapta Falls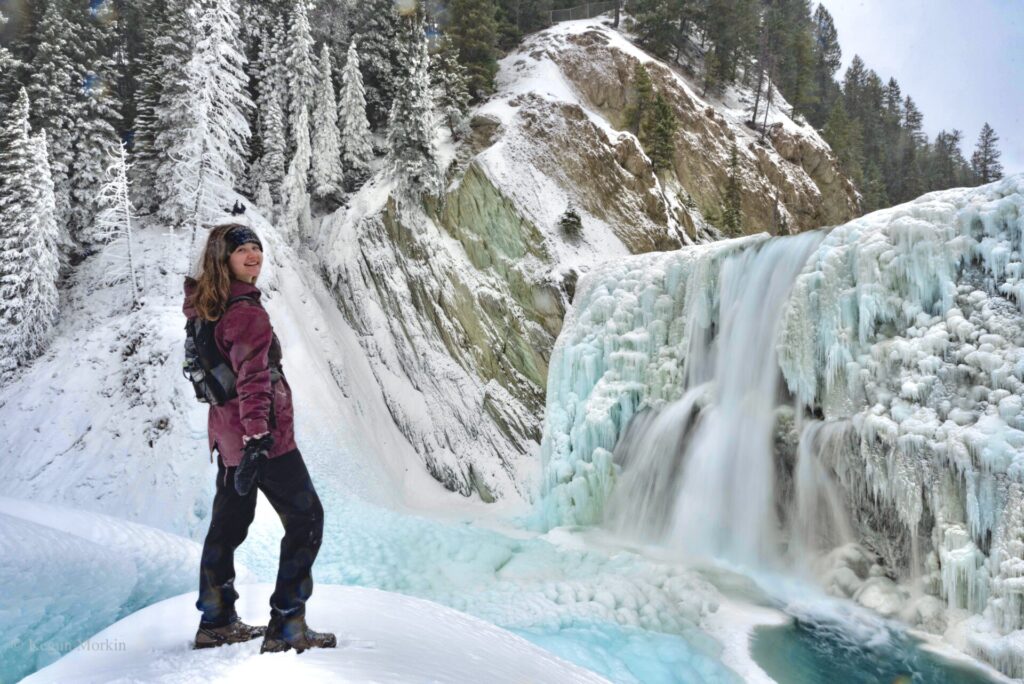 Wapta Falls is one of the more popular hikes in Yoho. It's relatively easy, well-trafficked, and offers picturesque views of none other than Wapta Falls. This is a great hike for beginners and for solo-hikers.
I've personally only hiked this trail in winter (when the falls are most impressive), however the falls can be hiked year round. Similar to Takakkaw Falls, if you want to see the falls during summer, visit early in the season (June-ish) when the glacial melt is at its highest.
Plan a day trip to Yoho National Park
Here's my trail guide for Wapta Falls.
---
Let's Break it Down
Now that we've gone over all the cool things to do in Yoho, here's what your day could look like. Assuming you're coming from Banff:
Grab an early breakfast in Banff (my favourite is from The Uprising Bakery)
Hit the road, then pull over on the Trans Canada and try your luck at seeing trains pass through the spiral tunnel in action.
Visit Takakkaw Falls – remember your rain gear!
Check out the Natural Bridge, then continue down the same road to find Emerald Lake.
Grab lunch at the Mount Burgess Dining Room.
Choose a hike: either continue down the Trans Canada for Wapta Falls or turn back for Sherbrooke Lake (if you're adventurous, try both)!
---
Day trip to Yoho National Park
Travelling to Yoho During Winter?
Travelling to a mountain destination can be a bit daunting in the winter months. There's avalanche zones, freezing temperatures, (more) dangerous roads to drive on. There's also great benefits to visiting mountainous regions in winter though like sparkly snowcapped peaks, alpine skiing, and exhilarating adventures.
To be completely honest, Yoho wouldn't be my top pick for a Rocky Mountain destination in the winter months, I'd instead recommend visiting the nearby Banff National Park (here's 30+ things you can do in Banff in winter). If your heart is set on a winter trip to Yoho though, here's my top recommendations:
Hike to the frozen Wapta Falls
Snowshoeing/xc skiing tours at Emerald lake Lodge
Visit the Natural Bridge
Ski at Kicking Horse; not technically in Yoho, but nearby.
More: Best Ski resorts in British Columbia
More: Best ski resorts in Alberta
About the Natural Bridge in Winter
Trekking into the Natural Bridge in winter is a bit of a risky activity. You have to hit it at the exact right time or the results could be devastating.
As per the image below, you can see the small opening where you enter the bridge. Inside these walls you'll find beautiful frozen waterfalls; flowing falls the closer you get to the melt.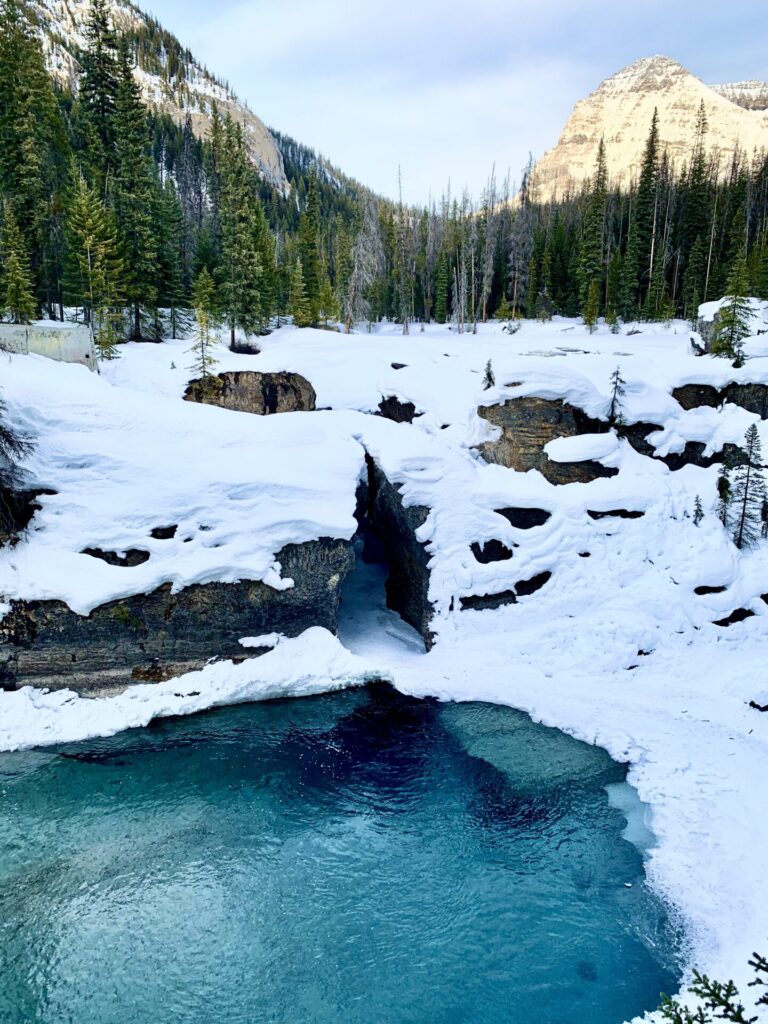 The best time to explore the natural bridge in winter is late January/early February. There's normally a Rocky-Mountain-wide cold snap in January where temperatures consistently reach -30 and lower for a week+. This is when the ice will be the safest.
*I visited very late in the season, hence the open water. Try to visit earlier than I did to avoid these dangers conditions!
I'm not necessarily recommending you trek into the Natural Bridge in winter for safety reasons, but this is the best (and only) way to see the swirly interior walls of the bridge.
---
Day trip to Yoho National Park
Extend Your Trip to Yoho
Aside from the things I already mentioned, Yoho has a surplus of outdoor adventures just waiting to be discovered. You can try your hand at backcountry camping or at more advanced hiking (AKA scrambling). You won't be able to fit more activities into a single day trip to Yoho, so you may want to consider extending your trip to 2 or even 3 days.
Plan a day trip to Yoho National Park
Here are a few more things you can do/see in Yoho:
Camp at Takakkaw Falls (more about this next).
Visit Lake O'Hara – reservations are nearly impossible to come by and they must be booked FAR in advance.
Backpack the Iceline Trail.
Hike to Laughing Falls or Twin Falls.
Visit the town of Field. There isn't much going on here besides a couple of restaurants and small artisan shops, however it's the only town in Yoho.
Scramble Paget Peak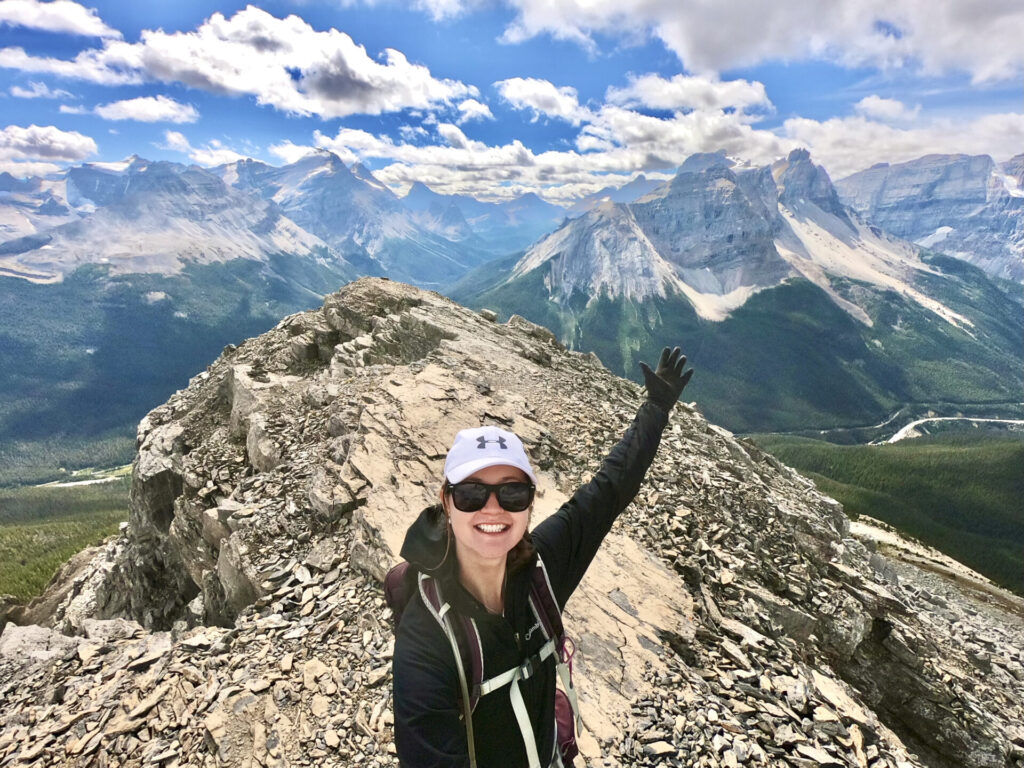 The Paget Peak scramble is one of my favourite scrambles in the Rockies. The hike itself isn't overly long and the views are très magnifique. From the summit you'll actually get a glimpse of all the wondrous mountains surrounding Lake O'Hara. If you're dying to get to Lake O'Hara but can't quite get a reservation, this is your next best bet.
More: Paget Peak Trail Guide
More: Scrambling Trail Guides
---
Day trip to Yoho National Park
Where to Stay in Yoho
Emerald Lake Lodge: THE "Yoho Experience"
The best, and most iconic, place to stay in Yoho is undoubtedly the Emerald Lake Lodge. The Emerald Lake Lodge is right up there with the Chateau Lake Louise in terms of popularity and "wow" factor.
The Lodge is situated directly next to Emerald Lake and is the ideal place if you plan to hike and explore the area.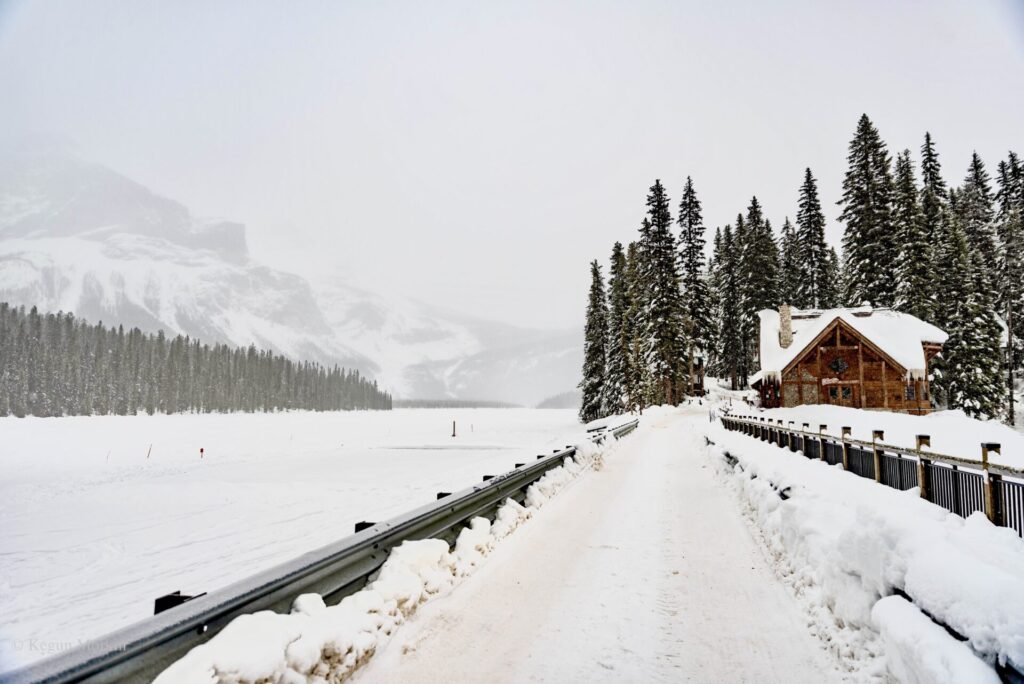 Rather than staying in a room, Emerald Lake is made up of the cutest little cabins scattered around the property. THIS is the ultimate "cabin stay" you'll find anywhere in the Rockies.
You can learn more about about Emerald Lake Lodge and book your stay here.
OH and I must mention the Mount Burgess Dining Room. I visited Emerald Lake for lunch on a snowy January afternoon and had the BEST artichoke pizza of my life. I ate this tasty food and watched the fluffy snowflakes fall from the sky as I set next to a crackling fire. Was I dreaming? Maybe, because this experience was out of this world.
Camping at Takakkaw Falls
If you're looking for a more "outdoorsy" stay in Yoho, consider camping at Takakkaw Falls. The campsite is located a mere 300m from the parking area and is run on a first-come, first-serve basis; no reservations required.
My advice would be to arrive early in the day (mid-week is best) and stake out the spot you want. This ensures you actually get a tent pad and it will give you the chance to pick out the spot you want. Not all of the tent pads have views of the falls like this.
Once you set up camp, look for one of the little wood buildings. This is where you'll pay your nightly camping fees.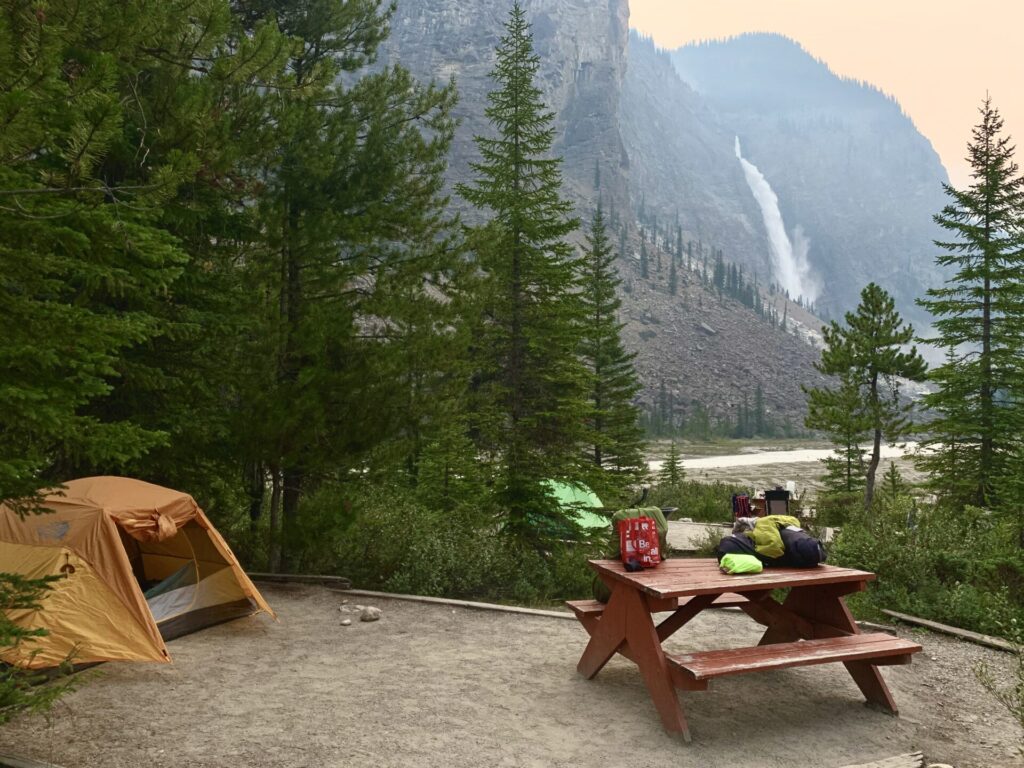 Other Places to Stay in Yoho
There are very limited places to stay in Yoho itself, so you may want to consider looking for accommodations in nearby Golden or Banff. Here are a few options for Yoho and the surrounding area:
---
Day trip to Yoho National Park
Packing Guide for Yoho
Yoho is located in Alberta's Rocky Mountains. If you've been to the mountains before, you know mountain weather can change on a dime. For this reason, it's imperative that you're prepared for the elements. This is especially true if you're planning to hike.
The best piece of advice I can give you is to pack layers: always. bring. a. jacket.
I'm going to break down what to pack for Yoho into 3 categories: hiking, summer and winter. Honestly the seasons you get in between summer and winter are so short, I'm not even considering them seasons.
Plan a day trip to Yoho National Park
Yoho Packing List: Hiking
I've created a few guides that outline everything you need to know for hiking in The Rockies. The following posts outline the best clothes for hiking, the best gear for hiking, and allllll the gear you need for a multi-night backcountry camping trip:
Plan a day trip to Yoho National Park
A few of my favourite items for hiking in The Rockies are:
Yoho Packing List: Summer
Packing for summer in Yoho can be a tricky one. I spent 2 summers living in the Rockies; one summer was freezing and I wore shorts maybe twice. The second summer I spent in Yoho was HOT. I wore shorts and tank tops for months.
Plan a day trip to Yoho National Park
I'd recommend packing:
Always check the weather before your trip and plan accordingly.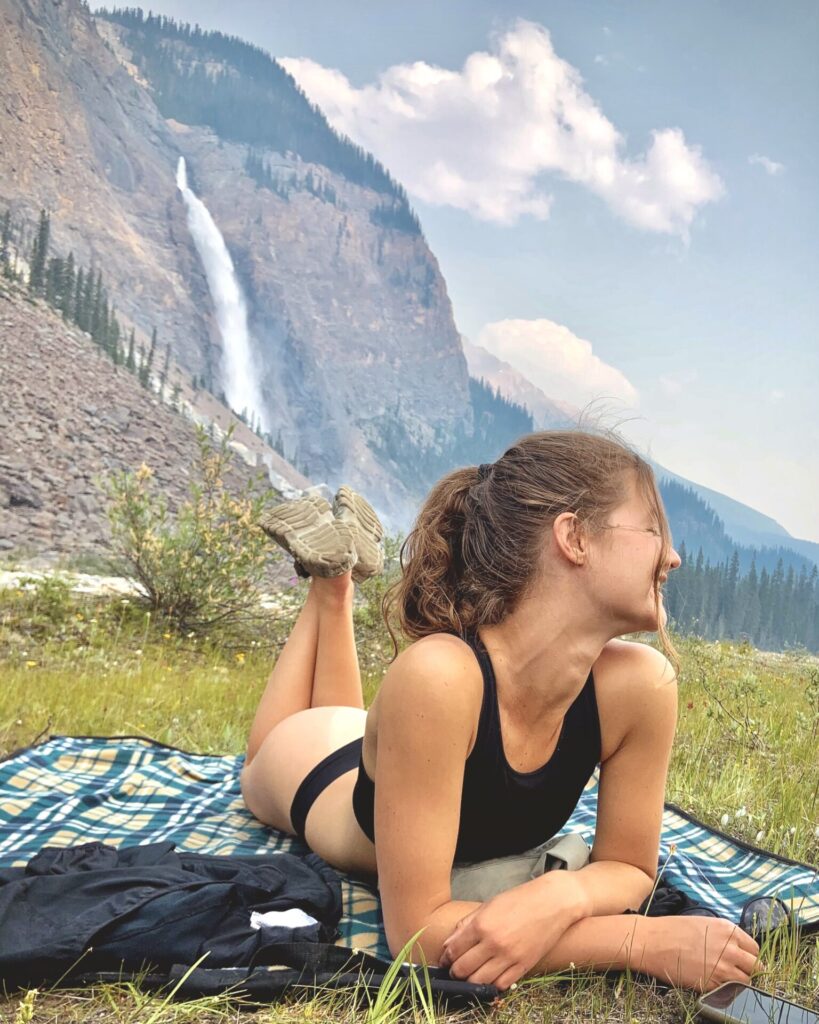 Yoho Packing List: Winter
Winter in Yoho is obviously cold (but dry cold). I'd recommend bringing a full winter set up (warm coat/snow pants), boots, as well as merino base layers and a warm toque. Additionally, a few of my favourite winter accessories and pieces of gear for Yoho are:
If you're planning to ski, make sure you bring extra clothes for layering as well as a buff or balaclava.
---
Day trip to Yoho National Park
Explore the Canadian Rockies
Here are a few more of my trip planners for The Canadian Rockies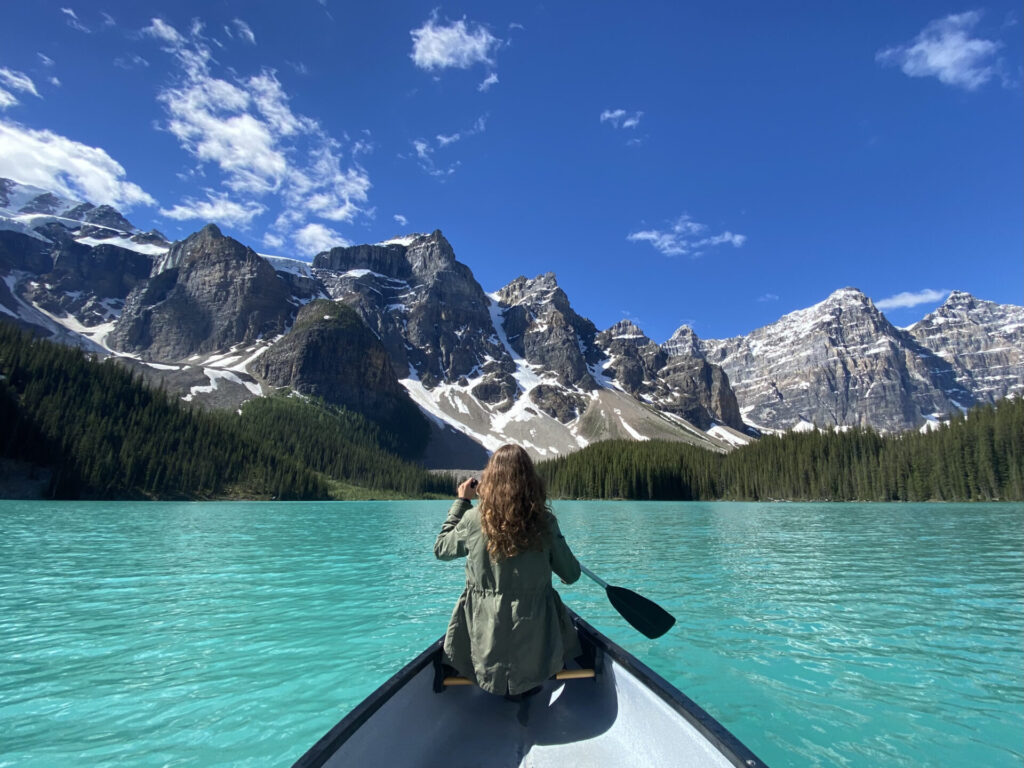 Banff is the crown jewel of the Canadian Rockies and is located only 40 minutes from Yoho. Banff features great hiking, lots of excursions, and a great atmosphere for travelling.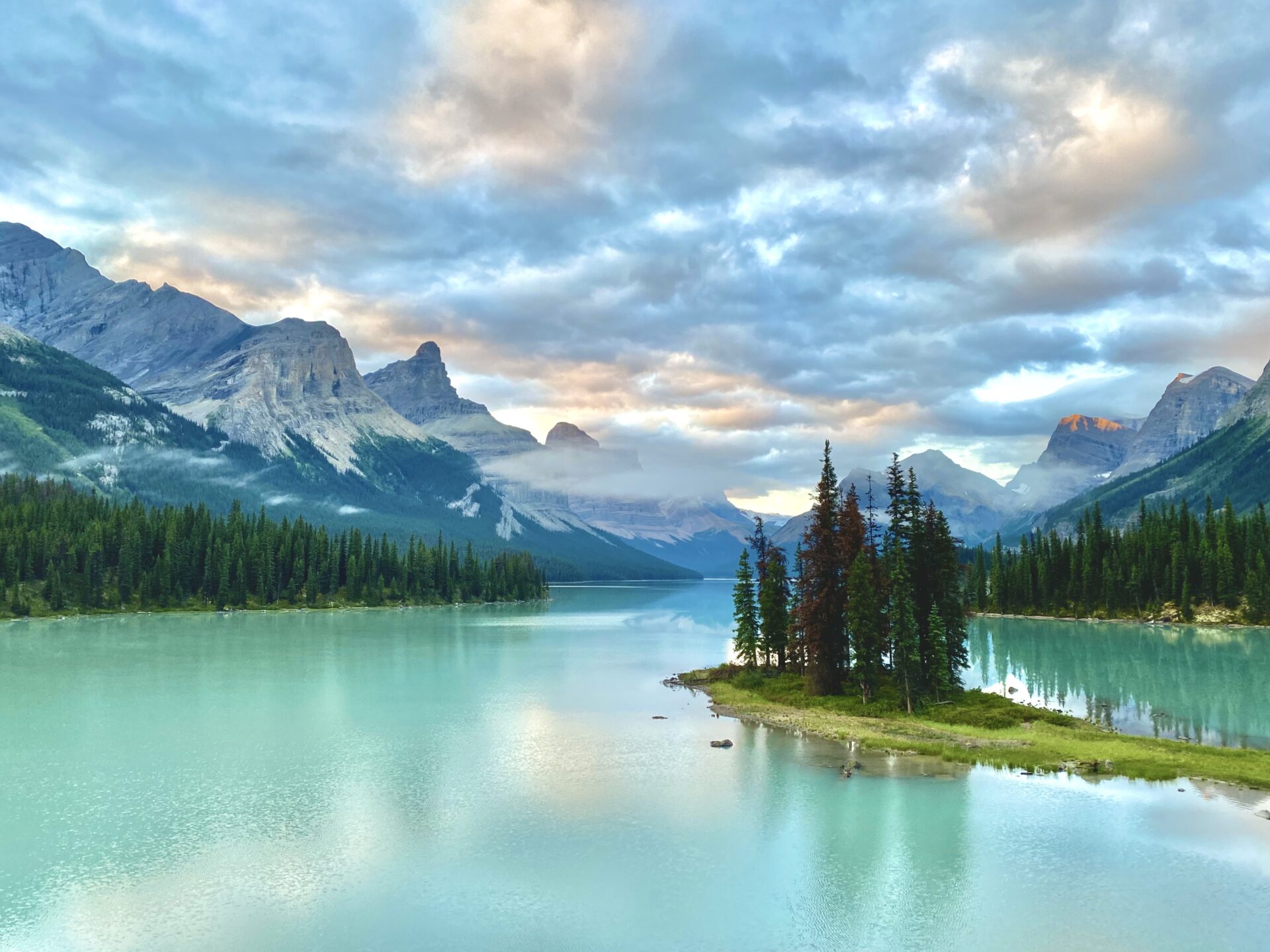 Jasper is Yoho's northern neighbour, located 3 hours down the Icefields Parkway (the most beautiful drive in the world, by the way). Jasper is home to laid back mountain vibes, glaciers, and abundant wildlife.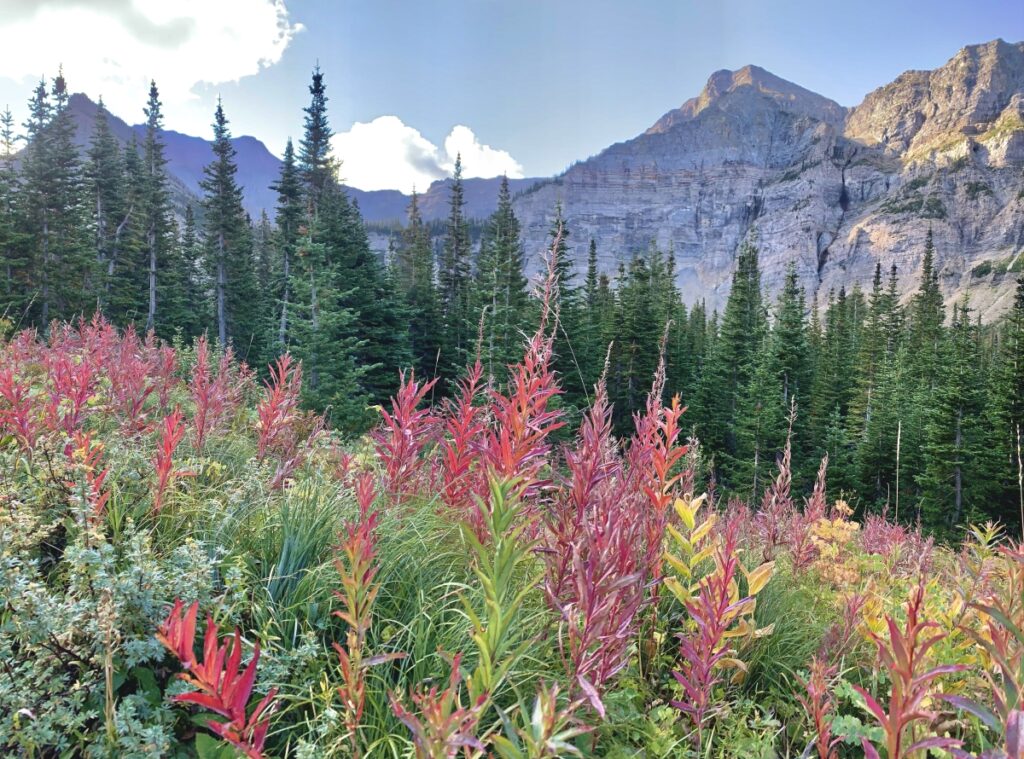 Waterton is one of Alberta's hidden gems. The Park is located in Southwest Alberta and features world renown hiking, beautiful lakes, and the best ice cream in The Canadian Rockies (no seriously, I've tried them all).
---
Day trip to Yoho National Park
Happy adventuring!
Taylor ♡
---
Like This Post?
Share with friends or save it for later!
---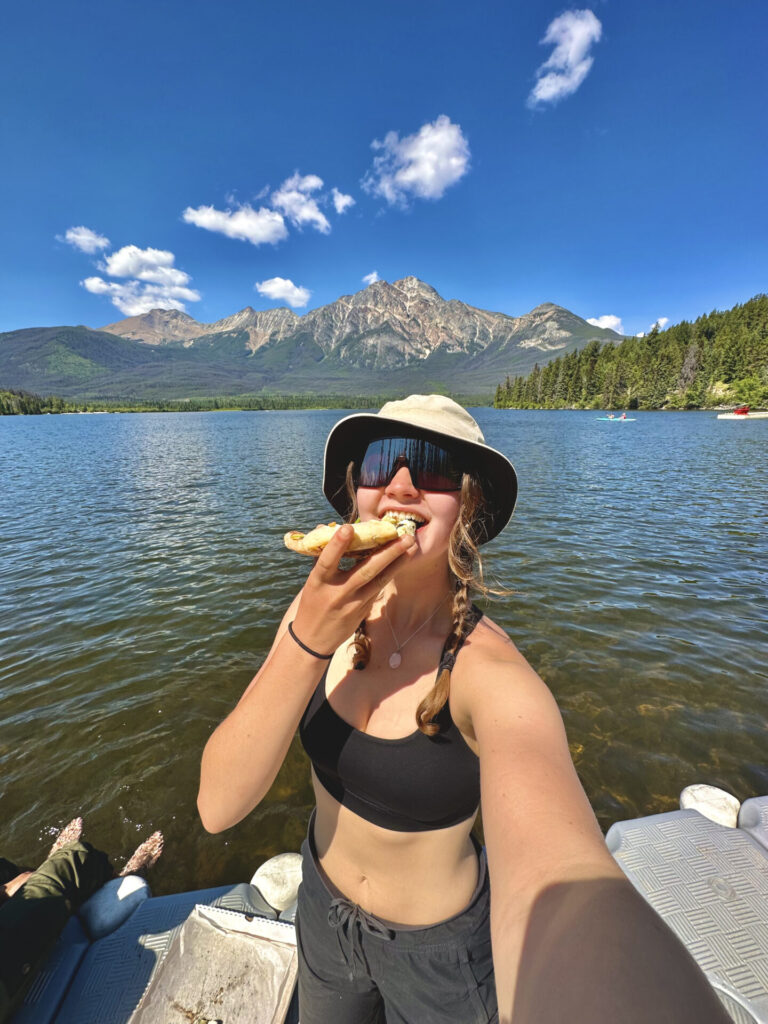 About The Author
HI, I'm Taylor – the voice behind The Holistic Backpacker.
After moving to Banff National Park in 2020 I became an outdoor adventure enthusiast and vowed to never stop exploring.
I now spend my days travelling the world, climbing mountains, and spending nights under the stars in the Canadian Rockies backcountry.
I created The Holistic Backpacker so I could share my adventures and help connect people like you with the same amazing experiences.