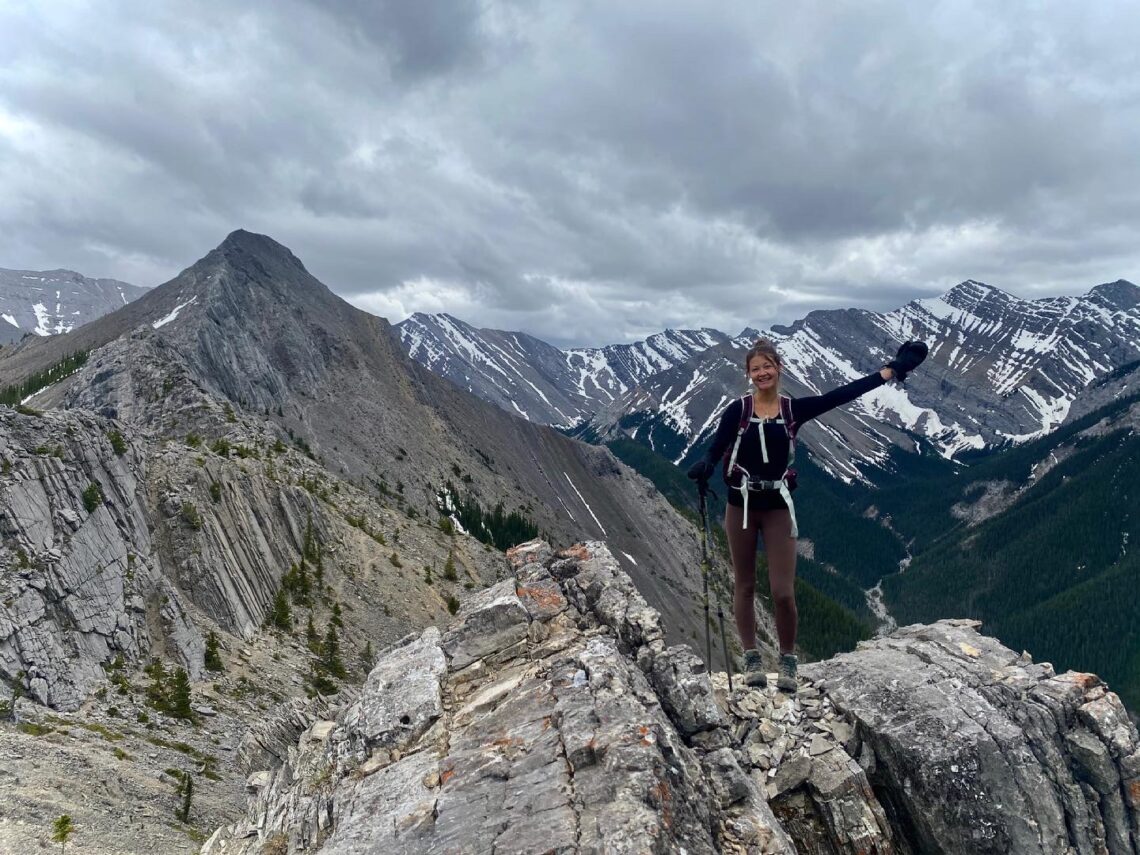 What To Wear Hiking In The Canadian Rockies
So you're trying to figure out what to wear hiking in The Canadian Rockies, eh? Whether you're hiking in Banff, Jasper, Waterton, or anywhere else in-between, you'll quickly discover that having appropriate clothing and hiking gear makes all the difference when you're summiting peaks, scrambling up mountains, or just going for an easy day-hike. So… What do you wear hiking in the Canadian Rockies?
Now, for all my hikin' pals out there I can tell you for sure that choosing what to wear hiking can be one of the most confusing things. You'll ask yourself a million questions: "Do I need a coat?" "Should I wear shorts or pants?" "I think it will be hot, but will it be colder up higher?" "What about the wind?" "I want to wear this to take a cute picture, but will I be cold..?" By the way, the answer is always yes to that last one.
I've created this guide explaining which pieces of clothing are essential for your day-hike, as well as great brands, and information for where you can purchase your gear.
Skip Ahead:
This post contains affiliate links; see my full disclosure. If you click these links and make a purchase you're supporting The Holistic Backpacker. Thanks for your support & happy adventuring! – Taylor ♡
---
---
How To Save Money On Hiking Clothes
There's no better feeling in the world than wearing a new jacket or pair of hikers on the trail for the first time. However, the second best feeling in the world is getting a sick deal on said jacket or hikers.
I've become quite thrifty when searching for new hiking clothes and hiking gear, so I've compiled a few guides to help you find deals when you're searching for what to wear hiking in the Canadian Rockies:
More: Shop These Stores To Save While Gearing Up For Hiking & Camping Season (US and Canada)
More: Tips & Resources For Finding Discounted, Good Quality Hiking and Camping Gear
In these posts I list all the stores you can shop that have sales on clothing and gear, as well as alternative methods to purchasing gear like second-hand online stores, emails signups for extra savings, etc.
I've also compiled detailed guides that explain each piece of hiking and backpacking gear you'll need for your next big adventure:
More: Backcountry Gear Guide
More: Day-Hiking Gear Guide
Speaking of adventures, you can also check out my hiking page for detailed trail guides all over the Canadian Rockies.
Reliable Outdoor Clothing Brands
I'll be honest, I'm a biiiiit of a brand snob when it comes to my hiking gear. So, when I'm choosing what to wear hiking in the Canadian Rockies I buy from at least mid-range, if not expensive brands.
The following brands are all outdoor stores that cater to hikers and outdoor adventurers:
Cheaper – Mountain Warehouse, Mountain Hardware
Mid Range – The North Face, Columbia, Marmot
Expensive – Patagonia, Arc'teryx, Outdoor Research
Mix and match and find what's best for you. The mid-range brands are trusted, great quality, and what I'd recommend investing in. I personally have not tried the less expensive brands listed here, but they'd do the job if you're just starting out or if you only embark on outdoor adventures occasionally. The expensive brands are great quality and will last you a life-time.
A Word On Layering
After spending two seasons hiking in and around Banff National Park I've become quite savvy with what seem to be the best clothes to wear for day-hikes. The most important thing is layering.
Layers are the most effective way to dress for any hike. This is especially true if you're embarking on a long day-hikes where temperatures will be changing or if you'll be gaining a lot of elevation during your hike – as you can imagine it gets significantly colder the more you hike up.
I climbed one of Banff's biggest baddest mountains and gained over 1700m in one day. I started this hike wearing a T-shirt and shorts. When I reached the summit I had layered up with pants, a fleece zip, a jacket, a toque, and gloves.
This is why it's important to own versatile hiking clothes and to always pack for the elements no matter what the weatherman (or woman) is saying.
Essential Day-Hiking Gear
Before we get into what to wear hiking in the Canadian Rockies, it's important to quickly go over a few pieces of hiking gear. I never hit the trail without these 3 items and therefor deem them essential: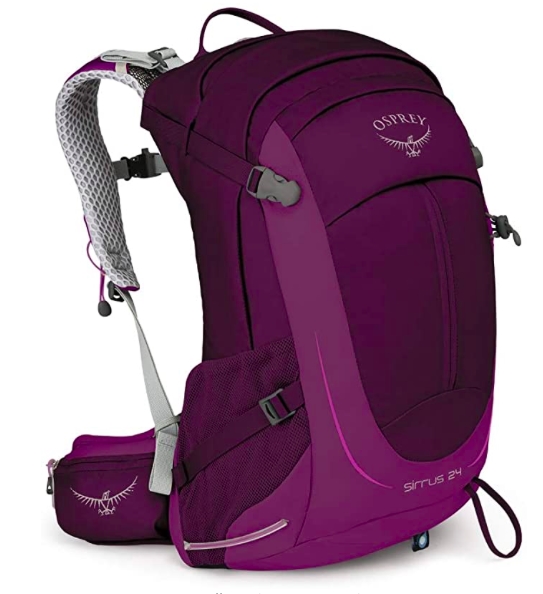 A good quality day-pack has hip belts and a sternum strap to distribute the pack's weight. It will also have a suspended or breathable mesh system and hip belts. I have the Osprey Sirus 24L (men's version) and I absolutely love it!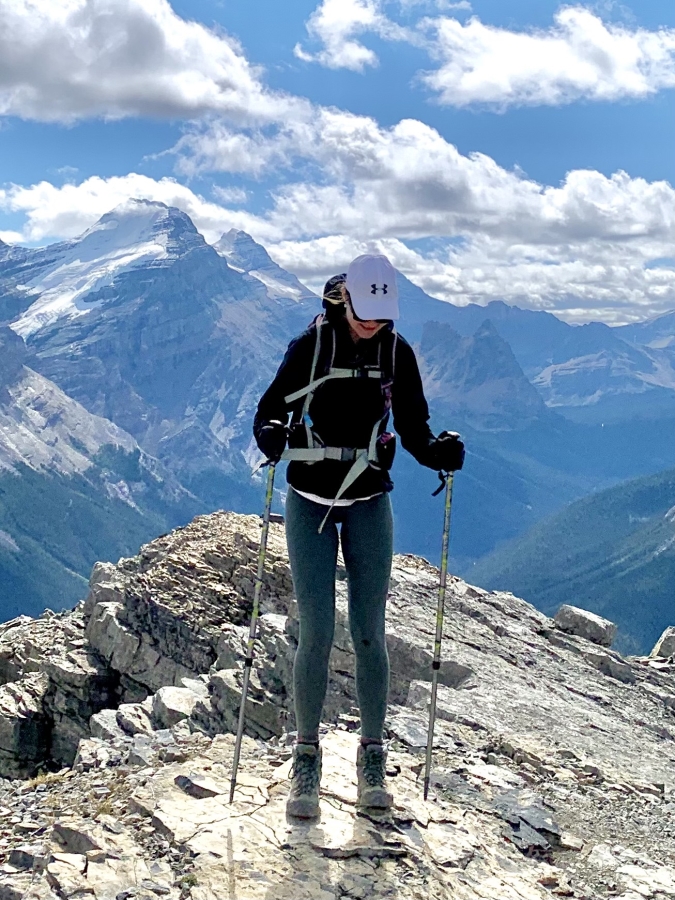 Trekking poles take up to 25% of your weight off your knees and are great for assisting balance – an essential piece of hiking gear for long, technical, or steep hikes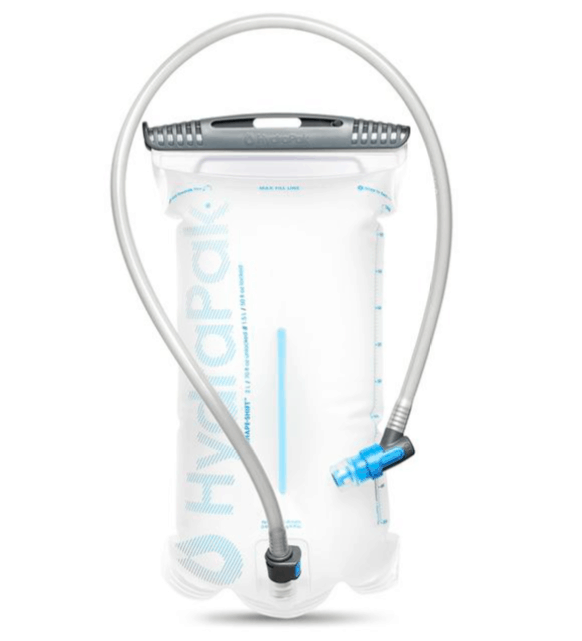 A hydration reservoir is SO important. It holds 2L+ of water and keeps you effortlessly hydrated on-the-trail. I use the 2L Hydrapak and LOVE it. It never leaks and has a detachable tube
Do you need hiking gear? Great question. Of course you don't 100% require anything special for hiking, but I can tell you from experience that having proper gear will make your hike a hell of a lot more comfortable and convenient. I've written in detail about the above mentioned gear in a post here, along with all the other great outdoor gear I use for hiking.
More: Day-Hiking Gear Guide
Photographers
I won't go into what I think the best camera set up is for hiking and outdoor adventures, but what I will tell you about is the Capture Clip from Peak Design. This is a sturdy and well made metal clip for your backpack straps that allow you to carry your camera on the outside of your pack.
I use this clip for hiking and backpacking trips where I know I'll constantly be using my camera. This clip makes photography super convenient and saves you/your hiking pals constantly loading and loading your bag to retrieve your camera.
I love my Capture Clip and would recommend it to anyone!
Best Footwear For Hiking In The Canadian Rockies
Footwear is super super super important and should be the first thing you think of when you consider what to wear hiking in the Canadian Rockies. There's huge debate as to what the "best" type of hiking shoe it, but really it comes down to personal preference.
Personally I like a sturdy/durable boot with strong grip and ankle support. I'm an ankle roller and pretty clumsy so I need a boot that'll support me. I also only recommend getting a hiking boot if it's Gore-tex. This will protect your feet from getting wet and cold, which will make your hiking or backpacking trip SO much more enjoyable.
REI has created a great resource for things to consider when buying a hiking boot – check it out.
Hiking Boot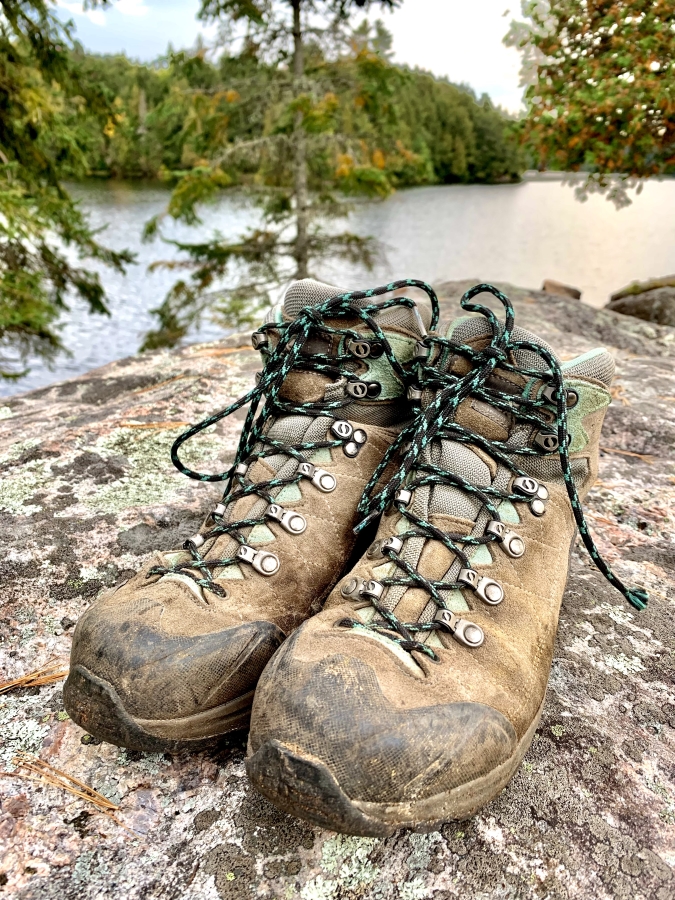 My all-around boot of choice goes to the Scarpa Kailesh Trek Gore-tex boot (men's version).
I have clocked in well over 600km with these boots in all sorts of terrain and weather conditions – I've really beaten the shit out of them. They've more than passed the test and still have quite a bit of life in them. I will continue to re-invest in these boots for the duration of my hiking career (which by the way will only have to be a few times because they're that good).
If this boot isn't quite what you're after, consider looking into the following brands: Salomon, Keen, Salewa, and Merrell
Trail Runners
If you're after a more versatile type of footwear, consider getting a pair of trail runners. Trial runners are sturdier pairs of running shoes with more grip. I have a pair of Salomon runners – like these (men's version) – and I absolutely love them.
I wouldn't take these bad boys hiking in Banff or Kananaskis, but they're ideal for smaller day-hikes or simple terrain. An added bonus is that they're simple looking and you can wear them day-to-day. If you're an ultralight packer and outdoor adventurer, grab yourself a pair of trail runners.
Hiking Socks
Having a good pair of hiking socks is equally as important as having a good quality hiking boot. My sock brand of choice is Smartwool. I've used a single pair of their socks for over 300km of hiking and they show almost no wear.
When choosing a hiking sock you want to get a pair with a decent amount of cushion and at least crew length in rise.
Tops: What To Wear Hiking In The Canadian Rockies
When considering what to wear hiking in The Canadian Rockies, start with your tops. I find that legs can handle a bit more in terms of wind and weather, but our upper bodies are more sensitive and therefor require a bit more paying-attention-to.
Hiking in the Rockies is a bit different than hiking in other locations around Canada. When I worked at the Banff Gondola in Banff National Park, we had a freak snowstorm in July atop the mountain. For this reason it's important to always have warm layers with you, especially if you'll be embarking on higher elevation hikes. The following are what I use:
Best Warm Layers For Hiking
A waterproof jacket is the single-most important layer when hiking and I bring it with me on every hike. It protects you from the wind, rain, and traps your body's heat. I use the Eco Precip from Marmot (men's version), which is durable, lightweight, folds up into it's own pocket, and is totally affordable.
A puffer jacket is a light-weight jacket that packs up small and throws a ton of heat. I use this one (men's version) and I wish I'd discovered it sooner. I layer it underneath my rain coat which then creates the perfect combination of warmth/wind protection.
A fleece zip (men's version) is a great alternative to a puffer jacket. It's warm, comfortable and very versatile if you're a minimalist or ultralight traveller.
Aside from these important layers you'll also need the basic stuff. At the least, choose tops that are dry-fit. If you want to get fancy, go the merino wool route. Both MEC (CAD) and REI (US) have great wool layers.
Cold weather – If you'll be hiking in cold weather you may want to invest in base layers. For this you'll also want something merino wool which can be found at both MEC and REI.
Connect via socials:
Sign up for emails to receive a 50% discount on my travel maps + occasional updates on new hiking guides & travel resources.
Taylor ♡
Bottoms: What To Wear Hiking In The Canadian Rockies
Bottoms are often something that is overlooked when choosing what to wear hiking in The Canadian Rockies. I'm a pants-gal and wear pants for pretty much every hike in the mountains. They protect your legs, keep the wind off you, and are more comfortable than shorts in my opinion.
Regardless if you're wearing shorts or pants, you'll want something that's high-wasted to keep your pack's hip-belts from digging into your stomach. Additionally with shorts, choose a pair that are long enough to keep your legs from rubbing together and chaffing. I occasionally will wear these Nike spandex shorts – they're high wasted, long, and tight which makes for a great hiking short.
Best Pants For Hiking In The Rockies
No one really thinks to invest in hiking pants, but once you have hiking pants you never go back. I use these (men's version). They're comfortable, durable, great for all weather conditions, and are SO much better than hiking in leggings – trust me. I take only these pants with me when I go backpacking.
Waterproof pants (men's version) are just as important as a waterproof jacket. They protect against wind and rain, are durable and warm, and are typically wide which allows you to slip them on over your boot. This way you don't necessarily have to take off your boots when adding this layer.
If you'll be hiking in cold weather, soft-shell pants (men's version) are a MUST. These are like thin snow pants – they trap your body heat, but are significantly more mobile. I take these on every cold weather adventure wether it's hiking, skating, or sledding.
Other: What To Wear Hiking In The Canadian Rockies
I love my adventure hat! Prior to this I always wore baseball caps – which are totally fine and I always recommend using what you have before buying new. There's just something about wearing an adventure hat when you're hiking though.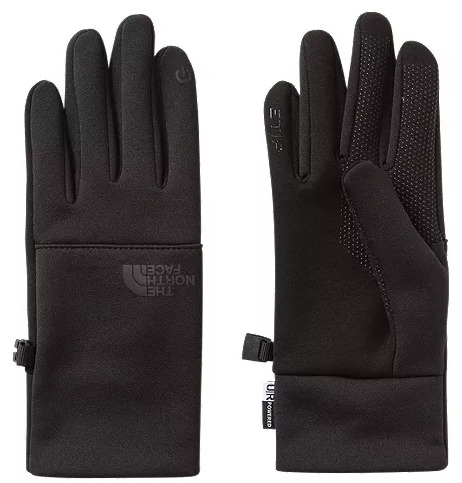 A thin pair of gloves is always something I bring with me on-trail. I have Raynaud's Disease, so it's a constant battle to stay warm. I have the E-tip glove from North Face (men's version). They come in a variety of sizes, are made of recycled materials (yay), and have grips which make it easy to hold onto your trekking poles. If it's really cold I bring these gloves (men's version).
Not technically a piece of clothing, but a very important piece of safety gear. If you're hiking in the Rockies you'll definitely want to have a canister of bear spray on you at all times.
Extras: What To Wear Hiking In The Canadian Rockies
Sunglasses

– I bring 2 pairs with me. One with darker lenses and the other with lighter lenses. This way no matter what the light conditions are I have something protecting my eyes from wind and dirt

Athletic underwear – a game changer, all I'm sayin'.
Some Of My Favourite Hiking Locations
Canada's Rocky Mountains offer incredible day-hiking and great diversity in terms of terrain. From easy mountain strolls to steep scrambles, you can find a little bit of everything. Banff National Park and Kananaskis Country are both notable for hiking due to the endless trail systems and breathtaking views that exist within the area.
Now that you know what to wear hiking, let's hit the trail!
Happy adventuring!
Taylor ♡
---
Like This Post?
Share with friends or save it for later!
---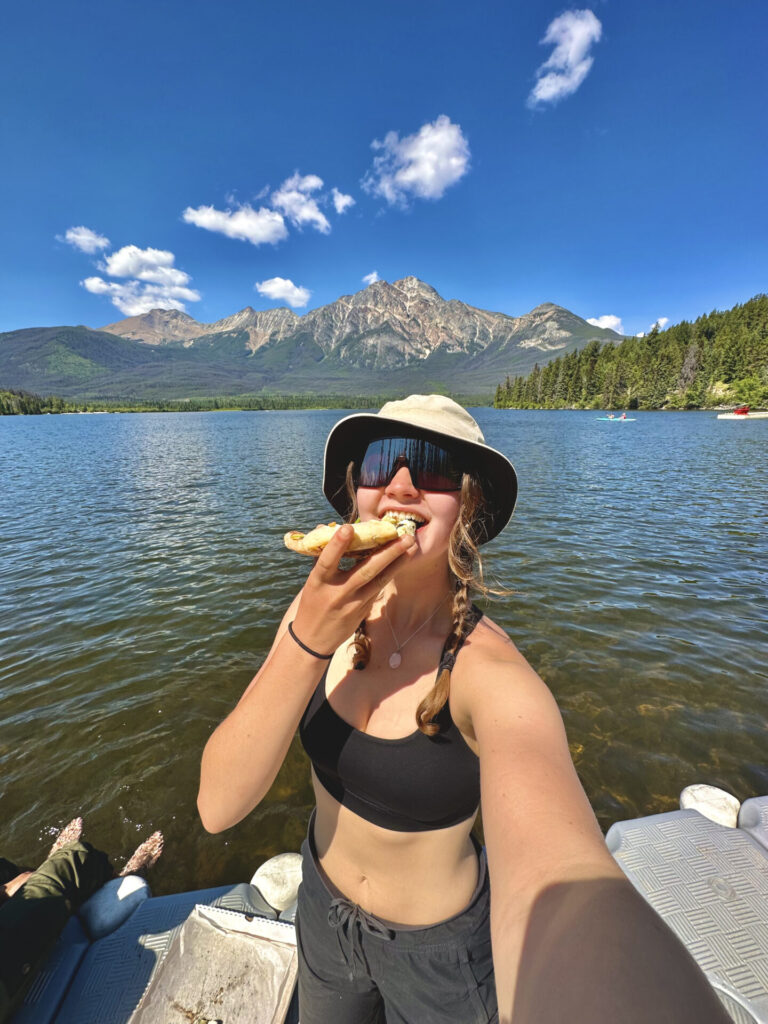 About The Author
HI, I'm Taylor – the voice behind The Holistic Backpacker.
After moving to Banff National Park in 2020 I became an outdoor adventure enthusiast and vowed to never stop exploring.
I now spend my days travelling the world, climbing mountains, and spending nights under the stars in the Canadian Rockies backcountry.
I created The Holistic Backpacker so I could share my adventures and help connect people like you with the same amazing experiences.