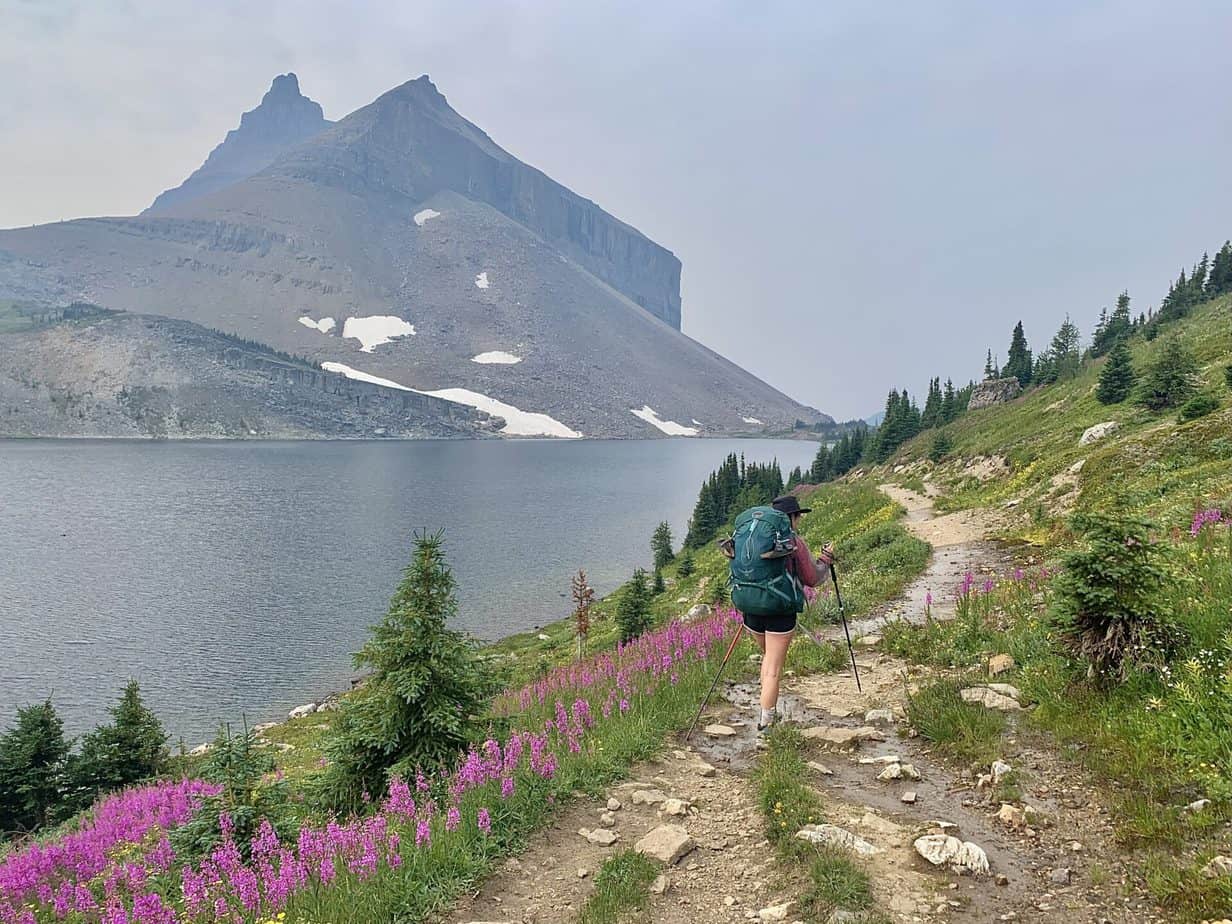 Backcountry Gear Guide – What to Pack for Camping in the Canadian Rockies
This post about gear for backpacking is for newcomers to the sport and for all the gear junkies out there (ahem, me). It'll explain every piece of essential and non-essential equipment you need for your next backcountry adventure, what I use, and where to find it.
I've spent quite a few nights in the backcountry and more days on the trail than I can count. These days/nights have taught me (the hard way) what does and doesn't work in the backcountry. Now, I'm passing on all that info to you!
The gear I talk about in this post are high-quality, functional, compact, light-weight, and cost effective (for the most part); everything you'll want for your next adventure.
Before we really get into it though I want to make note about how unpredictable mountain weather is and thus how important it is that you're prepared for the elements. Read this post, make sure you've got the essentials, and learn about the terrain you'll be hiking/camping in before setting up shop for the night.
Now, let's go camping!
Skip Ahead:
This post contains affiliate links; see my full disclosure. If you click these links and make a purchase you're supporting The Holistic Backpacker. Thanks for your support & happy adventuring! – Taylor ♡
---
---
---
Related Posts:
---
How to Find Cheap Gear
Gear for backpacking can be EXPENSIVE. So, to help you save a pretty penny, I've put together the following guides:
How to Find Cheap Hiking and Camping Gear
and
Shop These Stores to Save $ While Gearing up for Hiking & Camping Season
I've personally used a bunch of the options I talk about in these guides whilst purchasing gear for backpacking which has allowed me to save a few $ and shop in a more sustainable fashion (second hand).
Before we dive in, here's a quick checklist for all the important stuff.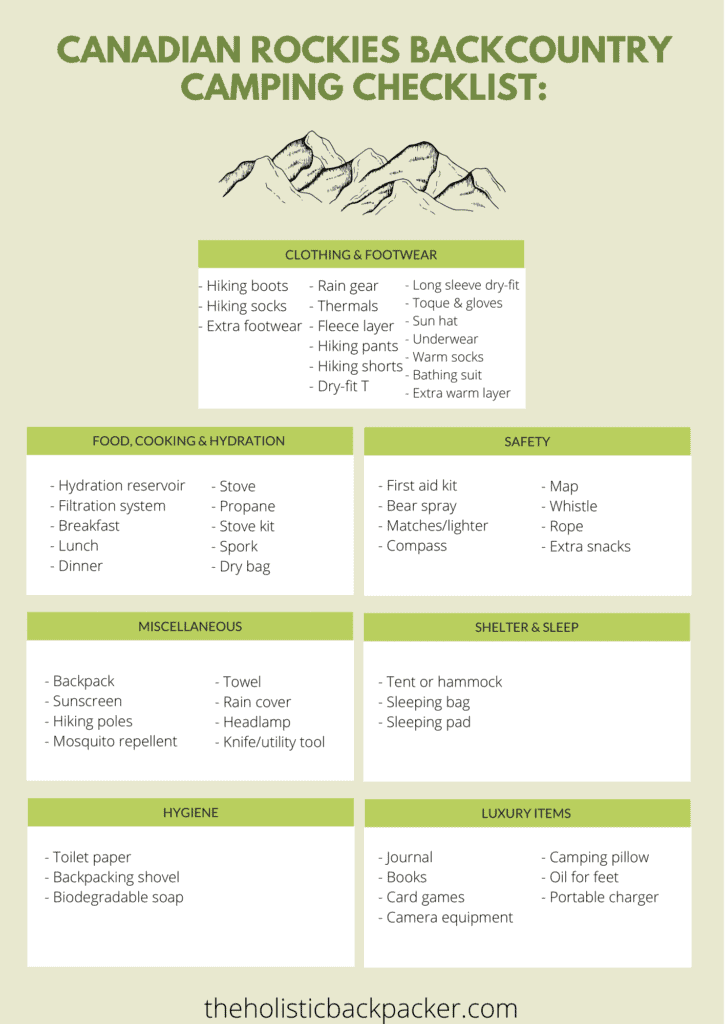 ---
Choosing a Pair of Hiking Boots
Hiking Boots
All gear for backcountry camping is important, however in my opinion footwear may be one of THE most important items you take with you. There's nothing worse than walking in uncomfortable, wet, or ill-fitting shoes and that's especially true when you're walking 40km+, carrying 25lbs+ on your back.
There are a million brands and different styles of hiking boots out there so to get you started I'll link you to this guide from REI which outlines how to choose a hiking boot. This is a great resource if you're brand new to hiking – it's a great way to familiarize yourself with the different boot features out there.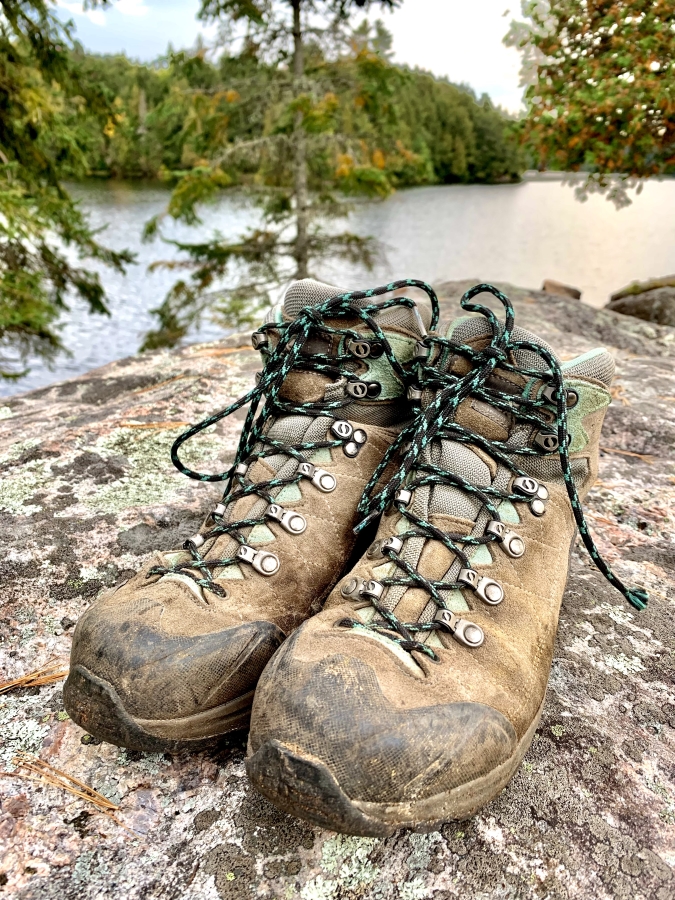 The top 4 things I look for in a hiking boot are:
Durability – hiking boots are expensive and no one wants to replace them annually.
Grip – Reliable grip with heavy tread is imperative for steep and slippery terrain.
Gortex – waterproof boots are a must! There's nothing worse than hiking with wet, cold feet.
Ankle support – I always go with a mid-rise. I'm an ankle roller and need the extra support. Ankle support is very important if you're walking in uneven, rocky terrain (especially for scrambles).
What Boots do I use?
My boots of choice are the Scarpa Women's Kailash Trek Gore-Tex Hiking Boots (men's version). I'll tell you upfront, these boots are priceyyyy, but worth every penny. I remember I once spoke to an avid hiker early in my hiking career who complimented my boots, adding that he would "die for a Scarpa pro-deal." At the time I thought this seemed dramatic, but after doing more hiking I'm totally on the same page as him.
I've clocked in well over 600km with these boots in all sorts of terrain and weather conditions – I've really beaten the shit out of them. They've more than passed the test and still have quite a bit of life in them.
They're super durable, have crazy grip, great ankle support, are waterproof, and are great temperature-wise in hot and cold weather. I've used them for multi-day backcountry trips, easy day-hikes, scrambles, winter hikes. You name it, these boots do it.
The Kailash are an all-around boot, however you can find tons of hiking boot options at:
Mountain Equipment Company/MEC or Atmosphere (CAD)
Recreational Equipment Company/REI (US).
---
Hiking Socks
SOCKS. Capital letters because along with proper shoes, proper socks are such an important piece of gear for backpacking. A proper pair of hiking socks can make or break your backpacking trip. I always bring 2 pairs for actual hiking (in case one gets wet) as well as one thermal pair for sleeping in; these ones always keep my feet warm at night.
When choosing hiking socks you need to pay attention to the rise and the cushion. This comes down to preference, but I like crew length with as much cushion as I can get – rise and cushion help protect against blisters and broken skin on long treks.
The brand of hiking socks I use is Smartwool. They're durable, comfortable, and come in all sorts of fun colours and patterns.
Find hiking socks at MEC (Canada)
Find hiking socks at REI (US)
Find Smartwool socks on Amazon
---
Extra Footwear
Alwaysss bring an extra pair of shoes. When you're walking around camp after a long day of hiking the last thing you're gonna want to wear is a sweaty pair of hikers.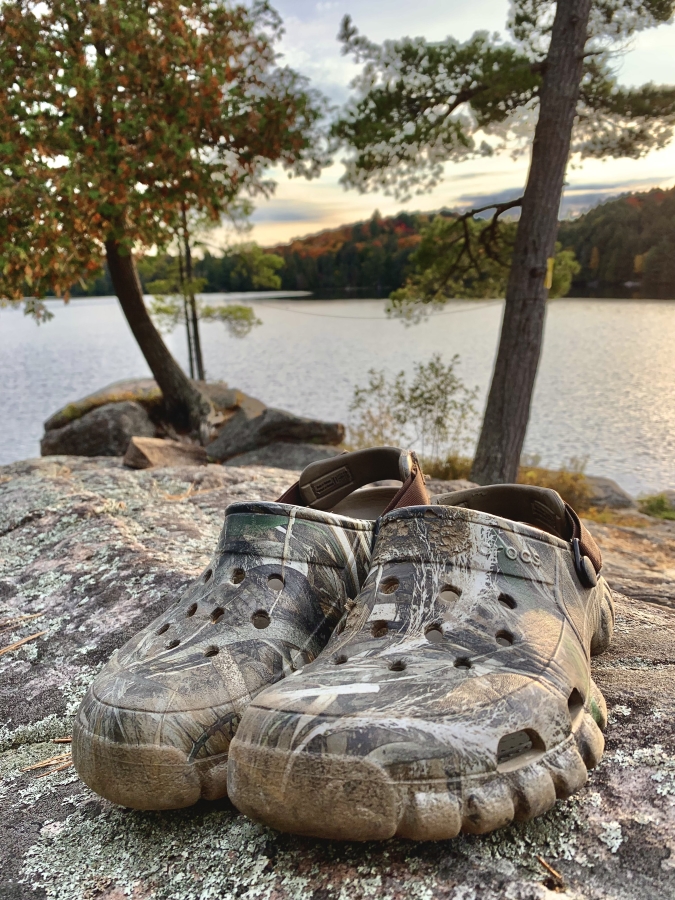 Real talk – Crocs are the ULTIMATE adventure shoe and they always make my list of essential gear for backpacking. They're easy to strap onto the side of your pack, they're waterproof (just don't submerge your feet), and you can easily fit warm socks in them. My Croc of choice is the All-Terrain model. This model comes with extra grip and an adjustable strap; they're made for adventures.
Find the All-Terrain model on Crocs CAD or Crocs US.
If you're anti-Crocs (how could anyone be anti-Crocs?), TEVAs are also a great, versatile shoe for the backcountry.
---
Choosing a Backpack
Choosing the right backpack is a critical step when selecting gear for backpacking. There are a lot of things to consider when choosing a large backpack, so I've linked a few articles to help you learn the basics:
There are a few features I can't go without in a backpack: lots of pockets, multiple entry points, suspended mesh back panel, external straps, sleeping bag compartment/straps, and multiple adjustment points for a personalized fit. I also like a pack around the 65L mark. You don't have to fill the entire bag to reach this capacity, however if you embark on an extended backpacking trip or want to travel with a backpack you've got the extra space.
There are a variety of suitable backpacking brands out there, each offering something a little different. Both MEC (CAD) and REI (US) have a "compare" tool on their website that lets you compare specs, weight, and other features of multiple bags at a time. The two brands I recommend using are Osprey or Gregory. There are lots of other brands out there, however Osprey and Gregory specialize in backpacks – they know what they're doing!
What Pack do I Use?
When I purchase my gear for backpacking I'm looking for quality – gear that offers comfort, functionality, and of course, style. Looking for these 3 things has led me to discover the Osprey Aura AG 65L pack / Atmos 65L for men.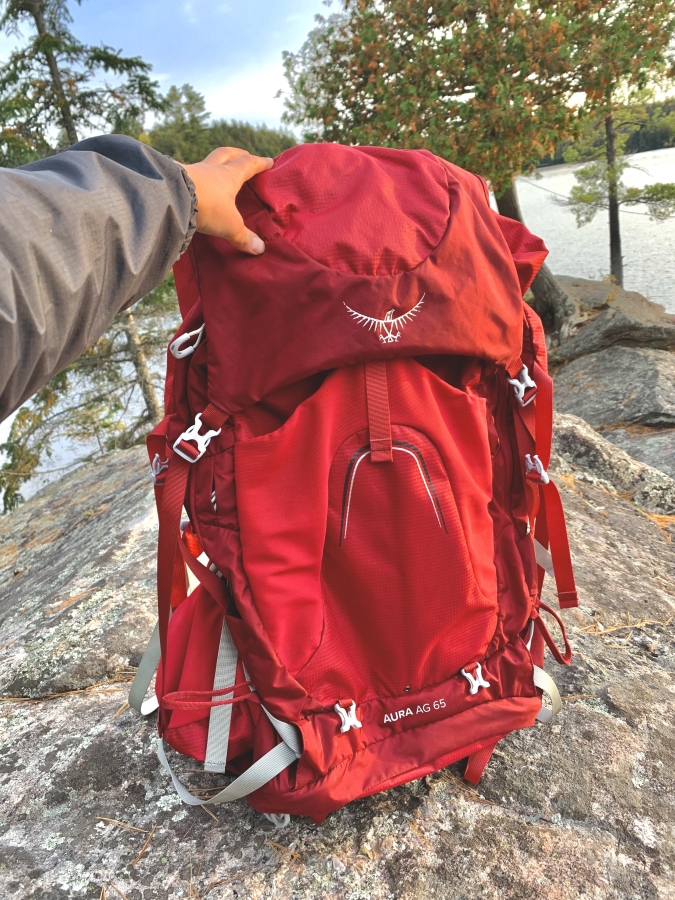 Why the Aura? The quality of the Aura pack is impeccable, its features are extensive, it has an anti-gravity suspension system to take the weight off your shoulders, and it's as comfortable as a large pack can get. Watch this video for a full breakdown of the pack's features. This pack is commonly used for the PCT (a 6 month hiking trail spanning from Mexico to Canada). If that doesn't speak to its quality and functionality I don't know what does.
Osprey packs are top-of-the-line. They are pricey, but they'll last you a lifetime. I'm an avid Osprey user and I always recommend their packs for their great quality, functionality, and durability. I also use the Osprey Sirrus 24L pack for day-hikes.
Find Osprey packs at MEC.
Find Osprey packs at REI.
---
Day-Packs
Day-packs are only needed as a piece of gear for backpacking trips if you plan to basecamp and explore the surrounding area. There's no chance you'll want to carry in a day-pack and a large pack, so I'd recommend choosing one of the following options:
Use your bag's detachable day-pack – this is only an option if your bag comes with this feature. Osprey's Fairview pack (find at MEC or REI) has a detachable day-pack. The men's version is the Farpoint (find on MEC or REI).
Use your pack's brain as a day-pack – uncomfortable, but no extra weight.
Hydration packs – this is the pricier option of the bunch, but they're great quality and versatile. I use mine for biking, day-hikes, and walks where I only needs water and food. They're small, you can easily attach them to the outside of your large pack, and they're the only option of the bunch that'll give you a hipbelt and sternum strap. I'd recommend somewhere between a 5-12L pack if you're going this route. You can compare these hydration packs using the compare tool on MEC or REI..
Ultralight stuff packs – these are lightweight and compact – they'll take up almost no space in your pack. My favourite stuff pack is from Osprey; you can find it on Amazon or Atmosphere.
---
Hydration: Essential Gear For Backpacking
Hydration Reservoir: Essential Gear For Backpacking
Staying hydrated is key for any hiking adventure. When you're hydrated you feel better, move quicker, and your body doesn't hurt as bad. During my first hiking season I used a metal water bottle which is A) heavy, and B) inconvenient.
It wasn't until I invested in a hydration reservoir that my hiking life was changed forever (not even being dramatic here). I drink at least 5 times more water now than I previously did and it's due to the convenience of the reservoir.
I've got the 2L Hydrapak. This bad boy has a shapeshifter function and never leaks. I drink at least 2L of water on every hike and I feel so much better for it.
---
Water Filtration System: Essential Gear For Backcountry Camping
2 or 3L of water isn't enough for multiple days of hiking, so you can add a filtration system to your list of essential gear for backpacking. There are tons of options out there and which one "works best" comes down to personal preference. Here are a few options:
Water Tablets
This is a budget piece of gear for backpacking and currently happens to be my filtration system. The water tabs are super easy to use, lightweight, and fast acting (clean water in 30 minutes). I use cheesecloth to block out the large particles from lakes and streams, then let the water tablets do the rest. These are super convenient if you're constantly on the move. You can normally pick up the tablets from any camping/outdoors store, Canadian Tire, or Amazon.
Gravity bag
A gravity bag is a bit of a 2 in 1 situation – a 1L gravity bag and a squeeze filter. This bag comes with a removable squeeze filter which can then be used on a plastic bottle, as the classic lifestraw, with a collapsable squeeze bottle, or with a hydration bladder. The gravity bag is really convenient if you're at the campsite filtering water or if you like to switch between multiple bottles. Watch this video to learn more about its versatility.
Alternatively, you could use this 2 in 1 system from Lifestraw. This one comes with a filter and a smaller collapsable silicon bag for filtering. This is similar to the gravity bag, but more compact and lightweight!
Squeeze filters
Squeeze filters are small, light weight, and easy to use. I personally am not a huge fan of squeeze filters, but I have friends who love them. They're a bit inconvenient as you need a separate bottle to either drink from or use to actively filter the water, but they are an option. A reliable squeeze filter seems to be the Sawyer Squeeze Water Filtration System. Screw the filter onto a bottle and drink/squeeze.
Connect via socials:
Sign up for emails to receive a 50% discount on my travel maps + occasional updates on new hiking guides & travel resources.
Taylor ♡
---
Shelter & Sleep
Choosing a Tent
Choosing a tent can be confusing as there seems to be a million styles, features, sizes, and prices. Like every other type of gear for backpacking, which one is best comes down to personal preference. To help you out, REI has created a guide to help you choose which type of backcountry tent will best suit your needs.
Some super basic things you should look for in a backpacking tent for the Rockies are:
2 person in size, unless you're an ultralight backpacker.
Small and lightweight (pay attention to the packaged weight), but also durable. I always recommend reading reviews to find out about weather and waterproofing
3 or at least 4 season; these ones are warmer and more durable which is exactly what you want for camping in the Rockies.
Mesh windows or panels for ventilation.
Additional convenient things to look for: exterior vestibule, interior pockets, 2 doors.
What Tent do I Use
I currently use the MSR Hubba Hubba. This tent is more or less the pinnacle of backpacking tents and it's the tent that's commonly used as a baseline comparison tool for other tents.
The Hubba Hubba clocks in at just over 3lbs and the 2022 version has updated weather and waterproofing – just make sure you purchase the one with the gold coloured tarp. I really like this one because it's fast to set up, its easy to pack up, and it's got all the little fun features you'd want in a backpacking tent.
You can find the Hubba Hubba using these links at MEC (CAD) or REI (US).
Aside from the HUbba Hubba, a few other stellar choices for backpacking tents are: any of the Big Agnes tents, the Nemo Dagger 2, or the REI Half Dome. You can find these tents from MEC, REI, or Atmosphere.
Bivy Sacks: Optional Gear For Backcountry Camping
I first heard of bivies from my Australian friends. They use them rather than tents to camp on the beach. They're small, lightweight, and in my opinion seem to function the same as a grounded hammock, which makes them another great piece of gear for backcountry camping.
I personally have never used them, however the following seem to be like great options: Outdoor Research Helium Bivy, Sierra Designs Backcountry Bivy, and Rab Alpine Bivy.
Sleeping Bag & Liner: Essential Gear For Backcountry Camping
A warm sleeping bag is an essential piece of gear for backpacking when it comes to a good nights sleep. It only took me one scary cold night in the Canadian Rockies backcountry to realize how imperative it is for survival. Don't be dumb like me and assume a crap sleeping bag will suffice for freezing nightly temperatures in the mountains.
In a sleeping bag, some things I look for are:
Lightweight
Warm comfort rating which is different than the overall rating
Tapered style – there's also the mummy style which is warmer, but I'm a bit claustrophobic and need the extra space
Hood – this traps so much heat and makes for a much warmer night's sleep
Included stuff-sack – makes packing it up the next morning MUCH easier (if your bag doesn't come with one, I'd recommend buying one)
Check out REI for more information on choosing a sleeping bag.
A good sleeping bag is not something I wanted to invest in, however I'm generally a cold person so this is gear for backcountry camping I can't go without. So, I made it my mission to find a good quality sleeping bag at a decent price, and I hit the jackpot with a brand called Hotcore. Hotcore is cheaply priced, great quality, and best of all it's a Canadian company!
I use the Hotcore T-300 Tapered Sleeping Bag which is 4lbs, has a comfort rating of -12, and packs up into its stuff-sack. Since the price was so low I assumed it wouldn't work, but to my surprise it's pretty kick-ass. I've slept in very cold temperatures and have been totally okay in it.
Pro-tip – stuff the sleeping bag's stuff sack with extra clothes to make a pillow. For those people who just can't go without a pillow, check out this camping pillow.
Sleeping Bag Liner – A sleeping bag liner is a sheet you put inside your sleeping bag; they come in mummy and rectangular shapes. The purpose of a liner is to keep your sleeping bag clean and for extra warmth. They also come in different materials: fleece, silk, cotton, synthetics or insulated. You can check out REI's guide for more info on choosing a liner.
I'd recommend a cotton/silk liner or Hotcore's fleece liner for camping in The Rockies. Hotcore's liner is relatively lightweight and inexpensive and it adds 18 degrees to your sleeping bag's temperature rating. For warmer climates this cotton liner will do.
Sleeping Pad: Essential Gear For Backcountry Camping
A good quality sleeping pad also makes the list of important gear for backpacking. I've tried a few different brands and I normally always get the same result – I wake up on the ground or I can't fall asleep because they're so uncomfortable.
The only sleeping pad I've come across that actually does the job is Thermarest. Thermarest has pads for different temperatures as well as smaller models for small people. Check out this guide to determine which one is best for your needs.
I'd say the best all-around pad is the NeoAir® XLite™ Sleeping Pad. This is one of the pricier models, but it's lightweight and comes in a variety of sizes. It's also warm and has a bunch of other convenient comfort features.
If you still want a Thermarest but are on a budget, check out the NeoAir® Venture™ Sleeping Pad. This is the model I took for a test run and I have absolutely no complaints about it.
---
Cooking & Food: Essential Gear For Backcountry Camping
Stove, Kit, and Propane: Essential Gear For Backcountry Camping
You'll need to cook, so a good-quality cooking stove is not a piece of gear for backcountry camping you can go without. Initially finding the right backcountry cooking system can be very confusing, but essentially it's comprised of 3 parts: the propane, the stove, and the stove kit.
Stove – my stove of choice is the MSR Pocket Rocket. If you're just boiling water, the MSR Pocket Rocket 2 Stove will do you well. If you're looking at cooking "real food" or will be in a windier location, the Deluxe model has you covered.
Propane – pick these up at any camping/outdoors store. I use an 8oz isobutane canister which fits perfectly in my stove kit, however if you're worried about weight there's also a 4oz canister
Stove kit – the stove kit is comprised of the pots and other materials needed for actually cooking the food or boiling the water. For this you can totally get away with an off-brand set from Amazon – I have this one and I prefer it over than the name-brand kits. However MSR does have multiple kits that include the stove and the pots
Another notable brand for backcountry cook sets is Jetboil.
I've tried the off-brand stoves (like this one from Amazon) and they're not great. They don't last, they break, they have an uneven flame. A good quality backcountry cooker is worth the investment.
Pro tip – bring a small microfibre cloth to clean your dishes – this material removes 98% of bacteria and 93% of viruses with only water. I use this one (budget brand: E-cloth). They're a little pricey, but so multi-propose and sustainable. I cut them into smaller squares to bring for my backpacking trips.
Cooking Accessories: Essential Gear For Backcountry Camping
Stasher Bags – Stasher bags are backcountry cooking's best-kept secret. Pop some boiling water and your dry meals into these bad boys, seal 'em up, and let 'em cook. They're convenient, sustainable, multi-purpose and no mess! Cook, seal them, and put them right back in your pack if you want to precook a meal before hitting the trail. They replace single-use plastic bags and they're also great for carrying snacks or organizing small items when you travel. I use these on trail as well as day-to-day for various reasons
Dry bags – store your food in dry bags. This will prevent spilled food contents from leaking into your pack and it will keep your food dry and protected if you need to do a bear hang. I normally use a 5L bag for my food, but investing in a 10L bag wouldn't be a bad idea
---
Explore My Backpacking Trail Guides
Here are a few of my latest backpacking trail guides, but you can find more here.
---
Backcountry Cooking: Essential Gear For Backcountry Camping
You've essentially got 3 options for food in the backcountry:
Prepackaged dehydrated meals
Pre-made meals that don't require cooking
DIY – pre-cook and dehydrate your own food
Prepackaged foods – very expensive, but convenient. They normally pack a decent amount of protein & flavour, only require boiling water, and cook right in the bag they're packaged in. Popular brands are Backpackers Pantry, Alpine Aire (they make a super yummy mudslide dessert), Happy Yak, and Mountain House (they've got a 72hr emergency kit). For my pals with dietary restrictions, Food For The Sole offers a completely vegan/gluten-free meal lineup!
Pre made meals – these don't require cooking, won't go bad unrefrigerated, and are normally my go-to. I've cooked vegan burgers from scratch as well as lentil flatbreads, oat cups, etc. Not the tastiest, but waste-free, super easy, and affordable.
Dehydrating home-cooked meals – something I haven't done, but I'm very interested in. Doing this allows you to incorporate veggies, beans, and other high nutrient/preservative-free food into your backcountry meals. Dehydrators aren't too expensive and if you're looking at spending a lot of time in the backcountry, this is a great option. You've got low-end dehydrators, mid-range dehydrators, and high-end dehydrators. I cannot speak to which is best because I have not done this myself, but I have friends that do it and they love it. If you dehydrate your food please comment below and share some information!
---
Clothing: Essential Gear For Backpacking
Okay packing clothes can be a tricky one, but the most important thing is to pack layers. Something I can tell you is that you're supposed to be gross when you're backpacking. Plan to wear the same outfit every day. This is the backcountry, not a fashion show!
I'd recommend wearing what you have for hiking during the day and to ensure you pack these basic items (use your judgement based on the weather) – shorts, athletic pants, a T shirt and long sleeve, a warm hat, gloves (I use these), sunglasses, and a sun hat. It's also important to bring separate layers for sleeping – these can either be base layers or regular clothes depending on the temperature. Ensure you DO NOT wear your sleeping clothes hiking – you'll want totally dry layers for night.
Aside from the basics I'd recommend also ALWAYS, no matter the weather, having the following items:
A waterproof jacket is the single most important layer of clothing on a backpacking trip. It'll keep you dry, warm, and protect you from the wind. The Eco Precip Jacket (men's version) from Marmot is what I use. It's excellent quality, affordable, and folds up into its own pocket!
Waterproof pants (men's version) are another super important layer for warmth, rain, and wind protection. I've learned to never leave for a backpacking trip without waterproof layers – you always end up using them & they're super lightweight and compact. If you'll be hiking in really cold conditions, bring soft shell pants (I use these and love them)
A puffer jacket is the perfect warm layer for hiking and for hanging around the campsite. I use this one (men's version) which has omni-heat technology, throws a ton of warmth, and is super lightweight and compact. This is a newer backpacking item I've invested in and I wish I'd discovered it sooner!
A fleece layer is a great alternative to a puffer jacket and is even better if you plan to sleep in your warm layer. These Columbia zips (men's version) are affordable and very versatile – great for ultralight and minimalist travelling
A good pair of hiking pants is essential and they are SO much better than hiking in leggings – trust me. I use these ones (men's version) and I lovelovelove them! They're durable, comfortable, and are great for hiking in both hot and cold weather, plus you can roll them if it's hot – I don't even take shorts with me when I pack these!
In addition to your hiking socks, you'll also want a thermal pair of socks for sleeping. I use these ones – they're the only pair that keep my feet warm at night. I have Raynaud's Disease so keeping warm is a constant & ongoing battle
What I'd recommend to keep your things organized is storing small clothing items in a dry bag. I use a 5L bag to keep my underwear, socks and bathing suit in one place. This will save you loading and unloading your pack to search for items, which by-the-way, will also save your sanity.
---
Miscellaneous Gear For Backpacking
Now that we've covered most of the essential gear for backpacking, here are the non-essential items you can pick and choose from:
Miscellaneous: Optional Gear For Backpacking
Safety: Essential Gear For Backpacking
Safety items are important pieces of gear for backcountry camping. I'd recommend packing at least a few of the following items:
First Aid Kit – something small and compact like this will do the trick. This brand also has larger kits if you're travelling with multiple people or for extended periods of time
Bear Spray – growing up into Ontario I'd never heard of bear spray, but in the Rockies you don't hit the trail without it. Carry your bear spray in an accessible location, like the side pockets on your pack, and make sure you know how to use it. Alternatively you can use bear bangers which are much smaller and lightweight. Do not use bear bells, the constant sound actually attracts bears
Sunscreen
Matches and a lighter
Compass & map – always good to have (although I use my downloaded Alltrails map to keep me on track)
Whistle – not necessary, but a good way to make noise to let people know if you'e in danger
Extra snacks – ALWAYS bring extra food. Anything can happen.
Rope – only necessary if you're random camping or if there aren't bear lockers/poles available. In this case you will need to tie your food up in a tree using a rope and a dry bag
Communication Device – a SPOT device is GPS device that sends and receives communications. Even better is the Garmin InReach satellite communicator. This has built in maps, weather, compass, and more, but it is very pricey.
Hygiene: Essential Gear For Backcountry Camping
There are a few pieces of personal-hygiene related gear for backpacking that can't be overlooked:
TOILET PAPER – no backcountry bathroom has TP!!! TP is an item that I don't like to be cheap with. I have friends that only bring a few squares, but I bring lots. The last thing you want is a small amount of TP if you're having stomach issues or a runny nose (although you will learn to adopt the snot-rocket method)
Toothpaste tablets – toothpaste tablets are a toothpaste alternative. They're natural, eco-friendly, lightweight, compact and perfect for backcountry camping trips. I use the toothpaste tablets from Nelson's Naturals. You can use my discount code "HOLISTICBACKPACKER" for 10% off your purchase.
Backpacking shovel – if you need to take a poop on the trail (we've all been there) or you're random camping, you'll need to dig a hole for your business! This one is great because it's compact and lightweight
Biodegradable soap – used for cleaning hands and dishes. I cut Dr. Bronner's unscented soap into small pieces and store them in tiny tin containers for my backpacking trips. Dr. Bronner's also has a baby sized liquid soap which is perfect for the trail
Luxury Items: Optional Gear For Backcountry Camping
Luxury items are gear for backpacking that you don't need for survival, but are great to have:
Entertainment – journal, book or waterproof kindle, card games
Camping Pillow – this is a trademark luxury item. I'm normally a 2 pillow sleeper, but I think this is something you DIY or go without in the backcountry. However if a pillow is something you can't live without, you can grab this one – it's super compact and lightweight
Coconut & lavender oil – this is something I always take with me. It saves my feet and is such a nice treat at the end of a long day. Ensure you wipe off the excess oil before you go to bed so you don't have cold, wet feet overnight
Portable charger – if you're worried about your phone dying pick up a portable charger. Amazon has some relatively cheap, compact portable chargers like this one. You can also pick up a solar charger which is great I you'll be in the backcountry for an extended period of time
Camera equipment
Happy adventuring!
Taylor ♡
---
Like This Post?
Share with friends or save it for later!
---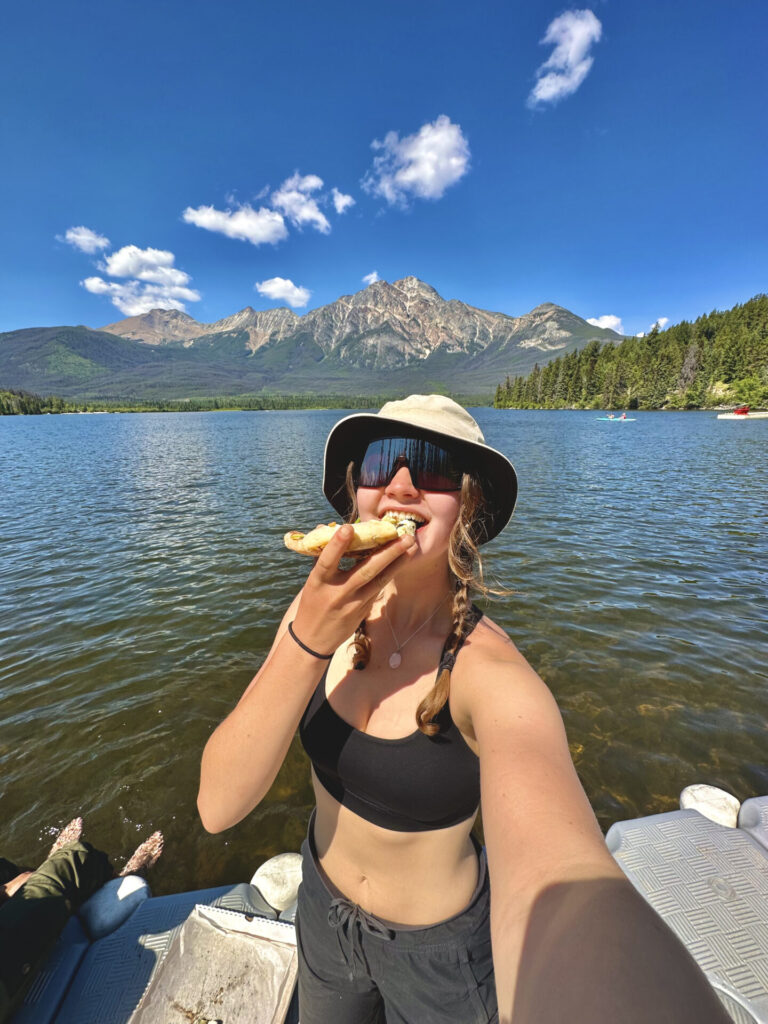 About The Author
HI, I'm Taylor – the voice behind The Holistic Backpacker.
After moving to Banff National Park in 2020 I became an outdoor adventure enthusiast and vowed to never stop exploring.
I now spend my days travelling the world, climbing mountains, and spending nights under the stars in the Canadian Rockies backcountry.
I created The Holistic Backpacker so I could share my adventures and help connect people like you with the same amazing experiences.