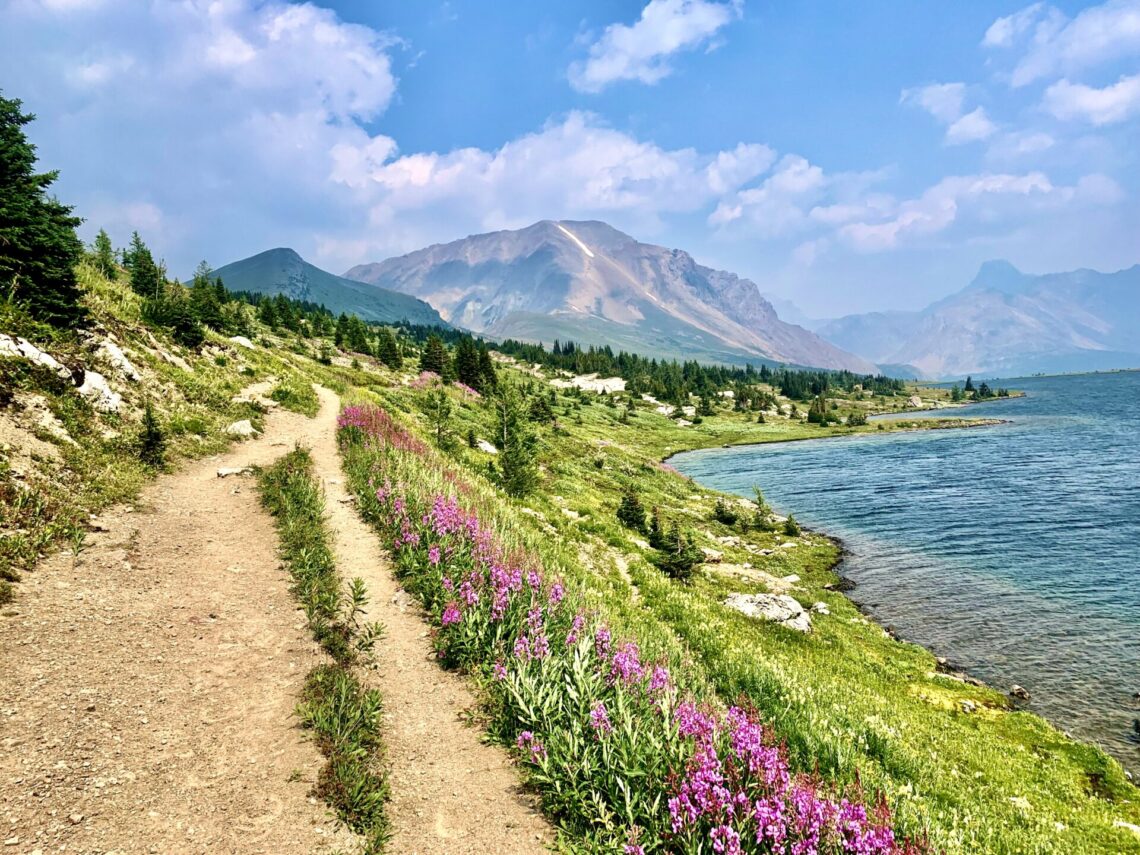 Banff Skoki Loop: 3 Days of Lakes, Wildfire Smoke & Porcupine Attacks
The Banff Skoki Loop was my first backpacking trip in Banff National Park. To date this is one of the most visually striking backpacking trips I've been on. The Banff Skoki Loop features vibrant glacial lakes, waterfalls, abundant wildlife, and beautiful meadows and valleys – a Banff favourite.
Many of you have heard of Lake Louise, but I'm sure you haven't heard of Merlin Lake, Zigadenus Lake, or Myositis Lake. Lucky for you the Banff Skoki Loop features these lakes and many more! Besides the incredible lakes, one highlight of this backpacking trip was my funny and borderline terrifying encounter with wildlife…
The Banff Skoki Loop is an absolute gem and is perfect for anyone looking to get into multi-night backcountry camping.
Now, let's go backpacking!
Skip Ahead:
This post contains affiliate links; see my full disclosure. If you click these links and make a purchase you're supporting The Holistic Backpacker. Thanks for your support & happy adventuring! – Taylor ♡
---
---
---
Related Content
---
How To Get To The Banff Skoki Loop
The Banff Skoki Loop is actually located in Lake Louise; you'll be parking close to the ski hill. To get here you'll want to turn off the Trans Canada at Lake Louise, head the opposite way of Moraine Lake & Lake Louise (East on the 1A) and drive toward the ski resort. Right before you get to the resort you'll see a little dirt service road on the right.
Take this road and park at the end; Fish Creek parking lot. The parking lot is normally full, as this is one of the most popular backpacking trips in Banff. To ensure you get a spot, arrive early.
There are no shuttles that take you to the Fish Creek trailhead, so if you don't own a car you'll need to rent one or set up a drop-off.
---
Where to Stay in Lake Louise
A popular choice among travellers is to spend the day in Lake Louise, but lodge in Banff. There are more things happening in Banff opposed to Lake Louise such as restaurants, bars, events, etc. Here are my top Banff lodging recommendations:
Travellers often also lodge in Canmore during there stay which is 20 minutes from Banff. Lodging in Canmore is often cheaper and more available than lodging in Banff; especially during high season.
---
About The Banff Skoki Loop
Distance: 39.9km
Elevation gain: 1, 485m
Rated: moderate
Type of trail: loop
Estimated time: 3 days (13hrs and 15mins of actual hiking time)
Access point: Fish Creek Trailhead
The Banff Skoki Loop is a 2-4 day backpacking trail – unless you're a trail runner there's no way to complete this trail in a day. Even if you are a trail runner, I'd say you're crazy for rushing though such a beautiful place! The Banff Skoki Loop can be hiked in 2 days, but I recommend taking 3 or 4 so you have extra time to admire the views along the way.
The trail is easy to follow for the most part and there are water sources throughout. There's a section in the middle by the Skoki lodge where things get confusing, but I'll talk more about that later. Aside from this the Banff Skoki Loop terrain has a bit of everything. You'll come across beaten down path, loose rock, forested areas, flat valley floors, steep climbs, as well as a scramble that leads up the mountain next to a waterfall.
Excited yet? You'll also have excellent opportunities to view wildlife. On the Banff Skoki Loop I came across deer, marmots, and even… Porcupines.
A word on porcupines – I'll tell you more about the hilarious encounter I had with porcupines in a minute, but it's important to note that there are lots of porcupines at the Baker Lake campground. They like to eat anything salty, so keep your shoes and trekking poles inside your tent! If not you might find one of those pesky porcupines having a midnight snack…
---
Skoki Loop Guided Tour
For those new to backpacking, consider trying a guided tour! 10 adventures offers a 4 day guided excursion of the Skoki Loop which includes all your meals, your site reservations, and your tent.
---
Best Time of Year to Hike the Banff Skoki Loop
The Skoki Loop gets coooooold and the snow sticks around until late in the season. I'd recommend waiting until mid-late July for this adventure and to go no later than mid September (weather dependant). The high elevation of the Skoki Loop means you can run into snow and face freezing nightly temperatures.
I had a group of friends who attempted this trail much too early in the season and ended up trekking through waist deep snow. They said they had a scary cold night and were borderline worried for survival as they were not expecting the conditions they faced.
To ensure you're prepared for this backcountry adventure, I've written about all the important gear you'll need to carry and wear so you stay warm, protected, and are well equipped for whatever nature throws at you (fast forward: essential backpacking gear and what to wear backpacking).
More: Backpacking Gear Guide
How To Book Campsites For The Banff Skoki Loop
To reserve campsites for the Banff Skoki Loop you'll need to book ahead on the Parks Canada page. These campsites fill up fast because this backpacking trail is so popular, however if you can't get a site initially keep checking back for cancellations.
The main sites you'll be looking at are Baker Lake and Merlin Meadows, however you have the option to stay a third/fourth night at Red Deer Lakes campground or Hidden Lake campground if you choose.
Access Point: Fish Creek trailhead
The campsites are all equipped with bear poles, tent pads, picnic tables, and outhouses – bring your own TP and a dry bag to hang your food in.
Recommended Itinerary For The Banff Skoki Loop
I'd recommend spending 2 nights and 3 days completing the Banff Skoki Loop. I spent the first night at Baker Lake campground, the second night at Merlin Meadows, and then finished the trail on day 3. I found this was the perfect amount of distance each day as to not be too tired and still have time to check everything out along the way.
Although that's the route I took this trail can be hiked in either direction, so if you find the availably of the campsites works the opposite way feel free to do this as well.
Early on in the hike you'll come across Hidden Lakes Campground which is next to the Halfway Hut. I wouldn't recommend staying here unless the final 17km day (or first day if you hike the opposite direction) seems like too much. I also wouldn't recommend staying at the Red Deer Lakes Campground as there isn't a whole lot going on there.
Again though, it really depends on the availability of the campsites. Have a plan in place and then take what you can get!
Connect via socials:
Sign up for emails to receive a 50% discount on my travel maps + occasional updates on new hiking guides & travel resources.
Taylor ♡
Backpacking The Banff Skoki Loop
The Banff Skoki Loop is FULL of amazing views. Along the way you'll catch yourself staring at the distant mountains, awestruck by the landscape, and gawking at the pristine alpine lakes. The trail does get quite buggy though. So before I tell you all about the Banff Skoki Loop, I'm going to recommend you pack a bug suit.
Here's exactly what you can expect on the Banff Skoki Loop.

More: my pal is a YouTuber and made a video of our trip. You can watch it here.
Day 1: Fish Creek Trailhead to Baker Lake Campground
The first part of the Banff Skoki Loop is the most gruelling. You'll be hiking up the Lake Louise ski out which is long, steadily gains elevation, and is unfortunately viewless. If you have the opportunity, hitchhike – you can't drive up, but there is the occasional car that drives up for work-purposes.
The most exciting part of the ski out is the pen of horses you'll cross paths with! Once you make it up the ski out (around 3.4km) you'll pass through a quick forested section then come out into a beautiful valley filled with wildflowers (hike mid July-ish for the flowers) overlooking Redoubt Mountain, Ptarmigan Peak and Pika Peak.
Once you reach the halfway hut (a tiny log cabin) look for signs that say Hidden Lake, then a second sign pointing toward Baker Lake. If you hike the Banff Skoki Loop in the same direction I did you'll be heading this way first.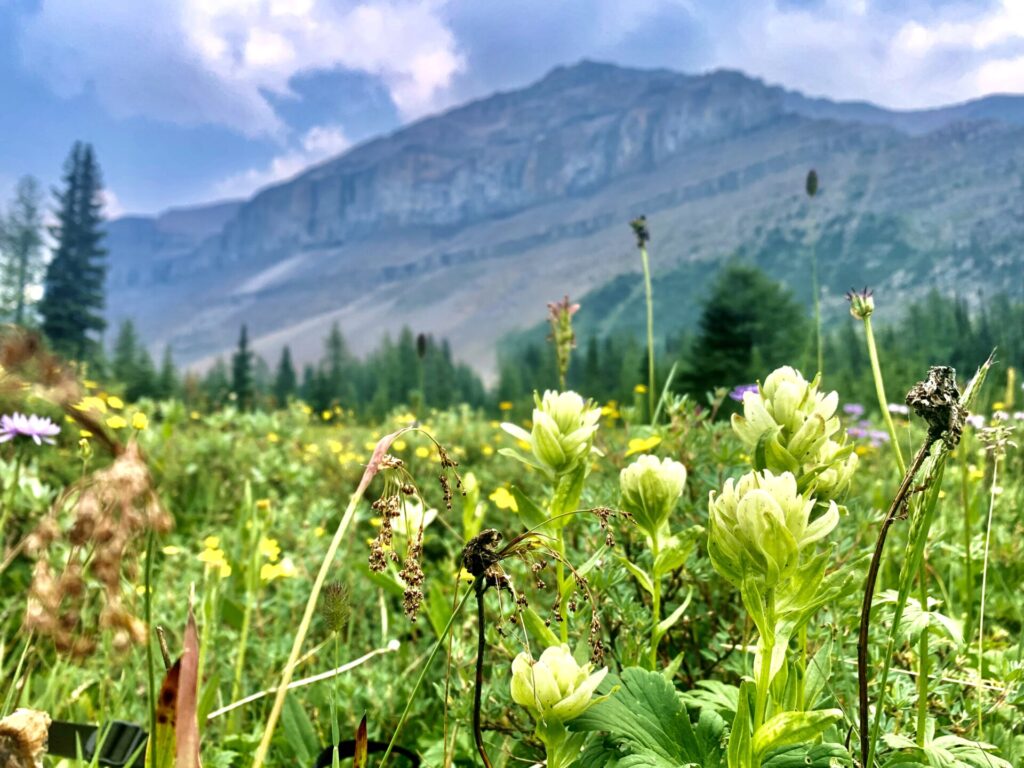 Boulder Pass
The first notable point of interest on the Banff Skoki Loop is Boulder Pass. Boulder Pass begins right after the Halfway Hut and features a massive field of loose rock backed by Redoubt Mountain which has the most striking flat face. Pro tip – the best views here will be behind you.
It's quick and not overly strenuous to the top of Boulder Pass. At the top of the pass you'll find views of Ptarmigan Lake! Something to note is that once you cross over the pass the temperature seems to drop and it gets very windy. You'll often find snow over the pass, even late in the season. Ensure you bring warm layers (which I'll talk about next).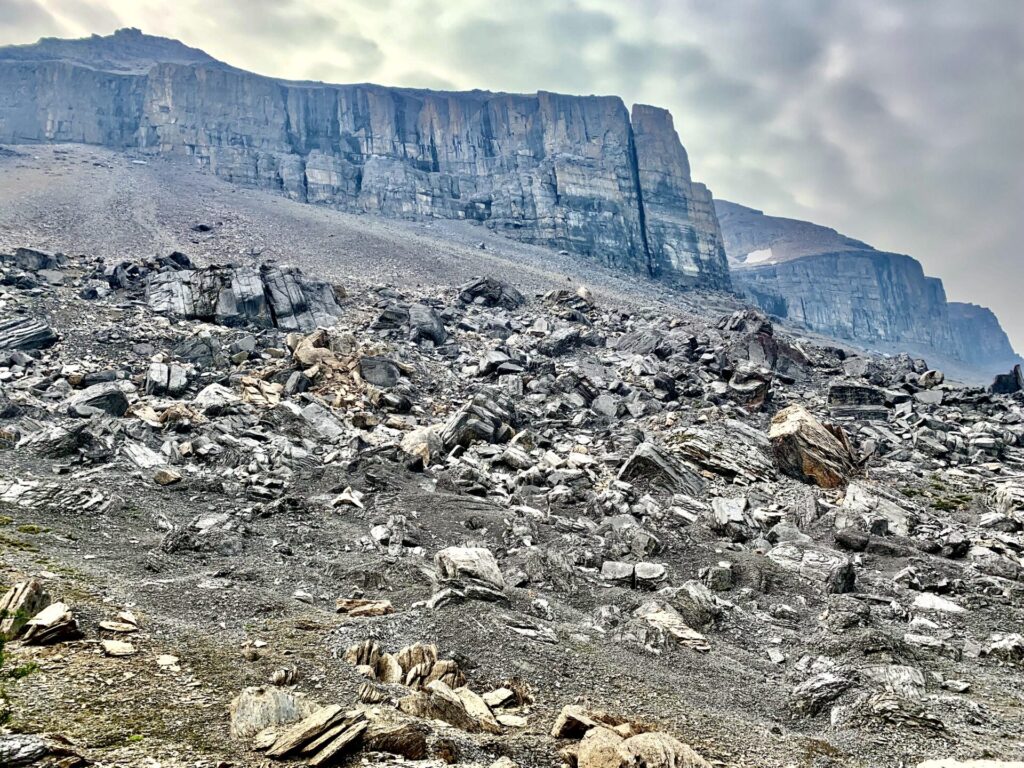 Make sure to take note of the split in Redoubt Mountain – this is the most unique feature!
Ptarmigan Lake
People often hike to Ptarmigan Lake in a day, so you can expect to see lots of people up until this point on the trail – after this it's typically backpackers only. Ptarmigan Lake is quite large, it's surrounded by all colours of wildflowers, and booming with wildlife. We saw a couple marmots on the way, but don't be surprised if you see deer or other wildlife!
The path criss crosses, splits, and seems to go all over the place. For the most part you'll want to stick to the path closest to the lake, however you can take the path that goes up as it will eventually meet back up with the main path – make sure you keep an eye out for the Baker Lake sign along the way.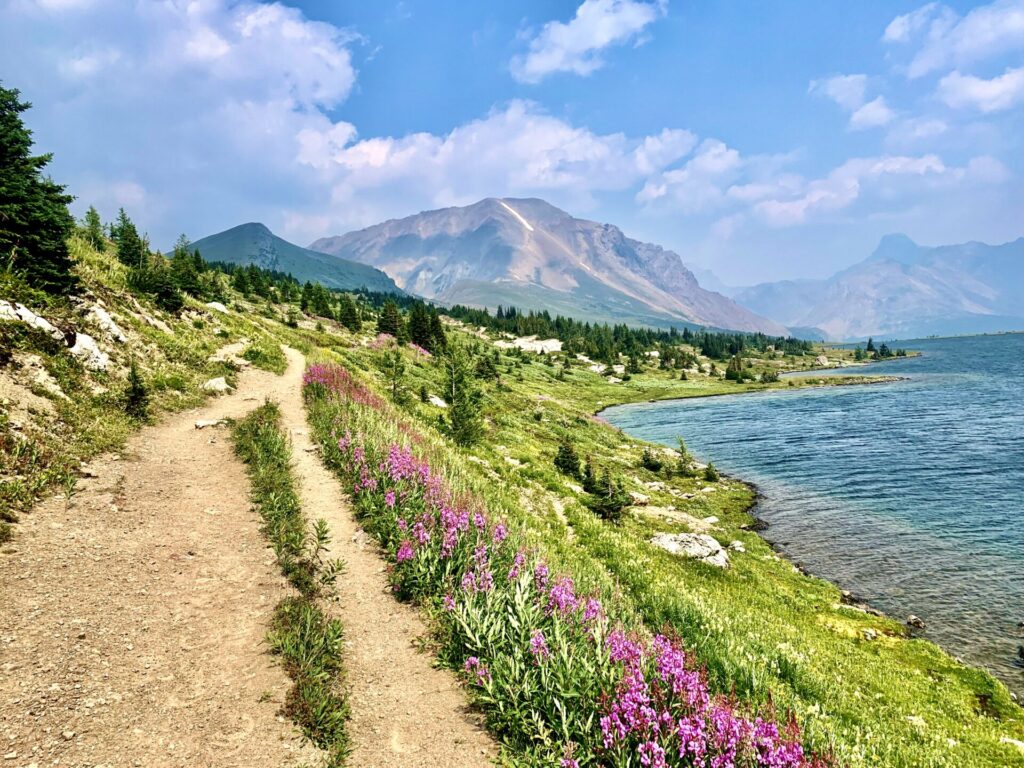 After hitting Ptarmigan Lake you'll have about 4.5km to Baker Lake campground.
Baker Lake Campground
Baker Lake campground is truly stunning. Similar to Ptarmigan Lake you'll find abundant wildflowers, wildlife, and another gorgeous alpine lake backed by massive mountains.
I found Baker Lake campground to be absolutely freezing. Thankfully Baker Lake campground is nestled in the trees, but I was so cold when I got there I had to layer up and lay in my sleeping bag for what seemed to be an hour before I was warm enough to make dinner.
In fact it got so windy and cold I had to unfortunately spend the majority of my time at Baker Lake campground hiding in my hiking partner's tent to escape the whipping wind and freezing temps.
PORCUPINES… There are porcupines at Baker Lake Campground… I'd read Alltrails reviews saying there were porcupines in the area, but I didn't take the warning overly serious… That was a mistake.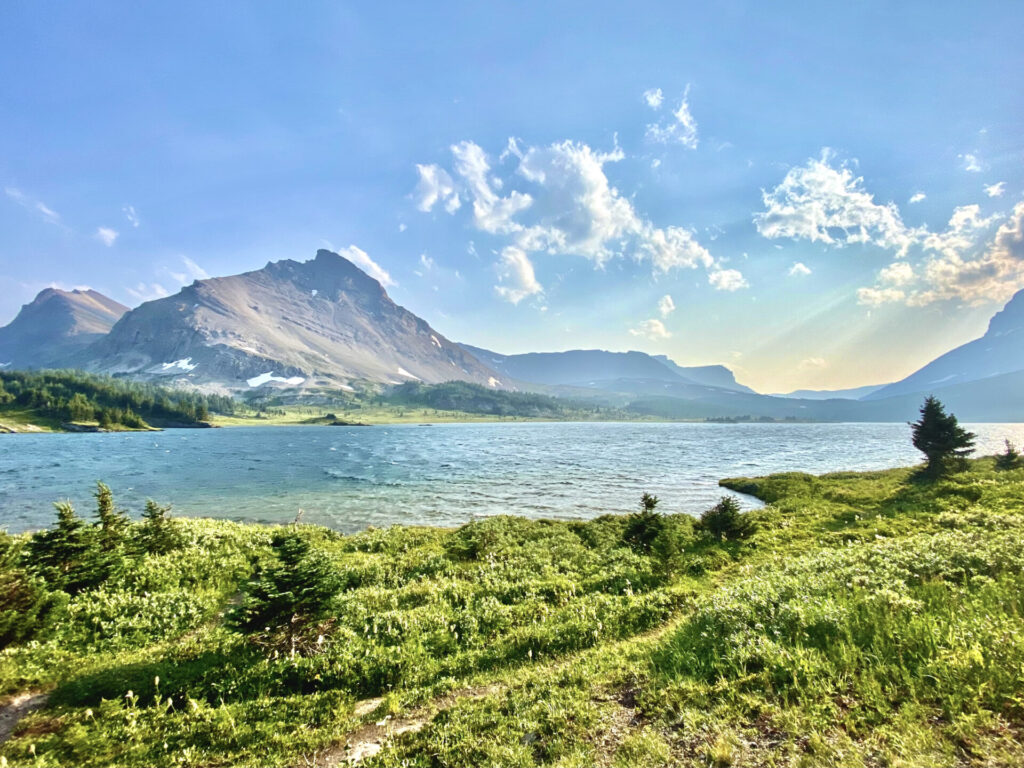 Baker Lake Campground Porcupine Attack
Somehow every hiking and backcountry camping trip I go on seems to have a wild event – the Banff Skoki Loop was no exception.
I'm a very light sleeper so I have to use ear plugs; I was wide awake as a laid in my hammock that night at Baker Lake campground (I'm an avid backcountry hammock camper). At one point in the night I had an eery feeling that something was outside my hammock. I took out my earplugs and laid there, terrified, listening to some sort of animal breathe heavily and chew on something.
Camping in a hammock means you're basically rolled in a burrito with no easy way to escape. I had no bear spray, no knife, nothing to protect me from whatever was by my hammock – it was all in my pack underneath me. After a while I decided it was time to scope out the scene. I took out my flashlight and peaked out from inside the hammock…
What Did I find?
Nothing.
After searching and shining my light around in the dark I realized that whatever animal was by my hammock was actually underneath me… and potentially eating my pack! I shook my hammock around and made as much noise as possible to spook whatever was there.
Eventually a porcupine ran out from underneath my hammock – that bastard was eating my Croc! For those of you who don't know me well, I'm an avid Crocs gal; I always take my Crocs (AKA the ultimate adventure shoe) with me on backpacking trips.
I put my Crocs in my hammock and figured (more like prayed) it would leave my pack alone. About 10 minutes later I heard my hiking partner shout… A porcupine was literally in her vestibule eating her Birkenstock!!! These little shits don't quit.
What Happened Next?
This porcupine was a little more stubborn – it growled at us and stayed even after poking it with our trekking poles. Yes, we literally had to poke it and face potentially getting nailed with porcupine spikes because it wouldn't leave. After a while the porcupine gave up and left, most likely because we were so annoying.
This encounter was literally wild and happened at like 3am in the freezing cold. Always a freakin' adventure when you go camping with me let me tell ya.
The moral of the story here is to keep your shoes and trekking poles (anything salty) inside your tent so those buggers don't eat them. ALSO be a good neighbour and help your fellow campers! Throughout that whole drawn out, loud encounter not a single person came out of their tent to check on us… Jerks.
Day 2: Baker Lake Campground To Merlin Meadows Campground
Day 2 was when the wildfire smoke really took over the skies. I was lucky to have a clear view in the morning and a clear view of Fossil Mountain (pictured below), however the entire Sawback Mountain Range – what would be to your right – was invisible.
I'm going to go out on a limb and say the views would normally be spectacular if you take into consideration what the rest of this hike looks like, however I have no pictures that confirm or deny this… I guess you'll have to hike the Banff Skoki Loop yourself to find out!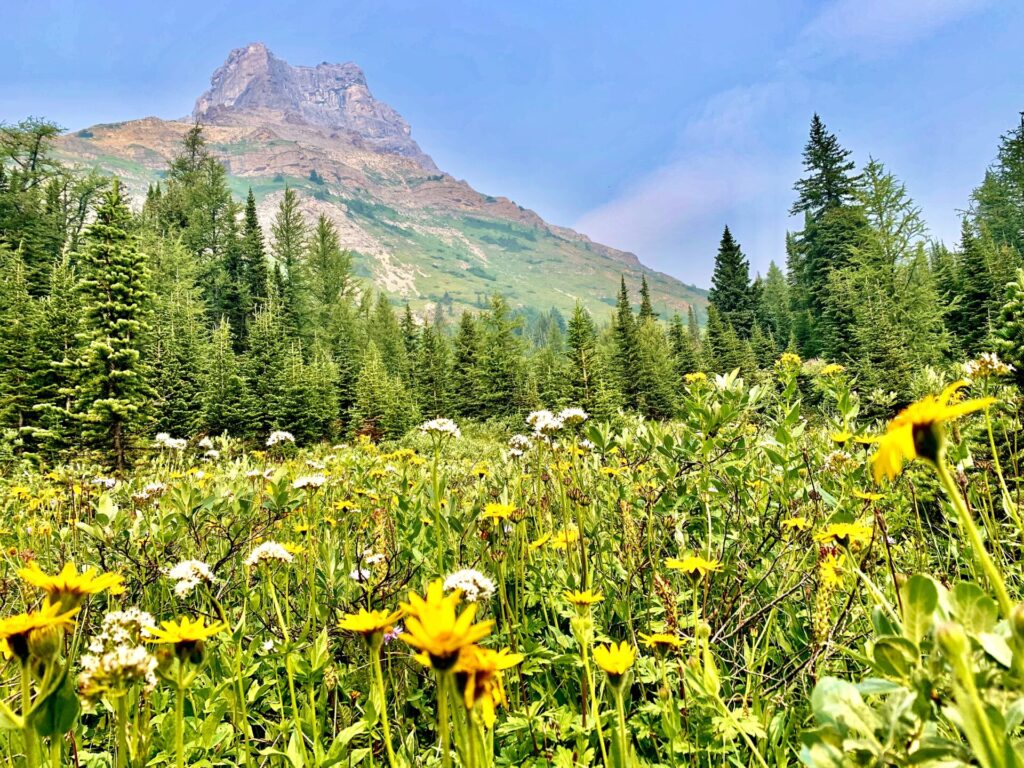 From Baker Lake campground to Merlin Meadows campground you have around 10km of mostly flat terrain – this is by far the easiest day of hiking. You won't have much shade during this section so make sure you bring sun protection.
A little more than halfway to Merlin Meadows campground you'll pass by Red Deer Lakes campground. This is where I found the trail to get quite confusing. There are signs that lead to the Skoki Lodge, but you're not going here so don't follow these.
Go through the campsite and look for the trail that doesn't necessarily look like a "trail." It'll be noticeable but not overly well-defined. It'll bring you to Red Deer Lakes which is a great place to stop and have lunch. After this it'll lead you through the trees where the trail splits, moves, and seems to go all over the place.
In this section you'll want to look for small markers in the trees and on the ground. Occassionally you'll come across the odd sign, but every path seems to lead to Merlin Meadows campground. So don't panic, make sure you have your Alltrails map downloaded, or bring a GPS.
Marlin Meadows Campground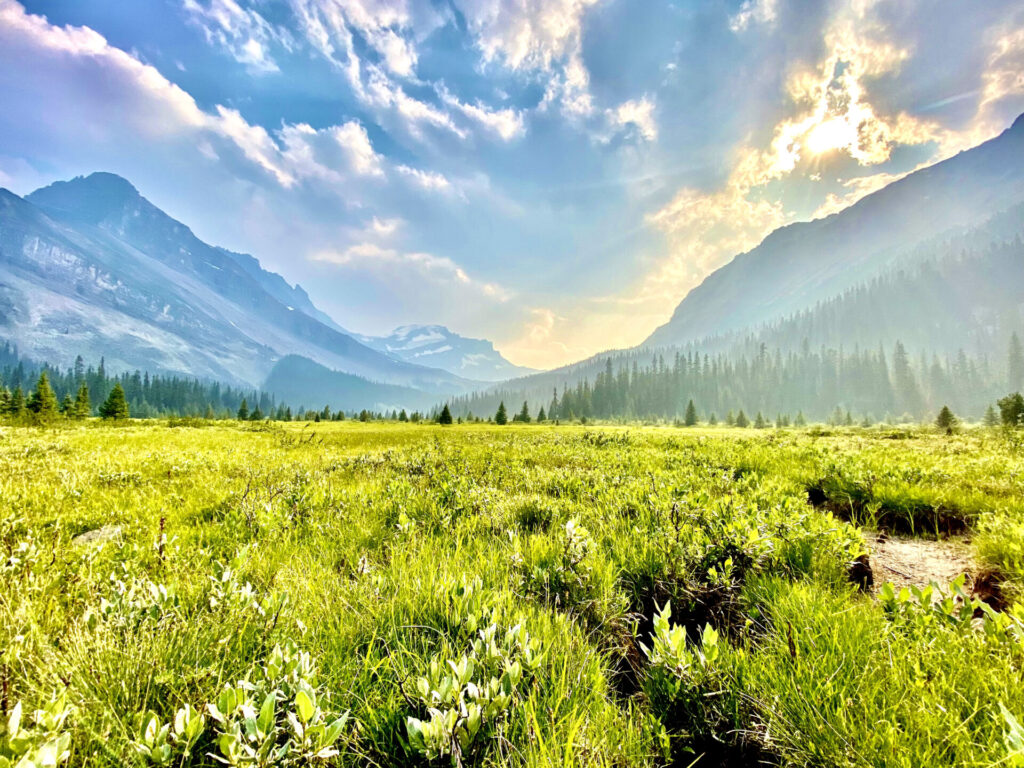 The Merlin Meadow Campground is the crown fricken jewel of campgrounds on the Banff Skoki Loop. This is the most magical meadow I've EVER seen. The smoke was heavy when I initially arrived, but it slowly started clearing and the wildlife emerged. I was lucky and got to watch deer prance through the green grass.
Since day 2 of the Banff Skoki Loop is so easy, you must extend your hiking day a bit and check out Merlin Lake.
Merlin Lake
To get to Merlin Lake you'll have to walk back along the creek the way you came until you come across a rickety old "bridge" – it's literally a tree trunk with a shaky old railing. From here you'll follow the path back across the valley, through the trees, across a few small creeks, and hike up the side of Merlin Castle.
I didn't track the hike's distance or elevation, but I want to say it's around the 5km+ mark roundtrip with a pretty significant amount of elevation gain. It's no walk in the park, but the wildflowers along the way complete with the vibrant glacial lake at the end makes this hike more than worth it.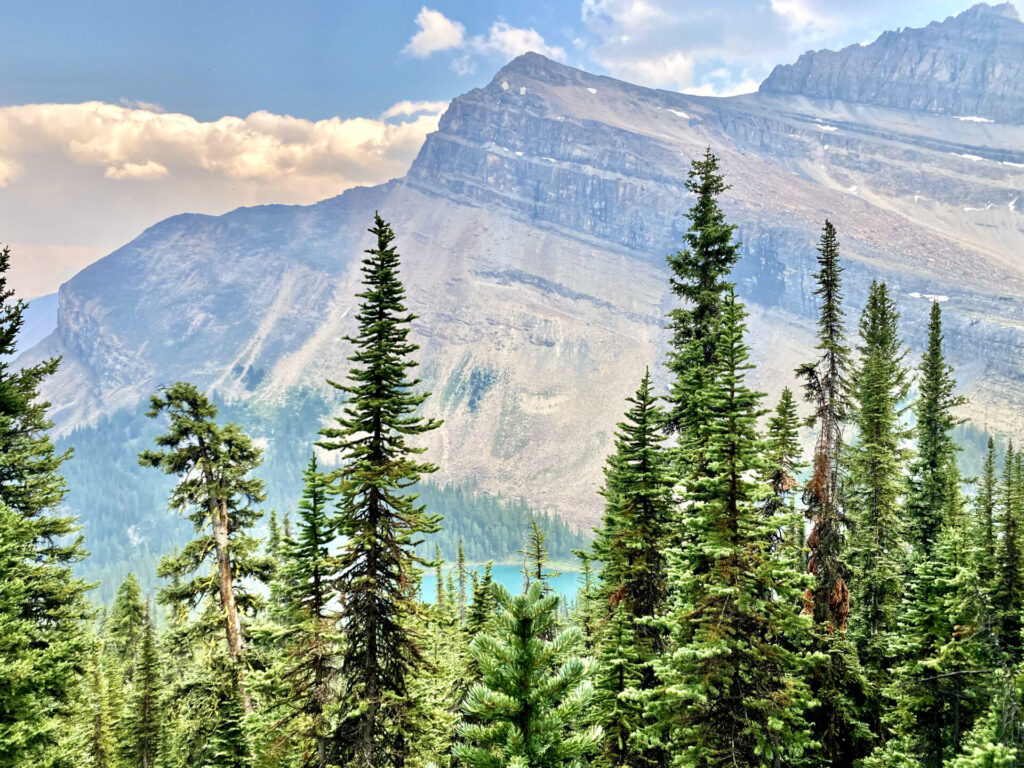 My first words upon arriving at Merlin Lake were "Lake Louise ain't got NOTHIN' on Merlin Lake."
Merlin Lake has the prettiest blue water and is backed by the massive Wall of Jericho. Most of us are familiar with the famous Lake Louise, but almost no one has heard of this hidden gem which is why you MUST hike to Merlin Lake if you're on the Skoki Loop.

Merlin Lake is situated quite high, so you'll find glaciers and patches of snow on the wall of Jericho all year. The walk up is a bit of a grind and you'll definitely break a sweat, but it gets cold once you emerge from the trees. Make sure you bring your warm layers up to Merlin Lake.
Better yet, bring your backcountry stove and make some hot chocolate or tea!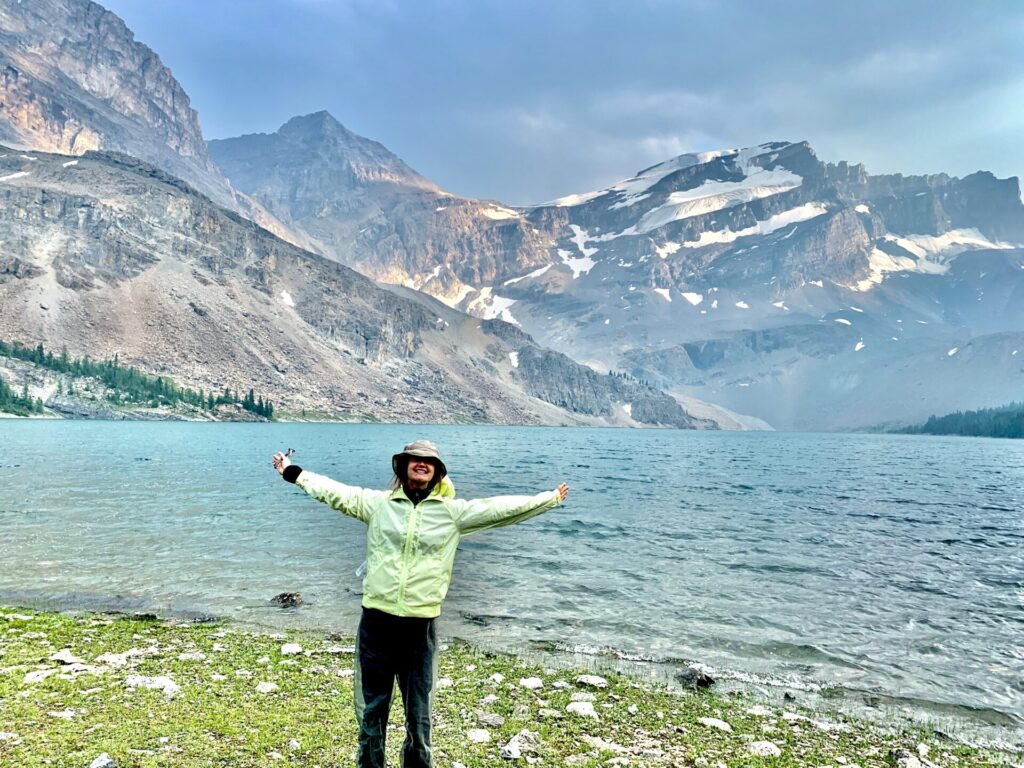 On the way back from Merlin Lake I got to watch deer run back and forth on the trail. This was a fantastic way to end the second day on the Banff Skoki Loop and actually turned out to only be a tease for the incredible lakes I'd come across the next day.
Day 3: Merlin Meadows Campground Back To Fish Creek Trailhead
Skoki Valley
Day 3 was my final and longest (17km) day on the Banff Skoki Loop. Around 1km from Merlin Meadows you'll pass the Skoki Lodge. My hiking partner and I were very excited to grab fresh baked good from the lodge, however upon our arrival we were extremely disappointed to find out all the yummy treats were reserved for Skoki lodgers only 🙁
From the lodge you'll want to walk down toward the creek and keep walking until you find the fork in the path, and by fork, I mean a literal fork! Take a left here.
You'll walk through the trees for a short while until you emerge into the mesmerizing Skoki Valley.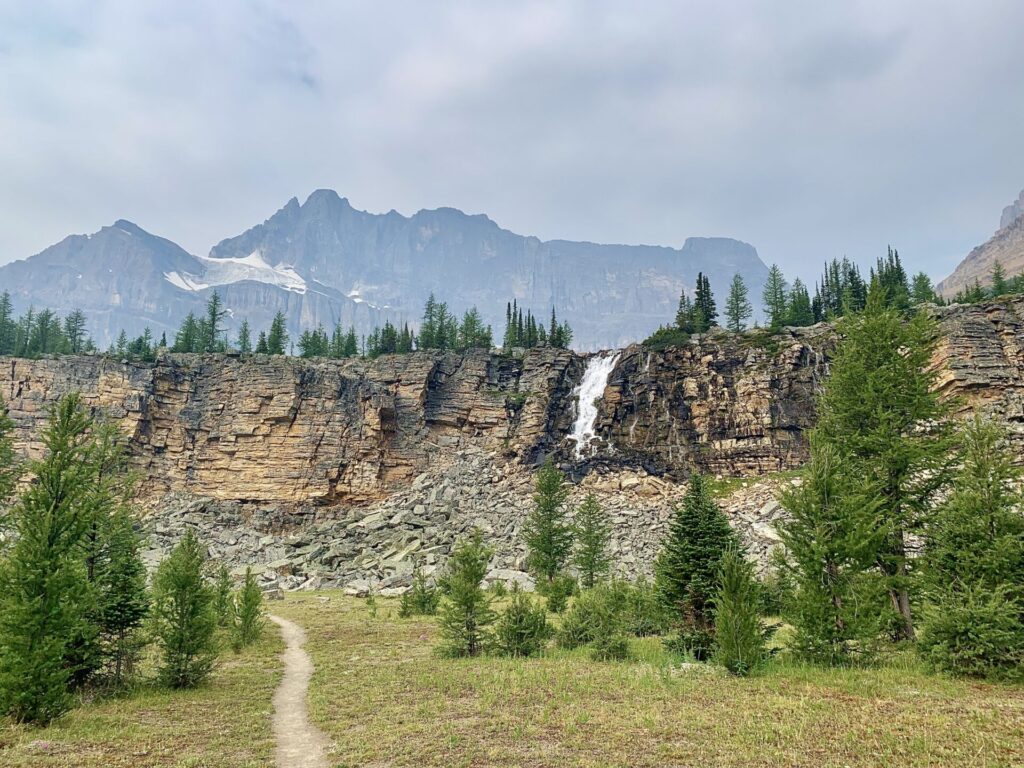 The Skoki Valley is a highlight on the Banff Skoki Loop. Here you'll walk in between Skoki and Fossil Mountain to your left and the Wall of Jericho to your right. Early in the season there will be a semi-significant river crossing, but later in the season (mid July) it will not be as strong.
The terrain will switch from beaten down path to loose rock, then will turn back into a trail that leads to the most picture-perfect waterfall. You will actually be scrambling up through a chimney to the left of this waterfall!!! This is by far the coolest and most technical part of the entire hike.
Lakes, Lakes & More Lakes!
After this you'll be walking along the shore of both Myositis and Zigadenus Lakes – literally the two most stunning lakes I've come across. The shade of blue these lakes offer is out of this world. Add in the fact they're situated in front of Ptarmigan Peak which is covered in glaciers… *Chef's kiss*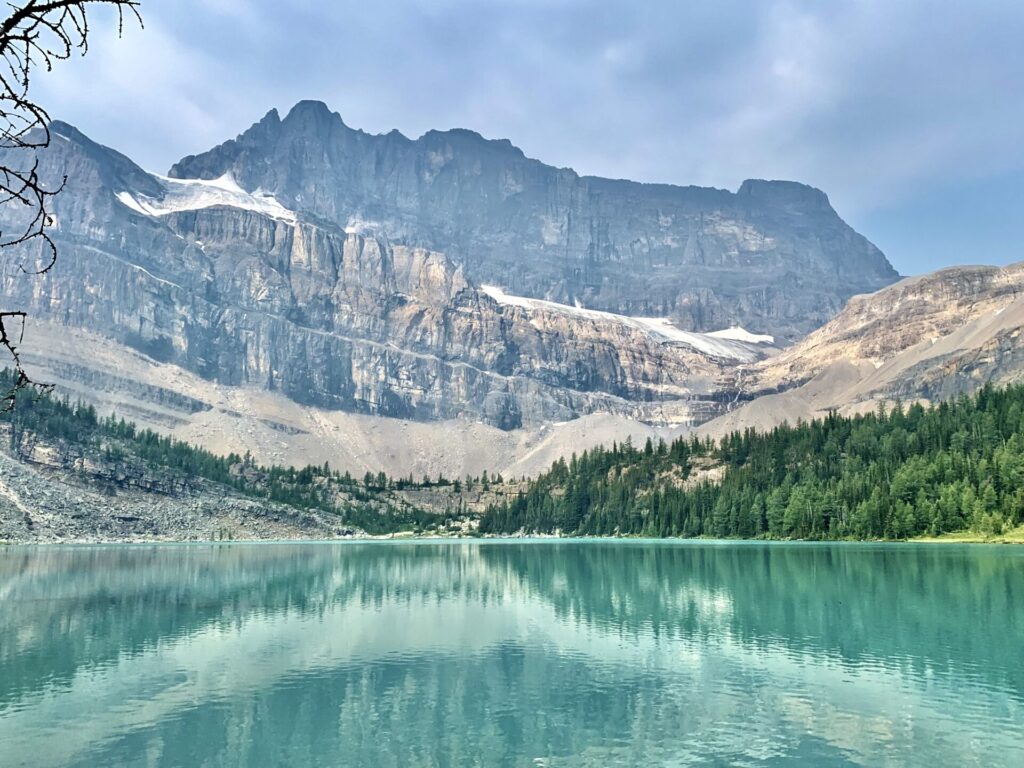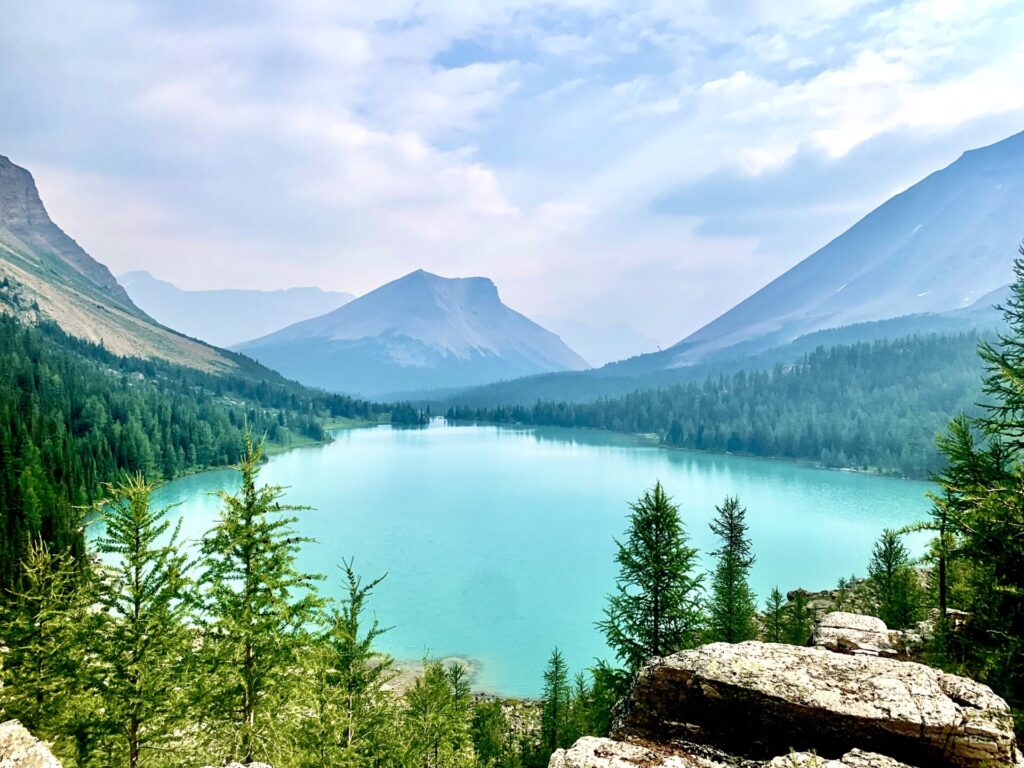 Once you climb up a bit from Myositis Lake you'll be able to see both lakes from the same spot. I could literally spend an entire day here, so make sure you allot extra time for day 3 of the Banff Skoki Loop.

Deception Pass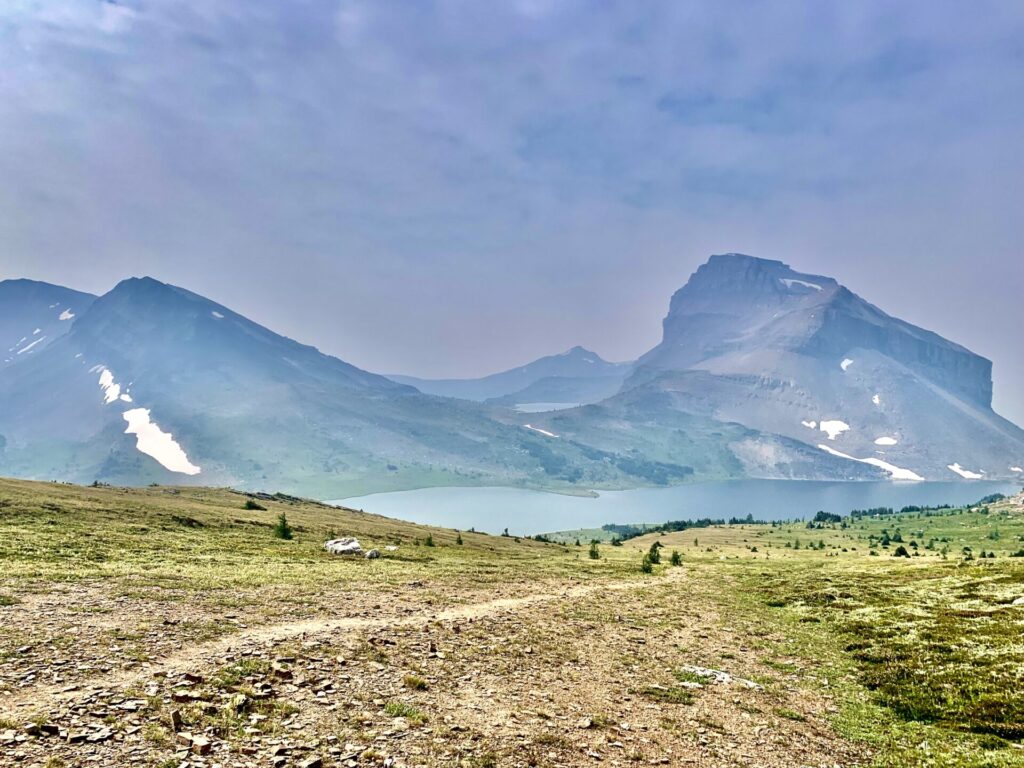 To get to Deception Pass from Zigadenus Lake continue walking along the shore until you reach the end of the lake. Next you'll climb up a few rocks then start heading straight up the pass. This is a straight and steep grind to the top, but it doesn't last too long!
From the top of the pass you'll have an overhead view of Ptarmigan Lake – the first lake you originally passed on the Banff Skoki Loop.
Ptarmigan Lake
Walk along the shore of Ptarmigan lake back toward Boulder Pass. After the pass stick to the wide trail that goes right – I tried to take shortcuts through the trees… This was swampy and gross, stick to the well travelled path.
One of the highlights on the way back is that you'll be able to see Victoria Glacier, which is the famous glacier that sits behind Lake Louise.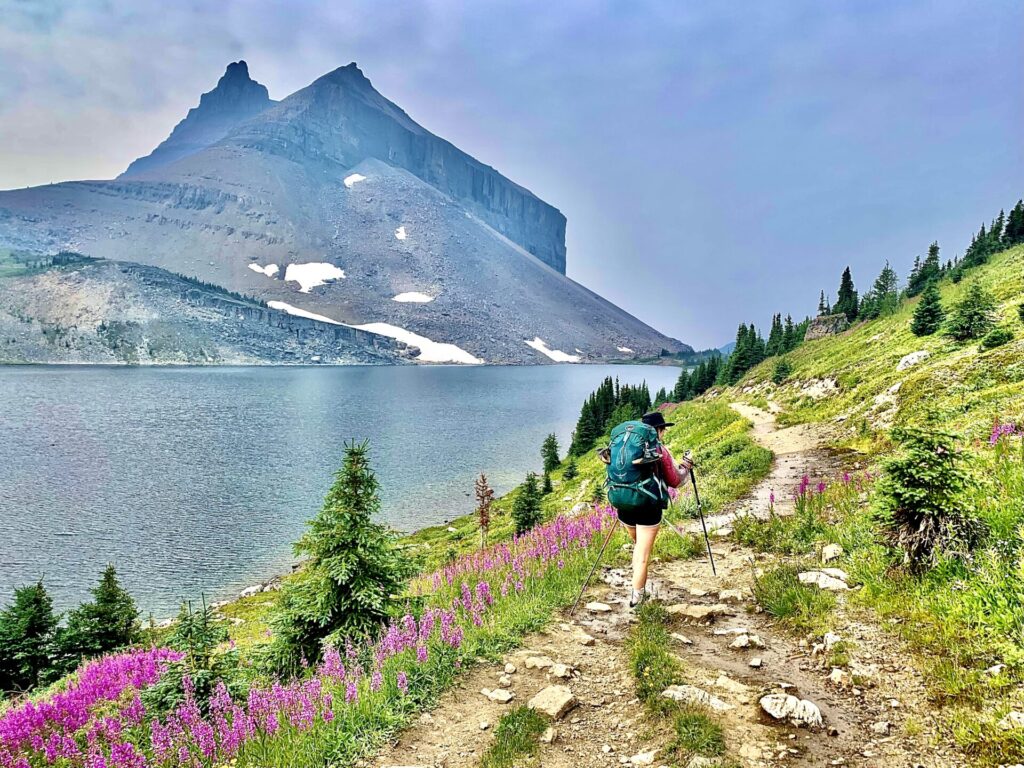 Coming back down the ski out will be absolutely brutal and boring, but it will give you time to reflect on the freakin' amazing adventure you just had.
Now, after my super long winded recap of the Banff Skoki Loop, you're ready to go backcountry camping!
Next I'll recommend more backpacking trails, give you a few more tips for a successful hike, outline some of my favourite gear for the backcountry, and recommend a few places to stay in Banff for every budget.
---
Explore More Backpacking Trails
Here are a few of my backpacking trails, but you can find more
---
Tips For A Successful Trip
Best Gear For Backpacking
If you wanna spend time in the Canadian backcountry you're gonna need gear – no ifs, ands, or buts. I talk about what I bring on my backcountry camping trips in detail here, but the following are my favourite pieces of gear that make the "essentials" list for every trip:
No one wants to spend their night in the wilderness frozen which is why it's super important to have a warm sleeping bag. The Hotcore winter sleeping bag (comfort rating -12) is cheap, WARM & Canadian made – my fav sleeping bag! You'll also want to pick up a sleeping bag liner: fleece (extra warmth), cotton (cleanliness – good in cool temps), or silk (for cold temps & smooth material is great for people with claustrophobia; me)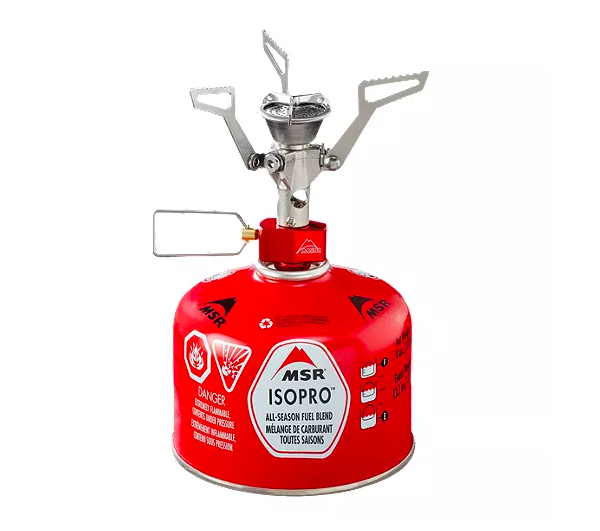 A good quality stove is worth the investment. In my opinion the best stove out there is the Pocket Rocket (I use the Deluxe). This stove is compact, lightweight, great on fuel, and reliable in any conditions. A MUST-HAVE for backpacking.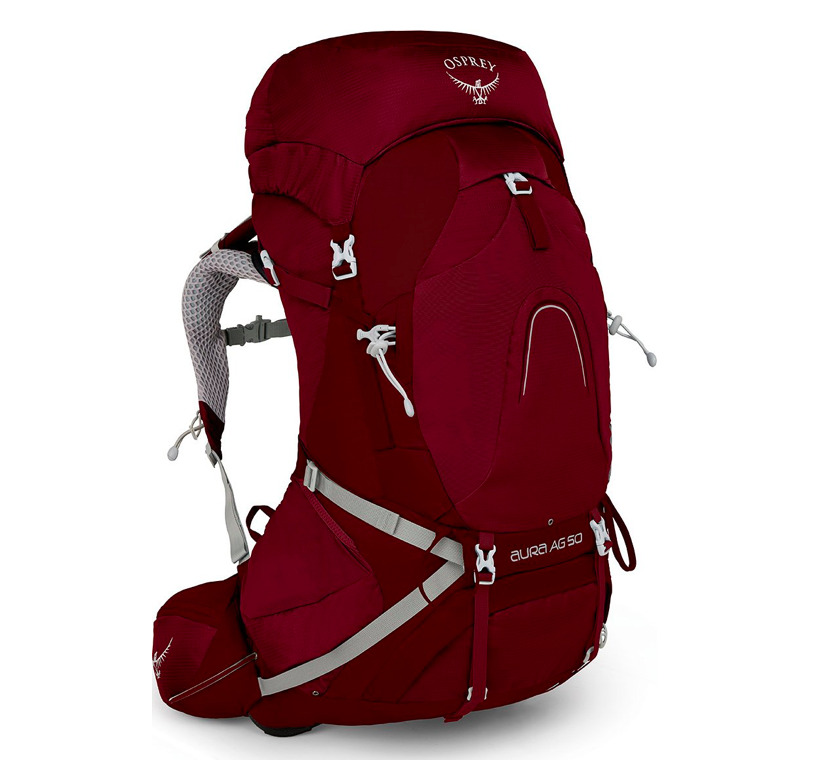 Having a good quality backpack is imperative for multi-day trips, especially when you're carrying 25lbs+ on your back. I have the Osprey Aura 65L (men's version) and I swear by it. It's top of the line, comfortable, great quality, and has a suspended back system which takes the weight off your shoulders. PLUS it has pockets. So. Many. Pockets.
You'll also want to have easy and clean access to water. You'll need a hydration pack – I use the 2L Hydrapak – and a filtration system. For this you can either use a water filter or aqua tabs and cheese cloth.
What To Wear Backpacking
Choosing what to wear on your backpacking trip is also so important… and confusing. What layers are best? Is the extra weight worth carrying extra clothes? Do I really need rain gear? Yes, the answer is always yes to rain gear.
I've been on backpacking trips all over Canada and I've learned exactly what layers work best for the backcountry. A few pieces I've found to be invaluable are:
A waterproof jacket traps your body heat and protects against wind and water. This is exactly the layer you want in the cold, rain, or when you're tired at the end of the night. I use the Eco Precip (men's version). It's economical, lightweight, and folds into its own pocket. Don't forget to always pack rain pants (men's version) too.
You need a warm layer for backpacking. I always bring my puffer jacket (men's version). This puffer jacket is lightweight, compact, and throws a ton of heat. If I know temperatures will be cold I also bring my zip fleece (men's version) which is great for sleeping in as well.
A warm pair of socks is the nicest luxury at the end of a long hiking day. They are also super important for keeping your feet warm when the nightly temperatures drop. I find these ones work great for keeping your toes toasty – and this is coming from someone with Raynaud's disease.
Additionally I always bring gloves (men's version) and a hat. I wear actual hiking pants (men's version) rather than leggings and I've always got a good quality, Gore-tex pair of hiking boots; my fav are the Scarpa Kailesh (men's version).
You also want to make sure you bring separate clothes for sleeping – whatever you do DO NOT wear your sleeping clothes outside of sleeping and ensure they don't get wet; you might even want to keep them in a dry bag.
More: Backpacking Gear Guide
Happy adventuring!
Taylor ♡
---
Like This Post?
Share with friends or save it for later!
---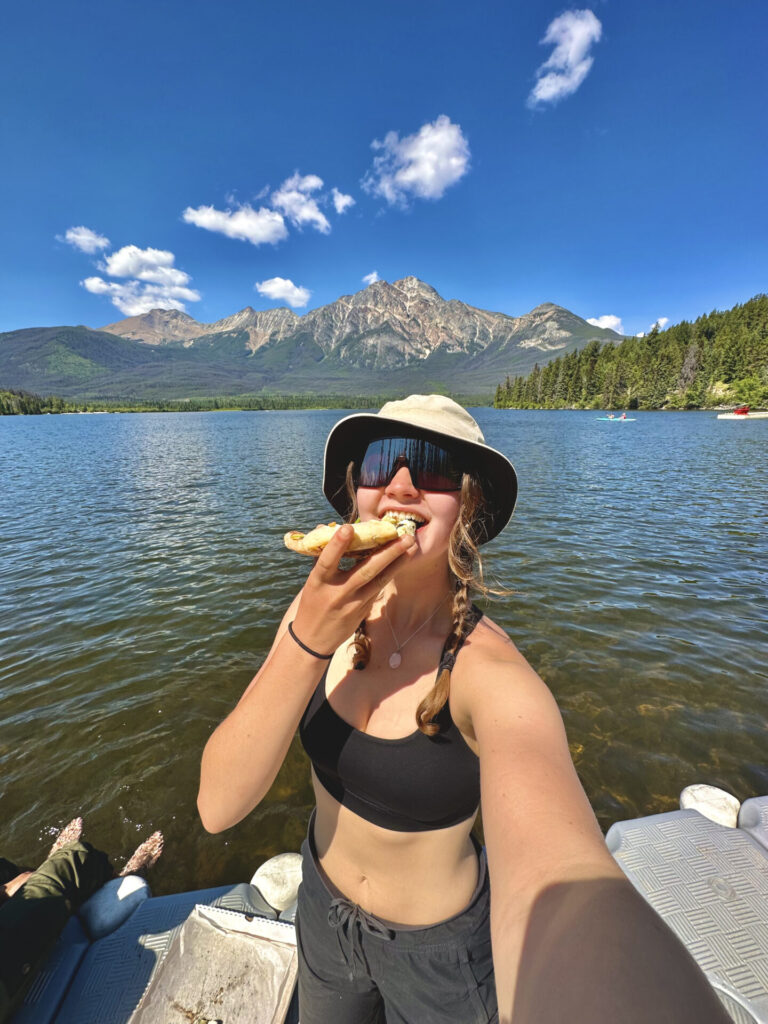 About The Author
HI, I'm Taylor – the voice behind The Holistic Backpacker.
After moving to Banff National Park in 2020 I became an outdoor adventure enthusiast and vowed to never stop exploring.
I now spend my days travelling the world, climbing mountains, and spending nights under the stars in the Canadian Rockies backcountry.
I created The Holistic Backpacker so I could share my adventures and help connect people like you with the same amazing experiences.