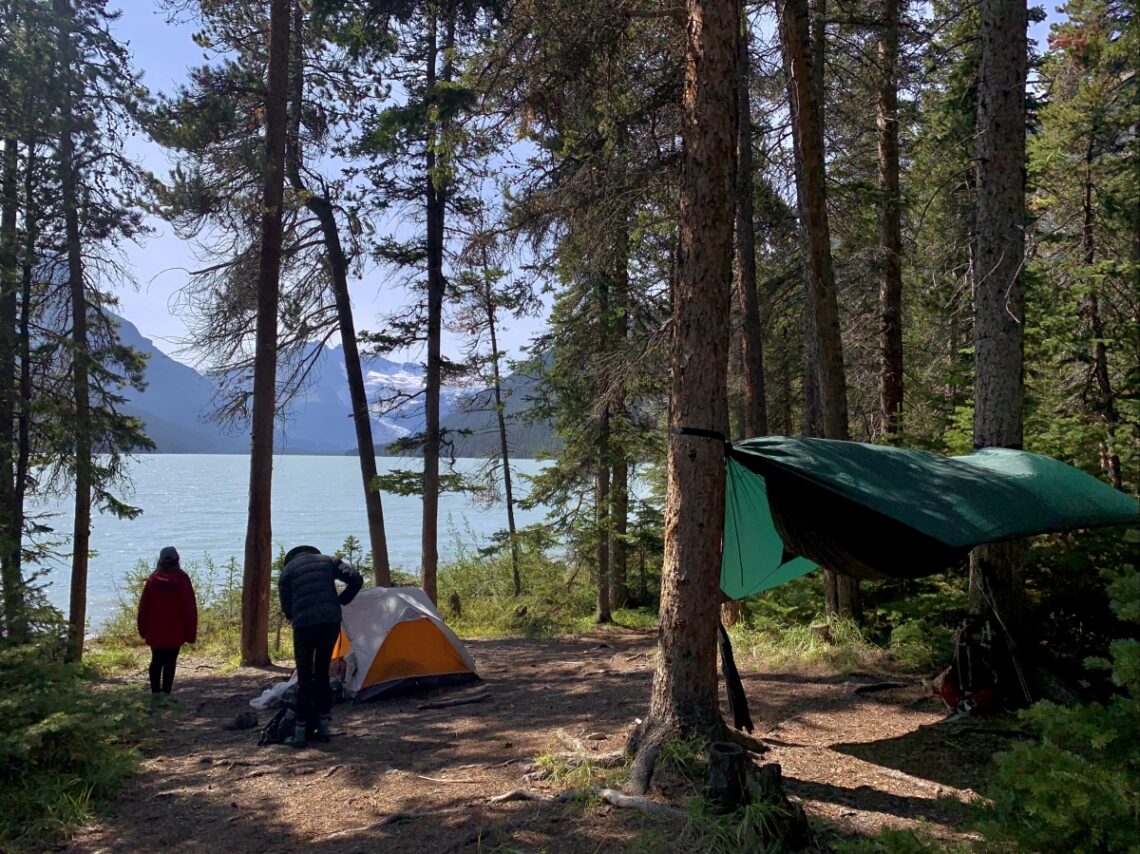 How To Find Discounted & Used Hiking & Camping Gear
We all know that hiking and camping gear is expensive. There's a million things you need and they all seem to cost a million dollars. This is why it's best to search for discounted hiking gear and discounted camping gear.
I do view purchasing hiking and camping gear as an investment rather than a purchase, however it's still nice to save when gearing up for the season. SO I've created a list of different ways to find discounted hiking gear and discounted camping gear as well as used hiking gear and used camping gear. I've tried each of these and have had great success – I hope you do too!
Of course my word of advice is to always use what you have until it is no longer good enough or until it genuinely no longer fulfils your needs. After this, try to repurpose or give away because your trash is someone else's treasure.
Now, let's go hiking!
Skip Ahead:
This post contains affiliate links; see my full disclosure. If you click these links and make a purchase you're supporting The Holistic Backpacker. Thanks for your support & happy adventuring! – Taylor ♡
---
---
1. Shop The Right Online Stores
Shopping the right online stores is a sure-fire way to find discounted hiking gear. Often times online camping and outdoor stores have sales and carry all the great quality outdoor brands you like to shop.
By shopping this way, you'll be able to purchase multiple items at a sale price and have one convenient place to buy your gear from, rather than making purchases from multiple websites.
A few great camping and outdoor stores to purchase your gear from are: Atmosphere, MEC, REI, and Backcountry.
I've complied a detailed list of outdoor stores that'll help you save here.
2. Sign Up For Emails
Signing up for emails is another way to find discounted camping gear. Oftentimes you'll get a 10-15% discount on your entire cart when you sign up for each different online store.
An even better way to save is to wait for online sales and get double the discount!
By signing up for emails you will also be alerted when online sales are happening, ensuring you won't miss your chance to get discounted gear.
3. Plan Ahead & Fill A Cart
Planning ahead is the most important step to finding discounted hiking gear. Take inventory of what you have and make a list of things you know you'll need.
After you know what you're looking for, shop around to see what brands you like and what stores offer their products. Make an account and fill your cart with what you need so it's easy to refer back to. When those online sales start all you have to do is click "confirm purchase."
---
Explore My Latest Adventures
Don't forget to explore my latest adventures!
EXPLORE MORE: hiking, backcountry camping, canoeing, scrambling, skiing & snowboarding
---
4. Facebook & Marketplace
Using Facebook is an excellent way to find discounted camping gear as well as used camping gear. Marketplace and buy and sell pages on Facebook are becoming super popular and you can find more and more great deals this way.
You can occasionally find discounted hiking gear, but what I find the most common is discounted hiking clothes on these pages. So, next time you're in need of a jacket, pants, or hiking accessories, check Facebook first.
When I lived in Banff, I always used the town's buy and sell page. In transient towns like this, people are constantly coming and leaving so they sell their gear and clothes cheap. If you're moving or travelling for an extended period of time to a place like Banff, I would suggest checking out marketplace before you go out and spend a bazillion dollars on brand new gear.
Follow The Holistic Backpacker's Adventures on Socials:
Keep Up With My Adventures!
Sign up for my newsletter and stay up-to-date with my latest adventures, gear guides, and eco-resources!
Taylor ♡
5. Buy Secondhand (In-store & Online)
Buying second-hand is another great option for picking up used camping gear or used hiking gear. Check out your local thrift store, or use one of the second-hand stores that are popping up online, like Worn Wear by Patagonia.
I bought my day-pack and my rain coat from Poshmark which is another online secondhand store. They were both essentially brand-new and I was able to save quite a bit of money!
6. Trade Gear
You can sometimes find used camping gear or used hiking gear at trading events via local stores or online. These are a little rarer and you don't come across them too often, but they are gaining major popularity for skiing and snowboarding equipment.
7. Rent Gear
Another option is to rent gear. Chances are if you're embarking on an outdoor adventure, you're in a place that will have gear rental shops. Similar to renting ski equipment at a ski hill, you can oftentimes find shops that rent out hiking and camping gear like tents, backpacks, cooking equipment, etc.
This is the perfect solution for those looking to try to gear before investing, to rent gear if you're only embarking on a certain type of adventure once, or for those travelling who don't have space to bring all their outdoor gear with them.
8. Price Match
More and more stores seem to be price matching these days; why not take advantage! Price matching is actually how I saved $75 on my hiking boots (by the way, these are the greatest and most versatile boots for hiking and backpacking in the Canadian Rockies)!
Most times in order to price match you're required to find the product you're looking for online from a store that sells in your currency and that shows as in stock. If you can't meet these requirements, most stores will not allow you to price match. Never hurts to ask though!
9. Borrow
Finally, the option that gets your free hiking and camping gear is simply borrowing what you need. This is not a permanent solution, but it is great if you're:
Trying out the sport
Testing a product before investing
Only gonna do it once
You can borrow from friends or family, or utilize those buy and sell pages I was talking about. You never know, that generous stranger down the street might have a sick backpacking setup!
Happy adventuring!
Taylor ♡
---
Like This Post?
Share with friends or save it for later!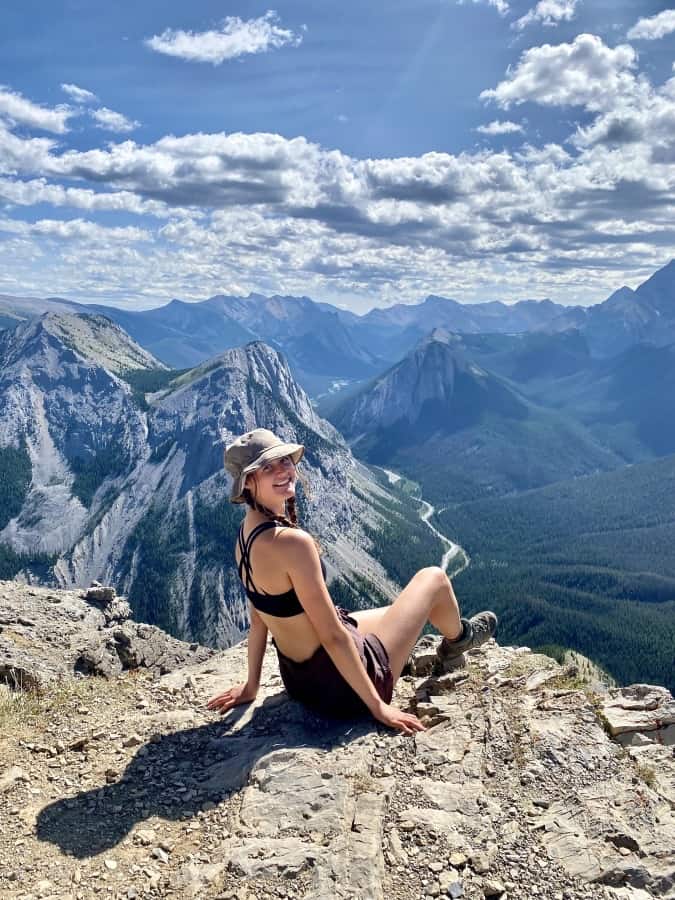 About The Author
---
Hey! I'm Taylor – the voice behind The Holistic Backpacker.
After moving to Banff National Park in 2020 I became an outdoor adventure enthusiast and vowed to never stop exploring.
I'm now focused on travelling the world and seeing everything our beautiful home has to offer.
I created The Holistic Backpacker so I could share my adventures and help connect people like you with the same amazing experiences.
I am also an advocate for the environment and do as much as I can to take care of our planet.
Get to know me and my story more here 🙂
I can't wait to share my adventures with you!