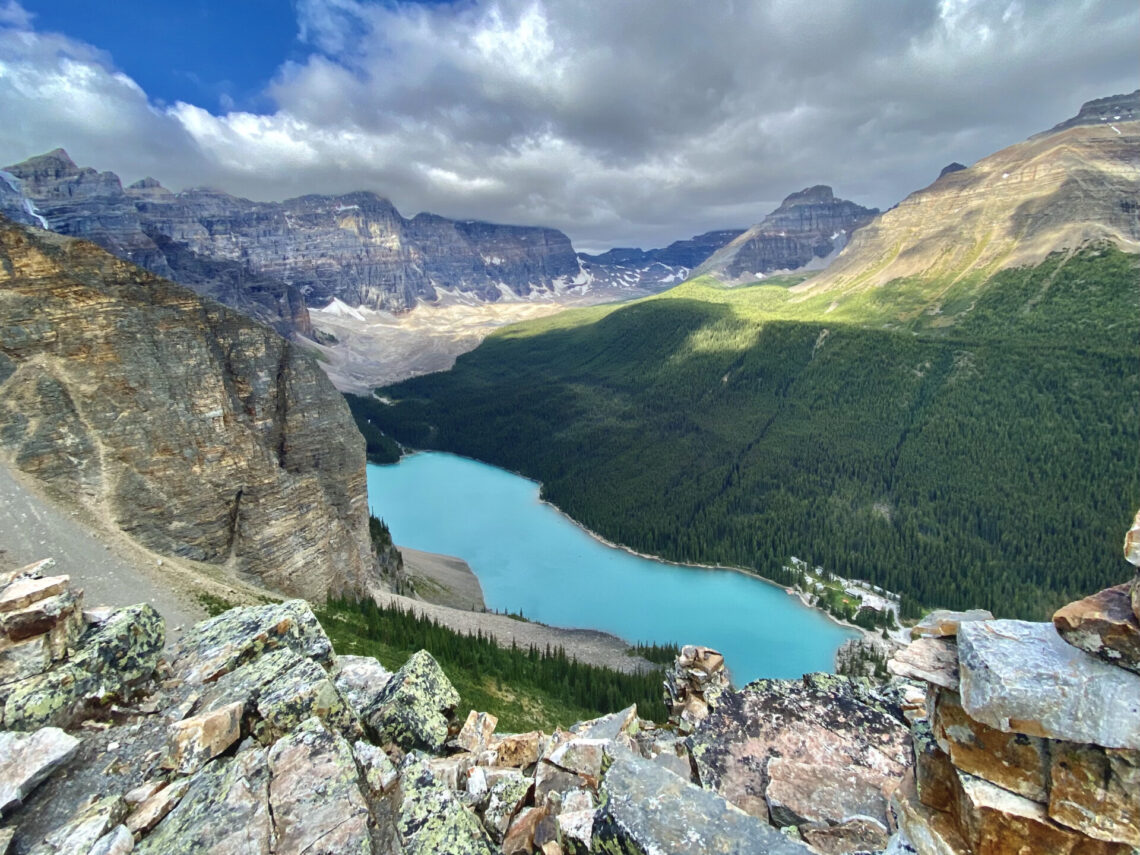 Tower of Babel Hike at Moraine Lake – Banff Scrambles
Tower of Babel is not a hike for the faint of heart. In fact, it's actually one of the many Banff scrambles rather than a hike. Instead of following a trail, Tower of Babel goes straight up a steep gully full of scree and loose rocks.
For those who are new to Rocky Mountain hiking lingo:
Scrambling: a walk up steep terrain involving the use of one's hands
Scree Field: a collection of broken rock fragments at the base of crags, mountain cliffs, volcanoes, or valley shoulders that has accumulated through periodic rockfall from adjacent cliff faces
Tower of Babel is one's the best Banff scrambles. It's steep and it's technical, but at the top you get a wide-open, overhead view of the stunning Moraine Lake and Consolation Lakes.
So, let's go scrambling!
Skip Ahead:
This post contains affiliate links; see my full disclosure. If you click these links and make a purchase you're supporting The Holistic Backpacker. Thanks for your support & happy adventuring! – Taylor ♡
---
---
---
Related Content
---
Getting to the Tower of Babel Trailhead
As of 2023 the Moraine Lake road has been closed to personal vehicles. You now have to book a public bus, private bus, or bike the 12km road in to get there. You can find more information about getting to Moraine Lake in this post, however I want to leave you with a link to the Moraine Lake Bus Company. They offer the only 4am and 5am busses to the lake aka they're the only company that can get you to Moraine Lake to see sunrise.
When you arrive at Moraine Lake walk toward the rock pile and then toward Consolation Lakes. Along the way you'll see a massive boulder field – when you reach this point, start walking up. Initially you'll feel like you're aimlessly walking up a massive scree slope into the abyss, however you'll eventually see the gully open up. This is where you'll hike through to reach the summit.
---
Where to Stay in Lake Louise
A popular choice among travellers is to spend the day in Lake Louise, but lodge in Banff. There are more things happening in Banff opposed to Lake Louise such as restaurants, bars, events, etc. Here are my top Banff lodging recommendations:
Travellers often also lodge in Canmore during there stay which is 20 minutes from Banff. Lodging in Canmore is often cheaper and more available than lodging in Banff; especially during high season.
---
About the Tower of Babel Trail
Distance: 2.9km
Elevation gain: 518m
Rated: hard
Type of trail: out & back
Estimated time: 2hrs
WARNING: Banff scrambles are dangerous. Only attempt Tower of Babel if you have the necessary skills OR if you're with an experienced hiker. This is not a hike I'd recommend to tourists or novice hikers.
Normally when I report on a hiking trail I talk about exposed roots and rocks, wether or not the trail is easy to follow… You get the point.
Tower of Babel is a little bit different. As I previously mentioned, Tower of Babel is a Banff scramble and the route goes straight up steep terrain over loose rock and scree. Rather than following a trail, you actually get to create your own!
Scree fields typically have small, equal sized rocks which makes it easy to scree ski (if you don't know what scree skiing is, check it out here). Tower Of Babel's scree field is unfortunately not like this as it's composed of all different sized rocks. Consequently, you'll have to watch your footing, take your time, and be very careful as you navigate the terrain.
The bottom of the hike is full of relatively large rocks, the middle section is a combination of large and small rocks, and closer to the top is more scree which then turns into a scramble. The very top of the hike is where you'll need to start navigating the terrain with your hands and feet.
I would only recommend hiking Tower of Babel if the terrain is dry. So not after a rainfall, not after a snowfall, and not if you know the weather will be poor that day.
Connect via socials:
Sign up for emails to receive a 50% discount on my travel maps + occasional updates on new hiking guides & travel resources.
Taylor ♡
Hiking Tower Of Babel
There's no "nice" introduction to this hike. From literally step 1 you'll be headed straight up a giant rock field. That's why this hike is so fun though, right?
To give you an idea of what the scree field looks like from the top: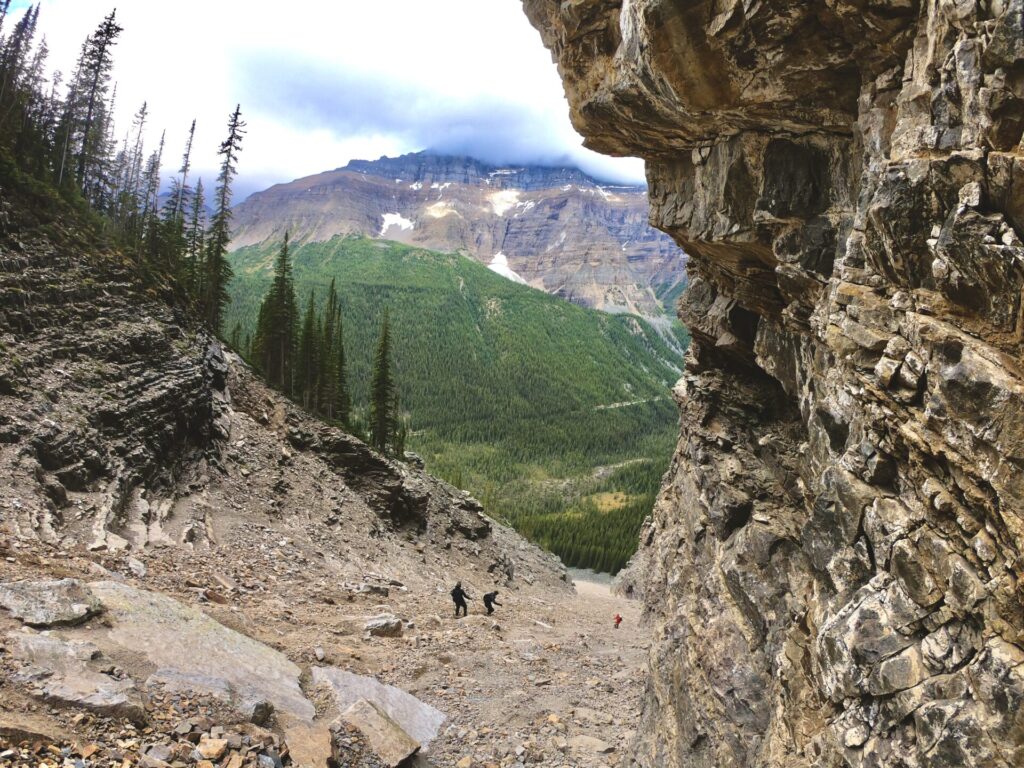 This Banff scramble is steep. Normally super steep hikes zap my energy right away, but Tower of Babel didn't do this. You need to be so thoughtful and aware of each step that you don't notice the burn at all. Thank God because you're literally gaining over 500m in 1.5km.
When we reached the gully, we kept left. I held onto the left side of the gully for extra support whereas a friend of mine stayed in the scree the entire way up. What's easier here honestly comes down to personal preference.
Within 1-1.5 hours you'll be at the top!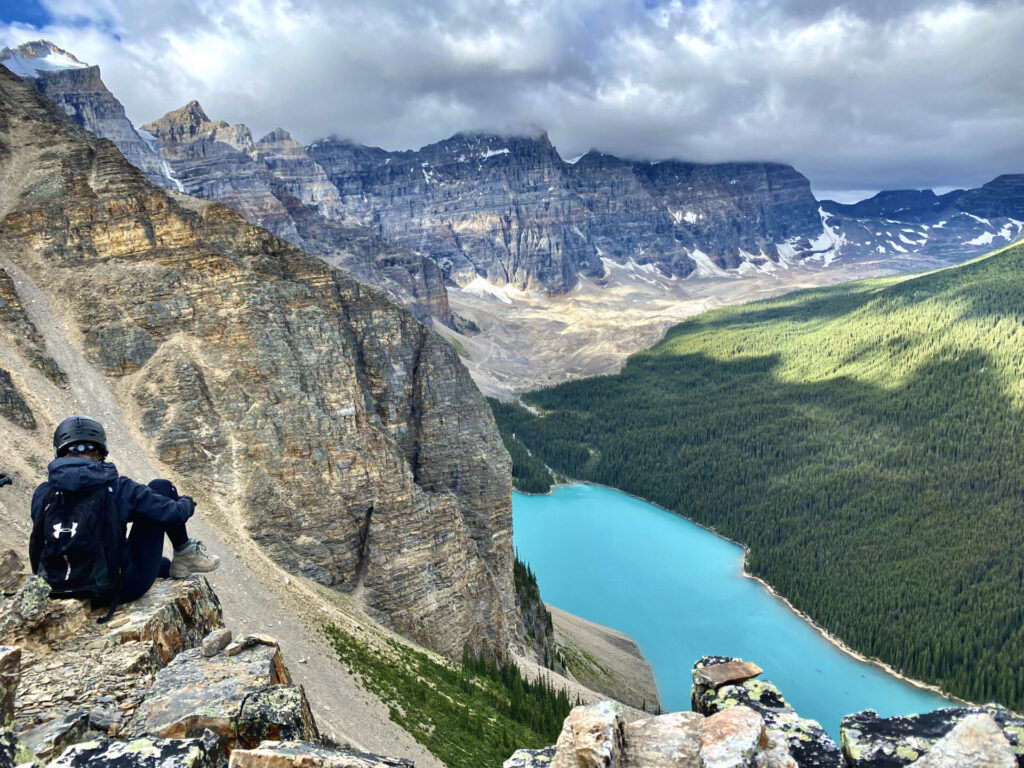 Before you ask – yes, I'm wearing a ski helmet. It's imperative that you wear a helmet while scrambling to protect your head from any falling rocks. Normally one would use their climbing helmet or rent one from Bactrax in town, but at the time I was a poor student living in Banff so I had to make due!
The top of Tower of Babel is quite large which gives you lots of space to find your perfect photo-op. On one side you'll have views of Larch Valley and the turquoise Moraine Lake – yes it does get bluer from above.
On the other side you'll have a birds-eye view of Consolation Lakes which is another great hike around Moraine Lake.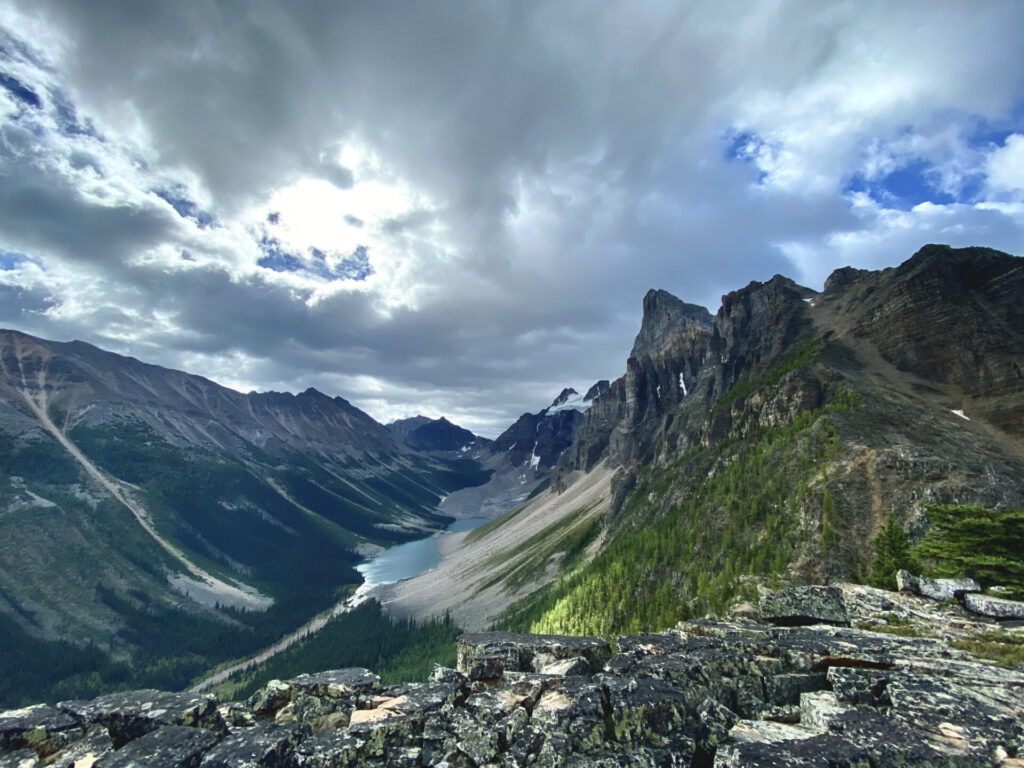 Something cool about this Banff scramble is that you'll actually have cell-service at the summit! At the bottom and around Moraine Lake you won't have any, but the connection was so strong I was able to have a choppy Face-time call with my grandma at the top!
---
Looking for More Banff Adventures?
Banff is an adventurer's & view seeker's paradise. If you're planning a trip to this gorgeous Canadian Park, you can start with this step-by-step guide designed to help you plan the perfect Banff itinerary.
Alternatively, check out this page with all my Banff resources.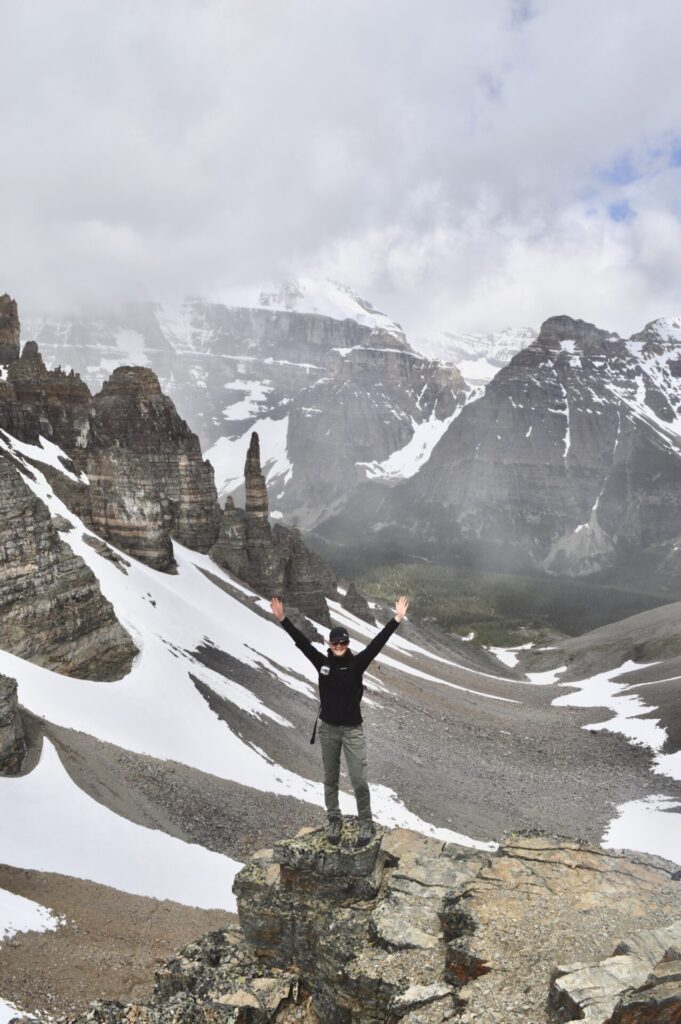 Want to continue your Canadian Rockies expedition outside of Banff? Check out my trail guides & travel resources for British Columbia and Kananaskis Country as well as Jasper, Waterton, Yoho, and Kootenay National Parks 🙂
---
---
Recommended Hiking Gear
The following items are some of my favourites – I never hit the trail without them!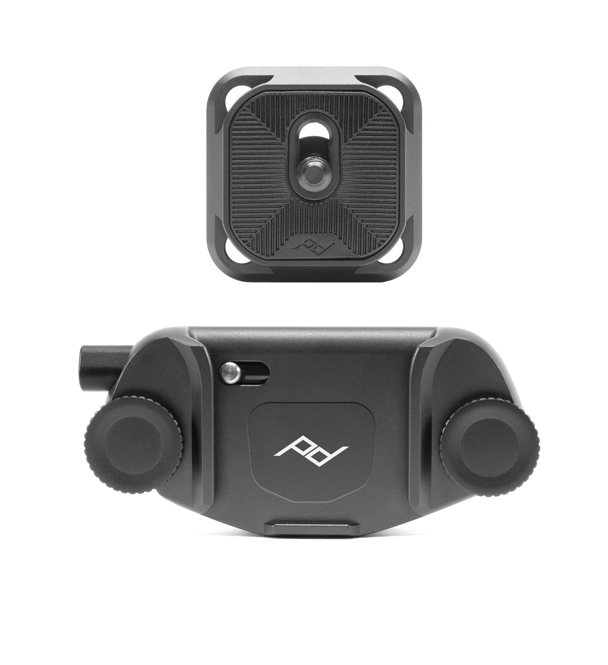 The Capture Clip by Peak Design is a sturdy, safe, and super convenient way to carry your camera while hiking or backpacking.
Find it on Amazon (CAD).
Find it on Peak Design (US).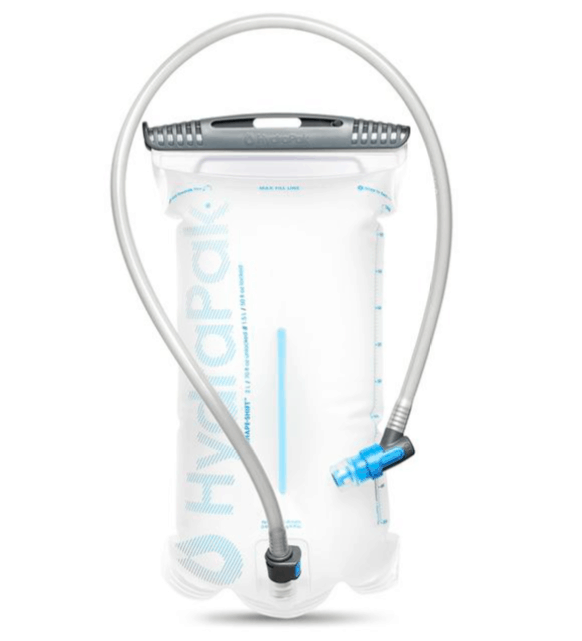 A hydration reservoir is SO important. It holds 2L+ of water and keeps you hydrated on-trail. I use the 2L Hydrapak; it never leaks and has a detachable tube.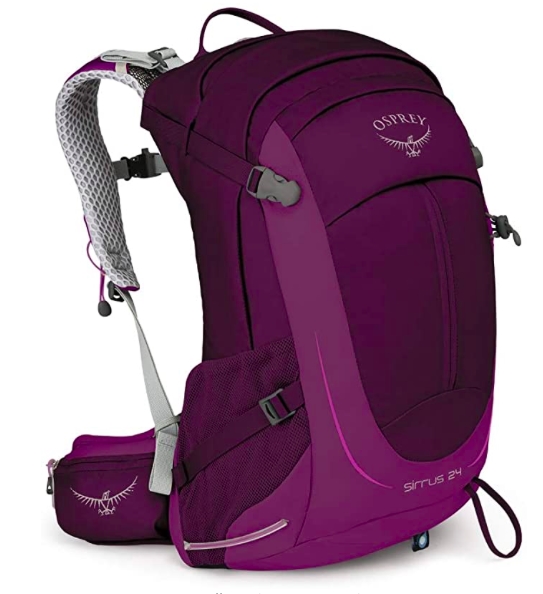 Things to look for in a good quality day-pack: sternum strap, hip belt (with pockets), and a breathable mesh system for your back. I use the Osprey Sirrus 24L pack (men's version) and I LOVE it!
---
What To Wear Hiking in the Rockies
For a detailed guide on what to wear hiking in the Canadian Rockies, check out this post.
Choosing what to wear hiking can be confusing, but the secret to properly dressing for a hike is layering. You can mix and match the tops and bottoms you already own to make up your base layers, however in addition to those clothes you'll need a few extra things:
A waterproof jacket is the most important layer for hiking – it keeps you warm and protects you from wind and rain. I use the Marmot Eco Precip Jacket (men's version) which is totally a bang-for-your-buck. If rain is in the forecast, don't forget to pack waterproof pants (men's version) too.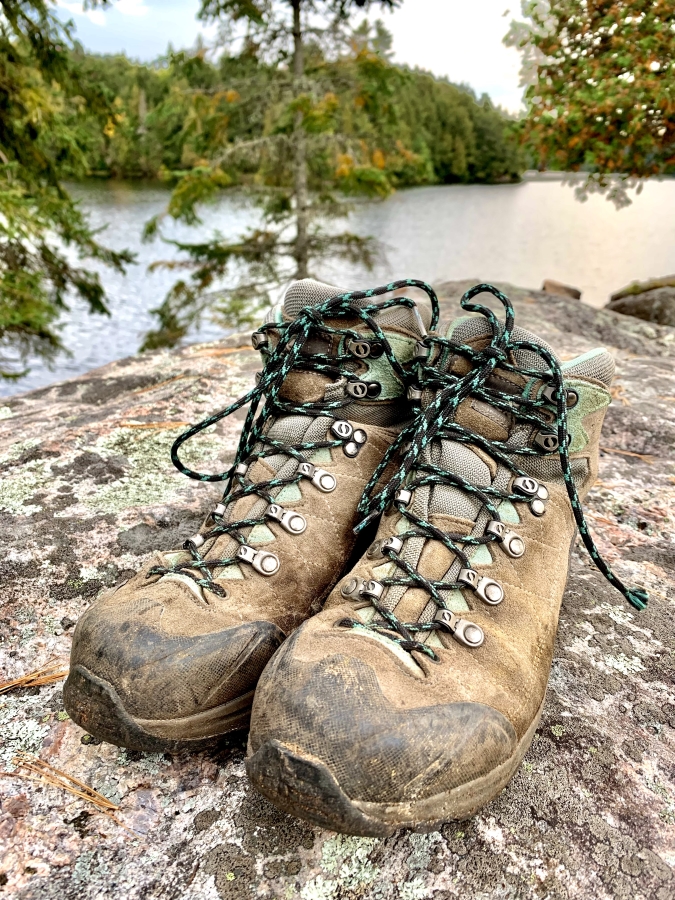 A good pair of hiking boots are Gore-tex, provide ankle support, and are durable. I use the Scarpa Kailash boot (men's version) and they've never let me down. You'll also want a good quality pair of socks. I use Smartwool – they're great quality and last an entire season.
A puffer jacket acts as your warm layer. I use the hoodless Columbia Women's Heavenly Jacket (men's version). Alternatively you can use a fleece zip – I have this one (men's version) from Columbia. Both of these options are perfect layers to keep you warm on windy, cold, or high elevation hikes.
Rocky Mountain hiking exposes you to different natural elements and conditions – it's imperative that you're prepared for whatever nature throws at you. Trust me, I've learned the hard way!
More: Day-hiking Gear Guide
More: What to Wear Hiking in the Canadian Rockies
Scrambling Safety
Now that you've heard all about Tower of Babel, doesn't scrambling sound fun? Before you get out on the mountain and tackle this Banff scramble, let's talk about scrambling safety.
The best way to learn any sort of mountain safety is to take a course. Not everyone has the time or money to do this, but if you're interested Yamnuska Canadian Rockies Hiking offers a Mountain Scrambling Skills Course in Canmore. Aside from this, I would never suggest attempting your first scramble by yourself or with your pals – unless one of your pals happens to be an experienced hiker.
To get yourself more equipped with scrambling safety, check out the following resources: Scrambling Safely & Rocky Mountain Ramblers Association
From personal experience I can tell you that proper clothing makes a big difference when you're scrambling and navigating scree. Make sure you wear sturdy hiking boots – I use these – along with long pants and a long sleeve top. The most important piece of gear for Banff scrambles is a HELMET which will protect your head from any falling rocks.
More: What To Wear Hiking In The Rocky Mountains
When attempting Banff scrambles always leave space between group members and never hike in a line. Why? If hikers above you dislodge rocks, they're coming straight for you. Additionally if you or anyone else dislodges rocks makes sure to shout "ROCK" to warn fellow hikers below you.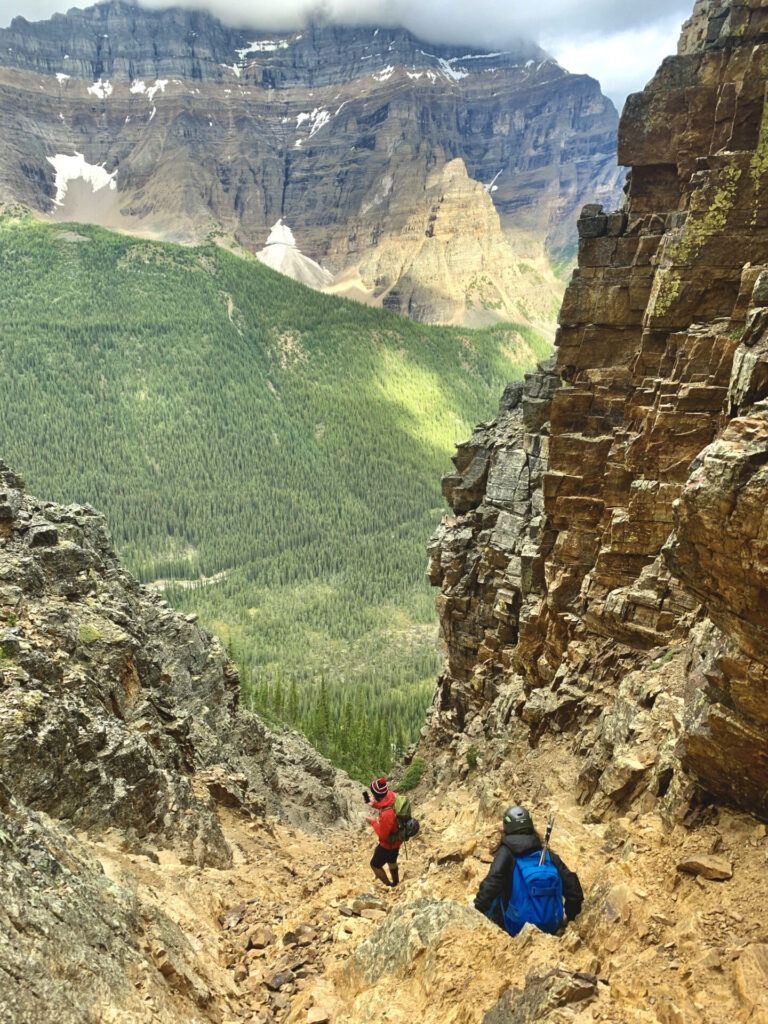 Tips For A Successful Hike
Only attempt Tower of Babel or any other Banff scrambles if you have the skills and experience required
Read this post to learn how to access Moraine Lake with the new road closures in place
Book a sunrise shuttle so you can see the morning alpenglow on the Valley of the Ten Peaks + get an early start
Wear a helmet and understand Banff scrambling safety
Hike Tower of Babel for sunrise
Happy adventuring!
Taylor ♡
---
Like This Post?
Share with friends or save it for later!
---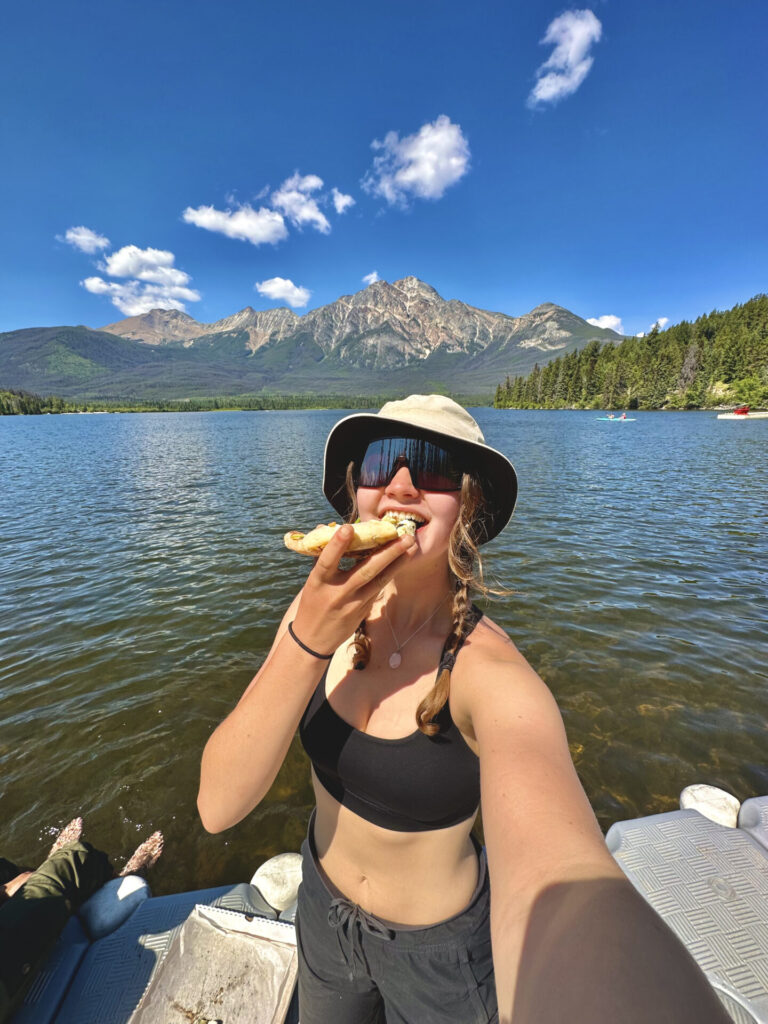 About The Author
HI, I'm Taylor – the voice behind The Holistic Backpacker.
After moving to Banff National Park in 2020 I became an outdoor adventure enthusiast and vowed to never stop exploring.
I now spend my days travelling the world, climbing mountains, and spending nights under the stars in the Canadian Rockies backcountry.
I created The Holistic Backpacker so I could share my adventures and help connect people like you with the same amazing experiences.