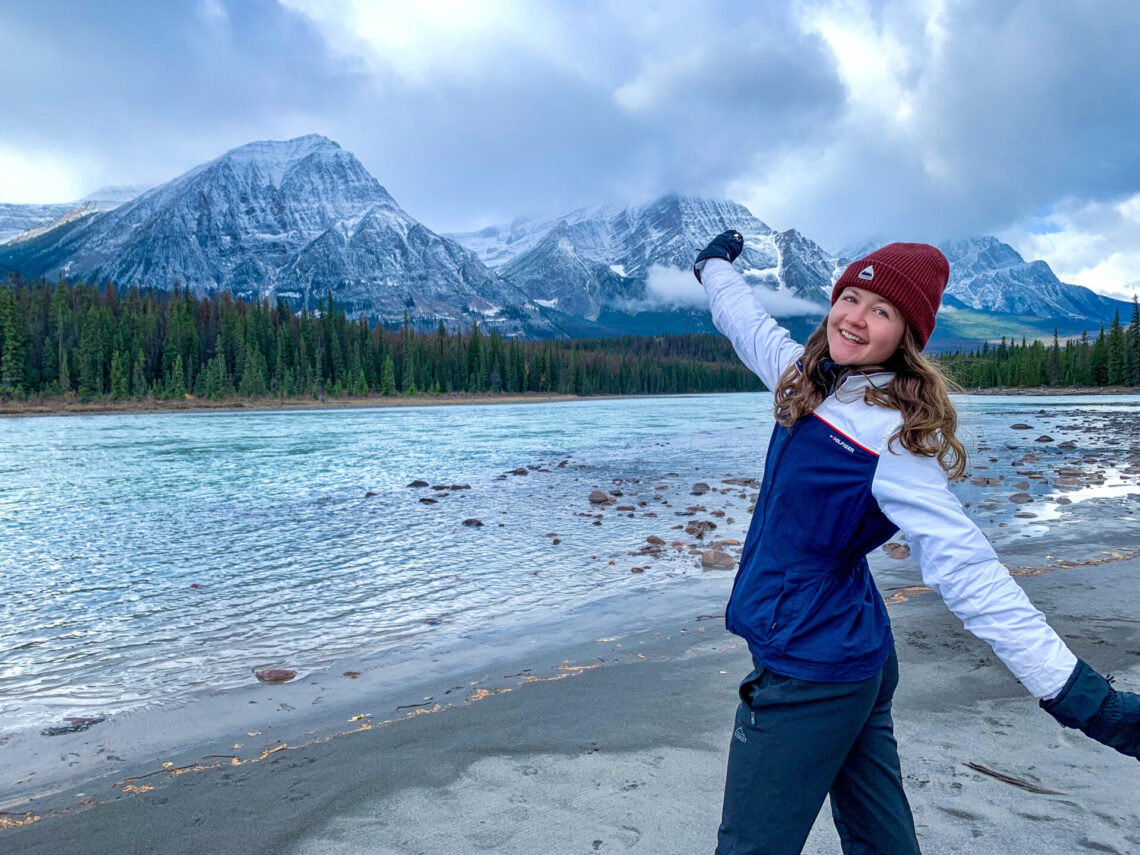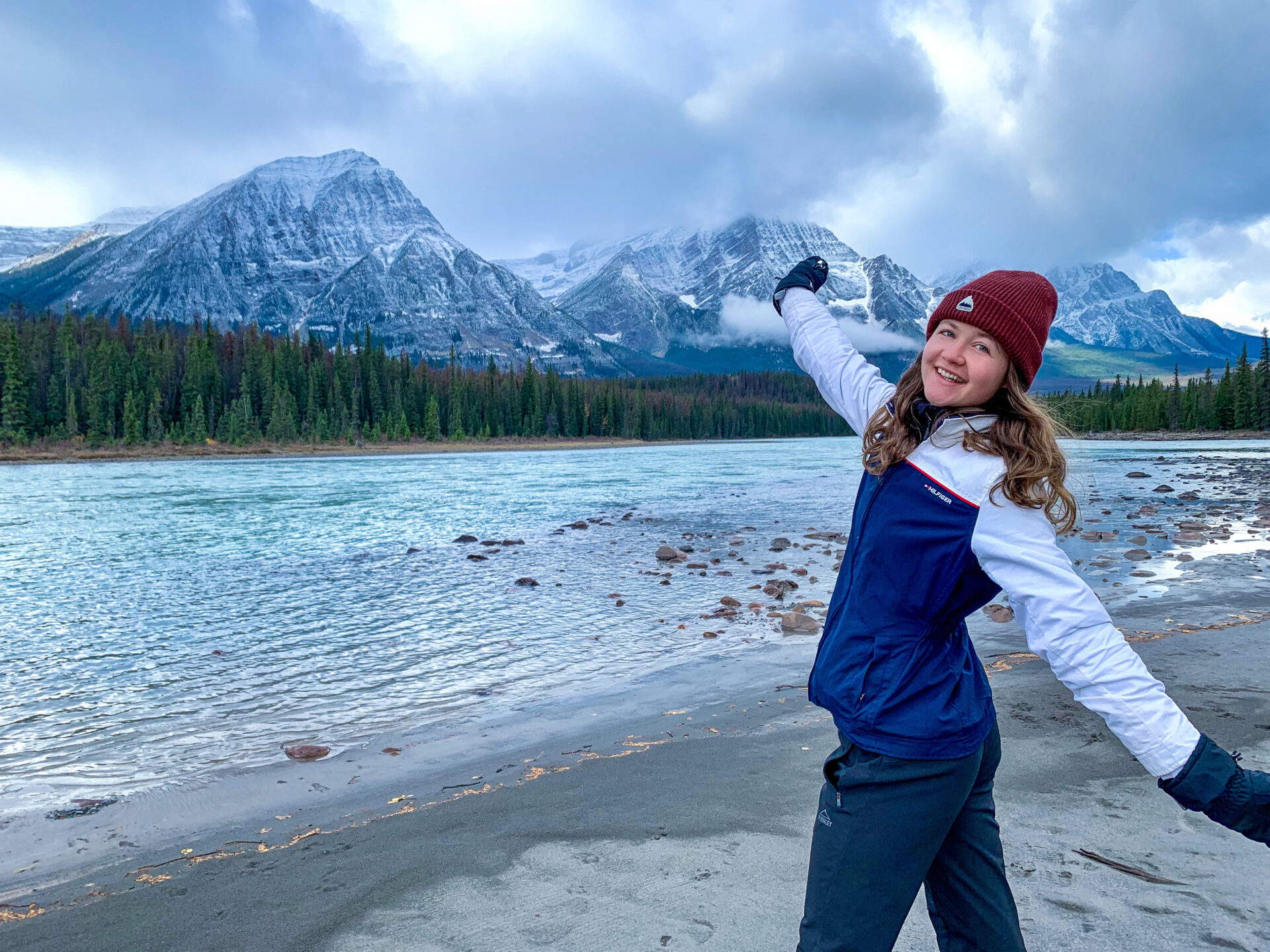 9 Best Things To Do In Jasper National Park
Jasper is a place of endless adventures and beautiful views. Around every corner you'll find a new hiking trail, a new mountain, or a beautiful alpine lake just waiting to be explored. Although Jasper is a place for off the beaten path adventures there are so many other activities you can engage in within the Park.
I moved to Banff for 15 months in 2020/2021 and in that time I took 4 trips to Jasper National Park. I made it my mission to see and do as much as possible in the Park and I think I did a pretty good job. Throughout my 4 visits to Jasper I embarked on a backcountry canoe trip, explored hiking trails, and got up close and personal with glaciers. Now, I've compiled a list of all the best things to do in Jasper just for you ♡
More: here's my trip planner to help you create the perfect Jasper itinerary.
Now, let's go on an adventure!
Skip Ahead:
This post contains affiliate links; see my full disclosure. If you click these links and make a purchase you're supporting The Holistic Backpacker. Thanks for your support & happy adventuring! – Taylor ♡
---
---
---
Related Posts:
---
1. Explore Jasper's Alpine Lakes
Jasper is famous for it's glaciers and alpine lakes – all 1, 762 of them to be exact. Undoubtedly, exploring Jasper's alpine lakes is one of the best things to do in Jasper.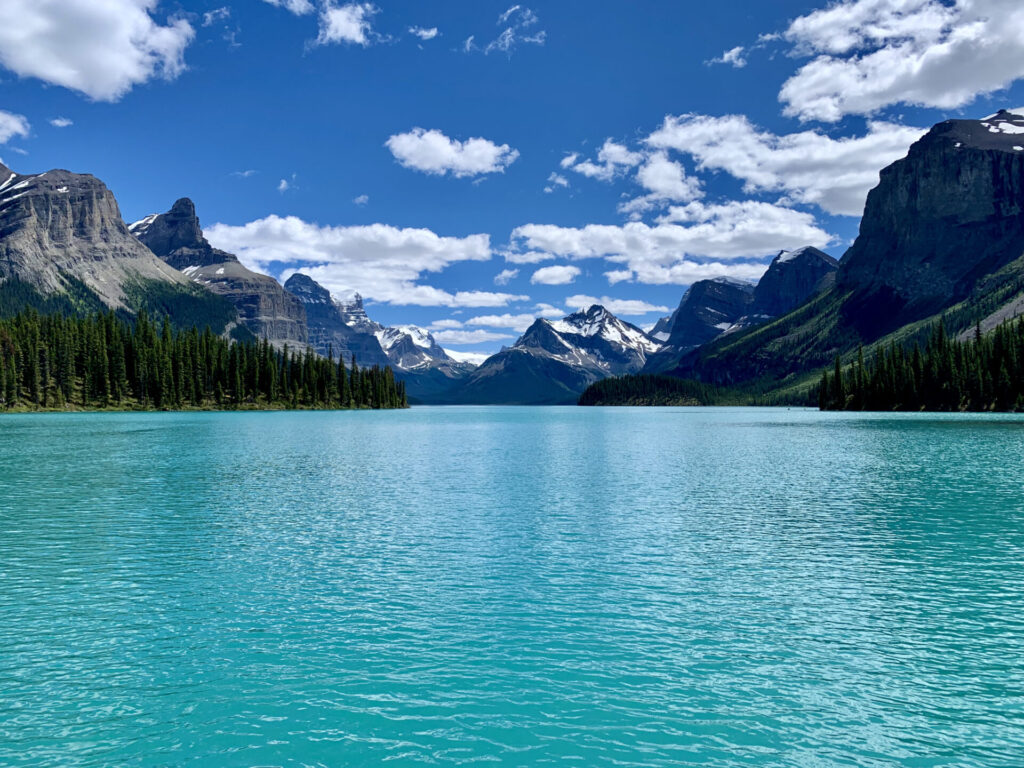 Some notable lakes in Jasper are Maligne Lake, Medicine Lake, Edith Lake, and Horseshoe Lake. At each of these lakes you'll find crystal clear, blue water surrounded by tall mountain peaks and lush green forest. Even though the water looks warm and tropical, I can assure you it's not! These lakes are all glacial fed which makes them freezing cold.
The only exception to this is Pyramid Lake. Pyramid Lake is not strictly fed by glaciers which makes it the warmest lake in Jasper and perfect for swimming.
More: Beautiful Alpine Lakes In Jasper National Park
2. Go Hiking
Of course hiking makes the list of best things to do in Jasper. From beginners to experienced hikers, Jasper has some world-class trails everyone can enjoy. Here you can see all my trail guides for hiking in Jasper, but the following 3 hikes by far have the most dramatic views: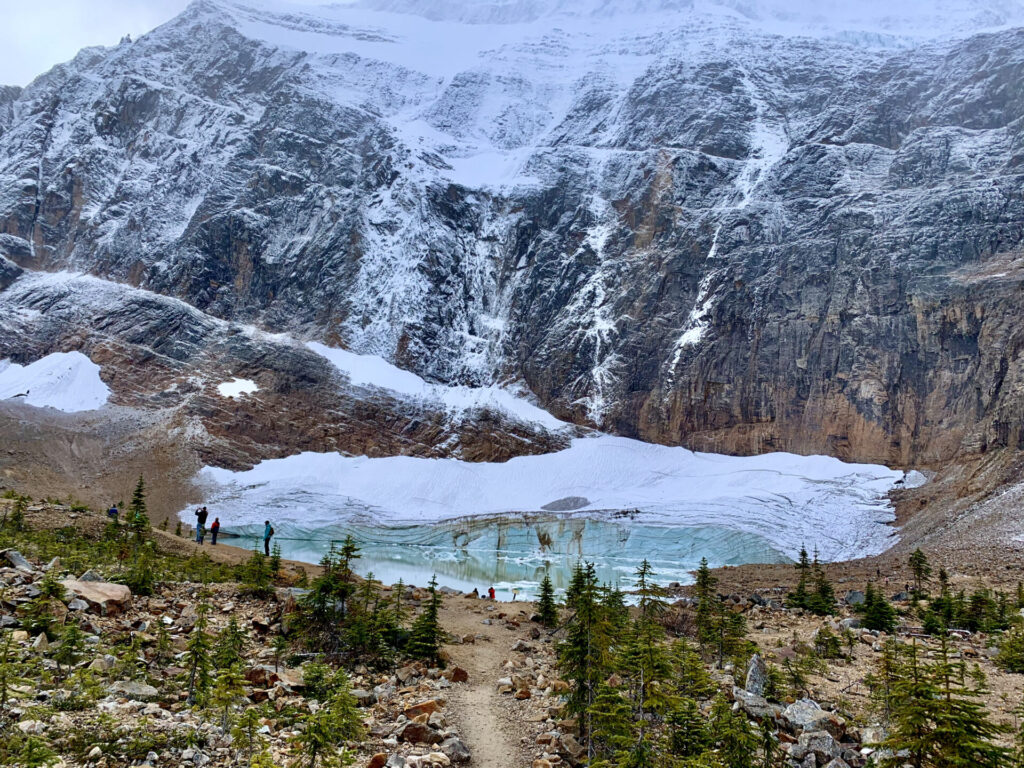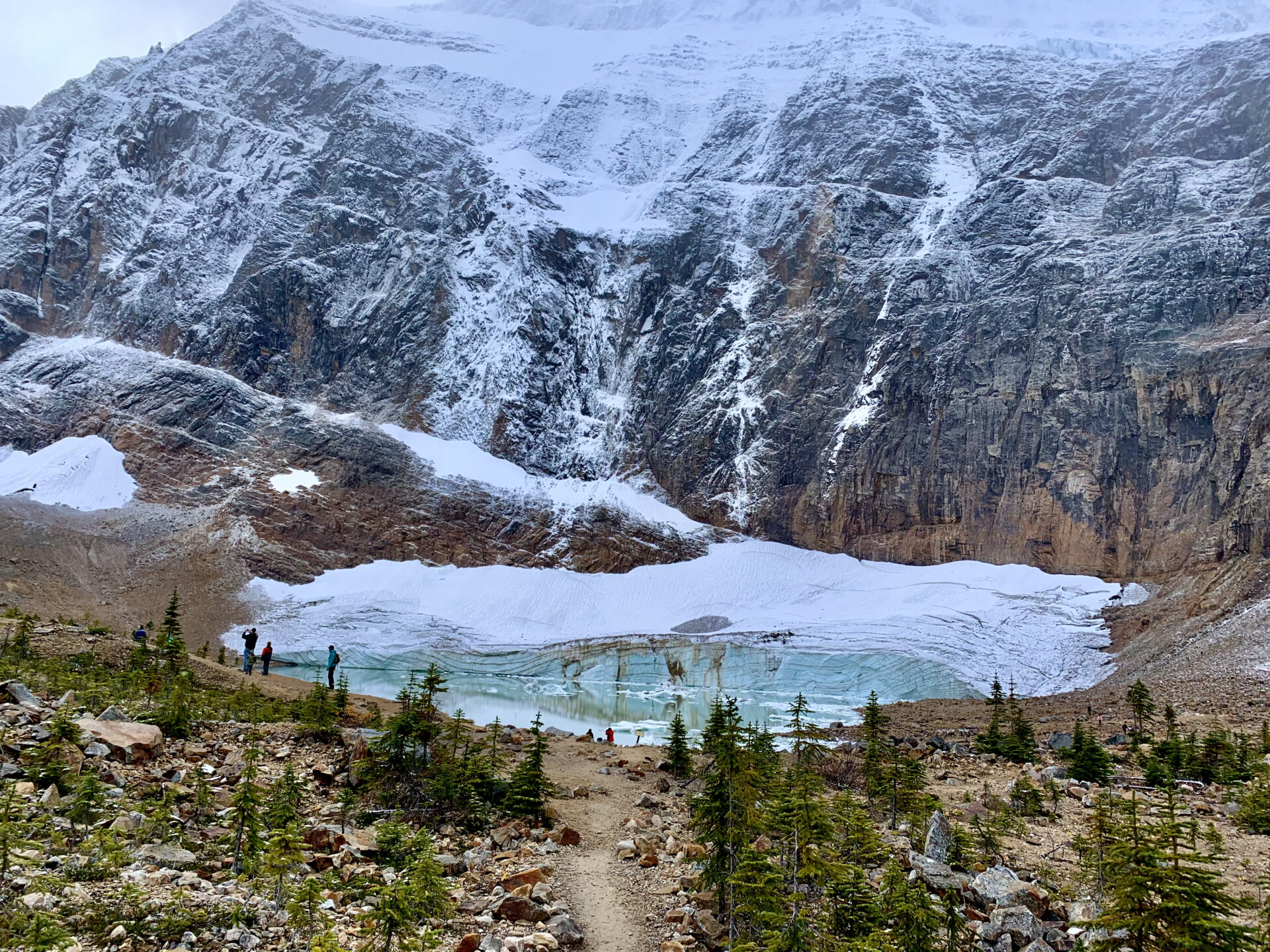 Edith Cavell is only a quick 15 minute walk from the parking lot. Here you'll find the infamous Angel Glacier and mint coloured Cavell Pond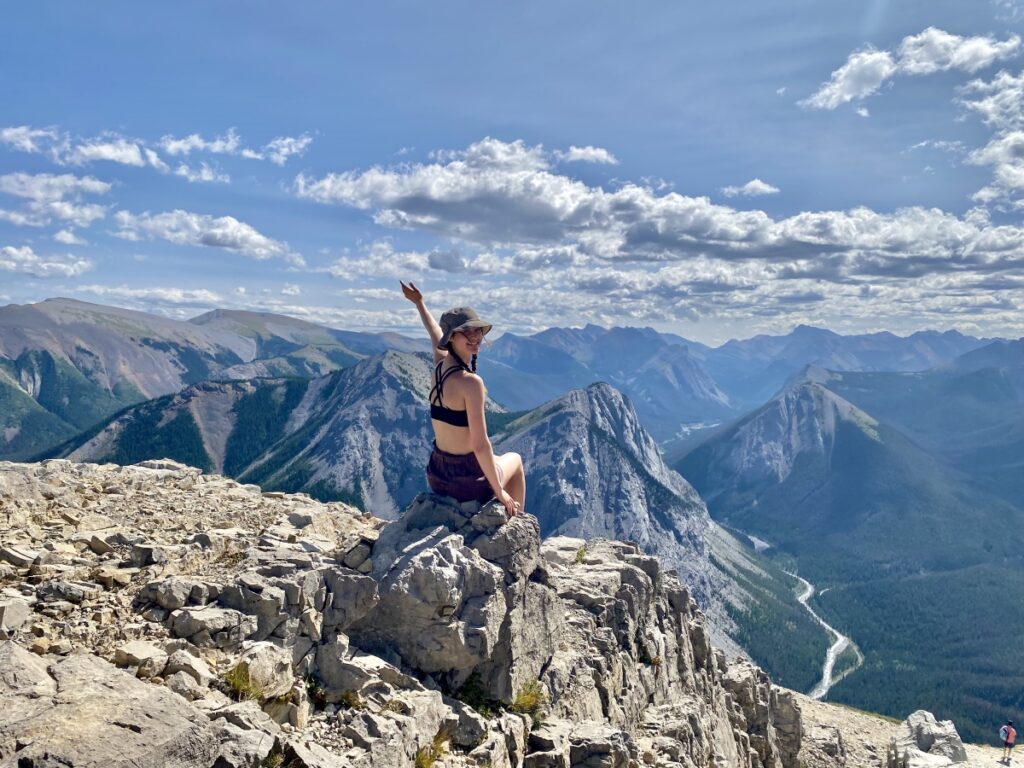 The Sulphur Skyline Trail has the most striking mountaintop views of any place I've seen in Jasper National Park, plus you only have to hike 4km to the summit!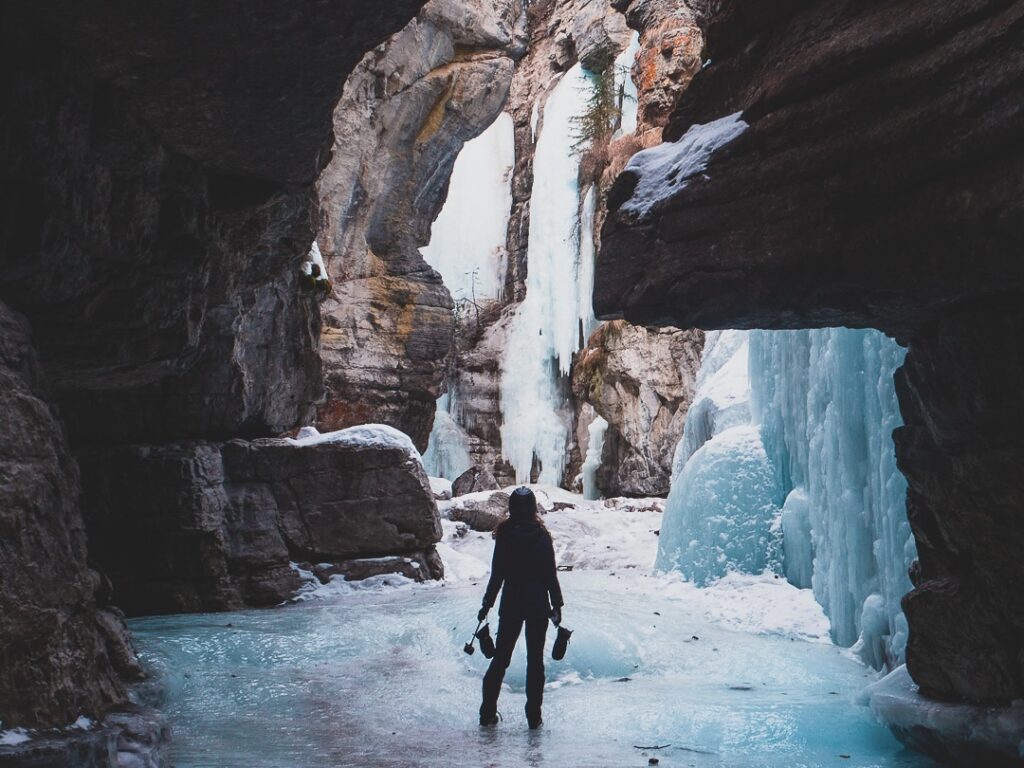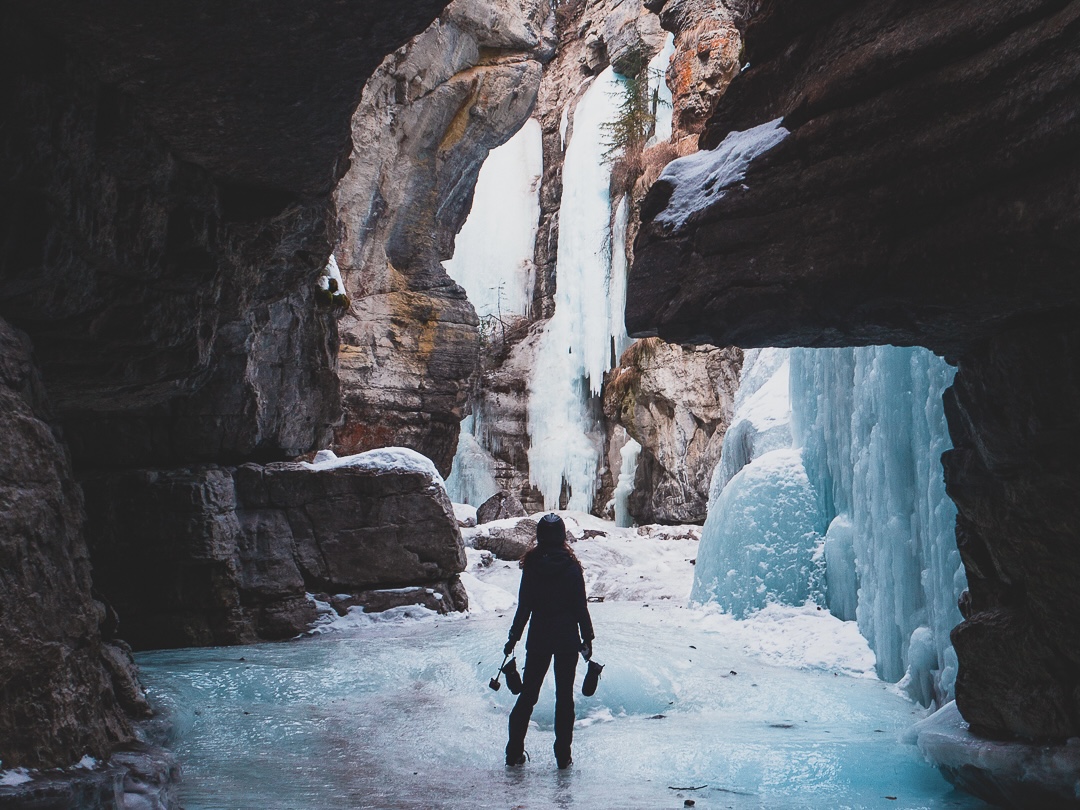 Maligne Canyon is the most popular hike in Jasper. However most people don't know you can hike the frozen canyon floor in the winter
3. Rent Kayaks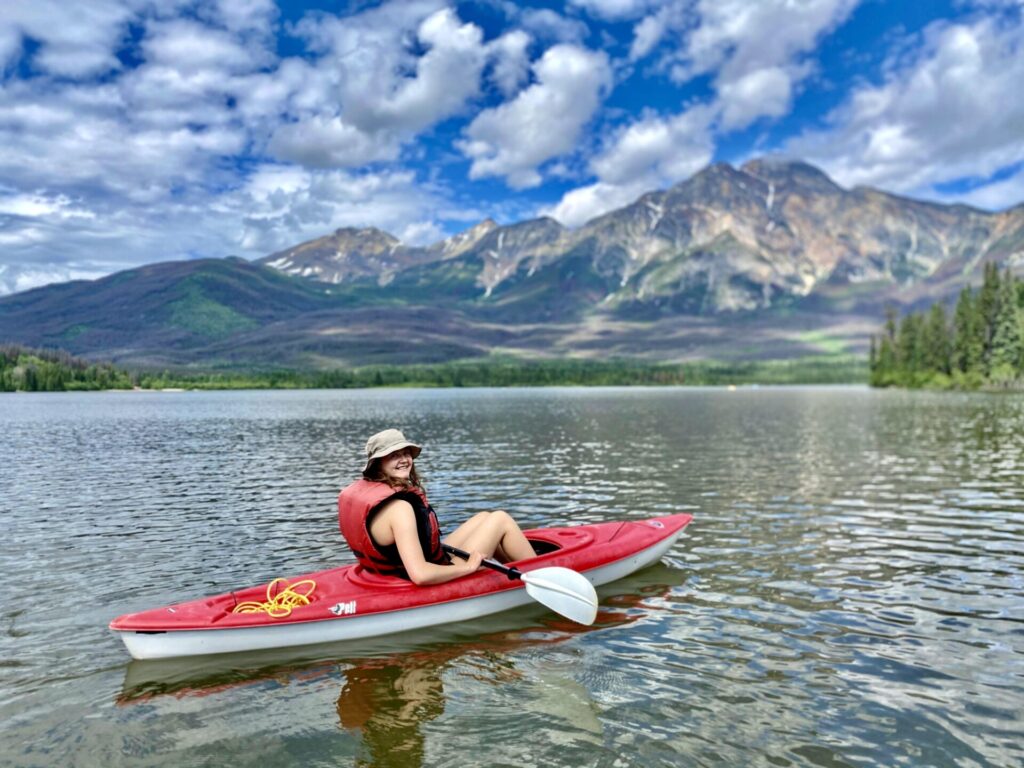 If you're looking to get out on the water, both Maligne Lake and Pyramid Lake have options to rent kayaks, canoes, and paddle boats. This is the perfect way to spend summer day in the mountains and get to know Jasper's beautiful lakes and mountains a little bit better.
4. Go On A Boat Cruise
If you've researched things to do in Jasper, you've undoubtedly come across Maligne Lake and Spirit Island. Maligne Lake is the most visited Lake in Jasper National park due to its serene beauty and magical vibes.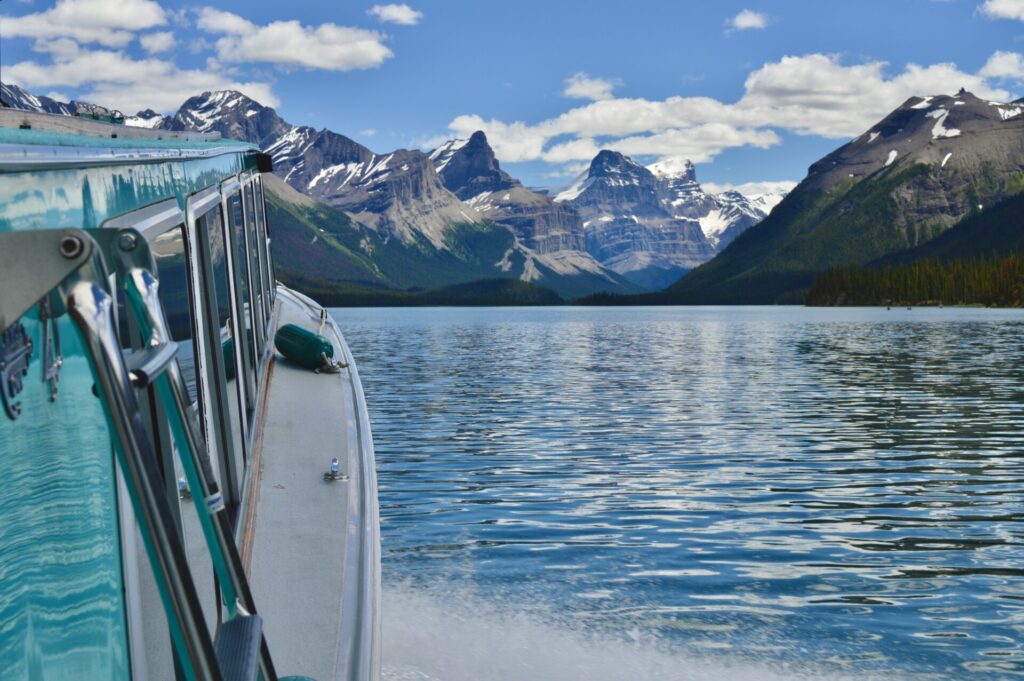 Spirit Island is an iconic tiny island located on Maligne Lake and is the most photographed location in Canada. Want to see Spirit Island? Then you'll have to embark on a 1 hour lake cruise! The only way to get to Spirit Island is via boat, so either pick up your paddles or hop onto one of Pursuit's cruise ships.
For my ultimate adventurers out there, consider embarking on a multi-day backcountry canoe trip. I spent 3 days paddling Maligne Lake back in summer 2021 which has been my favourite adventure to date. Maligne Lake is home to some of the bluest alpine water in the Canadian Rockies and has the most beautiful campsite I've ever seen.
More: Multi-Day Backcountry Canoe Trip On Maligne Lake
5. Taste Of Jasper
I'm not normally one to get excited about food when I travel, I'm more for outdoor adventures. However indulging in some Jasper pizza or fresh Bear's Paw baked goods are a must. Here are the best places to eat in Jasper:
Connect via socials:
Sign up for emails to receive a 50% discount on my travel maps + occasional updates on new hiking guides & travel resources.
Taylor ♡
6. Explore The Town Of Jasper
Jasper is a charming little mountain town with tons of shops and restaurants. The Main Street, Connaught Drive, which runs through the entire town of Jasper is a great place to start. There are tons of outdoor shops if you need clothes or gear for hiking and plenty of places to pickup souvenirs.
On rainy or cold days, exploring town is one of the best things to do in Jasper.
A word on souvenirs – oftentimes purchasing souvenirs can be quite wasteful. When purchasing souvenirs try to be thoughtful with what you buy and make sure it is a functional purchase; something you will use rather than toss in a drawer and forget about.
See My Green Guides For Living More Eco-Friendly
7. Cliff Jumping At Horseshoe Lake
Horseshoe Lake is a local's favourite spot to hangout during the summer. Here thrill seekers thrive with the chance to cliff jump into some of Jasper's freezing cold glacial water.
More: Off The Beaten Path Adventures In Jasper National Park
8. Go Wildlife Watching
Looking for a chill activity you can do in Jasper? Try spotting wildlife! Jasper is known for its abundant wildlife – you can see wildlife year-round, however you easily have the best chance of seeing wildlife in the shoulder seasons (spring & fall).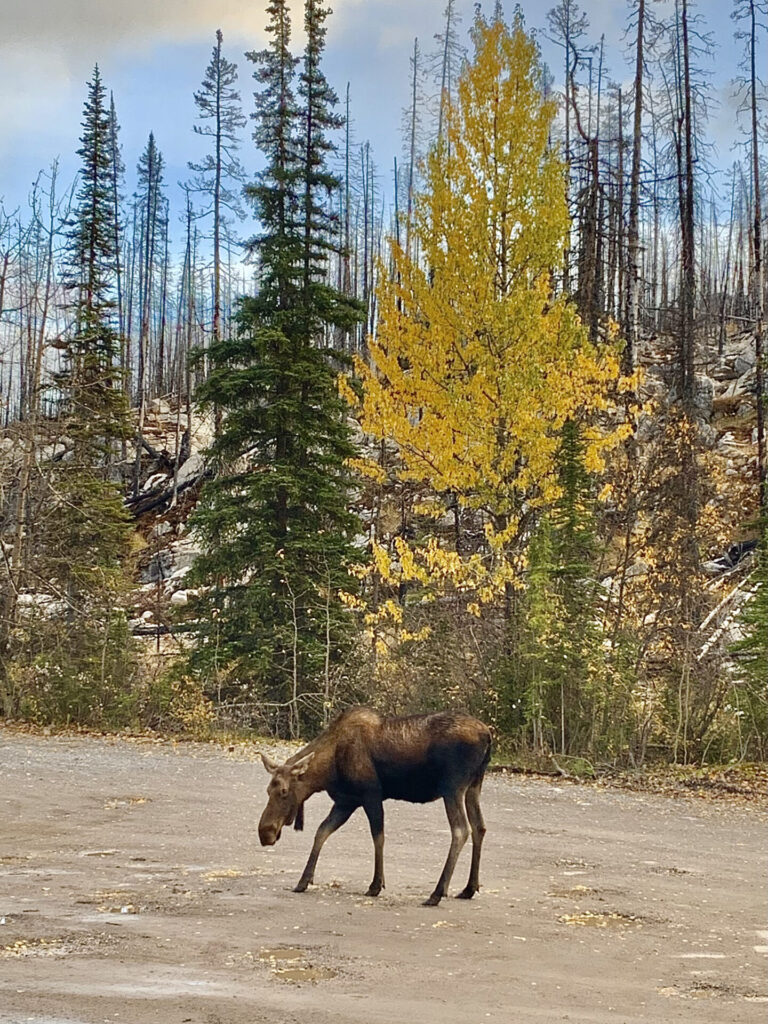 On day 1 of my solo road trip to Vancouver Island I stopped in Jasper and saw my first moose ever! Maligne Lake road is an excellent place to spot wildlife because it's tucked back and not as many people travel this road as the Icefields Parkway.
Most commonly you'll find moose, deer, elk, and sometimes even bears! Although bears and moose are much more elusive in the summer months.
9. Watch Sunset
Watching sunset and sunrise are two of my favourite activities – there's something so special when you're watching the sun rise or disappear behind the horizon.
The best place I've found for watching sunset in Jasper is at the Maligne Lookout Point, located right before the main parking lot for Maligne Canyon. Here you'll be overlooking a massive, mountain-free valley so there's nothing restricting your view of the fleeting sun.
Best Places To Stay In Jasper National Park
The best place to stay in Jasper depends on your price range. So, here are a few suggestions for every budget:
Planning a trip to Jasper? Don't forget to check out my trip planner! I'll help you create the perfect Jasper itinerary.
Happy adventuring!
Taylor ♡
---
Like This Post?
Share with friends or save it for later!
---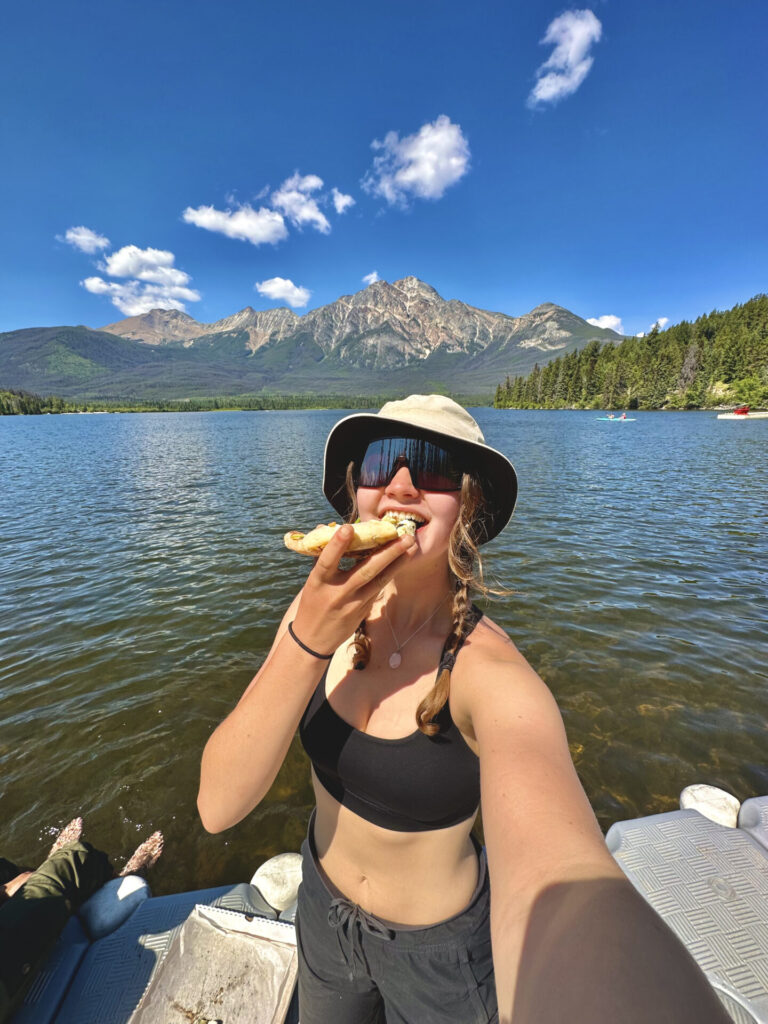 About The Author
HI, I'm Taylor – the voice behind The Holistic Backpacker.
After moving to Banff National Park in 2020 I became an outdoor adventure enthusiast and vowed to never stop exploring.
I now spend my days travelling the world, climbing mountains, and spending nights under the stars in the Canadian Rockies backcountry.
I created The Holistic Backpacker so I could share my adventures and help connect people like you with the same amazing experiences.