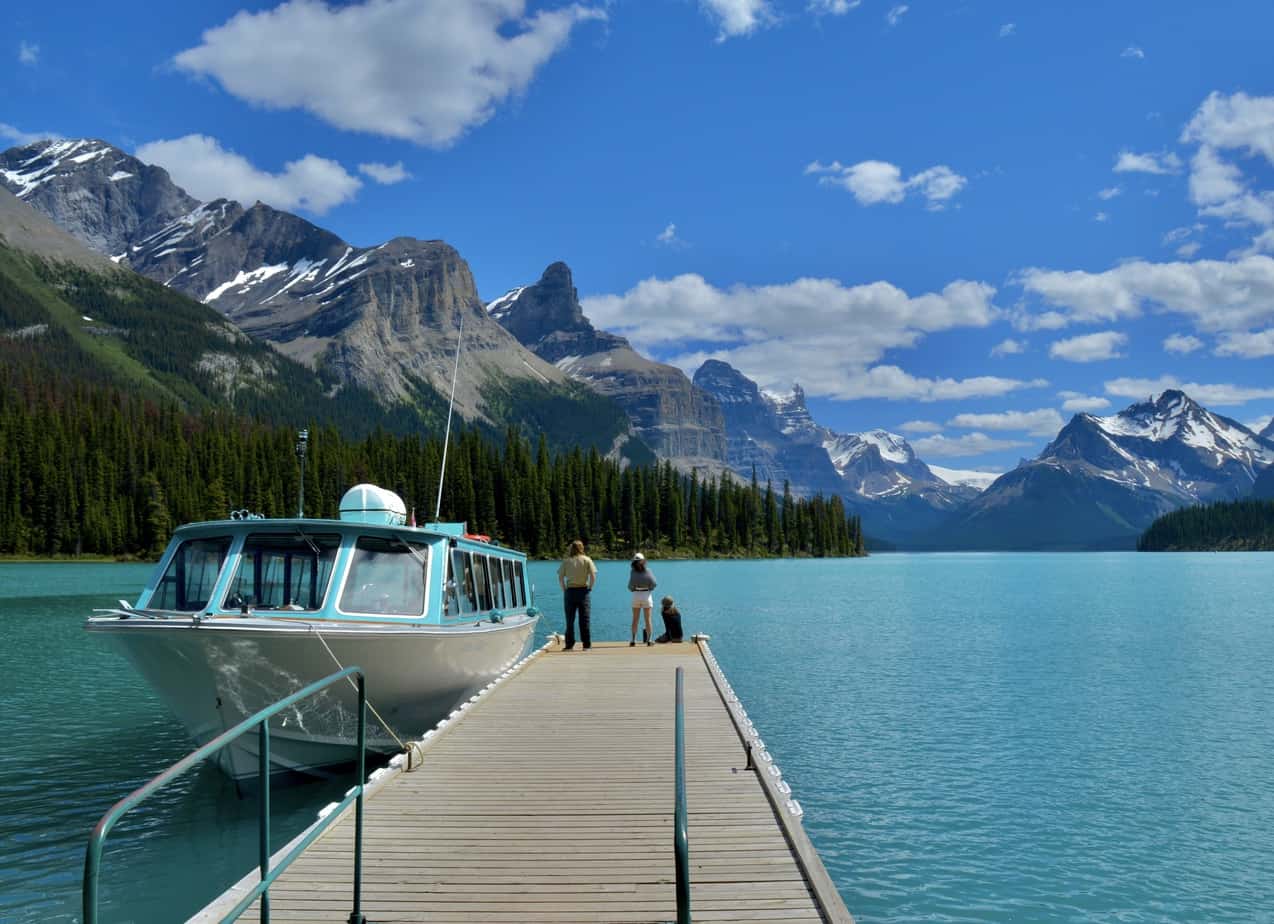 7 Beautiful Alpine Lakes In Jasper National Park You Can't Miss
If you're one for lake-life, Jasper National Park is your ultimate summer destination. Jasper has a grand total of 1, 762 gorgeous alpine lakes scattered throughout its dense alpine forest, mountains, and glaciers.
Unlike Banff's alpine lakes, Jasper's lakes are fairly easy to access – you can drive to most of the popular ones! In this post I'll outline my favourite alpine lakes in Jasper.
More: here's my trip planner for creating the perfect Jasper itinerary.
So, let's go on an adventure!
Skip Ahead:
This post contains affiliate links; see my full disclosure. If you click these links and make a purchase you're supporting The Holistic Backpacker. Thanks for your support & happy adventuring! – Taylor ♡
---
---
Related Posts:
---
Alpine Lakes In Jasper: Directions
Here you can find directions for each of the alpine lakes in Jasper I talk about – I've marked where to park.
1. Maligne Lake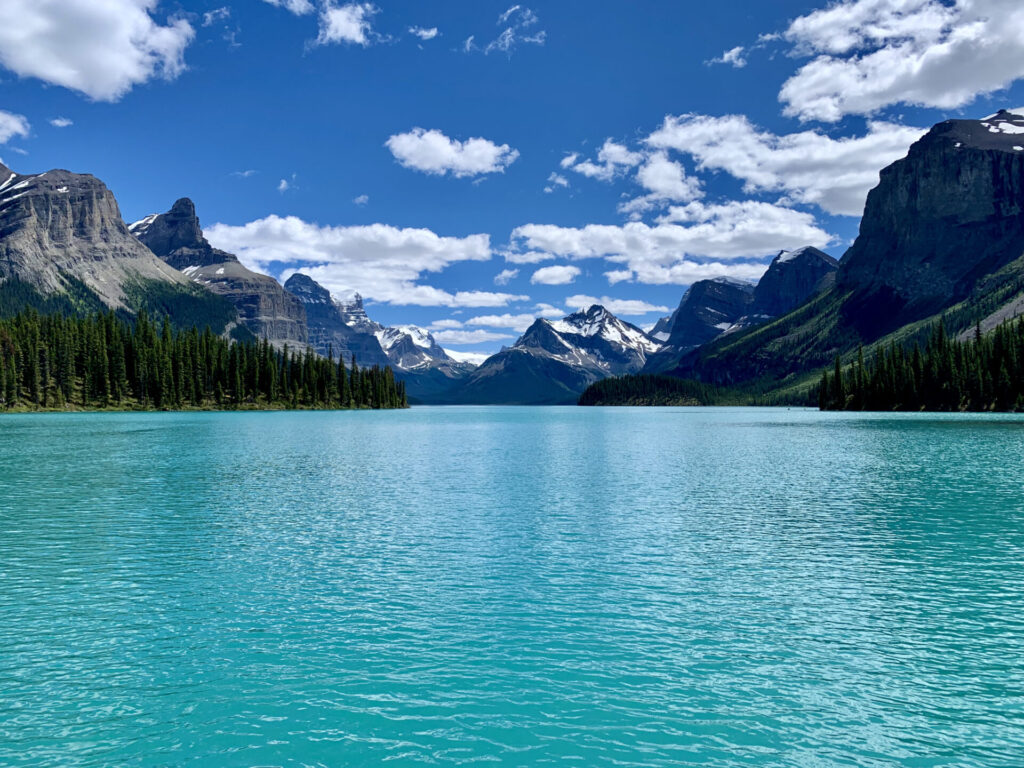 The first alpine lake in Jasper on today's agenda is one of Jasper's Crown Jewels; Maligne Lake. Maligne Lake is by far the most beautiful lake in Jasper and it's also the biggest!
Here you can rent kayaks or embark on a 1 hour lake cruise to Spirit Island.
More: Multi-Day Backcountry Canoe Trip On Maligne Lake
2. Pyramid Lake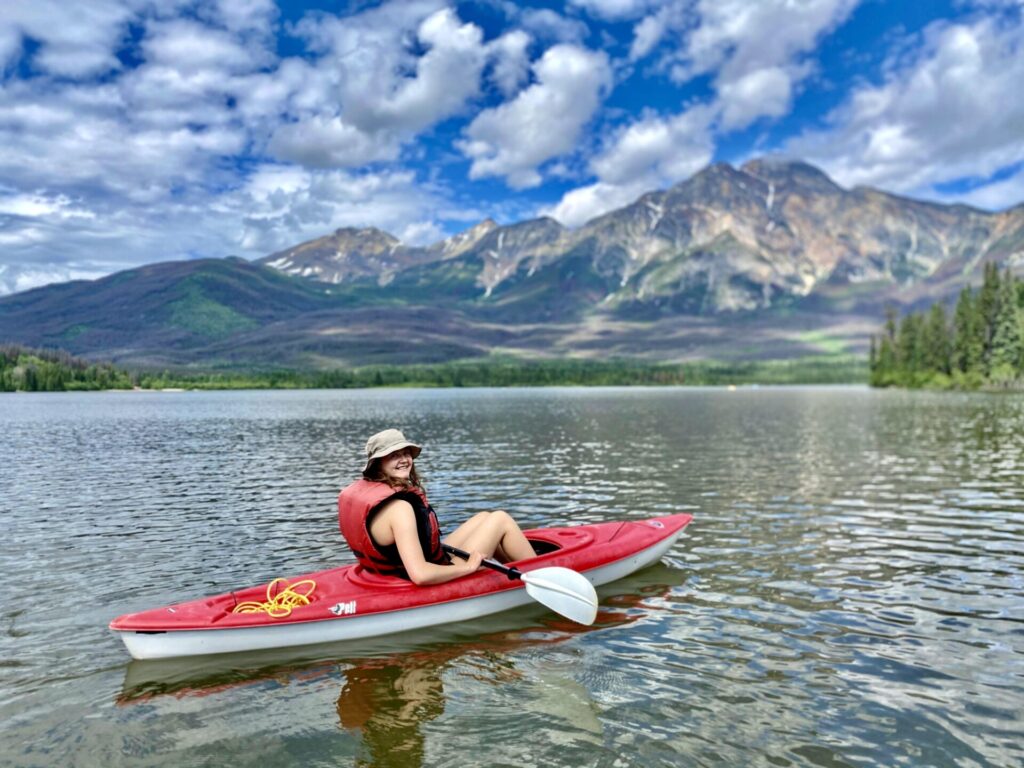 The second alpine lake in Jasper we'll talk about today is Pyramid Lake. Pyramid Lake isn't the most beautiful lake and it doesn't have that gorgeous blue water. The reason for this being that Pyramid Lake is not strictly filled by glacial water.
Since the water isn't blue, you'll find it's much warmer than the other lakes in the area making it the best place to swim in Jasper. It's also a great place to rent kayaks and paddle boats.
3. Cavell Pond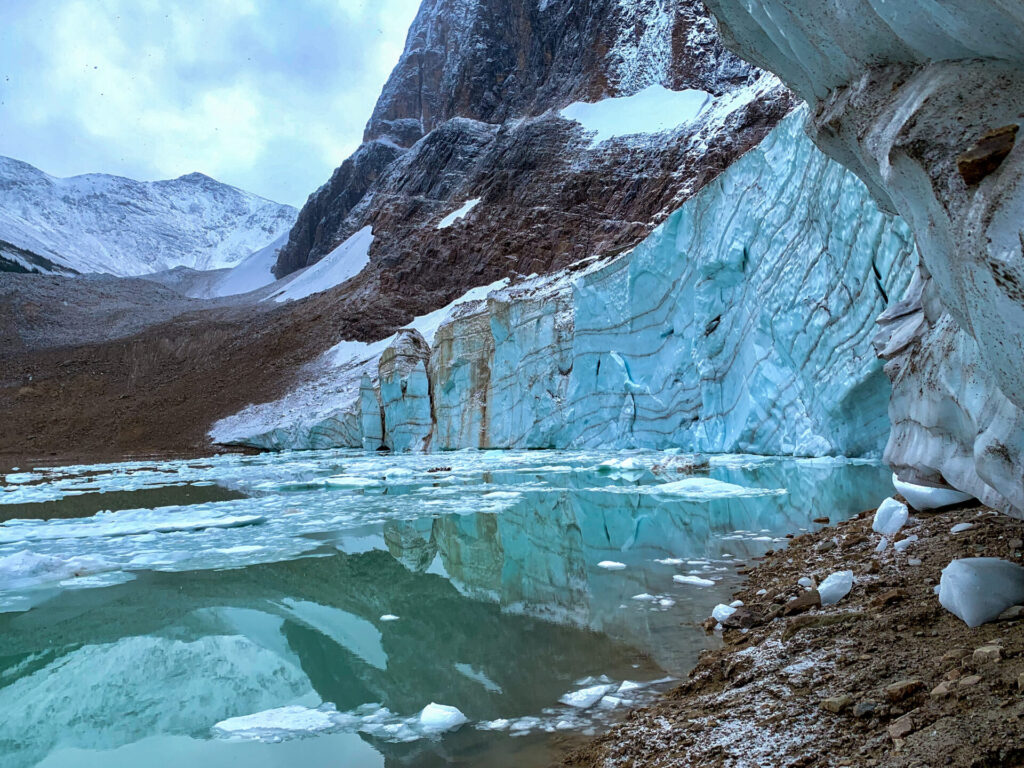 Cavell Pond isn't technically a lake, but it's so beautiful it had to make the list of beautiful alpine lakes in Jasper.
Cavell Pond is the most striking mint coloured body of water I've ever seen. This is thanks to an abundance of glacial silt. Cavell Pond is a quick 15 minute walk from the car, but you can also make this into an adventure and summit the East Ridge for a bird's eye view.
More: Hiking To Edith Cavell & Cavell Pond
Follow The Holistic Backpacker's Adventures on Socials:
Keep Up With My Adventures!
Sign up for my newsletter and stay up-to-date with my latest adventures, gear guides, and eco-resources!
Taylor ♡
4. Medicine Lake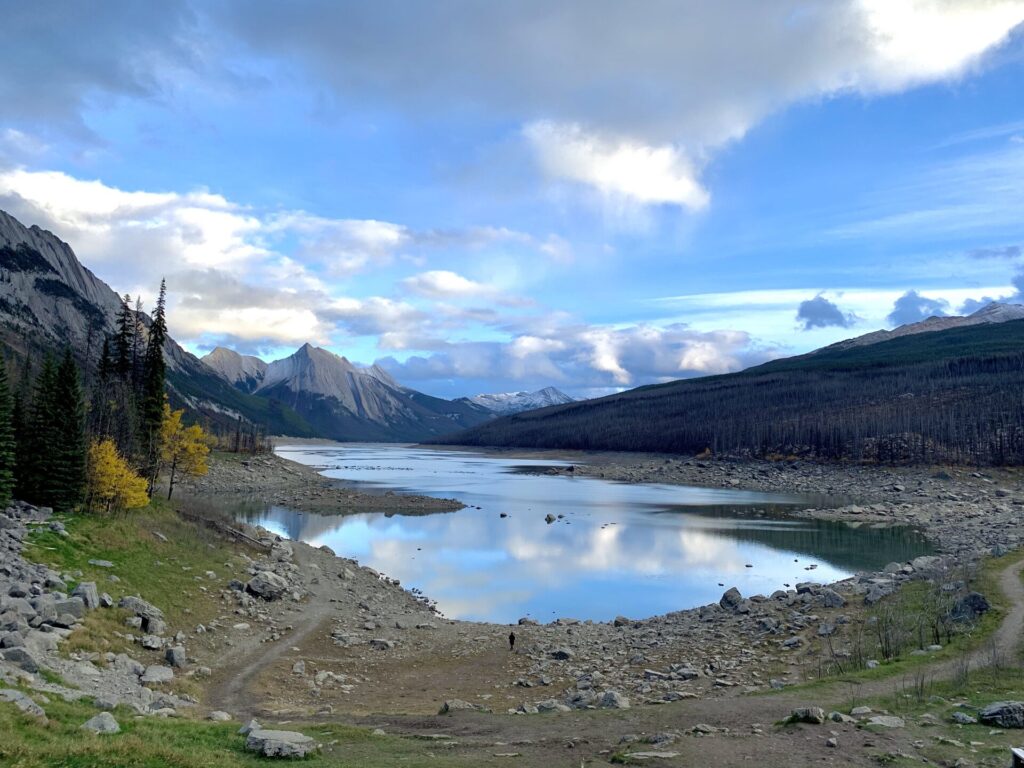 Medicine Lake can be seen on the way to Maligne Lake, so make sure to add it to your Jasper bucket-list. Medicine Lake is the most interesting alpine lake in Jasper because it drains throughout the year. This photo was taken toward the end of October when water levels were quite low.
Where does the water go? It drains Into Maligne Canyon!
More: Hiking Maligne Canyon: Winter & Summer
5. Patricia Lake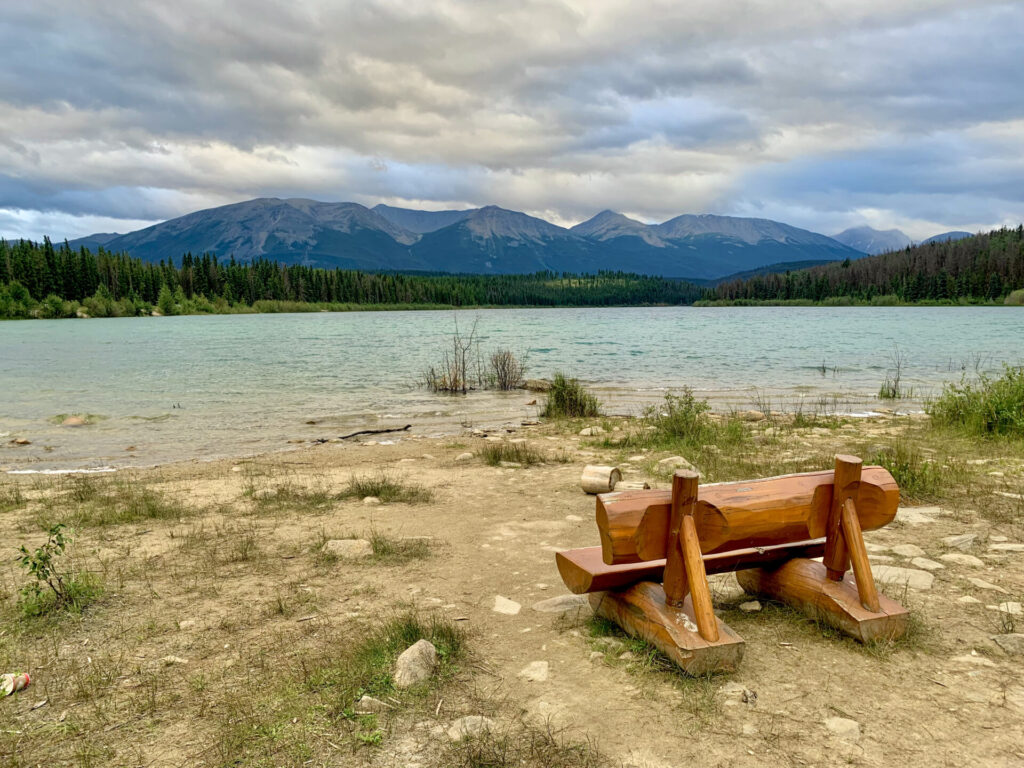 Patricia Lake is the fifth alpine lake in Jasper you can't miss. It can be found on Pyramid Lake road on the way to Pyramid Lake. This is a great place to stop in, hangout for a bit, and enjoy a picnic.
6. Edith Lake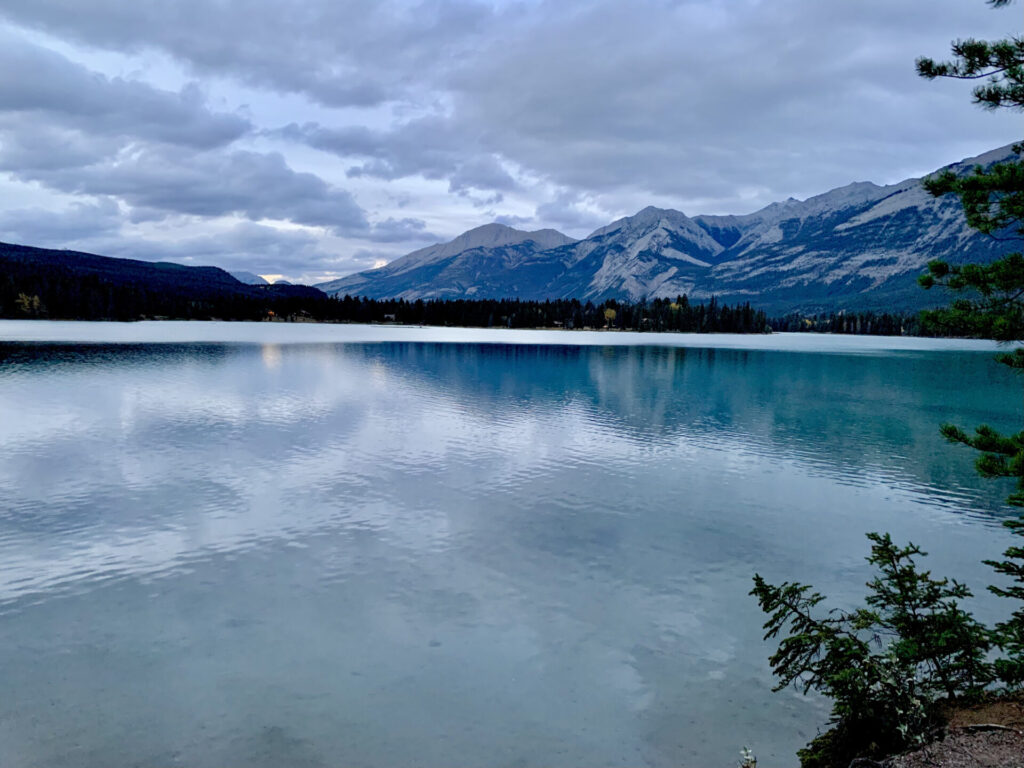 Next on our list of alpine lakes in Jasper is Edith Lake. Edith Lake can be found in one of Jasper's day-use areas adjacent to Anette Lake. Here you'll find bbq grills, picnic tables, outhouses, and a large beach. Edith Lake is the perfect place to spend a summer day in Jasper National Park.
Apparently Edith Lake is quite warm which would make it a great spot to swim… With its icy blue water I wouldn't trust this statement until I tried it myself!
7. Horseshoe Lake
Unfortunately I don't have any photos of this alpine lake in Jasper, so here's a video instead:
Horseshoe Lake is the local's favourite place to spend a summer day in Jasper and a great off the beaten path adventure. There are multiple cliffs to jump from – just be warned the water is COLD!
More: Off The Beaten Path Adventures In Jasper National Park
Best Places To Stay In Jasper National Park
The best place to stay in Jasper depends on your price range. So, here are a few suggestions for every budget:
Discover all accommodations in Jasper here
Cheap(er) hotels in Jasper – Jasper Gates Resort, Overlander Mountain Lodge
Mid-range hotels in Jasper: Tonquin Inn, Whistler's Inn, Lobstick Lodge, Astoria Hotel, Sawridge Inn
Luxury hotels in Jasper: Fairmont Jasper Park Lodge, Pyramid Lake Resort, Mount Robson Inn
Cheapest accommodation options: camp at Wapiti or Whistler's campground (camping info). Alternatively stay at one of Jasper's hostels (find them here)
Best cabins in Jasper: Miette Mountain cabins, Tekarra Lodge, Patricia Lake Bungalows, Jasper East Cabins
Planning a trip to Jasper? Don't forget to check out my trip planner! I'll help you create the perfect Jasper itinerary.
Happy adventuring!
Taylor ♡
---
Like This Post?
Share with friends or save it for later!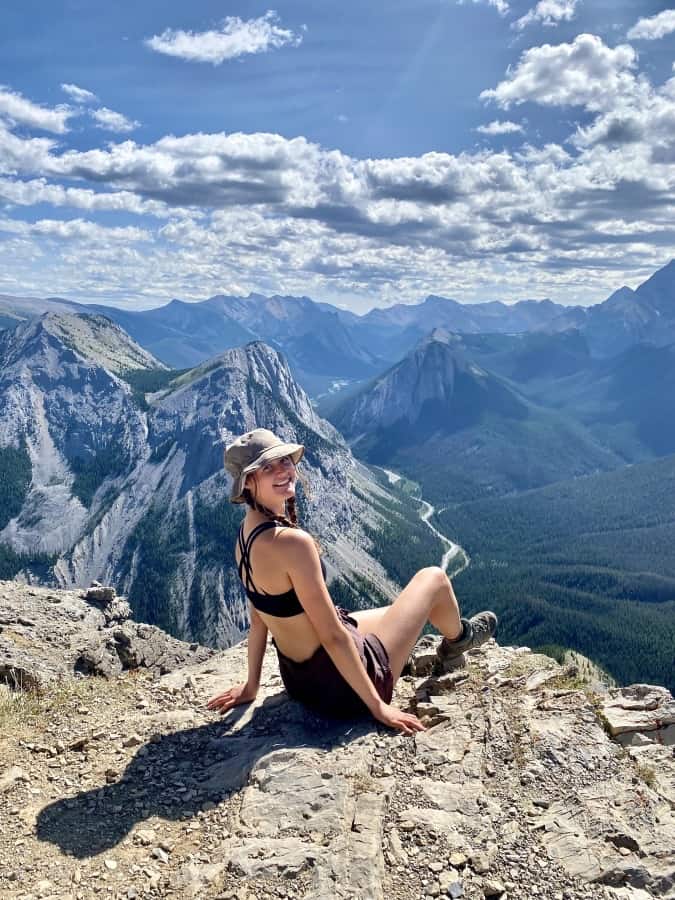 About The Author
---
Hey! I'm Taylor – the voice behind The Holistic Backpacker.
After moving to Banff National Park in 2020 I became an outdoor adventure enthusiast and vowed to never stop exploring.
I'm now focused on travelling the world and seeing everything our beautiful home has to offer.
I created The Holistic Backpacker so I could share my adventures and help connect people like you with the same amazing experiences.
I am also an advocate for the environment and do as much as I can to take care of our planet.
Get to know me and my story more here 🙂
I can't wait to share my adventures with you!