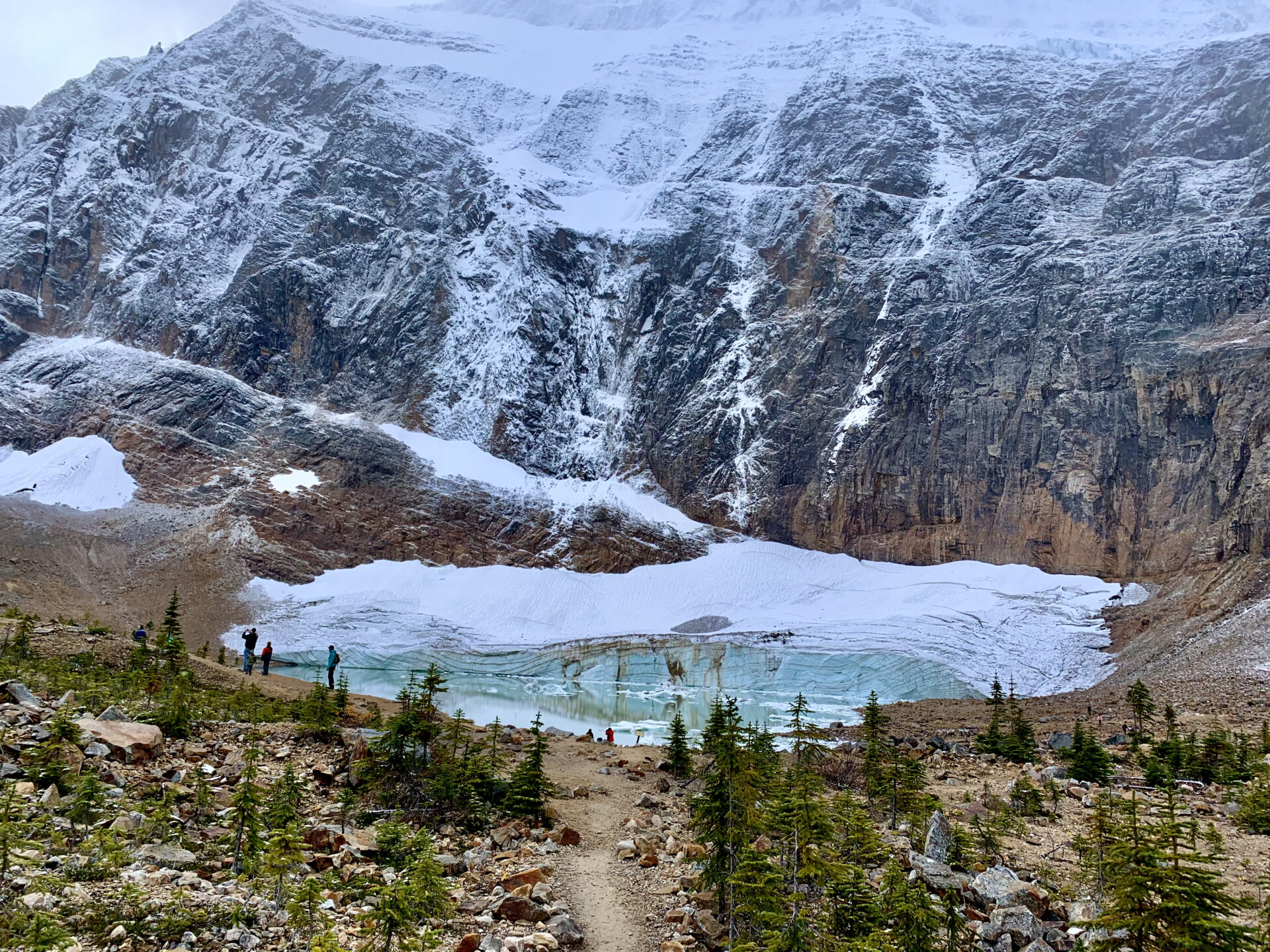 Edith Cavell Hike – Jasper National Park
Of anything in Jasper National Park you NEED to see, Edith Cavell is it. Edith Cavell is a stunning display of glaciers, massive mountains, and blooming wildflowers. The Cavell is truly something you couldn't imagine in your wildest dreams.
I first visited Edith Cavell back in 2020 and then came back in 2021 because seeing it once wasn't enough! I'm telling' ya, once you set eyes on the mint green Cavell pond… No words.
Here's everything you need to know about visiting Edith Cavell AND here's my guide for planning the perfect trip to Jasper National Park.
Skip Ahead:
This post contains affiliate links; see my full disclosure. If you click these links and make a purchase you're supporting The Holistic Backpacker. Thanks for your support & happy adventuring! – Taylor ♡
---
---
---
Related Posts:
---
About Edith Cavell
Edith Cavell is named after – you guessed it – Edith Cavell. Edith saved hundreds of soldiers during WWI before her execution. Pre-Edith, the Cavell was actually named "White Ghost" by the area's indigenous peoples.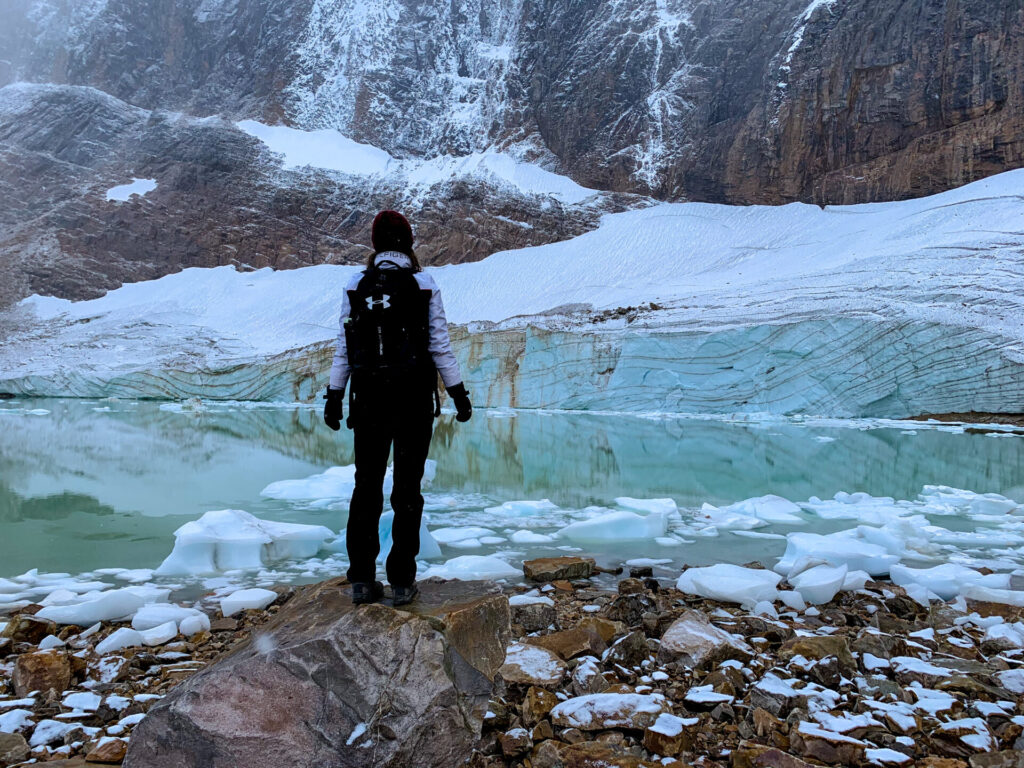 Mt Edith Cavell is located in the Athabasca and Astoria River Valleys of Jasper National Park and is the most prominent peak in Alberta, standing at 3, 363m. Other things you can expect to be wowed by while visiting Edith Cavell are:
Angel Glacier – Angel Glacier spills over a 300m cliff on the north face and gets it name from its "angel wing" shape.
Cavell Pond – Cavell Pond (featured above) gets its mint colour from an abundance of glacial silt.
More: 10 Facts About Edith Cavell
How To Get To Edith Cavell
Edith Cavell is located 40 minutes from the town of Jasper and just under 4 hours from Banff. From either direction you'll want to take the Icefields Parkway, turn off at the 93A, then head up Edith Cavell road.
Getting to the Edith Cavell trailhead is a bit of an adventure in itself. The road is closed mid October to mid June due to winter conditions which leaves a short amount of time to see the Cavell. You can check here to see specifics about road closures and opening dates.
Advice for Large Vehicles & Trailers
Edith Cavell road is tight, windy, and steep. Only certain vehicles (up to 25ft) are able to drive up the road – if you're driving a large motorhome there's no way you'd make it around the tight bends. If you're driving a detachable trailer, there's a spot at the base of Edith Cavell road where you can leave it.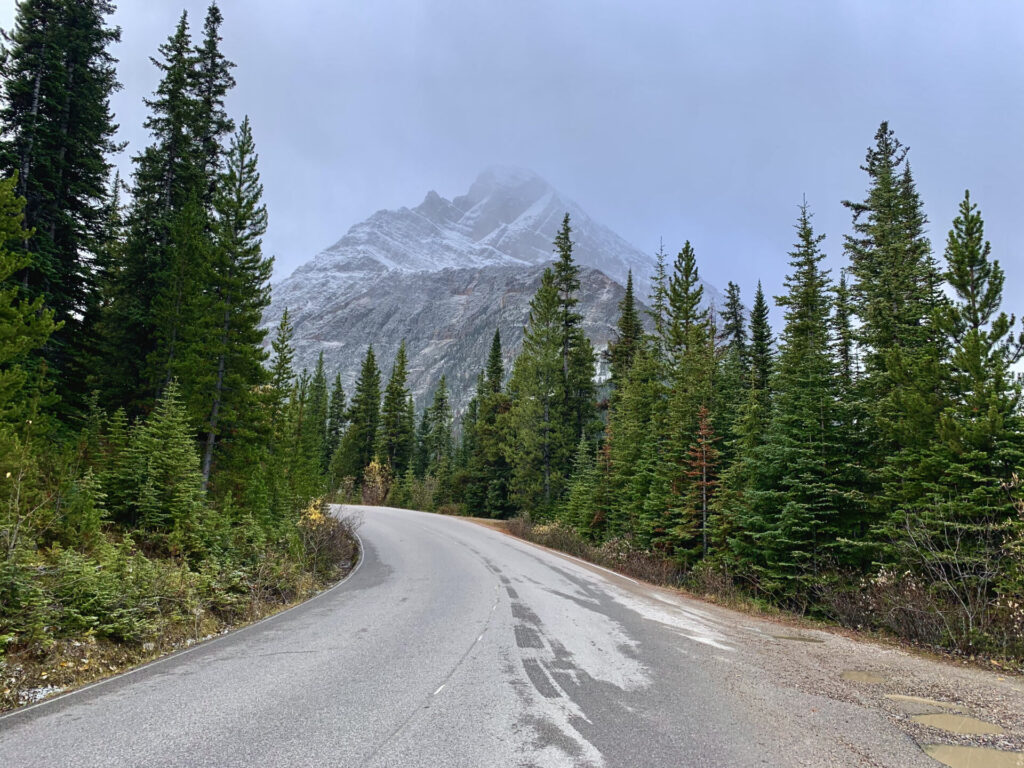 There are a few viewpoints along the way, I'd suggest to make the most of your trip and check them all out! There's one notable viewpoint closer to the top overlooking the Astoria river; this valley is absolutely gorgeous.
Edith Cavell is a super popular destination, which means parking can be a bit crazy. There are two parking lots, each of decent size, but if there aren't any spots you'll need to find parking on the road.
Hiking To Edith Cavell
WARNING – although not overly common, rock slides and avalanches do occur in the area. Be smart and be safe. For more information on avalanche saftey, visit Parks Canada.
If you're looking for more of a challenge, consider summiting the East Ridge. This was on my bucket list when I visited the first time, however it started snowing and I didn't have proper gear. Summiting the East Ridge will provide you with a birds-eye view of the Cavell and the surrounding meadow.
The map featured above is the trail leading to Edith Cavell Meadows. If you're a wildflower enthusiast, visit around mid July/early August.
The trail to the Cavell itself is actually only 1km long with minimal elevation gain. As you walk along the partially paved path to Edith Cavell you'll be trekking over a moraine. My favourite part about this valley is the brown colour of the surrounding rocks which are much different than the rest of the grey coloured Rocky Mountains.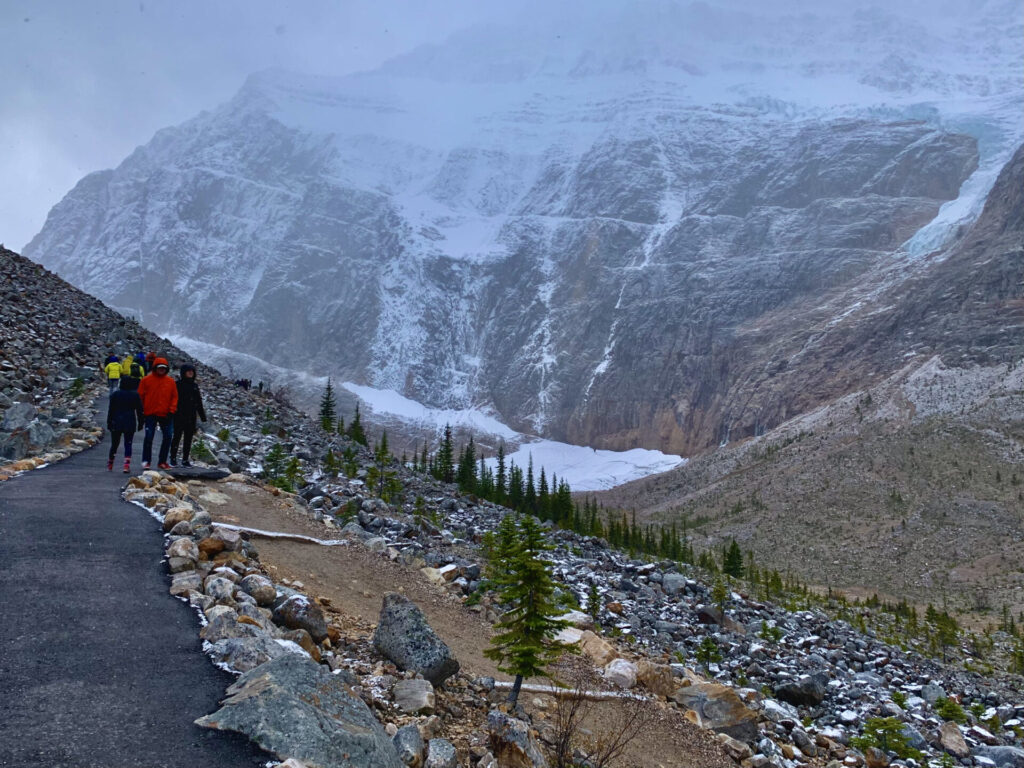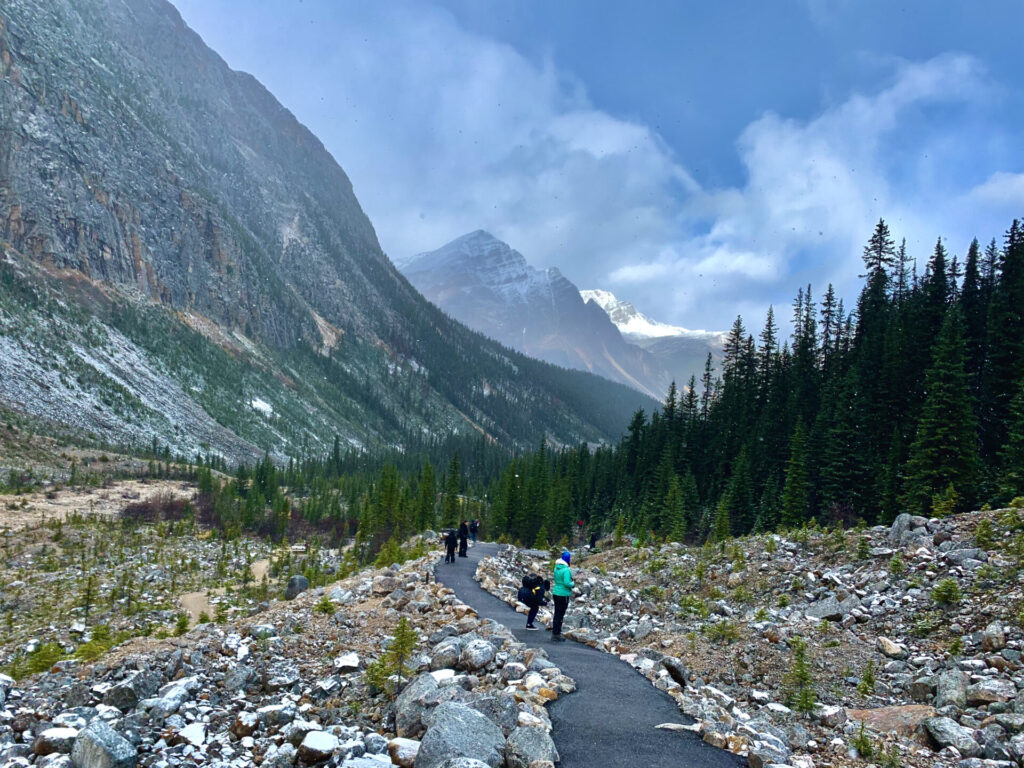 Within 15 minutes you'll reach Edith Cavell! You'll first come across a viewing platform. You can bypass this and start walking toward Edith Cavell instead – the best views are up close.
Once you reach the flat, rocky ground of the valley floor there's no real path. You'll be maneuvering around an uneven rock field which can get quite slippery after a rain or snowfall. I'd recommend wearing sturdy hiking boots – I use these – and micro-spikes if you think conditions will be icy at all (typically early or late in the season).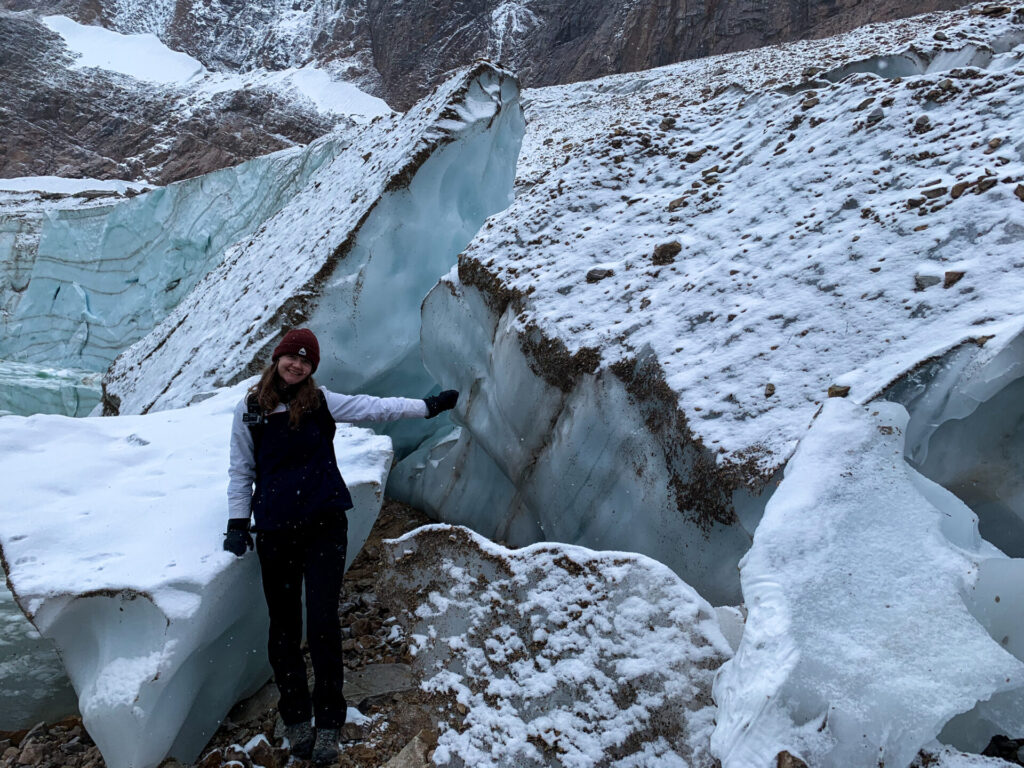 Things to See at Edith Cavell
As you walk up to Edith Cavell I can assure you the only words that'll come out of your mouth will be "wow" "omg" "look at this." Edith Cavell is truly a natural wonder.
I've been to the Cavell twice, but my first trip was by far the most memorable. As I started driving up the windy mountain road it started to snow – one of the first snowfalls of the season! As I approached Angel Glacier and the mint-coloured Cavell Pond my jaw was literally on the floor.
What made it even sweeter were the glacial waterfalls cascading down Mt Edith Cavell.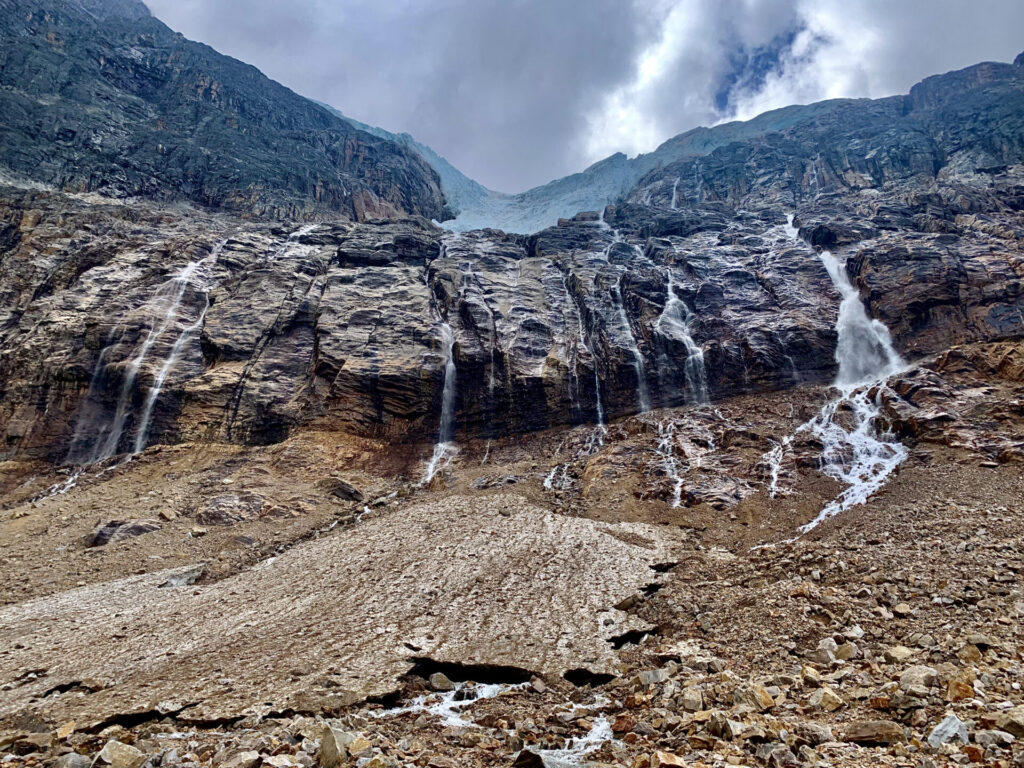 Another fan favourite at Edith Cavell are the mini icebergs you can find floating around Cavell Pond. You can actually get right up to them, touch them, stand on them, and even lick them – just be careful you don't get your tongue stuck!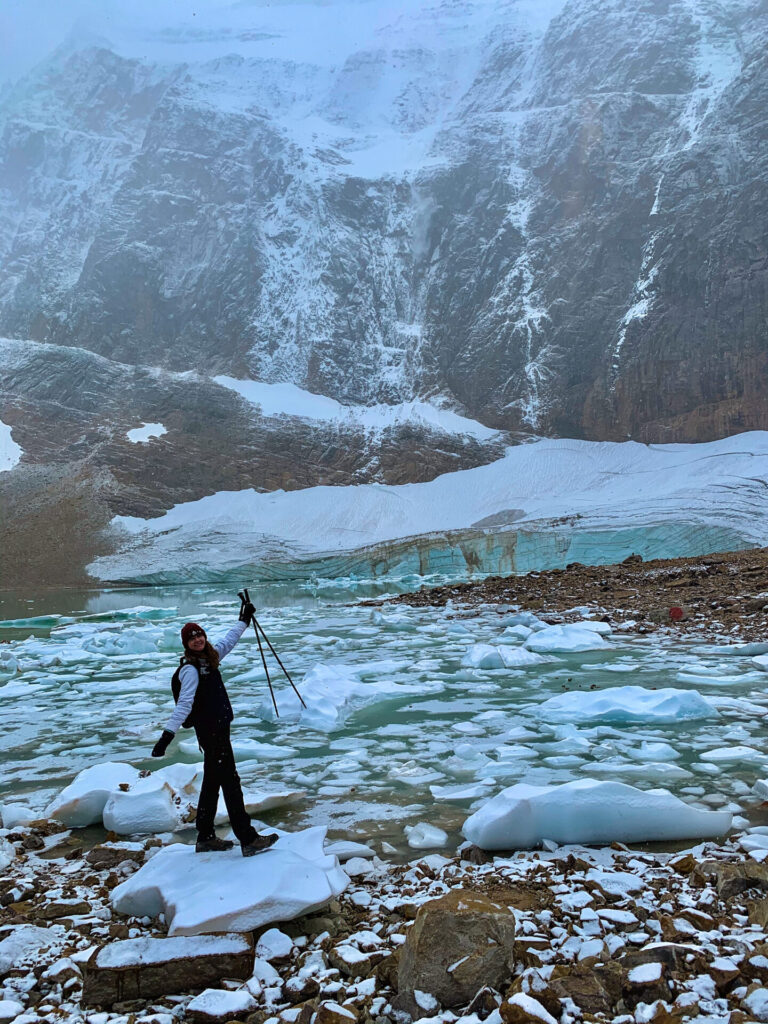 When I first visited the Cavell in October 2020, Angel Glacier was wide open and accessible. I was able to climb through the glacier and check out all the little nooks and crannies.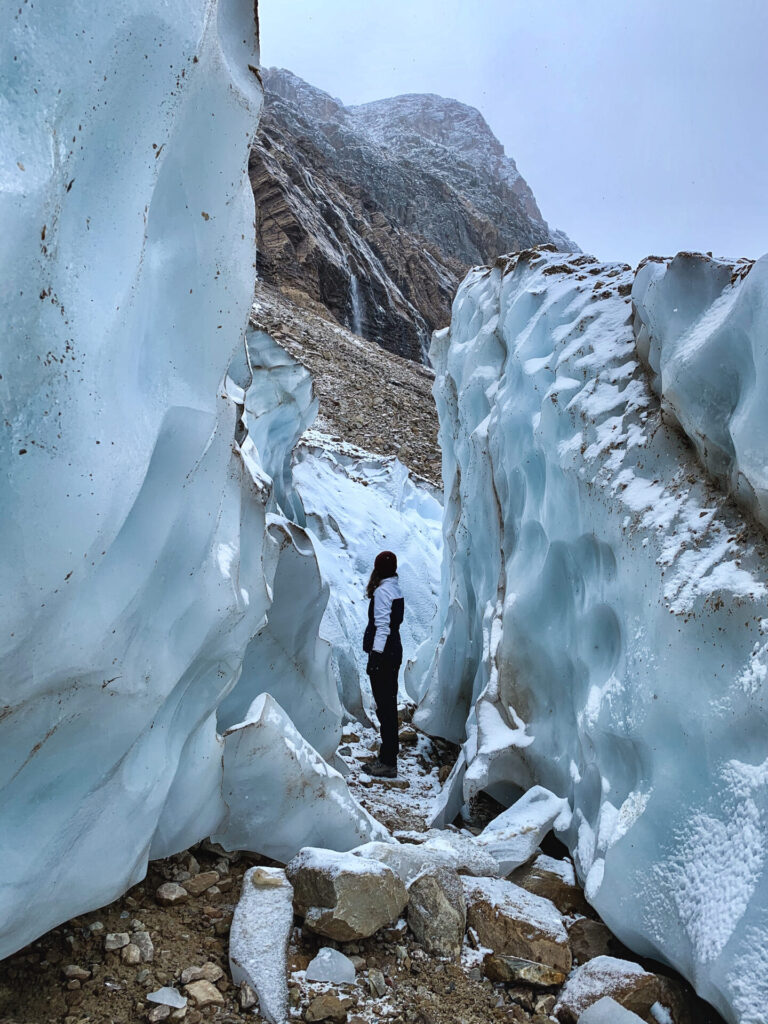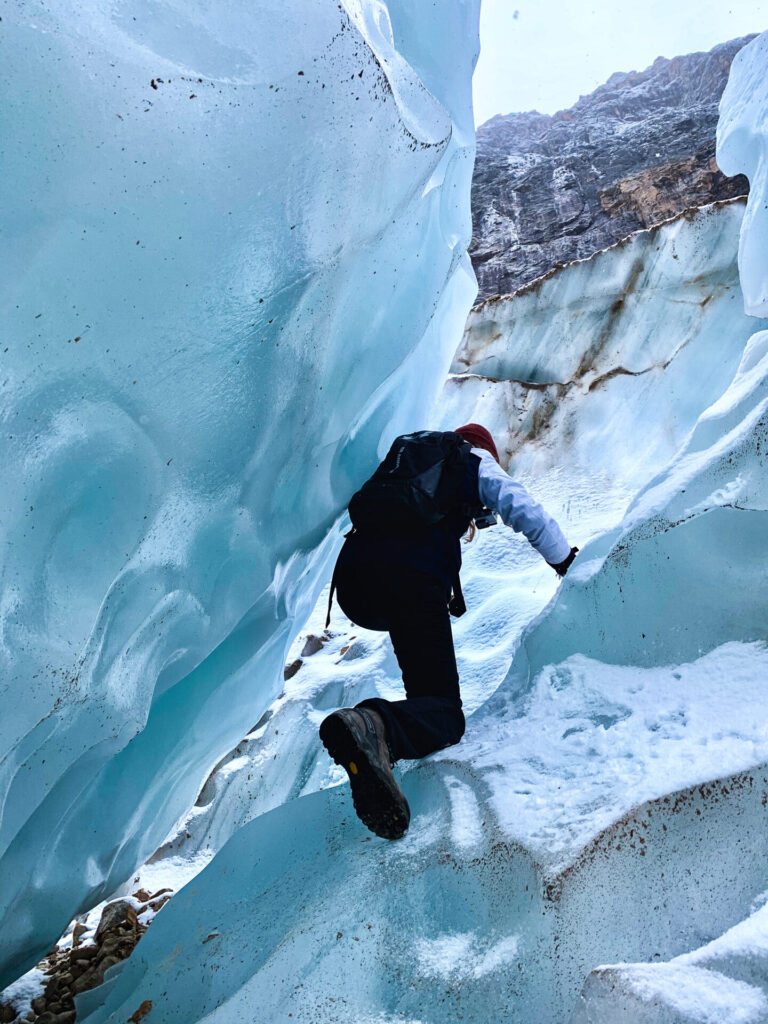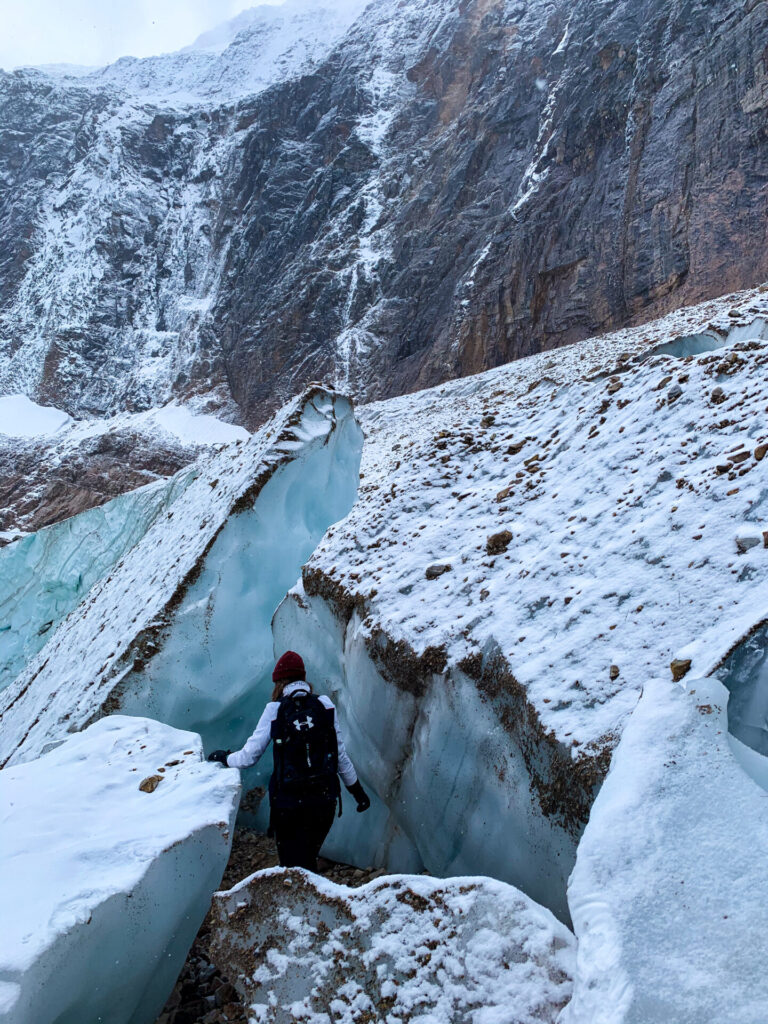 When I returned in August 2021, I found there had been a significant change to the structure of the glacier. What was once open is now covered by a mix of snow and dirt, forming dangerous crevasses. You will no longer be able to climb around Angel Glacier – and even if you think you can, don't for safety reasons.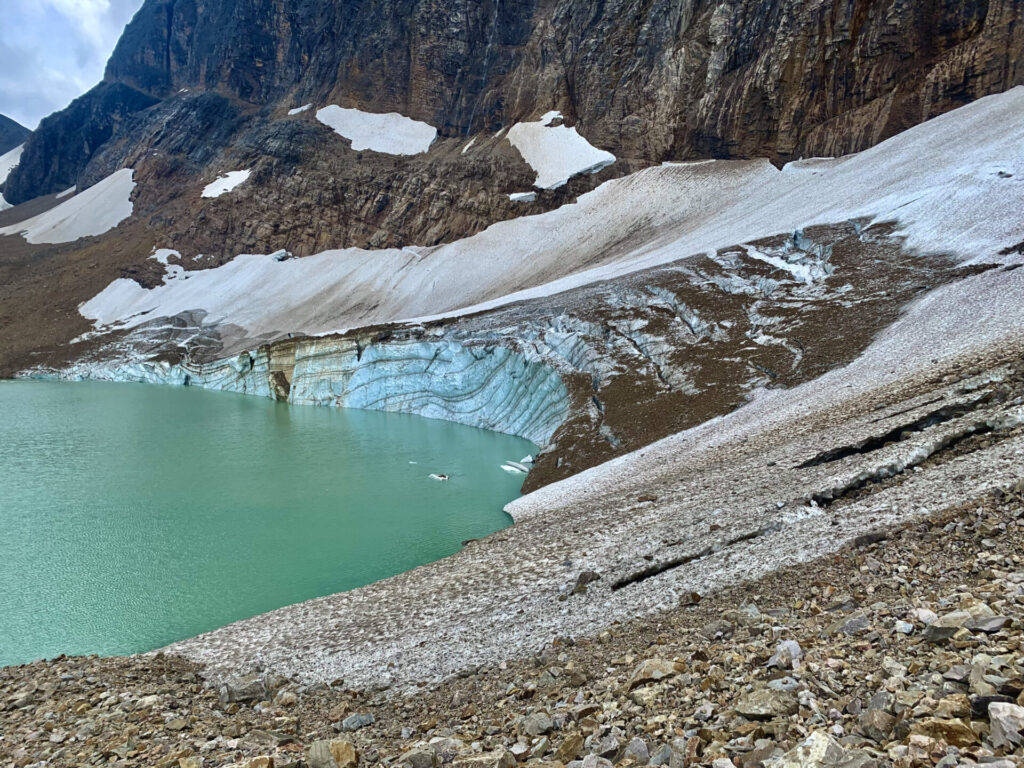 What To Wear To Edith Cavell
To get to Edith Cavell, you must drive up a windy mountain road, leaving you at a much higher elevation than when you started. The elevation of Cavell Pond is 1, 804m, whereas Cavell Meadows is at 2, 303m, and at the peak of Mt Edith Cavell you'll be well over 3, 000m.
As you gain elevation, the temperature undoubtably gets colder. Therefor if you're staying in the town of Jasper (1, 060m) you can expect a significant temperature change once you arrive at the Cavell. This is also a glacier which means you'll be around frozen features, adding to the chilly temperatures.
You'll need to dress warm when visiting the Cavell. I'd recommend layering with what you have, but if you'll be hiking often I'd recommend investing in the following:
Jackets & Top Layers: What to Wear to Edith Cavell
Puffer jacket – I use the Columbia Heavenly Jacket. This jacket in particular is super light-weight, packs down small, and throws an incredible amount of heat. Additionally it's a flattering fit and has no hood. When investing in warm layers it's important to look for items with no hood. This reduces fabric around your neck and makes for a more comfortable hike.

Fleece layer – instead of a puffer jacket you could also use a fleece layer; I have this one from Columbia. Having a zip fleece layer is a great alternative option to a puffer jacket. Fleece zips are versatile, warm, and comfortable.
Follow The Holistic Backpacker's Adventures on Socials:
Keep Up With My Adventures!
Sign up for my newsletter and stay up-to-date with my latest adventures, gear guides, and eco-resources!
Taylor ♡
Rain coat – my jacket of choice for hiking is the Marmot Precip. This jacket is lightweight, packs down into its own pocket, and is wind and waterproof. It also has an adjustable hood and is durable, so you don't have to worry about it ripping if you come into contact with rocks. Rain jackets are great for hiking because they trap your body's heat and protect you from the wind – this is especially important for hiking at higher elevations.

Even though this jacket is breathable, I always layer with a long sleeve dry-fit shirt. This stops that gross, sweaty layer forming on your skin.
Pants & Extras: What to Wear to Edith Cavell
Soft Shell Pants – soft shell pants are my go-to for cold weather adventures. They're like snow pants, but are thinner and more mobile while still trapping in the heat
Gloves – I always pack the North Face Etip glove, however if it's raining or really cold I pack my Burton Gore-tex mittens. Both these choices are warm, come in a variety of sizes, and have grippy materials on the fingers and palm which make it easy to hold onto your trekking poles.
Toque – make sure you protect your head! In theory if your head is warm, the rest of your body will be warm. My toque of choice is this one from Burton
I take these items with me on every hike. Layering is the most important thing when dressing for a hike in the Rocky Mountains. It's imperative that you have the right layers to keep you warm and protected from the elements!
---
Discover More Adventures in Jasper
Jasper is one of the famed Canadian National Parks and for good reason. Jasper is home to striking mountains, vibrant alpine lakes, glaciers, and abundant wildlife.
You can find all my Jasper hiking and travel resources here, but the following are some highlight content you don't want to miss: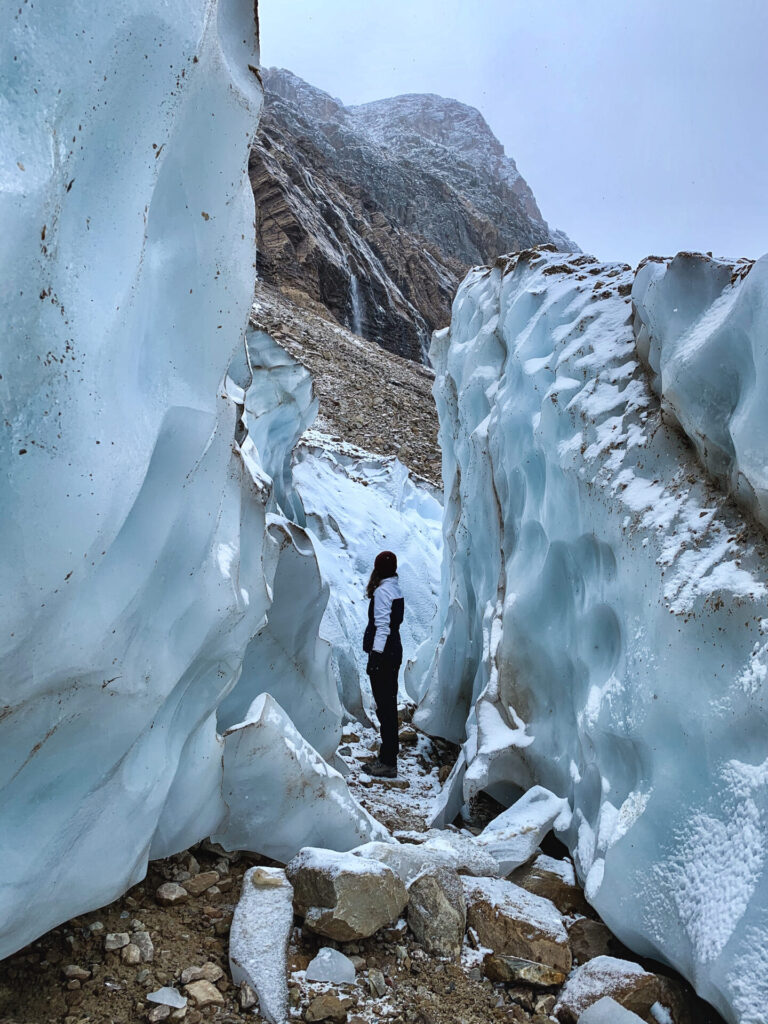 ---
Recommended Hiking Gear
The following items are some of my favourites – I never hit the trail without them!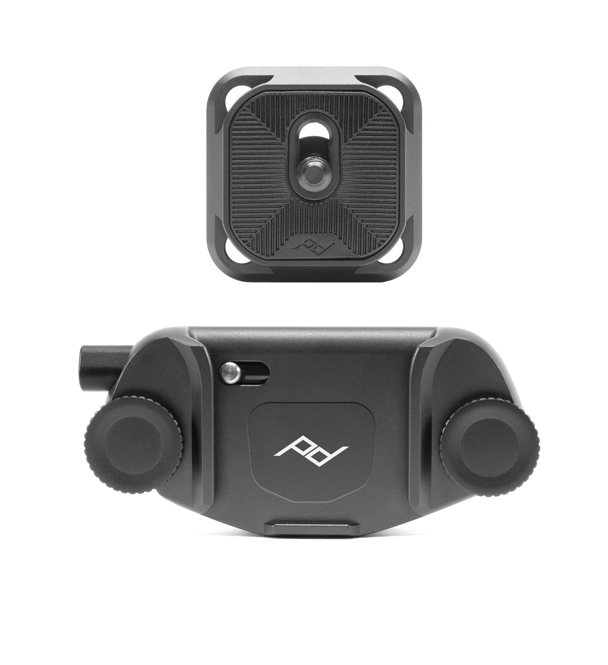 The Capture Clip by Peak Design is a sturdy, safe, and super convenient way to carry your camera while hiking or backpacking.
Find it on Amazon (CAD).
Find it on Peak Design (US).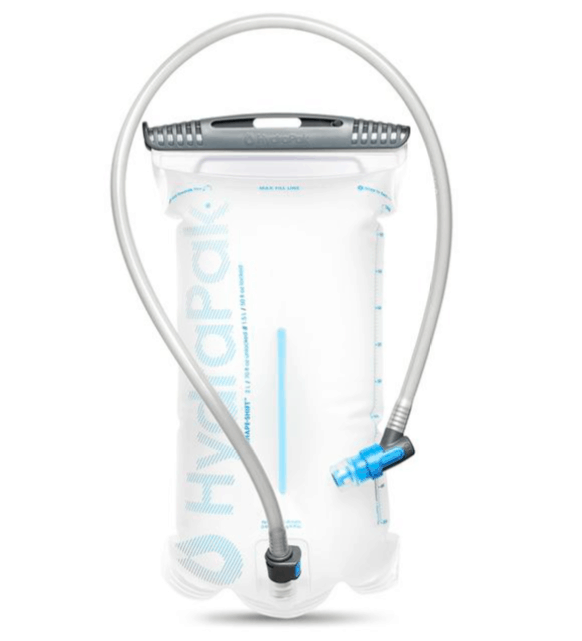 A hydration reservoir is SO important. It holds 2L+ of water and keeps you hydrated on-trail. I use the 2L Hydrapak; it never leaks and has a detachable tube.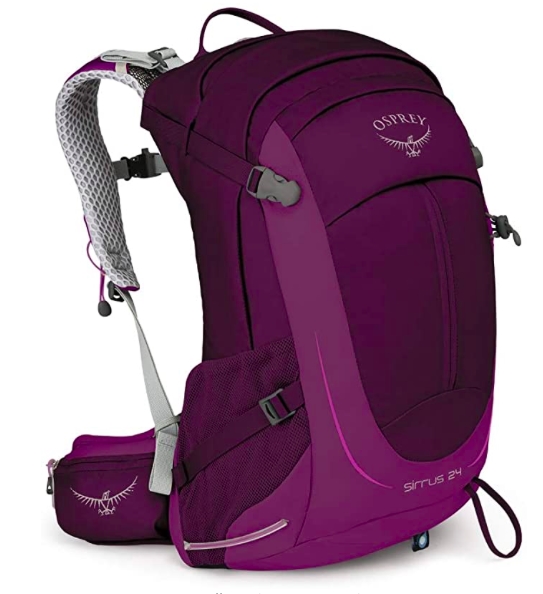 Things to look for in a good quality day-pack: sternum strap, hip belt (with pockets), and a breathable mesh system for your back. I use the Osprey Sirrus 24L pack (men's version) and I LOVE it!
---
What To Wear Hiking in the Rockies
For a detailed guide on what to wear hiking in the Canadian Rockies, check out this post.
Choosing what to wear hiking can be confusing, but the secret to properly dressing for a hike is layering. You can mix and match the tops and bottoms you already own to make up your base layers, however in addition to those clothes you'll need a few extra things:
A waterproof jacket is the most important layer for hiking – it keeps you warm and protects you from wind and rain. I use the Marmot Eco Precip Jacket (men's version) which is totally a bang-for-your-buck. If rain is in the forecast, don't forget to pack waterproof pants (men's version) too.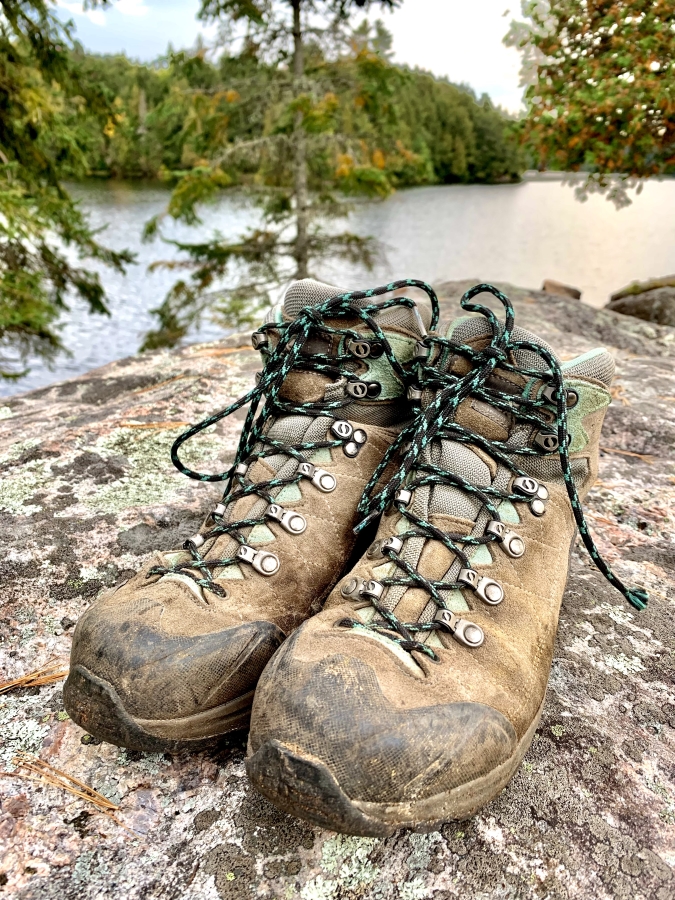 A good pair of hiking boots are Gore-tex, provide ankle support, and are durable. I use the Scarpa Kailash boot (men's version) and they've never let me down. You'll also want a good quality pair of socks. I use Smartwool – they're great quality and last an entire season.
A puffer jacket acts as your warm layer. I use the hoodless Columbia Women's Heavenly Jacket (men's version). Alternatively you can use a fleece zip – I have this one (men's version) from Columbia. Both of these options are perfect layers to keep you warm on windy, cold, or high elevation hikes.
Rocky Mountain hiking exposes you to different natural elements and conditions – it's imperative that you're prepared for whatever nature throws at you. Trust me, I've learned the hard way!
More: Day-hiking Gear Guide
More: What to Wear Hiking in the Canadian Rockies
Tips for a Successful Hike to Edith Cavell
Wear sturdy hiking boots to Edith Cavell – I use these – you'll be walking through an uneven rock field
If there's any snow on the ground you'll want to use micro-spikes
If you're venturing out for photos, arrive very early to avoid the crowds
There aren't any food options, so make sure you pack a lunch
The closest gas station is in the town of Jasper – 40 minutes away
Only certain vehicles can make it up Edith Cavell road
July/early August are the best times of the year to see the wildflowers bloom at Edith Cavell Meadows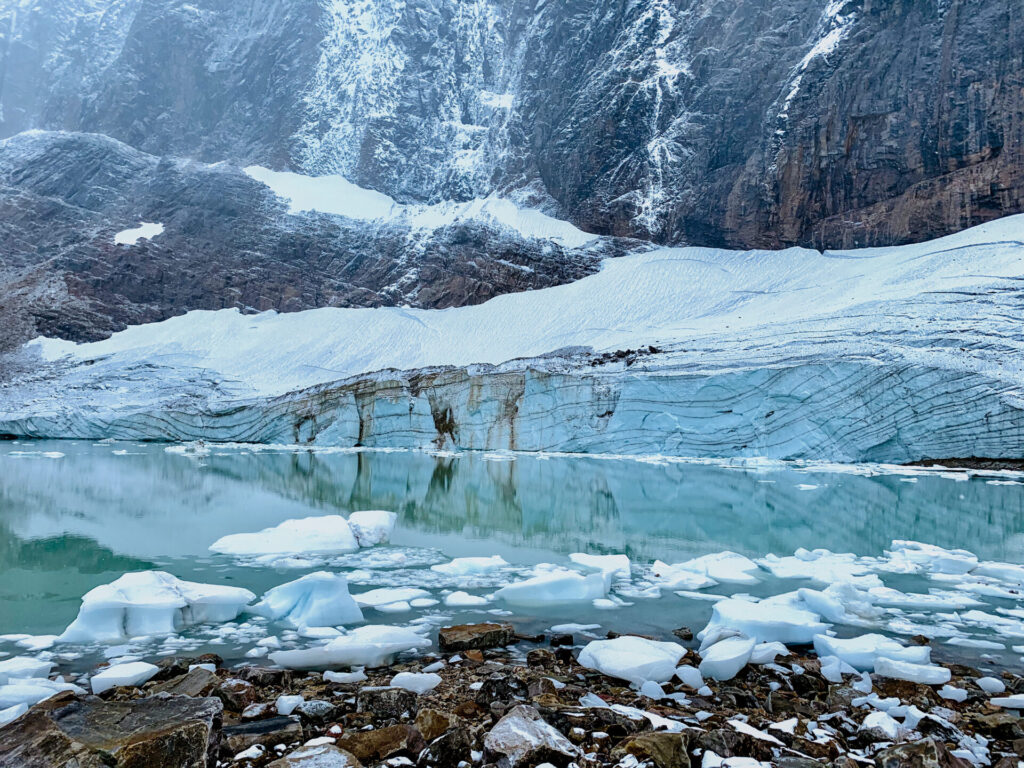 Best Places To Stay In Jasper National Park
The best place to stay in Jasper depends on your price range. So, here are a few suggestions for every budget:
Discover all accommodations in Jasper here
Cheap(er) hotels in Jasper – Jasper Gates Resort, Overlander Mountain Lodge
Mid-range hotels in Jasper: Tonquin Inn, Whistler's Inn, Lobstick Lodge, Astoria Hotel, Sawridge Inn
Luxury hotels in Jasper: Fairmont Jasper Park Lodge, Pyramid Lake Resort, Mount Robson Inn
Cheapest accommodation options: camp at Wapiti or Whistler's campground (camping info). Alternatively stay at one of Jasper's hostels (find them here)
Best cabins in Jasper: Miette Mountain cabins, Tekarra Lodge, Patricia Lake Bungalows, Jasper East Cabins
Planning a trip to Jasper? Don't forget to check out my trip planner! I'll help you create the perfect Jasper itinerary.
Happy adventuring!
Taylor ♡
---
Like This Post?
Share with friends or save it for later!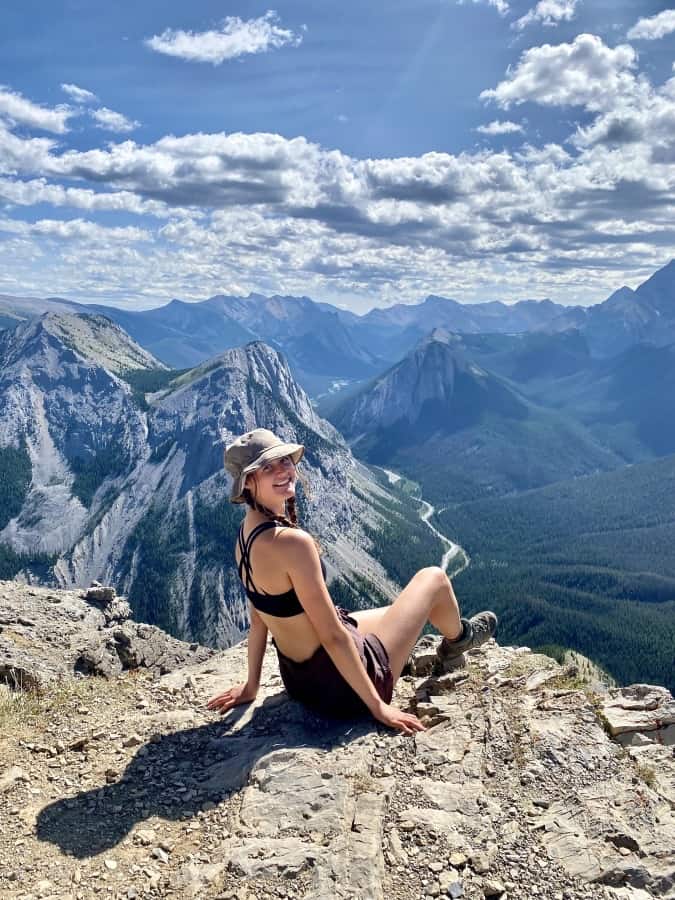 About The Author
---
Hey! I'm Taylor – the voice behind The Holistic Backpacker.
After moving to Banff National Park in 2020 I became an outdoor adventure enthusiast and vowed to never stop exploring.
I'm now focused on travelling the world and seeing everything our beautiful home has to offer.
I created The Holistic Backpacker so I could share my adventures and help connect people like you with the same amazing experiences.
I am also an advocate for the environment and do as much as I can to take care of our planet.
Get to know me and my story more here 🙂
I can't wait to share my adventures with you!