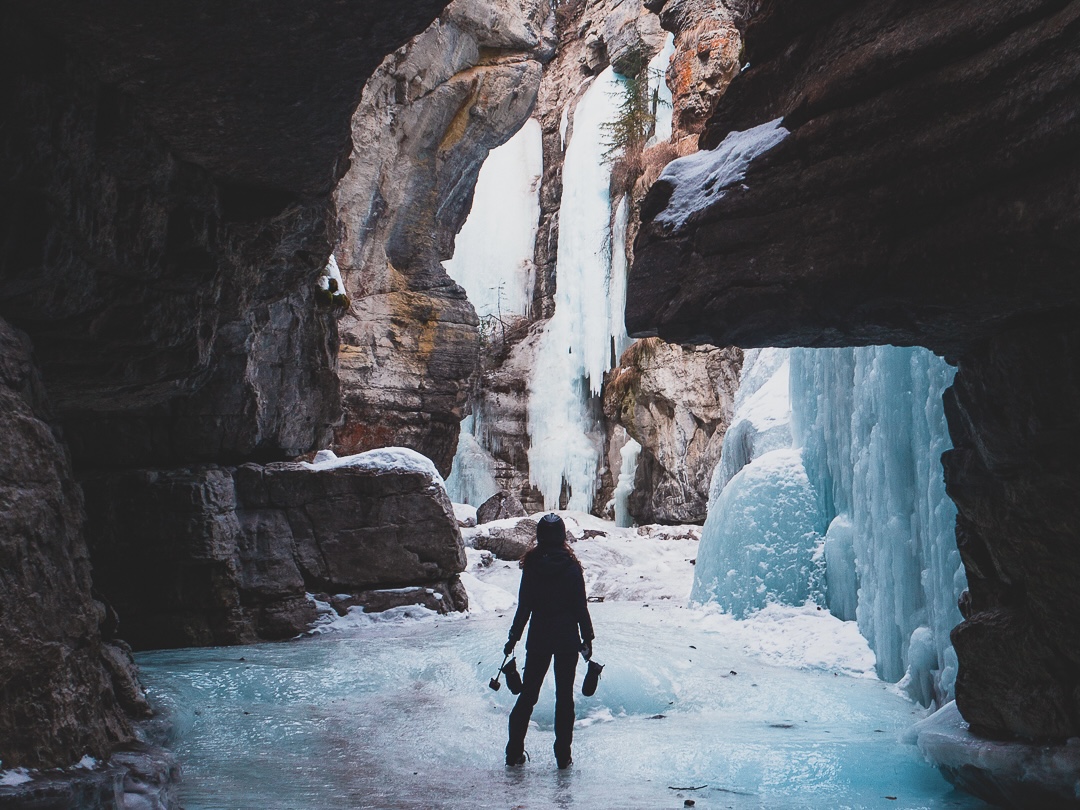 Maligne Canyon: Hiking In Winter & Summer – Jasper National Park
If you're looking for an off-the-beaten path adventure in Jasper National Park, Maligne Canyon is where it's at!
In the summer months Maligne Canyon is a very popular tourist attraction, but in the winter months the canyon is an adventurer's paradise. I've hiked the canyon in both winter and summer so I'll tell you everything you need to know about hiking the canyon in both seasons.
I've done quite a lot of adventuring and hiking in The Canadian Rockies, but hiking Maligne Canyon in the winter has by far been one of my best and most exhilarating outdoor adventures to date.
Before we continue, forget to check out my trip planner! I'll help you plan the perfect Jasper itinerary.
So, without further ado, let's go hiking!
Skip Ahead:
This post contains affiliate links; see my full disclosure. If you click these links and make a purchase you're supporting The Holistic Backpacker. Thanks for your support & happy adventuring! – Taylor ♡
---
---
---
Related Posts:
---
How To Get To Maligne Canyon
Maligne Canyon is a 10 minute drive from the town of Jasper and is located on Maligne Lake road. From Banff it's about 3.5 hours and from Edmonton its 4.
If you don't have a car, you'll need to rent one – there's no public transportation in Jasper. You'll find a large parking lot at the Maligne Canyon and you'll want to park as close to the Maligne Canyon Wilderness Kitchen as you can get.
There are many things to do on the Maligne Lake road, so budget some extra time for exploring the natural wonders in this area. You'll find abundant wildlife here (more in the shoulder seasons), the Maligne Lookout point which is great for sunset, and plenty of lakes.
About Maligne Canyon
Maligne Canyon is a geological wonder and one of the top-things-to-see in Jasper National Park. The canyon is 1.1km long and gets up to 55m deep.
Maligne Canyon is composed of water-carved limestone and, unlike most water-carved features, is actually narrower at the top than it is at the bottom. The water that fills the canyon walls comes from Medicine Lake, located 14kms away. However scientists believe there's a hidden cave full of water which would explain the strength and vast amount of water flow. Maligne Canyon remains a mystery!
The formation of Maligne Canyon started 365 million years ago via lime-secreting plankton in a shallow-tropical sea. The plankton deposited the rock that forms the canyon walls we see today – you can still find sea lilly, ancient snail, and lampshell fossils in the walls.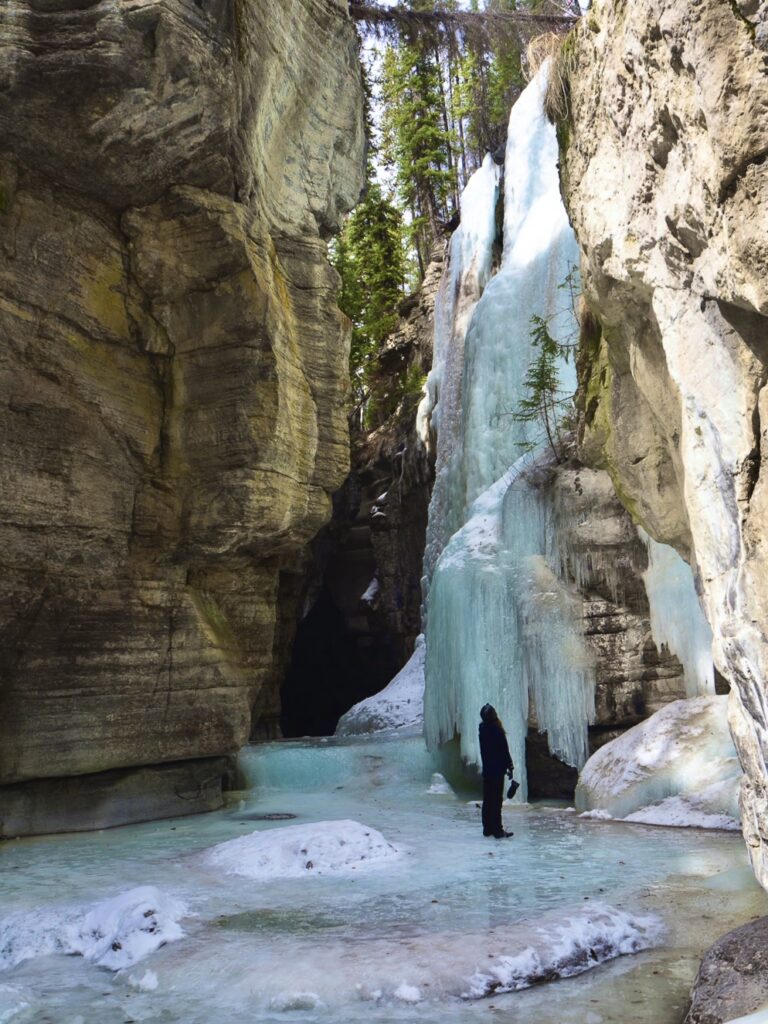 About Maligne Canyon Trail
Distance: 4.3km
Elevation Gain: 142m
Type Of Trail: loop
Rated: easy
Estimated Time: 2-2.5hrs (including breaks)
You also have the option to complete the Maligne Canyon Loop instead. Maligne Canyon Loop is actually a bit shorter than the usual Maligne Canyon route and takes you through a nice forested section.
Maligne Canyon trail is well trafficked and easy to follow. Since the majority of the trail goes along the top of a canyon, you'll be walking alongside a guardrail. There are lots of viewpoints along the way, but the most dramatic viewpoints are located closer to the first bridge/parking lot.
You'll gain and lose elevation as you go, however the grade is gentle and therefor this hike is not strenuous and is good for all ability levels.
Book a guided tour here.
Hiking Maligne Canyon: Summer
Maligne Canyon along with Maligne Lake are two of the most popular attractions in Jasper National Park. Maligne Canyon is a force of nature and is truly something you have to see with your own eyes.
More: Multi-Day Backcountry Canoe Trip On Maligne Lake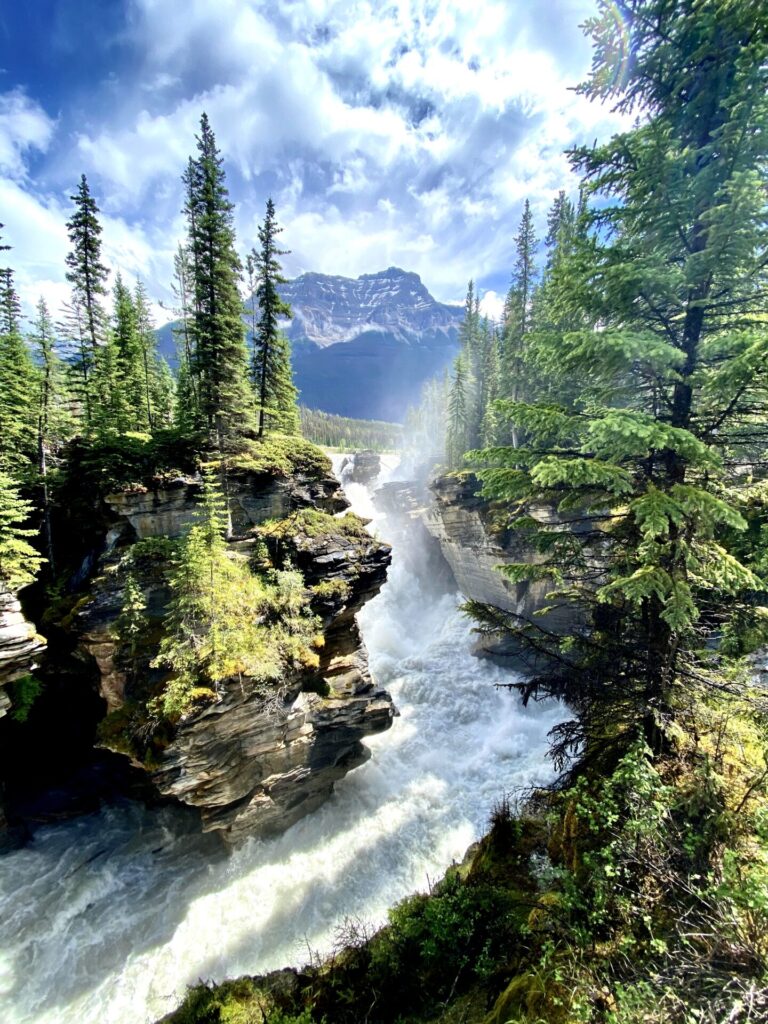 The trail is well marked with signs outlining which bridge you're at. In summer you can expect to see large crowds of people swarming the trail and it's therefor essential you arrive early to beat the crowds.
Along the way you'll come across gushing rapids, large/swirly rock faces that have been molded by the force of water, and beautiful subalpine vegetation.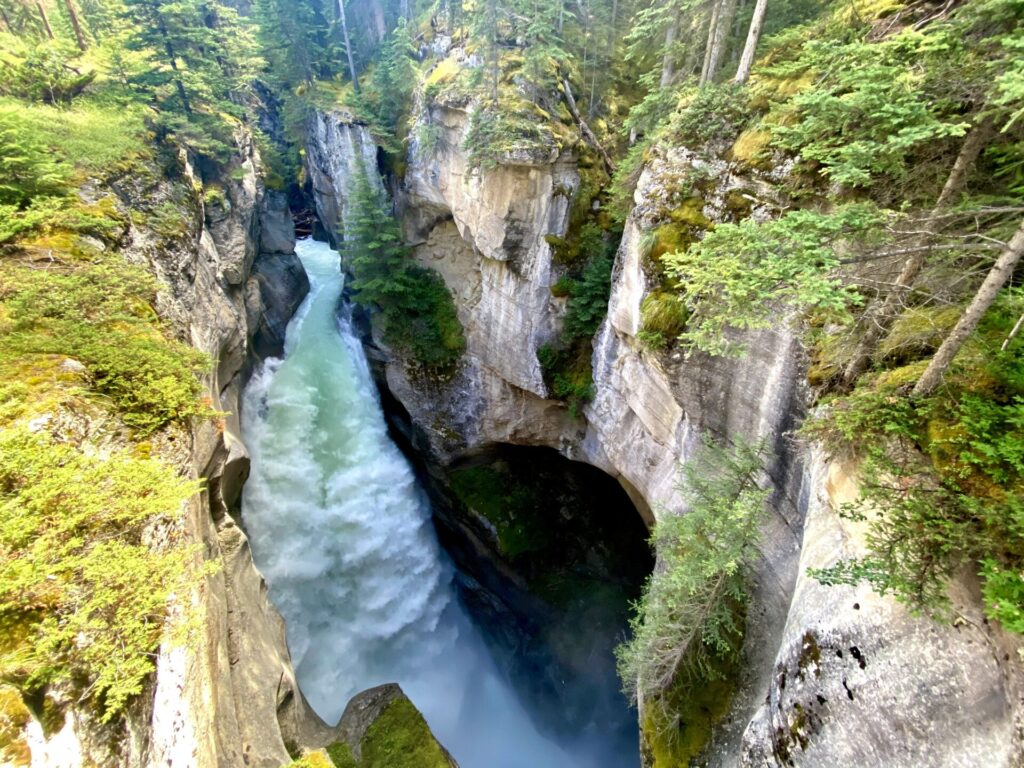 Spending a few hours at Maligne Canyon is the perfect way to enjoy the wild beauty of Jasper National Park.
Hiking Maligne Canyon: Winter
The gushing glacial water of Maligne Canyon in the summer is almost mesmerizing, but the massive frozen waterfalls in winter are truly unforgettable.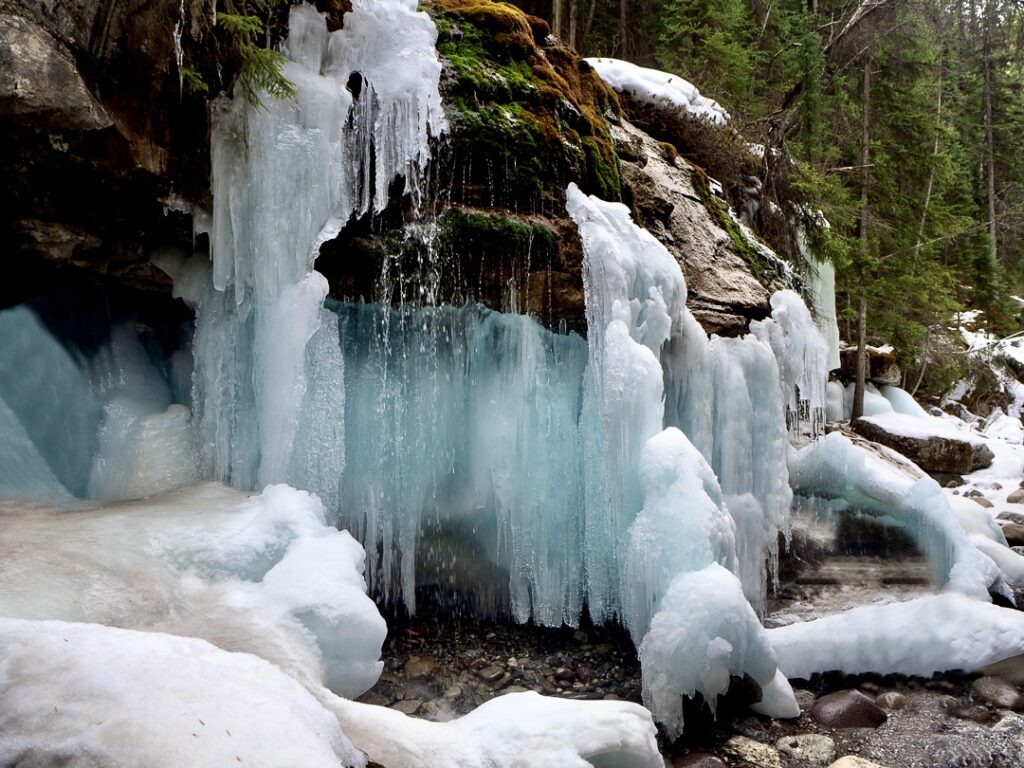 The canyon can be hiked year round, however the terrain in winter gets quite icy and slippery. If you're hiking the canyon in the winter you MUST wear waterproof boots (I use these hiking boots) and micro-spikes. If not you'll be slipping and sliding all over the place and with the change in elevation this can actually be quite dangerous.
Hiking Into Maligne Canyon
If you're one for off-the-beaten path adventures, you can actually climb down into the canyon and walk on its frozen floor. For safety reasons I'm not recommending that you do this unless you're with a guided tour, but you are able to go on your own.
You can book a guided tour here.
You can hike into the canyon from December to March, however I'd recommend waiting until January to ensure the ice has completely frozen over – underneath the thick layer of ice is ferociously gushing, freezing cold glacial water. Not to scare you, but this is not an adventure to take lightly!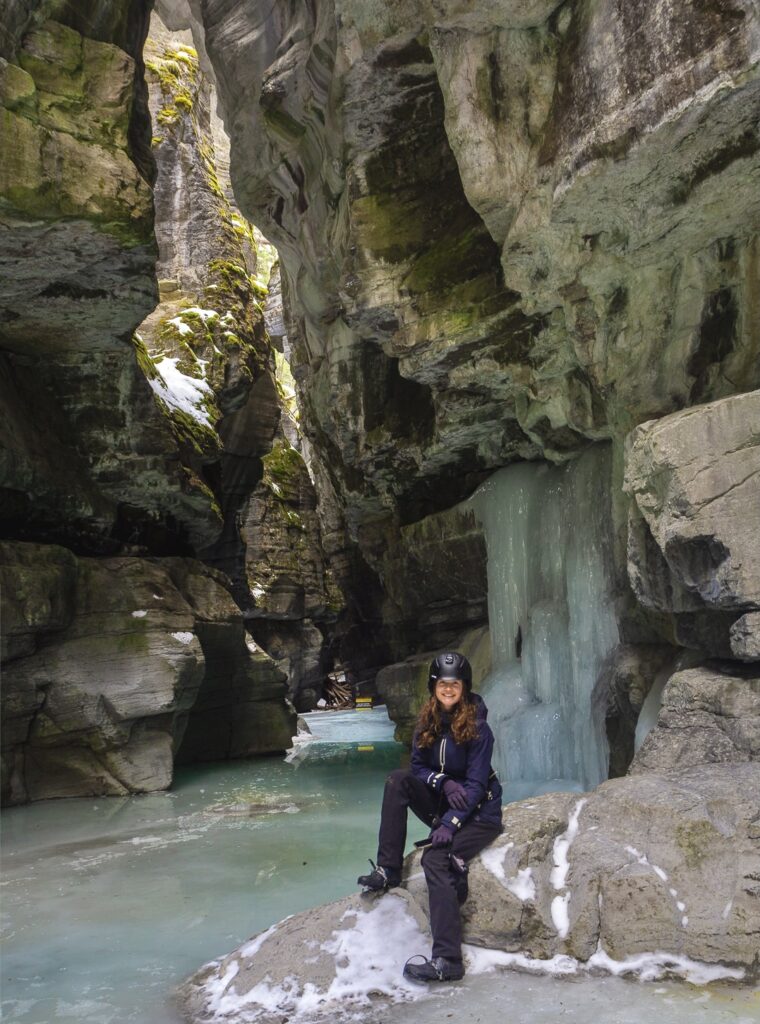 To access the lower floor of the canyon you'll need to walk to the fourth bridge. Here you'll find a sign saying something along the lines of "danger" blah blah blah. Hop right over that bad boy and start hiking down (this is where you'll exit too).
From here the descent is short, but quite steep and slippery so watch your footing.
Once you access the canyon floor you can hike both left and right.
Hiking left takes you through the less dramatic side of the canyon. Along this path you'll need to climb through tight spaces, but will eventually come to a small waterfall.
On the other hand hiking right will take you to the most dramatic section of the canyon where you'll find massive frozen waterfalls.
Final Words on Maligne Canyon in Winter
Hiking through the smoothly carved walls of the canyon was the most humbling and "wow" experience. You're surrounded by icy blue frozen waterfalls, huge icicles, and if you listen carefully you can sometimes hear the water flowing beneath you or the ice cracking and moving.
Unfortunately just days before I hiked the canyon there was a massive rock fall that broke the ice and cut off a huge section of the walk. Rock falls are not too common in the canyon, but they do happen which is why I recommend wearing a helmet (I'll talk more about that next).
To date, hiking Maligne Canyon is by far the most incredible and memorable winter experience I've ever had – and I've skied all over Canada!
Book a guided tour here.
Follow The Holistic Backpacker's Adventures on Socials:
Keep Up With My Adventures!
Sign up for my newsletter and stay up-to-date with my latest adventures, gear guides, and eco-resources!
Taylor ♡
Essential Gear For Hiking Maligne Canyon In The Winter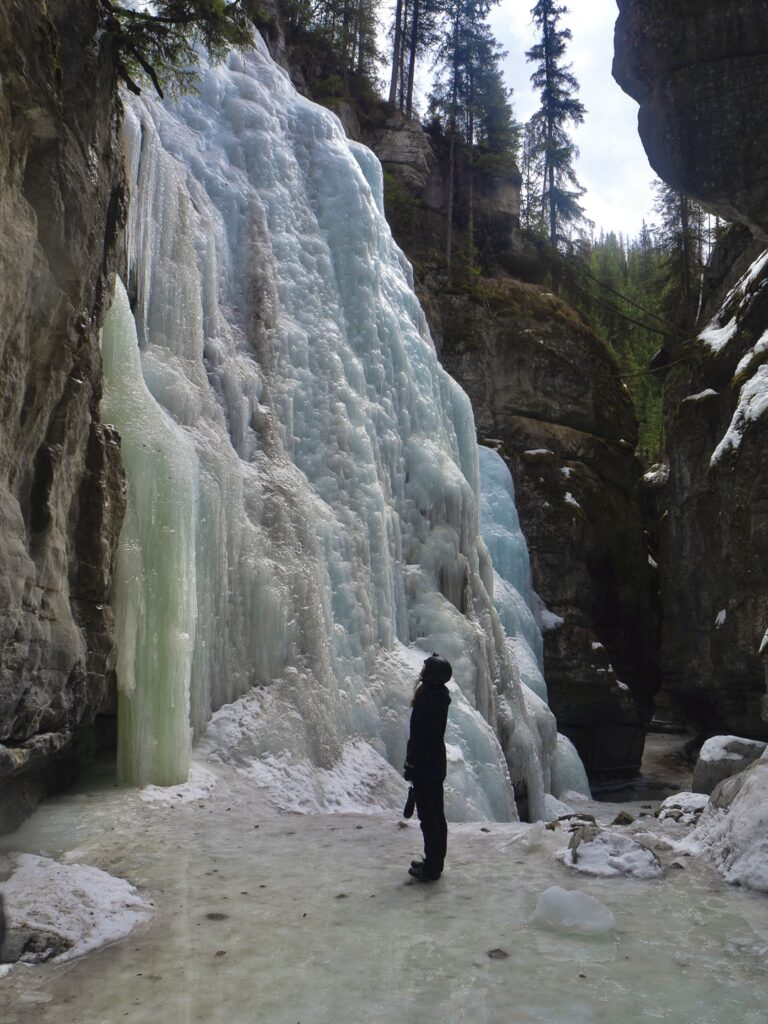 Whether you're going into the canyon or hiking around the top, you'll need micro-spikes. The terrain is incredibly slippery and dangerous.
If you climb down into the canyon, you must wear crampons and a helmet; climbing helmets are a great option. At the time I did not have a climbing helmet, so I wore a ski helmet in its place.
Along with crampons I'd also recommend wearing a good hiking boot – I use these. This way your foot is in something sturdy and waterproof.
I went later in the season and actually had to walk through a couple inches of (literally) the bluest glacial water I've ever seen. I wore rain boots for this, but a Gore-tex hiking boot would have done the trick as well.
If you're not able to see the conditions before you hike a really good way to check it out is to look on Instagram. Search "Maligne Canyon" as a location and see what recent photos look like.
I actually did this and messaged a few people asking if the conditions were okay before I set off for this adventure because I knew it was toward the end of the season (beginning of April). This is how I found out conditions were "melty" and that it was definitely a "now or never" situation.
Aside from the gear I mentioned I'd also recommend bringing good quality waterproof mittens (I use these) and soft shell pants. Soft shell pants are my go-to for any outdoor adventure in the winter. They're like snow pants, but are much thinner and therefor much more mobile while still trapping in the heat.
---
Discover More Adventures in Jasper
Jasper is one of the famed Canadian National Parks and for good reason. Jasper is home to striking mountains, vibrant alpine lakes, glaciers, and abundant wildlife.
You can find all my Jasper hiking and travel resources here, but the following are some highlight content you don't want to miss: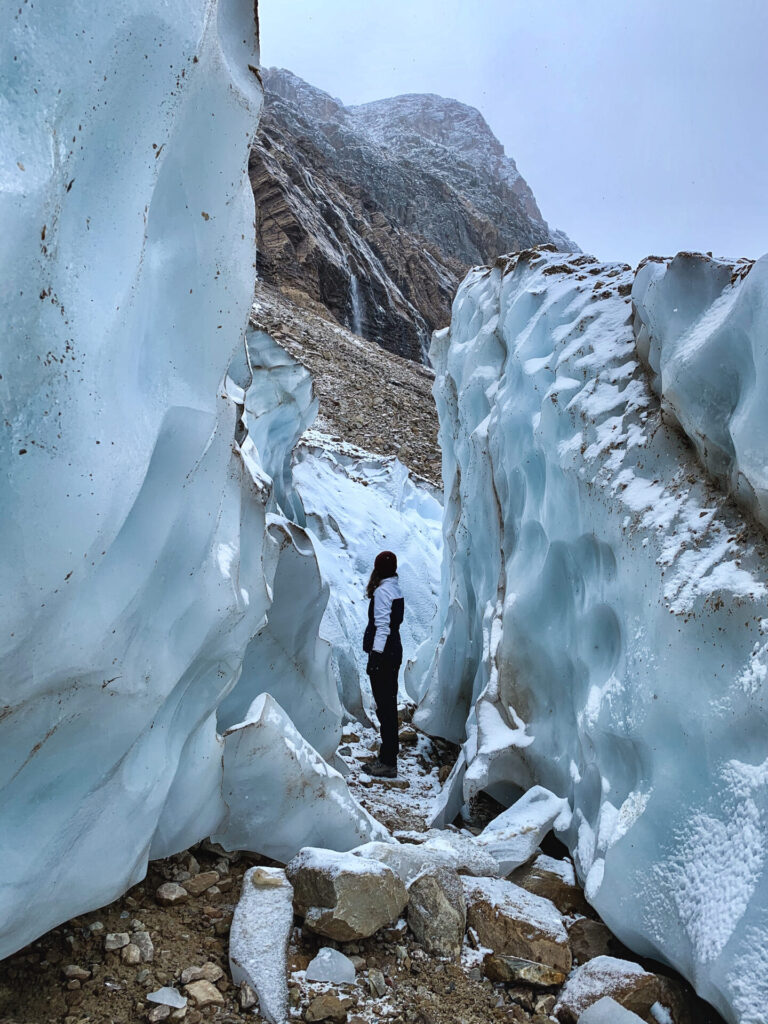 ---
Essential Gear For Winter Hiking
Who says hiking is just for the summer months!? Winter hiking can be absolutely exhilarating and it offers the chance to see some pretty spectacular frozen wonders.
Before you set off for your next winter hike though, it's important to note that you'll need extra gear and you'll definitely need extra layers to stay warm! I've outlined exactly what you'll need for a typical day-hike during the warmer months here, however I'll quickly break down some winter hiking essentials.
Let's start with footwear. In addition to Gore-tex hiking boots – I wear these (men's version) – you'll want the following: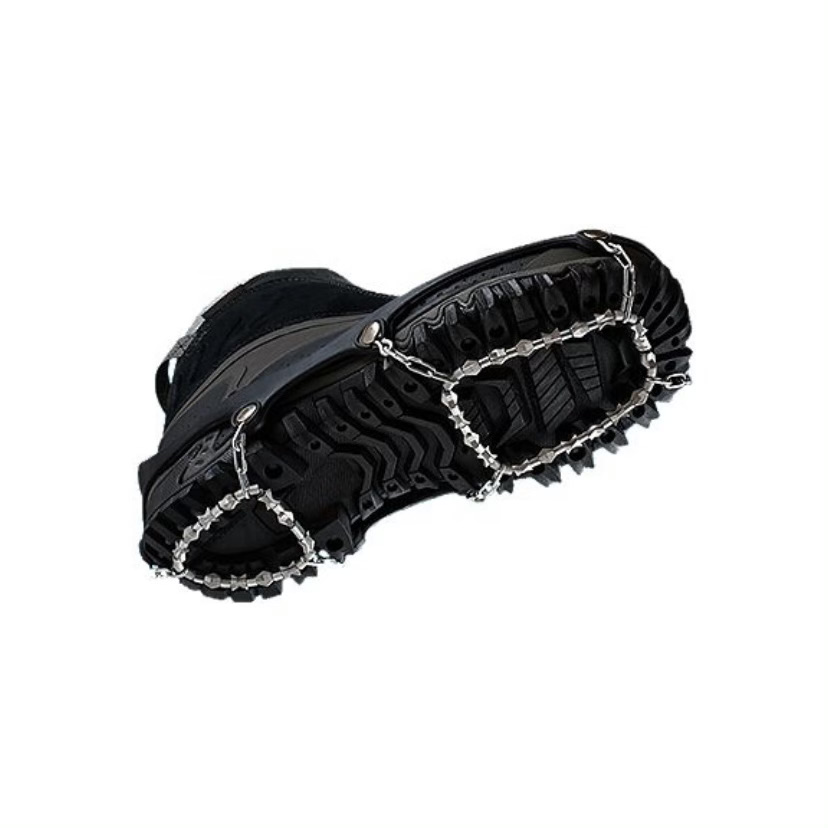 Micro-spikes are chains with grips that attach to your boots. These help you navigate slippery and icy terrain. Micro-spikes can get quite expensive, but these ones seem to be of good quality and are priced affordably.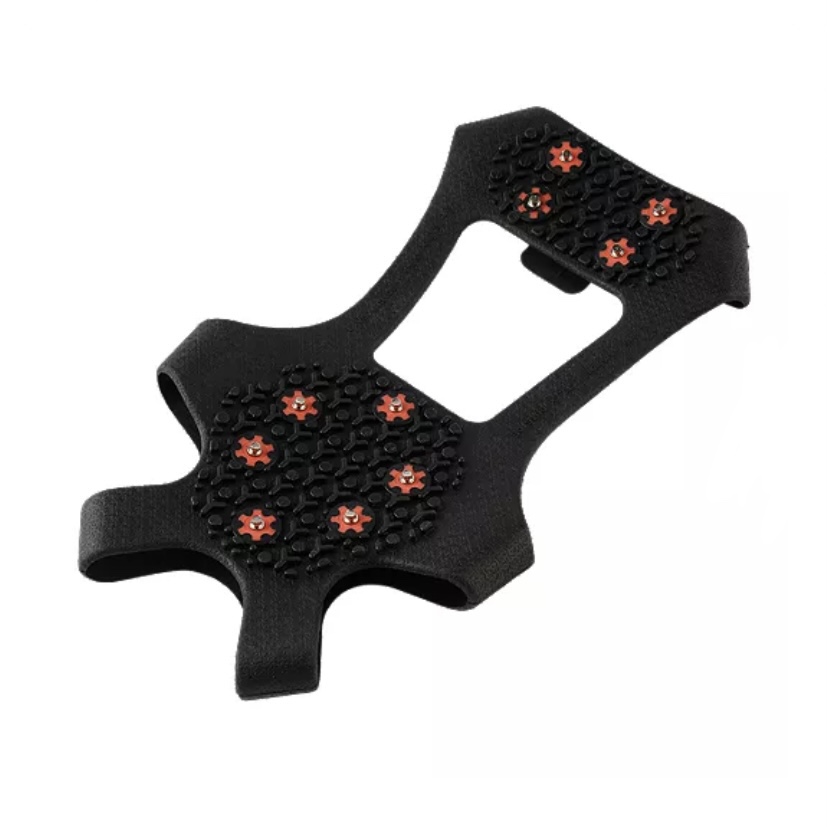 Ice cleats are a version of micro-spikes, but they have less grip. These are ideal for hikes that aren't overly icy and when you only need a small amount of grip to avoid slipping.
What To Wear Winter Hiking
Now that we have proper footwear covered, let's quickly go over a few clothing essentials for winter hiking. The most important thing is layering. I've found the best combination for lower body to be leggings or merino base layers under a pair of soft shell pants. For upper body I'd recommend wearing a long sleeve dry-fit/merino top layered with a puffer jacket and waterproof jacket. The following are the clothes I always wear for winter hiking:
Softshell pants are durable and warm. They're like a thin and more mobile version of snow pants. I have these ones (men's version) and I've been using them for years for winter hiking, skating, and doing errands in the cold months.
A water proof jacket in my opinion is the most important layer when it comes to hiking. A waterproof jacket traps your body heat and it protects you from wind and rain/snow. I use this one (men's version) which is lightweight, compact, and its easy to pack as an extra layer because it folds into it's own pocket!
A puffer jacket acts as your warm layer. I have this one (men's version) and I absolutely love it. It's affordable, packs down small, and its hoodless! If temperatures will be really cold you can also pack a fleece zip. This fleece (men's version) is great for winter hiking.
Additionally you'll also want to pack a toque and warm mittens. I have these mitts (men's version) which have become my favourite mitts for skiing, backcountry camping, and winter hiking. They've got tons of fun features and they come with glove liners which keep your hands extra warm.
Explore my extensive gear guide for day-hiking
Read my guide for exactly what to wear hiking
Find all my hiking trail guides
---
Tips For A Successful Trip
Arrive early (7am) to beat the crowds in the summer
The most dramatic viewpoints are closer to the first bridge
Winter: bring proper gear, research, and know what you're getting into. Alternatively, book a guided tour
You can purchase food at the Maligne Canyon Wilderness Kitchen, located right next to the parking lot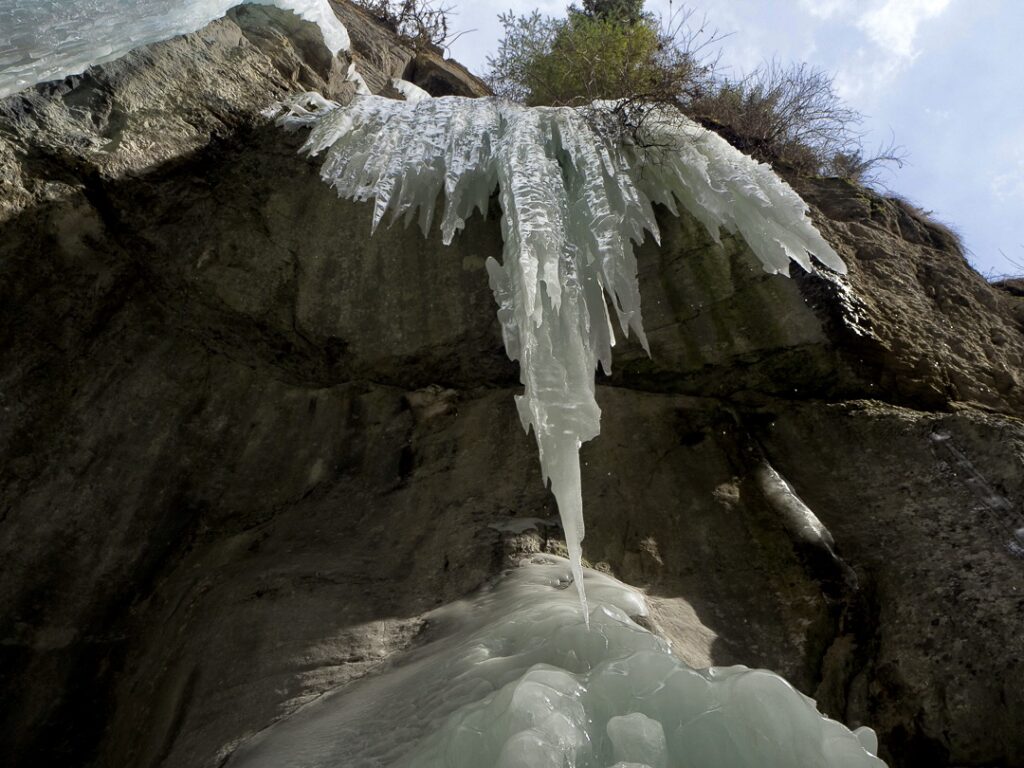 Best Places To Stay In Jasper National Park
The best place to stay in Jasper depends on your price range. So, here are a few suggestions for every budget:
Discover all accommodations in Jasper here
Cheap(er) hotels in Jasper – Jasper Gates Resort, Overlander Mountain Lodge
Mid-range hotels in Jasper: Tonquin Inn, Whistler's Inn, Lobstick Lodge, Astoria Hotel, Sawridge Inn
Luxury hotels in Jasper: Fairmont Jasper Park Lodge, Pyramid Lake Resort, Mount Robson Inn
Cheapest accommodation options: camp at Wapiti or Whistler's campground (camping info). Alternatively stay at one of Jasper's hostels (find them here)
Best cabins in Jasper: Miette Mountain cabins, Tekarra Lodge, Patricia Lake Bungalows, Jasper East Cabins
Planning a trip to Jasper? Don't forget to check out my trip planner! I'll help you create the perfect Jasper itinerary.
Happy adventuring!
Taylor ♡
---
Like This Post?
Share with friends or save it for later!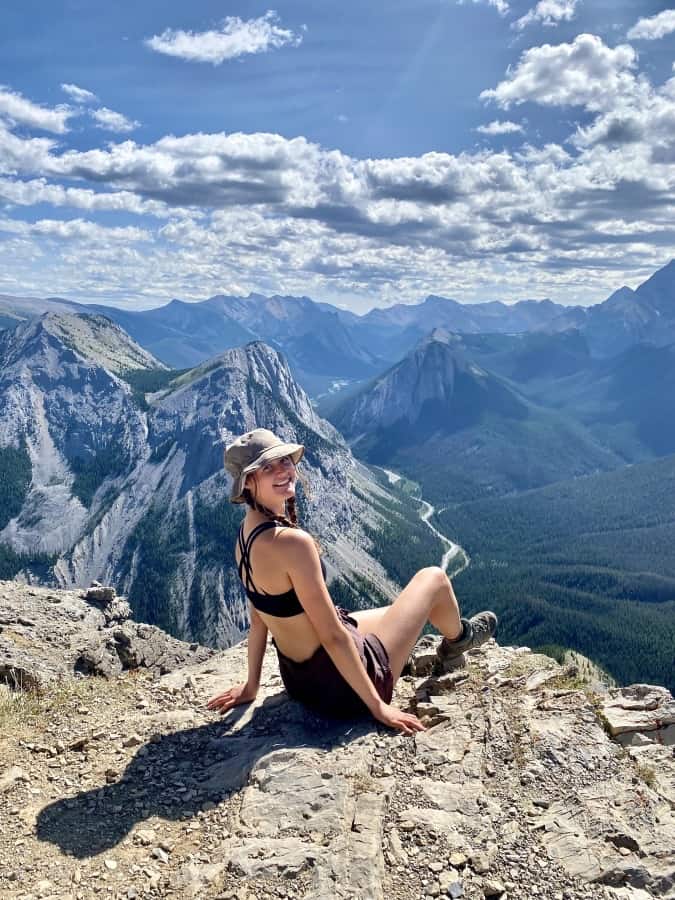 About The Author
---
Hey! I'm Taylor – the voice behind The Holistic Backpacker.
After moving to Banff National Park in 2020 I became an outdoor adventure enthusiast and vowed to never stop exploring.
I'm now focused on travelling the world and seeing everything our beautiful home has to offer.
I created The Holistic Backpacker so I could share my adventures and help connect people like you with the same amazing experiences.
I am also an advocate for the environment and do as much as I can to take care of our planet.
Get to know me and my story more here 🙂
I can't wait to share my adventures with you!