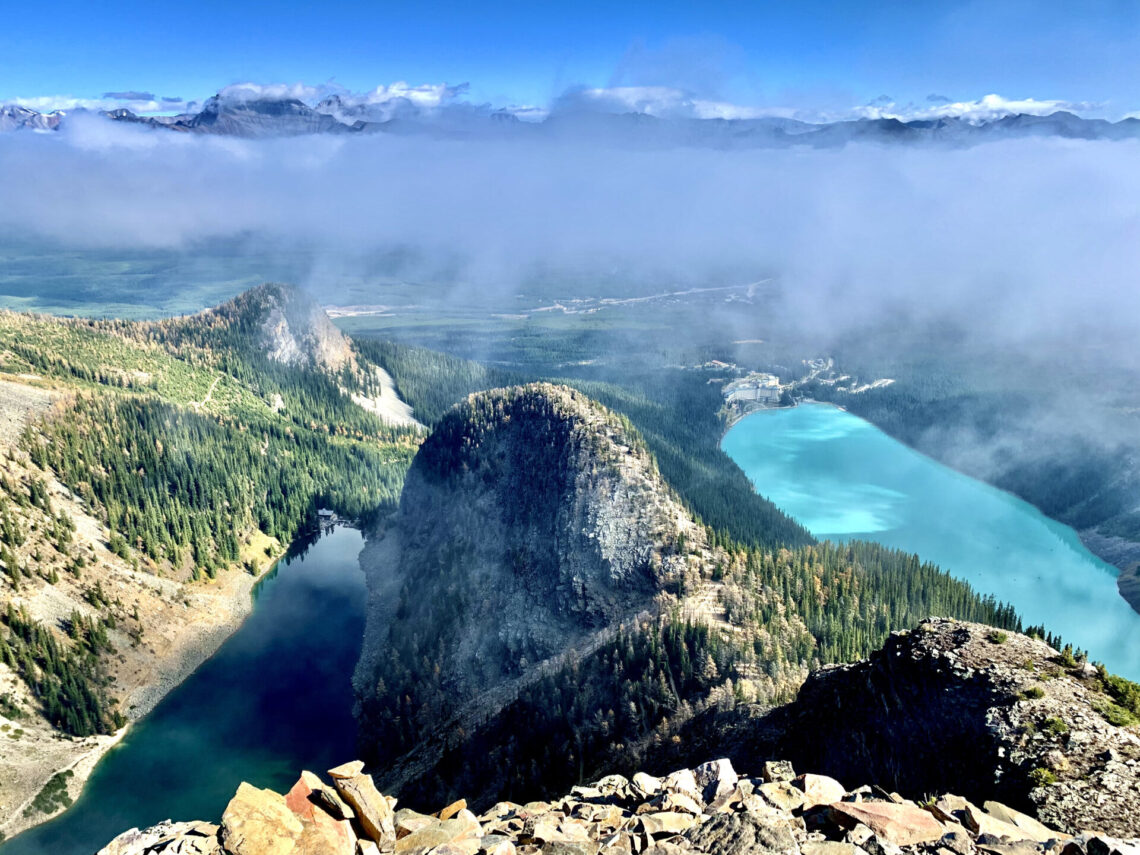 Devils Thumb Hike & Inversion at Lake Louise – Banff Scrambles
The Devils Thumb hike at Lake Louise is one of the infamous Banff Scrambles. This is a tough and semi-technical hike that features beautiful overheard views of BOTH Lake Louise and Lake Agnes. I was extremely lucky the day I did the Devils Thumb hike and saw something incredible…
Along the way you'll also have the chance to see Mirror Lake, the Little Beehive Lookout, and the Big Beehive Lookout. I've written a detailed guide for how you can hike everything at Lake Louise in 1 day here, however this post speaks specifically about what you can expect when completing the Devils Thumb hike.
More: Lake Louise Circuit: Hike EVERYTHING at Lake Louise in a Day
Before we get started it's important to note that the Devils Thumb hike is in Banff which is a National Park. You'll therefor need a Parks Pass for each day you're in the park. You can buy these at the Park gates, online, or at the visitor centre.
Now, let's go hiking!
Skip Ahead:
This post contains affiliate links; see my full disclosure. If you click these links and make a purchase you're supporting The Holistic Backpacker. Thanks for your support & happy adventuring! – Taylor ♡
---
---
---
Related Content
---
How To Get To Devil's Thumb
As you most likely guessed, Lake Louise is one of the busiest spots in Banff National Park. You can bet that Banff's 4 million+ annual visitors flock to Lake Louise's blue alpine waters – for this reason parking is crazy. You can drive to the Devils Thumb hike, but if you're coming from the town of Banff I'd recommend taking the Roam bus.
The Roam bus will cost you basically the same as it would to pay for parking (implemented as of 2021) and will save you the hassle of circling the lot a thousand times looking for an open spot.
If you aren't coming from the town of Banff you'll have to drive or rent a car to get to Lake Louise.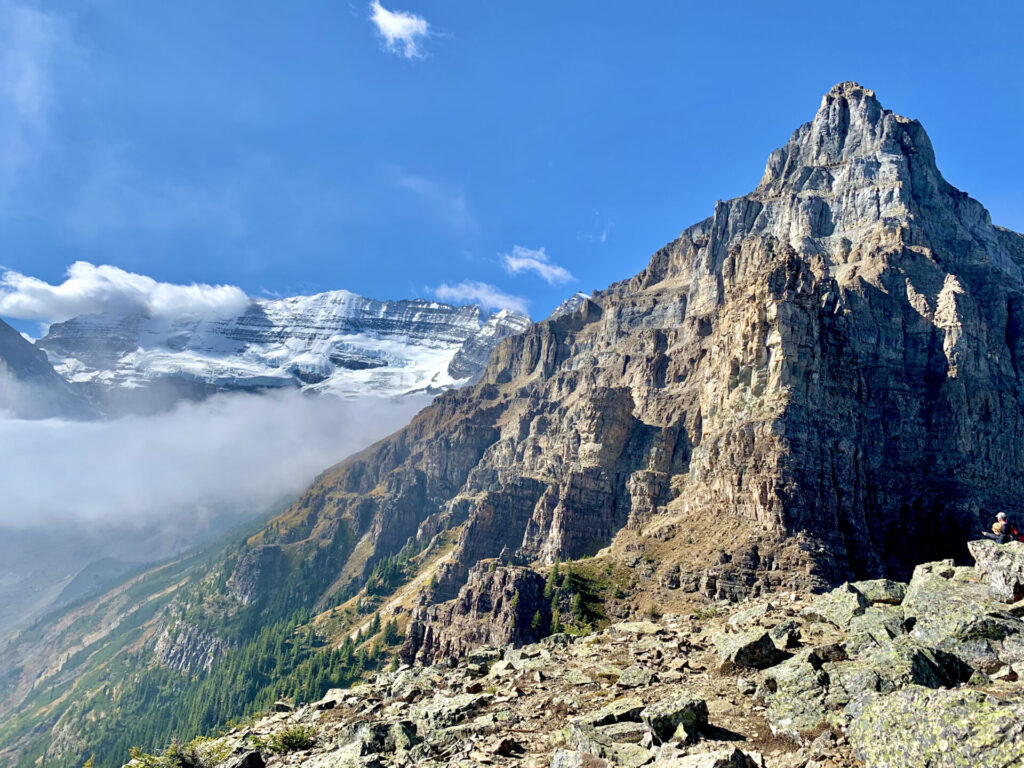 About Devils Thumb Hike
Distance: 12.9km
Elevation gain: 883m
Rated: hard
Type of trail: out & back
Estimated time: 5hrs+
The Devil's Thumb hike is actually one of the many Banff scrambles which means the terrain is more technical and more advanced than your average hike. If you're new to hiking, I wouldn't necessarily recommend venturing up Devils Thumb unless you're with someone more experienced.
The entire trail system at Lake Louise is well trafficked, so you can expect to see lots of people as you're hiking. The terrain (minus the Devils Thumb portion) is well marked, easy to follow, and easy to navigate. You'll come across some exposed roots and rocks along the way, but nothing too crazy.
As you hike to Devils Thumb, make sure to take advantage of the lookout points along the way. More on how you can hike everything at Lake Louise here.
Explore My Latest Banff Trail Guides
Explore ALL Banff trail guides
Hiking Devils Thumb
The Devils Thumb hike is my favourite section of the Lake Louise Circuit and it's one of the best Banff scrambles. It's steep, technical, and most importantly beautiful. From the top you'll have a birds-eye view of 2 famous alpine lakes in Banff as well as glaciers and picturesque peaks.
My experience completing the Devils Thumb hike was very unique and allowed me to see something very few people get to see… I'll talk about this next!
Devils Thumb Hike Trailhead to Mirror Lake
The Devil's Thumb hike trailhead starts from no other than Banff's incredible Lake Louise. You'll want to hike right around the lake and find the Lake Agnes trail (not the Lakeside/Plain of 6 trail).
You'll quickly start gaining gentle elevation as you follow a few switchbacks up the mountain. Within 3km you'll reach Mirror Lake!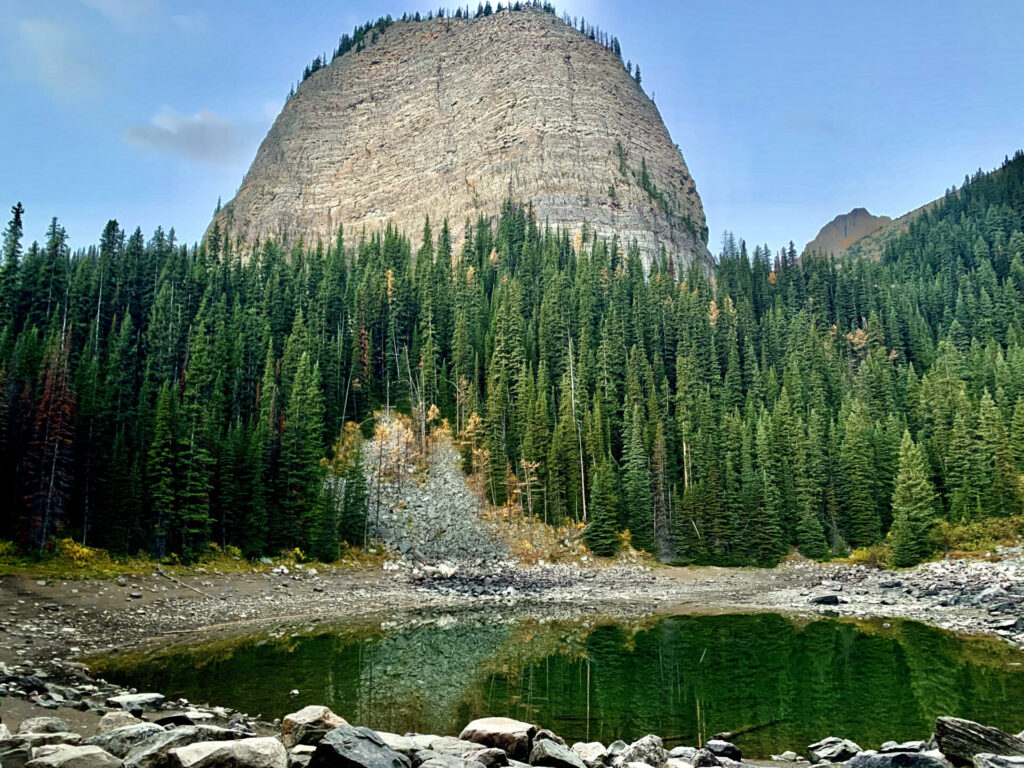 From Mirror Lake you have the option to hike around either side of the lake to get to Lake Agnes. I hiked right, so I'll talk about that.
Little Beehive Lookout
After taking a right at Mirror Lake you'll quickly arrive at a fork in the trail. Hiking left at the fork takes you directly to the teahouse, but hiking right gives you the chance to see the Little Beehive which I highly recommend checking out (this is a great place for sunrise).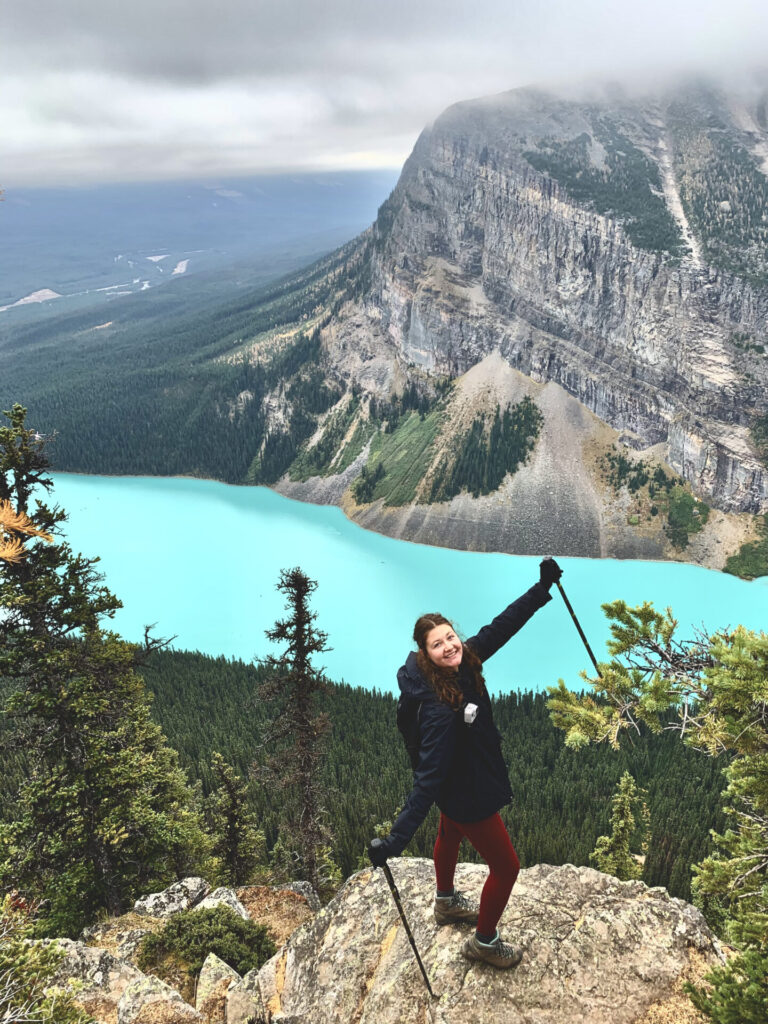 Lake Agnes
If you decide to go to the Little Beehive, take another right at the next fork and continue walking until you reach the viewpoint – you'll know it when you see it. Afterwards hike back the same way you came and keep walking straight until you reach Lake Agnes.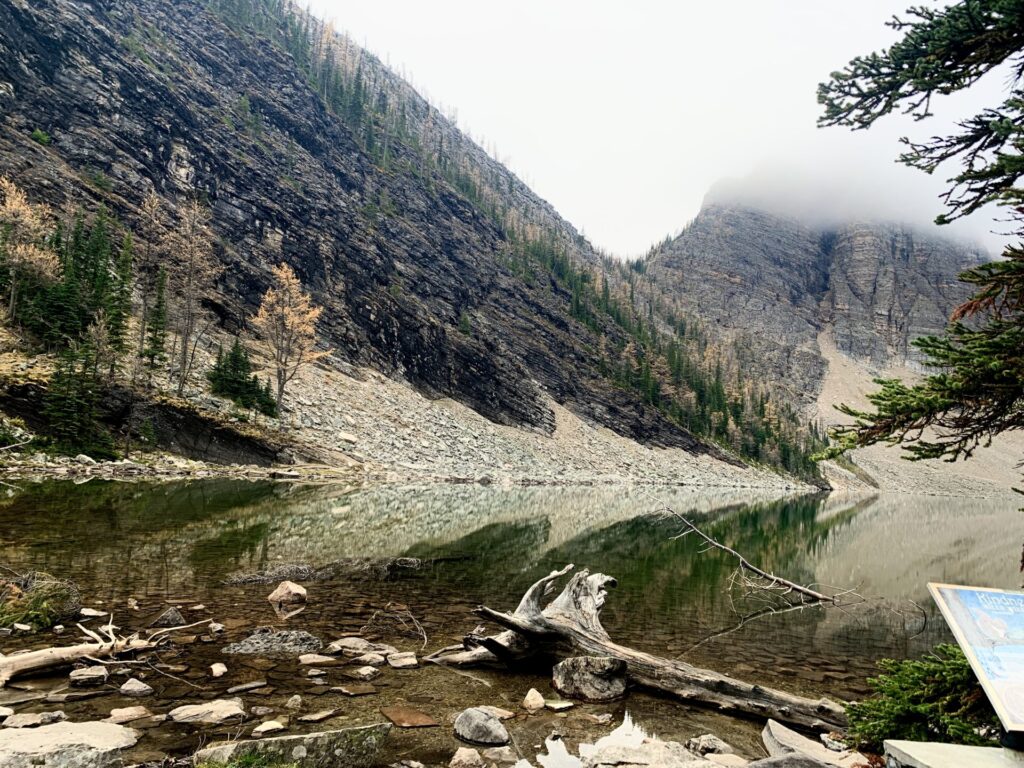 Lake Agnes is home to the Lake Agnes teahouse which serves tasty treats and over 100 types of tea! This is the perfect place to grab breakfast or take a rest before continuing on to Devils Thumb. Just watch out for the killer birds – they're hungry!
After you're done chilling' at Lake Agnes you'll want to continue hiking around the right side of the lake. You'll be walking all the way around the lake until you see switchbacks. When you see these start hiking up!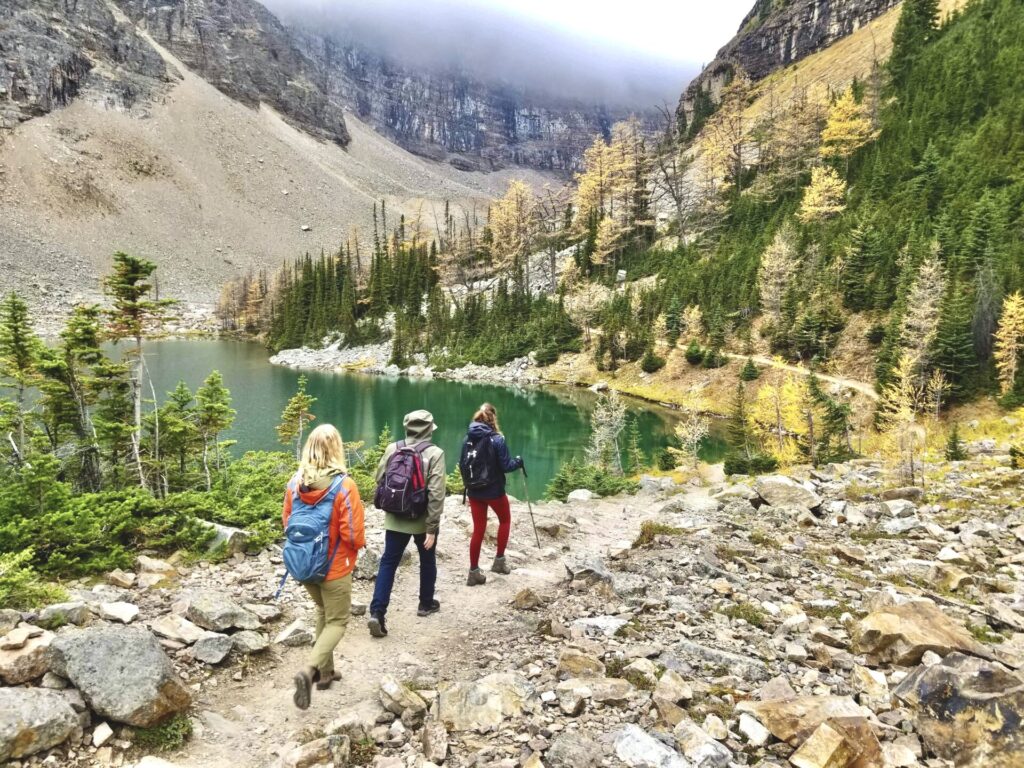 Once you reach the top of the switchbacks you'll come to a split in the trail. Continuing straight takes you to the Plain of 6 glaciers, hiking left takes you to the Big Beehive, and hiking right takes you to Devils Thumb. **Note there is no sign marking Devils Thumb in efforts to keep tourists off this trail.
Before you head up to Devils Thumb you might as well hike left to see the Big Beehive Lookout as well!
Big Beehive Lookout
The Big Beehive Lookout is very similar to that of the Little Beehive, but it's from a higher elevation and it's at the back of Lake Louise rather than the side of the lake.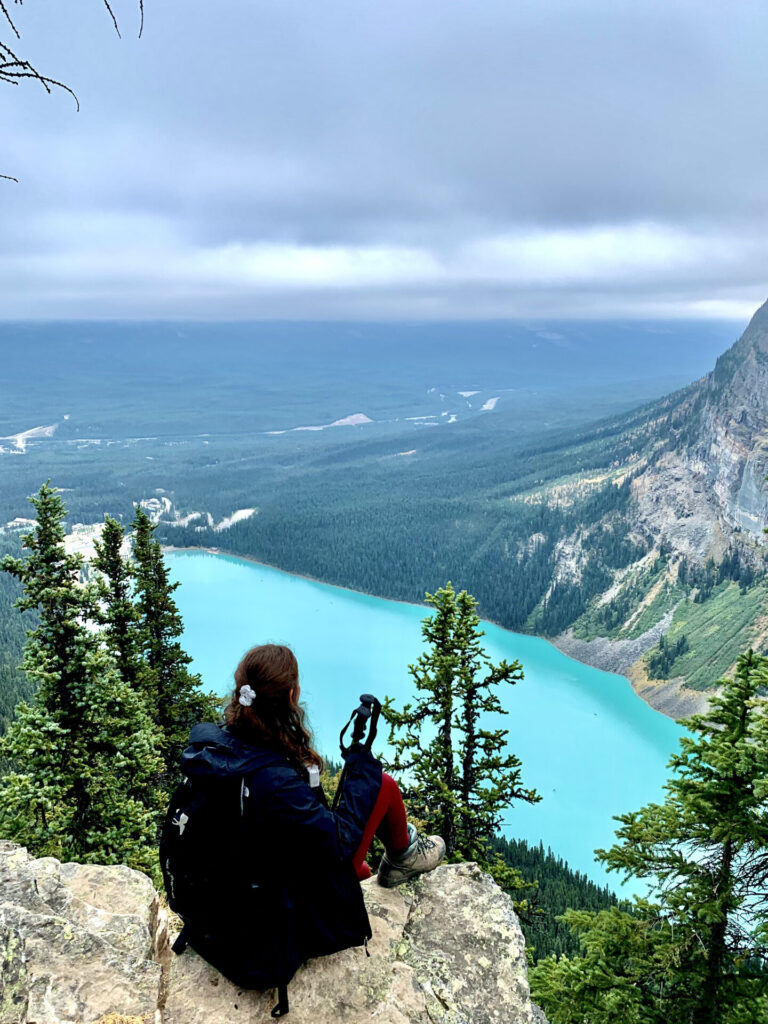 Follow The Holistic Backpacker's Adventures on Socials:
Keep Up With My Adventures!
Sign up for my newsletter and stay up-to-date with my latest adventures, gear guides, and eco-resources!
Taylor ♡
Devils Thumb – Banff Scrambles
Pro tip – bring trekking poles when you complete any of the Banff scrambles, including the Devils Thumb hike. Poles will help you as you scramble up Devils Thumb and as you make the descent.
When you're ready to trek up Devils Thumb, head back and start climbing the unmarked trail. Initially you'll be trekking alongside a cliff, then you'll reach an extremely steep section where you'll most likely need to use your hands and feet to help navigate, making this one of the Banff scrambles.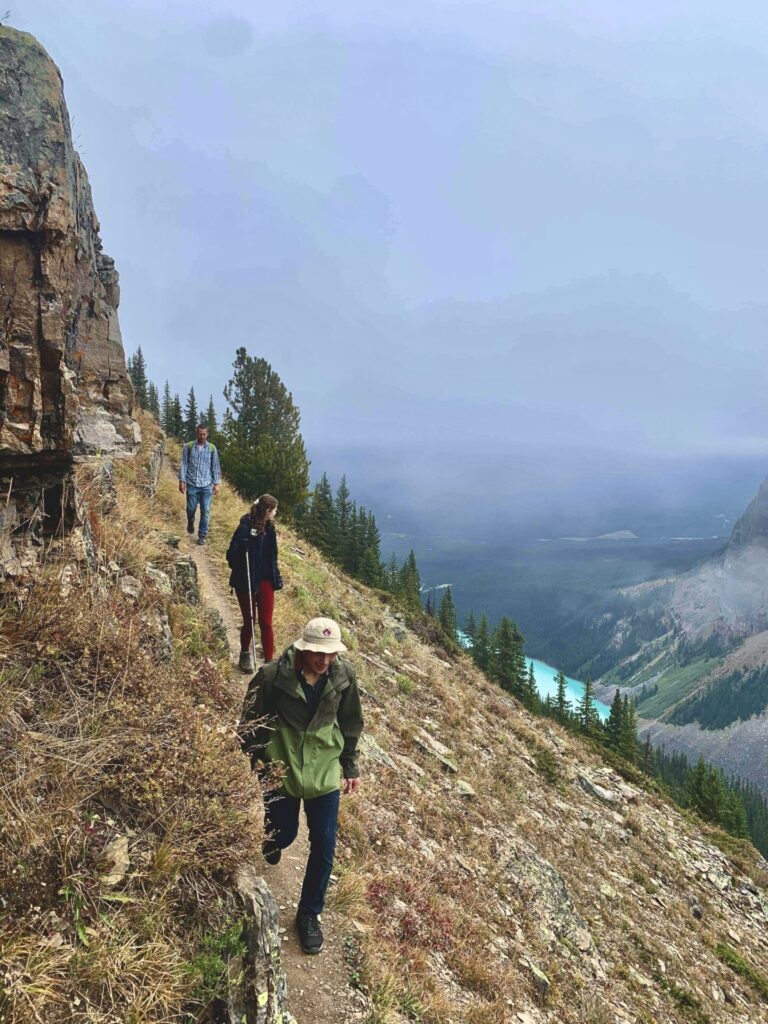 When I completed the Devils Thumb hike there was an extremely low cloud cover, which meant I actually got to scramble up Devils Thumb IN a cloud!
This was super cool, but also super spooky because my hiking partners and I couldn't see more than 15 feet in front of us; the trail had worse visibility the further we climbed. We were following the trail as best we could, but it was quite difficult because we couldn't actually see where the trail was going.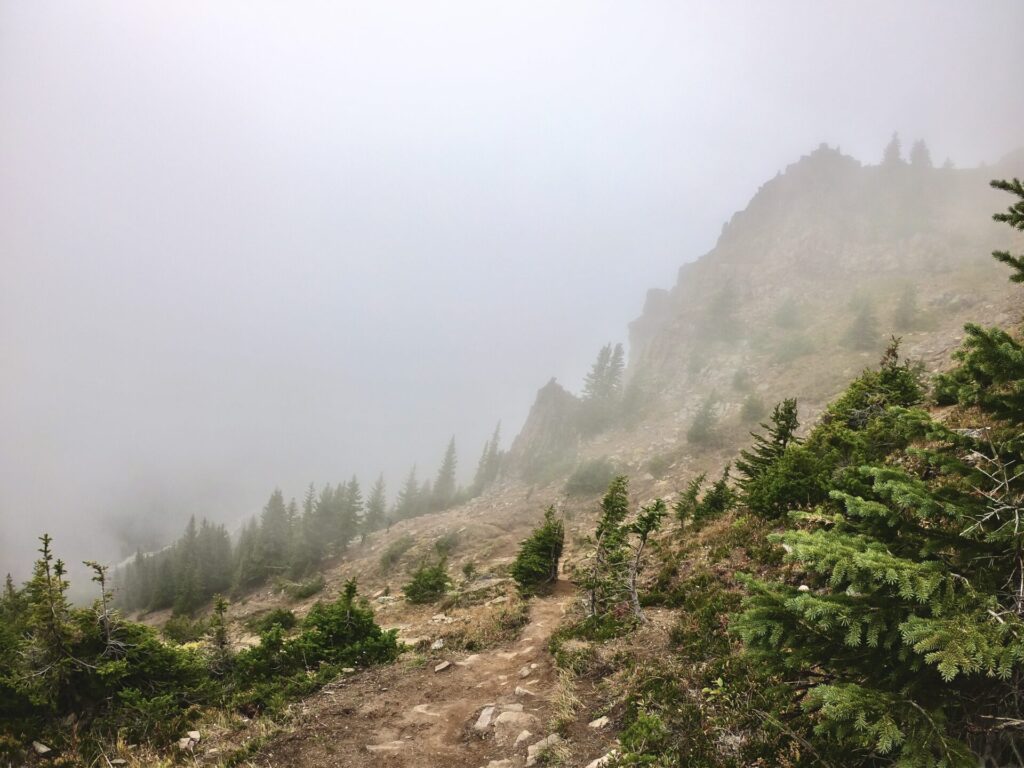 This part of the Devils Thumb hike is steep and has some loose rock/dirt along the way. It's strenuous, but only lasts for a few hundred meters. After this you'll have a quick scramble up some larger rocks and you'll reach the Devils Thumb summit!
Devils Thumb Summit
When my hiking partners and I finally reached the top we could legitimately see nothing. It was like staring into the abyss. I had seen photos of Devil's Thumb before so I knew the view was amazing. I decided it was best to wait it out and hope the clouds cleared.
Over the span of an hour, we slowllllly watched the clouds dissipate, which ended up making for the most incredible view! We saw…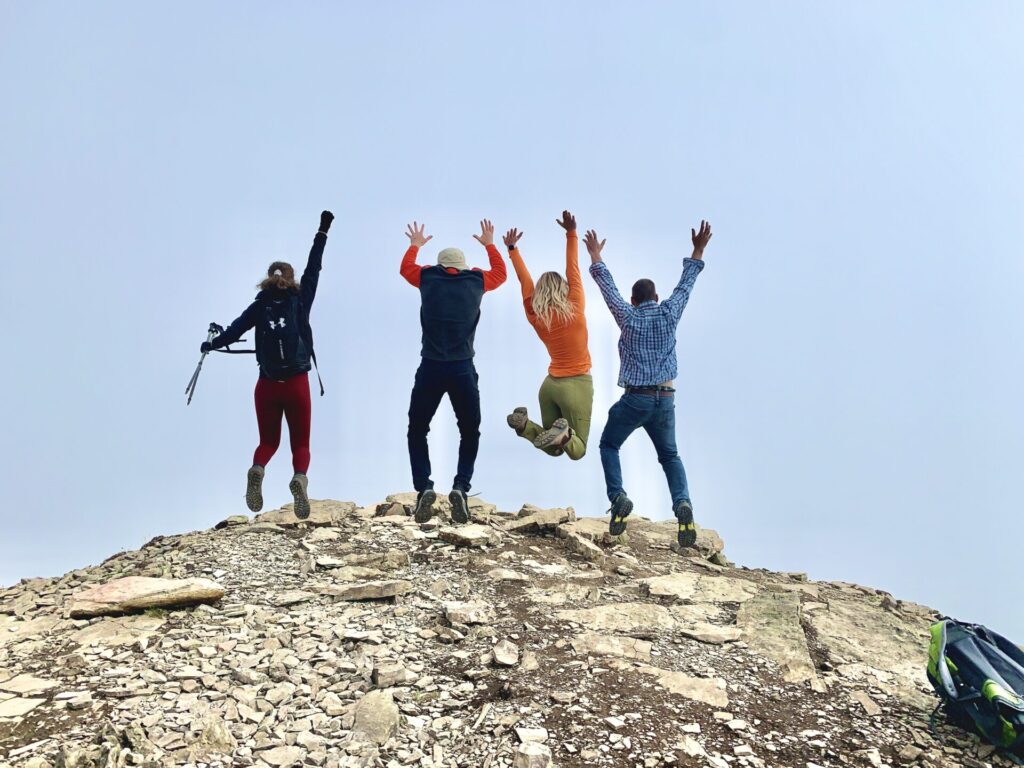 An inversion!!! An inversion occurs when the normal temperature distribution of air is flipped (or inverted). In this scenario cold air is trapped underneath the clouds whereas warm air is overtop. This makes for a clearly defined layer of low-lying clouds.
I was literally sitting on-par with the clouds!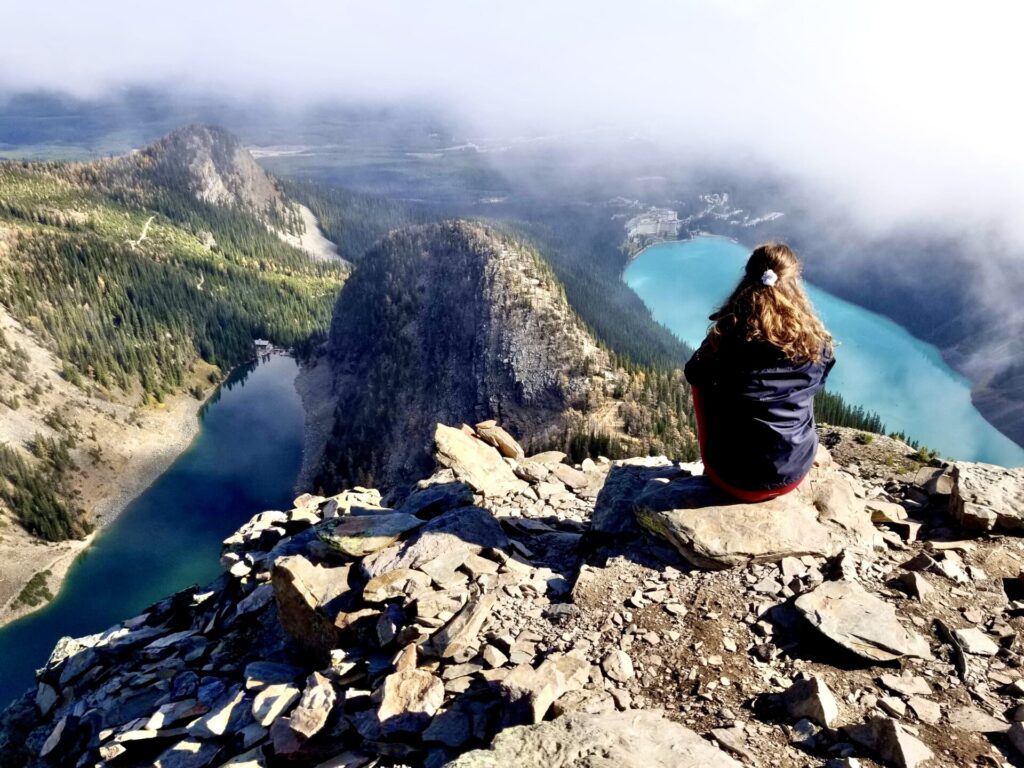 Devils Thumb summit is home to beautiful overhead views of some of Banff's most famous lakes. This is the perfect place to look at both lakes from above and take in the famous Lake Louise scenery.
Tips For A Successful Trip
It's always a good idea to start early when completing one of the Banff scrambles. Start the Devils Thumb hike early to avoid the crowds and catch sunrise!

If you're coming from Banff, take the

Roam bus

rather than driving to avoid parking

Bring trekking poles, they help immensely on the scramble up Devil's Thumb and the descent
Have breakfast at the Lake Agnes teahouse or at least stop for a rest and enjoy a homemade treat!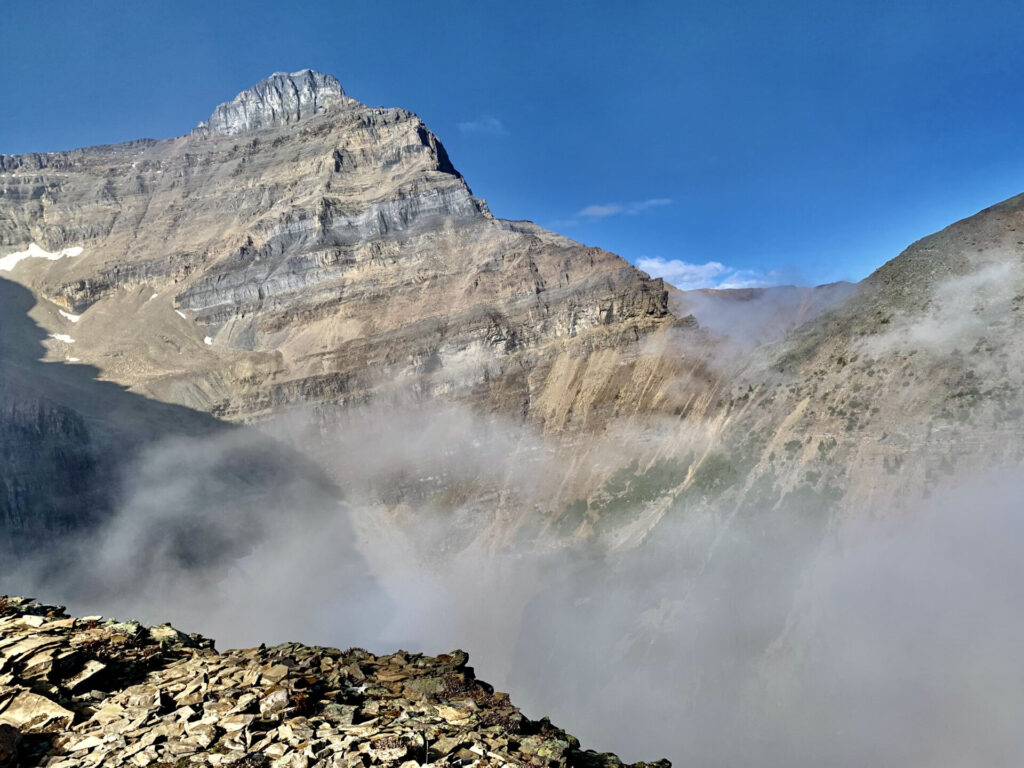 ---
Looking for More Banff Adventures?
Banff is an adventurer's & view seeker's paradise. If you're planning a trip to this gorgeous Canadian Park, you can start with this step-by-step guide designed to help you plan the perfect Banff itinerary.
Alternatively, check out this page with all my Banff resources.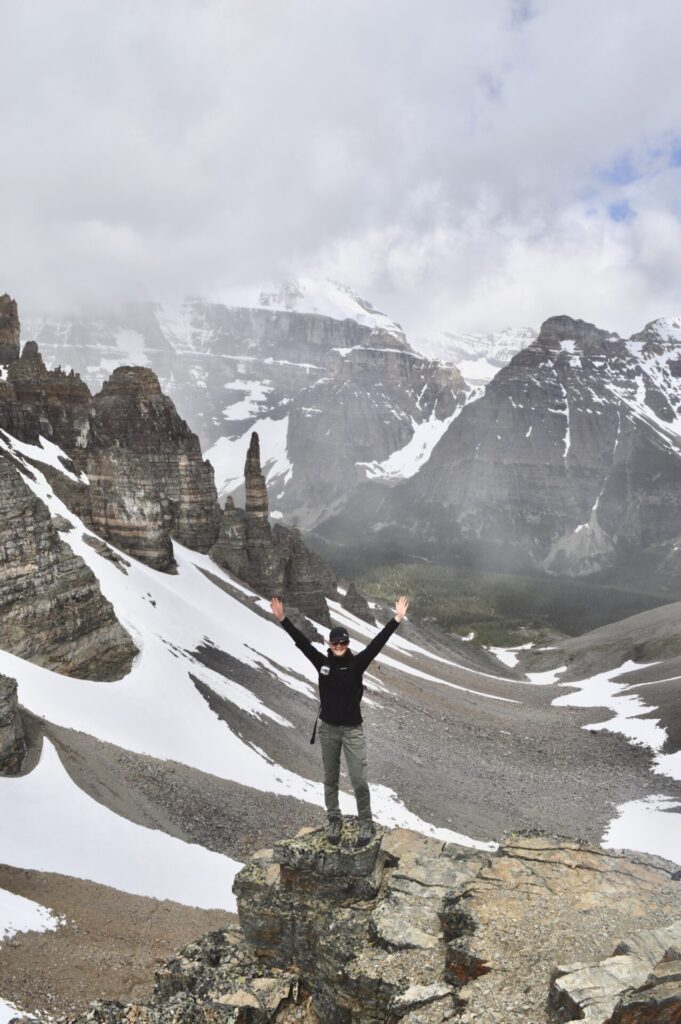 Want to continue your Canadian Rockies expedition outside of Banff? Check out my trail guides & travel resources for British Columbia and Kananaskis Country as well as Jasper, Waterton, Yoho, and Kootenay National Parks 🙂
---
Where to Stay in Banff
More: Plan Your Trip to Banff: A Step by Step Guide
The "best" place to stay in Banff depends on your price range and what you're looking for. There are a few ways to go about finding accommodations in Banff according to each price range:
Find all accommodations in Banff here.
Iconic Banff hotels: Fairmont Banff Springs, Fairmont Chateau Lake Louise, The Rimrock Resort hotel, and Sunshine Mountain Lodge (ski in/ski out at Sunshine Village).
Popular hotels in Banff: Mount Royal, Elk & Avenue, Juniper Hotel & Bistro, Banff Park Lodge, and The Banff Caribou.
Budget accommodations in Banff: there are numerous hostels in Banff, The Dorothy Motel, Blue Mountain Lodge Bed & Breakfast, Banff Rocky Mountain Resort.
Iconic hotels near Banff: Emerald Lake Lodge (Yoho), Prince of Wales (Waterton), Mount Engadine Lodge(Kananaskis Country), Fairmont Jasper Park Lodge (Jasper).
Tips for Saving Money on Accommodations
I won't lie, Banff can be a pretty expensive place to travel (but worth every penny). So, to help you offset some of the costs of your trip, here are tips for saving on accommodations in Banff:
More: Plan Your Trip to Banff: A Step by Step Guide
Recommended Hiking Gear
The following items are some of my favourites – I never hit the trail without them!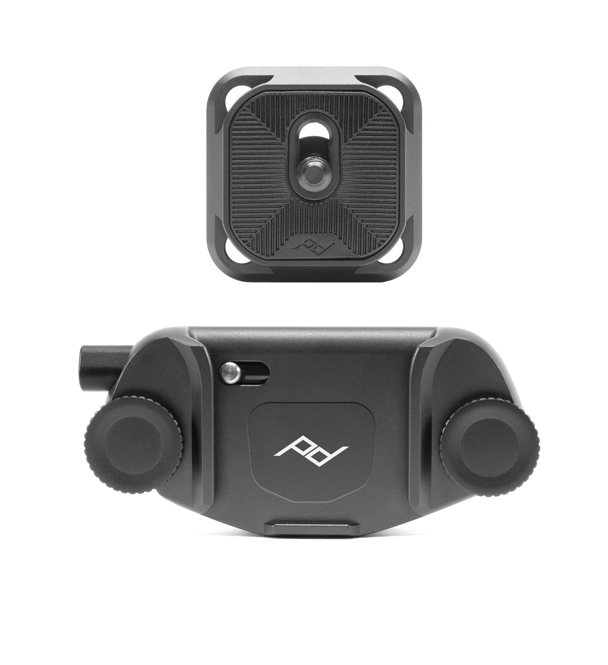 The Capture Clip by Peak Design is a sturdy, safe, and super convenient way to carry your camera while hiking or backpacking.
Find it on Amazon (CAD).
Find it on Peak Design (US).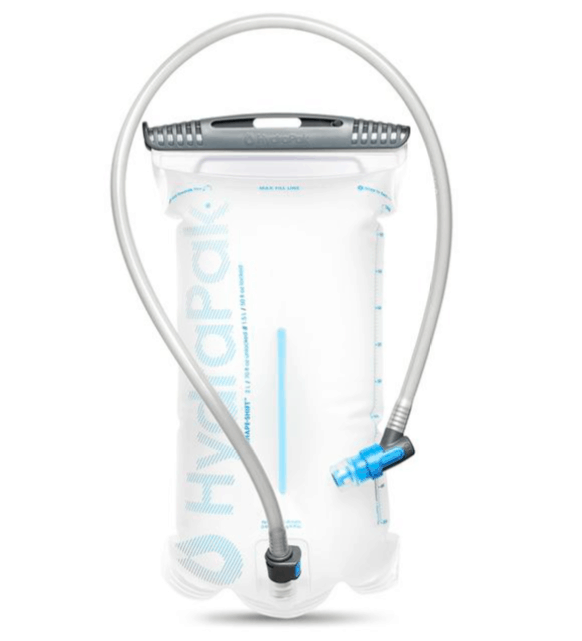 A hydration reservoir is SO important. It holds 2L+ of water and keeps you hydrated on-trail. I use the 2L Hydrapak; it never leaks and has a detachable tube.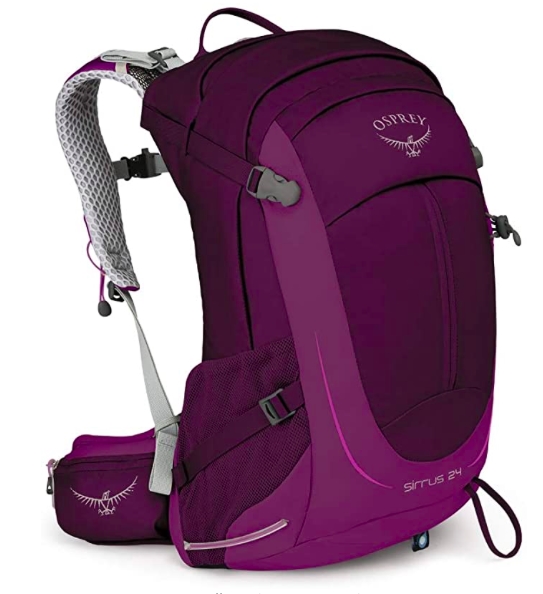 Things to look for in a good quality day-pack: sternum strap, hip belt (with pockets), and a breathable mesh system for your back. I use the Osprey Sirrus 24L pack (men's version) and I LOVE it!
---
What To Wear Hiking in the Rockies
For a detailed guide on what to wear hiking in the Canadian Rockies, check out this post.
Choosing what to wear hiking can be confusing, but the secret to properly dressing for a hike is layering. You can mix and match the tops and bottoms you already own to make up your base layers, however in addition to those clothes you'll need a few extra things:
A waterproof jacket is the most important layer for hiking – it keeps you warm and protects you from wind and rain. I use the Marmot Eco Precip Jacket (men's version) which is totally a bang-for-your-buck. If rain is in the forecast, don't forget to pack waterproof pants (men's version) too.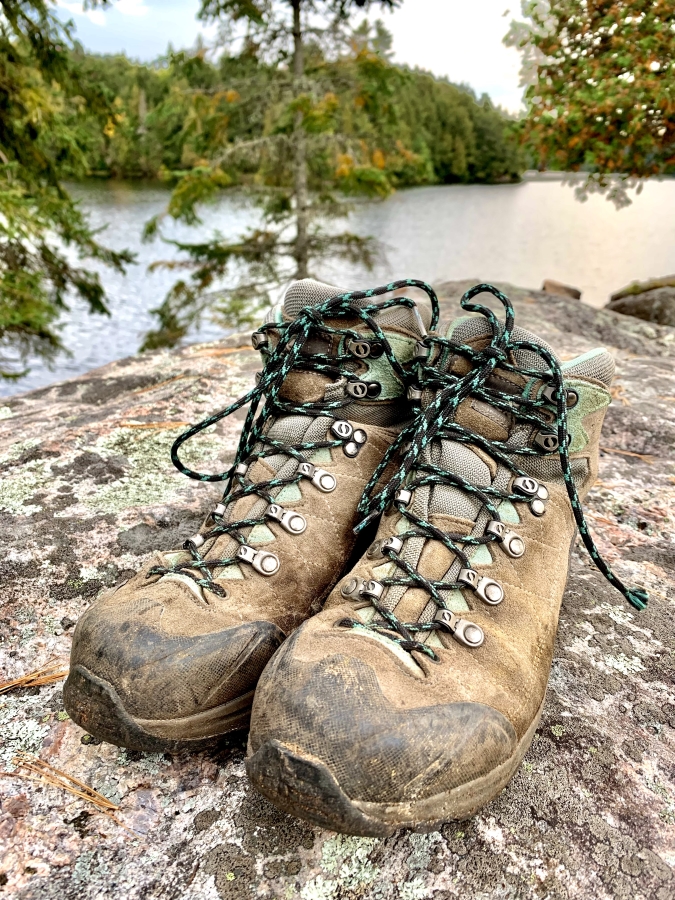 A good pair of hiking boots are Gore-tex, provide ankle support, and are durable. I use the Scarpa Kailash boot (men's version) and they've never let me down. You'll also want a good quality pair of socks. I use Smartwool – they're great quality and last an entire season.
A puffer jacket acts as your warm layer. I use the hoodless Columbia Women's Heavenly Jacket (men's version). Alternatively you can use a fleece zip – I have this one (men's version) from Columbia. Both of these options are perfect layers to keep you warm on windy, cold, or high elevation hikes.
Rocky Mountain hiking exposes you to different natural elements and conditions – it's imperative that you're prepared for whatever nature throws at you. Trust me, I've learned the hard way!
More: Day-hiking Gear Guide
More: What to Wear Hiking in the Canadian Rockies
Happy adventuring!
Taylor ♡
---
Like This Post?
Share with friends or save it for later!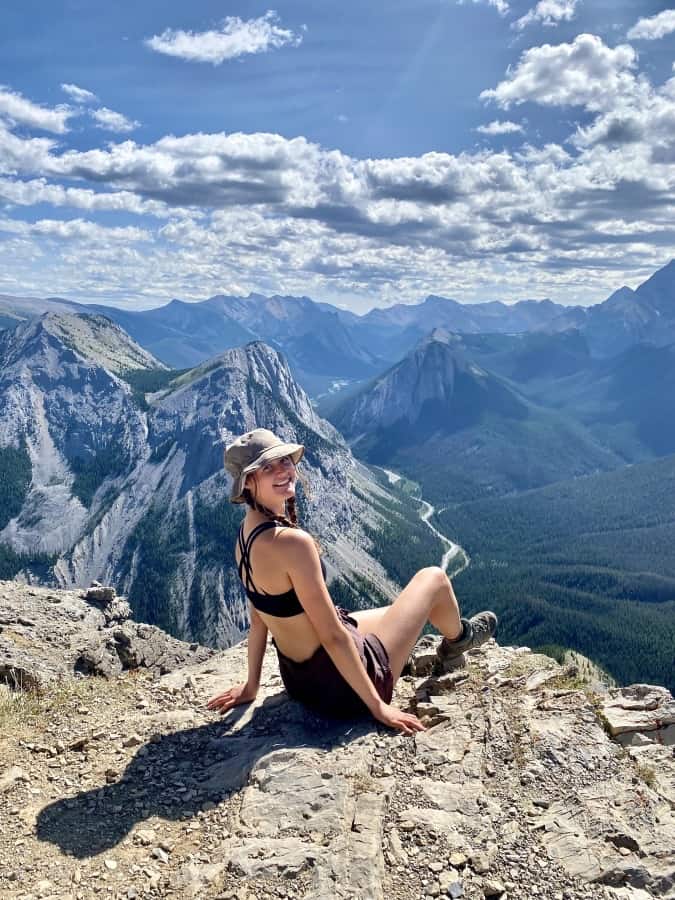 About The Author
---
Hey! I'm Taylor – the voice behind The Holistic Backpacker.
After moving to Banff National Park in 2020 I became an outdoor adventure enthusiast and vowed to never stop exploring.
I'm now focused on travelling the world and seeing everything our beautiful home has to offer.
I created The Holistic Backpacker so I could share my adventures and help connect people like you with the same amazing experiences.
I am also an advocate for the environment and do as much as I can to take care of our planet.
Get to know me and my story more here 🙂
I can't wait to share my adventures with you!