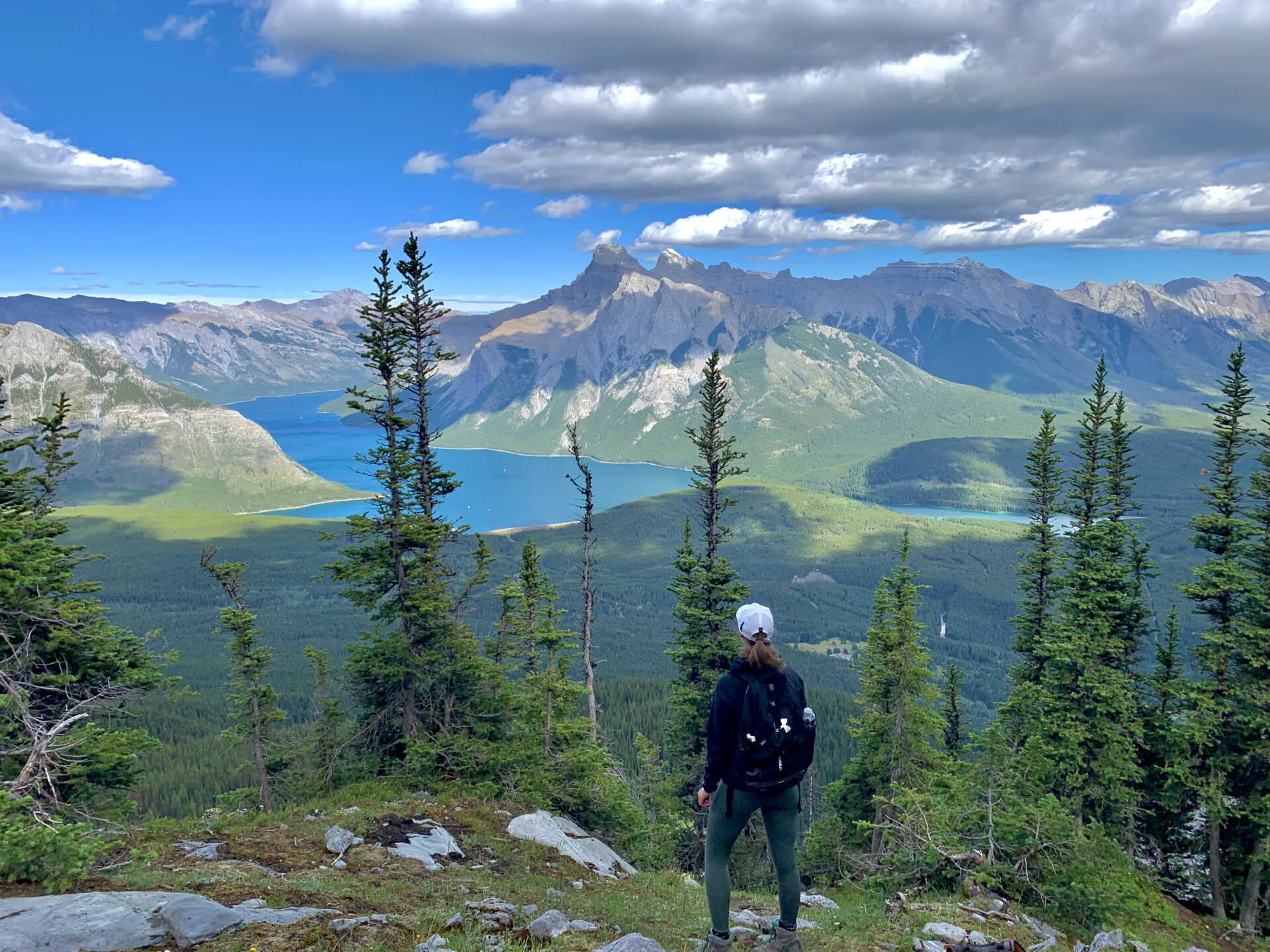 C-Level Cirque Hike in Banff
The C-Level Cirque hike in Banff is perfect for all ability levels and features incredible views of Banff's Lake Minnewanka. This hike mainly follows a forested trail up the backside of Cascade Mountain, but offers a scramble at the end if you're looking for a bit more of a challenge.
In this guide I'll tell you everything you need to know about the C-Level Cirque hike in Banff, hiking gear & clothes you'll need for the Rockies, as well as outline the best places to stay in Banff for every budget.
Before you continue, don't forget to check out my ever-growing list of trail guides! I have lots for Banff (which you can find here), like these easy hikes you can access directly from town.
Now, let's go hiking!
Skip Ahead:
This post contains affiliate links; see my full disclosure. If you click these links and make a purchase you're supporting The Holistic Backpacker. Thanks for your support & happy adventuring! – Taylor ♡
---
---
Related Content
---
How To Get To C-Level Cirque Trailhead
Unlike most hikes in the Banff area, you can access the C-Level Cirque trailhead directly from the town of Banff. The C-Level Cirque trailhead is located next to the Upper Bankhead Parking Lot along the Lake Minnewanka scenic drive.
There isn't a shuttle that drops you off at this parking lot, so you have 2 options to get there; rent a car or bike. Biking would definitely pose a bit of a workout, but it's totally doable! If you're just visiting Banff and don't have a bike, you can rent one at Bactrax in town.
Note – there's a seasonal road closure for the Lake Minnewanka scenic drive from November to May. You can find specifics about the closure here.
About C-Level Cirque Trail
Distance: 9.3km
Elevation gain: 759m
Rated: moderate
Type of trail: out & back
Estimated time: 4 hours
The C-Level Cirque hike in Banff is great for all ability levels, children, and dogs (just keep them on a leash). The trail is very well maintained, easy to follow, and poses no huge obstacles like excessive root and rock exposure.
The trail is completely forested with a few viewpoints and historical mining structures along the way. At the end of the forested section, the C-Level Cirque hike turns into a scramble which leads to the highest and final viewpoint which overlooks Lake Minnewanka. I'd say the C-Level Cirque scramble is actually a great introductory scramble for those looking to "step up" their Rocky Mountain hiking game.
By the way, I have lots of other scrambling trail guides, which you can find here.
Other Important Things About the C-Level Cirque Hike
This is bear country. It's recommended you hike with a partner and bring bear spray
This trail isn't overly crowded, which makes it perfect if you're looking for a more secluded hike
There's snow on the scramble until late in the season. It might be helpful to bring micro-spikes if you plan to complete the C-Level Cirque scramble earlier in the season
Hiking C-Level Cirque
The first 4kms of the C-Level Cirque hike in Banff are a bit gruelling, however this is the section of the hike that's great for kids and new hikers.
You can expect steady elevation gain through a completely (lush and beautiful) forested area. Although a little boring, I found this section of the hike to be very peaceful. I formerly had only hiked in Ontario, so I'm used to the whole "nature walk" thing.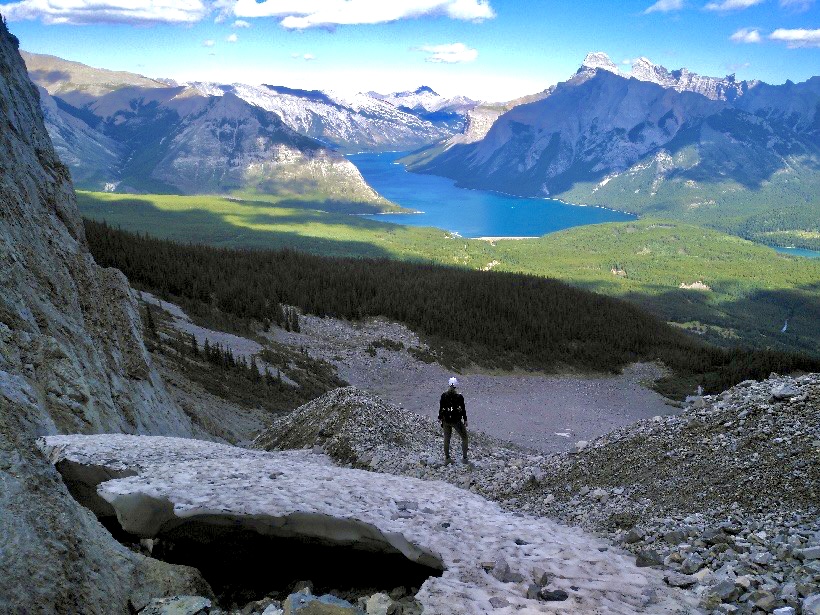 The C-Level Cirque hike follows a trail that leads up the backside of Cascade Mountain; that big famous mountain you can see from town. For those wanting to attempt the Cascade summit, you can refer to this hiker's experience.
---
During the first few boring kilometres, you can keep an eye out for the Lost House Historical Point, old mining structures, huts, and the occasional sneaky view of Mount Rundle and Cascade through the trees.
Keep in mind, this is bear country so making some noise along the way wouldn't be a bad idea!
The time passes by quite quickly and before you know it you'll have reached the scree field.
C-Level Cirque Scramble
The C-Level Cirque scramble starts exactly at the 4km mark. Hikers have the option of ascending the scramble to the final viewpoint OR turning back.
I'd recommend doing a least a little bit of the scramble. This way you have the chance to see Lake Minnewanka from above. Of course the higher you scramble, the better the view.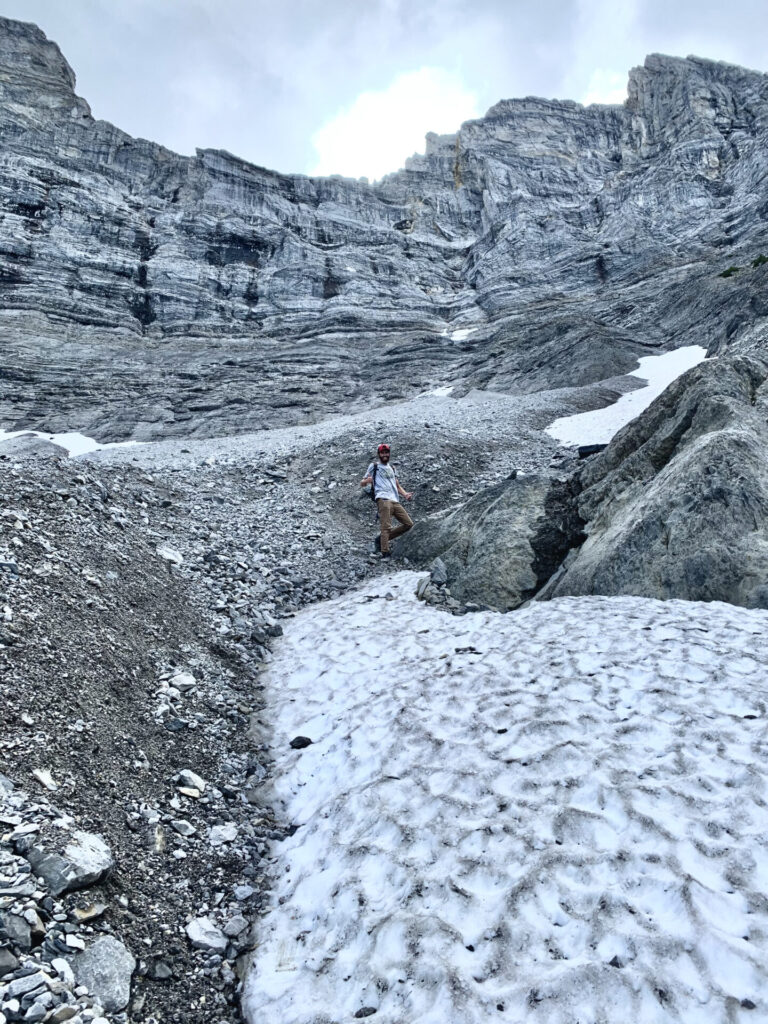 I found this scramble to be a bit annoying; the rocks in the scree field weren't the same size so I wasn't able to scree ski down or quickly ascend. I had to pay attention to each step because rocks would come loose when I wasn't expecting them to, or they'd stay put when I expected them to slide. The C-Level Cirque scramble is a bit of a guessing game!
None the less, the scramble isn't overly challenging or massive, which is why I'm recommending this as a great introductory hike for scrambling in the Rockies.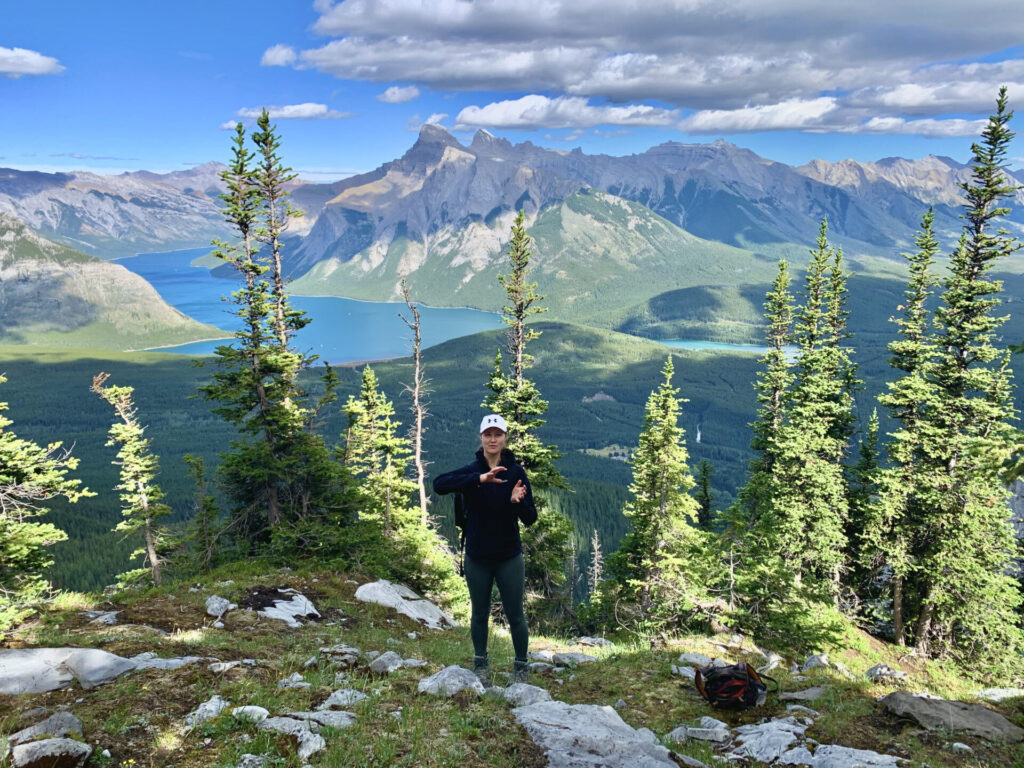 The entire scramble is only about 0.5km long. It takes around 45 minutes to compete, and even less for experienced hikers.
Follow The Holistic Backpacker's Adventures on Socials:
Keep Up With My Adventures!
Sign up for my newsletter and stay up-to-date with my latest adventures, gear guides, and eco-resources!
Taylor ♡
The Final Ascent
After the scree field, you can expect to find an extremely steep grassy section (hiker's right). If you want to reach the final viewpoint, you'll have to endure one final push. For the C-Level Cirque scramble I recommend to:
Bring hiking gloves (I use these/men's version). You'll 100% be using your hands throughout the scramble
Use trekking poles for the descent. These will help significantly with balance and protect your knees
Dress warm. It's quite windy and cold up at the final viewpoint! These are the layers I recommend for hiking in the Rockies
From someone who's summited C-Level Cirque, I DEFINITELY recommend reaching the final viewpoint. The view of Lake Minnewanka from here will certainly not disappoint.
Next I'll talk about my favourite hiking gear and clothes for the Rockies, and I'll recommend a few places to stay in Banff for every budget.
---
Looking for More Banff Adventures?
Banff is an adventurer's & view seeker's paradise. If you're planning a trip to this gorgeous Canadian Park, you can start with this step-by-step guide designed to help you plan the perfect Banff itinerary.
Alternatively, check out this page with all my Banff resources.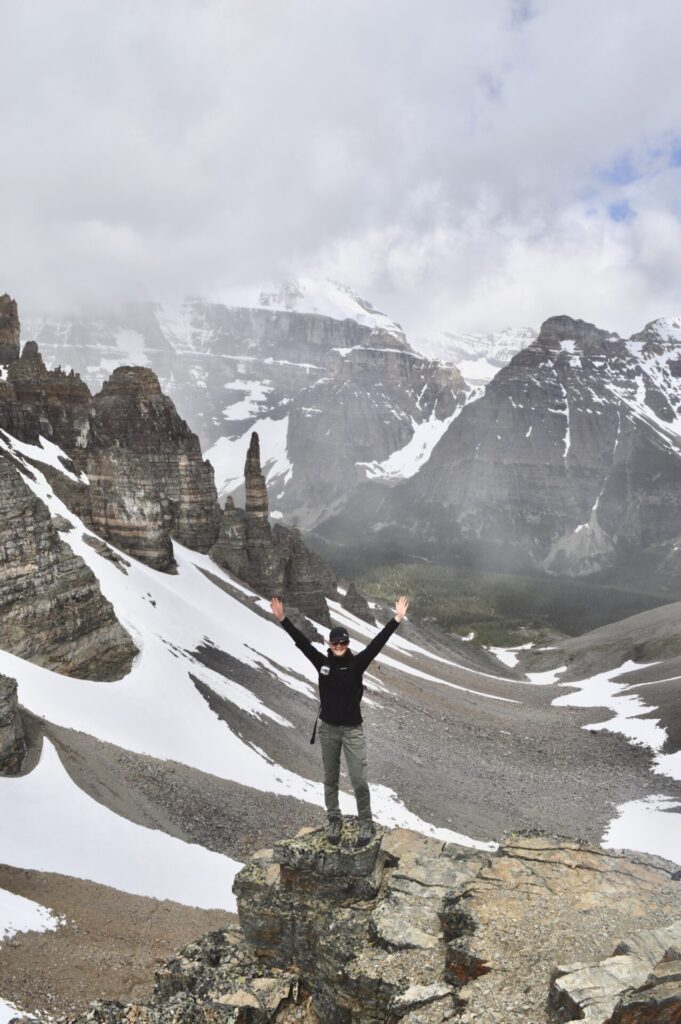 Want to continue your Canadian Rockies expedition outside of Banff? Check out my trail guides & travel resources for British Columbia and Kananaskis Country as well as Jasper, Waterton, Yoho, and Kootenay National Parks 🙂
---
Recommended Hiking Gear
The following items are some of my favourites – I never hit the trail without them!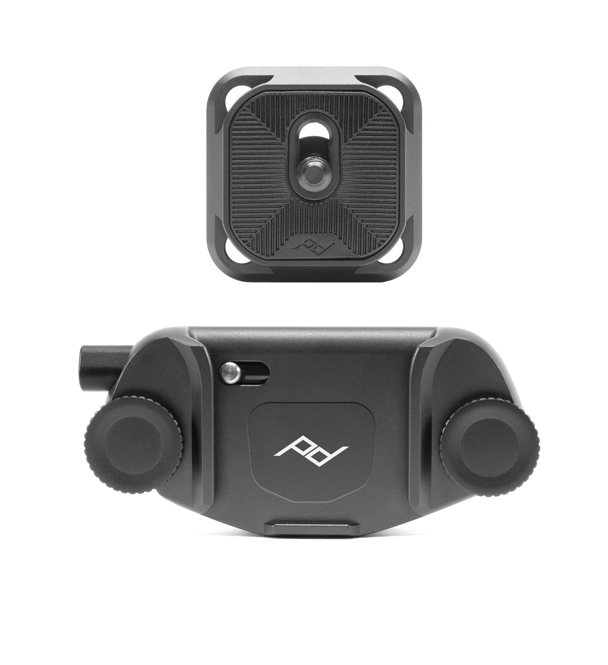 The Capture Clip by Peak Design is a sturdy, safe, and super convenient way to carry your camera while hiking or backpacking.
Find it on Amazon (CAD).
Find it on Peak Design (US).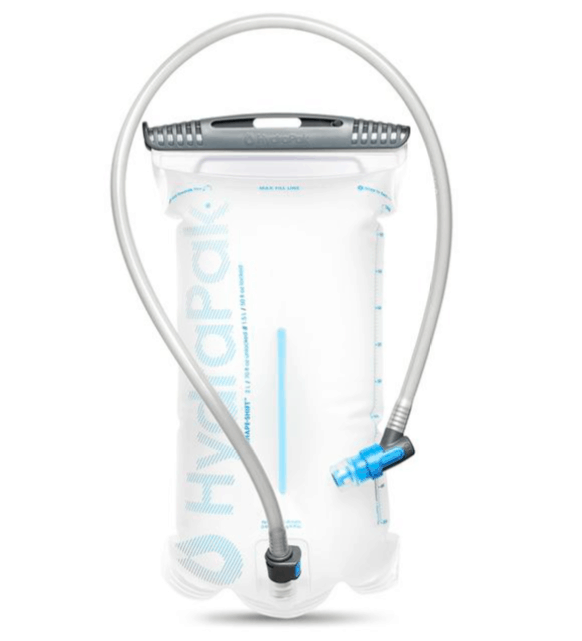 A hydration reservoir is SO important. It holds 2L+ of water and keeps you hydrated on-trail. I use the 2L Hydrapak; it never leaks and has a detachable tube.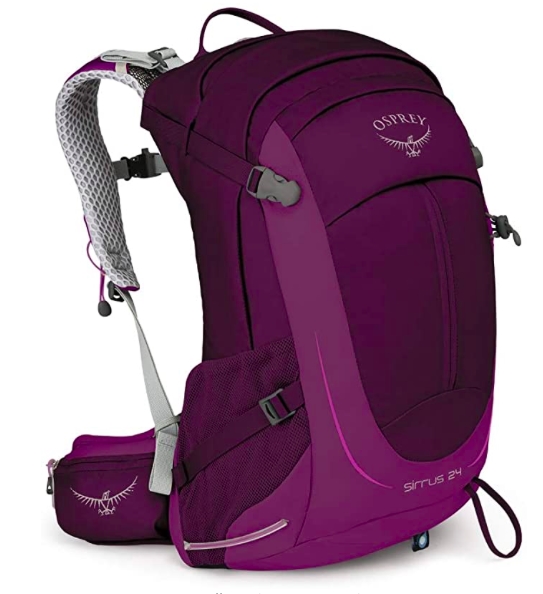 Things to look for in a good quality day-pack: sternum strap, hip belt (with pockets), and a breathable mesh system for your back. I use the Osprey Sirrus 24L pack (men's version) and I LOVE it!
---
What To Wear Hiking in the Rockies
For a detailed guide on what to wear hiking in the Canadian Rockies, check out this post.
Choosing what to wear hiking can be confusing, but the secret to properly dressing for a hike is layering. You can mix and match the tops and bottoms you already own to make up your base layers, however in addition to those clothes you'll need a few extra things:
A waterproof jacket is the most important layer for hiking – it keeps you warm and protects you from wind and rain. I use the Marmot Eco Precip Jacket (men's version) which is totally a bang-for-your-buck. If rain is in the forecast, don't forget to pack waterproof pants (men's version) too.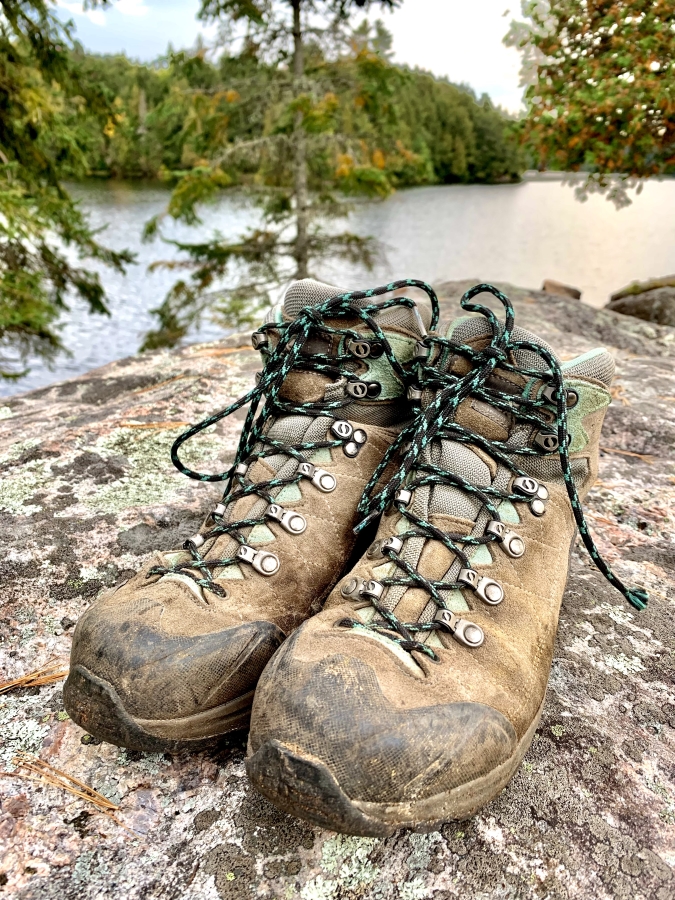 A good pair of hiking boots are Gore-tex, provide ankle support, and are durable. I use the Scarpa Kailash boot (men's version) and they've never let me down. You'll also want a good quality pair of socks. I use Smartwool – they're great quality and last an entire season.
A puffer jacket acts as your warm layer. I use the hoodless Columbia Women's Heavenly Jacket (men's version). Alternatively you can use a fleece zip – I have this one (men's version) from Columbia. Both of these options are perfect layers to keep you warm on windy, cold, or high elevation hikes.
Rocky Mountain hiking exposes you to different natural elements and conditions – it's imperative that you're prepared for whatever nature throws at you. Trust me, I've learned the hard way!
More: Day-hiking Gear Guide
More: What to Wear Hiking in the Canadian Rockies
Where to Stay in Banff
More: Plan Your Trip to Banff: A Step by Step Guide
The "best" place to stay in Banff depends on your price range and what you're looking for. There are a few ways to go about finding accommodations in Banff according to each price range:
Find all accommodations in Banff here.
Iconic Banff hotels: Fairmont Banff Springs, Fairmont Chateau Lake Louise, The Rimrock Resort hotel, and Sunshine Mountain Lodge (ski in/ski out at Sunshine Village).
Popular hotels in Banff: Mount Royal, Elk & Avenue, Juniper Hotel & Bistro, Banff Park Lodge, and The Banff Caribou.
Budget accommodations in Banff: there are numerous hostels in Banff, The Dorothy Motel, Blue Mountain Lodge Bed & Breakfast, Banff Rocky Mountain Resort.
Iconic hotels near Banff: Emerald Lake Lodge (Yoho), Prince of Wales (Waterton), Mount Engadine Lodge(Kananaskis Country), Fairmont Jasper Park Lodge (Jasper).
Tips for Saving Money on Accommodations
I won't lie, Banff can be a pretty expensive place to travel (but worth every penny). So, to help you offset some of the costs of your trip, here are tips for saving on accommodations in Banff:
More: Plan Your Trip to Banff: A Step by Step Guide
Happy adventuring!
Taylor ♡
---
Like This Post?
Share with friends or save it for later!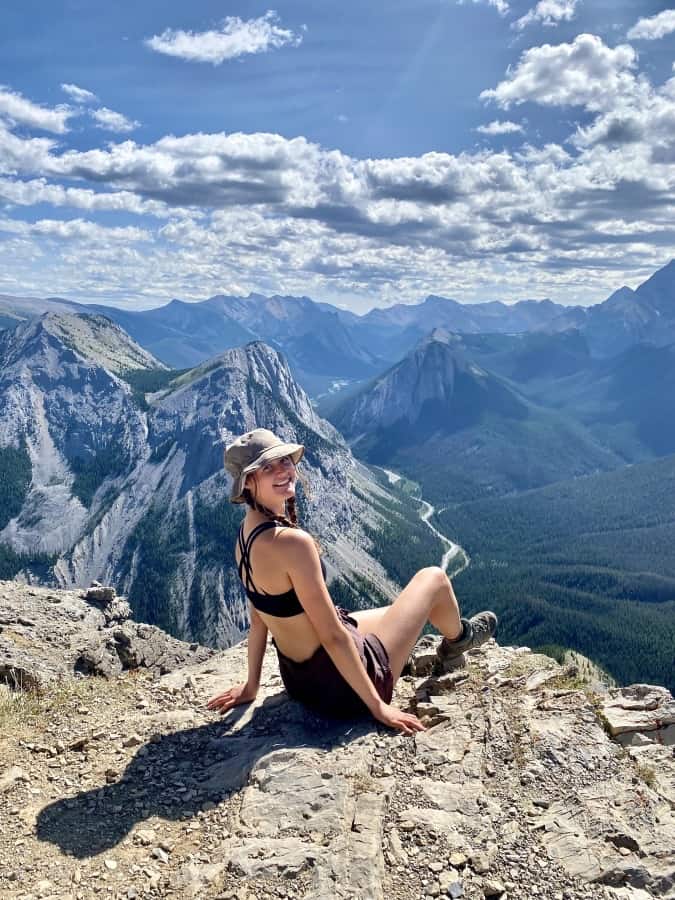 About The Author
---
Hey! I'm Taylor – the voice behind The Holistic Backpacker.
After moving to Banff National Park in 2020 I became an outdoor adventure enthusiast and vowed to never stop exploring.
I'm now focused on travelling the world and seeing everything our beautiful home has to offer.
I created The Holistic Backpacker so I could share my adventures and help connect people like you with the same amazing experiences.
I am also an advocate for the environment and do as much as I can to take care of our planet.
Get to know me and my story more here 🙂
I can't wait to share my adventures with you!