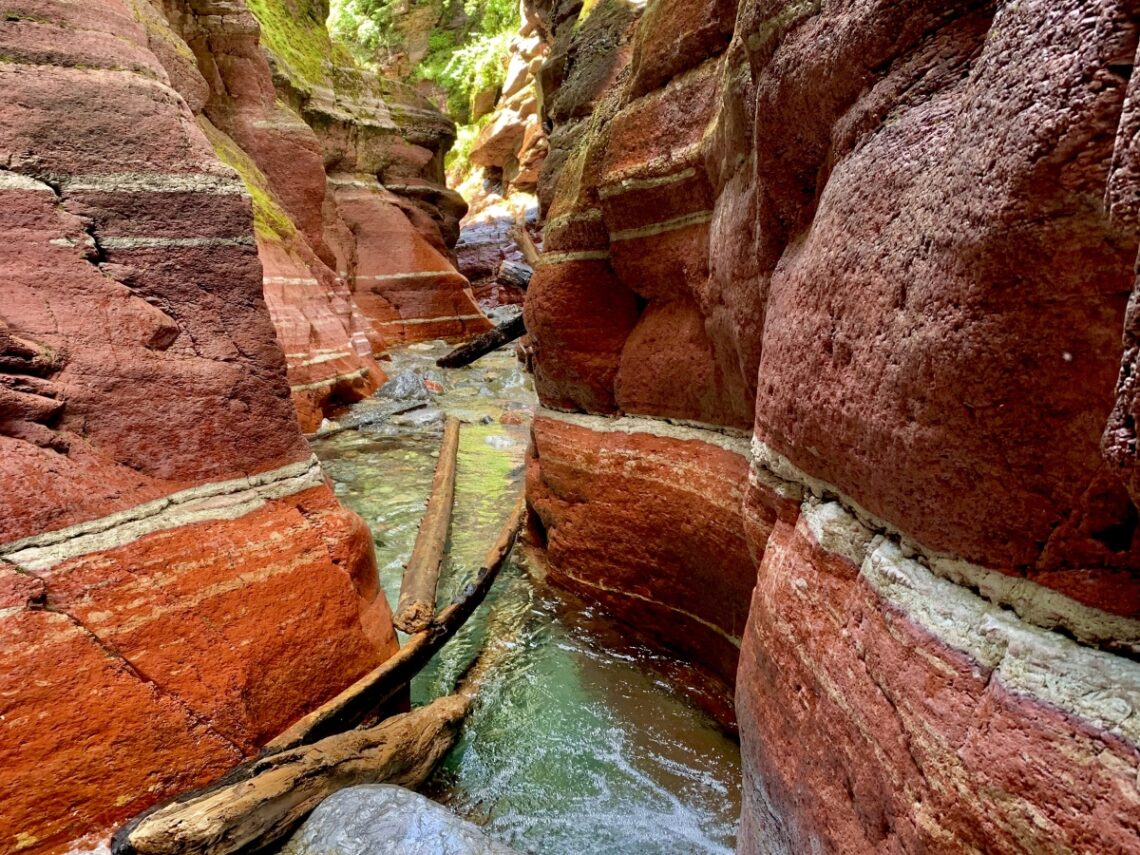 Red Rock Canyon Hike – Waterton Lakes National Park
Hiking Red Rock Canyon is by far one of the coolest things to do in Waterton. The canyon itself is made of the most striking red rock and is filled by bright blue glacial water.
This is not your typical "hike" (I'll explain more), but it is one of my favourite memories of Waterton and one of Waterton's most popular attractions.
This red rock I'm speaking of can also been seen at Bertha Lake – my favourite hike in Waterton.
Now, let's go hiking!
Skip Ahead:
This post may contain affiliate links (full disclosure). If you make a purchase through one of these links I may receive a small commission at no additional cost to you. Thanks for your support & happy adventuring! – Taylor ♡
---
---
Related Content:
---
Getting to the Red Rock Canyon Trailhead
From the main road going into town you will clearly see a sign marked "Red Rock Canyon." Obviously, turn here. If you follow this road you will eventually come to a parking lot on your right. Note that the drive to Red Rock Canyon is an adventure in itself.
Enjoy the windy road through a gorgeous valley complete with wildflowers (early in the season), massive mountains, and Waterton's burn-scarred landscape from the Kenow Wildfire back in 2017.
Keep your eyes peeled on this drive – we saw coyotes, deer, and a few other small critters along the way.
If you're looking for hiking trails near Lethbridge, this is only 1.5hours away. The trailhead is about 2 hours from Fernie, 3 hours from Calgary, and 4 hours from Banff. You could easily drive from any of these locations to make this a day-trip, but I would recommend staying at least 1 night in Waterton because there's lots to do!
If you're driving from Calgary or Banff, make sure you take highway 22. This highway takes you through the foothills and is absolutely gorgeous. You'll have the chance to pass through the greenest rolling fields which are backed by distant mountains that appear blue in colour. You'll be passing by lots of farmland, so prepare to see lots of horses and cows!
About The Trail
When I mentioned this not being a normal "hike" I was referring to the type of trail the canyon follows; which happens to not be a trail at all. Rather than being on a path you will actually be walking through the canyon!
I would definitely recommend wearing some type of footwear – I had my trusty trail Crocs and they worked perfectly.
You'll be walking through flowing water, over slippery/smooth rock as well as smaller sharp rocks. So, protect your feet.
You can continue walking through the canyon until you physically are not able to go any further. I made it pretty much to the "end," where I found a very interesting surprise… Keep reading for more on this.
On your journey through the canyon you'll be climbing around rocks, walking over logs, and maneuvering around a few other obstacles. Roundtrip, this will take you around an hour to an hour and a half if you go straight there and back.
Hiking The Trail
From the parking lot you will see a bridge – climb down next to this and turn right to enter the canyon. From here, starting walking!
I'll start off by answering the question I know you're asking – yes! The rocks are actually this red.
Waterton's red rock is my absolute favourite thing about Waterton. It's so unique and seems so random, but it can be found in multiple areas of the park.
Before entering the actual canyon, you will be walking along flat rocks that are perfect for lounging on. A few of the rocks seem to have perfect "butt spots," which may actually be the case because so many people visit the canyon.
Take advantage here, sit back, or go for a swim. Just know the water is cold. This is glacial water, baby.
After this flat section of rocks, they will turn to smaller, sharper rocks that are painful to walk on, so make sure you have appropriate footwear. It will make the hike much more enjoyable.
Further up the canyon you will climb over rocks and logs, wade though deeper water, and get the chance to see mini waterfalls.
There are a few larger waterfalls as you go along, the biggest one is at the end of the canyon. You'll know when you get to the end of the canyon because it becomes very difficult to climb over the rocks.
I managed to get to the top, but there was nothing much to see up there, so I'd recommend taking in the view of the waterfall from below and turning back.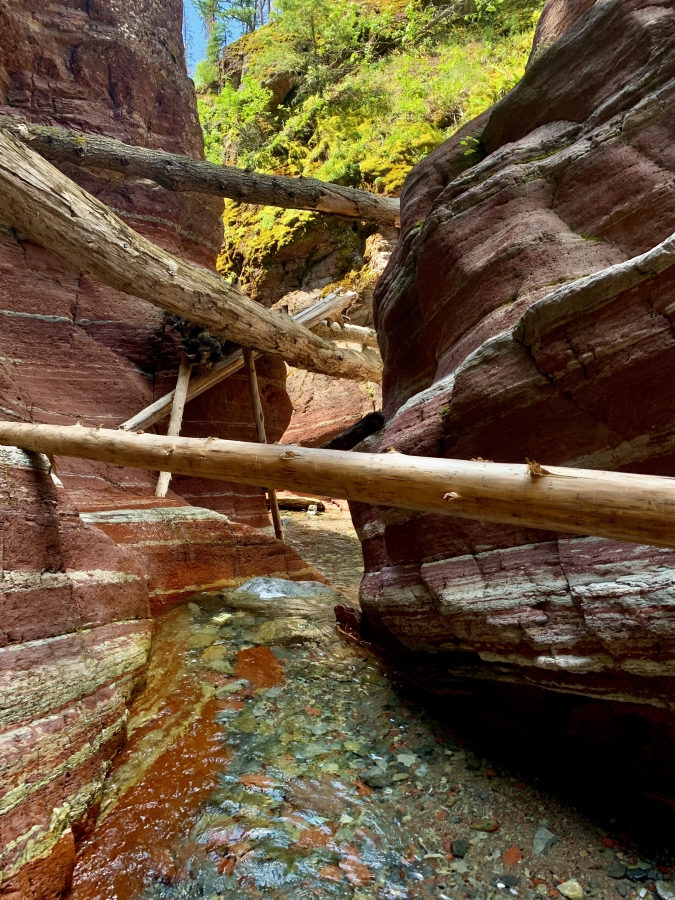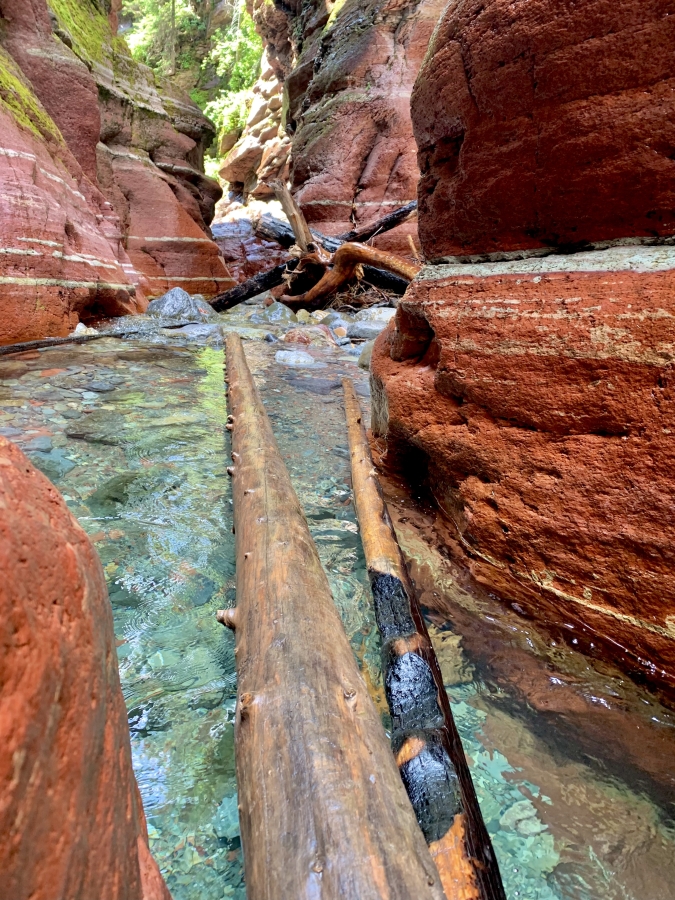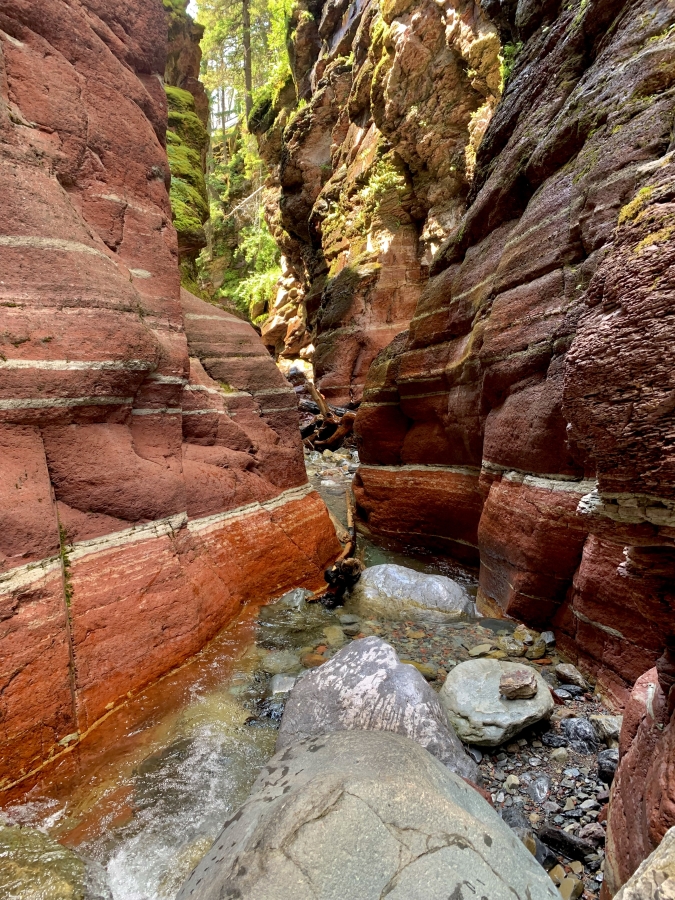 The water in various parts of the canyon gets to be a few feet deep and further up there are pools deep enough that you can actually swim in!
There's one section where the walls of the canyon are curvy and you literally walk around a bend. One of the coolest natural formations I've ever seen.
Connect via socials:
Sign up for emails to receive a 50% discount on my travel maps + occasional updates on new hiking guides & travel resources.
Taylor ♡
This was my favourite part of the canyon. The only way to get through was to walk over the logs that were just barely balanced on the surrounding rocks.
---
So now, the surprise I mentioned earlier that I found at the end of the canyon…
What I discovered was shocking. I came around the final bend of the canyon and saw… Two naked people having picnic! I don't know if I was more surprised or if they were, but we both were definitely not expecting to see each other.
They ended up clothing themselves and we chatted for a bit. Super nice people, but a super weird situation.
This hike is short and does not take long at all, however you can take your time here. Bring a bathing suit, a picnic, and hang out for the day. Just make sure you're clothed!
Next I'll go over some of my favourite gear and clothes for Rocky Mountain hiking as well as a few tips to make your hike at Red Rock Canyon successful.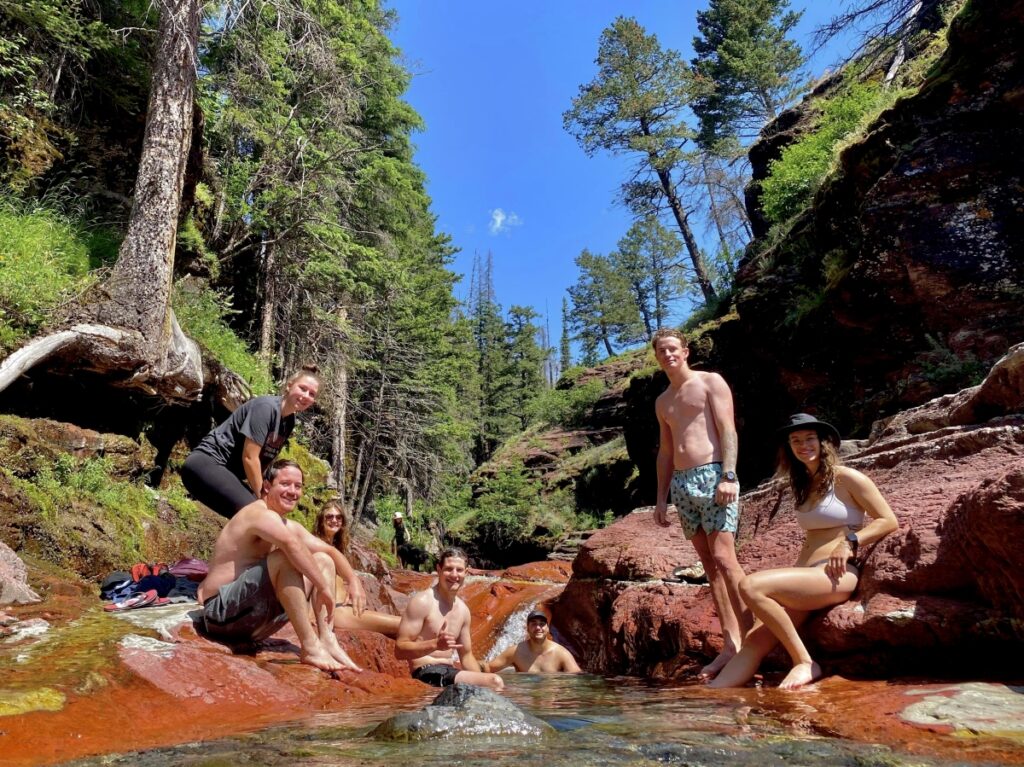 ---
Discover More Adventures in Waterton
Waterton is a mecca for adventurers and travellers who are after scenic mountain views, great hiking trails, and blissful lakeside vibes.
You can find all my Waterton content here, however you won't want to miss the following Waterton-based posts: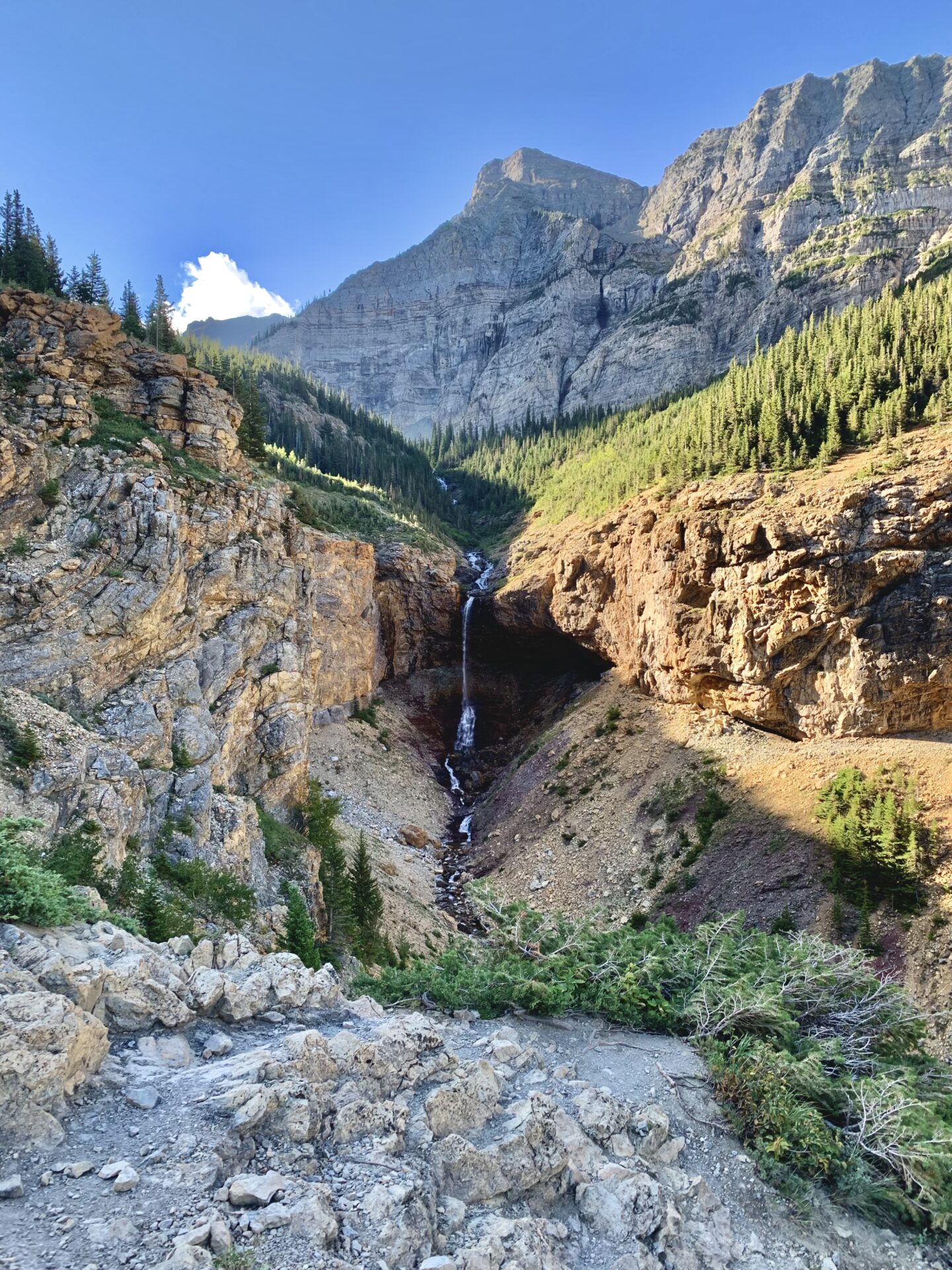 Featured Waterton Content
More Alberta Content
---
If you want to explore more of Alberta's beautiful parks and Wildland areas, keep reading.
Alberta is home to some of Canada's most beautiful (and famous) parks and mountain ranges; cue Banff, Jasper, and Kananaskis!
You can read about these stunning national parks as well as find my travel and hiking resources for them here.
---
---
Recommended Hiking Gear
The following items are some of my favourites – I never hit the trail without them!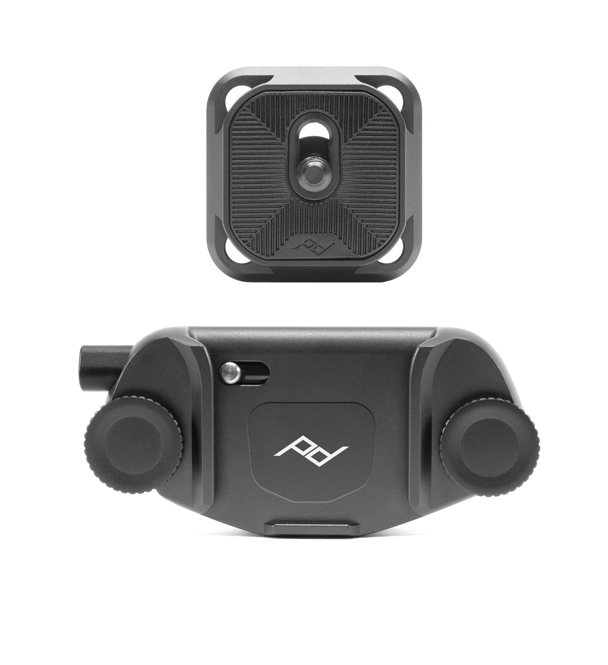 The Capture Clip by Peak Design is a sturdy, safe, and super convenient way to carry your camera while hiking or backpacking.
Find it on Amazon (CAD).
Find it on Peak Design (US).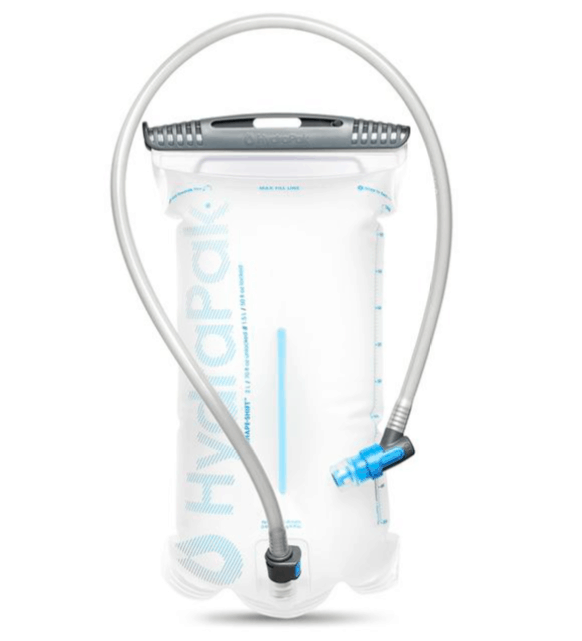 A hydration reservoir is SO important. It holds 2L+ of water and keeps you hydrated on-trail. I use the 2L Hydrapak; it never leaks and has a detachable tube.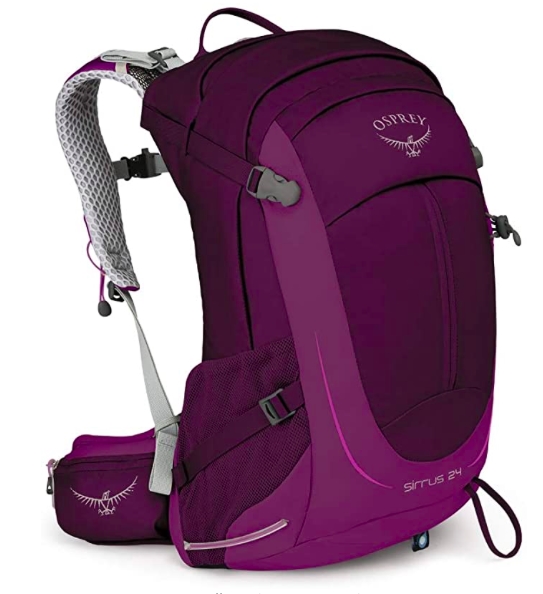 Things to look for in a good quality day-pack: sternum strap, hip belt (with pockets), and a breathable mesh system for your back. I use the Osprey Sirrus 24L pack (men's version) and I LOVE it!
---
What To Wear Hiking in the Rockies
For a detailed guide on what to wear hiking in the Canadian Rockies, check out this post.
Choosing what to wear hiking can be confusing, but the secret to properly dressing for a hike is layering. You can mix and match the tops and bottoms you already own to make up your base layers, however in addition to those clothes you'll need a few extra things:
A waterproof jacket is the most important layer for hiking – it keeps you warm and protects you from wind and rain. I use the Marmot Eco Precip Jacket (men's version) which is totally a bang-for-your-buck. If rain is in the forecast, don't forget to pack waterproof pants (men's version) too.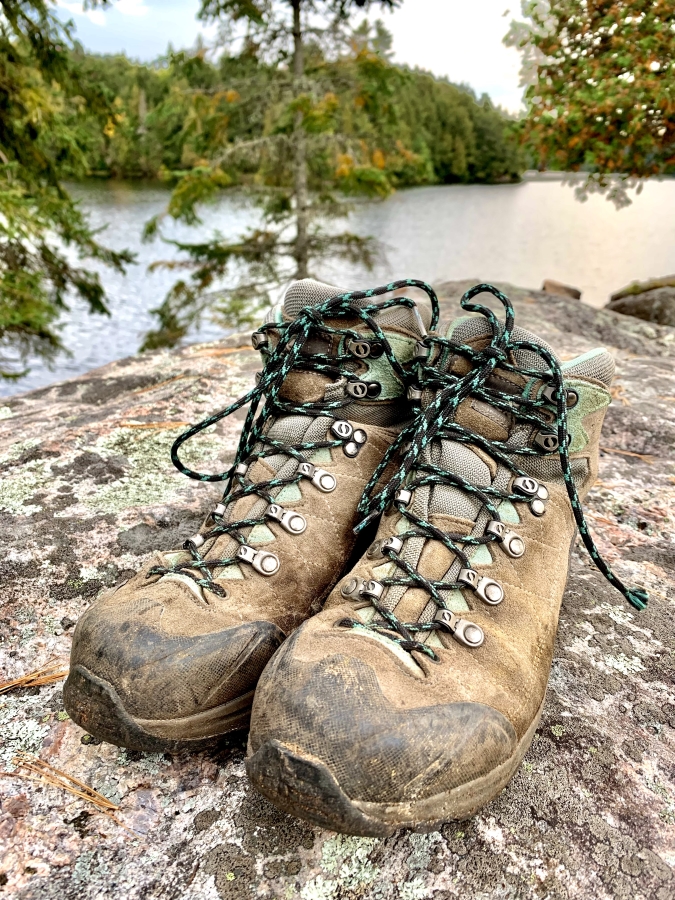 A good pair of hiking boots are Gore-tex, provide ankle support, and are durable. I use the Scarpa Kailash boot (men's version) and they've never let me down. You'll also want a good quality pair of socks. I use Smartwool – they're great quality and last an entire season.
A puffer jacket acts as your warm layer. I use the hoodless Columbia Women's Heavenly Jacket (men's version). Alternatively you can use a fleece zip – I have this one (men's version) from Columbia. Both of these options are perfect layers to keep you warm on windy, cold, or high elevation hikes.
Rocky Mountain hiking exposes you to different natural elements and conditions – it's imperative that you're prepared for whatever nature throws at you. Trust me, I've learned the hard way!
More: Day-hiking Gear Guide
More: What to Wear Hiking in the Canadian Rockies
Tips For A Successful Trip
Have some sort of footwear to protect your feet – Crocs are my shoe of choice for these types of adventures
Bring a bathing suit and towel
Try to go on a warm day
Go early in the morning or later in the day to avoid the crowds
Make sure to check out Blakiston Falls, which are accessed from the same parking lot
Best Place to Stay in Waterton
The best place to stay in Waterton depends on your price range, So, here are some recommendations for every budget:
Plan a trip with my ultimate guide to Waterton:
Happy adventuring!
Taylor ♡
---
Like This Post?
Share with friends or save it for later!
---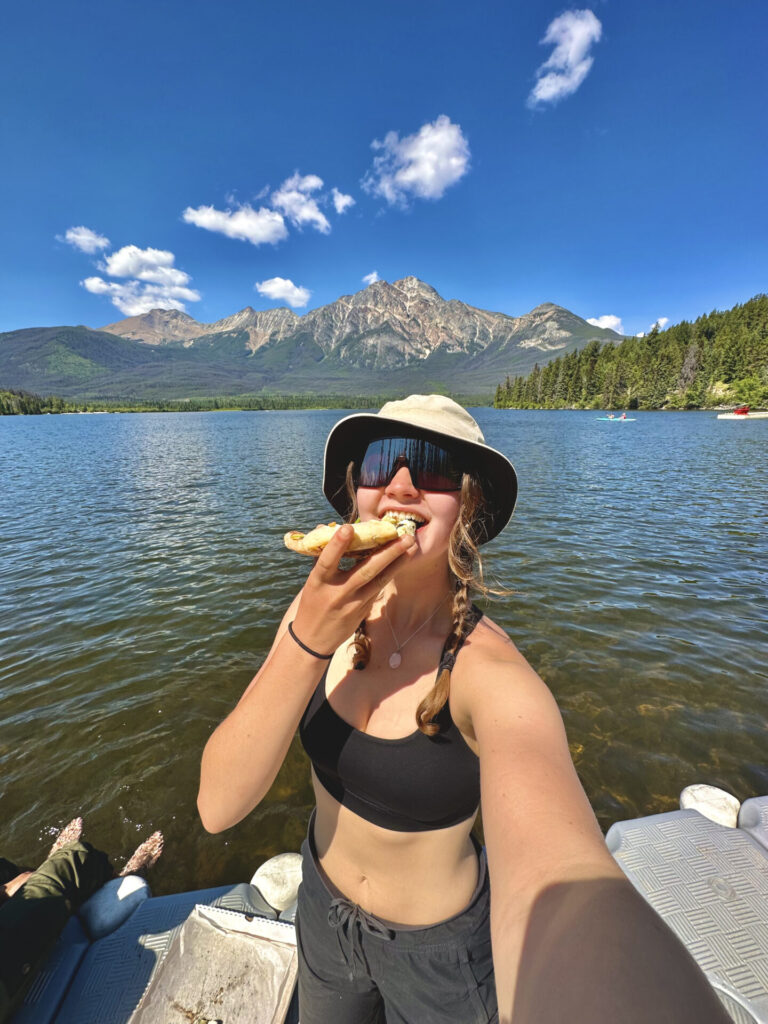 About The Author
HI, I'm Taylor – the voice behind The Holistic Backpacker.
After moving to Banff National Park in 2020 I became an outdoor adventure enthusiast and vowed to never stop exploring.
I now spend my days travelling the world, climbing mountains, and spending nights under the stars in the Canadian Rockies backcountry.
I created The Holistic Backpacker so I could share my adventures and help connect people like you with the same amazing experiences.