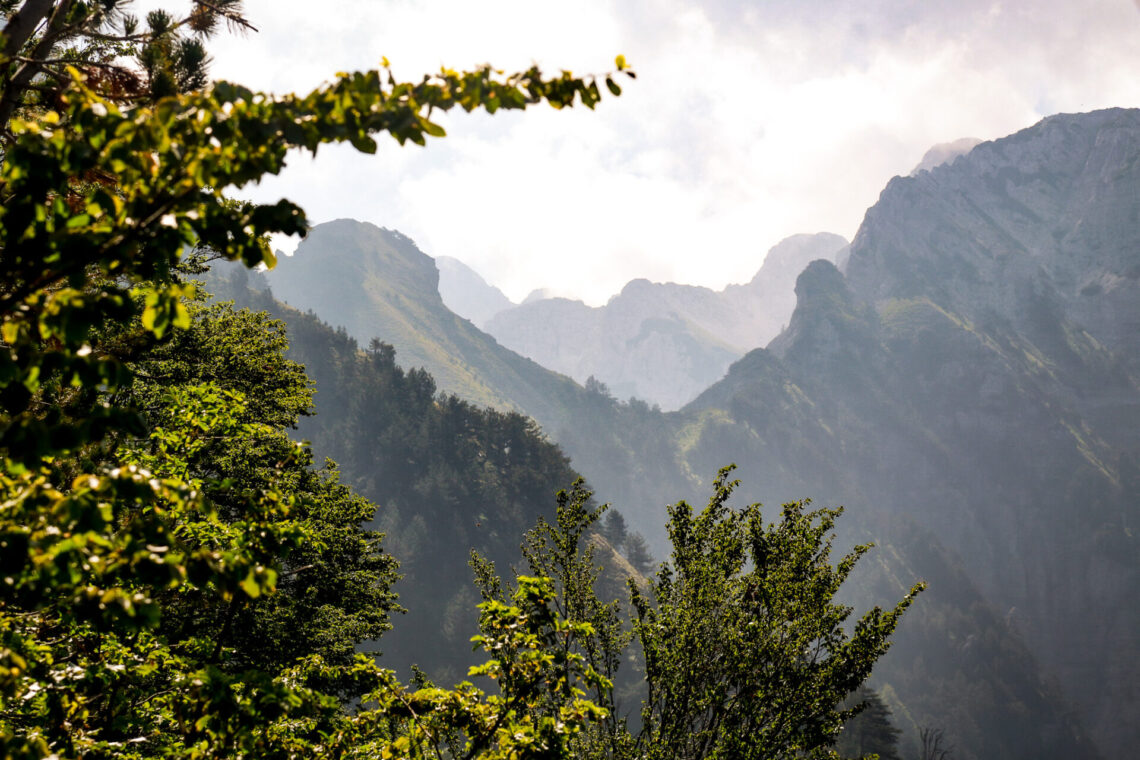 Valbona to Theth Bucket List Hike – Tips & Trail Guide (Albanian Alps)
The Valbona to Theth hike is the most popular hike in Albania and it's one of the biggest bucket list hikes in the Balkans. This hike starts from the beautiful Valbona Valley National Park and extends 15kms across the Albanian Alps (aka the Accursed Mountains) to the famed Theth National Park.
Along this trail you'll hike through valleys and over mountain passes surrounded by rocky giants standing well over 2,000m. If you hike in July you may even see blooming fields of wildflowers.
In this post I'll tell you everything you need to know about the Valbona to Theth hike and I'll outline helpful tips to ensure your hike is a success.
Before I get into the good stuff, make sure you check out my Hiker's Guide to the Albanian Alps. This post features EVERYTHING you need to know about planning a trip to the alps + fun trails and activity suggestions in both parks.
Now, let's go hiking!
Skip Ahead:
This post contains affiliate links; see my full disclosure. If you click these links and make a purchase you're supporting The Holistic Backpacker. Thanks for your support & happy adventuring! – Taylor ♡
---
Quick Albania Travel Guide:
Currency: Albanian LEK (aka ALL). This is a closed currency so you'll need to wait until you're in Albania to exchange $.
Transportation: to enter the country you can find 1 international airport in Tirana, 1 port in Saranda (daily ferry arrivals/departures to Corfu, Greece), and a bus line from Montenegro. Buses are very cheap here, but unreliable. Driving is chaotic, I'd recommend sticking to buses. There are no trains within the country.
Phone: purchase a local SIM card from Vodafone – the plans are cheap and they include lots of data, however international minutes are typically not available.
Language: Albanian, however you can get by with English – google translate recommended for smaller cities/villages.
Helpful Info: don't drink the tap water or bring a purifying bottle like this one. Bring an international travel adapter, and notify your bank before travelling.
Travel Insurance: ALWAYS purchase reliable insurance prior to your trip. This insurance is trusted by backpackers and adventure sport enthusiasts around the world.
Albania is one of the last "undiscovered" countries in Europe. Plan your trip while prices & tourism levels are low!
Related Articles:
---
Tips for Hiking in the Albanian Alps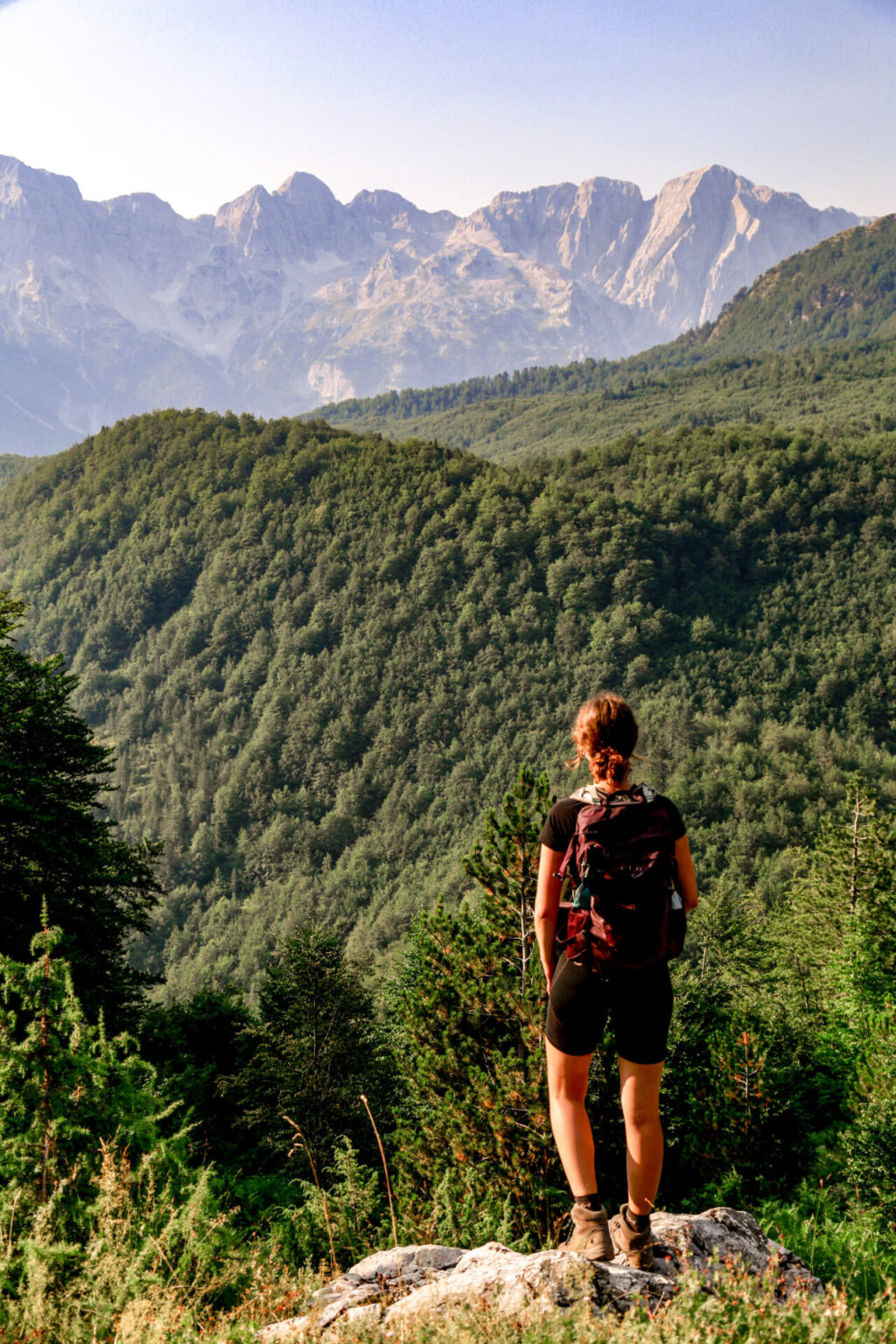 For most people, hiking in Albania is foreign territory. These tips should answer any questions you may have about hiking in this "unexplored" region of Europe:
Hiking season runs from May-Oct, although the cooler temps & changing colours make May/mid June/Sept ideal months to visit.
Water sources are limited on any trail, especially in the summer when sources dry up. Ensure you plan appropriately and pack lots of water. I always recommend bringing minimum 2L in a Hydrapak.
If you stick to the popular hikes, trails are well-marked and easy to follow.
The ideal length of time to spend hiking in the Albanian Alps is 3-4 nights (unless you want to explore more trails).
There are no shopping markets in the alps. Bring your own food or plan to eat at the local guesthouses.
Sneak peak at hiking in the Albanian Alps:
Make sure to follow me on Instagram!
Take advantage of your guesthouse's packed lunch options.
You don't need a guide in the alps, however I've linked some great tours below.
Solo hiking is totally safe here granted you stick to the main trails and feel comfortable hiking alone.
I had a local SIM card and had cell service for the entirety of the Valbona to Theth hike. Wifi at the guesthouses is typically standard.
Hiking the Valbona to Theth trail in summer is HOT. Wear breathable clothes, a full-coverage hat, and wear lots of sunscreen.
Get an early start to beat the heat. I started hiking at 5am every day, but by afternoon (at elevation) the mountains reached 35 degrees celsius.
Bring lots of cash! You won't be able to use card in the alps. No card = no food.
---
Albanian Alps Tours
Trekking in unknown territory, planning multiple days in the alps, and spending extended time in nature can be intimating. Booking a tour takes away the stress and the "unknown" aspects of venturing out into the mountains. Rather than focusing on logistics and planning, booking a tour allows you to just experience the fun stuff without the worry!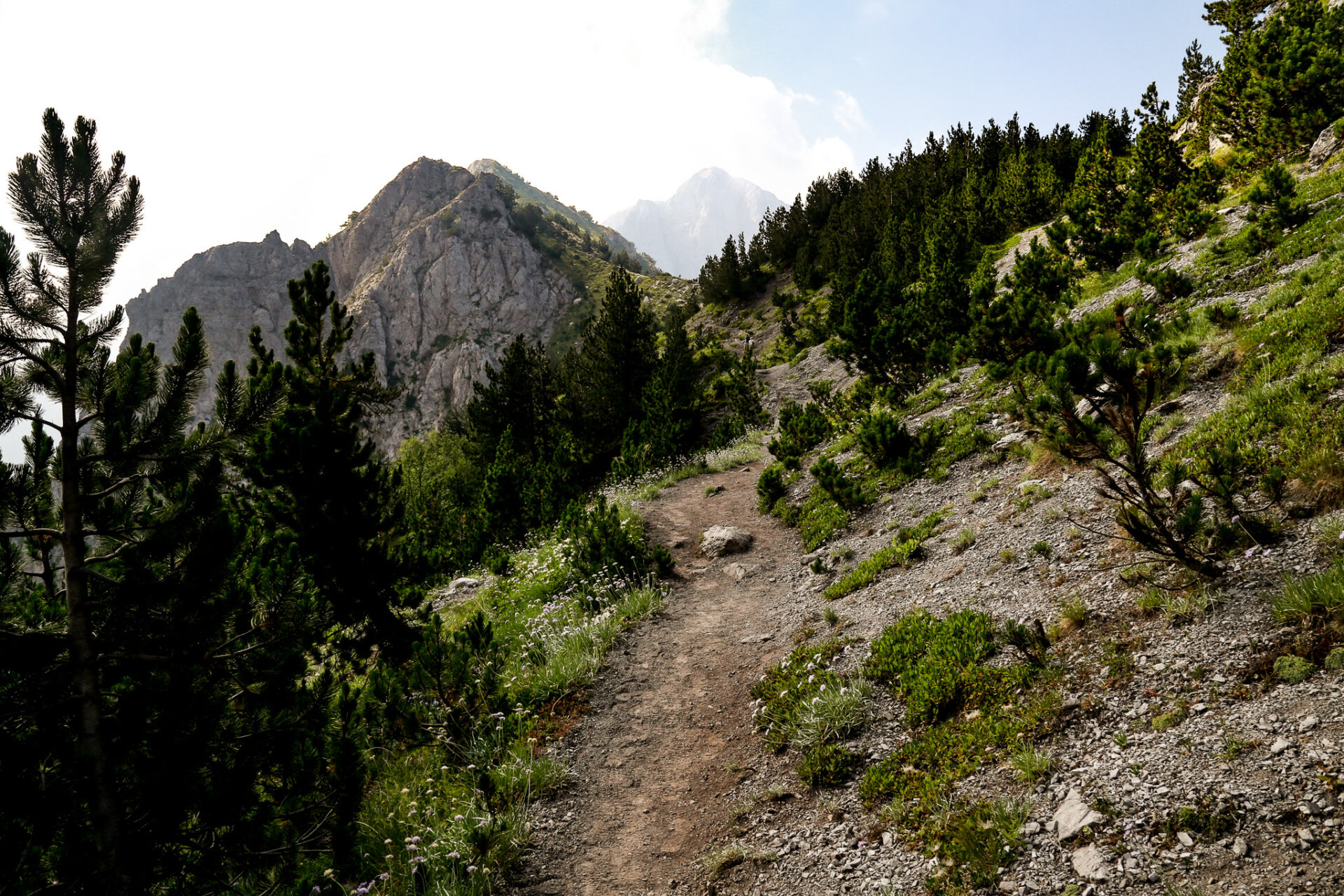 Here are my top recommendations for Albanian Alps tours:
This jeep tour is the perfect way to experience Theth in 1 day. This tour will bring you to Theth from Shkoder and back in the same day. It showcases all the highlights of the park; Grunas waterfall, the rolling countryside, and the Blue Eye.
If you're coming from Tirana and want a full taste of the Alps (including Komani Lake, Valbona, Theth, and Shkoder highlights), check out the 6 day tour listed on this page.
If you're looking for something a little more wild and extreme, check out this multi-day trek through the Peaks of the Balkans. This is one of the most famous hikes in Eastern Europe and the trail crosses through 3 countries; Albania, Montenegro and Kosovo.
---
Valbona to Theth or Theth to Valbona – Which Direction is BEST?
The biggest debate regarding the Valbona to Theth hike is – what direction to hike it!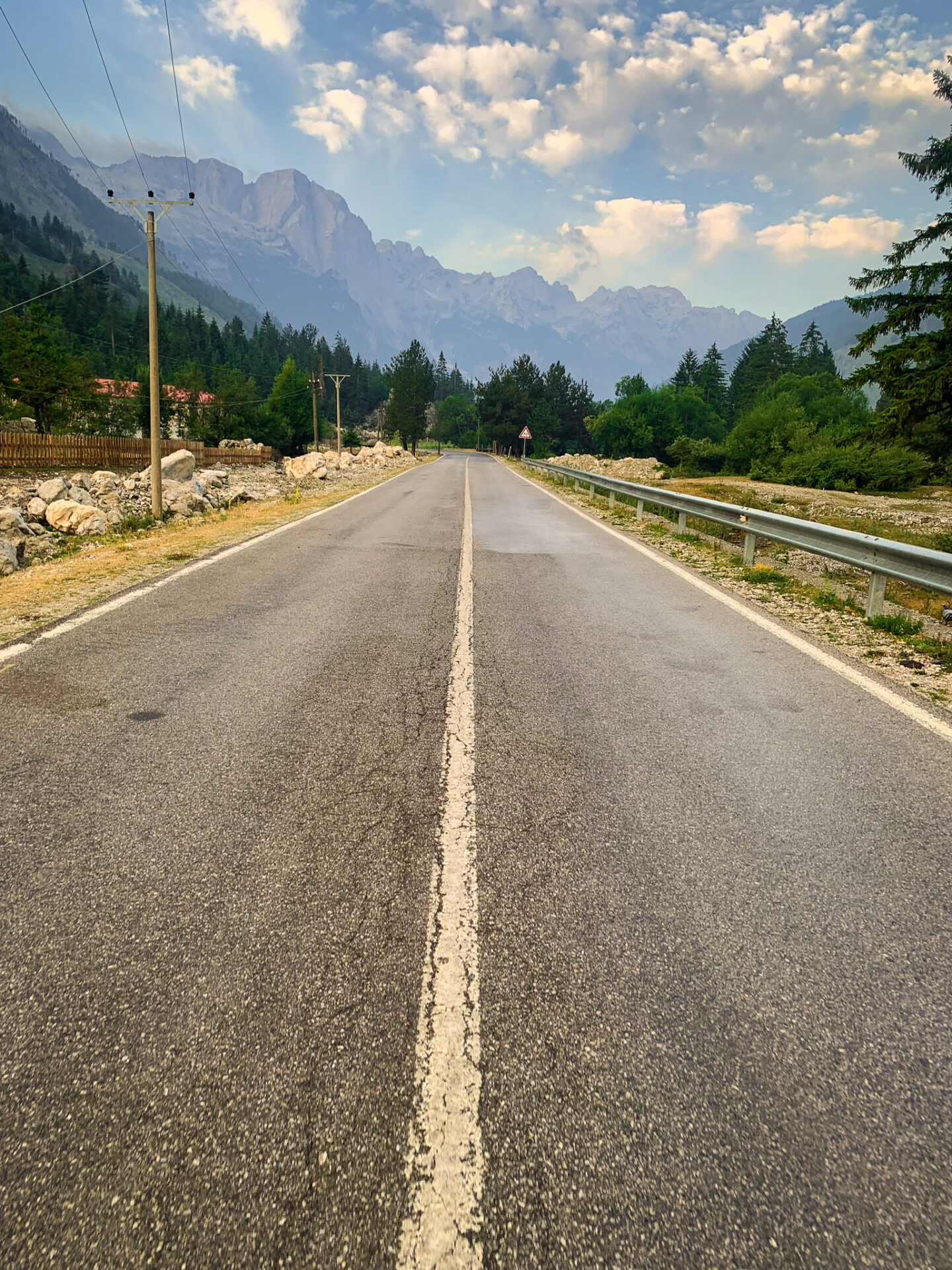 You can hike it in either direction, but without a doubt I recommend hiking Valbona to Theth rather than Theth to Valbona for a few reasons:
Theth is easier and quicker to access from Shkoder than Valbona. Ending your hike in Theth means you'll have a stress-free, easy-peasy, quick journey out of the alps.
If you go to Valbona first you can stop along the way and spend a night on the beautiful Shala River.
There's significantly more shade around Theth than Valbona. This means when the afternoon sun hits you'll have shelter from the intense Balkan heat.
If you leave Valbona early, you'll see virtually no one until the Valbona Pass.
There's a long, gruelling gravel road you'll have to walk along in Valbona. Best to get it out of the way first.
Follow The Holistic Backpacker's Adventures on Socials:
Keep Up With My Adventures!
Sign up for my newsletter and stay up-to-date with my latest adventures, gear guides, and eco-resources!
Taylor ♡
Sneak peak at Theth National Park
Make sure to follow me on Instagram!
---
Valbona to Theth Hike: Trailhead Directions
So you want to complete the Valbona to Theth hike? Well, you'll have to jump through some hoops to make it to the trailhead!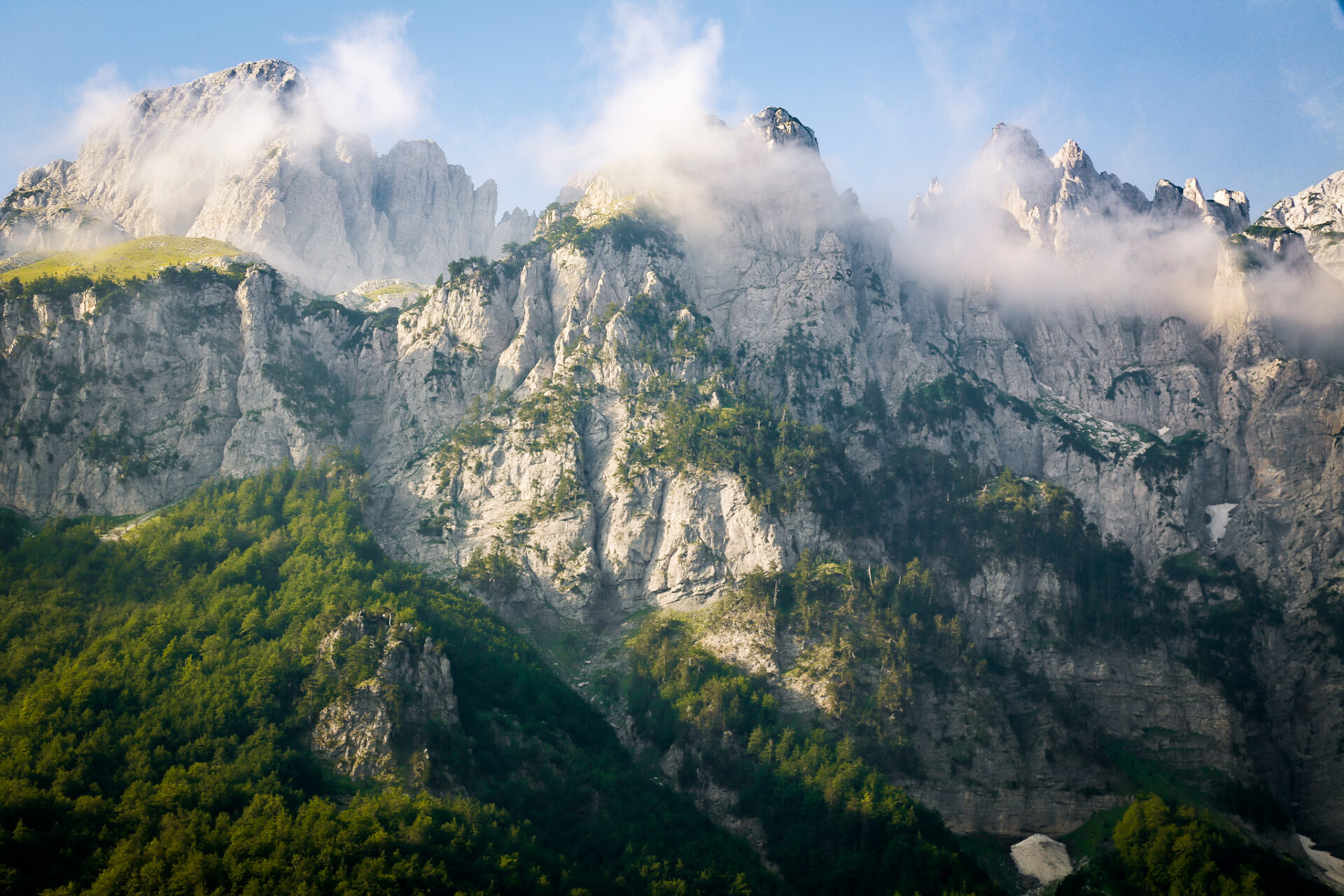 In my Hiker's Guide to the Albanian Alps I've written about how to get to Valbona and how to get to Theth in detail. But in short – all your Albanian Alps adventures will start from Shkodër. This is the base city for exploring the Albanian Alps.
To get to Valbona from Shkoder you'll have to take an early, but short mini bus trip to the Komani ferry port. From there you'll take a 1.5hr scenic ferry ride across Komani Lake to Fierza. Fierza to Valbona Valley will be another hour drive via mini bus. One-way, mini bus & ferry included is around 20 euros.
You can book ferry tickets on the official website.
To get to Theth from Shkoder you'll have to take a minibus which lasts around 3hrs. The bus departure is early (around 6:30am) and costs approximately 12 euros.
*These prices will SURELY rise as Albania becomes a more popular destination. For now, enjoy these cheap prices!
It sounds complicated, but this area is set up for tourism and the local hostel/hotel employees are superstars. They'll help you plan your entire trip, they'll organize transport for you, and they'll store your luggage while you're away. In fact, Wanderer's Hostel is known for planning the Valbona to Theth hike for backpackers. If you're wanting to stay at Wanderer's, book in advance! Spots fill up quickly.
---
Take a Detour to the Shala River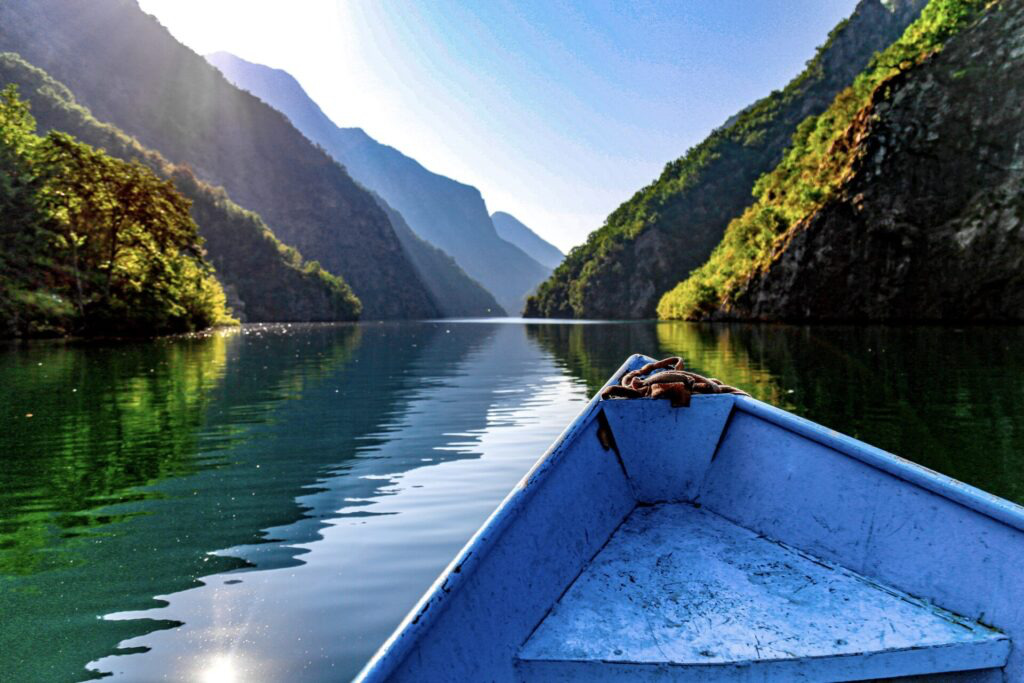 Komani Lake is known as the "Thailand of Albania" due to its green water and gorgeous mountains.
You'll have to cross the lake via ferry if you're planning to complete the Valbona to Theth hike OR if you're planning to spend any time in Valbona Valley. What I'm recommending is taking a detour and spending a night on the nearby Shala River on your journey to the park.
Sneak Peak at the Shala River:
Make sure to follow me on Instagram!
I spent 2 nights on the Shala River and it was one of my favourite spots in Albania! I stayed at the Komani Lake guesthouse where I was fed locally produced food, kayaked, and hiked the craziest trail.
I've written all about my experience on the Shala River here + noted all the important info you need for planning a trip to the river.
But seriously, the Shala River is a must!
---
About the Valbona to Theth Hike
Anyways, back to the Valbona to Theth hike!
Distance: 15kms
Elevation gain: around 900m
Type of trail: point to point
Rated: moderate
Estimated time: 3-8 hours
If you're a fast & experienced hiker the Valbona to Theth hike will take you no time at all. If you're new to hiking this trail may take you the whole day.
**please note this map is roundtrip – you'll only be hiking one-way**
The Valbona to Theth hike, in my opinion, is quite easy. Although long there's nothing technical to it. The trail is easy to follow (distinguished trail and the occasional marker) and it's well-trafficked. The only thing I found "challenging" about the Valbona to Theth hike was the intense Balkan heat. I completed this hike mid-July so it was brutal. But the heat is totally avoidable if you come during spring or fall.
With this being said, as long as you have a moderate level of fitness, you'll have no problem completing the Valbona to Theth hike.
There are a couple small water sources along the trail; this natural water is drinkable and super fresh. There are also a few small cafes along the way. Selection is limited and they are quite pricey though. I'd recommend eating at your accommodations before your hike and bringing snacks/a packed lunch supplied by the guesthouse for the journey. Don't rely on these small cafes, but enjoy them as a luxury if you choose to stop. Helping out the local economy is always a great gesture, too!
Fun fact: the Valbona to Theth hike is part of the trans-national Peaks of the Balkans trail.
---
Trailhead to Trailhead: What to Expect Along the Valbona to Theth Hike
I'm going to write about this hike from the Valbona to Theth perspective as that's the way I hiked it and it's the only way I recommend completing this trail (for reasons listed above).
The end of the road/trailhead for the Valbona to Theth hike is marked on the map I provide above. Depending on where your guesthouse is located you'll have a few kilometres of walking to the official trailhead in Rrogram; a teen-tiny village. Some guesthouses offer shuttles to the trailhead and some don't. You can also ask your guesthouse about hiring a taxi to take you to Rrogram. It's around 25 euros, but it's totally worth it if you split the cost with others staying at your guesthouse.
I wanted to leave around 4:30/5am, so no shuttle or taxi was available for me. I was lucky and ended up hitchhiking which saved me 4kms of walking on a paved road.
Dirt Road to Rrogram
If you plan to walk – after the trailhead at the end of the main road in Valbona you'll find the dirt road that leads to Rrogram. This 30 minute/3km flat stroll is the long, gruelling dirt road I mentioned earlier. Actually, the "dirt road" is a dried up river bed. Anyways, I found it best to accomplish this section in the early hours of the day when there was limited sun and significantly less heat.
You'll find a few cafes and guesthouses in Rrogram, but most importantly this is where the trail actually turns into a hike and you'll leave the dirt road. The trail from here winds and meanders past little mountain farms and such, but you're mostly in the trees and there's not a whole lot to see.
Funny story – along the way I met an old Albanian woman. Although she only spoke a few words of English, I could tell she was trying to set me up with her grandson. I had a good laugh, politely declined, and went on my way.
Valbona Viewpoint & Rrogrami Waterfall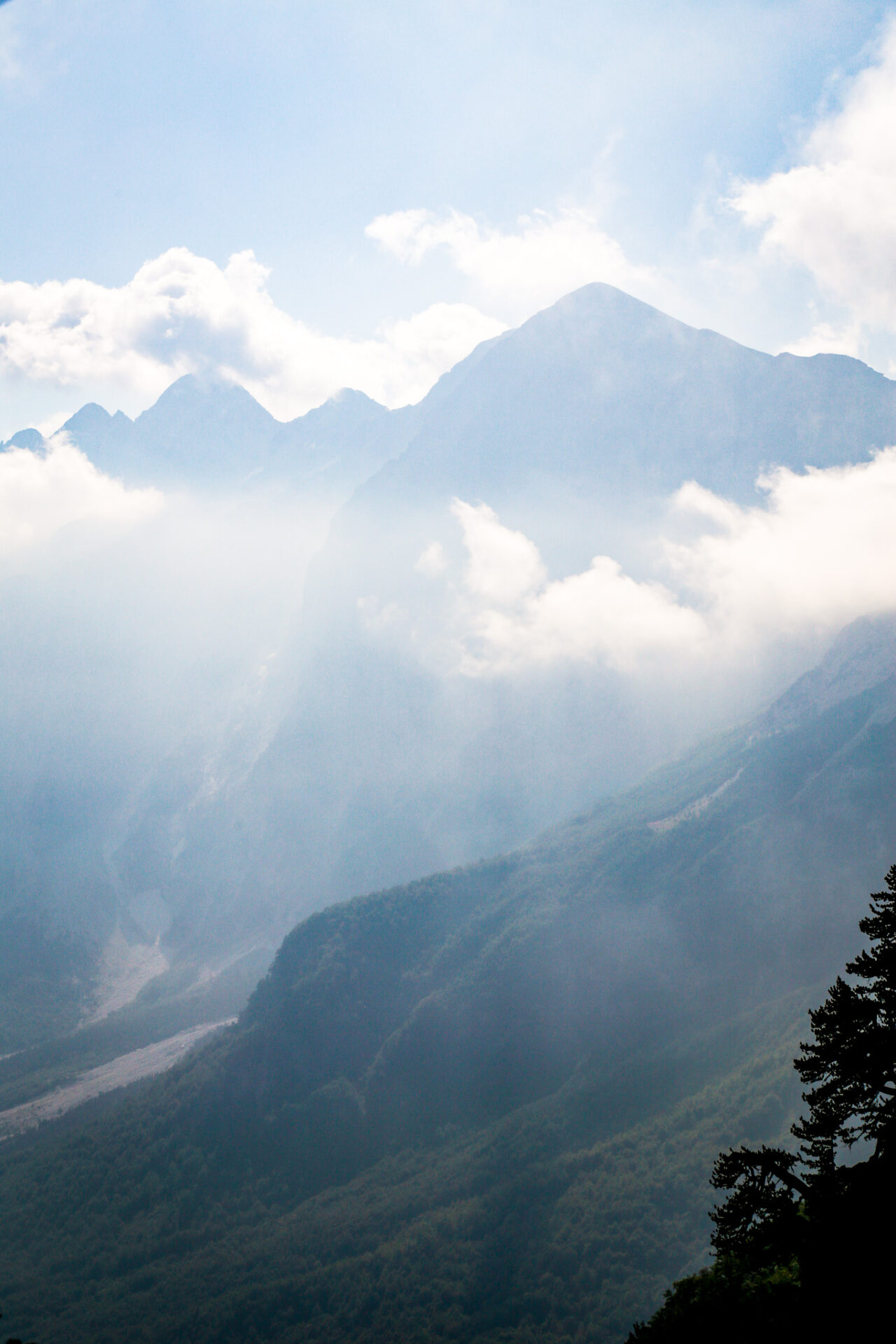 You'll eventually start gaining a bit of noticeable elevation. After a while you'll pass by a waterfall – Rrogrami waterfall – although I never saw it. I think it's slightly off the trail somewhere or maybe it was dried up when I hiked in mid-July? Anyways, keep an eye out!
The star of the early part of the hike is a viewpoint which overlooks all of Valbona Valley. When I passed by the viewpoint the mountains were covered in an early morning haze and low clouds – it looked like a magical scene out of Switzerland! I had a hard time believing I was in Albania at that point.
After that you'll continue to gain steady bits of elevation and pass by a couple small "cafes" and stream. This is a great time to refill your water.
Valbona Pass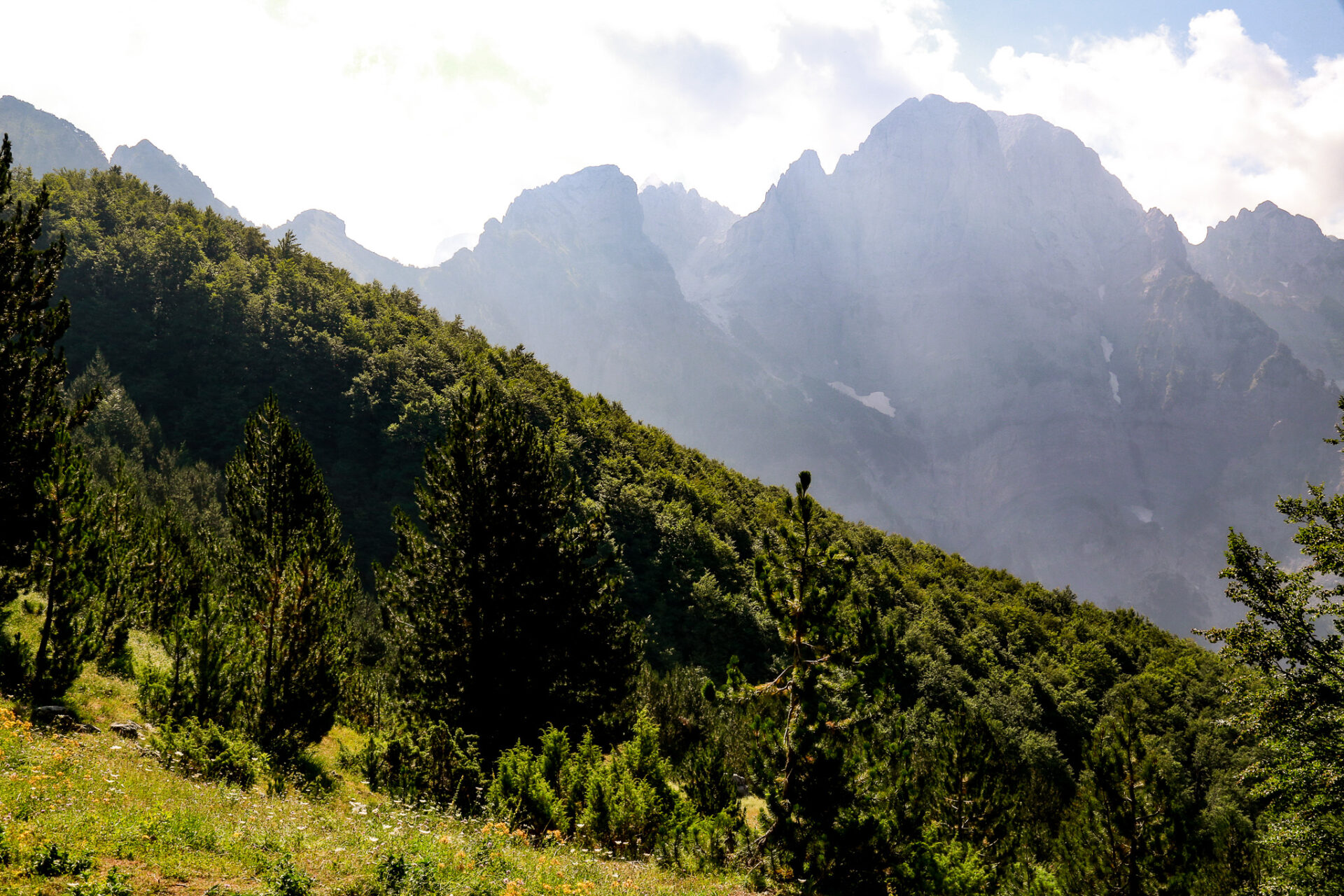 The highest point of this trail is Valbona Pass standing at 1,800m. This spot definitely offers the most scenic views that surround you from all angles.
The climb to the top is definitely the steepest and most exposed section of the hike, but it's relatively short-lived and follows switchbacks. This area is where you'll want to break your camera out!
At the top of Valbona Pass you'll see all sorts of signs with "Peaks of the Balkans" written on them. This is where the 192km trans-national trail that stretches from Montenegro to Kosovo passes through the Valbona to Theth hike. Don't follow these signs unless you feel like "extending" your hike hahaha!
You'll want to take the trail that starts going downward on the opposite side from the mountain you just passed over.
Valbona Pass to Theth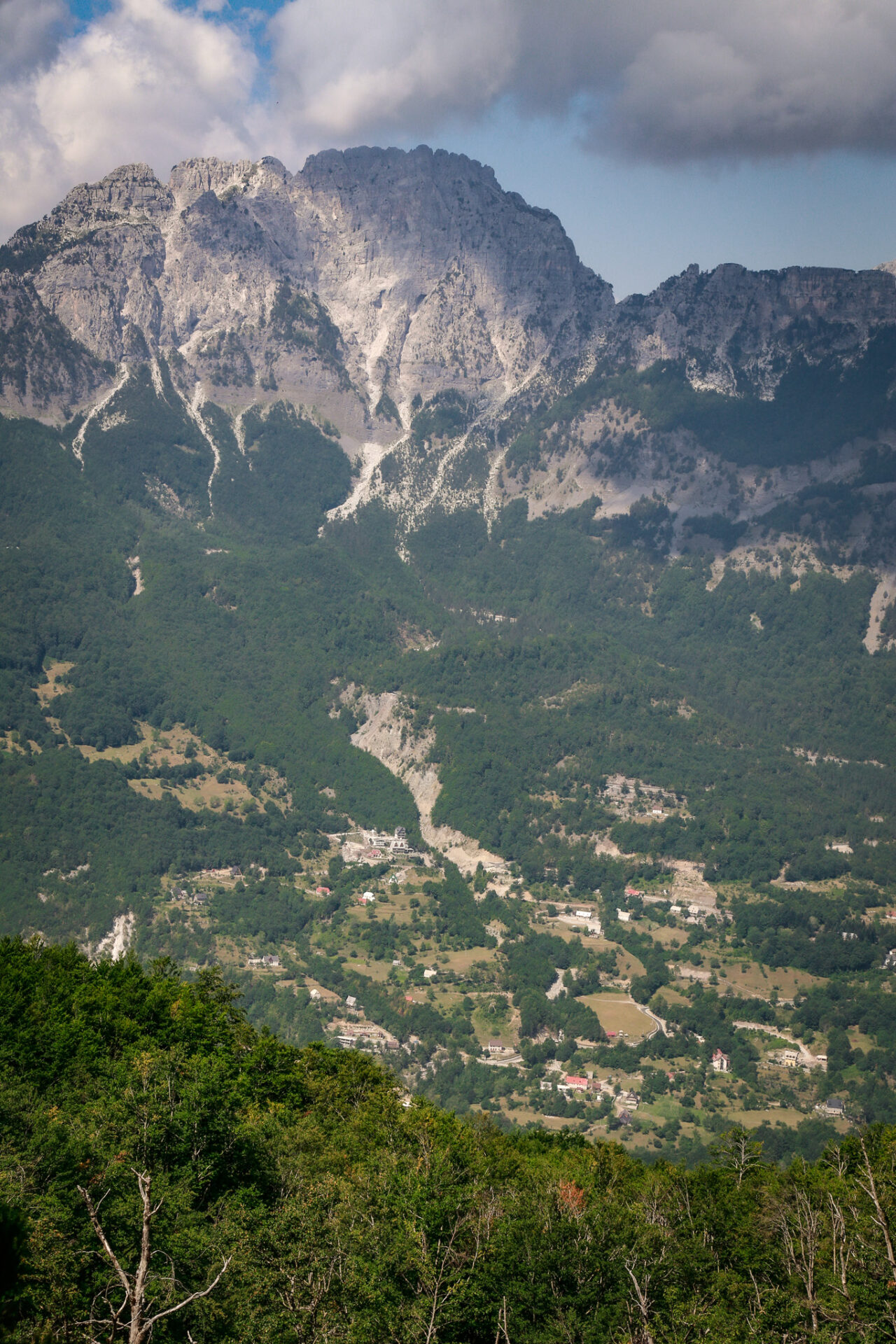 After Valbona Pass the trail goes strictly downwards and is completely shaded by thick vegetation. THIS is when you'll be truly happy you hiked from Valbona to Theth rather than from Theth to Valbona.
The descent is quite quick – it took me around 1.5hrs (for reference I am a relatively fast hiker). Once you hit the bottom of the trail use google maps or refer to the million signs around directing you to your guesthouse.
I've linked information about where to stay in both Valbona and Theth below. Make sure you pay attention to where your guesthouse is located in both Valbona and Theth as this can add significantly more kilometres to your hike.
And that about wraps things up! Next I'll tell you about what to wear, where to stay, and a bonus hike in the area.
---
Next Up… Hike to Montenegro!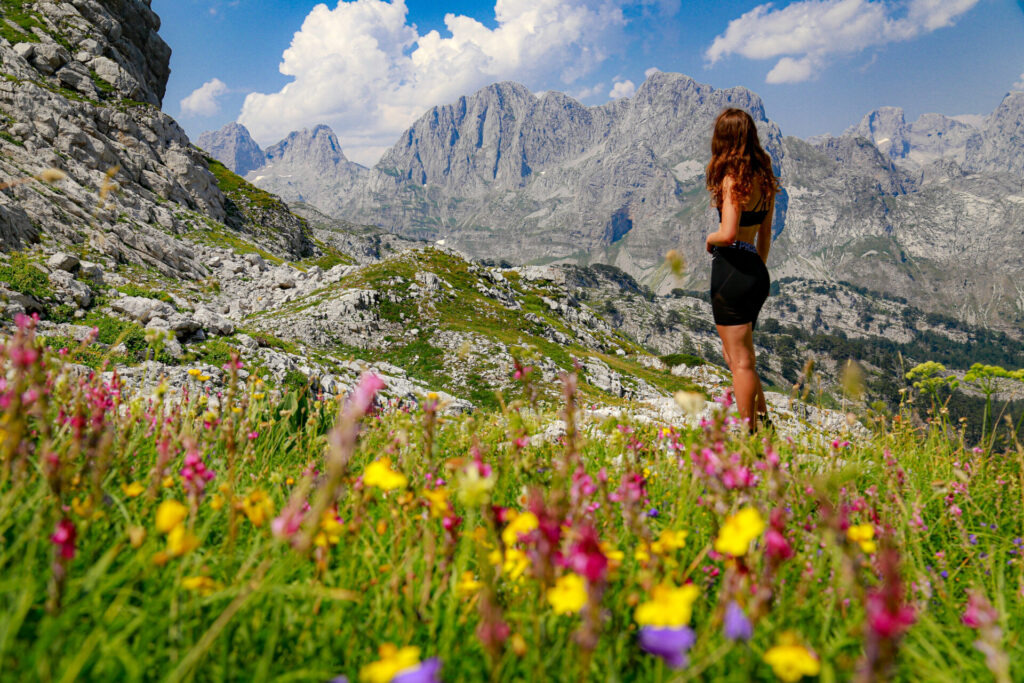 I know this guide is all about the Valbona to Theth hike, but if you're a hiker you HAVE to add Maja Rosit to your Albania hiking bucket list.
Here's a sneak peak of the trail:
Make sure to follow me on Instagram!
Maja Rosit is located in Valbona and extends to Prokletije National Park in Montenegro. In my opinion, the views on this hike BLOW the views from the Valbona to Theth hike out of the water.
Maja Rosit is a significantly more challenging trail, but the views make the struggle more than worth it. In fact, I didn't even make it to the summit because I ran out of food and water. I stopped at the pass which crosses the border and looks into Montenegro. The giant, rocky walls of mountain & fields of wild flowers were enough to make my hiker's heart as happy as can be.
Maja Rosit trail guide – coming soon!
---
What to Wear Hiking in Albania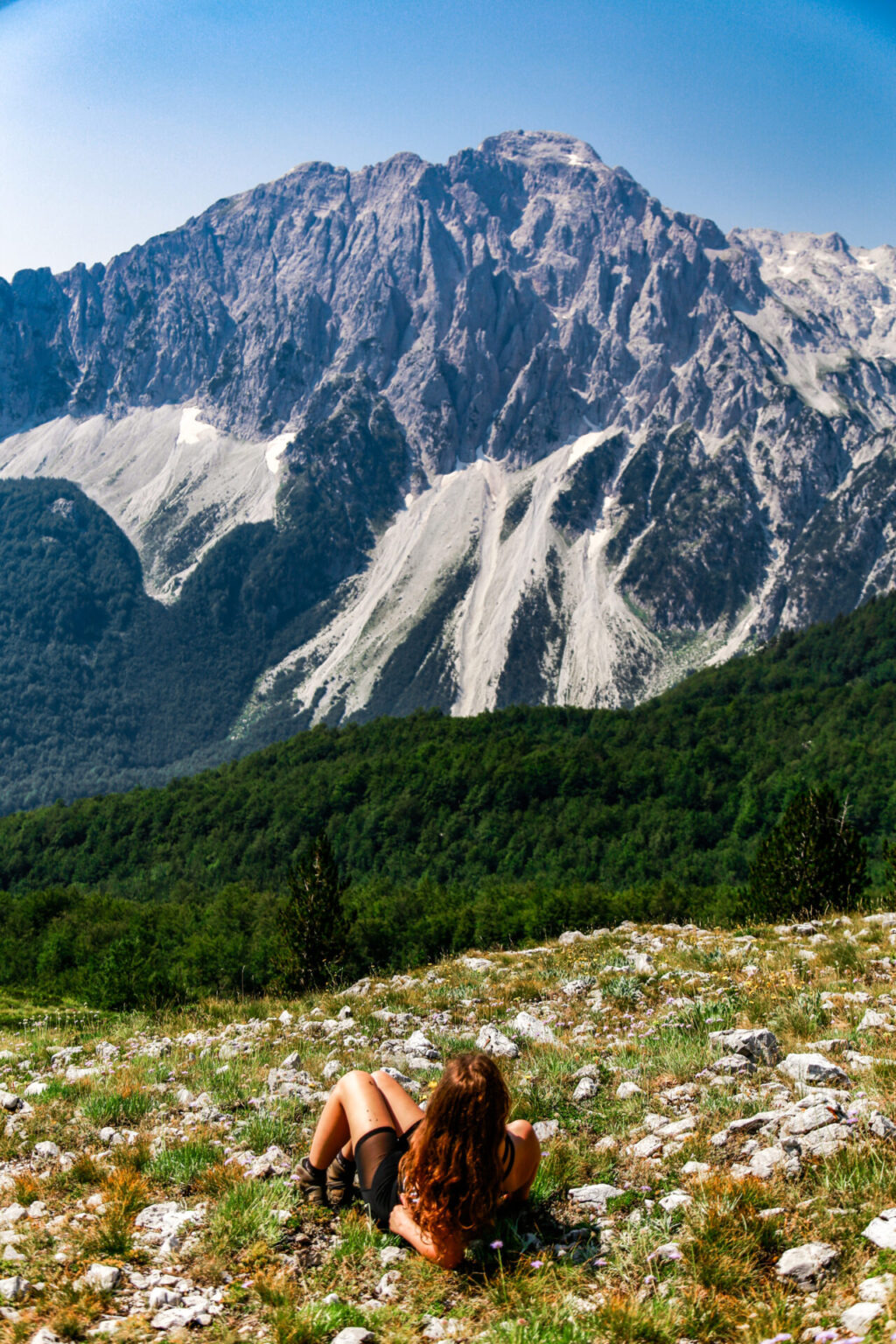 If you're hiking the Valbona to Theth trail in July/August, you won't need to wear – or pack – much. The scorching temperatures will actually probably make you wish you were naked.
I wore a T-shirt, long spandex shorts, sturdy hiking boots, and a hat when I completed the hike. Any form of light, flowy, athletic clothing will do though. For nighttime you'll want to bring a light sweater and a pair of shoes to change into; sandals or crocs (my personal fav) are best. And ALWAYS pack an extra pair of socks and underwear.
Make sure you have some form of sturdy shoes and bring lots of sunscreen. I packed all my gear into a 24L pack + 15L dry bag. I was in the alps for 6 nights though. You could easily get away with just a 24L bag if you're breezing in and out within a few nights.
A jacket is not necessary unless you're visiting in the shoulder seasons; you'll be hard-pressed to find rain in the Balkans in the dead of summer. If you're visiting prior to mid-June or after late August pay close attention to weather and plan accordingly.
With that being said, if you hike in spring or fall, plan to wear pants and a long sleeve. Bring a mid layer and a light waterproof jacket. At the end of the day, use common sense, check weather reports, and understand what your body needs in whatever temperature you'll be hiking in.
---
Where to Stay in Theth & Valbona
Choosing where to stay in the Albanian Alps can be a bit overwhelming because there are so many options. Luckily for you, I'm gonna break down all those options now.
Essentially, when you're in the alps you'll need to stay at a guesthouse or at a campsite. The guesthouses are run by locals and they cook yummy, traditional food. Campsites are (obviously) the budget option for accommodations in the alps, however you'll need to bring your own camping gear for this AND you'll have to carry it with you when you hike from one park to the next… Which is kind of a huge pain in the butt. To each their own, though!
PS – there are campsites along the hike from Valbona to Theth AND free camping is permitted anywhere in the park. Like obviously don't just camp on the side of the road or on someone's property – be discreet. But, you get the point.
---
Where to Stay in Shkoder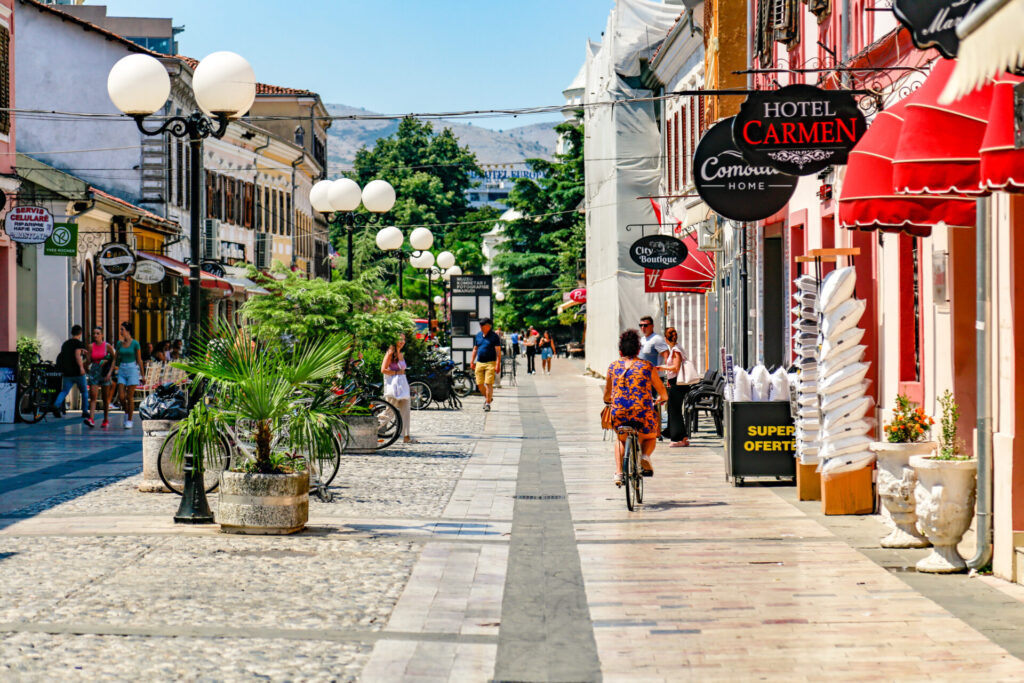 Since Shkoder is the start and end point for your Albanian Alps adventures you'll need at least one day in the city before and after leaving the Alps. I always recommend Wanderer's Hostel as the #1 place to stay in Shkoder (especially for backpackers) because they help plan your trip and store extra luggage for you. OH they also serve the yummiest (included) breakfast.
You can check availability for Wanderer's via Hostelworld or Booking.com – but book in advance! The hostel fills up quickly.
If you want to keep with the Hostel vibe, but Wanderer's is full, check out Shkodra Backpackers. Alternatively if you're looking for something more private you can try Hotel Tradita or, if you're on a budget, Hotel Floga.
You most likely won't begin your Albanian Alps adventures from Tirana, however if you do you can check out this post for all my Tirana-based activity and accommodation recommendations.
---
Where to Stay in Valbona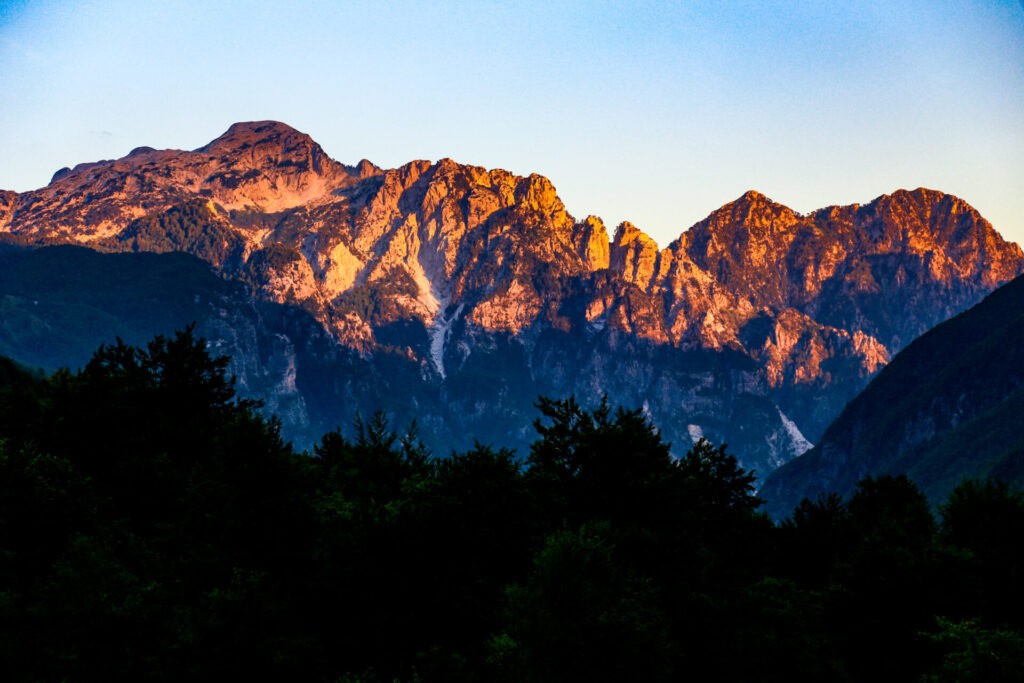 ---
Where to Stay in Theth
And that's it!
You're now fully briefed and ready for the Valbona to Theth hike. Before your trip, make sure you read my full Hiker's Guide to the Albanian Alps + take a look at my other Albania travel guides & resources.
I've been everywhere in Albania and I have some great recommendations 🙂
---
---
Happy adventuring!
Taylor ♡
---
Like This Post?
Share with friends or save it for later!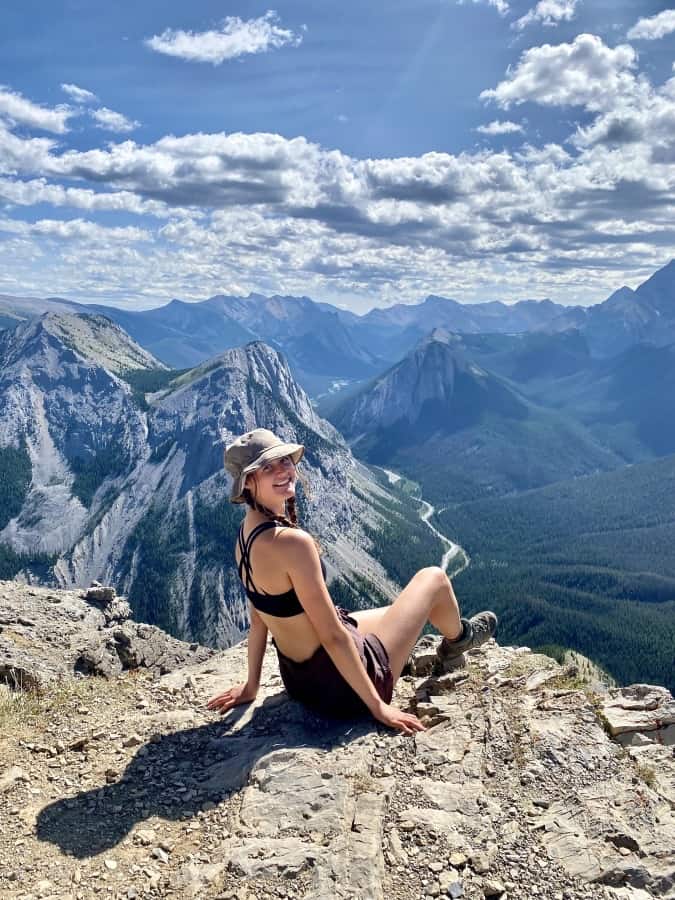 About The Author
---
Hey! I'm Taylor – the voice behind The Holistic Backpacker.
After moving to Banff National Park in 2020 I became an outdoor adventure enthusiast and vowed to never stop exploring.
I'm now focused on travelling the world and seeing everything our beautiful home has to offer.
I created The Holistic Backpacker so I could share my adventures and help connect people like you with the same amazing experiences.
I am also an advocate for the environment and do as much as I can to take care of our planet.
Get to know me and my story more here 🙂
I can't wait to share my adventures with you!