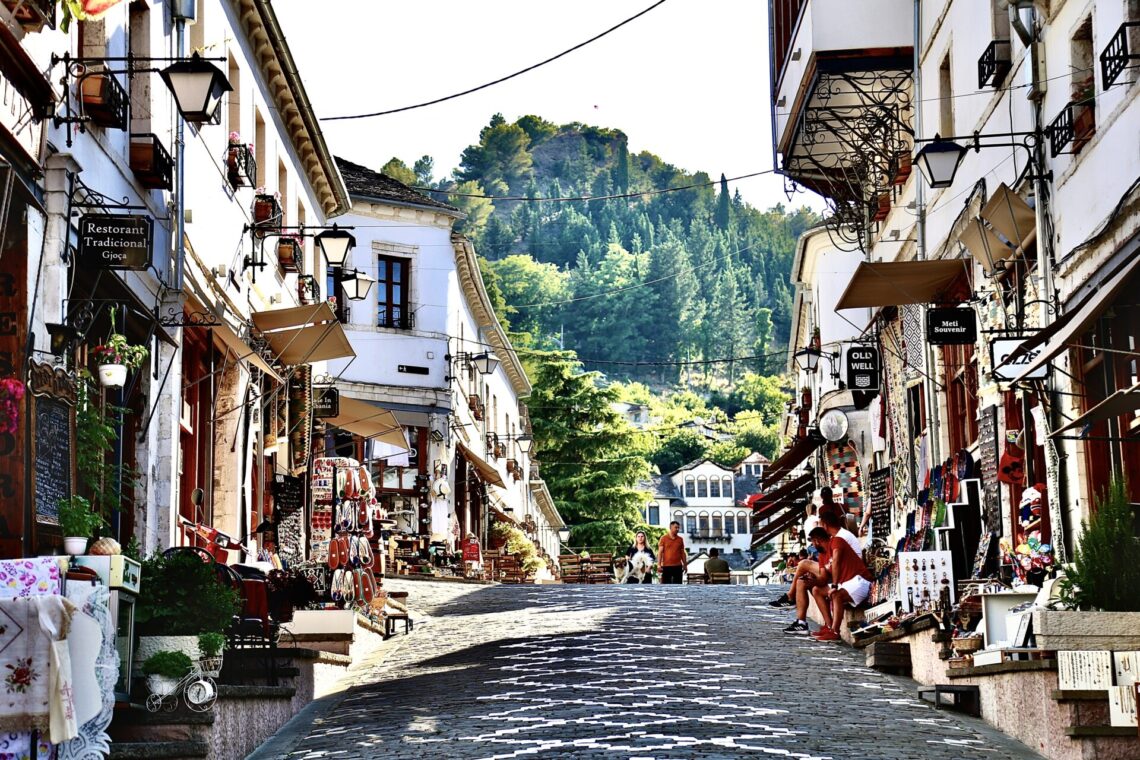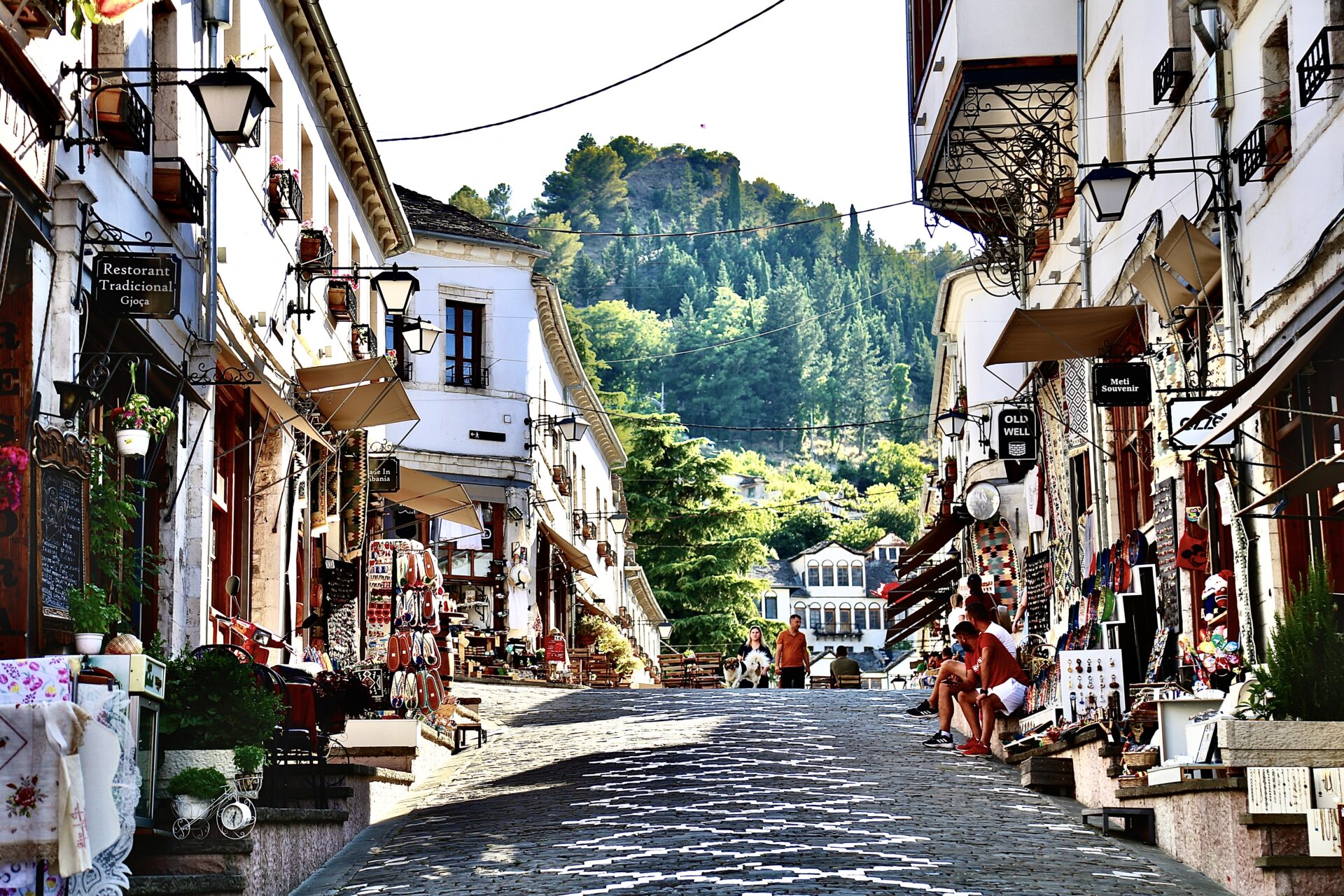 2 Day Travel Guide to Gjirokaster, Albania
Gjirokaster (aka the Stone City) is a UNESCO World Heritage Site and well preserved Ottoman-style town in Albania. Gjirokaster has the perfect blend of history, nature, and city which means there's something here for everyone! In this guide I'll tell you what to do in Gjirokaster, where to stay in Gjirokaster, and the perfect 2 day Gjirokaster itinerary.
I spent 4 nights in Gjirokaster which really allowed me to experience the culture, food, and history here. I absolutely loved my time in Gjirokaster and you certainly will too! I personally think it's one of the best places to visit in Albania, so definitely don't overlook it whilst planning your Albania bucket list.
Skip Ahead:
This post contains affiliate links; see my full disclosure. If you click these links and make a purchase you're supporting The Holistic Backpacker. Thanks for your support & happy adventuring! – Taylor ♡
---
Quick Albania Travel Guide:
Currency: Albanian LEK (aka ALL). This is a closed currency so you'll need to wait until you're in Albania to exchange $.
Transportation: to enter the country you can find 1 international airport in Tirana, 1 port in Saranda (daily ferry arrivals/departures to Corfu, Greece), and a bus line from Montenegro. Buses are very cheap here, but unreliable. Driving is chaotic, I'd recommend sticking to buses. There are no trains within the country.
Phone: purchase a local SIM card from Vodafone – the plans are cheap and they include lots of data, however international minutes are typically not available.
Language: Albanian, however you can get by with English – google translate recommended for smaller cities/villages.
Helpful Info: don't drink the tap water or bring a purifying bottle like this one. Bring an international travel adapter, and notify your bank before travelling.
Travel Insurance: ALWAYS purchase reliable insurance prior to your trip. This insurance is trusted by backpackers and adventure sport enthusiasts around the world.
Albania is one of the last "undiscovered" countries in Europe. Plan your trip while prices & tourism levels are low!
Related Articles:
---
Quick Facts About Gjirokaster
---
Gjirokaster is a UNESCO World Heritage Site (since 2005).
Gjirokaster is famous for being a well preserve Ottoman town.
Nicknamed the "Stone City," you'll find cobblestone streets and original stone buildings and houses in Gjirokaster.
The town of Gjirokaster is perched on the eastern side of the Wide Mountain (Mali I Gjërë).
The city initially started as a 4th century castle named Argyrokastro until it was taken over by the Ottoman army.
---
How to get to Gjirokaster
---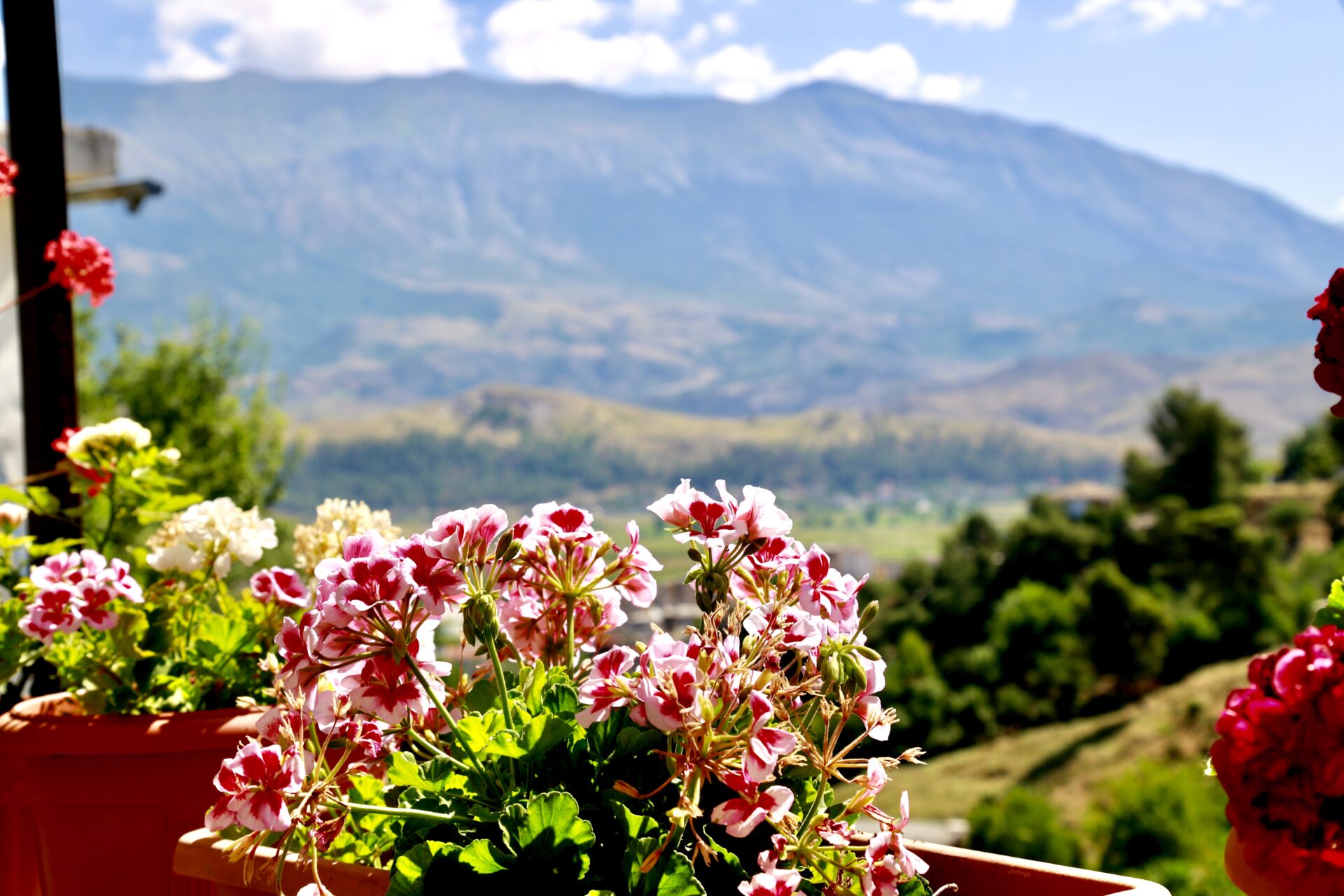 If you're visiting Gjirokaster, chances are you're coming from Tirana, Himara, Saranda, or Berat. No matter which city you're coming from, I'd highly recommend taking the bus. The bus is super inexpensive and it's the best way to travel within Albania.
If you're feeling a bit adventurous you could also hitchhike – hitchhiking is super common and safe in Albania!
A word of warning – the bus system is super confusing and unreliable in Albania. My best piece of advice for effectively navigating the transit system here is to ask the employees of your hotel or hostel for information. They'll almost definitely have detailed directions for bus schedules and stops which is a safer bet than trusting any travel blogger or website which claims to have information about "how to get from point A to point B" in Albania.
I've put together this guide full of Albania travel tips where I give useful tips and information for utilizing the public transit system in Albania. I'd HIGHLY suggest giving this post a read as it's full of helpful recommendations and warnings.
Follow The Holistic Backpacker's Adventures on Socials:
Keep Up With My Adventures!
Sign up for my newsletter and stay up-to-date with my latest adventures, gear guides, and eco-resources!
Taylor ♡
---
Where to Stay in Gjirokaster
---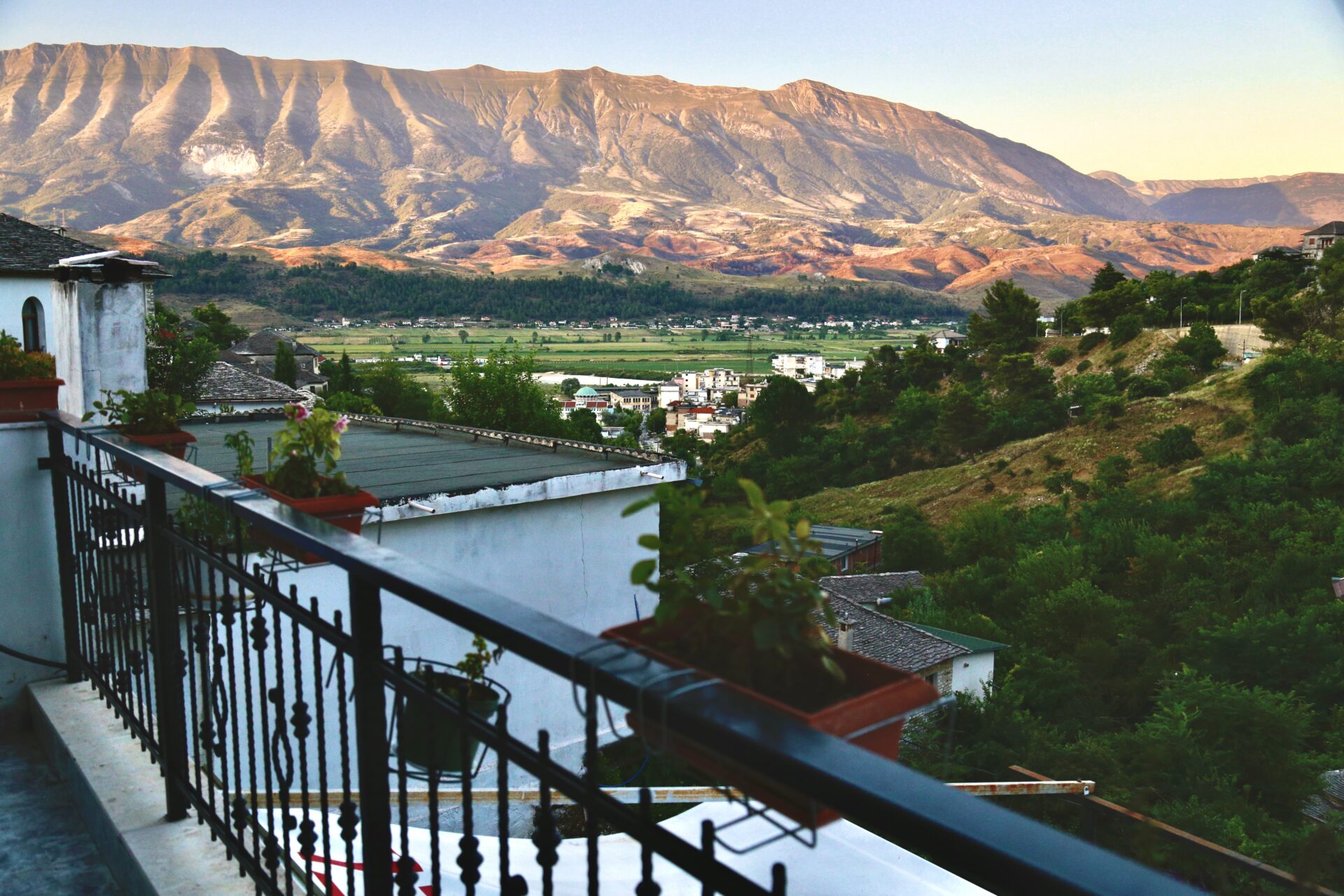 Luckily, Albania is one of the cheapest travel destinations in Europe! It's not actually part of the EU and it hasn't been subjected to Schengen inflation which makes it a total backpacker's paradise.
With that being said, Gjirokaster is a super affordable destination in Albania and you can easily find accommodations here for 10 euros/night.
Here's a breakdown of the best accommodations in Gjirokaster for every budget:
Hostels in Gjirokaster – For the Budget Traveller
I've stayed at both the hostels in Gjirokaster, so here's a quick review for each of them:
Stone City Hostel – Stone City Hostel is the #1 place I recommend staying in Gjirokaster. The hostel is super social, it's located right by the Bazaar, they serve incredible (and complimentary) breakfast, and they offer tours for their guests. The atmosphere here is great, there's tons of outdoor garden space to relax in, a water filter (no buying water in plastic), and there's ample space to store your luggage. Need I go on?
Friend's Hostel – The Friends Hostel is a great alternative if Stone City is fully booked. Friends is run by the sweetest little family and they truly do make you feel like you're at home. They offer delicious home-cooked traditional meals for a small price and they have an amazing rooftop terrace that overlooks the mountains and the castle. They've also got air conditioning and curtains on the beds – you won't find curtains too often in Albania so this was a huge plus! Friends Hostel is the perfect place to stay in Gjirokaster if you're looking for a quite and comfortable stay.
Trademark Accommodations in Gjirokaster
Old Bazaar 1790 – If you're after a cultural experience complete with traditional Albanian decor and food near the heart of Gjirokaster's Bazaar, Hotel Old Bazaar is for you!
Hotel Kalemi 2 – there are multiple Hotel Kalemis in town, however Hotel Kalemi 2 has the most traditional Albanian feel and a yummy local breakfast.
Hotel Domino – if you're simply after a mid-range hotel for the night, Hotel Domino is just that!
---
Things to do in Gjirokaster
---
1. Hike to Ali Pasha
Hiking to Ali Pasha was my favourite activity in Gjirokaster, so it's therefore making #1 on my list of things to do in Gjirokaster!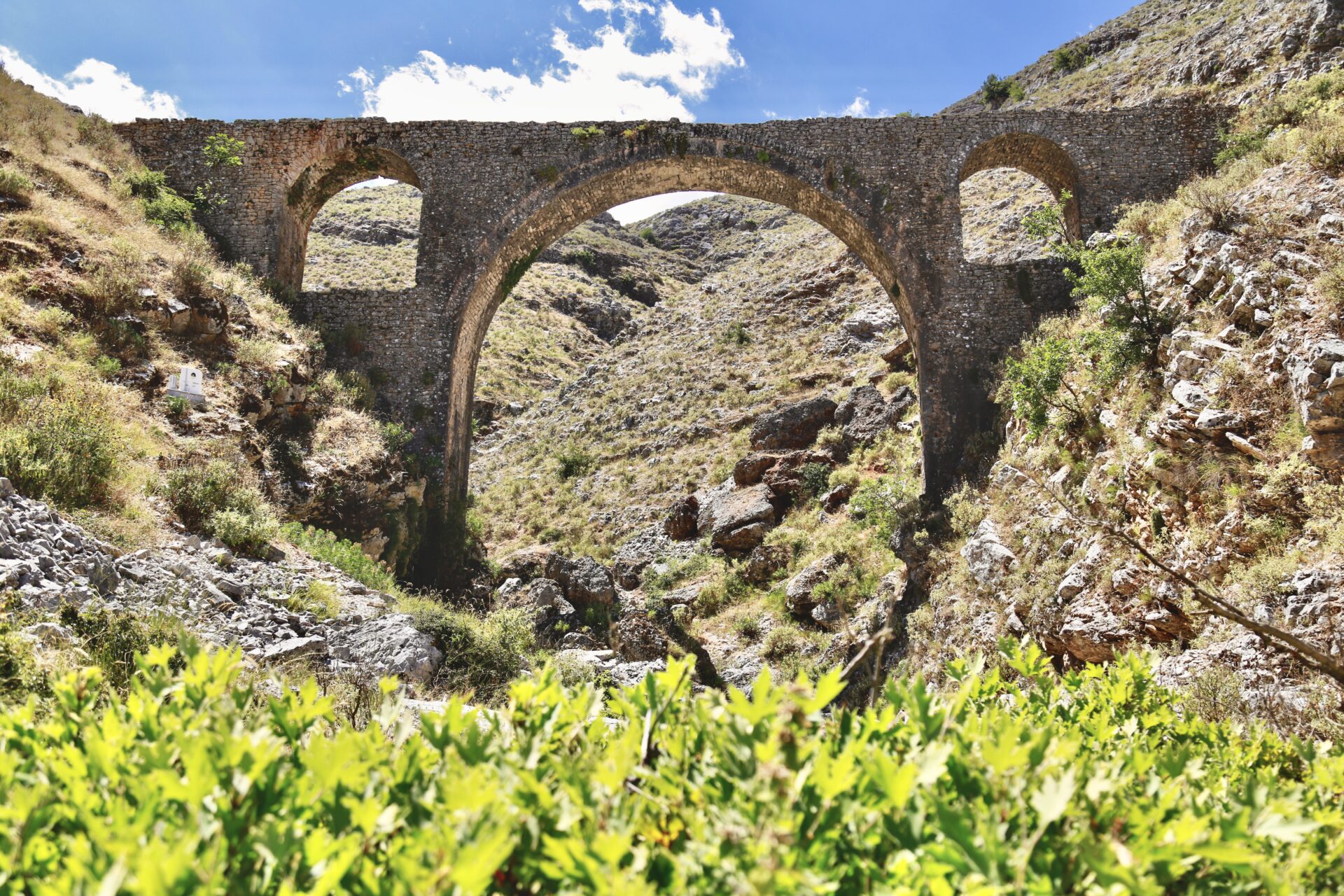 Ali Pasha was previously used as an aqueduct, but it's now used as a footpath for goats and the odd hiker. The lack of tourists and the superb mountain views make Ali Pasha the perfect escape from the "bustling city life" of Gjirokaster. I really loved my time here – I spent around 3 hours journalling, taking photos, and napping in the tiny bit of shade I found under the bridge.
The only "people" I saw there were some goats and a Shepard!
The hike to Ali Pasha is definitely a workout and you'll need appropriate running shoes (or better yet hikers). Initially you'll follow steep roads up until about this point (GPS) and from here you'll have a really pretty walk through a tight valley to Ali Pasha Bridge. Just make sure you watch your step! The terrain gets quite rocky.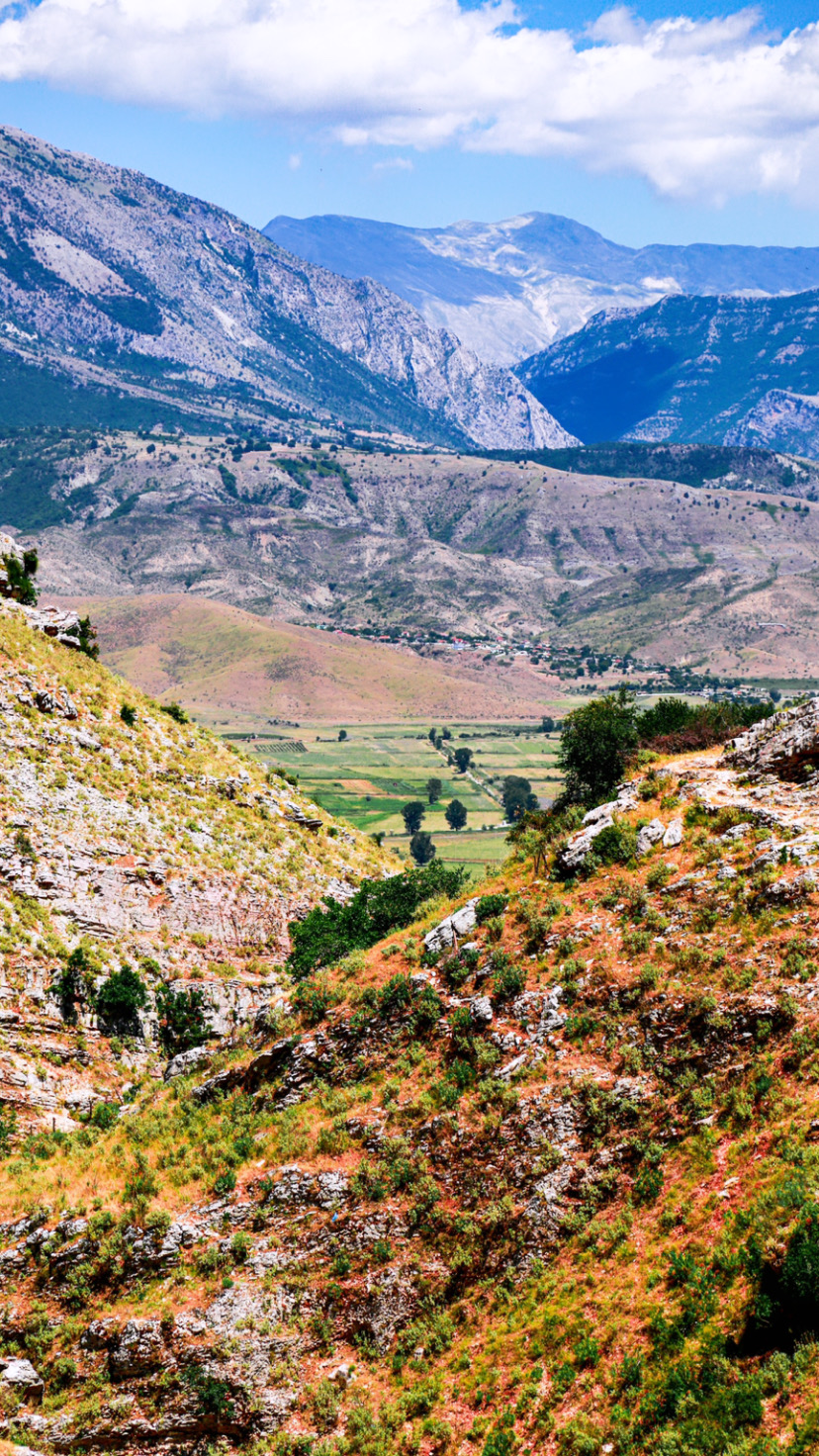 TIP – hike to the bridge as early as possible to avoid the sweltering Albanian summer heat.
---
2. Try the Traditional Albanian Food of Gjirokaster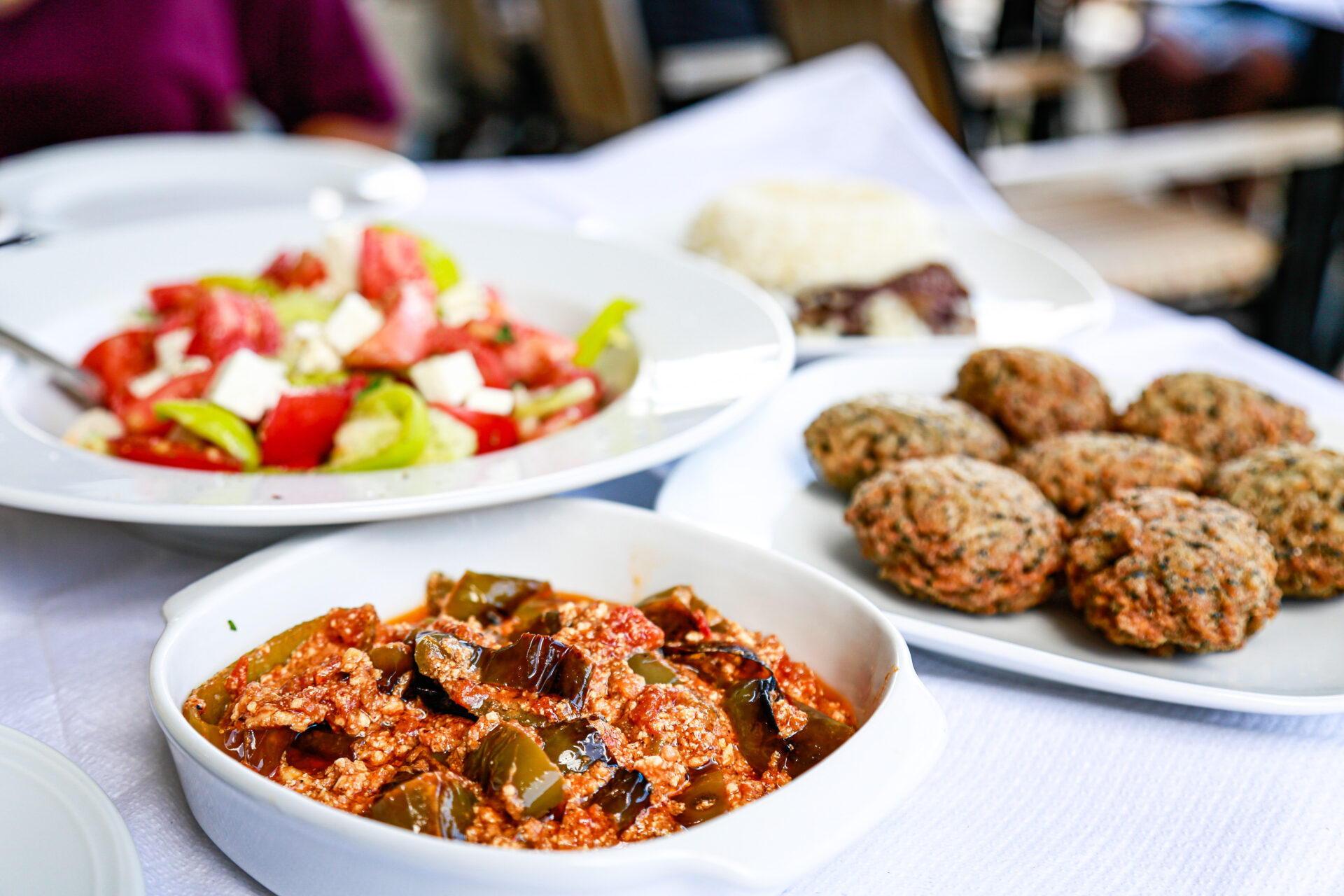 Albania's traditional food has a huuuuge Greek influence, so you already know it's gonna be tasty. Gjirokaster in particular though has some traditional dishes local to the area that you must try.
I found Edua Gjirokaster to be the best restaurant in town. They had alllll the traditional dishes at a super reasonable price. There were TONS of vegetarian and vegan options (which is hard to come by in the Balkans) and they had a super cute outdoor patio.
The traditional foods of Gjirokaster are:
Qifqi – rice balls cooked in a hallow frying pan mixed with eggs and herbs (YUM).
Shapkat – a type of cornbread (try the pumpkin one, it's the tastiest)
Pashaqofte – a soup with small meatballs.
Sarma – grape leaves stuffed with rice and mint (although it tastes more lemony than minty).
Qahi – tiny spinach pies.
Oshaf – a desert consisting of mainly sheep milk, figs, sugar, and cinnamon; this was soooooo good!

You'll find that figs are a big deal in Gjirokaster!
ps. if you're looking for the best 1 euro ice cream in town, check out Kodra! The ice cream is super rich and there are soooo many flavours (I loved the date flavour, yum)!
---
3. Visit the Gjirokaster Castle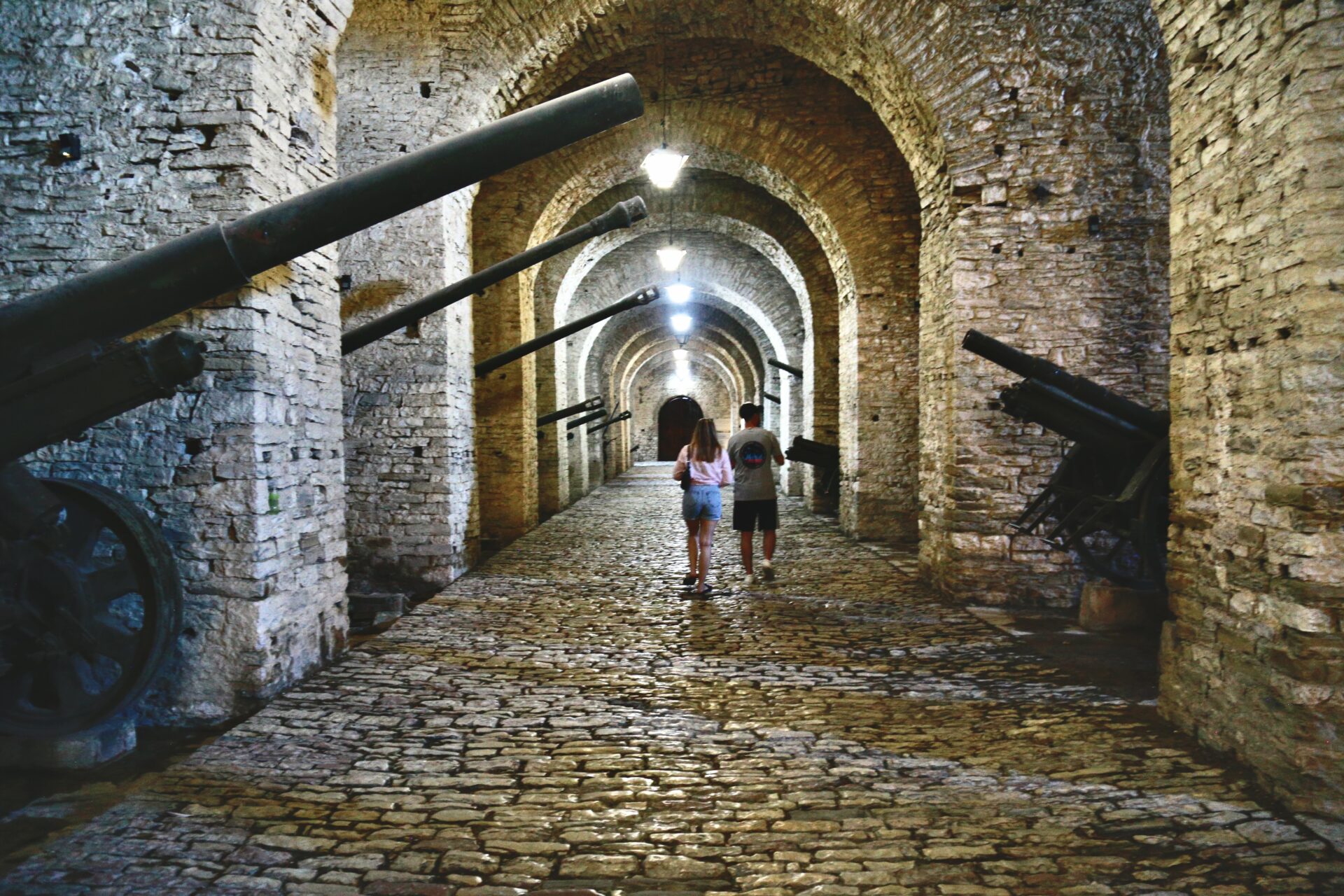 The Gjirokaster Castle is the perfect place to visit if you're looking for a bit of history combined with beautiful views. The Gjirokaster castle overlooks the entire city of Gjirokaster and has tons of space to walk around and explore.
Here you'll find an old weapons museum, the old town clock, and lots of empty, dark rooms to explore.
There is an entry fee of 400 LEK (approx 4 euros).
---
4. Walk Around the Bazaar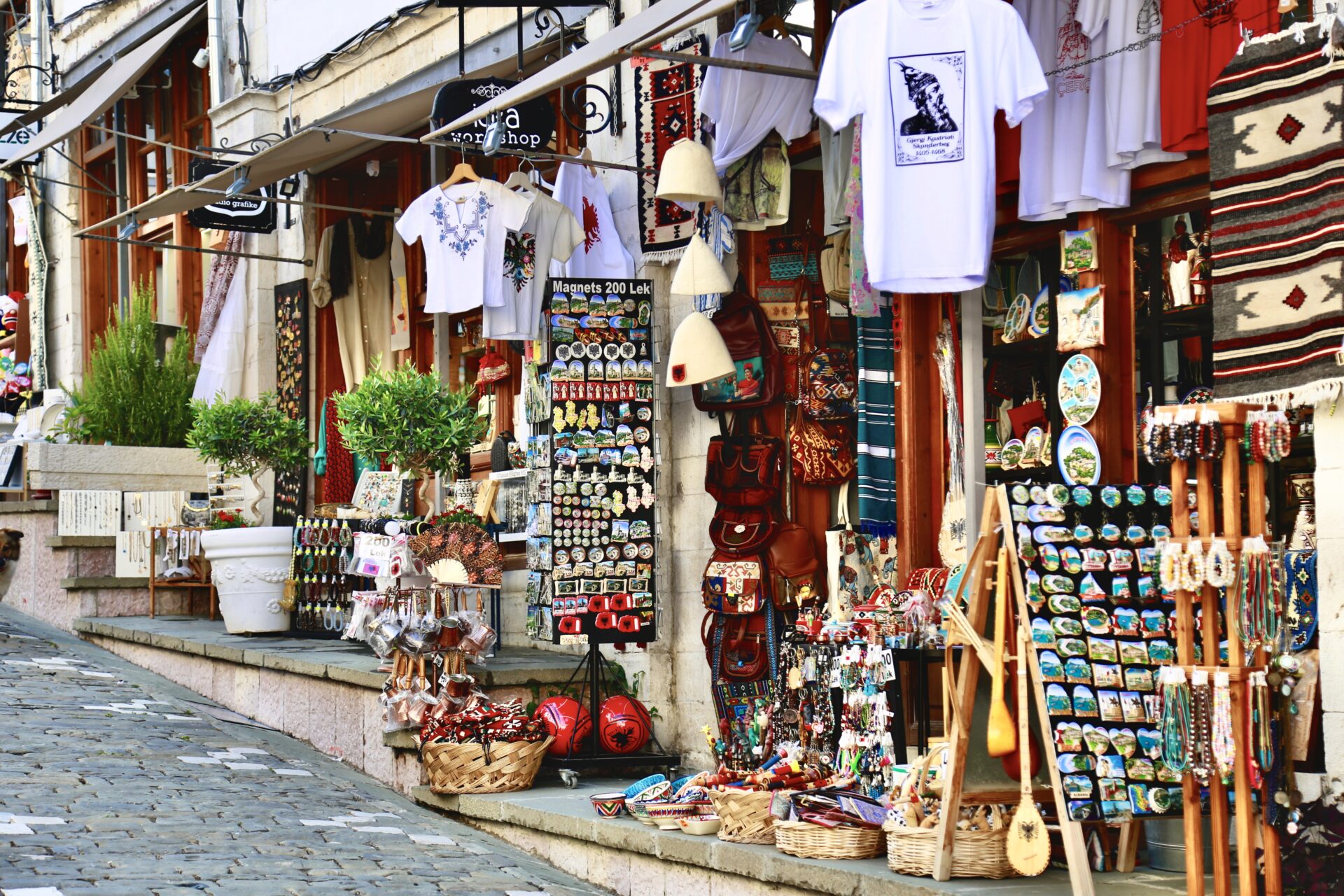 The Gjirokaster Bazaar (similar to a market) is the highlight attraction of this historic town. The Bazaar is situated in the heart of Gjirokaster and features so many local artisan crafts, trinkets, and jewelry. My favourite things at the Bazaar were the beautiful, hand-made carpets and bowls. The colours and attention to detail were unreal!
If you purchase anything you can expect a hefty $, however the quality and sentiment behind these pieces are truly priceless.
---
5. Go on a Walking Tour & Plunge into Local Albanian History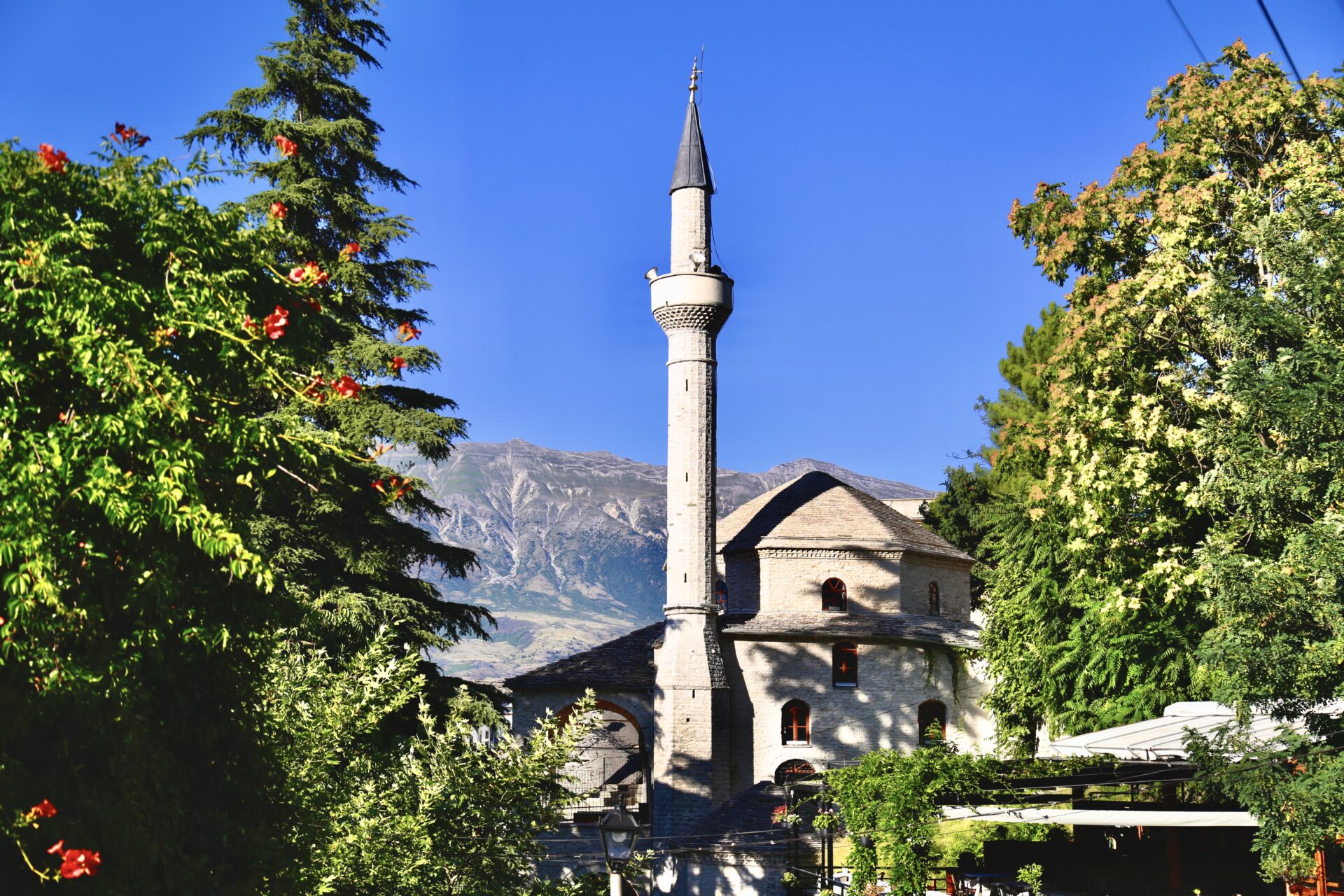 Gjirokaster is FULL of history – this city is a UNESCO World Heritage Site after all!
I can admit I didn't visit all these places when I was in Gjirokaster, however these are all the great cultural experiences the city offers:
The Cold War Tunnel – this is an underground bunker. I didn't find this overly impressive, however if you don't get the chance to check out BUNK'ART in Tirana, this would be a cool experience! There is a 200 LEK entry fee and you must wait until a guide arrives to enter.
Ethnographic Museum
Skenduli House – the Skenduli House is one of the oldest stone houses in Gjirokaster. There is a family in this house who will give you a tour and explain the local history and significance of the house.
Zekate House – Zekate House is similar to the Skenduli House, however no tour is required. You can walk around this house freely and take in the sights of the historic frescos that still hang there.
The Bazaar Mosque
---
6. Take Part in Gjirokaster's Xhiro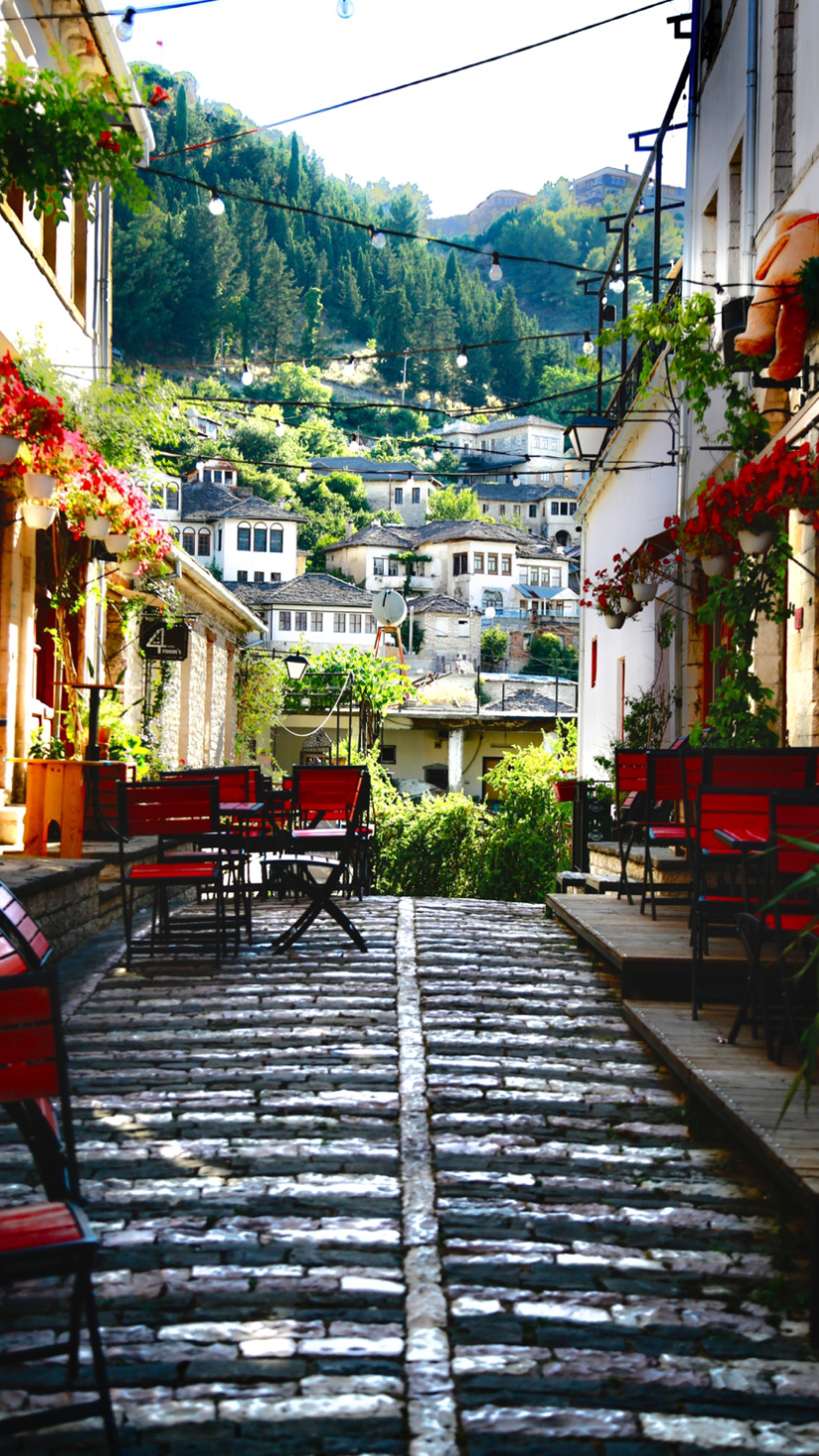 In the evening hours, the Albanians take part in what they call "xhiro." In English xhiro translates to walk and this walk is a beloved Albanian pastime! You'll find hanging lights, music, and a thriving patio life in the evening hours here (or anywhere else in Albania for that matter).
---
2 Day Gjirokaster Itinerary
---
Day 1 in Gjirokaster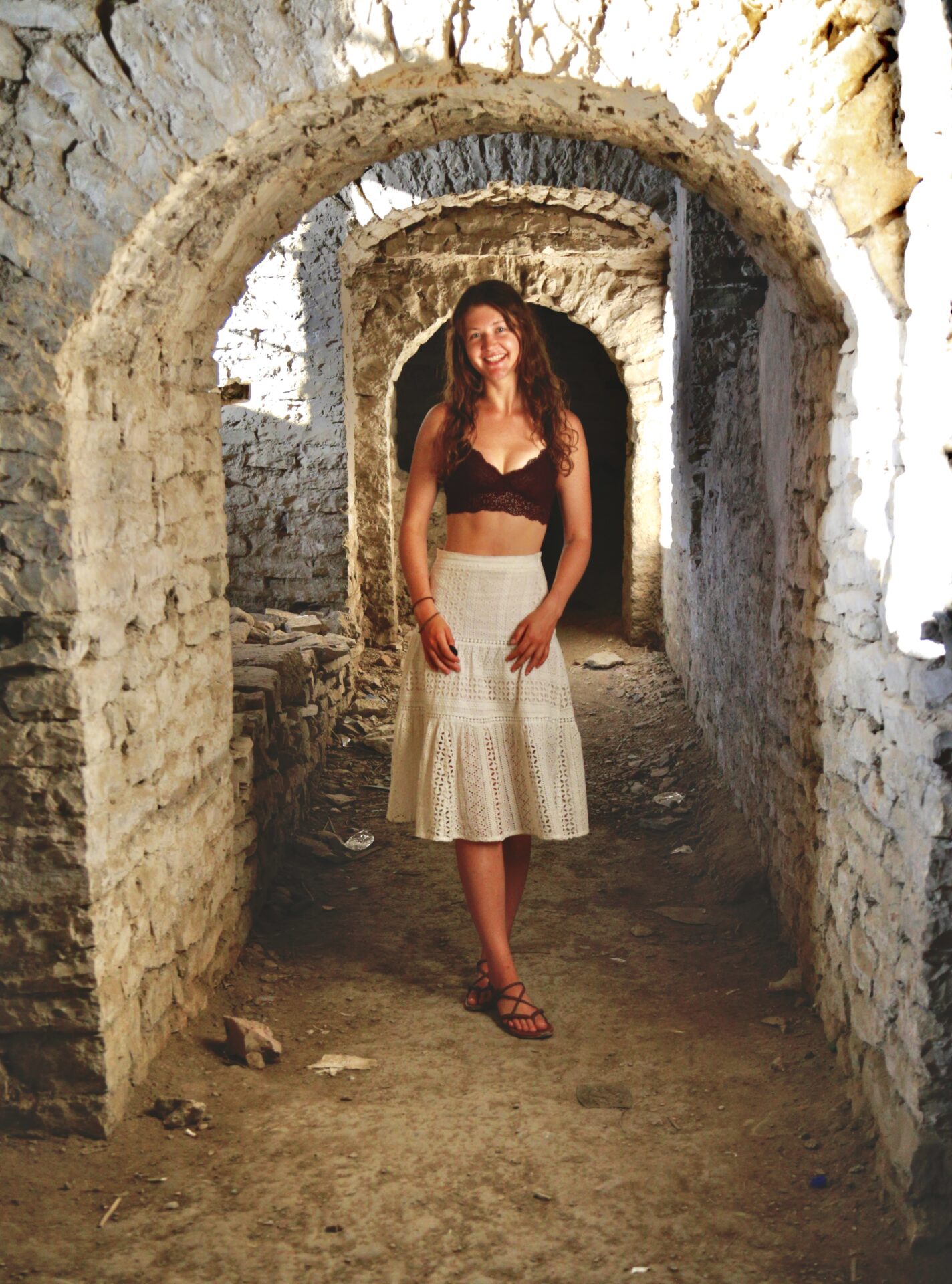 I always like to start my itineraries off with a walking tour because it's the best way to get your bearings, see the sights, and learn what the new place you're travelling to is all about. With that being said, on day 1 in Gjirokaster I'm recommending a walking tour!
I've listed all the things you can do and see in Gjirokaster above, but my "can't miss" recommendations are the Bazaar and the castle. You could easily spend a day looking at the local crafts, grabbing lunch on the patio, or spending time exploring the castle. If you've got extra time, throw in a visit to one of the original Ottoman style houses or the museum.
Better yet, grab a delicious ice cream from Kodras and have a snack while you roam the streets!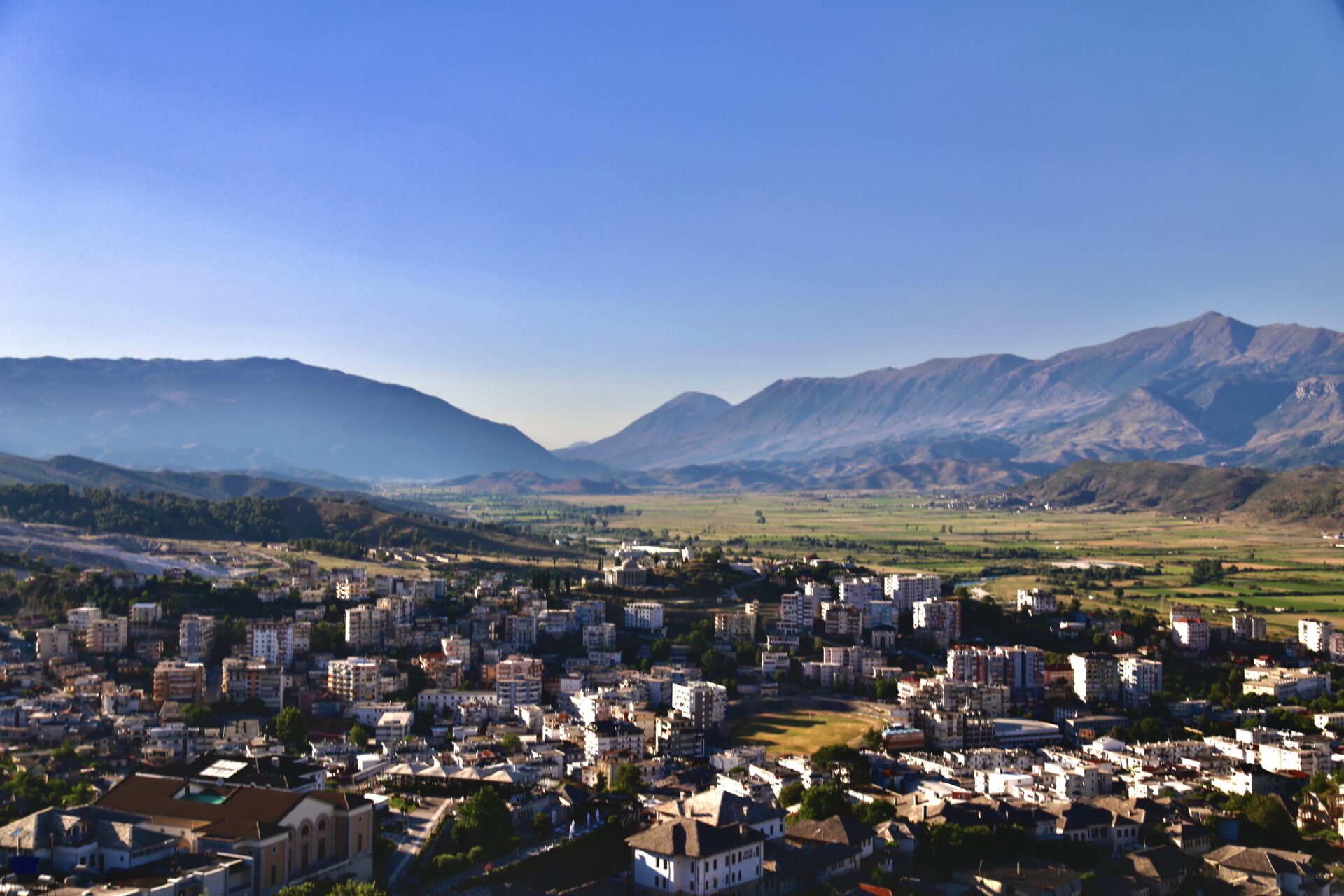 For dinner I'd highly recommend grabbing some traditional qifqi, sarma, or shapkat from Edua followed up with a tasty Oshaf dessert. If you can, be like the locals and wait until the sun goes down to partake in the whole "xhiro" patio dinner vibe.
End day one in Gjirokaster with a good nights sleep at the Stone City Hostel or the Old Bazaar 1790.
---
Day 2 in Gjirokaster
Start off day 2 early! Gjirokaster is situated in the perfect position to catch a beautiful sunrise.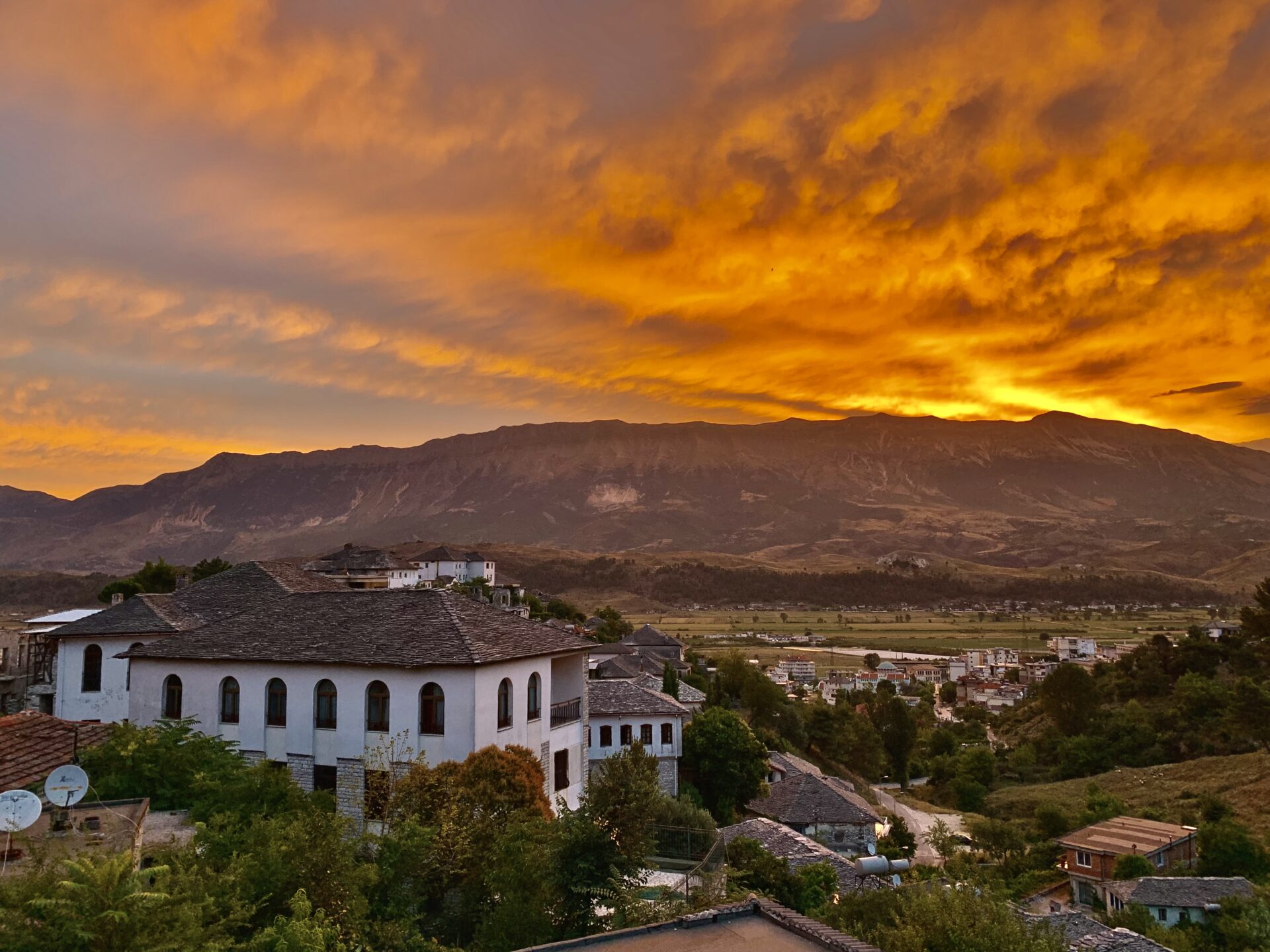 Have a quick breakfast and hit the trail – you're hiking to Ali Pasha!
The hike to Ali Pasha isn't overly strenuous, however the midday Albanian heat makes the hike quite hot and tiring, so it's best to go early. Roundtrip including photos and a quick break it should take you around 2-2.5 hours (although I did take around 4.5 because I journaled, napped, and enjoyed the views)!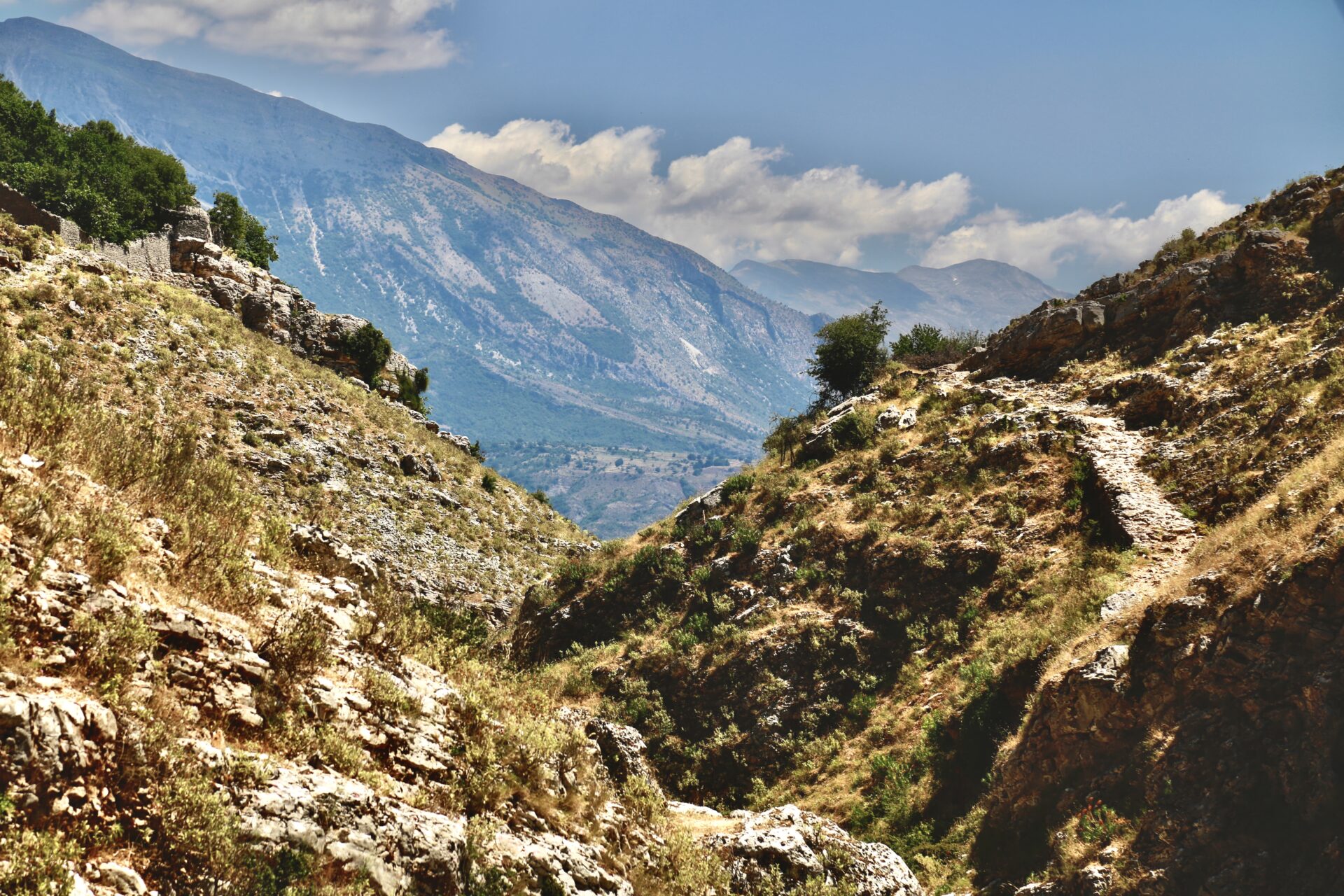 If you go early enough you should return to your accommodations in time for check out. Pack up your belongings, grab a quick lunch at the Bazaar (again, I'm recommending a return trip to Edua because the food is soooo good) and catch a bus to your next Albanian destination!
---
Tips for Travelling to Gjirokaster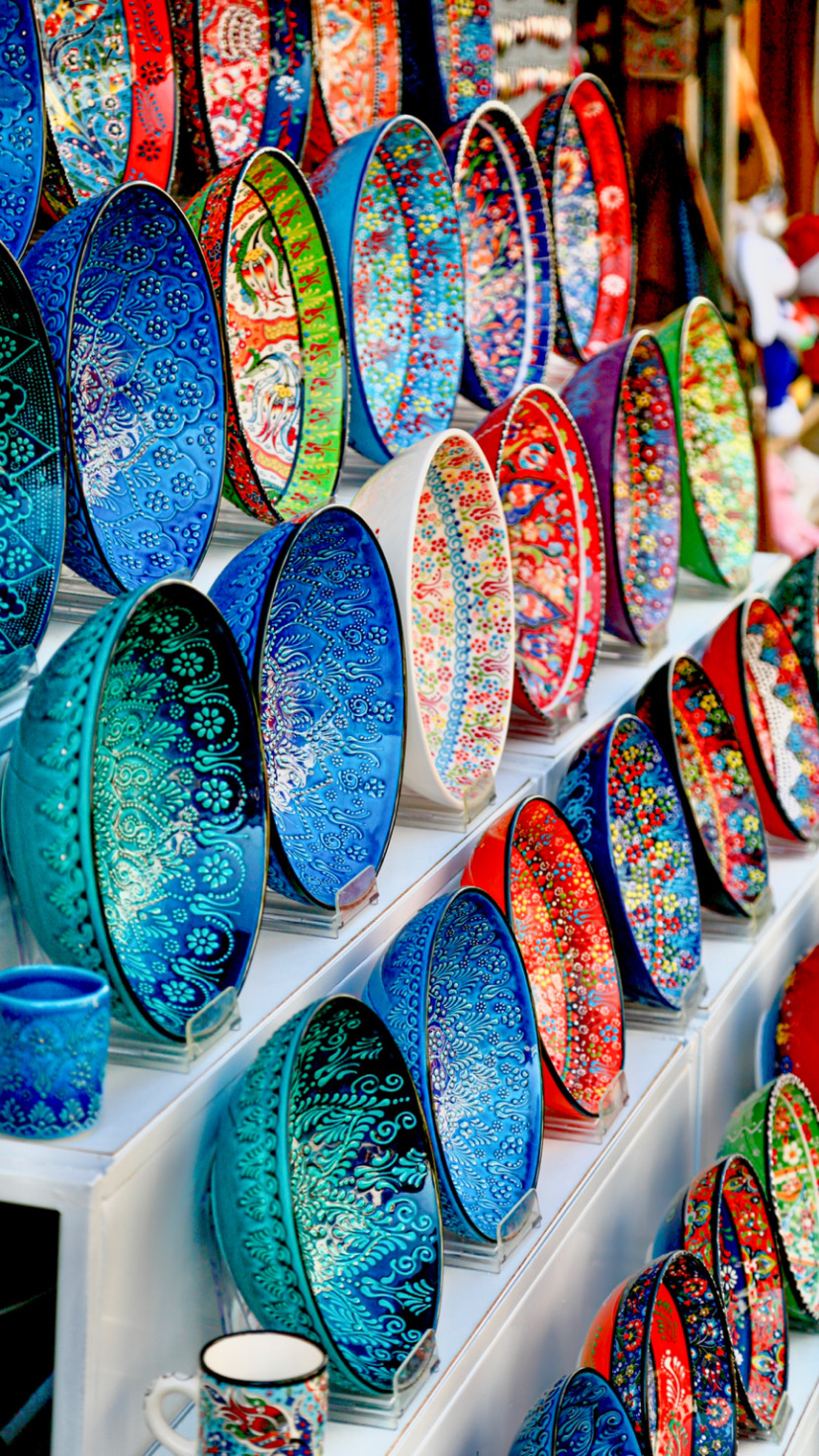 The streets are all uphill & cobblestone in Gjirokaster – bring proper running shoes and avoid using a wheelie suitcase (I made this mistake and I'm now lugging around a suitcase with 3 broken wheels whoops).

In saying this, Gjirokaster would be extremely hard to explore for someone with mobility issues.
Nicknamed the "Stone City," Gjirokaster can get brutally hot in the summer months. It's best to visit in spring or fall.
There are some local foods specific to Gjirokaster (like qifqi) that you MUST try before leaving!
You can easily see/do everything in Gjirokaster in 1 night/2 days if you plan appropriately.
---
---
Happy adventuring!
Taylor ♡
---
Like This Post?
Share with friends or save it for later!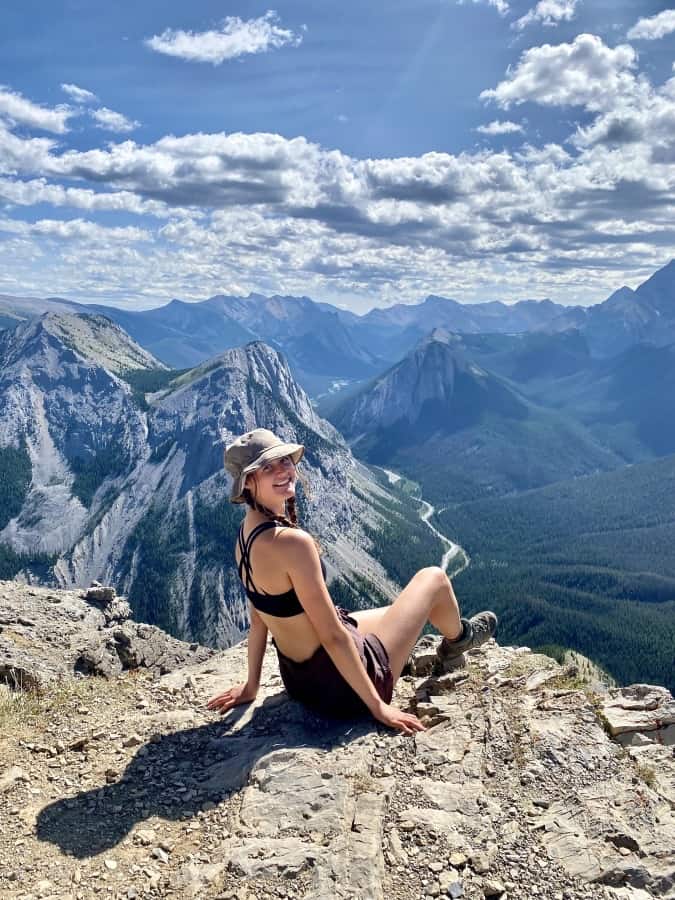 About The Author
---
Hey! I'm Taylor – the voice behind The Holistic Backpacker.
After moving to Banff National Park in 2020 I became an outdoor adventure enthusiast and vowed to never stop exploring.
I'm now focused on travelling the world and seeing everything our beautiful home has to offer.
I created The Holistic Backpacker so I could share my adventures and help connect people like you with the same amazing experiences.
I am also an advocate for the environment and do as much as I can to take care of our planet.
Get to know me and my story more here 🙂
I can't wait to share my adventures with you!