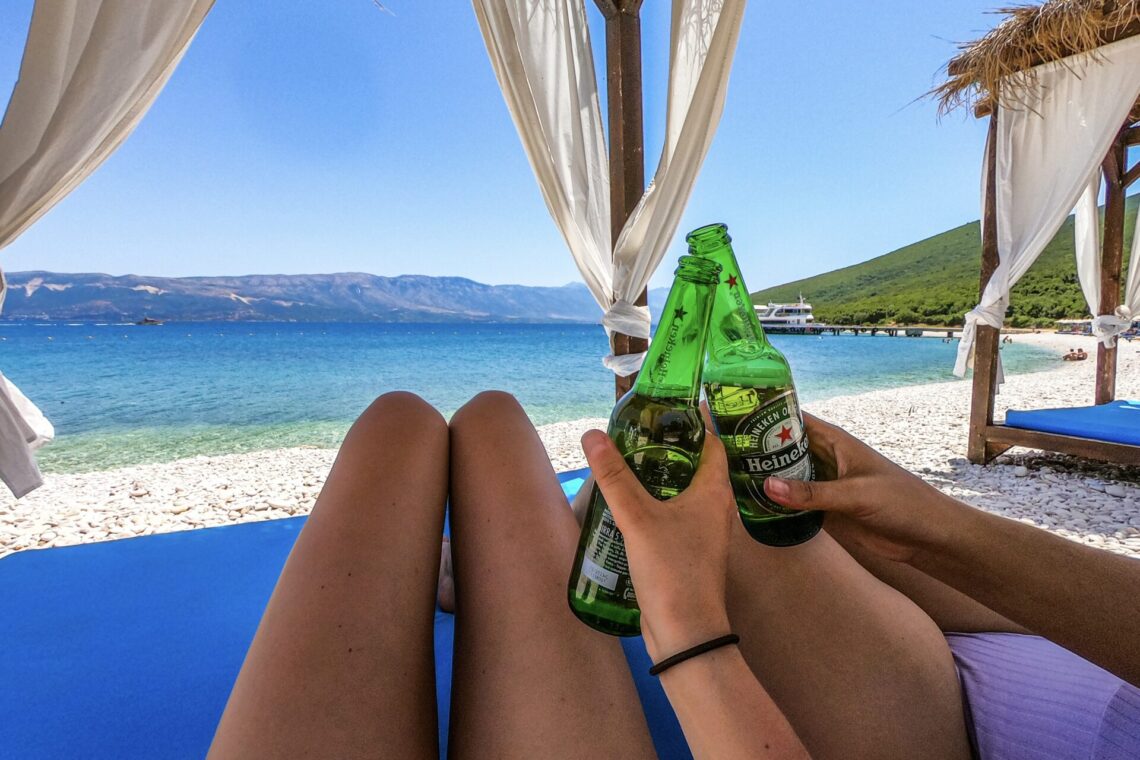 2 Day Guide to Vlora: Explore the Albanian Riviera
Vlora (aka Vlorë in Albanian) marks the northernmost point of the Albanian Riviera. There's something unique about Vlora's beaches that are unlike any of the other beaches on the Riviera – but I'll get into that later. For now all you need to know is that in this guide you'll learn about things to do in Vlora as well as discover a detailed 2 day Vlora itinerary.
Although Vlora is not necessarily a "fan favourite" destination in Albania, I certainly think it warrants a visit. I thoroughly enjoyed my time in Vlora and I think you will too!
Skip Ahead:
This post contains affiliate links; see my full disclosure. If you click these links and make a purchase you're supporting The Holistic Backpacker. Thanks for your support & happy adventuring! – Taylor ♡
---
Quick Albania Travel Guide:
Currency: Albanian LEK (aka ALL). This is a closed currency so you'll need to wait until you're in Albania to exchange $.
Transportation: to enter the country you can find 1 international airport in Tirana, 1 port in Saranda (daily ferry arrivals/departures to Corfu, Greece), and a bus line from Montenegro. Buses are very cheap here, but unreliable. Driving is chaotic, I'd recommend sticking to buses. There are no trains within the country.
Phone: purchase a local SIM card from Vodafone – the plans are cheap and they include lots of data, however international minutes are typically not available.
Language: Albanian, however you can get by with English – google translate recommended for smaller cities/villages.
Helpful Info: don't drink the tap water or bring a purifying bottle like this one. Bring an international travel adapter, and notify your bank before travelling.
Travel Insurance: ALWAYS purchase reliable insurance prior to your trip. This insurance is trusted by backpackers and adventure sport enthusiasts around the world.
Albania is one of the last "undiscovered" countries in Europe. Plan your trip while prices & tourism levels are low!
Related Articles:
---
How to get to Vlora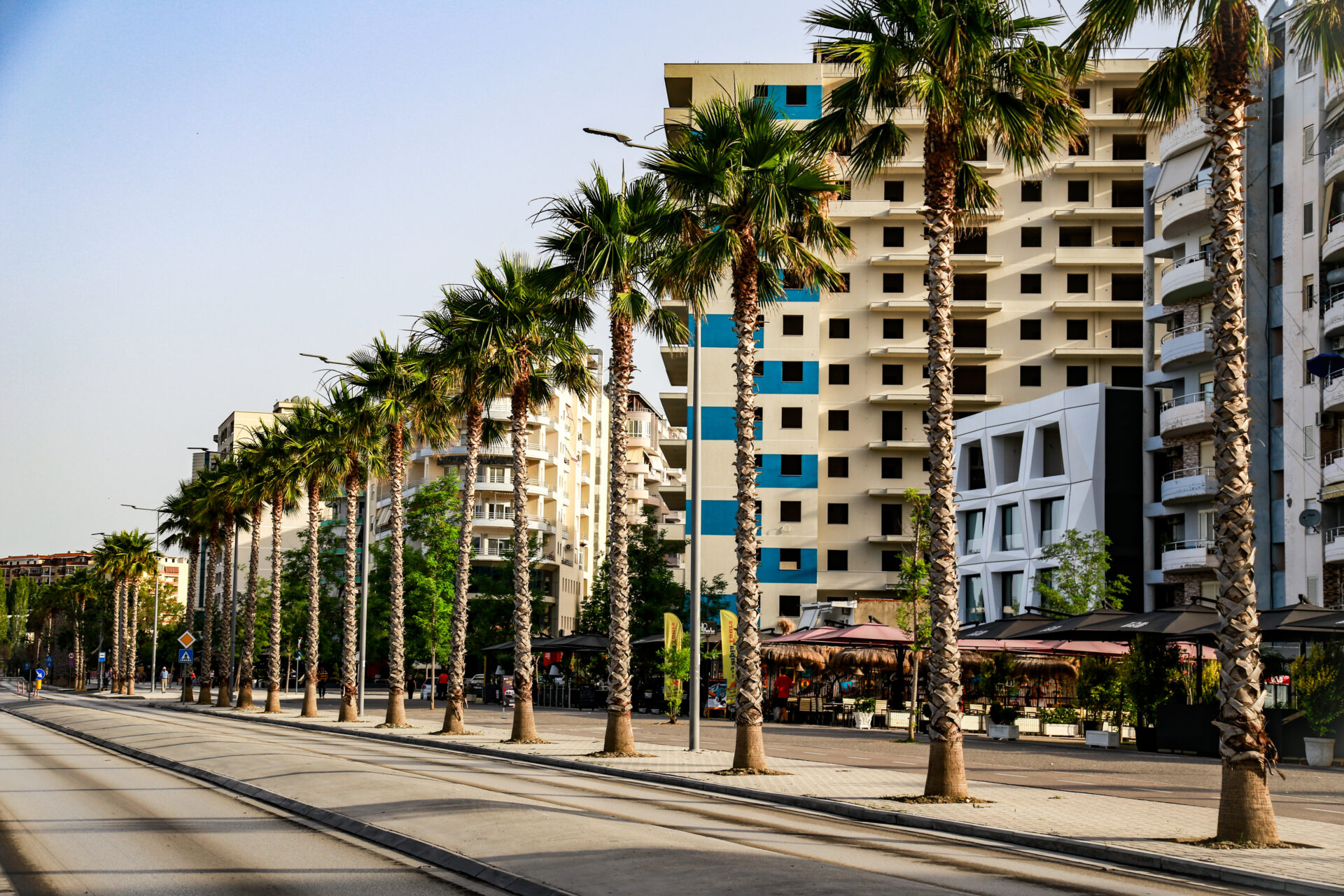 The best way to travel within Albania if you don't have a car is by bus. In saying this though, I must warn that the bus system here is quite unreliable! You won't find updated timetables online and you certainly won't be able to use google maps to search for a bus route.
You won't have issues getting to Vlora from any city in Albania, however you will have to rely on local knowledge to get you here. By this I mean don't be afraid to ask your hotel or hostel employees for bus information. They'll know better than anyone where the bus will come and at what time.
---
Where to Stay in Vlora
Lucky for you (and me) Albania is a super cheap country to travel! Albania hasn't been subjected to Schengen inflation which means going out to eat or paying for accommodations is totally affordable; if you're a hostel-er, you can get a dorm for 10 euros/night. That's cheaper than my daily rent back home in Canada!
When I visited Vlora I stayed at Vlora Backpackers. The hostel itself isn't anything special however the owner is fabulous! He's super helpful and he has excellent recommendations for things to do in Vlora. The vibe of the hostel was also quite social and relaxed, PLUS they had the cutest little puppies!
You can book a room at Vlora Backpackers via Hostelworld or Booking.com.
Alternatively if you're looking for something mid-range, and more private than a hostel, you can check out Deluxe Apartment or Hotel Artisti.
If you're looking for a little razzle dazzle, Hotel Aross and the Maritim Resort are the fanciest of the fancy 5 star hotels in Vlora.
None of these options float your boat? You can browse all accommodation in Vlora here.
Follow The Holistic Backpacker's Adventures on Socials:
Keep Up With My Adventures!
Sign up for my newsletter and stay up-to-date with my latest adventures, gear guides, and eco-resources!
Taylor ♡
---
Tips for Visiting Vlora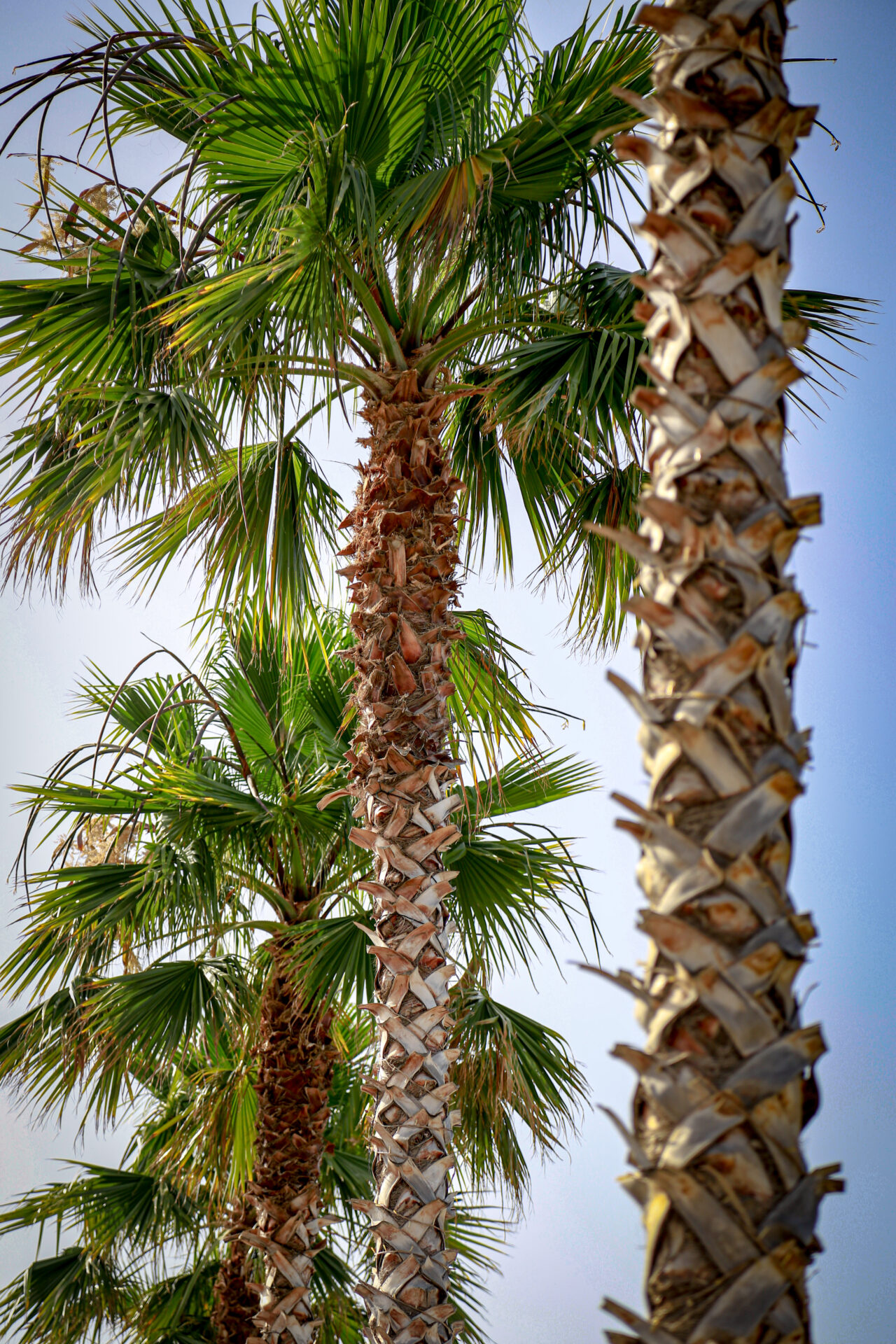 Plan to stay a minimum of 2 nights to make sure you check all the things to do in Vlora off your bucket list.
If you're looking to travel to the beaches in and around Vlora, you can rent a scooter to get around.
Honestly, in some parts of Vlora the city looks quite sketchy; lots of trash, run-down buildings, etc. You'll discover that this is just part of Albania's "charm" though. Vlora and the rest of Albania are surprisingly safe, despite what they may look like!
You can't drink the tap water – bottled water only here.
---
Things to do in Vlora
---
1. Cruise the Karaburun Peninsula to Sazan Island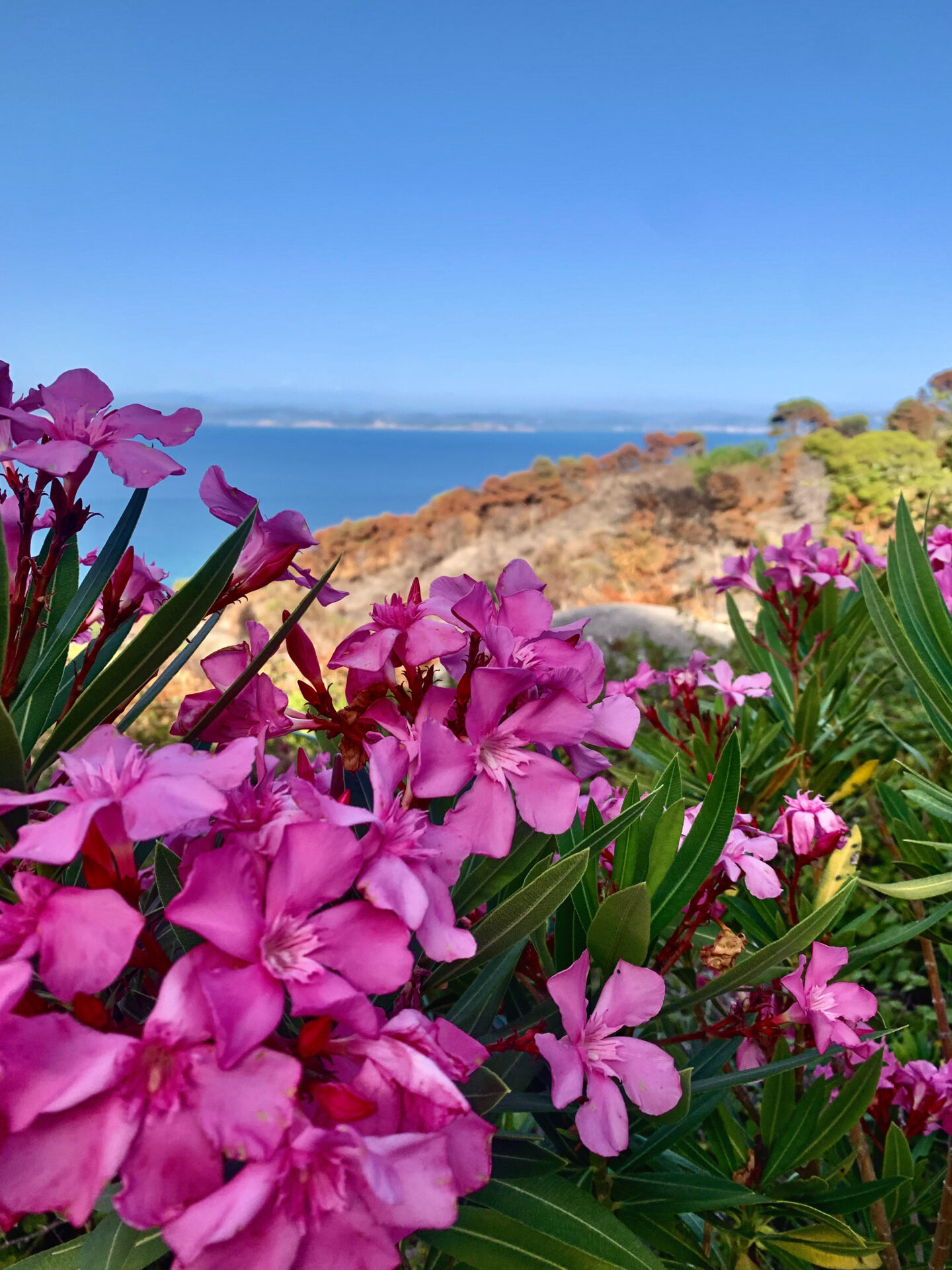 This is by far the best thing to do in Vlora, and the thing to do in Vlora that inspired my trip!
There are plenty of boat trips that depart Vlora and venture over to the Karaburun Peninsula and Sazan Island. Along the way you'll come across caves and private beaches. Oftentimes the boat drivers are also quite flexible and will allow you to customize the day's itinerary!
You can book the Vlora boat trip to the Karaburun Peninsula and Sazan Island here.
---
2. Visit Vlora Old Town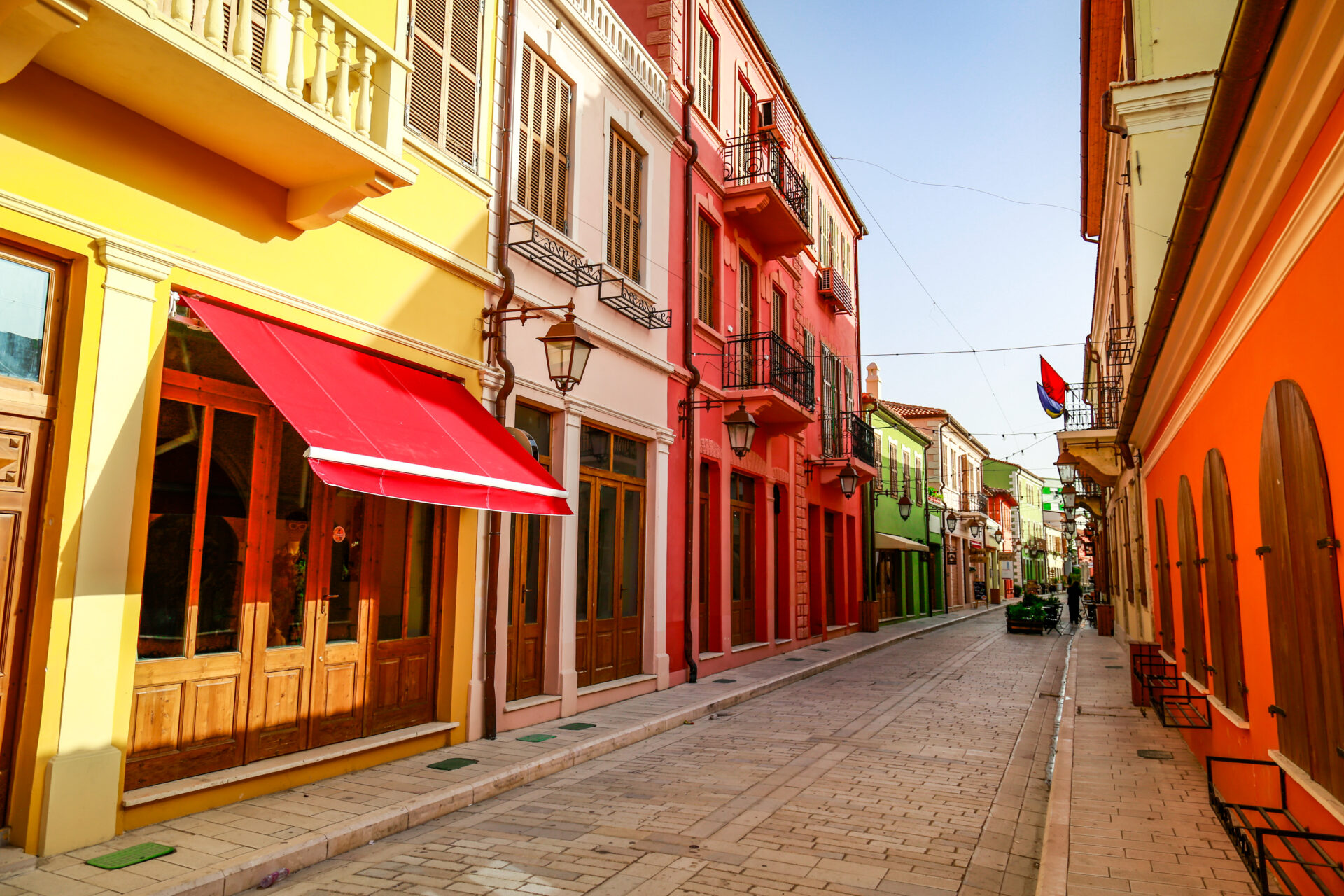 The Vlora Old Town is the perfect place to grab breakfast or dinner in Vlora. The colourful buildings in the daytime and the sparkly twinkle lights in the evening make for the perfect location to grab a meal or a drink.
Vlora Old Town is located approximately a 40 minute walk from Vlora's main strip.
---
3. Swim at the Local Beaches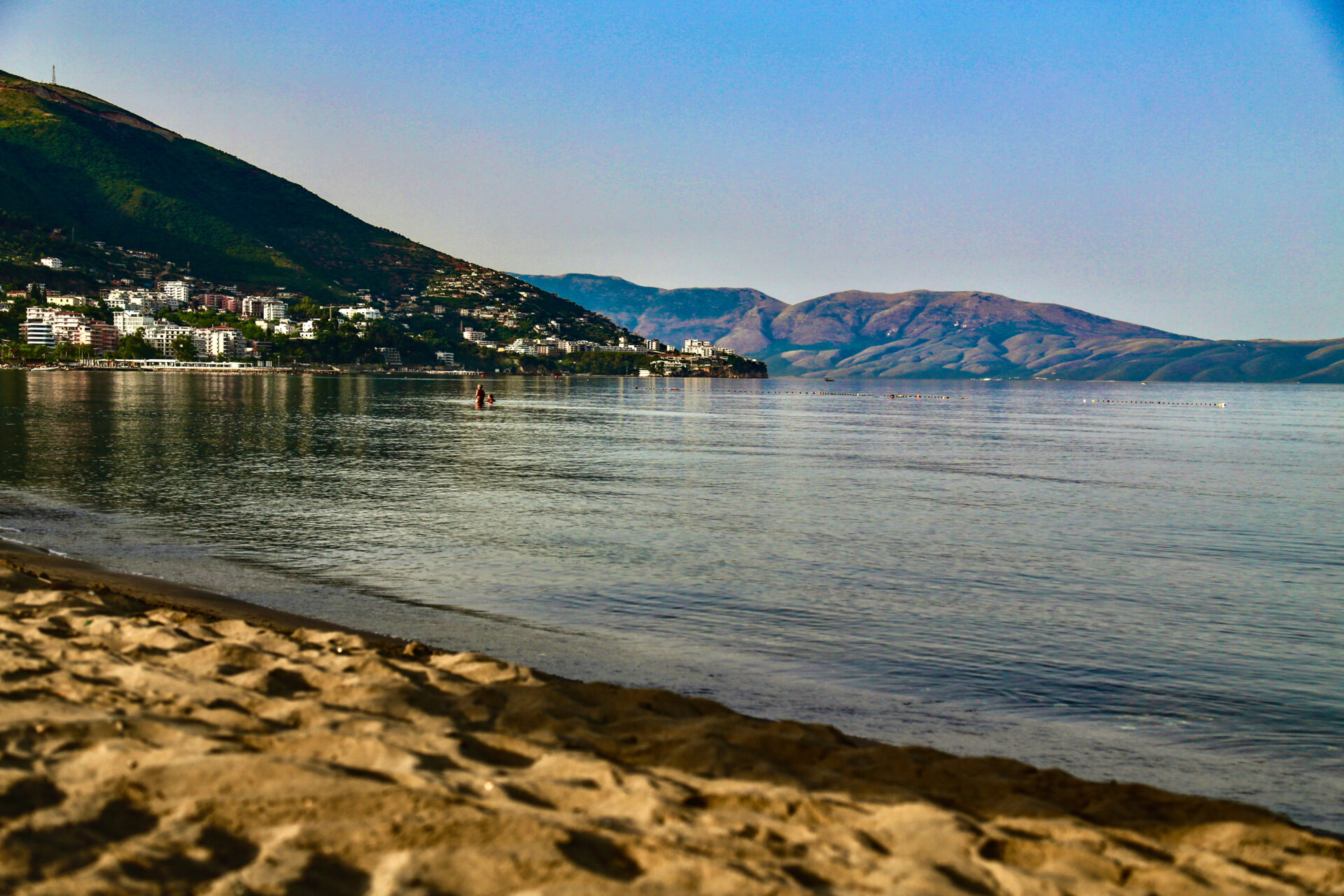 Vlora has a nice, long beach front right in the center of town. You have the option of spreading out your own towel or the option to rent a beach chair owned by one of the local resorts.
As I preluded to there being something "special" about the beaches in Vlora, you may be asking what that "special" something is. The answer is sand! The vast majority of beaches along the Albanian Riviera are covered in smooth rocks, however Vlora's beaches (as well as the Ksamil beaches near Saranda in the south) have sand!
If you ask your local hotel or hostel employees they can make recommendations for beaches nearby where you can find a little more peace and quiet along the shore as well as flamingos!
---
4. Try Paragliding
If you're searching for an activity that offers a little more adrenaline, you can add paragliding to the list of things to do in Vlora.
---
5. Grab a Cone
One of my favourite things to do in Vlora is soak up the ice cream scene. Along the coast you'll find multiple massive ice cream shops with big patios and lots of other food options. During the day these ice cream shops are totally empty, but at night they're filled.
---
6. Sunset Swim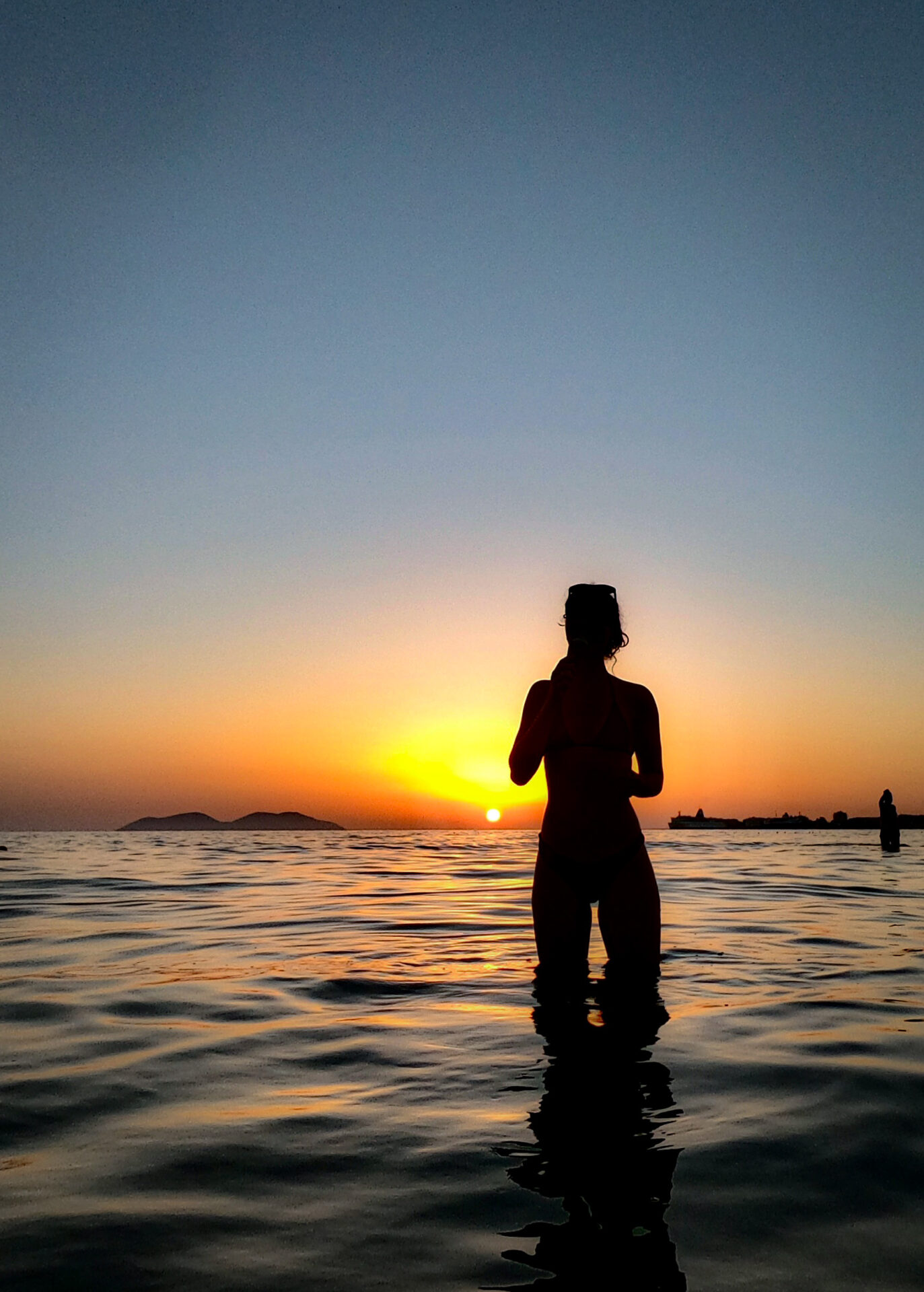 If you're in Vlora you'll have to go for a sunset swim. The location of Vlora plus the sandy beaches create the perfect scene for swimming and sunset strolling.
---
7. Go for a Sunset Xhiro
Xhiro translates to "walk" in English and this "walk" is a beloved Albanian pastime. Every night in Albania – no matter where you are – you'll find that local Albanians emerge from their homes as the sun sets. They go for a slow cruise around town, grab a drink at the local patios, and enjoy friendly conversation.
I've come to loooove the Albanian patio/xhiro vibe. It's the perfect way to wind down from a busy day and engage in local culture.
Vlora, as well as the other coastal cities in Albania like Saranda and Himara, have excellent xhiro vibes. The music, patio culture, and seaside location add up to culminate the perfect place for an evening xhiro.
---
8. Drive Llogara Pass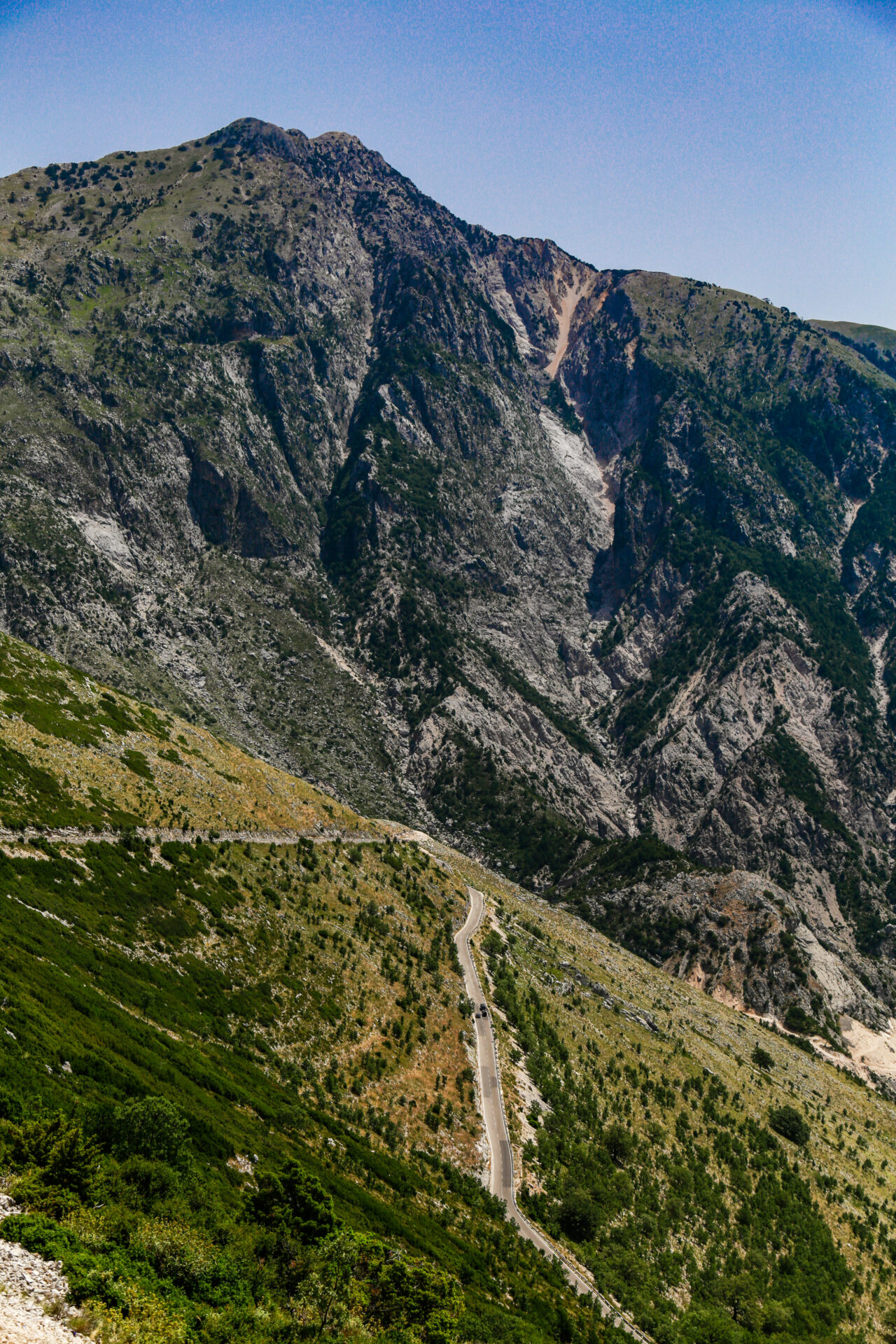 Llogara Pass is a high mountain pass (peak elevation of 1,043m) within the Ceraunian Mountains. The pass is 31.5kms long and features some sharp turns and steep grades.
From the pass you'll have a beautiful view of the Albanian Riviera as well as the surrounding mountains (which, by the way, are impressively large).
To drive Llogara Pass you'll want to leave from Vlora and head south toward Himara. If you're using public transportation to go south (Himara or Saranda), fear not! The bus will drive along this windy mountain road, so you certainly don't have to worry about missing those picture-perfect Llogara views.
Another way to experience Llogara Pass is to rent a scooter.
---
9. Hike Caesar's Path
If you're hoping to get out and see more of the beautiful nature in nearby Llogara National Park, you can add a hike on Caesar's Path to your list of things to do in Vlora.
---
10. Take a Walking Tour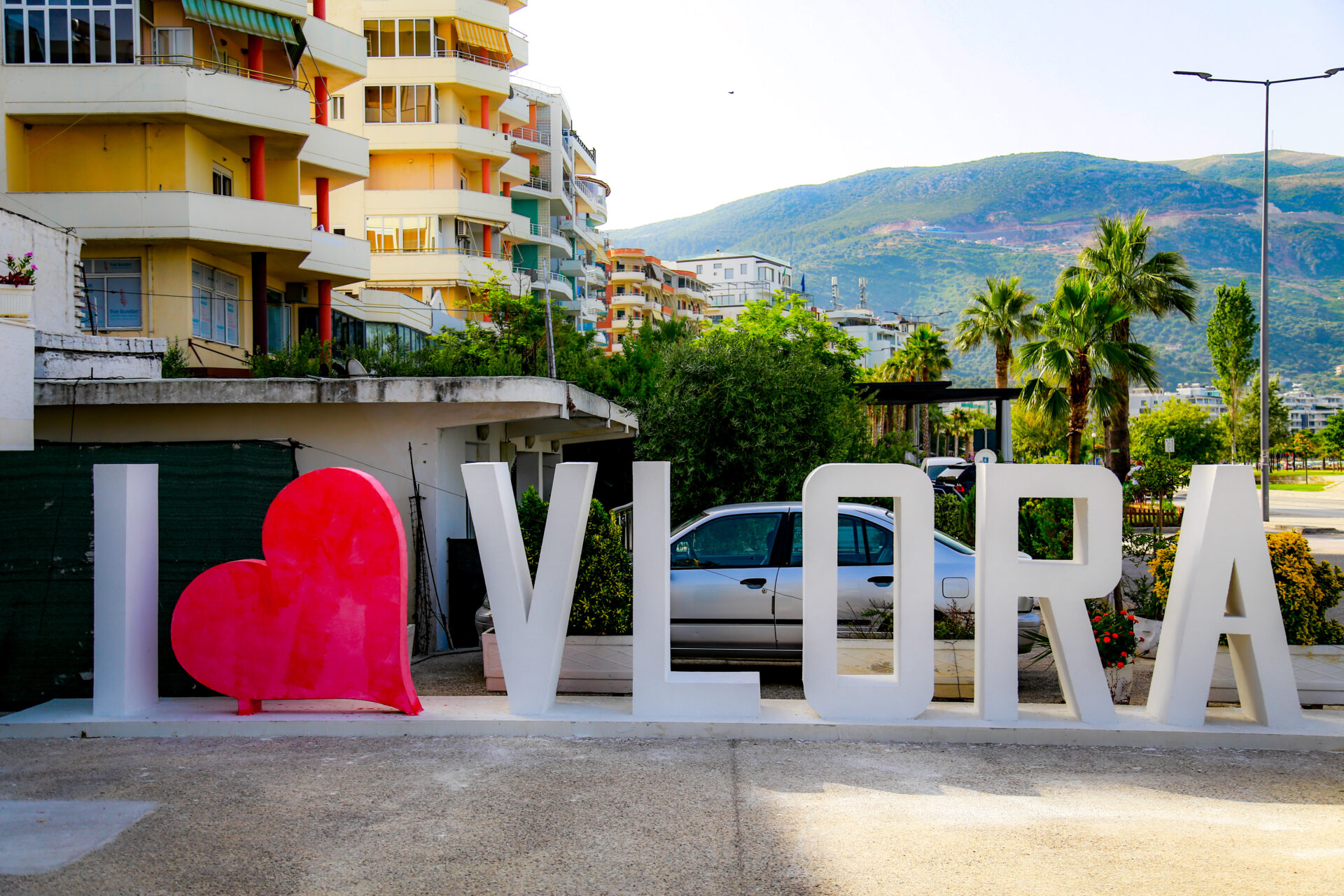 If you're looking to get your bearings and learn the history of Vlora you can also sign up for a walking tour.
You can book the Vlora walking tour here.
---
2 Day Vlora Itinerary
---
Day 1 in Vlora
To start off your first day in Vlora you'll want to check into your accommodations. I recommend either Vlora Backpackers or Hotel Aross.
After checking in, head on down to the main strip beside the sea and browse the restaurants for breakfast/lunch.
Now, choose your adventure! If you want a chill day, feel free to lounge on the city's beaches. If you're looking for a little more peace and quiet (and potentially flamingos) rent a bike and cycle to the nearby beaches. The owner at Vlora Backpackers has some excellent recommendations for nearby beaches as well as cheap bike rentals!
Alternatively if you're looking for a little more adventure, you could try paragliding.
Make sure you're on the beach to watch the phenomenal sunset and go for a swim. Then freshen up at your hotel and return to the main strip for xhiro and dinner at one of the many patios in Vlora. This is the time of day when you'll really see Vlora come to life!
---
Day 2 in Vlora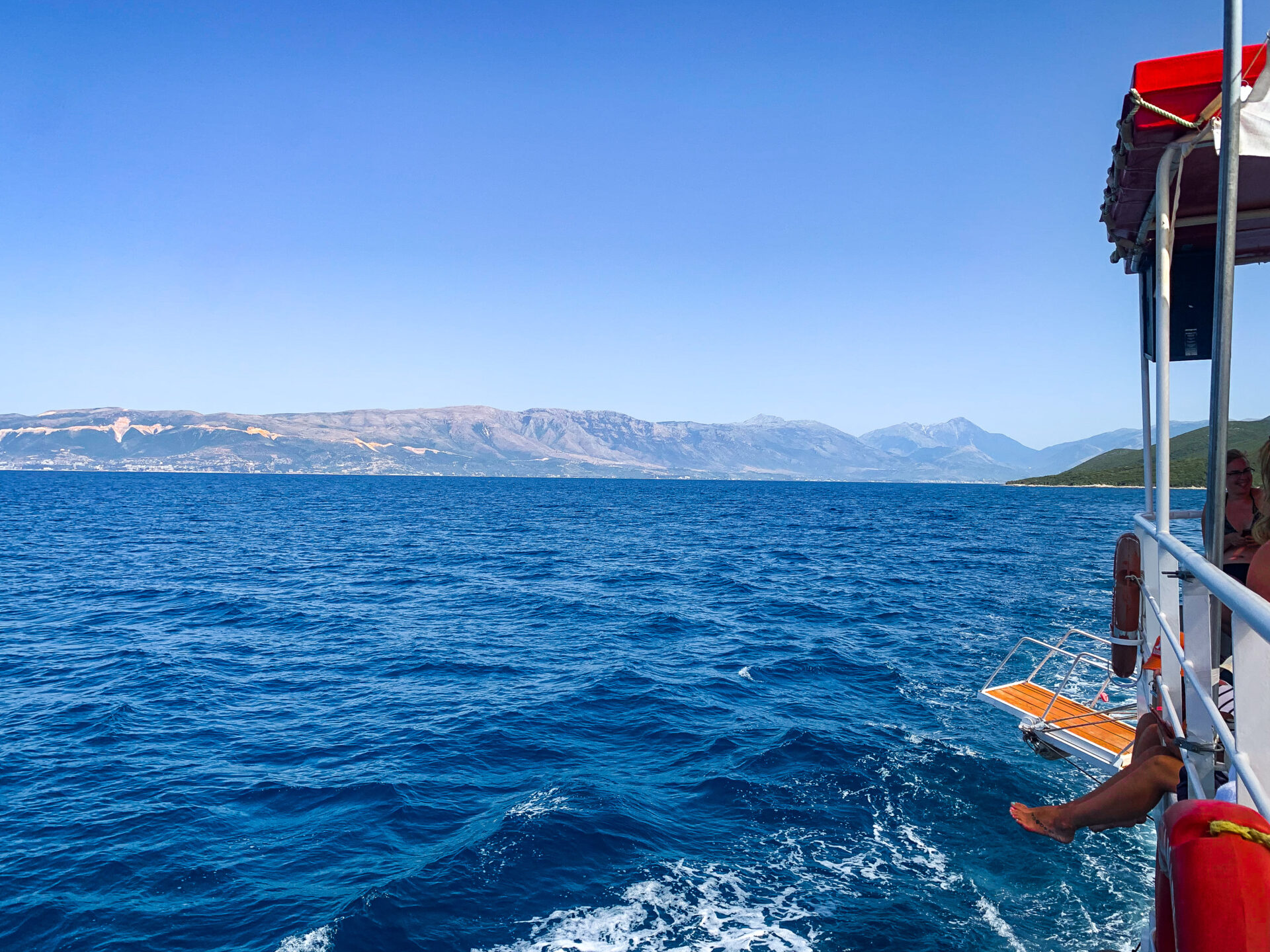 On day 2 in Vlora plan to wake up early and set sail! Today you'll be boarding a boat and cruising along the Karaburun Peninsula. Depending on the tour you book, you can expect to visit private beaches, caves, and Sazan Island itself. If you're lucky, your tour guide will take you on a quick hike through an old military base on Sazan Island too.
When you return to Vlora you'll want to head back to your accommodations, change clothes, and walk to the Old Town for a quaint and delicious dinner on the patio.
---
---
Happy adventuring!
Taylor ♡
---
Like This Post?
Share with friends or save it for later!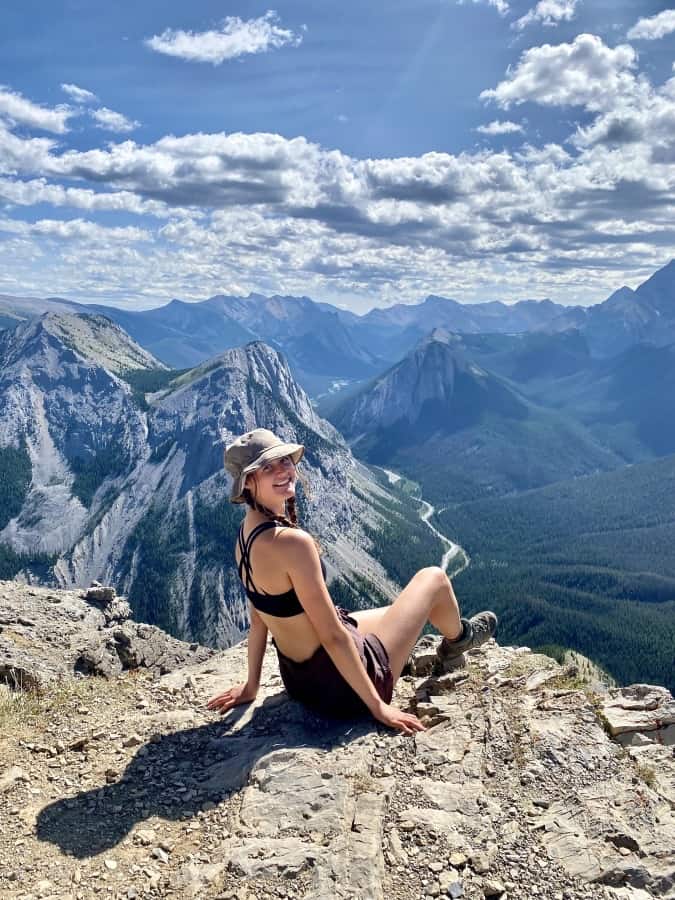 About The Author
---
Hey! I'm Taylor – the voice behind The Holistic Backpacker.
After moving to Banff National Park in 2020 I became an outdoor adventure enthusiast and vowed to never stop exploring.
I'm now focused on travelling the world and seeing everything our beautiful home has to offer.
I created The Holistic Backpacker so I could share my adventures and help connect people like you with the same amazing experiences.
I am also an advocate for the environment and do as much as I can to take care of our planet.
Get to know me and my story more here 🙂
I can't wait to share my adventures with you!