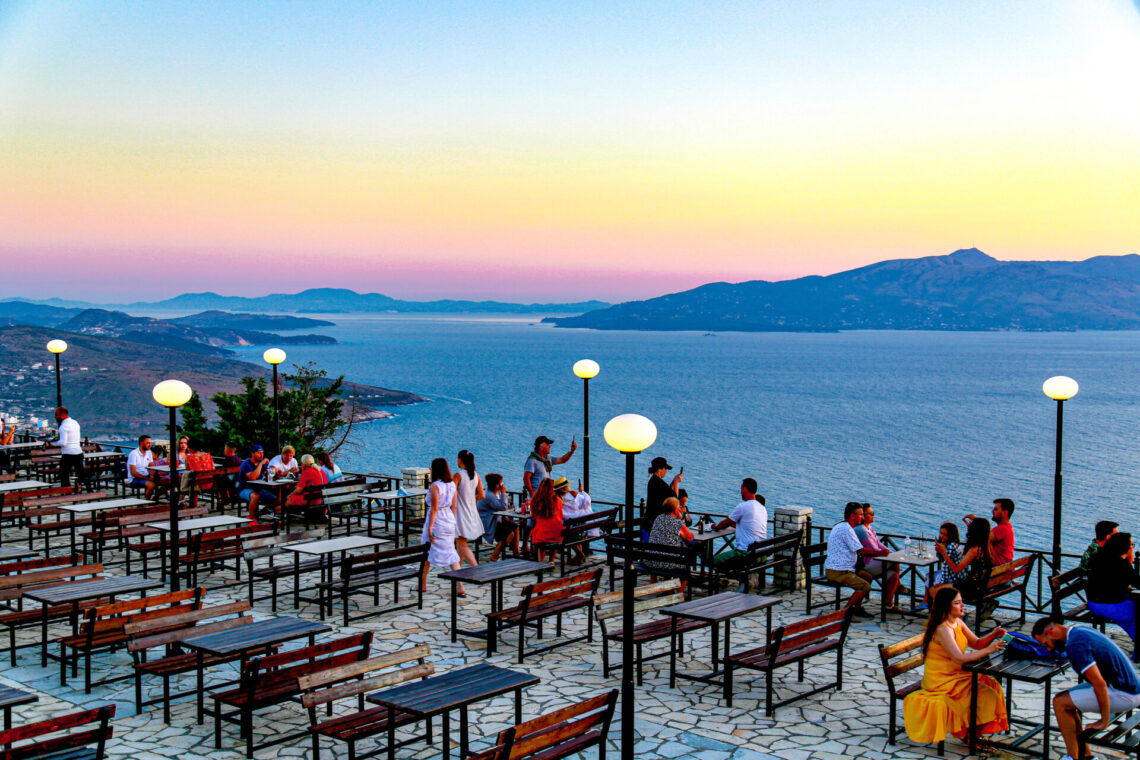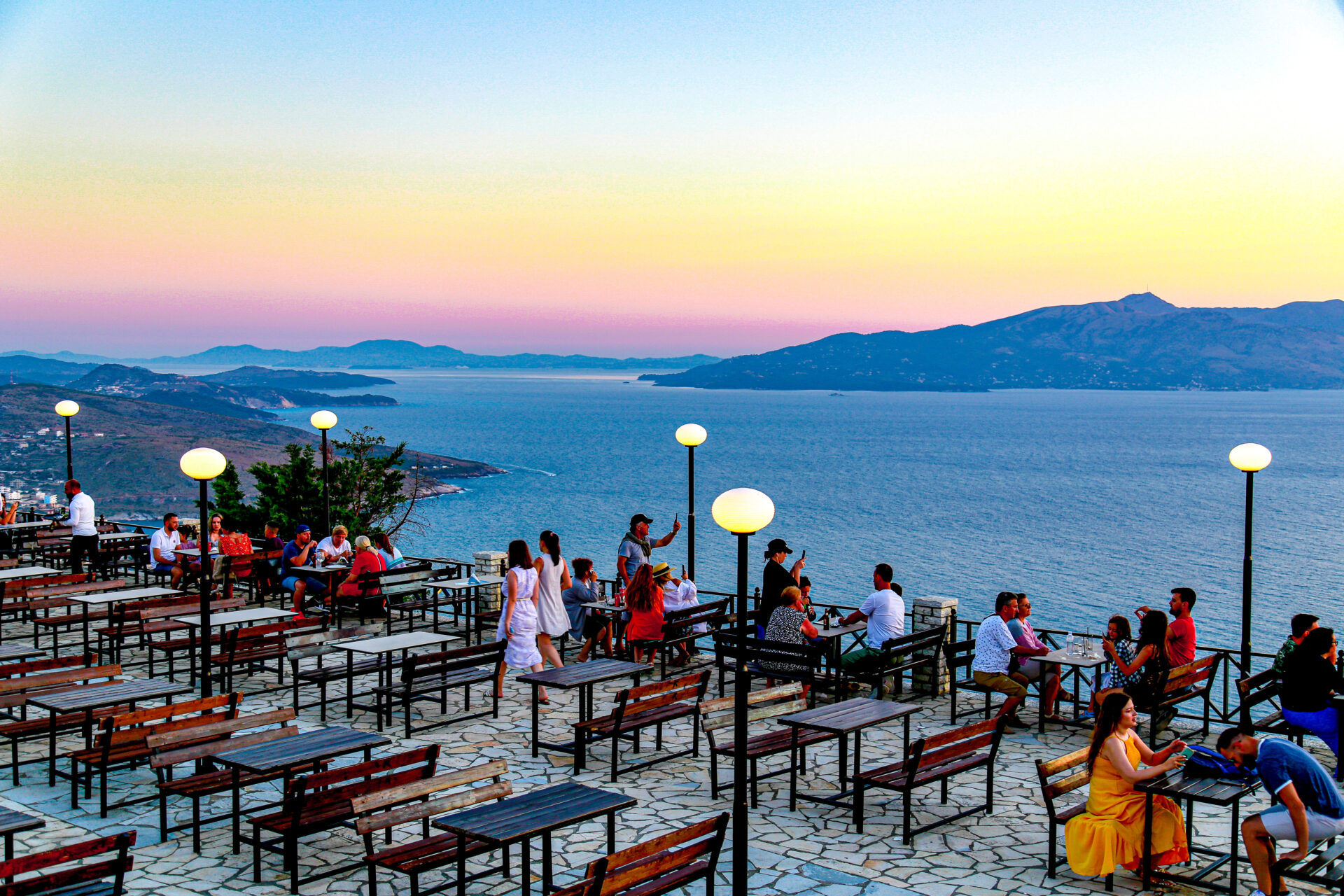 What to do in Saranda (Albania): 2 Day Loaded Itinerary
If you're travelling within Albania you'll undoubtedly visit Saranda. Saranda is a hotspot along the Albanian Riviera for tourists as there's plenty of beaches, it's a super social place, it's one of the main entry points for the country (from Corfu, Greece), and there's a bucket list destination nearby: the Blue Eye of Saranda. In this guide I'll outline exactly what to do in Saranda, the main attractions in Saranda, as well as a loaded 2 day itinerary.
Saranda is one of those places where you can breeze in and out in a couple days, but most people find themselves spending at least 4+ days in this city. I can say from personal experience that I spent a week in this destination and didn't get bored. However in this guide guide I'll outline how you can shrink my week itinerary into 2 days – because most of us don't have an entire week to spend in one destination!
Now, let's get into the goods…
Skip Ahead:
This post contains affiliate links; see my full disclosure. If you click these links and make a purchase you're supporting The Holistic Backpacker. Thanks for your support & happy adventuring! – Taylor ♡
---
Quick Albania Travel Guide:
Currency: Albanian LEK (aka ALL). This is a closed currency so you'll need to wait until you're in Albania to exchange $.
Transportation: to enter the country you can find 1 international airport in Tirana, 1 port in Saranda (daily ferry arrivals/departures to Corfu, Greece), and a bus line from Montenegro. Buses are very cheap here, but unreliable. Driving is chaotic, I'd recommend sticking to buses. There are no trains within the country.
Phone: purchase a local SIM card from Vodafone – the plans are cheap and they include lots of data, however international minutes are typically not available.
Language: Albanian, however you can get by with English – google translate recommended for smaller cities/villages.
Helpful Info: don't drink the tap water or bring a purifying bottle like this one. Bring an international travel adapter, and notify your bank before travelling.
Travel Insurance: ALWAYS purchase reliable insurance prior to your trip. This insurance is trusted by backpackers and adventure sport enthusiasts around the world.
Albania is one of the last "undiscovered" countries in Europe. Plan your trip while prices & tourism levels are low!
Related Articles:
---
How to get to Saranda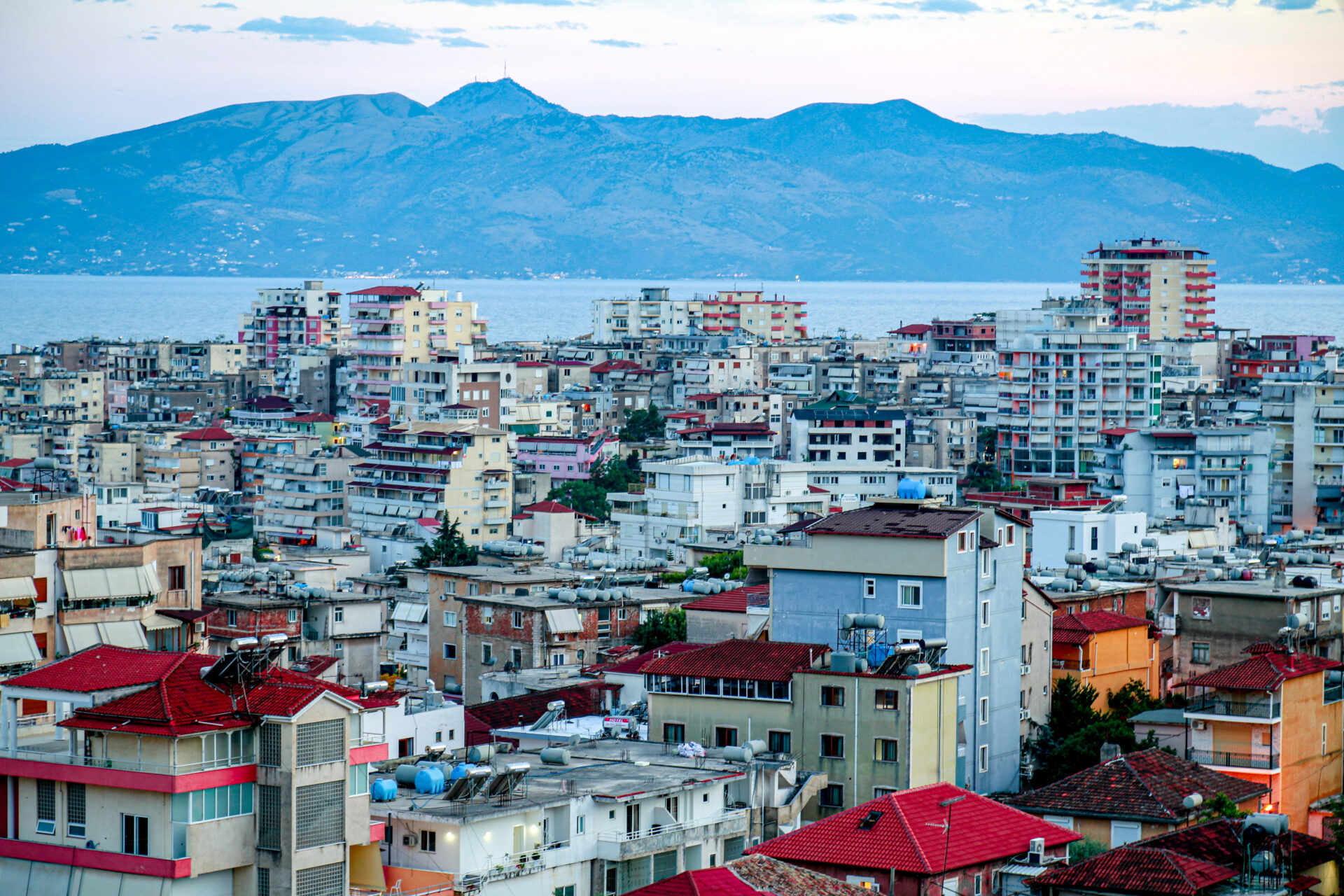 There are 2 ways to get to Saranda if you're travelling Albania without a car: bus or ferry.
Travelling to Saranda by ferry is the more popular option if you're coming from Greece or if you want to start in the south of Albania before making your way north. The ferry to Saranda departs from Corfu, Greece and takes approximately half an hour. You can book ferry tickets here.
If you're travelling by bus, you should have no issues making it to Saranda from anywhere else in Albania! Although a word of warning – the bus system in Albania is very flaky and unreliable. You won't find timetables or transit routes online, so your best bet at finding accurate information about the bus schedule to Saranda is to ask the employees of your hotel or hostel. They'll know best!
For reference, this is the location of the "bus station" in Saranda. It's not actually a bus station – it's just a bunch of buses on the street with signs for where they're going – but this is where you'll be dropped off and where you'll depart Saranda.
---
Where to Stay in Saranda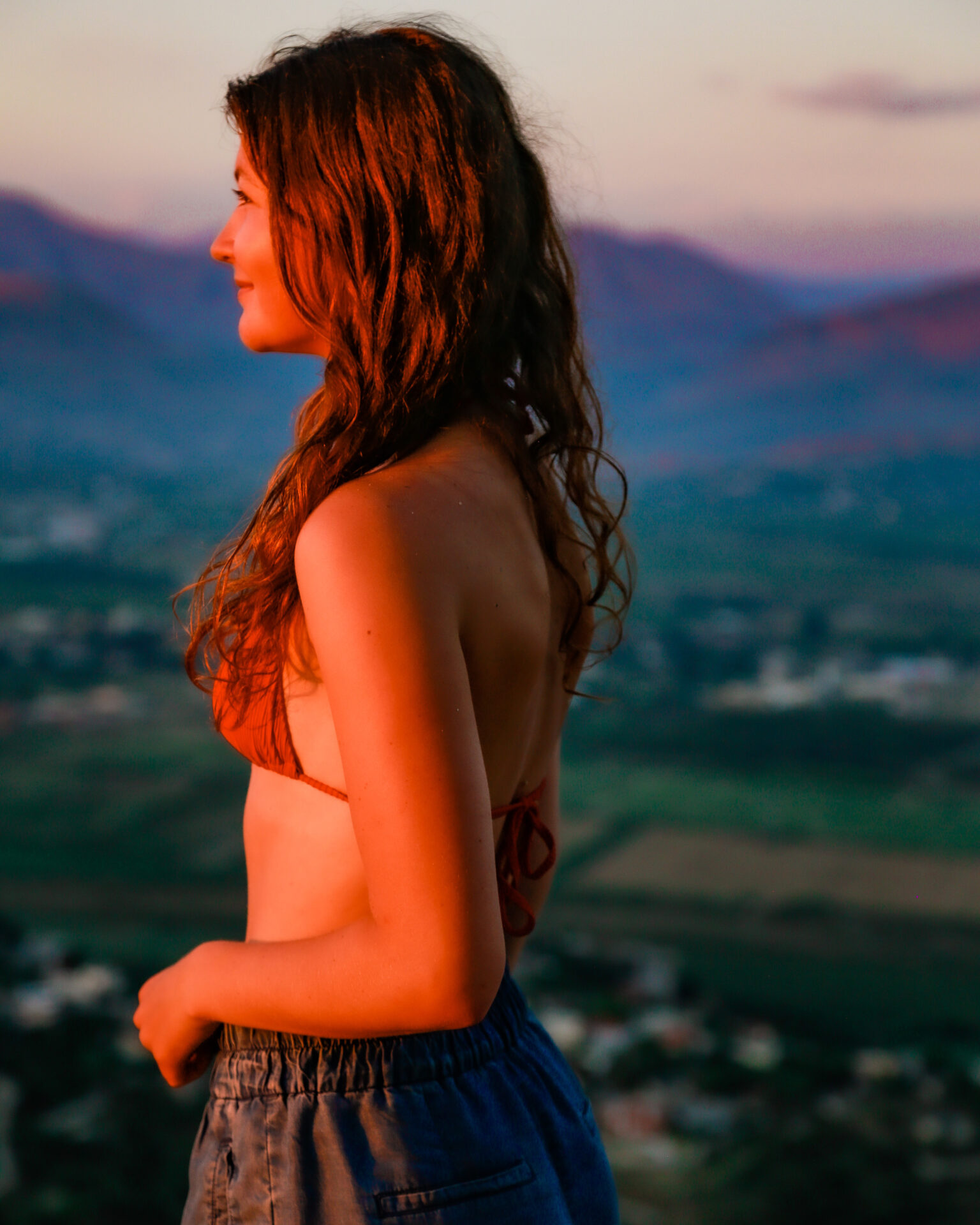 Lucky for you, Albania is a ridiculously cheap country to travel! Albania hasn't been subjected to Schengen inflation which means you can typically find accommodations for 10 euros/night if you're okay with staying in hostels.
Here are my top recommendations for where to stay in Saranda:
The Hostel Experience:
Saranda Backpackers is the #1 hostel in Saranda. It's central location puts you mere steps away from the beach, it's got a super lively atmosphere with game nights and excursions, as well as a yummy breakfast. The only catch is that this hostel fills up quick – book your stay in advance!
The Wallaby Hostel is run by no other than an Australian lad (if you couldn't already tell via the name). The hostel itself is honestly nothing special and it's located atop a hill which is kind of inconvenient, however there is a GREAT social atmosphere here! The owner has a bar downtown where you can get $1 beers and sing your heart out at karaoke. I stayed here for multiple nights and met so many great people!
The third hostel option I'm recommending is Hasta La Vista. I personally wasn't a huge fan of this hostel due to the lack of atmosphere and poor location, however it's the best option if Saranda Backpackers and The Wallaby are full.
The Mid-Range Experience
If budget hostels and luxury hotels aren't your style, you're probably looking for something in the mid-range zone. In this case you can check out Hotel Kanes or Hotel Real. Both are decently priced and will make for great stays in Saranda!
The Luxury Experience
Hotel Butrinti is the ultimate luxury stay in Saranda. It has a seasonal pool, bar access, a spa, gym equipment, saunas, continental breakfast, etc. If you're looking for luxury in Saranda, this is it.
You can check current prices for Hotel Butrinti here.
Alternatively, you can take a look at Bouganville Bay Hotel. Their salt water infinity pool, adventure excursion opportunities, and private beach are sure to impress!
Follow The Holistic Backpacker's Adventures on Socials:
Keep Up With My Adventures!
Sign up for my newsletter and stay up-to-date with my latest adventures, gear guides, and eco-resources!
Taylor ♡
---
What to do in Saranda
---
1. Visit the Blue Eye of Saranda (Syri I Kalter)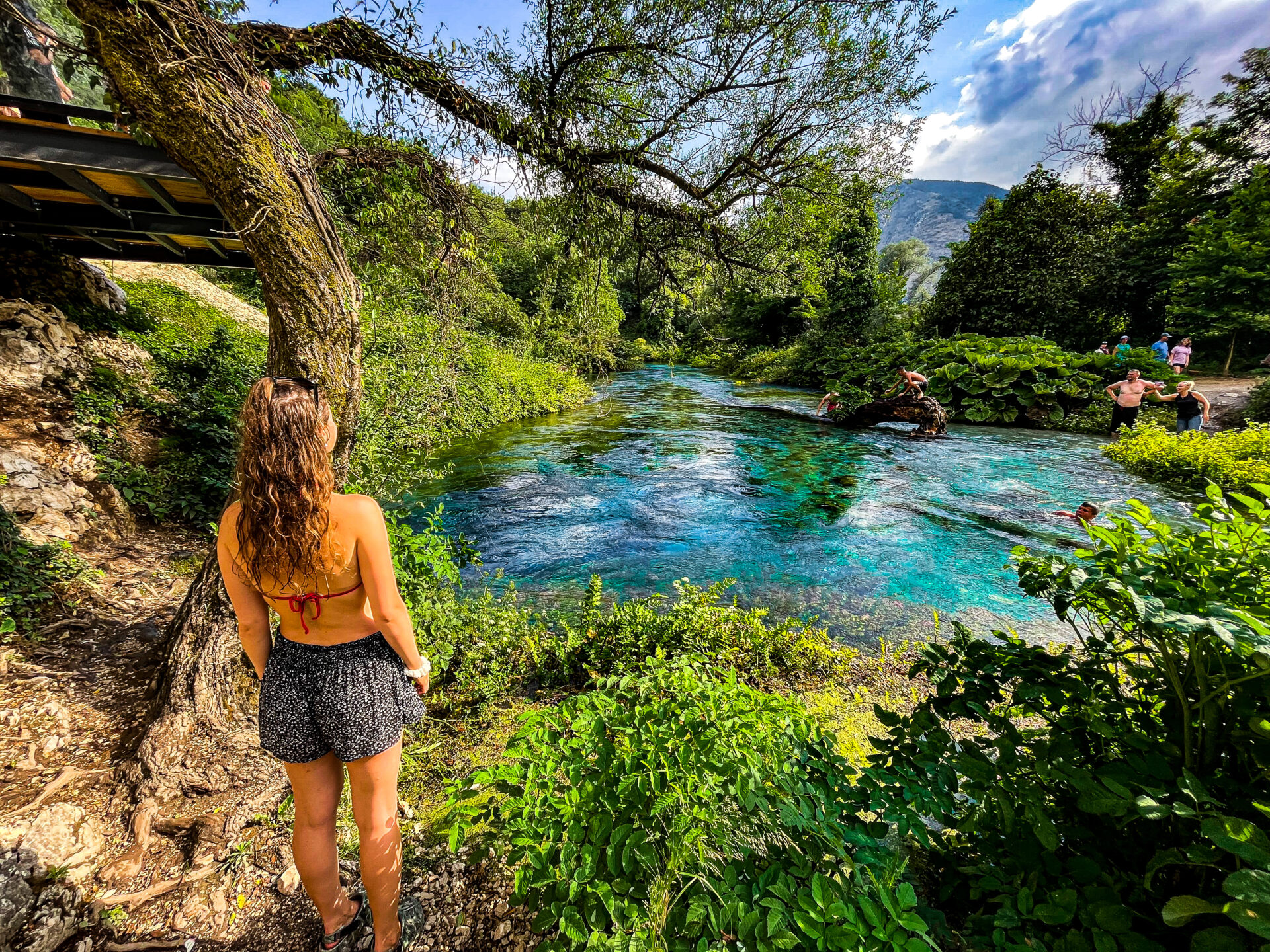 Taking the #1 spot on my list of things to do in Saranda is visiting the Blue Eye. The Blue Eye is one of the biggest bucket list destinations in Albania, so if you're visiting Saranda you MUST check this place out!
The Blue Eye is the source of Bistricë; a 25km long river which empties into the Ionian Sea. What's interesting and impressive about the Blue Eye is that no one knows how deep the Blue Eye actually is. The cold, blue water rising to the Earth's surface will remain a mystery!
You're not technically allowed to swim in the Blue Eye, buuuut everyone kind of does it anyways. So, pack your bathing suit and prepare for a chilly dip in the icy turquoise water of the Blue Eye! If you're brave, you can jump directly into the Blue Eye from the platform above.
How do you get to the Blue Eye?
There are multiple ways to get to the Blue Eye:
Hire a taxi – this is best if you travel as a group, that way you can split the cost. You can pay the taxi driver somewhere around 50-60 euros, they will drive you to the Blue Eye, wait for a couple hours, then drive you back to Saranda. Easiest option and how I accessed the Blue Eye!
Take the bus. There's no bus that goes directly to the Blue Eye, however you can board the bus to Gjirokaster, then jump off at the Blue Eye. Just tell the people working on the bus where you want to go and they'll tell you when to get off. From the bus stop it's a bit of a walk (but nothing too far) until you'll arrive at the Blue Eye. The best way to get back to Saranda is via hitchhiking – which is perfectly safe in Albania, by the way! I hitchhiked many times as a solo female traveller and felt perfectly safe.
Rent a scooter – you can ask the employees at your hotel/hostel about renting a scooter too. They range in price anywhere from 15-20 euros and you get them for the whole day!
If all else fails and you want an easy peasy way to get to the Blue Eye, you may want to book a tour. This is currently the cheapest Blue Eye tour on the market which includes a guide, the Blue Eye entry fee, and an air conditioned ride to and from Saranda.
---
2. Walk Through History in Butrint National Park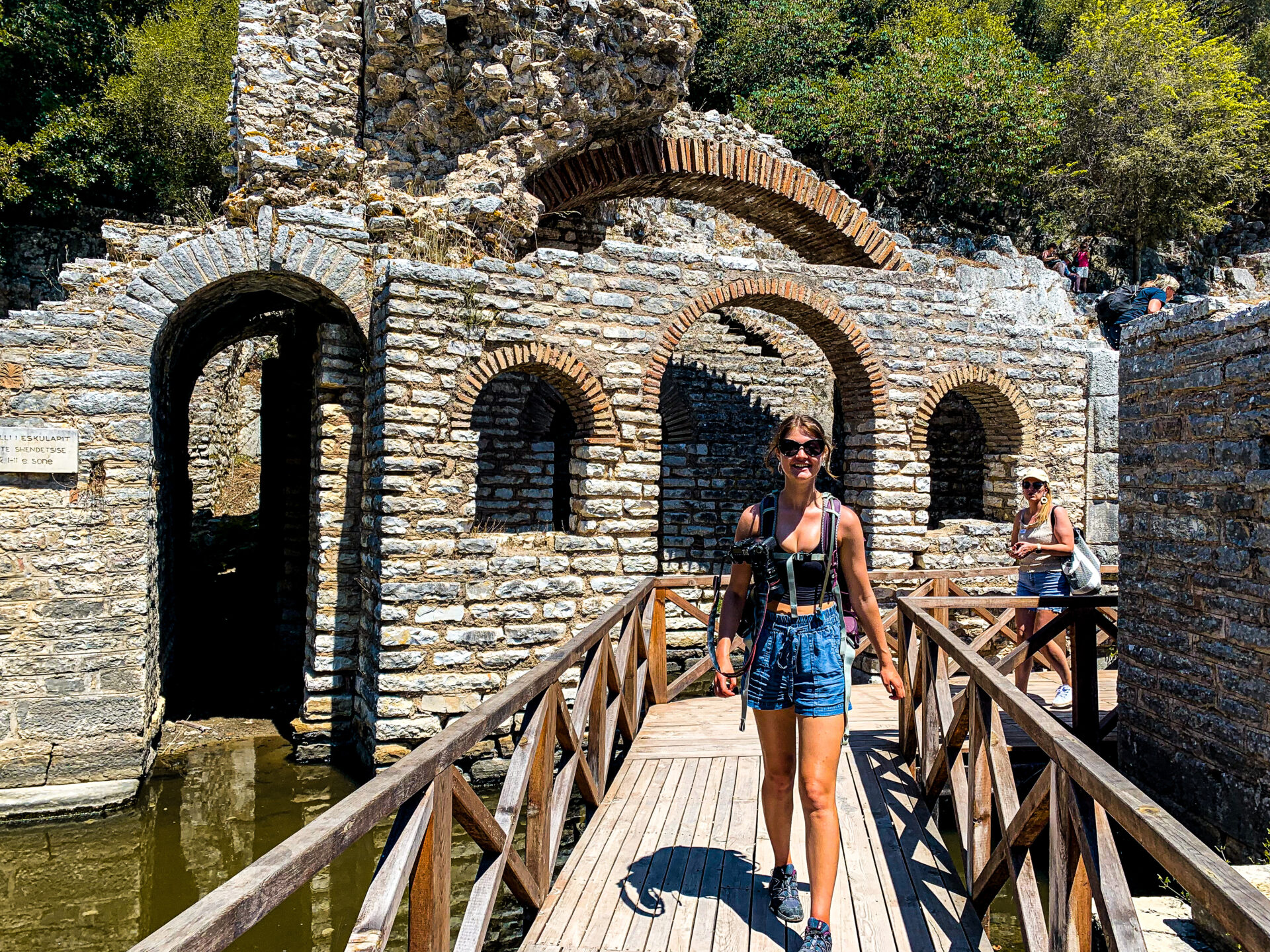 #2 on the list of things to do in Saranda is a trip to Butrint.
Butrint National Park is home to the Butrint UNESCO World Heritage Site – ancient Albanian ruins. There is a decently sized walking path around the ruins and an indoor museum featuring old artifacts and headless stone figures. History buffs will looove this place.
The nature enthusiast in me was more impressed by the nearby lakes and rolling mountains of Butrint National Park rather than the old stone ruins, but to each their own!
To get from Saranda to Butrint you'll need to take the bus which departs from here. It's just across the street from the main "bus station." The bus costs mere pennies which makes this a very affordable way to access Butrint.
Alternatively, if you're looking for transportation and a knowledgeable local guide to show you around the ruins, you can book this tour.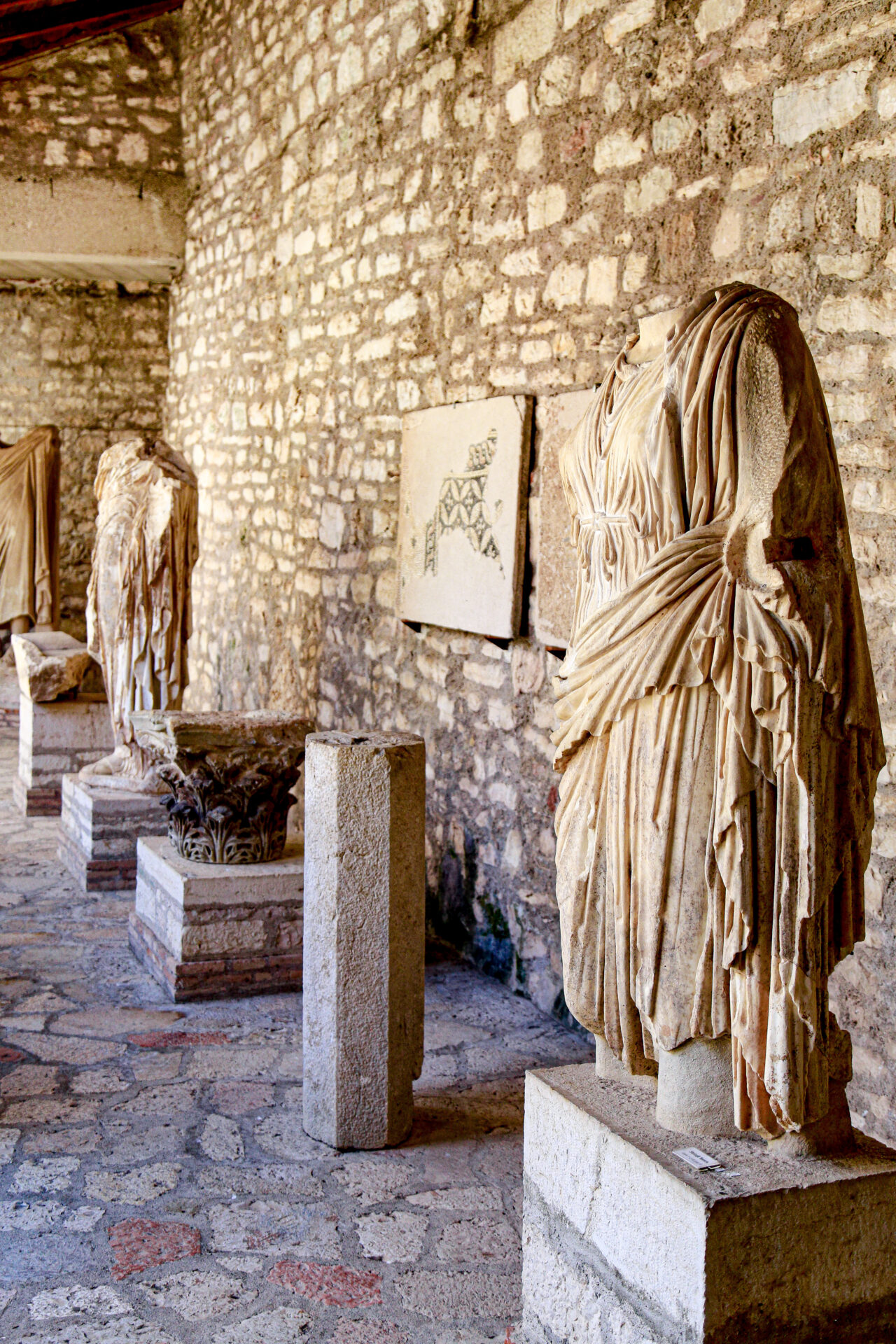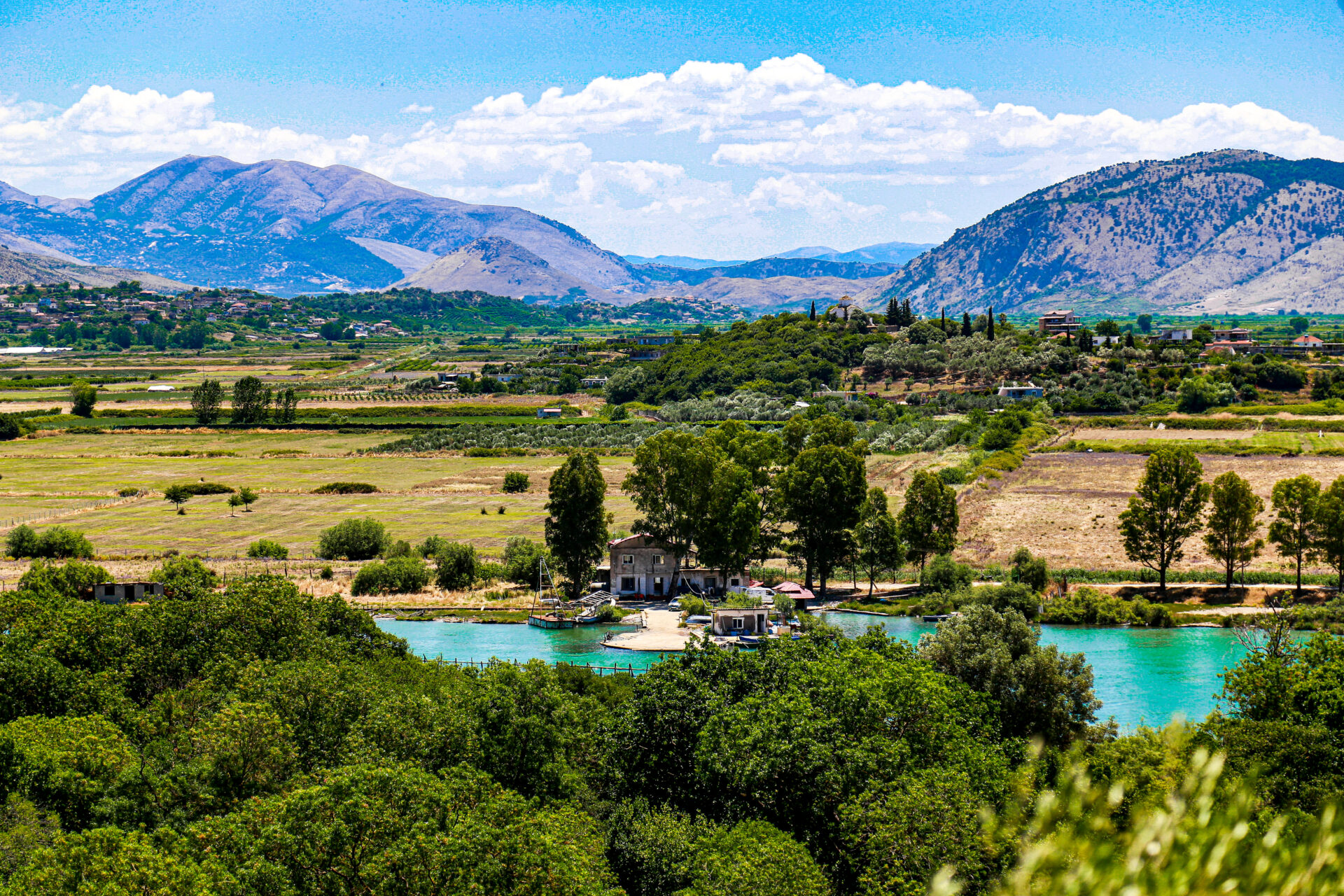 ---
3. Grab a Cocktail in Ksamil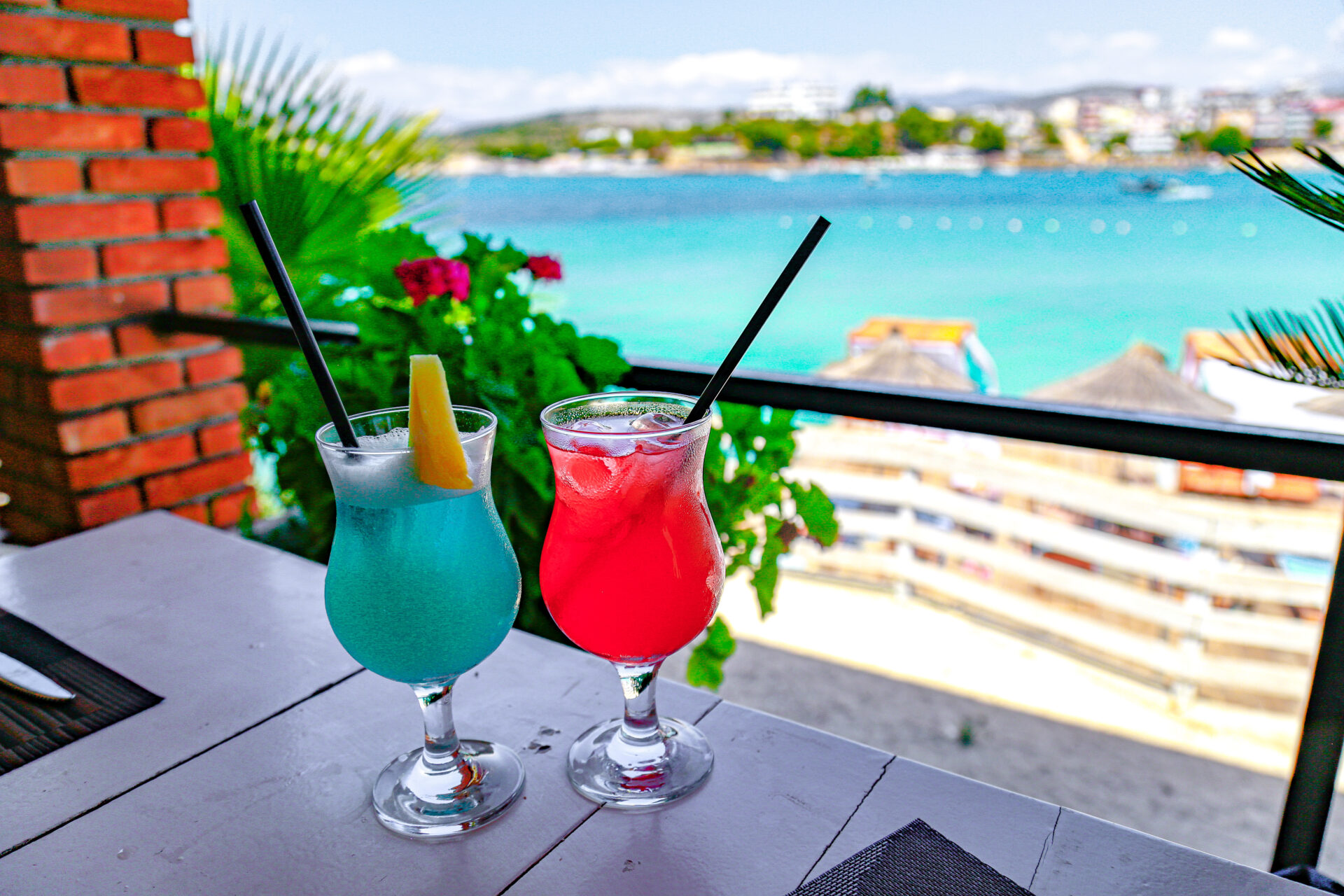 Not far from Butrint you'll find Ksamil which is kind of like the "party" destination of all the beaches along the Albanian Riviera.
This is the perfect place to grab a drink with the boys/gals and enjoy the views – like seriously, it's SO pretty here! The only downfall to Ksamil is how crowded the beaches are here. You'll struggle to find a spot on the beach where you don't have to pay for a chair and there's constant, loud music coming from every direction. This is either perfect or horrible depending on what you're looking for!
Regardless if party beaches are or aren't your thing, I think Ksamil warrants a visit and should make your list of things to do in Saranda. Especially because this is one of the only beaches along the Albanian Riviera that has sand rather than stone!
You access Ksamil from the same bus stop as if you were going to Butrint.
---
4. Discover the Hidden Beaches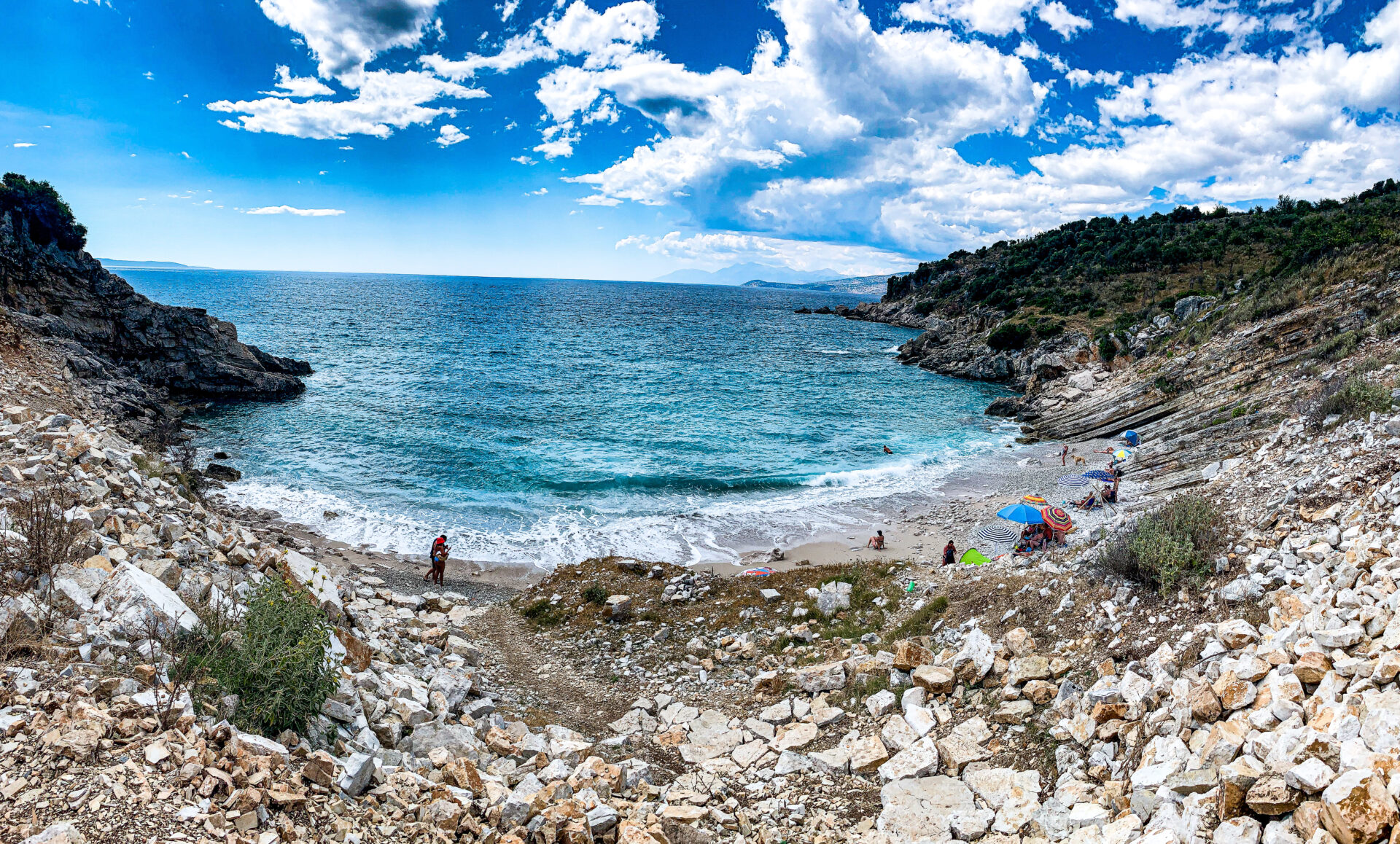 If you're not one for touristy beaches, but are still looking for what to do in Saranda (beach-wise), fear not! There are plenty of beaches in and around Saranda that are far less crowded and offer some solitude.
If you take the same bus that goes to Butrint and Ksamil you can access some of the less popular beaches along the Albanian Riviera; just make sure you pay attention to your map and get off at the stop closest to the beach. My two recommendations if you want to visit the beaches south of Saranda are:
Edon-Bina Beach – very small, but super scenic.
Shpella e Pellumbave (mirror beach) – this one has caves!
If you want to visit the beaches north of Saranda I recommend Borsh beach as well as the beaches around Himara – I talk about all the beaches near Himara in this guide for kayaking along the Albanian Riviera.
---
5. Visit the Local Beaches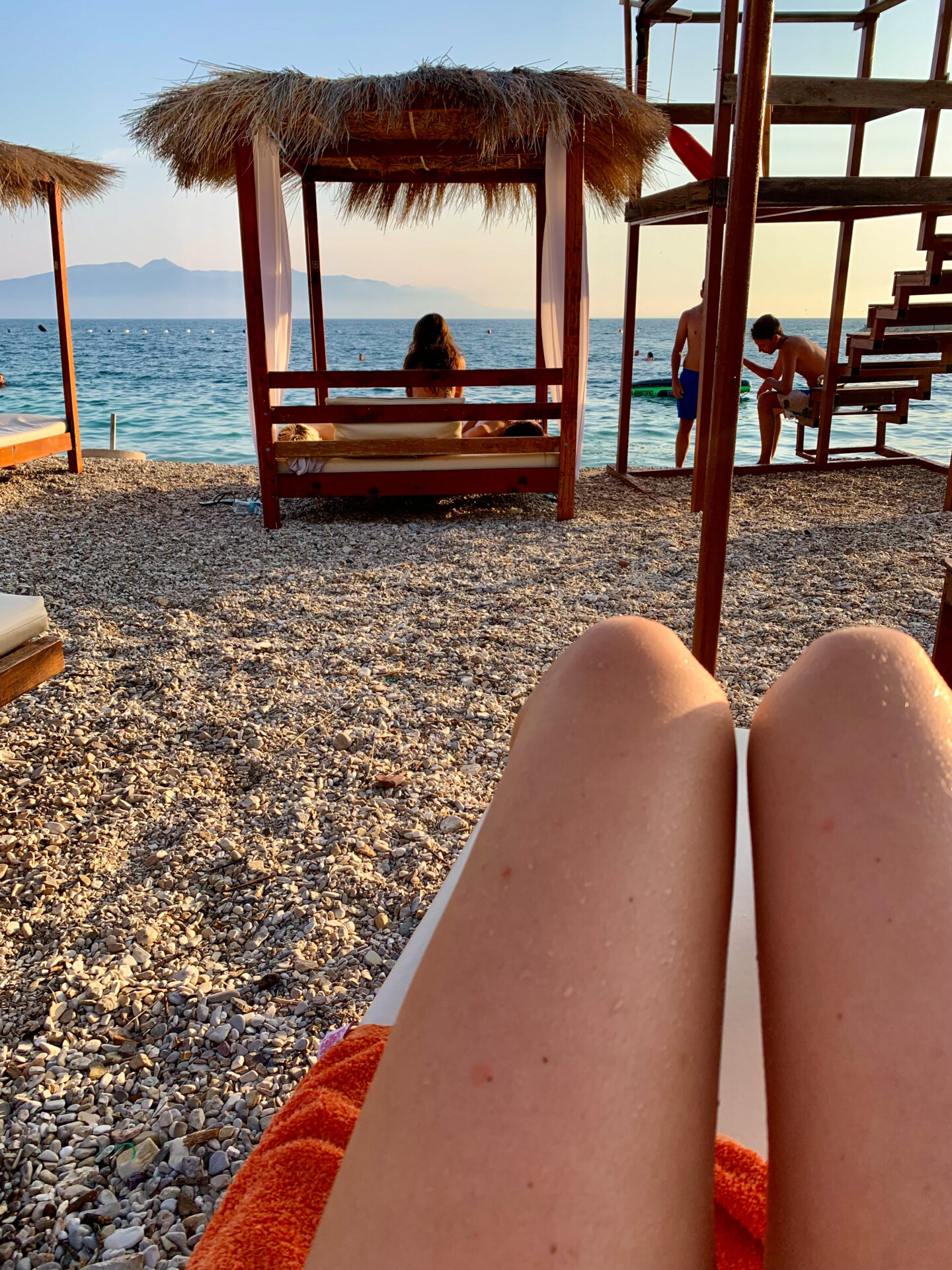 If you just want something quick and easy to do in Saranda, you can always walk to the beaches right in the city centre. They're super crowded (like SUPER crowded), however if you're just after an evening swim to cool down these beaches are perfect.
The most popular beach spot in town is at Cocktail Dreams – you get a free chair when you buy a drink which only costs around 250LEK (2.5 euros).
---
6. Go Clubbing
Out of all the destinations in Albania for nightlife, I think Saranda is kind of "the spot." The large volume of tourists means there's people out every night.
The main nightclub in Saranda is called Orange and this is where you'll find the biggest party vibe in the city. Although I must warn – local Albanian's don't party like us North American folk, or like the rest of Western Europeans to be honest. There's extremely minimal (if any) dancing and limited drinking. You'll find most locals standing around at tables that fill the dance floor.
If this sound strange, it is. Clubbing in Albania is fun if you're doing it with a group of friends (hostels are great for friend-making if you're travelling solo). However if you're going in alone, don't expect to meet lots of people or to have much fun.
---
7. Participate in Xhiro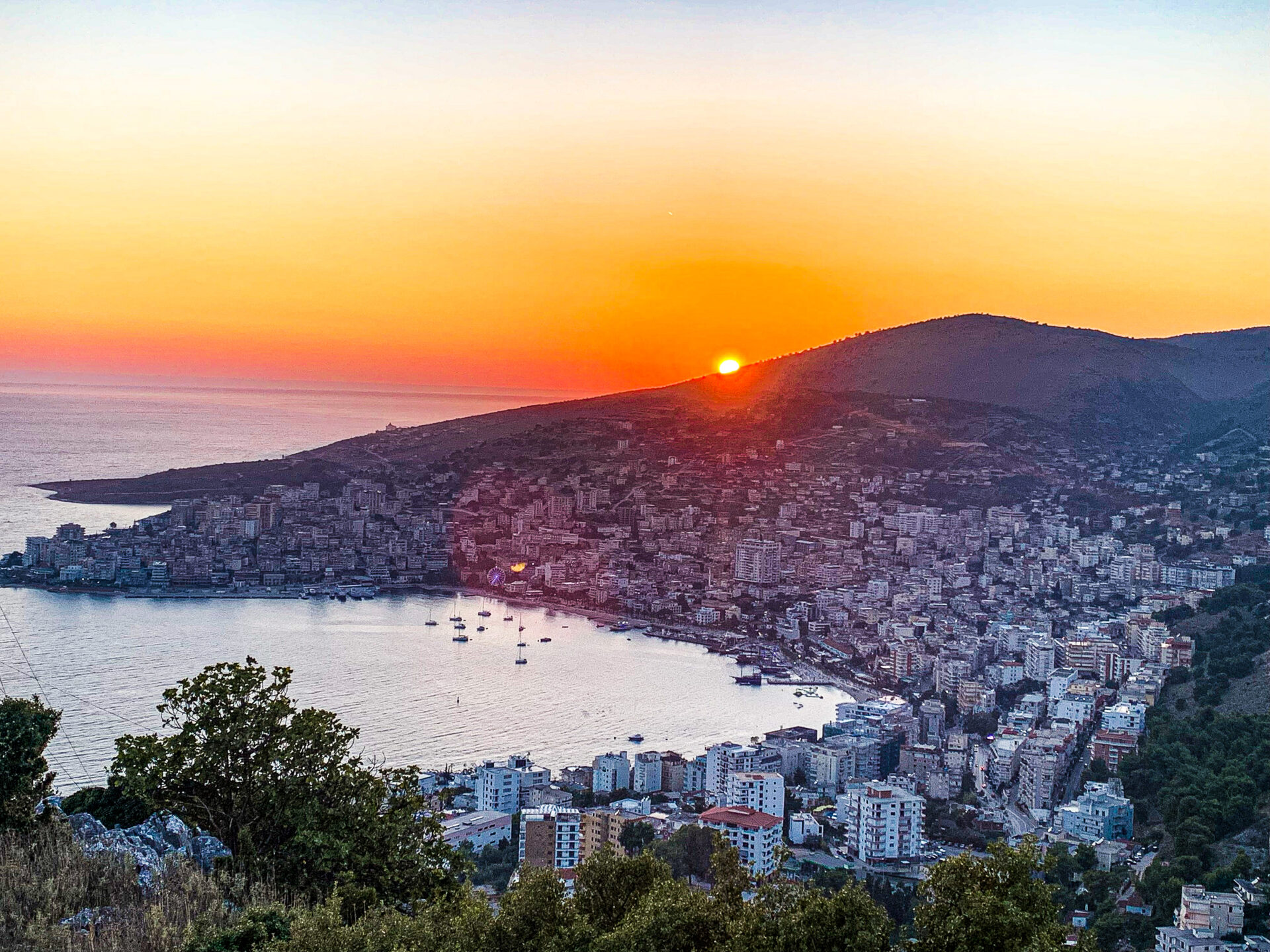 Ahhh yes, xhiro. Xhiro means "walk" in English and it's a beloved Albanian pastime. As the sun sets you'll find all of Albania comes alive. Locals roam the streets, patios are packed, and everyone is out and about socializing.
Saranda had some of the best xhiro vibes in all of Albania, so if you're looking for what to do in Saranda at night, this is it. Go for a stroll along the waterfront, eat a late dinner at one of the gazillion patios, and sip a drink as you watch the social hours of Albania unfold before you.
---
8. Grab a $1 Ice cream
One of my all-time favourite things about Albania is the availability of $1 ice cream. It's everywhere.
The best ice cream I had in all of Albania was in Berat, however Saranda had some seriously good ice cream as well. Make sure grabbing a cone makes your list of things to do in Saranda!
---
9. Stroll the Hasan Tahsini Boulevard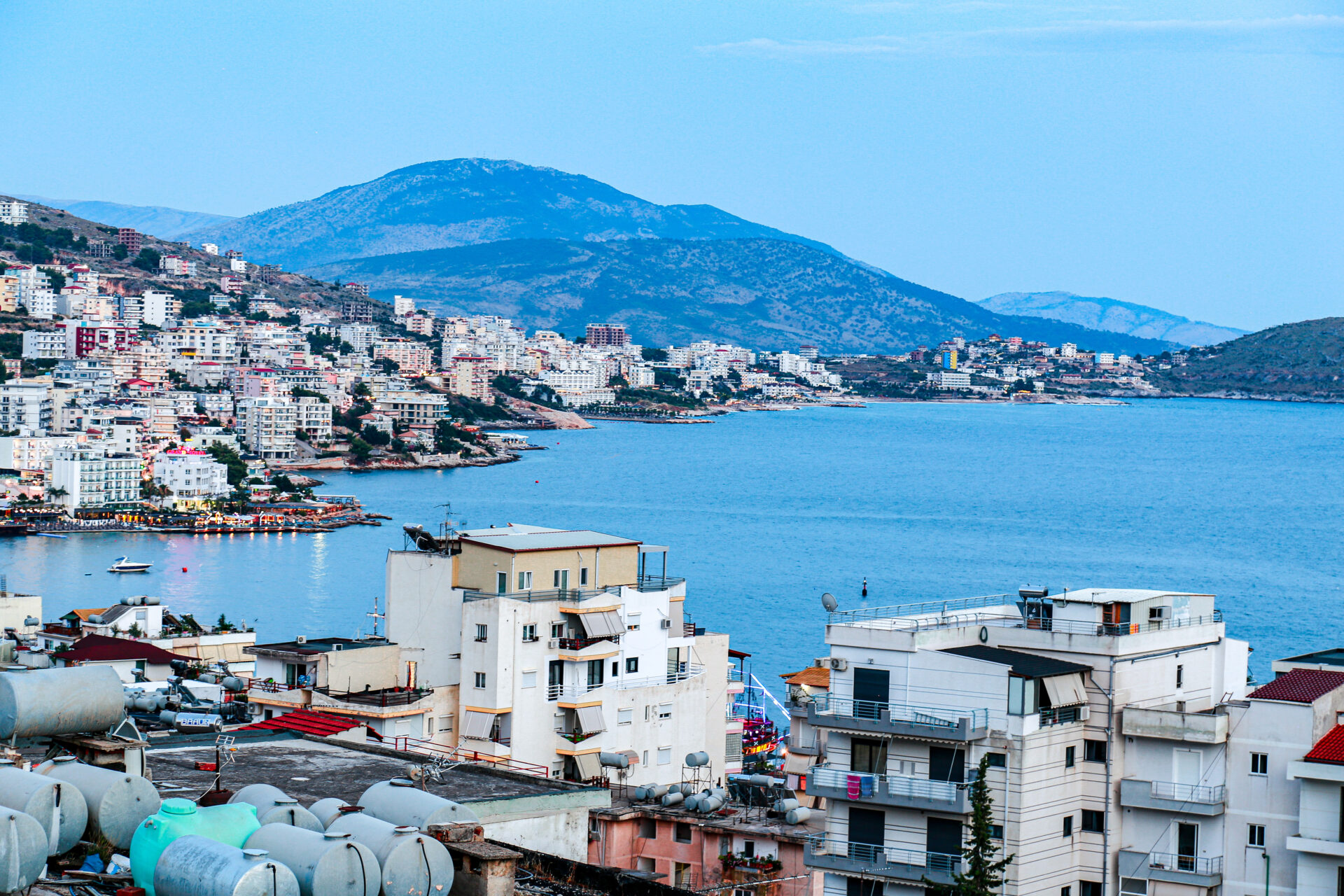 I goofed and forgot to take a picture of the Main Street in Saranda, so you'll have to take my word for it when I say it's CUTE!
There are lots of shops and ocean views along this little cobblestone street which makes it an excellent place to go for a stroll.
---
10. Hike up to the Castle of Saranda (Lekuresi Castle)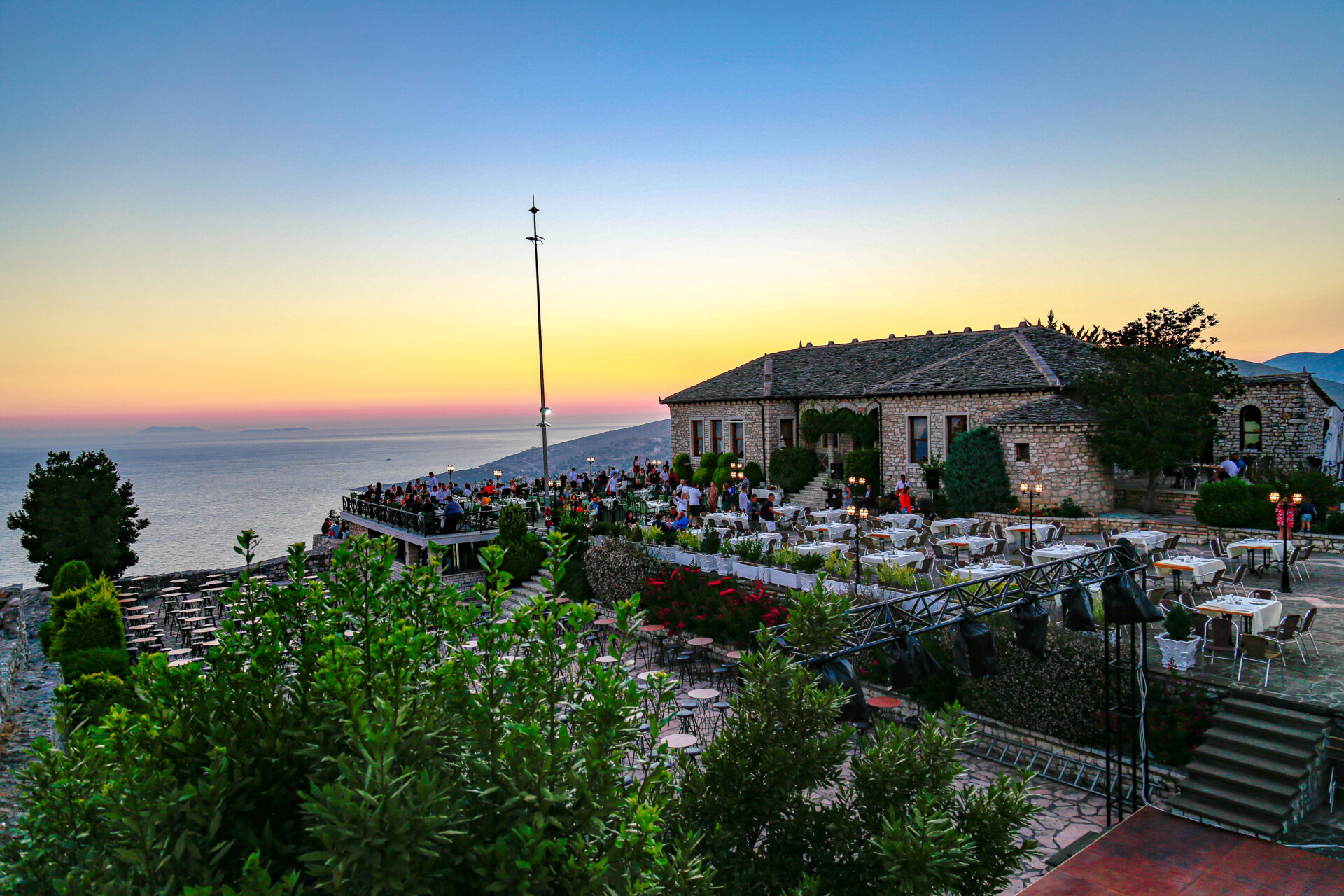 If you're a sunset chaser, add sunset at Lekuresi Castle to your list of things to do in Saranda!
From the top of the castle you'll overlook the entire city of Saranda as well as the mountain range nearby AND Greece! Yup, Greece is right across the Ionian Sea from Saranda. You could practically swim there – okay, not really, but like it's close.
The walk up to the castle is a bit steep, but it's totally doable. There's actually a "trail" going up the front of the hill, however I don't know if it's actually a trail or if I just bushwhacked it up the entire way. Either way, it was fun.
At the top of the castle you'll find a super cute restaurant; the food here looks DELICIOUS! When I was there they had some live music going and I must say the vibes were impeccable. I was honestly kicking myself for not planning to have dinner there because it would have been quite the experience. So, if you're planning on venturing up to the castle add dinner to your itinerary!
TIP – if you don't want to be all sweaty and gross at the castle you could always hire a taxi or try to hitchhike up.
If you want a private transportation service to the castle from your doorstep, you can check out this tour.
---
11. Tours & Day Trips from Saranda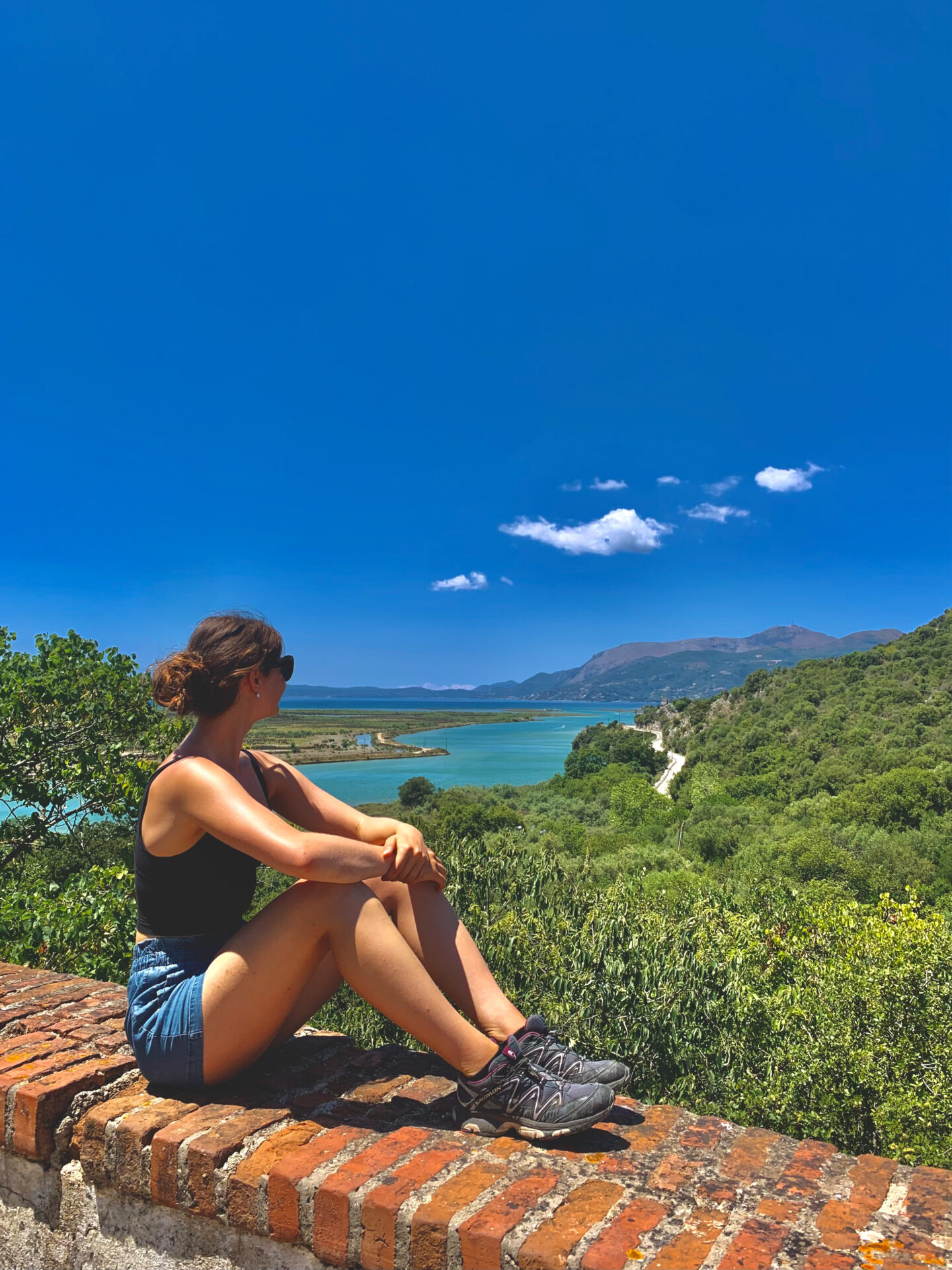 If you're looking for an all-inclusive tour to all of the highlights in Saranda, I'd recommend no other than this tour right here. This tour goes to all the highlight spots in and around Saranda like: Lekuresi Castle, Ksamil, the Blue Eye, and Butrint. The convenience of this tour is what makes it so attractive – getting from place to place in Saranda is doable, but it's fairly complicated and time consuming. A tour takes away the hassle of trying to navigate Albania's… "Interesting…" transit system!
If you only have a day or two in Saranda, this is the best way to "see it all!"
You can see all tours offered in Saranda here.
---
2 Day Saranda Itinerary
---
Day 1 in Saranda
If you don't opt to embark on the expansive Saranda tour I mentioned before, then this itinerary is for you!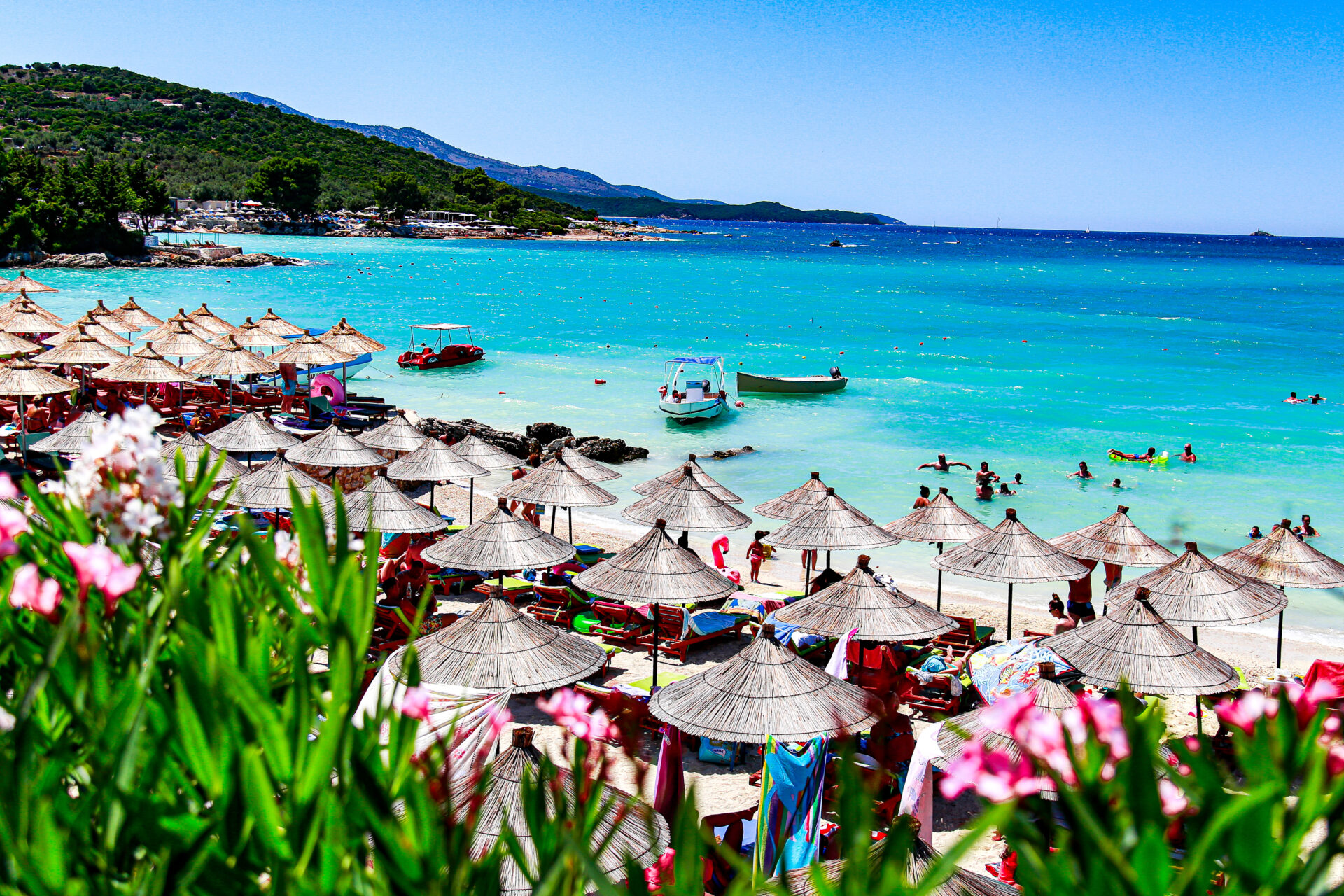 First things first, you'll want to hit the main highlight of Saranda and one of the main Albania bucket list items, the Blue Eye. I'm recommending you go early – the earlier the better because this place gets busyyyy. If you're wondering how to get to the Blue Eye, you can refer back to this section of my Saranda guide.
The trip from Saranda to the Blue Eye will only take a few hours, so when you return you can grab lunch in the city. If you walk along the seafront you'll find tons of cute patios with cheap and tasty food. There are lots of yummy Italian and seafood spots – make sure you take advantage of them!
For dinner/sunset, put on your runners because it's time to trek up to Lekuresi Castle. This is a fabulous dinner spot and the best place in the city to watch sunset. Alternatively, you can book this tour up to the castle to avoid the whole sweaty walking experience.
---
Day 2 in Saranda
Day 2 is a full day, so make sure you start early!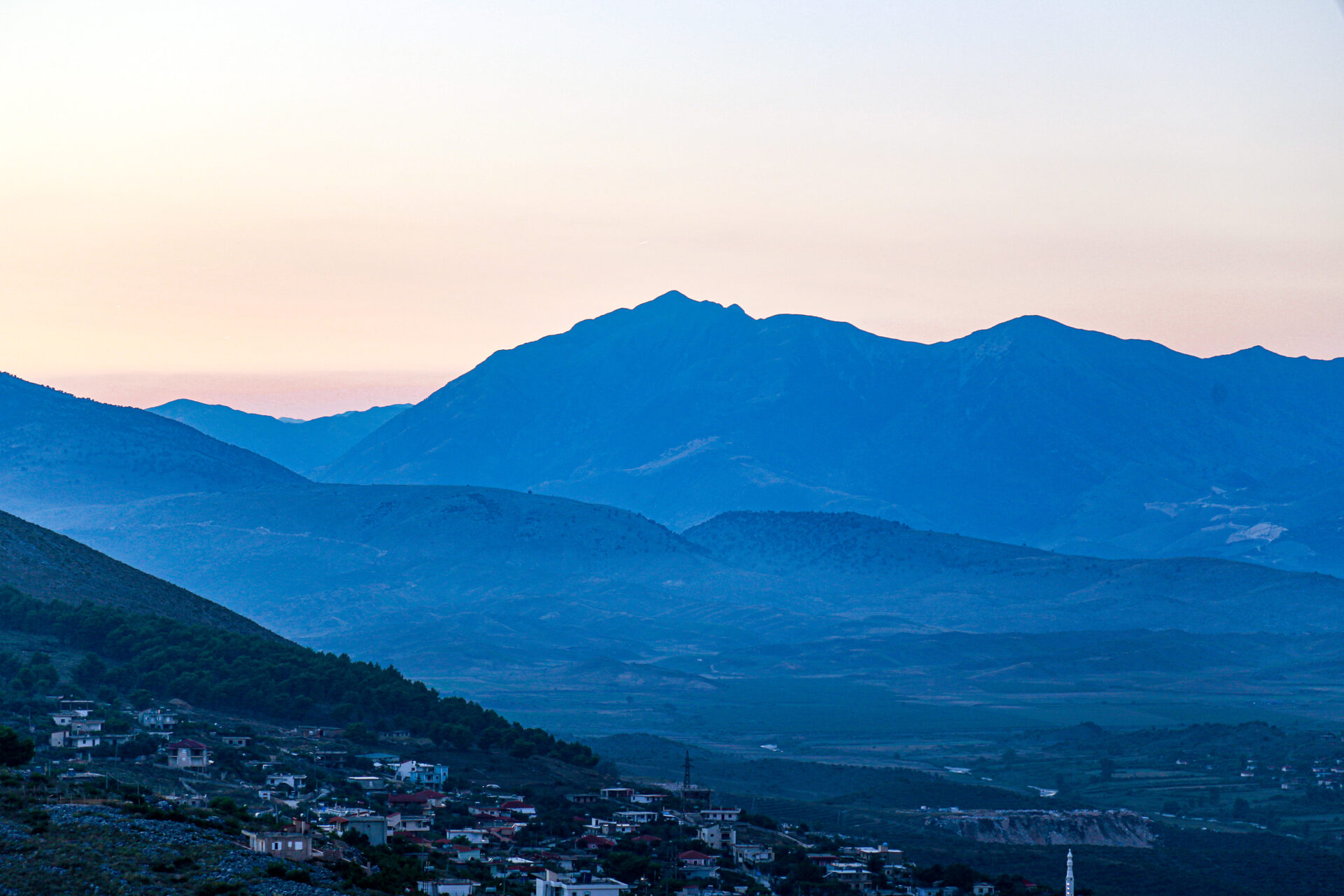 Grab breakfast with a seaside view – or eat for free if you stay at Saranda Backpackers! Grab the bus from here and make your way down to Butrint National Park. Here you can plan to spend around 1-2 hours exploring the ancient Albanian ruins before taking another bus to Ksamil.
At Ksamil you'll find lively sand beaches filled with LOADS of people, boats, and loud music. This is a bit of a party destination, so feel free to grab a fun cocktail over lunch at one of the beachside bars.
When you're finished up here you can grab one final bus back to Saranda where you can then partake in sunset xhiro. Afterwards you can head on over to Orange nightclub if you're feeling a bit of a party!
If you have a third day you can spend it exploring the hidden and more secluded beaches round Saranda!
---
Final Tips for Exploring Saranda
Saranda highlights include: the Blue Eye, Ksamil, Lekuresi Castle, and Butrint.
If you have limited time in Saranda, you may want to consider signing up for this tour – this way you can see all the highlights in 1 day, hassle free!
Renting a scooter is an excellent option for transportation if you want to explore the hidden beaches (ask the employees at your hotel/hostel for information about the scooters).
Saranda Backpackers is the best place to stay in Saranda for solo travellers and young backpackers.
Here is the location for the intercity bus in Saranda (if you're going to Tirana, Gjirokaster, Permet, etc.
This is the stop for the local bus that goes to Butrint, Ksamil, etc.
---
---
Happy adventuring!
Taylor ♡
---
Like This Post?
Share with friends or save it for later!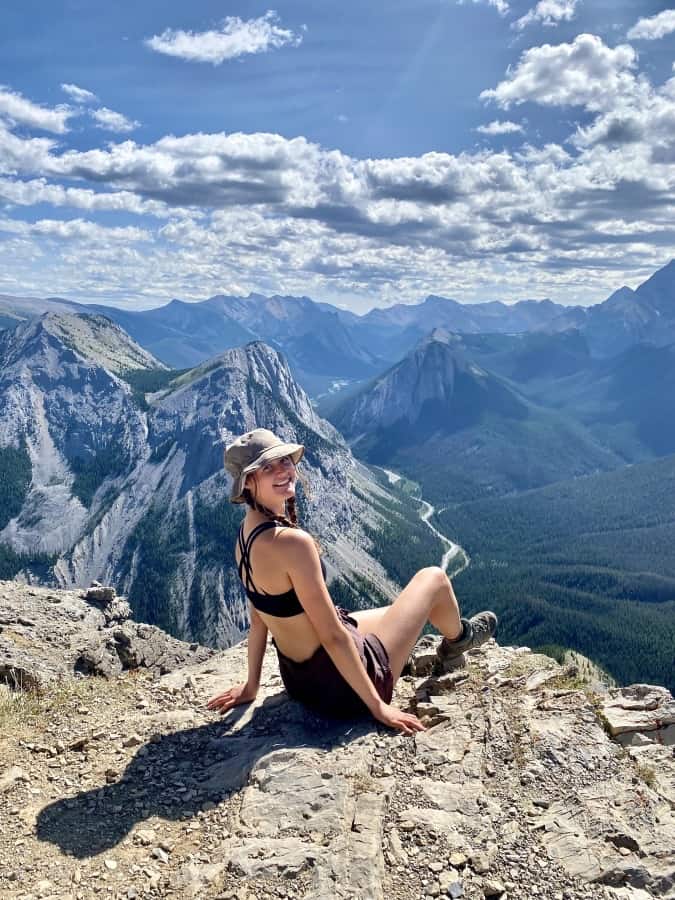 About The Author
---
Hey! I'm Taylor – the voice behind The Holistic Backpacker.
After moving to Banff National Park in 2020 I became an outdoor adventure enthusiast and vowed to never stop exploring.
I'm now focused on travelling the world and seeing everything our beautiful home has to offer.
I created The Holistic Backpacker so I could share my adventures and help connect people like you with the same amazing experiences.
I am also an advocate for the environment and do as much as I can to take care of our planet.
Get to know me and my story more here 🙂
I can't wait to share my adventures with you!