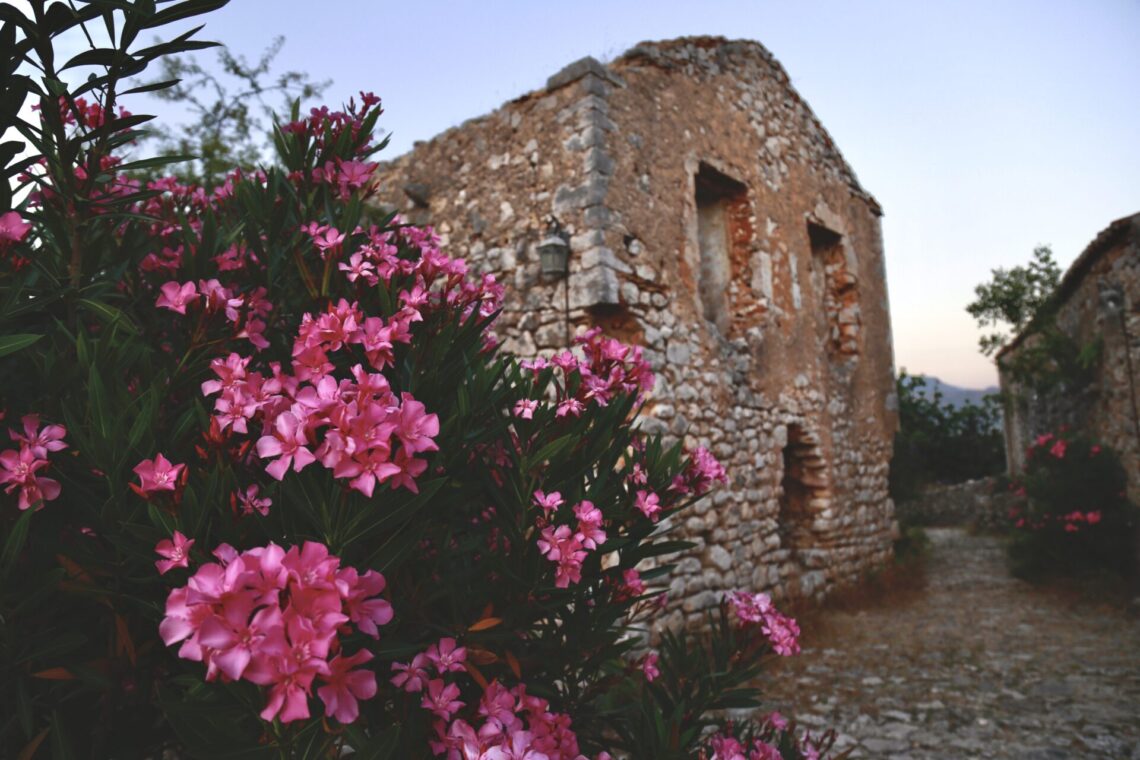 How to Spend 3 Perfect Days in Himara, Albania
Himara is located in southwestern Albania along the beautiful Albanian Riviera. Himara is by far one of my favourite places I've visited in Albania due to it's beautiful beaches, small town vibe, and massive mountains. In this guide I'll tell you all the best things to do in Himara as well as outline the perfect 3 day Himara itinerary.
I found myself enthralled by Himara. I planned to only stay 3 nights, but ended up spending a total of 6 in this small costal town. The only reason I left Himara was because I had other destinations on my Albanian bucket list. If it weren't for these other destinations though I could have spent… forever in Himara?
Okay maybe that's a bit dramatic, but I actually loved Himara – and you will too!
Skip Ahead:
This post contains affiliate links; see my full disclosure. If you click these links and make a purchase you're supporting The Holistic Backpacker. Thanks for your support & happy adventuring! – Taylor ♡
---
---
Quick Albania Travel Guide:
Currency: Albanian LEK (aka ALL). This is a closed currency so you'll need to wait until you're in Albania to exchange $.
Transportation: to enter the country you can find 1 international airport in Tirana, 1 port in Saranda (daily ferry arrivals/departures to Corfu, Greece), and a bus line from Montenegro. Buses are very cheap here, but unreliable. Driving is chaotic, I'd recommend sticking to buses. There are no trains within the country.
Phone: purchase a local SIM card from Vodafone – the plans are cheap and they include lots of data, however international minutes are typically not available.
Language: Albanian, however you can get by with English – google translate recommended for smaller cities/villages.
Helpful Info: don't drink the tap water or bring a purifying bottle like this one. Bring an international travel adapter, and notify your bank before travelling.
Travel Insurance: ALWAYS purchase reliable insurance prior to your trip. This insurance is trusted by backpackers and adventure sport enthusiasts around the world.
Albania is one of the last "undiscovered" countries in Europe. Plan your trip while prices & tourism levels are low!
Related Articles:
---
How to get to Himara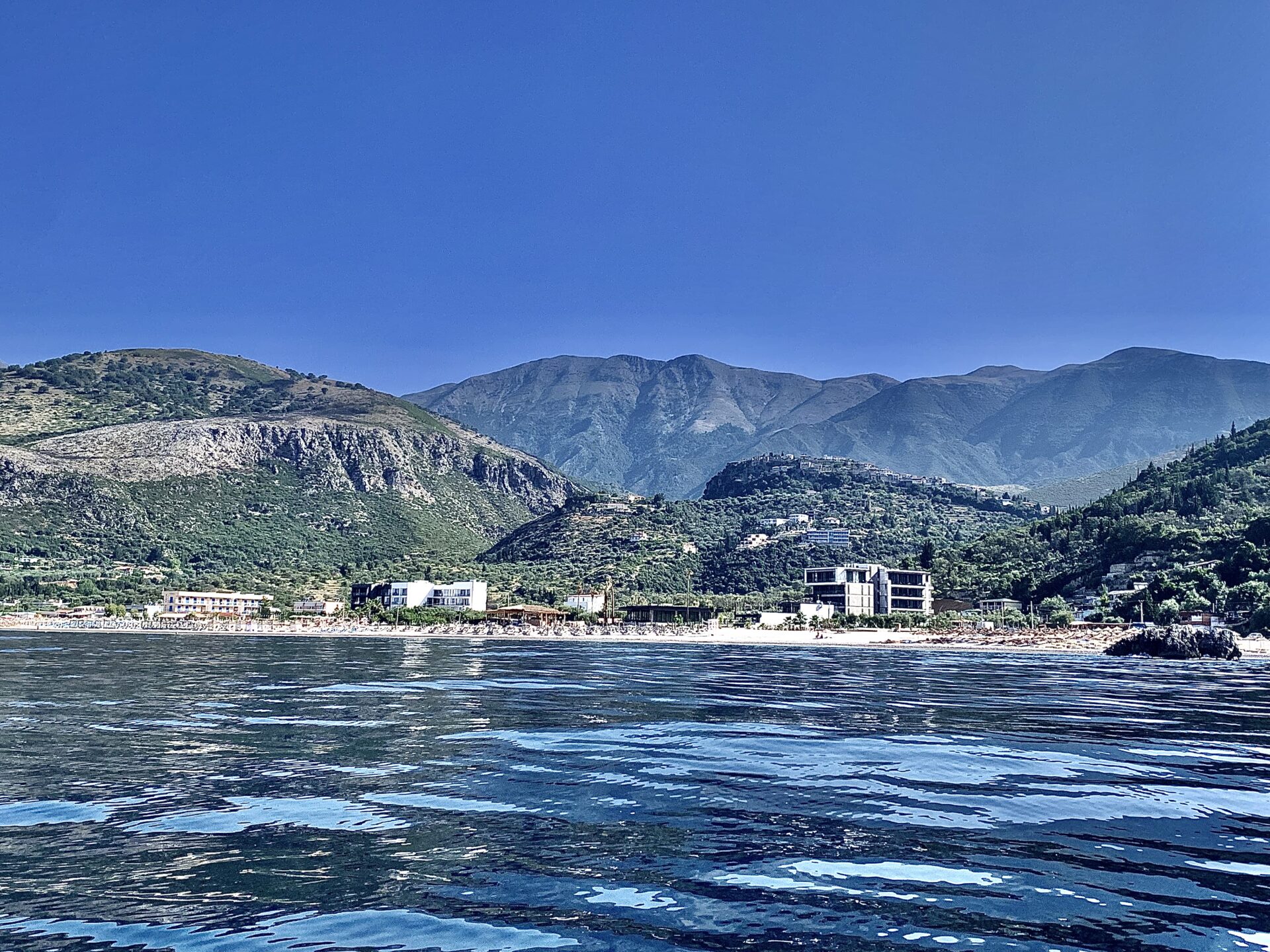 If you're going to Himara you'll most likely be travelling from Tirana or Saranda – in which case your best bet is to use public transit. The driving is a bit crazy is Albania, so I alwayssss recommend taking the bus rather than renting a car. If you're more of a road tripper though, you can check out this site for car rentals in Albania.
The bus system is honestly SO confusing and unreliable in Albania. My best piece of advice for effectively navigating the transit system here is to ask the employees of your hotel or hostel for information. They'll almost definitely have detailed directions on bus schedules and stops which is a safer bet than trusting any travel blogger or online website you'll read which claims to have information about "how to get from point A to point B" in Albania.
I've put together this guide full of Albania travel tips where I give useful tips and information for utilizing the public transit system in Albania. I'd HIGHLY suggest giving this post a read as it's full of helpful recommendations and warnings.
ps. the drive to Himara is an adventure in itself!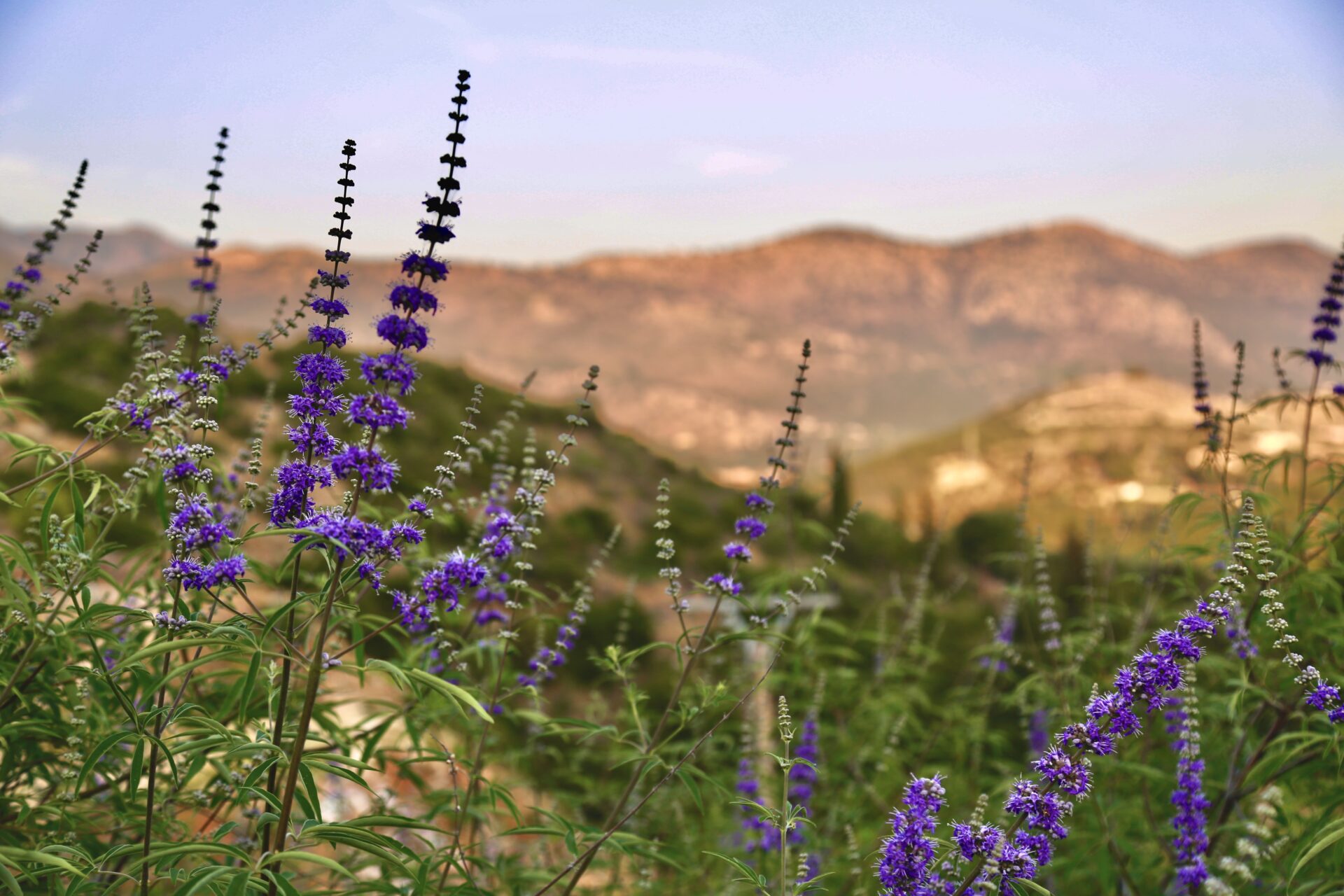 If you're going to Himara from the north you'll pass thorough incredible valleys and huge mountains on super steep and windy mountain roads. I was hanging out the window the entire drive trying to soak up these beautiful Albanian views!
---
Things to do in Himara
---
1. Visit the Beaches (duh)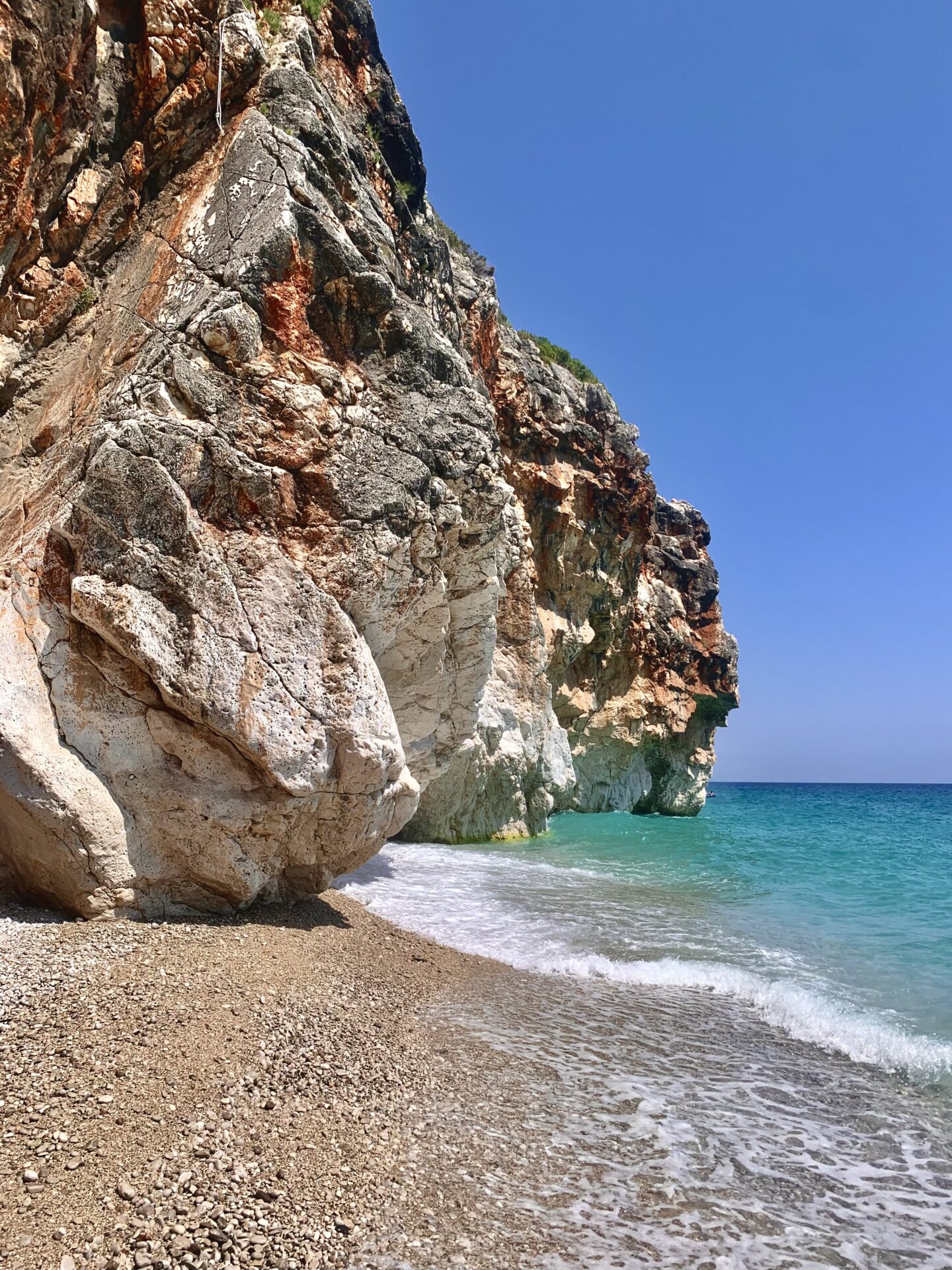 Okay so Albania is known for its beaches along the Albanian Riviera which means beach hopping is something you have to do in Himara.
Albania has actually been called the "next Greece" which attests to how nice the beaches are here.
There are about a million beaches on the Riviera, however the best beaches easily accessible from Himara are:
Follow The Holistic Backpacker's Adventures on Socials:
Keep Up With My Adventures!
Sign up for my newsletter and stay up-to-date with my latest adventures, gear guides, and eco-resources!
Taylor ♡
Directly in town: Spile beach, Sfageio beach, Prinos beach, and Potam beach (my fav).
Reached via kayaking or walking: Livadhi beach, Llamani beach, Gjiri Filikuri beach, Aquarium beach, Gjipe beach, and Jale beach.
Reached by car: Borsh beach, Qepero, Porto Palermo, Palasa beach, Dhermi beach, and Drymades beach.
A lot of the beaches are quite similar along the Albanian Riviera. There's a lot of the whole "white rock," "blue water" thing going on here – listen to me talking like this isn't a big deal omg. I'm not trying to downplay how nice the beaches are here (because they really are fantastic), however I'm trying to get the point across of "don't kill yourself trying to get to e v e r y beach along the Riviera."
Visit a few and that will suffice!
---
2. Kayak Along the Riviera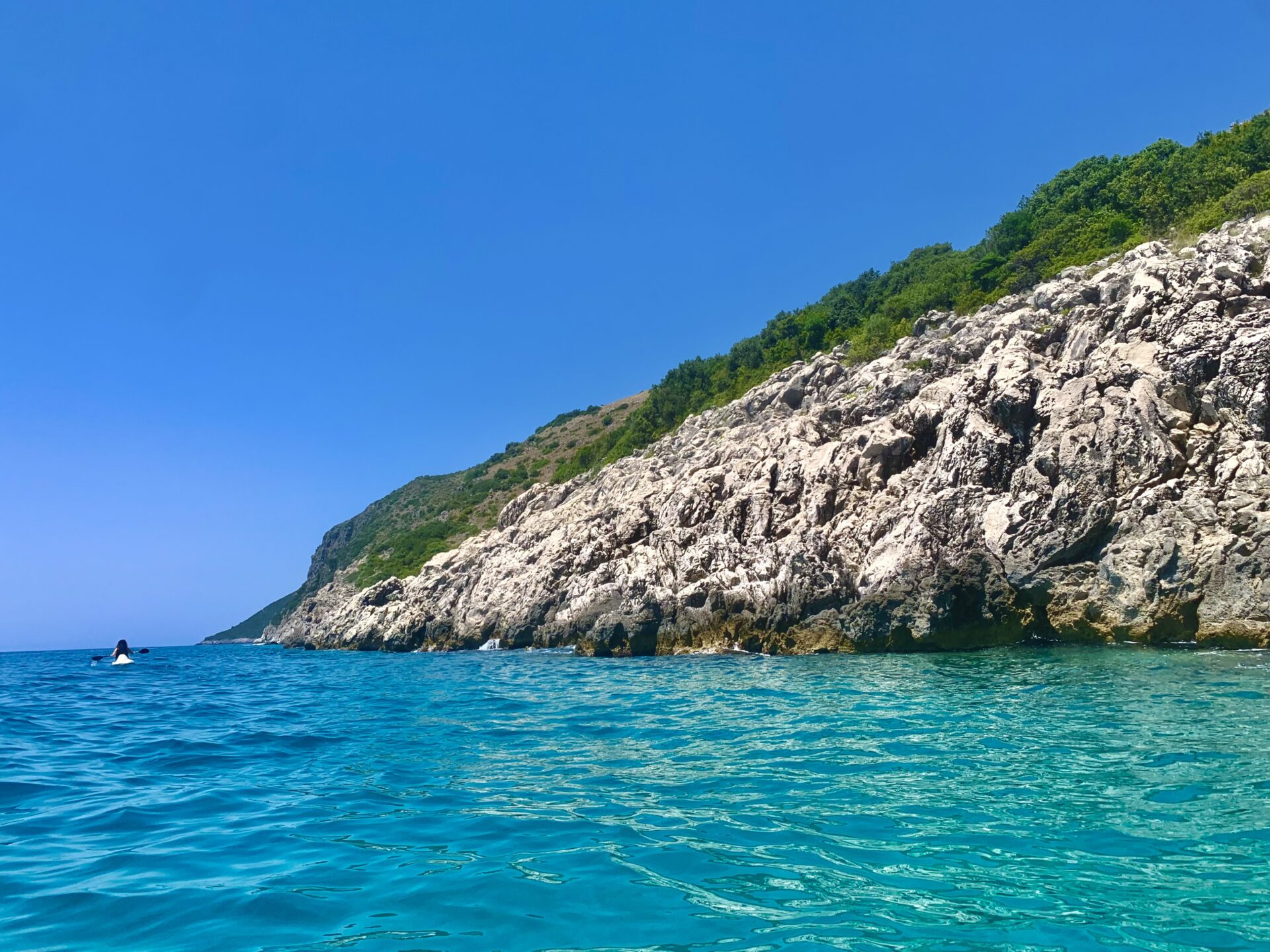 Kayaking along the Albanian Riviera is a signature experience in Albania. If you're in Himara you HAVE to rent kayaks and explore the nearby beaches & rocky shoreline!
The kayak excursion I embarked on was from Himara to Gjipe beach which took an entire day. I'd highly recommend this activity if you're an outdoor adventure enthusiast (like myself). However if you're looking for a more chill way to explore the coast I'd still recommend renting kayaks, just not going as far!
In this guide I talk about kayaking along the Riviera as well as give tips for kayak rentals in Himara.
---
3. Walk to the Himara Castle & Himara Old Town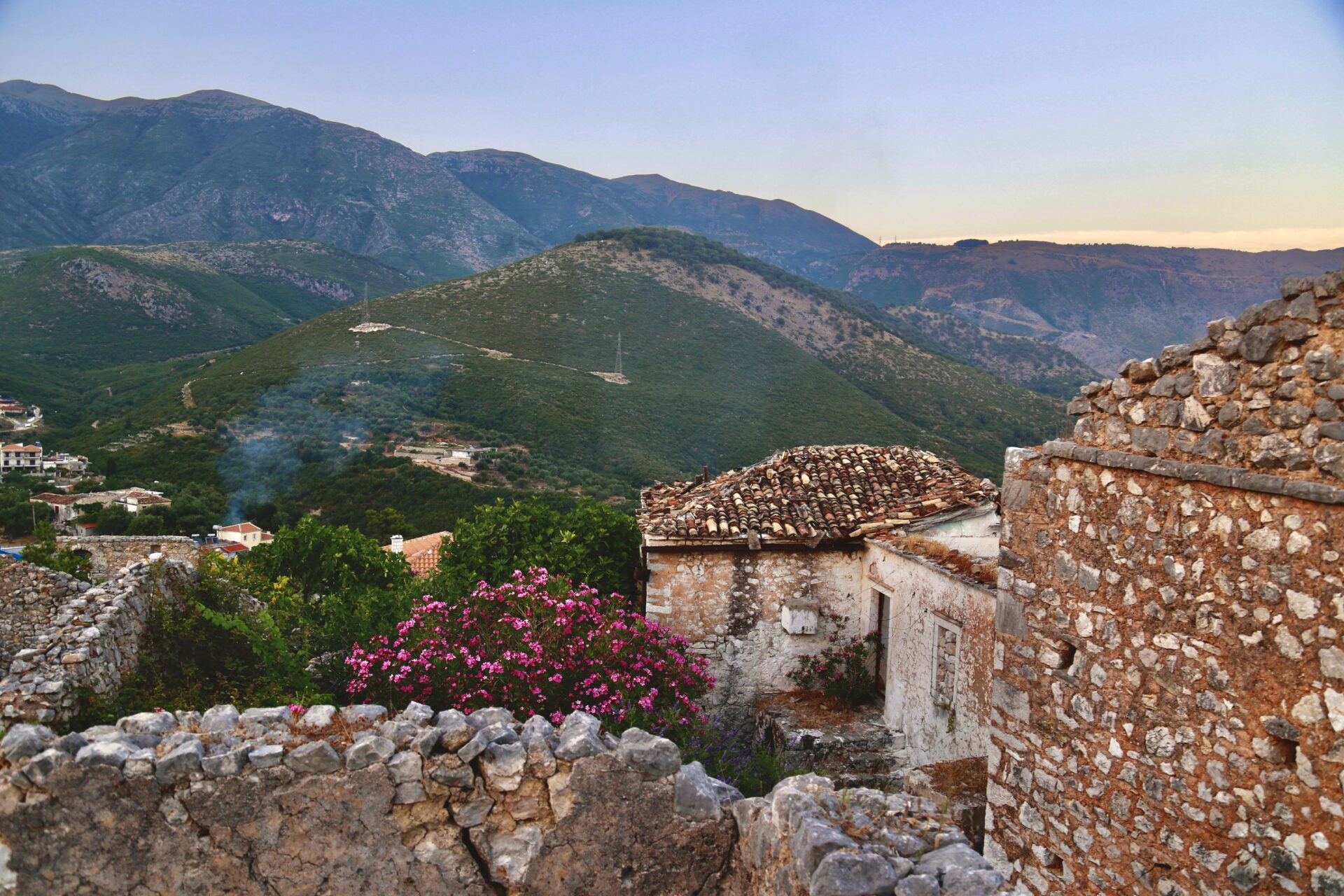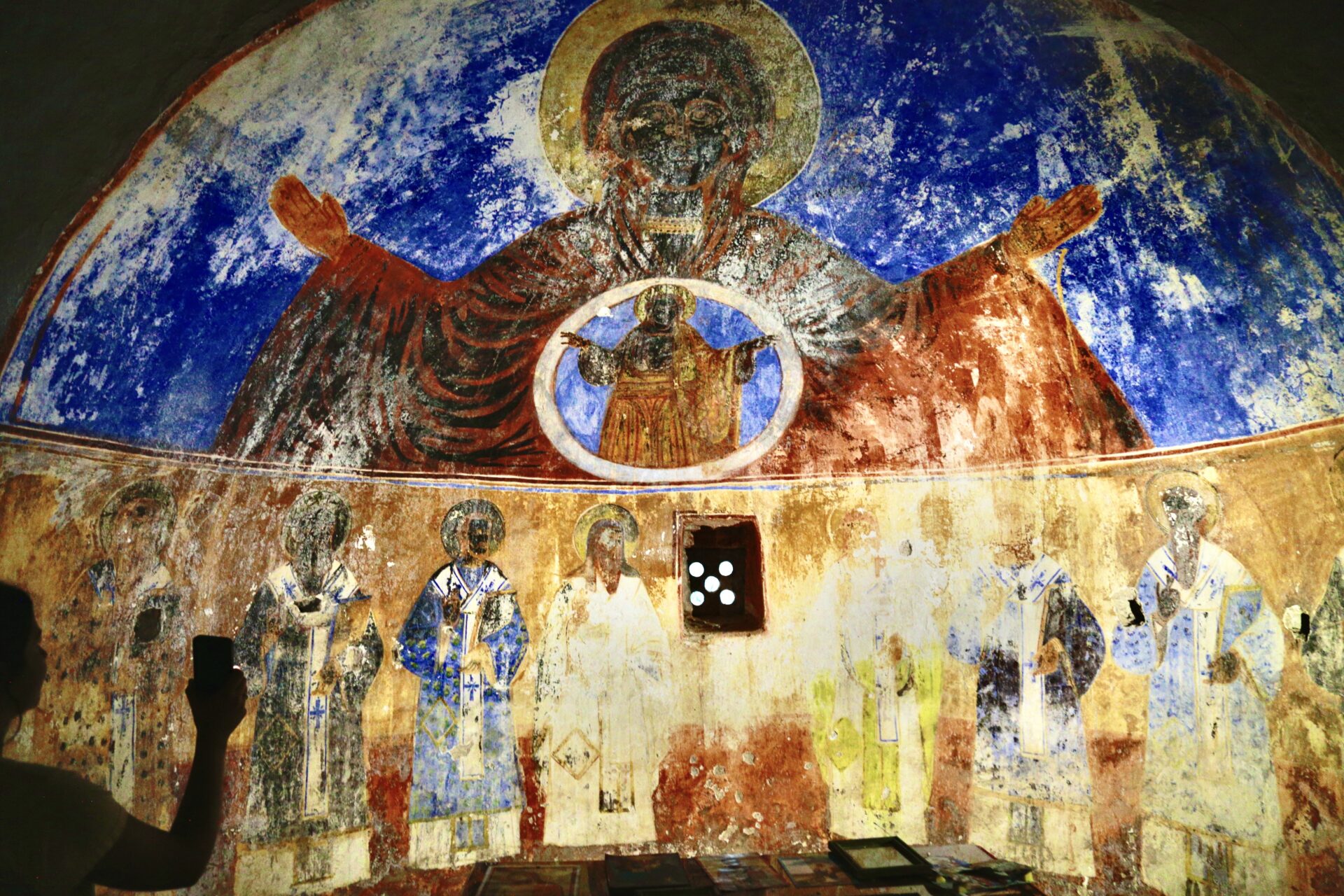 The Himara castle totally took me by surprise and I'm therefore adding it to the list of essential things to do in Himara.
The Himara Castle is about a 40 minute walk uphill from the town center. I'd recommend going for sunrise or sunset – both for the more picturesque views and because the weather is way too hot during the day to be walking uphill hahah.
At first the Himara Castle just looks like a run down pile of stones, however when you start to walk around you'll realize there are people living in the castle, there are little cafes, and old Serbian churches! History buffs will love this little slice of Himara.
I'm (as you've probably discovered) a view chaser. So, (obviously) my favourite thing about the Himara Castle was being able to see over all of Himara. The view of the mountains on the opposite side wasn't too bad either!
---
4. Find Gjiri Filikuri Beach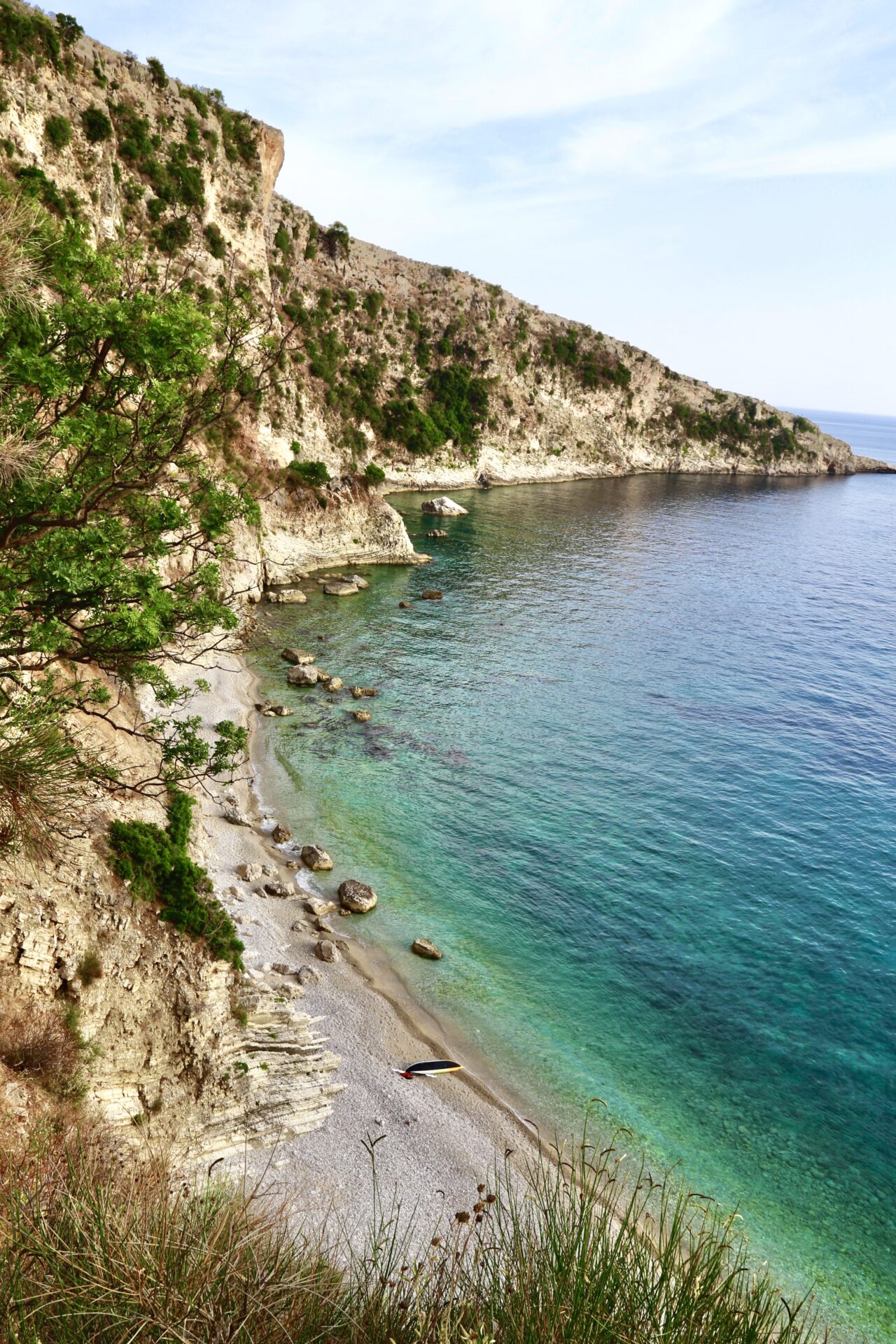 Gjiri Filikuri beach is easily one of my favourite – and hidden – Albanian beaches. Kayaking over to this beach or taking the quick climbing route down to the rocky shore is something you have to do in Himara.
Filikuri is much quieter than the nearby beaches and the most scenic. It features huge cliff walls, beautiful water, and cold springs which makes this a nice, cool place to take a dip on those scorching Albanian summer days. The best part about this beach? There are no sun chairs! Nature only.
In this guide I tell you exactly how to get to Filikuri beach.
---
5. Walk Along the Coast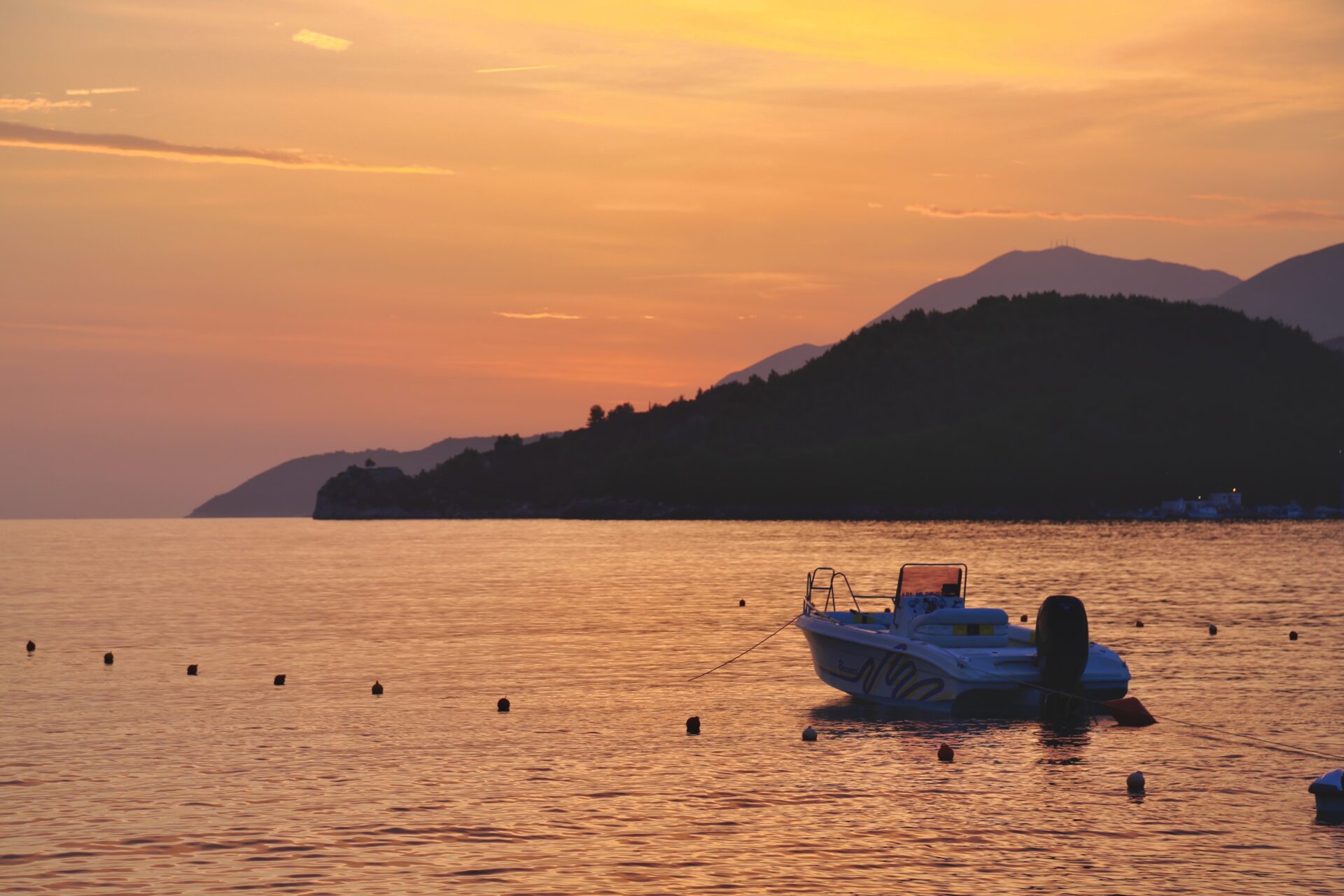 Walking along the Albanian coast is the best way to get your bearings, see the sights, and discover the beauty of Himara. The coastline is full of little beaches, beautiful viewpoints, and killer patios.
In Albania you'll find there's typically a lot of noise – you'll struggle to find quiet spots in nature all to yourself. Walking along the coast is your best bet at finding peace and quiet!
---
6. Take a Day Trip to Palermo
The great thing about Himara is that it's located centrally in the Albanian Riviera, making it an easy place to venture out on day trips. One of those day trips being Porto Palermo.
Porto Palermo is a beautiful bay with plenty of small beaches to explore. There's also a castle which is rich in Albanian history.
If you're interested in visiting Porto Palermo, you can check out this tour – they'll help you organize transfer from Himara!
ps. If you're going to Porto Palermo, you might also want to check out Qeparo!
---
Where to Stay in Himara
Luckily, Albania is one of the cheapest travel destinations in Europe! It's not actually part of the EU and hasn't been subjected to Schengen inflation which makes it a total backpacker's paradise.
Himara in particular is one of the more "expensive" places to travel in Albania – but I'm gonna use quotations here. Why? You can still typically find accommodations for 11 euros/night which is insanely low cost and significantly cheaper than my monthly rent back in Canada.
To break it down, these are the best accommodation options in Himara for every experience and price range:
---
The Perfect 3 Day Himara Itinerary
---
Day 1 in Himara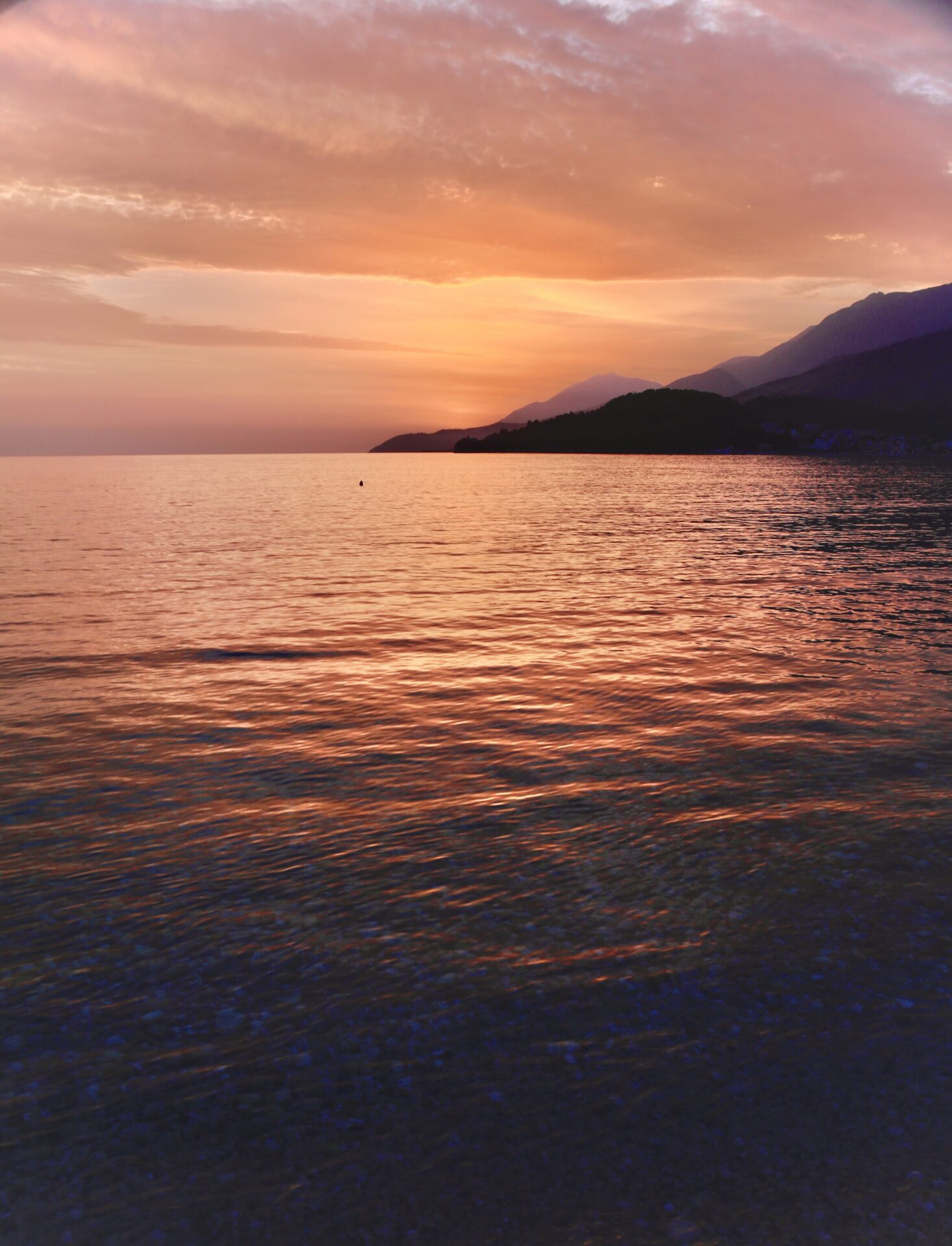 Take the first day in Himara to chill and acquaint yourself with this little coastal town. Go for a quick walk, then check out the local beaches; Spile, Maraci, Prinos, or Potam (my favourite). Bring some snacks, grab an umbrella chair, and take in those wicked Albanian views.
After the beach make sure you take advantage of Albania's $1 ice cream – yup, you read that right and the ice cream is delicious!
When the sun starts to set and the temperature drops a little, head back to the waterfront and engage in what the locals call "xhiro." Xhiro is a beloved Albanian pastime which quite literally translates to "walk" in English.
During xhiro you'll get a real feel for how social Albanians are. Everyone is out and about and the patio culture is bumpin'.
---
Day 2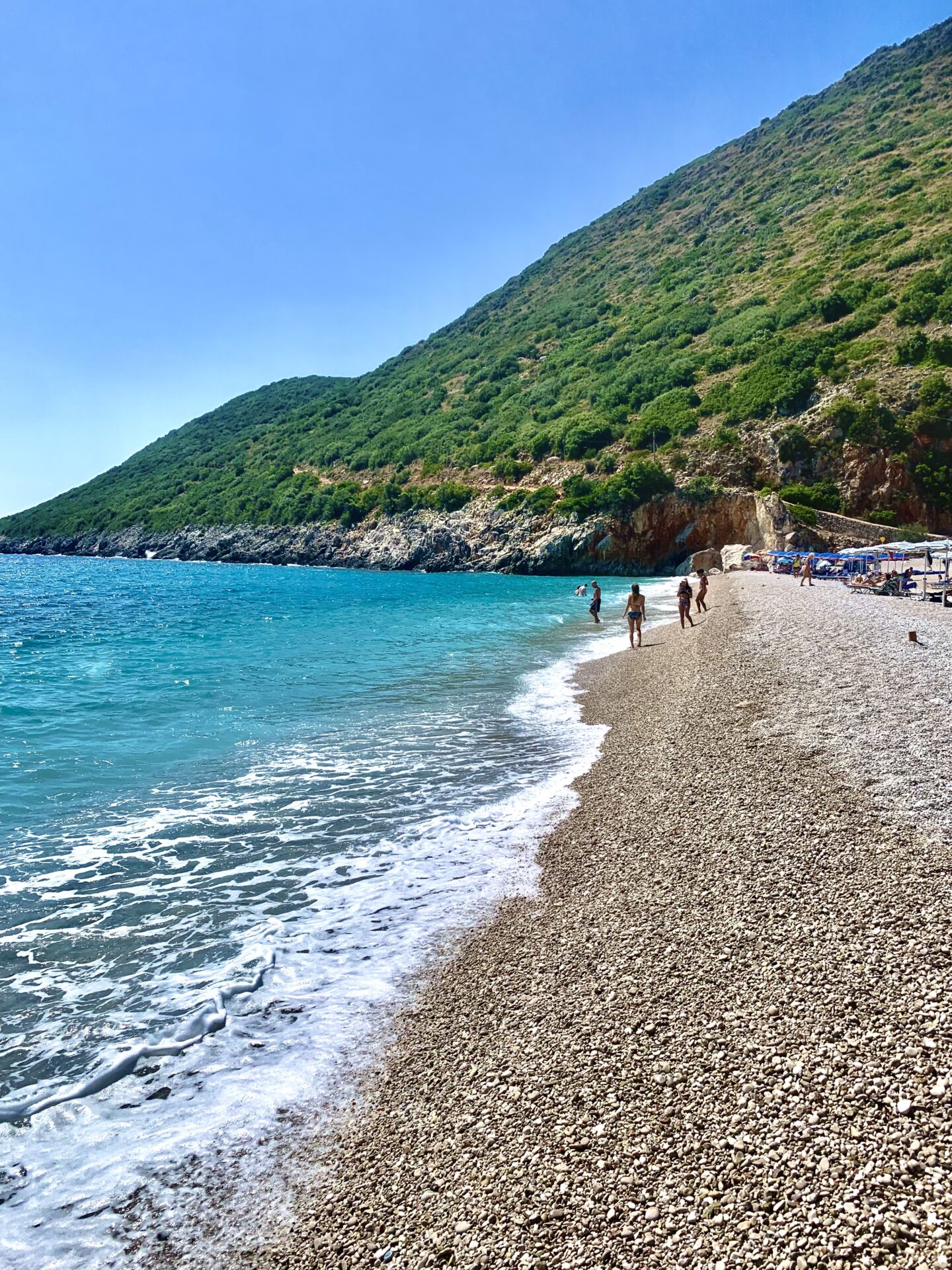 Since The Holistic Backpacker is an outdoor adventure blog, I of course have to include an off-the-beaten-path adventure in my 3 day Himara itinerary.
If weather conditions are favourable (no rain, low wind), I'd highly recommend renting kayaks and paddling to Gjipe beach. In this guide I go over all the details like directions, where to rent kayaks, etc.
BUT, briefly – this is by far the most exciting thing to do in Himara! The kayak excursion to Gjipe beach starts at Spile beach and follows the Albanian Riviera. Along the way you'll get up close and personal with cliff walls, caves, hidden beaches, and the bright blue water of the Ionian Sea.
If you paddle all the way to Gjipe you can expect the excursion to span an entire day, however you can shorten this trip and go as far as Aquarium beach or Jale beach instead.
Again, you can find significantly more detailed information about this kayak trip here.
---
Day 3
On day 3 we're going to castles and hidden beaches!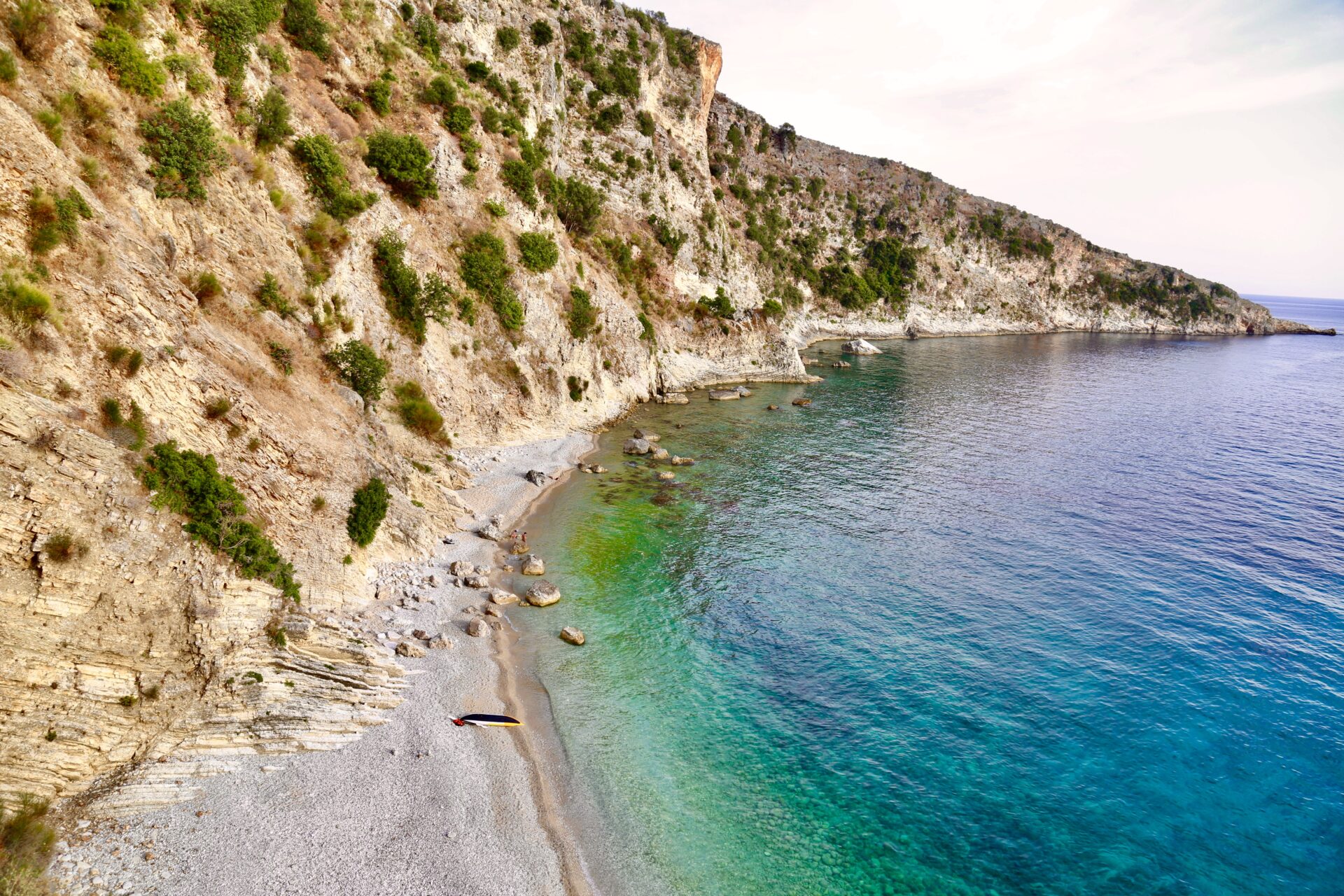 I'd recommend getting an early start – before the afternoon heat sets in – and venturing over to the hidden Filikuri beach. I'd like to say this beach is a "secret," however it's growing in popularity and more and more people know about it. This doesn't make it any less spectacular, though!
There are two options for getting to Filikuri beach 1) walking, 2) kayaking. The kayaking option is MUCH easier as the walking route requires a bit of climbing/traversing across a little rope.
Click here for detailed directions to Gjiri Filikuri.
After spending the day exploring Filikuri beach, I'd recommend walking up to the Himara Castle for sunset. From the castle you'll find beautiful views overlooking the city as well as some old Serbian churches and small cafes.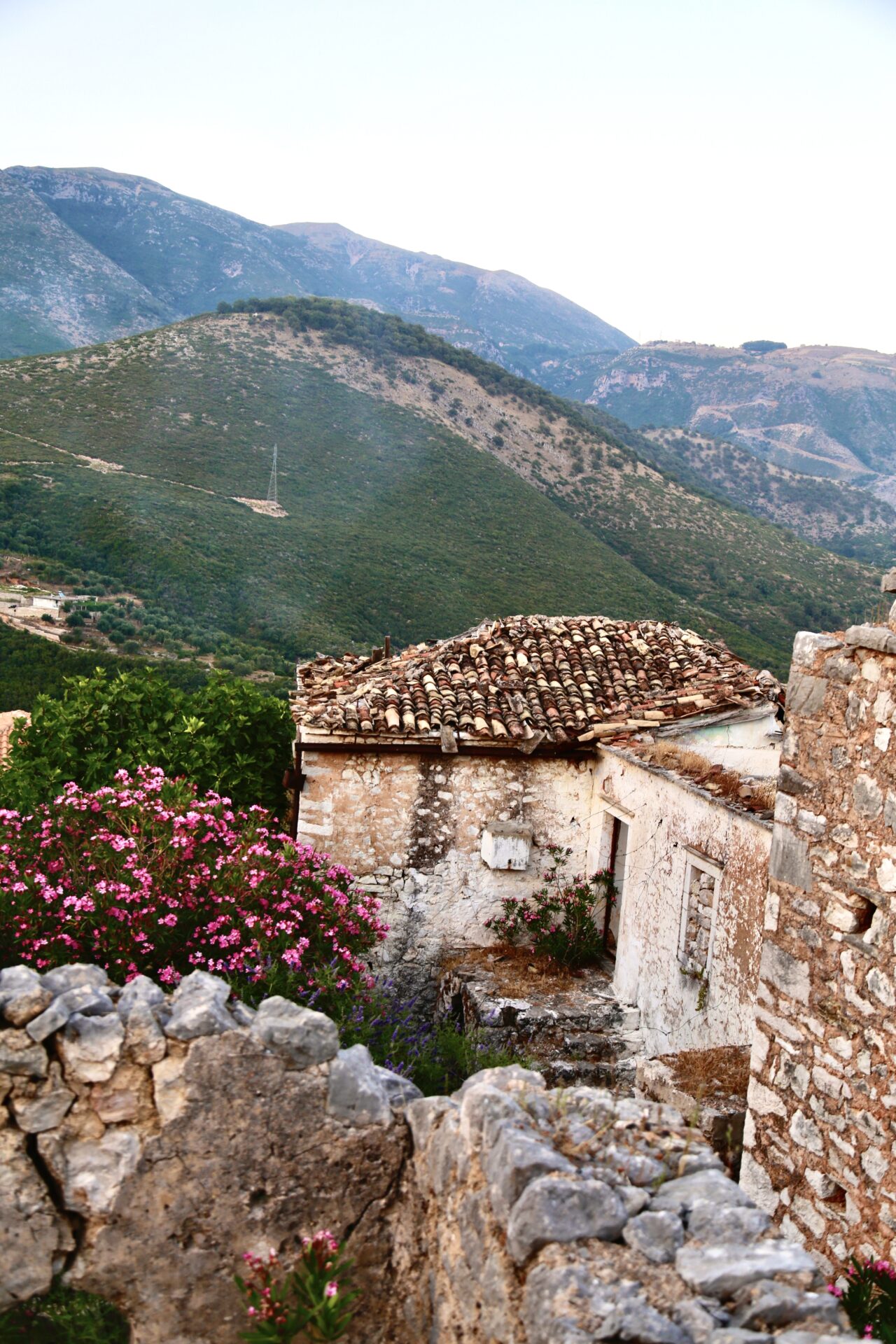 ---
Happy adventuring!
Taylor ♡
---
Like This Post?
Share with friends or save it for later!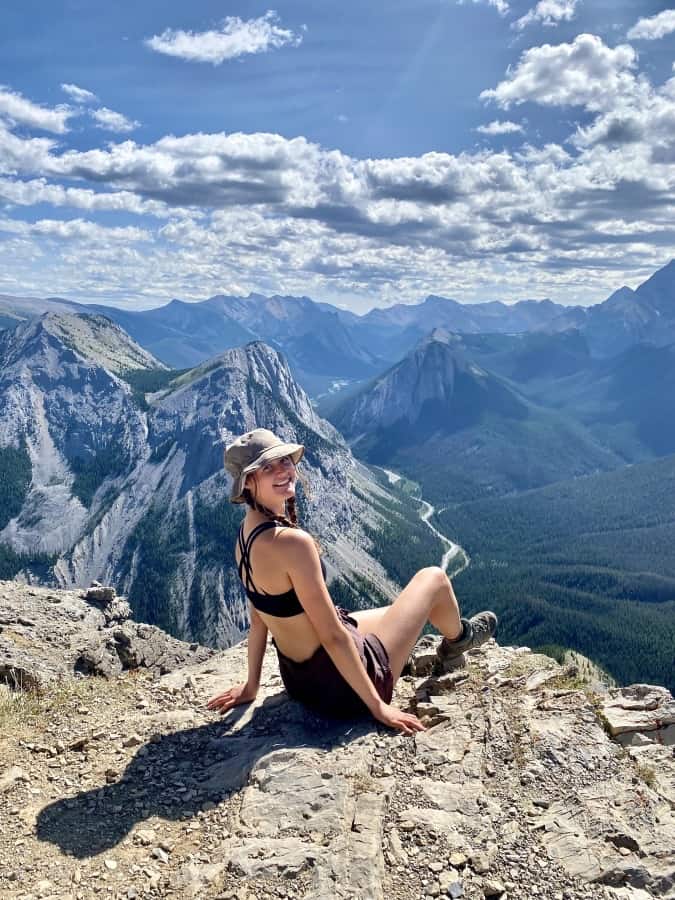 About The Author
---
Hey! I'm Taylor – the voice behind The Holistic Backpacker.
After moving to Banff National Park in 2020 I became an outdoor adventure enthusiast and vowed to never stop exploring.
I'm now focused on travelling the world and seeing everything our beautiful home has to offer.
I created The Holistic Backpacker so I could share my adventures and help connect people like you with the same amazing experiences.
I am also an advocate for the environment and do as much as I can to take care of our planet.
Get to know me and my story more here 🙂
I can't wait to share my adventures with you!