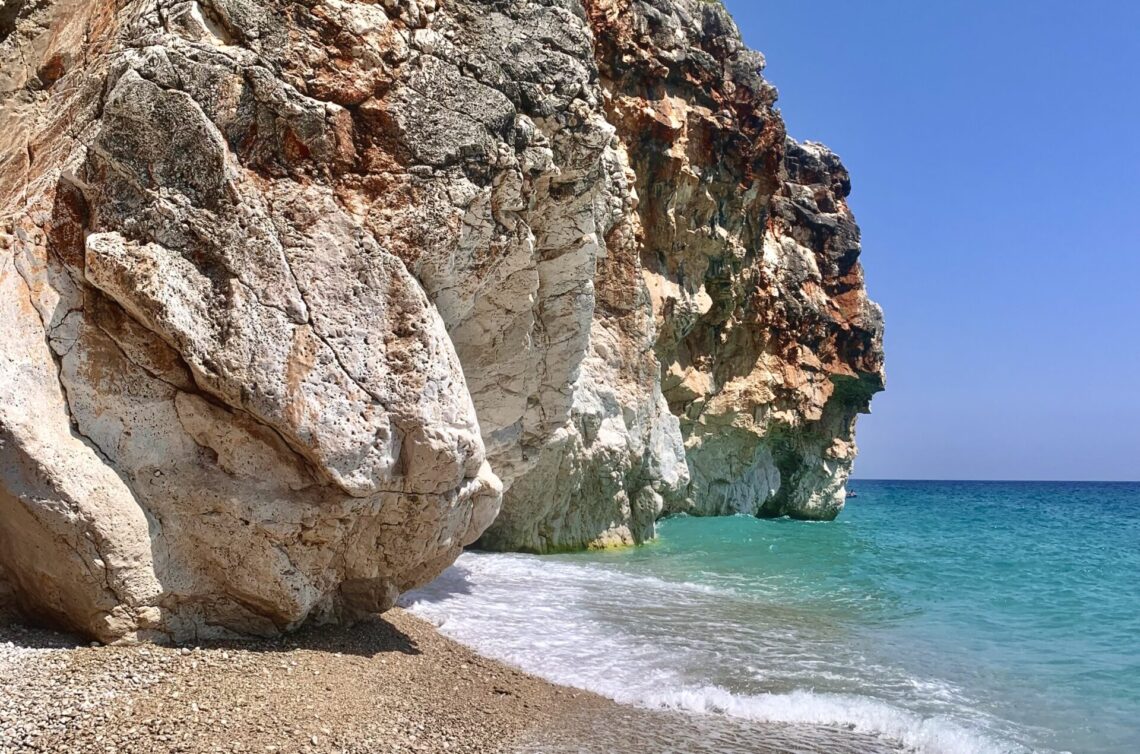 Himara to Gjipe: Kayak the Albanian Riviera
The Albanian Riviera is one of Albania's most sought after destinations. The great beaches, caves, and beautiful blue coastal water of the Ionian Sea draws millions of visitors to the country each year. What's the best way to experience the Riviera, you may be asking? Sea kayaking, of course! In this guide I'll tell you everything you need to know about kayaking from Himara (or Himarë) to Gjipe.
The stretch of sea from Himara to Gjipe makes for a lengthy, but incredibly beautiful day exploring the intricacies of Albania's western coastline. There are many viewpoints, highlights, and natural features you can ONLY see via boat. So you can paddle with a sense of knowing that limited amounts of people have and will see what you're seeing!
The stretch of coastline from Himara to Gjipe is particularly beautiful. The water is shockingly blue in colour, the seawall and cliffs are very dramatic, and the beaches… Oh my the beaches.
ps. you'll find a map of all the beaches and viewpoints I talk about at the bottom of this post!
This post contains affiliate links; see my full disclosure. If you click these links and make a purchase you're supporting The Holistic Backpacker. Thanks for your support & happy adventuring! – Taylor ♡
---
---
Quick Albania Travel Guide:
Currency: Albanian LEK (aka ALL). This is a closed currency so you'll need to wait until you're in Albania to exchange $.
Transportation: to enter the country you can find 1 international airport in Tirana, 1 port in Saranda (daily ferry arrivals/departures to Corfu, Greece), and a bus line from Montenegro. Buses are very cheap here, but unreliable. Driving is chaotic, I'd recommend sticking to buses. There are no trains within the country.
Phone: purchase a local SIM card from Vodafone – the plans are cheap and they include lots of data, however international minutes are typically not available.
Language: Albanian, however you can get by with English – google translate recommended for smaller cities/villages.
Helpful Info: don't drink the tap water or bring a purifying bottle like this one. Bring an international travel adapter, and notify your bank before travelling.
Travel Insurance: ALWAYS purchase reliable insurance prior to your trip. This insurance is trusted by backpackers and adventure sport enthusiasts around the world.
Albania is one of the last "undiscovered" countries in Europe. Plan your trip while prices & tourism levels are low!
Related Articles:
---
Where to Stay in Himara
Luckily, Albania is one of the cheapest travel destinations in Europe! It's not actually part of the EU and hasn't been subjected to Schengen inflation which makes it a total backpacker's paradise.
Himara in particular is one of the more "expensive" places to travel in Albania – but I'm gonna use quotations here. Why? You can still typically find accommodations for 11 euros/night which is insanely low cost and significantly cheaper than my monthly rent back in Canada.
To break it down, these are the best accommodation options in Himara for every experience and price range:
---
Where is the Albanian Riviera?
The Albanian Riviera is located in southwestern Albania, specifically between the coastal towns of Vlora (or Vlorë) and Saranda (or Sarandë). Here you'll find Albania's best-est and most beautiful beaches.
This stretch of Albanian coast follows the northeastern Ionian Sea (the same as Greece) which is within the well-known Mediterranean Sea.
The Albanian Riviera is home to both sand and rock beaches, meaning there's a type of beach for everyone here!
---
How to Get to Gjipe Beach from Himara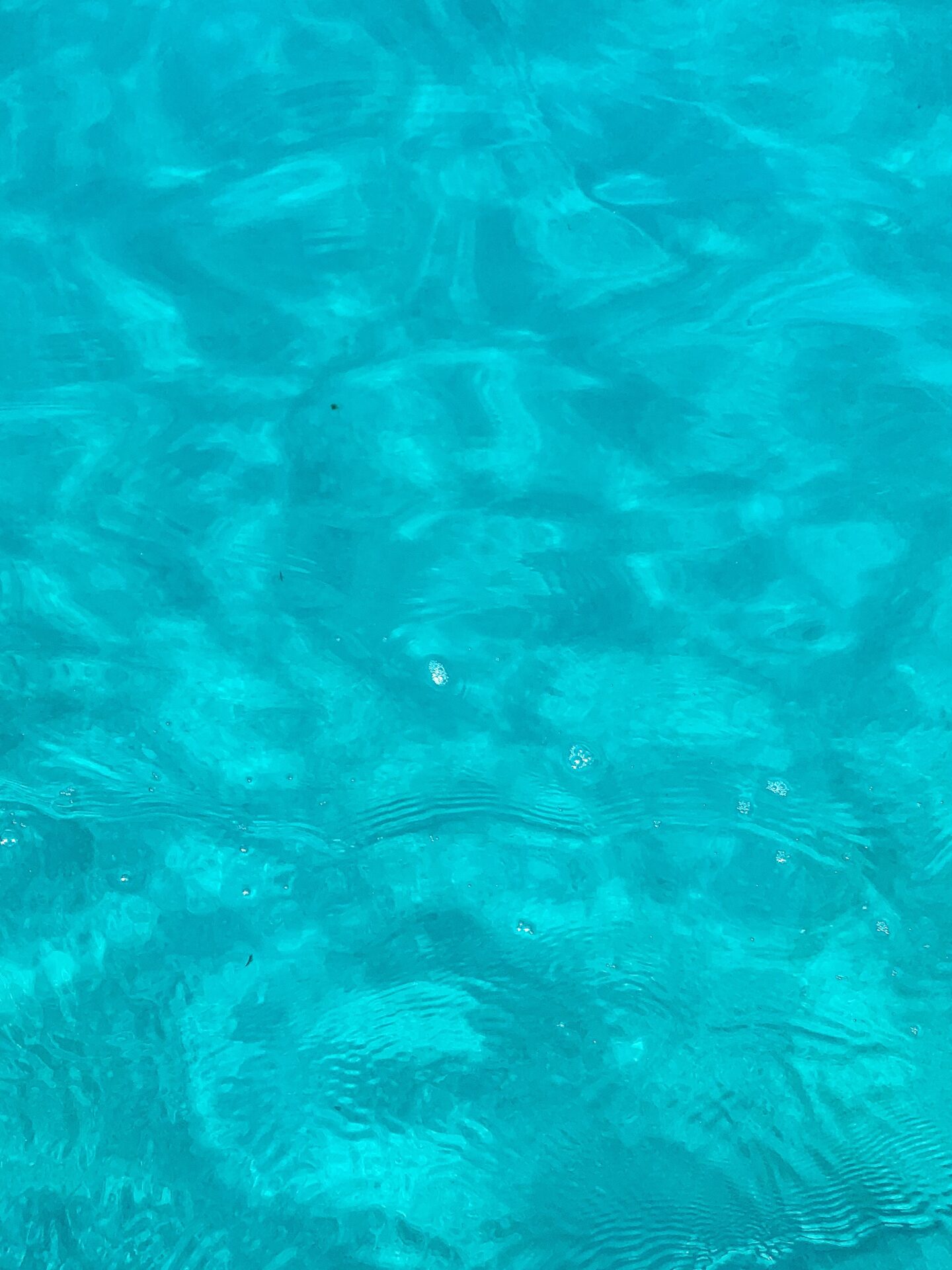 Getting to Gjipe is a little more complicated than getting to some of the other beaches in Albania, but trust me when I say it's MORE than worth the effort!
The drive from Himara to Gjipe is around 40 minutes long and 16km in length. If you have a car you could easily drive to the small parking lot nearby and walk the 45 minutes down to the beach. If you're looking to rent a car in Albania I recommend checking out this site.
If you're travelling by bus you can ask the driver to stop at the entrance for Gjipe beach, walk 2kms to the parking lot, then descend another 45 minutes to the beach.
Another option is to use Himara's water taxi.
This post however is all about kayaking from Himara to Gjipe. So without getting into too many details right off the bat, you can rent a kayak from the town of Himara and follow the coast north until arriving at Gjipe beach.
---
How Long Does it Take to Kayak from Himara to Gjipe?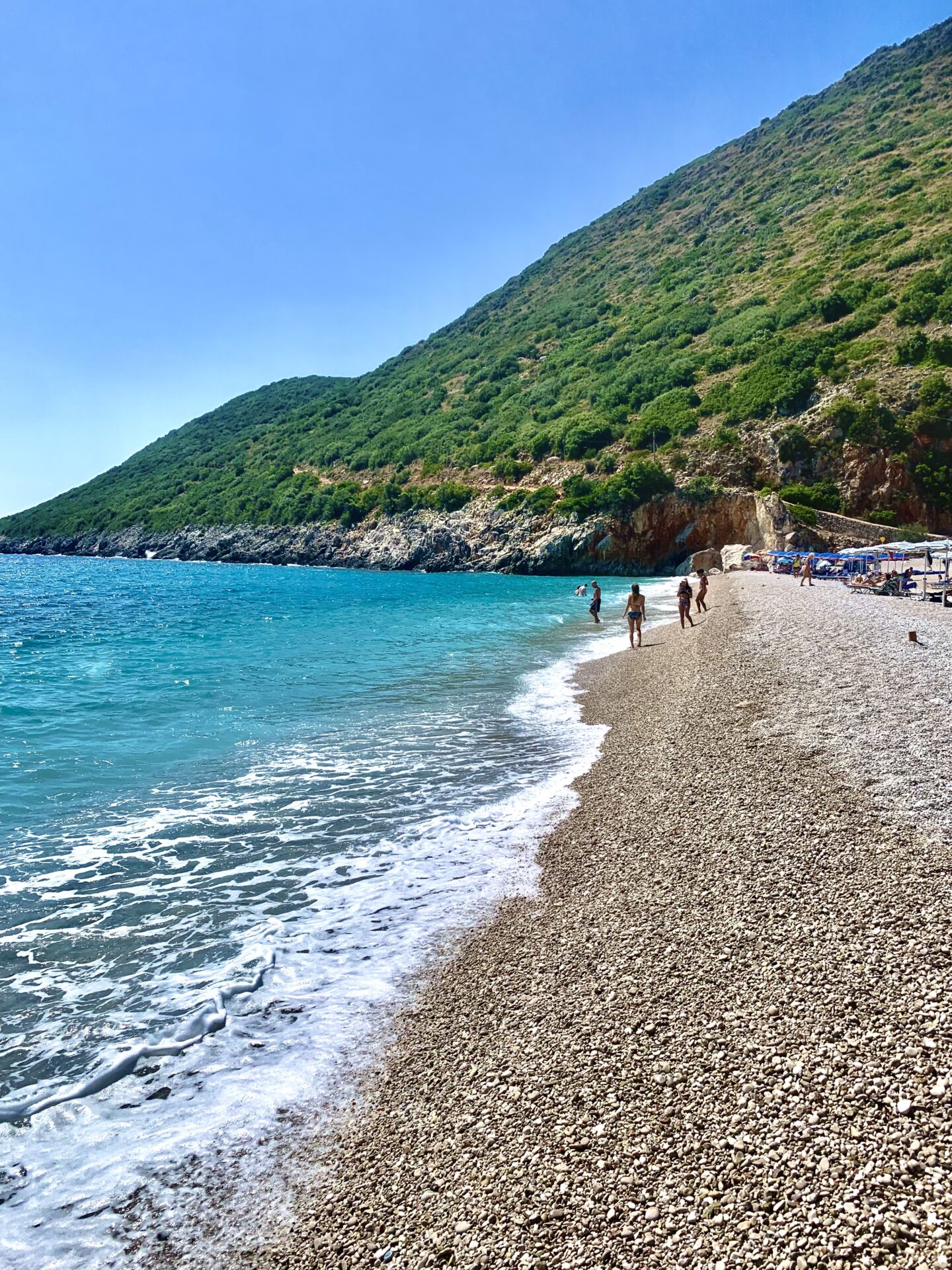 The length of time it takes to kayak from Himara to Gjipe is a little bit of a loaded question. One must factor in kayaking abilities, weather, itinerary, etc.
I personally recommend setting aside a whole day if you want to kayak the entire length of Himara to Gjipe. The kayak trip clocks in around the 20km mark depending on how many stops you make along the way; because each stop will add distance and time to your trip.
The day I kayaked from Himara to Gjipe I launched my kayak at 8am and returned at 6pm – a whole 10 hours of adventuring along the Albanian Riviera!
Of course, you don't have to kayak all the way to Gjipe. There are lots of great beaches and viewpoints you'll see before then, however the section right before Gjipe is by far the most scenic. The cliff walls get taller, the water bluer, the waves become more intense as they crash along the shore, AND you'll discover the most hidden caves in this area.
---
Is There Food or Services Between Himara and Gjipe?
Yes! Thankfully there are a few different places along the way where you can stop, grab a bite to eat, or rest along shore in one of the beach's umbrella beds.
There are 3 beaches that provide food & services: Gjipe beach (the furthest point), Lavadhi beach (the closest point), or Jale beach which is right in the middle of the two.
Follow The Holistic Backpacker's Adventures on Socials:
Keep Up With My Adventures!
Sign up for my newsletter and stay up-to-date with my latest adventures, gear guides, and eco-resources!
Taylor ♡
Next I'll go over a detailed route/itinerary I'd recommend following with more information about all these beaches as well as a map.
I'd just like to note that even though there are services, come prepared with water and snacks! Better to be over prepared than to be underprepared.
---
Where Can I Rent Kayaks?
There are two ways to go about renting kayaks in Himara. You can find a rental place along the beach for approx. 10 euros/hour (really expensive). OR you can stay at the Himara Hostel and rent them for 8 euros/day.
I would highly recommend staying at Himara Hostel and renting kayaks through them instead. The price is dirt cheap and the hostel itself is lovely. The volunteers are super chill, there's tons of outdoor garden space to relax in, they've got the cutest cats and dogs (kittens when I visited), and breakfast is included.
I loved my stay at the Himara Hostel so much that I actually extended my stay multiple times spanning a total of 6 nights!
Check prices for Himara Hostel via Booking.com here.
---
Do I Need any Gear?
You don't need gear, but there are a few items that'll make your trip much more enjoyable. These are the items that made my trip more comfortable and more organized: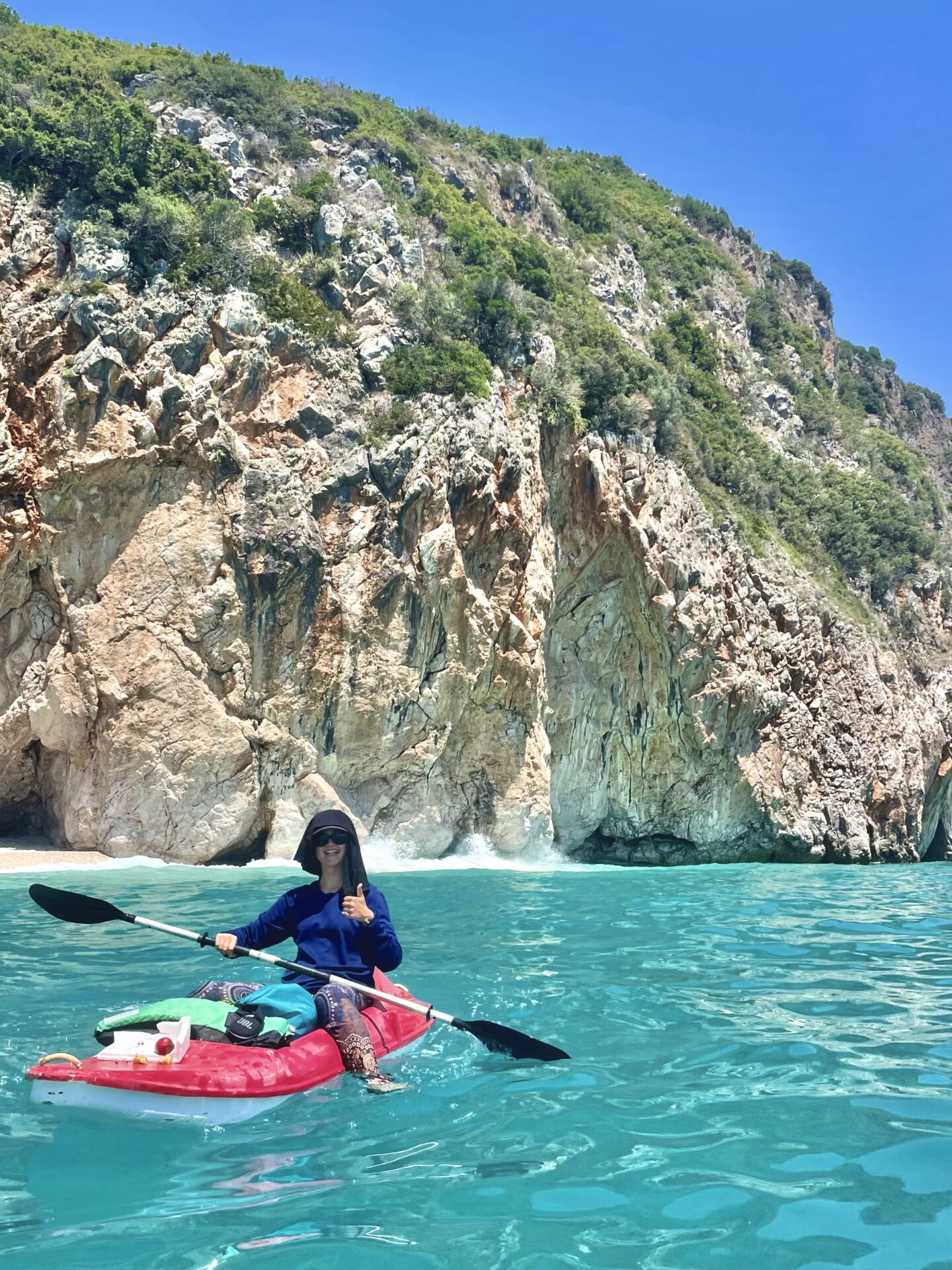 A long pair of flowy pants and a long sleeve shirt for sun protection.
Extra sunscreen.
A hat.
Dry bags – I brought 3 of these and stored everything inside them to keep my belongings dry. Ps – dry bags are great for travel as they triple as a laundry bag, beach bag, and grocery bag!
Snacks.
LOTS of water – I brought 2L in my Hydrapak and an extra bottle.
Crocs – the beaches along this section of coast are all rocky. You'll want to protect your feet!
Stasher Bags – these silicone bags are my favourite! I use them for literally everything, but on this trip in particular they were ideal for keeping money and important small belongings dry.
Also, make sure you bring a life jacket!
---
Is it Safe to Kayak From Himara to Gjipe Without a Guide?
Absolutely. I'm no professional kayaker by any means and I found this trip to be no problem at all. However if you find it tiring there's no one telling you you have to go all the way to Gjipe. If it feels like too much at any point, stop and turn around!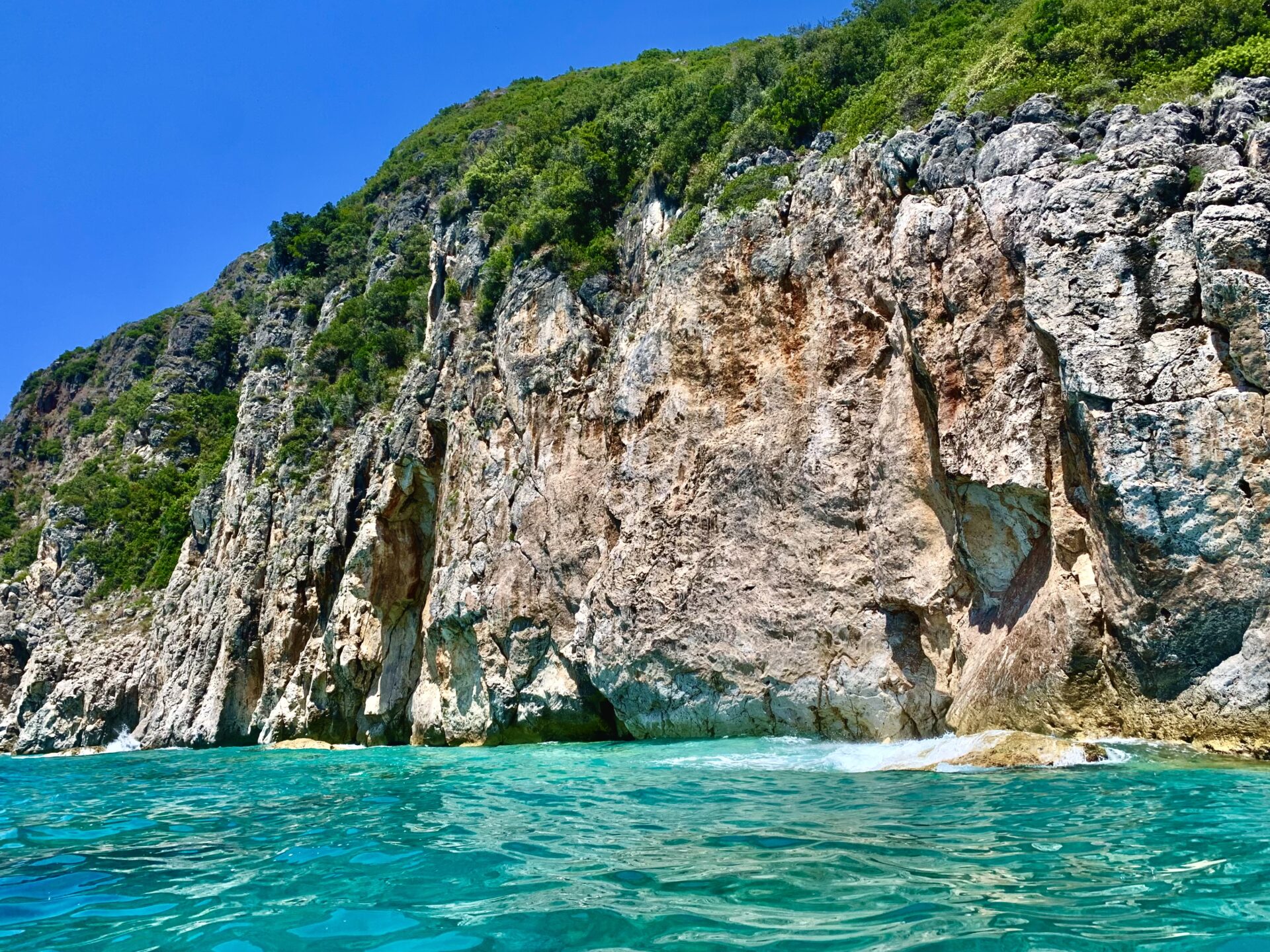 I'd recommend just paying attention to weather though and always paddling with another person. If the weather looks iffy or there's strong winds the day you intend to go, be smart and go on a different day.
There are boats that'll zip by here and there, so if you need help you'll be able to get some.
Of course bring a life jacket and if you're not a strong kayaker don't attempt to get on and off your kayak at the hidden beaches – the waves can be quite strong on shore making it very difficult to get on and off your kayak.
---
Important Stops & Viewpoints: Himara to Gjipe
Now, the fun part! Here are all the pretty beaches, caves, and viewpoints you can expect to see on your kayak trip from Himara to Gjipe.
---
Spile Beach
Spile beach is located in the heart of Himara and only minutes from the Himara Hostel. This is the perfect beach to launch your kayak at because it isn't too crowded and there's a ramp which makes it much easier to bring your kayak to the water.
From Spile beach you'll want to head north – or right if you're facing the sea – and cruise along the shoreline. The views will start right away as you'll find big rocks and tents overlooking the sea at the gorgeous Pine Side Campground.
Make sure you turn around though! The best views are actually behind you as you'll be able to see Himara backed by huge, picturesque mountains.
---
Livadhi Beach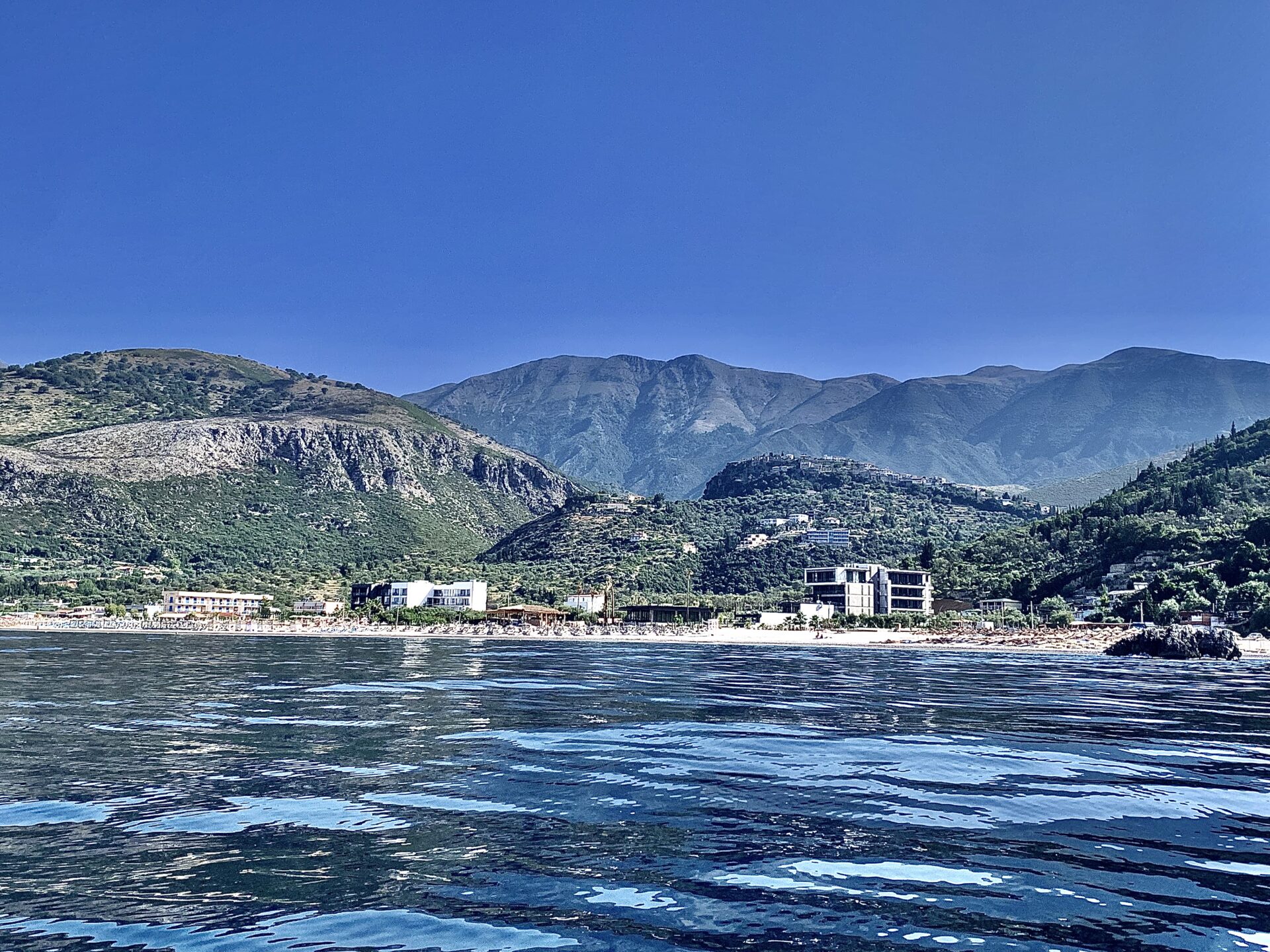 Shortly after seeing the campsite, you'll find Livadhi beach. I didn't personally stop at Livadhi beach because you have to pay to be on the beach – my backpacker budget was screaming "NO" at me as I paddled by this one.
I'd personally recommend skipping Livadhi beach all together unless you're in desperate need of some food. There isn't anything special about Livadhi and the beaches ahead are 1000X more scenic, secluded, and free to use!
Also, Livadhi beach is only a 25 minute walk from town, so if you reallyyyy want to see it you could always just walk there another day.
---
Aquarium Beach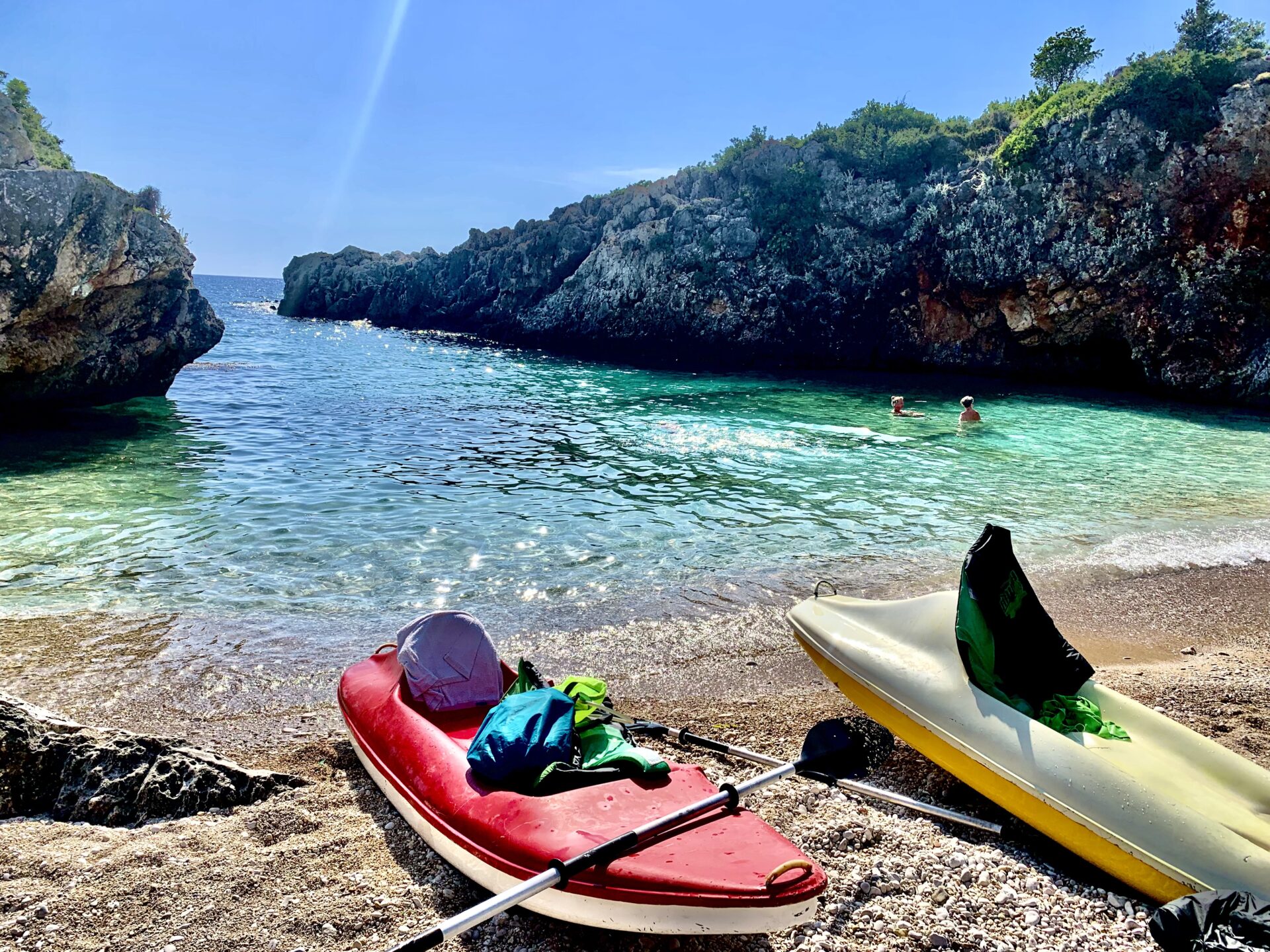 Between Livadhi and Aquarium beach (aka Gjiri i Akuariumit) you'll find impressive rock formations and bright blue water. You'll want to jump in, but trust me when I say wait until you get to the beach!
Aquarium beach is one of the more hidden beaches of the Albanian Riviera. You'll have to really pay attention as you paddle because it's easy to miss! Aquarium beach is accessible only by boat or by foot – 70 minutes by foot to be exact.
This beach has opportunities for cliff jumping and photography as you can hike up and around the beach itself.
---
Jale Beach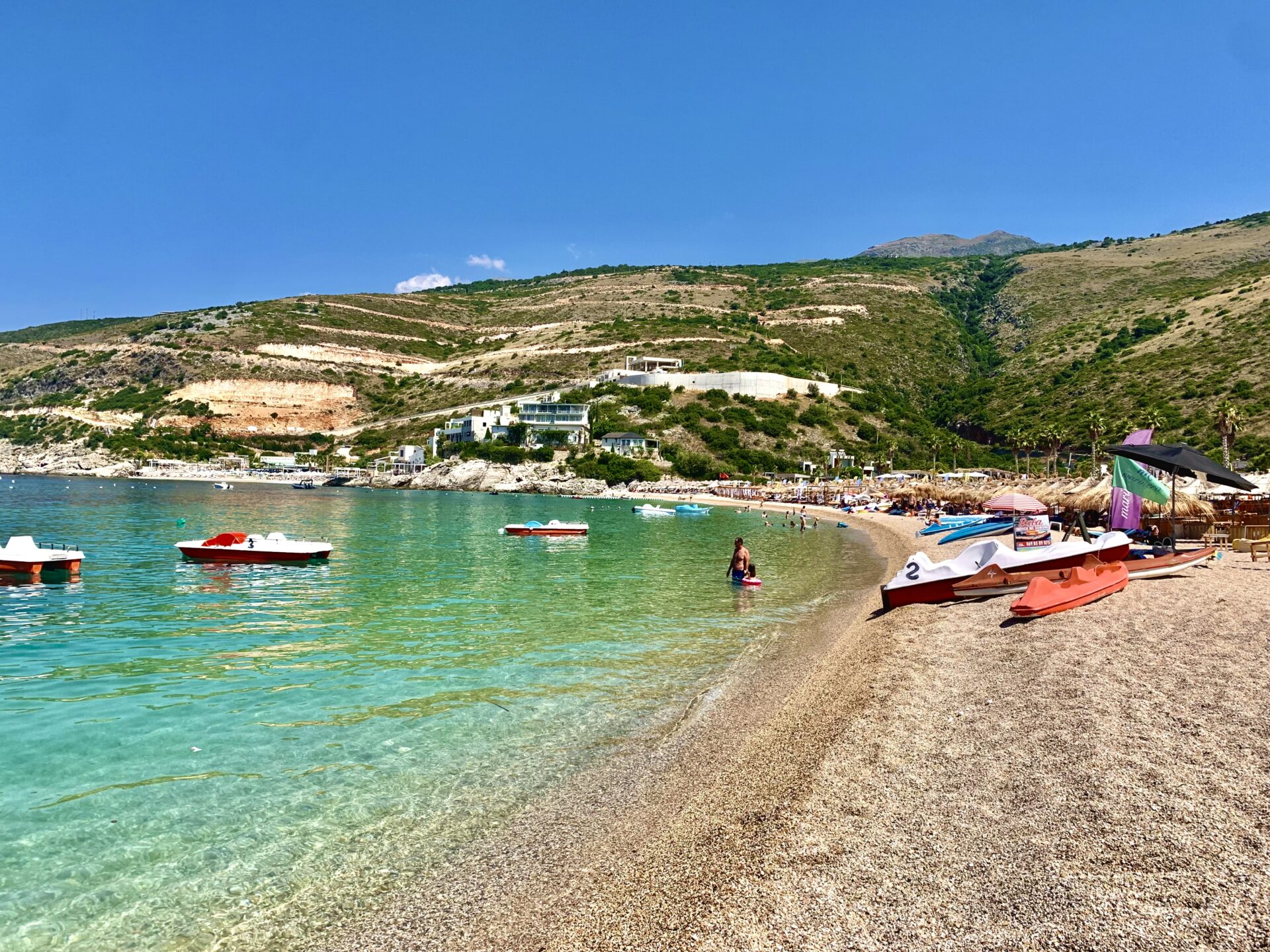 Jale beach has undoubtedly been one of my favourite beaches in Albania so far. The shoreline is covered in white rock and the water is wow blue – I'm pretty sure that's a shade, right?
Jale beach definitely gives off a more tropical vibe than some of the other beaches in Albania and I'm therefore recommending you stop here and spend a decent amount of time before continuing on to Gjipe beach. I'll get to the itinerary I recommend next though.
At Jale beach you can purchase food as well as umbrella chairs and beds if you're in need of a break from the sun.
---
Hidden Beaches & Caves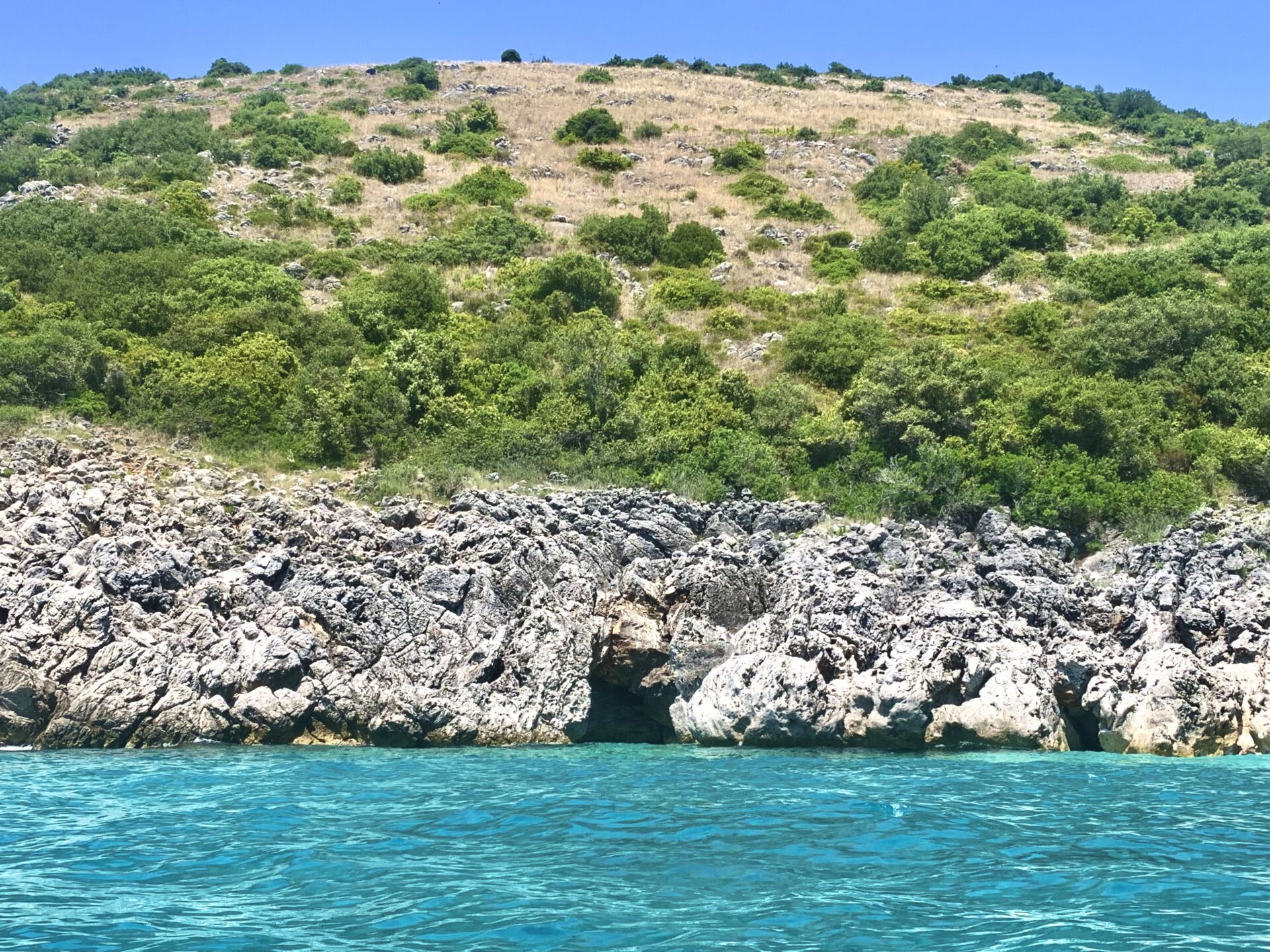 The section of Albanian Riviera between Jale beach and Gjipe beach was hands down my favourite part of the entire Himara to Gjipe kayak excursion.
The rocky shoreline and cliff walls seem to get SO much taller and more dramatic closer to Gjipe. Plus you'll find lots of tiny hidden beaches and caves that are only accessible by boat. If you get to this area early, you could totally claim one of these little beaches all to yourself!
The water also becomes brighter blue (if that's even possible) which totally makes you feel like you're in the tropics. This, in my opinion, is the highlight section of the entire Himara to Gjipe kayak, so make sure you take your time, enjoy the views, and relax in this section of the Albanian Riviera.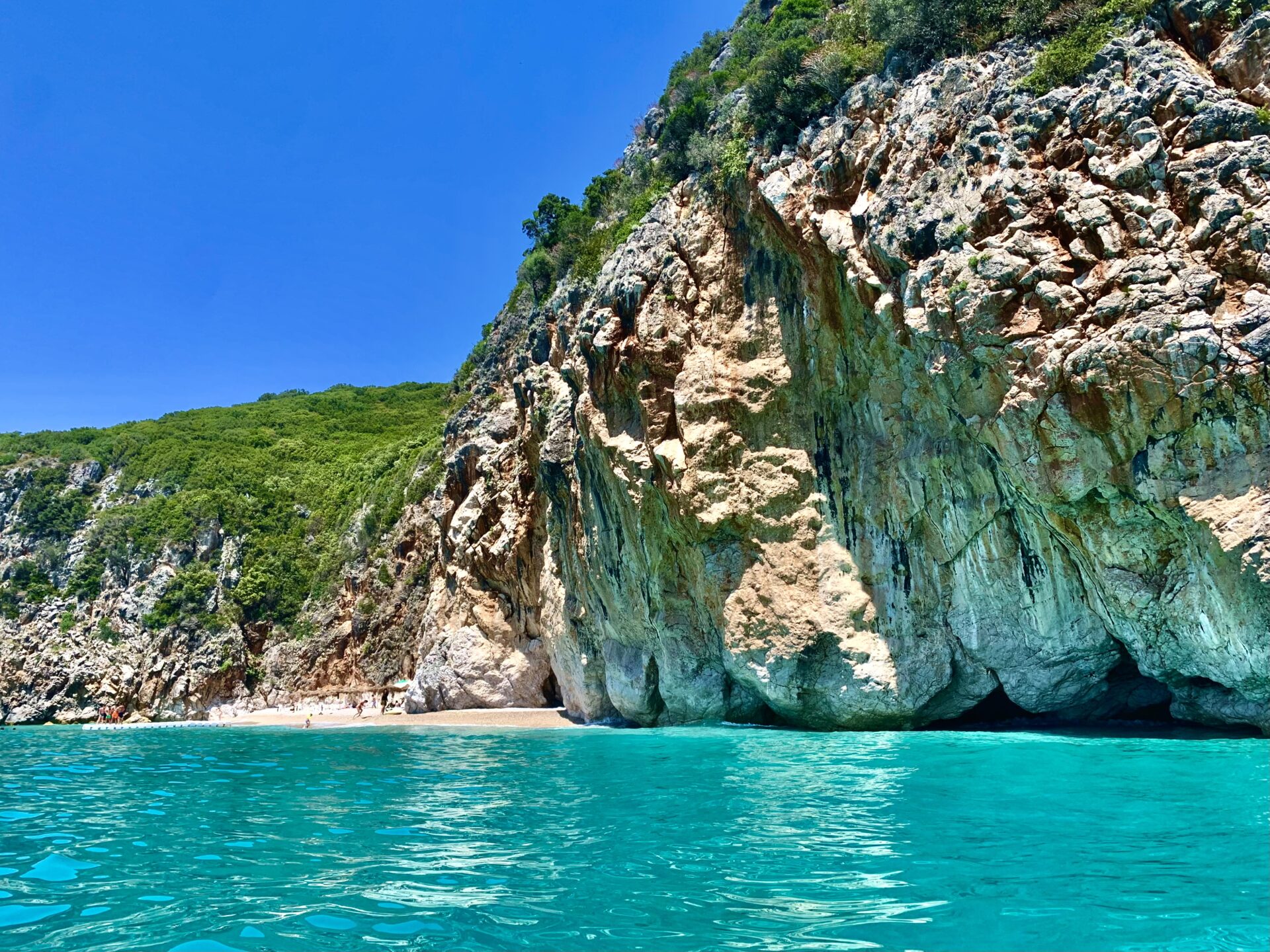 One hidden beach I'd like to make note of is Plazi Me Shpella. This beach has a massive cave on shore which is great for escaping the sun and a dock which is perfect for jumping off. Que cannon balls!
---
Gjipe Beach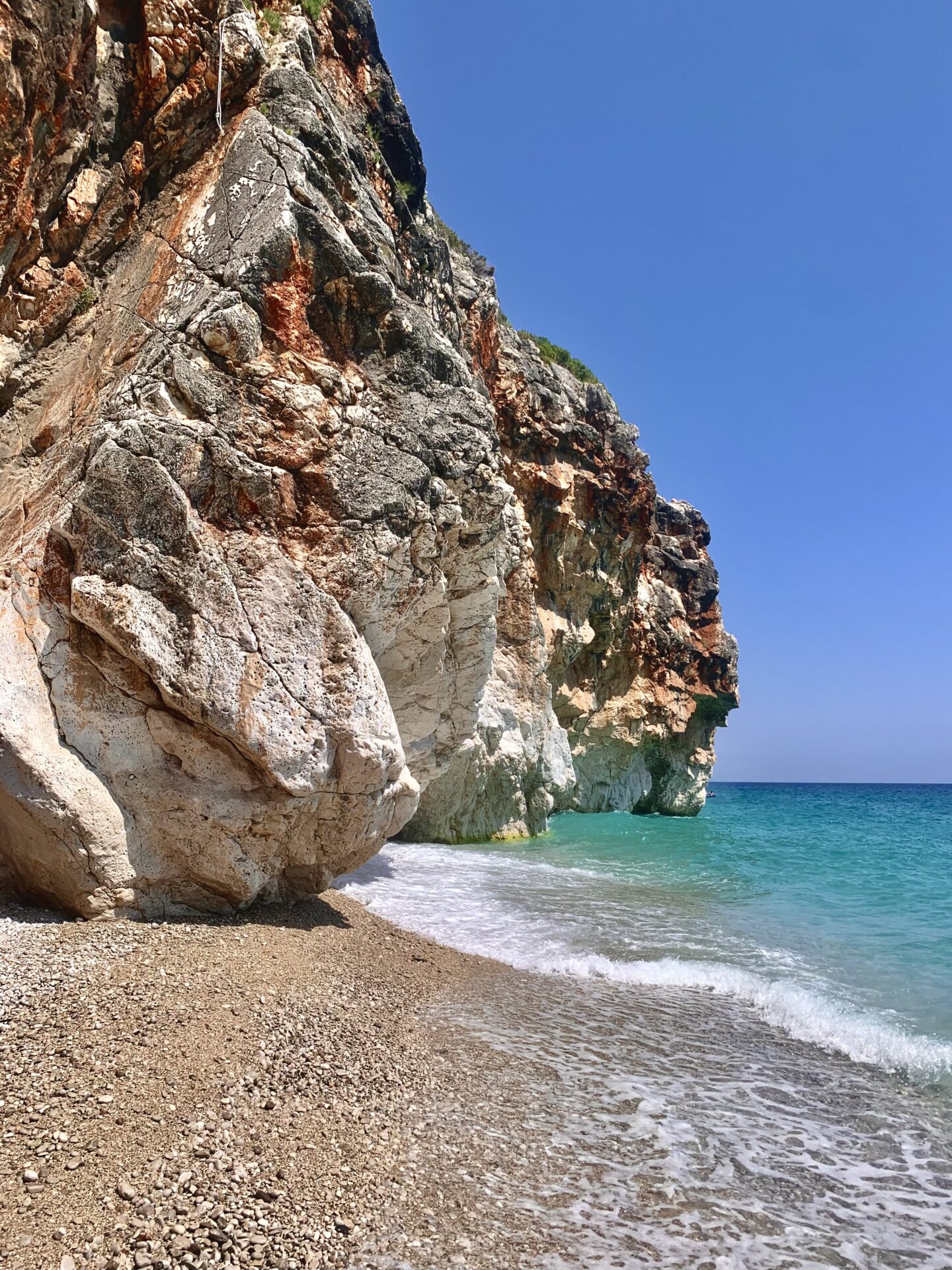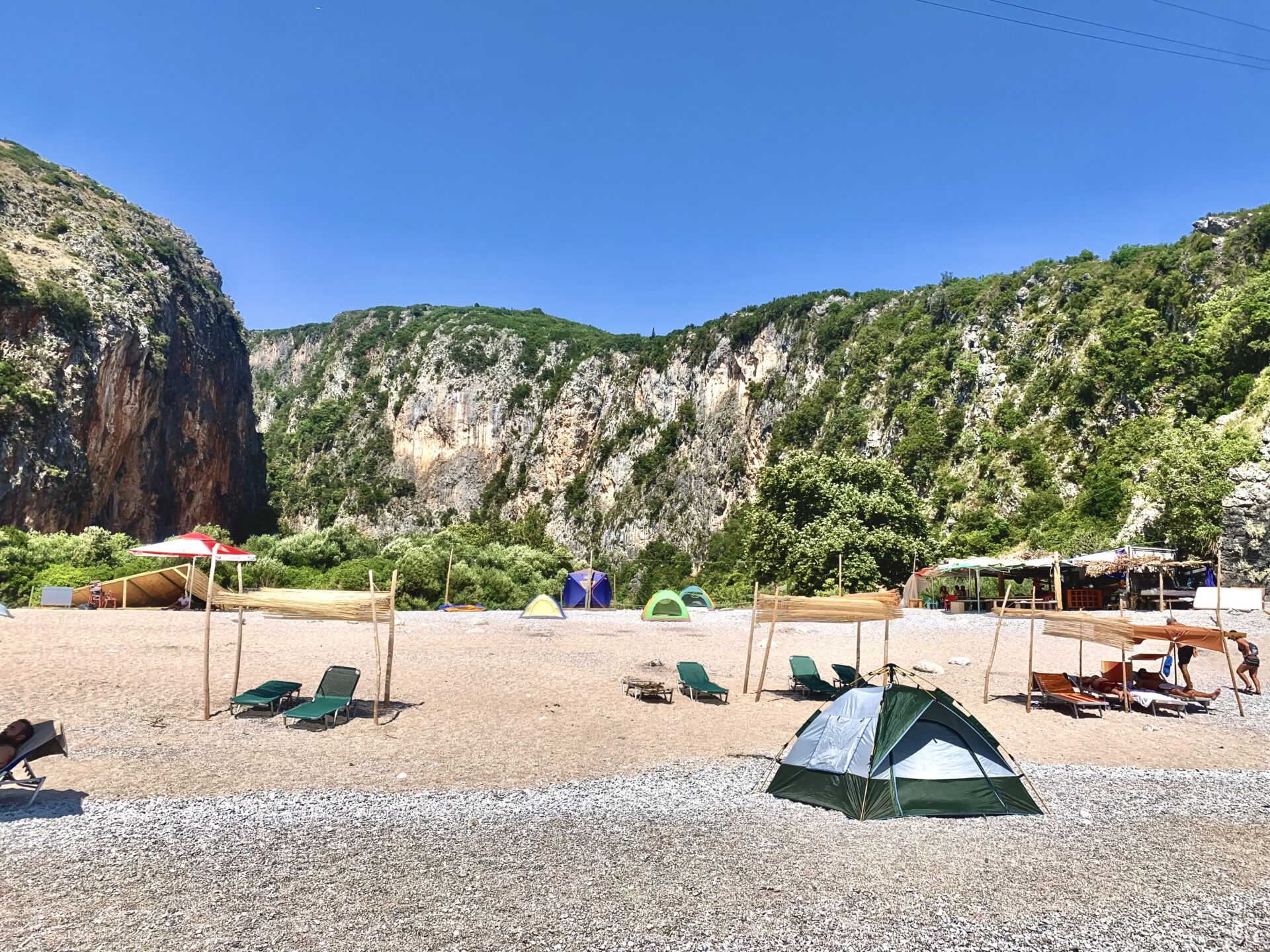 Gjipe beach is the final stop on this Albanian Riviera kayak excursion! Here you'll find a truly wild-looking beach complete with with caves, mountain views, and camping spots.
Once you arrive at Gjipe you have the option of embarking on a tour through the Gjipe Canyon, relaxing on the beach, or grabbing a bite to eat. If you're feeling really adventurous, you can even try a night of wild camping on the beach.
A word of advice though – DON'T eat at the restaurant furthest to the left (facing the beach). The meal I had from there is probably the worst meal I've ever paid for AND it was one of the most expensive meals I had in Albania. Like they made halloumi taste bad. HOW DO YOU MESS UP HALLOUMI? Okay, rant over.
---
Himara to Gjipe: Roundtrip Itinerary
Now that you know about all these lovely beaches and points of interest along the Himara to Gjipe kayak excursion, let's go over what a well balanced itinerary looks like:
Launch your kayak at Spile beach.
Get the majority of paddling out of the way and go all the way to Jale beach first. Hang out here for a bit, grab a snack, and rest up.
Kayak to Gjipe beach for lunch, but make a quick pitstop at Plazhi Me Shpella first (the beach with the dock).
Head back to Himara, but stop at Aquarium beach for a quick cliff jump and break.
Return to Spile beach.
Of course feel it out as you're paddling, but this is the itinerary I followed and it was perfect.
---
Summary & Extra Tips for Kayaking from Himara to Gjipe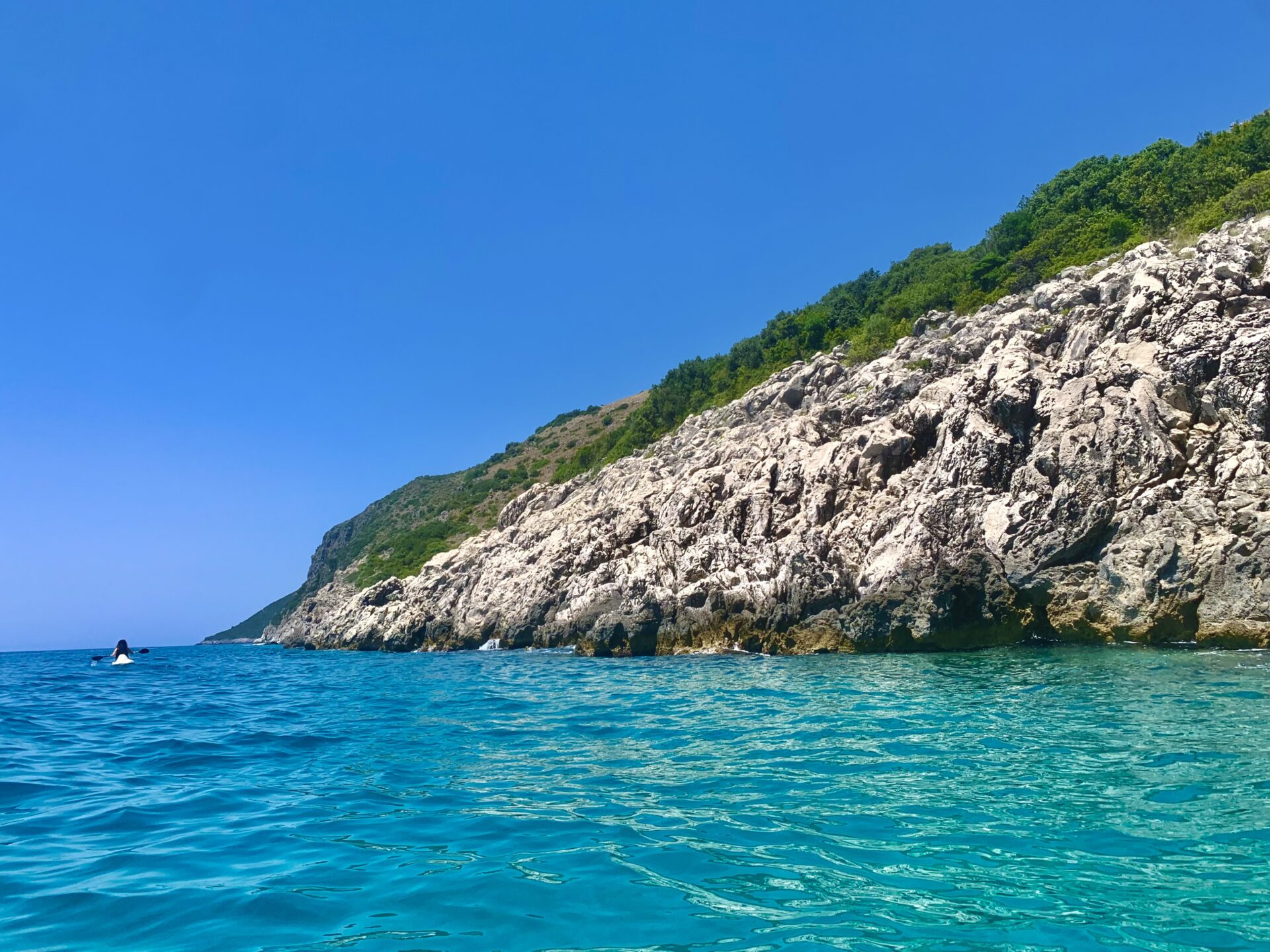 Start the Himara to Gjipe kayak excursion as early as possible to "avoid" the heat (ok let's be real, you can't "avoid" the heat in Albania, but you can try) and enjoy more secluded beaches.
Bring layers and lots of sunscreen for sun protection.
Pack lots of water (at least 2L) and snacks.
Only paddle on a good weather day (that includes not too much wind).
Stay at the Himara Hostel and rent their kayaks for 8 euros/day.
Pack your belongings in dry bags.
Bring durable footwear for the beach – I always have a pair of Crocs which are the perfect amount of foot protection for the rocky Riviera shoreline.
---
Happy adventuring!
Taylor ♡
---
Like This Post?
Share with friends or save it for later!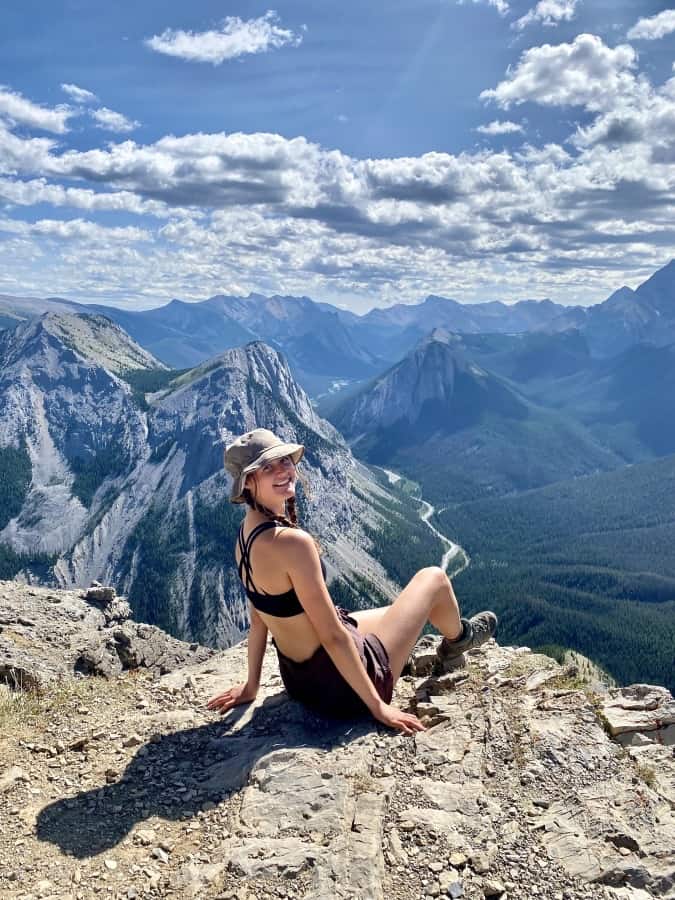 About The Author
---
Hey! I'm Taylor – the voice behind The Holistic Backpacker.
After moving to Banff National Park in 2020 I became an outdoor adventure enthusiast and vowed to never stop exploring.
I'm now focused on travelling the world and seeing everything our beautiful home has to offer.
I created The Holistic Backpacker so I could share my adventures and help connect people like you with the same amazing experiences.
I am also an advocate for the environment and do as much as I can to take care of our planet.
Get to know me and my story more here 🙂
I can't wait to share my adventures with you!