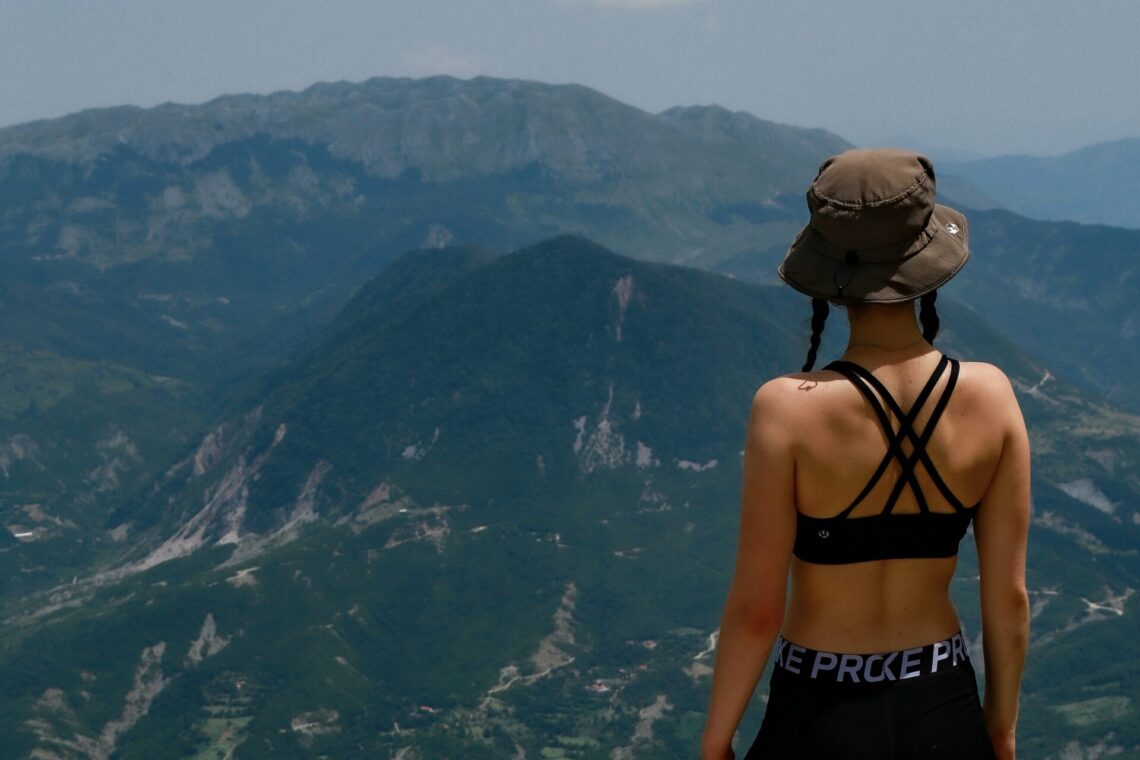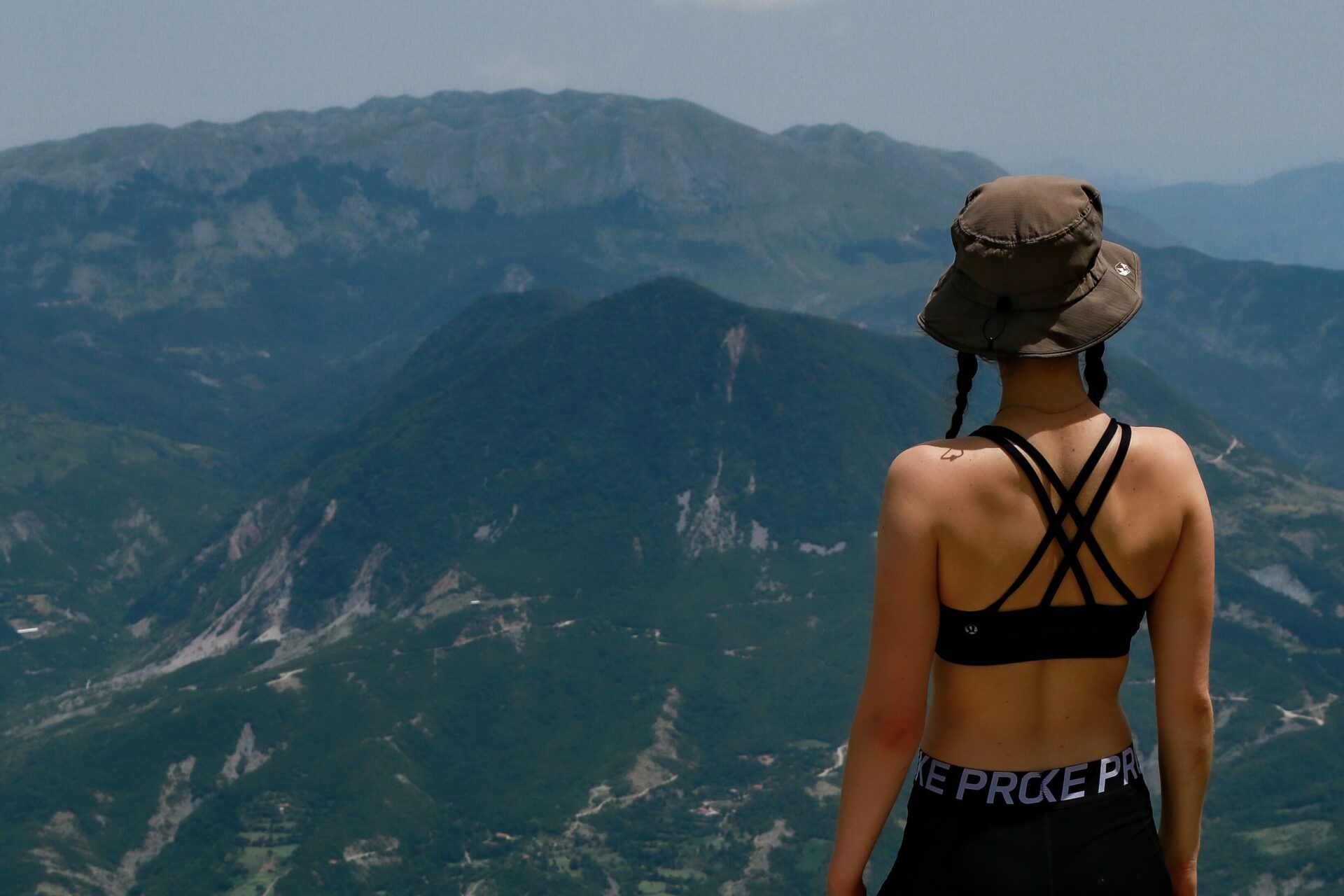 The Best Hike Near Tirana: Maja e Tujanit (Dajti Ekspres Extension)
The best hike near Tirana is hands-down Maja e Tujanit which is located near the Dajti Ekspress. For me, Tujanit personally ranks as the best hike near Tirana for a few reasons: it's accessible, it's not overly challenging, it receives low traffic, AND you can attempt this one even in the sweltering Albanian heat!
This was my first ever hike in the Balkans and it only left me wanting more. The views from Maja e Tujanit blow away the views you get from the Dajti Ekspres (the cable car in Tirana) and gives you a deeper look into the wild and lesser explored Dajti National Park.
You'll quickly discover that hiking is not a popular activity amongst local Albanians. At first I found this strange, however after spending a few weeks in the intense Balkan heat I quickly realized that it's not popular because it'd be borderline deadly in the 35 degree heat Albania sees in the summer. In saying this, no locals or even employees at the Dajti Eksprss will know about this hike. So listen up and take notes!
Skip Ahead:
This post contains affiliate links; see my full disclosure. If you click these links and make a purchase you're supporting The Holistic Backpacker. Thanks for your support & happy adventuring! – Taylor ♡
---
Quick Albania Travel Guide:
Currency: Albanian LEK (aka ALL). This is a closed currency so you'll need to wait until you're in Albania to exchange $.
Transportation: to enter the country you can find 1 international airport in Tirana, 1 port in Saranda (daily ferry arrivals/departures to Corfu, Greece), and a bus line from Montenegro. Buses are very cheap here, but unreliable. Driving is chaotic, I'd recommend sticking to buses. There are no trains within the country.
Phone: purchase a local SIM card from Vodafone – the plans are cheap and they include lots of data, however international minutes are typically not available.
Language: Albanian, however you can get by with English – google translate recommended for smaller cities/villages.
Helpful Info: don't drink the tap water or bring a purifying bottle like this one. Bring an international travel adapter, and notify your bank before travelling.
Travel Insurance: ALWAYS purchase reliable insurance prior to your trip. This insurance is trusted by backpackers and adventure sport enthusiasts around the world.
Albania is one of the last "undiscovered" countries in Europe. Plan your trip while prices & tourism levels are low!
Related Articles: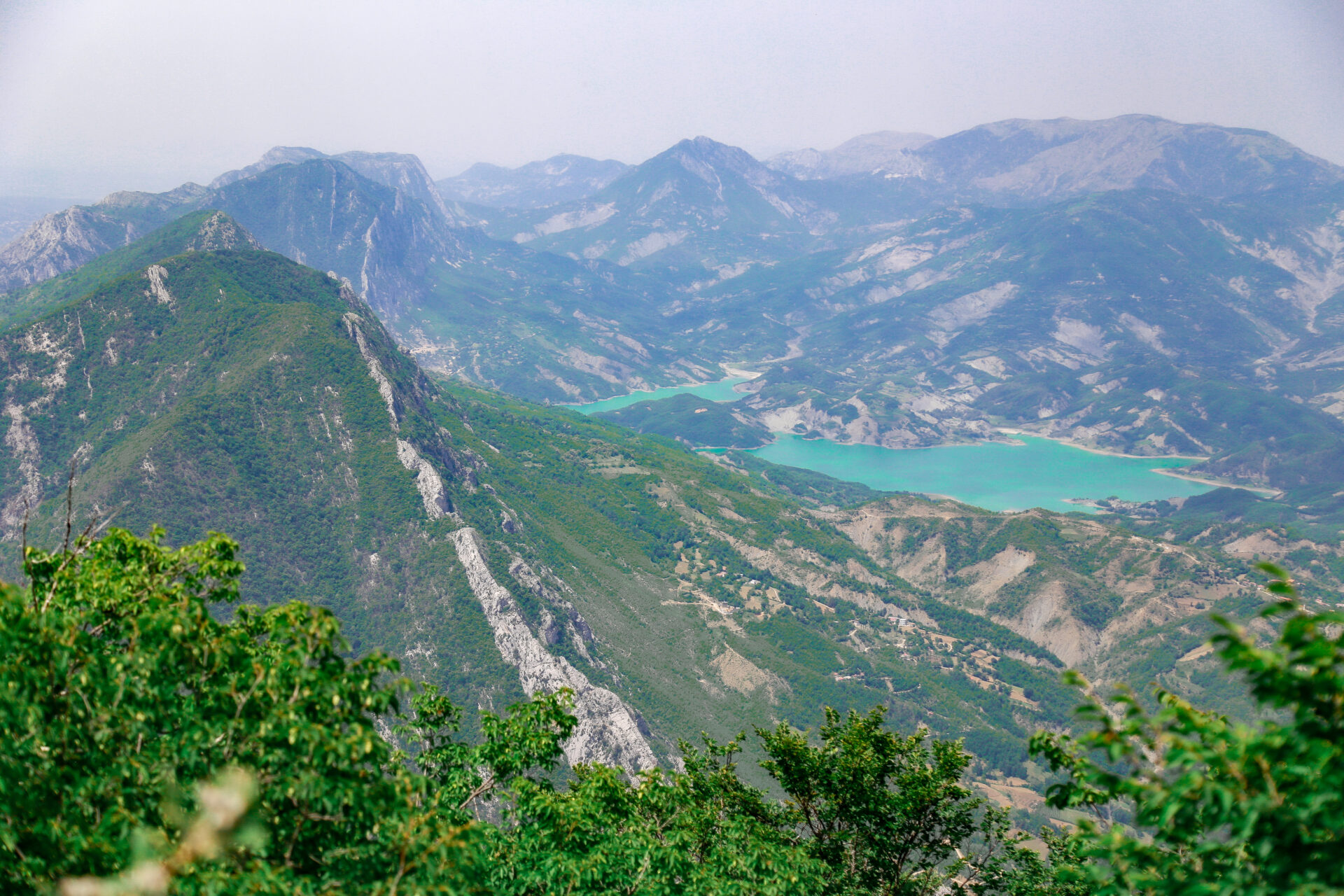 ---
Where to Stay in Tirana
Luckily, Albania is one of the cheapest travel destinations in Europe! It's not actually part of the EU and hasn't been subjected to Schengen inflation which makes it a total backpacker's paradise.
At the time of writing this, accommodations typically run anywhere from 6 to 30 euros in Tirana depending on the type of accommodation you're booking.
Here's a quick crash course for the best accommodations in Tirana according to each budget:
---
How to Get to the Tujanit Trailhead
Getting to the Tujanit trailhead is easy or hard… Depending on how you look at it.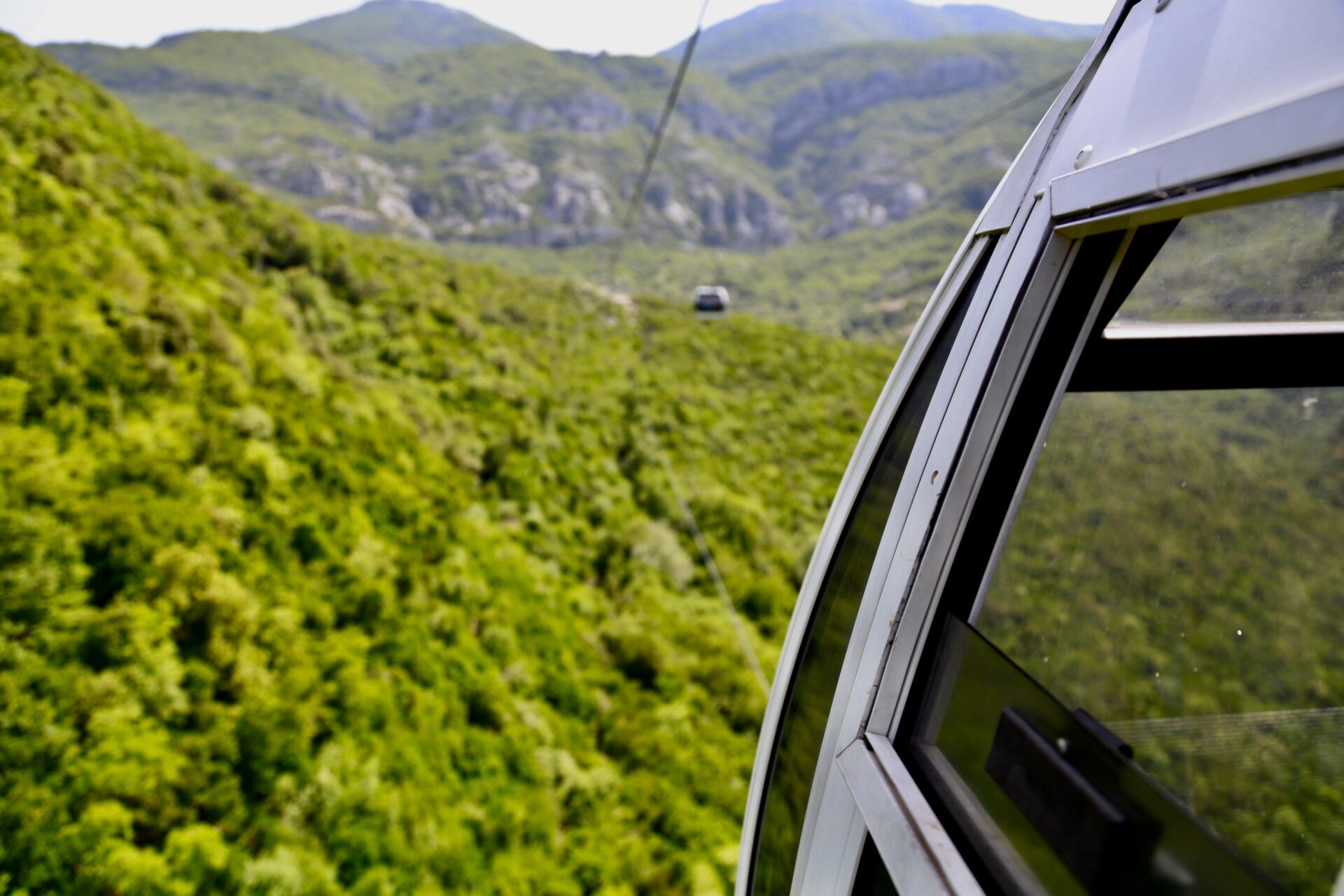 The first step is getting up Dajti Mountain via the Dajti Ekspres. The tickets for the cable car are cheap and the Dajti Ekspres website is amazing! It has a detailed, step-by-step video explaining how to get to the cable car via the bus from Tirana center. I won't waste my time or yours by writing the directions and having you them, because this video will just explain things so much better!
But because I can't stop myself from over explaining, you'll want to take the blue bus from just outside Skanderbeg Square. If you get confused, show the person working/collecting money on the bus where you're going and they'll help you out.
The second step is finding the actual Tujanit trailhead.
Once you reach the top of the cable car station, walk down the stairs and go out the doors. Walk straight ahead past the field of horses and games until you find an abandoned & super creepy hotel. The Tujanit trailhead is directly behind the hotel.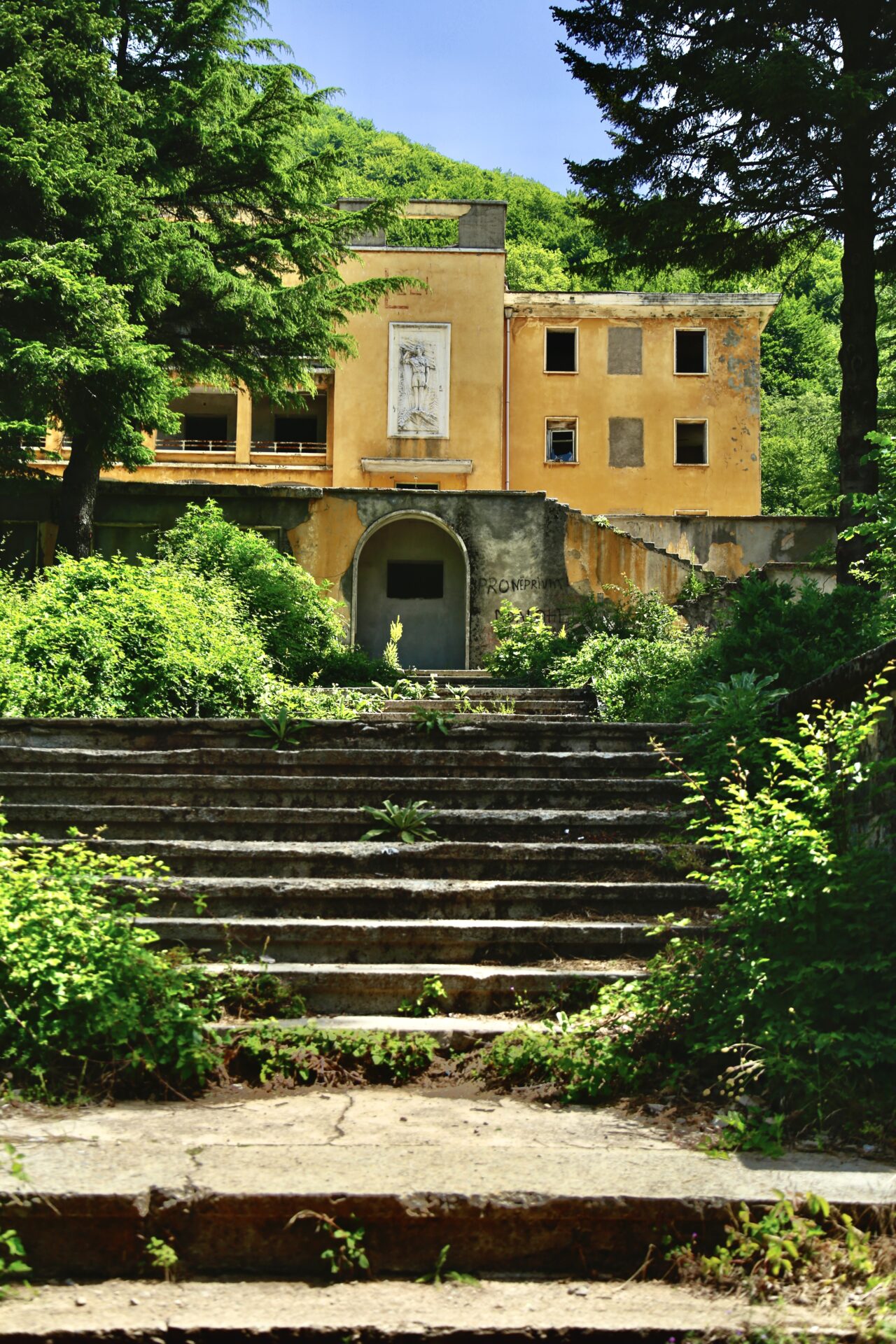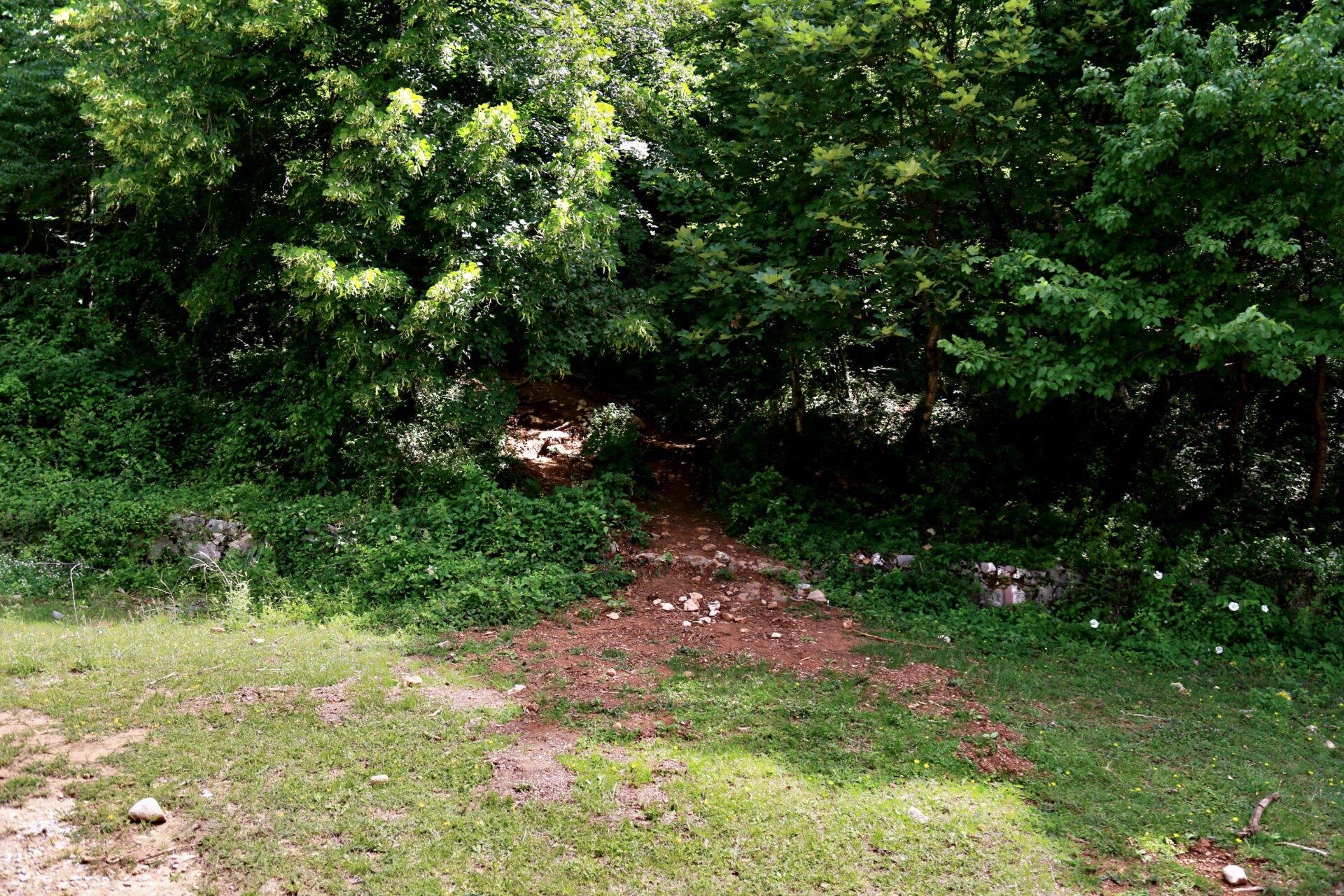 Follow The Holistic Backpacker's Adventures on Socials:
Keep Up With My Adventures!
Sign up for my newsletter and stay up-to-date with my latest adventures, gear guides, and eco-resources!
Taylor ♡
---
About the Tujanit Hike in Tirana
*These stats are an estimate, but relatively accurate*
Distance: 5.3km
Elevation gain: 425m
Type of trail: out & back
Estimated time: 2-2.5 hours
Trailhead location: Dajti Ekspres (Tirana cable car)
The hike up Maja e Tujanit starts atop Tirana's cable car, aka the Dajti Ekspres. The entire trail follows a wooded area which makes Tujanit totally hike-able, even on a sweltering summer day in Tirana. What makes this hike even more doable is the fact that the Dajti Ekspres brings you to an elevation of 1,613m. This means you'll be hiking in a temperature that's multiple degrees cooler than the temperature at the base of the mountain.
For the most part the trail to Tujanit is easy to follow. When the leaves start falling in autumn though, I imagine it would be more difficult to stay on track. To ensure you stay on the right path, look out for red markers on the rocks and trees.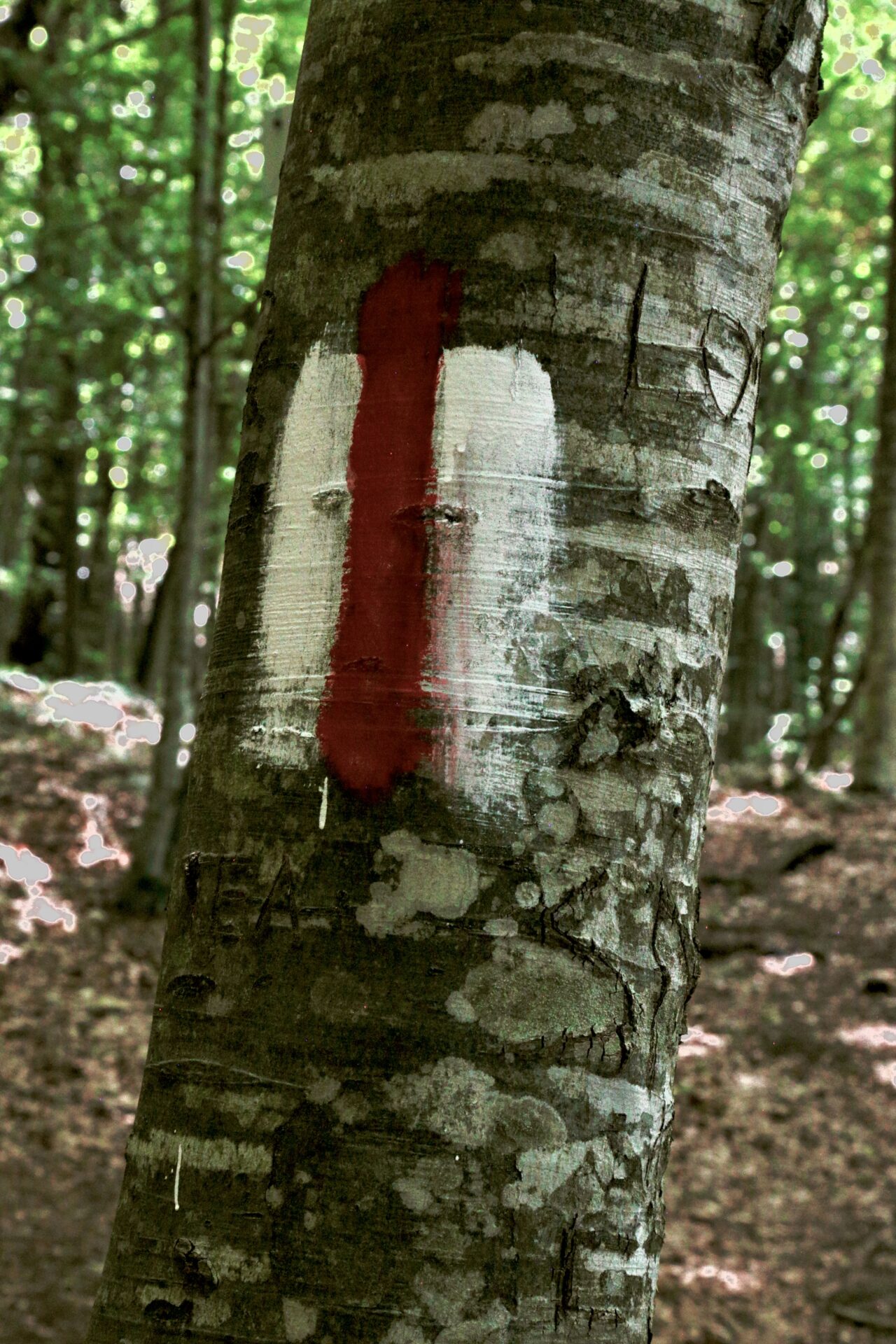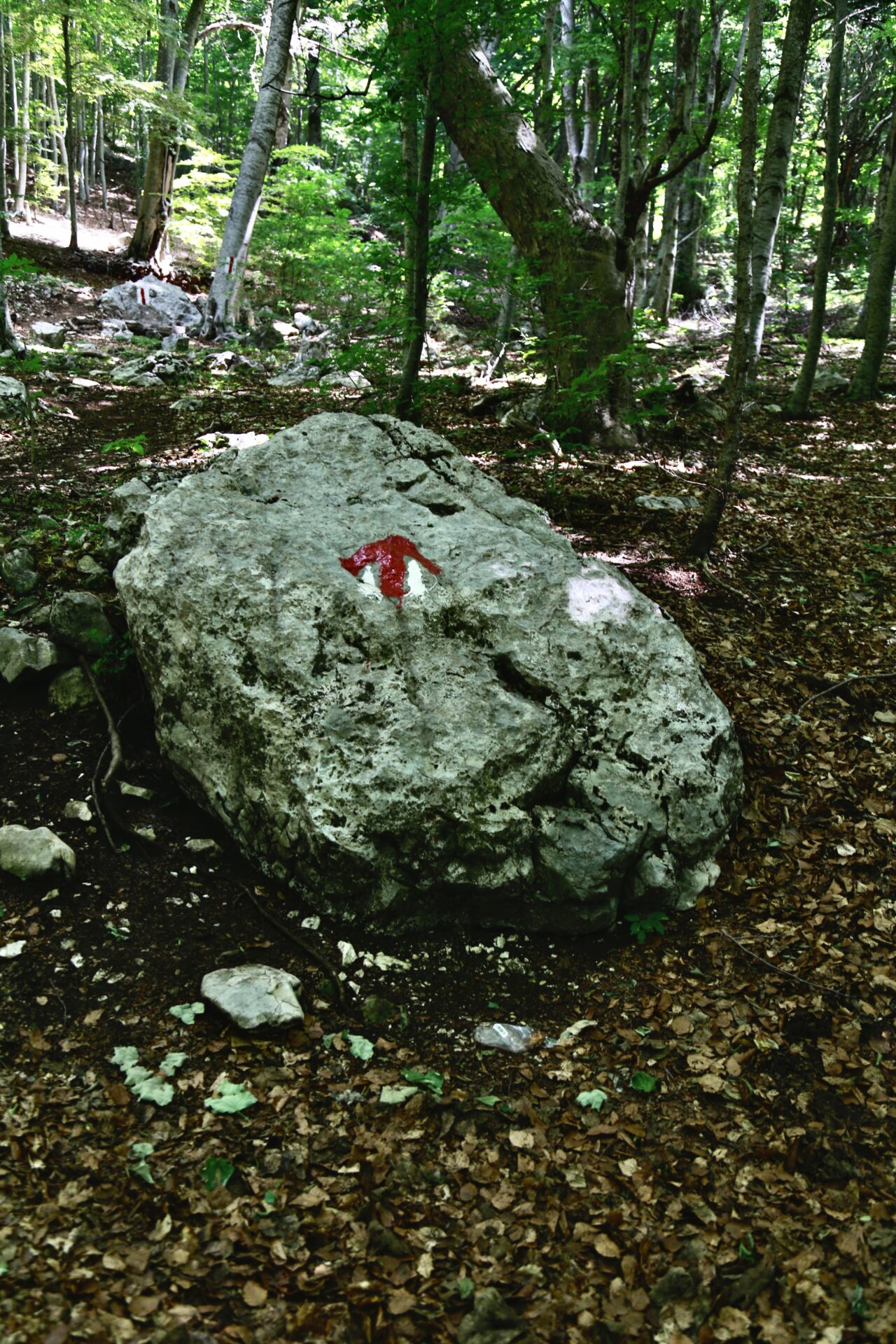 The terrain is simple and you won't have to navigate anything crazy like rock fields or scree slopes, however I would recommend wearing proper running shoes and athletic clothing.
This hike in Tirana is short, but steep! Prepare for a workout.
Tips for Hiking to Maja e Tujanit
Take the earliest gondola ride up and start hiking right away to avoid the heat.
Bring more than enough water and healthy snacks.
Bring money in case you want to grab a drink, food, or play some mini golf atop the Dajti Ekspres.
Prepare to potentially be the only one on the trail.
You should have cell service near the top of Dajti Ekspres and at the Tujanit summit, however you'll most likely lose it along the way.
Bring a small towel to dry yourself – trust me when I say you'll be sweating!
---
Hiking to Tujanit Peak
This hike in Tirana starts with a view of… Tirana! From the top of Dajti Ekspres you'll have a view over the entire city.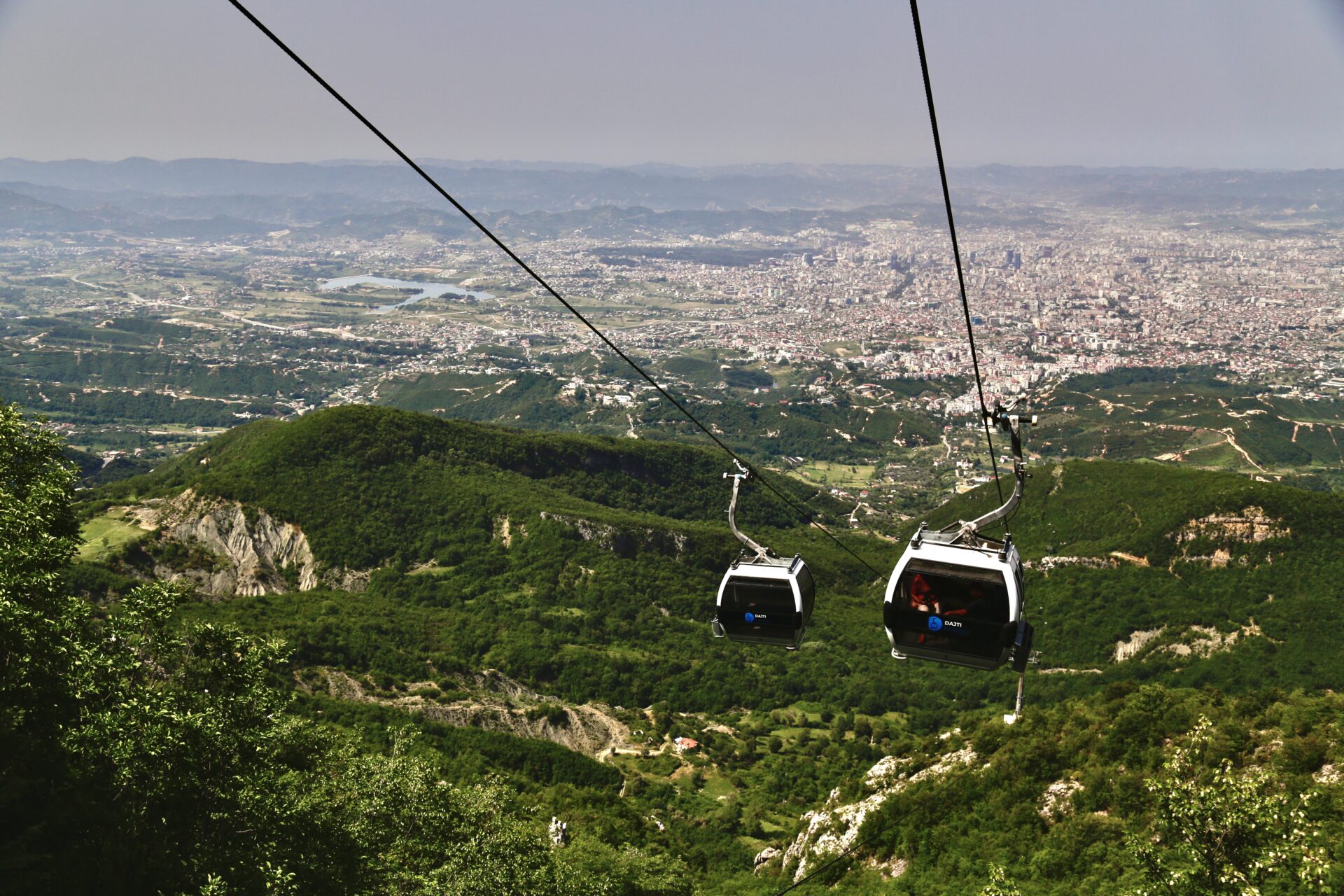 Once you locate the abandoned hotel and find the trailhead, you can enter the woods and keep on walkin' until you come across this sign. This is where the trail markers start.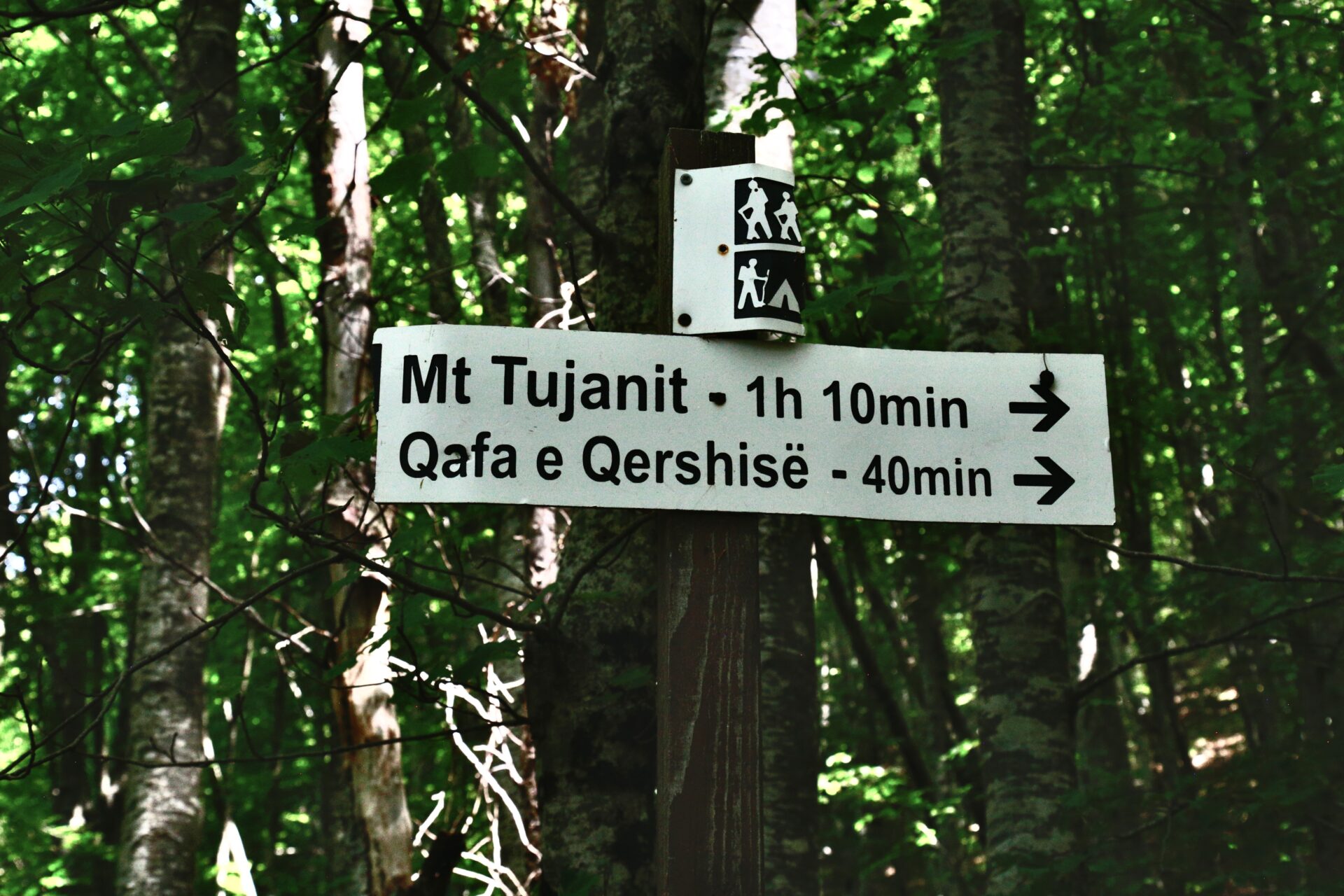 There's honestly nothing too much to report on for the first 2kms. You'll (thankfully) be in complete shade for 90% of this hike so you won't have to worry too much about sunscreen or sunburns.
You'll come across a few notably steep sections or a few areas with branches or rocks, but the trail itself is very basic and has minimal hazards.
The Final Summit
Eventually you'll come across another sign. Despite what you may think, you'll want to walk in the direction (left) where the sign has been ripped off. Walking toward Mount Dajti will take you to a much longer and taller hike. The Mt Dajti trail looks like it follows a super long ridge and passes through a mountain village before returning back down to the base across the city.
I haven't done the Mt Dajti trail myself so I wouldn't necessarily recommend trying it unless you're super prepared!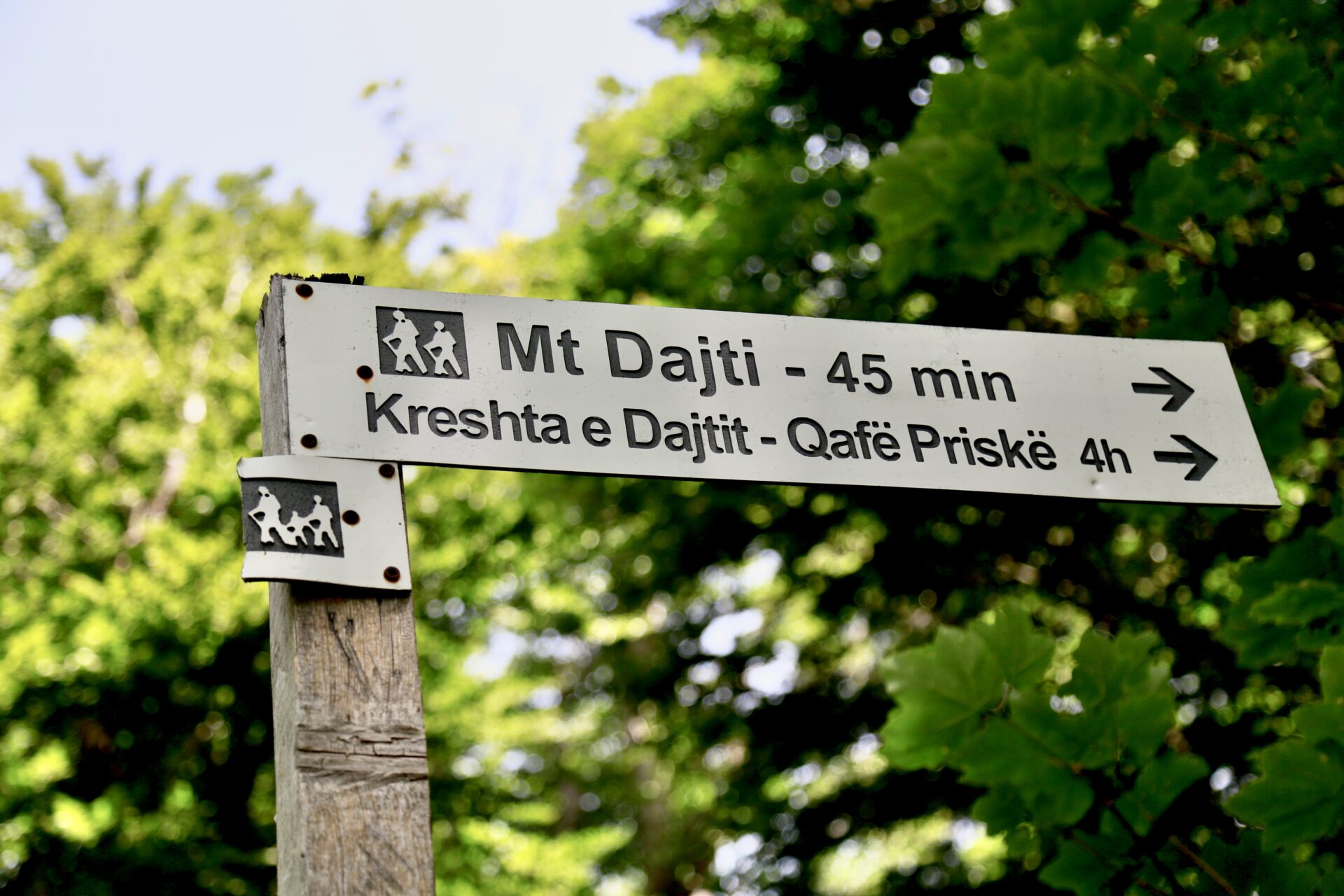 Not too long after you pass the sign you'll reach Tujanit summit!
From the summit you can expect wicked views into the wild Dajti National Park.
Toward the right you'll be able to see down the valley and toward the left you'll see Bovilla Lake. There's a hike that goes up over Bovilla Lake called Mount Gamtit (here's the Alltrails map), but the catch is that this area is super hard to access.
Unless you have a car or take this tour (which I'd highly recommend), there's no way to access the lake. The taxi drivers in Tirana don't drive out to Bovilla Lake and it's way too far to go by foot.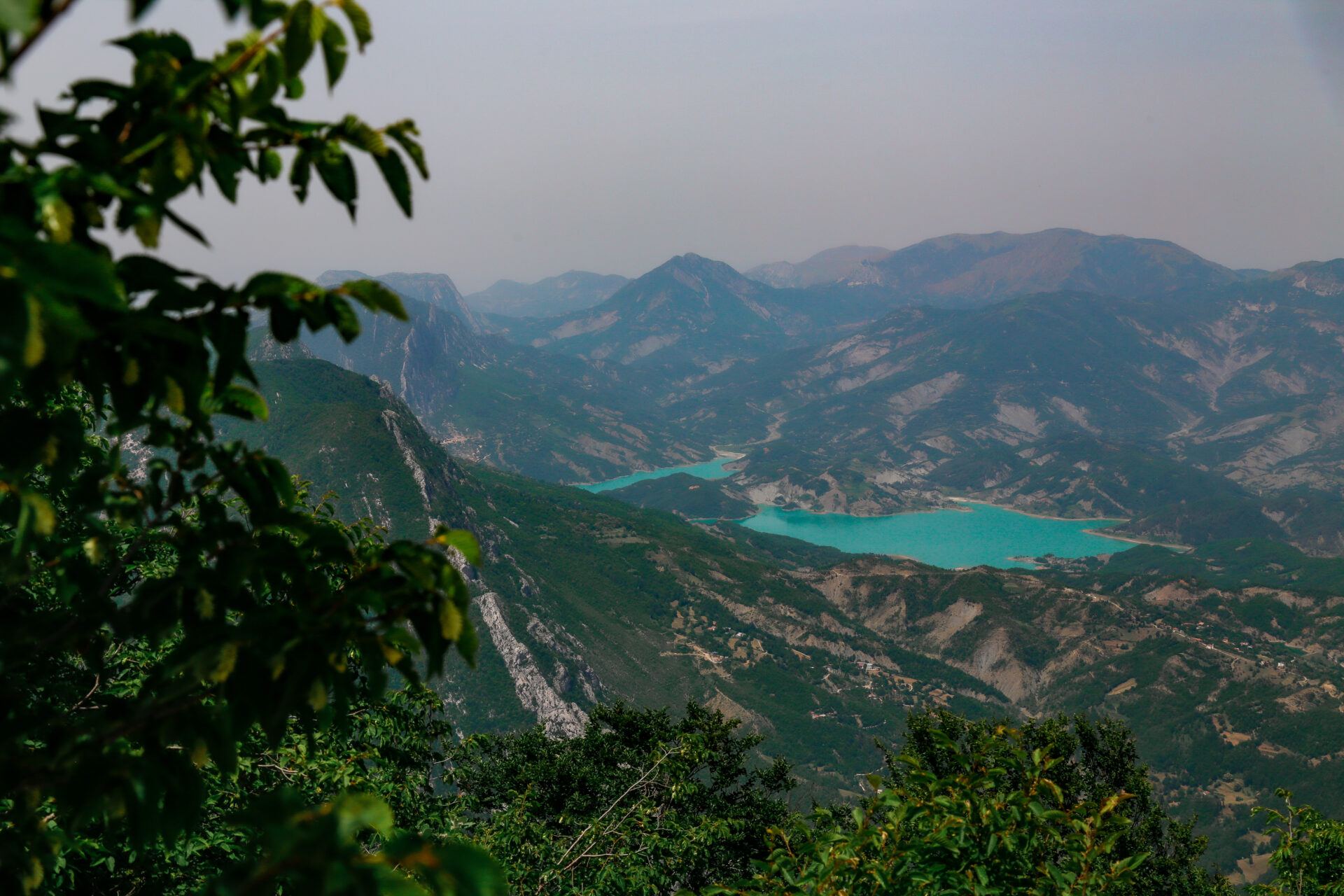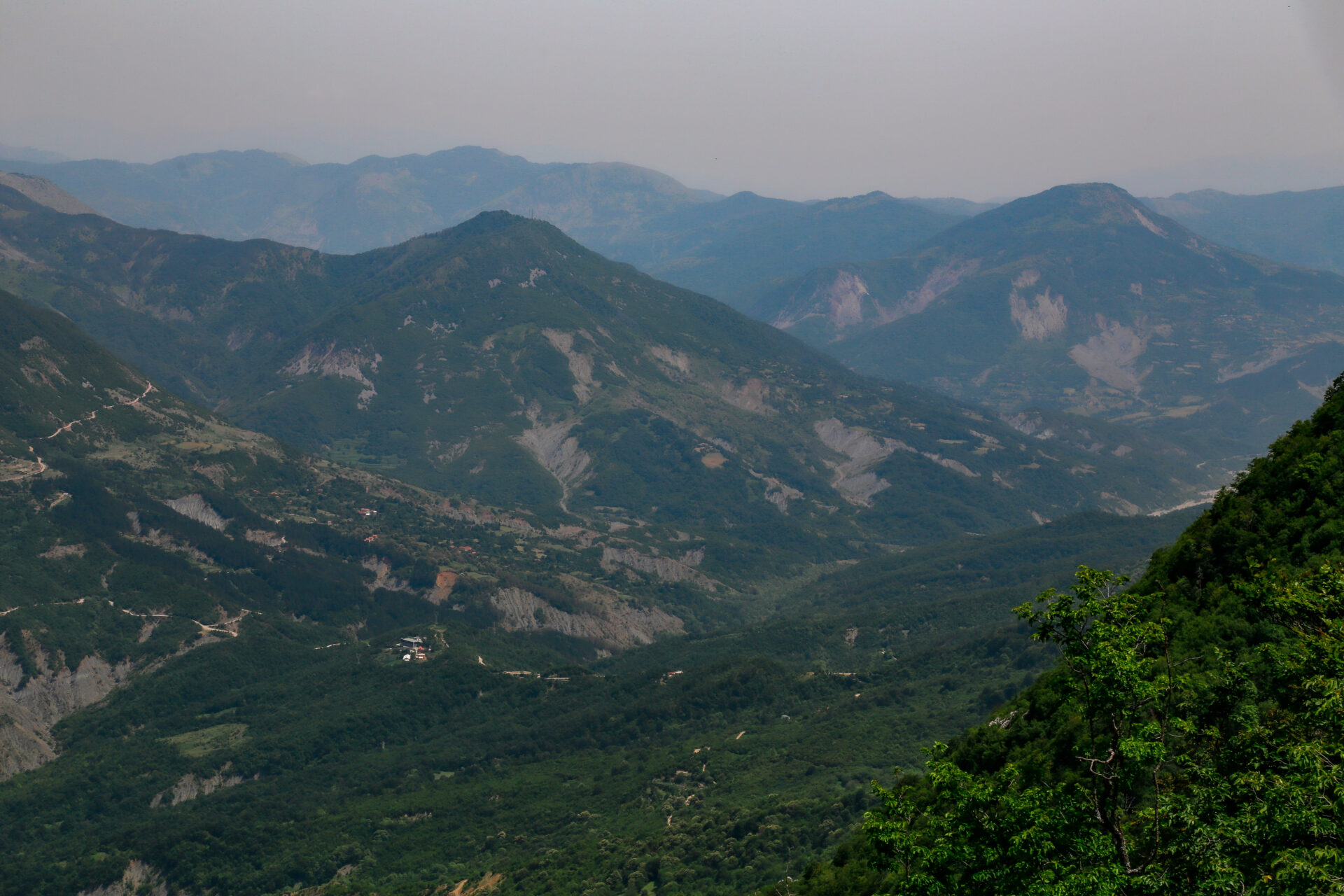 If you've got the gear you could also extend your hike near Tirana and spend the night camping! There's a wide open space at the summit which would be the perfect place to pitch a tent. There are "kind of," but "not really" rules about free camping in Albania, so if you want to camp do it! No one's going to say anything.
Just please make sure you pack out your garbage! When I hiked up I found so much trash I was able to fill an entire bag.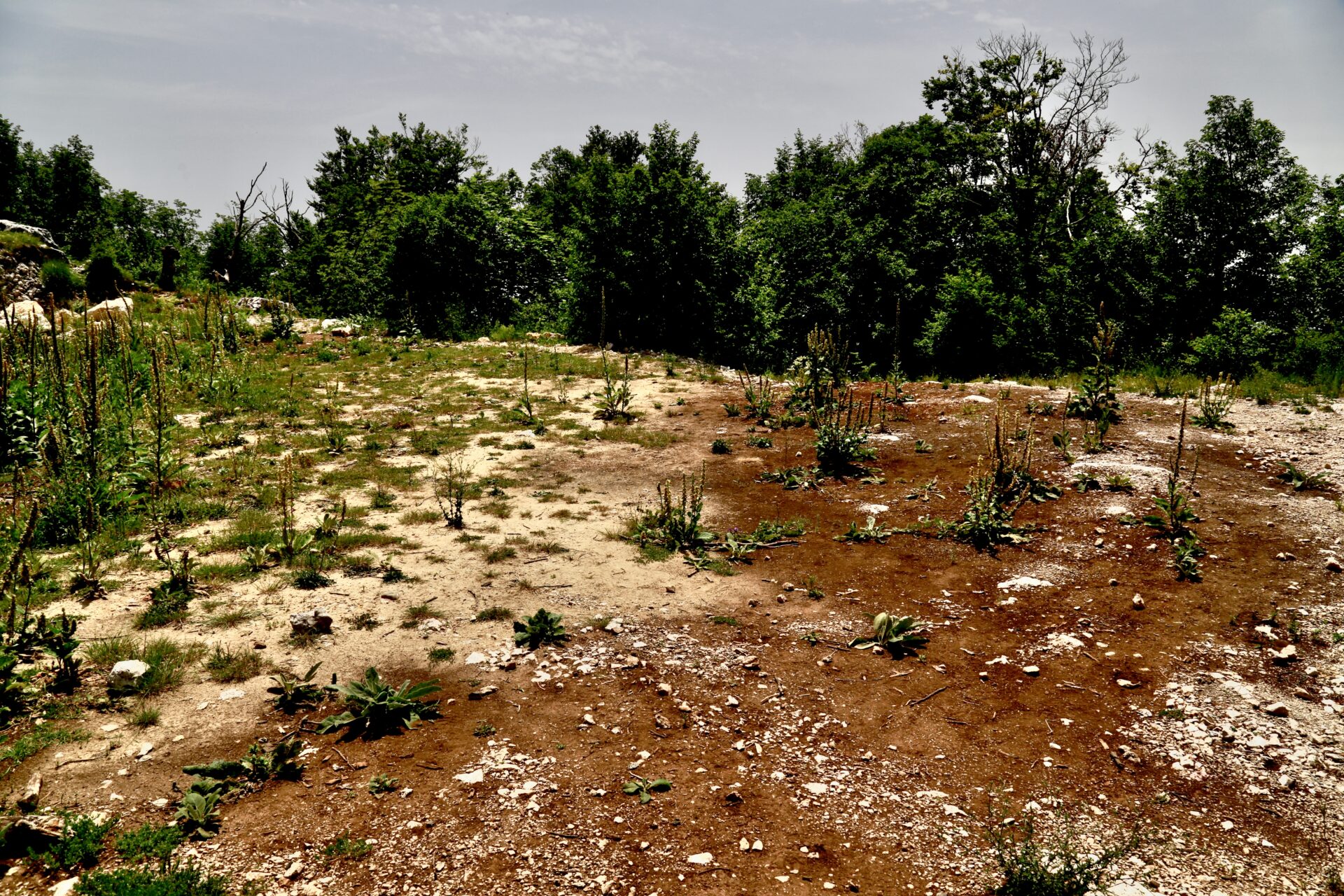 ---
Tips for Hiking in Albania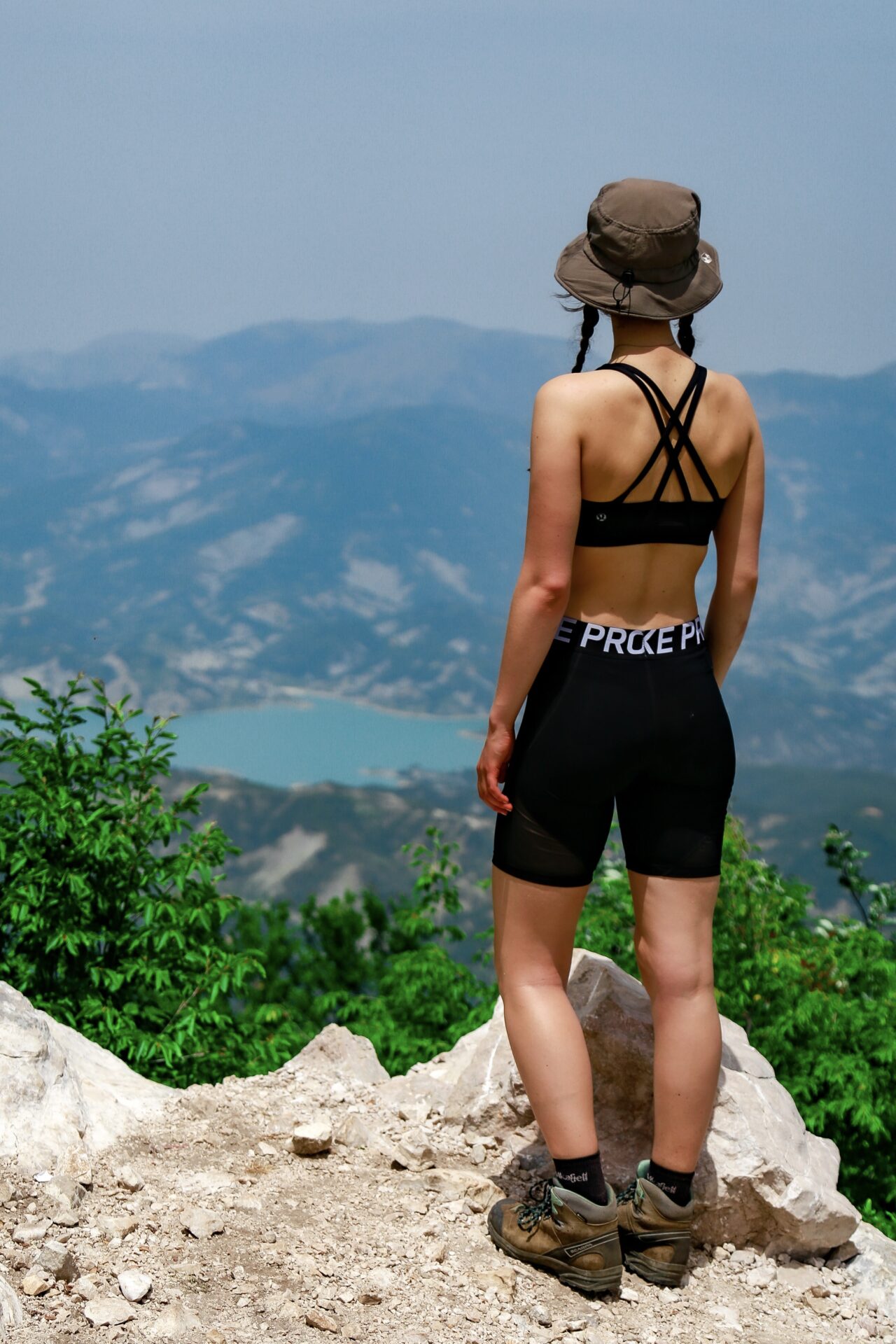 Hiking in Albania is much different than hiking back home in Canada. The main difference/obstacle being the intense Balkan heat. I really underestimated how hot Albania would be when I visited in June/July – and lemme tell ya… It's HOT!
The heat alone makes most of Albania's gorgeous mountains un-hike-able from June on. So, if you plan to hike in Albania (or anywhere else in the Balkans), I'd HIGHLY recommend visiting in the spring or fall instead.
Regardless of when you visit, here are some helpful tips for hiking in Albania:
Always carry at least 2L of water; I always bring my 2L Hydrapak on hikes.

ALSO, don't drink the tap water in Albania! You'll need to buy bottled water unless your hostel/hotel has a reverse osmosis filter OR you're in a super nature-y spot like the National Parks in the northern part of the country.
You can also bring cheese cloth and aquatabs to filter more water on-the-go (but always check with the locals to see if this is safe in the area you'll be hiking in)
Alltrails sadly isn't a thing in Albania 🙁 instead the Albanians use a website called Wikiloc.
Essentially no one knows about hiking trails here, so info is really hard to come by. Research, research, research.
Bring extra sunscreen and lightweight long sleeves/pants if you're prone to sunburns.
Bring a full coverage hat.
Bring nutrient dense snacks and fruit to replenish electrolytes. You'll need the natural sugar, especially if you're hiking Albanian mountains in the summer months.
There are TONS of undiscovered/local's secret type of mountains and hikes here. Albania's hiking & tourism industry is only just getting started.
---
More:
---
Happy adventuring!
Taylor ♡
---
Like This Post?
Share with friends or save it for later!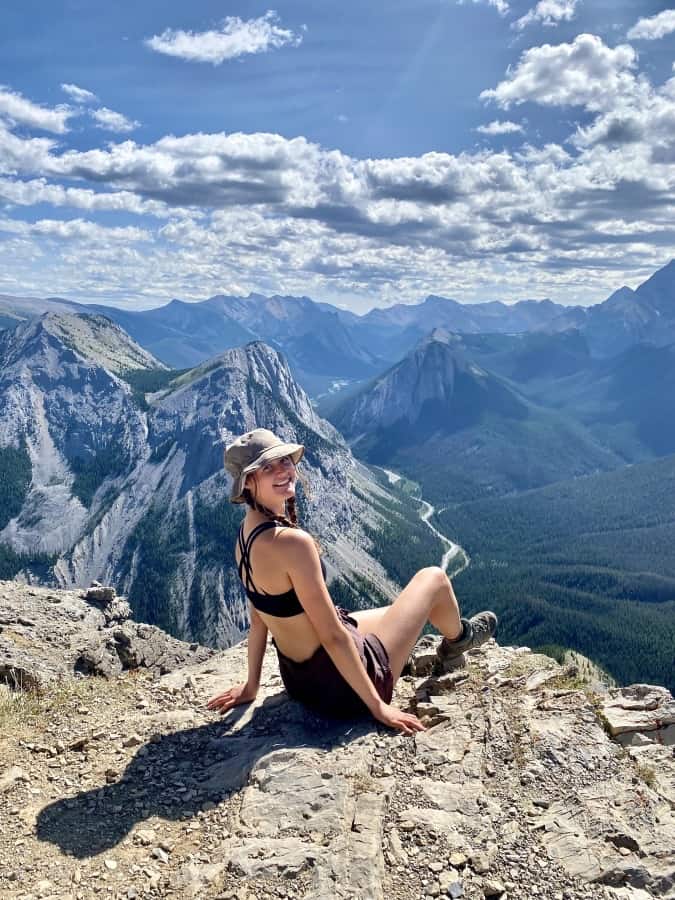 About The Author
---
Hey! I'm Taylor – the voice behind The Holistic Backpacker.
After moving to Banff National Park in 2020 I became an outdoor adventure enthusiast and vowed to never stop exploring.
I'm now focused on travelling the world and seeing everything our beautiful home has to offer.
I created The Holistic Backpacker so I could share my adventures and help connect people like you with the same amazing experiences.
I am also an advocate for the environment and do as much as I can to take care of our planet.
Get to know me and my story more here 🙂
I can't wait to share my adventures with you!