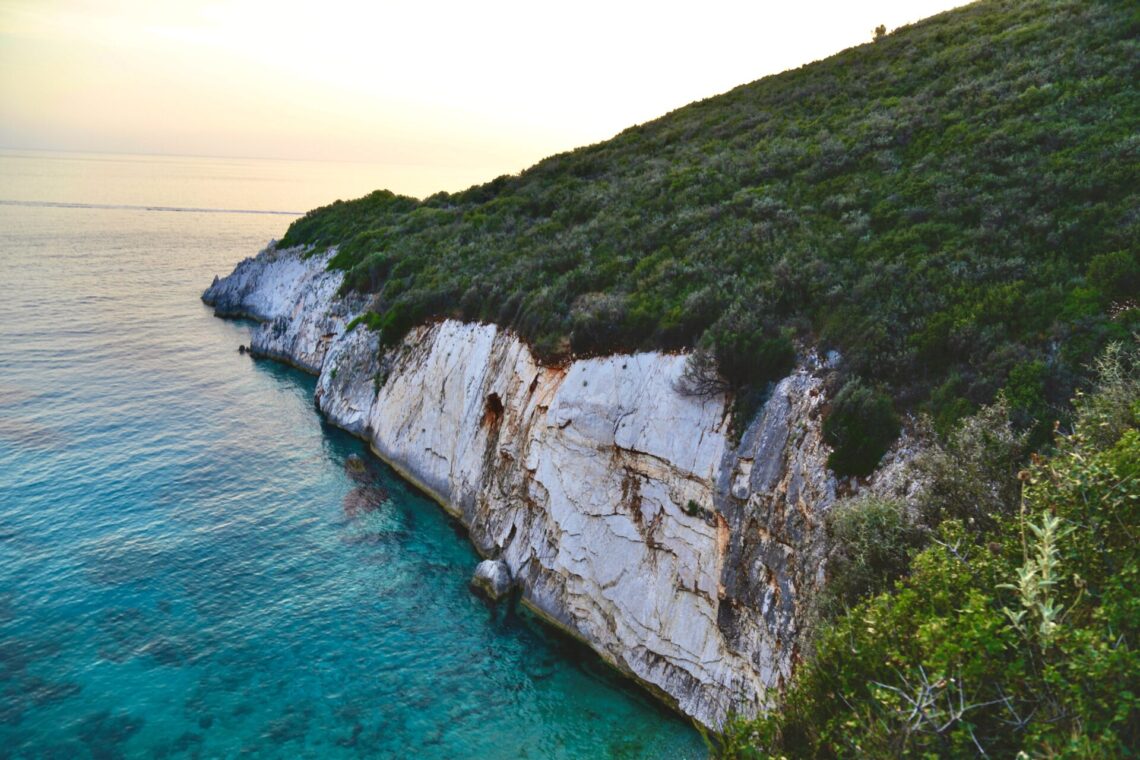 How to Find the Hidden Gjiri Filikuri Beach in Himara
The Albanian Riviera is FULL of beautiful beaches and Gjiri Filikuri in Himara is no exception! Gjiri Filikuri beach is located close to town, BUT the road to get there is a little less travelled than some of the more popular beaches in Himara. In this post I'll tell you exactly how to get to Filikuri beach.
Gjiri Filikuri beach in Himara is a rocky beach enclosed by steep cliff walls. The only way to access the beach is via boat or via walking with a bit of climbing. At Filikuri you'll find colder water than you will at some of the beaches nearby due to local cold springs. These cold(er) temps make Filikuri the perfect beach to escape to during the scorching Albanian summer heat!
Before I tell you how to get to Filikuri beach, let me quickly link you to the perfect 3 day itinerary in Himara. There's lots to see in Himara and I tell you all about it here!
This post contains affiliate links; see my full disclosure. If you click these links and make a purchase you're supporting The Holistic Backpacker. Thanks for your support & happy adventuring! – Taylor ♡
---
Quick Albania Travel Guide:
Currency: Albanian LEK (aka ALL). This is a closed currency so you'll need to wait until you're in Albania to exchange $.
Transportation: to enter the country you can find 1 international airport in Tirana, 1 port in Saranda (daily ferry arrivals/departures to Corfu, Greece), and a bus line from Montenegro. Buses are very cheap here, but unreliable. Driving is chaotic, I'd recommend sticking to buses. There are no trains within the country.
Phone: purchase a local SIM card from Vodafone – the plans are cheap and they include lots of data, however international minutes are typically not available.
Language: Albanian, however you can get by with English – google translate recommended for smaller cities/villages.
Helpful Info: don't drink the tap water or bring a purifying bottle like this one. Bring an international travel adapter, and notify your bank before travelling.
Travel Insurance: ALWAYS purchase reliable insurance prior to your trip. This insurance is trusted by backpackers and adventure sport enthusiasts around the world.
Albania is one of the last "undiscovered" countries in Europe. Plan your trip while prices & tourism levels are low!
Related Articles:
---
How to get to Himara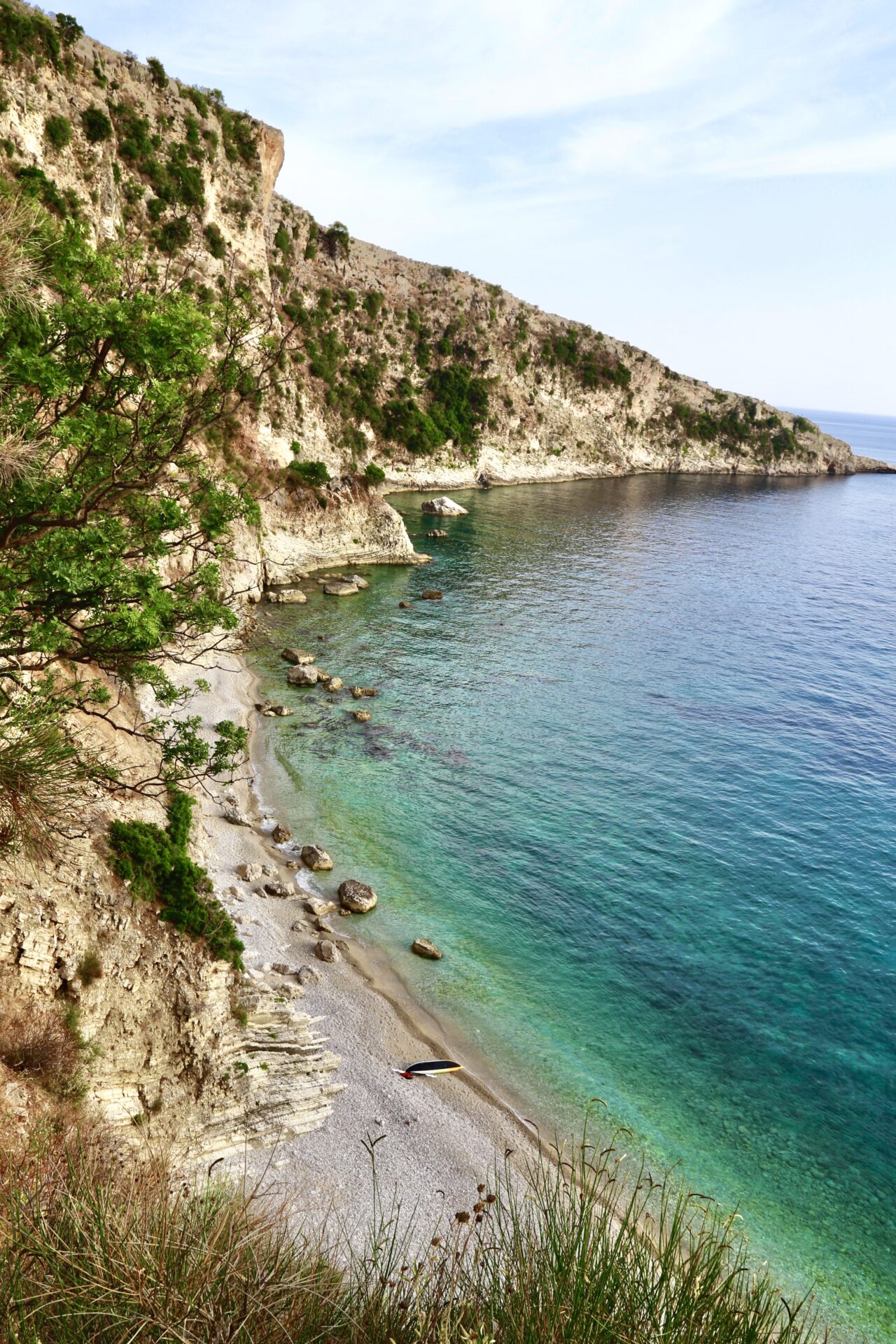 If you're going to Himara you'll most likely be travelling from Tirana or Saranda – in which case your best bet is using public transit. The driving is a bit crazy is Albania, so I alwayssss recommend taking the bus rather than renting a car. If you're more of a road tripper though, you can check out this site for car rentals in Albania.
The bus system is honestly SO confusing and unreliable in Albania. My best piece of advice for effectively navigating the transit system here is to ask the employees of your hotel or hostel for information. They'll almost definitely have detailed directions on bus schedules and stops which is a safer bet than any travel blogger or online website you'll read which claims to have information about "how to get from point A to point B" in Albania.
I've put together this guide full of Albania travel tips where I give useful tips and information for utilizing the public transit system in Albania. I'd HIGHLY suggest giving this post a read as it's full of helpful recommendations and warnings.
ps. the drive to Himara is an adventure in itself!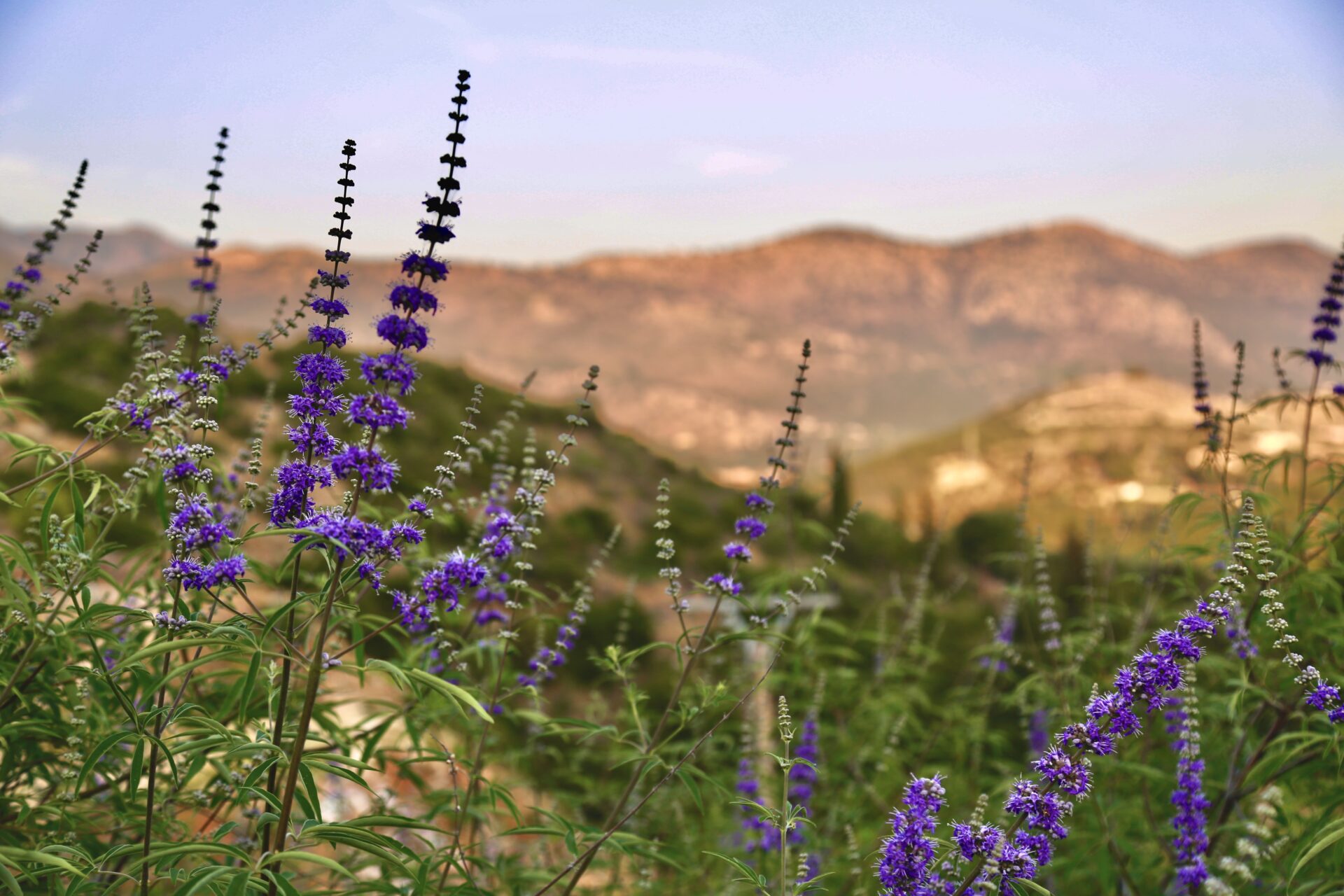 If you're going to Himara from the north you'll pass thorough incredible valleys and huge mountains on super steep and windy roads. I was literally hanging out the window the entire drive trying to soak up these wicked Albanian views!
---
Where to Stay in Himara
Luckily, Albania is one of the cheapest travel destinations in Europe! It's not actually part of the EU and hasn't been subjected to Schengen inflation which makes it a total backpacker's paradise.
Himara in particular is one of the more "expensive" places to travel in Albania – but I'm gonna use quotations here. Why? You can still typically find accommodations for 11 euros/night which is insanely low cost and significantly cheaper than my monthly rent back in Canada.
To break it down, these are the best accommodation options in Himara for every experience and price range:
---
How to Get to Gjiri Filikuri Beach: Kayaking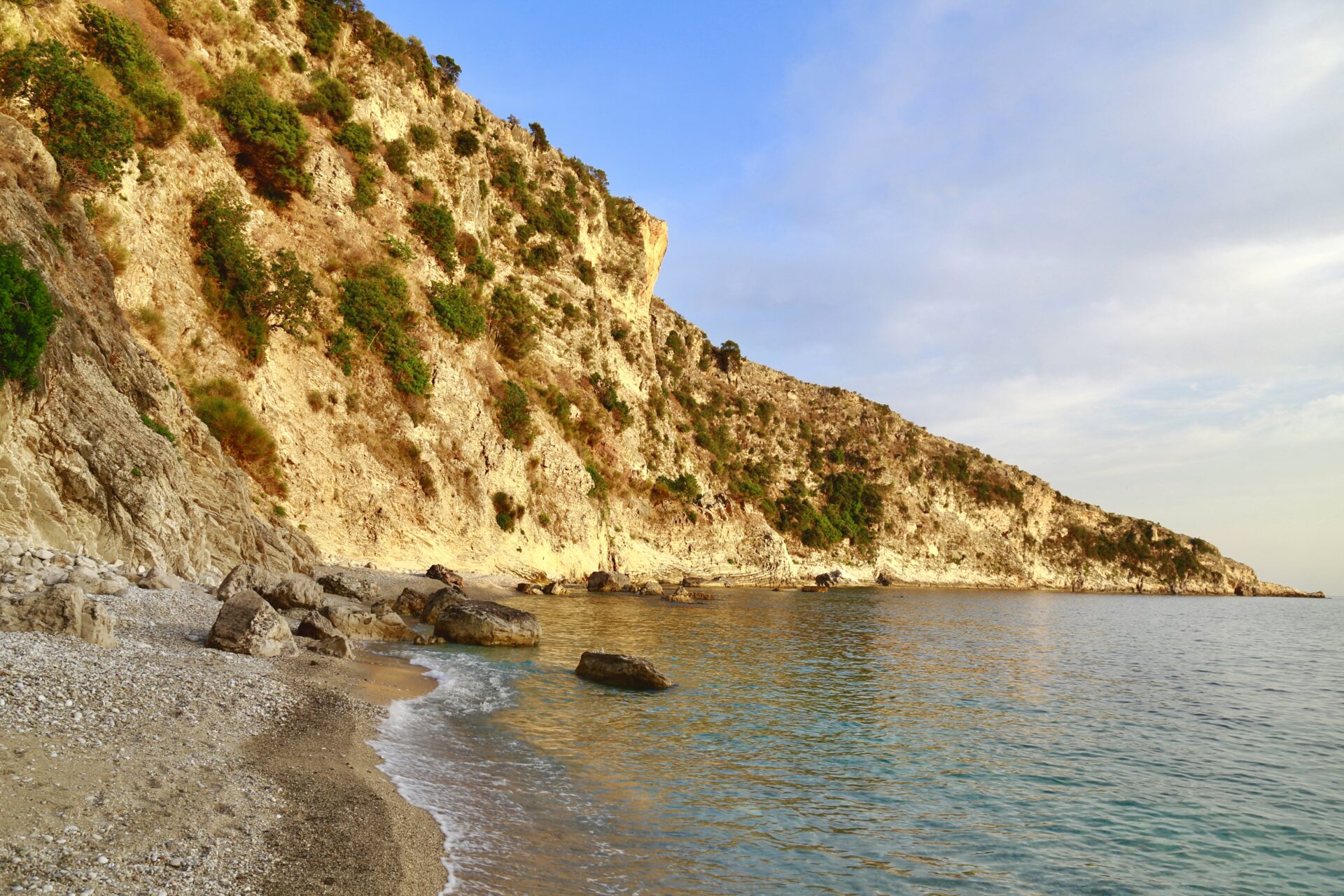 The kayak trip to Gjiri Filikuri beach from Himara is pretty straightforward. From Himara's waterfront you'll want to head south (left facing the sea) and paddle around the peninsula – or the "bit of land that sticks out from shore." From this point it'll only take 30-45 minutes of paddling and you'll see Filikuri beach on your left!
You can find various kayak rental places along the beach, however I recommend staying at the Himara Hostel and renting out their kayaks. Himara Hostel only charges 8 euros/day whereas the rentals places on the beach charge around 10 euros/hour which is super expensive!
---
How to Get to Gjiri Filikuri Beach: Walking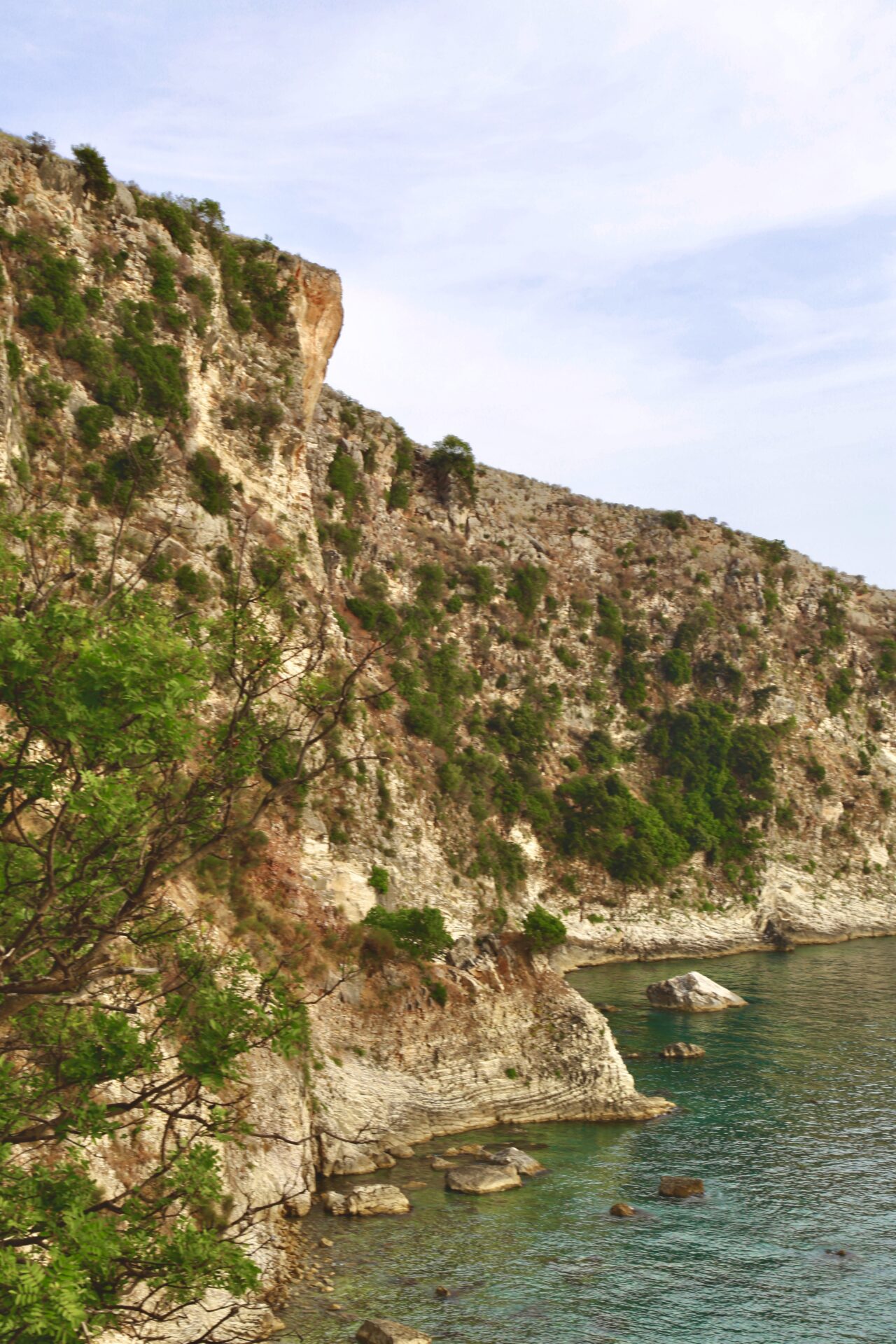 Now, walking directions to Filikuri beach.
The walking route to Filikuri beach is a bit more "extreme" than the cute little kayak excursion I just talked about. The walking route follows the coast, goes slightly uphill, then requires a bit of scramble/climb to get down to the shore.
Albanians do this thing where they just vaguely tell you where to go without giving real directions. So if you ask a local where Filikuri beach is, they'll tell you "that way."
I'm going to tell you a bit more than that and provide you with photos and lots of specifics on how to get to Filikuri beach in Himara.
---
Tips for walking to Filikuri beach:
WEAR DECENT FOOTWEAR. Slap on a pair of runners because you won't want to wear flip flops on this little adventure.
Pack a lunch or at least bring some snacks – you can't buy food here.
There are no umbrella chairs at Gjiri Filikuri beach, but there are caves that provide some shade.
Bring lots of water – I always pack 2L in my Hydrapak.
Going early in the day or later in the evening will make for a less crowded and (hopefully) quieter beach experience.
---
How to get to Filikuri Beach From Himara
Here are the GPS coordinates for Filikuri beach – these coordinates only get you *part* of the way.
After about 30 minutes of walking from Himara center, google maps will say "you have arrived." This is not true. Continue following the road upwards until you come to a fork. Then take a left up the gravel path.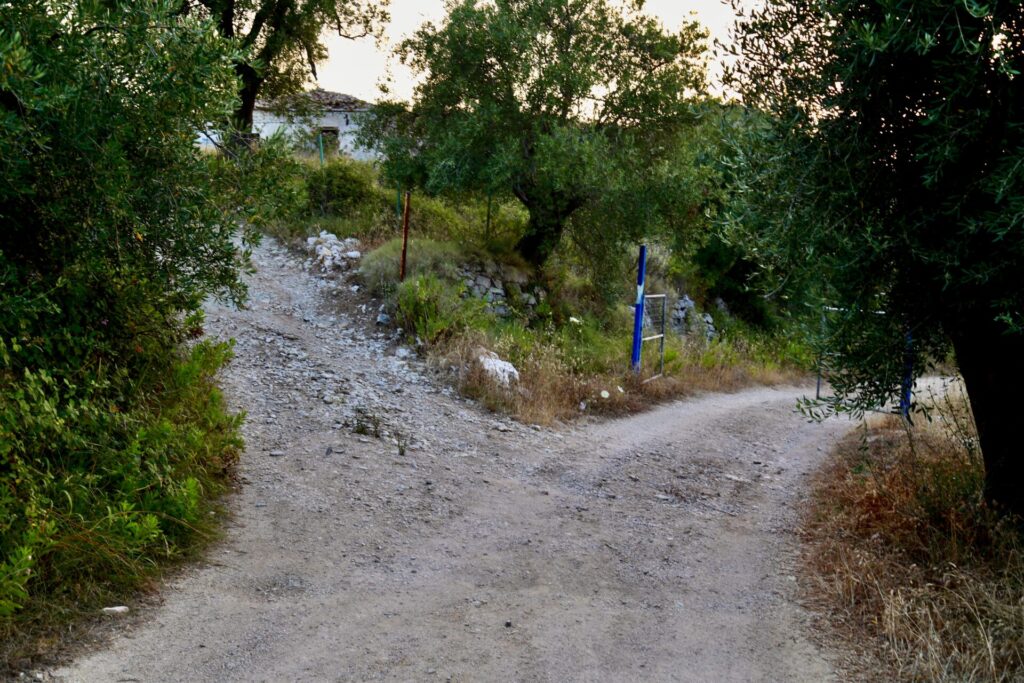 You'll see a creepy building like this. Don't stress! This means you're on the right path.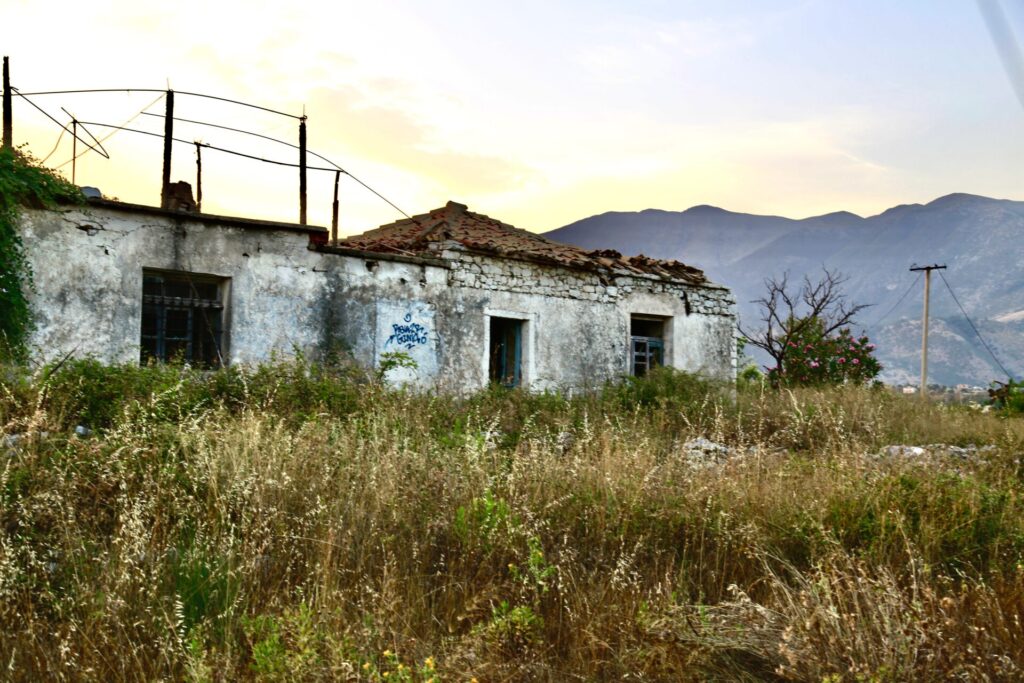 Continue walking past the creepy building until you find a trail that looks like this. The trail will be slightly overgrown and have some relatively big steps at points.
Looking at the pic below, you'll want to head down and to the left toward that little peninsula. The trail will go mostly in that direction, but it will branch off in different areas. As long as you're heading down and left though, you're going the right way.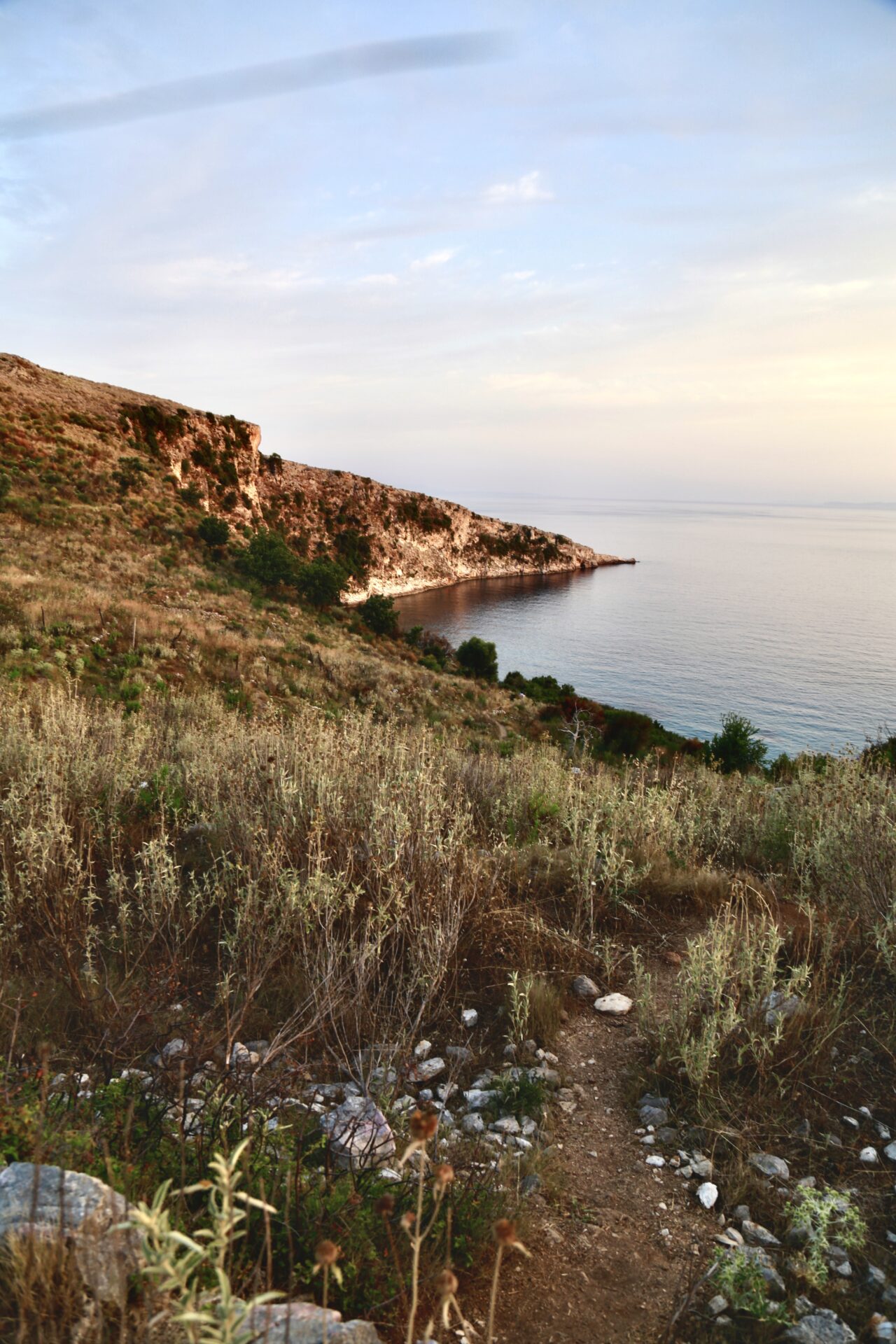 The Descent to Filikuri Beach
These next directions for how to get to Filikuri beach are very important.
The path will end and you'll come to a viewpoint overlooking the beach. This is NOT where you descend! If you make it to the viewpoint, you walked past the turnoff for the real path that leads down to the beach.
I included a picture below to show you what the turn off looks like, but it's hard to tell in the photo and it's easy to miss in person. Basically, if you reach the viewpoint, turn around and the path for the descent will be mere steps away on your left.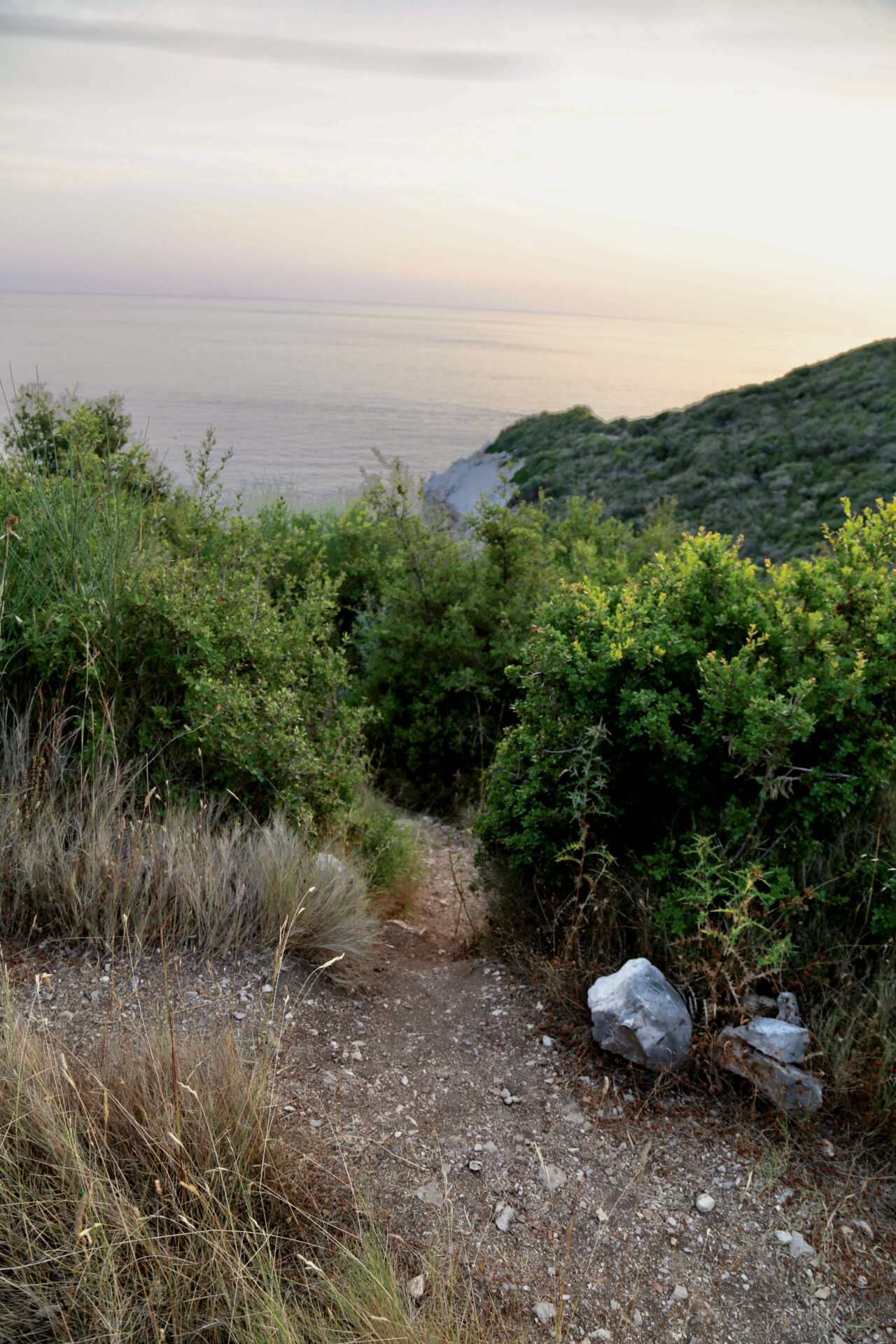 The next part is a bit shady. You'll have to hold onto a thin rope as you repel down a rock face! If you're not the adventure-y type or have a fear of heights you won't enjoy this part. However if you are adventure-y you'll thrive here.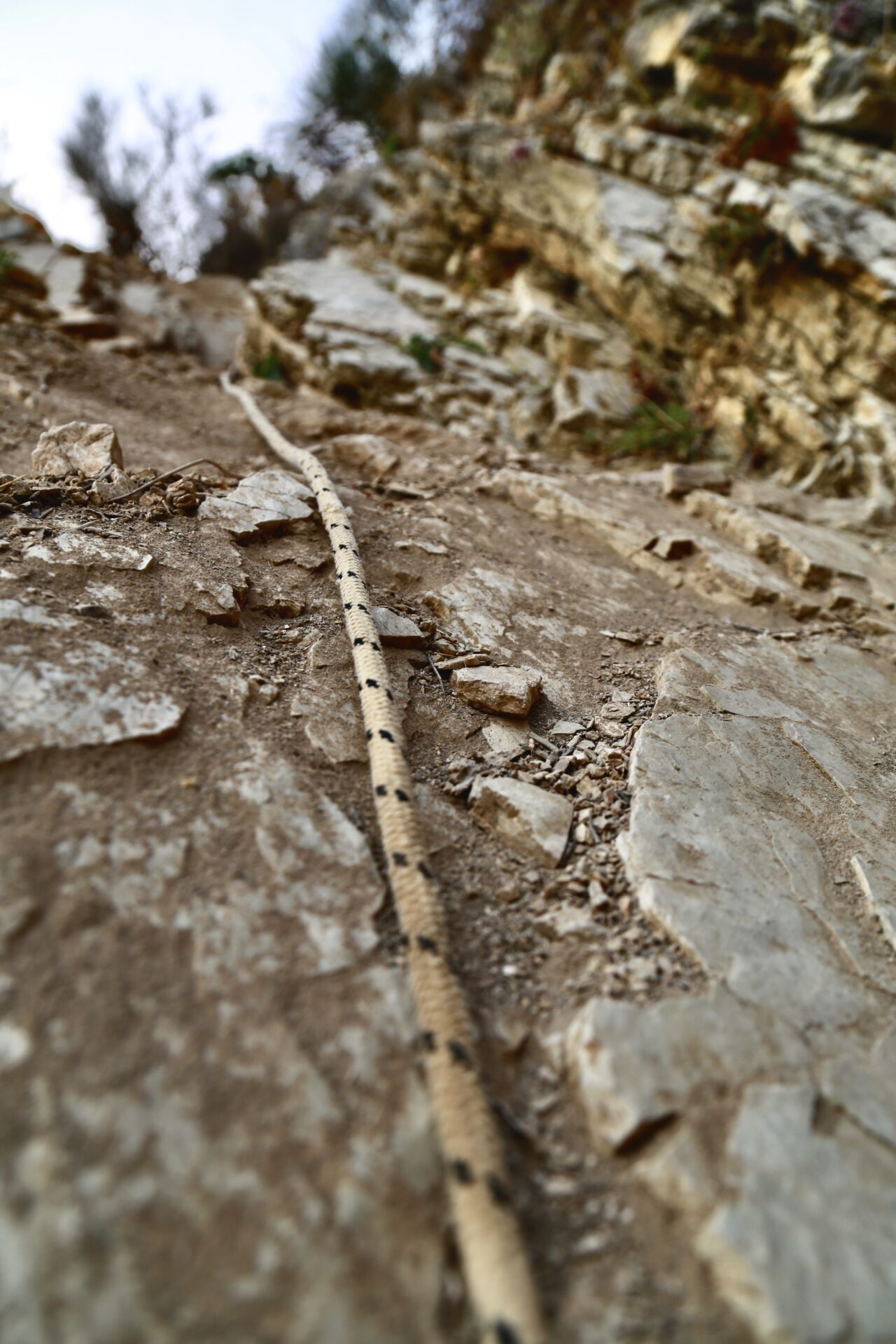 And that concludes my directions for how to get to Filikuri beach in Himara! In total the walk to Filikuri from Himara should take around 45-60 minutes.
---
What's at Filikuri Beach?
I'm glad you asked.
Filikuri beach has a white rocky shore and cold(er), blue water. There are multiple caves on shore which make for some nice shade during the day.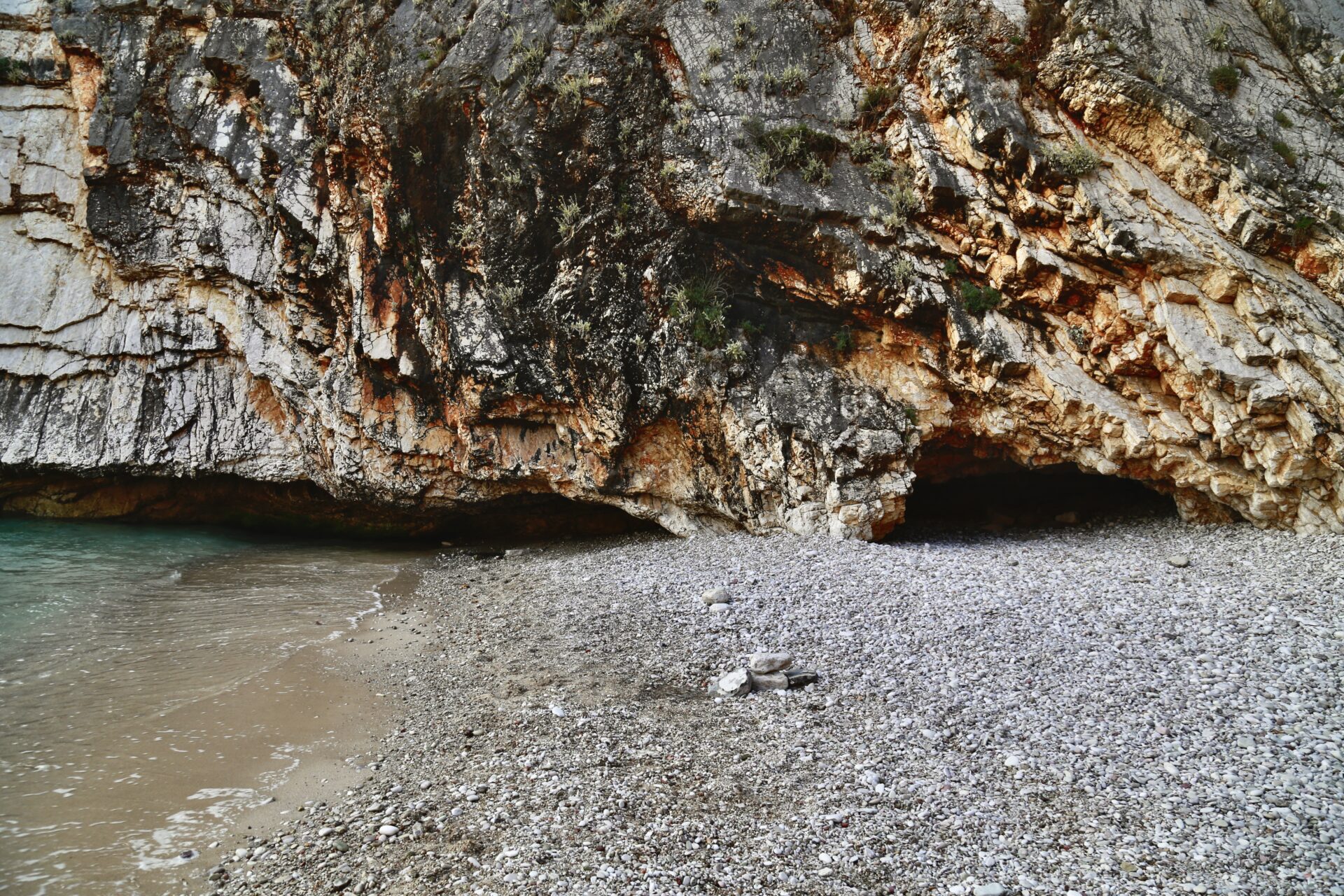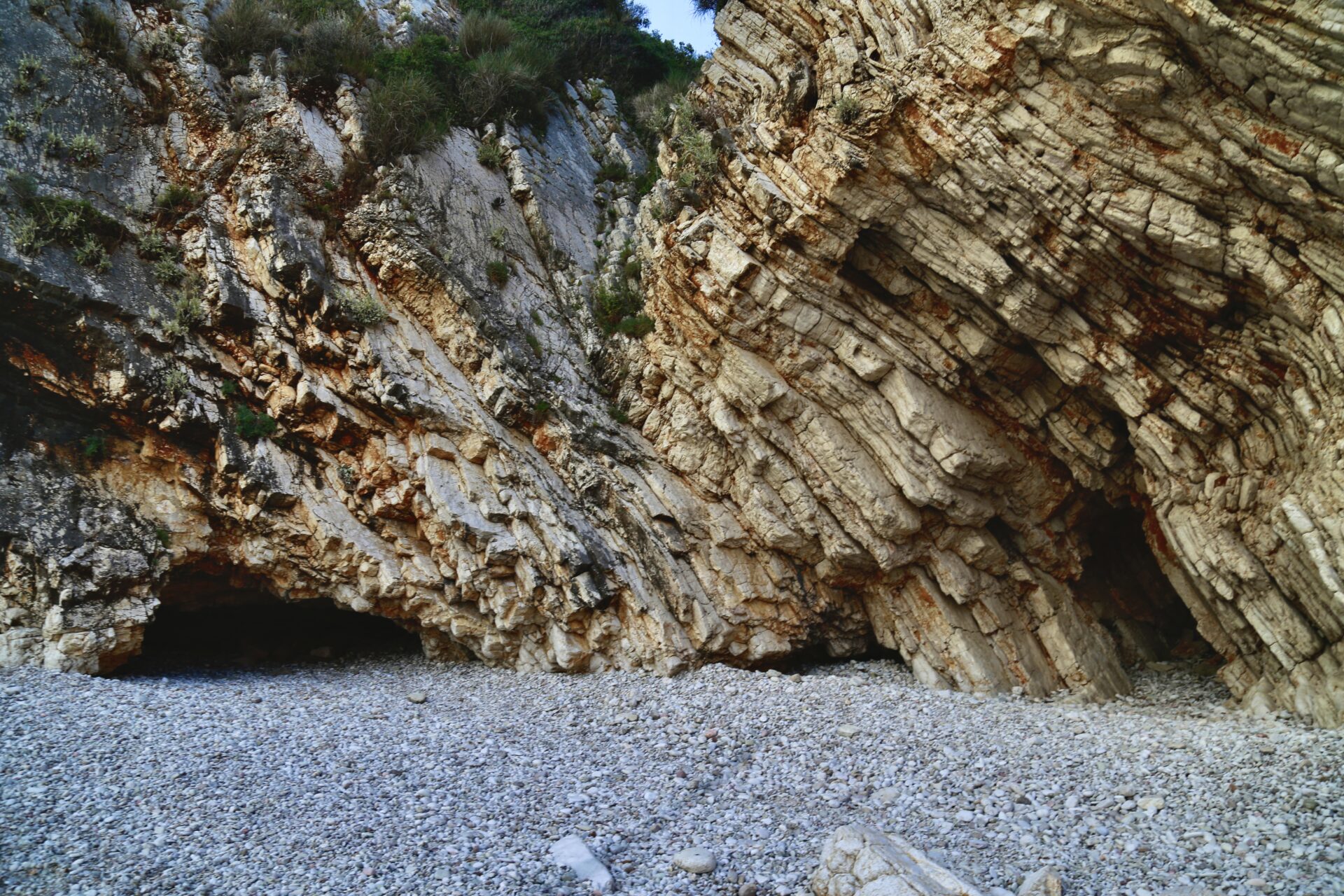 You can find some larger, smooth rocks which are nice for relaxing on. However you won't find anything commercialized here which gives the beach a super wild feel.
More: The Perfect 3 day Himara Itinerary
---
More:
---
Happy adventuring!
Taylor ♡
---
Like This Post?
Share with friends or save it for later!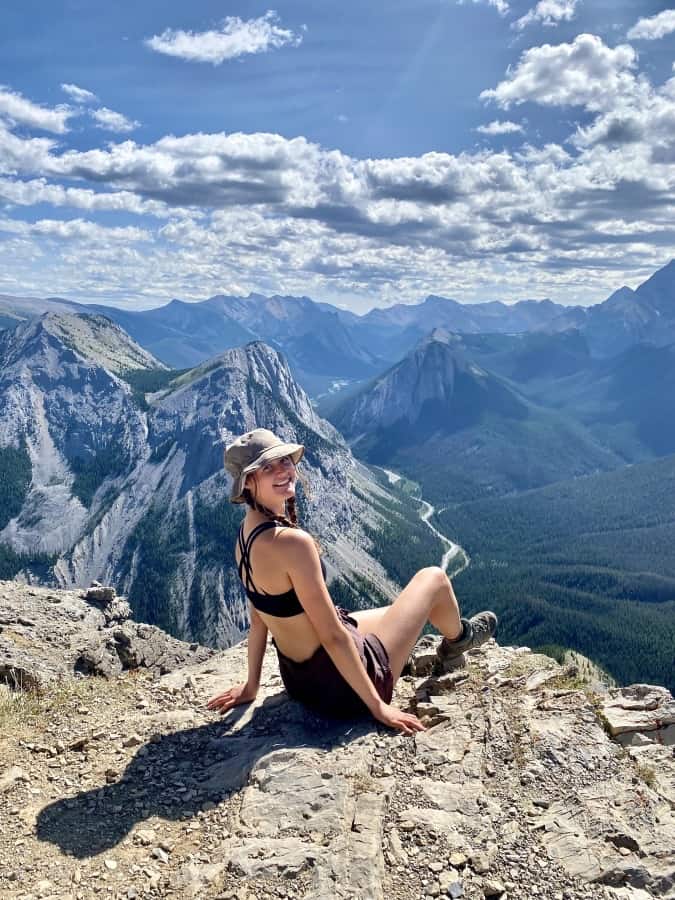 About The Author
---
Hey! I'm Taylor – the voice behind The Holistic Backpacker.
After moving to Banff National Park in 2020 I became an outdoor adventure enthusiast and vowed to never stop exploring.
I'm now focused on travelling the world and seeing everything our beautiful home has to offer.
I created The Holistic Backpacker so I could share my adventures and help connect people like you with the same amazing experiences.
I am also an advocate for the environment and do as much as I can to take care of our planet.
Get to know me and my story more here 🙂
I can't wait to share my adventures with you!