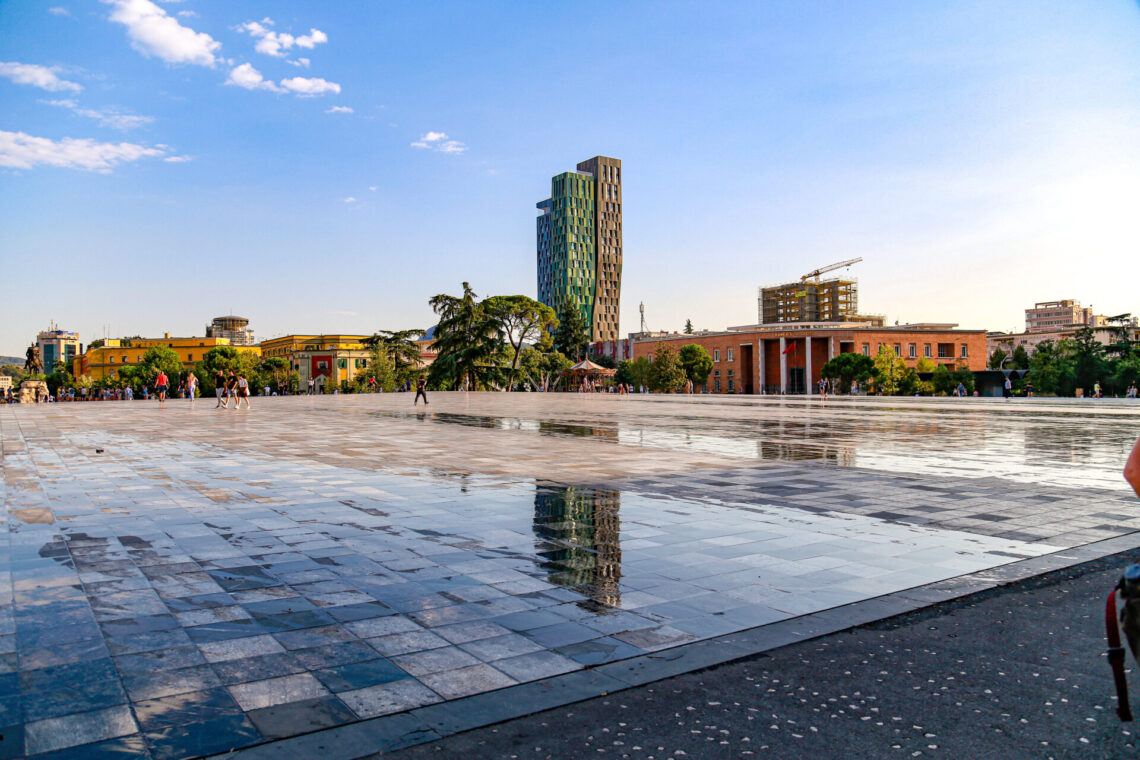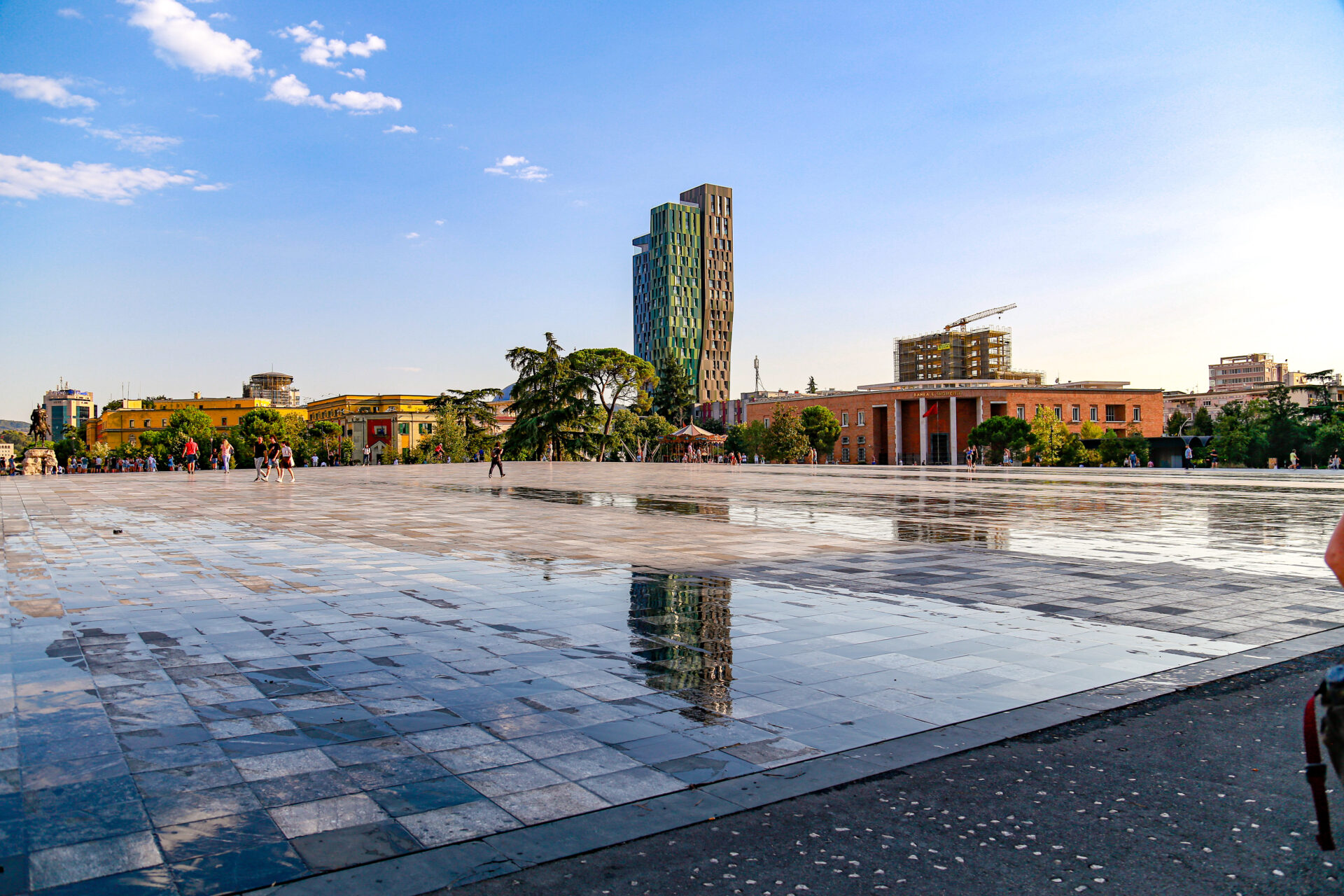 2 Days in Albania's Capital? Here's What You Should do in Tirana
Tirana is the vibrant capital city of Albania. You'll find so much life, culture, history, and things to do in Tirana – this city definitely warrants a spot on your Albania bucket list. In this guide I'll tell you all about the best things to do in Tirana as well as give you a detailed 2 day itinerary and tips for navigating the city – because it can be confusing!
I spent quite a while soaking up the vibes and culture of Tirana. About a week and a half to be exact. To be completely honest I actually didn't do a whole lot in Tirana. I was more focused on acclimating to the culture and adjusting to the way of life in Albania because it's MUCH different than life in Canada or in Western Europe. But I'll get into all that later.
In saying this, you could easily spend a week+ in Tirana without getting bored (especially if you're a city person), however I'm recommending you only spend 2-3 days in Tirana. Why? It's not "real Albania." As with any big city you're only seeing a fraction of what the country and the people are actually like. If you want to see real Albania, you'll want to head to the smaller villages and cities like Permet, Shkoder, Gjirokaster, and Berat.
Skip Ahead:
This post contains affiliate links; see my full disclosure. If you click these links and make a purchase you're supporting The Holistic Backpacker. Thanks for your support & happy adventuring! – Taylor ♡
---
Quick Albania Travel Guide:
Currency: Albanian LEK (aka ALL). This is a closed currency so you'll need to wait until you're in Albania to exchange $.
Transportation: to enter the country you can find 1 international airport in Tirana, 1 port in Saranda (daily ferry arrivals/departures to Corfu, Greece), and a bus line from Montenegro. Buses are very cheap here, but unreliable. Driving is chaotic, I'd recommend sticking to buses. There are no trains within the country.
Phone: purchase a local SIM card from Vodafone – the plans are cheap and they include lots of data, however international minutes are typically not available.
Language: Albanian, however you can get by with English – google translate recommended for smaller cities/villages.
Helpful Info: don't drink the tap water or bring a purifying bottle like this one. Bring an international travel adapter, and notify your bank before travelling.
Travel Insurance: ALWAYS purchase reliable insurance prior to your trip. This insurance is trusted by backpackers and adventure sport enthusiasts around the world.
Albania is one of the last "undiscovered" countries in Europe. Plan your trip while prices & tourism levels are low!
Related Articles:
---
How to Navigate Tirana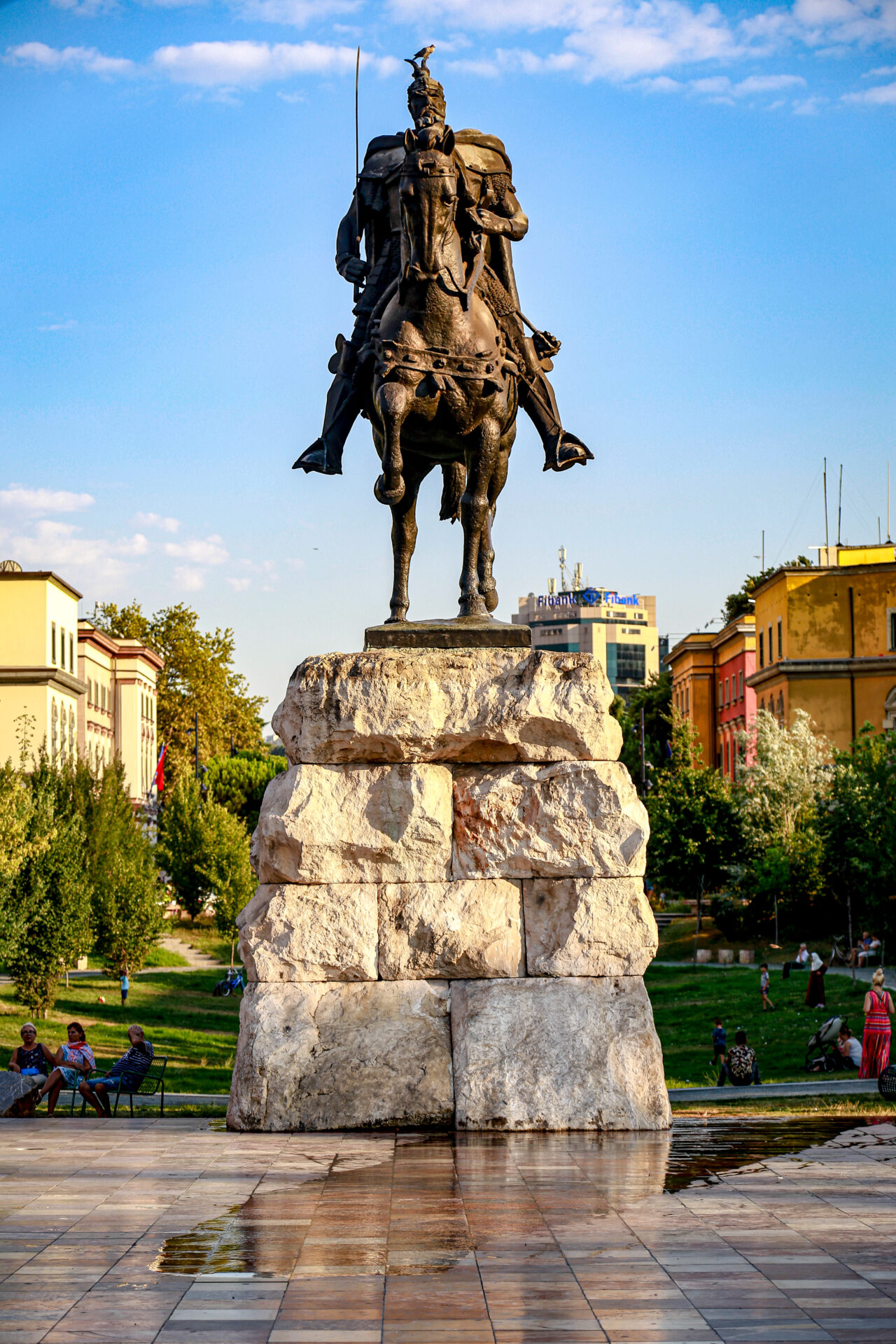 First things first, navigation.
Navigating Albania – especially Tirana – can be quite confusing. So, I figure what better way to introduce you to Tirana than to tell you all about the bus "system" there?
Tirana is the capital city of Albania which means you can reach it via bus from anywhere in Albania. No matter what city or little village you're in, you're almost guaranteed a direct bus here. HOWEVER I must warn you about the bus system in Albania – it's unreliable, it's flaky, it's not connected to google maps, and you won't find an accurate time table online. Rely on local knowledge (like employees at your hotel or hostel) for information about the bus schedule.
If you're flying into or out of Albania, you can plan to visit Tirana. Tirana currently has the only international airport in the country, although there are rumours about another one starting up in Korçe.
Tirana is a large city which means there are multiple, important bus stops:
The regional bus station (or as the local's call it, the "terminal") is where you'll depart Tirana to other cities in Albania. This is the location for the regional stop, however you'll need to catch a connecting bus within the city to get here. Ask the employees at your accommodation for how and where to catch the connecting bus.

Alternatively, if you're arriving at the regional stop and need to get to Tirana's city centre, you can find the bus stop across the street. The bus departs frequently, so you won't need to worry about the schedule.

If you need to get to the airport from the city center you can catch the bus near Skanderbeg Square – behind the Opera.
If all else fails and you're feeling confused or overwhelmed, ask the locals for directions. Most people in Tirana speak English and Albanians are always happy to help!
---
Where to Stay in Tirana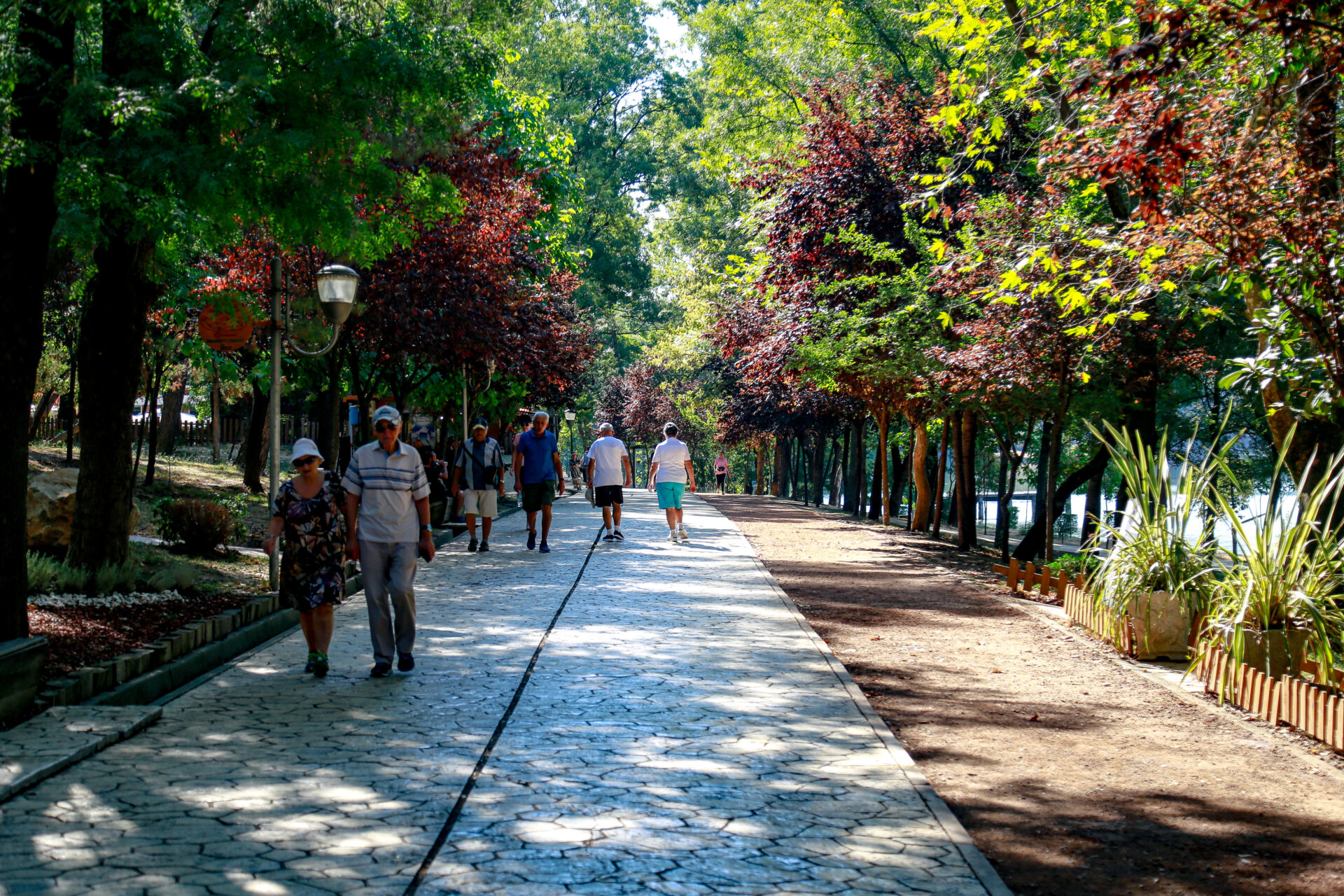 Albania hasn't been subjected to Schengen inflation which makes it a total backpacker's paradise.
At the time of writing this, accommodations typically run anywhere from 6 to 100 euros in Tirana depending on the type of accommodation you're booking.
Here's a quick crash course for the best accommodations in Tirana according to each budget:
Follow The Holistic Backpacker's Adventures on Socials:
Keep Up With My Adventures!
Sign up for my newsletter and stay up-to-date with my latest adventures, gear guides, and eco-resources!
Taylor ♡
---
Tips for Visiting Tirana
Spend 2-3 days in Tirana.
Prepare yourself for a little bit of culture shock if you've never been to Eastern Europe. The driving culture and infrastructure is quite frankly comparable to India in a lot of ways.
Don't drink the tap water – you'll need to buy bottled water here.
Albanian's are some of the most friendly and helpful people I've ever met. If you need to ask questions, don't be shy! They love tourists and are always thrilled to help.
Refer to these quick tips for visiting Albania and these Tirana navigation tips for an introductory crash course to Albania and Tirana.
---
Things To do in Tirana
---
1. Dajti Ekspress & Hike Maja e Tujanit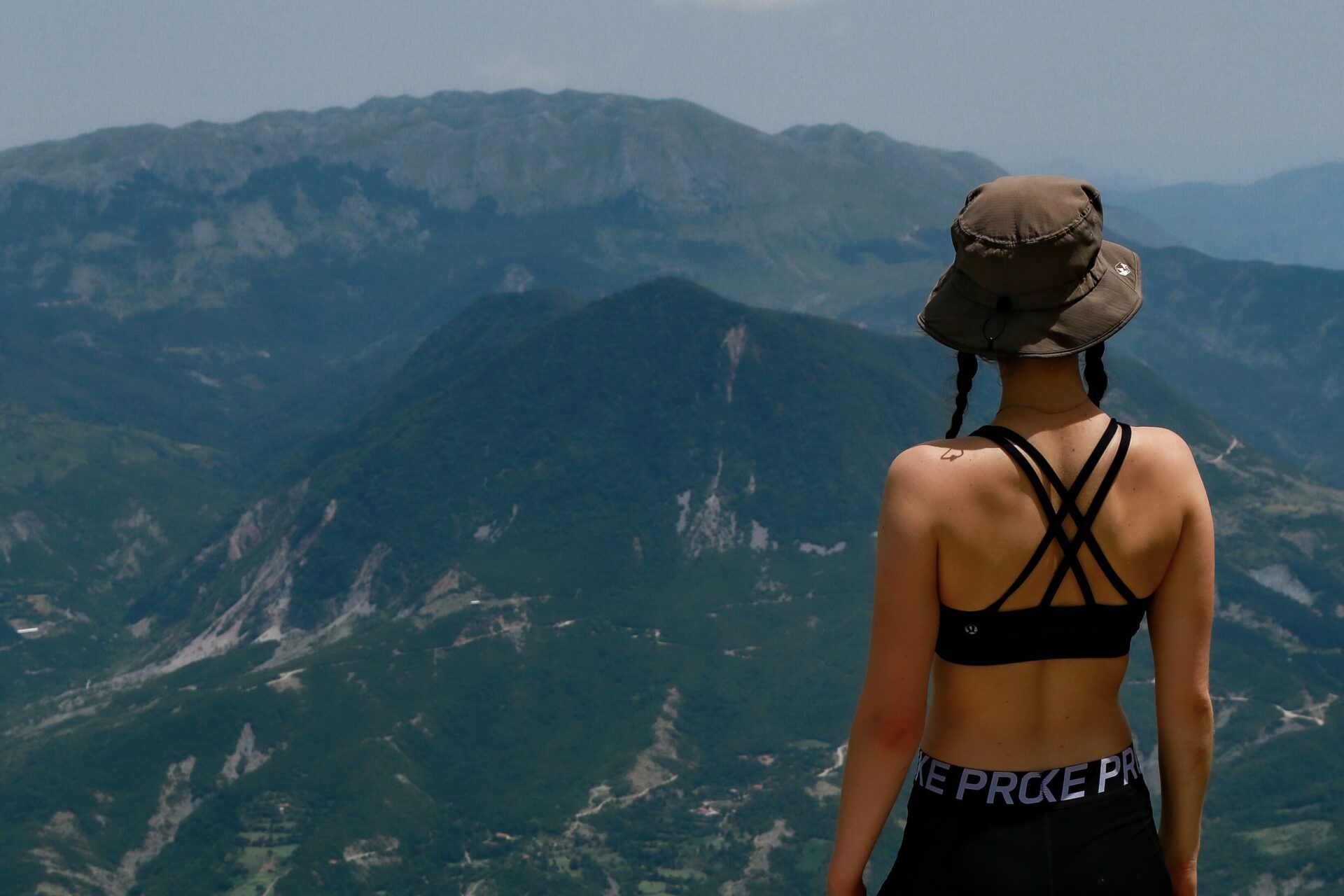 As with all my city based posts, I'm starting this list of things to do in Tirana out with none other than a hiking recommendation!
The Dajti Ekspress is the cable car in Tirana. The cable car takes you partway up Dajti Mountain where you'll find restaurants, patios, mini golf, horses, a view overlooking all of Tirana, as well as other games and activities.
The cable car in Tirana is a bit far to reach by foot, so you'll have to take a local bus to reach the base of the mountain. The Dajti Ekspress website has a detailed video which perfectly explains how to reach the cable car via bus. I'd definitely recommend watching their video as this makes getting there super easy!
The real magic atop Dajti Ekspress happens a little higher than where the cable car takes you though. If you walk behind the abandoned hotel at the end of the field you'll find an unmarked trailhead for Maja e Tujanit. This is a steep, but simple trail that'll take you to a viewpoint looking into Dajti National Park. My favourite part about this hike is the view you get of the beautiful Bovilla Lake!
You can read my full guide to hiking Maja e Tujanit here.
---
2. Free Walking Tour of Tirana
The free walking tour of Tirana is the best way to learn about the local attractions, historic sites, and layout of the city. The tours typically depart twice a day at 10am and 6pm – although you'll want to double check with your hotel or hostel employees for an updated schedule.
The tour departs in front of the Opera at Skanderbeg Square where you'll be led by knowledgeable, lively, and licensed tour guides to all the Tirana highlights.
The free walking tour should definitely make your list of things to do in Tirana because it's the best way to check all the major attractions like the mosque's, churches, Enver Hoxha's house (Albania's former communist leader), etc off your Tirana bucket list. The tour is perfect because you can see everything, learn the history, snap some photos, and decide if you want to come back to explore these locations more in depth later.
The tour typically lasts 2 hours.
---
3. Skanderbeg Square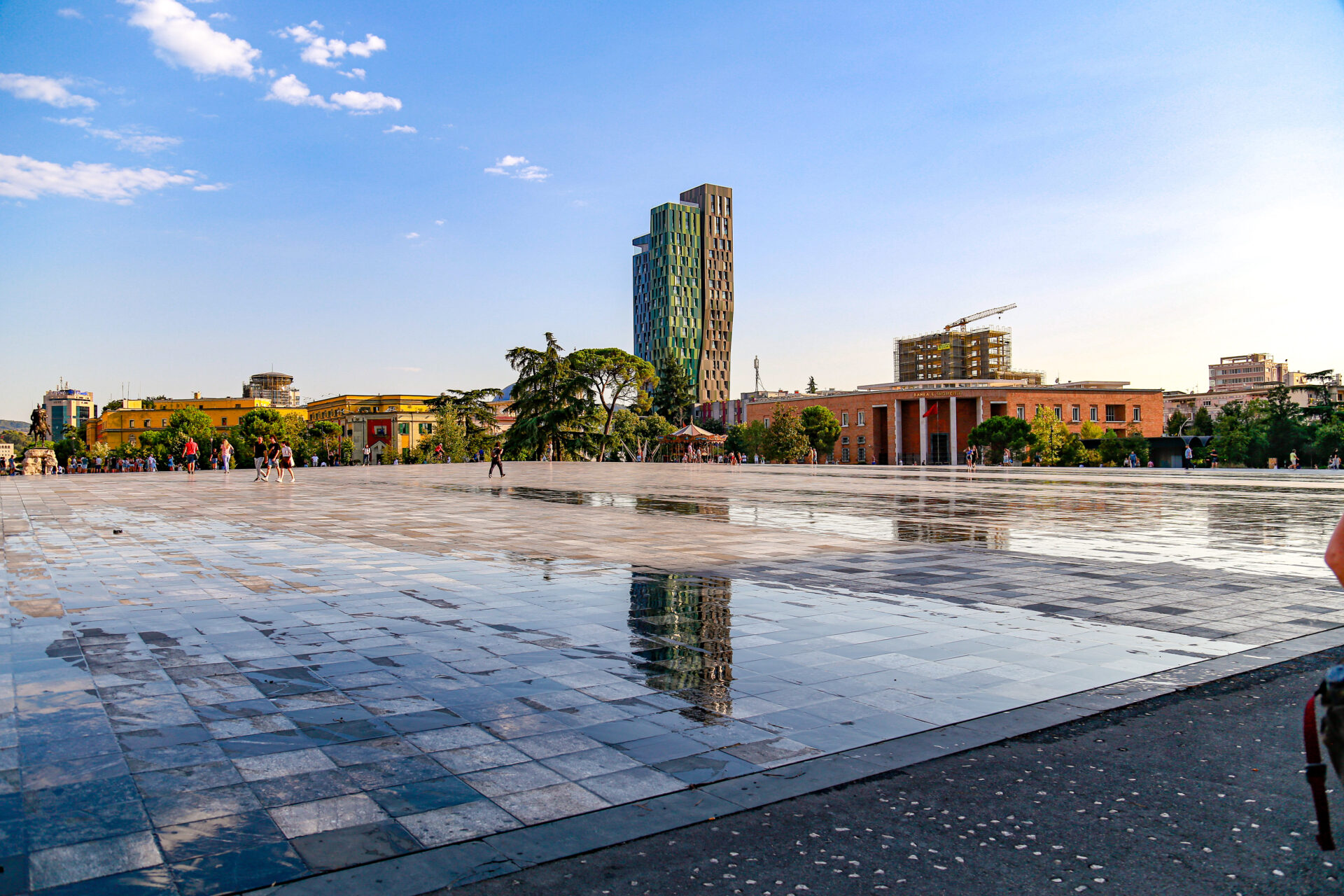 Skanderbeg Square is the main "meeting place" in Tirana. This is where you'll find loads of Albanians meeting in the later hours of the day for their evening xhiro. Xhiro being an evening "walk" or social hour. Albanians LOVE their xhiro!
Skanderbeg Square is essentially just a large empty square framed by multiple important points of interests (like mosques, the opera house, statues, etc). It marks the centre of Tirana and you can find all the intracity buses nearby.
Something interesting you'll notice about Skanderbeg Square is that there's often water covering the tiles in the square. This is actually used as a technique to cool the square down amidst the scorching Albanian heat.
So, when you're making your list of things to do in Tirana, make sure you add a walk through Skanderbeg Square to your bucket list. This location is pretty iconic in Tirana.
---
4. BUNK'ART
BUNK'ART should 100% make your list of things to do in Tirana.
Why? BUNK'ART is located underground in one of the old bunkers from Albania's communist times. If that isn't cool enough to make you want to visit, then maybe this will: within BUNK'ART you'll find lots of interesting history and artifacts from the communist regime like communication devices, bugging devices, camera gear, important paperwork, videos, etc.
There are actually 2 BUNK'ARTs within Tirana: BUNK'ART 1 and BUNK'ART 2. Apparently BUNK'ART 2 has more to see and is the "highlight" of the bunkers, however BUNK'ART 2 is located quite far from the city centre – you'll need to take a bus to access it. Actually, the best time to visit BUNK'ART 2 is if you take the Dajti Ekspress, they're located nearby one another.
BUNK'ART 1 is located right in the city centre and is super interesting too though – this is the one I visited and I quite enjoyed my time here.
---
5. Grand Park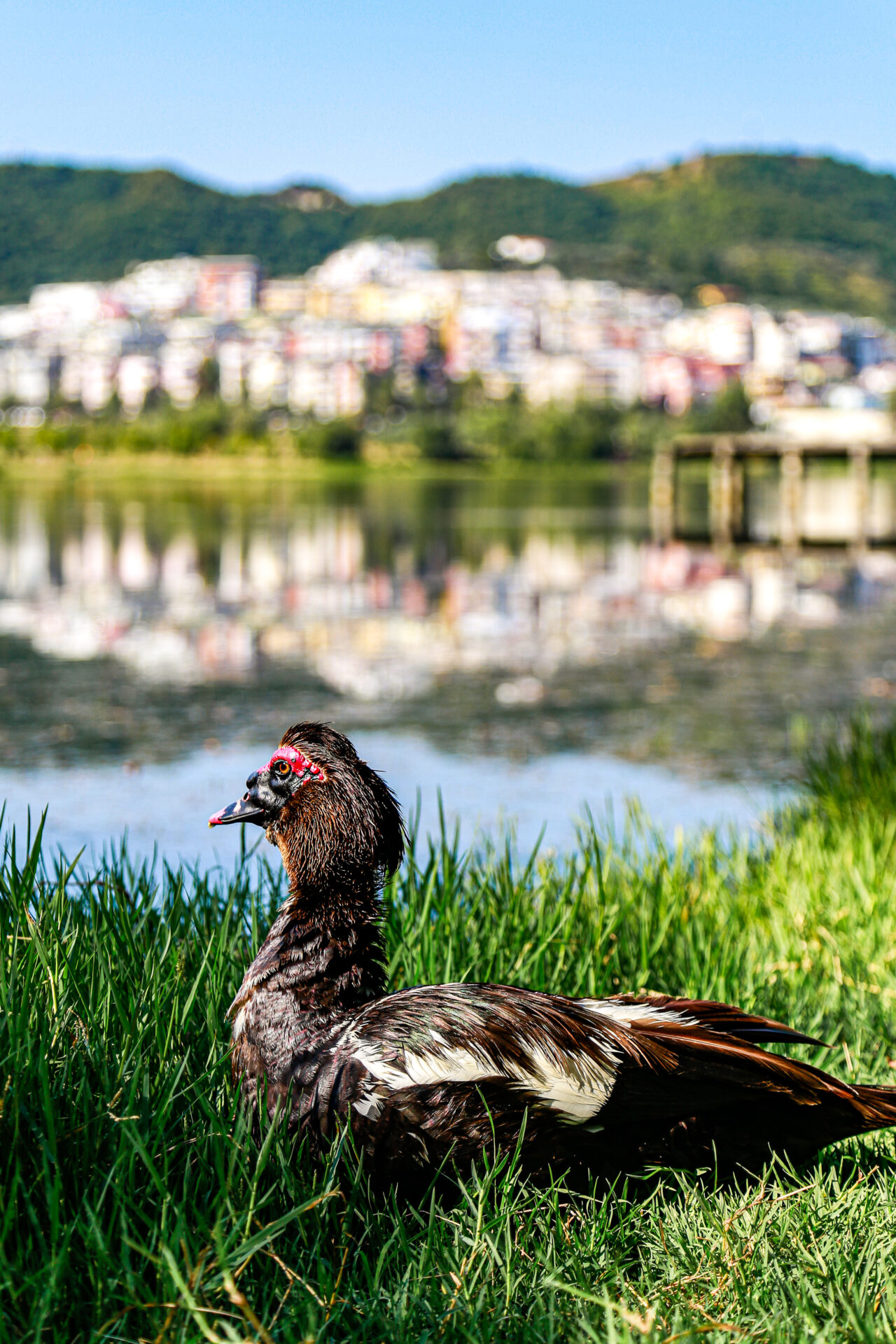 If you're feeling a bit overwhelmed by the city or are craving some nature, add a stroll through Grand Park to your list of things to do in Tirana.
Grand Park is a beautiful outdoor space complete with an artificial lake, outdoor workout equipment, greenery, gardens, kids play equipment, patios, etc.
It is SO relaxing and quiet in Grand Park, you'd never know you were in the capital city of Albania!
---
6. Rruga Murat Toptani
Rruga Murat Toptani is a pedestrian street full of patios and greenery. This is a great place to grab lunch or sit back and watch the culture of Tirana unfold in front of you.
---
7. Experience Albanian Night Life
Albania nightlife is… interesting to say the least!
You'll find that Albania is a very social place – you'll always find locals chatting, drinking, and meeting at the patios scattered all over the city.
Nightlife though is something different. At the nightclubs in Albania you'll find extremely loud music, great venues, but no dancing, minimal drinking, and lots of staring. It honestly feels like Albanians go out just to "look cool" because they don't party like North Americans or Western Europeans do!
The dance floors are filled with tables which really promotes the whole standing around and not dancing vibe. I was always out with a fun group which made the experience enjoyable, however I wouldn't expect to go out solo and have a "wild night."
Anyways, the experience is so bizarre that I would definitely recommend adding a night out to your list of things to do in Tirana. The best area to go out for drinks or nightlife in Tirana is the Blloku District. I personally went to Folie Terrace nightclub and I would definitely recommend it. There were live performers, smoke machines, great lighting, and fantastic music.
By the way, ladies you won't ever have to pay for a drink when you go out in Albania!
---
8. Discover More of Albania's Communist History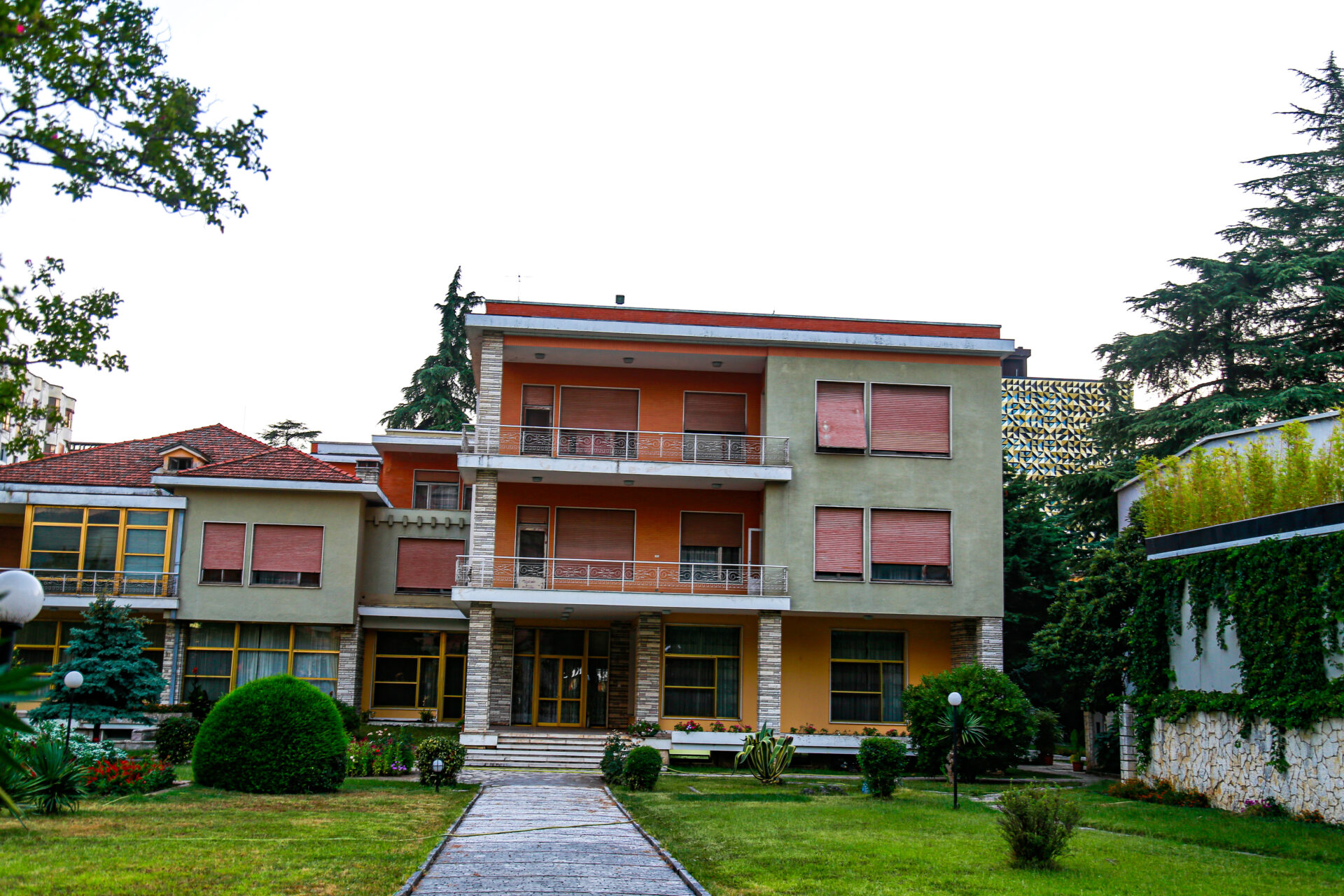 You'll find that Albania has tons of history (like SO much) and Tirana is definitely one of the best places in all of Albania to learn about it.
In addition to the BUNK'ARTs you can also visit the National Museum of History and the House of Leaves. Both are jam packed with information, each offering something a little different!
---
2 Day Tirana Itinerary
Okay "real day 1" in Albania is probably going to be filled with transportation, confusion, and logistics, especially if you're flying in. This 2 day itinerary starts with your first full day in Tirana.
---
Day 1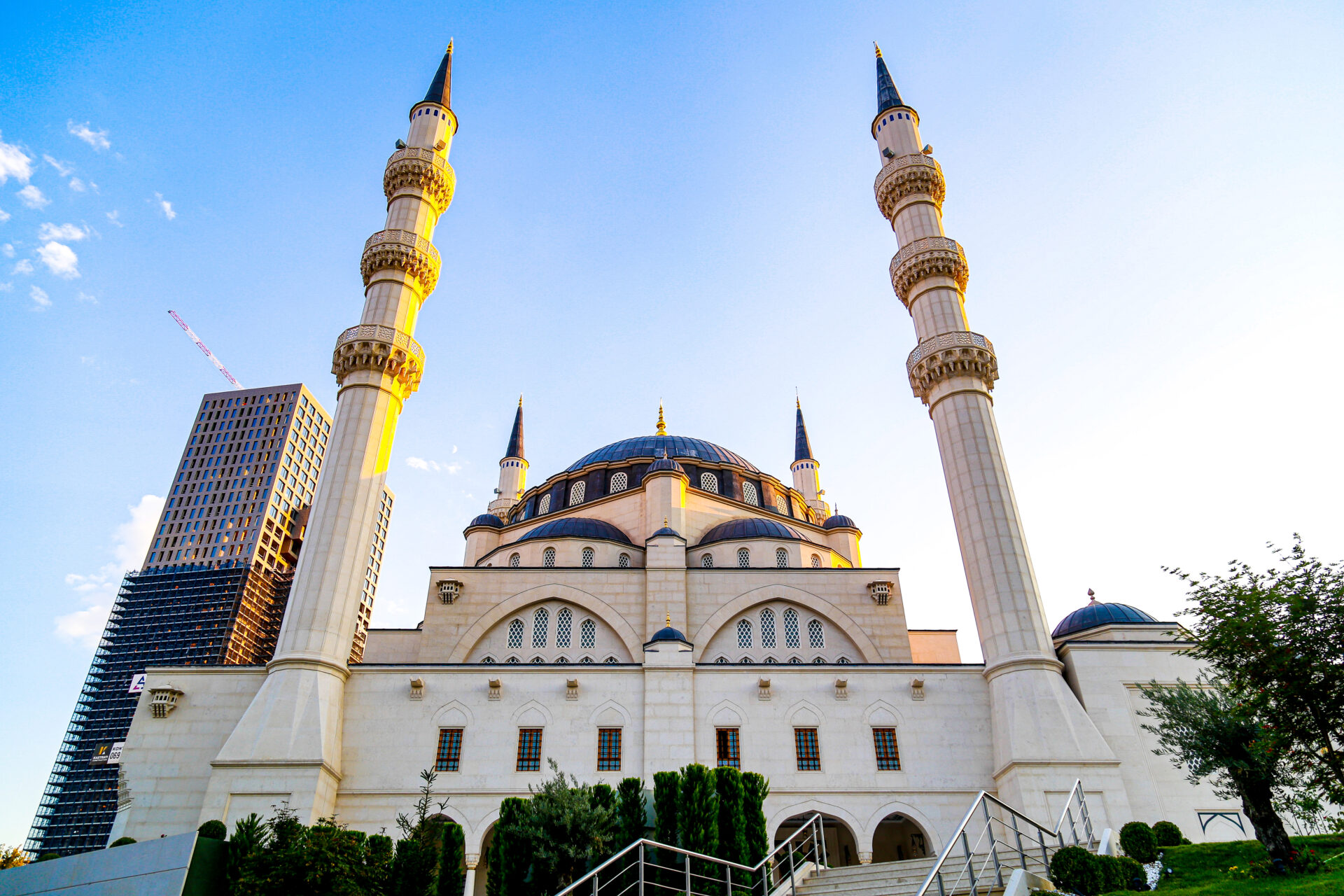 Day 1 in Tirana starts off with a hearty breakfast. You'll find loads of patios all over Tirana which make for ideal breakfast locations, however most of the time your hotel or hostel will include breakfast in the price.
I stayed at the English Hostel which served a YUM breakfast, but I know Trip'n'Hostel serves a good one as well.
After breakfast you'll want to start your day off with a nice walk around the city to get your bearings. I always recommend starting the day off with a walk to Grand Park. This is where you'll find the artificial lake in Tirana as well as lots of green space. I was actually shocked by how nice this area was! Tons of trees, outdoor workout equipment, gardens, parks for the kids, etc.
Afterwards walk back to the city center and check out the fruit markets. They are everywhere and they're sooo cheap! Midday is also a good time to check out Rruga Murat Toptani which is a beautiful pedestrian street full of greenery, patios, and cafes – great lunch spot! It's also right next to the castle if you feel like venturing in there.
After lunch can you take your ack at what history you want to learn about: visit the House of Leaves, BUNK'ART, or the National History Museum.
And finally, end your day with a free walking tour of Tirana. I always recommend partaking in the evening tour as the temperatures are usually much cooler in the evening.
If you want a taste of the Albanian xhiro vibe, you can also walk through Skanderbeg Square to end off your first big day in the city. Here you'll find all of Albania comes alive – it's the "meeting place" for Albanians in Tirana.
---
Day 2
On day 2 you'll want to make your way to the Dajti Ekspress. If you're feeling adventurous you can also hike up to Maja e Tujanit!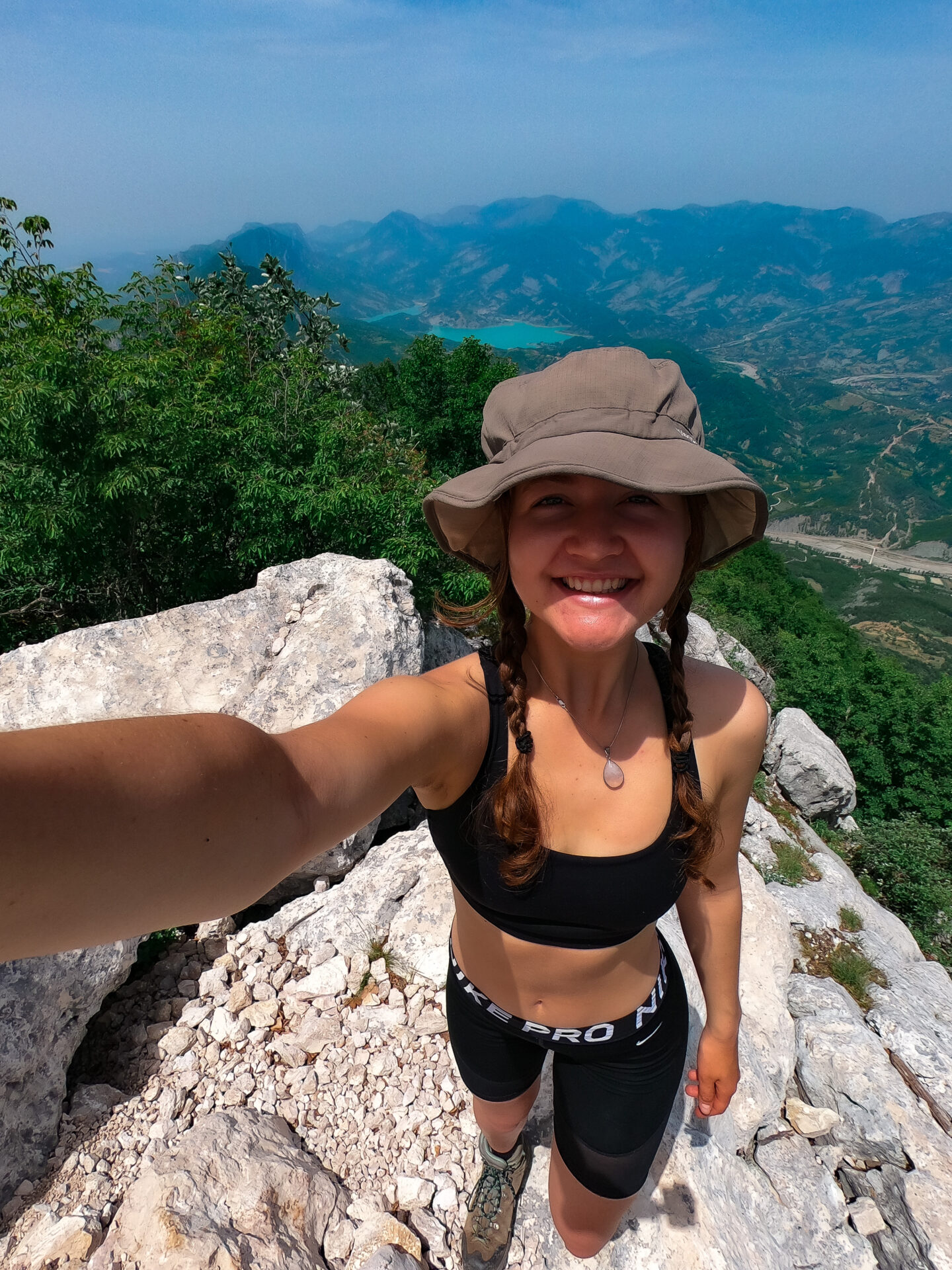 Afterwards, come on back down to the city center and spend more time exploring the points of interest you learned about on last night's free tour. Now is a great time to venture inside the churches, mosque's, or the museums scattered around the city.
Finally, you'll want to end your last night in Tirana in the Blloku District. This is where you'll find the best bars and nightlife in Tirana. You can grab dinner if you go early, but later in the evening most of the restaurants turn into bars only – no food is served!
The Blloku District is the ideal place to grab a drink in Tirana and if you're feeling the party vibes you can hit up one of the nightclubs in Tirana. I went to Folie Terrace which was honestly one of the coolest looking nightclubs I've been to!
---
---
Happy adventuring!
Taylor ♡
---
Like This Post?
Share with friends or save it for later!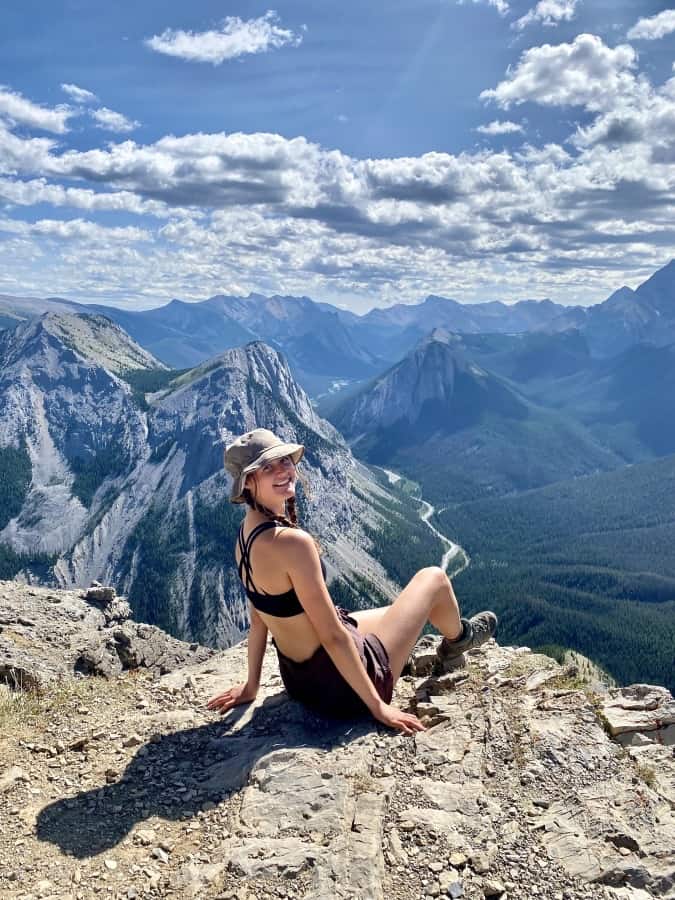 About The Author
---
Hey! I'm Taylor – the voice behind The Holistic Backpacker.
After moving to Banff National Park in 2020 I became an outdoor adventure enthusiast and vowed to never stop exploring.
I'm now focused on travelling the world and seeing everything our beautiful home has to offer.
I created The Holistic Backpacker so I could share my adventures and help connect people like you with the same amazing experiences.
I am also an advocate for the environment and do as much as I can to take care of our planet.
Get to know me and my story more here 🙂
I can't wait to share my adventures with you!