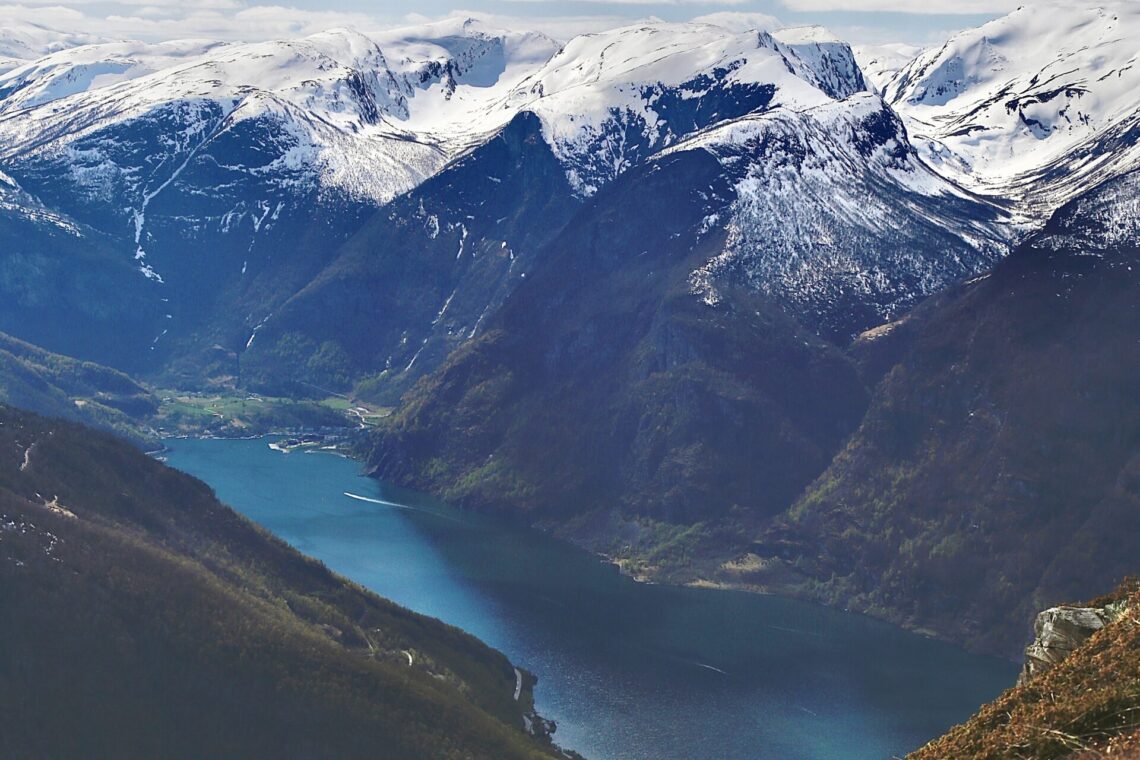 The Beautiful Prest Hike in Aurland, Vestland
The Prest hike in Aurland was my first real hike in Norway. This is one of the best hikes near the famous Norwegian village of Flåm and is surely a hike you don't want to miss if you're travelling through the Sognefjord area of Vestland.
The Prest trail is fairly challenging and technical, however the views from the summit make the struggle oh-so-worth-it. From the top you'll have a perfect view overlooking the Aurlandsfjord to Flåm which is a branch of Norway's largest and deepest fjord, the Sognefjord.
Without further ado, let's go hiking!
Skip Ahead:
This post contains affiliate links; see my full disclosure. If you click these links and make a purchase you're supporting The Holistic Backpacker. Thanks for your support & happy adventuring! – Taylor ♡
---
Quick Norway Travel Tips
Currency is NOK (Norwegian Kroner); displayed as kr.
Visa: Generally not needed for stays up to 90 days; part of the Schengen Zone.
Phone: I purchased a MyCall local SIM card from Narvesen (convenience store) in the Oslo airport. They can also be found at 7Eleven. Please note you'll have to show your passport and go through an approval process before your SIM is registered. You can only set up your SIM from Mon-Fri 9-5.
Norway is EXPENSIVE (obviously) and there's limited infrastructure for backpackers. Plan your trip in detail and book everything (accommodations/activities) well in advance. Booking in advance will help you save a little $ too.
Public transportation is limited. Road tripping is the best way to see Norway's beautiful nature. Getaround (car sharing platform) is the cheapest rental option in Norway. Use this link for $20 off your first rental.
Purchase travel insurance in advance. This insurance is used and trusted by backpackers and adventure enthusiasts around the world.
Make sure you purchase a travel adapter in advance; I like this one.
Norwegian hiking & outdoor season is July-August. All other months have very variable and RAINY weather (especially in the West).
Northern lights are best seen from Tromsø in January & February.
Check out all my Norway travel guides and hiking resources.
---
How to get to the Prest Trailhead
The Prest trailhead is located near the famous village of Flåm in Norway. Specifically, the trailhead is located in Aurlandsvangen which is the administrative centre of the Aurland municipality within Vestland County – bear with me, Norway has about a million zones, regions, and counties!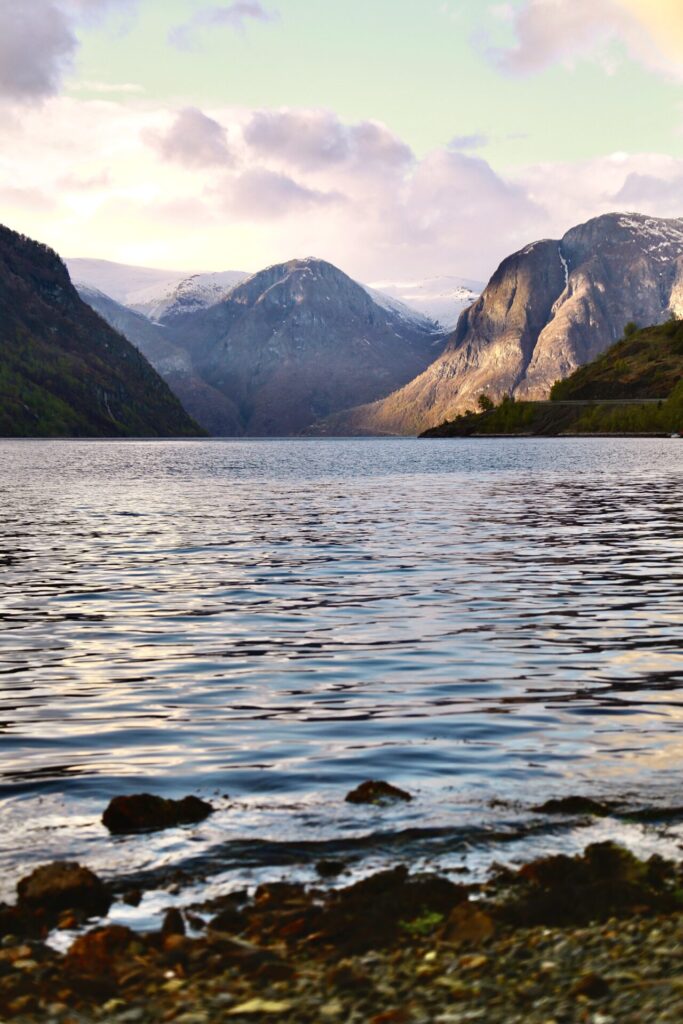 It's a bit of a journey and kind of complicated to get to the Prest trailhead unless you rent a car, but generally you'll want to make your way to the famous village of Flåm first, then to Aurlandsvangen – unless you take the bus in which case there should be a line that goes directly to Aurlandsvangen. You can use this website to find bus schedules in Norway.
You can get to Flåm via the ferry – you can use this website to find ferry tickets – or by train (use this website to find tickets). I'd recommend taking either the ferry or the train to get to Flåm because these two options will take you through the more scenic route. In fact, the Flåm railway is rated as one of the most beautiful railways in the world! This popular train route goes from Oslo to Bergen with a stopover at the Myrdal station where you'll board the Flåmsbana which will take you directly to the village of Flåm.
From Flåm you can take the bus or hitchhike to Aurland. I'd actually recommend hitchhiking as it's quite safe in Norway, especially in a location like Aurland. I hitchhiked and was picked up and dropped off at the Stegastein viewpoint by the first car that passed by.
The Final Stretch
Once you reach Aurland, you'll still have to make it up to the Prest trailhead which is already located quite high on the mountain. The easiest way is to hitchhike to the famous Stegastein viewpoint (GPS), however if you're nervous about hitchhiking there is this guided shuttle service that will take you to the viewpoint from Flåm.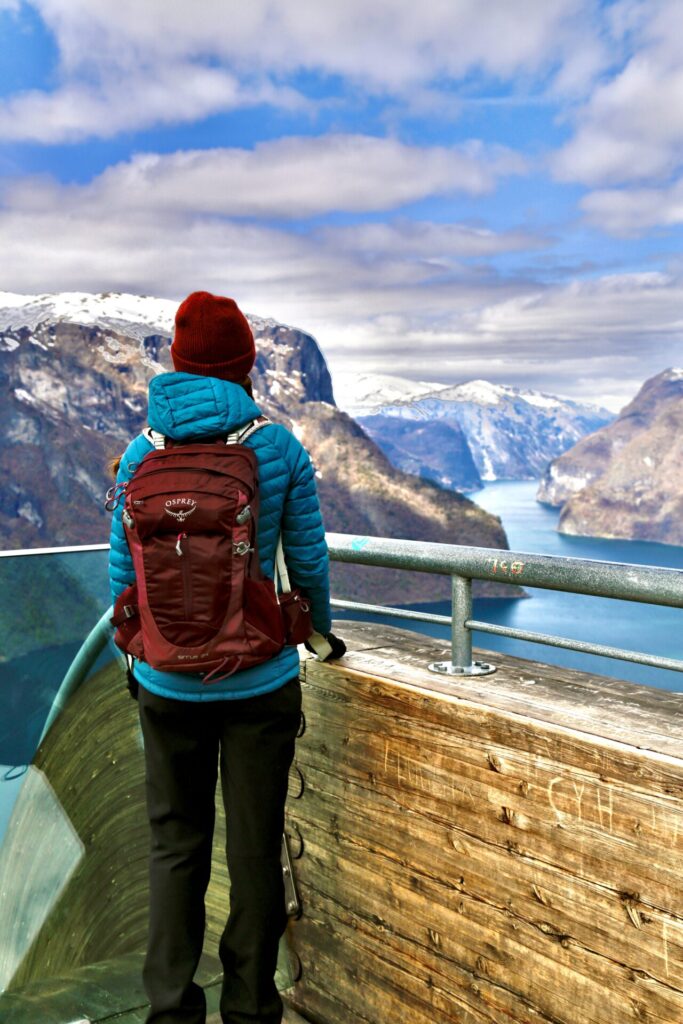 THEN (I swear I'm almost done with directions) from the Stegastein viewpoint it's only a quick 2km walk with 168m gain – unless you drive – to the actual Prest trailhead. In winter this stretch of road is closed and covered in snow, so it's best to check in with the Flåm tourist office as they'll know whether it's open or not.
After Stegastein you'll want to follow the road, keeping left until you see the Bjørgo farm. After you see this take a hard left and follow the road until you see a parking lot on the left. The trailhead starts at the end (left) of the parking lot.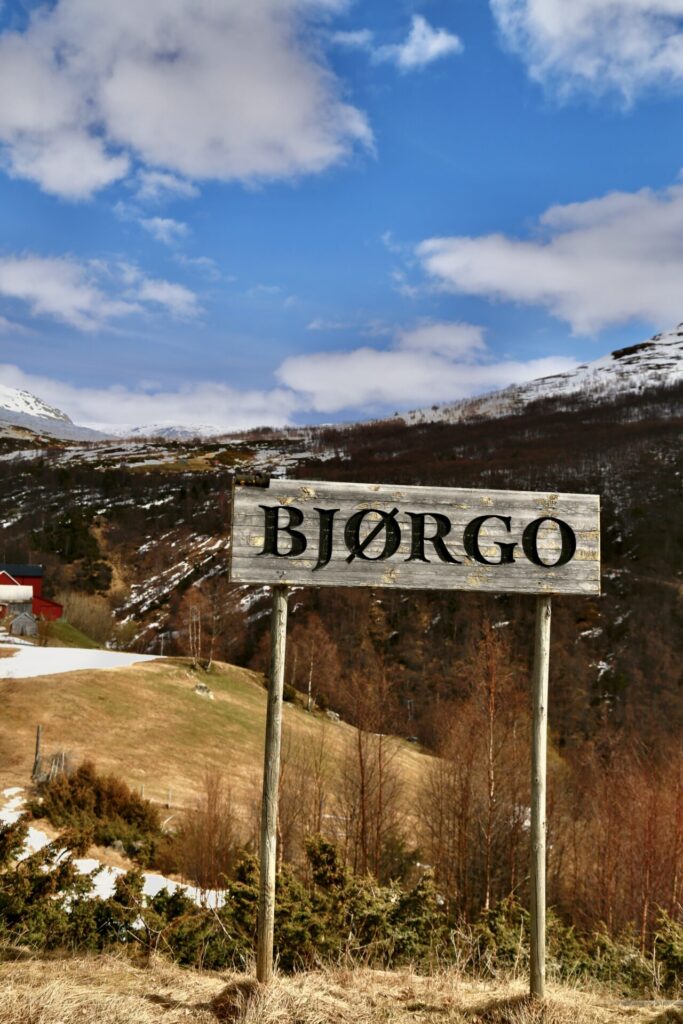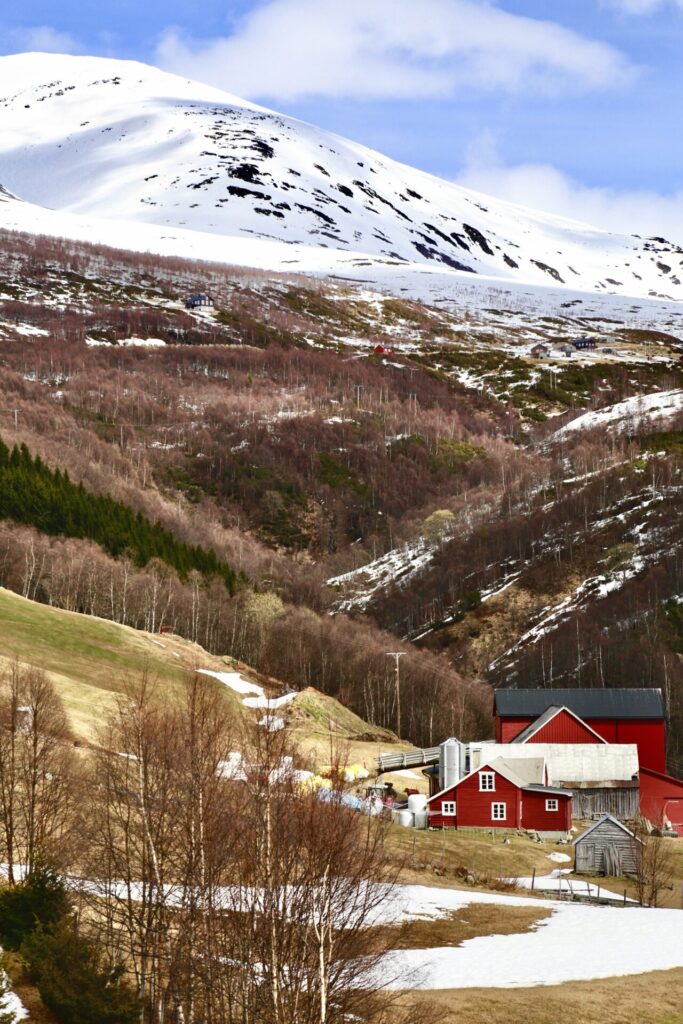 And voila! After that long-winded explanation you'll have made it to the Prest trailhead.
---
About the Prest Trail
Distance: 4.5km
Elevation gain: 549m
Rated: hard
Type of trail: out & back
Estimated time: 3hrs
The Prest hike in Aurlandsvangen is semi-technical and not recommended for beginner hikers. However if you're an experienced hiker you'll LOVE this trail!
If you complete Prest to the true summit you'll find a breathtaking view overlooking the Aurlandsfjord, Aurlandsvangen, Flåm, and the windy road leading to the Stegastein Lookout (Bjørgavegen).
The trail is pretty straightforward and easy to follow for the first kilometre, however after that you'll have to endure a pretty technical scramble and need to put your route finding skills to use. The Norwegian mountains don't mess around!
It's recommended to wait until at least June to summit Prest in hopes that most of the snow will be melted, however sometimes you can get away with hiking Prest mid May (depending on conditions/if the road to Bjørgo is open). I completed the Prest hike on May 3rd which is really early season. I honestly just got lucky with conditions – I wouldn't recommend planning to hike Prest this early in the season.
You can check in with the Flåm tourist office about conditions. They'll know best what the trail is currently like and will be able to recommend alternate hikes if Prest is deemed "un-hike-able."
Additional Information
The trail can be quite muddy and treacherous. Wear proper footwear and bring gaiters if you have them.
Having a downloaded Alltrails map is super beneficial for directional purposes.
It's coooooold and windy on the summit. Bring proper layers! This is what I recommend wearing hiking in the Canadian mountains, but it applies just the same for hiking in Norway.
I'm going to emphasize this again because it's important – this is NOT a hike for beginners! In order to hike Prest, you'll need to be in good physical condition and have experience with bigger hikes.
If you hike during May or earlier, expect lots of snow and winter conditions. The Prest summit is 1,351m above sea level – you're up there!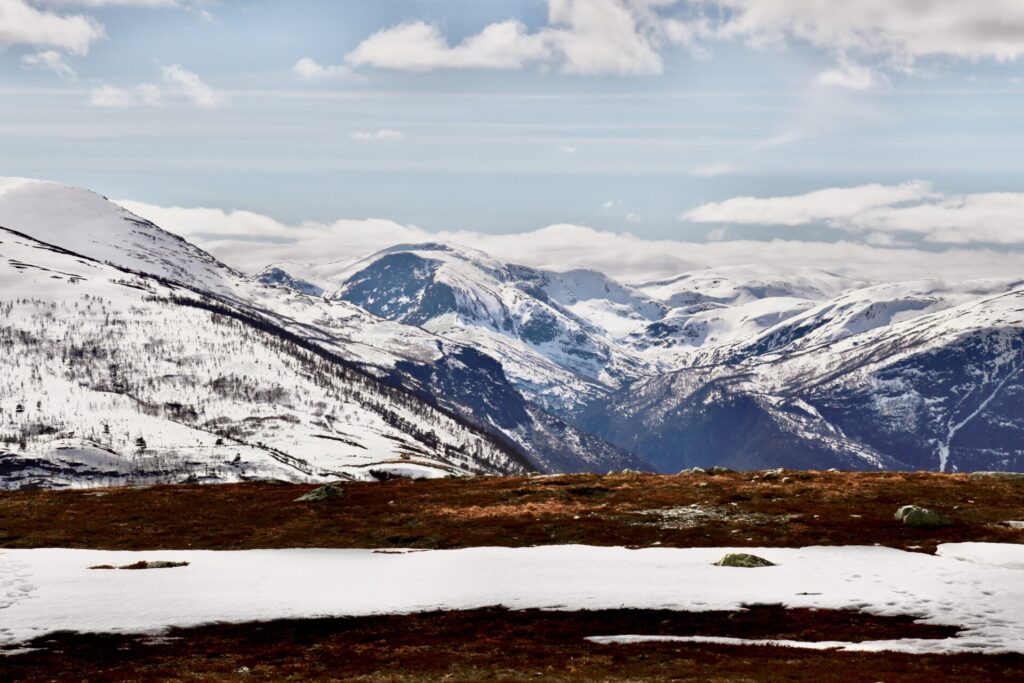 ---
Summiting Prest
The Prest hike starts from the far end of the parking lot you'll find just past Bjørgo. The beginning section of the trail can be slightly confusing as it winds through a sparsely forested area, however aim to hike right and you'll eventually find a beat down trail. Pretty much from the beginning of the Prest hike you'll find the elevation is quite steep, so expect to work on this hike.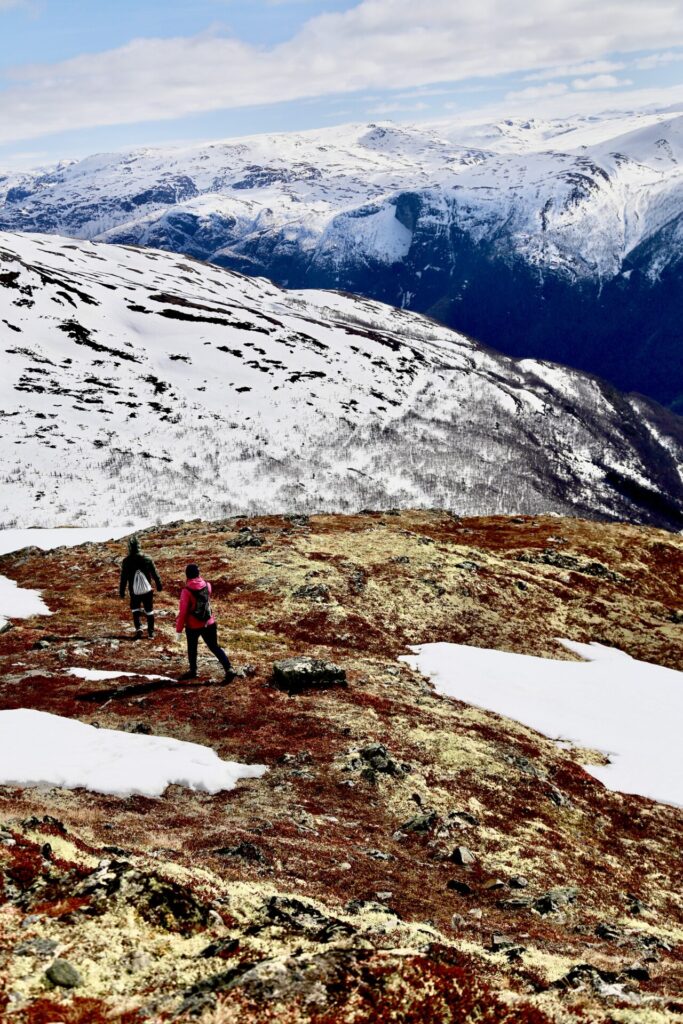 You'll see a false summit not too far ahead and that is where the hike starts to get a tad bit confusing, especially if there's still snow on the ground. Generally, you'll want to aim to hike toward the false summit until the trail starts leading up and then you'll make your way around left. As you go left you'll find the terrain starts to get a bit more technical.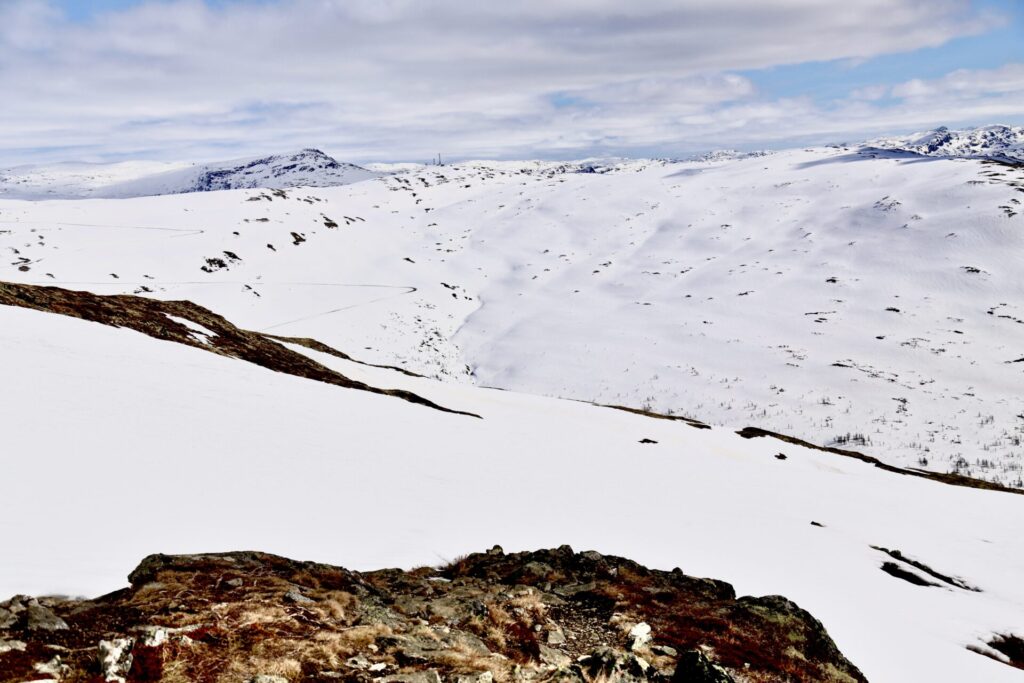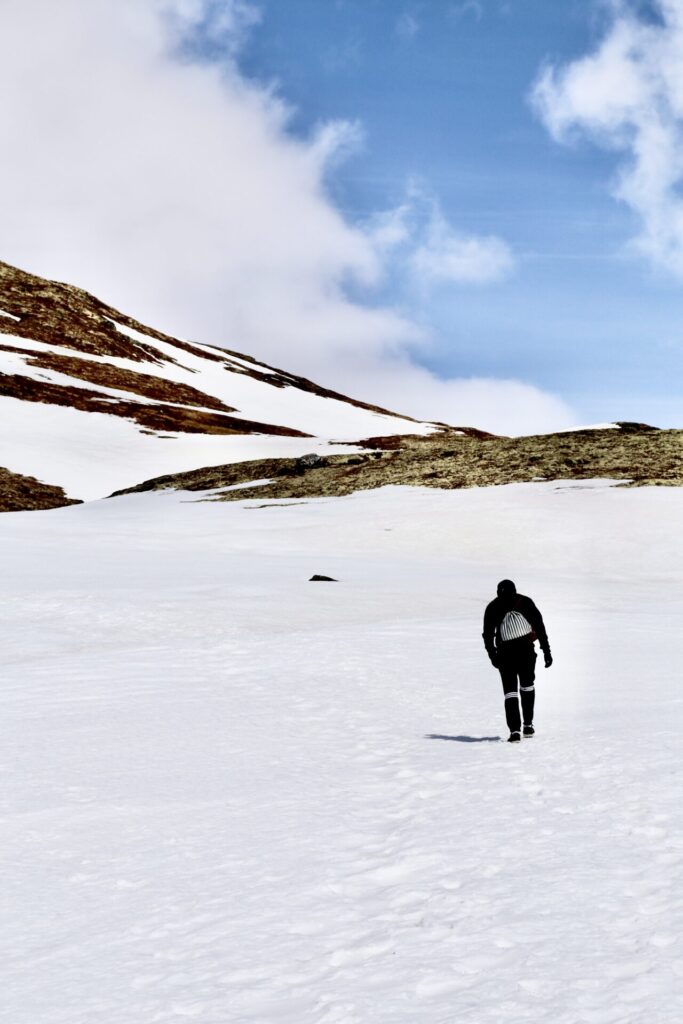 The Scramble up Prest
As the trail becomes more difficult to follow and the terrain gets increasingly technical, you'll need to start using your hands as well as your feet and engage in a scramble. There will be really simple bouldering/free climbing areas where you'll need to boost yourself up over some rocks and navigate a few tricky sections. You might even feel like you're going the wrong way in some parts, but rest assured you're most likely going the right way.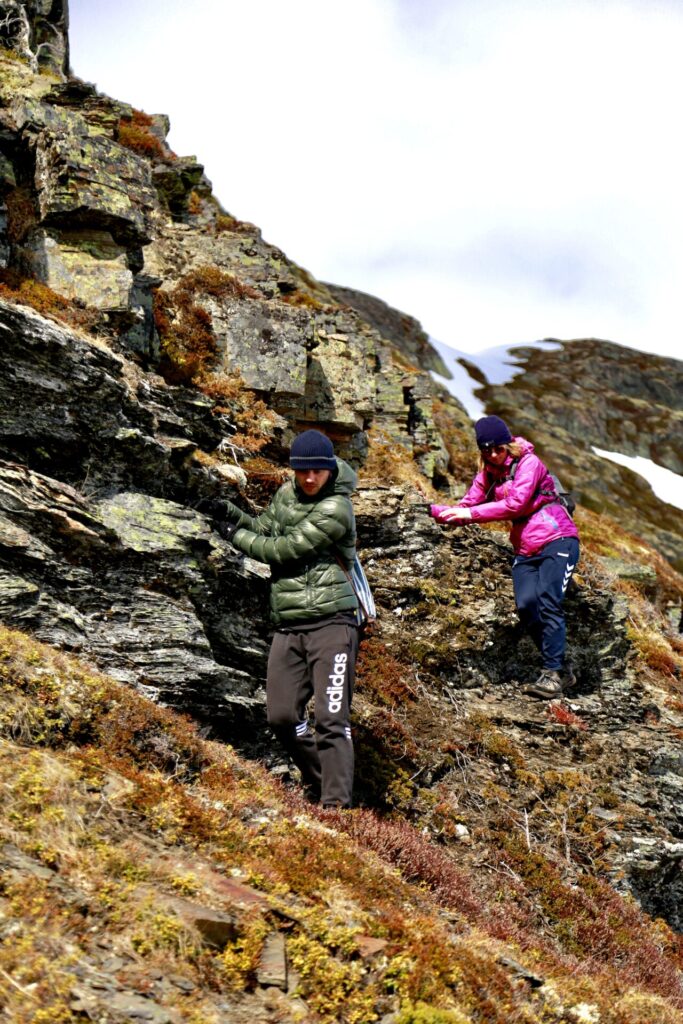 TIP: The view just before the scramble is actually quite incredible. If you want the views, but don't feel like doing a big hike, consider stopping here to enjoy the fjord views!
The scramble section lasts for about 0.5kms before the trail becomes easy to follow again. After the scramble you'll reach the summit in under 1km of steep hiking.
Something I noticed while hiking in Norway is that a lot of trails here are more extreme than hikes in Canada. The trails are harder to follow, they're covered in more natural "hazards," and the grade/scrambles are steeper and more technical. It's just the Norwegian way!
Something I found invaluable on the Prest hike in Aurland was having a downloaded Alltrails map on my phone. This allowed me to at least track my location via satellite to see if I was relatively on the trail or far off
Prest Summit
Once you reach the Prest summit you'll find there's lots of room to move around and explore making this a great hike if you want to get away from people and have a completely solitary experience on the summit – although you won't find too many people up there anyways! This is considered a locals hike.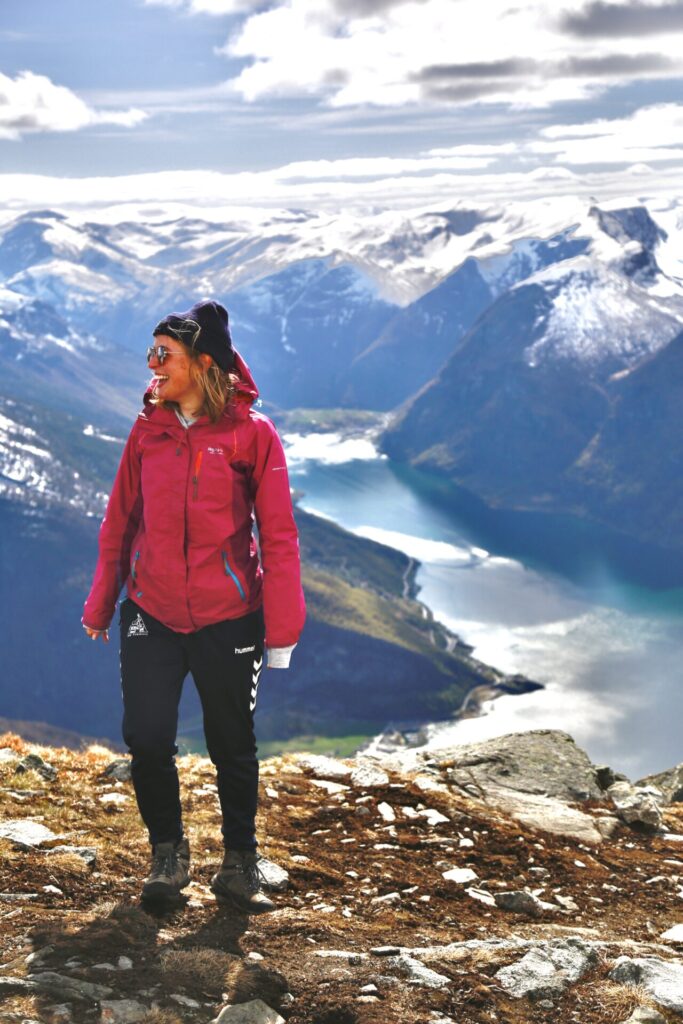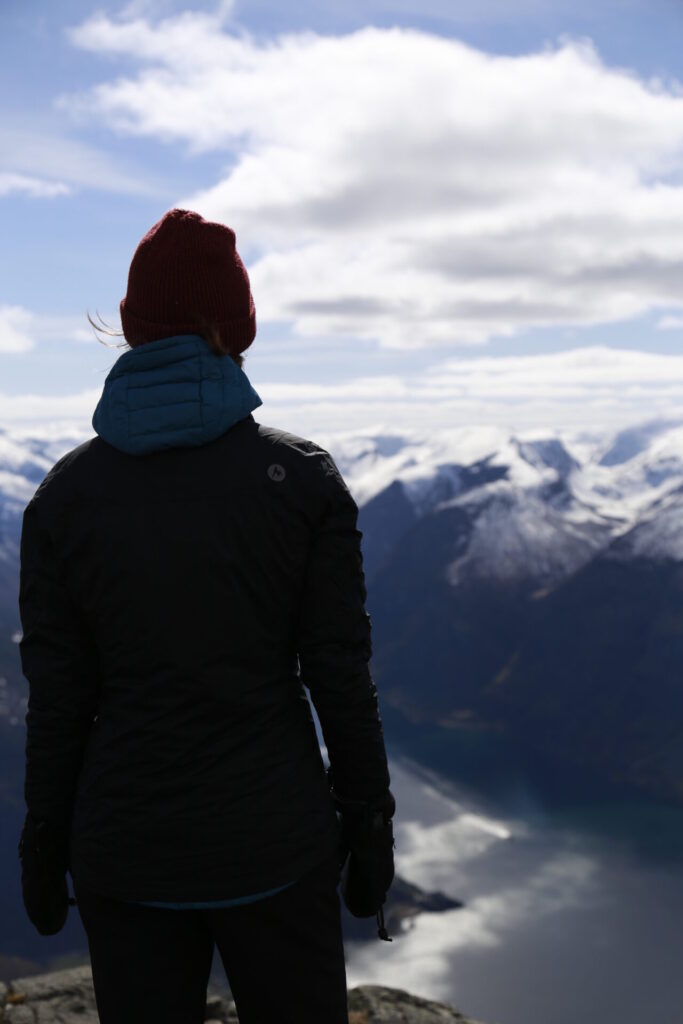 Okay, before I continue can anyone relate to this? I'm always the only photographer on hikes and this is a prime example of the photos I get of my friends vs the photos they take of me UGH.
Okay, rant over.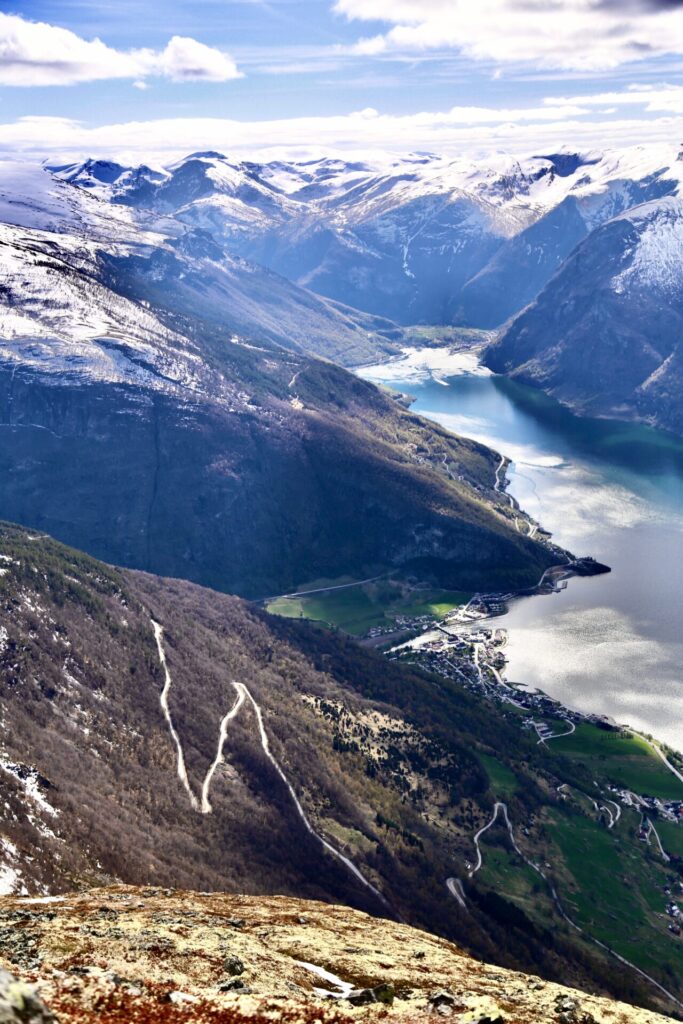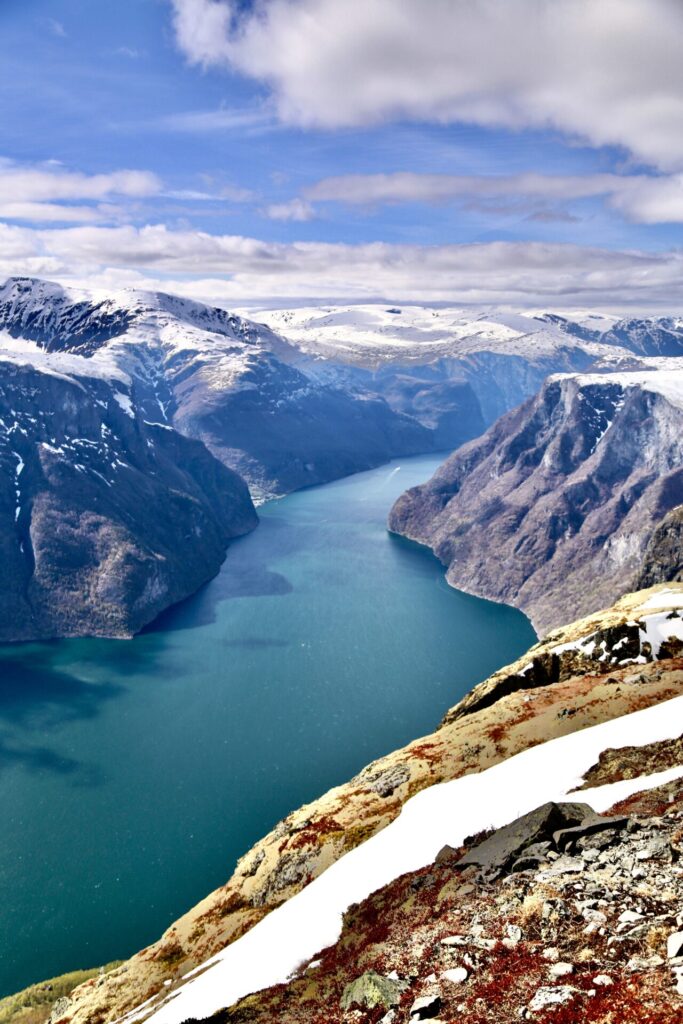 All in all the Prest hike in Aurland is a beauty and it's one of my favourite hikes in Norway (yes, I do say this about every hike)! If you have the proper experience and are searching for a hike in Aurland I'd highly recommend completing Prest. The view of Aurlandsfjord from up here in unmatched.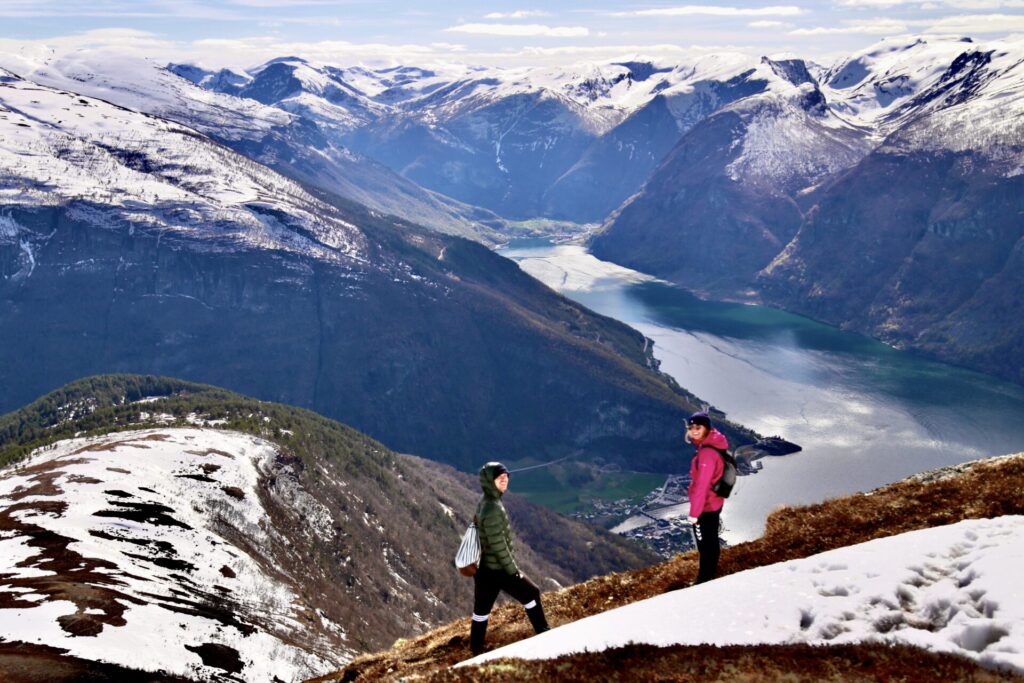 ---
More Trails Nearby
Prest is not the only hike in Aurland, although it is one of the most scenic. A SUPER popular – and much easier – hike in nearby Flåm is Brekkefossen. Brekkefossen can be accessed right from the town of Flåm and only has about 230m of gain – although the 230m is steep. This hike is perfect for people of all ages and ability levels as it follows stone steps to the falls making it super safe and non-treacherous. Here's the Alltrails map for Brekkefossen.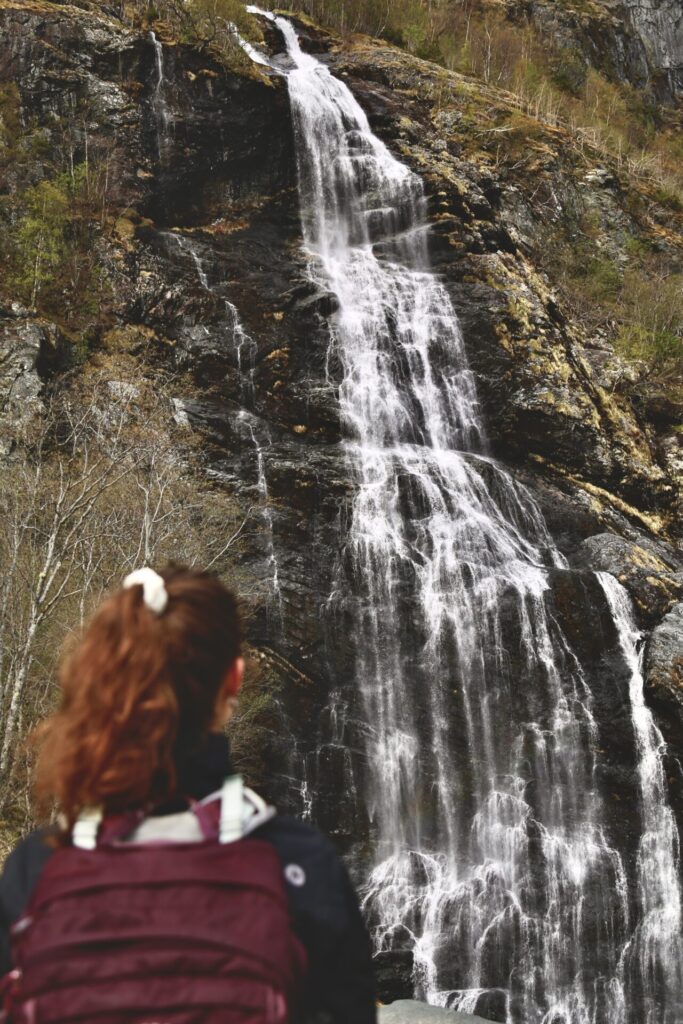 Other hikes in the Aurland region include:
Aurlandsdalen – a 14km (one-way) hike through a beautiful valley. This one is great for backcountry campers (here's the Alltrails map).
Almamulen – another hike through a valley, but shorter; 7km roundtrip (here's the Alltrails map).
Rimstigen – a HUGE summit hike in Gundvangen overlooking Nærøyfjord – advanced hikers only (here's the Alltrails map).
---
Where to Stay in Aurland
The Prest hike in Aurland is fairly isolated from cities and main civilization. The drive from Bergen takes around 3 hours one way and the drive from Oslo is about 5 hours one way. Due to this you'll most likely need to find accommodations in the Aurland region. Here are a few options for every budget: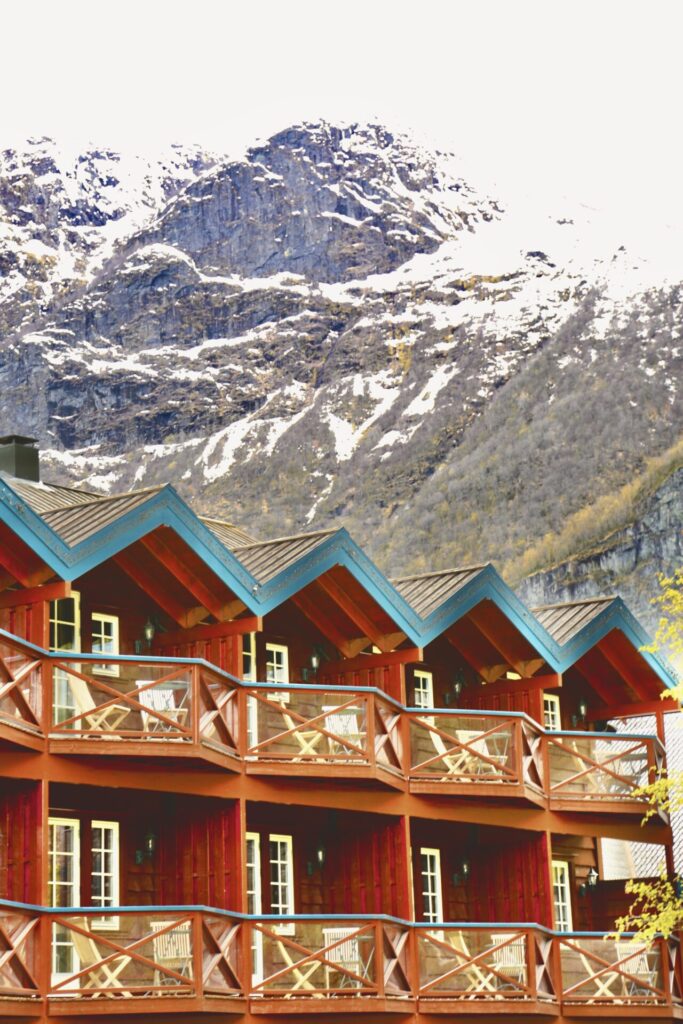 If you're looking for the ultimate budget stay in the Flåm region, you can check out either Lunde Camping (in Aurlandsvangen), Bjørgo Garde Stegastein (Aurlandsvangen), Winjum Cabins (Aurland), or the Brekke Garde Hostel (Flåm). I stayed at Brekke Garde and thought it was honestly quite decent for the price! I also met some new hiking buddies there and adventured with them the following day.
For mid-range stays you can check out the Flåm Hostel, Winjum Apartments (Aurlandsvangen), Aurland Feriehus, Vangsgaarden Gjestvgiveri (breakfast included), or Skahjem Gard.
If you're a fancy traveller, the following places offer a more luxurious and civilized stay: Hotel Aurlandsfjord (breakfast included), the Flåm Marina, or the Flåmsbrygga Hotel.
Tips for Saving Money on Accommodations
Accommodations – like everything else in Norway – are expensive, so it's super helpful to know of a few ways to save while you travel. Here are a few helpful tips for saving $ on your Norway adventures:
Book during off season. High season in Norway almost doubles the price vs if you were to book during months like May, September, etc.
Book ahead of time. That whole "last minute deal" thing doesn't apply in Norway. The longer you wait, you're guaranteed to pay more.
Camp! Norway's campsites are significantly cheaper and Norway has a concept which allows you to camp almost anywhere in the country for free. You can also find campsites almost everywhere you travel in Norway and most offer tiny cabins. You can find all of Norway's campsites on Booking.com.
Of course, travel with people. Although we all love travelling solo, travelling with a companion halves the cost of accommodations.
---
Happy adventuring!
Taylor ♡
---
Like This Post?
Share with friends or save it for later!
---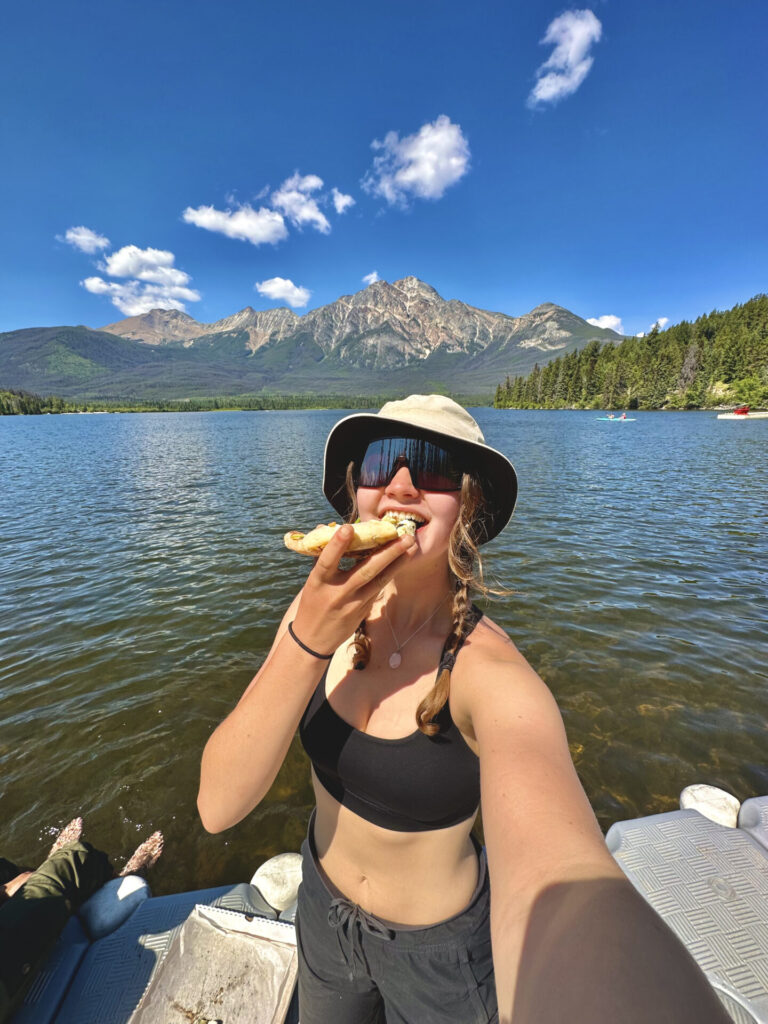 About The Author
HI, I'm Taylor – the voice behind The Holistic Backpacker.
After moving to Banff National Park in 2020 I became an outdoor adventure enthusiast and vowed to never stop exploring.
I now spend my days travelling the world, climbing mountains, and spending nights under the stars in the Canadian Rockies backcountry.
I created The Holistic Backpacker so I could share my adventures and help connect people like you with the same amazing experiences.