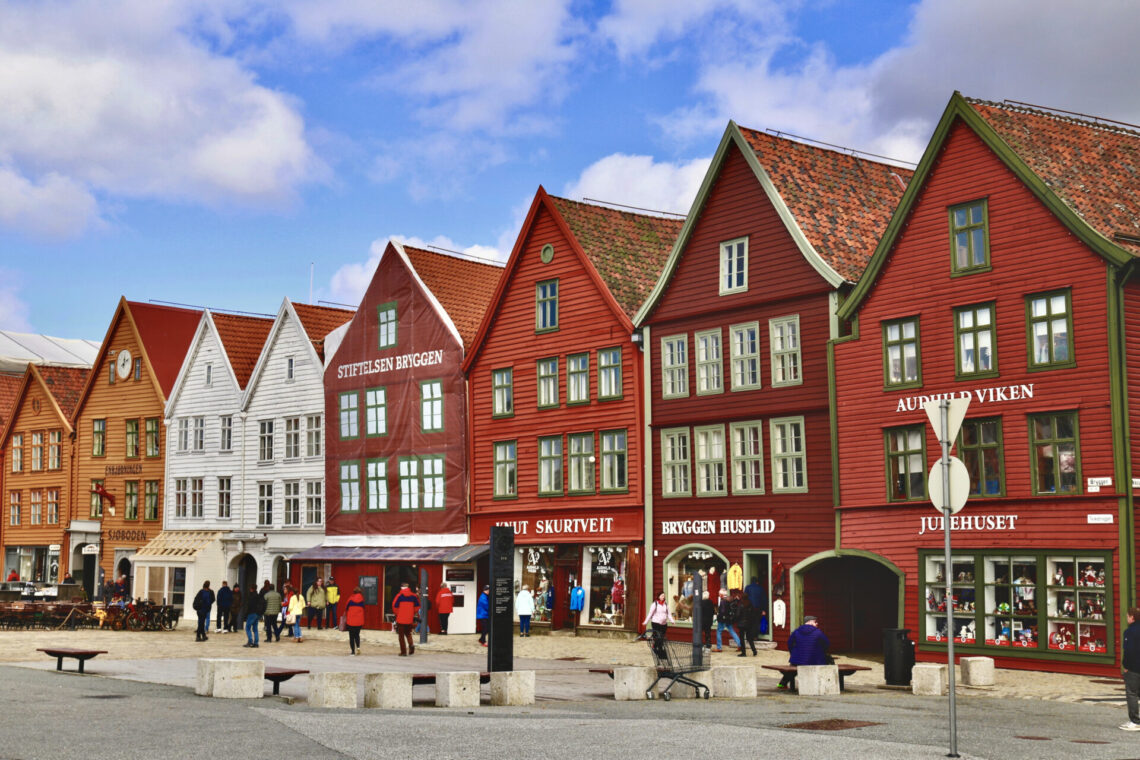 Visit Bergen: Norway's Gateway City to the Fjords
Norway doesn't necessarily have big cities. In fact, if you ask travellers from various destinations around the world Oslo, Stavanger, and Bergen (Norway's 3 biggest cities) aren't even considered "cities" at all due to their small size. Regardless of this debate, I'm considering Bergen a bright and cheerful coastal city and in this post I'll tell you everything you need to know about travelling there.
I spent about a week in Bergen hiking, sightseeing, couchsurfing, and blogging. I'm not a city person at all so I thought a week in Bergen would be much too long, however I thoroughly enjoyed my time there and I think you will too!
Bergen is up close and personal to nature. It's the "gateway city" to the fjords and it's actually surrounded by 7 mountains – this is kind of a big deal to the locals. There are lots of cultural excursions, sightseeing hotspots, outdoor adventure opportunities, and places to eat in Bergen which makes this a great destination for all kinds of travellers.
I've included a map with all the spots I talk about at the end of this post. Keep reading!
Skip Ahead:
This post contains affiliate links; see my full disclosure. If you click these links and make a purchase you're supporting The Holistic Backpacker. Thanks for your support & happy adventuring! – Taylor ♡
---
Quick Norway Travel Tips
Currency is NOK (Norwegian Kroner); displayed as kr.
Visa: Generally not needed for stays up to 90 days; part of the Schengen Zone.
Phone: I purchased a MyCall local SIM card from Narvesen (convenience store) in the Oslo airport. They can also be found at 7Eleven. Please note you'll have to show your passport and go through an approval process before your SIM is registered. You can only set up your SIM from Mon-Fri 9-5.
Norway is EXPENSIVE (obviously) and there's limited infrastructure for backpackers. Plan your trip in detail and book everything (accommodations/activities) well in advance. Booking in advance will help you save a little $ too.
Public transportation is limited. Road tripping is the best way to see Norway's beautiful nature. Getaround (car sharing platform) is the cheapest rental option in Norway. Use this link for $20 off your first rental.
Purchase travel insurance in advance. This insurance is used and trusted by backpackers and adventure enthusiasts around the world.
Make sure you purchase a travel adapter in advance; I like this one.
Norwegian hiking & outdoor season is July-August. All other months have very variable and RAINY weather (especially in the West).
Northern lights are best seen from Tromsø in January & February.
Check out all my Norway travel guides and hiking resources.
---
How to Get to Bergen & Public Transportation
Bergen is located on the west coast of Norway, specifically within Hordaland of Vestland county. Bergen is quite easy to access as there's a big international airport; the Flesland airport. Flesland is Norway's second cheapest airport to fly into – behind Oslo – which makes Bergen a great place to start or end your Norway adventures.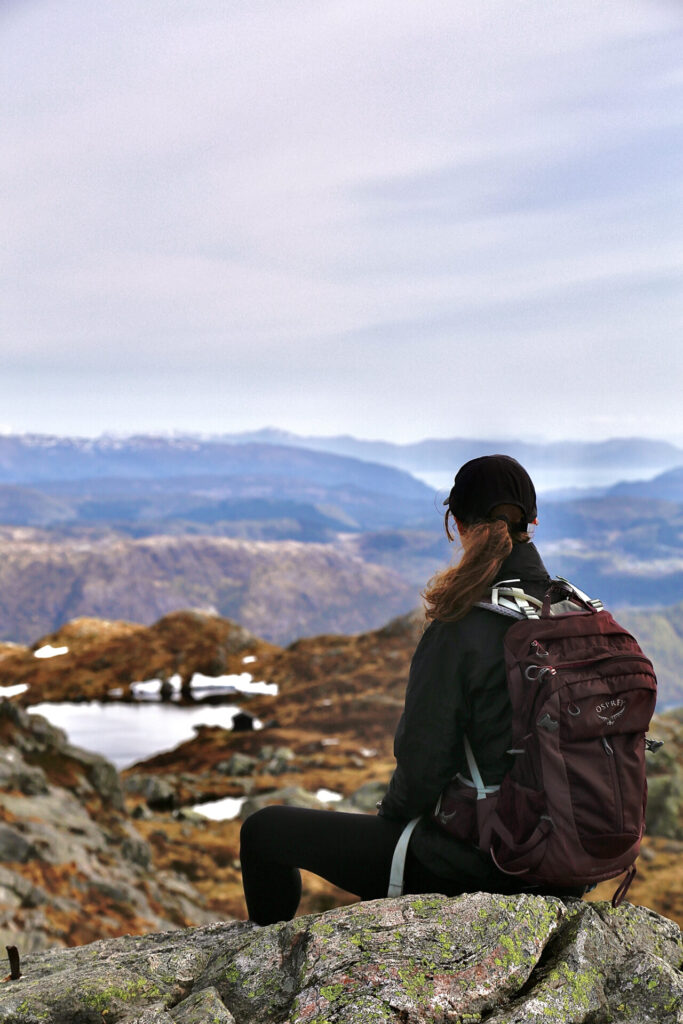 If you're travelling to Bergen from elsewhere in Norway you can utilize the following websites to book public transportation: Nor-way (busses), Vy (trains), or Direct ferries. Alternatively, if you want to rent a car you can check out Discover Car Hire.
If you're coming from Oslo, you can take the Oslo-bergen scenic train and make a pitstop at the beautiful Flåm in Aurland. If you're only in Norway for a short while I'd HIGHLY recommend checking out this region.
Public Transportation in Bergen
The above recommendations for transportation to Bergen are Norway-wide public transit services. Each region in norway however has its own individual transportation system. In the Bergen region the bus operator Skyss is used. This website has an interactive feature which allows you to plan out your public transit route within Bergen.
You'll need to pay for bus tickets online in advance. In Norway you'll quickly discover that EVERYTHING is paid for via card or online. I typically pay for things in cash and this has been a realllll struggle in Norway so far.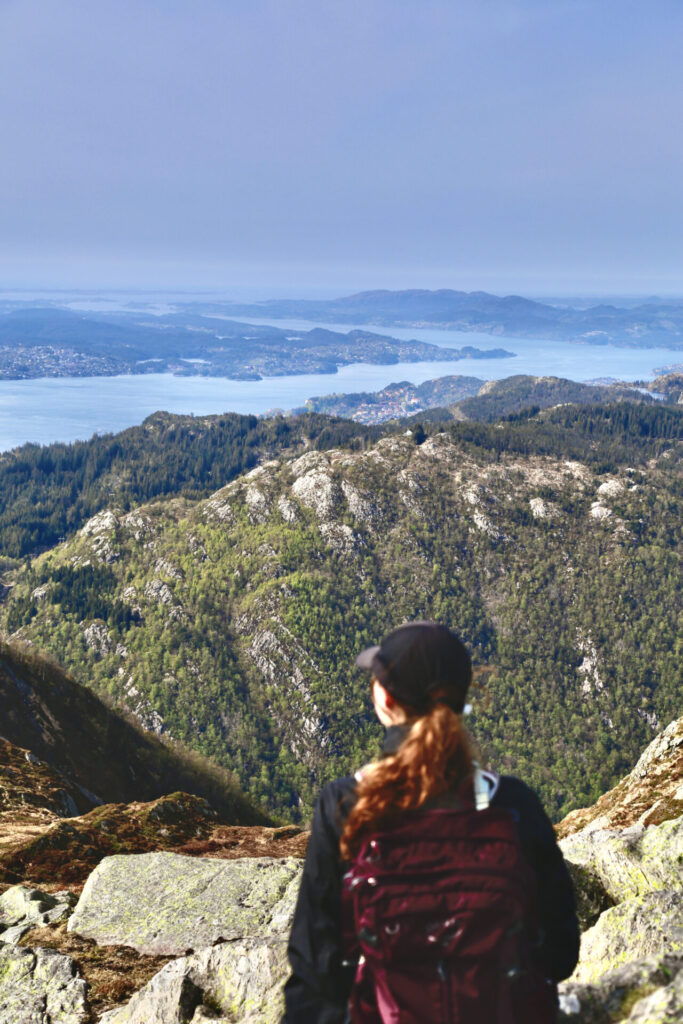 A great feature of the Bergen transportation system is the Bergen light rail – or "tram" as some people would call it. The tram is the fastest and cheapest way to get from the city centre to the outskirts of town. When I visited Bergen, the light rail was the only form of public transportation I used. This website outlines the light rail stops, timetables, and prices.
Helpful Tips for Navigating Bergen
If you're utilizing the light rail you'll want to pay attention to the words "Sentrum" and "lufthavn." Sentrum means the tram is going to the city centre whereas lufthavn is going in the direction of the airport (away from the city centre).
You can pay for tickets at the light rail stops or on board the light rail itself.
Not everything in Bergen is accessible via public transit, like the hiking trails. Sometimes you may be better off walking to certain destinations rather than taking a bus or the rail.
---
Fun Facts About Bergen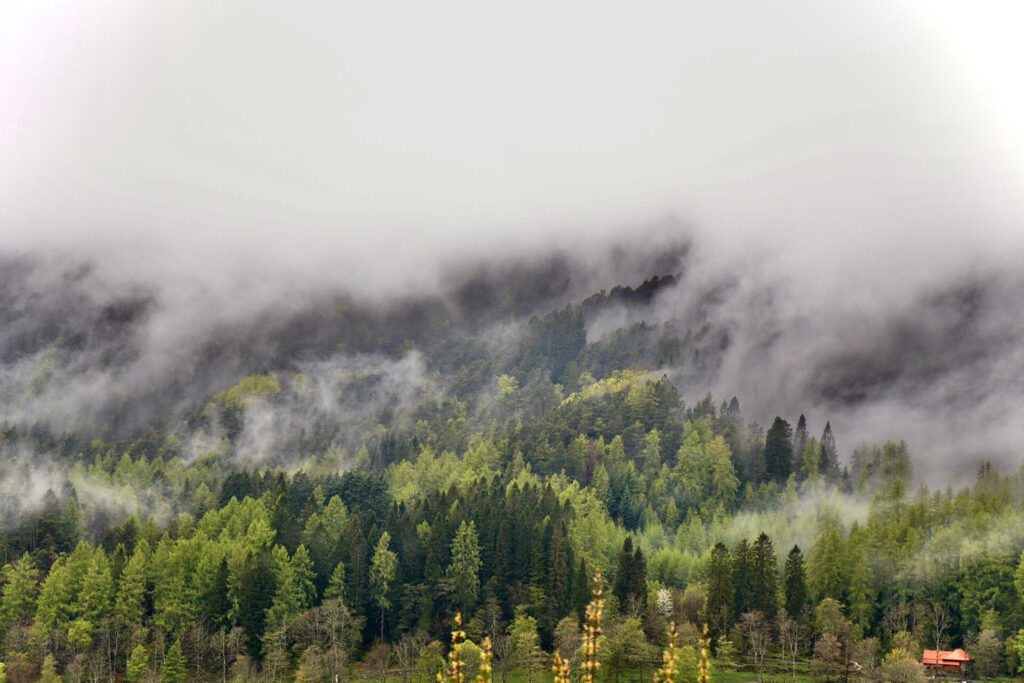 Bergen is known as the city of the 7 mountains.
The city of Bergen was originally called Björgvin; its original Norse name.
Bergen is one of Europe's rainiest places. It rains and/or snows an average of 265 days of the year. Expect some dreary weather during your visit!
The city is famous for its university as well as its world-renowned museum collections.
Bergen is one of the best places to stay in Norway if you plan to see the fjords. It's located centrally between a whole buncha' them.
Walking around Bergen will make you feel like you're visiting the Mediterranean. Most of the houses are white with orange roofs which gives it a tropical-like vibe.
Connect via socials:
Sign up for emails to receive a 50% discount on my travel maps + occasional updates on new hiking guides & travel resources.
Taylor ♡
---
Where to Stay in Bergen
I always find the process of choosing where to stay on a trip to be quite difficult and borderline stressful. To help take some of the pressure away, I'll give a few quick recommendations for where to stay in Bergen for every budget.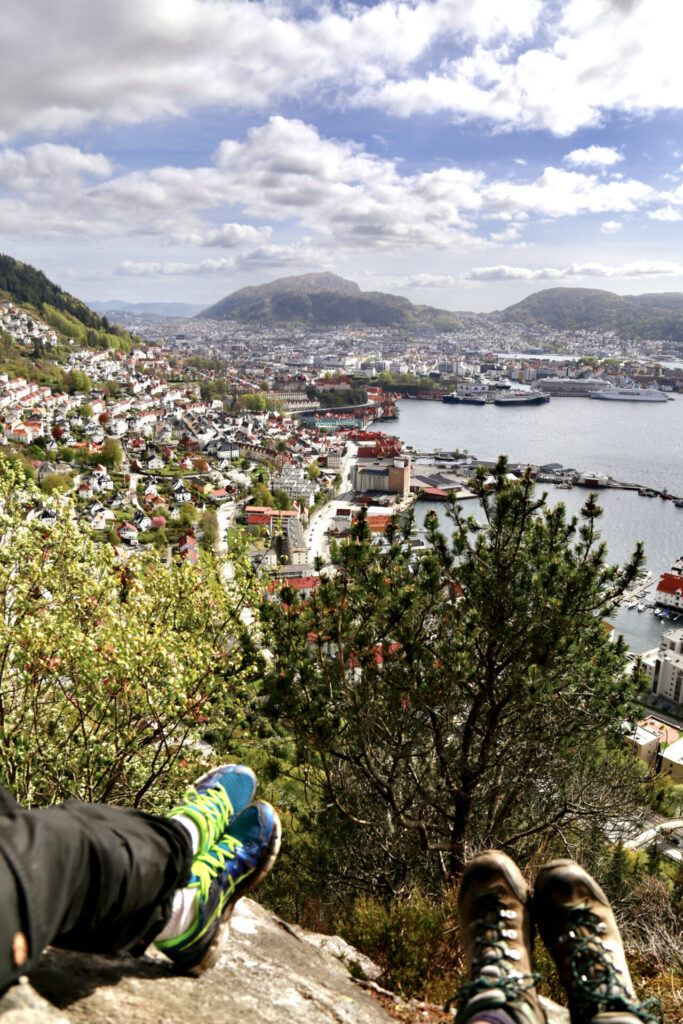 The above budget, mid-range, and camping accommodations may not necessarily be right in town, but if you're looking to save a few $ and are okay with using public transit these are great options. Alternatively, if you want to be right in the action and stay downtown next to the famous Bryggen, the luxury options are ideal. You'll spend a bit more $ this way, but you won't have to deal with the hassle of public transit or travelling far distances to see the sights.
---
Things to do in Bergen
Bergen is one of those cities where you can experience a little bit of everything. There are rich cultural and historical areas and museums, lots of great hiking trails, nightlife, as well as a great scene for cuisine.
I'd recommend spending a couple days in Bergen in order to experience everything, however if you plan to hike I'd recommend spending at least a day or two more to make sure you get everything in.
The following are my top recommendations for things to do in Bergen:
---
1. Visit Bryggen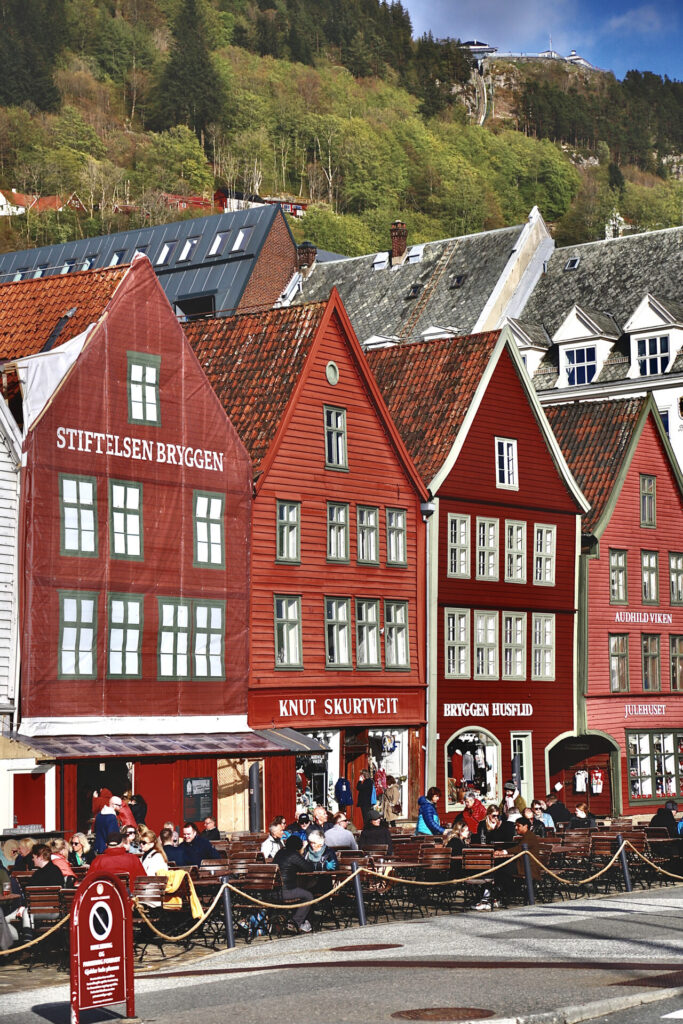 If you've previously seen any pictures of Bergen, chances are they've been of these colourful houses in Bryggen. Stopping by Bryggen is a MUST if you plan to visit Bergen.
Bryggen is a UNESCO World Heritage Site as it was a key place for trading in the 12th century. There are around 62 remaining colourful wood buildings and they make for quite the photo-op.
If you're a history buff, you can check out this site for more information on Bryggen's historical significance.
---
2. Take the Ulriken Cable Car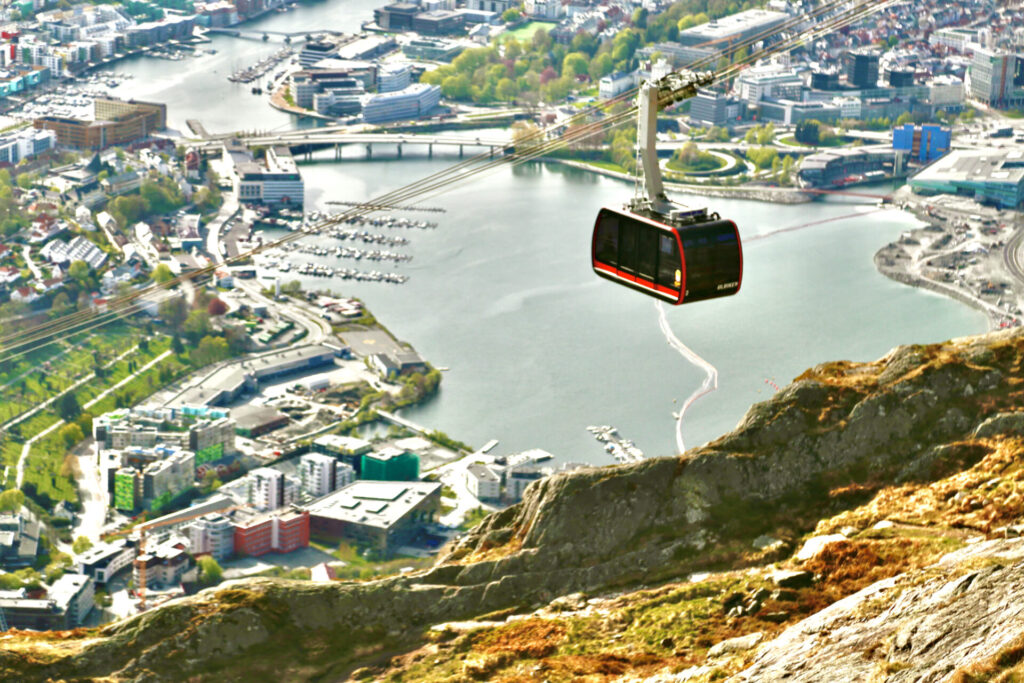 The Ulriken cable car takes you up the tallest mountain (Ulriken) in Bergen and its by far the BIGGEST tourist trap in the city. Buuuut it's also something you've gotta do. I recommend hiking up the mountain (here's the Alltrails map), however if you don't have the time or physical capabilities the cable car is perfect.
At the top of the cable car you'll find a restaurant as well as a cafe style diner. If you're looking for a fancier night out in Bergen you could get all dressed up and take the cable car up for dinner.
I personally think the cable car is surprisingly affordable, but you can check this website for current pricing.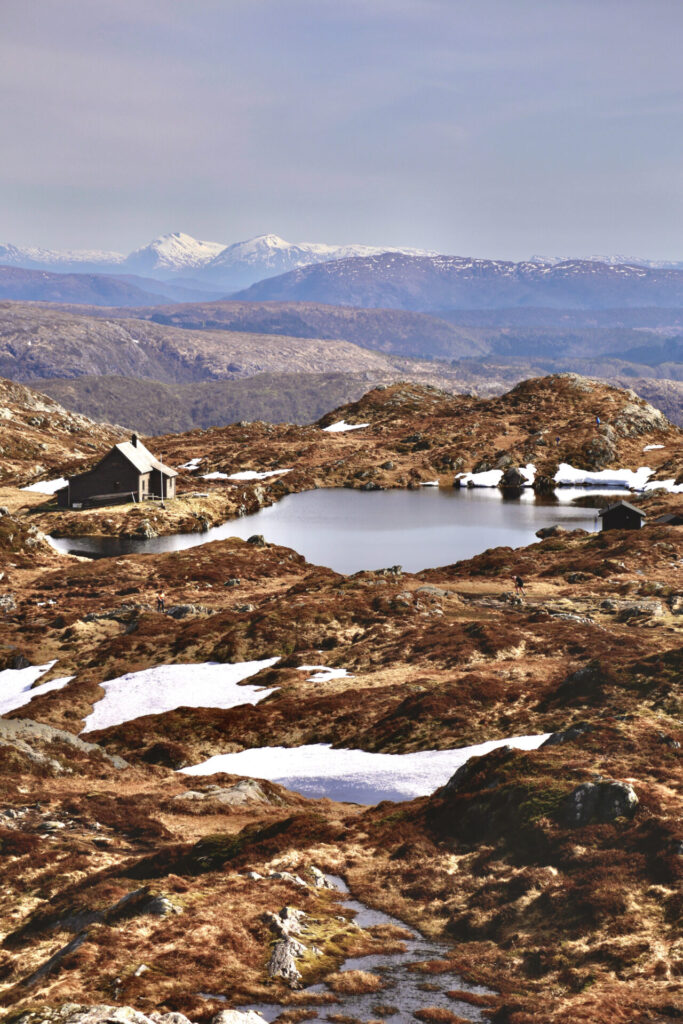 My favourite part of Mount Ulriken was actually hiking to the true summit. If you're going up Ulriken I'd suggest taking a bit of time to hike around here.
Spoiler alert: the cable car doesn't take you to the top of Ulriken! You'll have to hike up a little bit to find the true summit.
If you follow the ridge up and around you'll find lots of little cabins, unnamed ponds, and wild views. About 0.5kms away from the cable car is where the real views will start – as documented above. Just note that the route to the summit can be quite muddy. Bring proper footwear!
---
3. Go Hiking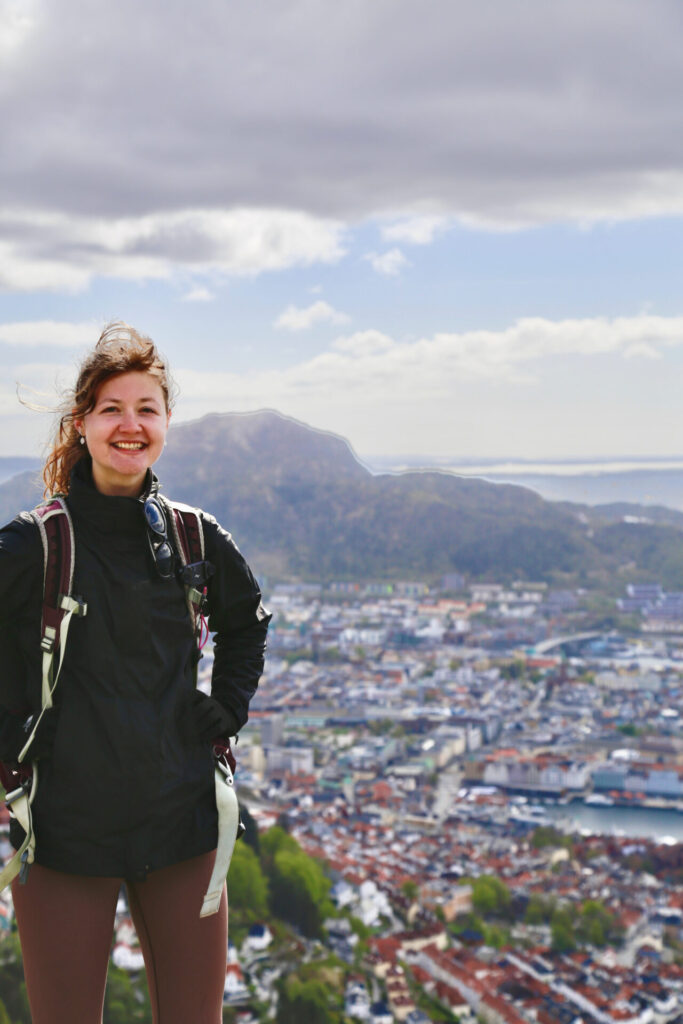 Bergen is a popular hiking hotspot along the coast of Norway. Its 7 mountains are beloved by locals who use them as daily exercise and for training purposes. There's actually an annual event in Bergen where locals compete in the 3/4/7-mountains hike which comprises all 7 summits in one day.
Aside from the tallest summit, Ulriken, a hike I did and LOVED was Stoltzen. The view from the Stoltzen summit overlooks all of Bergen and the hike itself isn't overly strenuous.
This is the main Alltrails route for Stoltzen, however this route follows sherpa stairs up the mountain. I'm not one for stairs, so I opted to find an "off-the-beaten path" route up another trail. Whichever way you hike up Stoltzen though, rest assured you're hiking a local's favourite trail!
Another very popular (and long) hike in Bergen is Ulriken to Fløyen via the Vidden route. This hike follows a 13km point-to-point trail that starts from the Ulriken summit. This is a big one, but it's kind of a bucket-lister if you're hiking in Bergen.
---
4. Photograph Gamlehaugen
Gamlehaugen is a royal castle located 5kms from the main city centre of Bergen.
As of 2022 tours for the castle are non-operational due to rehabilitation efforts, but hopefully soon it will reopen. Currently, Gamlehaugen solely makes for a great photo-op.
Here are the GPS coordinates for Bergen's Gamlehaugen.
---
5. Visit the Fantoft Stave Church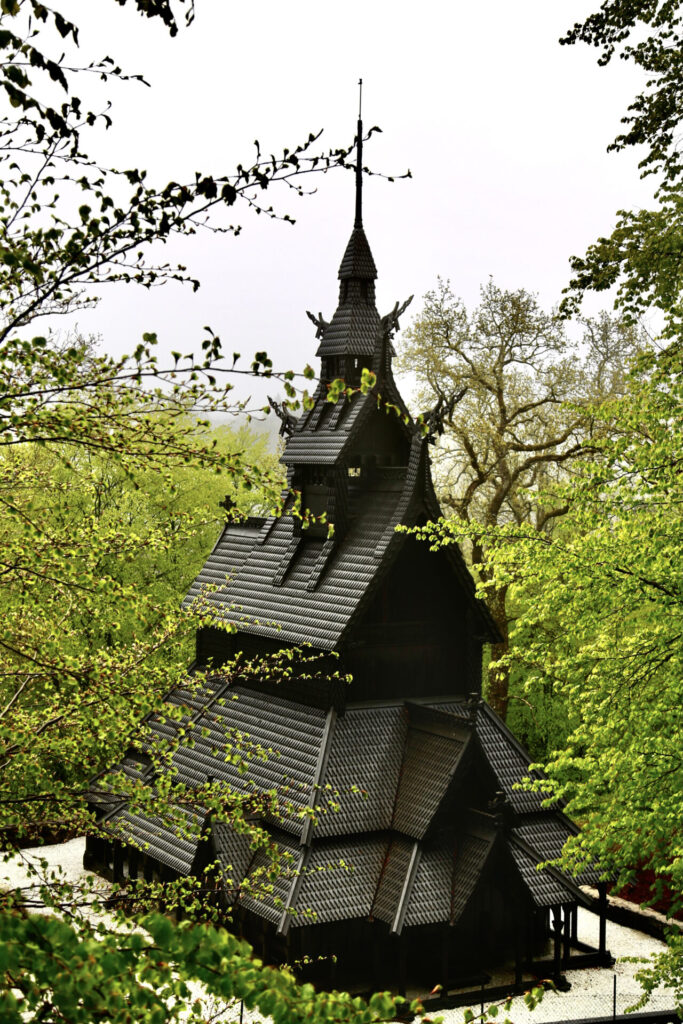 Norway is home to 28 preserved historic stave churches and one of them happens to be in Bergen!
Stave (pronounced "stauve") churches are medieval wooden Christian churches that date back to 1150-1350's. They're super cool looking, but honestly they're kinda creepy and dark.
The Fantfoft stave church in Bergen is typically open to visitors (although it was temporarily closed when I visited in May of 2022) for under $10. The best place to photograph the church is from the elevated area right next to the building.
Here are the GPS coordinates for the church.
Fun fact: the stave churches get their name from the wooden posts (aka staves) that are used to hold the building together. The staves are used in the place of nails and they're actually what the vikings used to build their ships.
Another fun fact: The original Fantoft Stave Church was destroyed by arson in 1992; the first in a string of church burnings by members of the early Norwegian black metal scene. This one featured here is a replica.
---
6. Take a Guided Tour
Taking a guided tour is always a great way to experience a new city, country, or natural area. Utilizing a tour company provides you with a knowledgeable guide, transportation, and a foolproof plan that guarantees a great experience. Guided tours are also a great way to socialize if you're travelling solo!
Some of my favourite tour company websites for Norway are Get Your Guide, Manawa, and Viator. Each of these websites offer slightly different excursions.
The top 4 highlight tours from Bergen are:
---
7. Take a Walk in Bergen's Nature
Besides Bergen's 7 mountains, there are plenty of natural areas and walking trails accessible right from the city. You can take a stroll next to the sea or walk through lush forests. One of my favourite walking locations in Bergen was the woods by Gamlehaugen and the Fantoft stave church.
---
8. Visit Bergen's Museums
Bergen is a museum hotspot. The city is FULL of historical significance and the museums are there to backup the claim. There are more than 2 dozen museums scattered around Bergen, all of which you can find here.
---
9. Go to the Fish Market
A super popular activity in Bergen is stopping by the fish market. According to locals the market is overpriced, however you're going more for the experience rather than to save $.
I'm not necessarily one for seafood so I skipped this. If you're interested though, you can find more information about the market here.
---
Bergen Map
---
Happy adventuring!
Taylor ♡
---
Like This Post?
Share with friends or save it for later!
---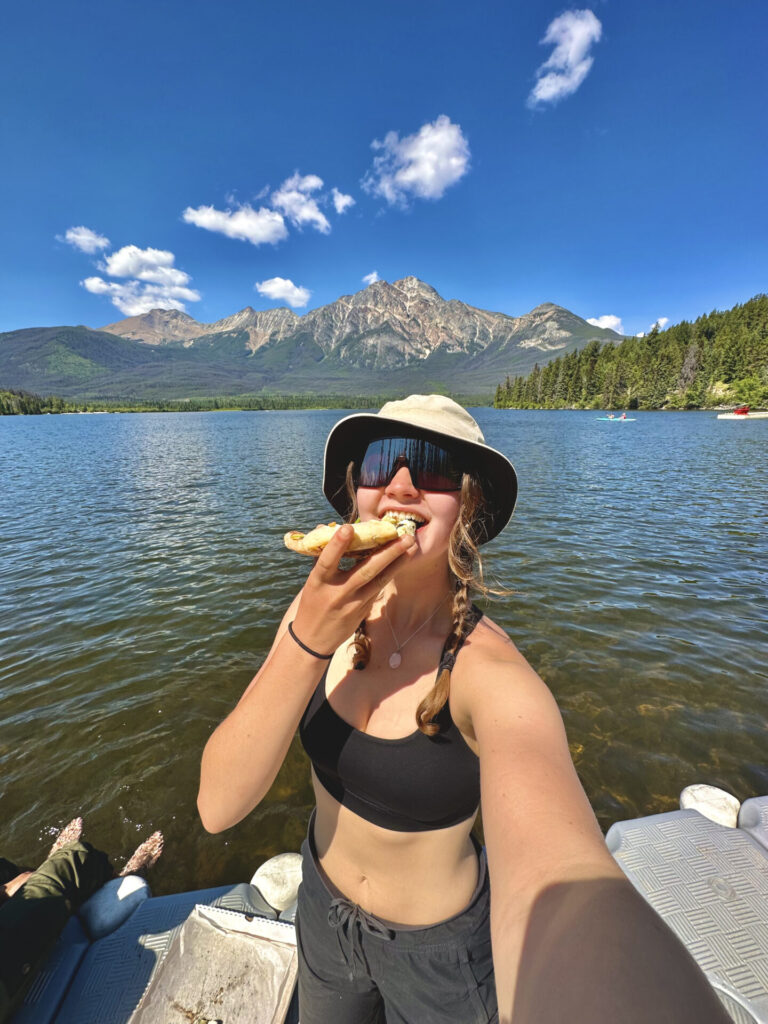 About The Author
HI, I'm Taylor – the voice behind The Holistic Backpacker.
After moving to Banff National Park in 2020 I became an outdoor adventure enthusiast and vowed to never stop exploring.
I now spend my days travelling the world, climbing mountains, and spending nights under the stars in the Canadian Rockies backcountry.
I created The Holistic Backpacker so I could share my adventures and help connect people like you with the same amazing experiences.