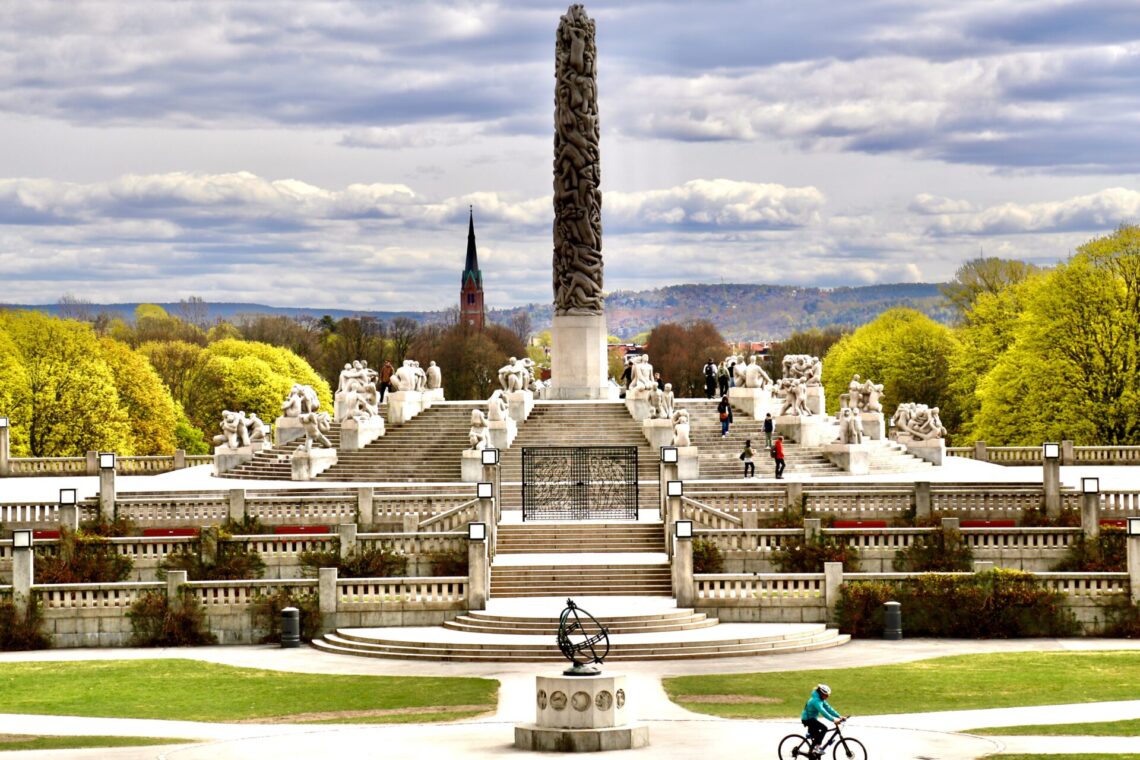 Oslo: What to do & Things to Know Before Visiting
The first stop on my 3 month backpacking trip through Norway was Oslo. So, it's only right to start off my Norway blogging with all-things-Oslo! In this post you'll find a list of things to do in Oslo, recommendations for where to stay, as well as some interesting things you can expect during your visit.
Oslo is a Muti-cultural city in Norway that's home to almost 650, 300 people from all over the world. Oslo has the cheapest airport in the country which makes it a great starting point for your Norway adventures; Norway is quite expensive to travel, so take savings where you can get them!
Like everywhere in Norway, Oslo is mere steps away from nature which (as you may have guessed) is my favourite part about the city. I told myself I was going to change up my travel habits on this trip and spend some time in the city, but I ended up spending one night camping and a full day bouldering in nearby Hvasser, which for my Ontario friends is the equivalent to Cottage country… I guess my *city* travels will have to wait…
Now, let's travel to Oslo!
Skip Ahead:
This post contains affiliate links; see my full disclosure. If you click these links and make a purchase you're supporting The Holistic Backpacker. Thanks for your support & happy adventuring! – Taylor ♡
---
Quick Norway Travel Tips
Currency is NOK (Norwegian Kroner); displayed as kr.
Visa: Generally not needed for stays up to 90 days; part of the Schengen Zone.
Phone: I purchased a MyCall local SIM card from Narvesen (convenience store) in the Oslo airport. They can also be found at 7Eleven. Please note you'll have to show your passport and go through an approval process before your SIM is registered. You can only set up your SIM from Mon-Fri 9-5.
Norway is EXPENSIVE (obviously) and there's limited infrastructure for backpackers. Plan your trip in detail and book everything (accommodations/activities) well in advance. Booking in advance will help you save a little $ too.
Public transportation is limited. Road tripping is the best way to see Norway's beautiful nature. Getaround (car sharing platform) is the cheapest rental option in Norway. Use this link for $20 off your first rental.
Purchase travel insurance in advance. This insurance is used and trusted by backpackers and adventure enthusiasts around the world.
Make sure you purchase a travel adapter in advance; I like this one.
Norwegian hiking & outdoor season is July-August. All other months have very variable and RAINY weather (especially in the West).
Northern lights are best seen from Tromsø in January & February.
Check out all my Norway travel guides and hiking resources.
---
How to Get to Oslo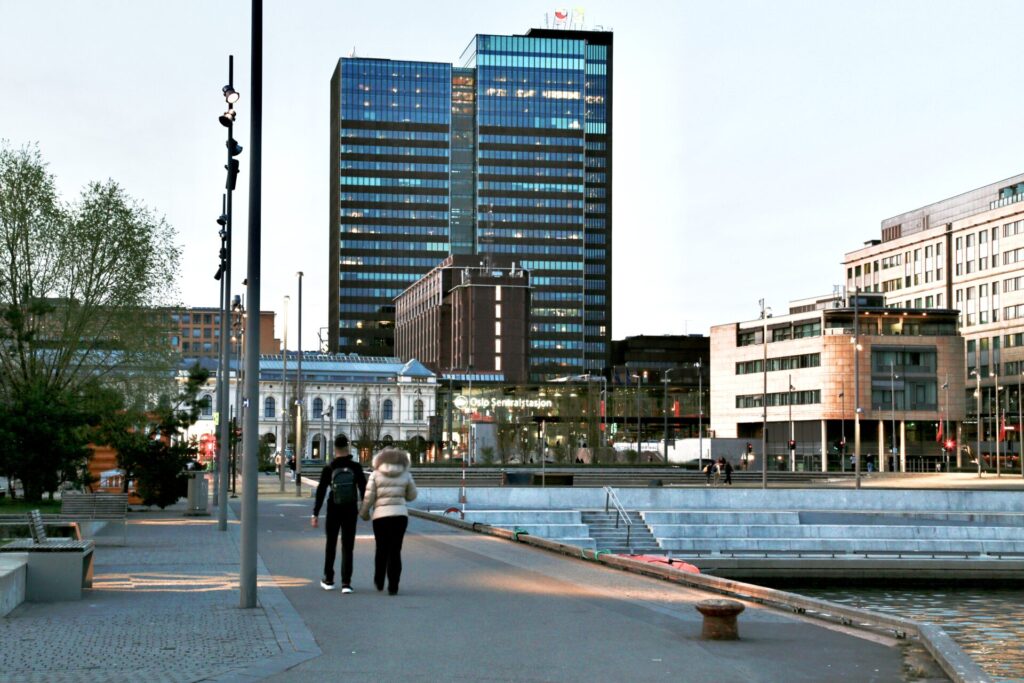 Oslo-Gardermoen (Oslo's main airport, or "lufthavn") is located about a 25 minute train ride from the city centre. You can buy tickets for the train at the airport (don't worry, the kiosk has an English function) or you can buy your tickets ahead of time online. If you're staying in or visiting downtown Oslo, make sure you book your ticket to "Oslo S" which is the city's central station.
Be aware that there are 2 trains; "express train" and "train." The express train costs more and is totally a tourist trap! The regular train takes the same amount of time to get to the city centre, but the sign for the regular train is off to the side of the airport and it's easy to miss.
Alternatively, if you're coming to Oslo from Bergen you can take the Vy train. If you're coming from Copenhagen or Fredrikshavn (Denmark) or Kiel (Germany) you can take a ferry.
---
How to Navigate Oslo
One of the weirdest things about Oslo is the complete absence of stop signs. Yup that's right, Oslo has no stop signs.
The driving seems to be chaos around the city. I witnessed so many *almost* accidents and found it quite difficult/confusing to cross the street because of the strange driving system here.
Due to this with the added bonus of minimal parking, I'd advise not to rent a car while you're in the city. However if you're dead set on having a car you can check out this website for rentals. Oslo has an excellent public transit system of both trains and busses which will take you anywhere within the city, to the nature surrounding Oslo, as well as neighbouring cities and towns.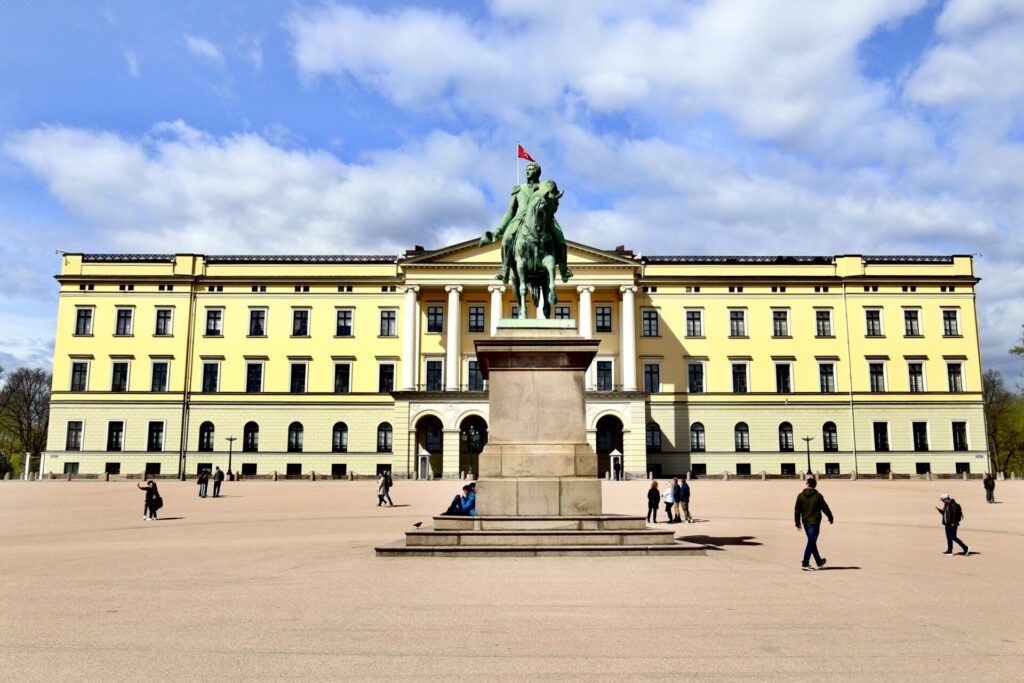 If you're staying in Downtown Oslo, chances are you'll be able to walk to everything. I found that everything I needed/all the sights were within 15 minutes from where I was staying. If you're not one for walking, you can also take advantage of the E-scooters and E-bikes scattered around town.
---
8 Things to Expect in Oslo
I didn't spend too much time in Oslo, however I was there long enough to discover all the little quirks and individualities that made the city unique. So, here are a few "first impressions of Norway" and some things you can expect to find in this major city:
Norway is quite similar to Canada. I didn't necessarily feel out of place or like I was in a "new" setting (minus the Norwegian language). It was strangely familiar.
Norwegians are BEAUTIFUL! Oslo was my first stop in Scandinavia (or anywhere in Europe, actually) and the rumours are true. Everyone is tall, blonde, and confident.
Although initially a little standoffish, Norwegians are SUPER kind and very helpful!
Remember those scooters I just mentioned? They're everywhere and they're fast. I was almost hit multiple times and apparently there are constant accident reports – watch out!
The city is constantly under construction and the projects never seem to be finished.
Mostly all shops are closed on Sundays in Norway, plan accordingly.
Everyone speaks English! I've now been in Norway for 5 days and haven't run into a single language barrier.
Something super weird in Oslo are the public bathrooms. You need to pay (usually 10-20 NOK) to use the bathrooms in the parks around the city AND at the train station. Only cards can be used as payment.
Follow The Holistic Backpacker's Adventures on Socials:
Keep Up With My Adventures!
Sign up for my newsletter and stay up-to-date with my latest adventures, gear guides, and eco-resources!
Taylor ♡
If you don't have a Norwegian phone plan, don't worry. There's plenty of open wifi at various shops and restaurants around the city where you can connect and load google maps for directional purposes. I'm the WORST with directions, but because of the open wifi I never reallyyyy got lost.
---
The Vibe in Oslo
I'm all about the vibes, so it's essential that I talk about the general vibe of Oslo.
To be completely honest, I found Oslo to be like just any other city, nothing specifically "wow" about it. In saying this though, I'm not a city person at all so maybe don't necessarily take my word for it.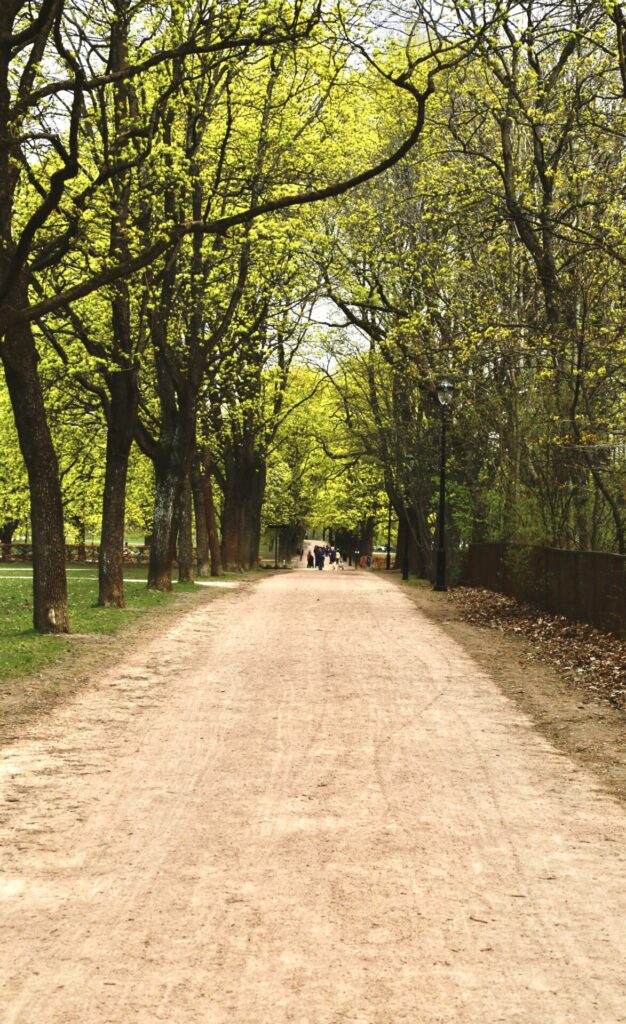 One notable thing about Oslo though is the nightlife. If you're into clubs, dancing, and drinking you'll have a great time in the city. Just make sure you visit on weekends and during the summer months for the best experience. On Saturdays you'll find loads of people in the streets. In fact, I could hear people singing and drinking in the streets from where I was staying!
Something I didn't necessarily enjoy about Oslo were the protests, preachers, and beggars. The protests and preachers are out constantly and they're quite obnoxious. The beggars can be very verbally aggressive and if you interact with them chances are they'll mildly harass or follow you. Best to keep your distance and avoid interacting in these situations.
---
Where to Stay in Oslo
There are plenty of places to stay in Oslo, but if you plan to stay in the city centre it's best to book accommodations in advance. I tried booking a hostel in Oslo a few days before my trip and there was no availability – and I wasn't even booking in high season!
Some popular, mid-range places to stay in Oslo are the Oslo Citybox, the Comfort Hotel Xpress Youngstorget, and the First Hotel Millennium.
The best budget place to stay in Oslo is the Anker hostel which you can book via Hostelworld or Booking.com. Alternatively you can check out the Anker Hotel (not hostel) or the Cochs Pensjonat.
If you're a "fancy traveler," Camillas Hus and The Thief are upscale/luxury hotels in the city.
If none of these sound appealing, you can find all of Oslo's accommodation options here.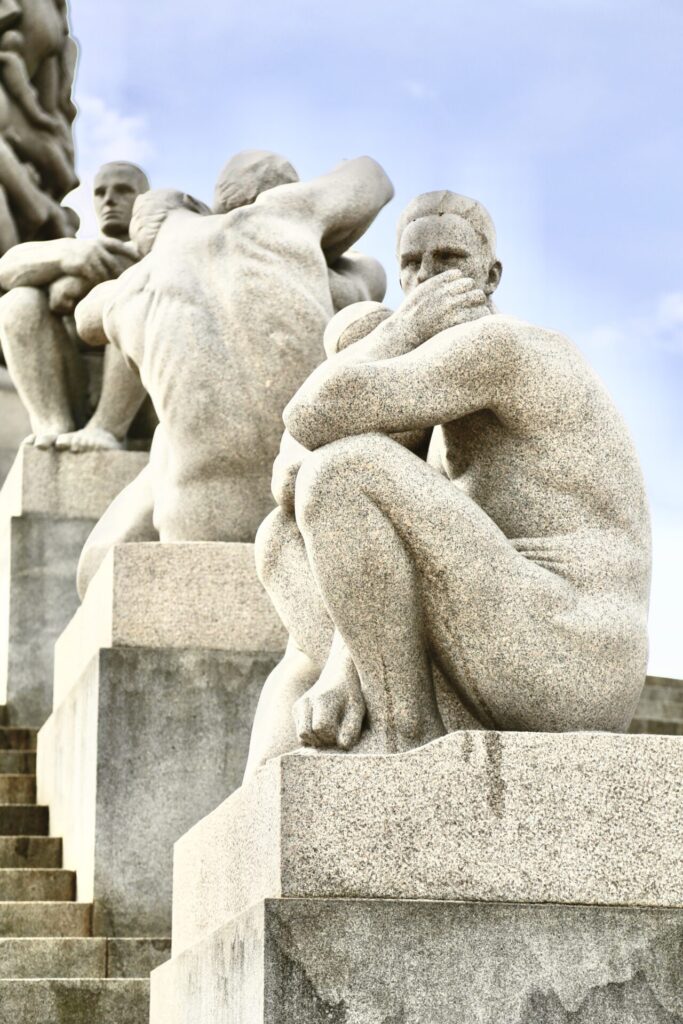 More Accommodations in Oslo
Alternatively, you can stay somewhere just outside of the city. This option is cheaper and puts some distance between you and the whole "hustle and bustle" vibe of Oslo. If you're like me, this is ideal! A couple good neighbouring towns to stay in are Lillehammer or Kragerø.
If you're a super budget-traveller or outdoorsy person, you may want to opt for camping; free camping. Norway has a concept called "allemannsretten" which translates to "all man's land." This policy allows you to camp anywhere in the country for free, with a few minor exceptions. I took advantage of this free camping policy while I was in Oslo and stayed at a nearby lake – I'll talk about this camping experience and Norway's free camping concept next.
---
What to do in Oslo
Now the exciting part, things to do in Oslo! There are plenty of things to do in downtown Oslo. From sightseeing to saunas to nightclubs and camping, you can find a little bit of everything.
This 5.5hr guided tour and this private E-scooter tour are both great ways to see all of Oslo's sights in a timely and informative fashion.
However if you're more of a DIY traveler (like myself), here are my top 12 recommendations for things to do in Oslo.
---
1. Sightseeing/Photography Tour
The perfect way to start out any trip to the city is by doing a walking/photography tour to get your bearings, see the sights, and learn what the city has to offer. I'll talk about a few of the popular sights next, but specifically Oslo has some old churches, buildings, and the old University which make for great photo-ops.
A couple "can't miss spots" are the Royal Palace (where the King lives) and Frogner Park & Vigeland Sculpture Park.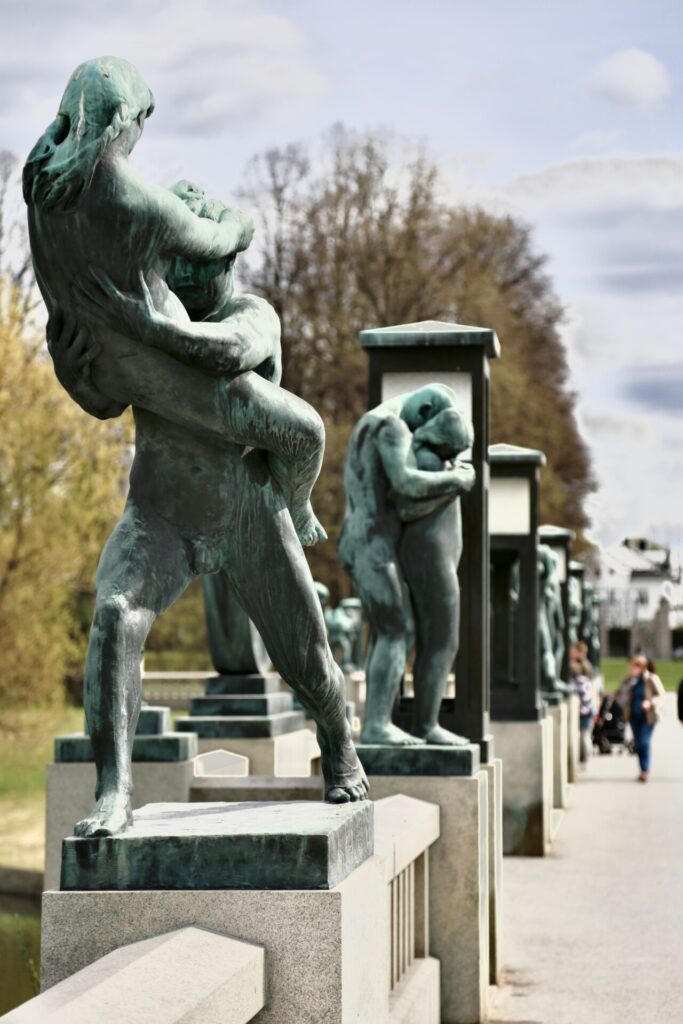 If you're not great with directions (like me) or want to find Oslo's parks and sightseeing stops without the hassle of public transportation, this 2.5 hour bus tour might be for you!
---
2. Frogner and Vigeland Sculpture Park
One of the most bizarre and sought-after sightseeing destinations in Oslo is the historic Frogner Park which is home to the Vigeland Sculpture Park.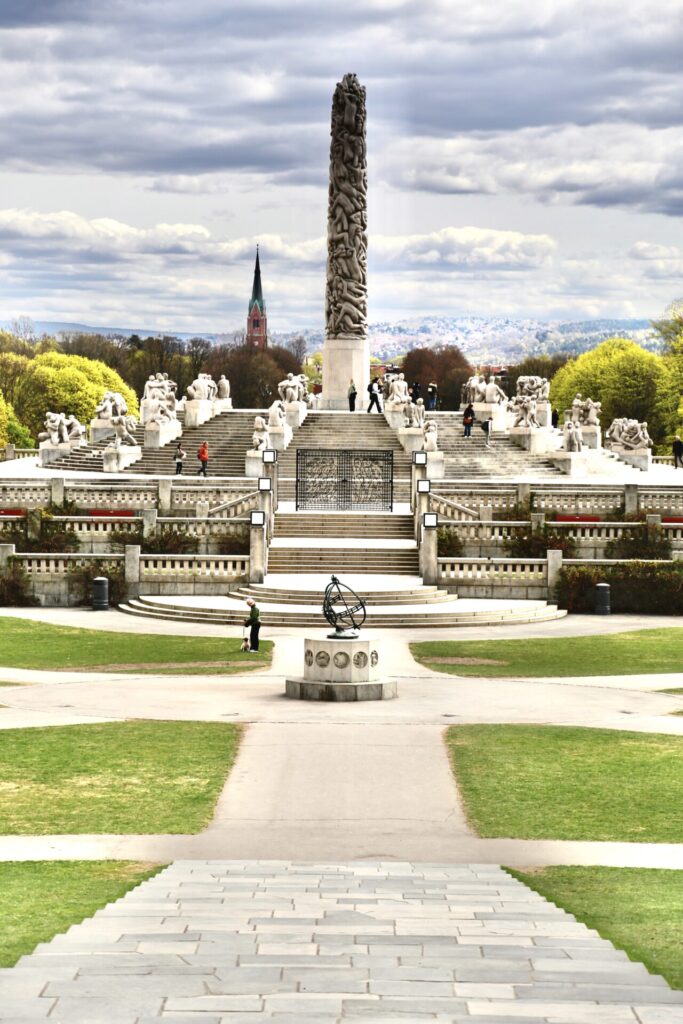 There are 212 strange sculptures in the park that feature everything from adult themed poses, "temper-tantruming" (is that a word?) toddlers, to women fighting lizards. Not sure what the artist Gustav Vigeland was smoking when he created these, but it must have been good.
These statues are quite risqué, especially for prude-ish Canadians like myself.
One of the more interesting features of the park is the tall "pole" I guess you could call it!? This pole is made up of tons of nude sculptures that are all wrapped around each other. Super strange, but something you don't want to miss!
By the way, that whole "naked in Scandinavia" stereotype is all too real. If you're out in nature or by a lake, don't surprised if you see someone shamelessly skinny dipping in broad daylight.
---
3. Saunas and Ice Baths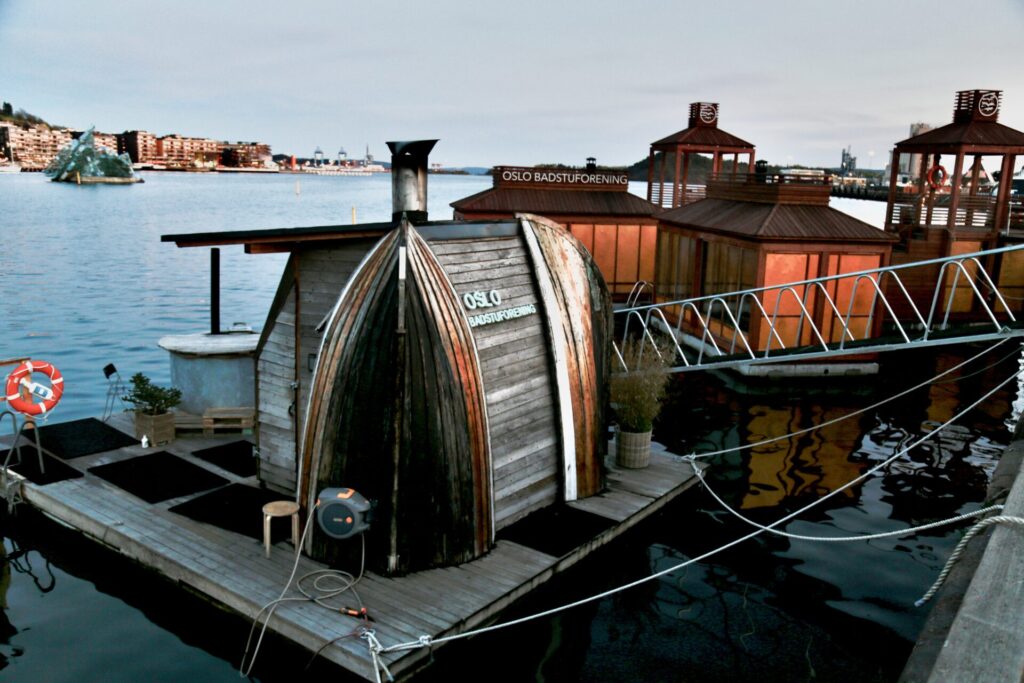 A sauna/ice bath is a classic Norwegian experience and it's something you'll definitely want to try while visiting any location within Scandinavia. Luckily in Oslo you can find a few different saunas alongside the Oslofjord, like the one featured above; Oslo Badstuforening.
---
4. SALT
I didn't personally go to SALT, but this seemed like THE place to be in Oslo. SALT is situated right on the waterfront overlooking the Oslofjord. There's often live music, a great patio, a night club, a sauna, as well as ice baths and some tasty restaurants.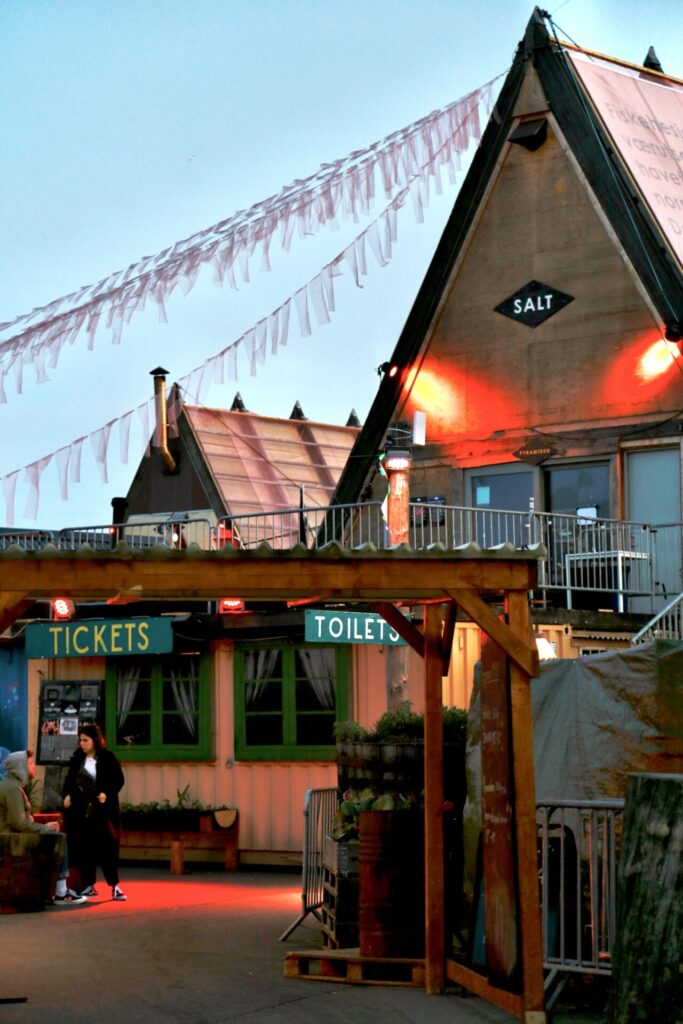 If you're only in Oslo or Norway for a few days, SALT has everything you need for the classic "Norwegian experience." I'd definitely recommend checking this out.
---
5. Holmenkollen Ski Jump
The Holmenkollen ski jump offers some of the best views above the city as well as a little museum that features more information about the sport – it's a great resource to learn about ski jumping.
I didn't personally visit the ski jump, but this blogger has written everything you need to know about visiting the ski jump.
---
6. The Oslo Opera House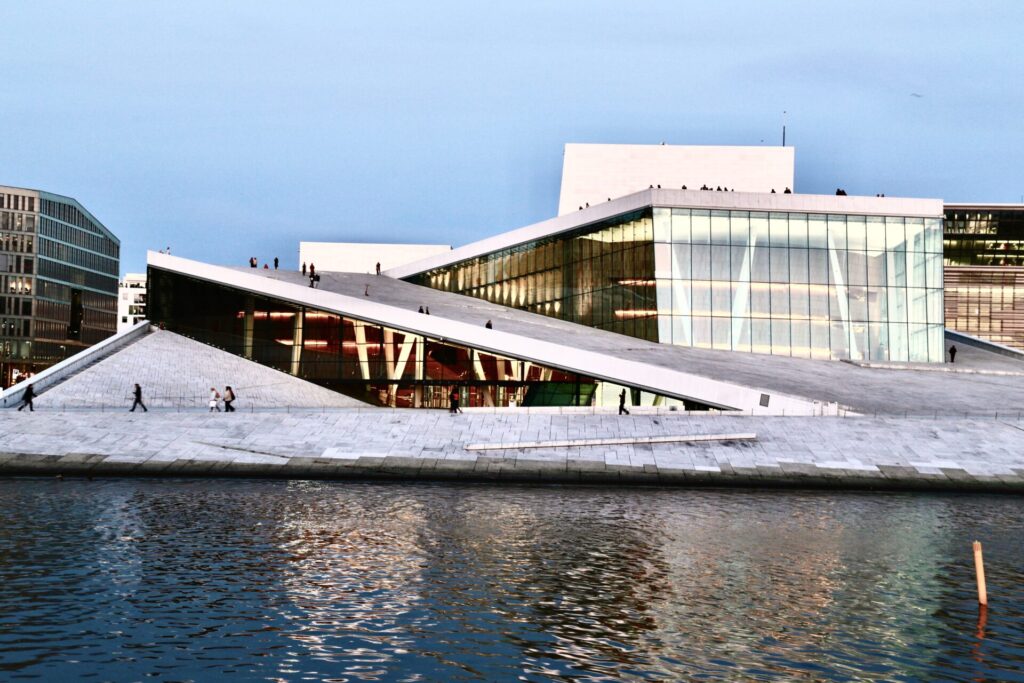 The Opera is an iconic experience in Oslo. You can opt to watch a show or walk around the building itself. The Opera's walls are all windows and the building is a unique, slanted shape overlooking the Oslofjord.
The Opera House is a super popular place for locals to hangout in the summer, but the walkway up to the Opera is a bit steep. If you have mobility issues it may be a bit difficult to access, however it's totally worth checking out.
If you want to watch one of the Opera's productions, you can book a ticket here.
---
7. Oslofjord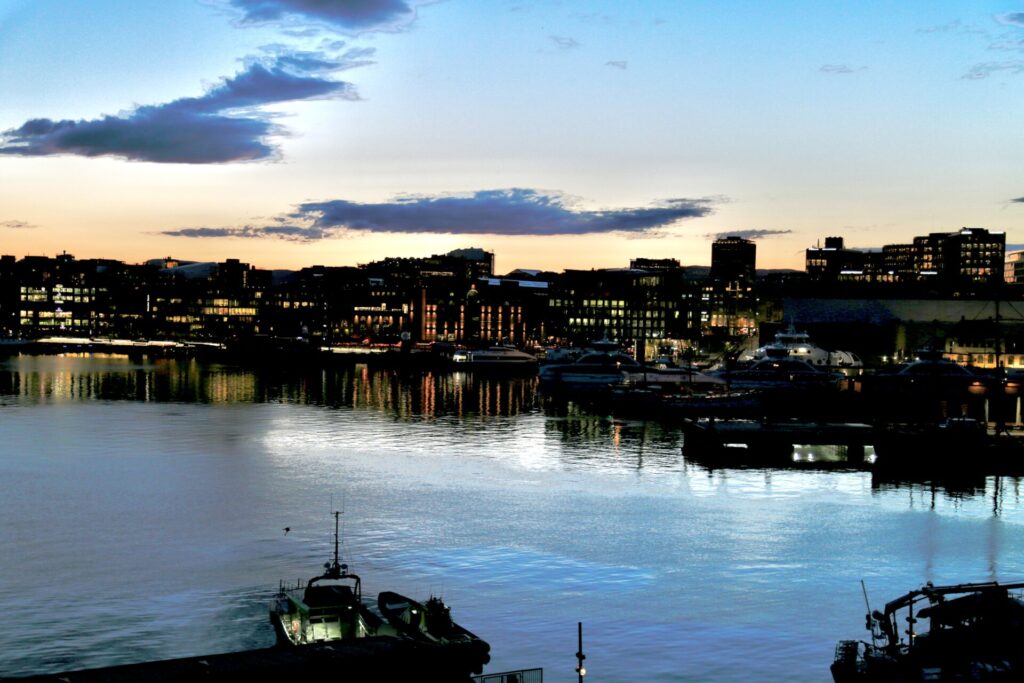 The Oslofjord is Oslo's biggest nature-based attraction. You can find it in the heart of downtown Oslo. The fjord features many small islands you can visit via ferry. If taking a ferry seems interesting to you, you can find more information here.
A few popular islands to visit within the fjord for swimming, summer hangouts, and camping are: Hovedøya, Lindøya, Nakholmen, Bleikøya, Gressholmen and Langøyene.
You can easily walk along the fjord from the city, however if you want a more in-depth experience of the fjord one of these tours might spark your interest:
---
8. Explore Karl Johans Gate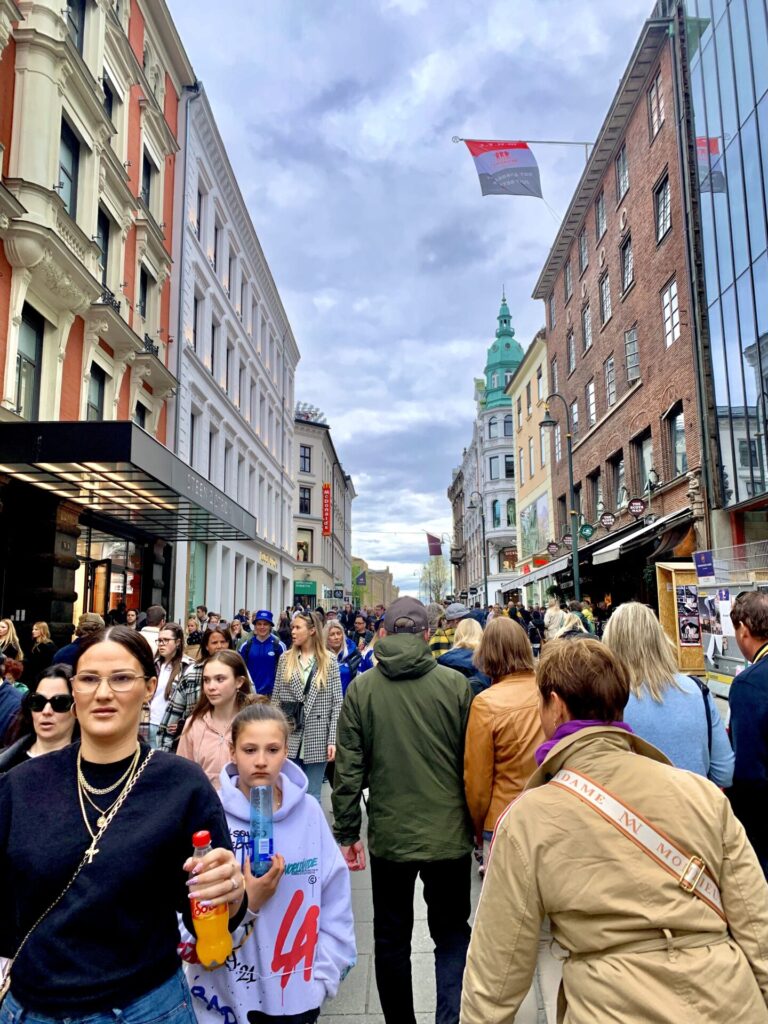 In Oslo Karl Johans Gate is THE street. It's where you'll find all the restaurants, shops, and hustle and bustle of the city. If you need to buy anything, grab a bite to eat, or want to take a cute "instagrammable" pic from Oslo, this is the place… Or I guess this is the street!
---
9. Day Trip Down the Coast
Something else you could do in Oslo is actually escape the city and take the train (via Oslo S; Oslo Central Station) down the coast to Telemark.
There's a place called Tjøme which is the equivalent to Ontario's cottage country – where are my Ontario cottage peeps at!?
Tjøme would be the perfect place to rent a cabin or hotel and spend a couple days chillin' on the coast with your pals. The vibes were too good here.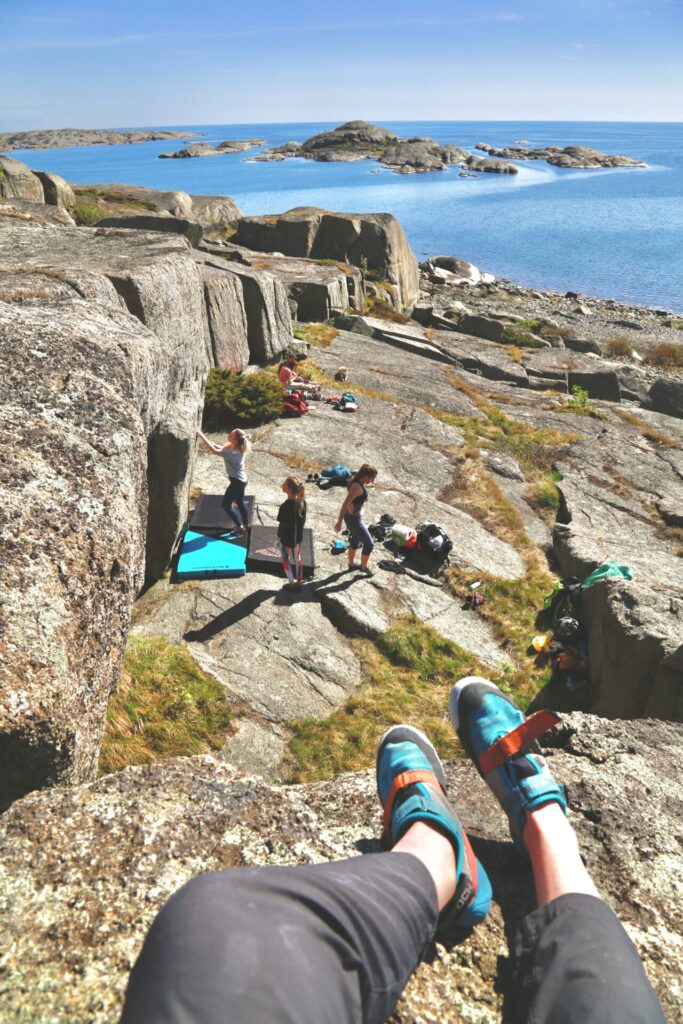 Hvasser in Tjøme features a sharp, rocky coastline overlooking the ocean. Hvasser is a rock climbers paradise! There are tons of great beginner and expert bouldering routes as well as climbing routes.
The best way to access these locations from the city are via Vy.
---
10. Hiking in Oslo
Of course, hiking makes the list of things to do in Oslo! As I previously mentioned, Oslo is just steps from nature which means there are tons of great trails to explore. Most of the time you'll want to take the T-Bane (Oslo's tram) to access the trails.
Since I was in Oslo only a short time I didn't have time to hike, however this blogger knows all the good hikes in Oslo.
---
11. Camping in Oslo
Okay now camping. I'm SUPER excited to tell you about Norway's camping situation as it's SO unique from Canada's camping situation.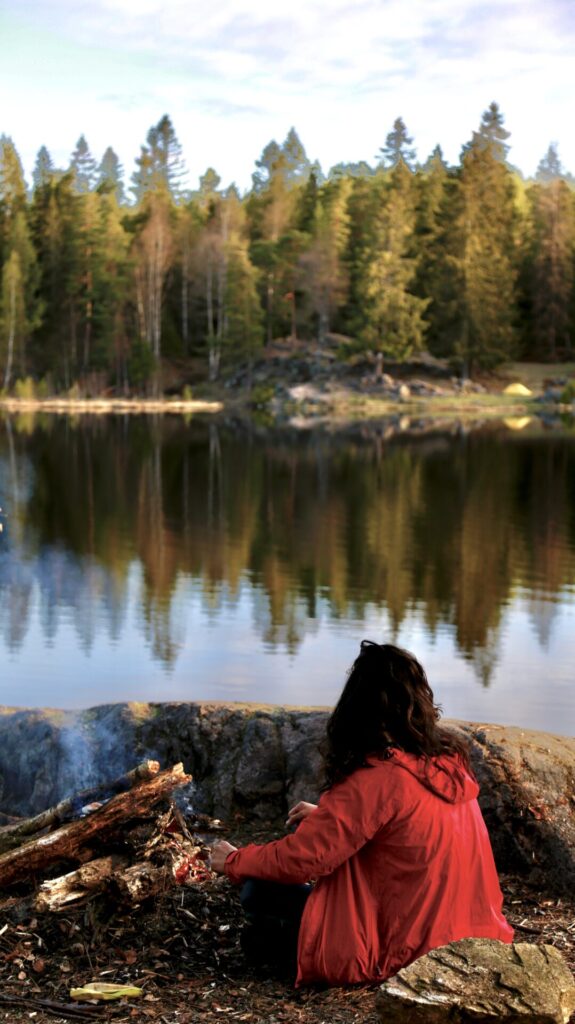 There's a concept in Norway called "allemannsretten," which essentially translates to "all man's land." This concept allows anyone to camp anywhere they want as long as they're 150m away from anyone's property and not harming the land in anyway… Just be thoughtful!
You're usually permitted to camp in the same spot for 2 nights, unless you're in a more remote area. In this case you can camp for as long as you want.
Typically cities are quite a distance from any sort of nature, however every city in Norway (even big cities like Oslo) are mere steps from nature. So, if you're a camper make sure to bring your tent and experience Oslo's nature like a local!
**Olso's T-Bane (tram) will take you to most nature-y places around the city. All you have to do is find a lake or hike nearby, hop on the public transit, and set up camp!
---
12. Visit Oslo's Museums
I'm personally not one to spend my time travelling in museums or historical places – I'm almost entirely about nature and outdoor adventure. If you're a history buff or culture enthusiast though, Oslo has lots of great museums where you'll be able to learn more about the country's culture, landmarks, and historical events/figures.
Some of the more popular museums in Oslo include the Viking Ship Museum (currently closed, but will reopen in 2025/2026), the Kon-Tiki Museum, The Norwegian National Gallery Museum, and the Munch Museum.
Needless to say, there's lots of history in Oslo.
---
Happy adventuring!
Taylor ♡
---
Like This Post?
Share with friends or save it for later!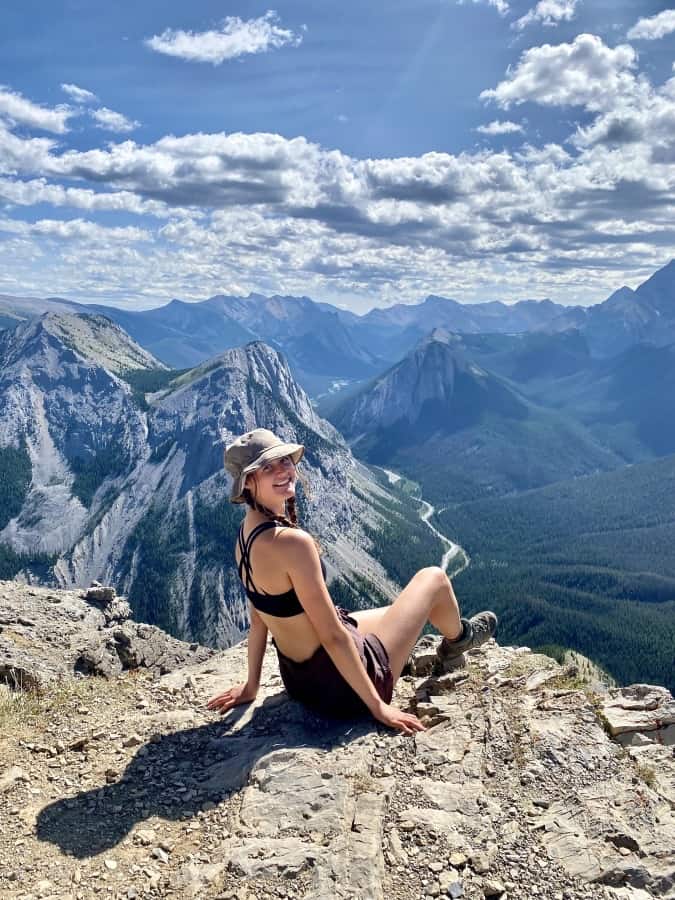 About The Author
---
Hey! I'm Taylor – the voice behind The Holistic Backpacker.
After moving to Banff National Park in 2020 I became an outdoor adventure enthusiast and vowed to never stop exploring.
I'm now focused on travelling the world and seeing everything our beautiful home has to offer.
I created The Holistic Backpacker so I could share my adventures and help connect people like you with the same amazing experiences.
I am also an advocate for the environment and do as much as I can to take care of our planet.
Get to know me and my story more here 🙂
I can't wait to share my adventures with you!