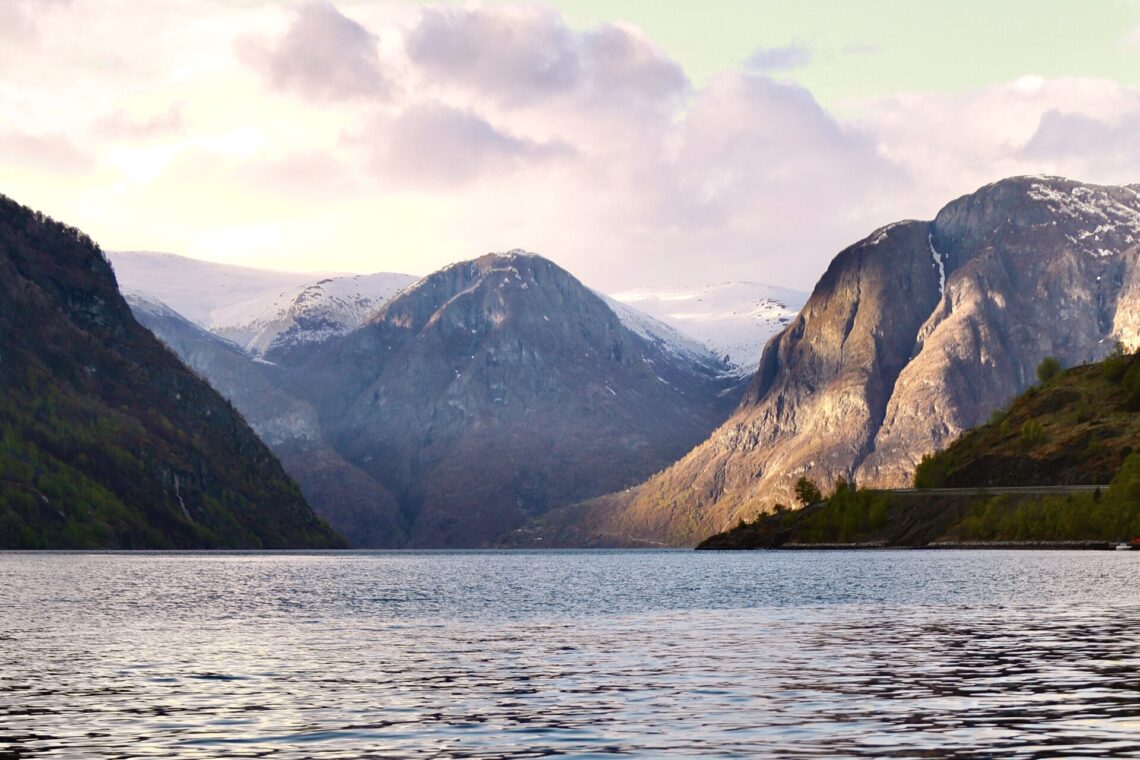 Guide to Visiting Norway's Scenic Flåm & Aurland
Out of all my Norway travels, I've gotta say the village of Flåm coupled with Aurland really wowed me and took me by surprise. This little section of Vestland is home to both the Aurlandsfjord and the Nærøyfjord which are two narrow branches of the biggest and deepest fjord in Norway, the Sognefjord.
You can find plenty of great history and culture in Aurland as well as great hiking trails, scenic photo-ops, and some wild adventures. In this guide I'll go over everything there is to do in the Aurland region which encompasses Flåm, Aurlandsvangen, Gudvangen, and Undredal.
Now, let's go travel!
This post contains affiliate links; see my full disclosure. If you click these links and make a purchase you're supporting The Holistic Backpacker. Thanks for your support & happy adventuring! – Taylor ♡
---
Quick Norway Travel Tips
Currency is NOK (Norwegian Kroner); displayed as kr.
Visa: Generally not needed for stays up to 90 days; part of the Schengen Zone.
Phone: I purchased a MyCall local SIM card from Narvesen (convenience store) in the Oslo airport. They can also be found at 7Eleven. Please note you'll have to show your passport and go through an approval process before your SIM is registered. You can only set up your SIM from Mon-Fri 9-5.
Norway is EXPENSIVE (obviously) and there's limited infrastructure for backpackers. Plan your trip in detail and book everything (accommodations/activities) well in advance. Booking in advance will help you save a little $ too.
Public transportation is limited. Road tripping is the best way to see Norway's beautiful nature. Getaround (car sharing platform) is the cheapest rental option in Norway. Use this link for $20 off your first rental.
Purchase travel insurance in advance. This insurance is used and trusted by backpackers and adventure enthusiasts around the world.
Make sure you purchase a travel adapter in advance; I like this one.
Norwegian hiking & outdoor season is July-August. All other months have very variable and RAINY weather (especially in the West).
Northern lights are best seen from Tromsø in January & February.
Check out all my Norway travel guides and hiking resources.
---
How to get to Aurland
Aurland is a region of Norway and it's specifically located within the Sognefjord region of Vestland. Not entirely important, but I always like to know these things whilst travelling!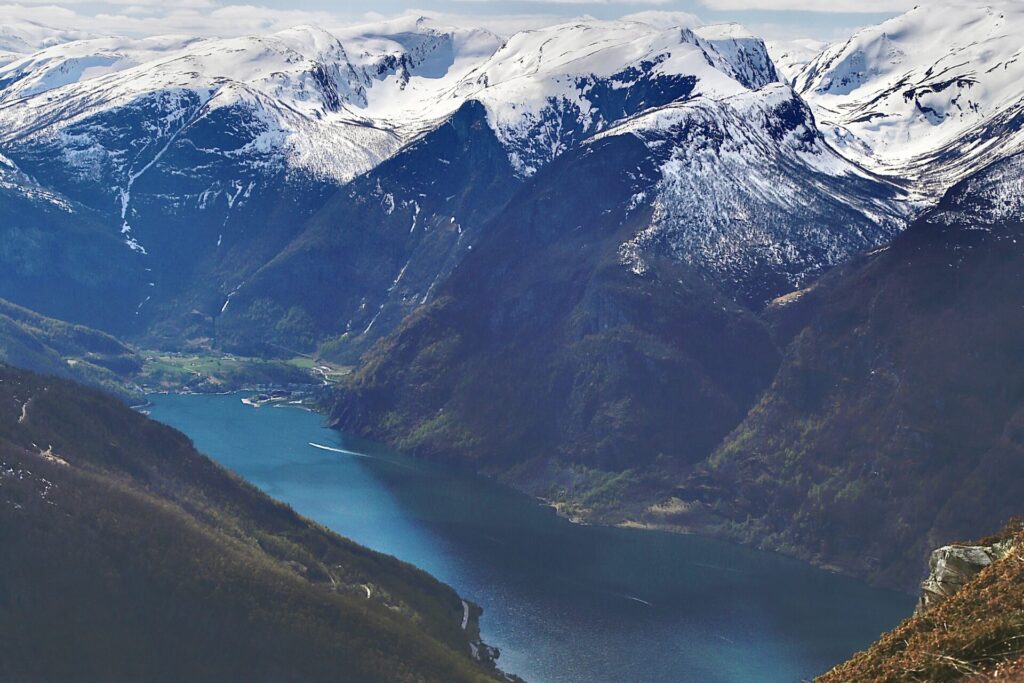 Getting to Flåm is quite easy AND there's multiple ways to go about it. You can drive or take the bus, however I recommend taking the beautiful Oslo-Bergen railway OR embarking on a cruise. Here are a few links to the most popular (and scenic) ways to access Flåm in Aurland:
If none of these links quite speak to you, you can check out this page for all the transportation and tour options to and within Flåm.
---
Flåm FAQ
Q: How long should I spend in Flåm?
A: Depends on how in depth you like to travel! I stayed in Flåm for 2 nights to do some hiking and sightseeing, then returned to explore Undredal and Gudvangen on another day. If you're looking to just "see the sights" you'll feel satisfied with breezing in and out in a day.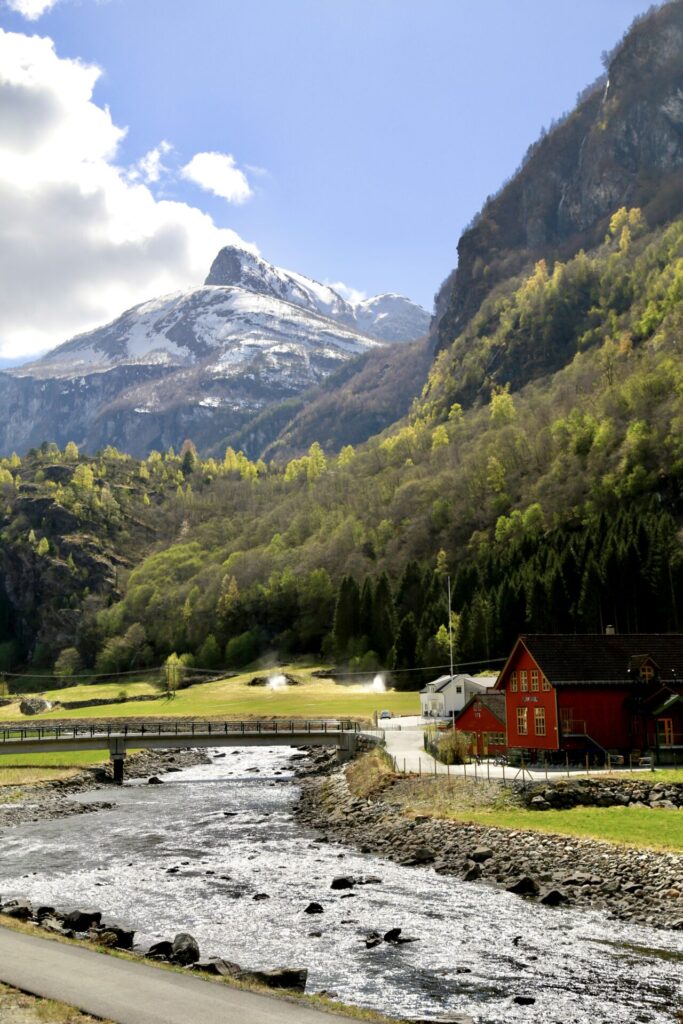 Q: Is Flåm and Aurland worth visiting?
A: YES! I've travelled all over Norway and the Aurland region was one of the most beautiful places I travelled to within the country (see the other places I've visited in Norway here).
Q: When should I visit Flåm?
A: You can visit Flåm year round. Summer offers warm weather and bright blue fjord water with the downside of lots of tourists. Shoulder season (April, May, October, November) is a cheaper time to visit and has essentially no tourists. Winter is super scenic with the bright blue water and snowcapped peaks, however it's quite cold and actives and limited due to that pretty snow I just mentioned.
Follow The Holistic Backpacker's Adventures on Socials:
Keep Up With My Adventures!
Sign up for my newsletter and stay up-to-date with my latest adventures, gear guides, and eco-resources!
Taylor ♡
Q: What fjord is in Aurland?
A: Okay so the fjord thing in Norway is a little confusing. The big fjord in the Sognefjord region (where Flåm is) is the Sognefjord itself. THEN there are little branches that jet out from the main fjord; the Næroyfjord and the Aurlandsfjord. Aurlandsfjord is seen from Flåm and Aurlandsvangen whereas the Næroyfjord can be seen from Undredal and just outside of Gudvangen.
Q: When's the best time of year to hike in Flåm?
A: Definitely summer, especially if you're looking to complete big summits. I was lucky and was able to complete the Prest hike early May, however that's pretty much unheard of. Aim for mid June at the earliest and plan to hike no later than the end of September.
---
Where to Stay in Aurland
Okay, let's talk about the boring planning aspect of visiting Flåm before we get into the fun stuff. I'll go more in depth about where to stay in just minute, but first off, here are the quick links for booking accommodations in the region: Flåm, Aurlandsvangen, Undredal, and Gudvangen.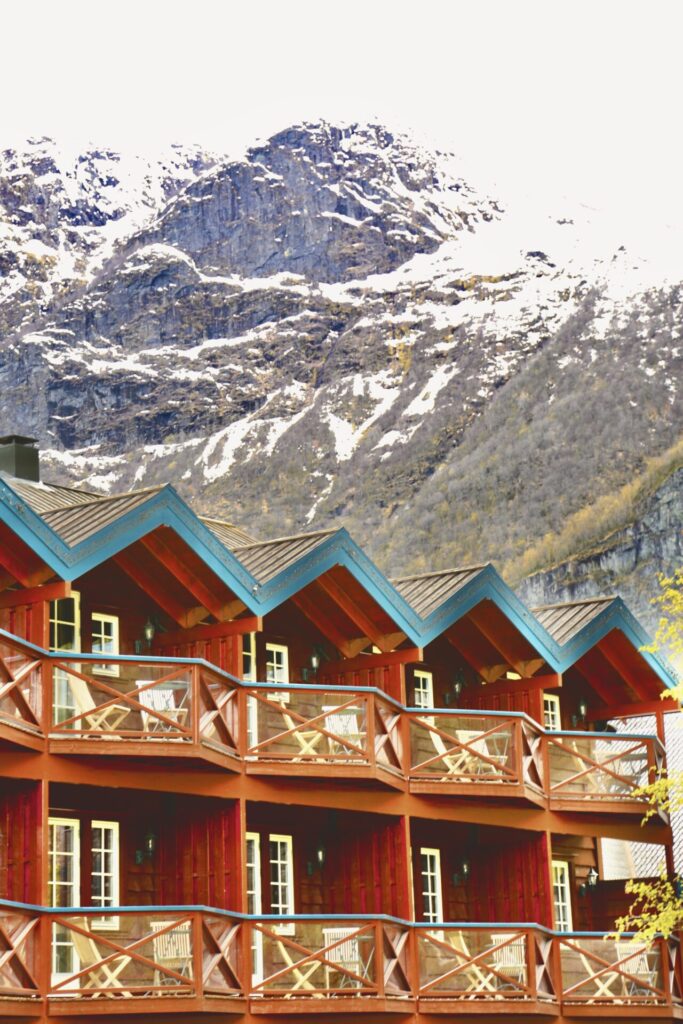 If you're looking for the ultimate budget stay in the Flåm region, you can check out either Lunde Camping (in Aurlandsvangen), Bjørgo Garde Stegastein (Aurlandsvangen), Winjum Cabins (Aurland), or the Brekke Garde Hostel (Flåm). I stayed at Brekke Garde and thought it was honestly quite decent for the price! I also met some new hiking buddies there and adventured with them the following day.
For mid-range stays you can check out the Flåm Hostel, Winjum Apartments (Aurlandsvangen), Aurland Feriehus, Vangsgaarden Gjestvgiveri (breakfast included), or Skahjem Gard.
If you're a fancy traveller, the following places offer a more luxurious and civilized stay: Hotel Aurlandsfjord (breakfast included), the Flåm Marina, or the Flåmsbrygga Hotel.
Looking to stay outside of Flåm? You can check out accommodations in Undredal or Gudvangen. Accommodations in these little villages are limited, but there are some pretty cool camping spots. Just make sure you book in advance because these spots fill up quick!
Tips for Saving Money on Accommodations in Flåm
Accommodations – like everything else in Norway – are expensive, so it's super helpful to know of a few ways to save while you travel. Here are a few helpful tips for saving $ on your Norway adventures:
Book during off season. High season in Norway almost doubles the price vs if you were to book during months like May, September, etc.
Book ahead of time. That whole "last minute deal" thing doesn't apply in Norway. The longer you wait, you're guaranteed to pay more.
Camp! Norway's campsites are significantly cheaper and Norway has a concept which allows you to camp almost anywhere in the country for free. You can also find campsites almost everywhere you travel in Norway and most offer tiny cabins. You can find all of Norway's campsites on Booking.com.
Of course, travel with people. Although we all love travelling solo, travelling with a companion halves the cost of accommodations.
---
Things to do in Aurland
Norway in general is a mecca for hiking and outdoor adventure and I just so happen to be a hiking enthusiast! With that being said, I'm going to dedicate a whole section of this post to hiking. First though I'll go over all the other fun stuff there is to do in Flåm as well as the rest of the Aurland region (because there's a lot):
---
1. Take the Flåm Railway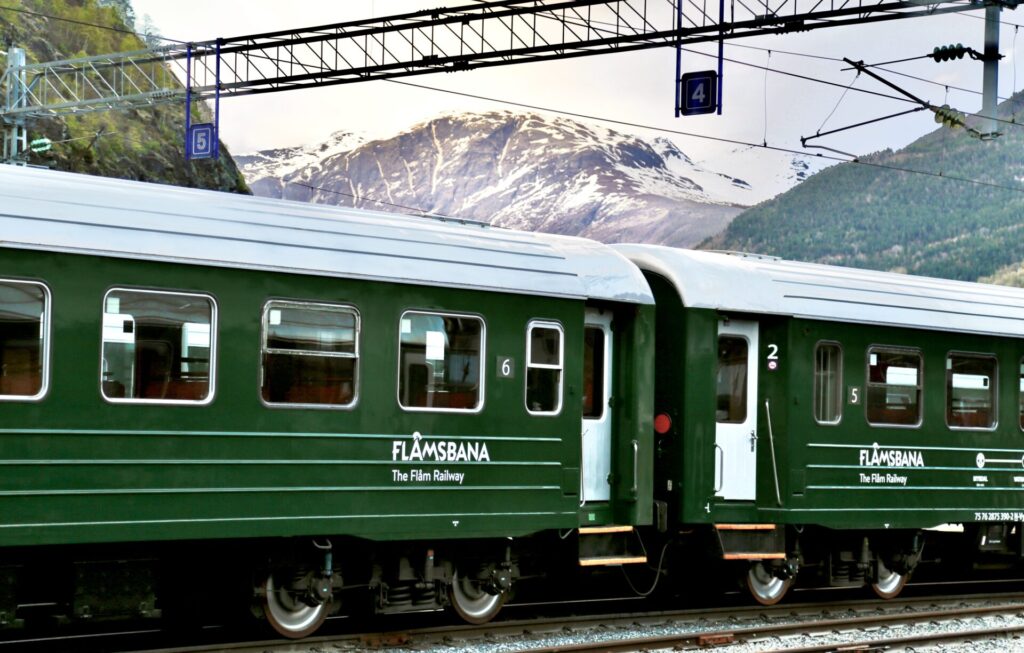 The Flåm Railway (aka the Flåmsbana) is a famous railway in Norway and also worldwide. It's around 1 hour in length and stretches from the Myrdal stop on the Oslo-Bergen railway all the way down the valley to the little village of Flåm.
The Flåm Railway is 20km in length and is actually considered one of the steepest and most beautiful railways in the world! You can book the Flåm Railway via Vy or utilize the complete tours and transportation I've linked here.
The Flåm railway is a MUST if you're visiting Flåm or Norway in general!
TIP – sit on the left side of the train (heading toward Flåm) for the best views.
Want a sneak peak at what the Flåm Railway looks like? Check out my reel on Instagram!
---
2. Eat at the Flåm Bakery
Something worth mentioning is the Flåm bakery because YUM! The food here is spectacular and it's the perfect place to grab lunch or breakfast before setting off on your big Aurland adventures. I grabbed one of their vegetarian sandwiches (which was so good wow), but their baked goods looked out of this world.
---
3. Visit the Stegastien Viewpoint
The Stegastein viewpoint is one of the "classic things to do" in Aurland. It is simply a viewpoint overlooking the beautiful Aurlandsfjord.
This is the best view you'll get in the region without having to hike, which makes it a favourite for everyone!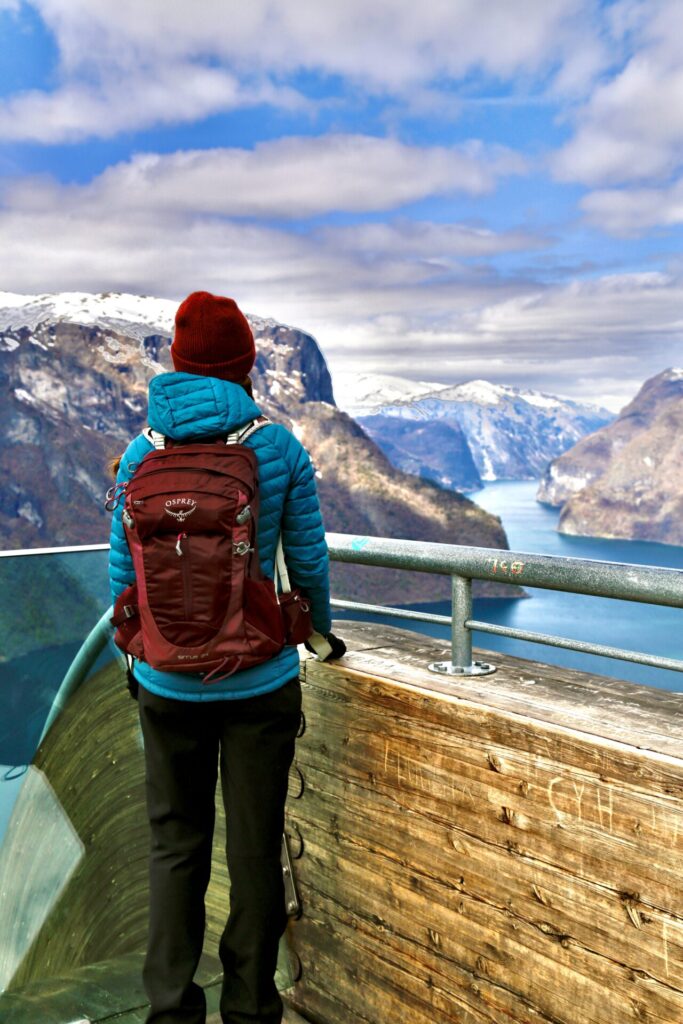 There are 4 ways to access the Stegastein Viewpoint which is located in the heart of Aurlandsvangen:
Hiking – I personally would deem this torture, BUT you can walk up to the Stegastein viewpoint from Aurlandsvangen. This trail is 17km roundtrip with 644m of gain and it simply follows the road up to the viewpoint. Alternatively there is a hiking route that starts at the corner of Vinjavegen and Ryggjakyrkja (GPS).
Hitchhiking – this is how I got to the viewpoint and it's also how I'd recommend travelling there if you don't have a car! I deem hitchhiking quite safe in Norway, especially in a touristy spot like Flåm and Aurland.
Driving – there is always the option to rent a car whilst travelling. Norway is quite similar to Canada in the sense that everything is spread out – having a car makes seeing the country MUCH easier.
Guided tour – there's a guided tour that departs the cruise port in Flåm. This tour is ideal for those who are just passing through the region via cruise ship or for those who are looking for easy transportation to and from the viewpoint. You can check current pricing and schedule for the tour here.
---
4. Go for a Drive
Going for a drive is by far the best way to travel Aurland as well as ensure you see everything in the area.
The public transportation system isn't great in this region, so if you plan to visit Flåm, Undredal, Gudvangen, and Aurland you'll want a set of wheels.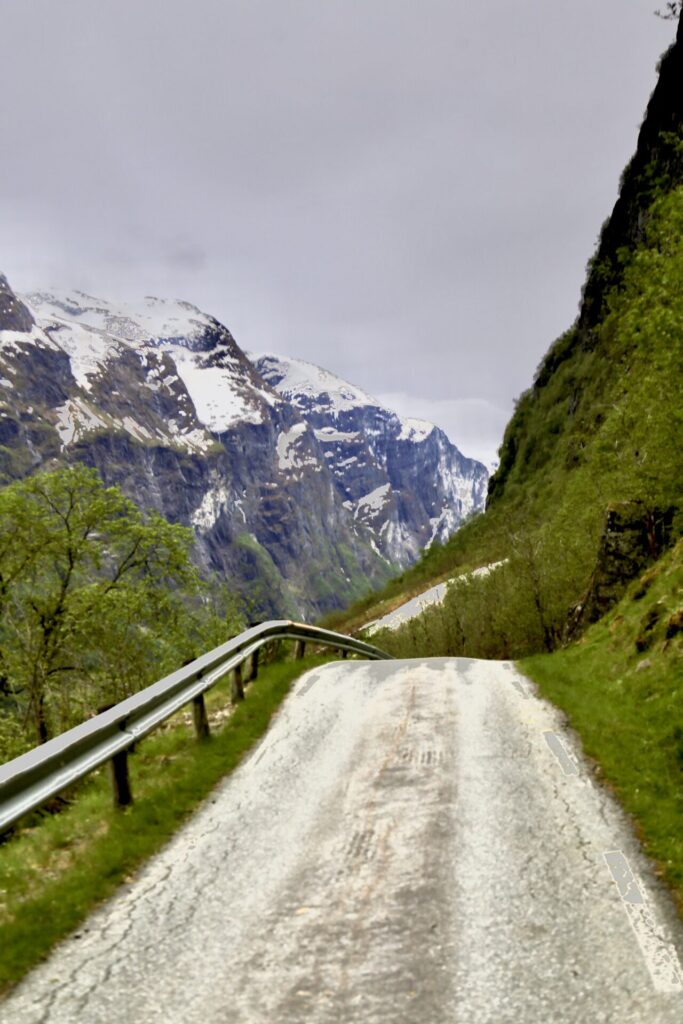 Note that the roads are quite narrow and windy in Norway. You'll probably have to drive slower than you're used to and be *more* aware as you'll need to slow down and let others pass when you're not on the main road.
If you're unsure of where to rent a car in Norway, you can check out Discover Car Hire.
---
5. Fjord Cruise
Taking a fjord cruise is one of those things you just have to do in Norway. The fjords are Norway's trademark attraction and one of the "nature highlights" of the country. You'll want to ensure you explore the fjords properly!
The most popular fjord cruise in Flåm is to the Nærøyfjord which has made the UNESCO World Heritage list.
If you're coming from the direction of Oslo and are short for time, you can book this Oslo-Flåm-Bergen tour which encompasses the scenic Oslo-Bergen railway, the Flåm Railway, as well as the Aurlandsfjord/Nærøyfjord cruise. Alternatively, if you're coming from Bergen you can check out this tour.
---
6. Find Aurland's "Wildlife"
Hahaha I'm sure this is not what you were expecting, but the Aurland region has tons of… "Wildlife." Okay not actually wildlife, but you'll find the cutest sheep and goats roaming all over the place!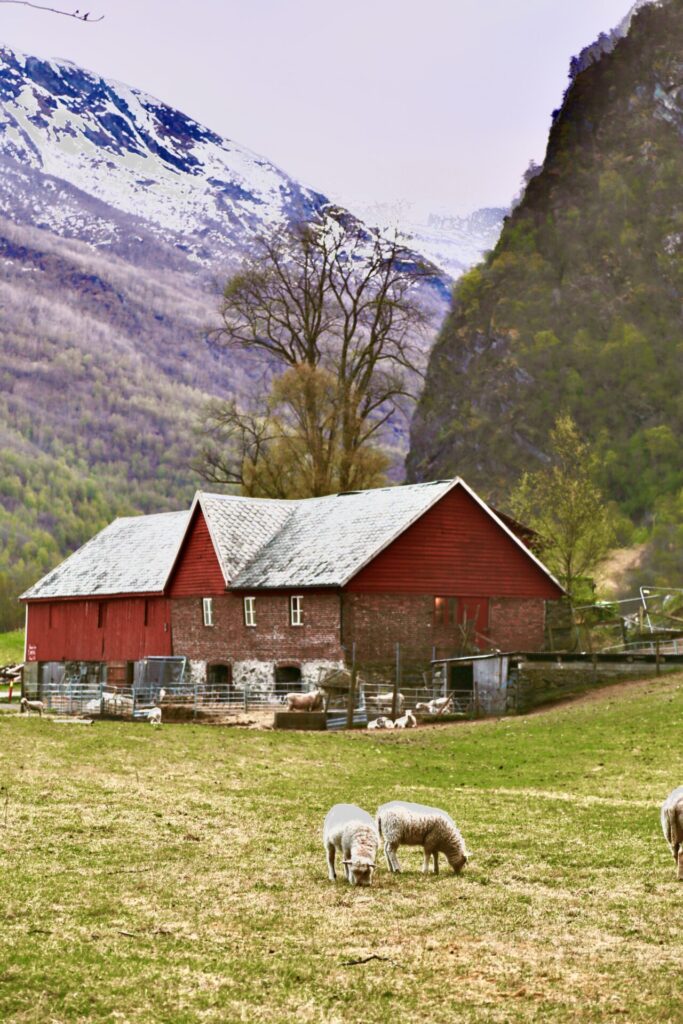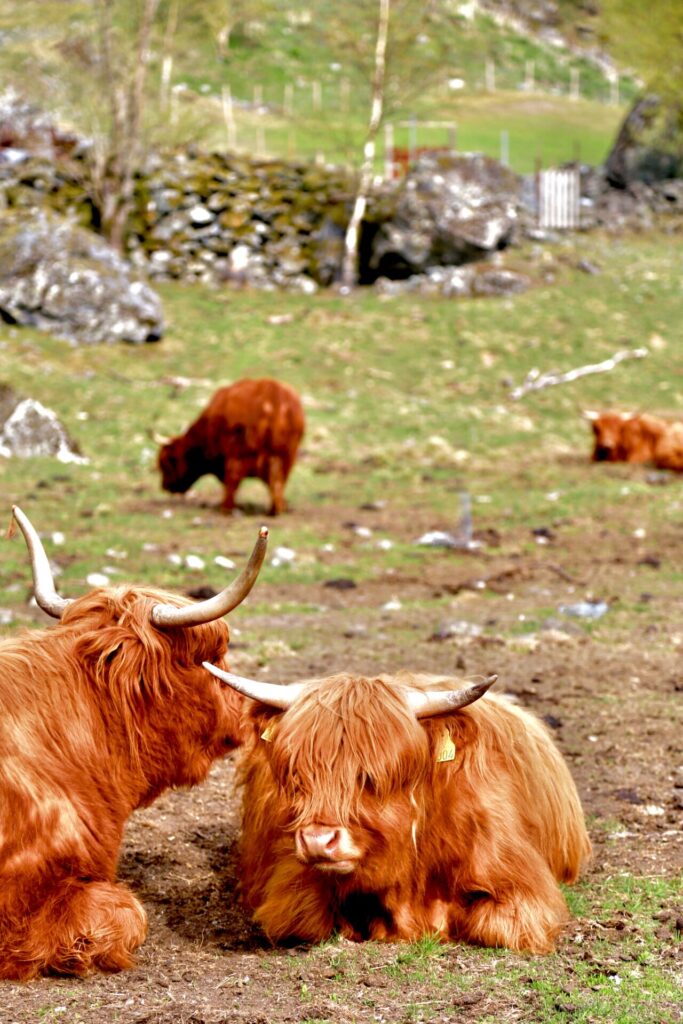 You can also find what I like to call "fancy cows" on the way to see Brekkefossen (which I'll talk about next). These are actually called "Highland cows," buuuuut I like my name for them better.
---
7. Zipline
I'm not one for "touristy things" like zip lining. The Flåm zipline tough is not touristy, it's adventure-y. The zipline is 1,381m in length and reaches speeds up to 100km/h. You'll descend 305m down into the valley leading toward Flåm (which by the way is SO scenic)!
The zipline runs from April to October with a starting point at Vatnahalsen (just off the Bergen railway) and ends at Kårdalen. Here is the official Flåm zipline site.
---
8. Take a Trip to Gudvangen and the Nærøyfjord
Gudvangen is yet another super tiny village in Norway. It's located 20 minutes (by car) from Flåm and sits not far from the end of the famous Nærøyfjorden. There isn't a whole lot to do in Gudvangen (I preferred Flåm), however if you're into history you'll love Gudvangen. Here you'll find viking valley which is an interactive place where you can learn about the viking lifestyle.
This viking tour includes a knowledgeable guide, a viking lunch, and round-trip transportation from Flåm.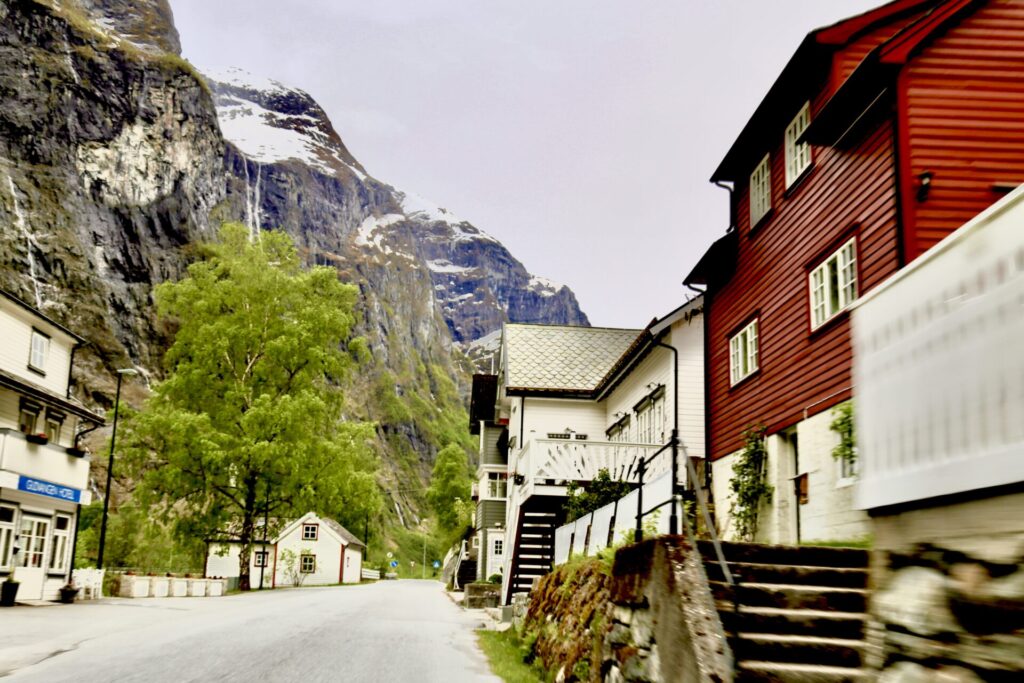 If you're a camper, you might want to check out the campsite in Bakka which is located just outside of Gudvangen and closer to the Nærøyfjord. The drive to the campsite follows a super narrow and wildly scenic road. This is the "ultimate camping spot" within the Aurland region.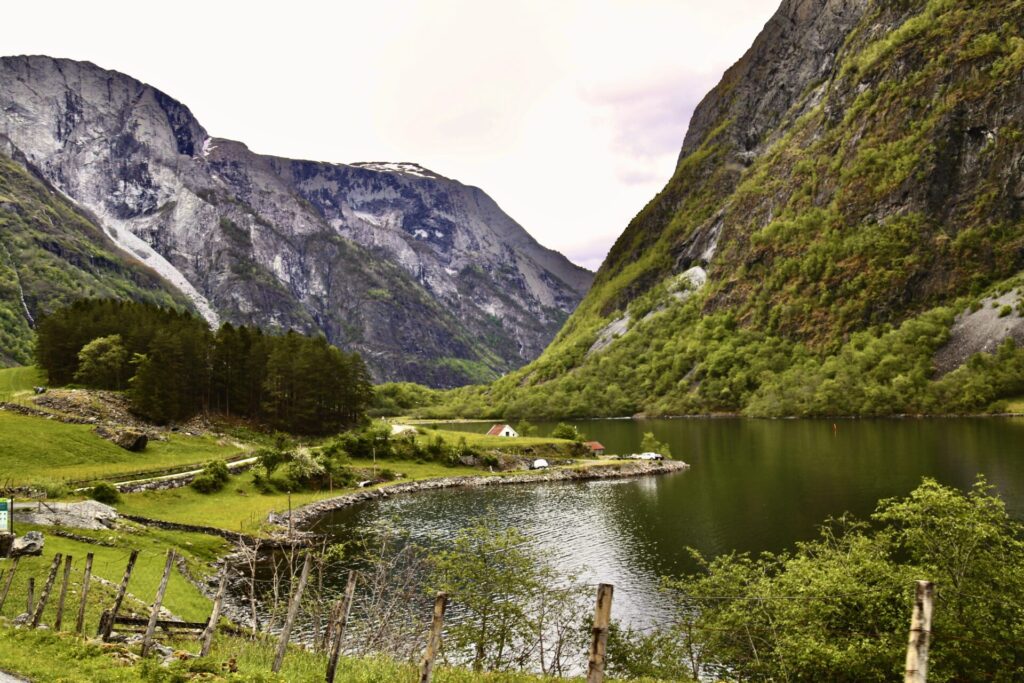 ---
9. Kayaking or SUP
Kayaking is a great way to get up-close-and-personal with the Norwegian fjords. The most popular place in Aurland to go kayaking is in Flåm, however the price reflects how popular it is. If you're travelling on a budget, kayaking in Aurlandsvangen might save you a few $.
---
10. Visit Undredal
Undredal is another teeny tiny viking village in the Aurland region. Like Gudvangen there isn't a whoooole lot to do, BUT if you want to take an icy plunge into the fjord, this is the place.
You can also find one of Norway's smallest stave churches in Undredal!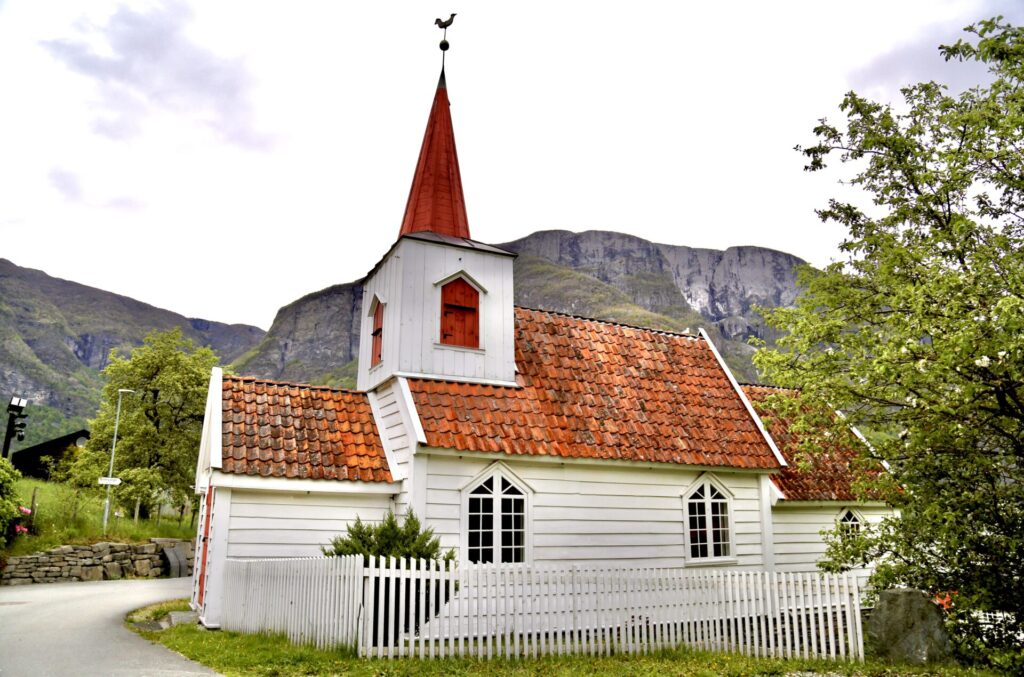 When I drove to Undredal I ran into a little bit of… traffic! The locals here don't seem to care too much about road laws.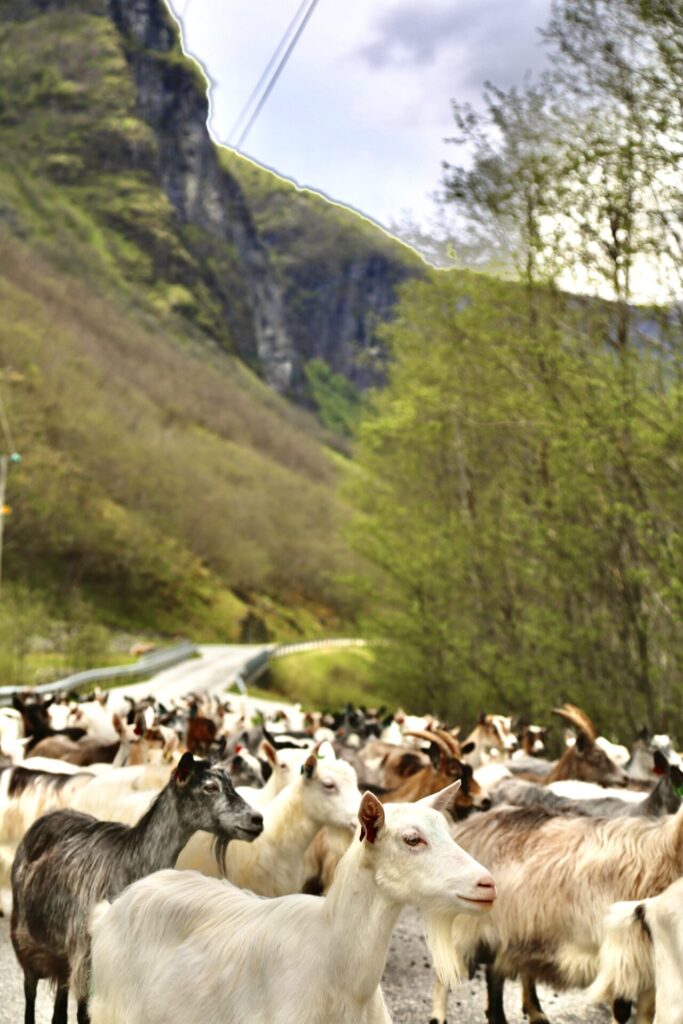 ---
11. Learn About the Vikings
Norway is home of the vikings and the Aurland region just-so-happens to have rich viking history. When you make your way up to the Stegastien viewpoint you'll notice there are little houses, cabins, and farms scattered up high on the mountain – those are old viking farms and structures!
The vikings used to build their homes and farms up high on the mountain so they could see invaders, traders, etc coming in through the fjords. If you're interested in learning more about viking history, this tour includes a knowledgeable guide (much more knowledgeable than me) who will transport you to the tiny viking village that exist in nearby Gudvangen. Here you can experience a traditional viking lunch, talk with locals, and try your hand at axe throwing or archery. A super unique experience!
---
Hiking in Aurland
Due to Aurland's narrow fjords, waterfalls, and steep mountains, this region makes for some pretty spectacular scenery and excellent hiking trails. Hikes in Aurland range from beginner to expert which is great because it means there's something for everyone!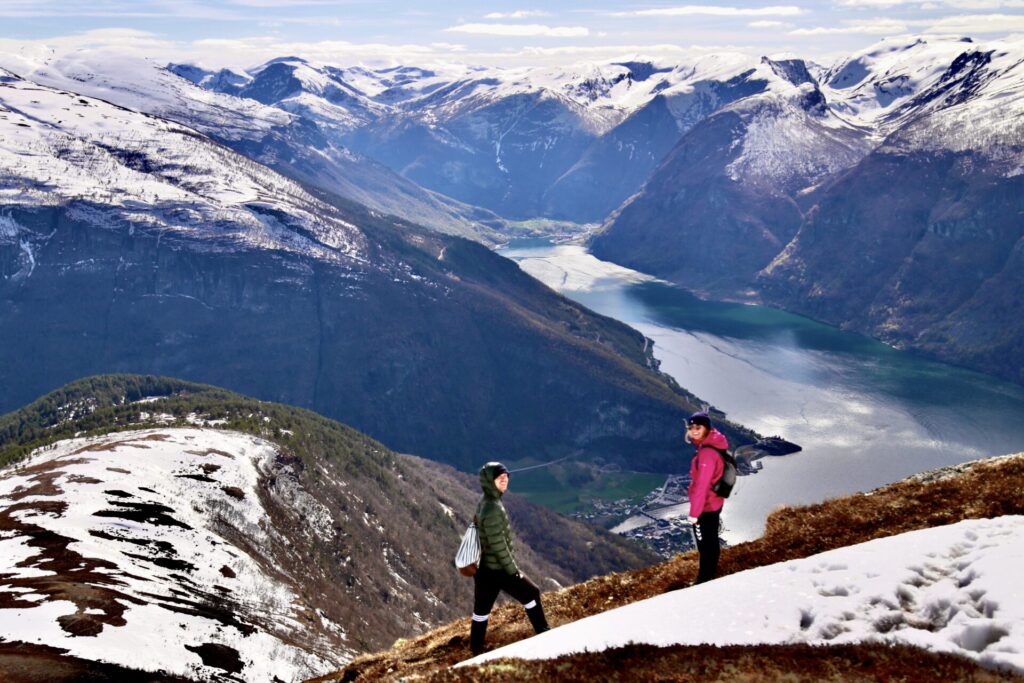 Easy hikes like the trail up to Brekkefossen can be completed year round, however if you're looking to complete any sort of summit or hike with elevation you're best waiting until at least mid June or closer to the end of July because there's still LOTS of snow up in the Norwegian mountains.
TIP – if you're unsure of where to hike or want more information, ask the employees at the Flåm tourist office. They're super knowledgeable and have great local hiking recommendations!
---
Hike to Brekkefossen
The most popular hike in Aurland is easily Brekkefossen. The hike to Brekkefossen can be accessed right from Flåm (no vehicle required) and it's short and sweet. The total elevation gain is around 230m which is enough for a quick workout, but not enough to exhaust the legs. There are actually stone steps leading all the way up to Brekkefossen (which is a waterfall), so you won't need to worry about any sort of treacherous terrain on the ascent. This makes Brekkefossen a great trail for people of all ages and ability levels.
Here's the Alltrails map and the trailhead coordinates for Brekkefossen – this is a loop trail, but if you want to cut off some distance you can walk back to town along the main road rather than detouring.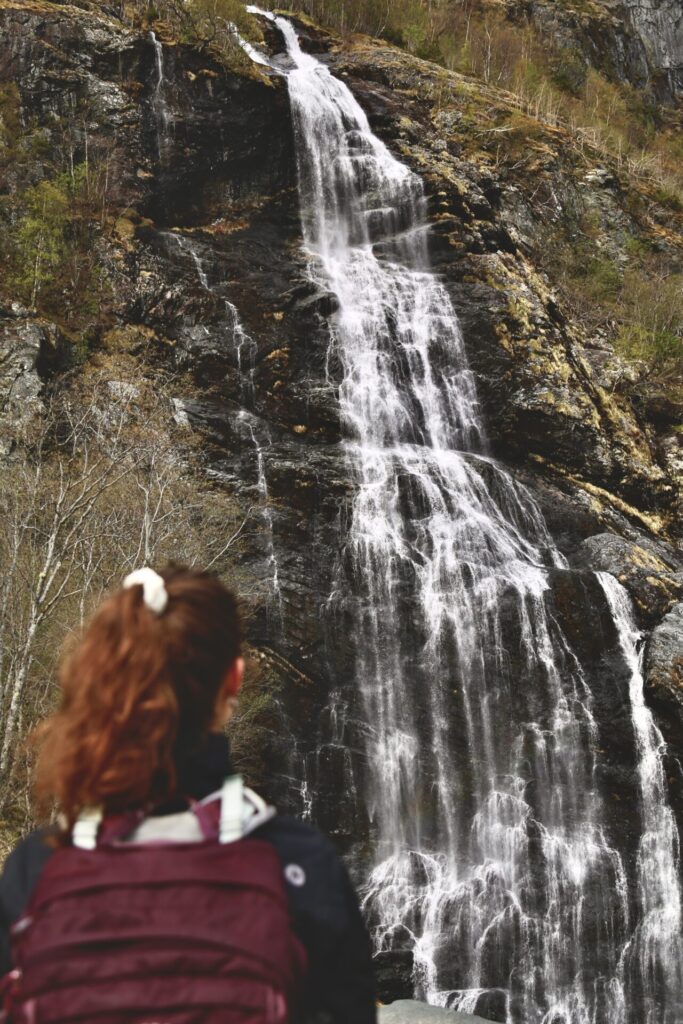 Since this trail is so popular, you'll find lots of people admiring the falls. If you're a photographer or prefer to avoid crowds of people, I'd recommend starting this trail early in the morning or going later in the evening.
---
Summit Prest
Prest is "THE" hike in the Aurland region! This hike is an absolute beauty and has such a fun trail. Prest is located in Aurlandsvangen, just up the road from the Stegastein viewpoint.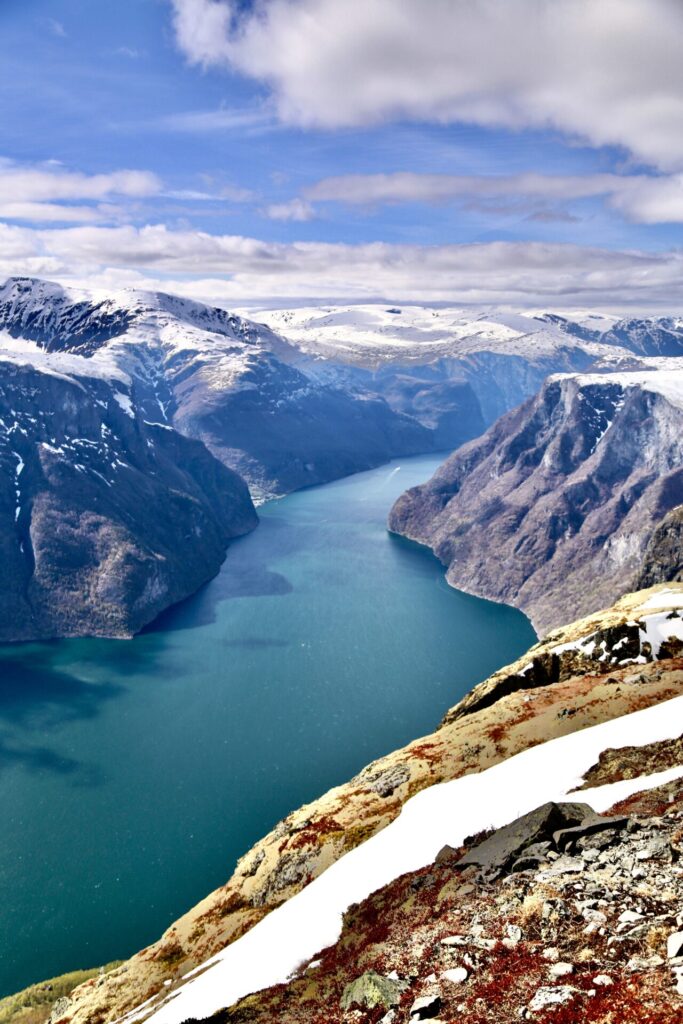 This out & back trail is 4.5km long with 549m gain. From the summit you'll have a wicked view that overlooks the Aurlandsfjord as well as Flåm and the village of Aurland. Please note though that Prest is an advanced hike. I'd recommend completing it ONLY if you're a seasoned hiker and if you have scrambling experience as there's a pretty gnarly scramble towards the summit.
The summit of Prest is located 1,478m above sea level which means you're "up there" – you'll have to wait until at least June for the snow to clear.
The hike up is a bit of a grind, but the views from the top make the struggle more than worth it!
Here's my complete trail guide for summiting Prest in Aurland.
---
More Hikes in the Aurland Region
There are SO many hikes in Norway (like sooo many), but if you're from North America – like me – they can be difficult to find. The main Norwegian websites for hiking are only in Norwegian which make them essentially useless for English speakers. SO, to save you the hassle of searching for hikes, I've done the research and have linked the most popular (and beautiful) hikes within the Aurland region below:
---
---
Happy adventuring!
Taylor ♡
---
Like This Post?
Share with friends or save it for later!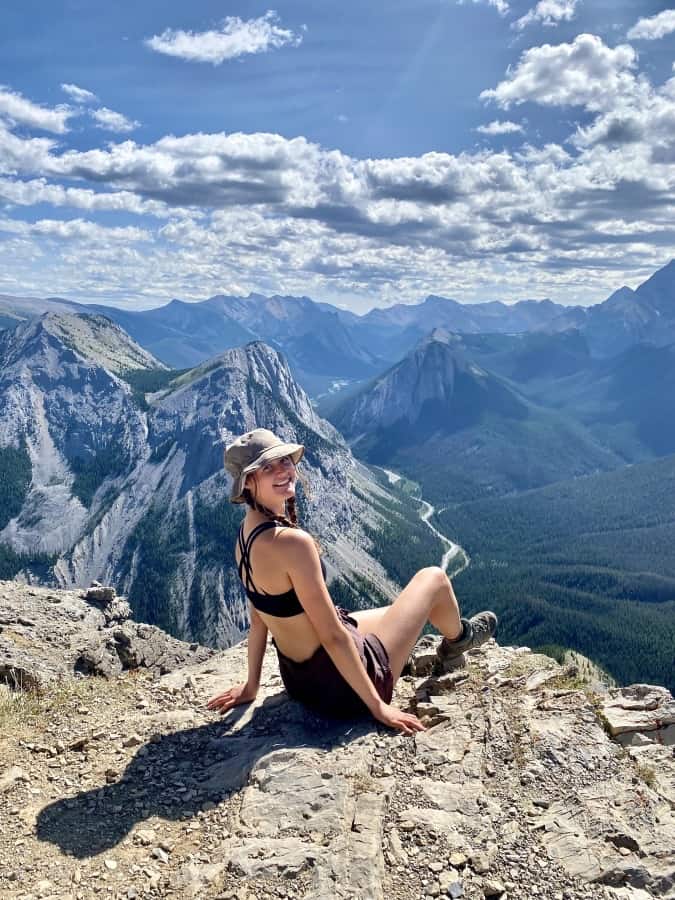 About The Author
---
Hey! I'm Taylor – the voice behind The Holistic Backpacker.
After moving to Banff National Park in 2020 I became an outdoor adventure enthusiast and vowed to never stop exploring.
I'm now focused on travelling the world and seeing everything our beautiful home has to offer.
I created The Holistic Backpacker so I could share my adventures and help connect people like you with the same amazing experiences.
I am also an advocate for the environment and do as much as I can to take care of our planet.
Get to know me and my story more here 🙂
I can't wait to share my adventures with you!