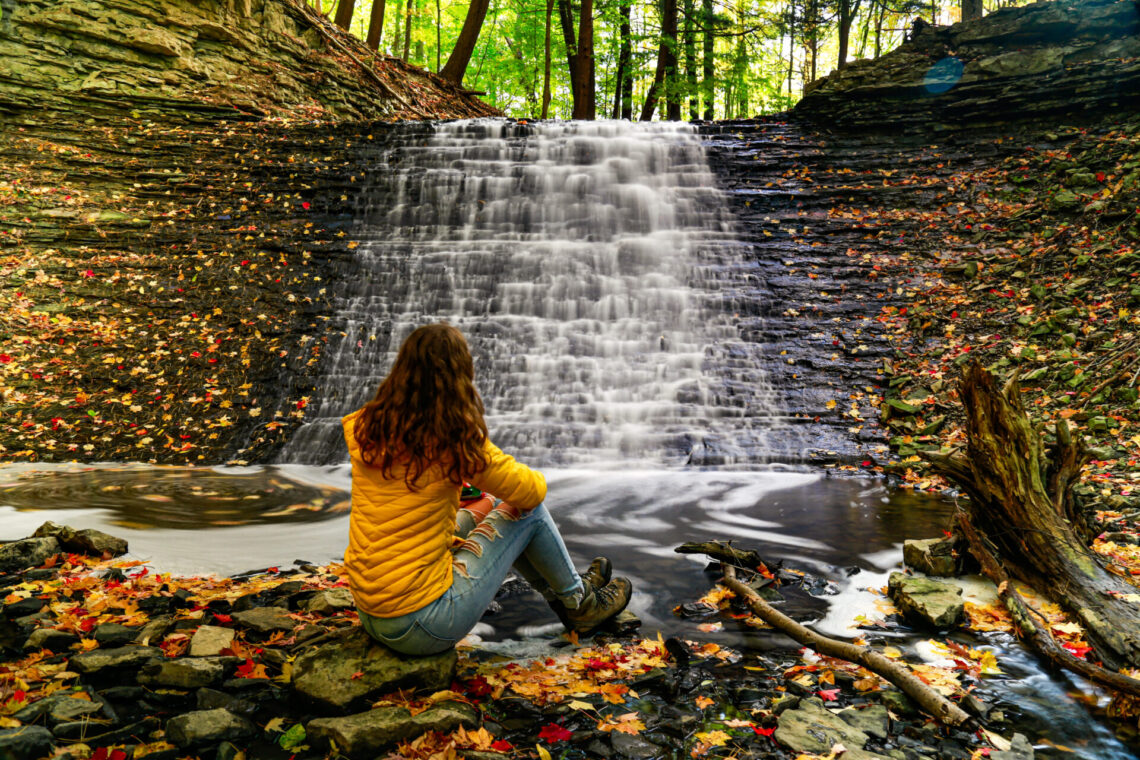 10 Best Waterfalls in Hamilton, Ontario: Explore the World's Waterfall Capital!
If you're looking for a nature-based getaway full of hiking and chasing waterfalls in Ontario, look no further than Hamilton! Also known as the waterfall capital of the world, you can find an impressive grand total of 156 Hamilton waterfalls within the city limits.
Most people flock to the popular Algonquin Provincial Park or Tobermory whilst vacationing in Ontario, however few are fortunate enough to discover and experience the hidden beauty that lies within Hamilton. I'm therefore recommending you add Hamilton to your Canada bucket list right away!
In this post I'll tell you the top Hamilton waterfalls, outline how to access them, and answer all your Hamilton waterfall FAQs.
Skip Ahead:
This post contains affiliate links; see my full disclosure. If you click these links and make a purchase you're supporting The Holistic Backpacker. Thanks for your support & happy adventuring! – Taylor ♡
---
---
Related Posts:
---
About Hamilton & FAQ: The Waterfall Capital of the World
If you're reading this post you probably already know that Hamilton is the waterfall capital of the world. There are over 150 waterfalls that lie within the city limits which is kindaaaaa a big deal!
Most Canadian and non-canadian travellers alike have all heard of Canada's famed Niagara Falls. Those same people though have most likely not heard of the Hamilton waterfalls. This lack of knowledge makes Hamilton a total hidden gem in Ontario!
The Hamilton waterfalls lie along the Niagara Escarpment which makes for some petty spectacular scenery, especially if you visit in October when the leaves change colours. I'm sure you have a lot of questions about the "how, what, when, where" aspect of visiting the Hamilton waterfalls, so here are a few FAQs to get you started:
Hamilton Waterfall FAQs
Q: How many waterfalls are in Hamilton, Ontario?
A: There are 156 waterfalls in Hamilton, Ontario. The waterfalls all exist within the city limits which makes Hamilton the waterfall capital of the world!
Q: How to get to the Hamilton waterfalls?
A: The Hamilton waterfalls are separated by non-walkable distances, unless you feel like hiking/walking for extended periods of time. At the end of this post you'll find a map with detailed directions for accessing the falls. Keep reading!
Q: What are the best waterfalls in Hamilton, Ontario?
A: There are soooo many waterfalls in Hamilton it's hard to choose just a few of the "best." This post will go into detail about my top 10 favourite falls within the city limits.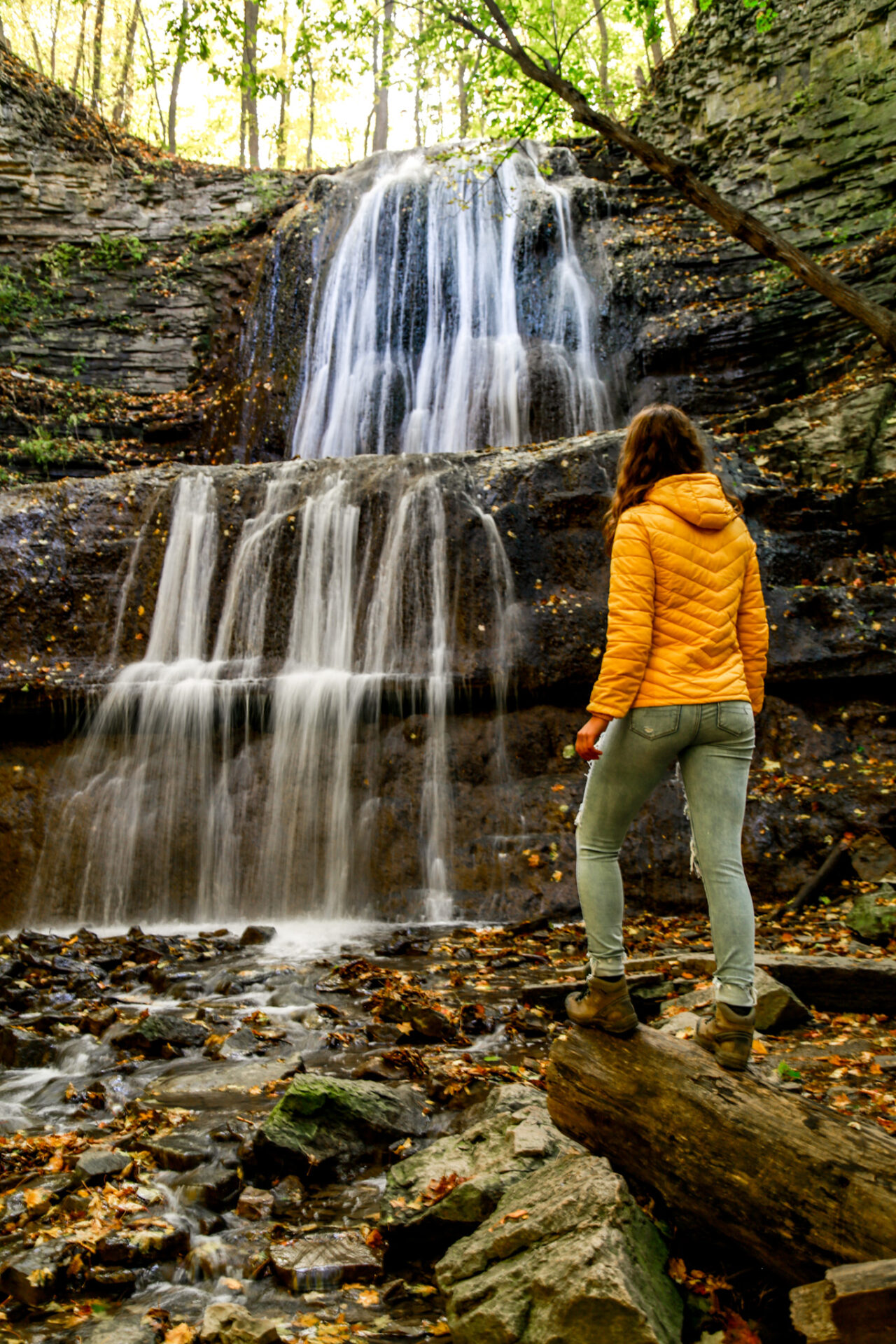 Q: What's the best time of year to visit the Hamilton waterfalls?
A: The "best" time is all about preference! In Spring you'll find the highest water levels, in winter you'll find frozen falls (calling all ice climbers), in fall you'll find the leaves turn vibrant reds, oranges, and yellows, and summer… Summer is always a good time to get out and enjoy Ontario's nature 🙂
Q: Are there waterfalls in Hamilton where you can swim?
A: Maybe not "swim," but you could definitely take a quick dip at the base of a lot of these waterfalls!
Q: Are there hiking trails with waterfalls in Hamilton, Ontario?
A: Yes! There are toooons of walking and hiking trails within Hamilton. The Bruce Trail – a lengthy backpacking trail spanning from Niagara to the Bruce Peninsula – connects many of these waterfalls.
Q: Can you access all the Hamilton waterfalls in one day?
A: Definitely not. There are 156 waterfalls in Hamilton total! You can however access all the waterfalls I talk about in this post in one day.
Follow The Holistic Backpacker's Adventures on Socials:
Keep Up With My Adventures!
Sign up for my newsletter and stay up-to-date with my latest adventures, gear guides, and eco-resources!
Taylor ♡
---
Where to Stay in Hamilton
As with travelling anywhere in Canada, Ontario's cities are not necessarily "budget friendly" destinations to visit. I always recommend booking in advance, travelling in off-season, and finding travel partners to help offset the cost.
Here are the best places to stay in Hamilton for every budget:
If you're wanting to add Niagara Falls to your Hamilton waterfall tour, you could also book a night in Niagara opposed to staying in Hamilton. Actually, if you're planning to visit Niagara I'd recommend staying there instead. There's lots more to do in Niagara than there is in Hamilton!
---
10 Best Waterfalls in Hamilton
Although it's difficult to narrow down all Hamilton's 156 waterfalls to just 10, these are the ones I think are worth visiting if you'll only be in Hamilton once. You can call this list your official Hamilton waterfall bucket list!
---
10. Borer's Falls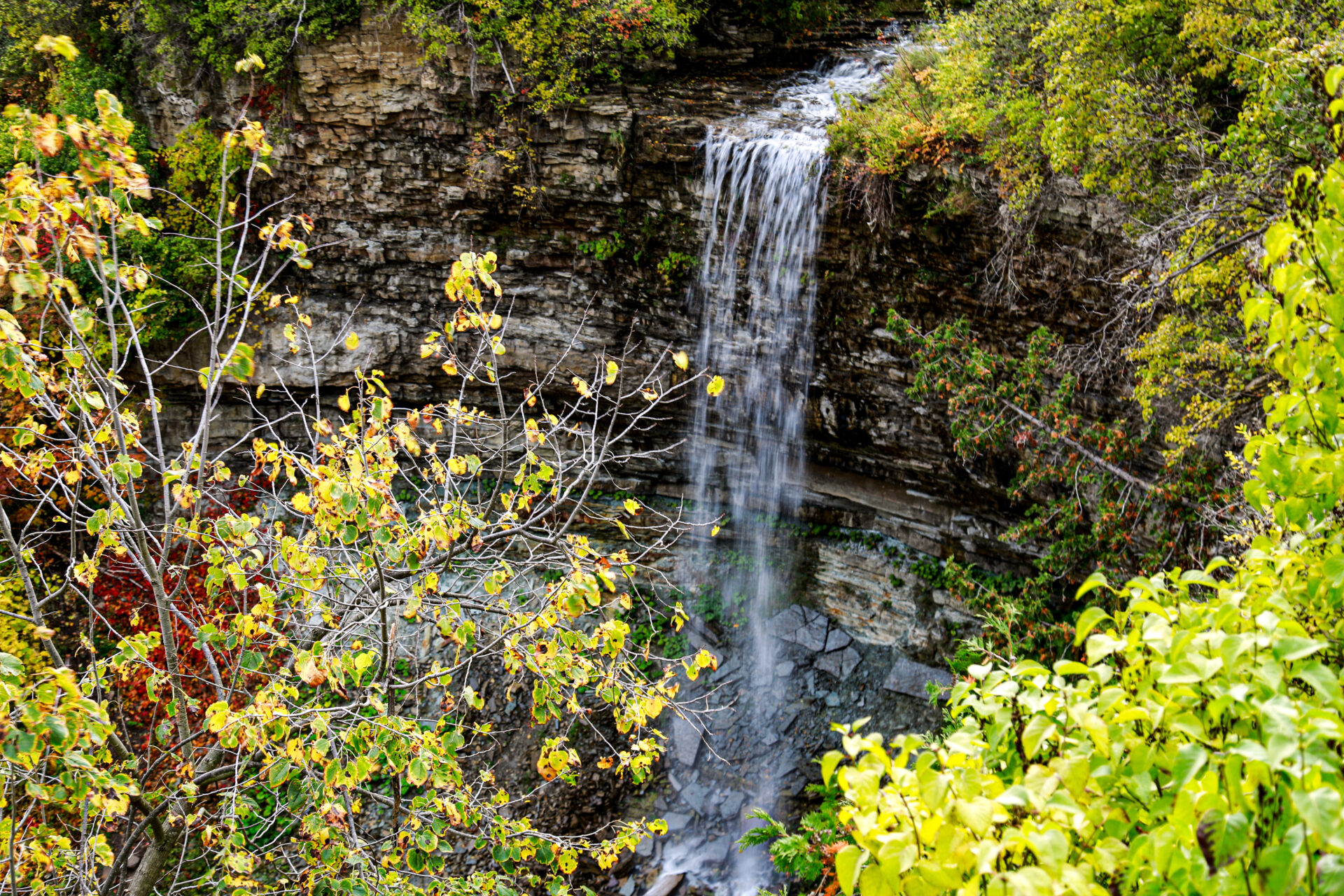 The 15m high Borer's Falls is located within the Borer's Falls Conservation Area of Hamilton. The waterfall is ribbon-styled and is accessible from the Rock Chapel parking lot. Note that there'll be a small parking fee here.
The walk to the falls follows the Bruce Trail which runs parallel to the road. Once you cross the small bridge after the parking lot you'll find yourself looking directly over the falls. If you continue walking along the trail through you'll find a much better viewpoint that faces the falls directly.
---
9. Smokey Hollows Falls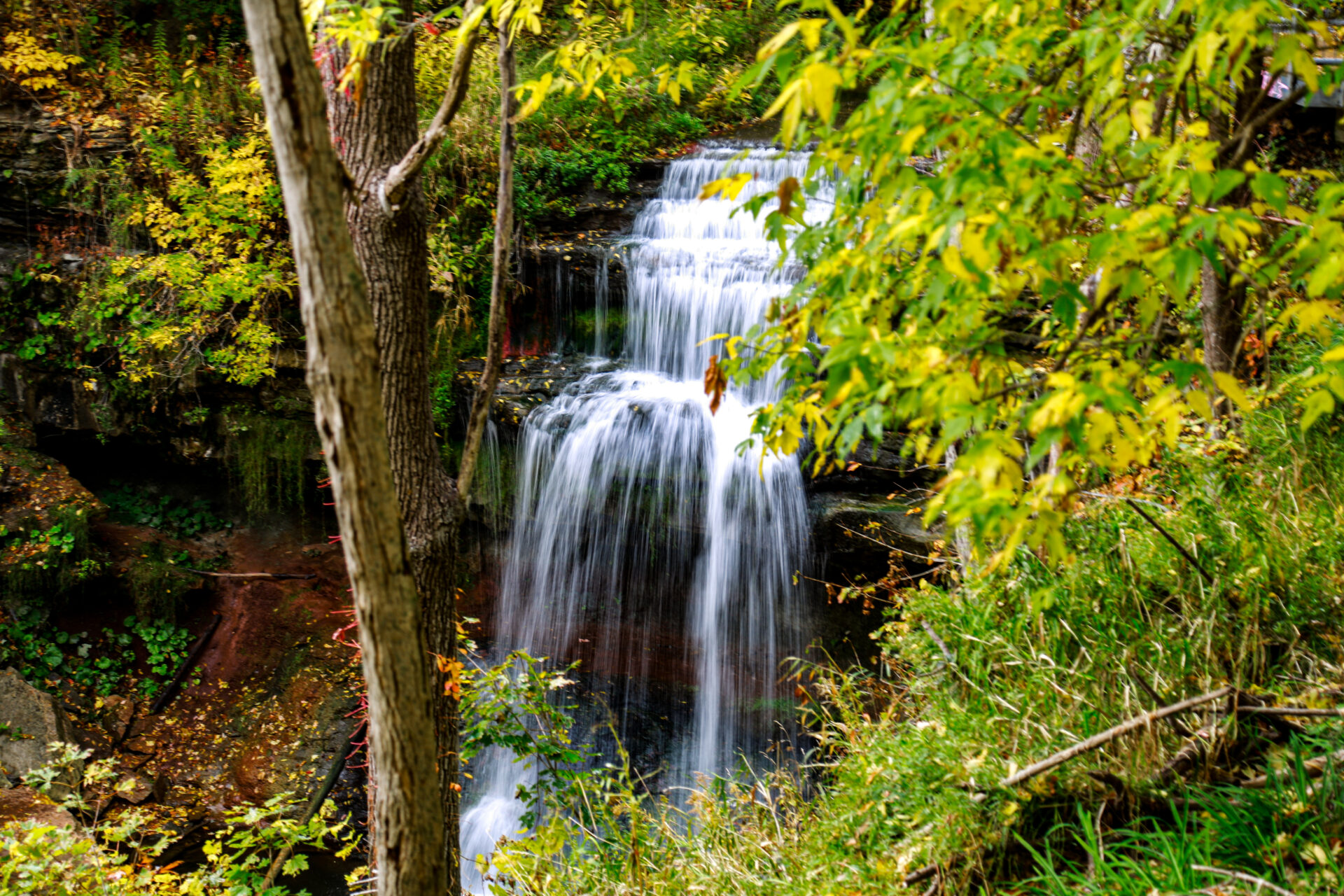 The Smokey Hollows Fall is 10m high and is known by multiple other names; Great Falls, Watertown Falls, Boundary Falls, and Grindstone Falls.
The waterfall was previously used to power a local sawmill, but is now the centre of rehabilitated parkland. There is a free parking lot located directly next to the falls – no hiking is required to access this one!
---
8. Webster's Falls
Webster's Falls is one of the natural attractions in the Hamilton region that requires advanced reservations. If you're interested in seeing Webster's Falls you can make a reservation under the Spencer Gorge tab here.
Located in the Spencer Gorge, Webster's Falls reaches an impressive height of 22m. The walk from the parking lot only takes a few minutes, but there is plenty of open space and picnic tables which makes this area a great place to spend the afternoon with friends and family.
A few notes about Webster's Falls:
Webster's Falls is located next to Tew's Falls and Dundas Peak. You CAN'T access Tew's and Dundas with a reservation for Webster's – trust me, I tried! There are gates and security guards at every access point which is super disappointing. You'll have to reserve a spot specifically at Dundas Peak if you want to see that and Tew's.
In my opinion, the reservation fees are ridiculously expensive and not worth it considering there are over 100 other (free) waterfalls in Hamilton.
When I visited in early/mid October, the waterfall was nearly dry. Visit this one earlier in the year!
---
7. Felker's Falls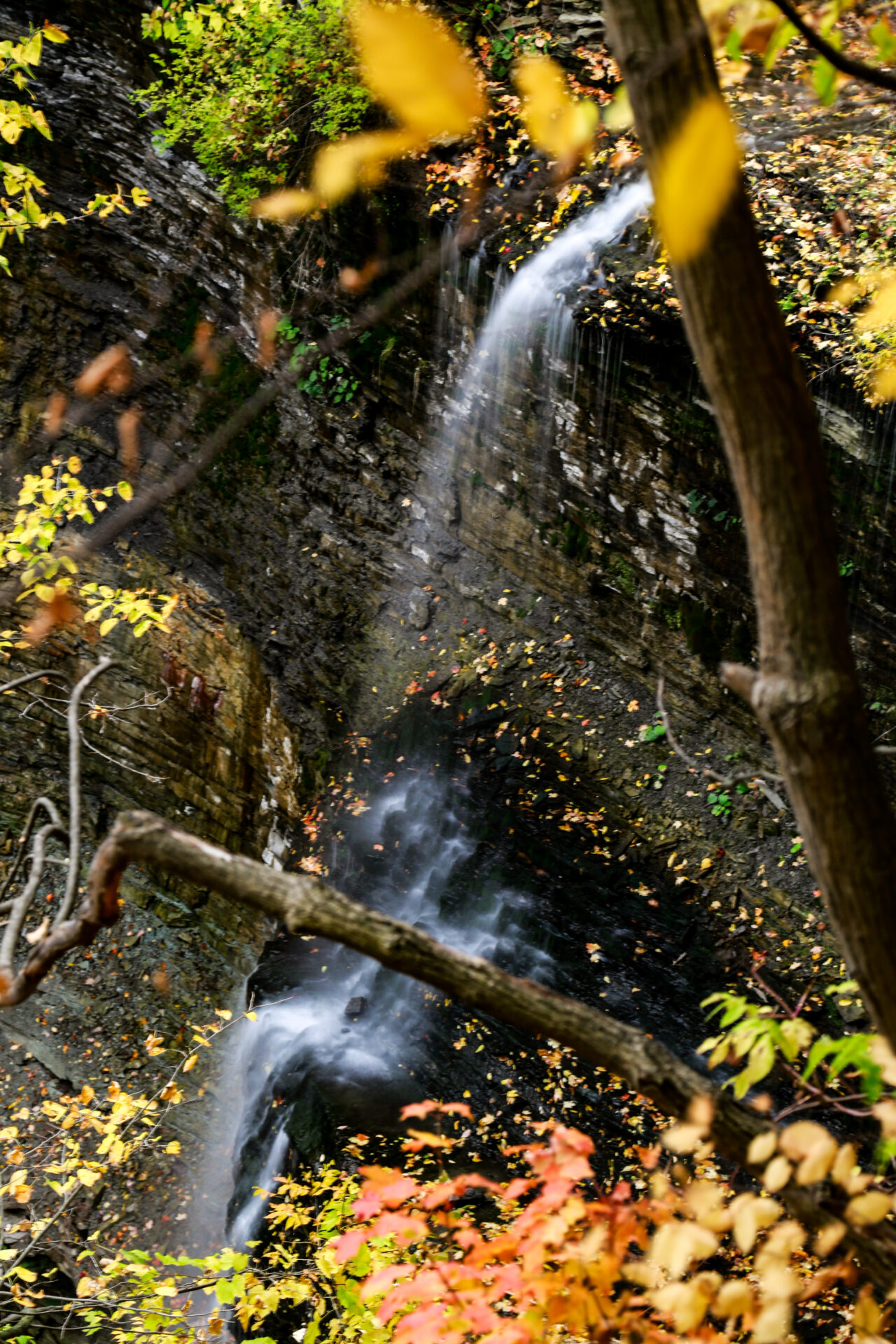 The beautiful Felker's Falls was actually one of my favourite Hamilton waterfalls, which totally took me by surprise! There's a free parking lot right next to the waterfall, making it super accessible. Plus there are forested walking trails in the surrounding park.
Felker's Falls is another ribbon waterfall which stands at a height of 22m. Although Felker's doesn't typically make the top Hamilton waterfalls list, I really liked this one and I'd highly recommend visiting it! The waterfall itself is quite scenic, the view overlooking the gorge is beautiful, and if you visit in the fall the colours are absolutely mesmerizing.
---
6. Tew's Falls & Dundas Peak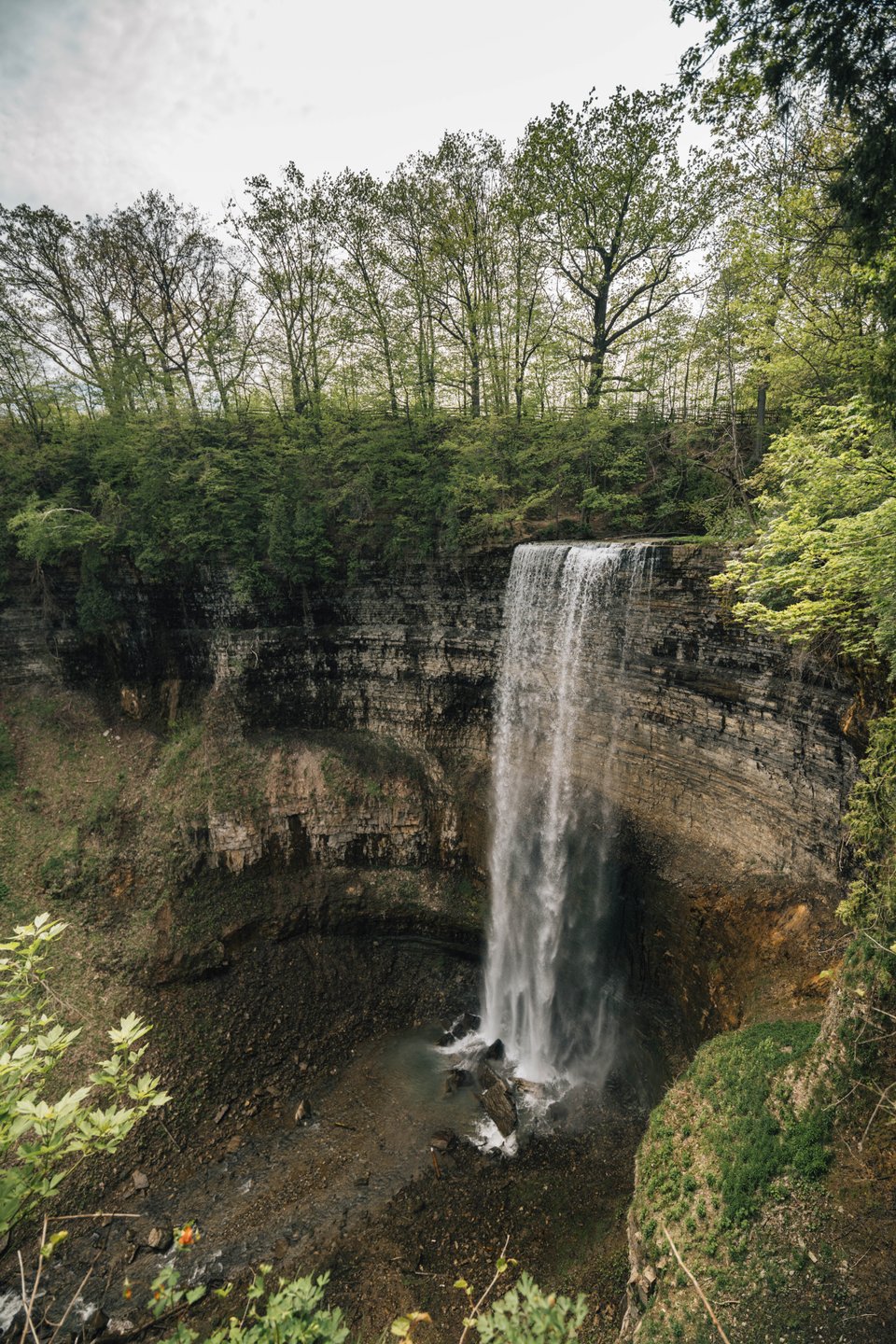 Like Webster's Falls, Tew's Falls and Dundas Peak are one of the Hamilton attractions that require advanced reservations. You can make a reservation under the Spencer Gorge tab here.
Unfortunately, due to lack of availability, I wasn't able to get a reservation for Dundas Peak and Tew's Falls. This spot however is a fan favourite in Hamilton. Dundas Peak is the best spot in Hamilton to view the fall colours and Tew's Falls is the highest waterfall in Hamilton, standing at a height of 41m!
If you're wanting to visit Tew's Falls and Dundas Peak in the fall season, be organized and plan in advance! Reservations during this time of year aren't easy to come by.
---
5. Albion & Buttermilk Falls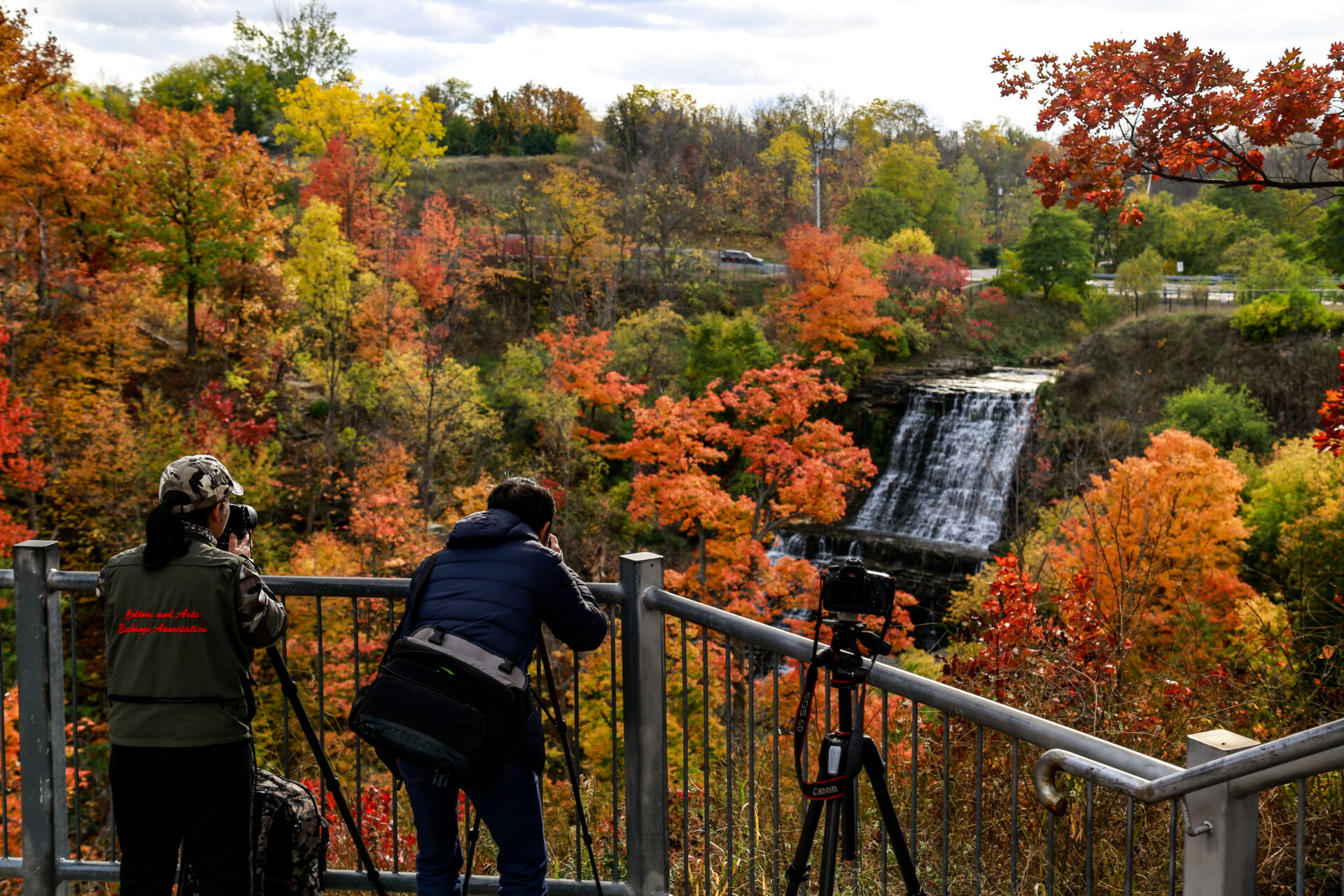 Albion Falls is a cascading waterfall that's almost as wide as it is tall; 19x18m. The waterfall is very impressive to view, however you can only see the falls from a viewpoint which is situated right next to the parking lot.
Previously it was possible to walk to the bottom of the falls, however after an unfortunate accident it's now illegal and you can face a multi thousand dollar fine for attempting to descend the old trail – better stick to the viewing platform!
If you're wanting to venture for a quick walk you can continue along the trail where you'll find Buttermilk Falls. When I visited (in early October) Buttermilk Falls was almost completely dry, however the walk there was completely forested and full of beautiful autumn colours.
TIP – if the parking lot is full you can park on the neighbouring streets.
---
4. Tiffany Falls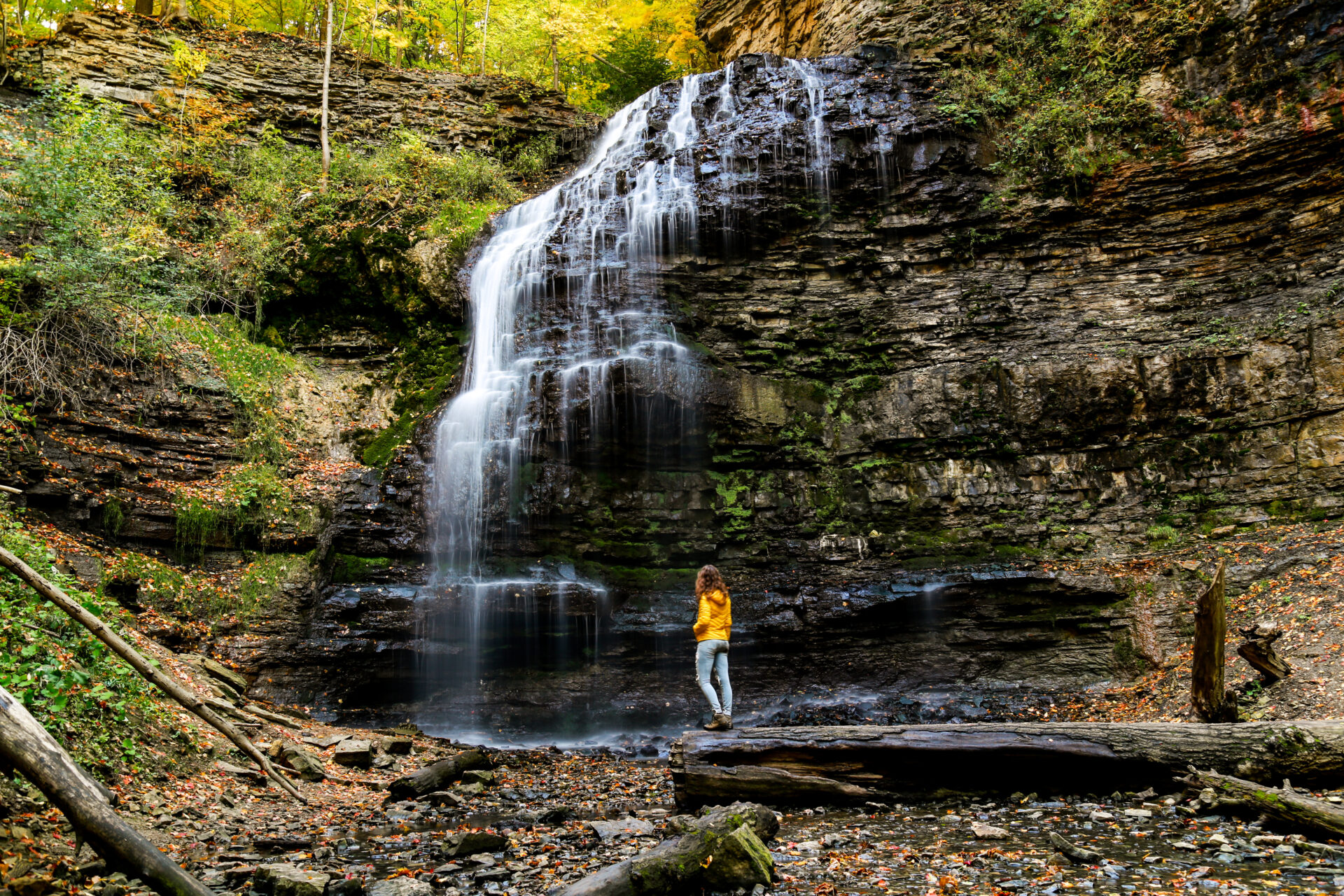 The 21m high cascading Tiffany Falls is located less than a 500m walk from the parking lot. This is a super accessible and beautiful waterfall in Hamilton!
Tiffany Falls is one of the famed Hamilton waterfalls and for good reason! The waterfall is framed by the large walls of the Spencer Gorge and it's surrounded by lush vegetation.
TIP – to avoid paying for parking twice, you can walk to Tiffany Falls via the Bruce Trail from the Artaban parking lot next to Sherman Falls.
---
3. Sherman Falls & Canterbury Falls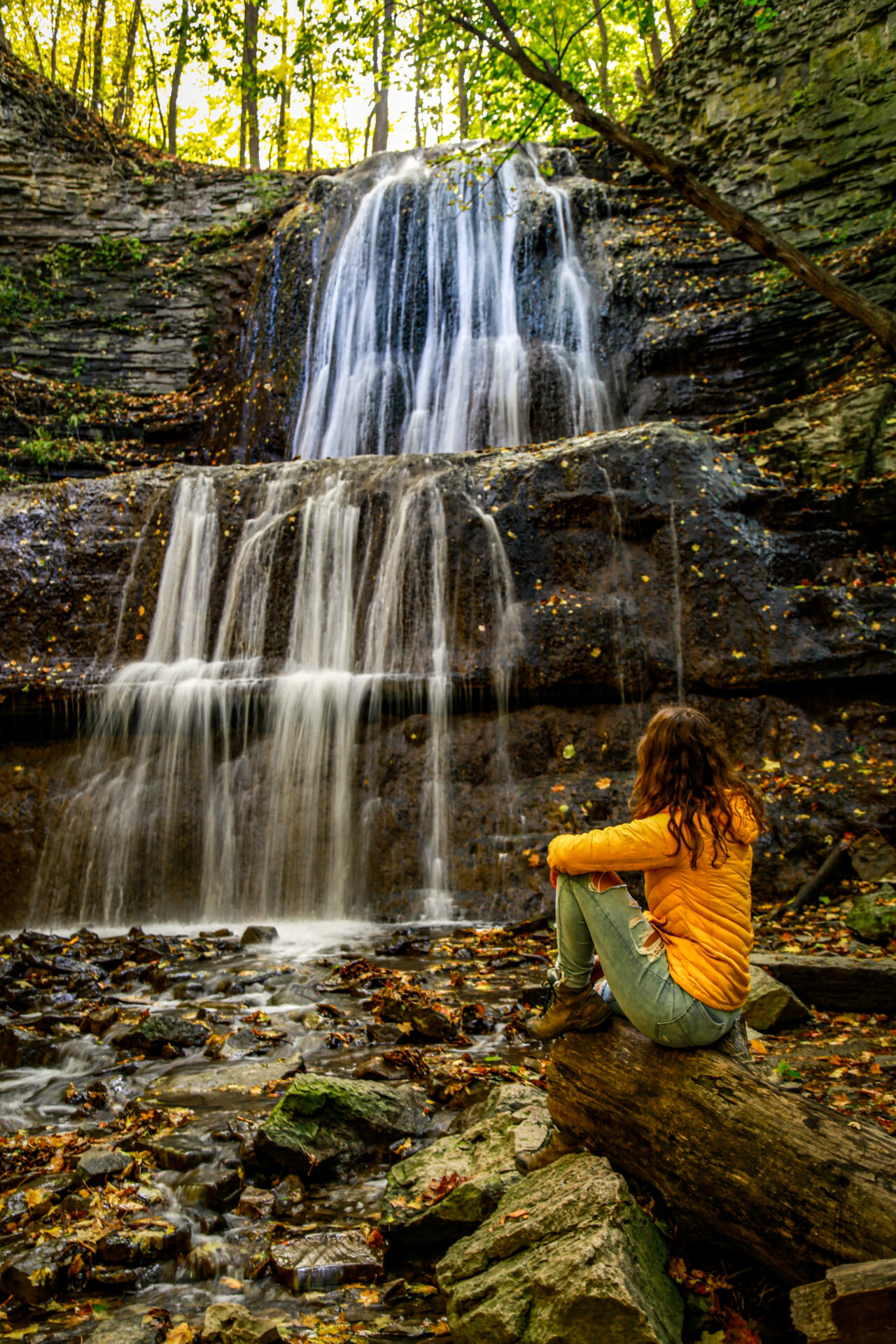 Sherman Falls is a 17m high curtain waterfall and I've gotta say… This is one of my favourite Hamilton waterfalls!
Although Sherman Falls isn't the tallest waterfall in Hamilton, there's something sooo magical about it. The multi-tiered look is quite unique compared to other Hamilton waterfalls and the atmosphere surrounding the falls is somehow so cozy.
To access Sherman Falls you'll want to park at the Artaban parking lot ($11), then walk to the main road and find the stairs. Once you walk up the stairs you can walk straight for Sherman Falls or take the trail to the right for Canterbury Falls. Canterbury Falls isn't overly impressive compared to Sherman Falls, however the forested walk there is lovely!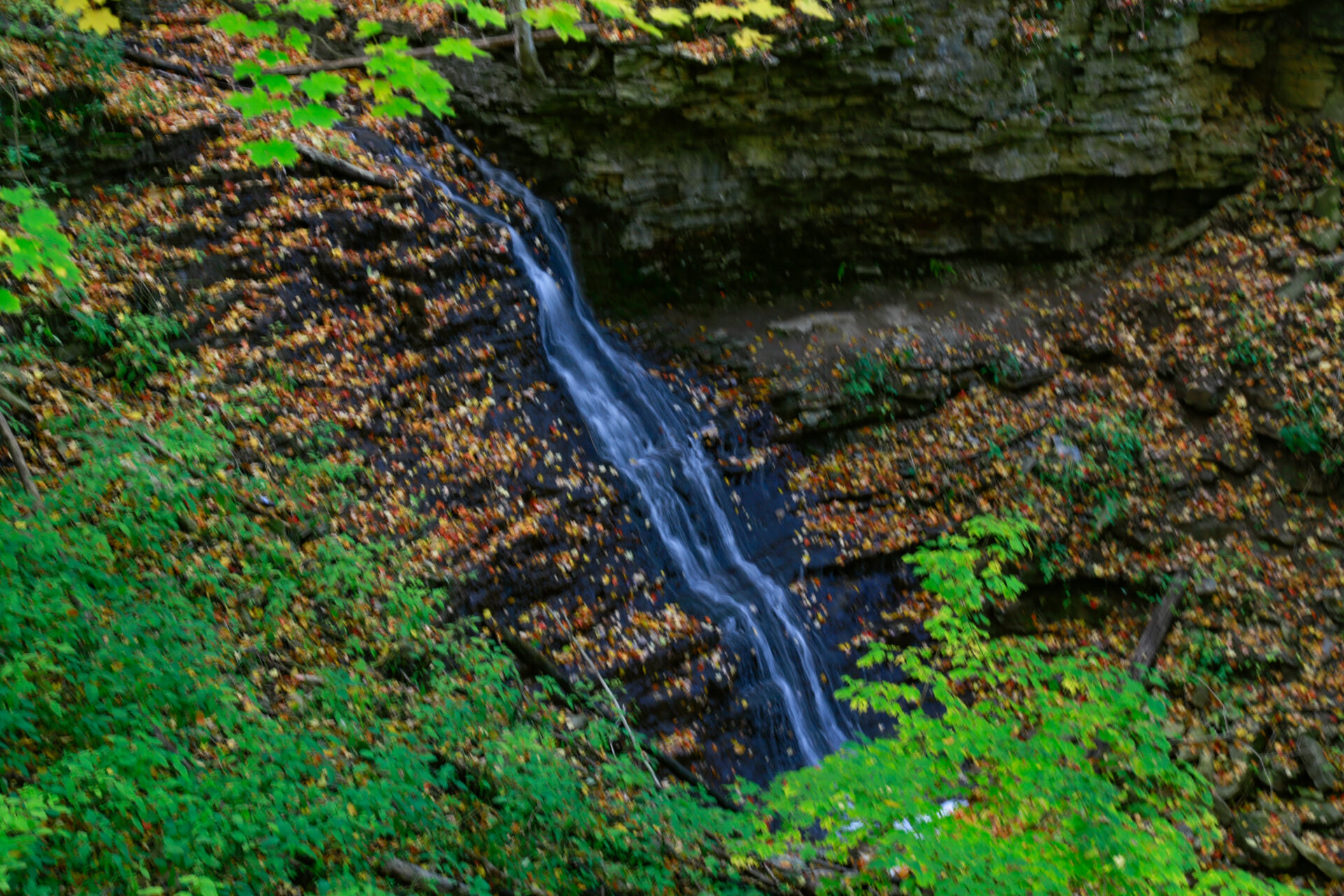 TIP – if you continue walking past the stairs to the intersection you'll see a trail across the road leading into the woods; the Bruce Trail. This is the trail you can take to access Tiffany and Washboard Falls.
---
2. Devil's Punchbowl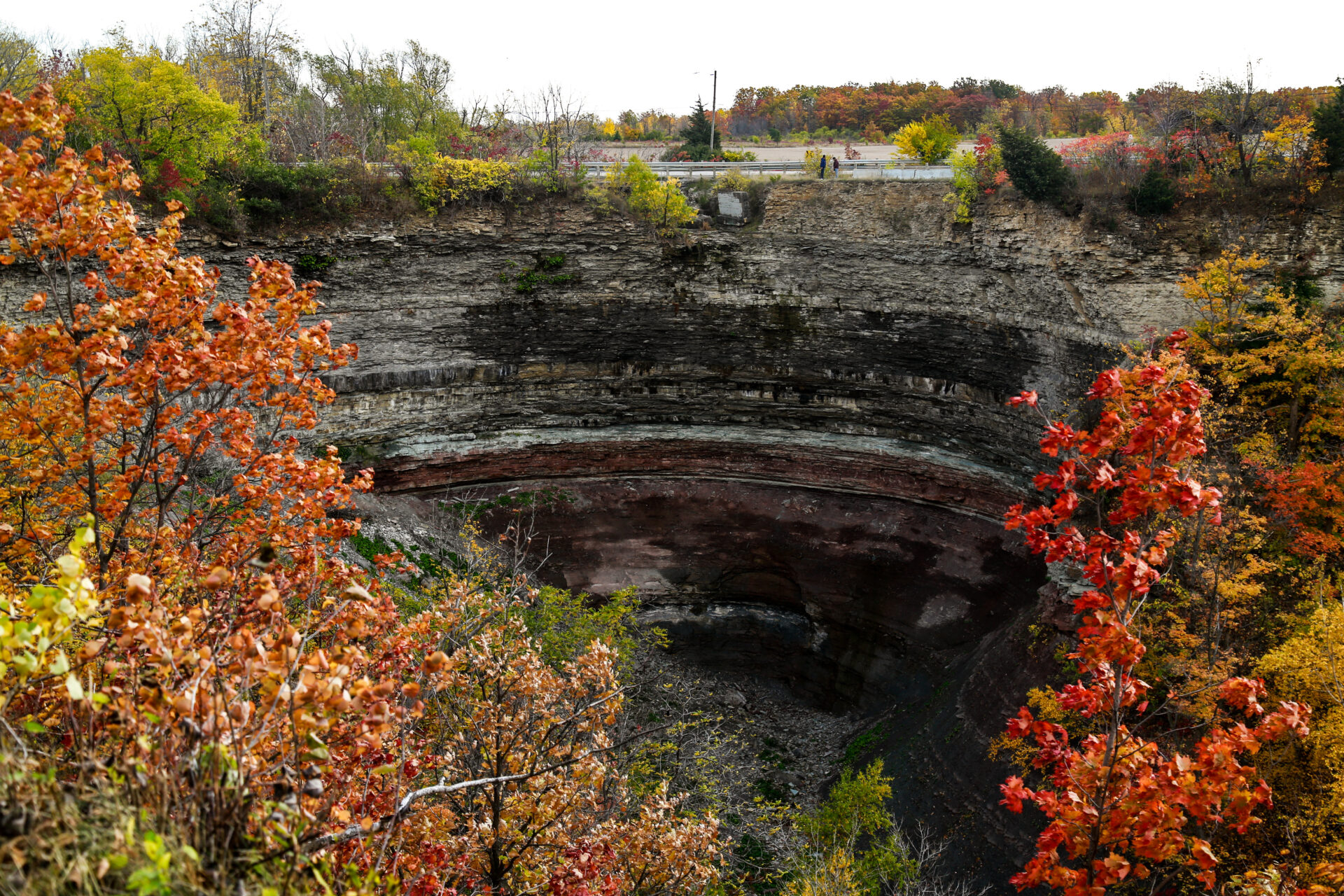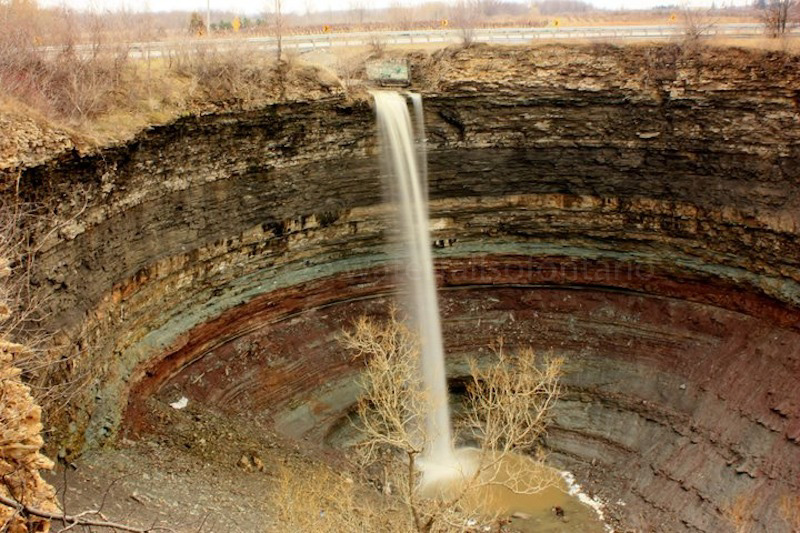 Devil's Punchbowl is arguably the most popular and "famous" waterfall in Hamilton. It stands at a whopping 37m and is actually composed of 2 waterfalls that flow over a multi-coloured gorge. Cool, right?
Parking for Devil's Punchbowl is $7.50 and there's a bakery right down the road if you're craving a snack or something homemade!
TIP – Devil's Punchbowl is one of the Hamilton waterfalls you need to visit early in the year. I visited Devil's Punchbowl early in October and the falls were unfortunately completely dry.
---
1. Washboard Falls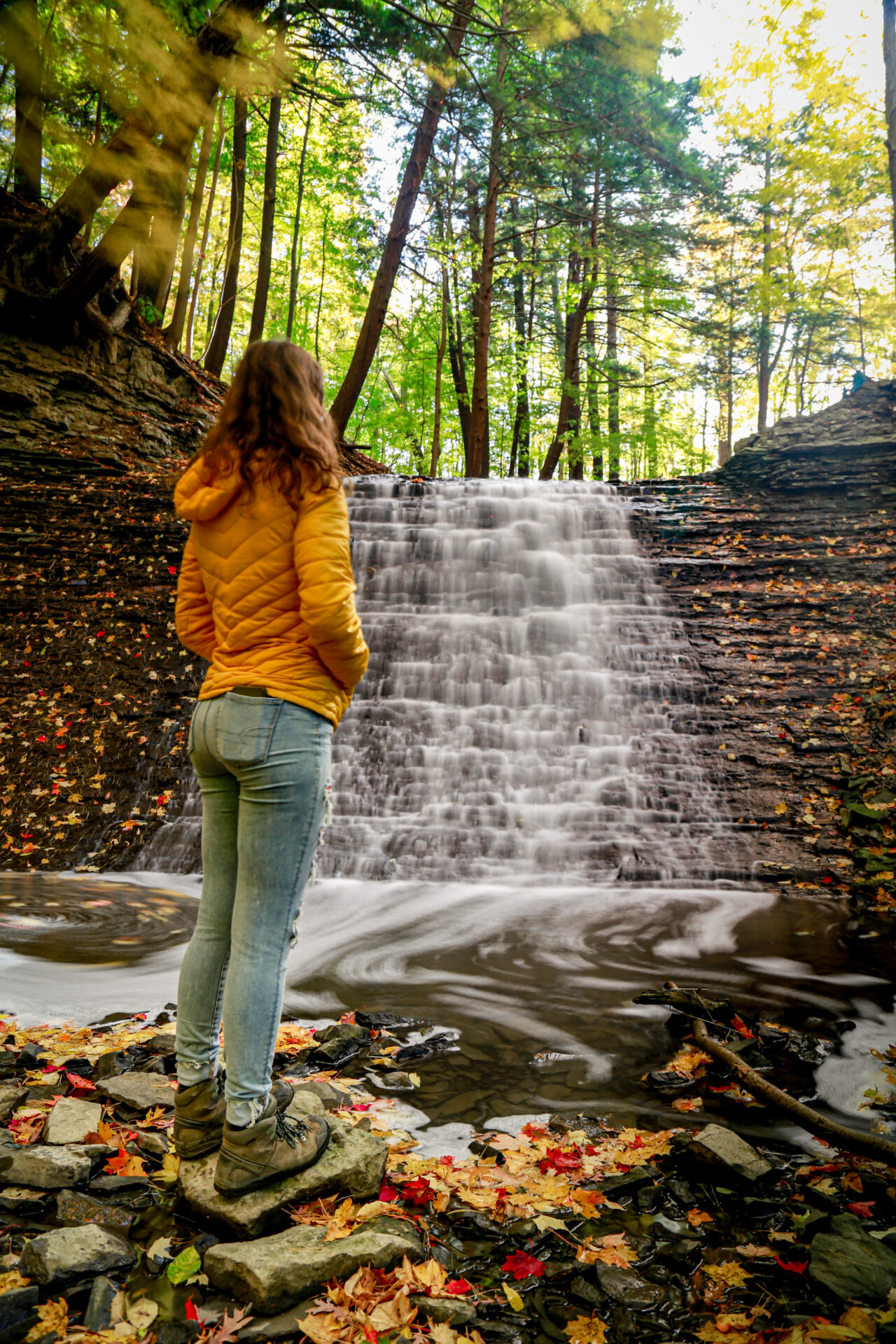 In my opinion, the best waterfall in Hamilton is Washboard Falls. You'll be hard pressed to find information about this fall online because it's completely hidden. Which is what makes it my favourite!
Washboard Falls is located right next Tiffany Falls, however the trek up there isn't necessarily "easy." To access Washboard Falls you'll have to scramble up the side of the gorge just past the wooden viewing platform. The terrain here is often wet and super slippery, so you can expect to use your hands and to get a little muddy along the way.
All things considered, Washboard Falls offers an incredibly relaxing and quiet atmosphere. If you're able-bodied and okay with a little mud, I'd highly recommend checking this Hamilton waterfall out!
---
How to Access the Hamilton Waterfalls & Hamilton Waterfall Map
The Hamilton waterfalls are spread out across the city and throughout the suburbs. You'll therefore need a car to access the different falls. If you don't have a car you can check out this site for rentals.
The following map is what I used when visiting the Hamilton waterfalls. The blue pins are the falls accessible by driving and a (very) short walk. The black markers are the falls connected via hiking trail.
Once you click on the markers you'll find parking information, links for making reservations, and the Alltrails maps if the falls are connected by a trail.
Quick Links
Here are the Alltrails maps for the Hamilton waterfalls accessible via hiking:
---
Explore More Destinations in Ontario
Looking to venture beyond Hamilton? Check out the following Ontario destinations!
---
Happy adventuring!
Taylor ♡
---
Like This Post?
Share with friends or save it for later!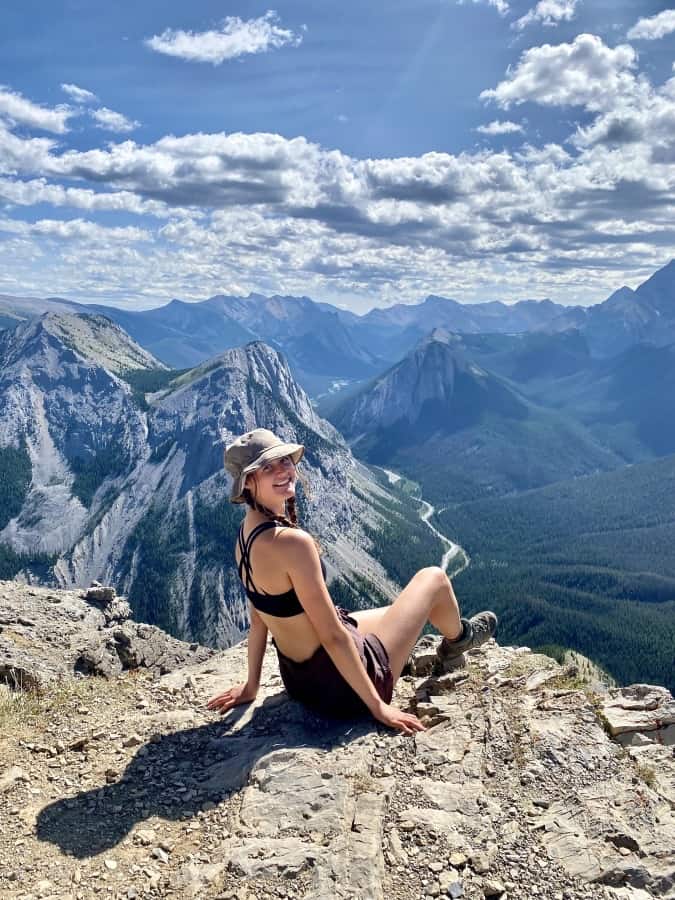 About The Author
---
Hey! I'm Taylor – the voice behind The Holistic Backpacker.
After moving to Banff National Park in 2020 I became an outdoor adventure enthusiast and vowed to never stop exploring.
I'm now focused on travelling the world and seeing everything our beautiful home has to offer.
I created The Holistic Backpacker so I could share my adventures and help connect people like you with the same amazing experiences.
I am also an advocate for the environment and do as much as I can to take care of our planet.
Get to know me and my story more here 🙂
I can't wait to share my adventures with you!