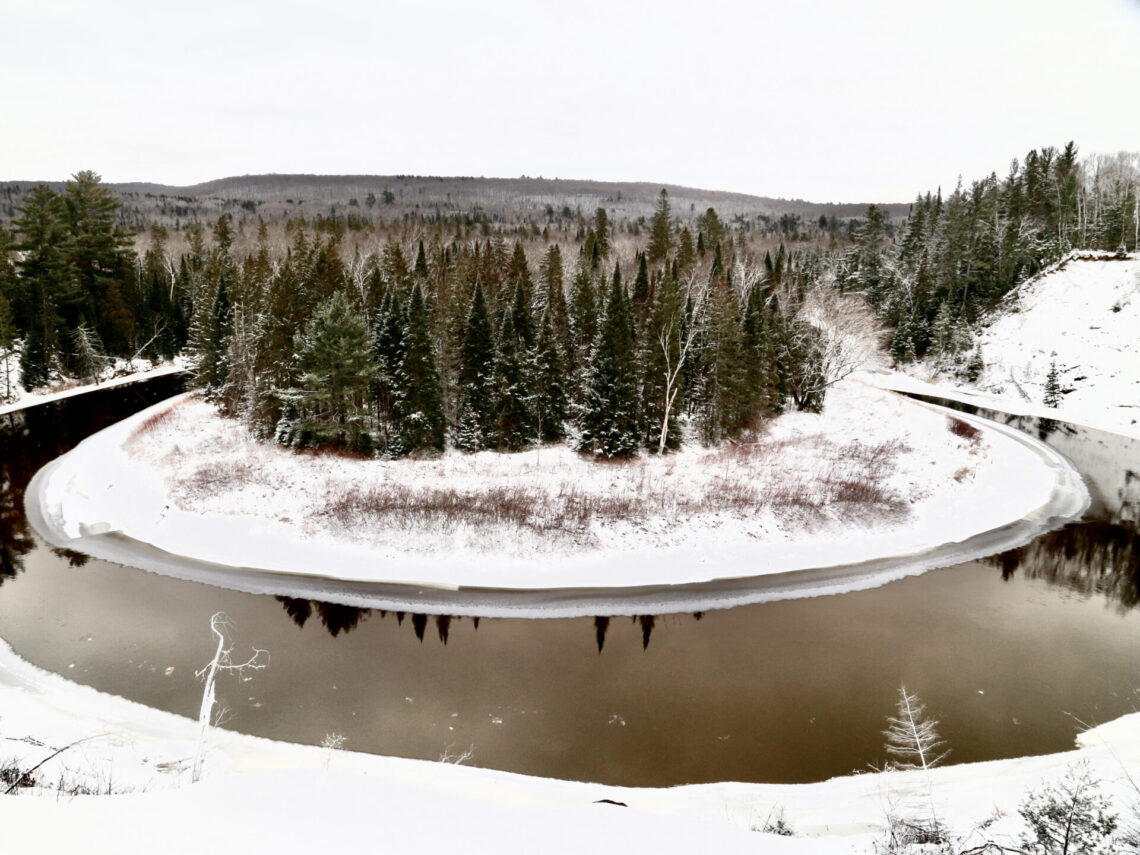 Stubb's Falls & Big Bend Lookout – Easy Winter Hike in Arrowhead
If you're searching for a quick and easy winter hike in Arrowhead Provincial Park, look no further than Big Bend Lookout and the Stubb's Falls hike is suitable for everyone and is the perfect way to experience Arrowhead Provincial Park in the winter.
If you do plan on hiking in winter, make sure you have the proper gear and clothing. I'll talk about what to wear for winter hiking in Arrowhead next, but if you're new to hiking you'll surely want to give this a quick read.
Now, let's go hiking!
Skip Ahead:
This post contains affiliate links; see my full disclosure. If you click these links and make a purchase you're supporting The Holistic Backpacker. Thanks for your support & happy adventuring! – Taylor ♡
---
---
---
How To Get To Arrowhead Provincial Park
Arrowhead Provincial Park is located approximately 20 minutes from Huntsville. Note that you will need to purchase a Provincial Park pass at the Arrowhead Park store.
On this map I've marked the Stubb's Falls trailhead via Hardwood Ridge, the official Stubb's Falls trailhead, as well as Big Bend Lookout.
There are multiple starting points for the Stubb's Falls hike, so pick which one suits you best:
Stubb's Falls Trailhead: This Stubb's Falls trailhead starts at the parking lot directly after the Park's store (up the small hill). This trailhead adds a bit more distance and elevation to the hike and follows the Hardwood Ridge Trail. This is the way I hiked to Stubb's Falls and the Big Bend Lookout, so when I describe this trail I'll be talking from this perspective.
Trailhead #2: This is the actual trailhead for the Stubb's Falls hike. If you want to hike only the Stubb's Falls trail (minus the Hardwood section) park at the parking lot located directly after the bridge, then walk back across the bridge. Here you'll find the trailhead (hiker's left), go left again for Stubb's Falls.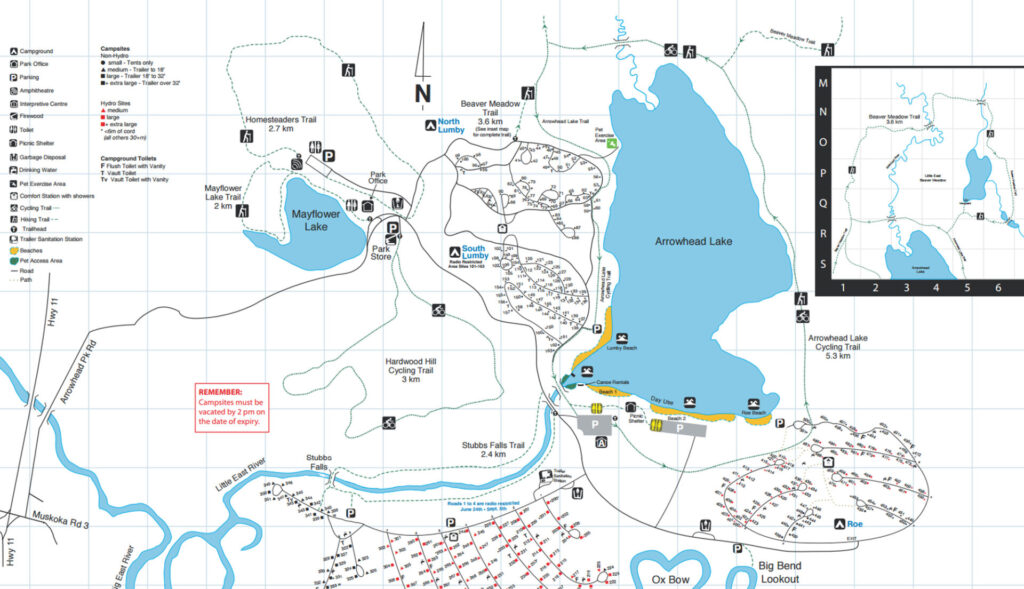 You can hike to Big Bend Lookout, however there is parking located directly before the Big Bend side trail.
About Stubb's Falls Trail
Distance: 2.6km
Elevation gain: 70m
Rated: easy
Type of trail: loop
Estimated time: 1hr
Stubb's Falls trail is a super quick and an easy winter hike in Arrowhead that's perfect for people of all ability levels, families, and pets. The trail can be hiked year round, but it's exceptionally beautiful in winter.
As you walk you'll be following the Hardwood Ridge Trail. Watch out for the yellow markers! The trail is very easy to follow, but the arrows will ensure you stay on track.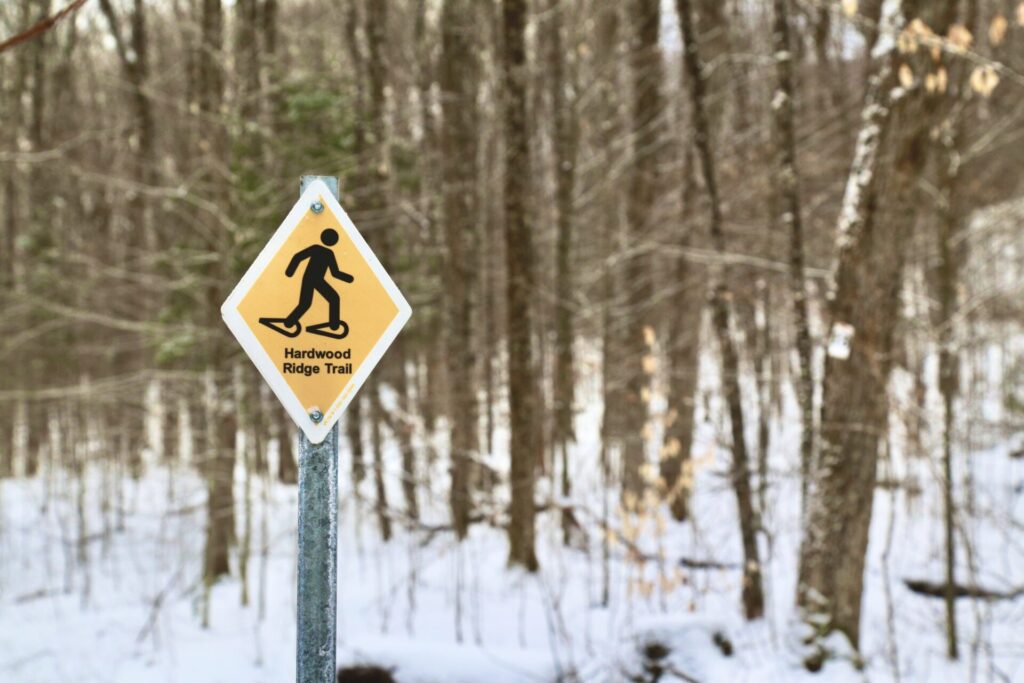 The Hardwood Ridge Trail does not include a visit to Big Bend Lookout, so make sure you add this to your itinerary; it's the highlight of this hike. I'll talk about how to get to Big Bend Lookout next.
Stubb's Falls Hike
From the parking lot located directly after the Arrowhead Park store, you'll find the trailhead located next to the building with the rounded roof.
From here you'll be following the Hardwood Ridge Trail until you meet up with the Stubb's Falls trail. You'll gain and loose some elevation as you hike, however it's nothing overly strenuous.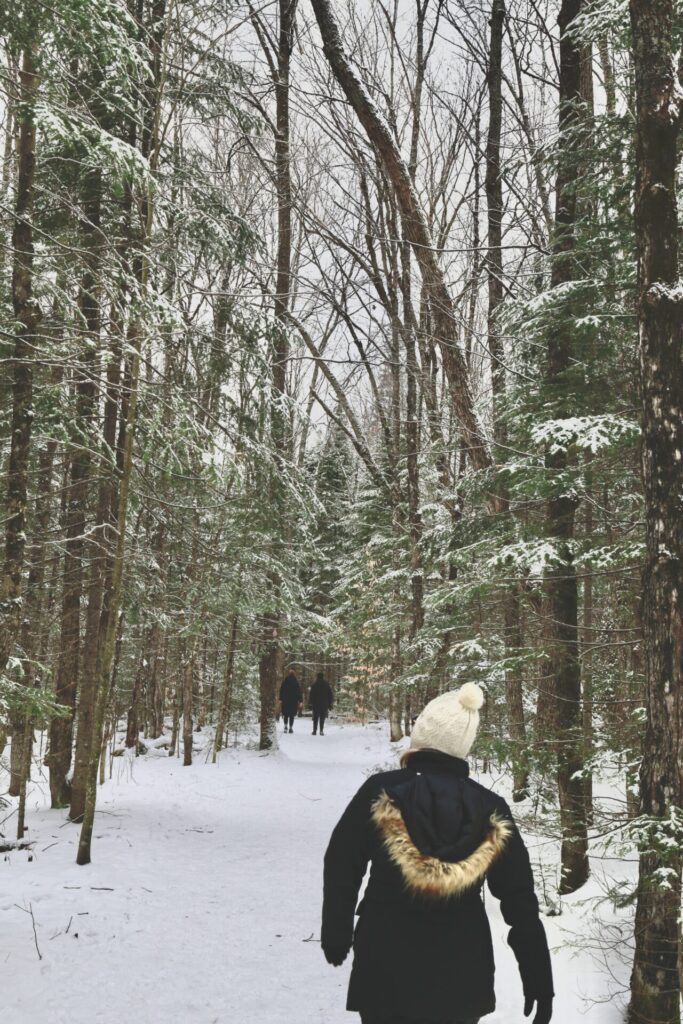 You'll eventually reach a fork in the trail, continue walking straight here.
Stubb's Falls
You should reach Stubb's Falls within 20-30 minutes of leaving the parking lot. Here you'll find a bridge crossing the cutest little falls.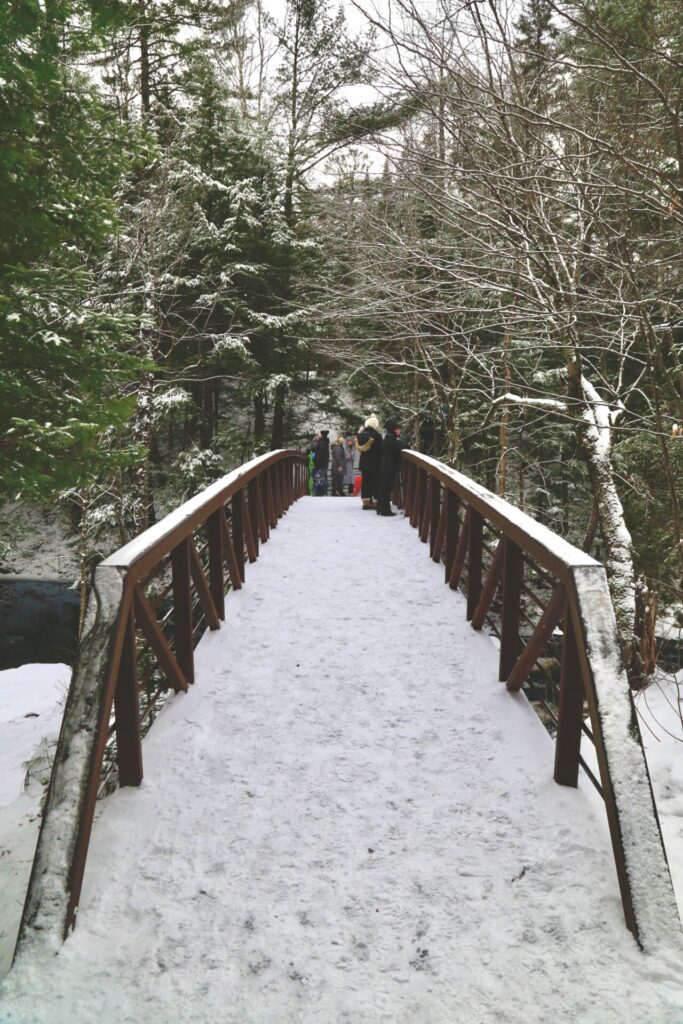 My favourite part about winter hiking at Arrowhead is the opportunity to see black water surrounded by ice and snow. The water turns black just as it's about to freeze because it's so cold. This makes for picture-perfect scenery.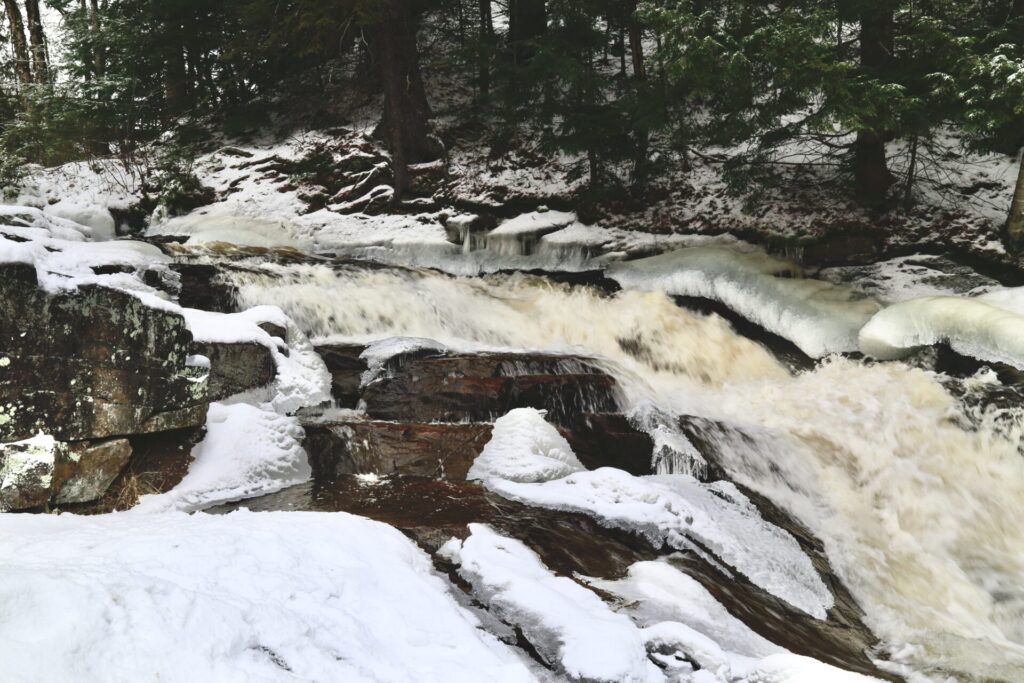 You can hike down to see the falls from below. Make sure you do this as this angle allows you to gain a completely new perspective of the falls.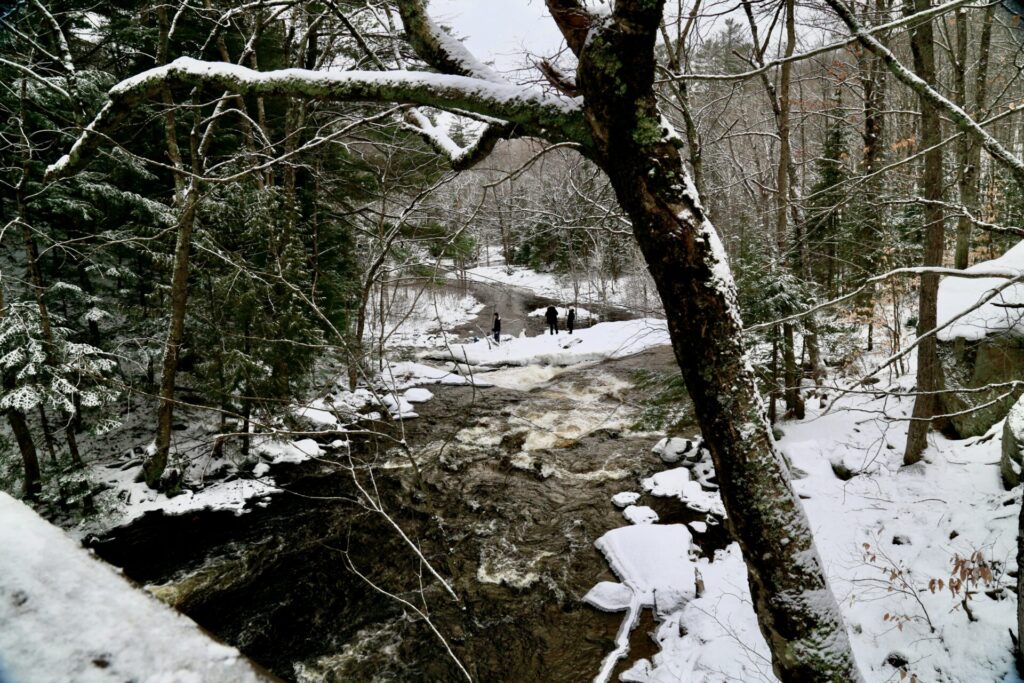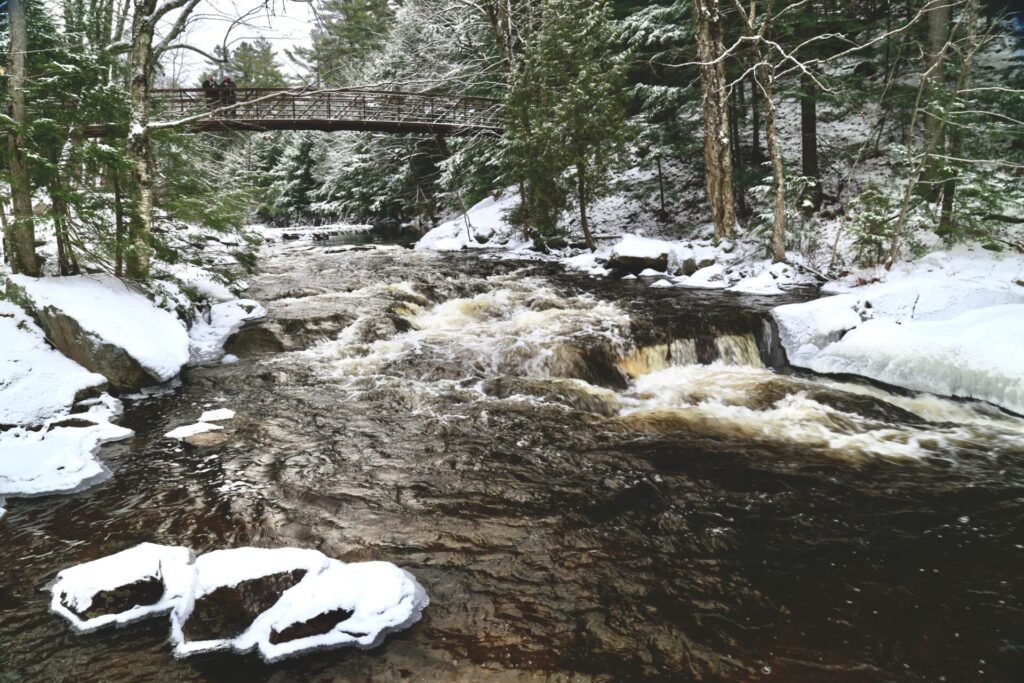 I did this with my family, here's a pic of myself and mom!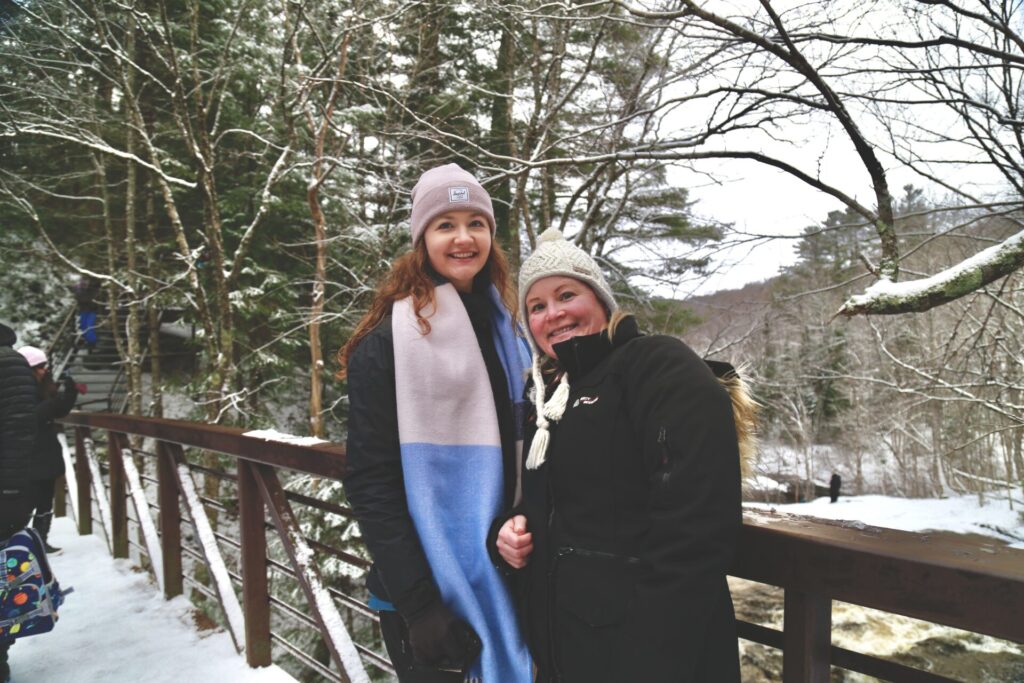 Big Bend Lookout
After seeing the falls, cross the bridge and take the first left hand turn. You can either follow this trail to the road or cut through a side trail and walk along the Roe campsite road.
Either way, take a right when you get to the main road and walk until you see a gate blocking further car passage. After this gate you'll find a side-trail (hiker's right) that leads directly to Arrowhead's Big Bend Lookout.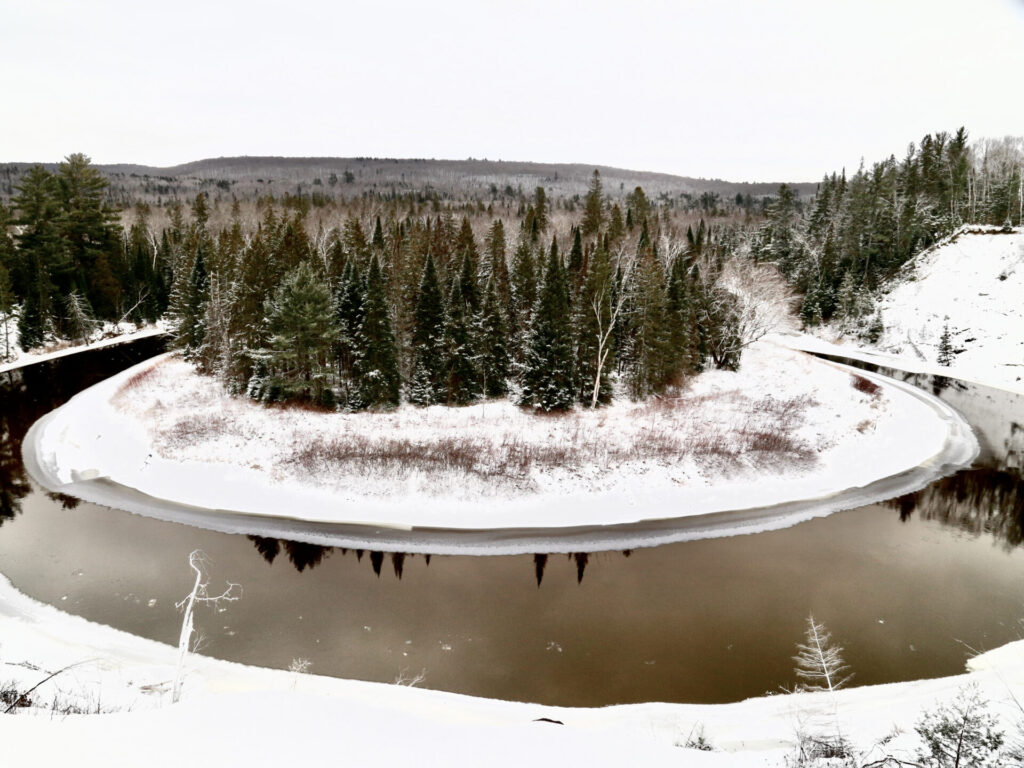 There will be signage at Big Bend Lookout explaining it's history and formation, but if you just can't wait to learn more about this natural wonder… Ontario Hiking has put together a brief history here!
Back To Stubb's Falls Trailhead
You can follow the road all the way back to the parking lot or you can cut through the trees on the Hardwood Ridge Trail (the path I initially talked about). To get here, follow the road until you cross the bridge, then turn left into the trees and take a right. You'll be back to the parking lot in about 20 minutes.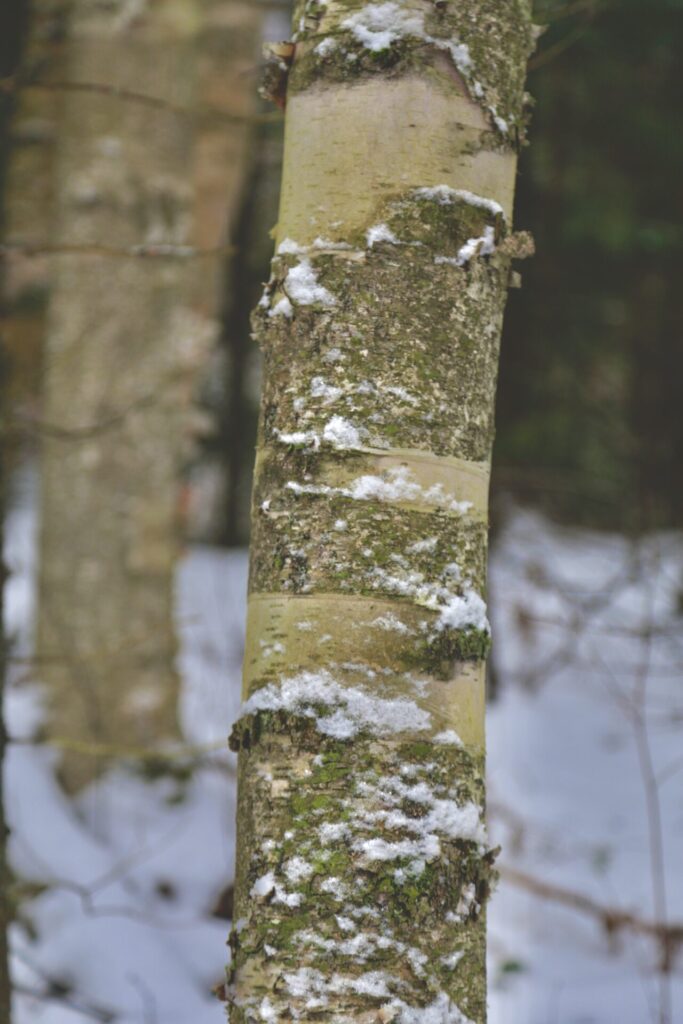 As you hike keep an eye out for Birches! Winter hiking at Arrowhead is the perfect place to find these gorgeous trees.
Explore More Ontario Destinations
Explore more of Ontario's beautiful destinations and adventures:
Essential Gear For Winter Hiking
Who says hiking is just for the summer months!? Winter hiking can be absolutely exhilarating and it offers the chance to see some pretty spectacular frozen wonders.
Before you set off for your next winter hike though, it's important to note that you'll need extra gear and you'll definitely need extra layers to stay warm! I've outlined exactly what you'll need for a typical day-hike during the warmer months here, however I'll quickly break down some winter hiking essentials.
Let's start with footwear. In addition to Gore-tex hiking boots – I wear these (men's version) – you'll want the following: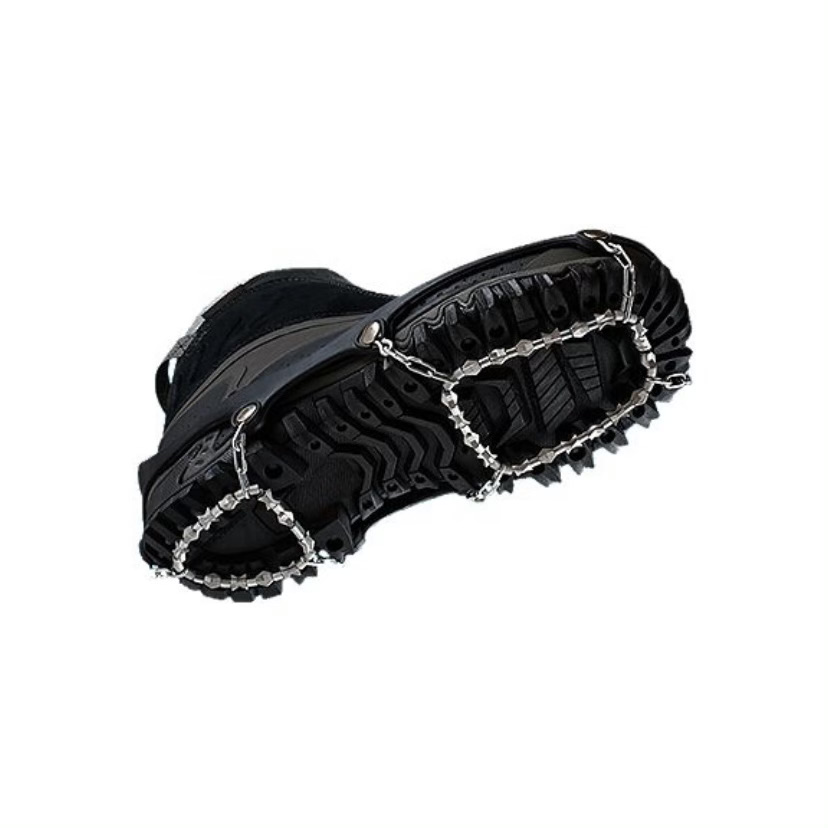 Micro-spikes are chains with grips that attach to your boots. These help you navigate slippery and icy terrain. Micro-spikes can get quite expensive, but these ones seem to be of good quality and are priced affordably.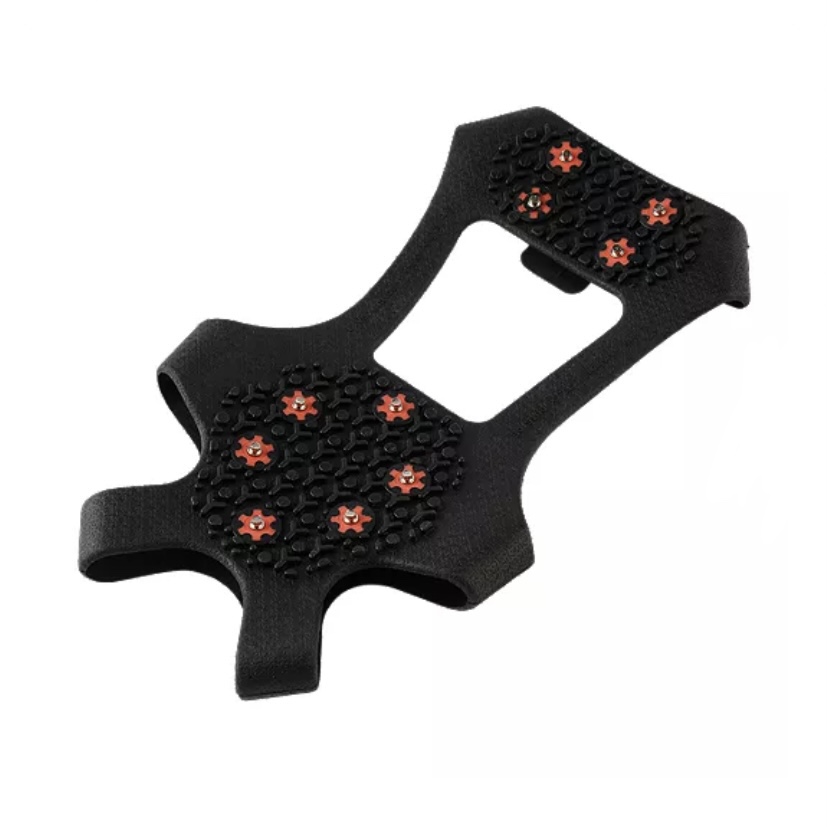 Ice cleats are a version of micro-spikes, but they have less grip. These are ideal for hikes that aren't overly icy and when you only need a small amount of grip to avoid slipping.
What To Wear Winter Hiking
Now that we have proper footwear covered, let's quickly go over a few clothing essentials for winter hiking. The most important thing is layering. I've found the best combination for lower body to be leggings or merino base layers under a pair of soft shell pants. For upper body I'd recommend wearing a long sleeve dry-fit/merino top layered with a puffer jacket and waterproof jacket. The following are the clothes I always wear for winter hiking:
Softshell pants are durable and warm. They're like a thin and more mobile version of snow pants. I have these ones (men's version) and I've been using them for years for winter hiking, skating, and doing errands in the cold months.
A water proof jacket in my opinion is the most important layer when it comes to hiking. A waterproof jacket traps your body heat and it protects you from wind and rain/snow. I use this one (men's version) which is lightweight, compact, and its easy to pack as an extra layer because it folds into it's own pocket!
A puffer jacket acts as your warm layer. I have this one (men's version) and I absolutely love it. It's affordable, packs down small, and its hoodless! If temperatures will be really cold you can also pack a fleece zip. This fleece (men's version) is great for winter hiking.
Additionally you'll also want to pack a toque and warm mittens. I have these mitts (men's version) which have become my favourite mitts for skiing, backcountry camping, and winter hiking. They've got tons of fun features and they come with glove liners which keep your hands extra warm.
Explore my extensive gear guide for day-hiking
Read my guide for exactly what to wear hiking
Find all my hiking trail guides
Where To Stay In Arrowhead
If you want to stay directly in Arrowhead you'll have to camp. Arrowhead offers multiple types of camping including: car camping, tent camping, and cabin camping! The cabins are super cute and are central to all the trailheads. You can book your Arrowhead campsite here.
Alternatively, if camping ain't your thing, look for accommodations in Huntsville. Huntsville is the closest town to Arrowhead – located about 20 minutes away – and offers all sorts of cute dining experiences, small shops, and my favourite bakery; Henrietta's.
You can click here to find accommodations in Huntsville.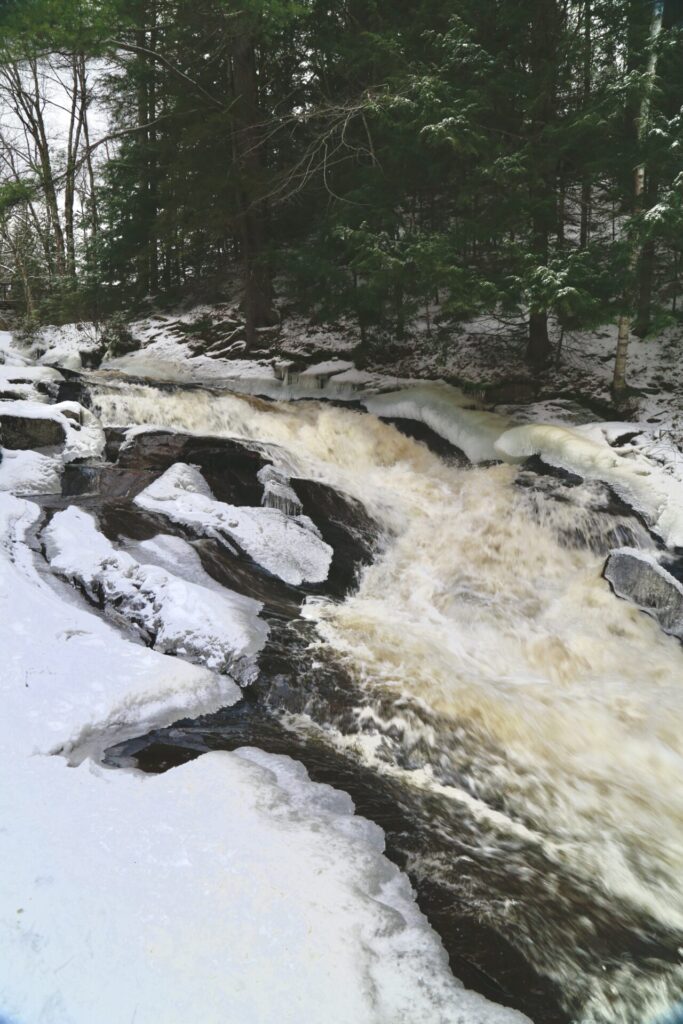 Happy adventuring!
Taylor ♡
---
Like This Post?
Share with friends or save it for later!
---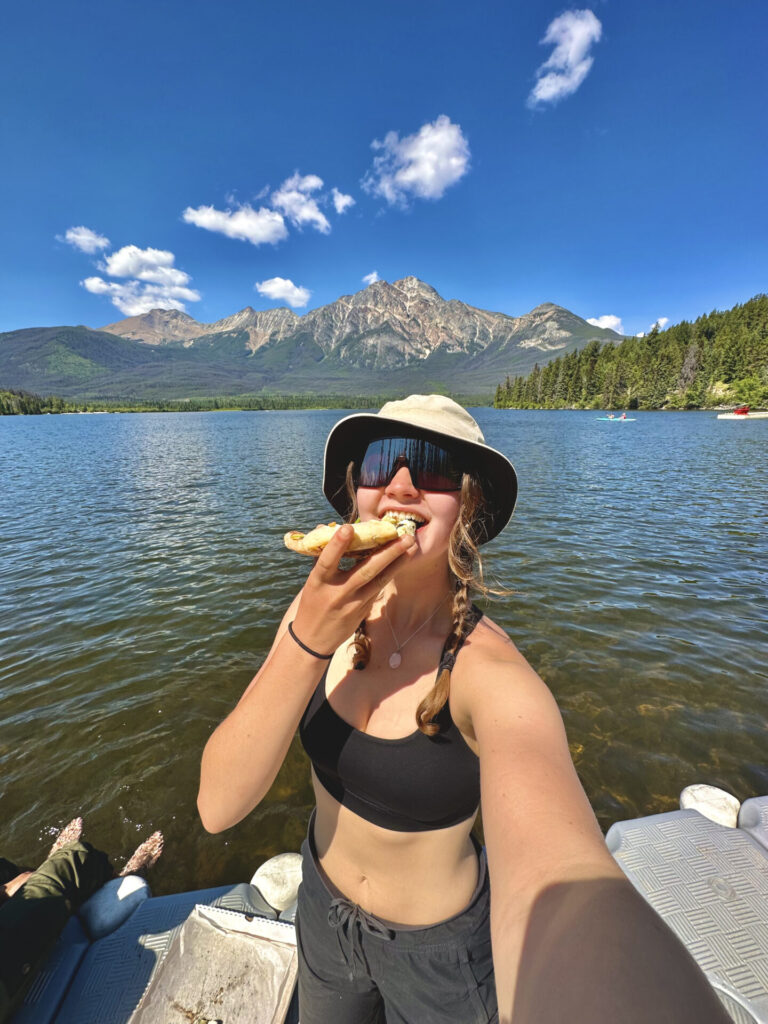 About The Author
HI, I'm Taylor – the voice behind The Holistic Backpacker.
After moving to Banff National Park in 2020 I became an outdoor adventure enthusiast and vowed to never stop exploring.
I now spend my days travelling the world, climbing mountains, and spending nights under the stars in the Canadian Rockies backcountry.
I created The Holistic Backpacker so I could share my adventures and help connect people like you with the same amazing experiences.